Tip And Tricks From Pro Organizers That Know How To Utilize Every Last Square Inch
By Navkiran K March 27, 2023
---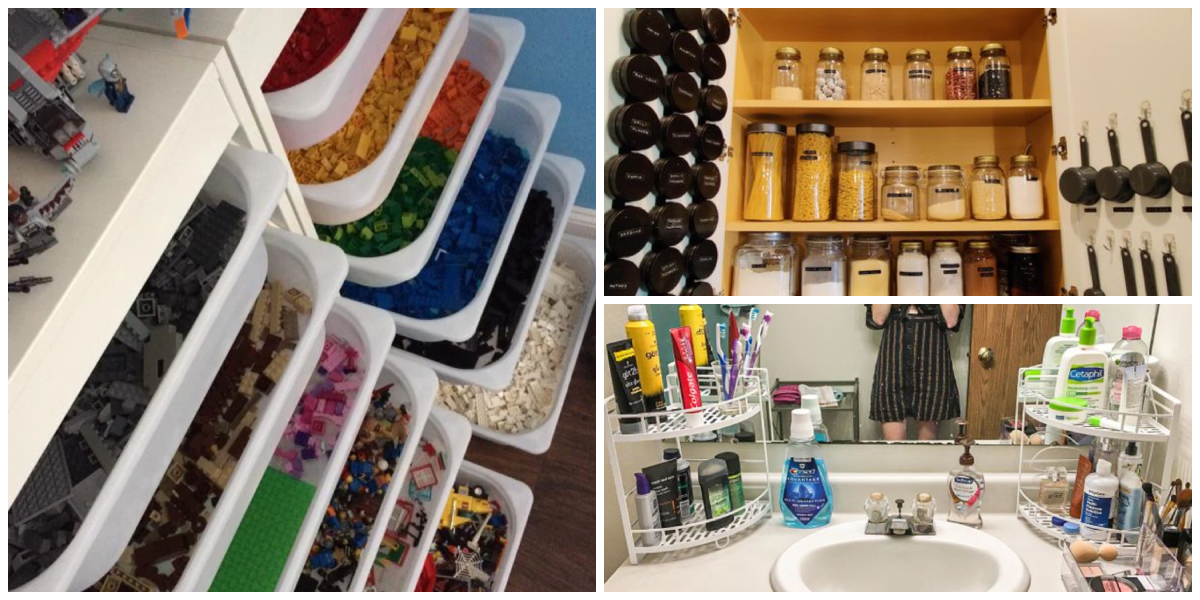 This article was originally published on

morehackz

Apartments are somehow getting smaller yet more expensive every day. Meanwhile, our wants and needs keep increasing — leaving us with a lot of stuff and not enough space. Oftentimes, we go to our bedrooms or living rooms and find nothing but complete chaos. Many shows on Netflix are available to watch organization techniques, like the infamous Tidying Up With Marie Kondo and Get Organized With The Home Edit. Both shows give fabulous advice about how to organize your home.After watching the show, many of us were inspired to tackle our mess, but we don't know where to even begin. Every house has unused empty spaces, like gaps between two pieces of furniture or under the desk — known as negative space — that we don't (yet) use optimally and wisely. This article has tips and tricks that you can apply today to use your negative space better and organize your home realistically and reasonably.
Cubes to the rescue
If you keep your items in a large container on a high shelf, you can have two problems. First, they will be hard to reach, so you'll have difficulty grabbing what you need. Second, small things will get hidden towards the back of the shelves.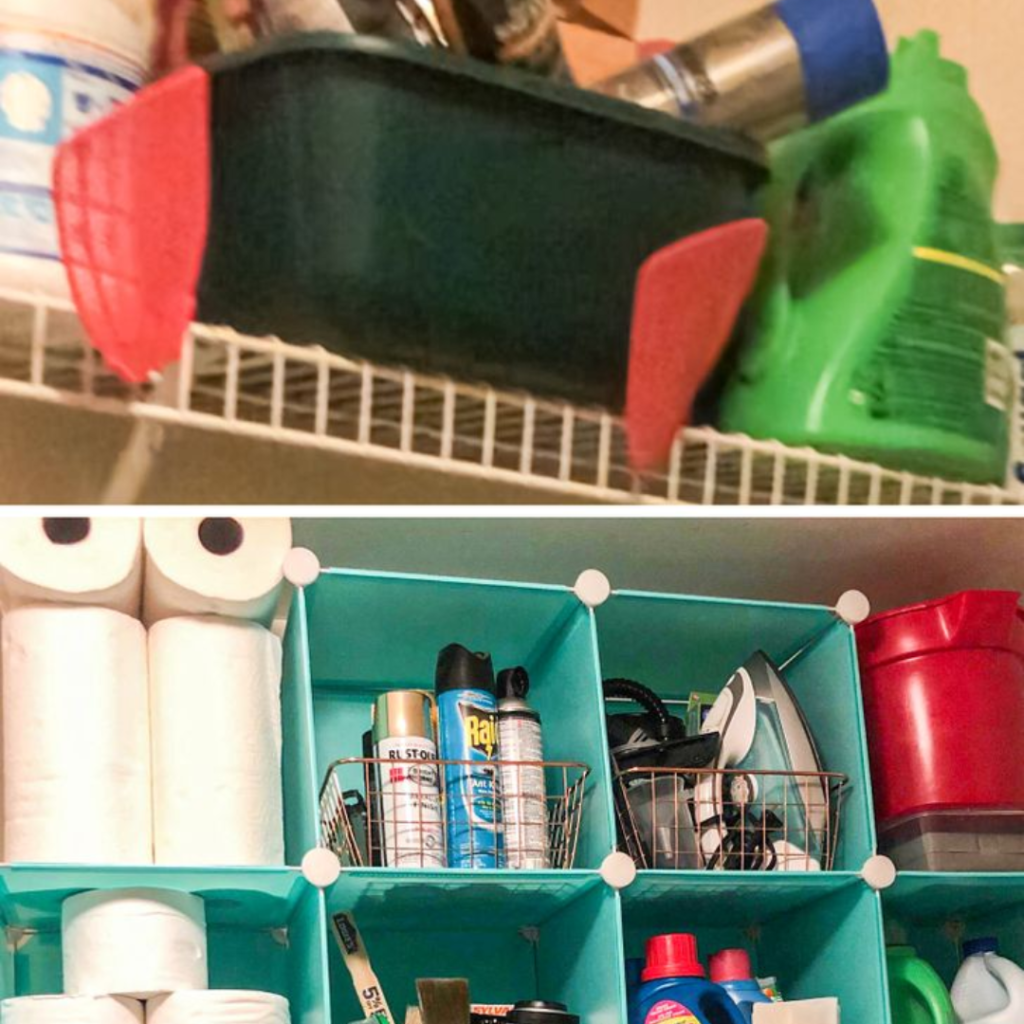 To solve this issue, use small cubes installed in a way that their front face is open. This allows you to see what's in the cube even when kept on higher shelves, and the small objects will never go missing.
Knife drawer organizer
Knives can be tricky to store, especially if you have small kids running around your house. If you leave them open on the kitchen countertop, they can rust early. Not to mention the dangers of a knife getting in children's hands.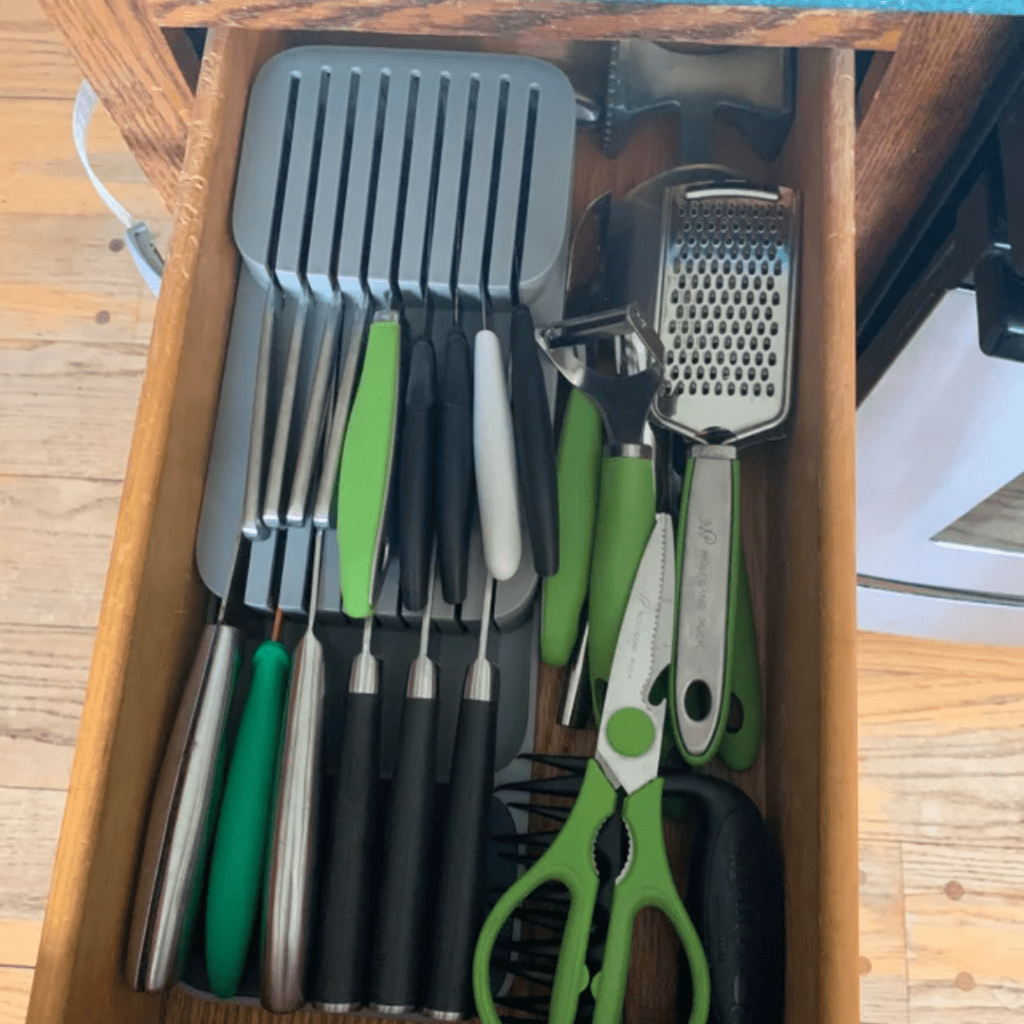 A knife drawer organizer can neatly arrange your knives in a drawer that you can close and apply a child lock on. They can be manufactured from plastic, metal, and wood. You can add other kitchen supplies like a grater, peeler, or mallet in the drawer.
Rolls in the basket
If you live alone, running out of toilet paper in the middle of your business can be a nightmare. You cannot shout out to your mom to hand you a fresh roll of toilet paper stacked up in your kitchen cabinet under the sink.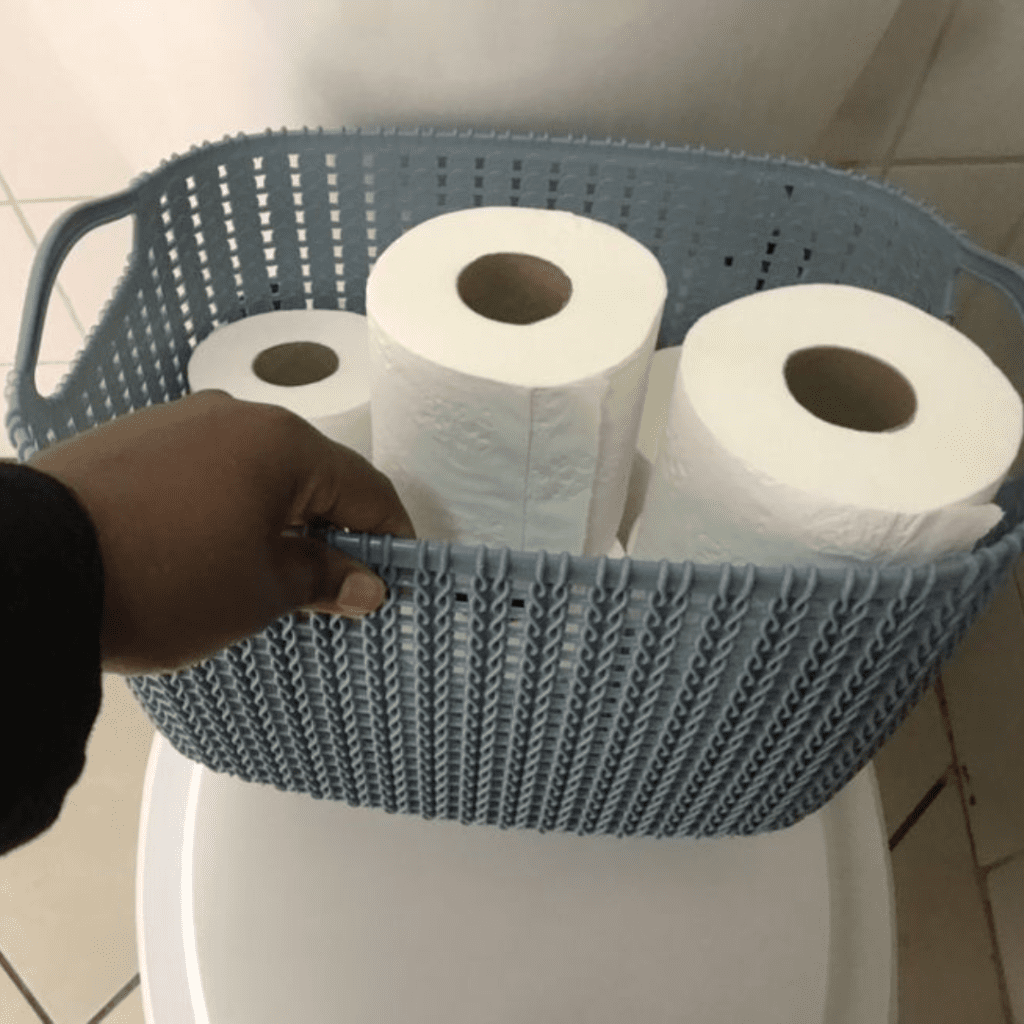 It is best to keep your toilet paper rolls in a small laundry basket inside your bathroom within reach to avoid this embarrassing situation. If you feel it looks unpleasant, just cover them by folding some towels on top and voila.
Stack up your space with a trolley
Wonder why air hostesses use a trolley to carry your meal? The answer is very simple; trolleys are compact yet spacious. One additional bonus, trolleys are very easy to move. The mobile shelves of trolleys provide extra space to store more stuff.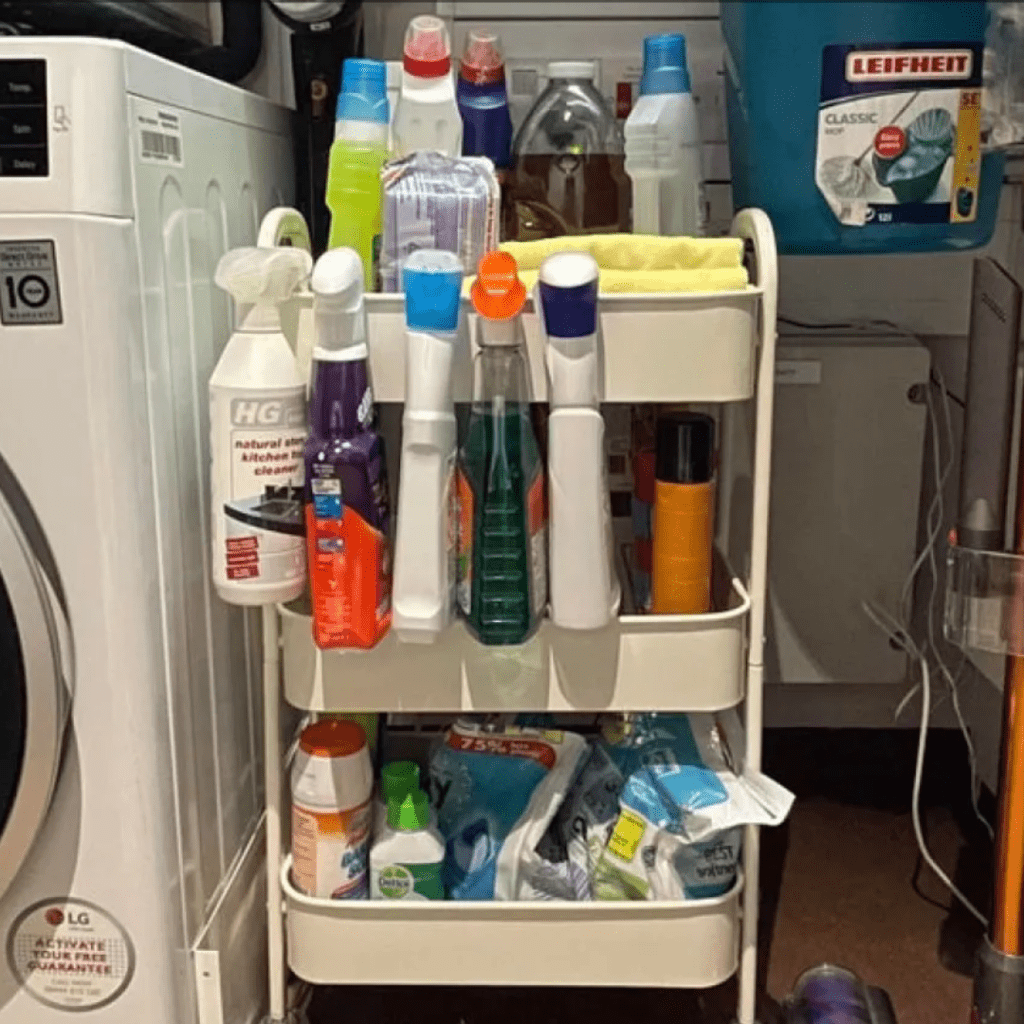 Supply closets are usually very cluttered and compact. Use a trolley to keep your cleaning solutions, brushes, and extra bathroom supplies. It is also wise to store regularly used items on a trolley so that when you need them, you can simply tow the trolley instead of carrying one thing at a time.
Pull out your spices
Do you love cooking, but your spice cabinet is always a mess? The spice containers usually look the same, and the most challenging part is finding that particular spice at the back of the cabinet. But no worries, here's a way out.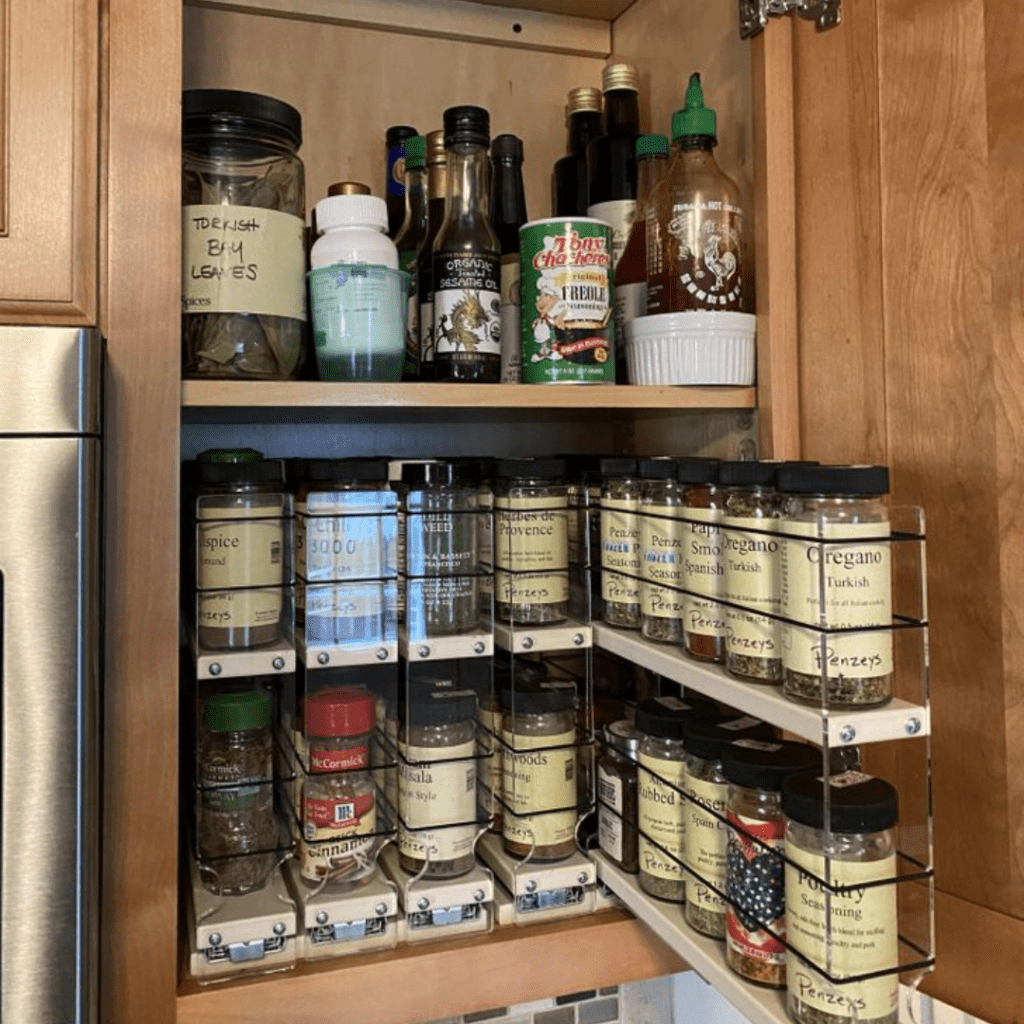 Pull-out shelves can save your time by organizing your spice jars. You can swiftly look for a specific herb in the back row while the containers in the front row remain in their place. You can also install two shelves vertically to best use the empty space of your cabinet.
Install floating shelves
Float shelves are a brilliant idea to free up some floor or desk space. Install floating shelves above your table to keep all the things within your reach while your working area remains tidy. You can use some design ideas from this picture.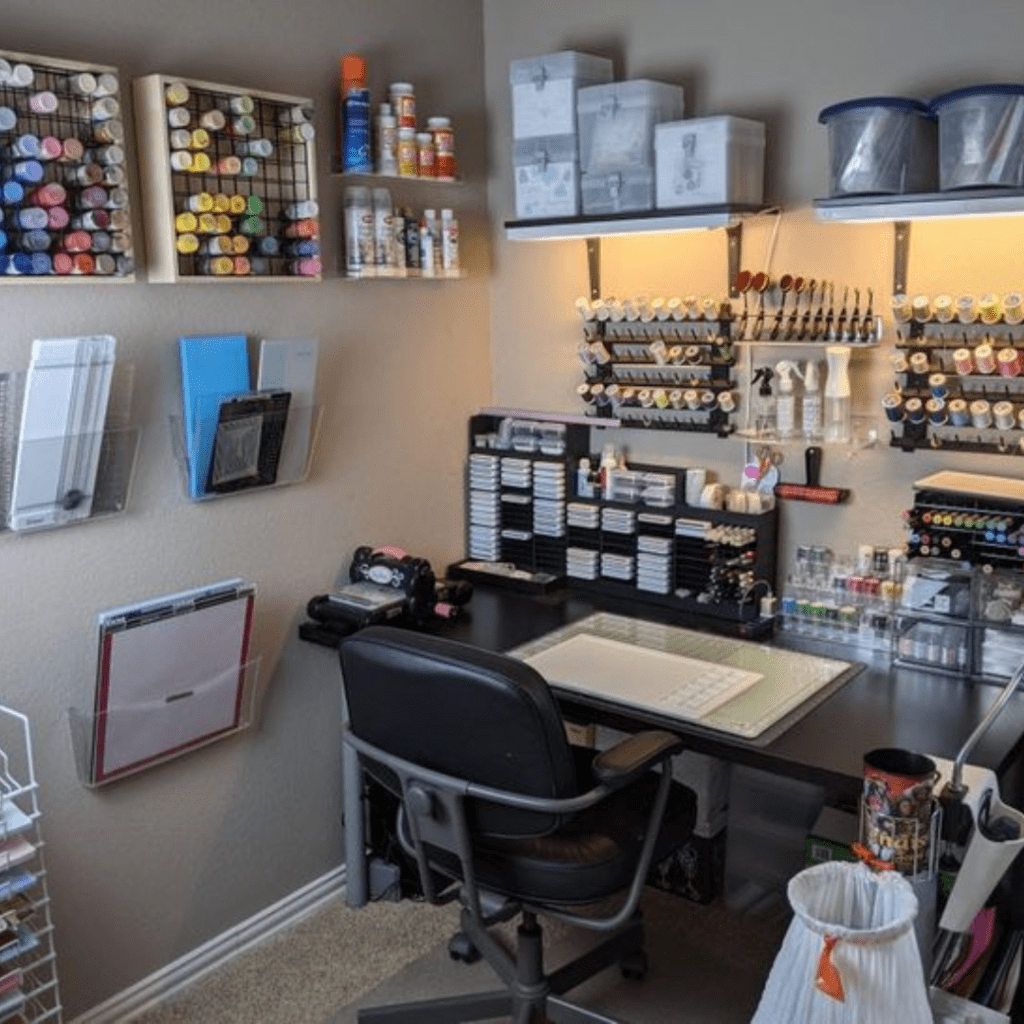 These shelves are available in various sizes and come with a manual to help you with installation. Floating shelves are generally available in different materials from PVC to wooden and even stainless steel. Use the suitable size and style to store your small to large essentials.
Put a pin on it
Do you also buy numerous bobby pins but can't spot even one when needed? You are not the only one who has faced this problem. It is easy to lose those sleek little pins in your purse or between the sofa cushions, but not anymore.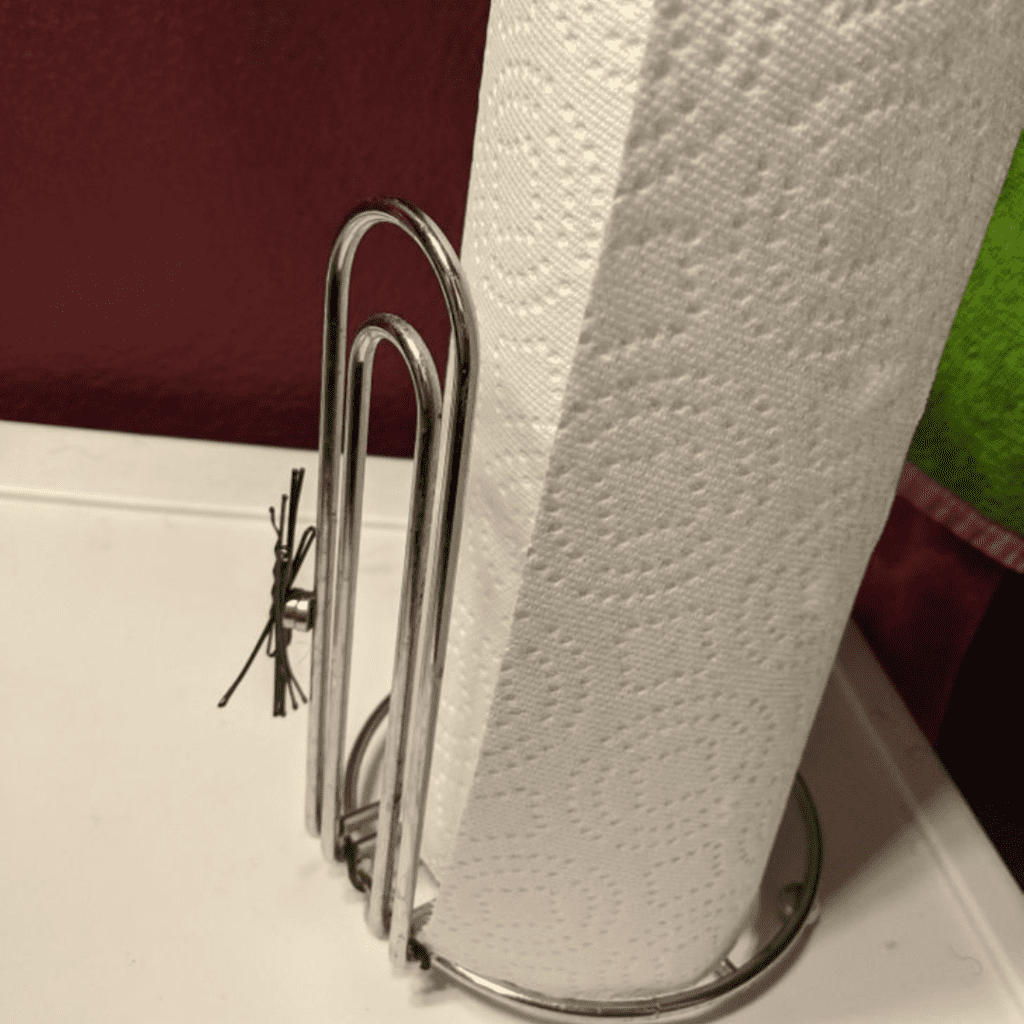 Here's an easy hack. Use a small magnet and stick it on a toilet paper holder. Stick a pin on the magnet whenever you take one off, or find a lost one. This way, you have them in one place when required.
Use boxes for your linens
Even when you fold your linens in the closet, they can look untidy. This is because of the varying size of the cloth or no particular color theme. It is not always possible to buy monochrome linens, but keeping them in monochrome boxes is an option.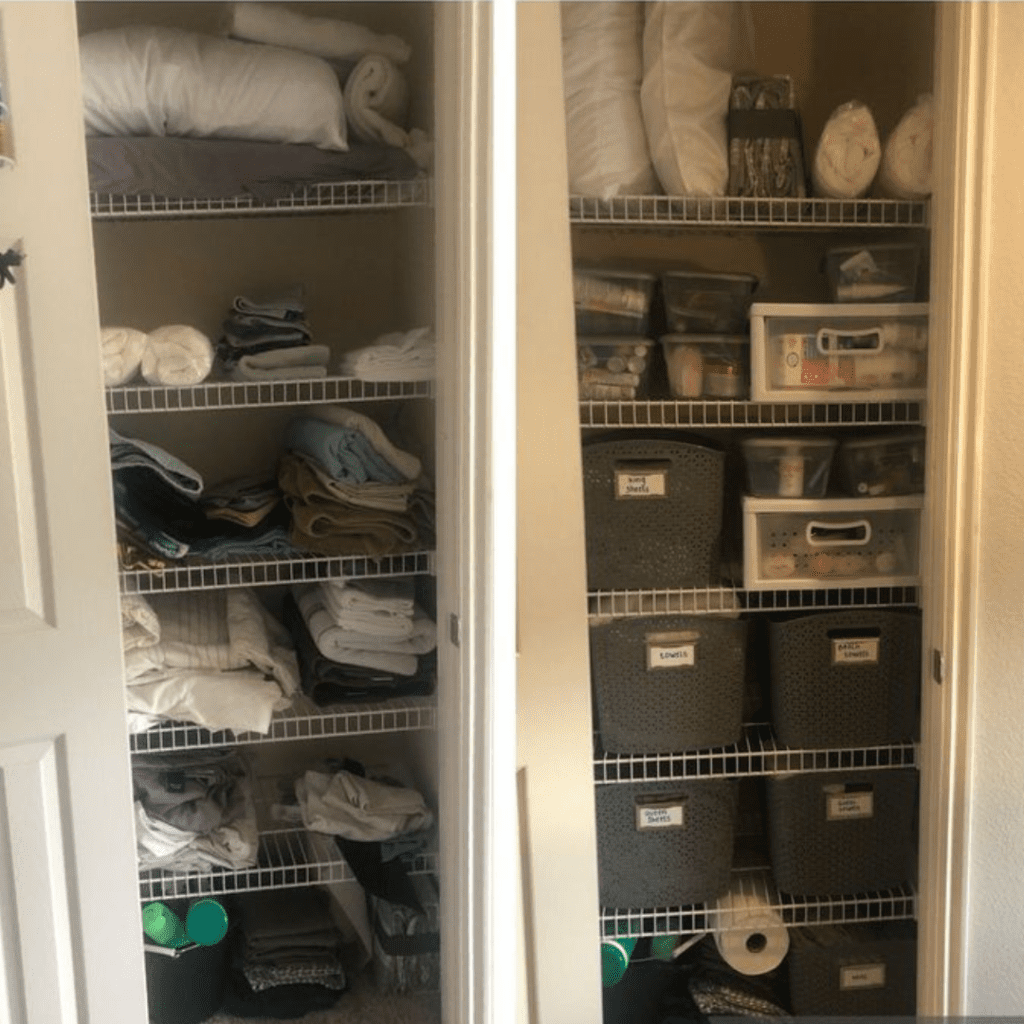 Buying large boxes that fit between your shelves can make your closet look neat. You can label them according to their usage or by the items inside them. Keep your pillows on the top shelf and roll up your bigger towels to complete the look.
Cubes and containers
Nothing looks more satisfying when your organizing containers fit perfectly inside the storage cubes. IKEA's KALLAX collection is affordable and versatile, and along with some storage boxes, you can beautifully arrange your things. Also, these containers come in different sizes and colors.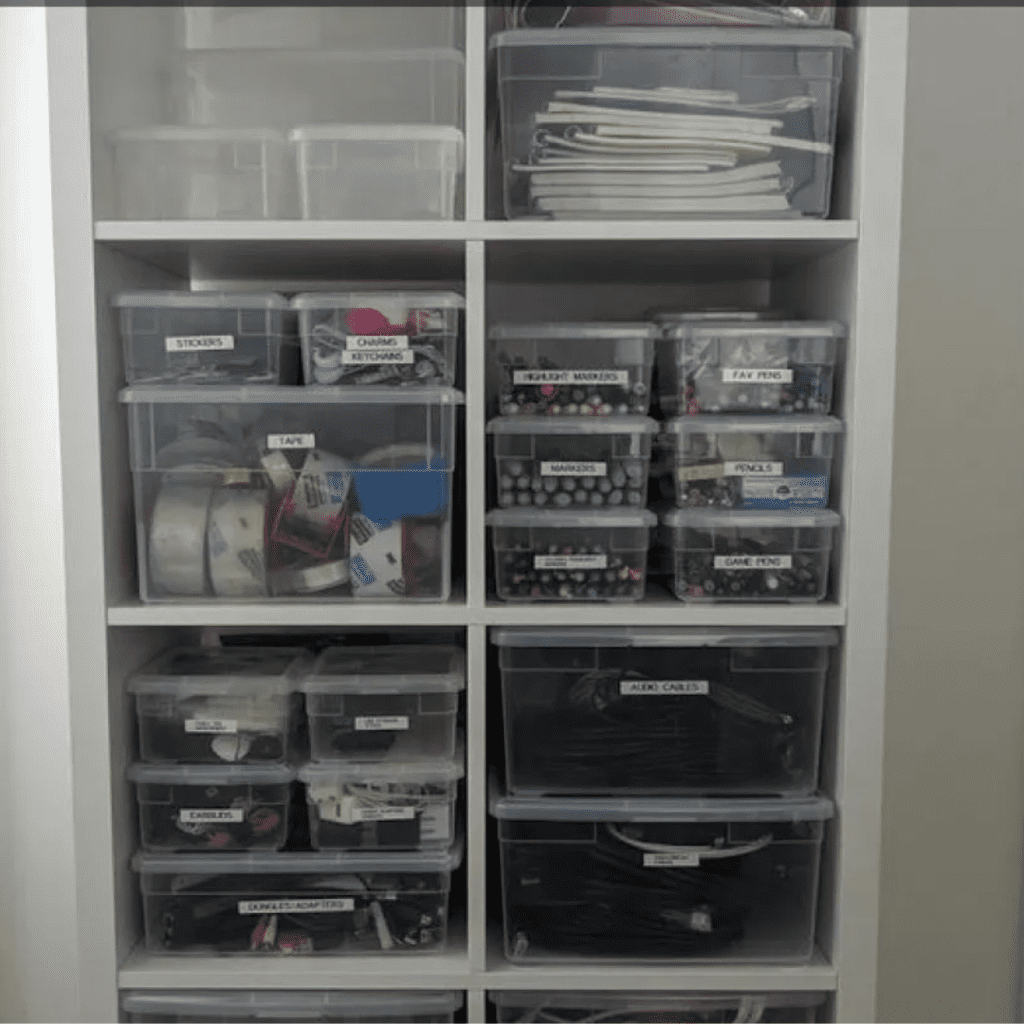 This piece of furniture includes 4, 8, or 16 cubes that you can arrange vertically or horizontally. If you lay them down horizontally, you can use the upper space as a TV stand or as a bench. Throw in some cushions to make it look aesthetic and comfortable.
The sock balls
The internet is flooded with sock storage hacks, and why not. You lose one, and the other becomes useless. But out of all hacks, the best way to arrange your sock drawer is by folding the pair of socks onto each other.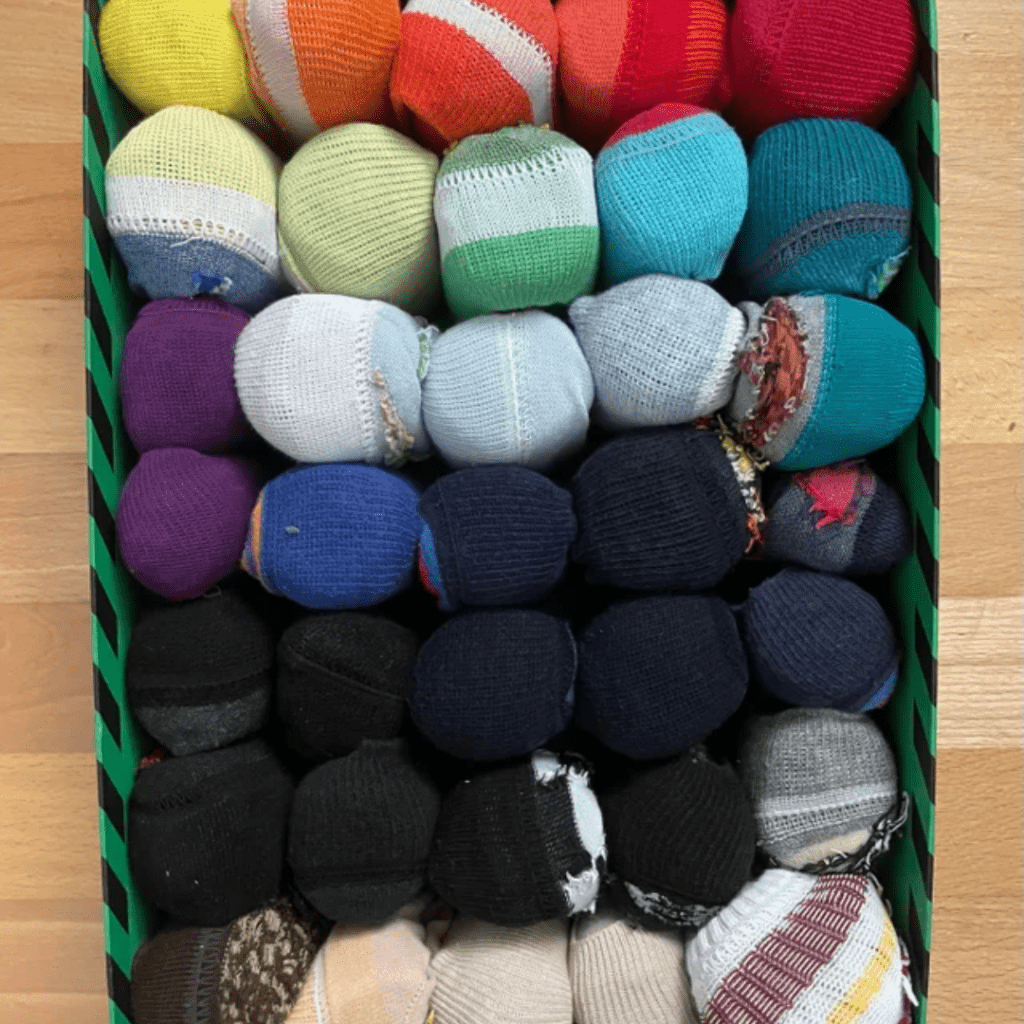 When you fold them like small golf balls, socks will take less space and be much easier to find. If you still fear losing them, just fit one sock inside the other, and you will never lose a sock again.
Use countertop shelves
If your bathroom is also a vanity room, the countertops can easily get cluttered over time. Shampoo, essential oils, cleansers, and hot iron might do not leave any space on the countertop. It also gets very irritating if the bottles keep falling into the sink.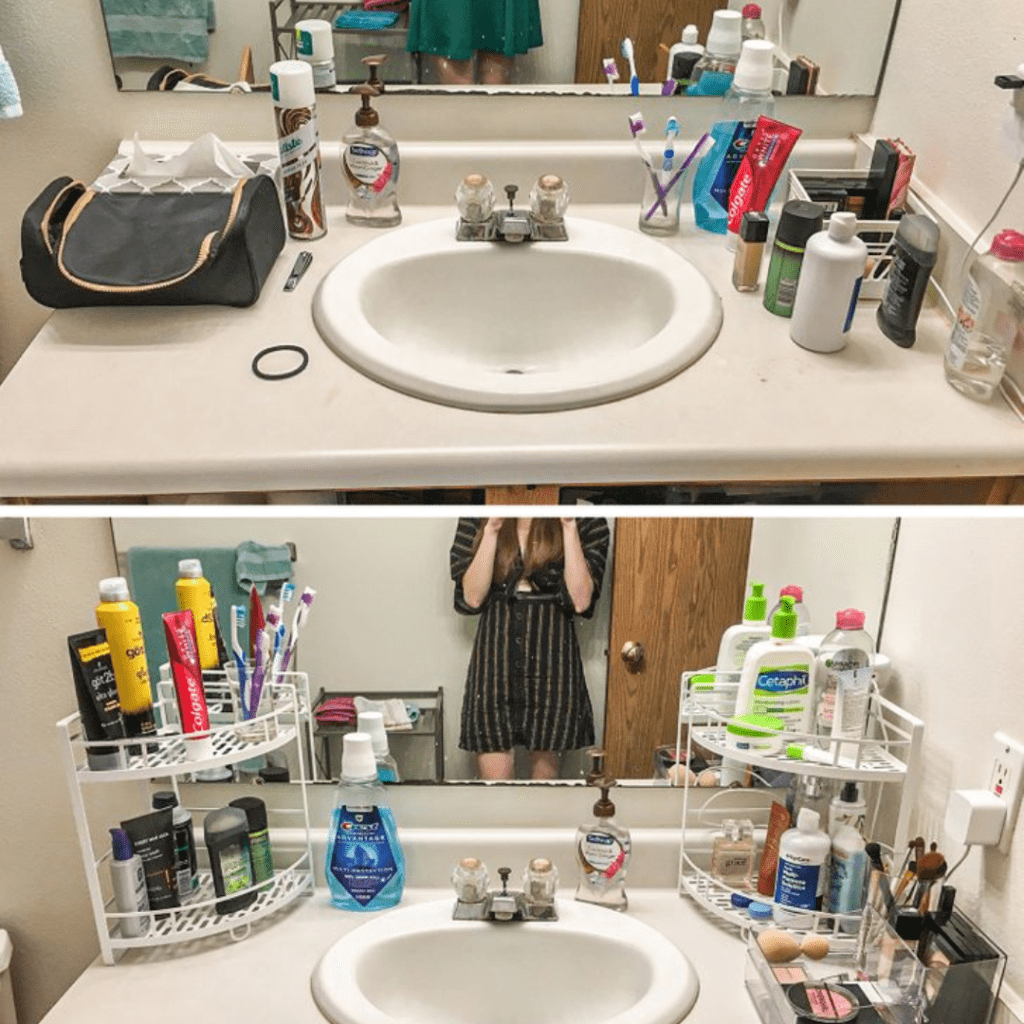 Get yourself a few countertop shelves to layer up your bottles in lesser space. You can also get a His and Her set to keep your and your partner's products separately. Pair it up with a few cable holders, and you can use your hair dryer or curling iron with ease.
Feminine needs
Women need so many extra things than a man can ever imagine. Organizing those little things can be frustrating, especially when you move to a new place. The first thing you can arrange to feel clean is your bathroom drawer.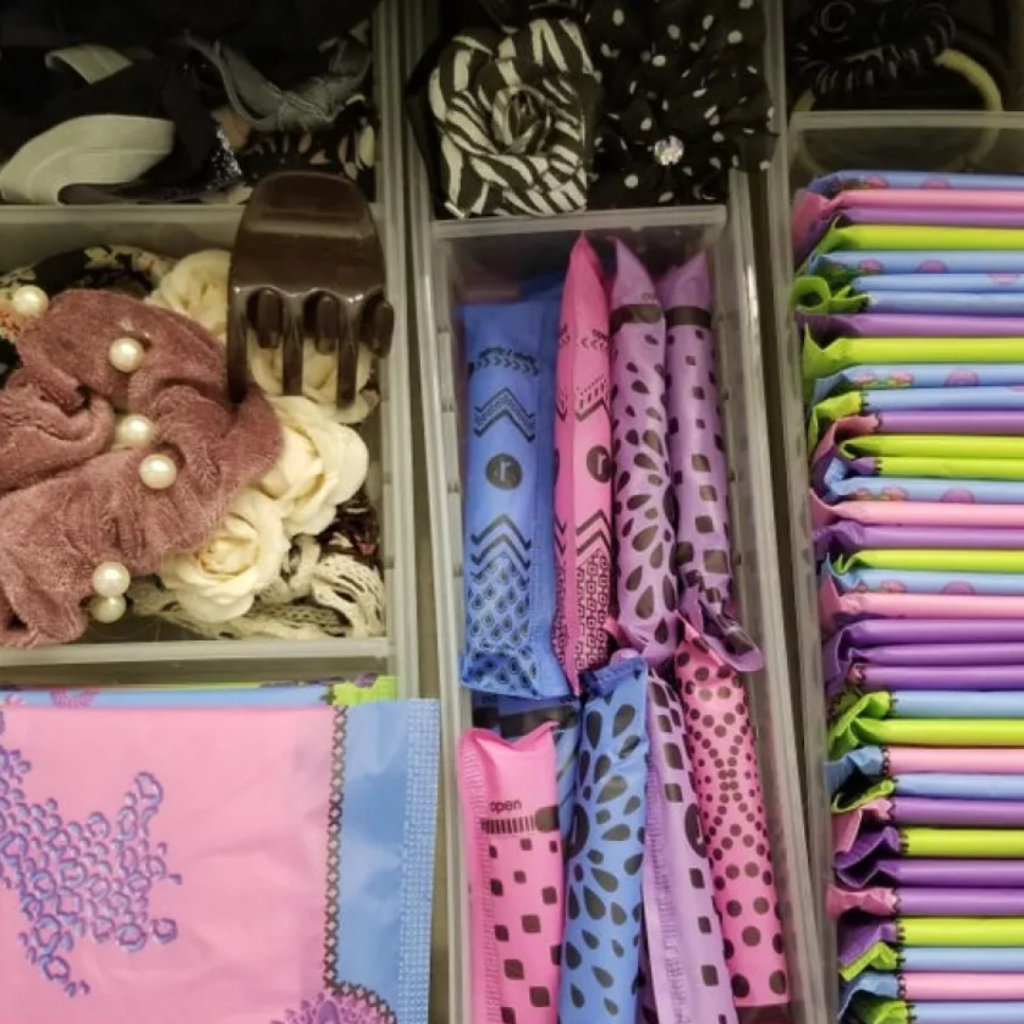 Use small boxes to separate your scrunchies, headbands, lipsticks, tampons, pads, etc. Not only do they look cute and colorful, but they also make it very easy to find what you need. You can just throw your clips in the designated box, and it will still look organized.
Dollar Store Bins
We know bins in any Dollar Tree store may not look like a very appealing object to use as decor. However, if you can put in some creativity, regular bins can look absolutely fabulous while being light on your pocket.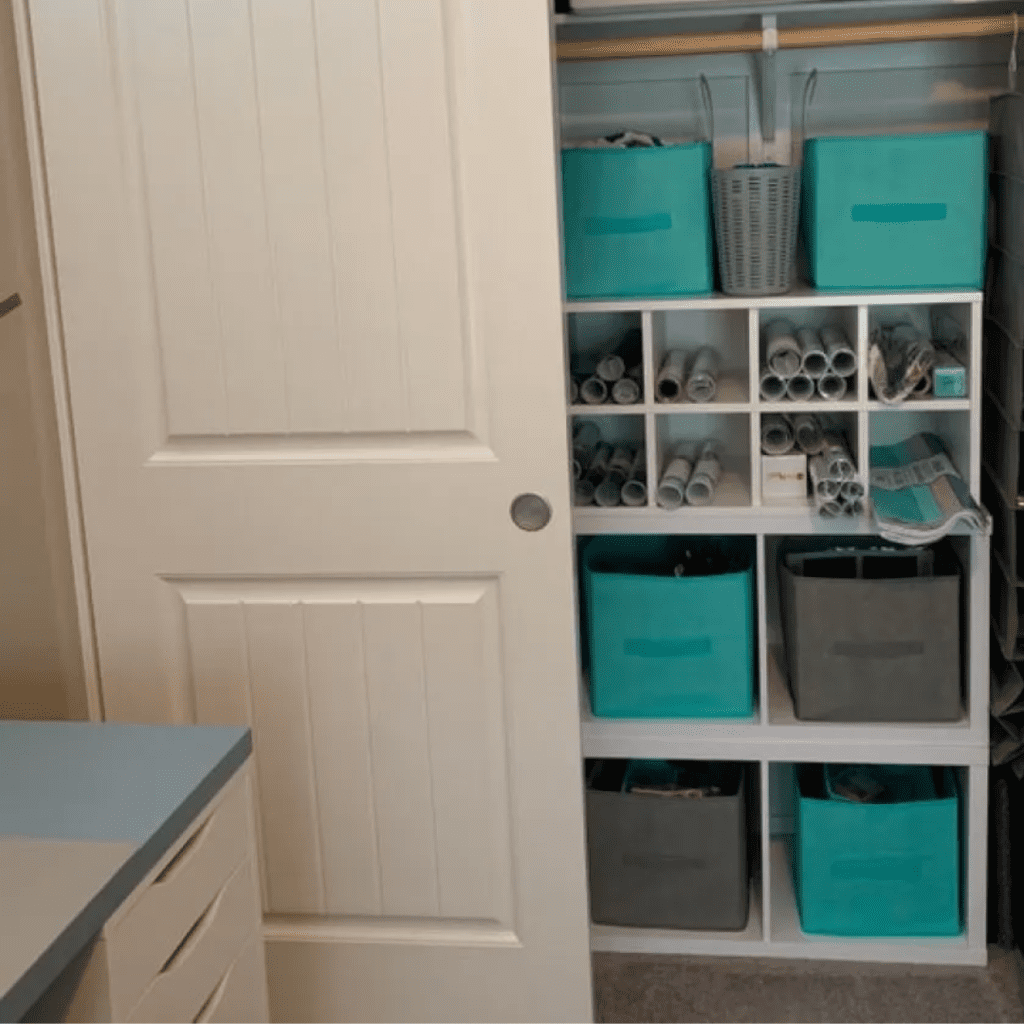 Teal and gray are great contrasting colors, and they can look sophisticated on a neutral background. Use these bins to hide the things that are hard to organize, like kid's toys. Buy matching gray baskets from the Dollar Tress to fill in the extra spaces.
Hang your hats
Summer is approaching, and so is the hat season. If you are a frequent hat wearer, you must know how challenging it is to store them. Stacking them one upon the other can be difficult if you own more than five hats because they will tumble over.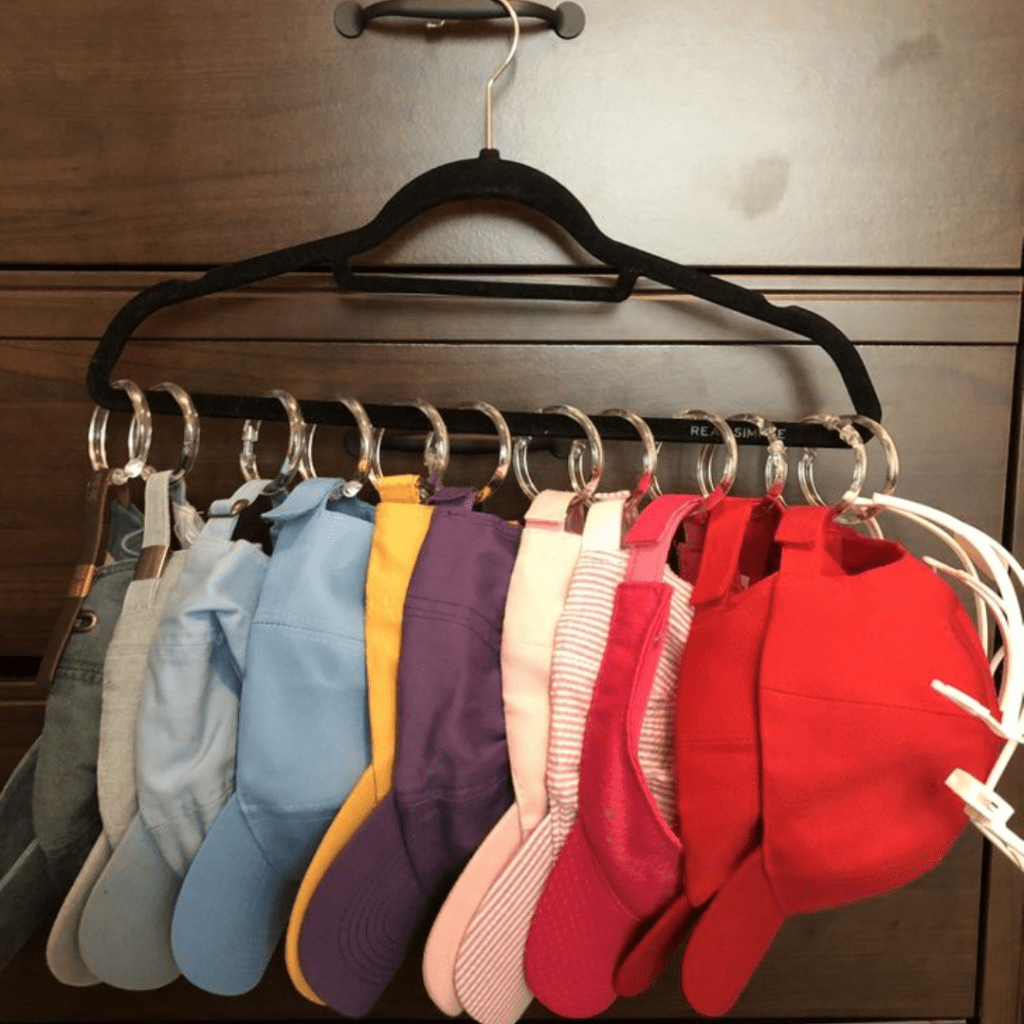 Here is a quick trick to help you use your closet space wisely. You need a hanger and a few plastic rings used to hang curtains. Loop your hat through the ring and then slide the ring on the hanger bar for a space-saving and resourceful hat trick.
Do not leave any space empty
If you keep your spoons, ladles, or measuring cups in a drawer, this might be time to rethink. After using your cabinet space, move on to the cabinet doors to maximize your space usage. This will empty your drawers which you can use to store other things.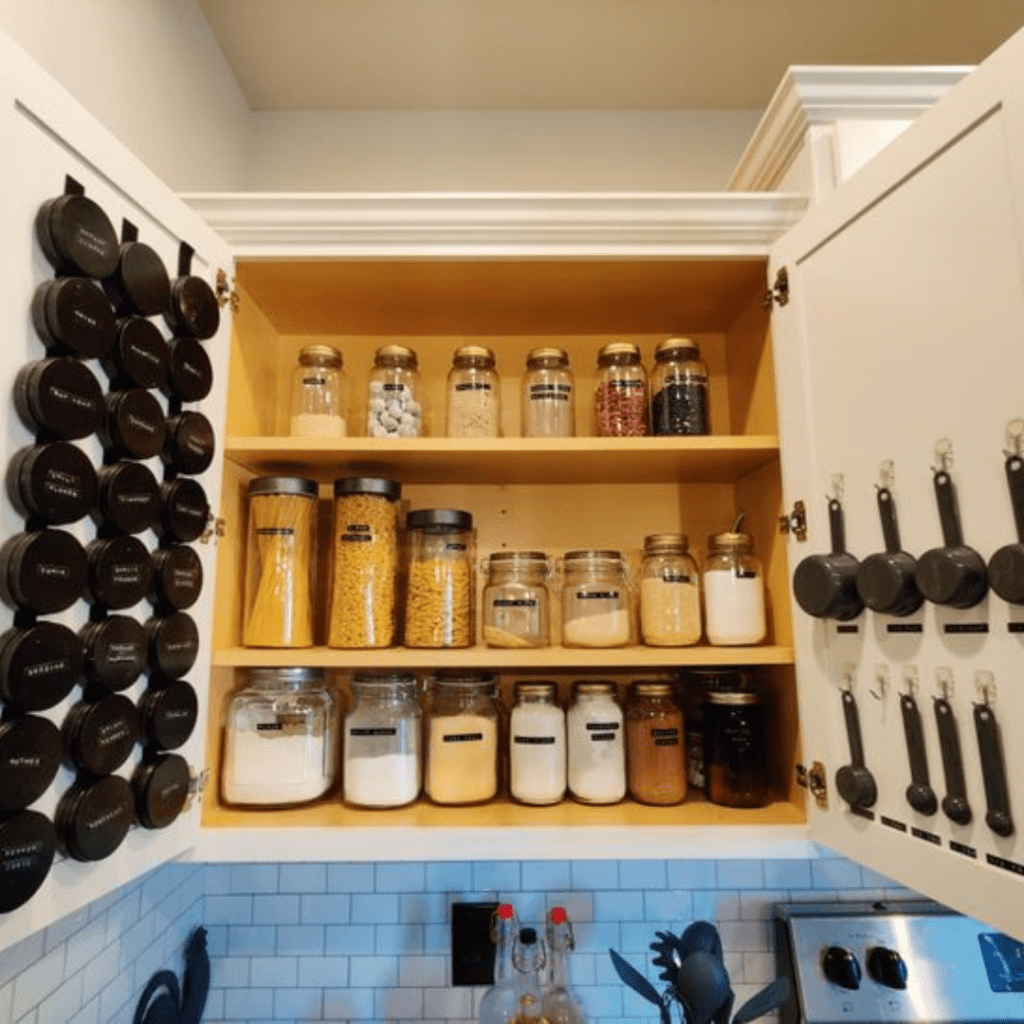 Use small hooks or clamps to hang your measuring cups on the inside of the cabinet door. These hooks are cheap and easily stick to the door. Use the ones which come with vacuum pressure to stick for additional strength and reusability.
Magnetic wire holders
If you have a home office, there must be a lot of wiring mess around your power outlet. You must have wires coming out of your computer, router, printer, charging cords, earphones, and whatnot. And in case they get tangled, it can be quite a waste of time.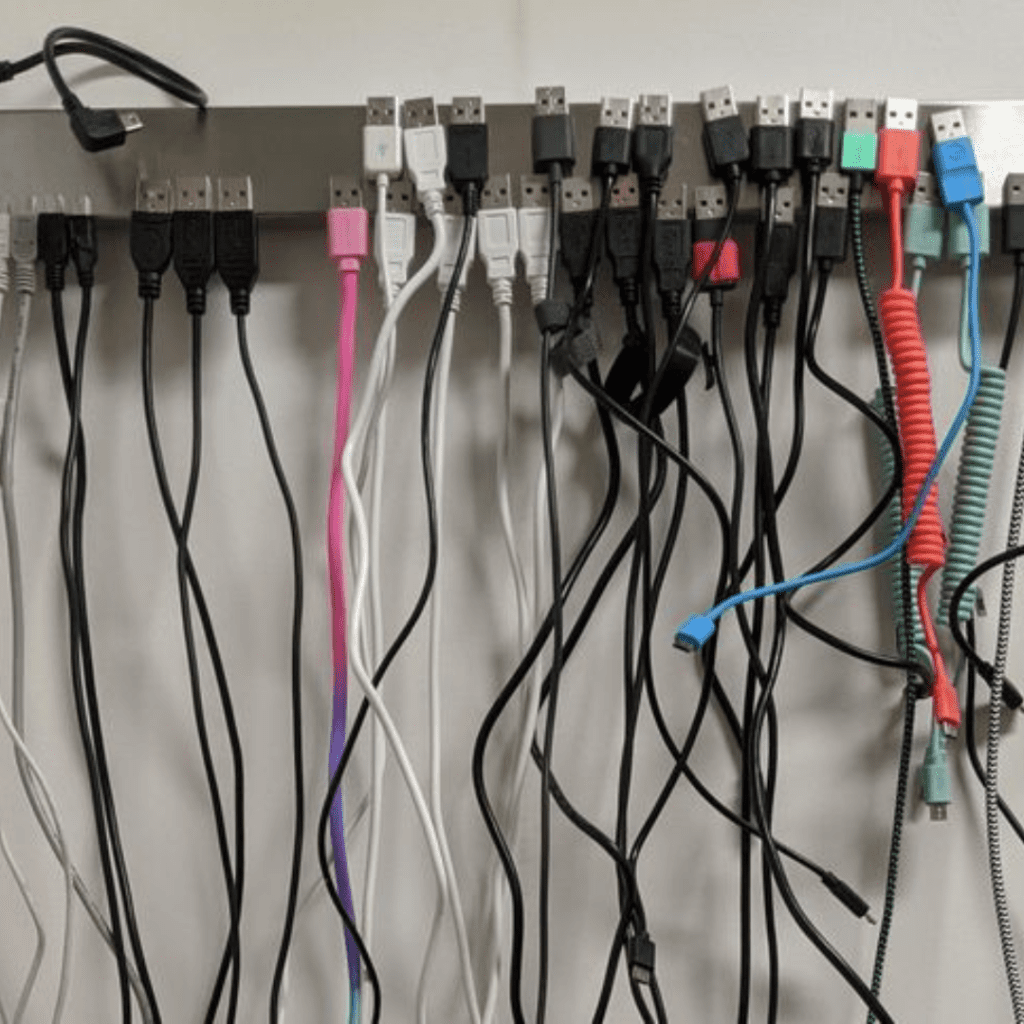 Magnetic wire holders can be very handy in such places. Simply attach the metallic end of the wire to the magnet. No extra hooks or holders will be poking out anymore. It looks minimalistic and prevents the tangling of the cables.
Hang it on the door
If your work includes a lot of small cables that are delicate and can easily tear, then this is the hack for you. Use a cable cache that you can easily hang on the door. These caches have several small plastic pockets that can help you clearly see your cables.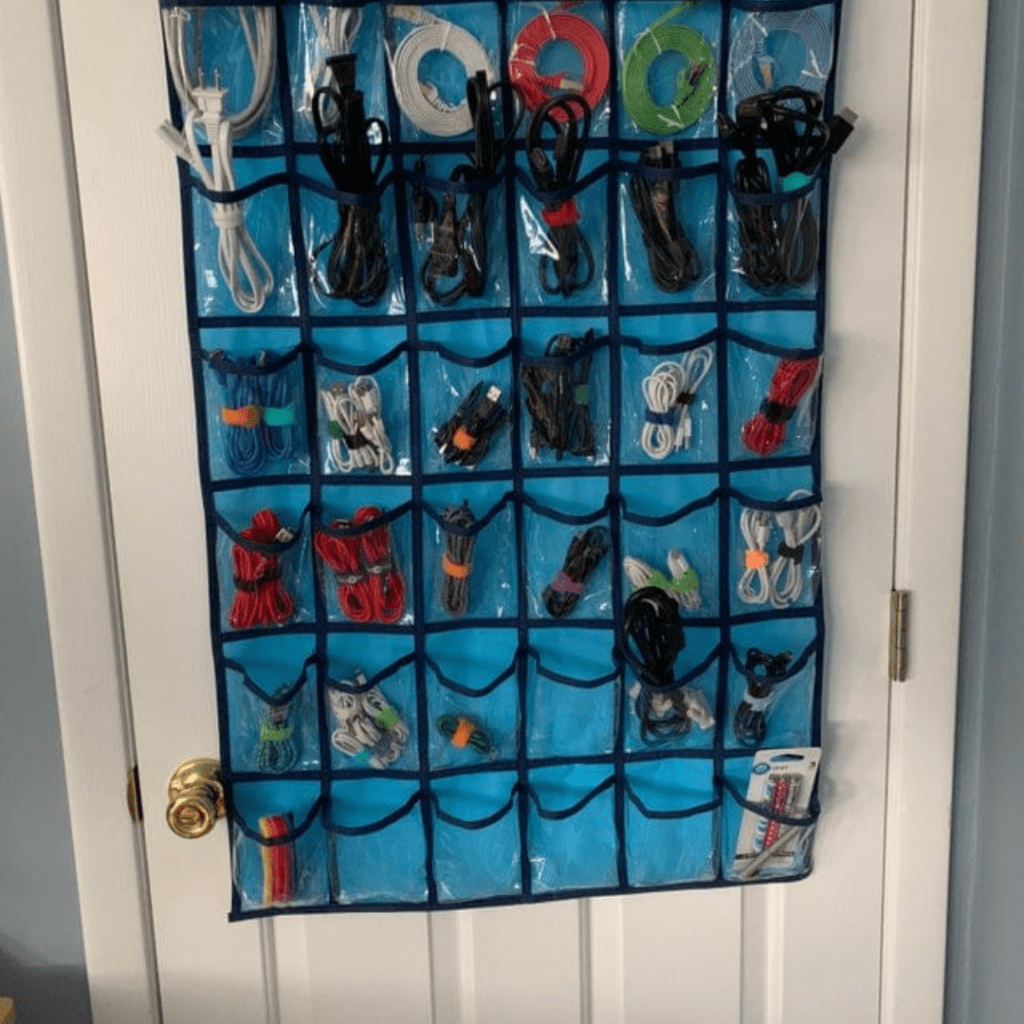 The cables remain snugly fit inside the pockets and do not entangle. Apart from cables, you can also use these caches to store other tiny things like rubber bands or art supplies. If you buy a bigger version of these caches, you can also keep your flat footwear in the pockets.
Declutter your pantry
The pantry is a space that's always abuzz with groceries coming and going off the shelves. Therefore, they are prone to cluttering. Plus, there may be many expired items you bought but never used since they were placed or pushed to the back of other things.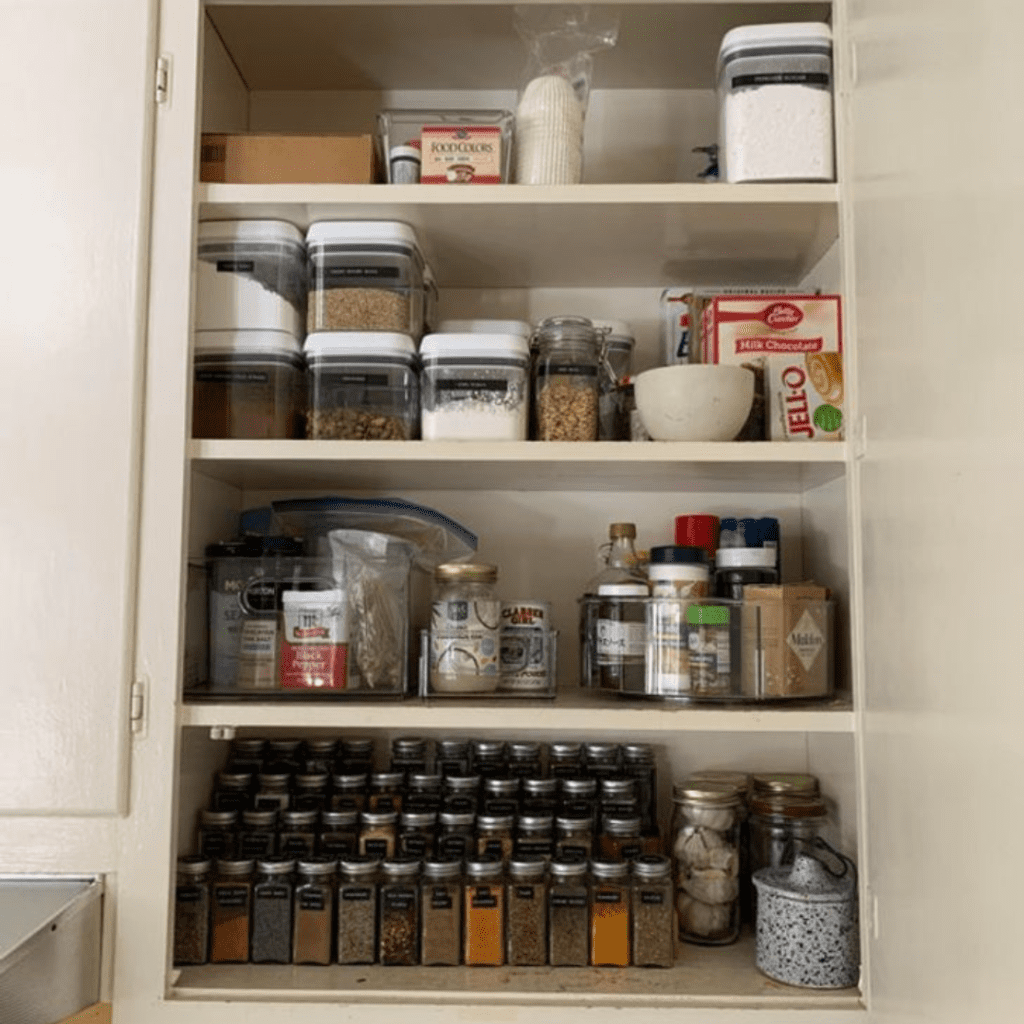 One way to make your pantry items easily accessible is to buy a stock of containers with labels on them. Storing your pantry items in similar containers gives it a sense of pattern and also creates extra space taken by the uneven packets.
Plan your pans
Does your oven or dishwasher also work as a pan storage unit? Pans or woks are big and require a lot of space, and small kitchen cabinets are insufficient. So you might be looking for different places to store your pans.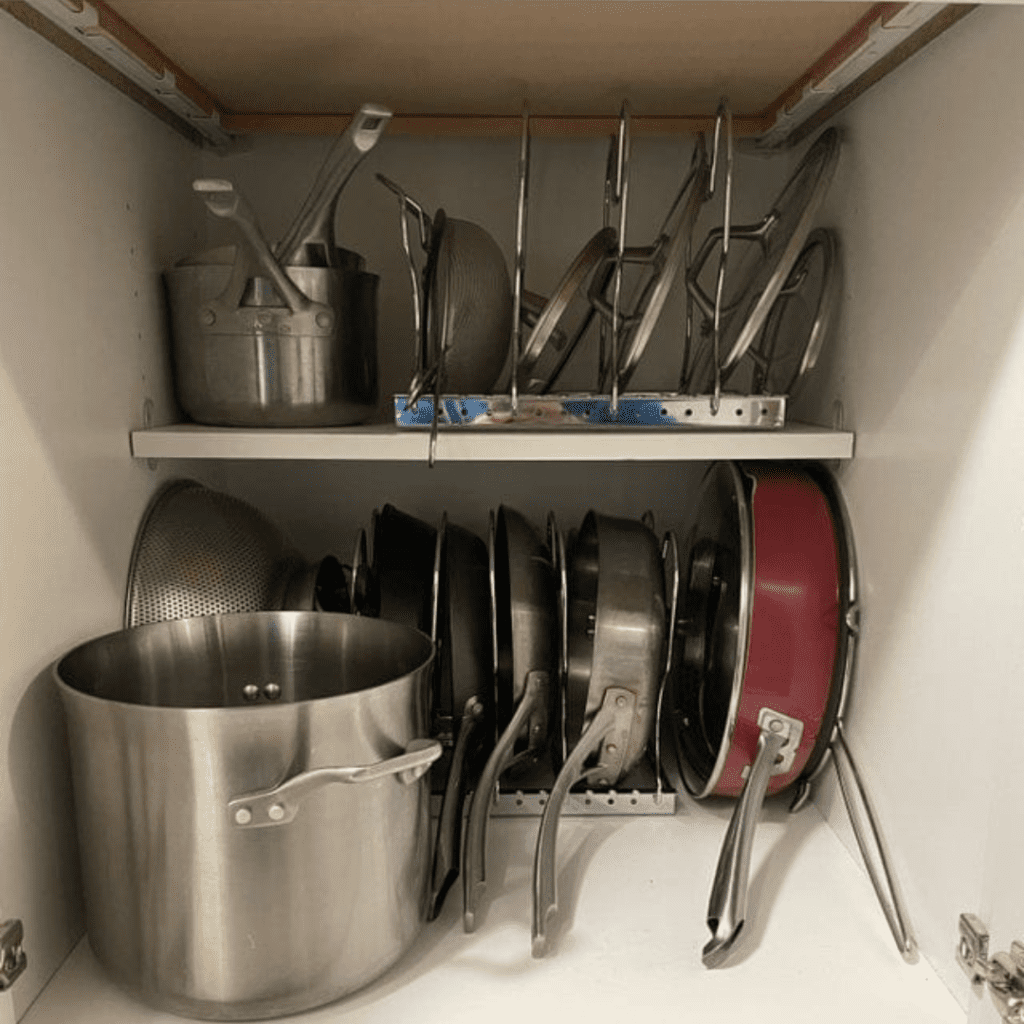 But what if you keep your pans sideways? This will create more space for additional utensils as the broad base of the pan is now up against the side. You can also buy some robust metallic separators for this purpose. Store the smaller pots inside the bigger pots as they cannot be stored between these racks.
Roll the towels
You can be like Monica Geller and have 11 different types of towels. But arranging them can be pretty tricky as the towel material is light but fluffy. The best way to optimize space is by rolling up your towels.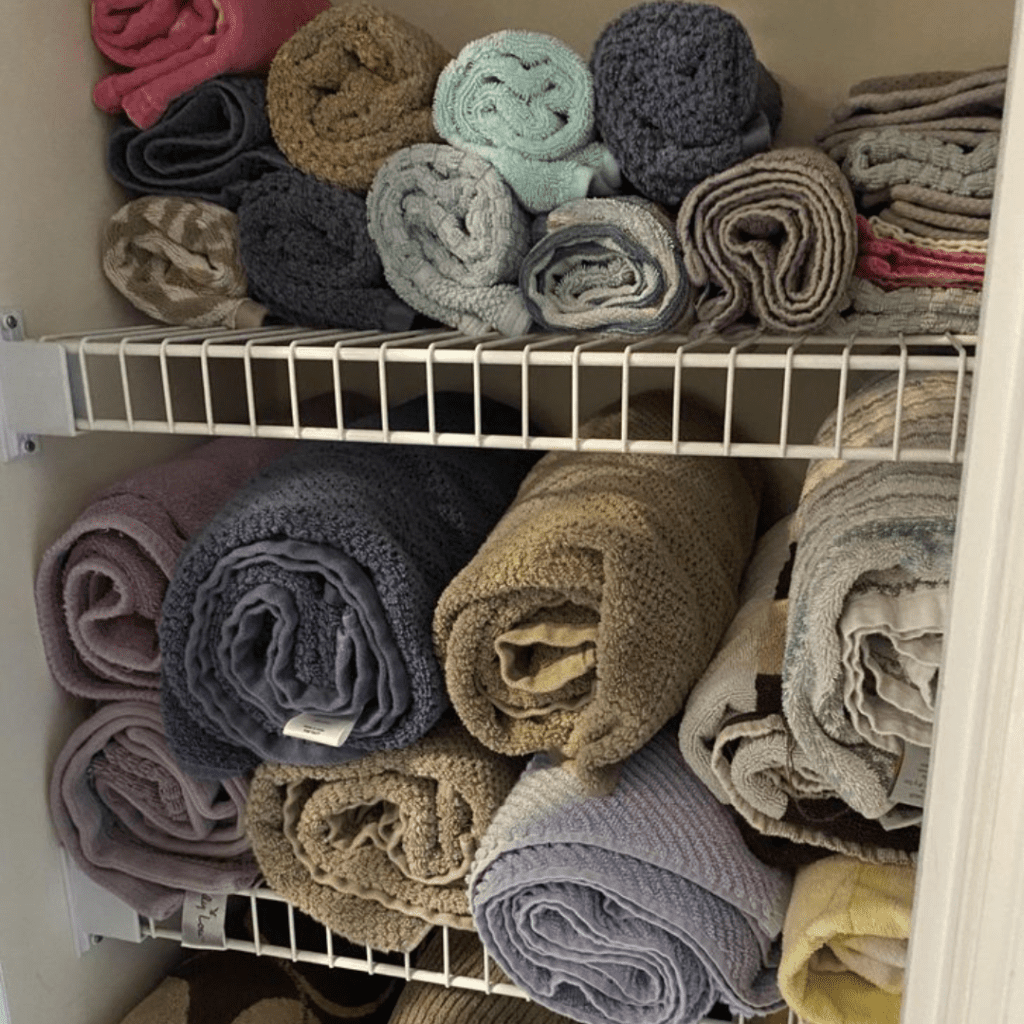 Rolling is proven to be a better option than folding. Fold once in the middle and start rolling one edge tightly towards the other. Stack the bigger towels at the bottom and the smaller ones above them like a bunch of grapes.
Another rolling cart
Beauty gurus share their reviews on many products, but rarely does anyone tell you how to organize those countless products. They sure get professional help, but you don't. We advise using a rolling cart to systematize your makeup and beauty essentials.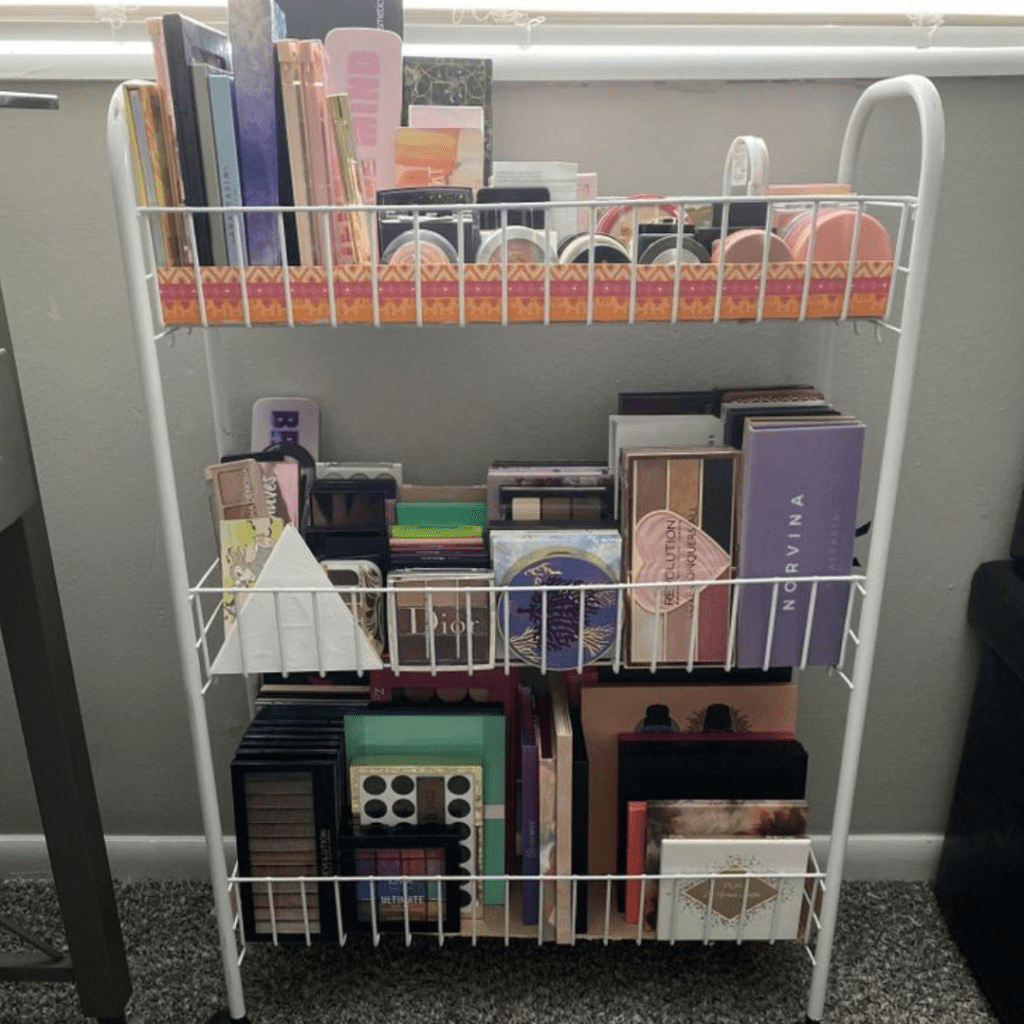 These carts are compact and lightweight. They can fit right beside your dressing table and be easily accessible while you try out a new makeup look. Arrange your eyeshadow palettes or bronzers horizontally, one beside another instead of vertically, for better stability.
Don't let your sauce spill
If you enjoy having dips with everything or you love dressing more than the salad, then this is the right hack for you. Being small in size, dips can be hard to store as they might get lost behind other groceries.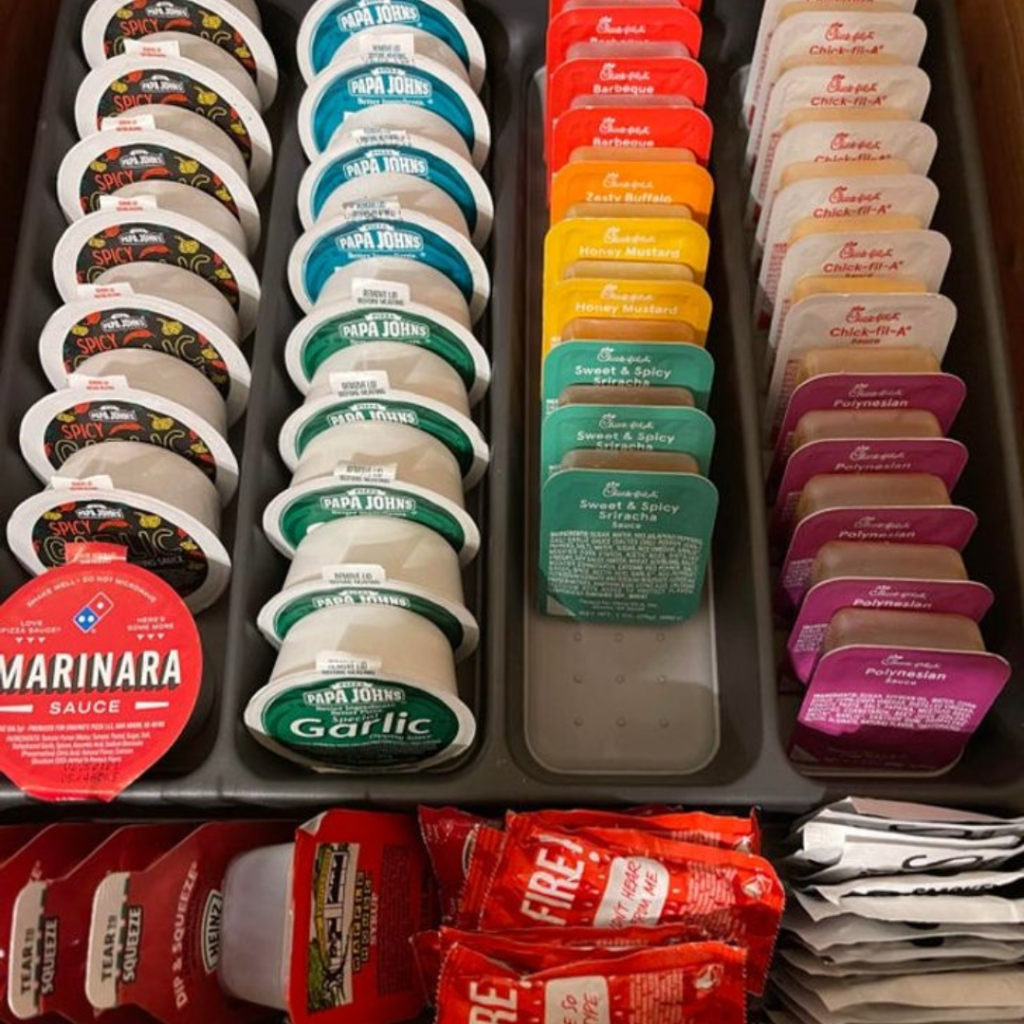 But you can solve this by buying these small trays to organize your sauces. You can arrange your dips according to color, size, or expiration date. It will also be easy to see which particular sauce is running out of stock without rummaging through your refrigerator in frustration.
Mix science with art
If you are a science student by profession and an art student by hobby, this can be a great hack. Use extra beakers and flasks to create a laboratory at home. After all, art is also a kind of chemistry between different colors and textures.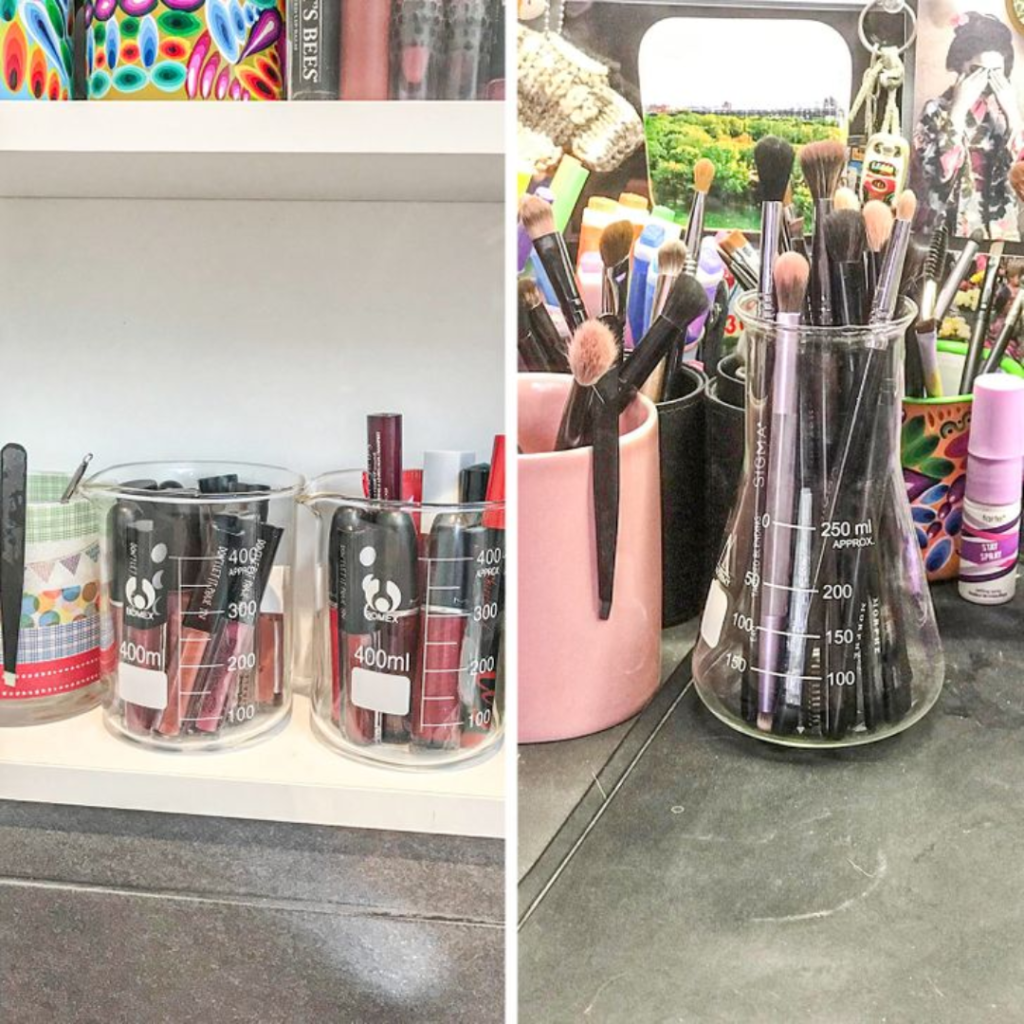 Beakers are wide and clear, making them a good storage unit for brushes. They can add a sophisticated look to your otherwise jumbled workstation. You can also use them to store your lipsticks, other liquid makeup items, or blending sponges.
Use string for your paint
You can call an art studio a very inspirational or creative place but clean and neat are not the words often used. The aftermath of a painting session can be ugly, so it is best to create an organizing space for the paint tubes and bottles.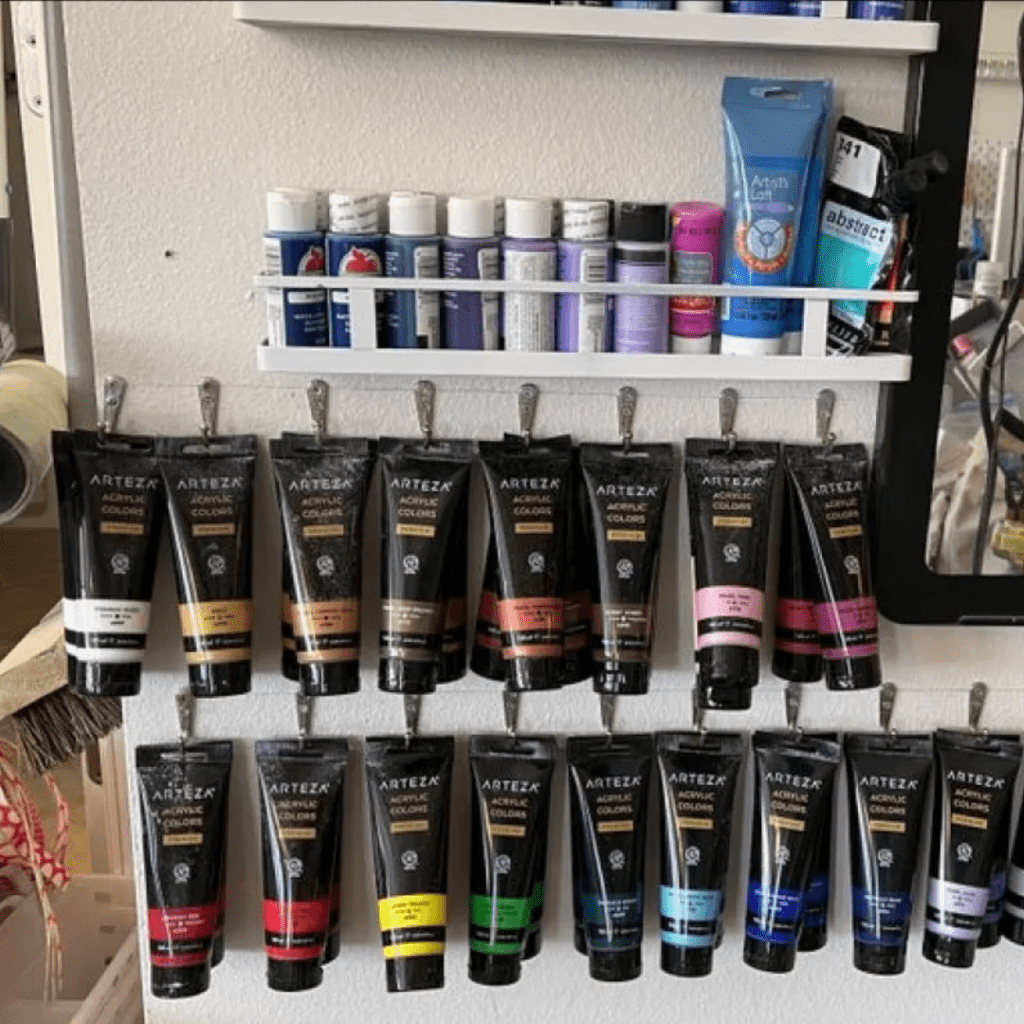 You can hang a solid strong on an empty wall and clip your paint tubes like drying fabric on a clothesline. You can even build a small shelf with plywood or cardboard and paint them over to store your bottles of paint.
Use your cookie jars
You are not the only one if you have bought cute little things out of impulse without considering their practical use. This cookie jar in the picture is pretty on the outside but does not have enough space to store many cookies.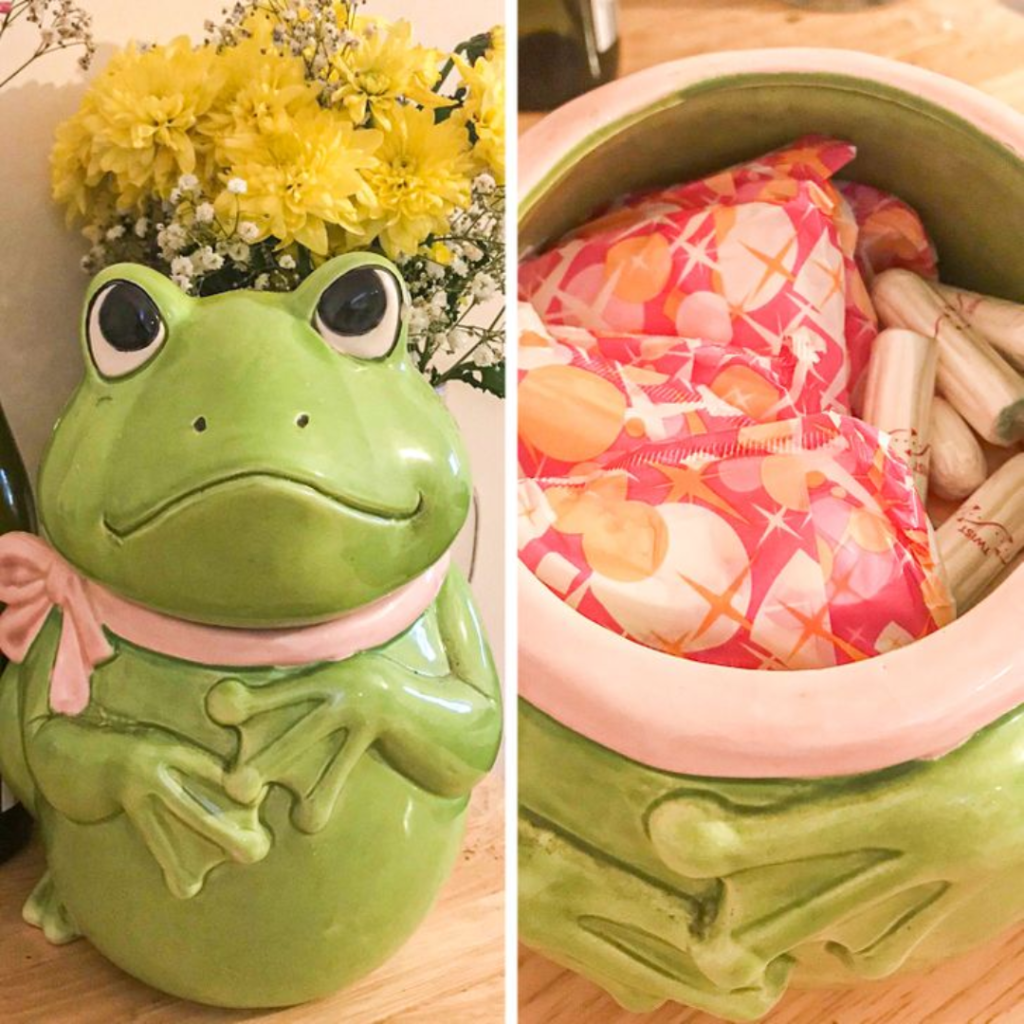 So it is better to use this small space to store something smaller than cookies, for example, some period products. In this way, you can add something pretty and practical to the bathroom. You can do this with transparent or tinted cookie jars too.
Give a makeover to your makeup
The early morning rush can get clumsy. But once you come back home tired from your job, it is irritating to see makeup scattered around. To solve this problem, you can use a sleek wall shelf where your products stay organized and visible.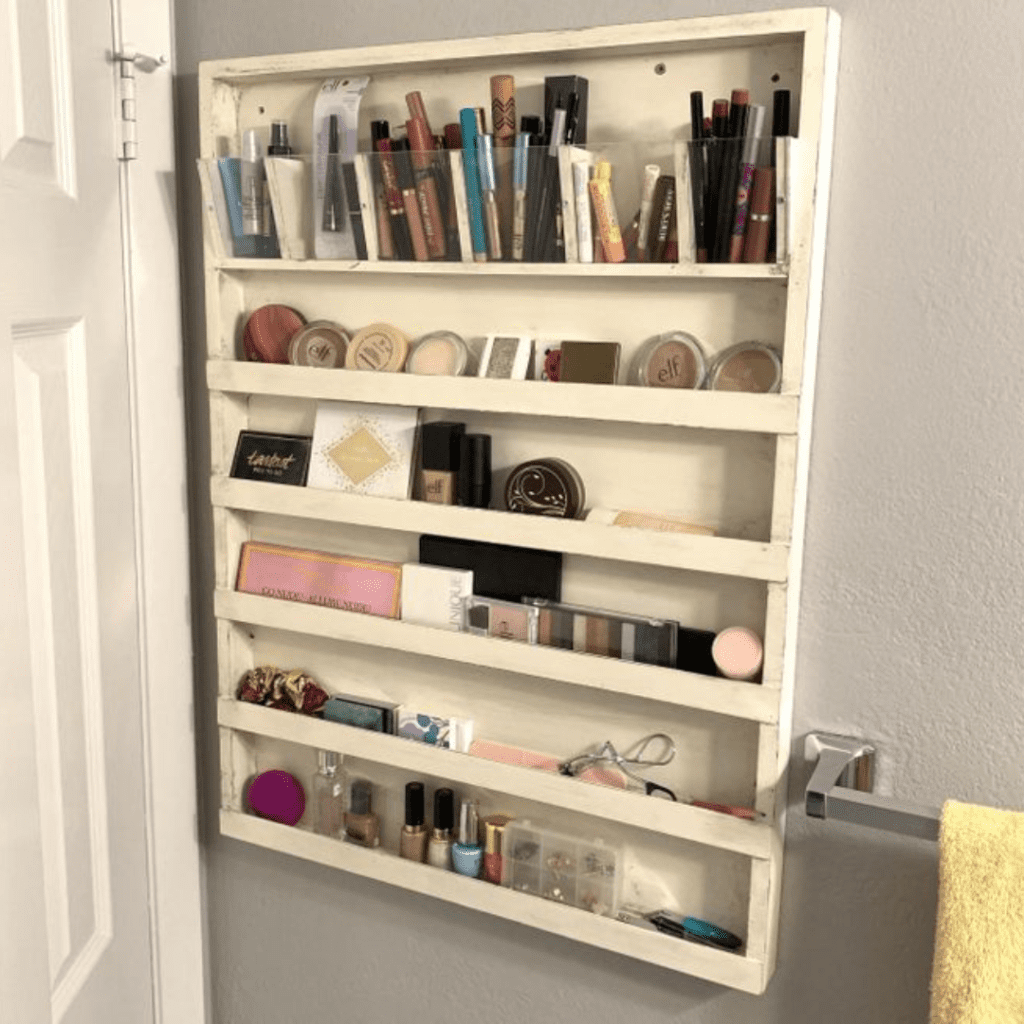 If you are a person who spends your time doing DIY, this can be an effortless yet satisfying project you can build from scratch. You will need some long slabs of wood, paint, wood glue, glass, and hooks to hang on the wall.
Store your pens in shallow boxes
Using a mason jar as a pen stand is fine, but if you are a calligrapher, then using mason jars can't be a practical solution. A calligrapher's studio contains hundreds of pens in different shapes and sizes. Shallow and wide boxes are an excellent option for you.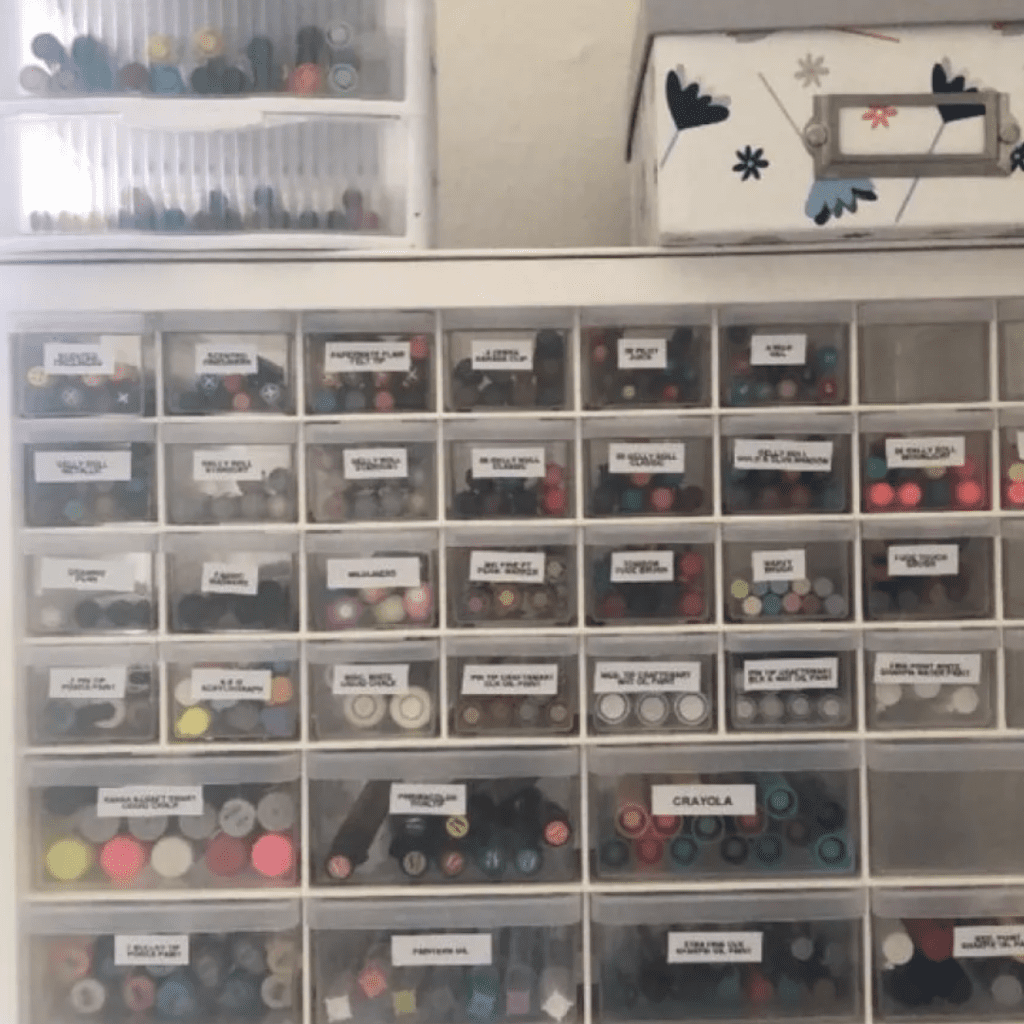 The reason is that pens are easier to search for in shallow boxes than in deeper ones. You can categorize the boxes with labels for easy identification. The only limitation is that it can't store very long pens. We advise you to use longer bins for such pens.
Use hangers for kid's clothes
Children need a lot of clothes as they rapidly grow out of them or spoil them five times a day. But, folding and keeping their clothes can be a little difficult as they are very small and there is not much material to work with.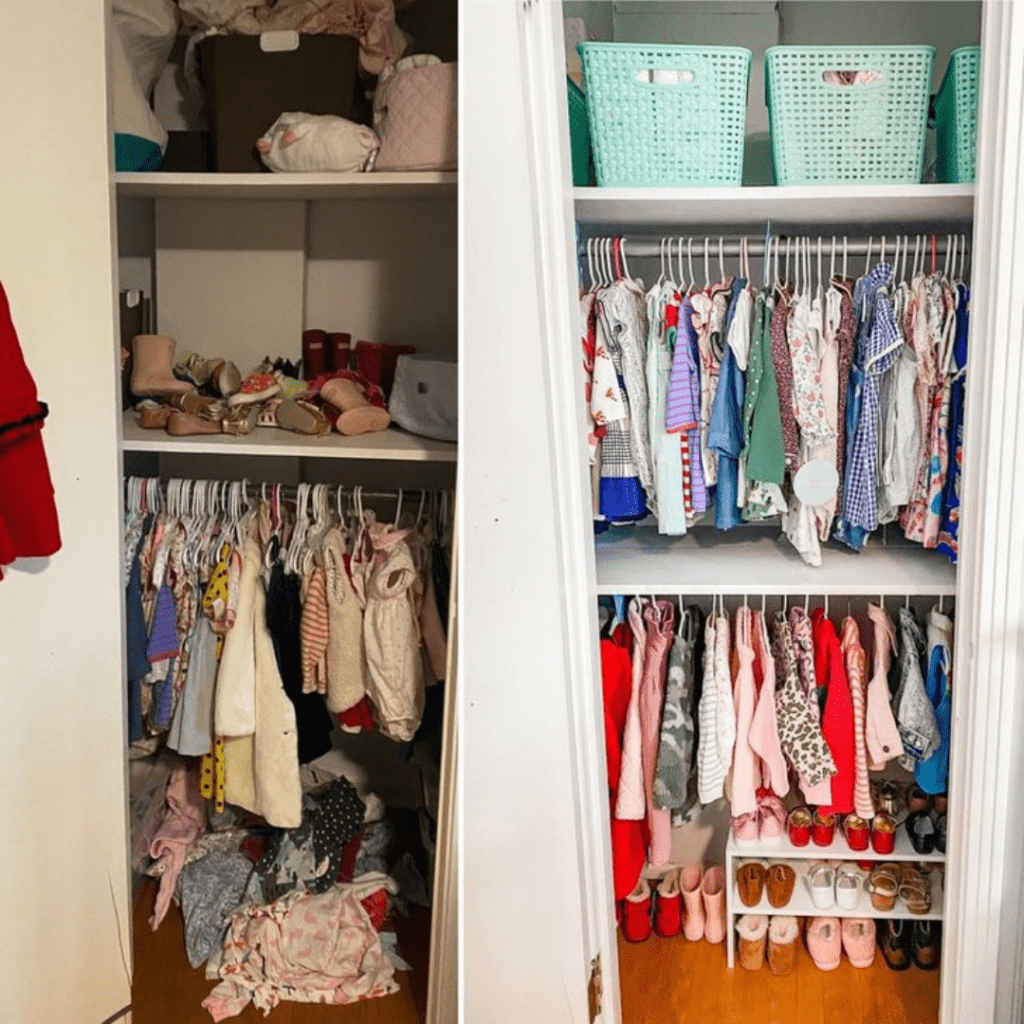 Use only hangers to organize your kid's clothes. It is an excellent way to use those small closet shelves that can fit only a few adult size articles of clothing. Just install a hanger bar to make the best use of such spaces.
Customize your own labels
Buying beautiful labels for your boxes from a store can have two problems. First, you may not always get the same design or the right word which can mess up your theme. Second, it is a little expensive to buy aesthetic labels for everything.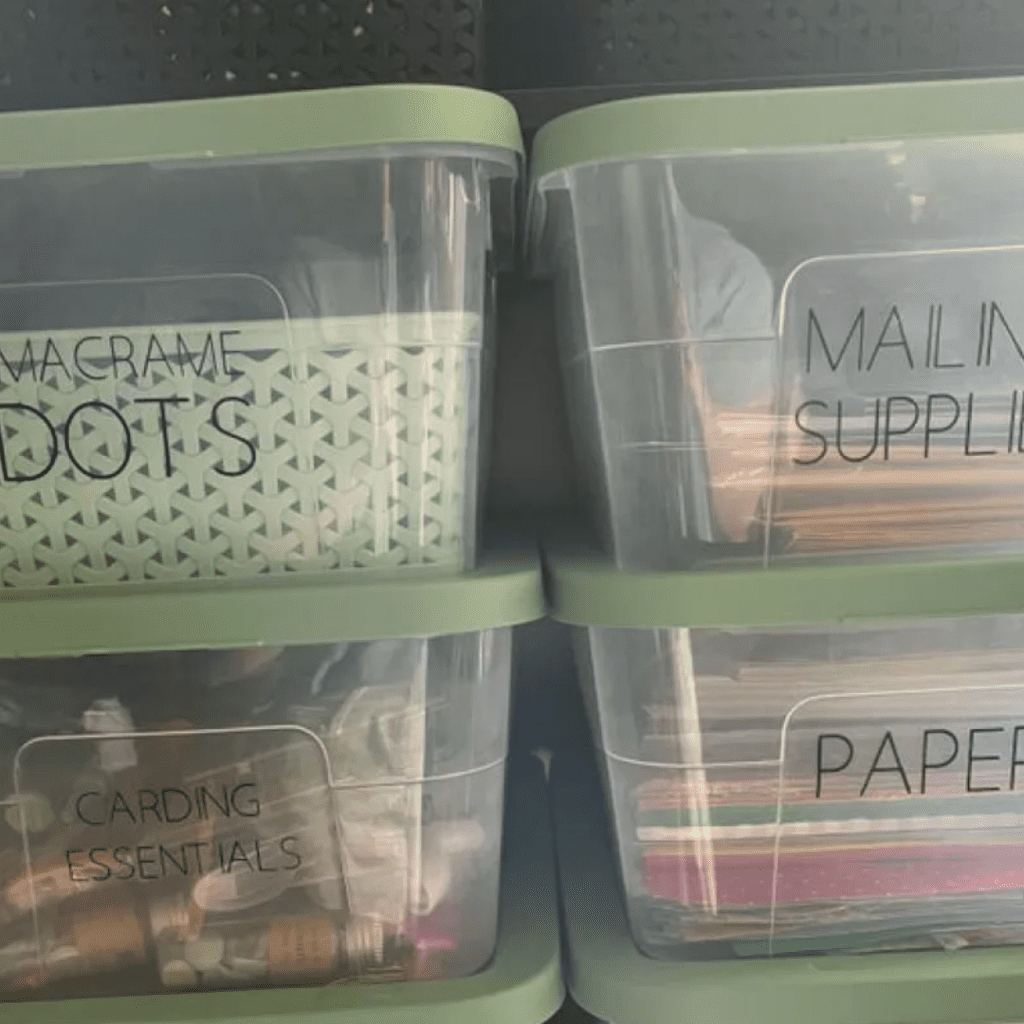 A Cricut can help you with your organizing project. Cricut can cut paper, vinyl, balsa wood, and fabric into customizable designs. You can use it to design and make artistic labels that suit your style without worrying about the cost of manufacturing.
Use separators for your clothes
If you keep your off-season clothes folded in the space above the hanger rack, they not only consume a lot of space but they may also fall at some point. And just in case you need something from that shelf, it could create a further mess.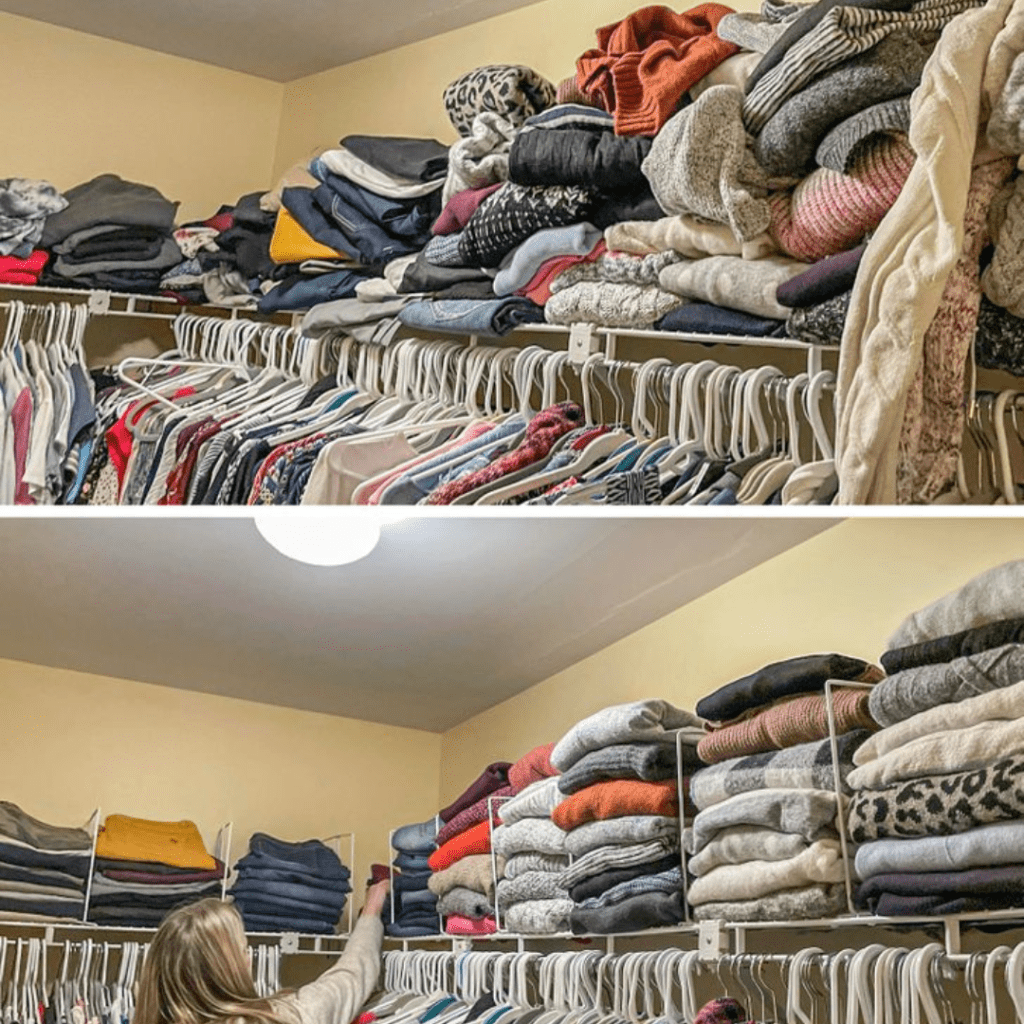 One solution is to set up a few plastic separators on the empty rack at equal gaps. This will give your clothes extra support from both sides. Your clothes will look neatly folded and will not tumble over easily. We love how easy this hack is.
Use a pegboard for cramped spaces
Initially, people used to install pegboards in their garage to hang their tools. With its increasing popularity, homemakers can find these in aesthetic colors to use in other rooms as well. From the kitchen to the bedroom, pegboards can free up a lot of counter space.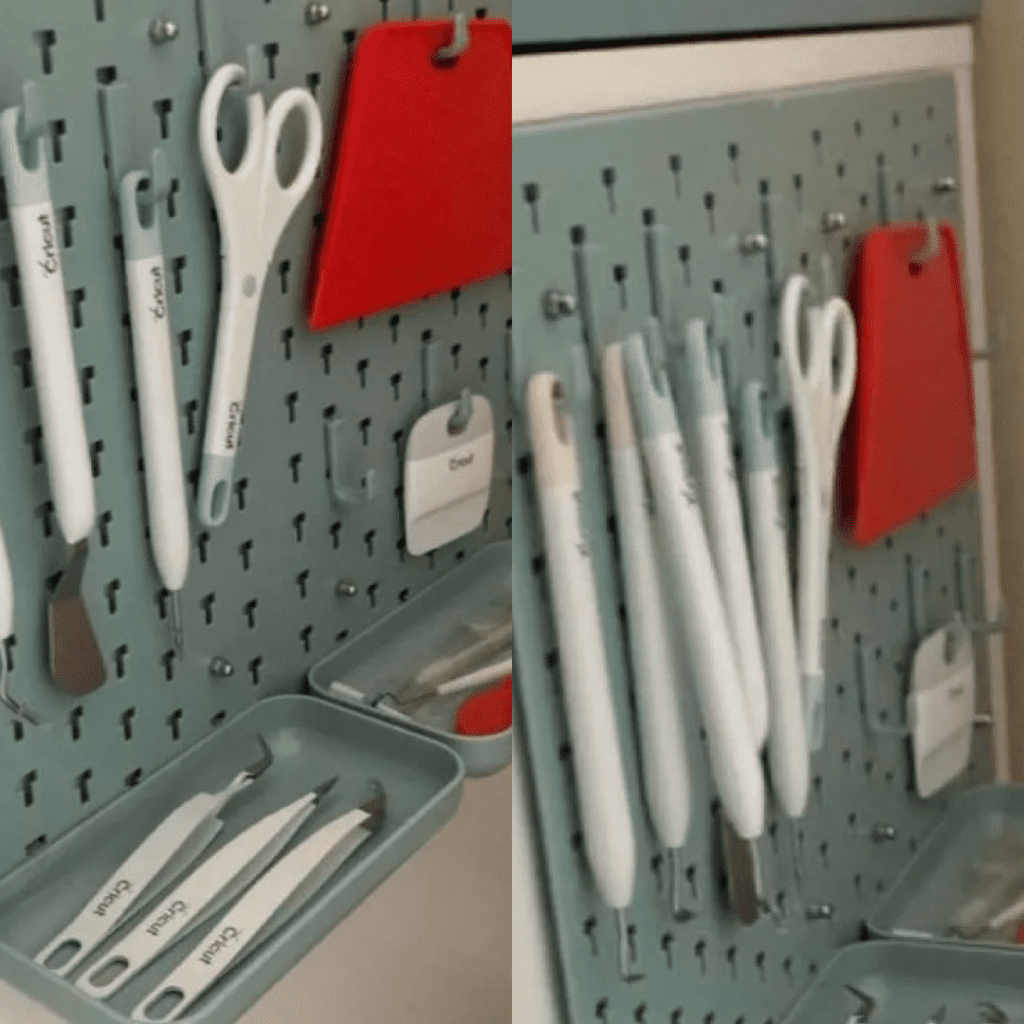 You can use them to organize your tools or art supplies like scissors or blades or even some daily wear accessories like keys, watches, necklaces, etc. You can use different types of hooks and readily rearrange them however you want.
The period basket
This is a very economical organizing solution to store your various female hygiene products. You can use things that are already available in your house. A laundry basket and some cut-out cardboard boxes of pads and tampons are all you need.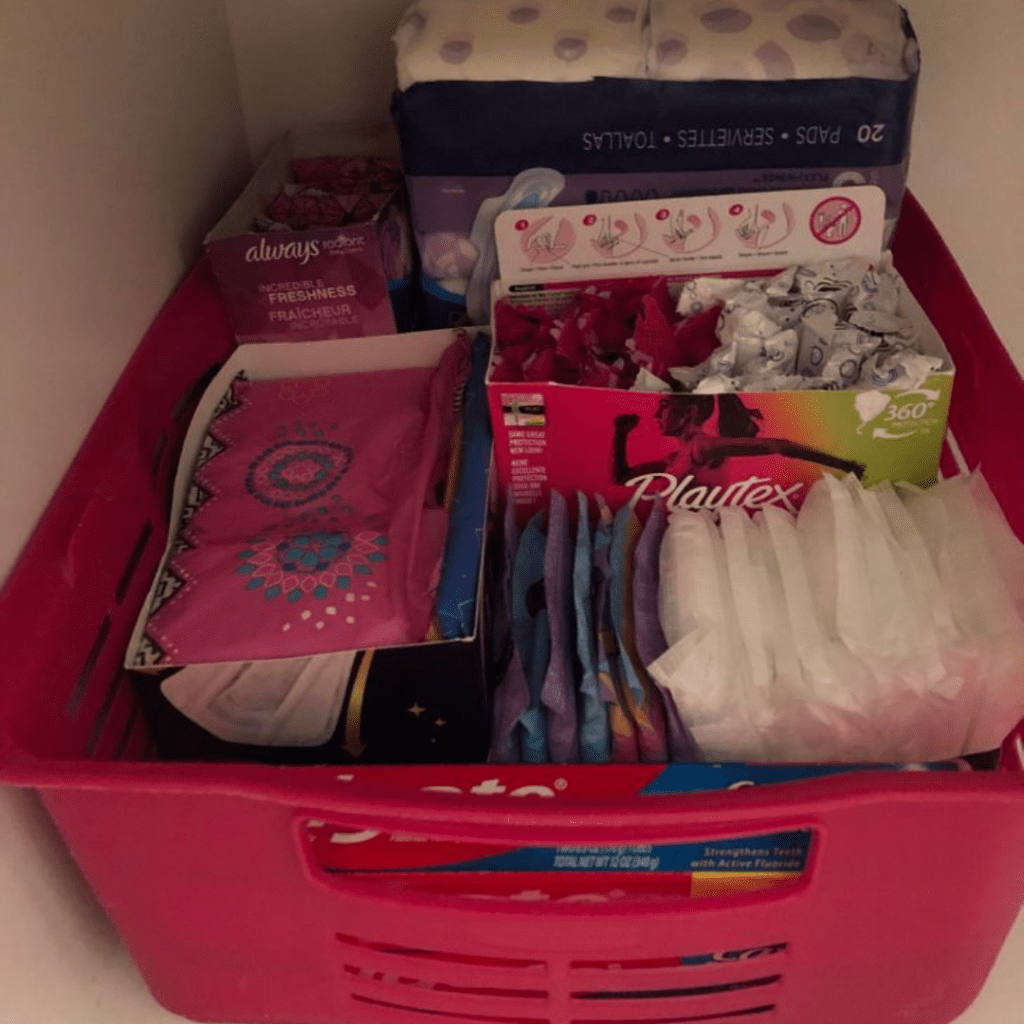 Cut the top of the tampon packaging to make it more accessible. Instead of keeping all the menstrual products in a stack, it is easier to collect them if they're opened in a basket. When the flow strikes, keep your snacks close and your pads closer.
Use attachable wall cubes
Bring your organizing skills to a new perspective with attachable wall cubes. Hang this helpful spice rack instead of hanging carpe diem pictures on your kitchen walls. Your wall will look very professional and organized while you make the best use of the space.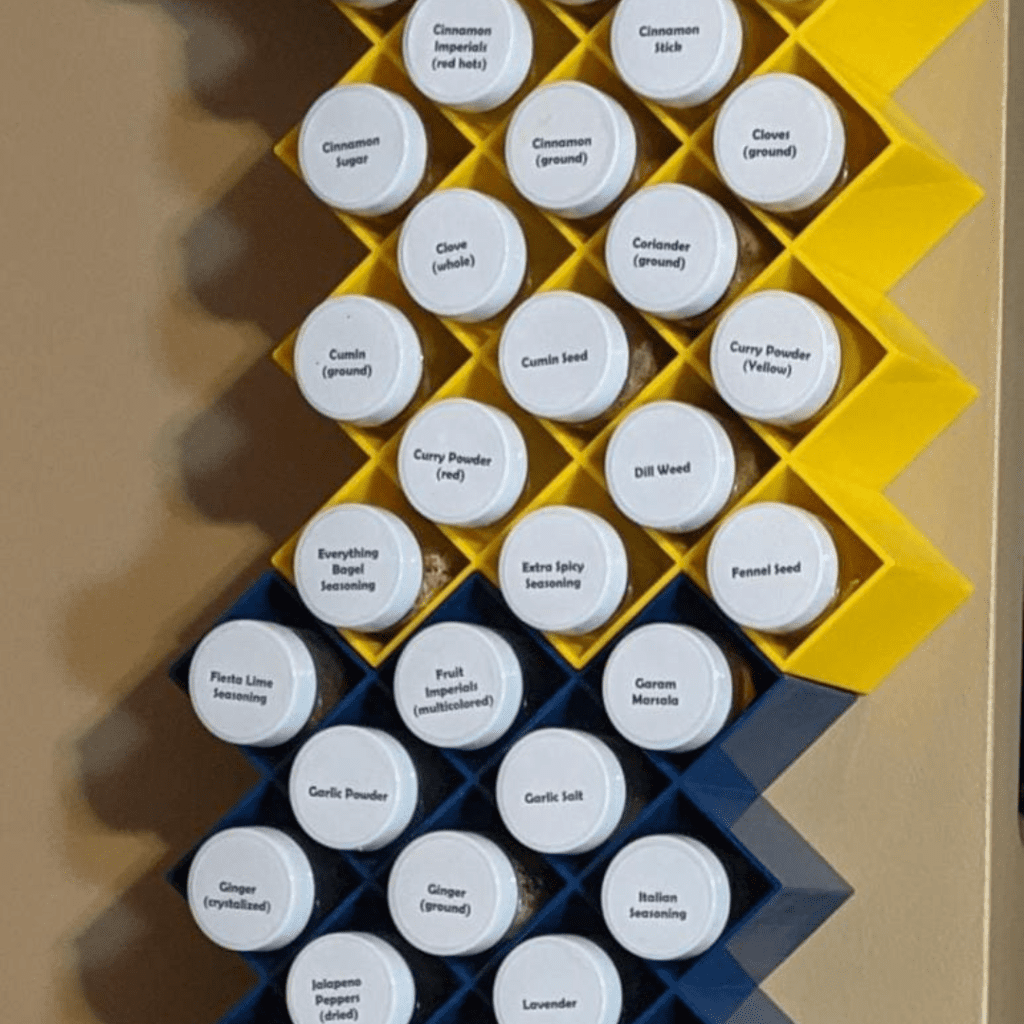 You can buy a few small, matching containers to give your kitchen wall an even look. To help you identify the spices, you can add labels to the caps. Not only spices, but you can also use this cubicle wall rack to store your paint or glitter bottles.
The hidden cabinet
Hidden cabinets are not only cool but also practical. It is wise to install sliding cabinets in small spaces. Like in this picture, the refrigerator hides one side of the cabinet. Such racks occupy much less space when installed sideways.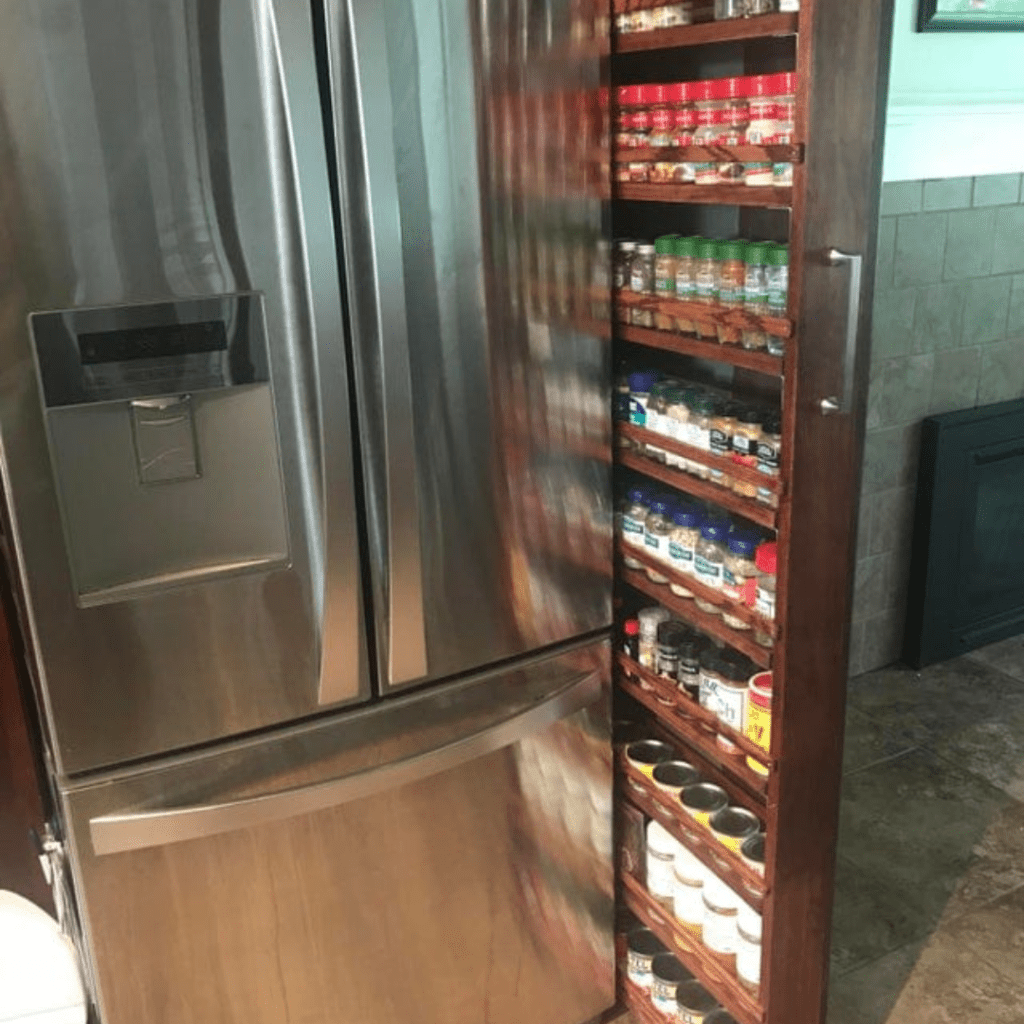 This is a fantastic alternative for people who do not have a pantry closet. You can store all your spices, sauces, and flour by installing just two such racks. Modern kitchen designs are the best option for simple, clean, and organized kitchen lovers.
Get fridge containers
If you have been active on various social media platforms, you might have come across content about organizers for refrigerators. You can get these clear containers from the nearest Costco. Using these containers, you can store more groceries and keep them fresh for a long time.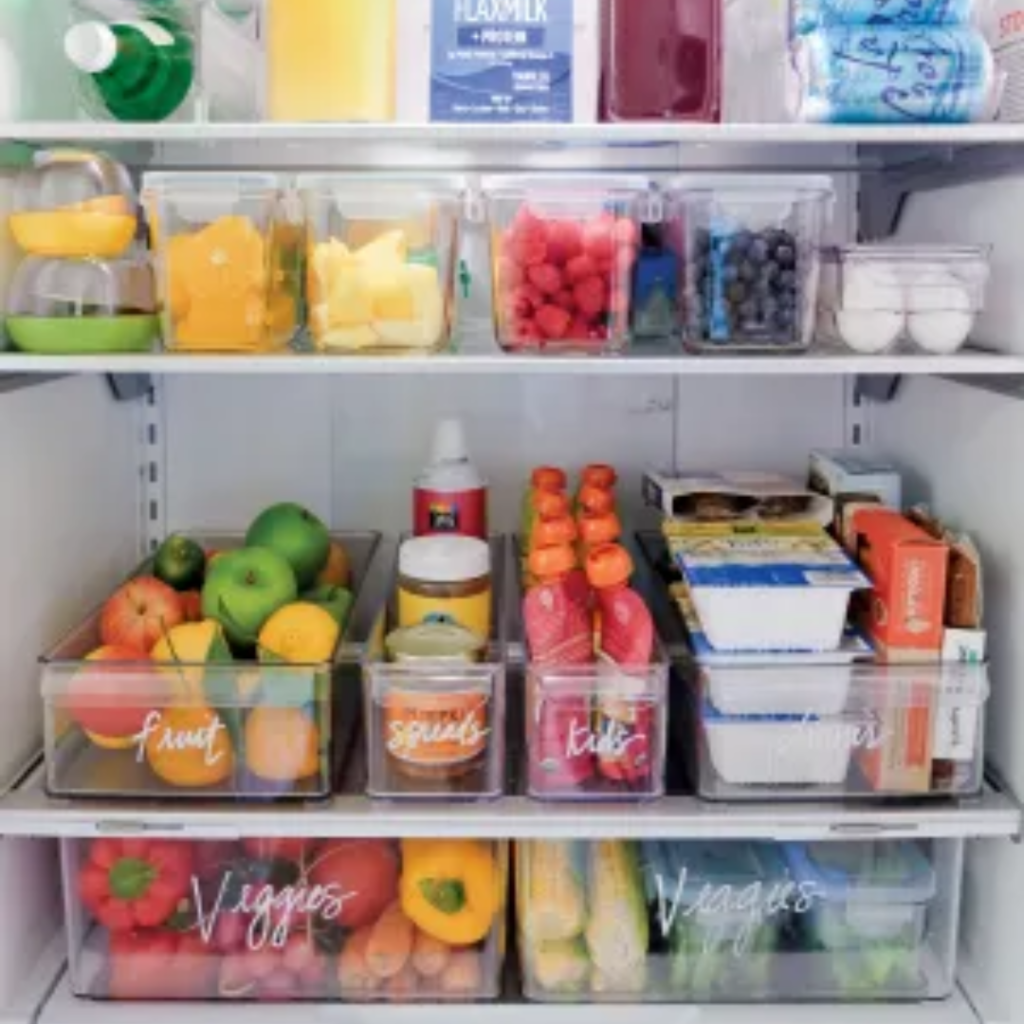 To achieve this perfectly, you need to take everything out of the packet and arrange them in different veggies, fruits, and eggs compartments. Liquid packaging will remain intact, but similar products will fit inside one container. Your frozen food, however, will not require containers.
Use the space below the desk
It is easy to lose track of toys when you have kids, and no matter how much cleaning you do, you will still find lego pieces. The best practice is to involve your kids in the cleaning chore and keep the toys in an accessible area.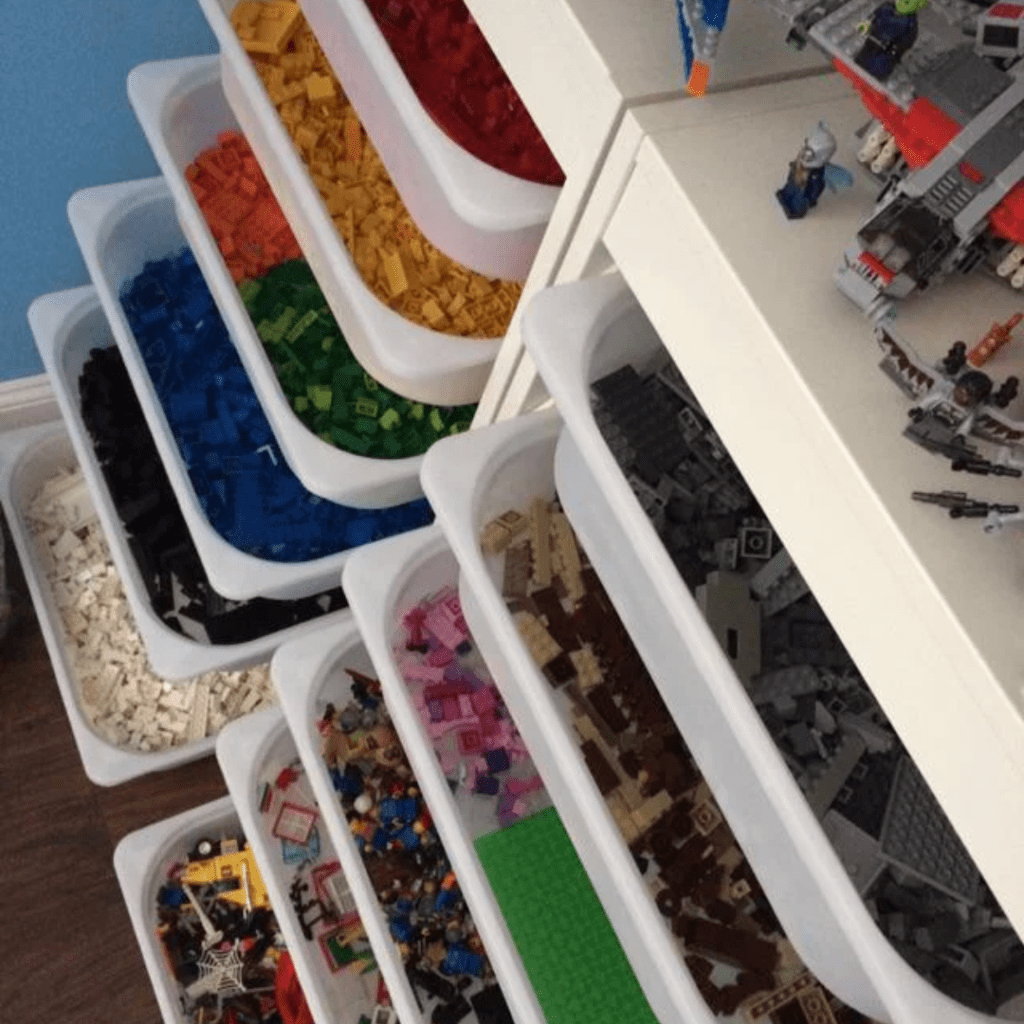 Use the space below your kid's desk to install multiple drawer slides between which you can fit containers. They are within reach of kids to play and organize their own stuff. This will save you from buying a new closet for the toys.
Buy containers with compartments
If you love crocheting or stitching up a new dress for yourself, then getting a container with multiple compartments can help you stay organized. You can separate your spools according to color or material. Or store spools in one compartment, with crochets in another, and so on.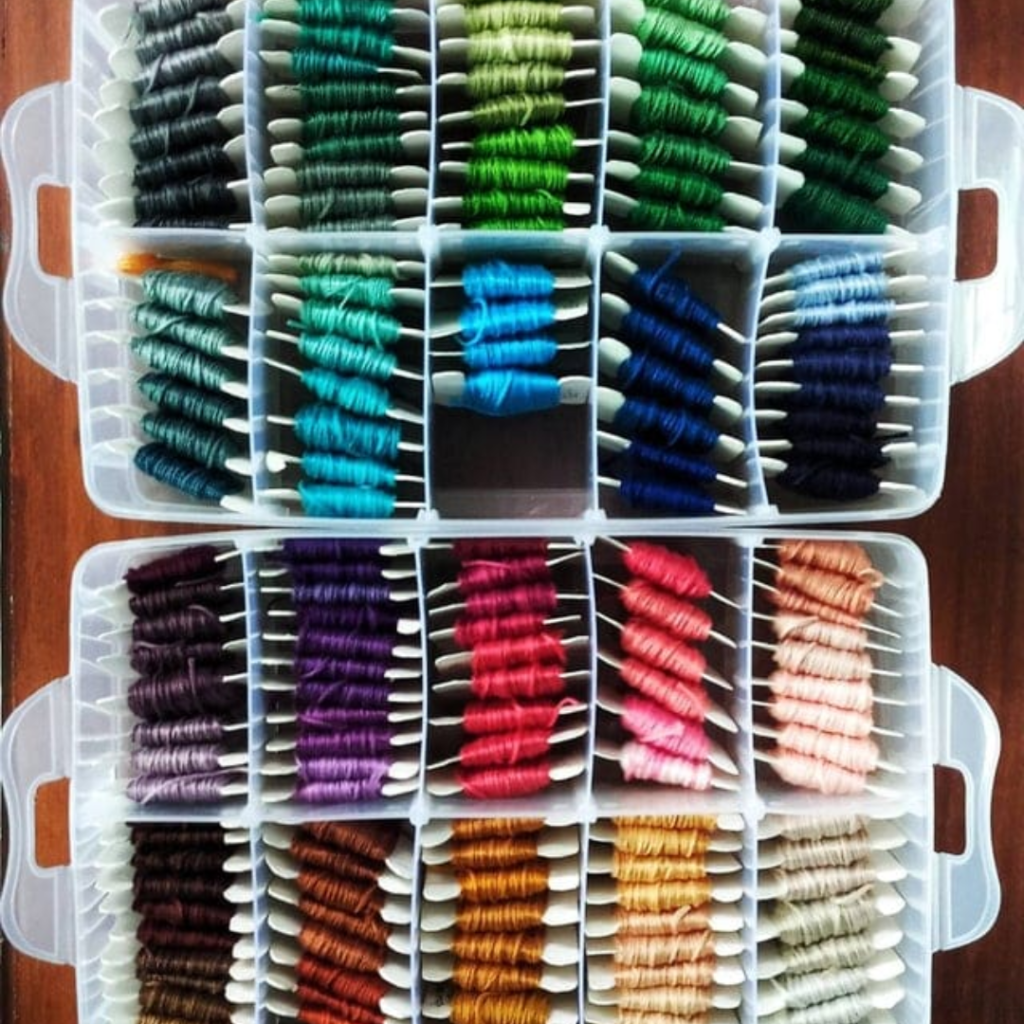 If you do not find such containers, you can make them at home. All you need is cardboard, scissors, and hot glue. Cut the cardboard into six pieces, half the container's width, and one long piece to divide it from the middle. Stick them on the box, and voila, you are done.
Back to school pouches
The PVC pencil pouches are back in the game. These are affordable and readily available in any stationery shop. Buy them in bulk to store all the tiny objects you fear losing. You can use them to store Monopoly pieces, buttons, laces, or jewelry.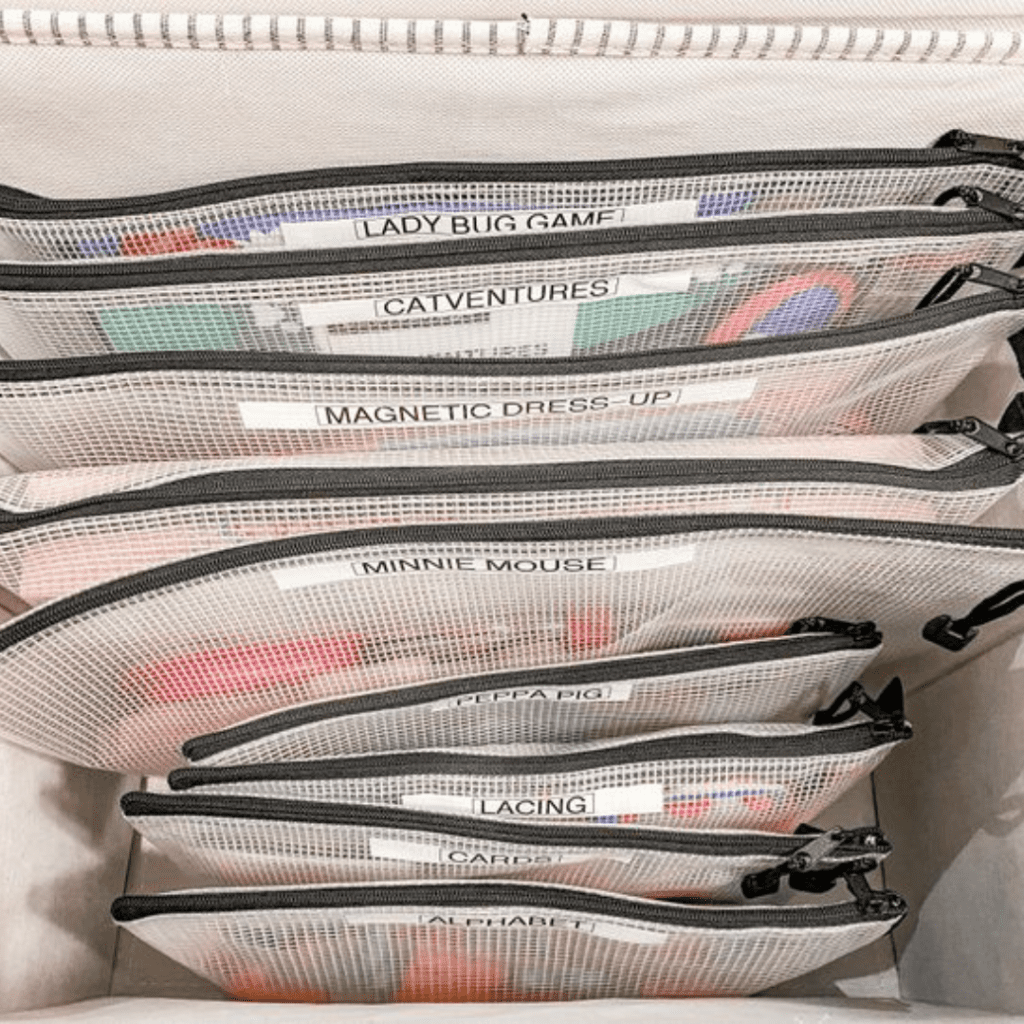 Another great option is using ziplock bags. Label the bags and store them inside a drawer for optimal organization. You can buy them in the basic transparent form, or you can choose them to have a little bit of pizzaz.
Reuse your straws
Minimalist necklaces or bracelets are thin, and once they entangle, they can easily break or be annoying, just like earphones. Here is a brilliant hack that you can use to keep your jewelry from getting tangled by using plastic straws.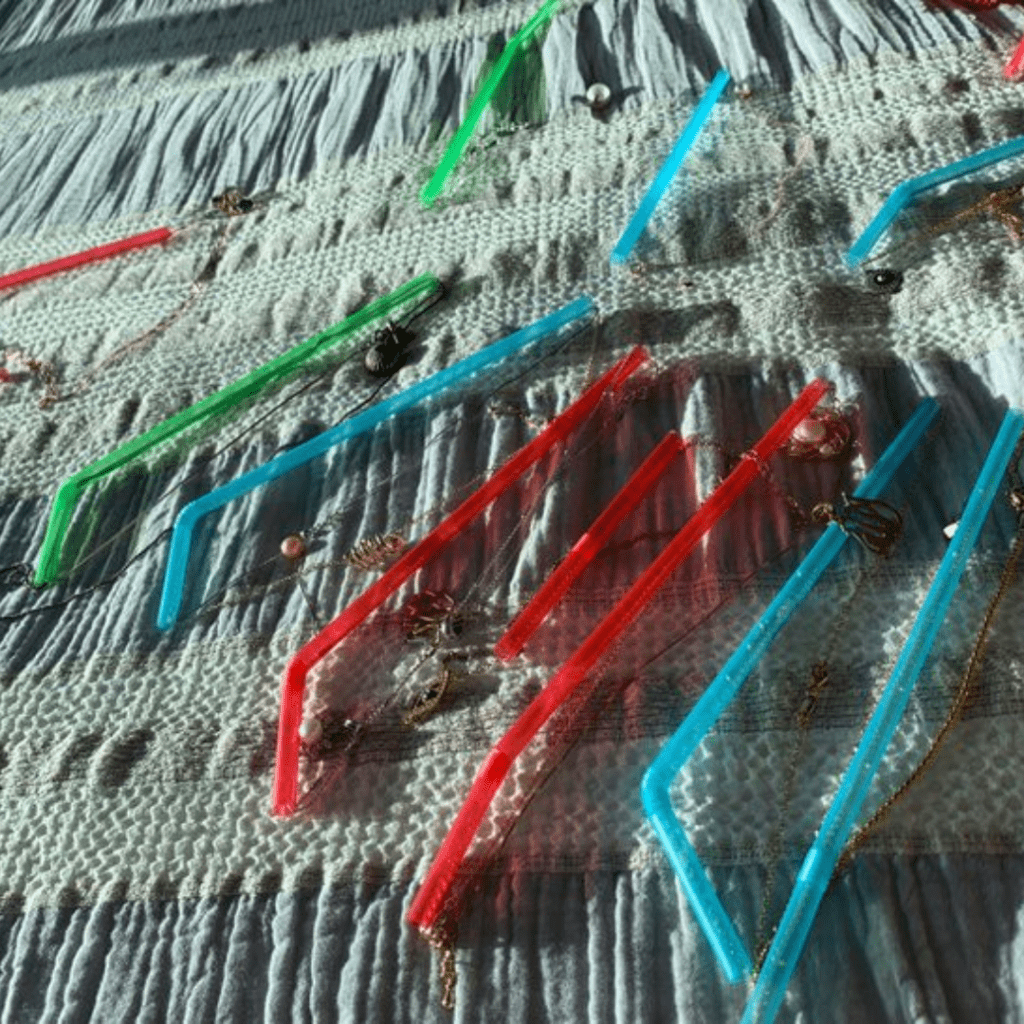 Slide the chain of your necklace through the straw and lock its ends on the outside. This way, your jewelry will remain straight. It might also delay the process of oxidation and keep your necklaces shiny. You can cut the straw in half for bracelets and repeat the process.
Never forget the 3 R's
Recycling, reusing, and reducing waste can help you save money and space. Before spending your bucks on organizing equipment in IKEA, find something already available in your home. For example, you may use burnt-out candle glasses to plant your succulents or cactuses.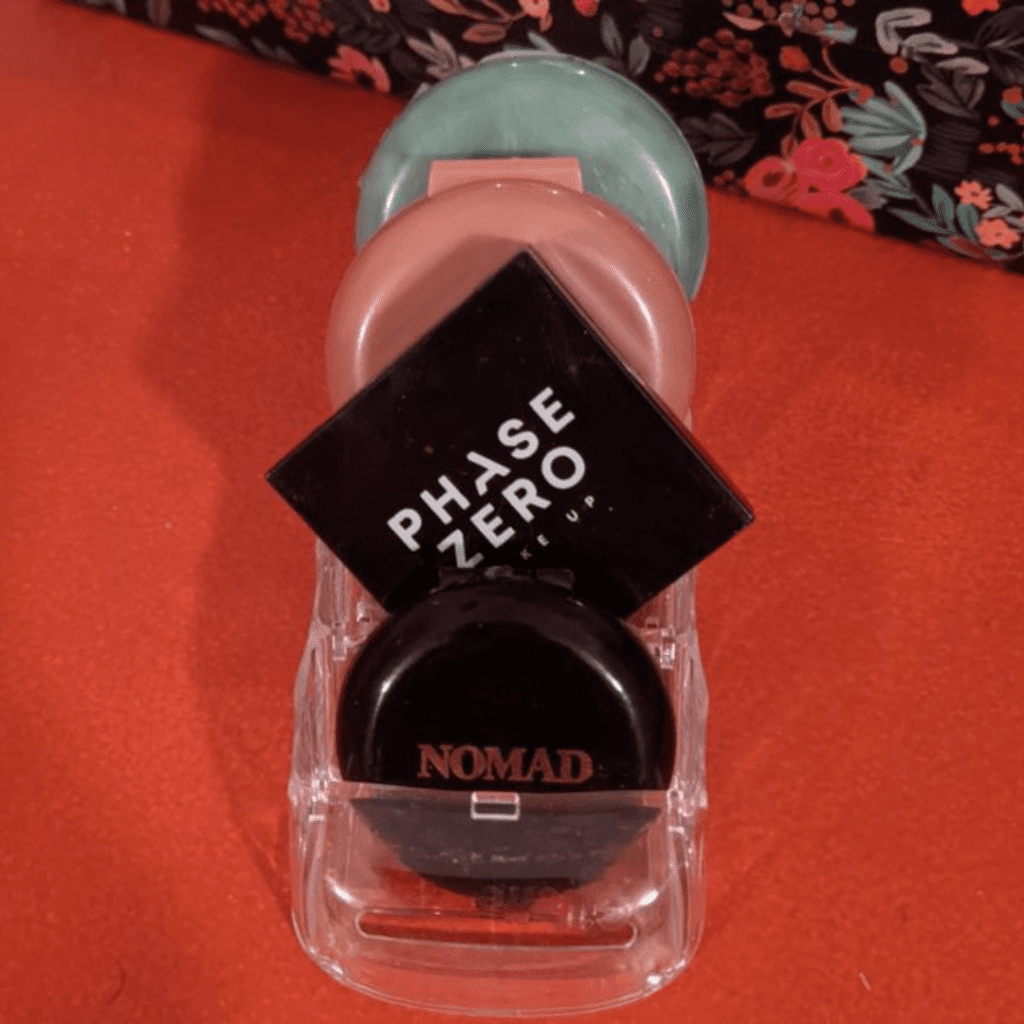 Reuse your cookie containers to store your stationeries or turn your old jeans into a magazine holder. With a bit of help from DIY videos and creativity, you can turn an old water bottle into a stand for your makeup brushes.