Makeover Magic: 40+ Tips And Tricks To Transform A Living Space With Items From IKEA
By Jhoana C April 3, 2023
---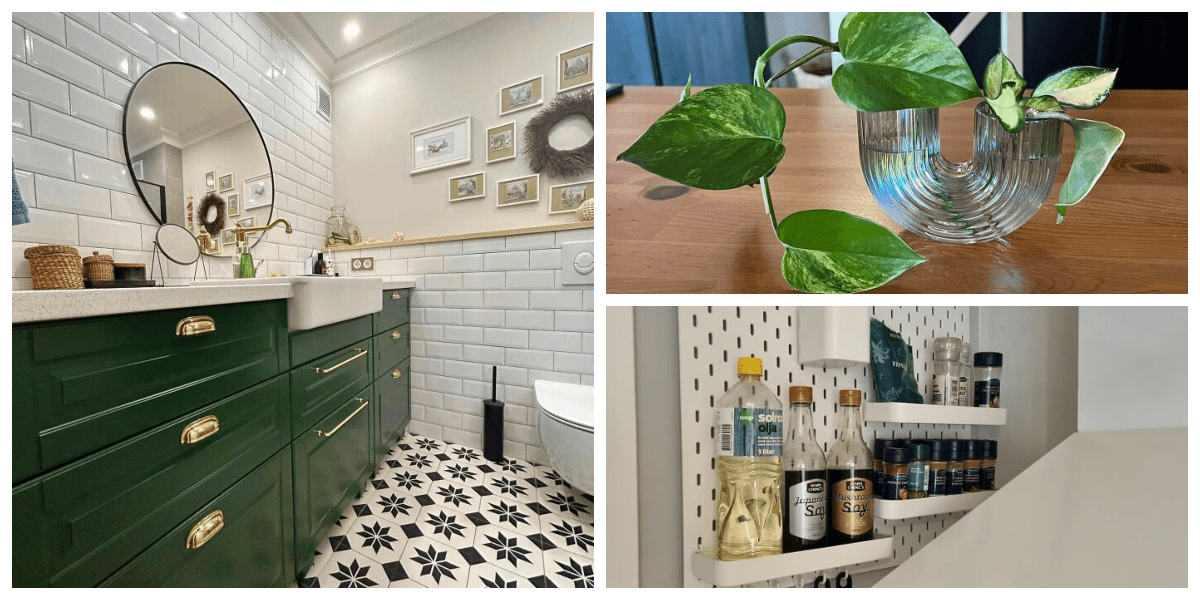 This article was originally published on
mydiwise
It is hard to go anywhere today without encountering a single Ikea item. Yup, that's how good their business is and how popular their goods are. Suffice it to say products from these stores have become an inescapable part of life since they've overtaken households, offices, and even schools.
If you haven't jumped on the bandwagon yet, you're missing out big time. Why? Because these products can be customized quite easily, and the people who have used them are now giving free advice online, which makes your chances of success with your own Ikea stuff even higher!
There's a Facebook group called Ikea tips, hacks, and more, where people share their creations, answer questions and post about updating and transforming products from Ikea. We've rounded up some of the most amazing ones we could find to help you get started! So, scroll down and join us in admiring their creations.
#1 A little child's happy place
This bedroom was undoubtedly inspired by pics from Instagram and Pinterest. Though children don't really pay attention to the interior decoration of their rooms, it's obvious someone put a lot of effort into this. However, we can't help but think that it looks too sterile for a child. It needs a burst of color.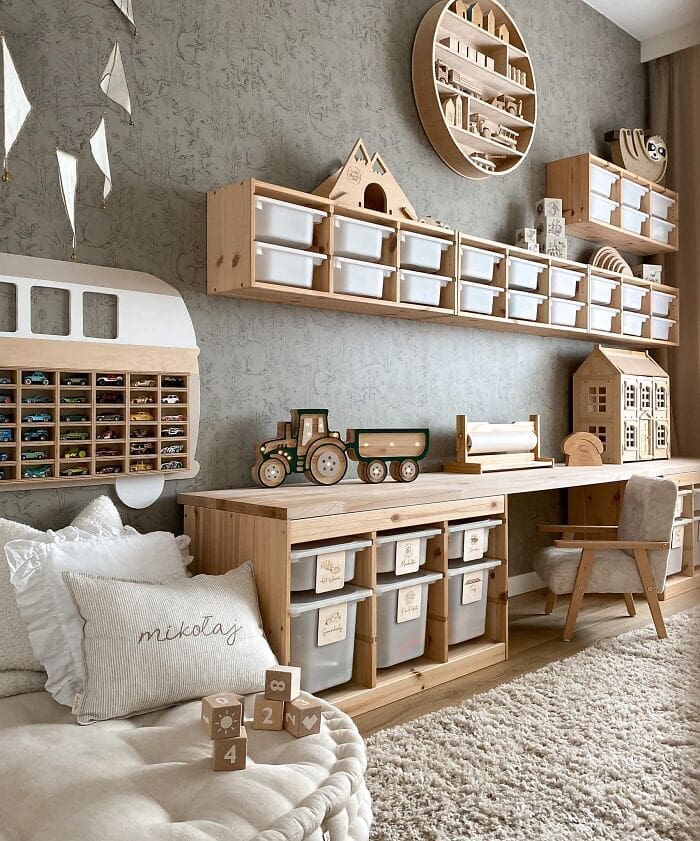 That said, adults, including us, love the colors and the design of this space. If you'd like to replicate them for your room, you'll be glad to know that the OP used Trofast storage and Ivar drawers. All things you can readily get from Ikea.
#2 A wall cabinet for guests to gawk at
If there's one thing that's true about Ikea furniture and products, it's that there's more to them than meets the eye. They can be repurposed or converted to something other than what they were intended to be. This list will convince you of that.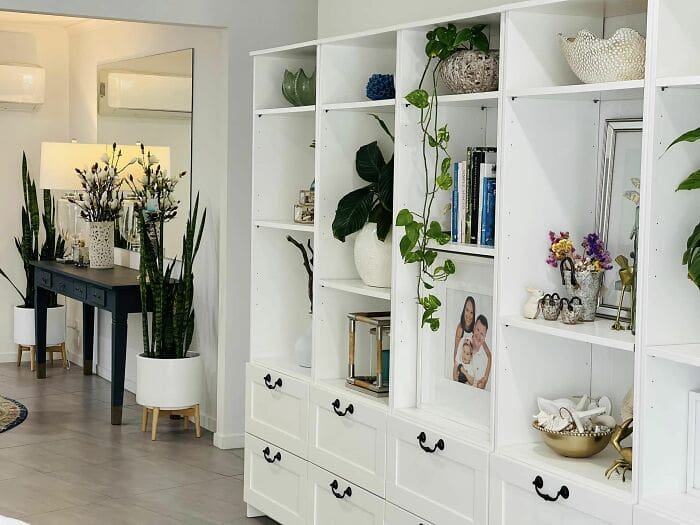 Bookshelves can be more than just bookshelves. They can also become wall cabinet features that guests will gawk at and talk about when done right, and this person certainly did it right. You can't even tell that this is the Brimnes bookshelf from the famous store!
#3 We love this Kallax makeover
One of Ikea's most popular flexible storage solutions, the Kallax, is suitable for any room. The shelving unit comes in many colors, the most popular of which is white, but it can easily be repainted and converted for different purposes.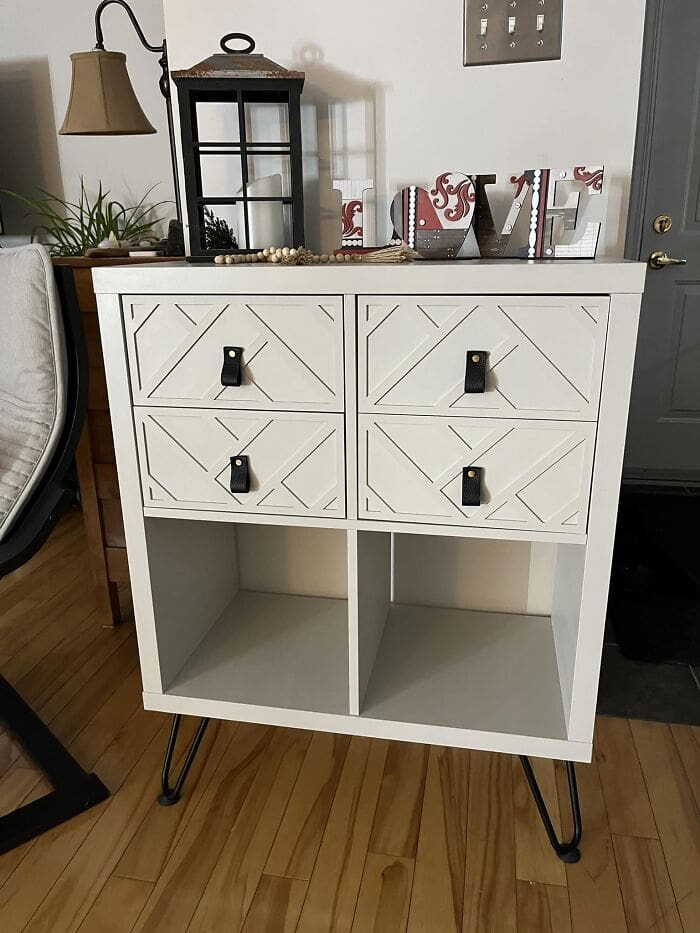 This take on the Kallax is incredible, to say the least. It was taken apart, sanded, and painted using a foam roller. The OP then reassembled and painted the drawer overlay to match the Kallax, et voila. Now, you have something that looks expensive and chic!
#4 Need something for your hallway?
The hallway is always a strange space that can either make or break your interior design. Although most people have narrow hallways, you can still put a few things there, like clever storage for shoes and other items. But the truth is, most people don't know what to do with this space.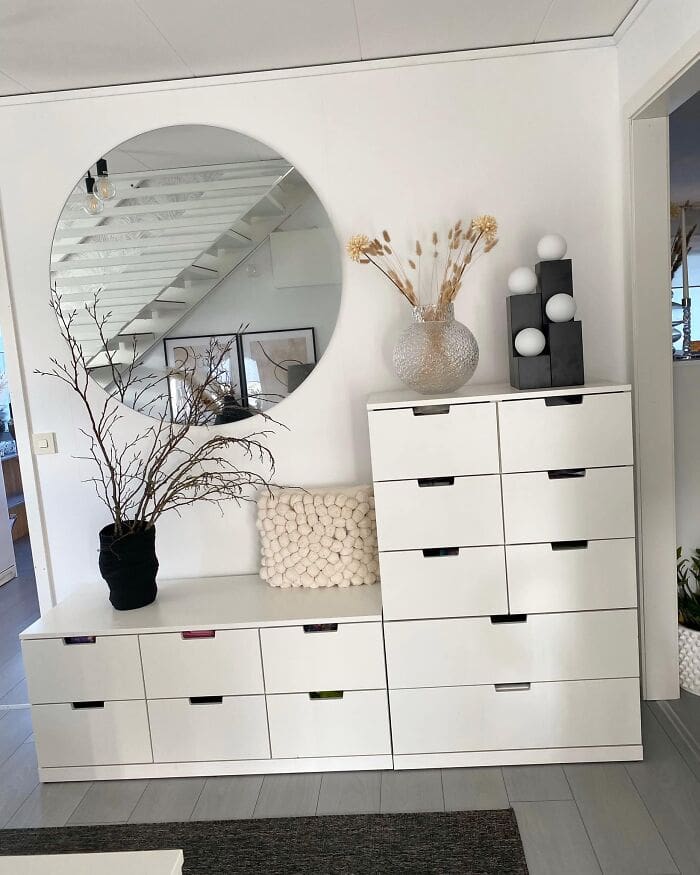 If that's you, take a trip to Ikea. We guarantee you'll find plenty of inspiration there that will spark your imagination. Before you go, though, we have a simple suggestion for you in the form of the Nordli series. Can you already see your vision come alive? Thank us later!
#5 No mirror, no problem
Doesn't it just bother you when you can't find the perfect thing you need to bring out an aesthetic in a room, like the perfect couch, cabinet, or mirror? This person couldn't find a mirror suitable for their space, so they decided to make one instead.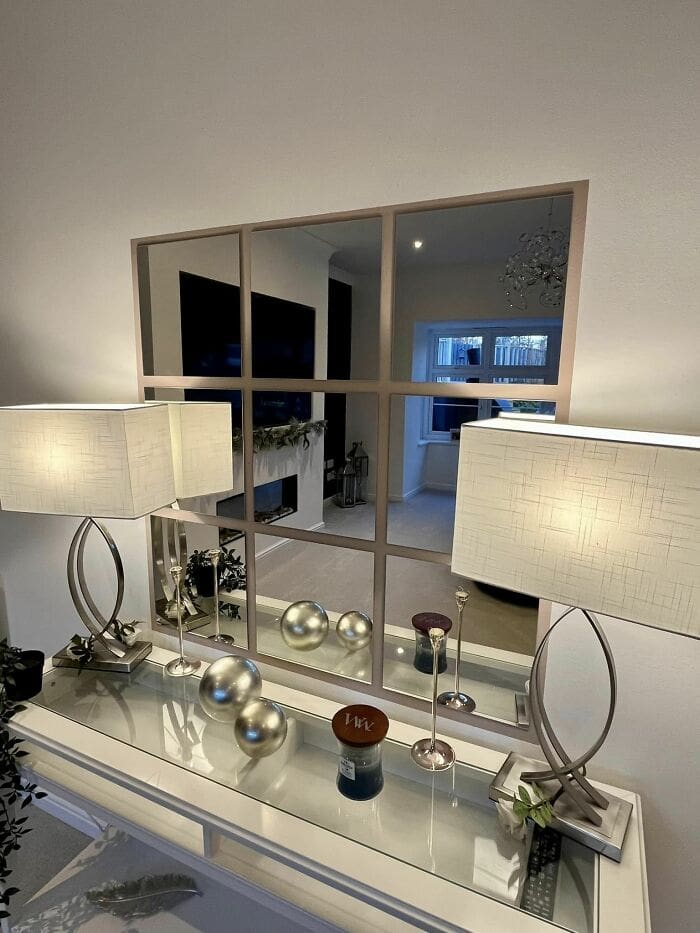 You would have thought that was a tall order, but with the proliferation of Ikea products today, creating your own furniture or converting units to suit your needs is possible. Sometimes it's not quick or easy, but the results make the time and effort worth it.
#6 We are digging this wall decoration
When decorating your interiors, do you go with something generic, or do you prefer authenticity? Would you get something that other folks can easily purchase and hang on their walls, or would you rather be unique and create something no one can get from a store?
As much as we want to say we'd go with the latter, sometimes we neither have the time nor the talent. But thanks to social media, we can get numerous ideas! For example, this wall decoration made using the Ikea Vinterfest ring, some yarn, and a few dried roses is quite exquisite, isn't it?
#7 Fancy a plant on the wall?
Taking care of plants is not as easy as it looks. You have to water your plants adequately and at just the right time. Also, they need some sunlight too. Give them water at the wrong temperature, and they could end up dying.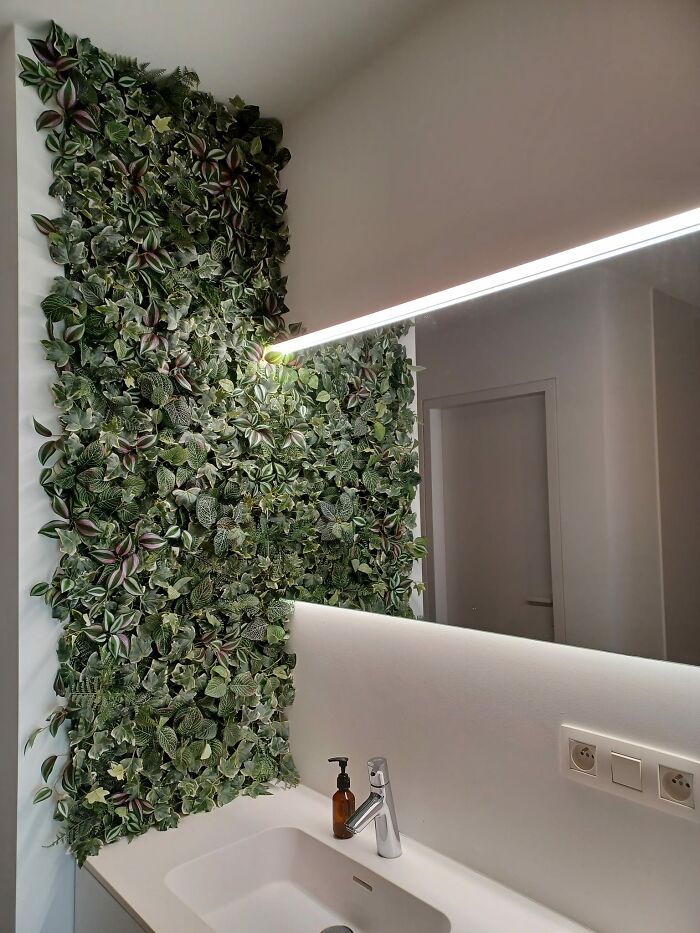 If you don't have the time or patience to take care of live plants but want some green in your home, you can always turn to Ikea. For example, this is a woman's bathroom with faux plants. The best part is, if they start getting dusty, they can be taken off and cleaned easily.
#8 No stepping on Legos ever again
One of the strangest and most unexpected difficulties of being a parent is the searing pain of stepping on a Lego piece on the floor! You always feel like screaming at the top of your lungs, but you hold it in. If only something could be done about those pesky Lego pieces.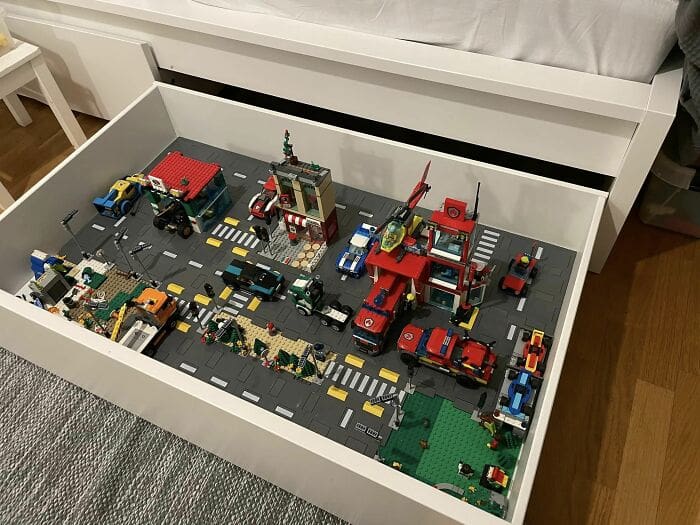 This mom has the perfect solution, and she shared it with anyone who cared to read. She used the Malm bed with drawers and built the top floor for all the Lego pieces so they could easily be removed when needed. Brilliant!
#9 A display cabinet we'd pay for
It's normal to feel proud of the things you've invested good money and effort in. That could mean wanting to lay them out for the world to see. If you've been looking for a way to display your treasures without subjecting them to potential damage, you've come to the right place.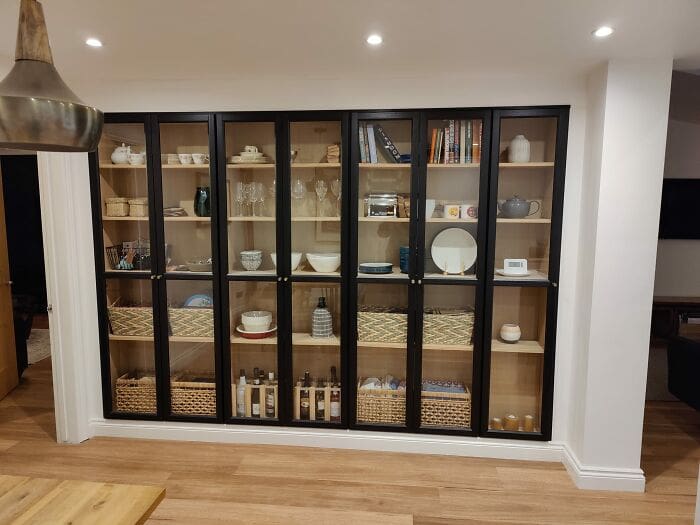 This is a display cabinet we'd gladly pay good money for. From the looks of it, you wouldn't be able to guess that the owner used Billy bookcases to create such a beauty. Consider this an inspiration and a sign to come up with your own hack!
#10 Some storage for your nook
Need extra storage? You should consider all the spaces in your home, including corners, because they can provide you with exactly what you need. This person needed whatever extra storage she could get, no matter how small, and with some Ikea items, she made it work.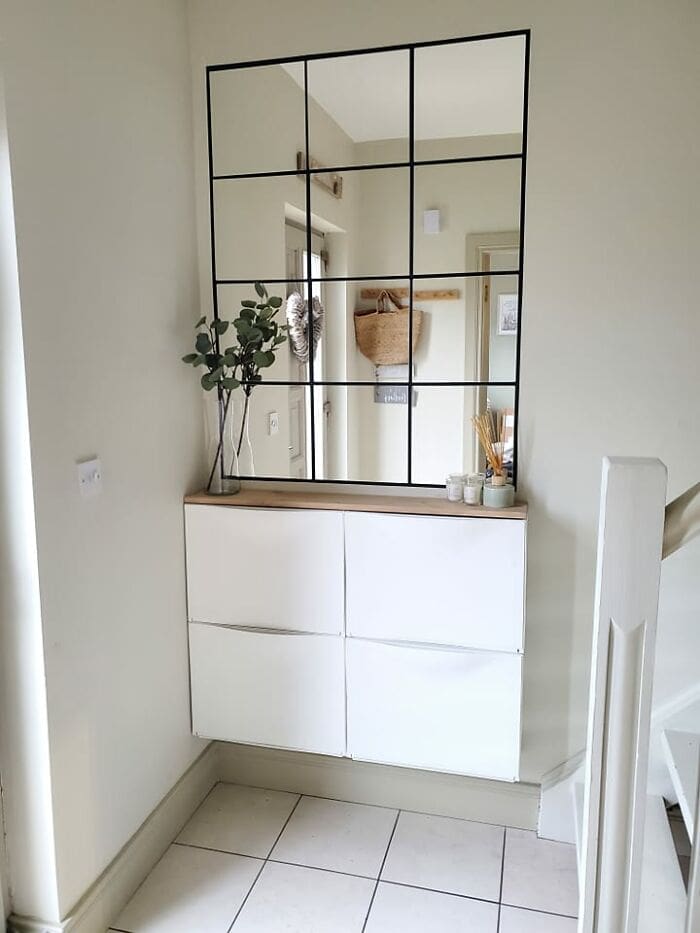 She got herself Blodlonn mirrors and Trones from Ikea and created a little nook that made her entrance seem so much bigger than it really was. We adore transformations like this since they prove you don't need to spend an arm and a leg to make stunning spaces.
#11 Making good use of the hallway
In today's world, space is a precious commodity. Unless you have millions to spend on a spacious home, you need to make good use of every inch of space you have. To do this, you have to examine your home closely and see if you're making the best use of every corner.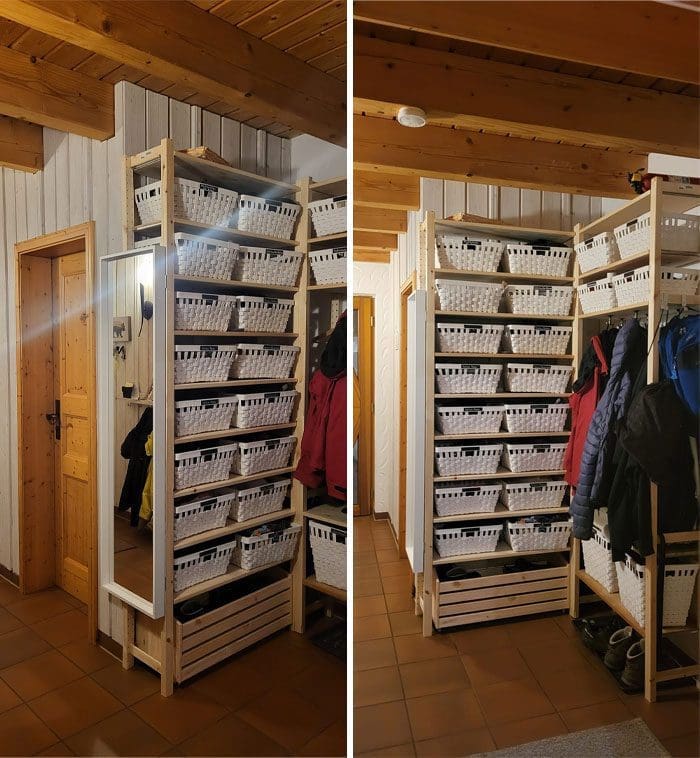 This lady converted her hallway into a space where she could stash all sorts of knick-knacks by getting the Ivar board, Drehhaken Tromso under shelf hooks, and of course, a lot of baskets to store gloves, hats, and other things.
#12 Gorgeous hallway storage
Old homes have a lot of charm and personality, but because some of them have older designs or odd spaces, it can be quite difficult to find something that fits the rooms. Fortunately, nowadays, we have Ikea to help us out when we get in a bind.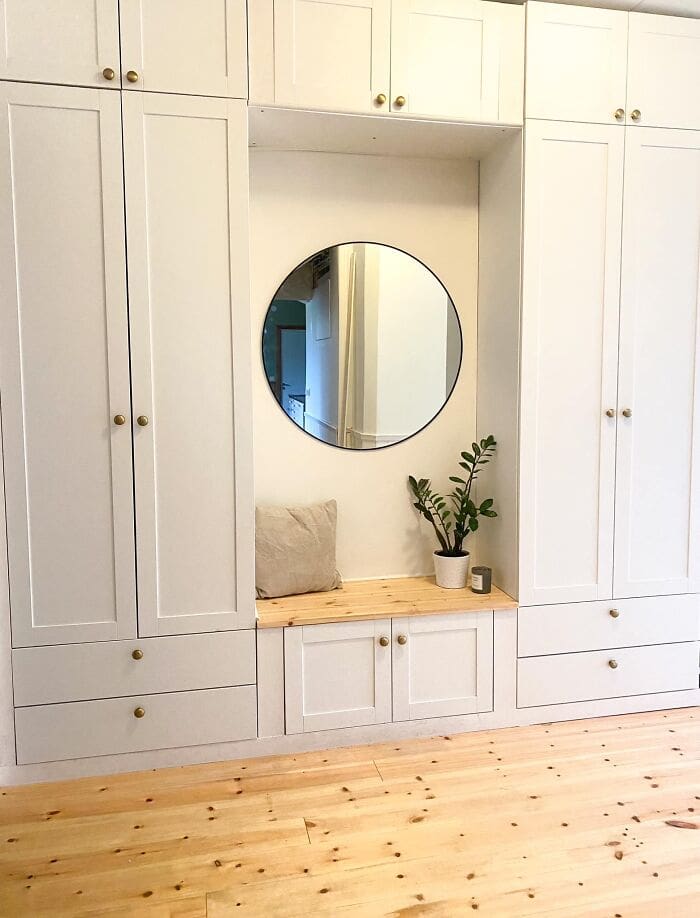 This 1914 home got modern hallway fittings with the use of Ikea Place buds, and that, folks, is a gorgeous hallway. We might not even want to stay in the living room if we visit; we'll just stay in the hallway because it's so inviting!
#13 This calls your attention
While some people just buy stuff from Ikea, assemble them, and start using them right away, there is a creative and innovative bunch who choose to change the design, color, or purpose of the stuff they buy. Thank God for them because now we have plenty of inspiration for our future DIY projects.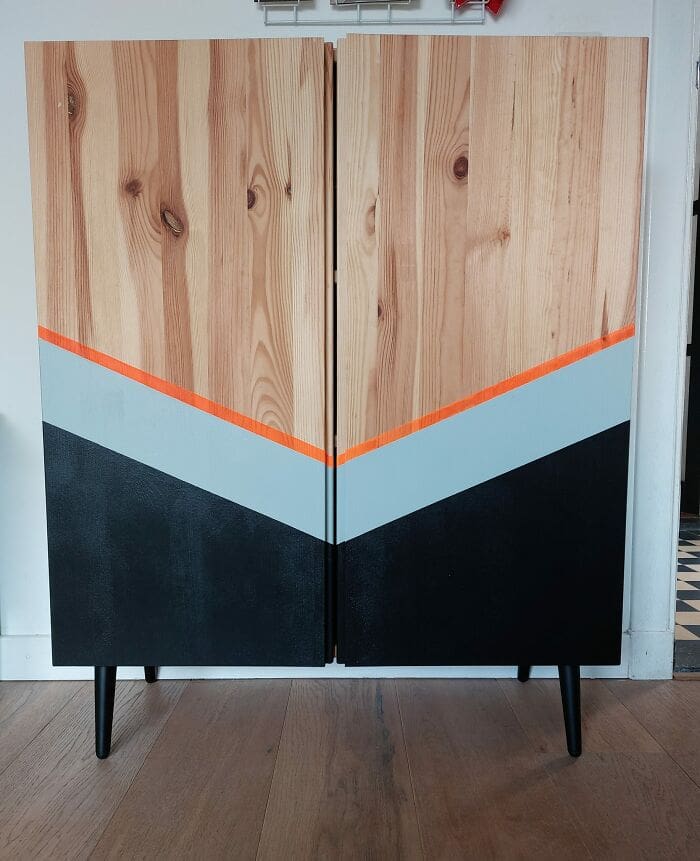 Who would have thought that the Ivar shelving unit from Ikea could look so different and grab people's attention like it did with this transformation? We've never thought of painting our furniture in these colors and patterns! Quick random tip; paint tape helps a lot with the lines and precision as you work.
#14 Which one do you like best?
Need something interesting where you can display your plants or candles? This is an easy and quick inspiration for you. We've never thought of using Farkglar plates and Persillade pots for this purpose, but then again, that's why we are not on this list!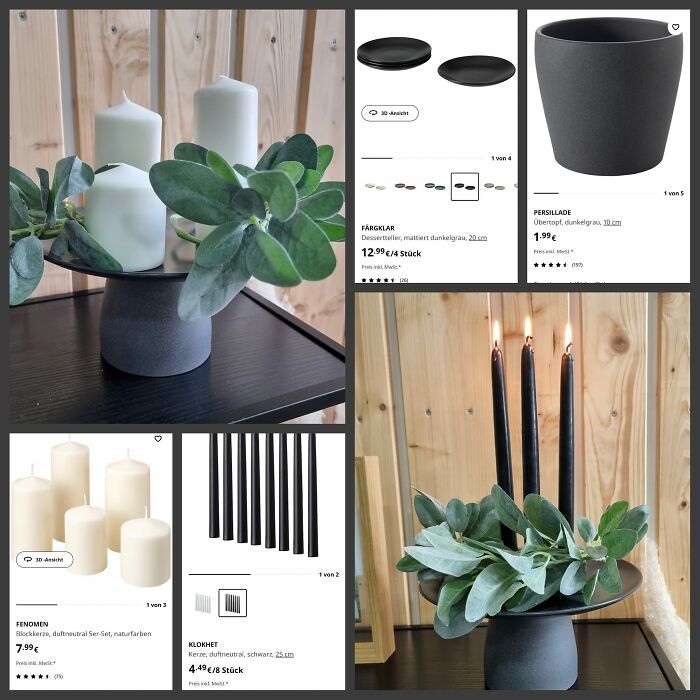 With this hack, you have two versions to choose from. Go with what works for you and the rest of the room's décor. Honestly, we love these people who share their ideas because now we don't have to rattle our brains thinking of décor solutions.
#15 We've died and gone to bathroom heaven
This is the bathroom of our dreams, and walking in here would certainly make us feel like we've died and gone to bathroom heaven. It looks so sleek, polished, and expensive, and with just one look, you wouldn't even know that it's made with simple, affordable Ikea products.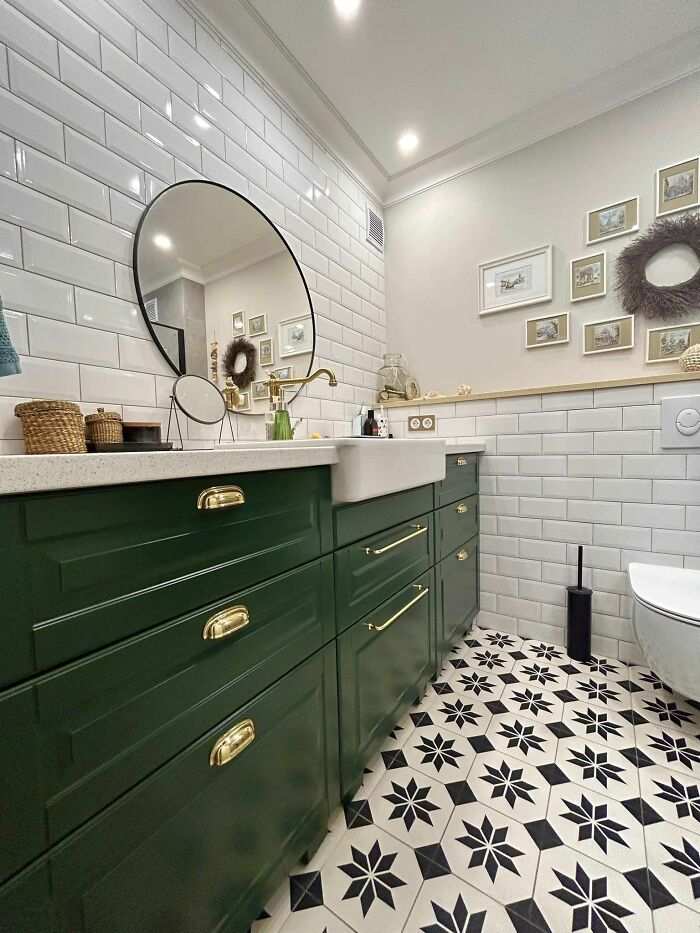 The kitchen cabinets you see painted in a greenish shade came from Ikea. A lot of people were concerned and wanted to know if Metod cabinets were waterproof, but the OP assured them that it had been there for a year and was totally fine. We'll take her word for it.
#16 Dessert and Kallax make the perfect team
Kids' parties are some of the most joyous events. Whether it's a holiday or a celebration marking a milestone, a child's laughter is a delight to hear. But organizing one of these parties is another story. Some people make it look easy, but a lot goes on behind the scenes.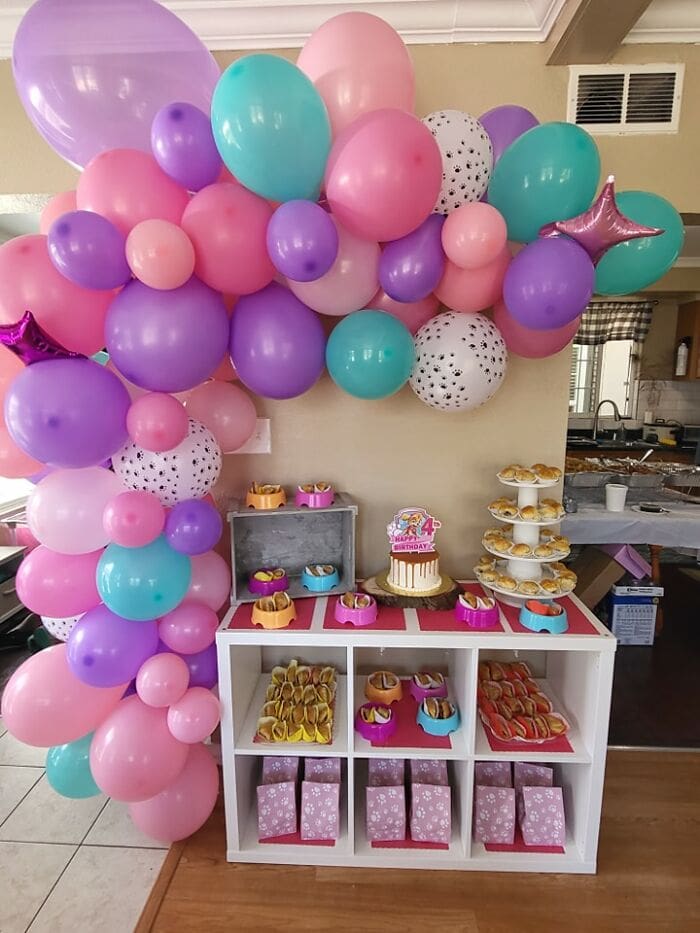 You need to organize the food properly and make sure everyone will have a chance to get their hands on goodies. If you've struggled with that before, worry no more because the Kallax happens to be the perfect dessert table. Just check out the photo above for proof!
#17 This veranda is the perfect place for reading
Some people would rather reach out for a book than the remote control. For some, flicking through pages is more fun than flicking through channels. If that's you, you need the perfect environment to enjoy a good book, and we found it!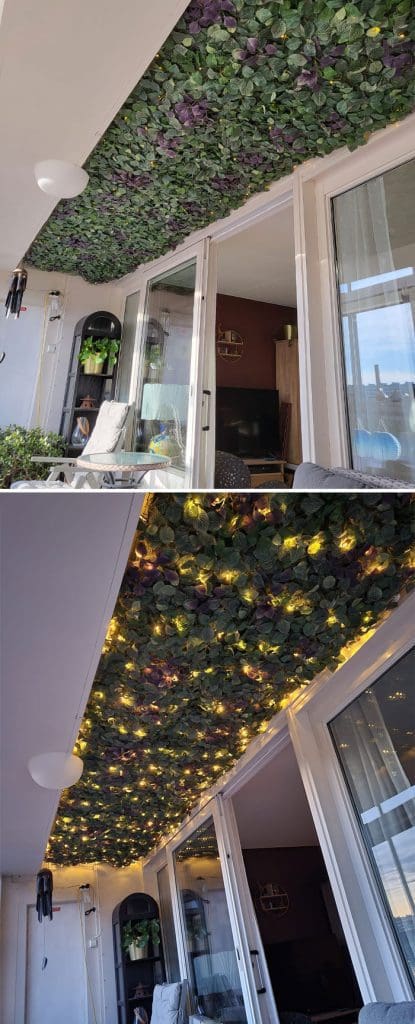 This veranda is cozy, stylish, and the perfect place to put your feet up and get lost in a book. Oh, the plants are fake, but can you even tell? The owner of this splendid house used Fejka plat tiles to decorate the roof, and we are 100% behind that decision.
#18 For all the plant mamas out there
Propagation is defined as the process of increasing the number of a particular species of plants. There are two ways of plant propagation, sexual and asexual, but we're not gonna delve into that. Instead, we'll touch on how people in apartments and urban settings can help with this process.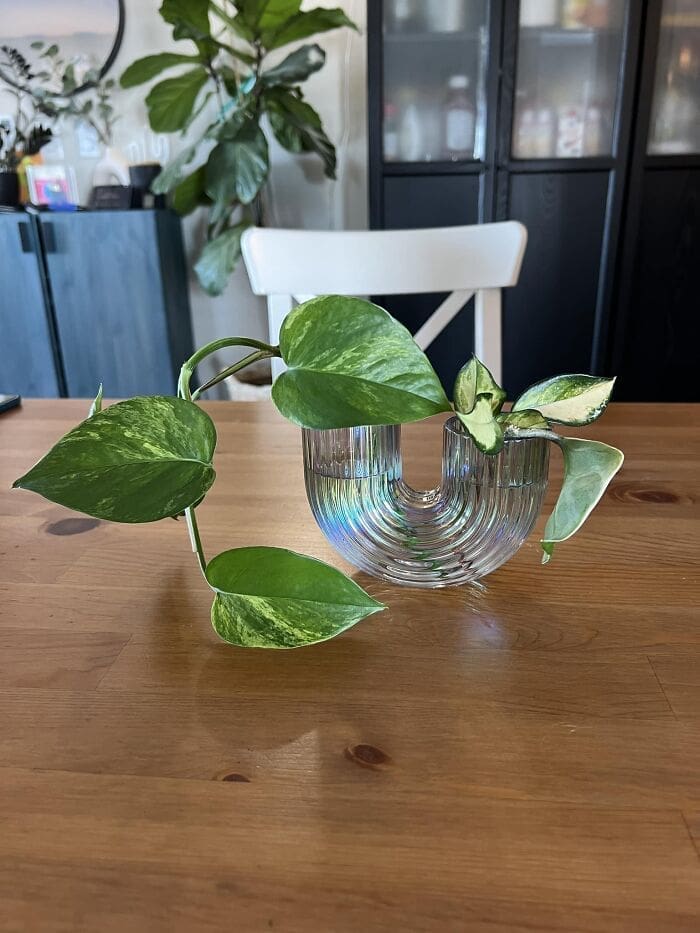 If you haven't heard of the Raffelbjork vase from Ikea, then you're missing out. It's perfect for plant propagation, but you have to hurry up and make your way to the nearest store because it's so popular that it sells out quite fast!
#19 Bringing the Kallax to another level
If you think the Kallax is just a simple shelving unit that can't be upgraded or elevated, then you really need to check all the Ikea hacks online. People who post there are brimming with ideas, and we can't wait to share with you what we've found so far.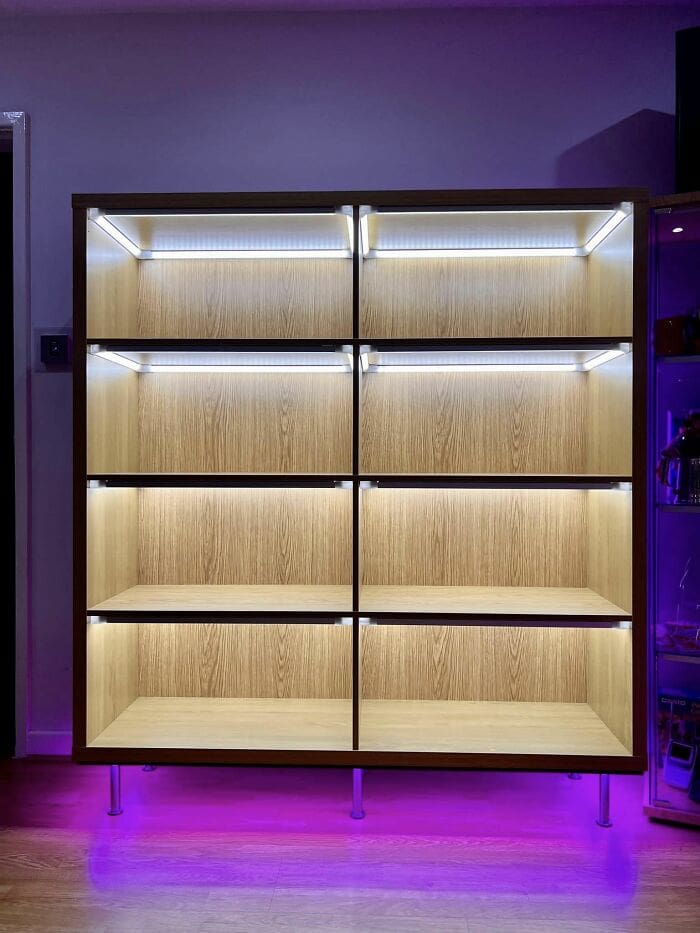 Some LED lighting in the back panel, and the Kallax looks incredible! LED lighting doesn't cost much and is readily available. If you're wondering how the lights can be turned on and off, they are controlled by a remote or through an app on your phone. Neat, right?
#20 Something for the greens
If you thought Ikea only sells clothes, shoes, and kitchen stuff, you're mistaken. They have something for the greens, too, and as a matter of fact, they even sell live plants. If you're a plant momma who needs inspiration, look no further.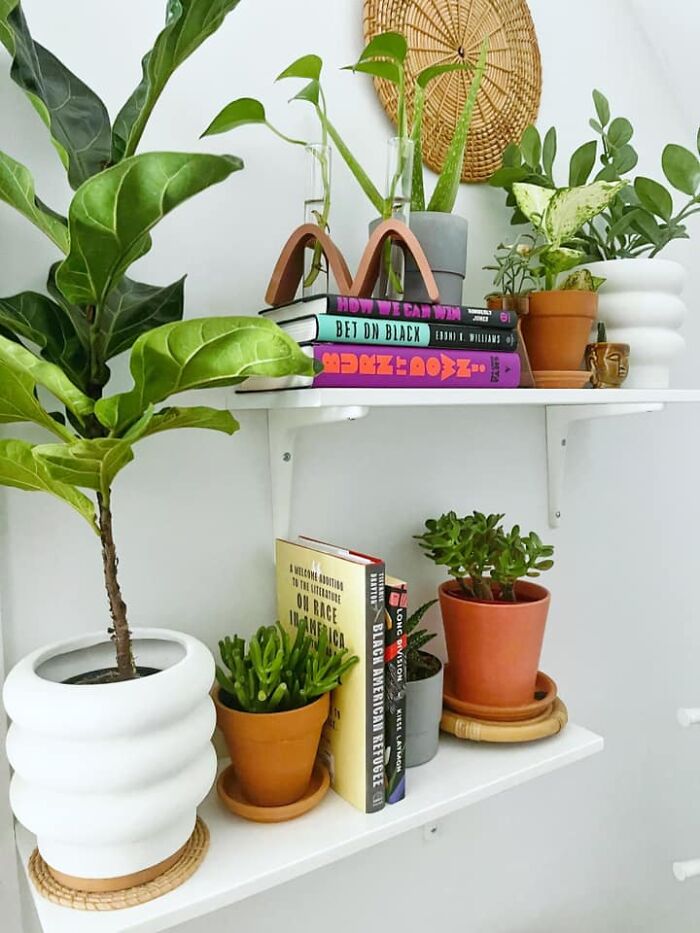 Ikea shelves that come with brackets are not that expensive and can be used to organize your smaller plants. Yup, they can do more than just become trusty bookshelves. If you're wondering what kind of shelves and brackets these are, they're called Burhult and Sibbhult. Note that down!
#21 A little help with kitchen organization
Organizing your kitchen may sound easy but believe us, it's easier said than done, especially if you have a lot of stuff and a tiny kitchen. Unfortunately, since life isn't fair, not everyone can afford a grand kitchen with endless storage.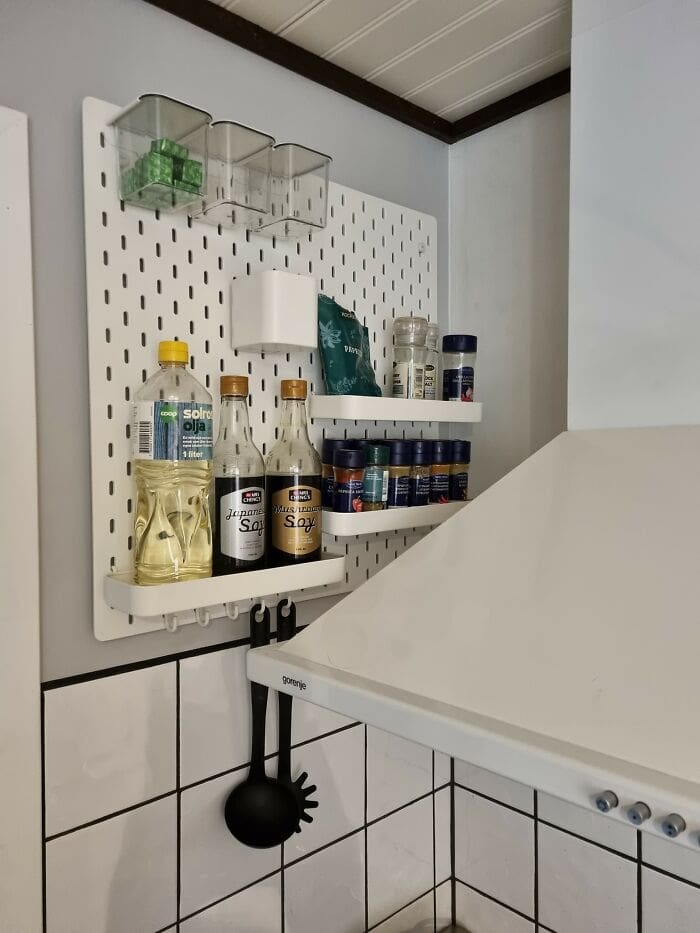 But don't worry because Ikea has got you covered. This lady had a tiny kitchen and always had a problem storing her spices, but thanks to a few things from Ikea, she now has the perfect space to store them and avoid getting grease on them at the same time!
#22 Any boy will love this bedroom
This is a comfy-looking bedroom that any child would love. Even though the OP said it was her son's, it looks gender-neutral to us, and we feel it would also work for a little girl. The highlight of this bedroom is the Ikea Busunge in white.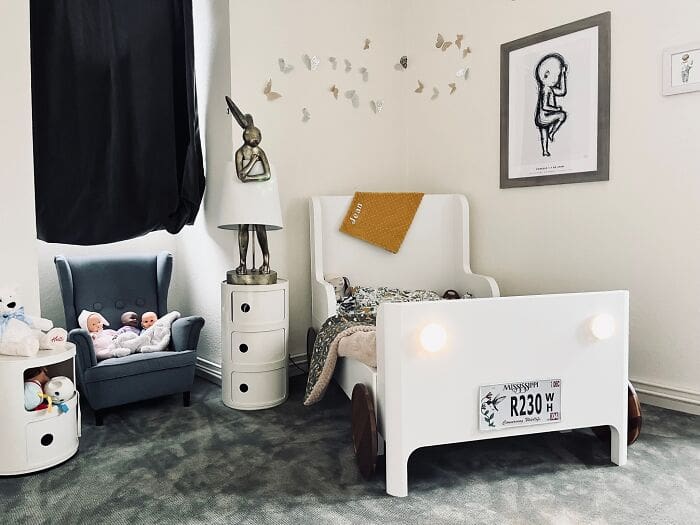 Aside from the bed, the OP also got a few more supplies from various places. We especially love that little chair which we think would make a comfy reading corner. We're certain that this boy will have plenty of wonderful memories here.
#23 A greenhouse unlike any other
We love this original greenhouse because how often do you see one that looks like that? It's not strictly a greenhouse per see, but in our opinion, it's a decorative element that gives more life and personality to a room or space.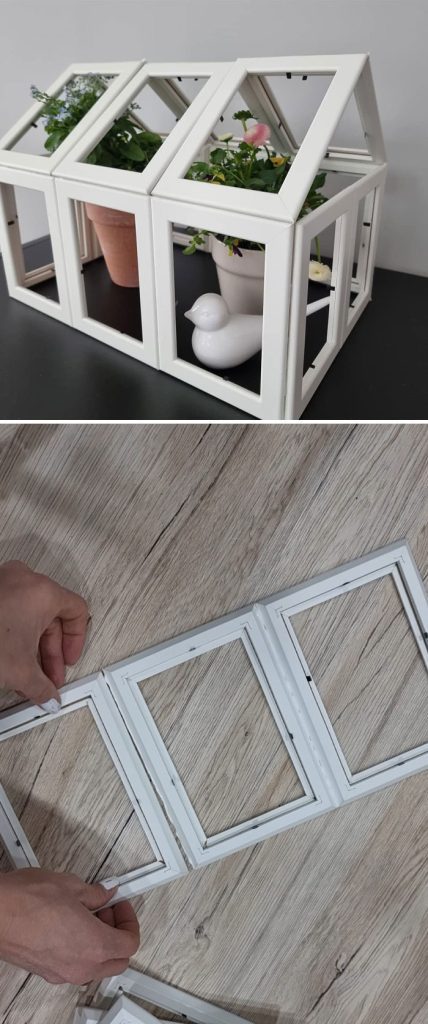 This eye-catching creation was made by using the Fiskbo from Ikea, and yes, that is a picture frame. Could you even tell from looking at this photo? We certainly couldn't, and that's saying a lot coming from lifetime Ikea fans.
#24 The Smastad is an essential for any home
If you haven't bought the Ikea Smastad yet, this list will give you plenty of reasons to head to the nearest Ikea and scoop it up. We have here another example of how indispensable it is when it comes to organization and storage.

We love how there is a place for everything in there, including cleaning supplies, toilet paper, gloves, and a variety of disinfectants. When your things are organized, you know exactly where to find everything, and it will save you some time when it comes to cleaning.
#25 Genius idea for a room divider
Sometimes you may want to divide one space into two but are discouraged because of the quality of room dividers available today. Most of them are simply discouraging and don't look good. But why put up with ugly room dividers when you can make gorgeous ones such as this?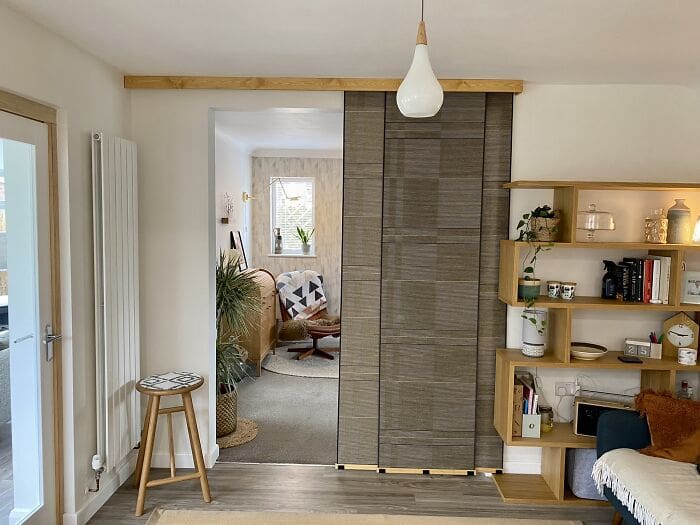 This lady got her creative juices flowing and used the Vidga panel curtain system from Ikea to create the divider of her dreams. She then added a wooden plinth to hide the rail and made some upgrades with the use of Visback poster hangers.
#26 Organization kept simple
Home organization doesn't have to be complicated or expensive. Some people might not consider this next one much of a hack, but we do. It is simple and straightforward and won't even require assembling parts, and that's what people like, right?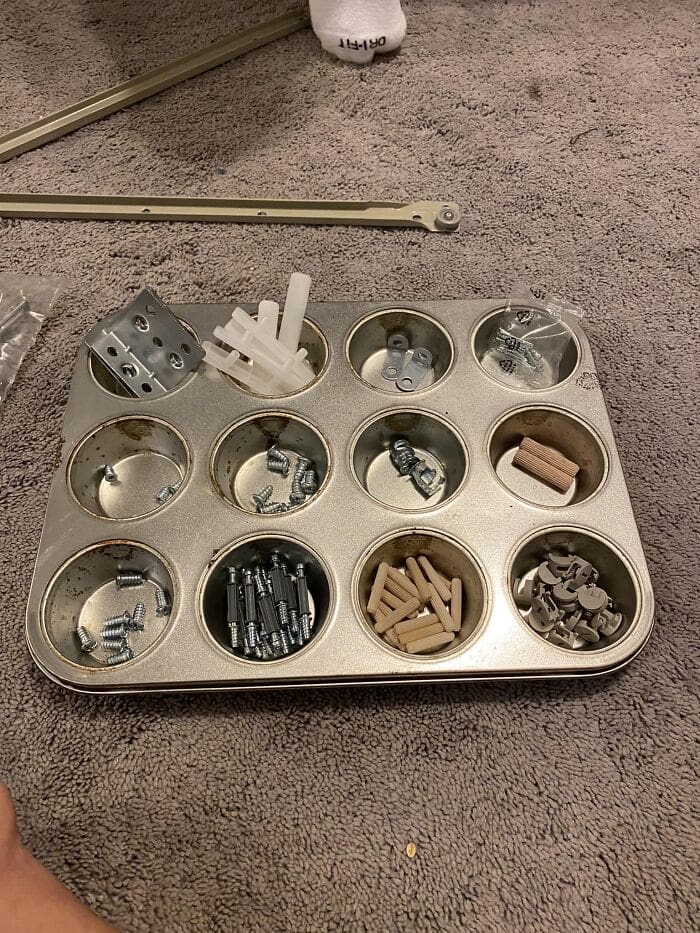 Assembling Ikea products quickly, especially furniture, requires being able to find the right type of screws and other small items. So, unless you want to spend countless hours on one product, you better have a muffin tin like this one ready.
#27 This is a table people will talk about
If you want a centerpiece at home that people will admire and talk about, you've come to the right place. Make sure you take notes because there are plenty of brilliant ideas. This table was made with a mirror and a coffee table from Ikea's Stockholm series.

Don't worry; no furniture was harmed during the assembly of this masterpiece! The OP used bi-adhesives to attach the two items to avoid ruining them. Additionally, they wanted to be able to use them separately in the future if they chose to.
#28 Her very own private nook
When you become a mother, you give up a lot of things, including your independence, sleep, and alone time. Most of the time, your children will be looking for you or refuse to be left alone and just demand a lot from you as a person.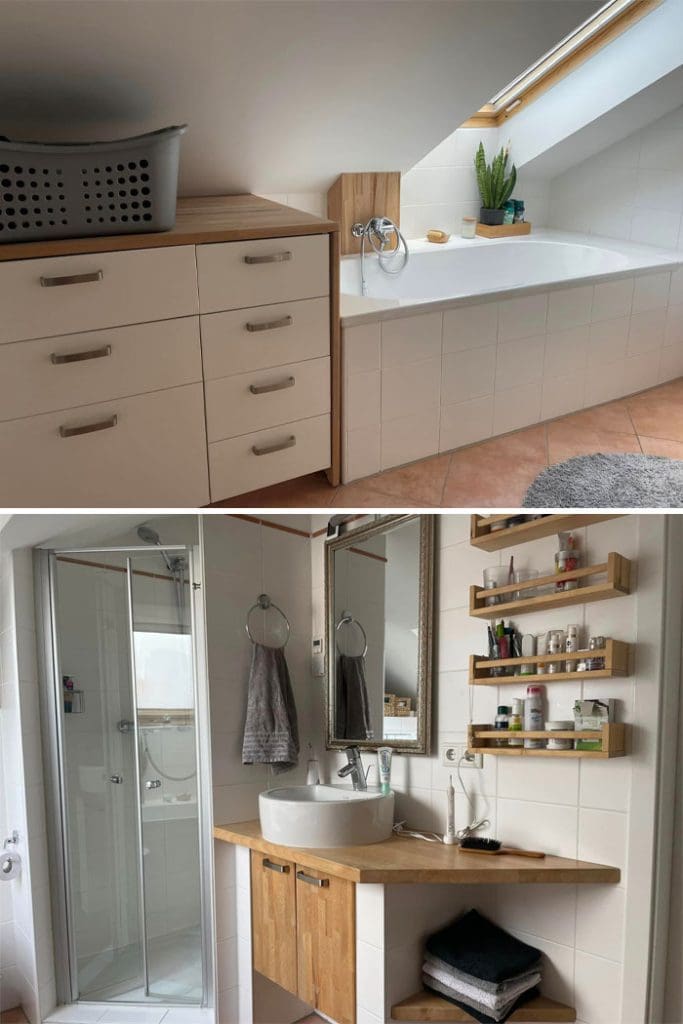 But don't worry because it gets better as the children get older. In the meantime, you just have to make the little sacrifices to ensure they are okay. For her well-being, this woman treated herself by creating her own bath space with the use of Bekvam spice racks and a few other items from Ikea.
#29 A surefire method of drying clothes
Drying clothes doesn't have to be a difficult job. If only people had found out about this earlier, their lives would have been a little easier. But better late than never, right? Pictured here is the Maximera drawer being used as a laundry-dry drawer.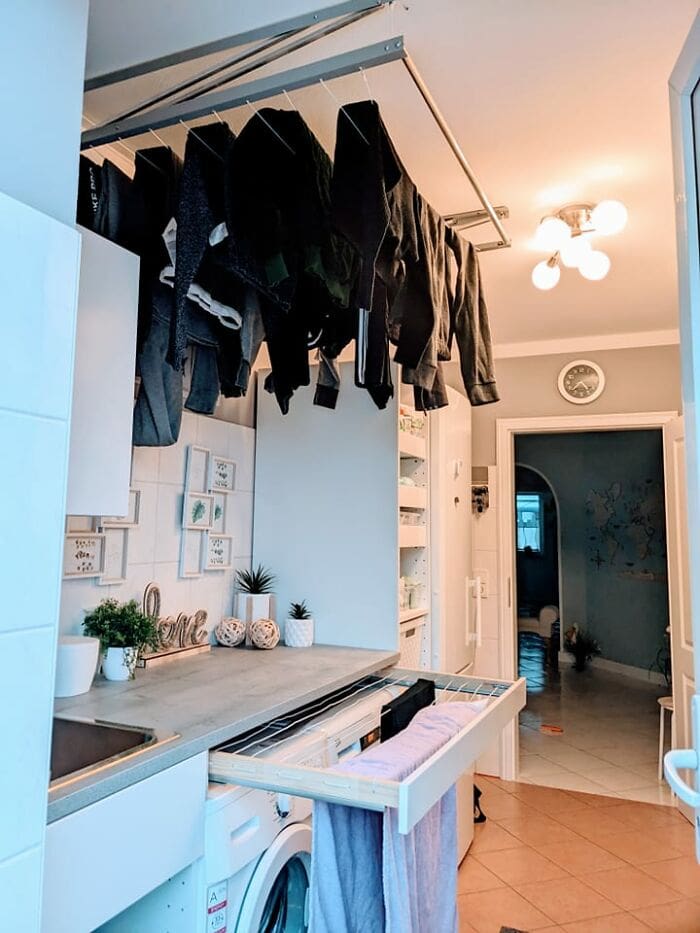 Sometimes spending hours on DIY and home improvement hack sites can benefit you. They give you glimpses of what you could have with the right materials, mindset, effort, time, and patience. So, thank heavens for people who willingly share information, like this guy.
#30 A combination of save and splurge
When decorating your home, it is always a good idea to balance everything. You save on some things so you can splurge on others. After all, you can't blow all your savings because you're moving into a new house or renovating the one you live in.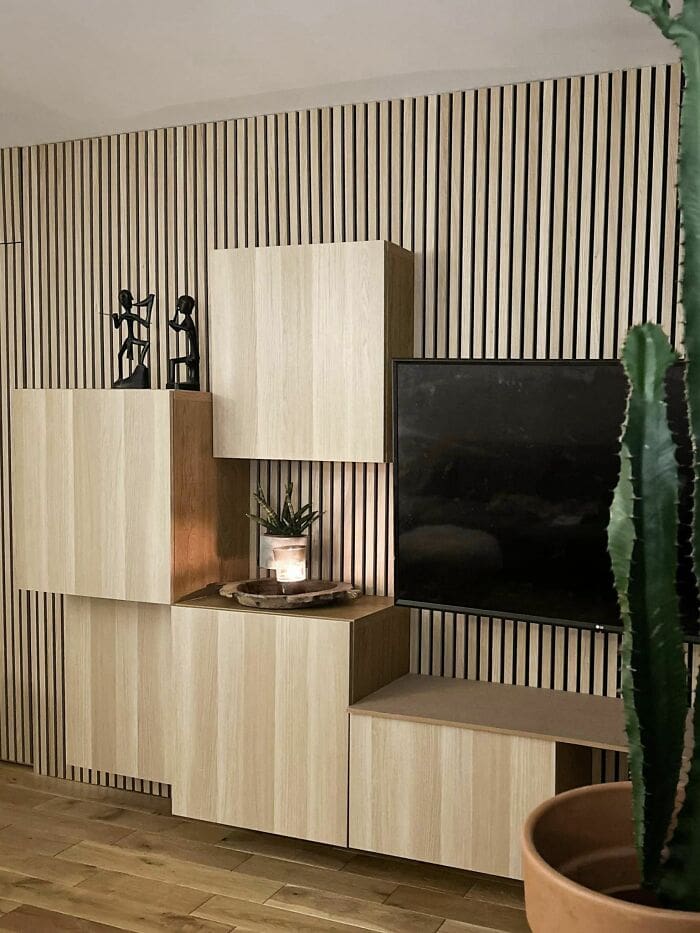 This couple achieved just that by using a few simple pieces of furniture from Ikea, such as the Flatpack, and going bespoke on other aspects like the joinery and acoustic panels. The result was amazing, so feast your eyes on it.
#31 A place for the kitties
As misunderstood as cats are, they are actually affectionate animals who have a strong sense of loyalty and deserve all the love and attention in the world. If you have one of these furbabies, this is something you can consider.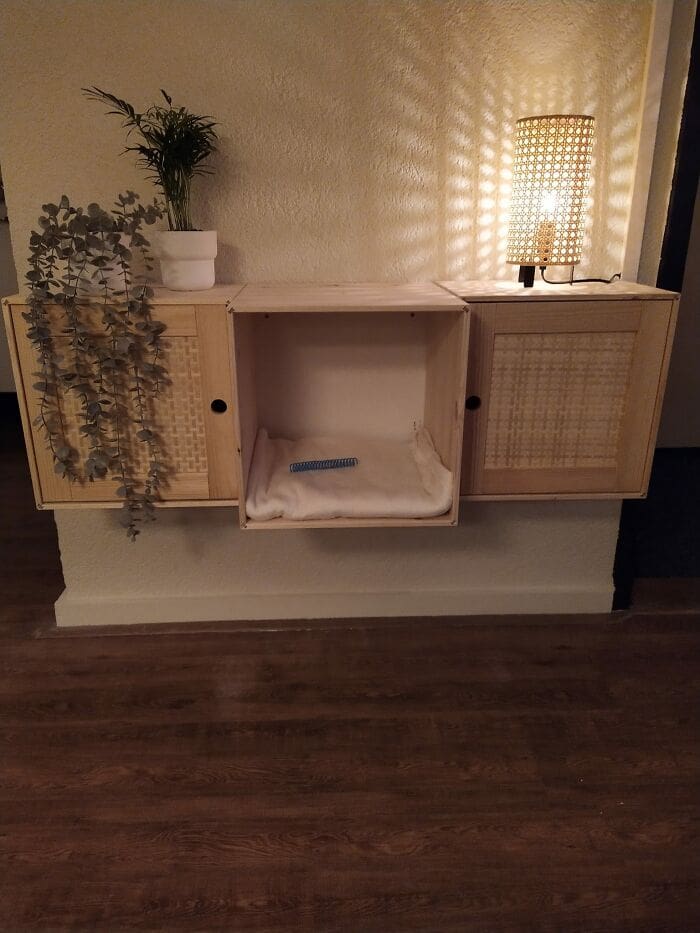 The OP used the Ikea Valjare to give their kitty its own special place in the home where it can be comfortable and warm. We're certain kitties everywhere would love this hole in the wall where they can be left to their own devices and just enjoy life.
#32 A place for all the hangers
The coat hook was the inspiration for today's ubiquitous shoulder-shaped hanger, and there are quite a few people credited with its invention. The hanger is also one of the most difficult things to organize in a home; just ask any mother or housewife.

Fortunately, this woman discovered the perfect solution. She bought Tjena magazine files from Ikea and used them as containers to store hangers in the Metod Keukenkast. Now she has a designated place for unused hangers, so they don't have to hang in the closet.
#33 Giving old Ikea furniture a facelift
Some units of Ikea furniture have been phased out and are no longer available today, so if you're one of the few who still have those classics, consider yourself lucky. You won't be able to buy them brand new anymore, so you have something special on your hands.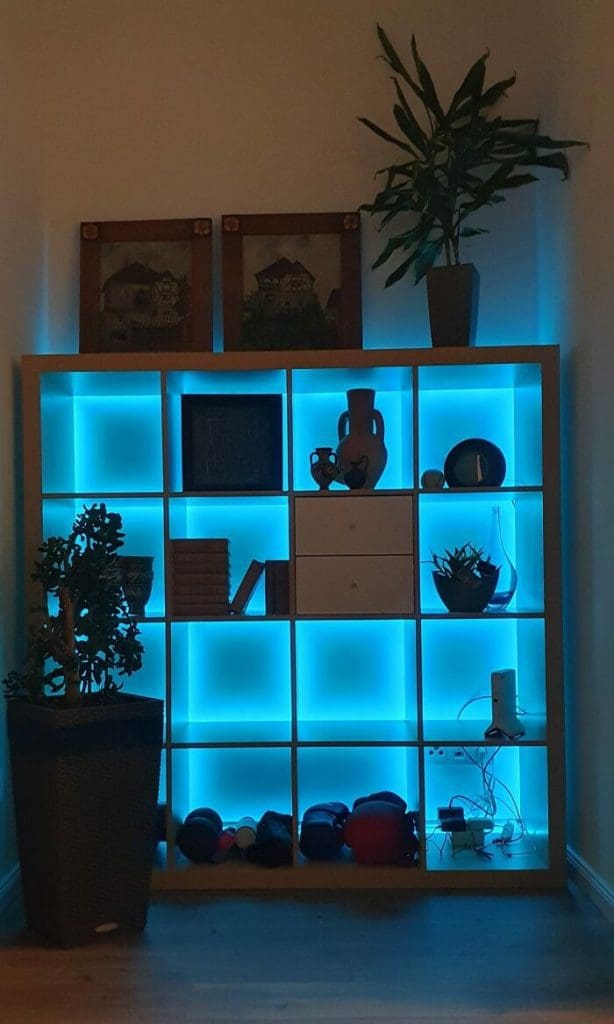 This homeowner had the old Expedit and decided to give it a much-needed facelift by adding LED stripes to the back. They now use it to display the souvenirs they have collected and as storage for a few other loose items.
#34 This is a showroom piece
Even if you're not a pro when it comes to home decoration and DIY, there are plenty of helpful articles and videos online to guide you, especially if you're using versatile pieces like those from Ikea. Most people around the world have experience with their stuff.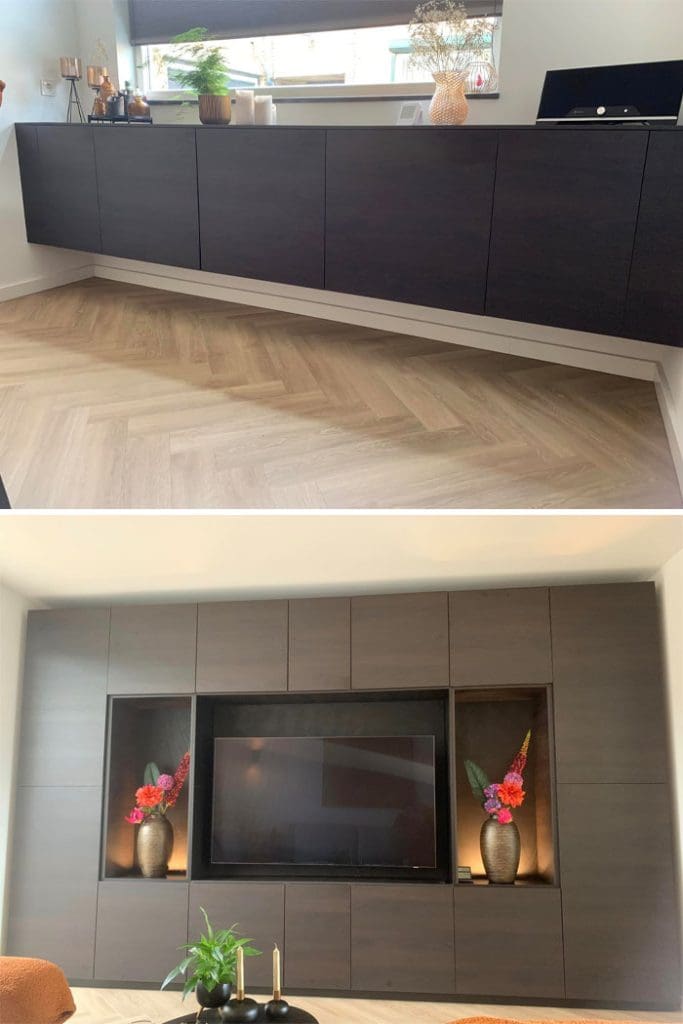 This showroom-worthy piece was made with Ikea Metod upper kitchen cabinets, and look at how it turned out! It deserves appreciation and is worthy of being mentioned on this list. We can't wait to see what this person will come up with next.
#35 Want to display your silverware and china?
Some people collect stamps, others prefer antiques, and there are those who would rather spend their money on fine porcelain and china. If you are one of the latter, you'll need something that will allow you to display your collection and protect it at the same time.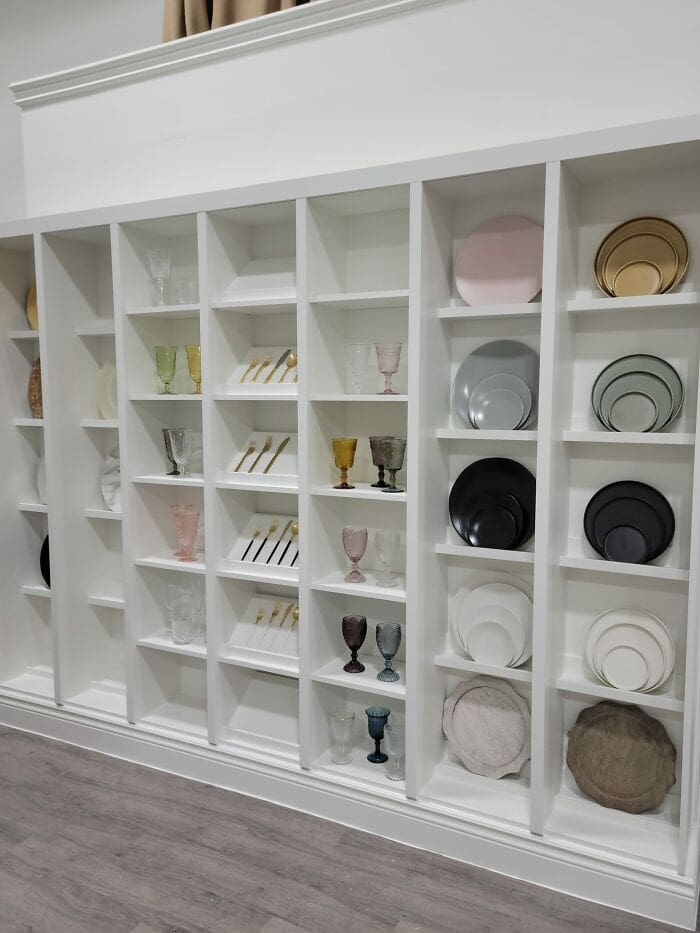 What you see in the photo above is a showroom display unit that can be easily replicated at home with the use of a Billy bookcase and Mosslanda picture shelves to hold the plates in place. With a few trim works and shelves, you'll have yourself a winner.
#36 Something close to a Lego house
Founded in 1932 by Ole Kirk Kristiansen, Lego has come a long way from existing only in a Danish carpentry workshop. Today it is one of the most recognizable brands in the world, a true success story to be emulated by others.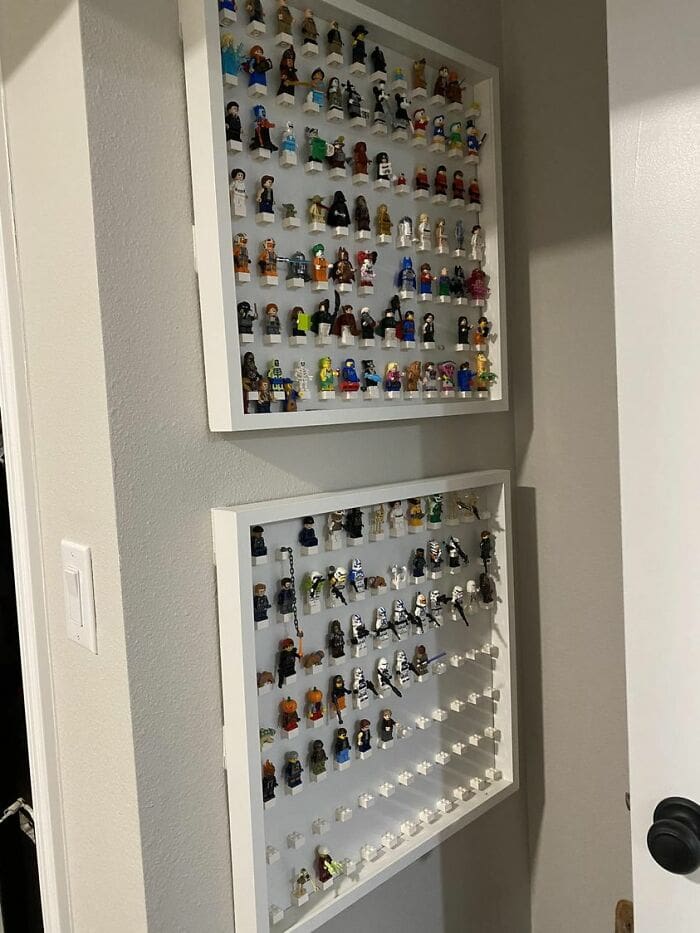 Nowadays, it's hard to find a home with kids without a single Lego toy. If you're wondering how best to store them, especially the action figures, just look at the photo above. The person who did this brilliantly thought to remove the cover of the Sannahed frame and use Velcro strips to hold the figures.
#37 Sometimes, it's ok to steal ideas
When we say it's ok to steal ideas sometimes, we're not encouraging the wanton disregard of IP rights. We mean hacks and organization ideas that are freely shared online, just like this one. The OP saw this on Facebook and decided to copy it.

The Luftmassa and the Cylinder vase were combined to produce such a unique and wonderful vase that would be a great addition to any room. Some might think that $29 for a vase is too expensive, but hey, if it makes you happy, do it!
#38 Clever use of space
If there's one thing having limited space has taught people, it's the fact that clever usage and out-of-the-box thinking go a long way. You can't use conventional solutions if your problems are not conventional. You need an innovative and novel solution.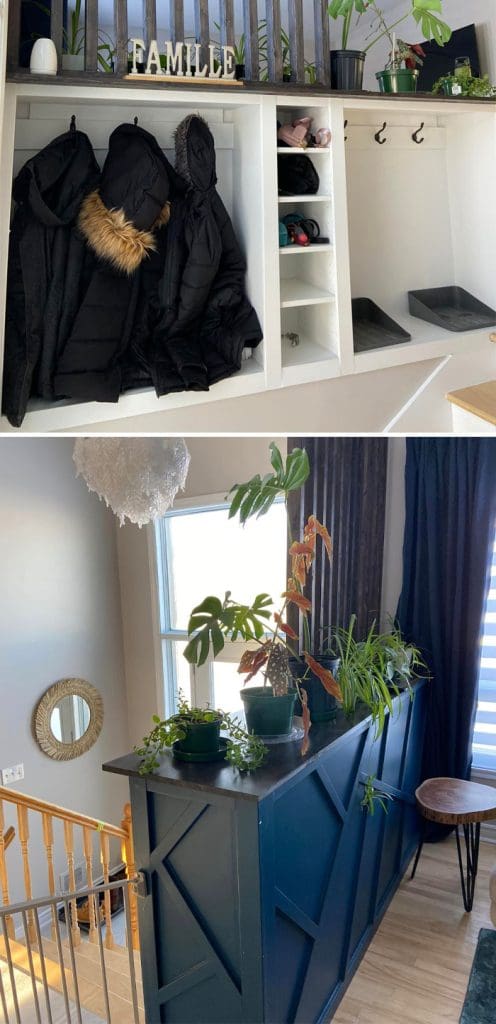 This homeowner used the Ikea section to create a division between spaces and also get additional storage at the same time. It became an instant hit with people on the Internet who were struggling with similar problems. And that is the beauty of social media.
#39 A great way to upcycle
If your Ikea furniture is looking stale or has lost its luster, don't worry because you don't have to throw it in the bin yet. You can upcycle it, give it a fresh coat of paint, or do a little something to make it up-to-date and make it modern.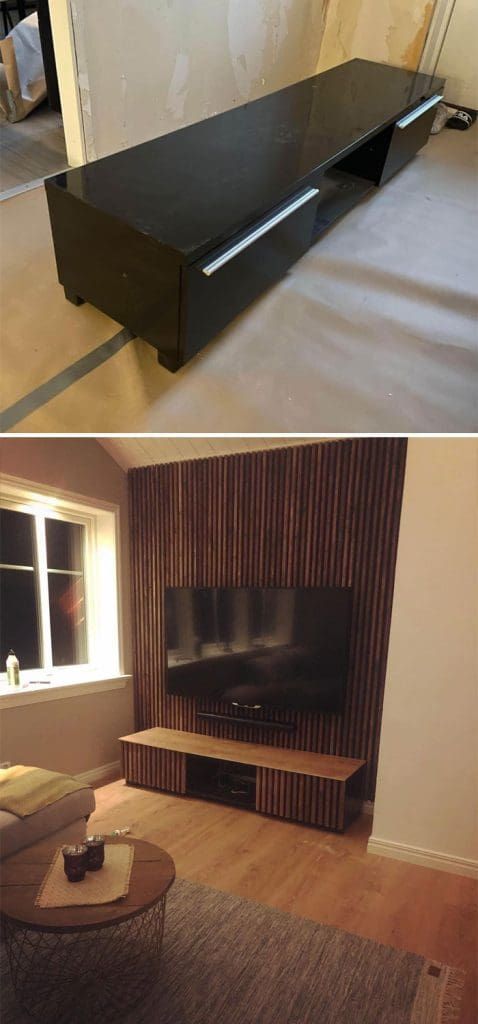 This is a good example of upcycling an old and tired TV bench from Ikea. The owner removed the handles, put on a sharpened board, and put a wooden panel identical to the one on the floor on the top surface, and now it looks all new and fresh. What a transformation!
#40 We could stay for hours in this bathroom
We have a penchant for gorgeous bathrooms where we can do a little touch-up and take endless selfies, and this one is right up our alley. We can imagine ourselves spending hours in here perfecting that mirror shot or getting a few candids!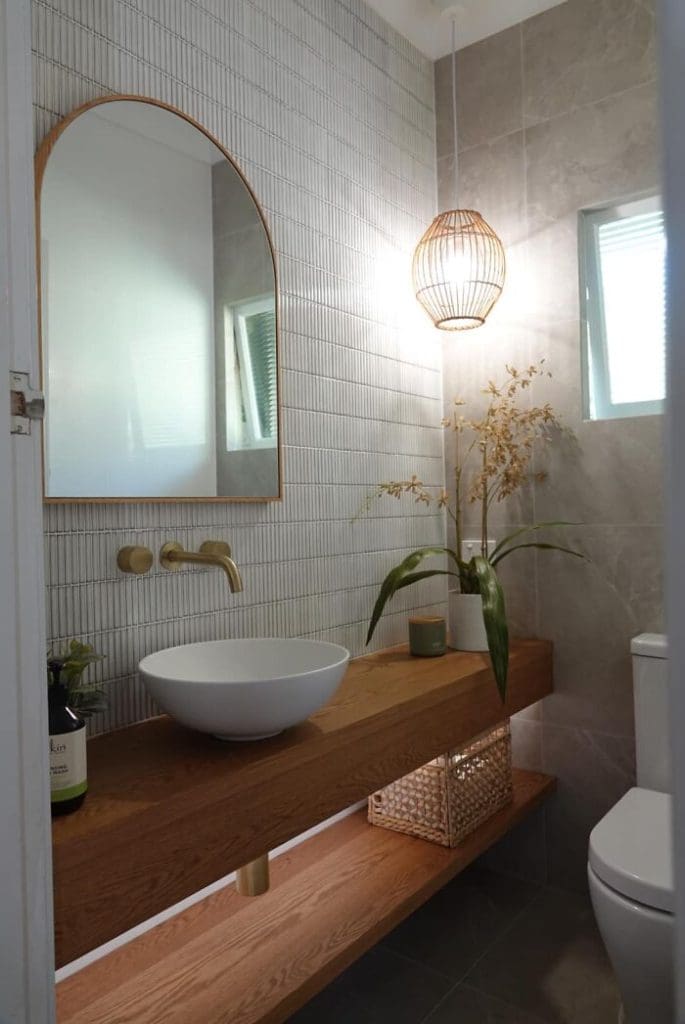 Not only is it stylish, but it also looks quite comfortable, two of the greatest things that can describe a bathroom. If you're wondering how to turn your powder room into something like this, get yourself a Möllekulla for starters.
#41 The perfect storage tote for an artist
If you are an artist or just someone who enjoys crafts, this one is for you. If you draw or paint a lot, it's obvious that you own a lot of stationery like pencils, pens, markers, etc. As such, you probably own a myriad of pen holders and other tools to store your stuff.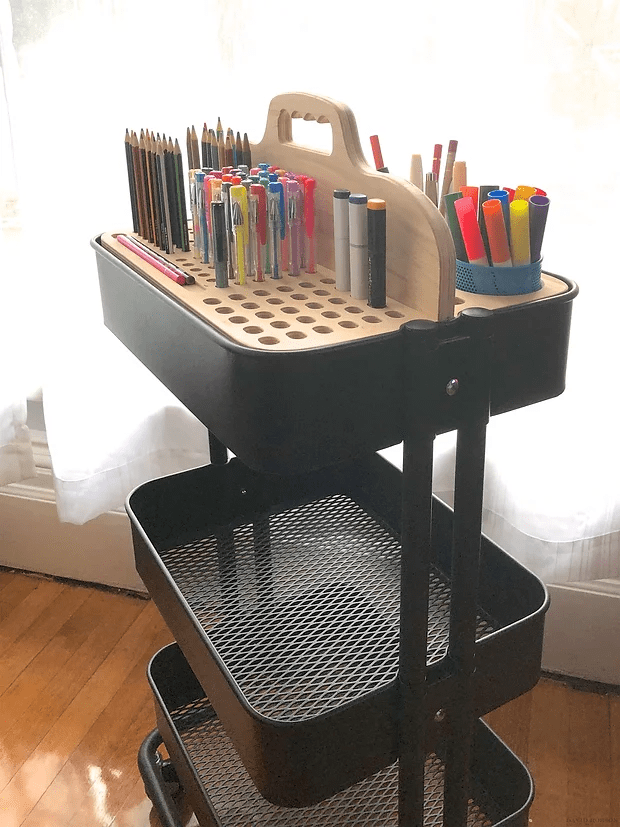 With this storage tote, everything you need is stored in one convenient place. The tote is made using quality hardwood and can either be used alone or with the IKEA Raskog cart, as shown in the photo above. Now you know what to gift your artsy friend on their birthday!