40+ Clever Money-Saving Dollar Store Hacks We All Need In Our Lives
By Liezel L April 17, 2023
---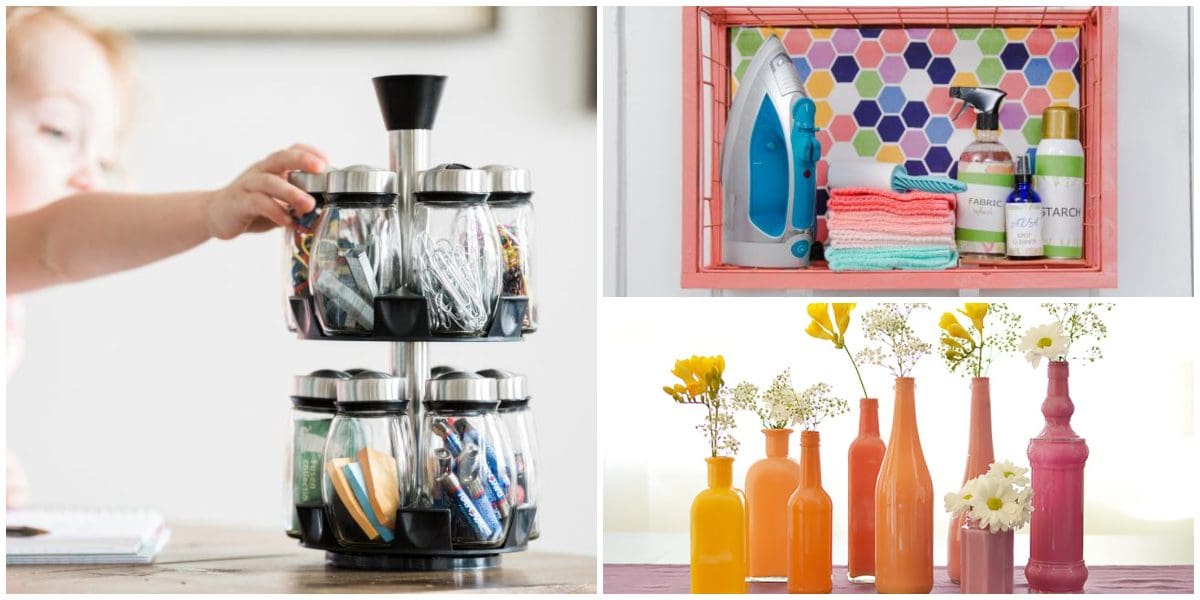 We will never understand people who turn up their noses at dollar stores. What's not to like about great deals and saving money? Not only that, but you can get inexpensive school, home, and everyday essentials there, and also tons of things for all your do-it-yourself projects. You need to be a little more discerning when you are shopping to recognize if an item is a great find or not. Plus, with just a little bit of creativity, resourcefulness, some time, and effort, you can upcycle anything you find in dollar stores. if you have an eye, even something mundane could be transformed into something not only useful, but cute. From custom kitchen sets to organization hacks, here are some pretty amazing, money-saving dollar store hacks we wish we'd known about a lot sooner. 
Discover the Many Uses of Coffee Filters
Multipurpose items are everywhere. It's just that some of us are a little too set in our ways to discover them. One such item that we should all be paying more attention to is our coffee filters. Aside from keeping grounds out of your coffee, this thin piece of paper has many more uses around the house.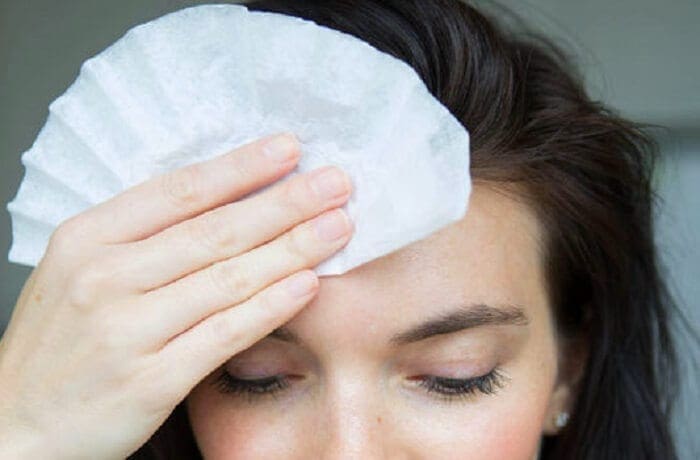 For one, you can use them as food separators for candy or cookies that you don't want all mixed together. Second, you can use them as an improvised loose tea bag. Third, you can use it to filter out any cork that might have fallen into your wine. Last but not least, you can use it as an alternative for blotting paper. Neat, right?
DIY Hanging Kitchen Gardens
Growing the ingredients for your meals from your very own home provides pure and simple satisfaction. Unfortunately, not everyone has a farm or a big backyard to dig up a hole and plant whatever they want. Some of us have tiny terraces and window ledges. But that doesn't mean you can't garden. All you need are some cans and wires.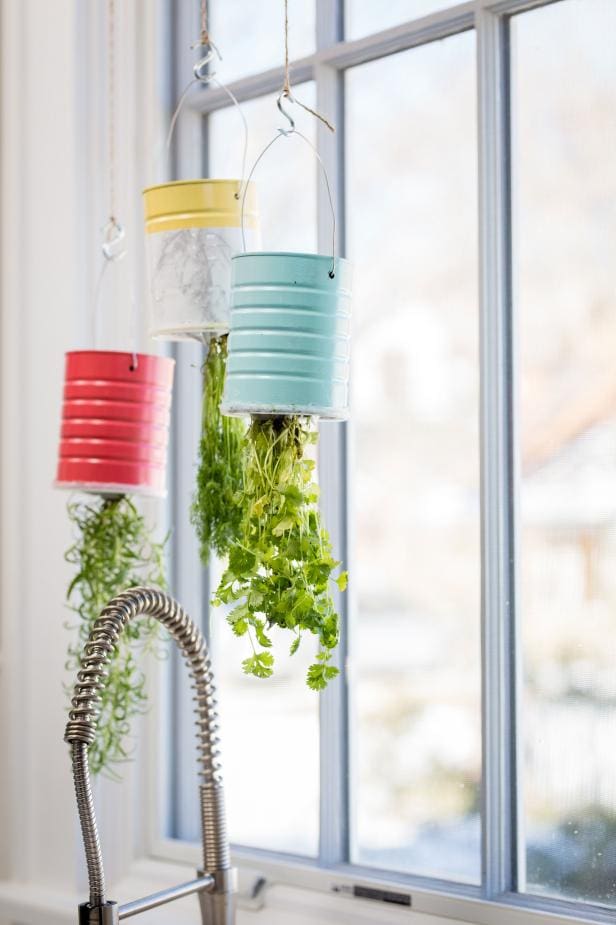 Punch two holes in either side of your cans near the top and attach a length of wire across it to create a handle. Then, fill the can with soil and plant your favorite herb. Hang the cans near the window, spray your plants regularly with water, and watch your garden thrive.
Muffin Tin Party Trays
If you've ever been the person charged with fetching the drinks, you know just how hard it is to hold and balance three or four drinks at a time. You can go back and forth, of course, but who wants to do that? Well, say goodbye to that problem.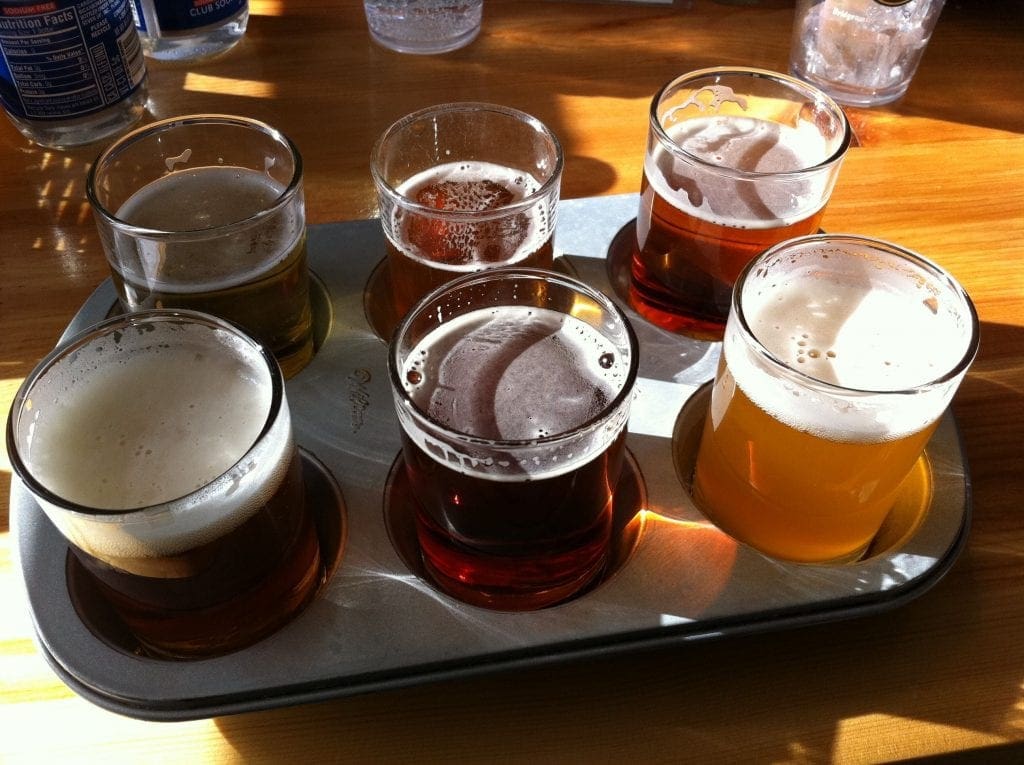 More than helping you create perfectly shaped mouthwatering treats, muffin trays are also the perfect trays to help you serve drinks without spilling a drop and enduring embarrassment. The best part is you can customize your trays to match the concept of the party with some paint, stickers, and Mod Podge.
Organized Packets and Knick-Knacks All The Way
Every house has that one drawer that everybody dumps stuff into, whether it's knick-knacks, packets of sauce, tea, salt and pepper packets, or pencils and bits of paper. And most of the time, these drawers are one of the messiest places in the house.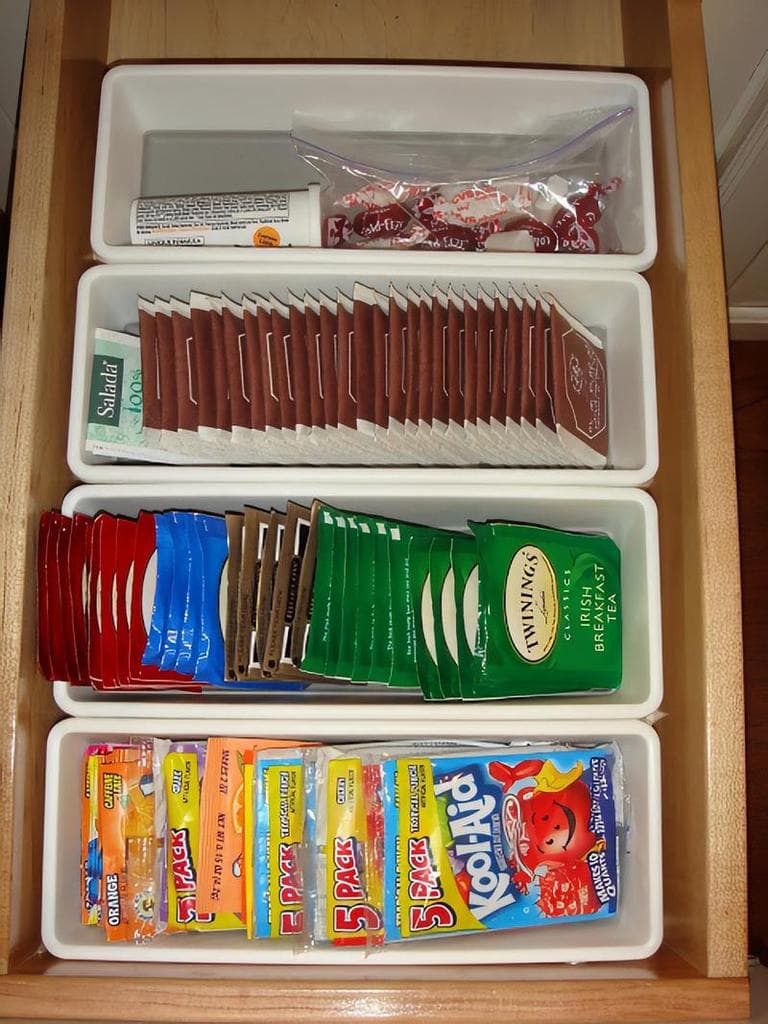 If you want some semblance of organization in these drawers, all you need are pencil holders from the dollar store. These are absolute game-changers and will keep your drawers tame enough for you to identify what sauce or knick-knack you need without rummaging through something like Mary Poppins's bag.
Make Your Own Priceless Custom Kitchen Sets
Many mothers and grandmothers out there spend hundreds and even thousands of bucks for that special custom set of plates that's only to be used on the most special occasions. But what if you could make your very own special dish sets for much less?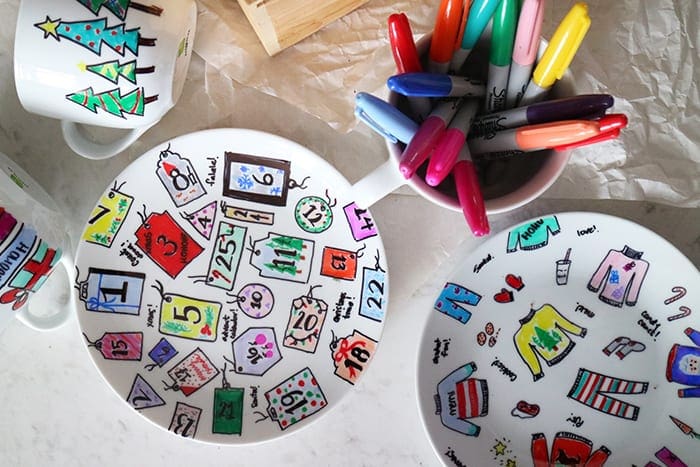 All you need are a set of plain dollar store dishes, some acrylic paint or colored pens, and some creativity. Once you've drawn on the designs on the dishes, you have to follow the instructions for curing and baking them, and you'll have yourself a truly unique dish set. 
Your Very Own Cord Command Station
Messy piles cords are a sight we all dislike. They always seem to pop up in the most unfortunate of moments, so you either end up embarrassing yourself or breaking a cord, or even both. Fortunately, we don't have to endure that anymore.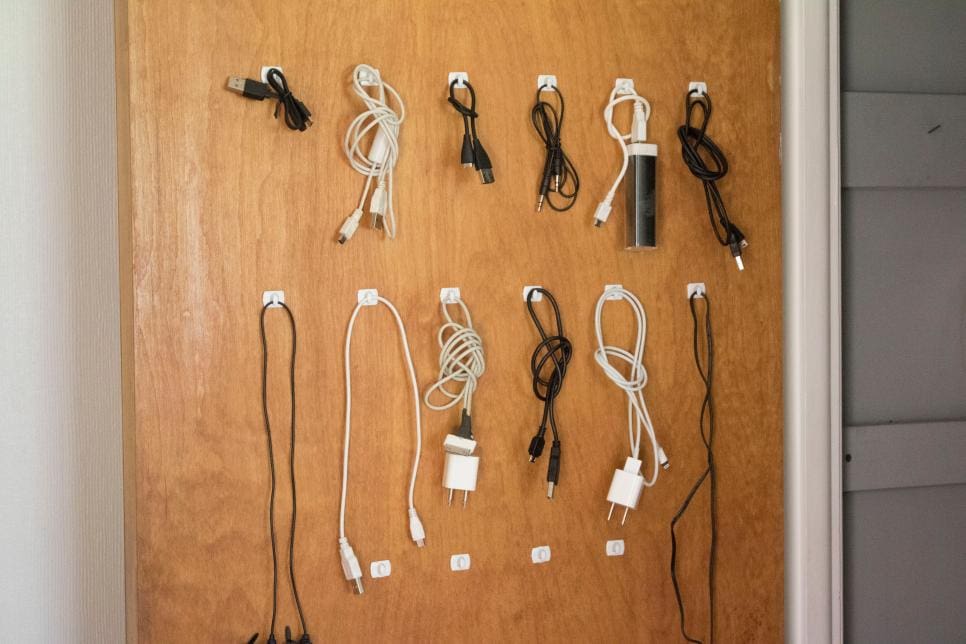 To ensure your cords are always where you need them but never where they're a nuisance, build yourself a cord command station. Get a pack of those adhesive hooks from the dollar store and attach a neat row of them to the side of a desk or behind a closet door. Now, you have somewhere to hang your cords.
Pretty Up Your Light Switches
Plain light switches are okay as long as they do the job, but for people who love sprucing up their homes to the very last detail, these plain light switches are a bore. If you're one of those people, then pay a visit to your dollar store, and you can find a few things to upgrade those light switches.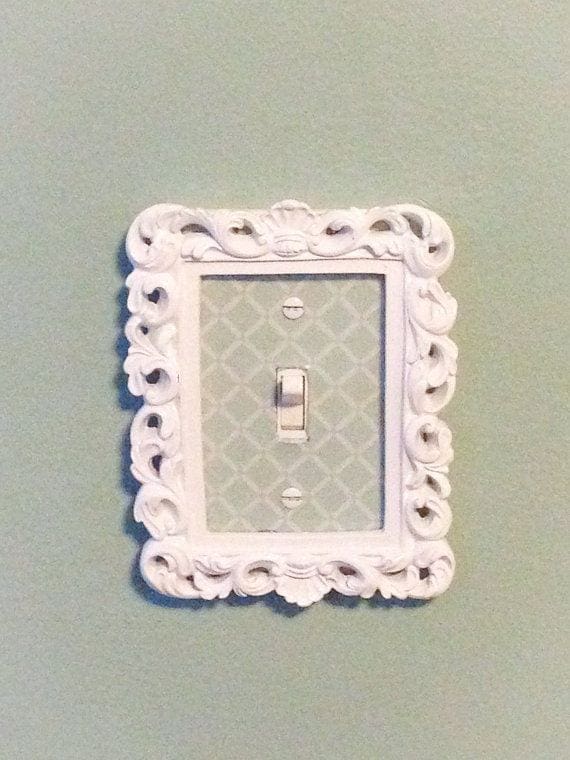 One idea is to use a small picture frame. Take the glass out, and use it to frame your light switches. You can even paint them to match the wall paint. Another option is you can use washi tape to adorn the switch cover. 
From The Shower To The Cinema
Movie nights are sacred moments of comfort for a lot of us. We dress up in our comfiest pajamas, choose a great film, and munch on our favorite snacks without a worry in the world. Do you know what can make that better? Your very own concession stand, right on your lap.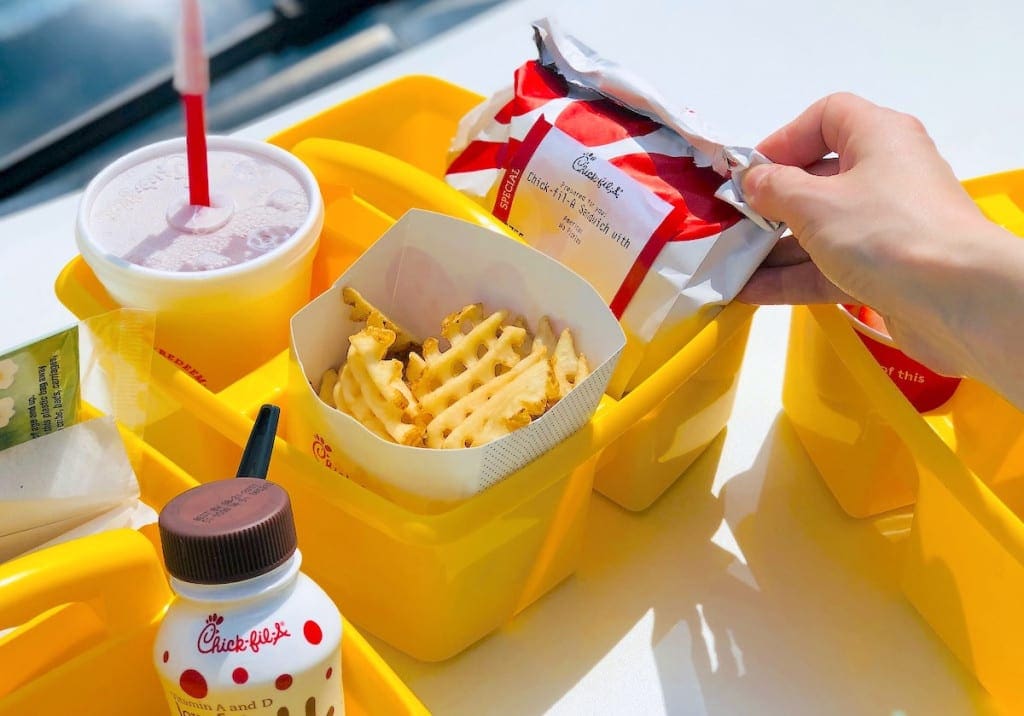 Just buy a couple of cheap shower caddies from your dollar store, and instead of filling them up with soaps, loofahs, and shampoo, fill them up with drinks, popcorn, candy, and everything you'd want to munch on. If you have kids and you want to avoid all the mid-movie fighting over popcorn, this is perfect for you. 
Cheap Plastic Toys To Expensive Book Ends
Take a little creativity and resourcefulness with you to the dollar store, and you can transform anything – from a toy to a couple of plates – into something that looks expensive and chic. Just take a look at these toy bookends. You'd think they're a hundred bucks each.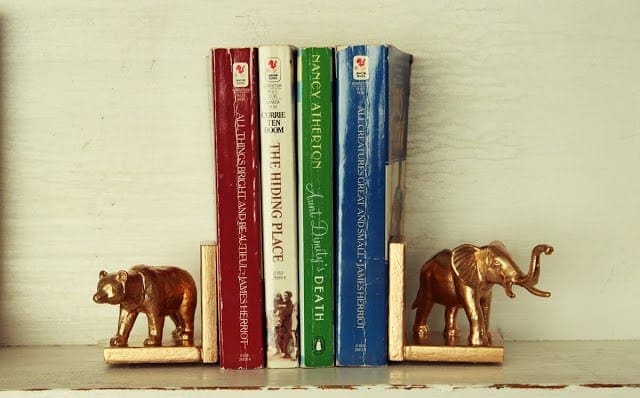 The trick is to stick your favorite toy animal on two blocks of wood glued perpendicularly. After that, spray or paint it with a few layers of your favorite color paint and finalize it with a layer of clear sealer. Remember to let it dry between each layer, though.
Spruce Up Your Fridge And Make It Easier To Clean
The task of taking everything out, wiping down all the shelves, and rearranging every food item back in our fridges isn't a task we're always excited about. Luckily, by placing a couple of placemats on your shelves, you can make the task a little easier.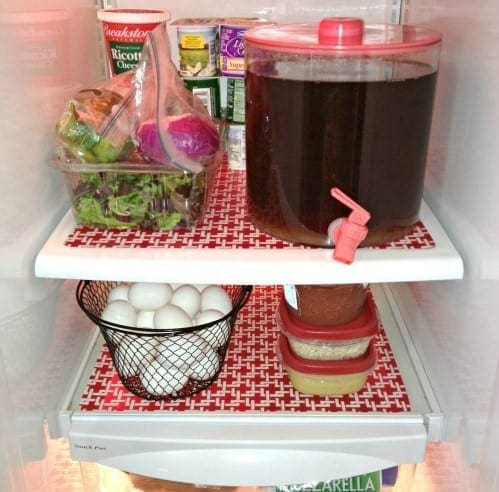 These don't let you permanently break free from any fridge-cleaning responsibilities, of course, but it helps keep things neater and easier to maintain until you really need to clean out your fridge. Not only that, but it adds a pop of color to any plain fridge. 
No Need For Fancy Hangers
Remember pipe cleaners? Those colorful fuzzy things that always come in packs? As we remember from childhood, they're perfect for many DIY crafts. In this case, they're perfect for sprucing up your plastic hangers and preventing your silkier clothes from falling.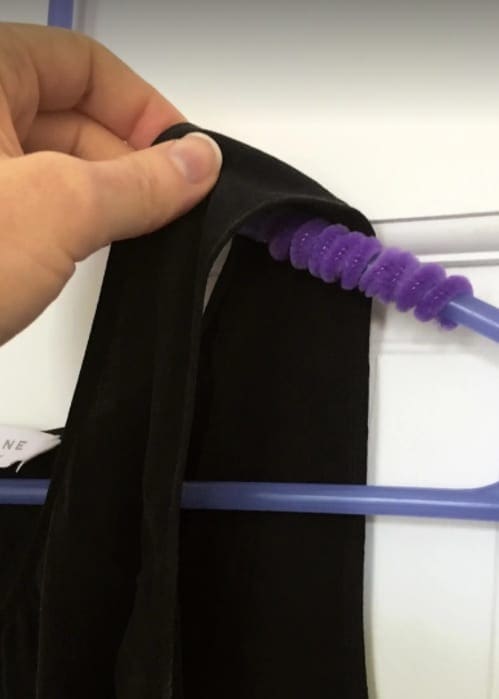 Instead of buying those fancy expensive fuzzy hangers that people always seem to have on social media, wrap a pipe cleaner on both ends of your hanger around the shoulder sections. This will keep your clothes from slipping off and keep your wardrobe nice and neat. 
Multipurpose Jars
Mason jars are probably one of the best things that have ever been gifted to the craft world. There is a never-ending list of uses for them. On top of that, they're just so aesthetically pleasing that you can never really go wrong with them.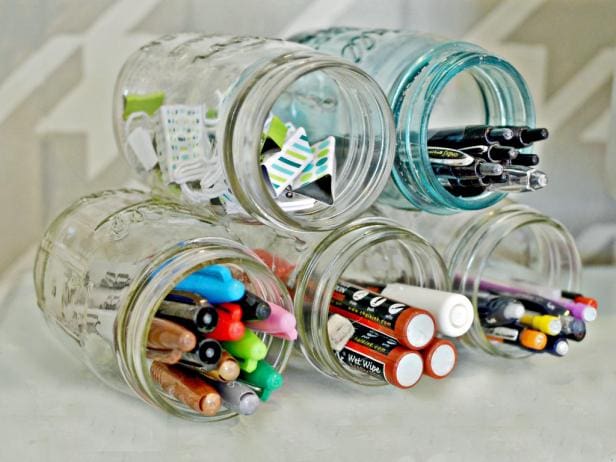 In this case, mason jars are the perfect organizational tool for your office space. Keep your desk clean and your knick-knacks organized by stacking mason jars on top of each other or simply keeping them standing up. You can leave them plain or decorate them. 
One of the Most Effective Makeup Organizing Hacks Ever
As they say, there is beauty in chaos. However, that doesn't apply to everything, especially when it comes to makeup. Sifting through pouches, drawers, and stacks of palettes to find whatever you want to wear when you're already running late is not what we'd define as a beautiful moment. Luckily, there's a dollar store hack for that.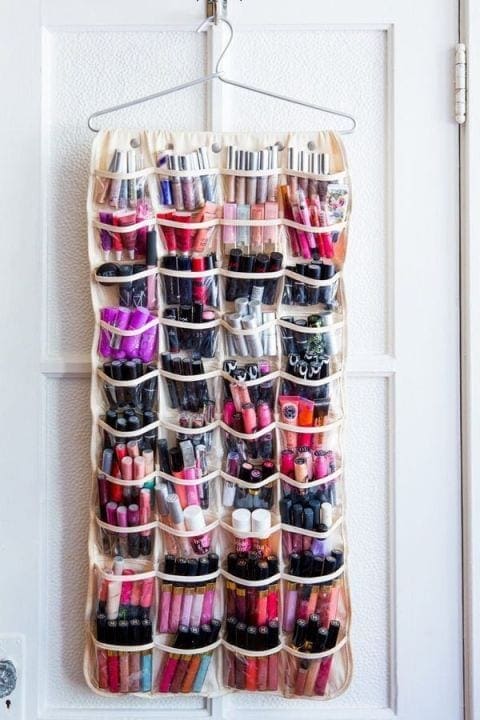 If your makeup bags, drawers, and counters are overflowing with products, try storing them and categorizing them in a shoe organizer. This way, you can categorize by product, color, or brand. And trust us, getting ready will be so much smoother and less frustrating.
Multipurpose Shower Caddy
You can repurpose almost anything with help from the dollar store. More often than not, all you'd need is paint and glue. Take shower caddies, for instance. Take them out of the shower, and they're practically an all-around organizer for anything.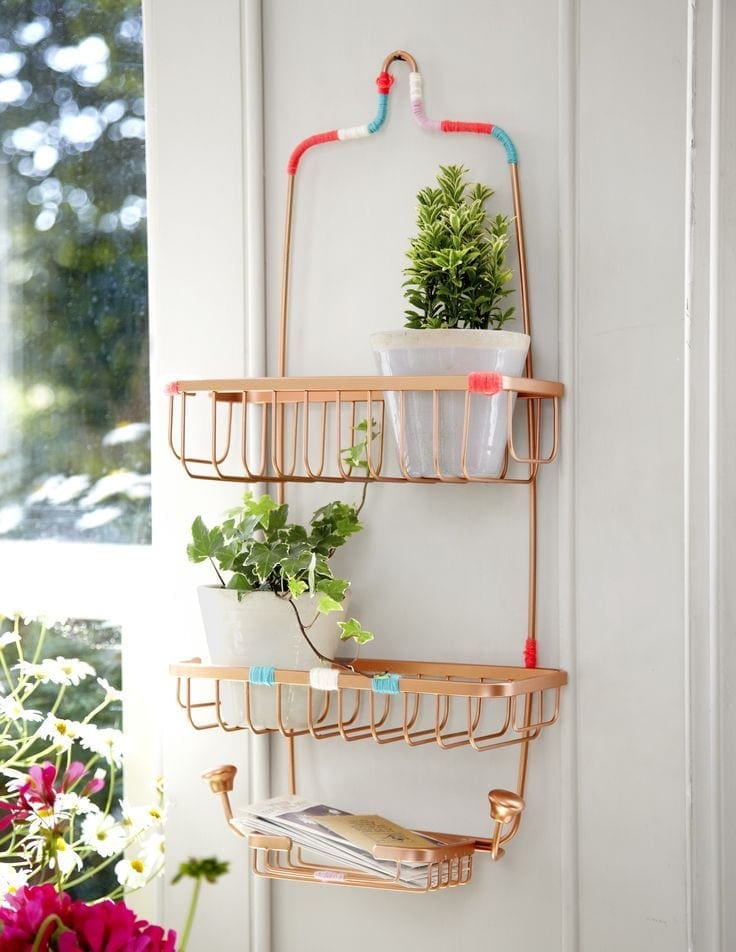 Just give it a good spritz of paint and hang it somewhere where it is most useful, and you'll have yourself a handy little mail organizer that makes the dreaded task of going through all those bills and letters less time-consuming and frustrating. 
DIY Sock Massager
After a long day enduring back pains or foot aches at work, school, or just out and about, a massage would be heaven. But maybe investing in a massage session, a massager, or even a hot pack is out of the cards. Fortunately, we can all make our own DIY massagers.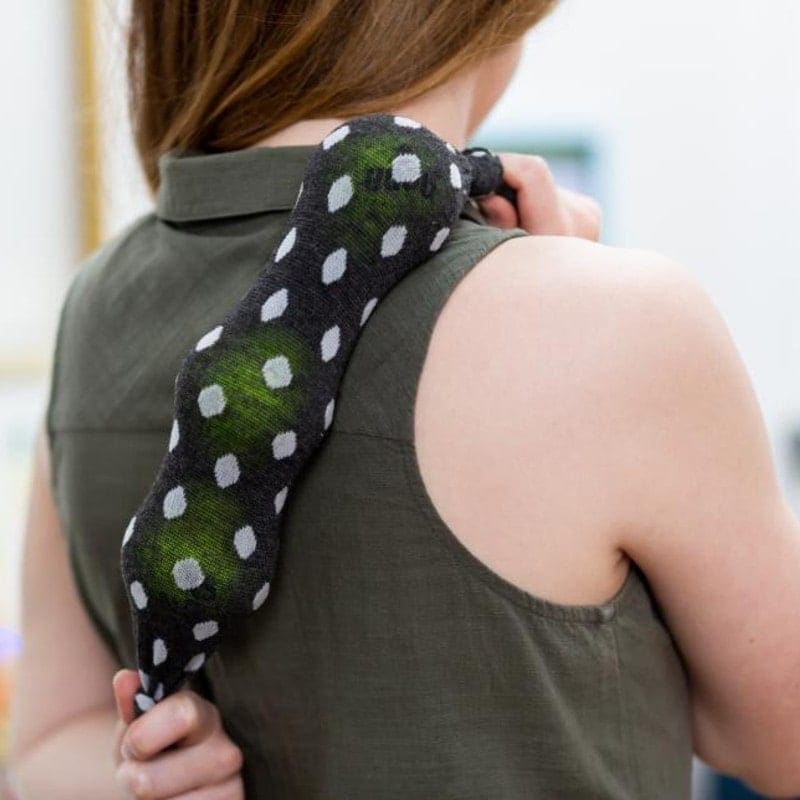 Get yourself a couple of tennis balls from the dollar store, look for one of those old socks you have that's been missing its partner, and drop those balls into it. Then tie up the open end with a rubber band and roll that on your back, shoulders, legs, or feet, and you'll have a soothing massage without breaking the bank. 
Keep The Stationary Mess At Bay
This always happens. When we need a safety pin or a paper clip, they all seem to go missing. However, when we don't need them, they pop up in the most random and, sometimes, most inconvenient places. The solution? A dollar store rotating spice rack.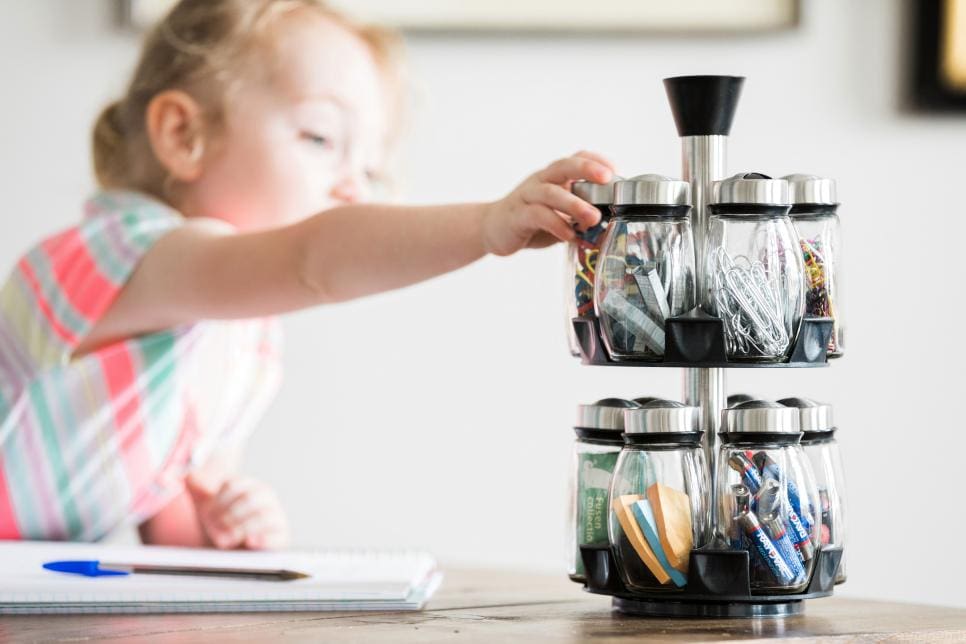 Small knick-knacks like pins, erasers, batteries, staples and paper clips can perfectly fit into small jars that you can place on your spice rack. The best part is that no one will even notice it's a spice rack. They'll think it's a super cool rotating organizer. 
Washi Fun Doors
Plain doors aren't for everyone, but not everyone has the talent, skill, or budget to repaint their doors properly. A simple solution to this is fun, colorful washi tape. Grab a few rolls of your favorite patterns, then tape on whatever design you want on your doors.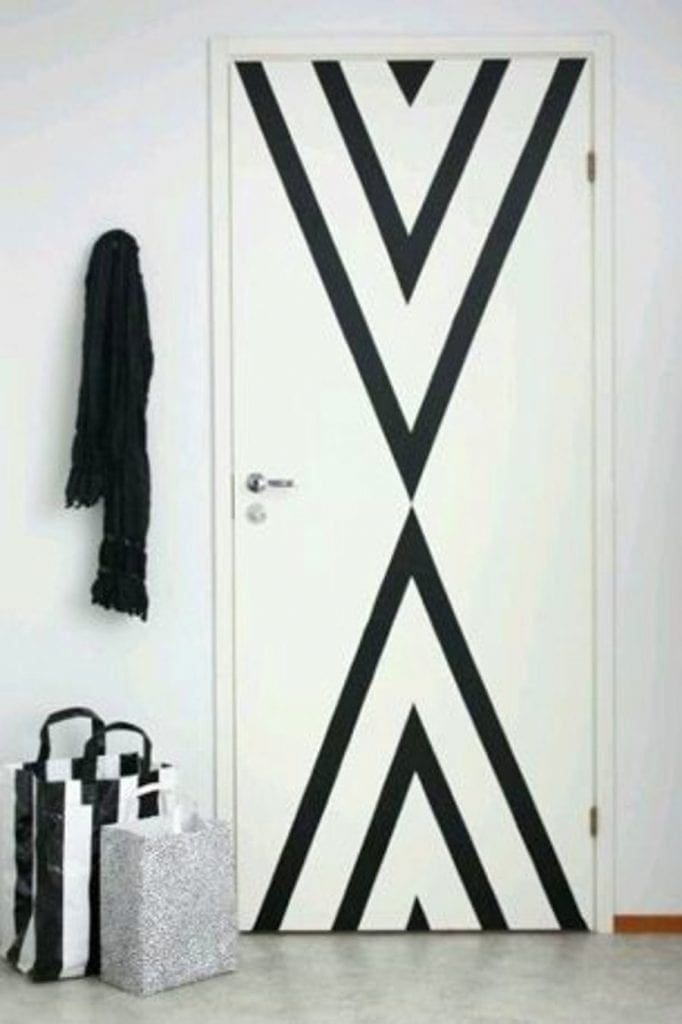 It's easy, fun, and you won't even need tons of artistic talent to create a decent pattern. You can even tape on stripes if you want. Just remember to secure it with some varnish, and you'll ensure your design will last. 
Pencil Holder To Spice Racks
If pencil holders can keep your sauce and tea packets nice and tidy in your drawers, they can surely keep your spices nice and organized. To get the full benefits of this organizer, though, glue small magnets on either side of the container and stick them to the side of your refrigerator.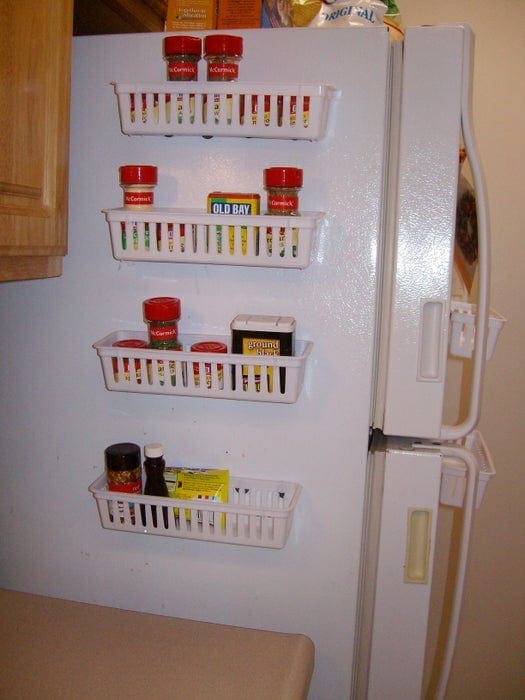 Your spices won't clutter your already limited counter space, and they'll be easily within your reach whenever you're cooking. You also won't have to worry about grabbing the wrong spice since they'll all be clear and visible in those pencil holders. 
Tin Can Transformations
Tin cans may not look like much, but they're perfect little organizers for things we use every day, like pens and pencils. All they need is a little bit of prettying up, and you'll be able to see those canned things in your pantry in a new light.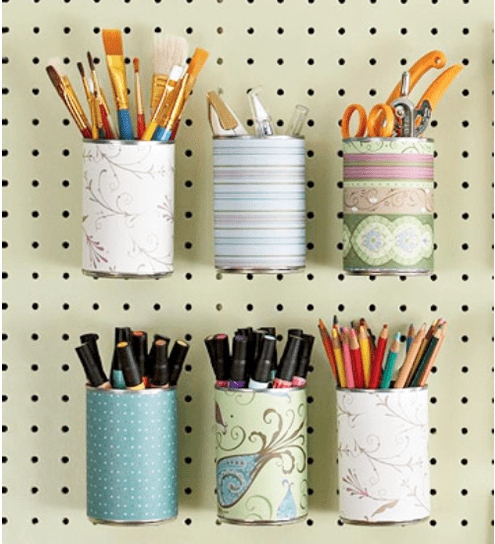 Cover them with some pretty wrapping paper and secure the wrap with double-sided tape from the dollar store to transform your cans. Just remember to wash and make sure your cans are squeaky clean, though, before spending your precious time decorating them.
No Sore Heads Ever Again
Sleeping should be one of the least painful things we do in our lives. And yet, we sometimes wake up with sore necks or heads because of a bad sleeping position or because of a particularly nasty jolt that had us hitting our heads on the wall. Headboards can help prevent this.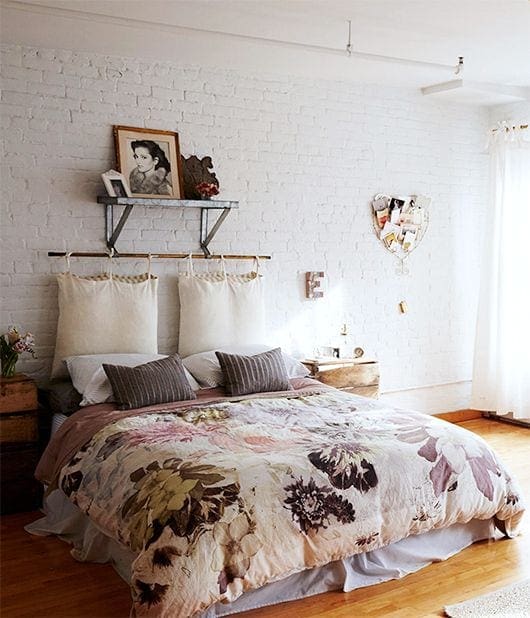 If your bed doesn't have one, you can make your own by hanging a couple of cushions on a curtain rod and placing that right where your headboard would be. Now, you won't have to worry about any mysterious bumps on your head!
Simple But Stylish Canned Goods Organizer
Cans can take up valuable real estate in the kitchen cupboards, and not everyone is crazy about those dedicated expensive organizers. With a simple magazine holder, you can store your canned goods neatly and minimize the space they take up.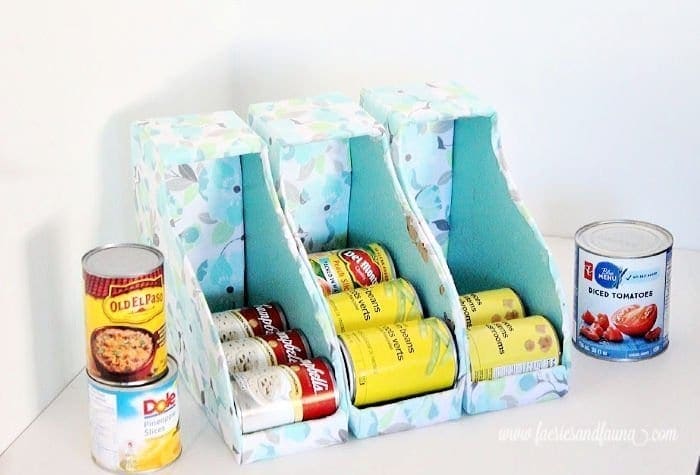 Flip the magazine holder on its side, place some wire across the lower end, and stack your canned goods. It's as simple as that. Now, your cans won't be hogging all the space, and you can find the exact can you're looking for quickly. 
Fancy Jewelry Display Stand
Jewelry stands are meant to help you keep your jewelry in tip-top condition and to help you find your pieces easily. But why do they sometimes cost as much as some of our nicest jewelry? If you're like us and don't want to break the bank for a simple jewelry display stand, here's a hack for you.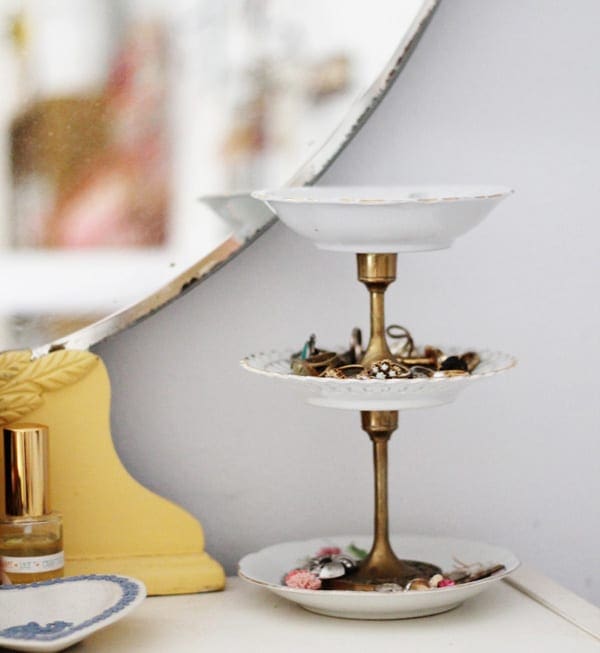 Buy a few tea saucers of different sizes and two short candlesticks from the dollar store. Then hot glue them all together in this order: saucer – candlestick – saucer – candlestick. Voila! If you want to spruce it up more, you can spray paint it any color you want. 
Cute Baby Kit For Parents
With a newborn in the house, any thoughts of organization can quickly fly out the window. However, you always have to keep the essentials on hand with your new baby's needs, so why not build this adorable DIY baby station gift?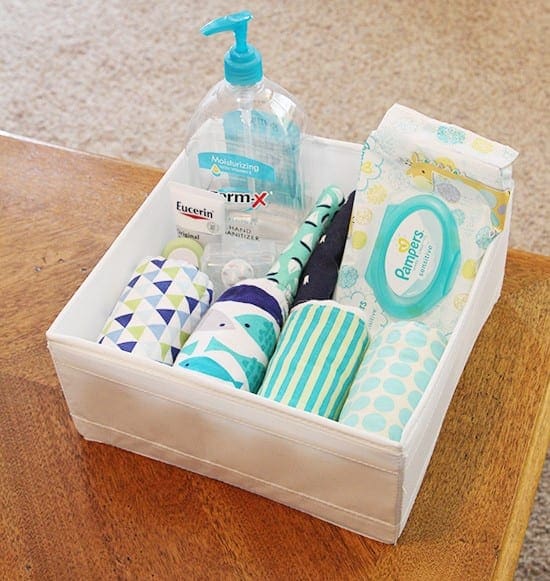 All you need is a simple organizer from the dollar store. Dress it up with a few ribbons or any other colorful and baby-safe accessories, and fill it up with all your diaper changing needs like wipes, diapers, and a change of clothes.
No Plain Spatulas In This House
Even kitchen utensils like your wooden spoons deserve some love and sprucing up every once in a while. For this hack, all you need are paint and contact paper of your choice. You can choose a design to match the rest of your kitchen or something completely different, so your spoons stand out.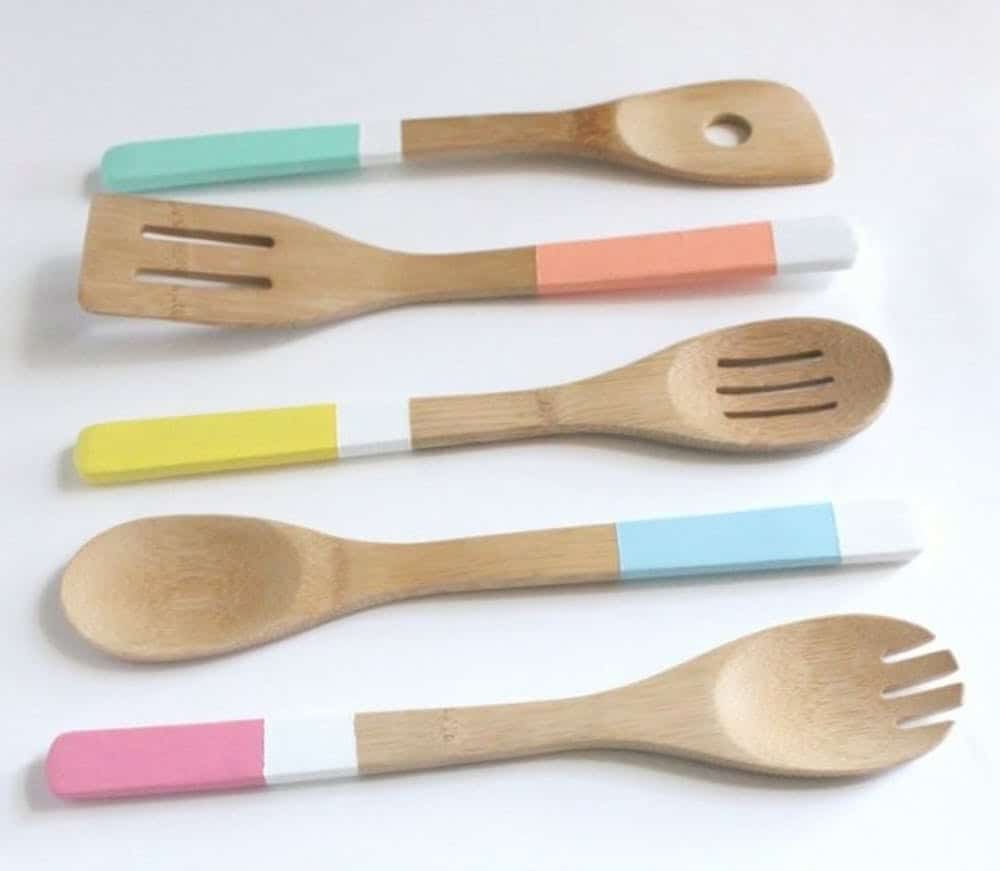 First, wrap the handle with your chosen contact paper. Then, paint each edge of the contact paper with your favorite color. This will help keep the paper in place on the wood and keep the edges from fraying. After letting them dry, you'll have a trendy set of spoons that you'll be proud to display. 
The Unmovable Tablecloth
Tablecloths can make any plain table pretty and ready for a party, but they're also very risky. Just give one tug, and the whole ensemble of food that you've worked hours on can topple to the ground, ruined. To avoid this painful scenario, here's an alternative.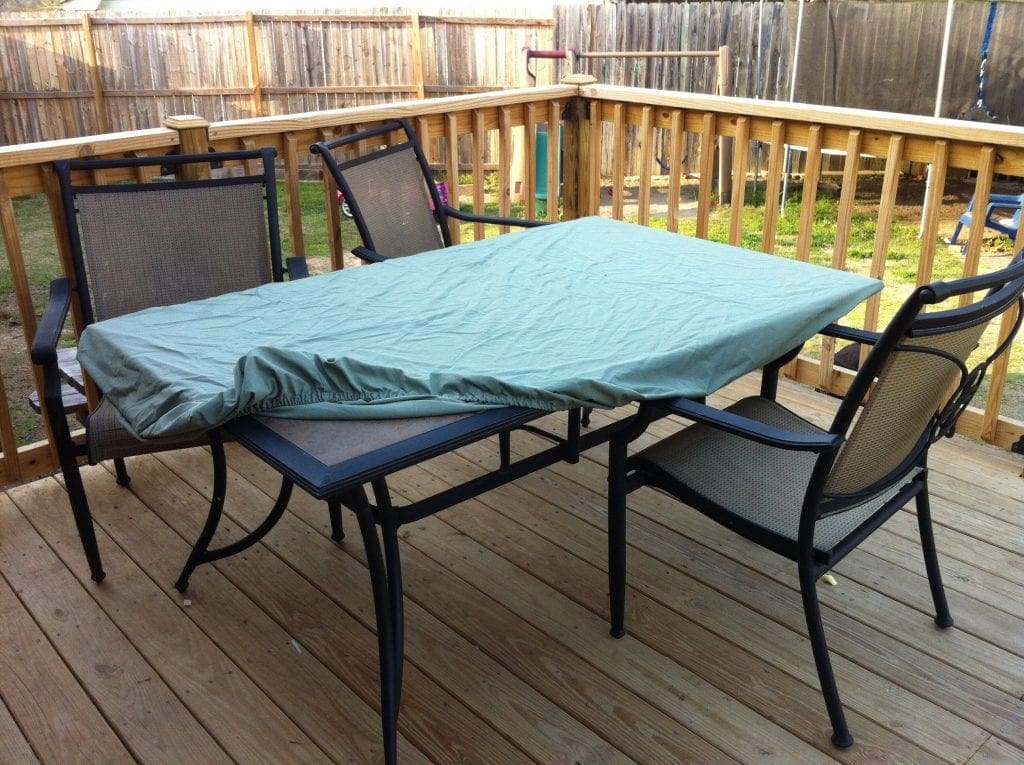 Instead of using the usual tablecloth, try looking for a fitted twin sheet with the same color or print as your preferred tablecloth from the dollar store. With the garter on the edges, you can be sure that no tug or pull can ruin your next party.
Keep Documents as Organized as Your Plates
Who else here is sick and tired of having to dig through piles of paper before finding that one document they're looking for? We all are. Apparently, one thing that can save us from the trouble, though, is a dish rack.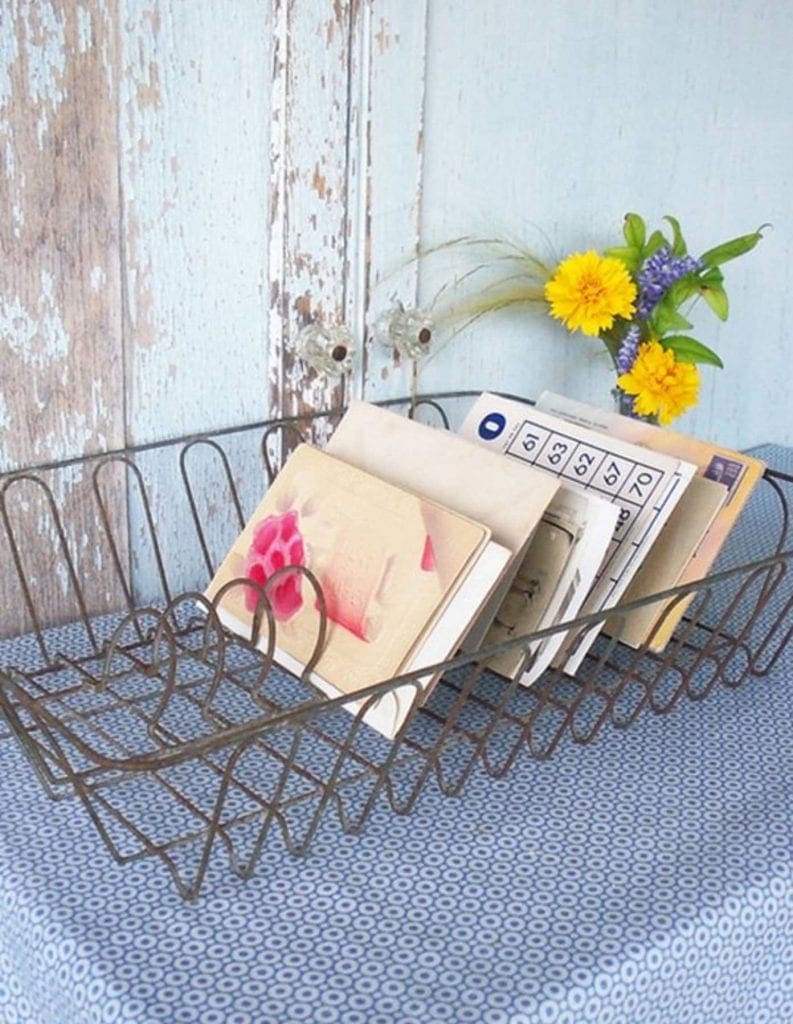 Not only can you organize different folders on it, but you could also use it to organize bills, mail, magazines, children's activity books, and anything else you can think of. You can also add a cup to put in your pens, pencils, and markers. 
No More Messy Drawers
Once you've decided you have had enough of your messy drawers, you might be tempted to buy one of those fancy and expensive drawer dividers but trust us; the dollar store has something better and more worth it: small baskets.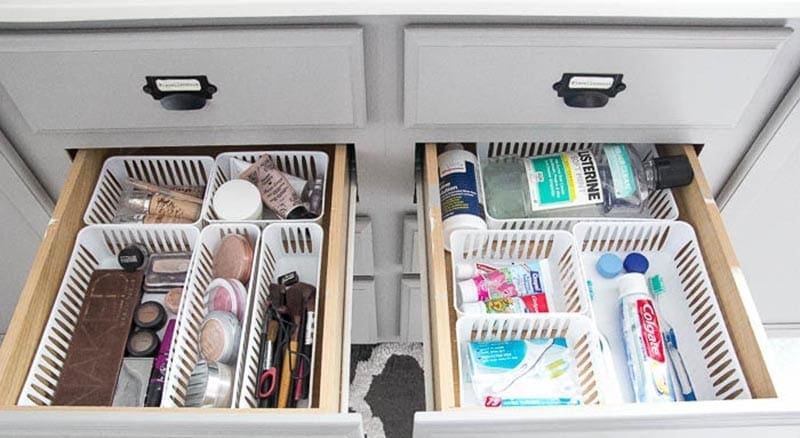 These baskets come in all sizes, making it easier to find organizers for your drawers. It also allows you to design an organizational layout to your preference. Plus, you can organize almost anything with these mini baskets, whether it's office supplies, school supplies, or kitchen utensils. 
DIY Marble Cups
This dollar store hack has been floating around the internet ever since marble designs became such a hit, but it's worth repeating because of how cool it looks and how easy it is to do. If you're a fan of marble cups, you can make your very own at home.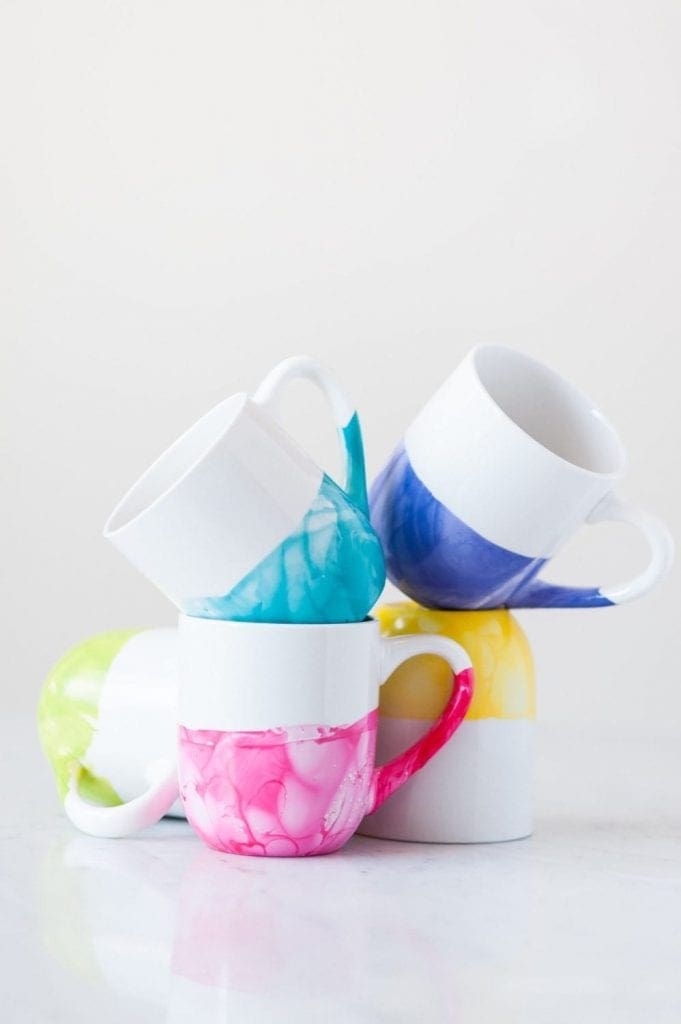 First, fill a tub with warm water. Then, pour a few drops of your nail polish on it and swirl it around with toothpaste to create interesting patterns. At this point, you have to act fast and dip your cup carefully before the nail polish settles to the bottom. You have to let it dry before covering it with a good layer of Mod Podge to seal it. 
DIY Ironing Station
Ironing isn't anybody's favorite chore, and it becomes more frustrating when you have to go on a search for your ironing equipment. A solution is to keep everything you need in one easily accessible place. If you don't have a designated cabinet, you can use a dollar store basket instead.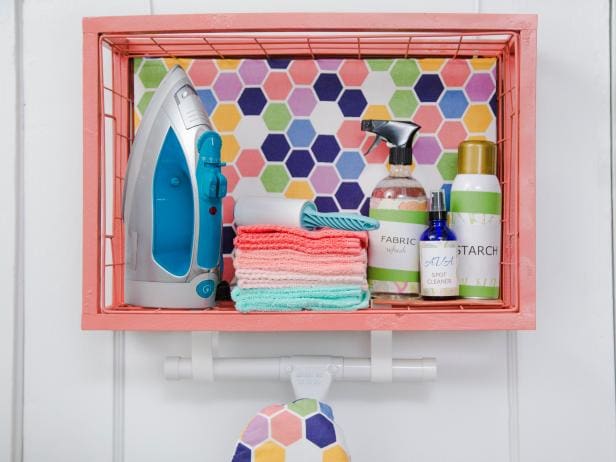 You can either find a basket with handles so you can carry it around, or you can use strong adhesives to stick the basket on a wall near your ironing area so that your DIY ironing kit is always ready when you need it. 
Storage Hooks Save The Day Again
Storage hooks are the unsung heroes of tiny apartments and minimal storage space. They're super versatile, and you can attach them almost anywhere to get that coveted extra storage space. One of the rooms that most benefits from these are your kitchen.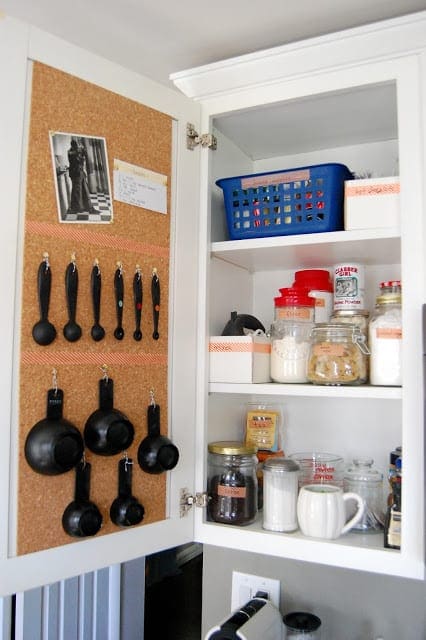 We all know that kitchen real estate doesn't go more than a few steps in either direction in most apartments. To make the most of that space and still keep your kitchen organized, grab a few of those hooks and place them on the inside of a cabinet door or any available space on your kitchen wall. 
Get Rid Of The Messy Scarf Drawers And Tied Up Jewelry
There seems to be some magic that happens when we turn our backs on things like scarves, jewelry, ties, or sunglasses. Even if they put each other on top in a neat pile, they always seem to end up tying themselves with each other and creating a huge mess.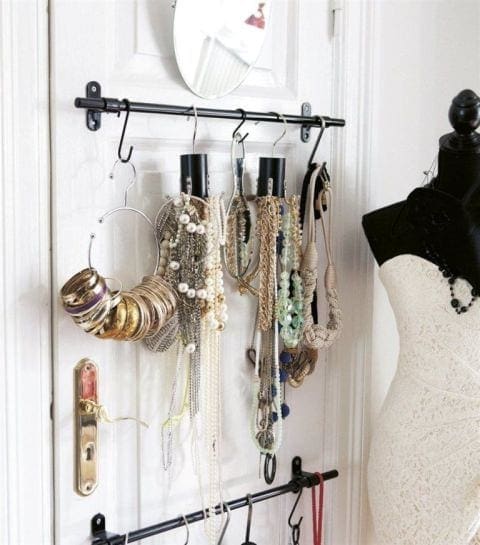 Thankfully, dollar store S hooks are here to save the day. They keep it all neat and organized and keep your scarves and necklaces from creating annoying knots. The best part is that they occupy so little space. You only need a bar to hang them on. 
Make Better Use Of Your Cloth Clips
If you buy a whole pack of cloth clips today, there is a 50% chance half of those will disappear before you need to use them. Instead of letting them fall to that inevitable fate, why not make better use of them by turning them into organizational clips?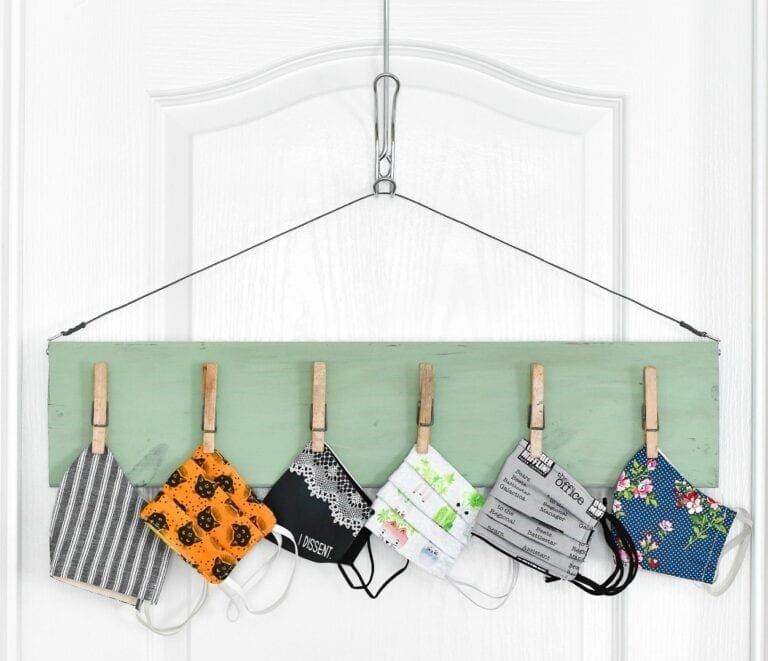 Stick your clips on a wooden board with strong adhesive and use them to clip outside gloves, hats, keys, or reminder notes. With this, you'll find your clips exactly when you need them. They may be occupied, but at least you can find them. 
Fancy Curtain Ropes
Curtains are essentially an accessory. They're great when opened, but they're made even more attractive with accessories like tiebacks. They may be small, but they do a lot to heighten your curtain's overall look as well as the room it's in.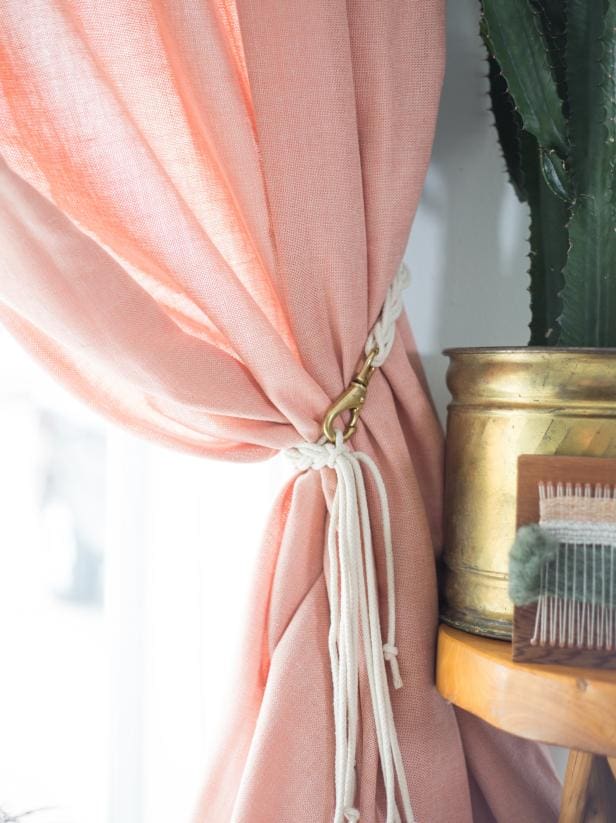 If you want a custom-made tieback on a budget, all you have to grab from your dollar store are a few feet of cotton rope and a clasp. Cut the rope equally into three parts and braid them. Attach the clasps on the ends, and voilà!
Perfectly Colored Vases
Sometimes, it isn't easy to find home décor that truly matches your home's aesthetic. It can be a problem with the color, texture, or even shape. With some good enamel paint and patience, you can get the exact décor you're looking for.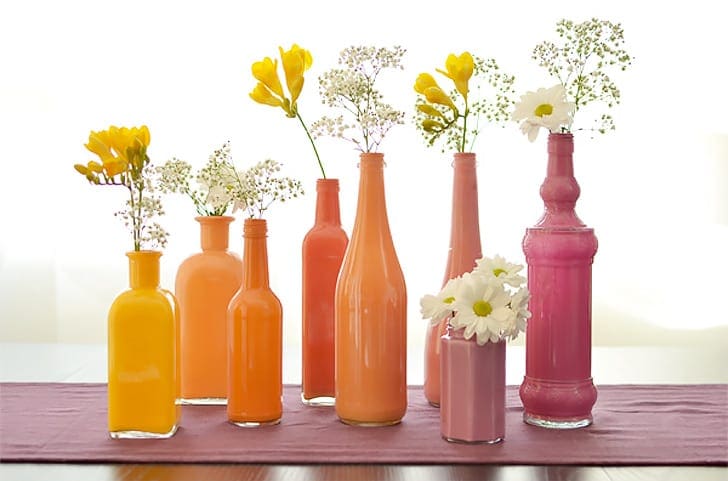 Instead of looking for the perfect, say, vase, why not make it on your own? Pick any clear vase at the dollar store that strikes your fancy and paint them with the right shade of enamel paint, and you have vases perfectly matched to your aesthetic. 
Creative Use For Thumb Tacks
If you think that thumb tacks don't have a place in art, that's where you're wrong. With just a bit of planning and creativity, you can use those sharp little things to create a masterpiece on any furniture's plain surface.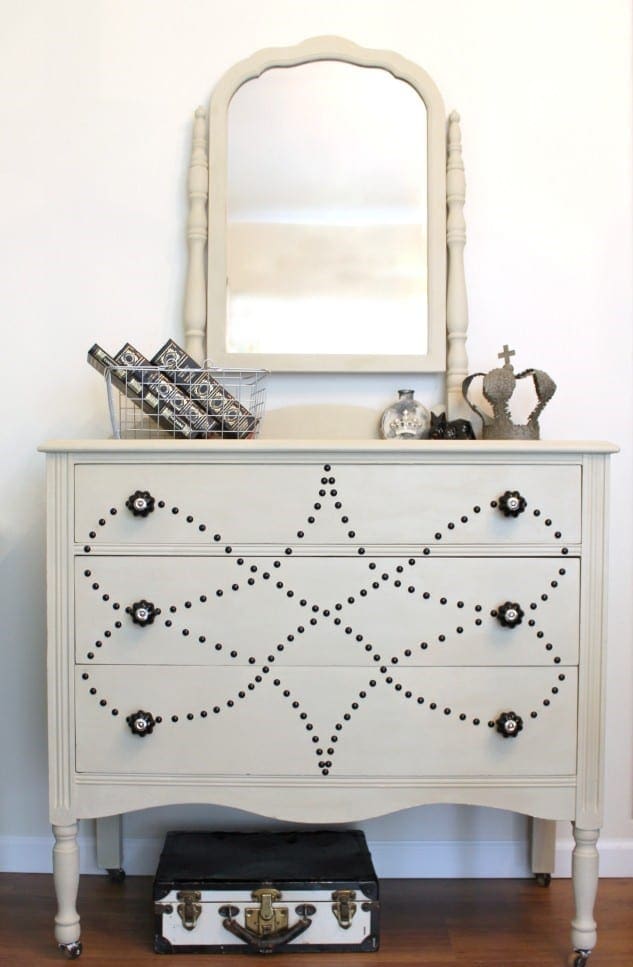 If you want to try it out, first try drawing the design you want on your surface and mark the places you want your tacks to go. Make sure to leave enough space between each tack and start nailing them into place. Once you're done, you'll have a hint of rustic aesthetic adorning your room. 
Turn Trash Into Something Chic
Have you ever tried holding on to a box instead of throwing it away because the quality is just too good, and it would be perfect as storage? If you have, you're not alone, and this hack is perfect for you.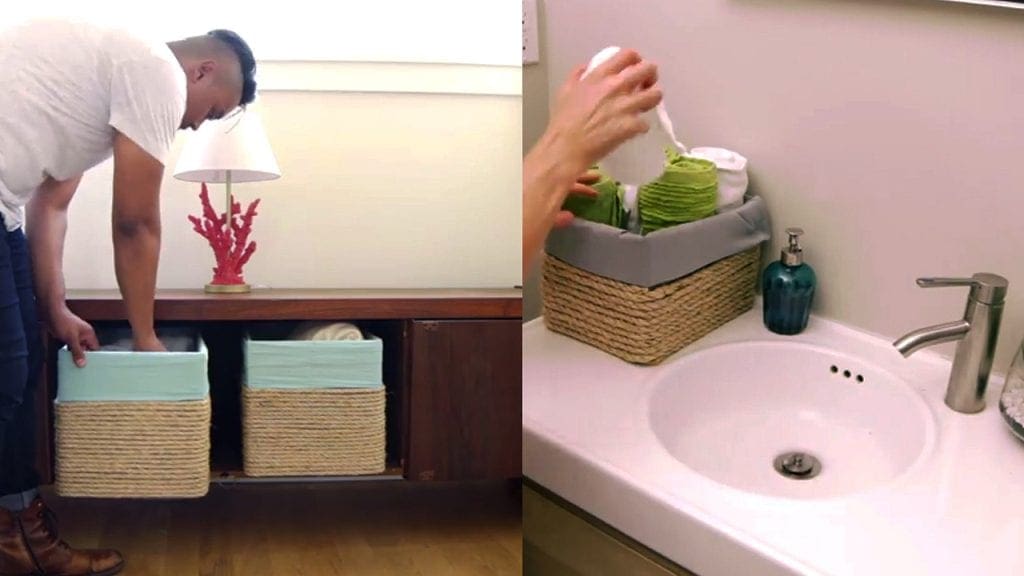 Instead of using boring and unappealing cardboard boxes, you can hot glue some twine around them and drape a strip of fabric over the top to make them chicer. Now you don't only have more storage, but you've also added to your home's aesthetic. 
Twine Lights
Aside from wrapping and transforming old carton boxes, you can use your dollar store twine to create a lot more decorative items. You can use them to adorn your fairy lights for your porch or room or create a relaxing mood anywhere in your home.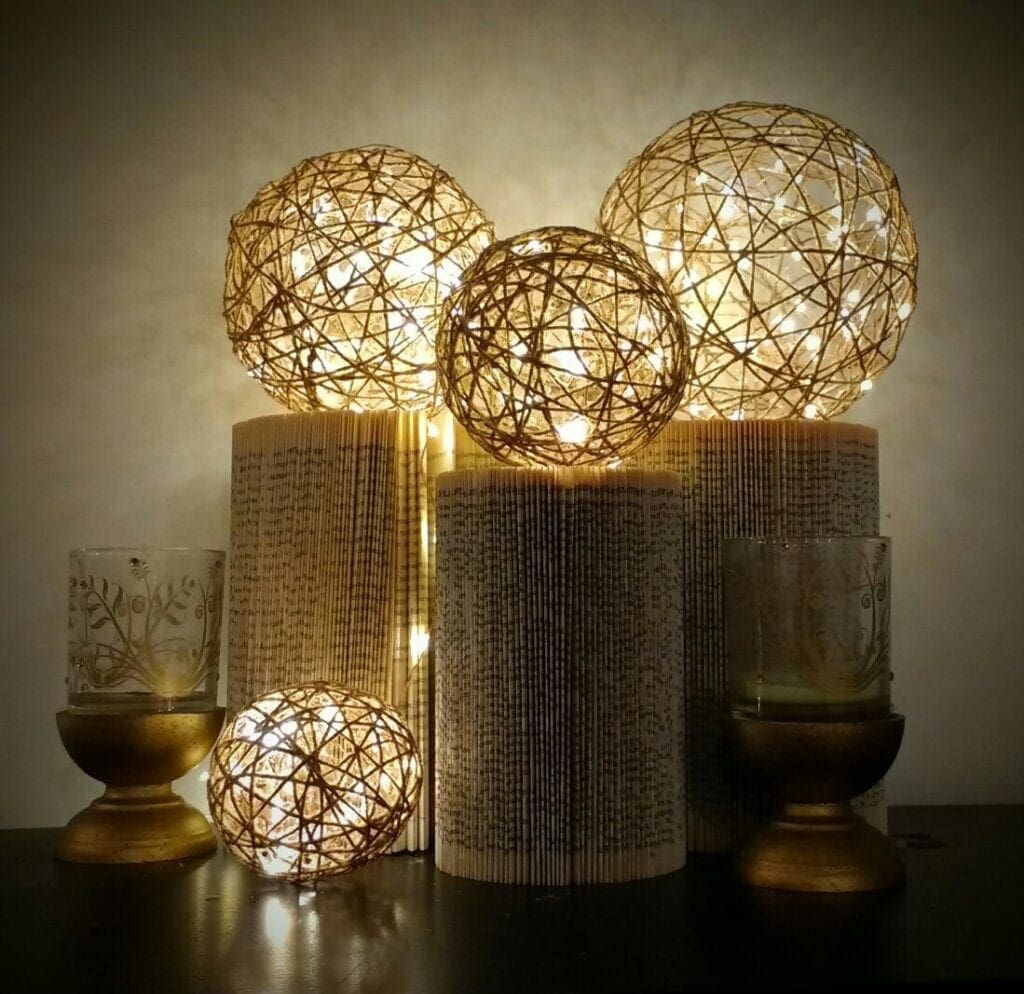 Blow up some balloons, dip your twine into a glue bath, wrap it several times around the balloon, and let it dry until it completely hardens. After that, pop the balloons, weave in some fairy lights, and you can light up any corner of your house with those beautiful twine lights. 
Get Your Pans In Order
Pots and pans are some of the most difficult things to store neatly. Sure, you can stack them up on top of each other, but they occupy too much space. More than that, this method makes it harder to grab what you need.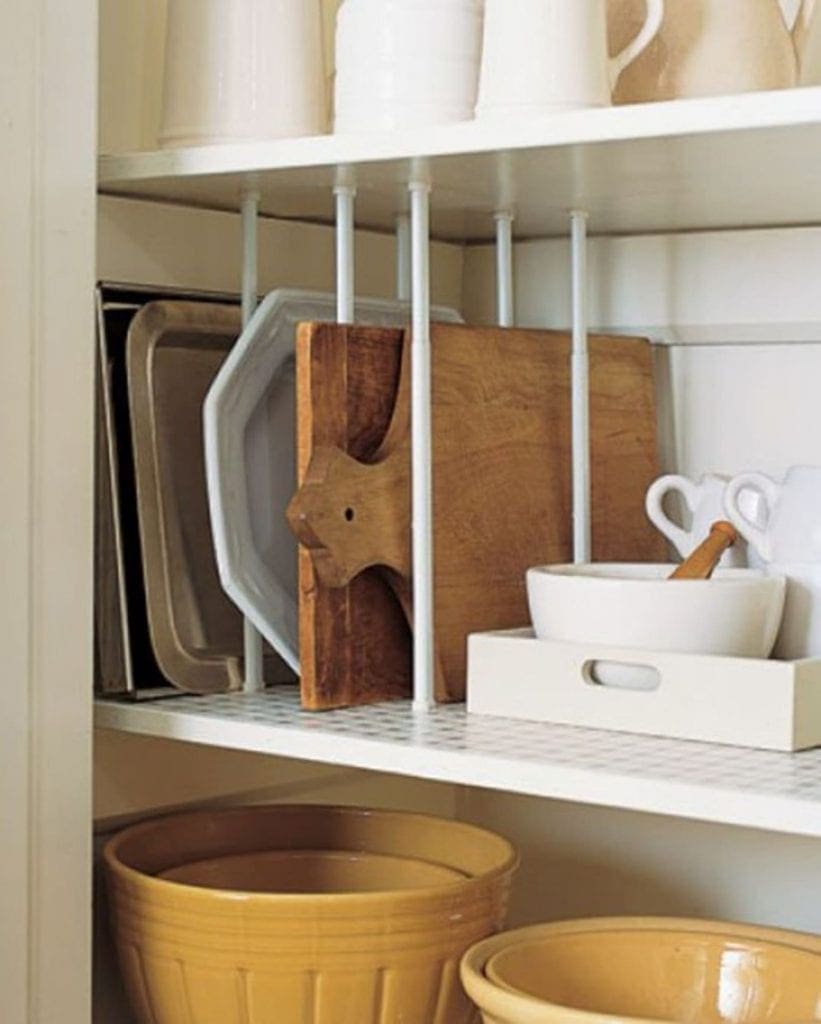 The solution to this is some extendable beams. Set them up on one side of your cupboard so that instead of storing your pans horizontally, you can stack them vertically, which saves space and keeps things tidier and more accessible.
Double Up The Shower Space
If you live with roommates or only have one bathroom, you know the struggle of space. It's a hassle, and sometimes it can even cause disagreements. By installing another shower rod in your bathroom, though, you can double up space in your bathroom.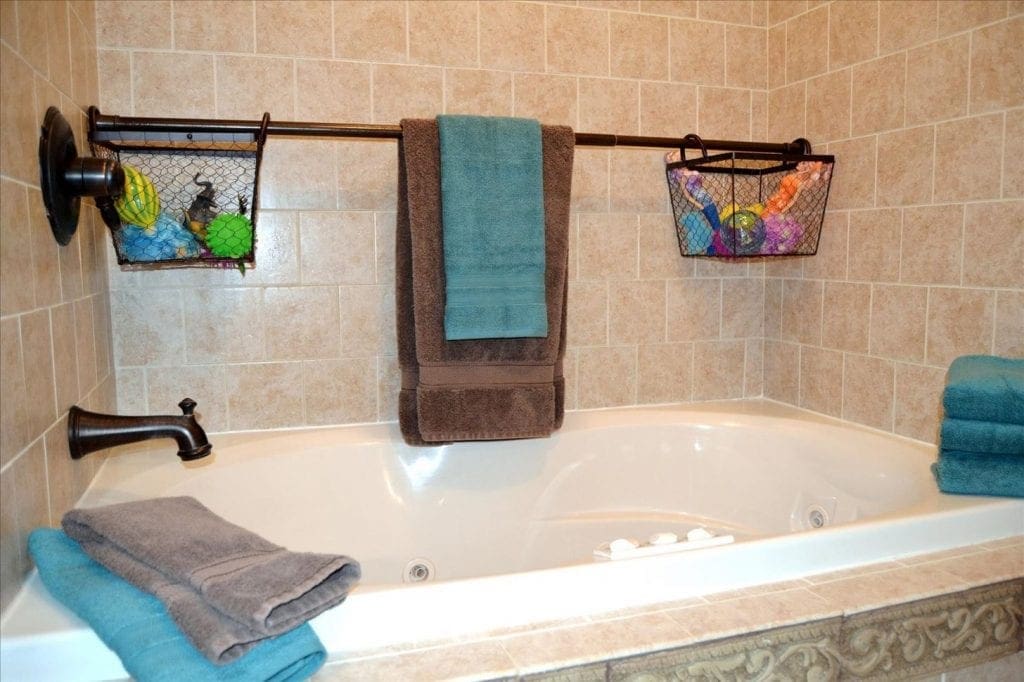 The extra shower rod can serve as an extra bar for hanging your baskets or individual caddies. This way, no bathroom products are scattered all around – which is a hazard – and there are fewer chances of accidental bath product mix-ups. 
Knick-Knack Kitchen Organizer
You can use many gadgets to organize your kitchen, but not much can be as versatile as the good old shoe organizer. You can store anything in those organizers, from spice bottles to loose tea packets or sauce packets.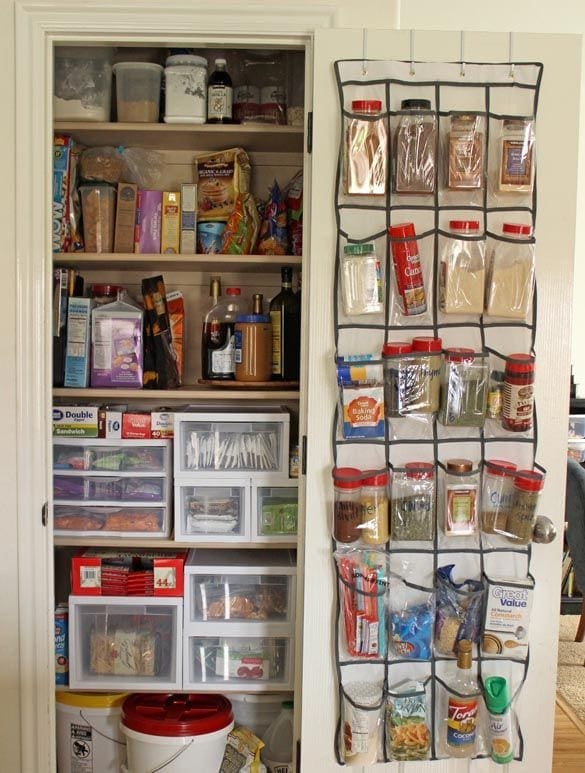 The best part about this organizing system is that you can hook it on the back of the kitchen door, and you'd still have plenty of kitchen real estate left for other things. It's also very inexpensive and can hold things of all shapes and sizes. 
Organized Consoles For Life
Consoles are like the junk drawers of your car. As long as it fits, anything goes in them not to be seen for a couple of days or longer. Even your consoles deserve a bit of organization, and the dollar store has just what you need.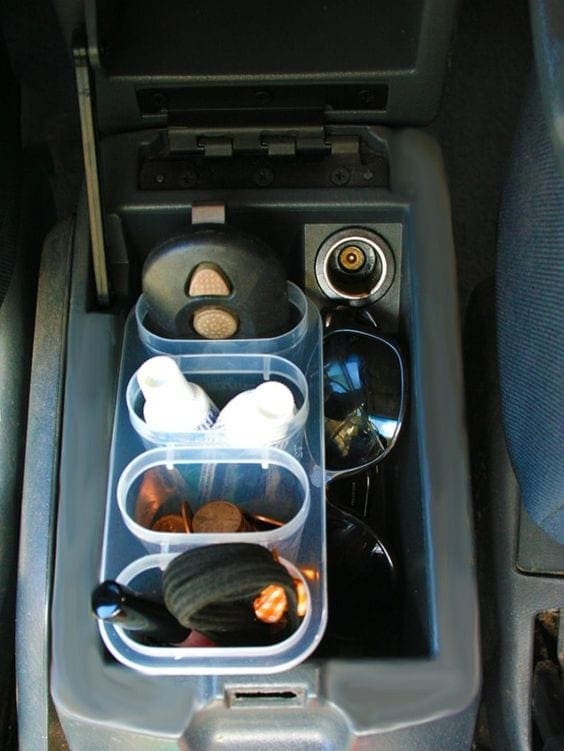 Keep your console from being the junk spot of your car with a popsicle mold. Just remove the sticks, and you can use the compartments to hold change, hair ties, sunglasses, random pieces of paper, or whatever small items are lying around in your car. 
Stylishly Prepared For Emergencies
Accidents happen all the time, and no one really knows when it's their time to get a paper cut or fall on their face. That's why it's better to be prepared. If you don't want to be lugging around a huge first aid kit wherever you go, you can make your own travel version with a dollar store makeup bag.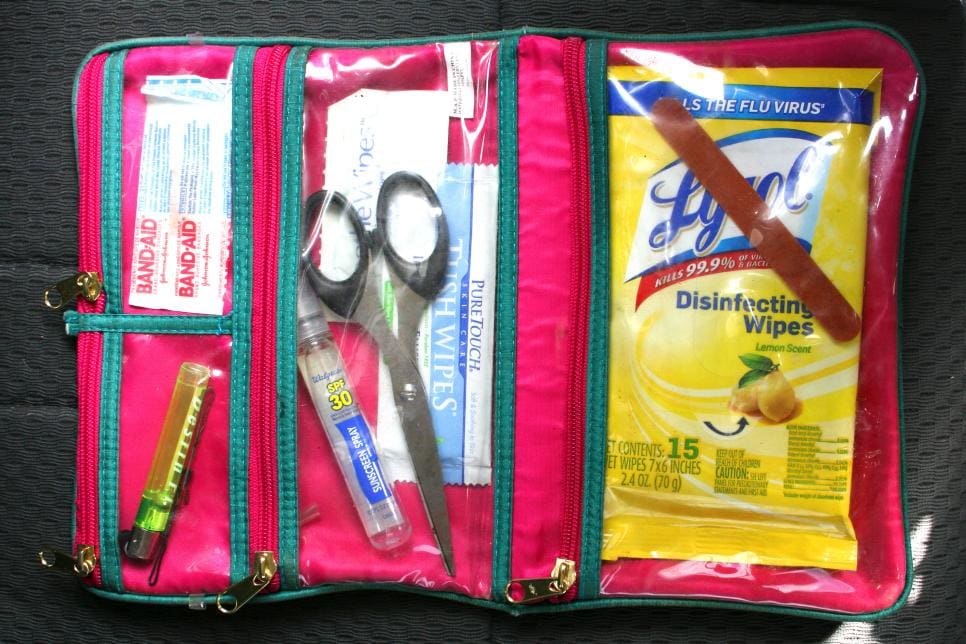 Fill it up with all the essentials like bandages, disinfecting wipes, scissors, gauze, and rubbing alcohol. Then, store it in your bag or your glove compartment. If you want to save up on space, look for a makeup bag that folds flat so that you can take it everywhere. 
Goodbye, Pot Lid Clutter
When organizing pots and pans to save on space, there is something a lot of us forget: lids. Some of us often overlook just how much cupboard space those things can take up, but you don't have to worry about that anymore with a dollar store magazine rack.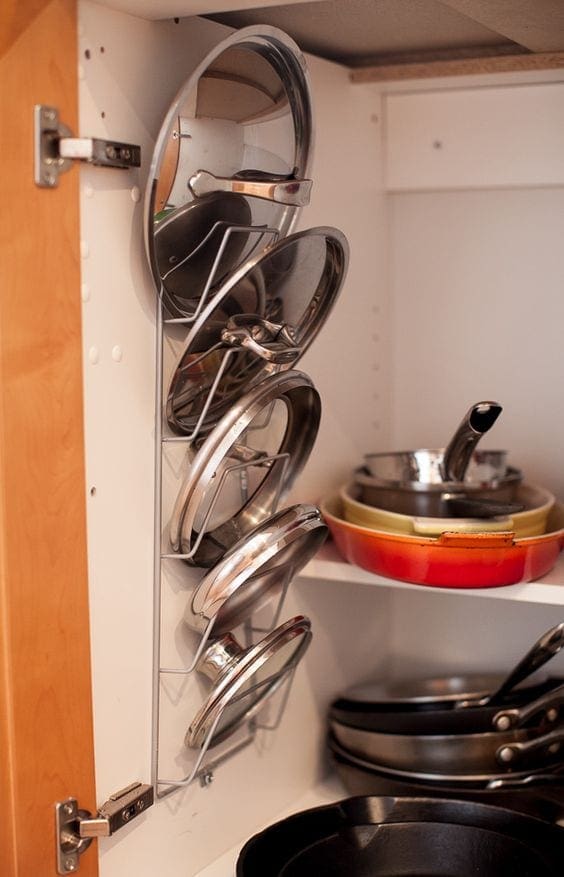 Screw a metal magazine rack to the side of your cupboard or into the back of a cabinet and stack your lids on them as you would your magazines. This not only frees up space but it makes it easier for you to find the right lid.
Shower Cap Clean
Other than trying to fit more than a week's worth of clothes into a small suitcase, another problem a lot of us encounter when packing for travel is packing dirty shoes. Without proper packing, those dirty soles can really be an unpleasant situation to deal with when you get home.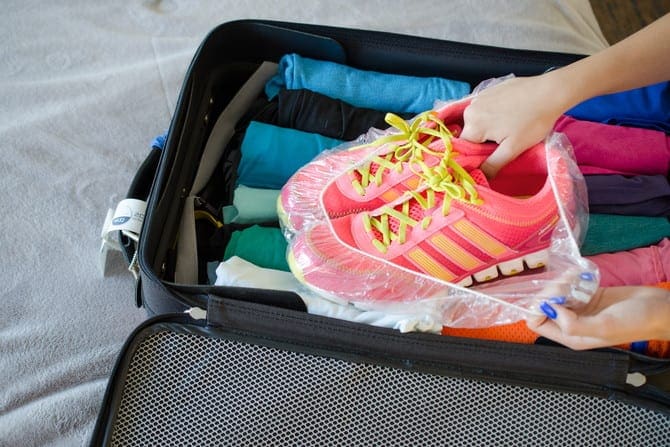 To stop worrying about those, grab a few shower caps from the dollar store and put your shoes in them, soles covered, before squishing them into your suitcase. Just make sure, of course, that your shoes aren't too muddy, or you'll still be dealing with some mess. 
Extra Car Hooks
If you're bogged down with tons of groceries and other items, the space in a car trunk can seem so small. Sometimes, even the seats aren't enough. To make more space in your vehicle, grab a couple of carabiners and clip them on the back of your car seats.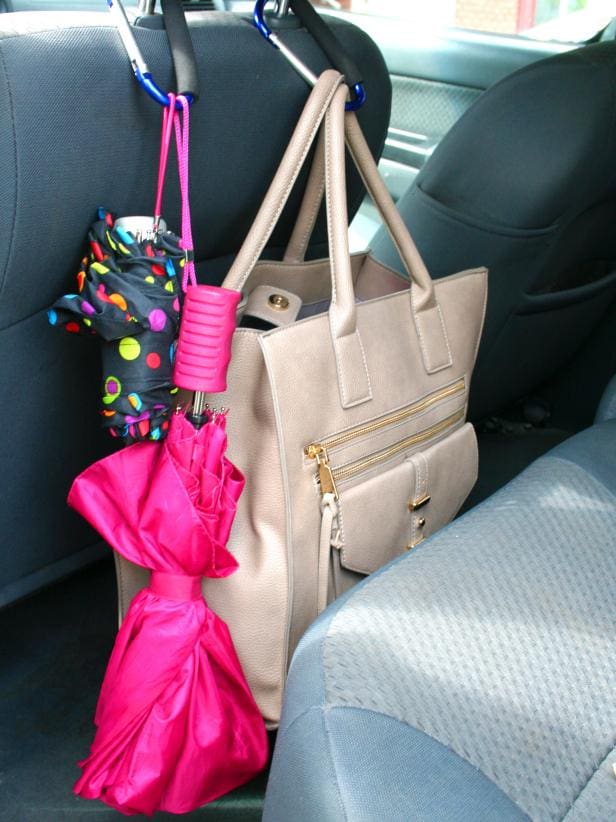 This gives you space to hang any other extra bags you don't want to go anywhere else. Aside from providing that extra space, it also helps prevent the contents of your bags from spilling, a seriously great additional benefit.