45+ Hacks That Will Help Make Every Woman's Daily Routine Easier To Manage
By Harpreet K May 2, 2023
---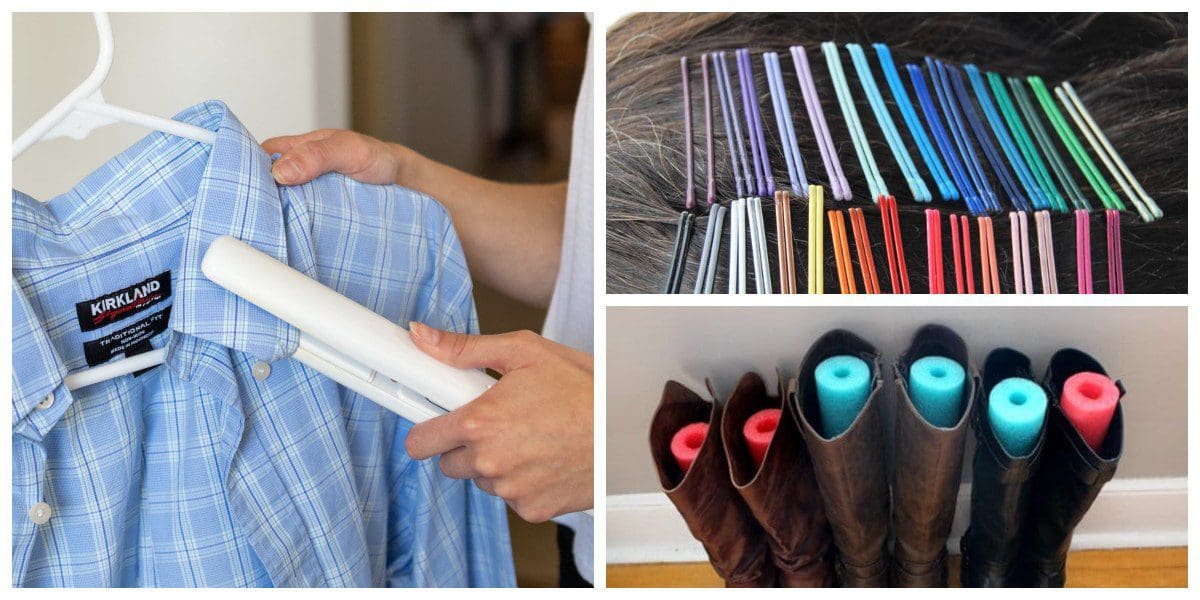 This article was originally published on
mydiwise
Did you ever wonder about the saying, "women are from Venus and men are from Mars"? It's simple, really: Venus was the Roman version of Greece's Aphrodite, the goddess of love and beauty. Well, as much as many (or most) of us would love to sit around in the clouds eating grapes, or whatever the gods did, we have stuff to do. The modern-day woman manages the household, might raise kids and has to cope with the professional pressure. At this juncture, all she needs are some easy day-to-day tips and tricks to lessen her burden and provide her with some time for herself, some ease, and relaxation. So, ladies, the much-awaited moment has come as we will tell you some excellent personal care and household tips that will surely be great stress-busters for you!
1. Grow Your Lashes with Vaseline
You would have used Vaseline on your dry face, lips, and feet for moisturizing, especially in the winters, and it would indeed have helped ease the dryness. But we will suggest to you one more way to use petroleum jelly as a beauty product.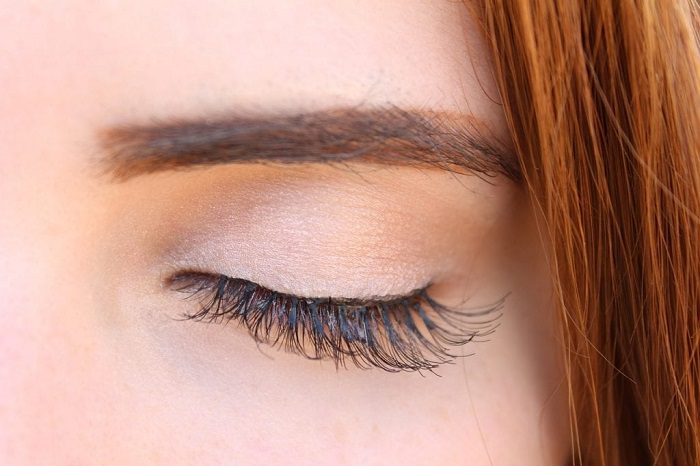 Applying Vaseline on your lashes is a great idea to make them thick and voluminous. Try to apply it each night gently with fingers or by using a mascara brush and get ready to see a difference in a few weeks.
2. Ice Cube Tray is the New Jewellery Holder
Accessories enhance the looks of your outfits, mainly those studs and earrings which make you look so gorgeous and show your unique style. However, the biggest hassle is finding a way to store them so that the dangly ones don't get tangled and make you late for your date.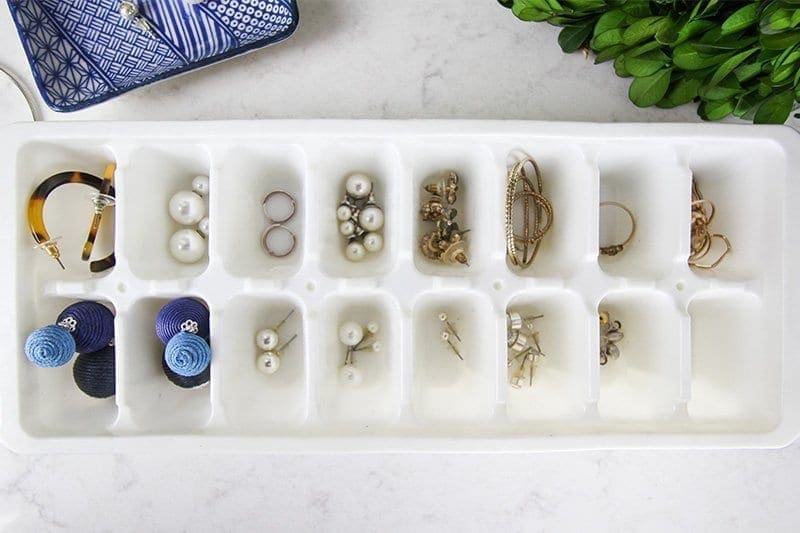 We have a fantastic idea for managing your cute danglers by keeping them safe. Please keep them in pairs in those ice cube trays you have loads of at your place. Plus, it is easy to select which one to put on.
3. DIY Shaving Cream
If you are really tired of buying costly creams for shaving your hardbody hair that leaves your skin totally dry and itchy afterward, we have something amazing to suggest, which gives you stunning looks outside and keeps your skin healthy.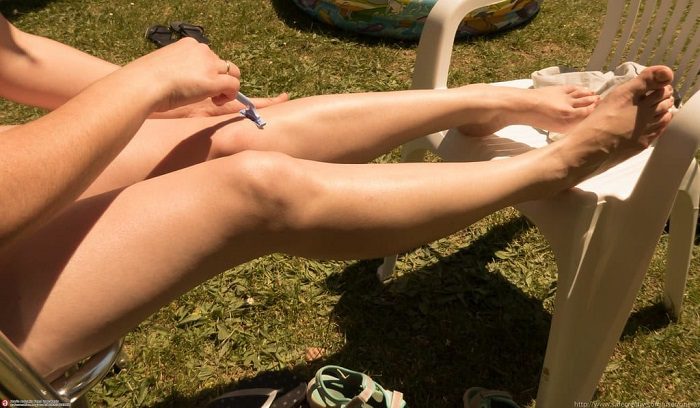 A few drops of baby oil blended with a hair conditioner can turn this paste into fantastic shaving cream. In case you don't have baby oil, you can mix water into your hair conditioner, and it will work just as well.
4. Perfect Ice-water
Keeping water cool in summers is a challenge as it heats up in no time. While traveling, it becomes tough to take a frozen bottle with you that makes your bag wet and feels like it takes forever to melt when you are thirsty.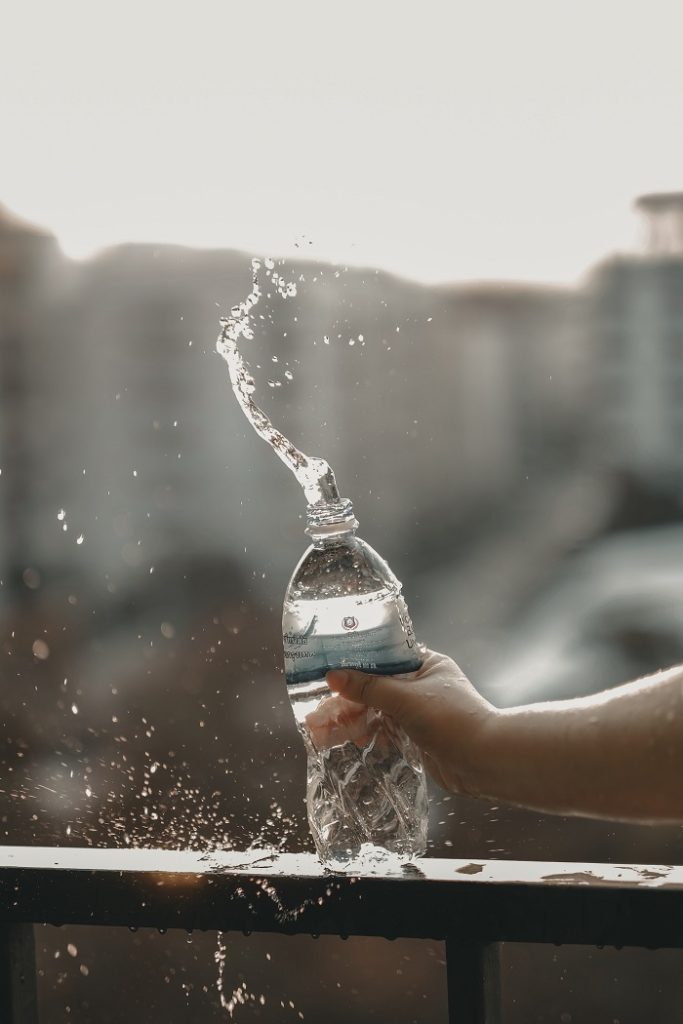 Instead of freezing a whole bottle, try to freeze around three-quarters of the water. It will help you in two ways. First, it is lighter to carry, and second, you can fill the remaining part with regular water, so it gets melted quickly.
5. Store Your Jewelry in Silver Trays
Buying a new jewelry collection is every woman's fancy; however, each piece brings tremendous responsibility to keep them intact and easily accessible. Try to buy some trendy and light silver trays from nearby second-hand stores for your jewelry.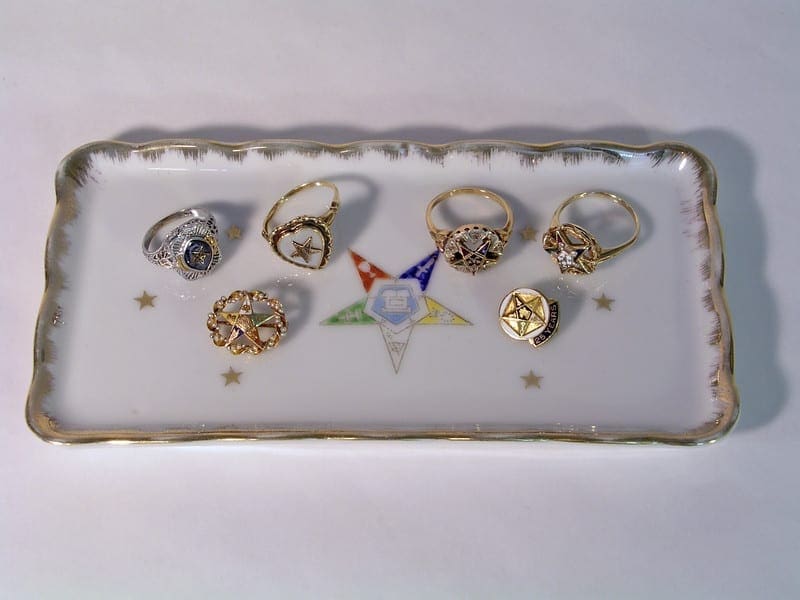 Believe us; these tiny trays will surely sort out the problem of your ring getting entangled with earrings. Plus, you can add small hooks in them so that you keep your things intact and well displayed as well. Remember, ceramic works too, but it's heavier.
6. Tic Tac Your Bobby Pins
Whether you want to rock a retro style or a contemporary one, your hairdo plays a great role as the right hairstyle can totally transform your look. However, keeping those tiny bobby pins in one place is a challenging task.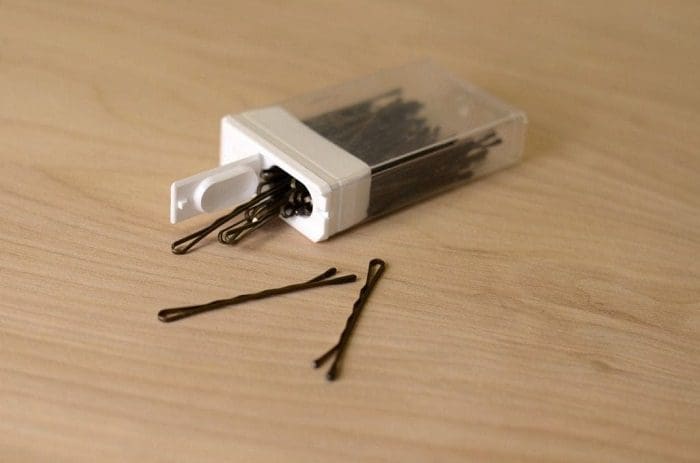 A compact Tic Tac case is the best place to hold those small pins to stop you from rummaging rigorously in your purse. The best advantage is that they simply don't fall out in bulk when you open the case.
7. Spaghetti as a Candle Burner
Candles make the whole environment romantic, with their pale yellow light beaming out of sheer darkness. When candles are aromatic, that adds feathers to the cap. However, it is really changeling to rekindle the half-burnt candles that come in large jars.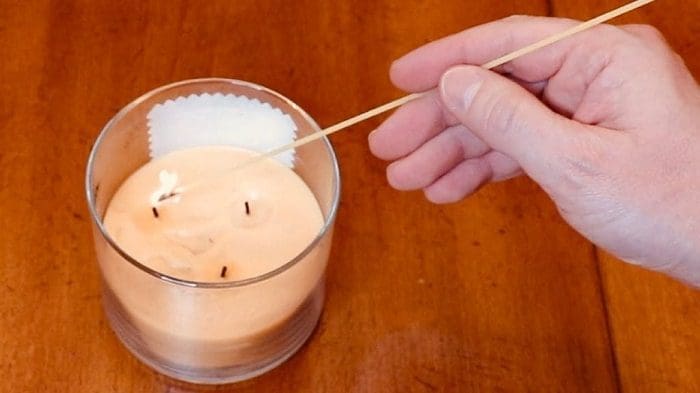 Try to use the long stick of spaghetti to light the wick at the base without burning your finger. Apart from lighting the wicks with ease, it will also save on wax. This is indeed an innovative idea to keep your scented candles burning longer.
8. Banana Peel for the Best Smile
Before someone speaks, their smile says a lot about their personality. Getting an entire cleaning done is not always feasible; however, something very simple can help your teeth sparkle and give you a perfect smile. We bet you have it in your kitchen right now.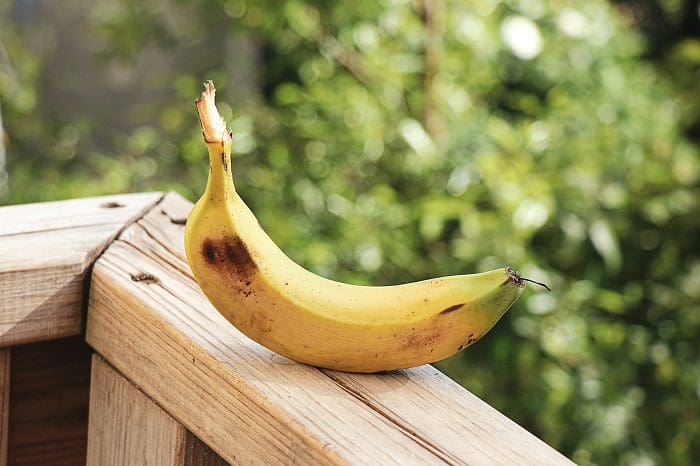 You don't have to buy any expensive teeth whitening kits now, as three sessions per week of rubbing your pale yellow teeth with banana peel will make you get those pearly white teeth you thought only big bucks could buy.
9. Rubber band and French Manicure
Women have an absolute love for sharp and colorful nails. However, giving yourself a French manicure for those precious talons is no longer a hassle since you will now know about this fantastic hack. It will make you party-ready at home anytime.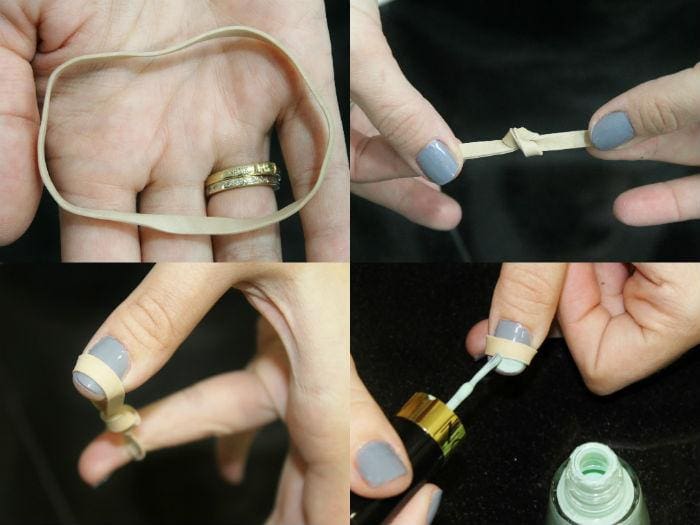 All you require for this simple manicure is a rubber band and nail polish. Simply wrap a rubber band around your nail, leave the tip bare and apply the paint to get stunning nails. Isn't it great? You can make stripes and other designs using the same method.
10. Coffee-er Coffee
A great cup of coffee is what everyone likes to have in the morning. Whether hot or cold, coffee has a distinct flavor and a wonderful aroma. Now for all the ice coffee lovers, we have something just for you.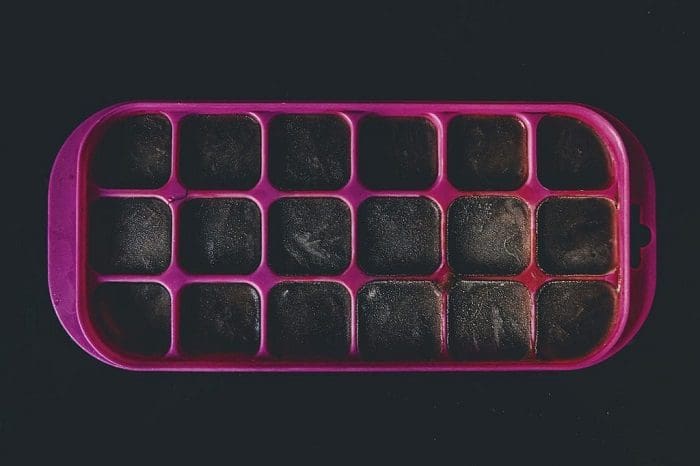 Brew your coffee and pour it into an ice tray to be kept frozen. After a couple of hours, you can take those cubes out and pour them into your coffee mug. Splash some cold brew on top, and this cold coffee will make your day for sure.
11. Freeze the Jeans
The sort of comfort and relaxation a pair of jeans give is unmatched by anything else we wear. Okay, except our sweatpants, but you know what we mean. Putting jeans in the laundry can mess them up. And then ironing also spoils the fabric.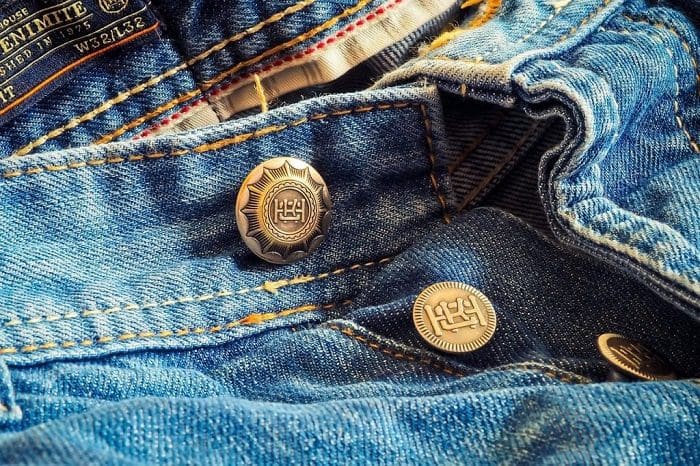 For such times, we have something for you. Try to freeze your jeans to make them softer. The cool temperature makes them fresh when you wear them again. Plus, this will kill the bacteria and remove the odor from them. This means fewer washes!
12. Cheese Grater as Your Personal Jewellery Mart
Women of every age and social group have one thing in common: their ardent love for jewelry. The right jewelry adds charm to your attire and can make you feel like a million bucks. But we all know the struggle of keeping it all organized.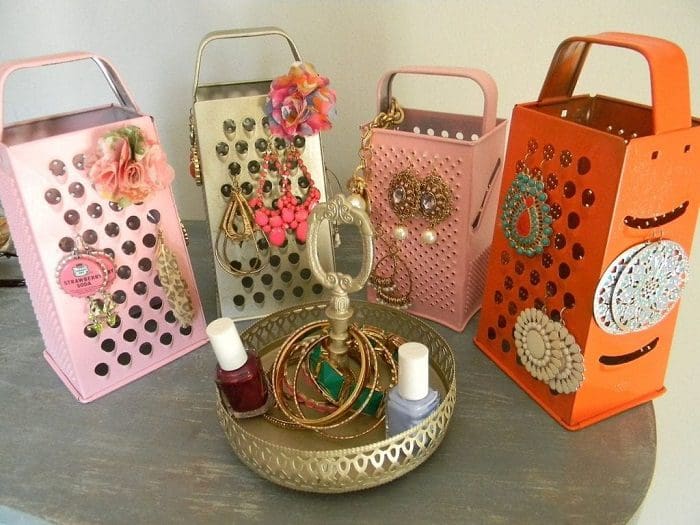 Using your kitchen cheese graters is a perfect DIY for your jewelry, as you can use those grooves to hang your stuff very safely. It will all be on display so that you don't have to wear the same thing daily and can find what you're looking for in seconds.
13. Magnet Your Bobby Pins
Bobby pins look fabulous in our hair! But keeping those little guys safe in one place is tough. You can never find them when you need them. Maybe you don't want to carry them in a mint box. Well, a tiny magnetic strip can help you manage them.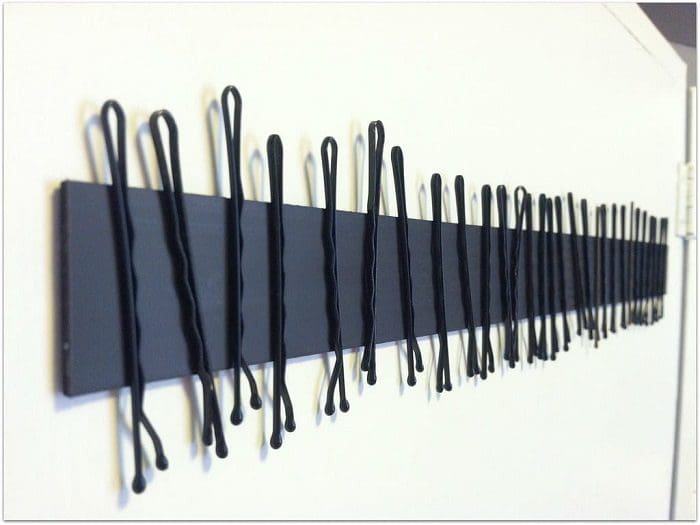 With the magnetic strip, all the pins will be there in one place, and you don't have to deal with the stress of keeping them under your mattress or somewhere on the dressing table shelves. This idea is totally genius!
14. Perfect Sweat Time!
Looking at others who are fit and in shape gives you a lot of inspiration to work out. We don't know about you, but when we think of finding a time, we get super confused about how to work our new routines into our schedules.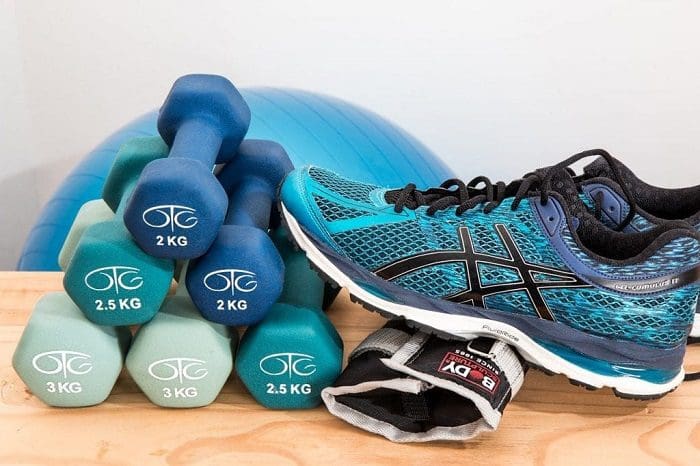 The perfect time to set for a daily workout is between five and six in the evening. At this time, your hand-eye coordination and muscle strength are at their best so that your lungs will be able to expand better for more endurance.
15. Funky Bobby Pins
Using bobby pins for a perfect bun or braid is very typical. Rarely do we think they could add a new dimension to our style. But we're here to tell you they can be a fabulous accessory. Let's see this DIY and get some real inspiration!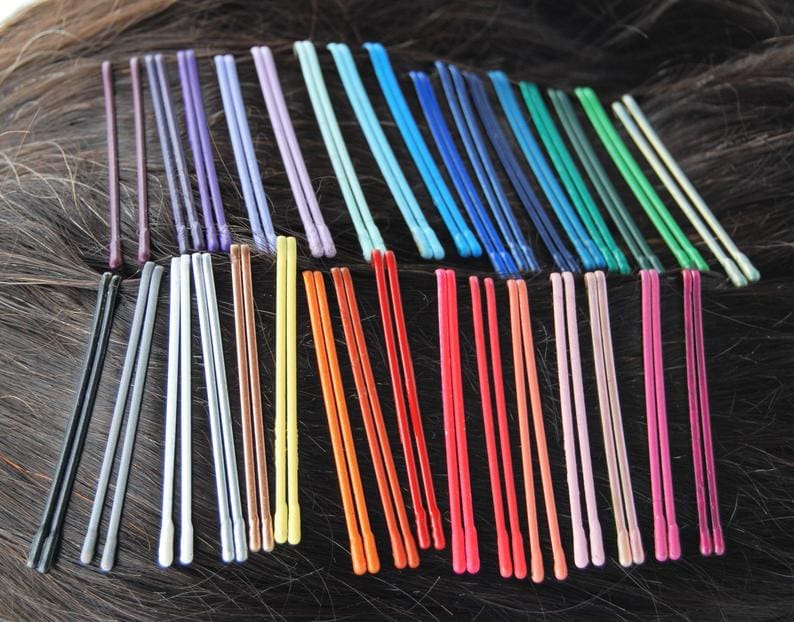 Try coloring them with nail polish and glitter paint to give you the perfect party look, especially for nighttime fun. The way you coordinate these pins can give you a mesmerizing rainbow look and turn you into a boho girl.
16. Frizz-free Locks
While getting ready in the morning, the biggest problem is the static in your hair. Untangling those strands is really painful and time-consuming, and the last thing you want for all your effort are bits that stick up. We have something for you!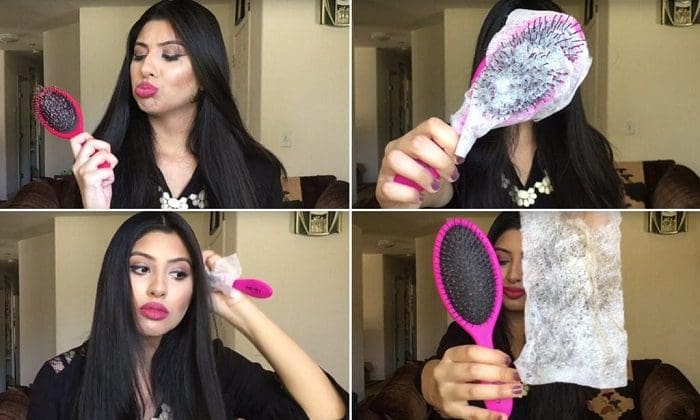 Put a fabric softener sheet over the bristles of a hairbrush, and then see the magic. These sheets work amazingly on your hair as they are filled with fabric softener, which removes dirt while cleaning hair and leaving locks shinier than ever.
17. Grapes for Wine
A goblet of wine can make any conversation very relaxing and pleasant. Sipping wine at a perfect temperature is easy if you remember to chill it. But what if you forgot? We have something that will not water down your wine but will cool it instantly.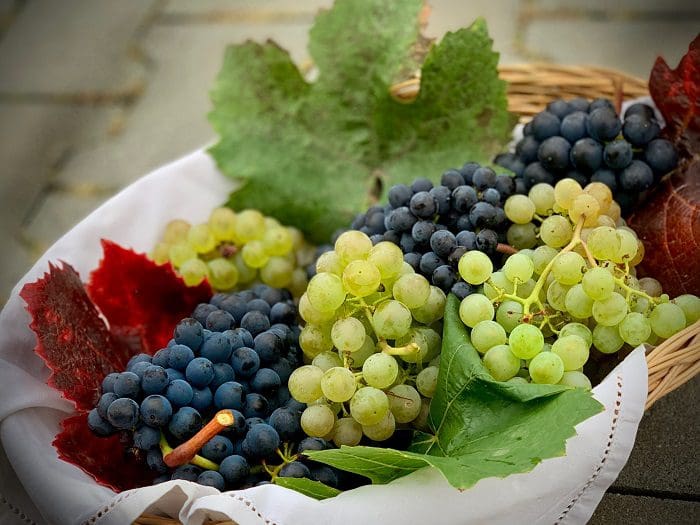 Frozen grapes can preserve the flavor and aroma of your favorite wine and keep it cool for any occasion. Plus, grapes can be a fantastic conversation starter while also having delicious chilled wine to lighten your spirit. And you can eat them once your glass is empty.
18. Hairdryer and Oil to Manage Your Spoil
Wooden furniture looks very classy, especially the dining table, yet it is pretty challenging to keep pristine without coasters and runners. But we have a great idea here that can sort your "forgot the coaster" problem out in a few minutes.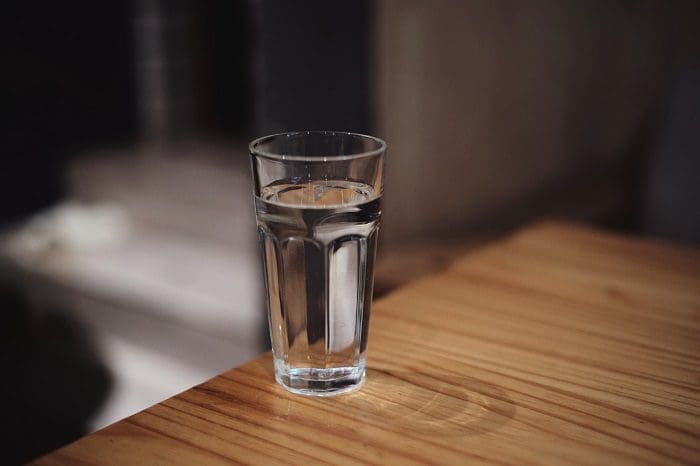 Try using your hairdryer to blow away those water drops. You can rub olive oil into the wood once you are done drying the surface. This will avoid the need to constantly re-waxing your table. We still encourage the use of coasters, but at least we have a hack if someone forgets.
19. Clear Coat on Your Rings
We love to pair our attire with trendy, inexpensive jewelry but despise those green lines the rings leave behind. The cheapest and best trick is to coat the inner lining of your jewelry with clear nail polish and let it dry completely.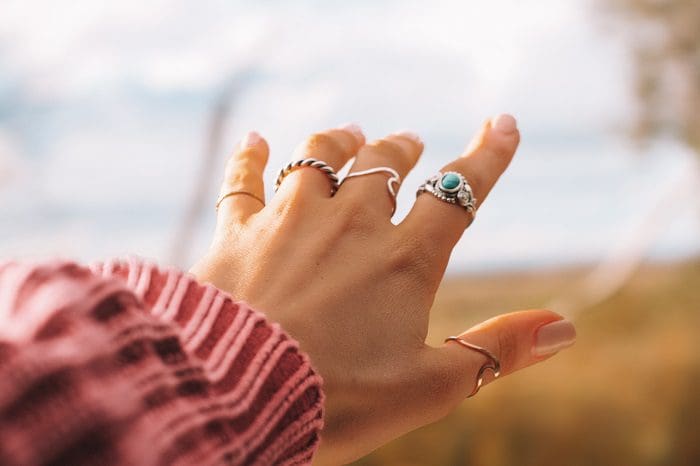 This trick will help the metal not come in direct contact with your skin and make it appear green. This way, you can wear fancy rings whenever you want without needing to buy more. You do have to repaint them occasionally.
20. Eyelash Curler as a Bottle Opener
Remember the days when nail cutters used to have bottle opener attachments in them? They were pretty handy. Those days are probably not going to come back; however, something else can help you open your Topo Chico bottles with ease.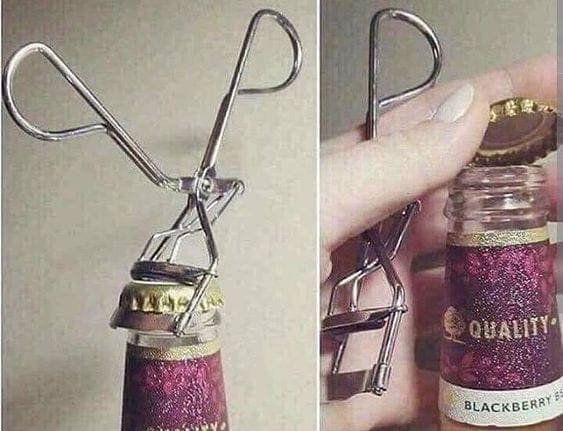 Your lady gang will see the hidden cowboy in you when they find you opening your bottle cap using the grove that's there for the rubber of your eyelash curler. This fancy trick will make you a star for sure!
21. Rotating Shelf
Many of you love to make sandwiches for breakfast but find it annoying to rummage through things kept in a jumble in your refrigerator. Sometimes finding the correct ingredient out becomes so tough that you totally forget what you were making.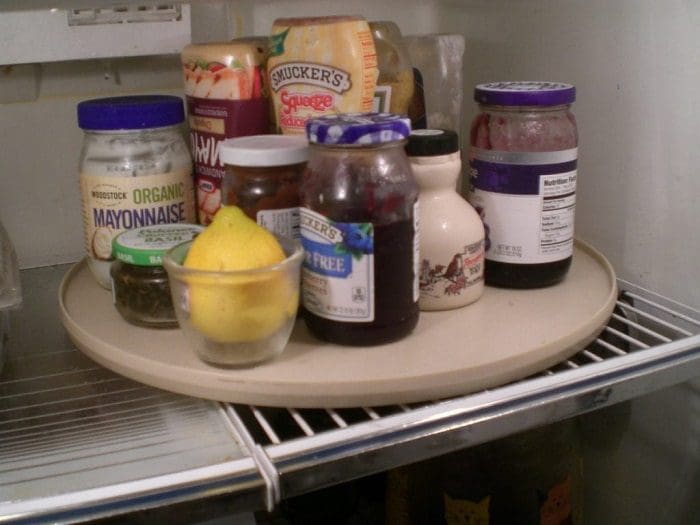 Keeping a rotating plate on each shelf of your refrigerator can sort this problem and help you find all the hidden things easily. Trust us; this hack will boost your culinary skills and confidence and make your fridge neat and clean.
22. Soap for Suitcase
There is something really relaxing for all the frequent travelers who are tired of carrying smelly dirty clothes along with them on long trips. Just pack a bar of soap along with all those already worn outfits in your suitcase.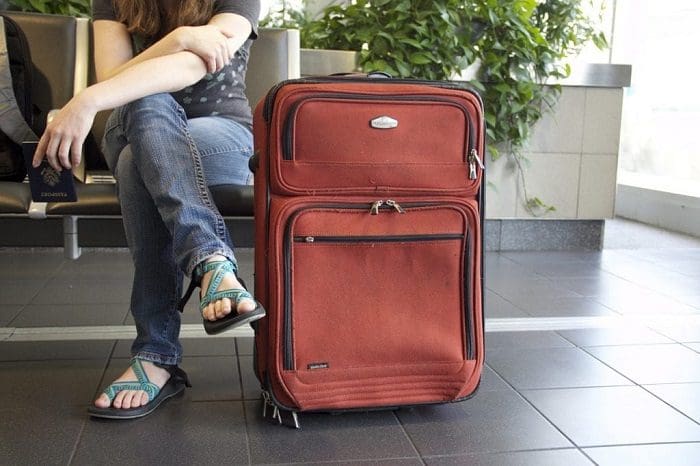 The fragrance of the soap bar will surely keep away clothes from smelling up the whole suitcase. It will also ensure that fresh garments don't absorb the putrid from the dirty ones. Now the time in between laundry loads will feel less stressful when traveling.
23. Clear Nailpaint to Lock Buttons
Smart and sleek buttons can enhance the looks of any attire; however, it's tough to keep them intact for a very long time as the continuous washing of the clothes make the button loop go loose. We've all lost a button or two.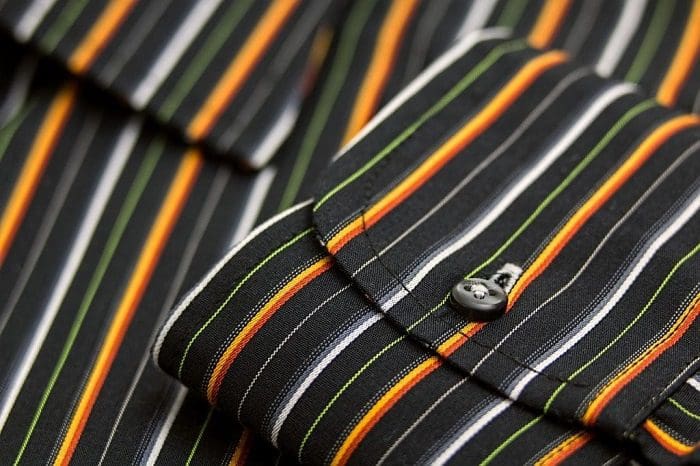 By applying a coat of clear nail polish on the stitching around the buttonhole, you can stop any of the threads from coming loose so that nothing falls off and the button remains in the loop for the long haul.
24. Polish Your Nails with Toothpaste
Nails turn yellow by constantly painting them with multiple shades, and it causes them to lose their shine. Don't get bothered about anything, as we have something great that would help you get your natural shine back in a few minutes.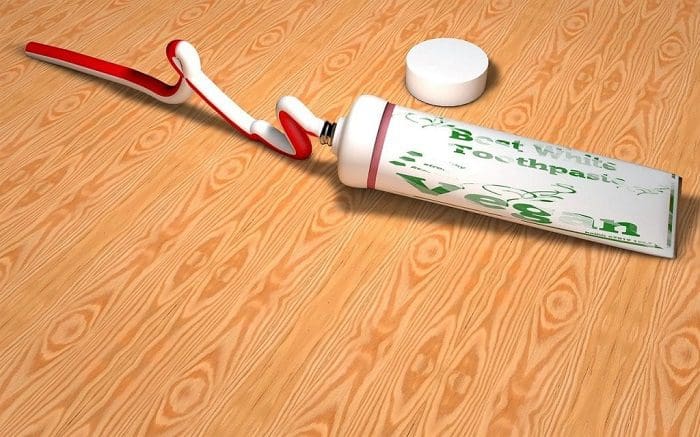 Rub toothpaste on your nails for that perfect shine instantly. Plus, you can mix lemon juice with toothpaste for an even more lustrous look. The natural bleaching agent present in lemons will surely make your nails shine brighter than ever before.
25. Restore Your Woolens
Each sweater or scarf has a story attached to it. Our unique clothes remind us of special occasions. However, when the favorite ones start looking old and have fuzzy bits all over them, it affects your outfit presentation, and you might consider tossing those special items.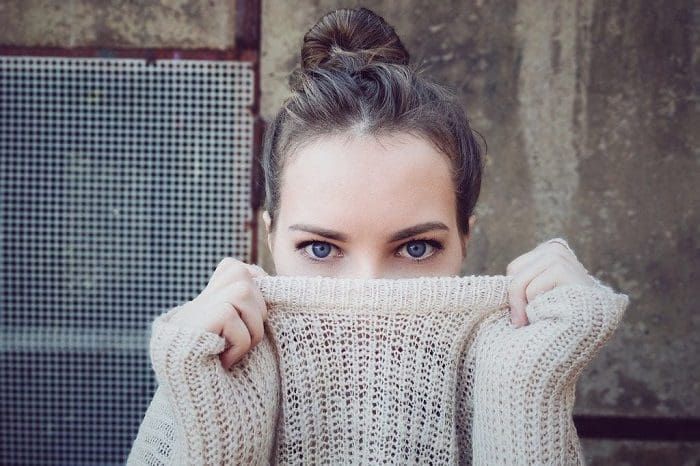 You don't have to spend anything here as there is an amazing hack for you! Gently slide an old razor blade across the fabric and see the difference in texture as there are no more ugly pilling on the material.
26. Pool Noodles for Boots
We all love wearing cute shoes as they add a lot to our look. However, keeping boots standing upright in the shoe rack is really challenging as they keep falling over each other. But you can put that out of your mind as this hack will make your day!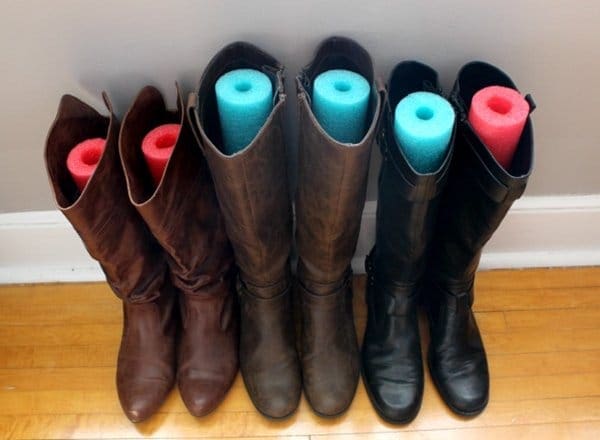 Insert pool noodles in your boots and help them stand upright. The straight pool noodles will make your boots look well displayed in the shoe rack. This will surely save your time selecting which one to put on for the day.
27. Wine Corks as Home Decor
Vintage wines are everyone's choice, and now you can make all kinds of things out of their corks. This unique idea can change the look of your living room and make it more retro and classic, adding vibrancy to the environment.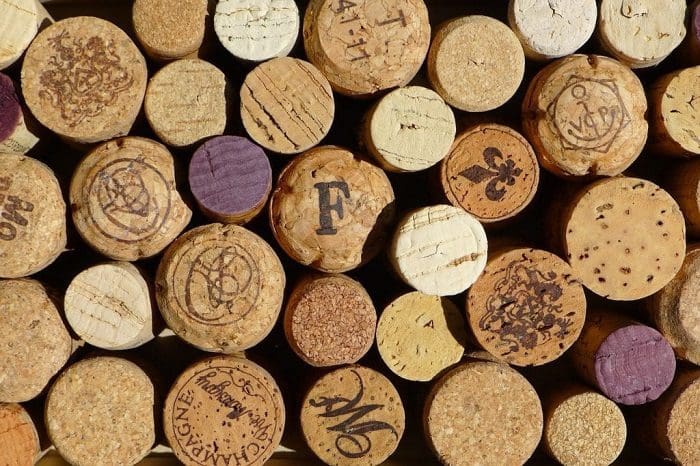 Take designer picture frames, cut the wine cork in half before hot gluing it around the edge and paste them evenly. You may also make a dashing bulletin board by pasting the corks in a cluster. What a classy idea!
28. Untangle Your Headphones
Assume your favorite song has come to your mind suddenly, and you want to put on your headphones and listen to it. What if the cords of your headphones are badly entangled? All you want is to cut your cord.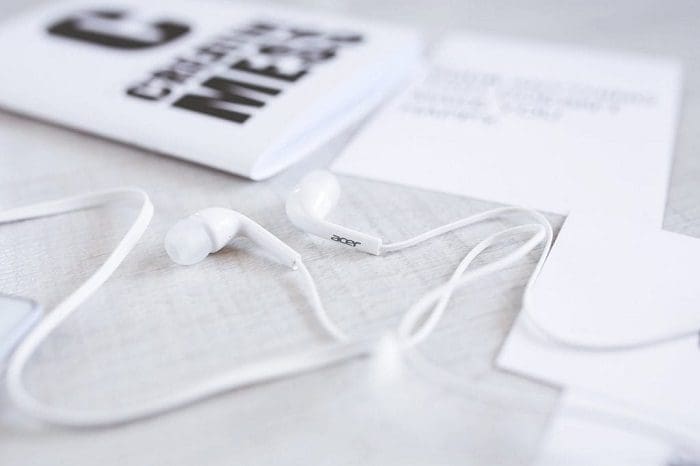 Take a clothespin, wrap your earphones cord around it and use the mouth part of the pin to hold the end of the buds. This will surely keep your buds stored away safely, and the wires will not get tangled.
29. Mascara Rescuer
Gorgeous eyes enhance the face appeal; hence putting on mascara is essential for the whole look. Be it of any brand, mascara gets dried quickly and can form clumps and become dangerous for the eyes. We all know that horrible feeling of being poked by the mascara stick.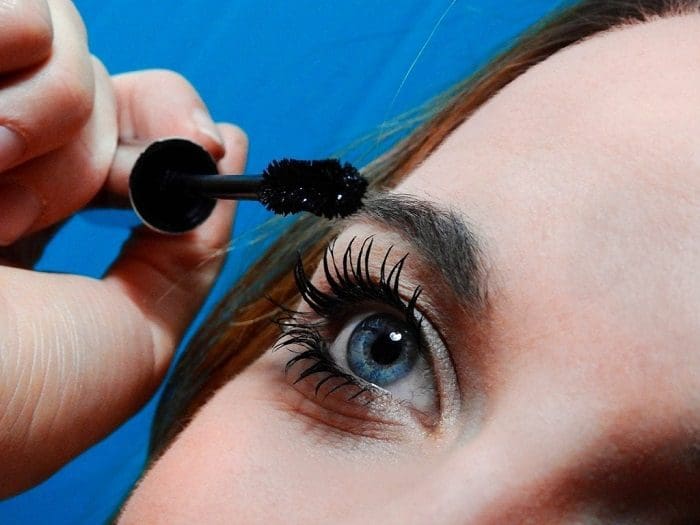 Just keep your mascara under the running tap or soak it in water to get rid of that dryness. Believe us, all the clumps will be dissolved in minutes, and you will feel as if your mascara was just selected off the store shelf.
30. Magnetic Board for Makeup
Women love buying expensive makeup. What they detest the most is when it spills — seeing those spilled or spoiled eyeshadows is really heartbreaking, right? There is a great solution to keep your makeup intact and also in one place.
A magnetic board is indeed a great place to keep all your expensive makeup bits in one place. Plus, it becomes easy to find those specific shades when you actually need them. This hack will surely make women everywhere happy.
31. Loosen Your Hairband
High ponytails really highlight your face; however, it is not good for your head and hair to tie them tightly. Tying your pony too tight may give you headaches and become the reason for hair loss, as it puts stress on the roots.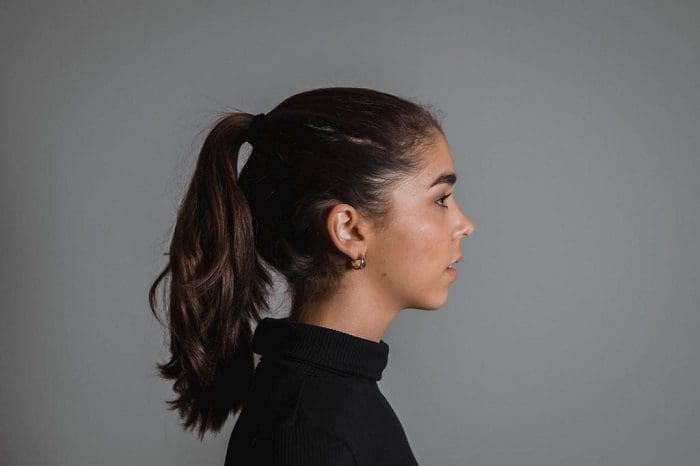 A low pony makes you feel comfortable and let the hair on your head for a long period of time. Besides, a loose pony will surely change your facial looks and make you feel different and much more relaxed than the ultra-tight one.
32. Put On Your Bracelets Easily
Wearing several matching bracelets is always fashionable; however, it's very challenging to put them on when you are all alone. Clipping the two ends together with one hand makes you sweat so badly that you sometimes wish to give up.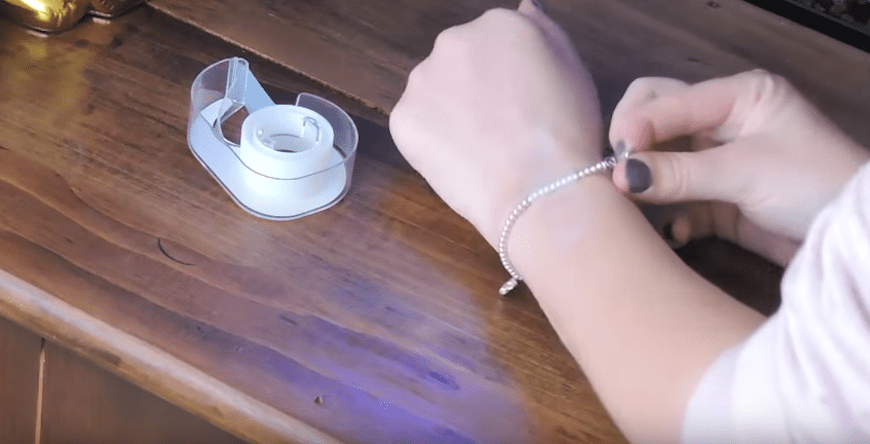 We have something really cool for you that will surely help you out. Use tape to stick one end of the bracelet to one place and clasp the bracelet without any problem. Remove the tape after it is properly clasped. Done!
33. Make Your Jeans Fit
Jeans are always trending, and we wear them for every occasion. However, as our size keeps on changing, they become ill-fit and uncomfortable at times. We have a fantastic hack to help you wear loose jeans in the best fit.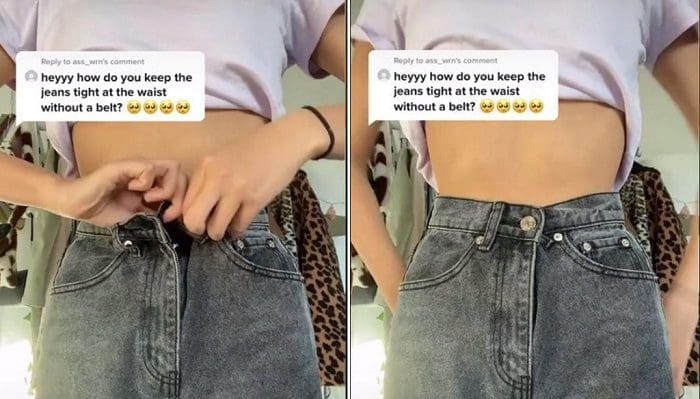 Pulling the jeans button through the first loop on the right side will help you put on your jeans without a belt. This way, it will stay intact the whole day while comfortably fitting you. No need for a new pair just yet!
34. Use Chapstick as a Secret Wallet
You want to keep your money safe and in an inconspicuous place while traveling all alone at night. Keeping rolls of bills in your shoes or socks is really troublesome and uncomfortable. We have a hack for you that can make this challenge easier!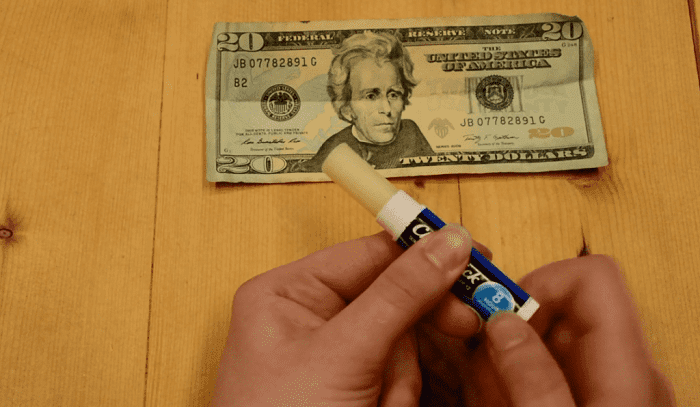 Try using empty chapstick containers to keep your money in to prevent anyone from stealing it. No one could ever think of this brilliant idea, and your money will be safe with you. You may also try it with any similar container.
35. Melt the Makeup with Hairdryer
Makeup is costly these days, and we all end up buying more than we need as everything seems worth trying. It indeed costs us a lot, but we all love to buy and flaunt our collection. But we hate throwing things out that are practically new but dried up.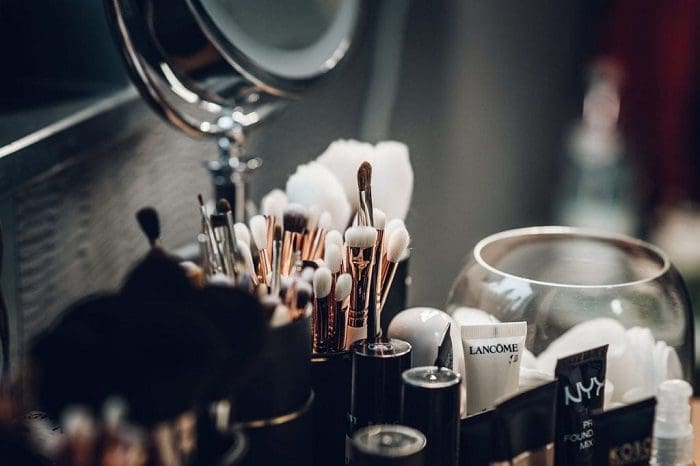 After paying a hefty amount for the products, you wish to use every last drop of it. Try to use your hairdryer to melt when there is a lot of liquid foundation stuck in the corners and other hard-to-reach parts. Simple!
36. No More Pink Razors
Pink has been a female color for a long time now. Time to break this stereotype. If you aren't aware of the pink tax, it makes women's essentials expensive just because they are pink. For instance, pink razors don't even work well.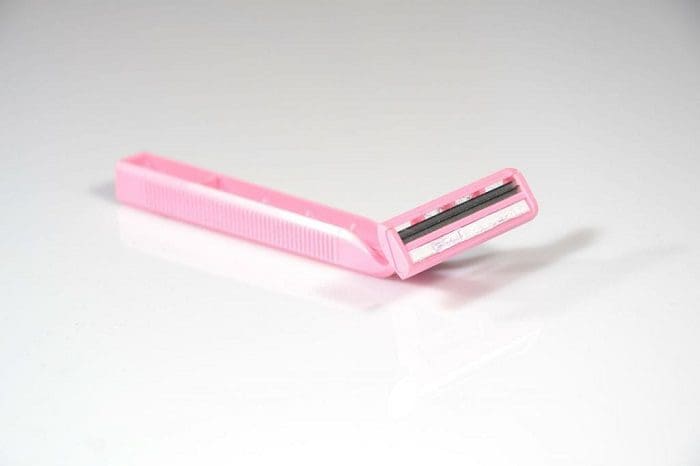 We suggest you pick up the simple razors that are designed for men as they will give you a closer shave and leave your skin smoother for longer. Don't let other companies scam you. All that glitters is not gold!
37. Paint Your Keys
Managing a household isn't that easy, especially regarding safety and security. Most of us get confused with all of our keys, and even on keyrings, we get them mixed up, mainly when we are in a hurry to leave. This hack will help you for sure.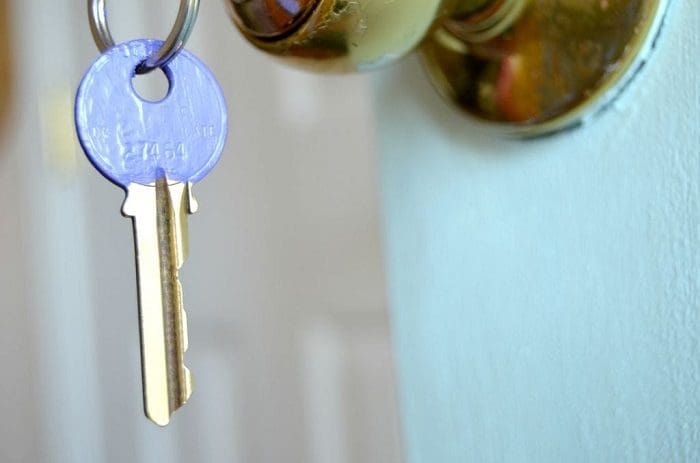 There is an amazing solution to this everyday problem! Try to paint your keys with different color nail paints so that you won't get baffled while finding them. Once you have remembered each key's respective color, it's as simple as that!
38. Put On Your Baggy Jeans and Boots
We are all fond of wearing jeans, but you can't put on your favorite pair of jeans with knee-high boots if they are too baggy at the bottom. Let us help you out here so you can wear your boots with any pair of jeans.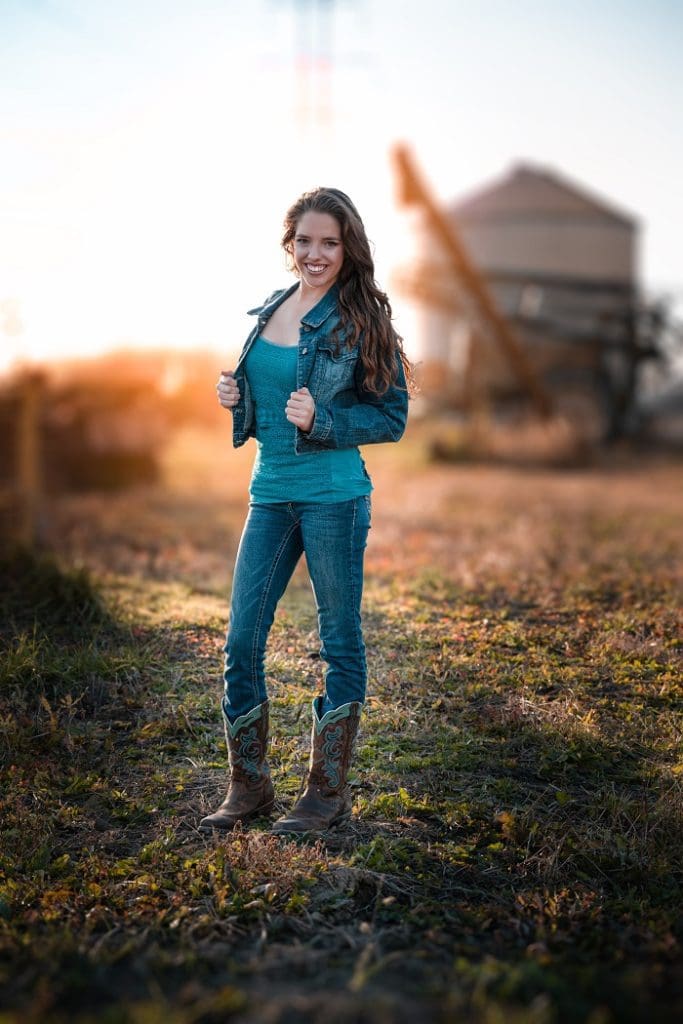 Take a tight pair of socks and tuck the ends of the jeans to make them appear skinny from the bottom. Now put on your boots. It will be easier to wear any boot length now, and you will look amazing.
39. Use Your Straightener for Ironing Clothes
To consider your straightener for just ironing your hair is a misconception. What do we mean? There are multiple ways to use this handy device. Now think of those moments when ironing the tough creases of your shirt. An iron is not shaped well for this task.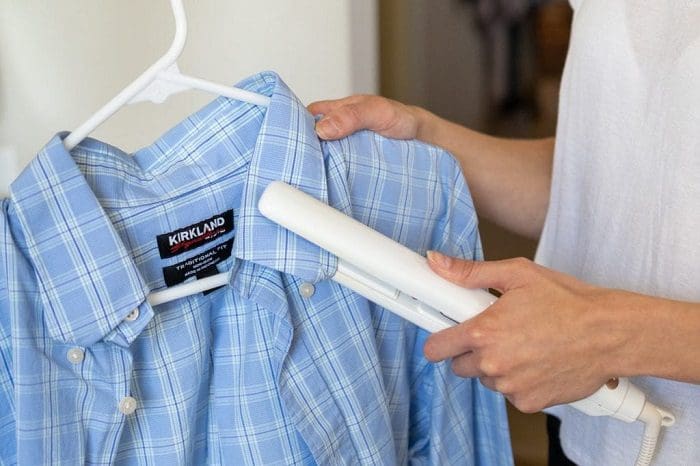 You can use your hair straightener to iron the problematic areas of your shirt, such as the collar and cuffs. Your regular iron may not press the button areas of your shirt; however, the sleek straightener can very well do wonders there.
40. Your Shoes Won't Bite Now
A new pair of shoes always gives us a tough time initially, but we are impatient to break them in. Totally understandable! There is something that will surely save you from being bitten by a new shoe. Say goodbye to blisters!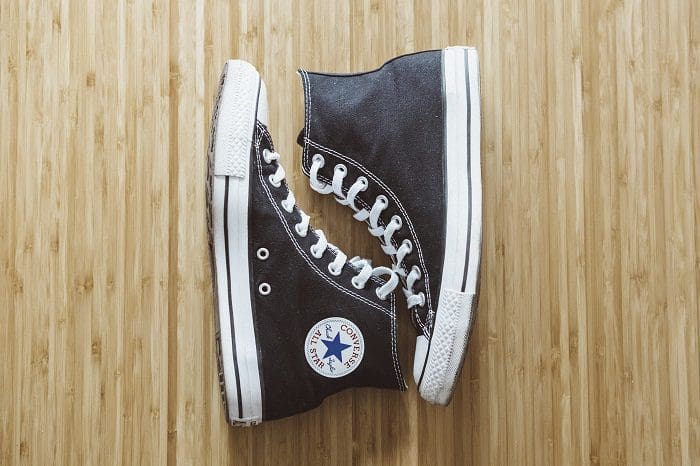 Use your hairdryer here on low heat for around two minutes while flexing those toes every few seconds. Now, wait for a few minutes to let it cool down. This trick will definitely make your new shoes comfortable to wear.
41. Easily Open Your Nail Paints
Hands with French manicure look fabulous; however, it's tough to take care of those nail polishes that frequently get painted shut. It is a shock to see the expensive polish jammed and locked away forever. Try this out if you have this issue.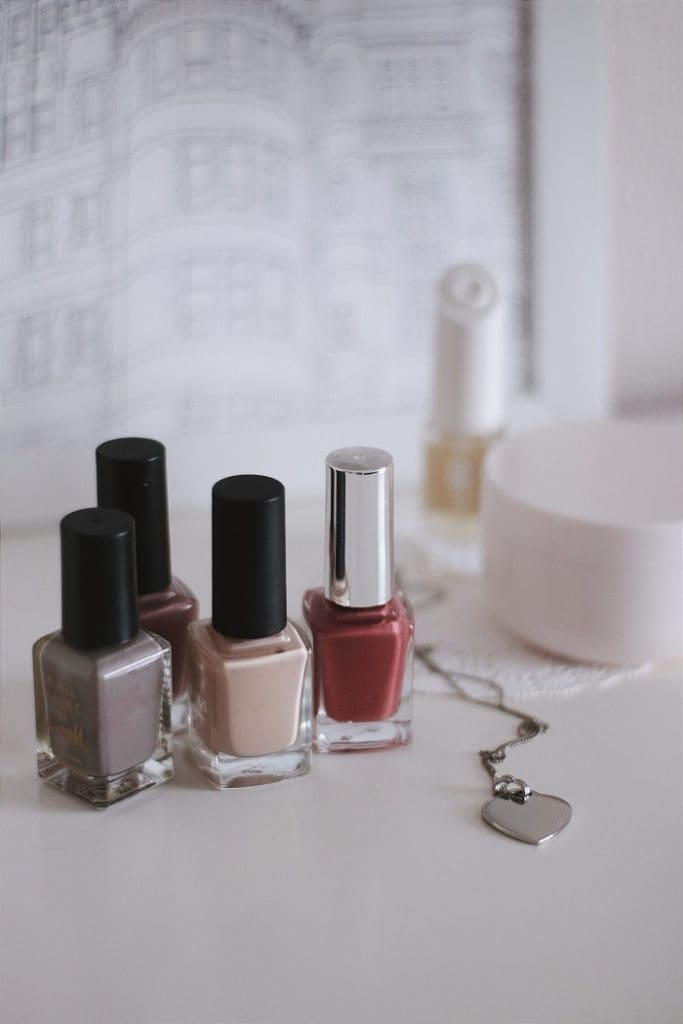 Try to wrap rubber bands around the neck of the cap of the nail paint bottle and then pull it off easily. We bet you can open those pesky little bottles in no time with this trick. This is a real timesaver.
42. DIY Sew a bra Strap
Women wear bras, and that's just the way it is. It's okay if your bra strap falls down somehow. It happens to the best of us. Some people are so narrow-minded that they stare incessantly if they see such a thing.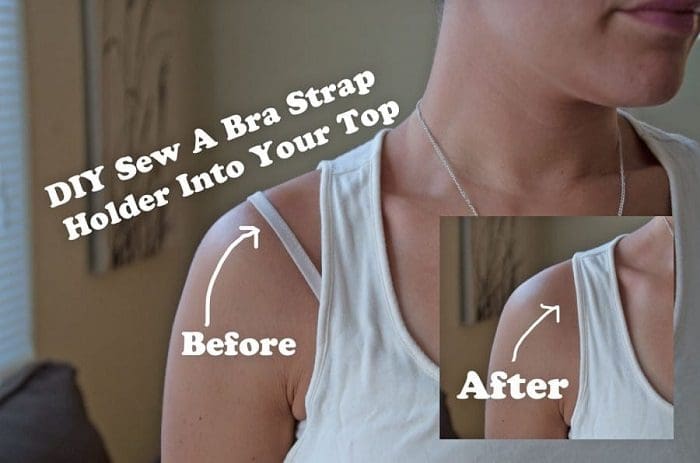 There is a superb hack to save yourself from such people. Try to find an easy tutorial online and add a snap button for the straps, as this will safely hold up the bra straps and prevent them from falling. Simple!
43. White Wine for Red Wine
Parties are incomplete without wine. It is possible that while you are busy talking to someone holding a lovely glass of wine in your hands, someone has bumped into you. Don't worry; all you need is some more wine here!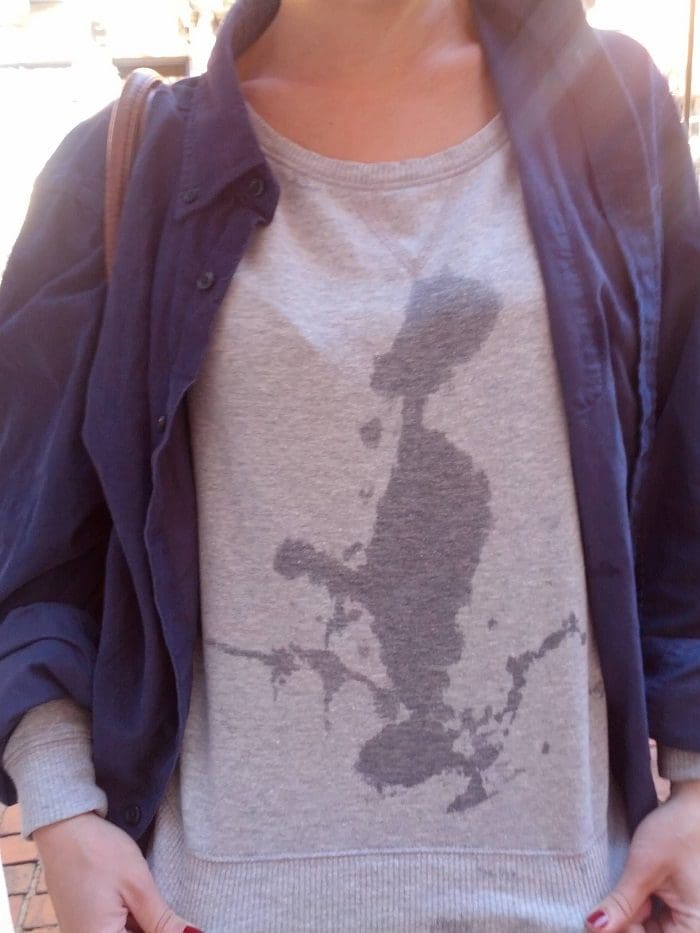 Pour white wine on the red wine stain and let it soak before using a damp piece of cloth to dab at it. Dry your clothes out for some time and see the miracle. The stain will have disappeared entirely.
44. Revive the Old Heels
A fancy pair of heels catches everyone's attention, and you are always ready to buy a new pair. But what to do with the old ones? Especially the ones that aren't too old to be thrown away? There is a cool hack for you.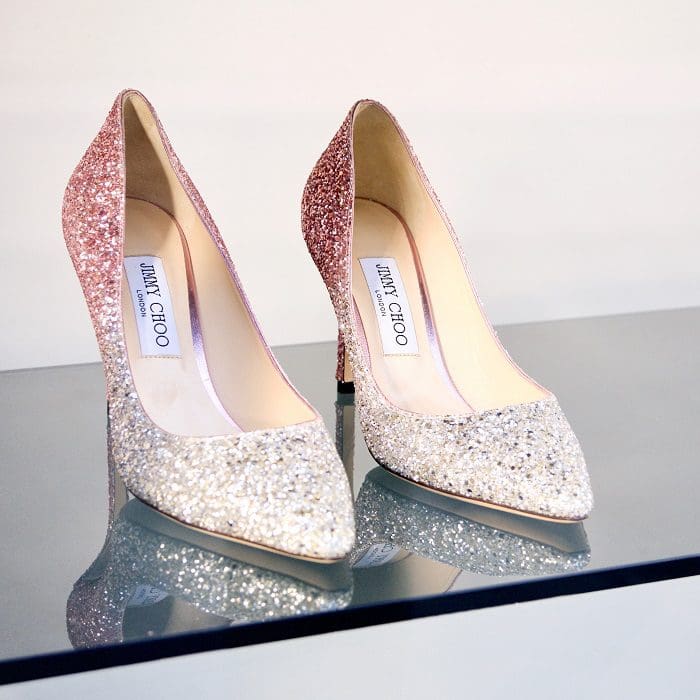 Restyle your once-loved heels today instead of throwing them out by cutting some fabric and gluing it on the shoes for a brilliant new look. You may use velvety, silky, or shimmer fabric for your kind of customization. Try some glitter while you're at it!
45. Hairspray Your Pantyhose
Pantyhose can make you look more put-together or add some funk to your outfit, depending on the style. But how do we prevent the inevitable runs in our pantyhose? They are very delicate. This simple hack will solve this problem.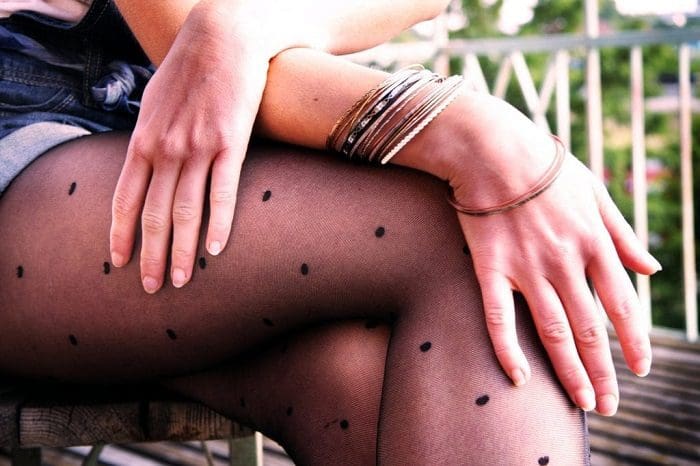 Simply spray your hose with your hair spray. It will surely stop any holes from expanding and will let you wear your outfit without worry. The effect of the spray will help the holes stay in one place without expanding.
46. No more underwire sweat
This one looks a little strange but hear us out. If you live in a hot climate, then you have probably felt the sensation of your bra becoming damp, especially where the underwire meets the skin. We have an easy hack to save you!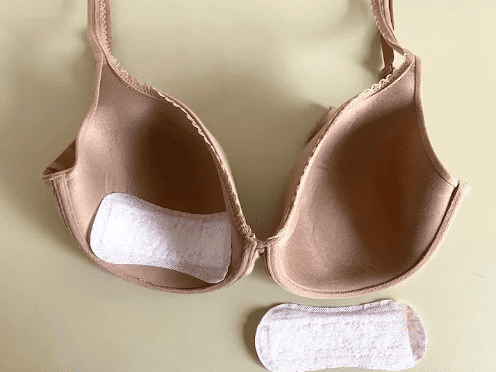 Those little panty liners can serve you much more than just that time of the month. Stick a couple on the inside of your bra just above the underwire to stay dry! Believe us, you will thank us later.
47. No-show bra
It can be overwhelming deciding what to wear, whether it's for a formal occasion or a night out with friends. And when you finally select something, it can be a bummer to discover that you don't have any bras that fit the outfit. If you struggle with showy straps, try this hack…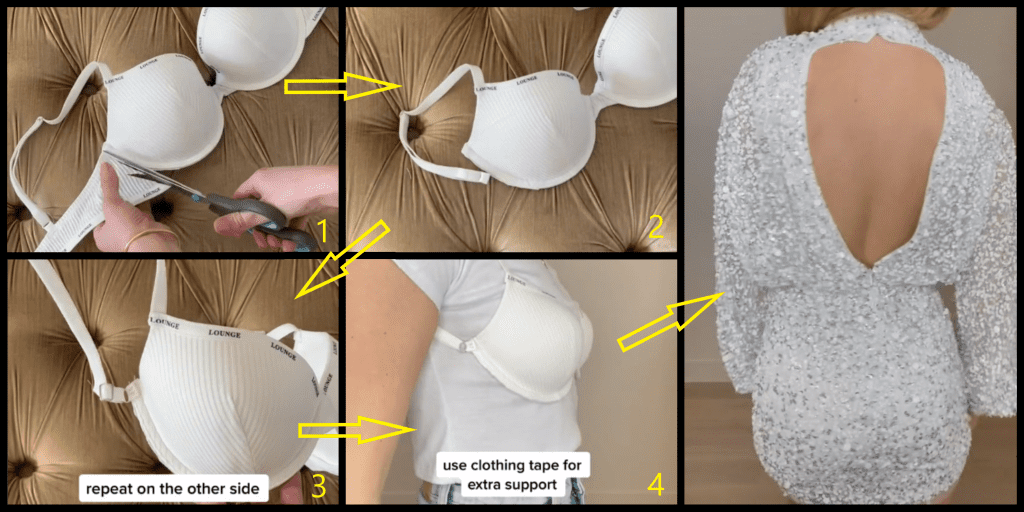 Cut the area where the bra band meets the cup, and again where the spaghetti strap meets the bra band. Then, attach the spaghetti strap to the cup using a needle and thread, and some fabric glue for extra security. Do it on both sides and you're ready to party!