40+ Easy DIYs That Can Help Make Any Outdoor Space Everyone's Favorite Hangout
By Harpreet K May 15, 2023
---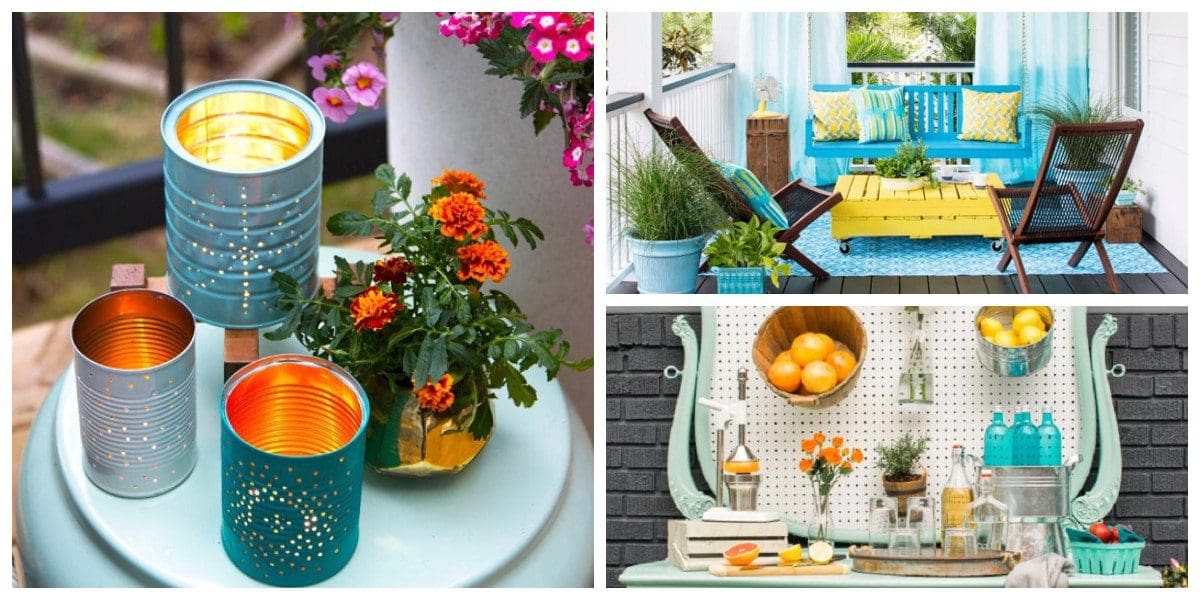 This article was originally published on

mydiwise

There are fewer memories we treasure more than those summer evenings spent with our families on the porch or patio. Though we prefer to remain indoors in air-conditioning and heaters in extreme summers and winters, we can't imagine our homes without a deck or backyard hangout to spend our evenings languishing in. As adults, we've found that it's sometimes hard to maintain those areas. Don't stress if spending on a complete renovation isn't urgent for you. You can make a comfortable yet classy space without any construction. Let us explore some amazing ideas to decorate your patios and porches and find out some awesome designs that are worth trying. We are sure that your backyard will become everyone's new favorite hangout if you use even a few of these 40+ DIY tips!
1. Hang Curtains
The openness of patios and porches creates a hurdle in your privacy. Depending on whether you have a thick fence or not, your neighbors or passersby might be able to see you. This project idea blocks your porch from view so that you can relax.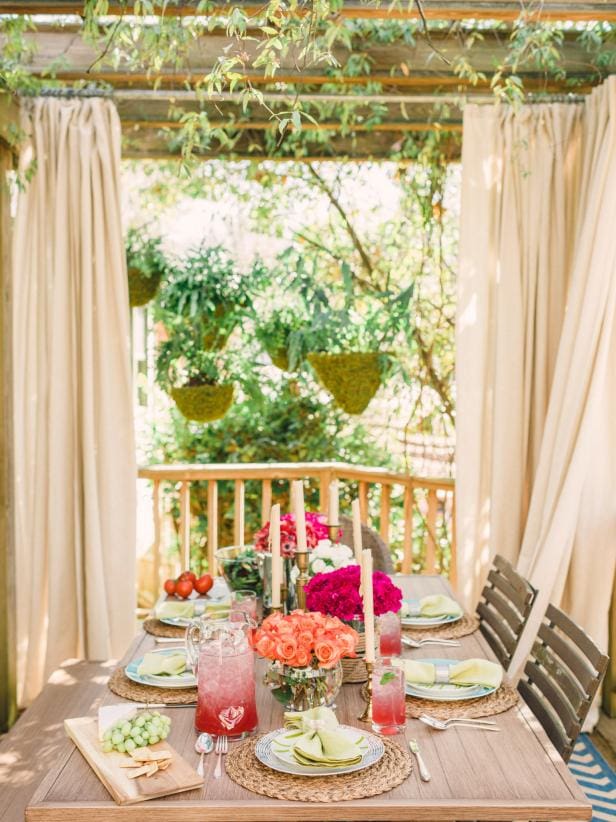 You can surely make your patios and porches more private by hanging curtains. They will protect your outdoor hangout area from prying eyes. You can even express yourself while saving money by making DIY curtains from leftover fabric or drop cloths.
2. Cushions and Throws
Outdoor furniture is often uncomfortable to languish on for an entire afternoon. It certainly makes you feel a bit self-conscious when planning a get-together. Now you can easily make that hard outdoor furniture more comfortable and cozy by using cushions and throws.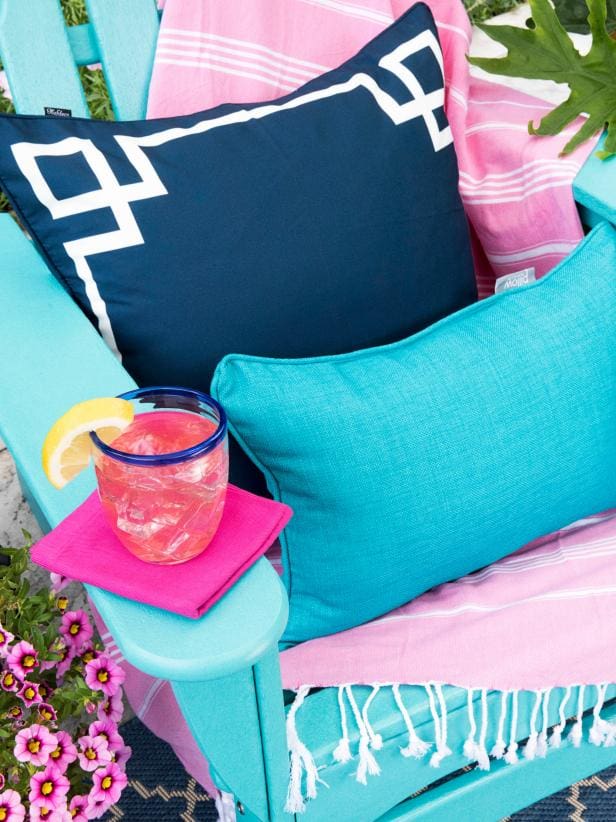 Keep one thing in mind: you need water-resistant polyfill inserts that are swathed in a Turkish beach towel so that they can dry quickly. Avoid using typical living room cushions and throws for outside sitting, as they are very delicate.
3. Cover Your Cushions
The furniture on our patios has to bear the harsh weather. No wonder the delicate fabric of your decor gets faded after years of sun, wind, and rain exposure. You can increase the lifespan of your outdoor cushions by covering them.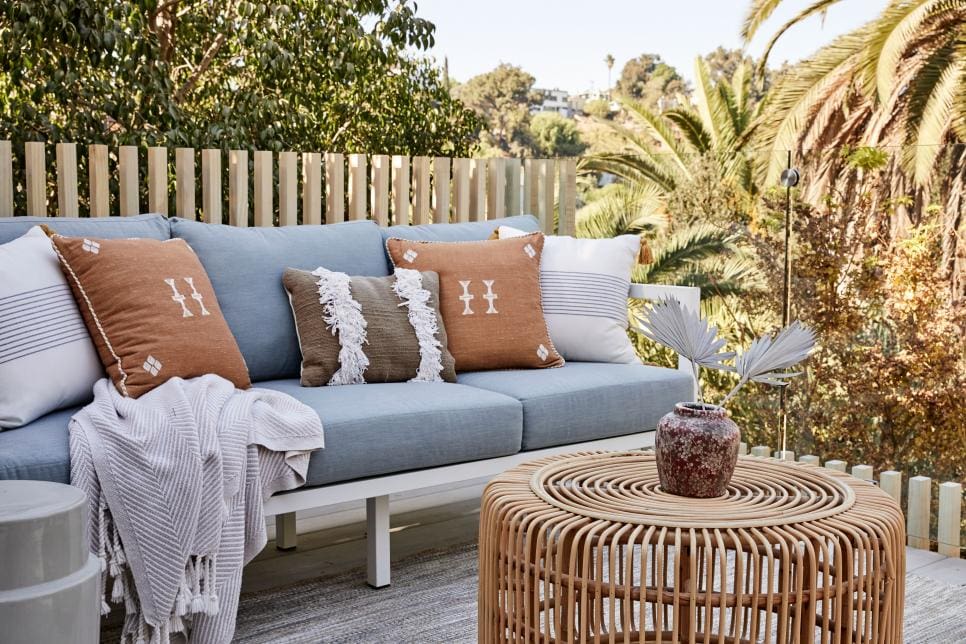 You will certainly love this idea if you want to practice your sewing skills while transforming your outdoor area. make a few sets of them to go with the season if you wish. Remember our previous tip about using weather-resistant pillows.
4. Eye-catching Colorful Doors
The entrance door plays a great role in creating the vibe of your indoor patio, or sunroom. Attractive and colorful doors add extra charm to your sitting area. Some vibrant colors like coral and violet can add a lot to the ambiance.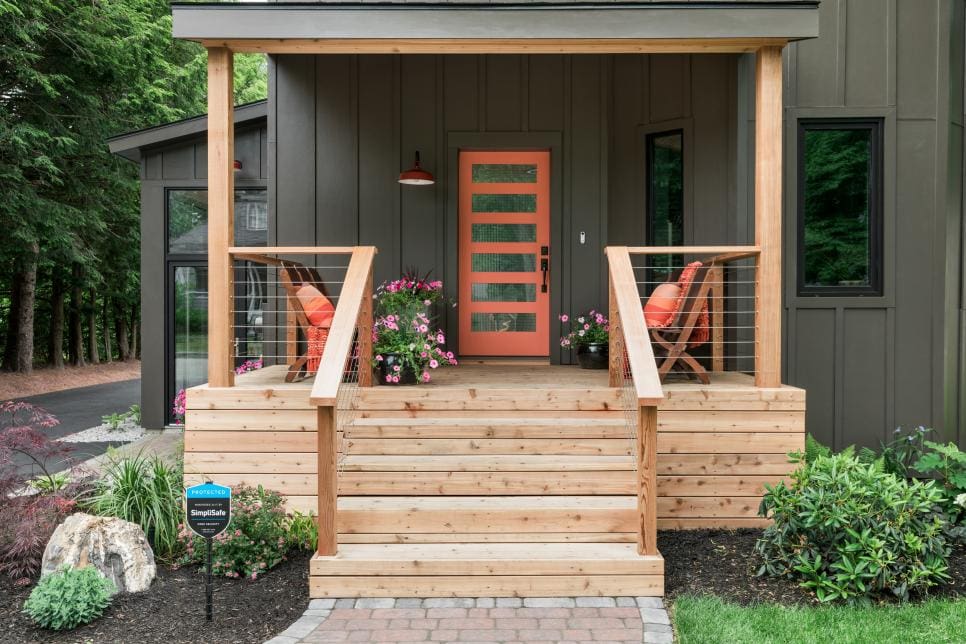 They will certainly make your space more lively and welcoming. Later you can design the entire sitting area using the same color cushions and throws or let the door stand out independently. You can create awe-inspiring DIY outdoor designs and inspire the whole neighborhood.
5. Less is More
It is challenging to redecorate a small porch. Trying to fit in several big pieces of furniture eats up the open space and makes the outside area look like an overstuffed living room. Stick to scale and save your money and peace by using fewer items.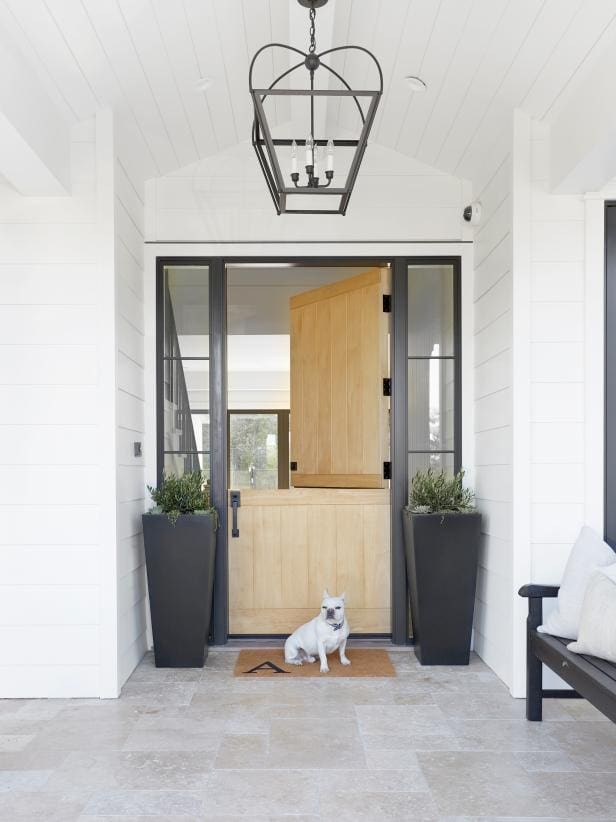 Two big planters and a matching doormat are enough. You can also take up a lantern illuminating the stoop to make it look sober and elegant. Instead of spending money on many items, it is better to buy classy little things.
6. Use The Festive Flair
Festivities include a lot of decorations, like bunting, banners, and balloons. You can always use them in your patios year-round and reveal your creative spirit. This deck looks like a party zone with a colorful bunting hung from the pergola.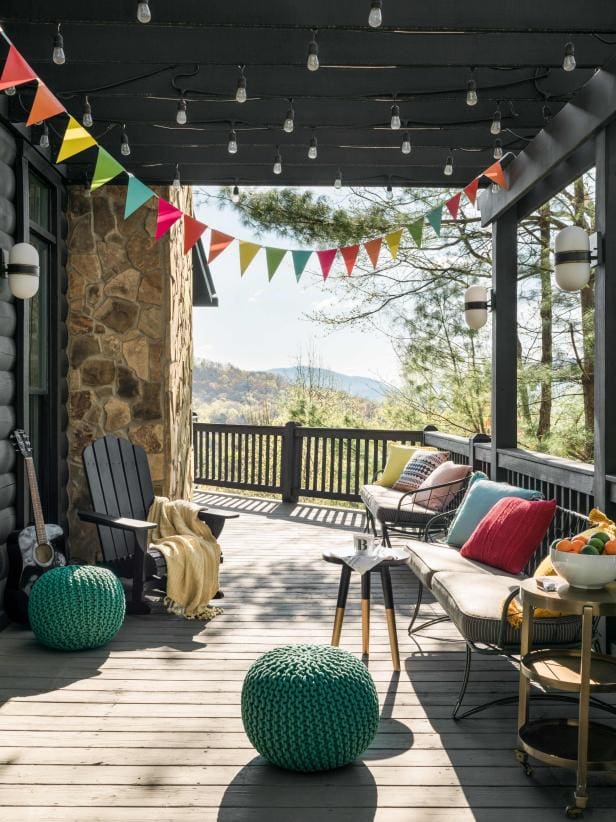 These fun and festive items add life and vibrancy to your outer sitting space without costing a fortune. So, take those hidden party banners and buntings out from your box of party decorations and use them to adorn your patio.
7. DIY Shade Sail
In the summer, what stops you from sitting outside on the patio is the direct exposure to the sun. Now you can create your shaded outdoor space with this DIY shade sail that is a great trick to beat the heat.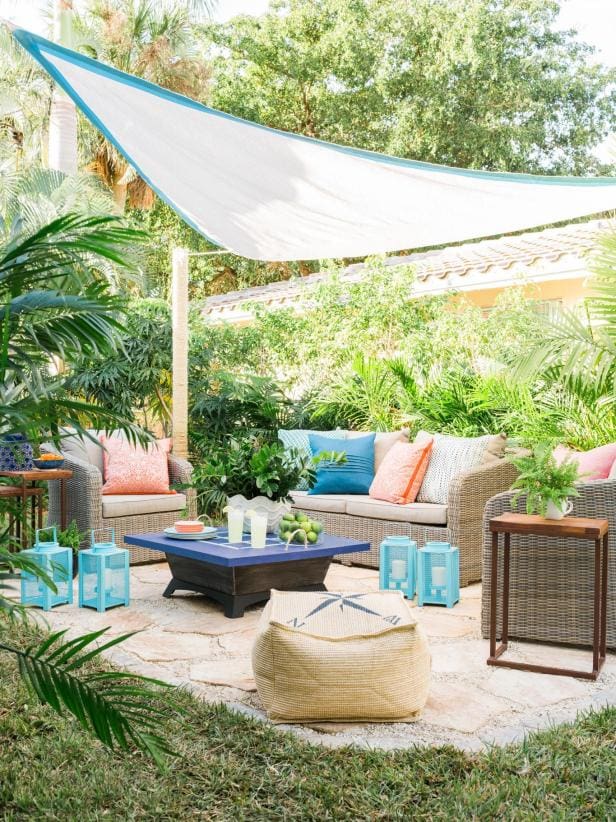 Pitch the poles at a proper distance so the shade will cover as much of your sitting area as possible. Why is it called a sail shade, you ask? Because it's made of the same fabric as – you guessed it – ship sails!
8. Swing with Flair
If you are tired of the typically heavy and hard outdoor furniture and wish to redesign your patio in a breezy style, you should certainly try using hammocks. The woven and colorful design will bring boho flair to your deck.
So, forget using those heavy lounges and metal tables, and treat yourself to stylish and comfortable hammocks. They are indeed perfect for winding down from your exhausting days and creating a relaxing environment. Hang your hammock under some shade so you can take cat naps in it!
9. Crate Ottomans
Some of us have become very selective yet frugal while selecting furniture for our outdoor sitting space. It should be durable and tough yet classy. After all, we all want our decks and patios to reflect our personalities, just as the interior does.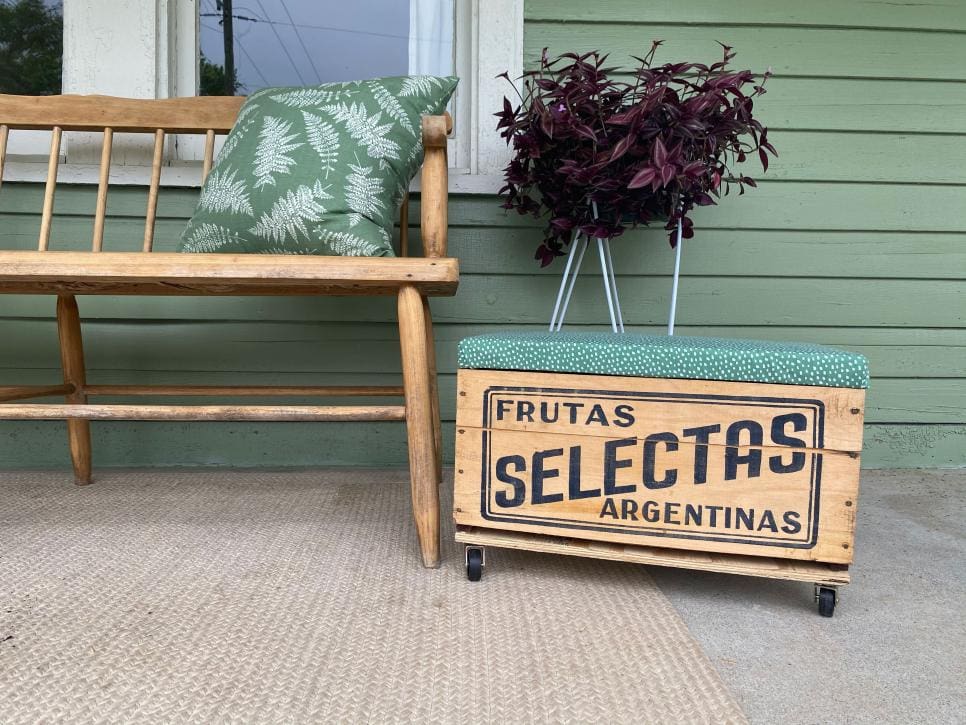 You that you can convert your discarded wooden crates by redesigning them into cool ottomans. You can make a seat cushion that reflects your style and tastes by using colorful fabric. This stylish crate ottoman is perfect for the party throwers. More seats, more guests, more fun!
10. Barn Door
If you wish to get a classic look for your patio, you can install upcycled doors. They add a rustic vibe to the whole space, which is trendy. You can get the material from old barns (if you have farmer friends) or make it yourself.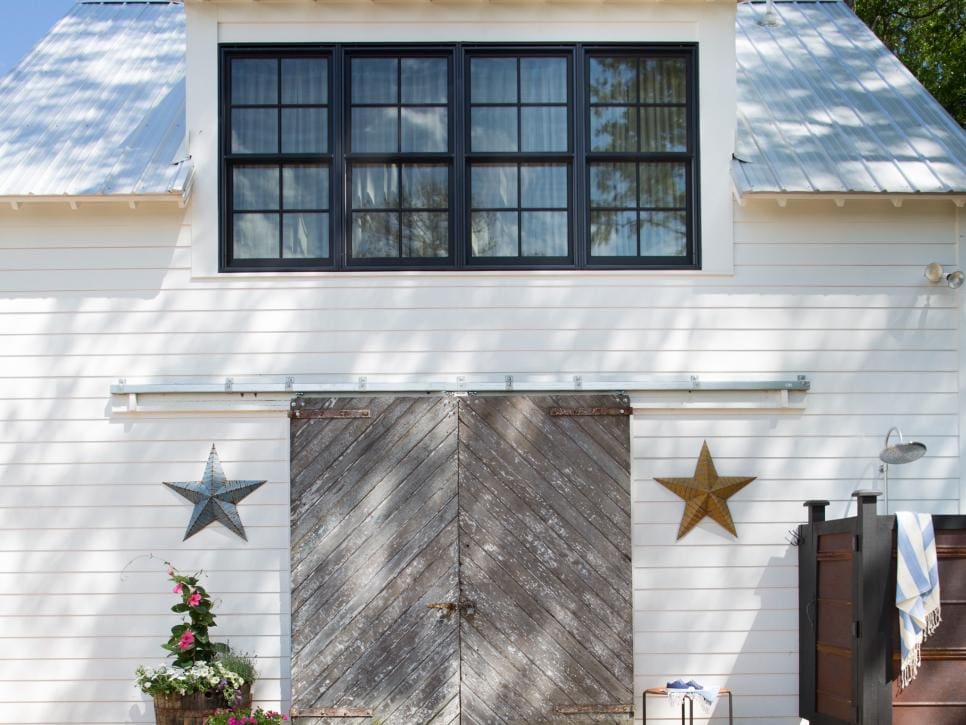 If you like going to those places, you may also find them in discard piles or junkyards. But even if you don't, there are tons of tips and tricks to help make the wood look distressed and add a retro vibe if you make them yourself.
11. Low Water-use Plants
When you select plants for your patios and porches, it is always better to go for those that require little water and low maintenance. They are cost-effective and give your outdoor space the natural atmosphere you want. You're not limited to cacti and succulents either!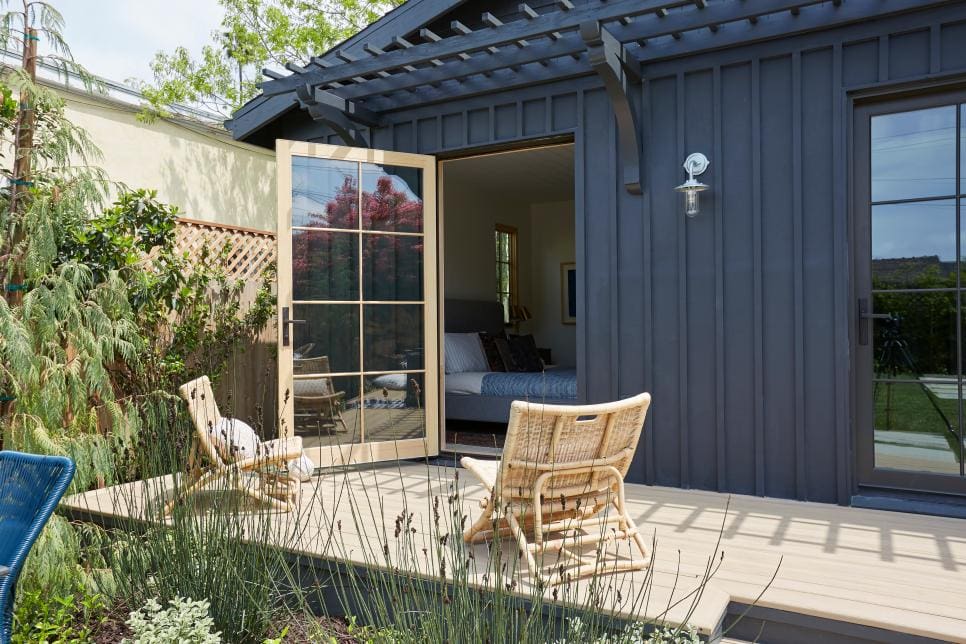 Variegated plants, burgundy cordylines, and evergreen vines are just a few plants that go beautifully together and don't need tons of maintenance. They make your open space look more inviting without making it look like a botanical garden or requiring all those hours of hard work.
12. New-to-your-Cart
All those who love to party in open spaces can redecorate their bar cart and push it out in the patios as a major party attraction with this DIY. Customize your old carts with your kind of paints and chic outdoor accessories.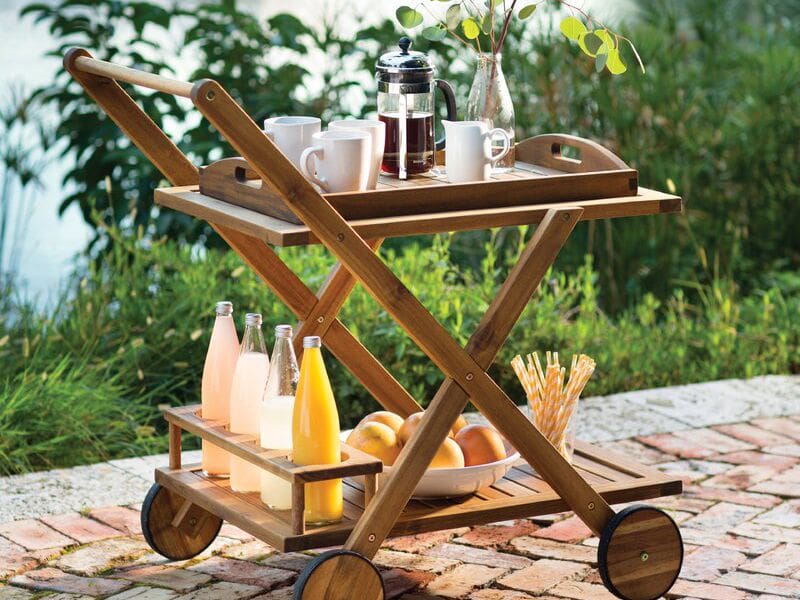 If you don't have one, you can search on Instagram and Facebook Marketplaces or visit thrift stores or yard sales to find new or second-hand carts. Redefine one in your style and show it off at your next outside party with your friends and neighbors.
13. Underfoot Patterns
If you are bored of the same old-fashioned rug you have been using for years and wish to revamp your porch, try this. The time has come to design an attractive outdoor carpet that fits your style and the ambiance you want to create.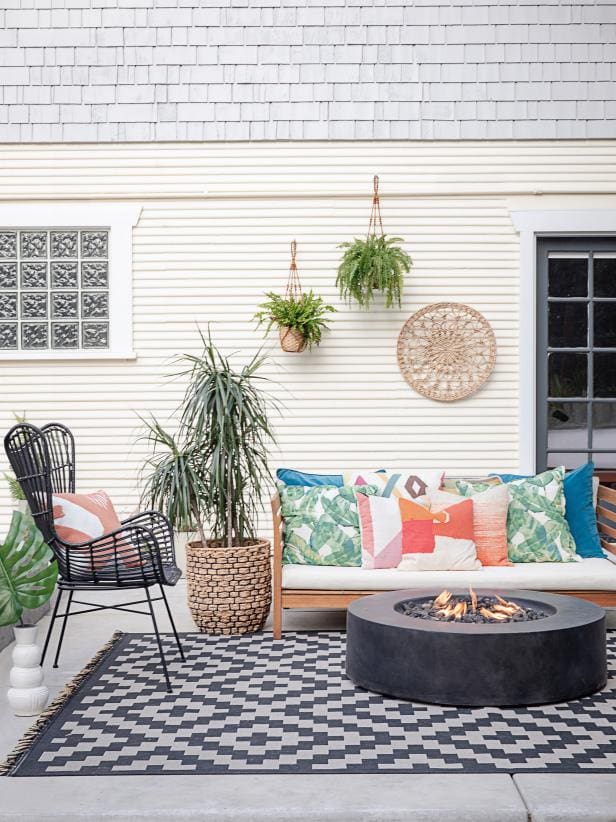 There are numerous stylish and low-budget options available in the market to buy, but if you would rather make your own, the sky is the limit. We love this Aztec design, but you can go beyond geometric patterns. This will undoubtedly change the look of your porch.
14. Bulbs on String
Illuminating an outer space is a meticulous job as the light has to not only be pleasing but also illuminate the entire space. Lovely exterior lights add amazing ambiance to any space. Hence you should be very careful and subtle, especially when you have a small area and/or limited budget.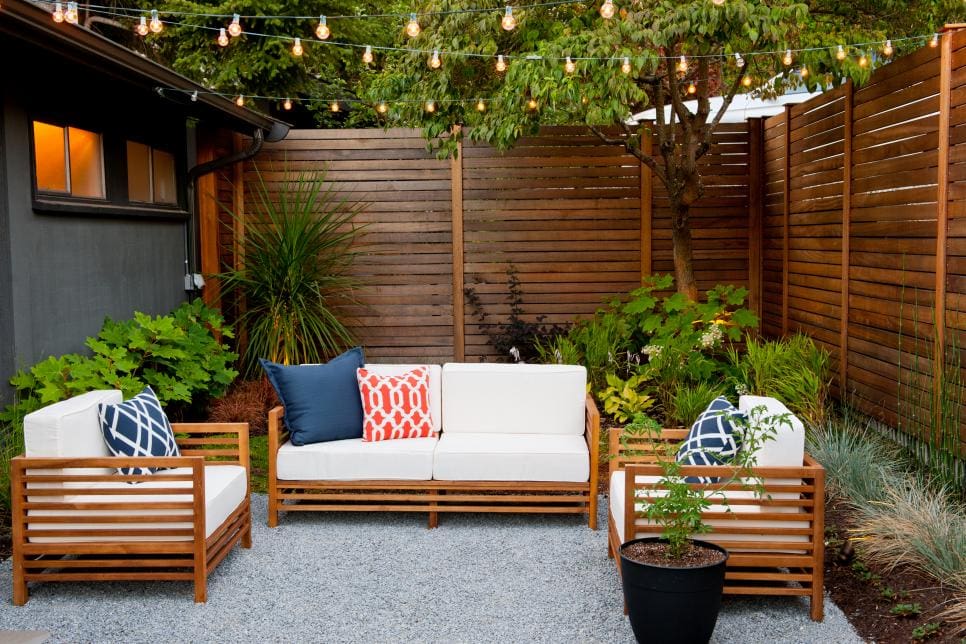 Take inspiration from rooftop cafes and get amazing ideas for lightening the outdoors. Luckily, there are multiple shapes and styles of hanging bulbs, so they can fit into any aesthetic. You can also use colored lights if you want a specific sort of vibe.
15. Use Antique Signs
We are fond of those old signboards that make us feel nostalgic. These vintage signs can undoubtedly help you out in enhancing your outer and inner spaces like porch and kitchen if you use them as decoration pieces. (Hint: they don't actually have to be vintage!)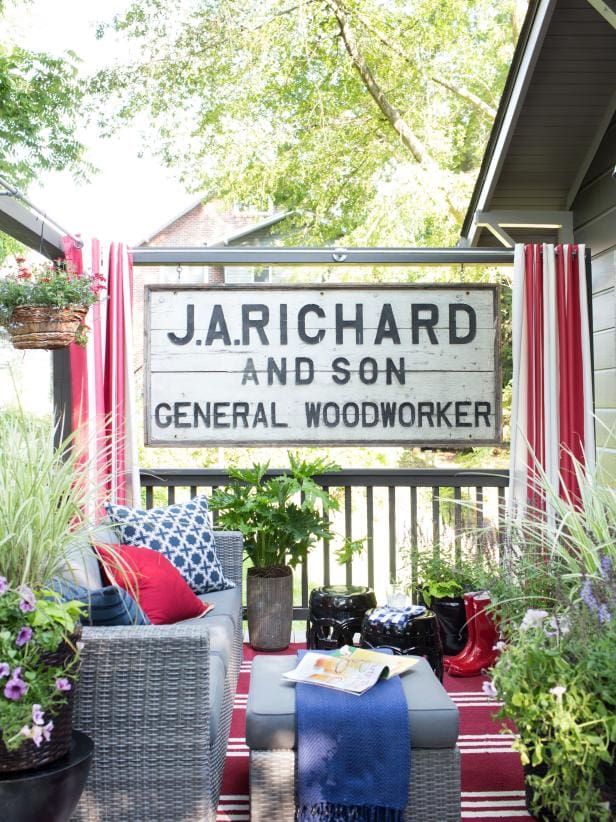 These additions to your patio or deck add a homey feel. Depending on how you hang them, they can also create more privacy. You may get them in local craft stores, resale shops, auctions, or even estate sales. They're trendy now, so you'll have no issue finding the one for you.
16. Upcycle things for Home
If you are a real DIY enthusiast, you won't find it troublesome to decorate your outer space. There are so many great things in your house that can be redefined into funky furniture and add more allure to your porch.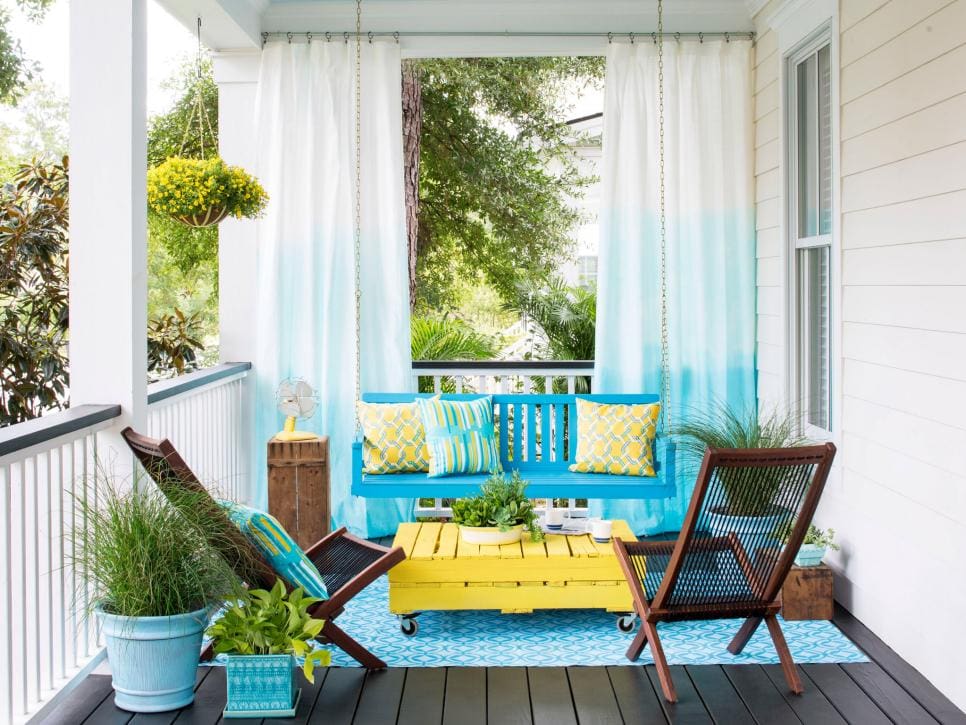 Here, they have transformed a simple pallet into a cool coffee table using only paint. This creative person turned a drop cloth into a lovely rug. Also, the plain white curtains look amazing – this was achieved by dip-dyeing them a beautiful blue ombre.
17. Melamine Serveware
You wish to enhance the look of your outer space, from furniture to serveware, but you don't want to spend very much as things that are kept out get damaged quickly. You can relax about your budget. We have something very wallet-friendly here.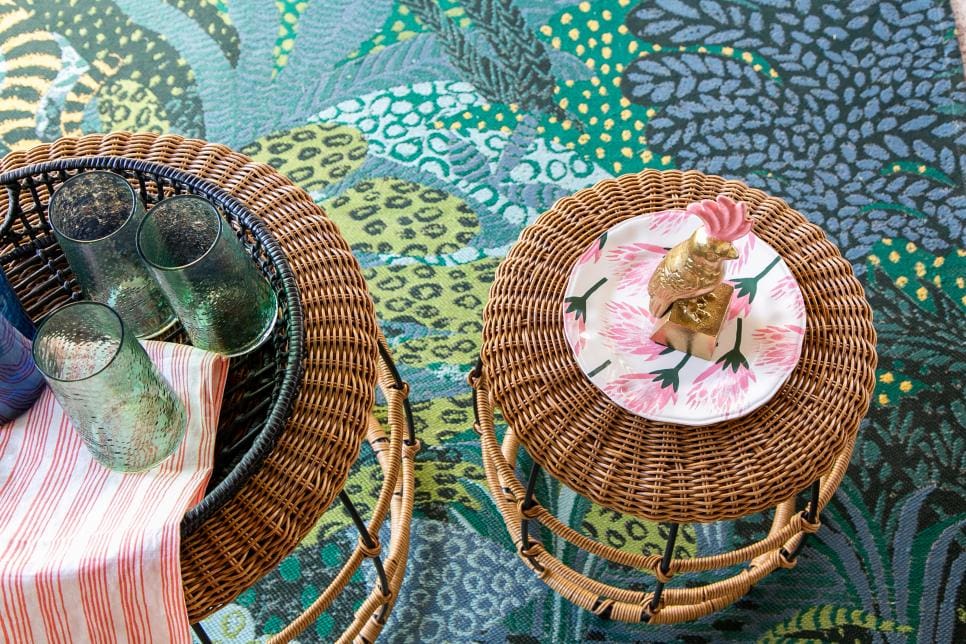 Use acrylic or melamine dishware when you are preparing for an outside party for klutzy adults and kids. Melamine dishes are a good-looking and also a budget-friendly way to bring color and some fun seasonal patterns to your outdoor table.
18. Hack the Porch Planter
When it comes to selecting the right planter for the porch, we all become a little choosy and want to pick the best one with the perfect look. This hack will surely add more life and uniqueness to your plant.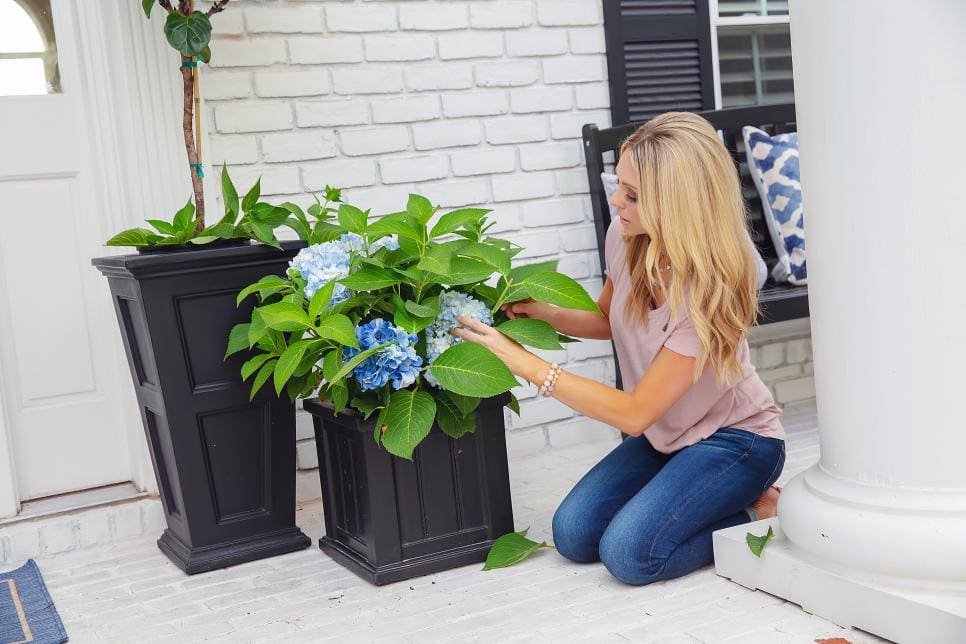 Try to mix faux floral stems and flowers with the real plant. Yes, it's very easy but requires a lot of expertise so that no one can point it out. Believe us; you will get endless compliments from your friends for how full your planter is!
19. Shop From Your Yard
When you are planning lunch on your patio with greenery surrounding you, your dining table should also reflect the environment. The right kind of basic vases and pots will change the whole setting and make you feel like eating out amidst the trees.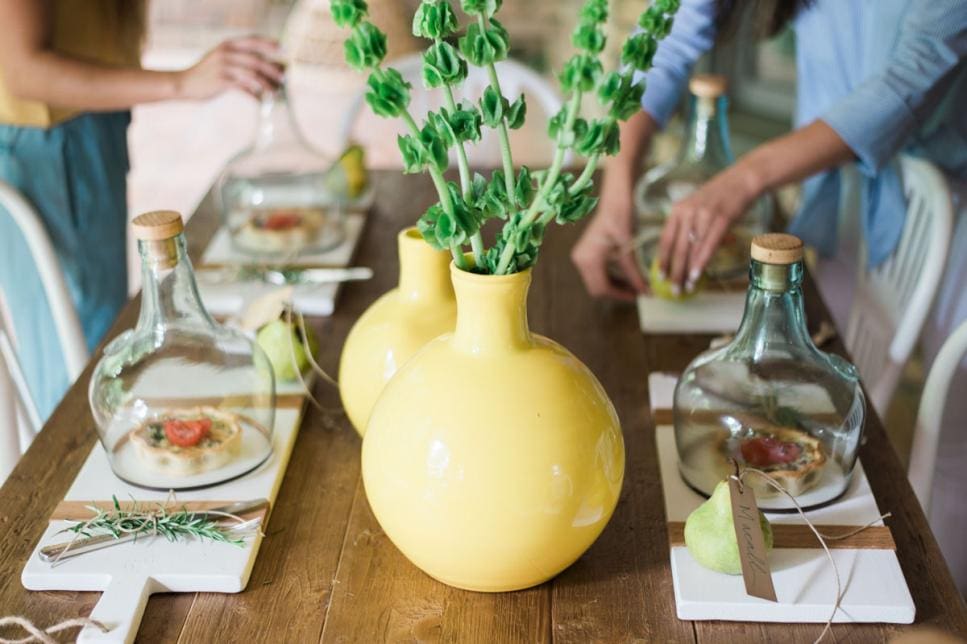 Keeping a single flower in a monochrome vase is one of the best ways to adorn your garden dining table. You can also use the simple vessels you've collected over the years, like those painted pottery pieces you have stored away, to adorn your table.
20. Using Garden Stools
Garden stools are multipurpose since their size allows them to be used any way you want. So whether you are short of a plant stand, extra seating, or even a side table, garden stools are there to make your patio into a haven.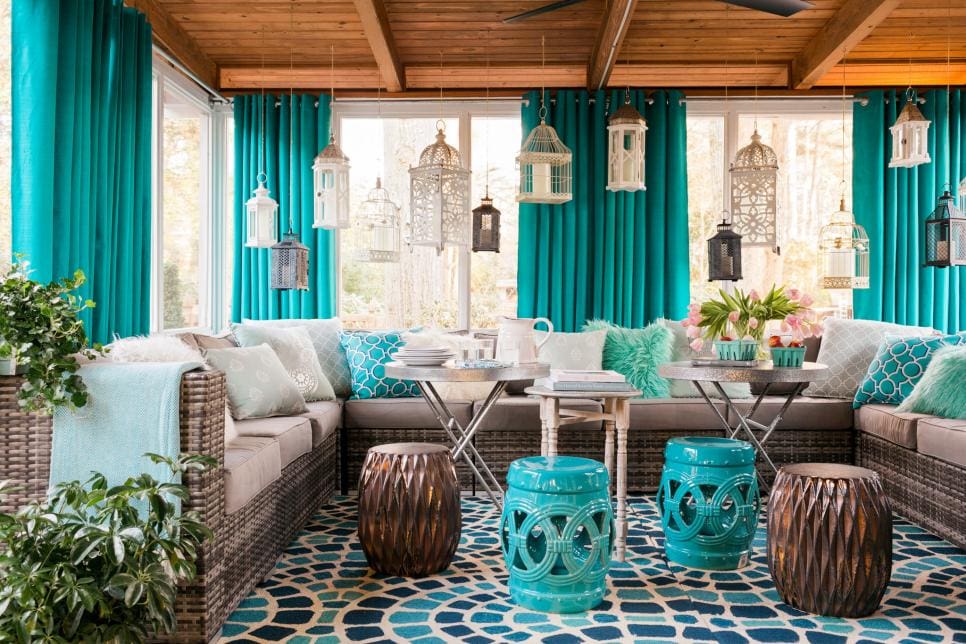 You can use them in many ways, and they always look gorgeous. Paint them as you wish: maybe in bright solids colors, or even with a rainbow theme. After all, it's your creativity that enhances the beauty of your patio.
21. Paint the Patio Floor
You love the patio sitting because it is another space for you to express yourself. Let us make your backyard more inviting and creative by painting the floor with eye-catching designs and patterns that reflect your artistic taste. You can be daring with your patio.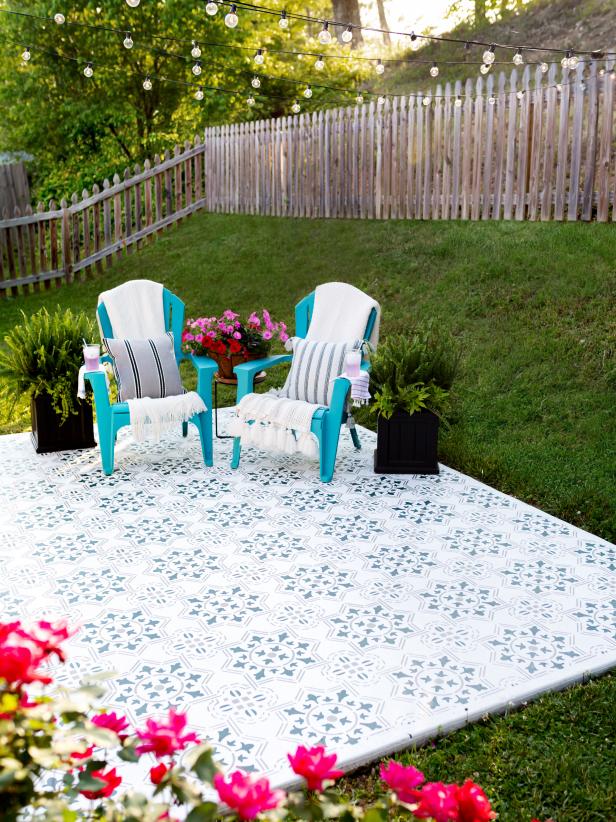 Trim the patio grass and make a clean background. You can find or make the stencil of your choice. Paint it with concrete stain. Load a stencil brush with a small amount of paint, then dab the excess with a lint-free rag.
22. Make a Fusion
It's not always possible to shop for new things. So, we suggest you make your patio area look more attractive than before without spending a single penny. Try to make a fusion of already existing furniture. We all have extra pieces we don't know what to do with, right?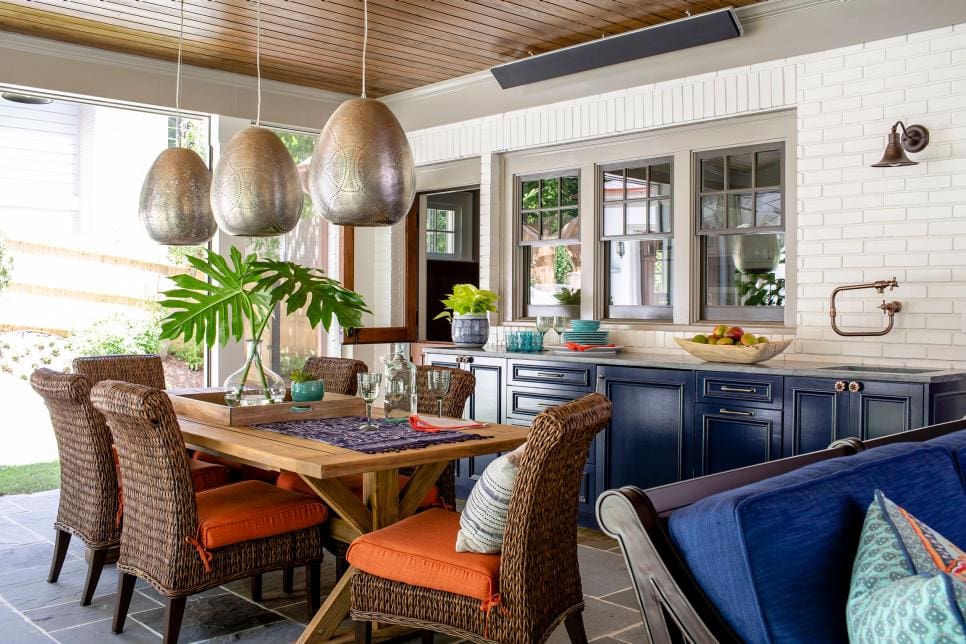 Or maybe you frequent second-hand furniture shops. Mix the salvaged furniture to give the pieces a new lease on life. Paint the outdoor furniture all in the same color. Believe us; it will give it a fun and sleek look.
23. Create a Spotlight
Creativity has nothing to do with buying expensive things from the market and throwing them together. You can certainly be creative without spending money and just fixing certain things here and there. And have you ever thought about adding a spotlight?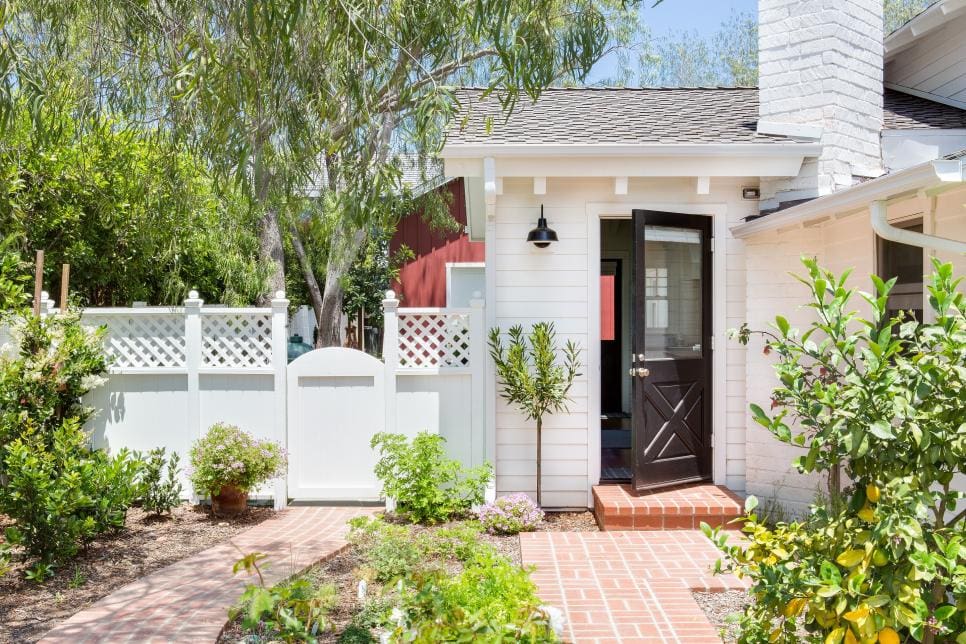 We don't mean a real spotlight, but rather give your porch light something to shine on. We suggest a cute shrub or flower pot. It is something subtle and small but it can greatly alter the look of your exterior.
24. Bask Tray as Wall Art
After finishing with the furniture part of your patios, what comes next is decorating the walls. Of course, you can do them the same way as the interior, but you won't be able to feel the difference. Let's check out some other ideas!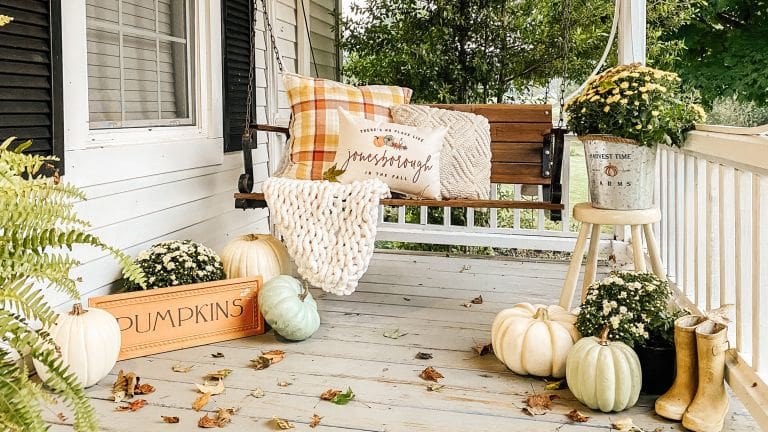 Upgrade your covered porch with fun wall art using a single, oversized bask tray You can also create a one-of-a-kind outdoor gallery display by displaying three or four in a pattern. Or you can use seasonal accents, like pumpkins in the fall.
25. Stock Tank Pool in Patio
In summer, all you need to make your patio a cool and refreshing place to be is a small pool. They make you feel relaxed and lighten your mood. What about installing a cool pool to give you beachside effects in your own home?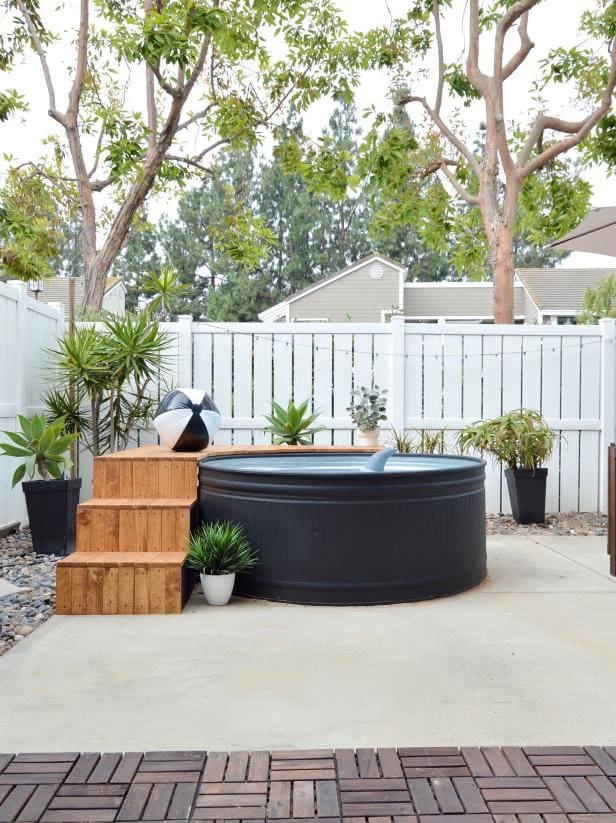 Create your personal splash with a stock tank. This super-cool tank and its surrounding platform (made from Acacia wood) offer a beachside look and will add to the summer fun. This little pool beauty costs less than $500 to make.
26. Make a Wall Garden
If you are a true gardener, your home decor will truly reflect that. And your outdoor spaces should too! Maybe you've run out of ideas. That's why we're here! Here are some ideas and tips to brighten your home and surround it with greenery.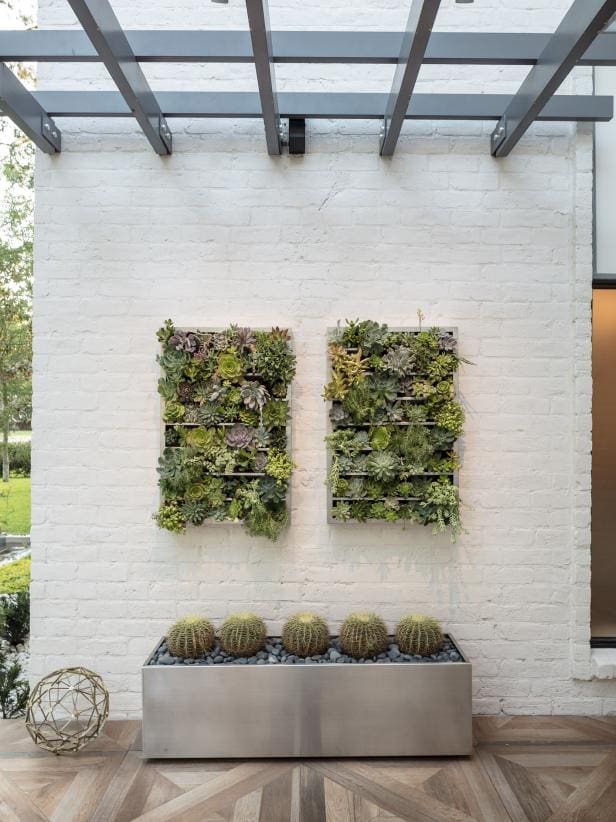 Bring a green touch to your patio wall with a wall garden. You can make this display with a pair of planters mounted to the wall filled with colorful plants. You can also mix different types (i.e., succulents and flowers) to make a beautiful display.
27. Display Your Painting Skills
The walls of your home are required to be decorated well as they create an aura, and you want it to be an accurate reflection of you. However, when it comes to your outdoor spacing decor, you can let your other side out to express another aspect of your personality.
Try to select funky paint colors for your patio furnishings and wall and exhibit your awesome painting skills. You can create your own art, keeping in mind the color and texture of your patio cushions and other textiles within the space.
28. Display the Lemons
Freshness and vitality are the major keys for decorating your open space dining areas as they fill you with positivity. Plus, you don't have to be over careful about being perfect in display and serving skills since being outside adds a touch of informality that makes everyone comfortable.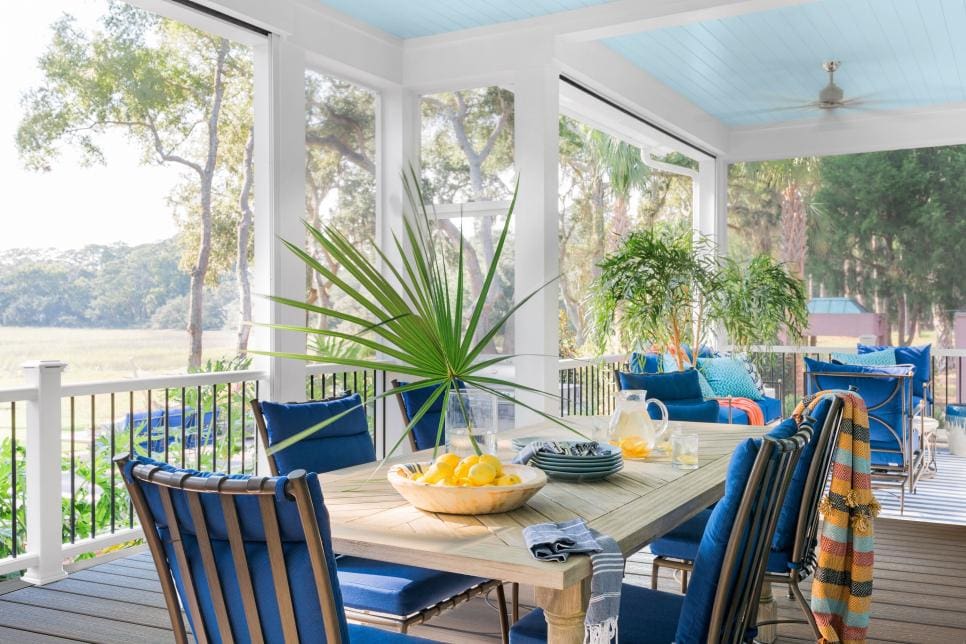 When life gives you lemons, display them. For a burst of color, place bright fruit in a wooden bowl. We suggest citrus fruits because they don't wither in the heat and ensure vibrant color on your party table all day long.
29. Flowery Window Box
There is nothing as beautiful as bright flowers. Floral designs and patterns make you feel soothed and also give a treat to your nose. Let us figure out some better ways to make your home vibrant with flower decor in addition to rose bushes adorning the front walk.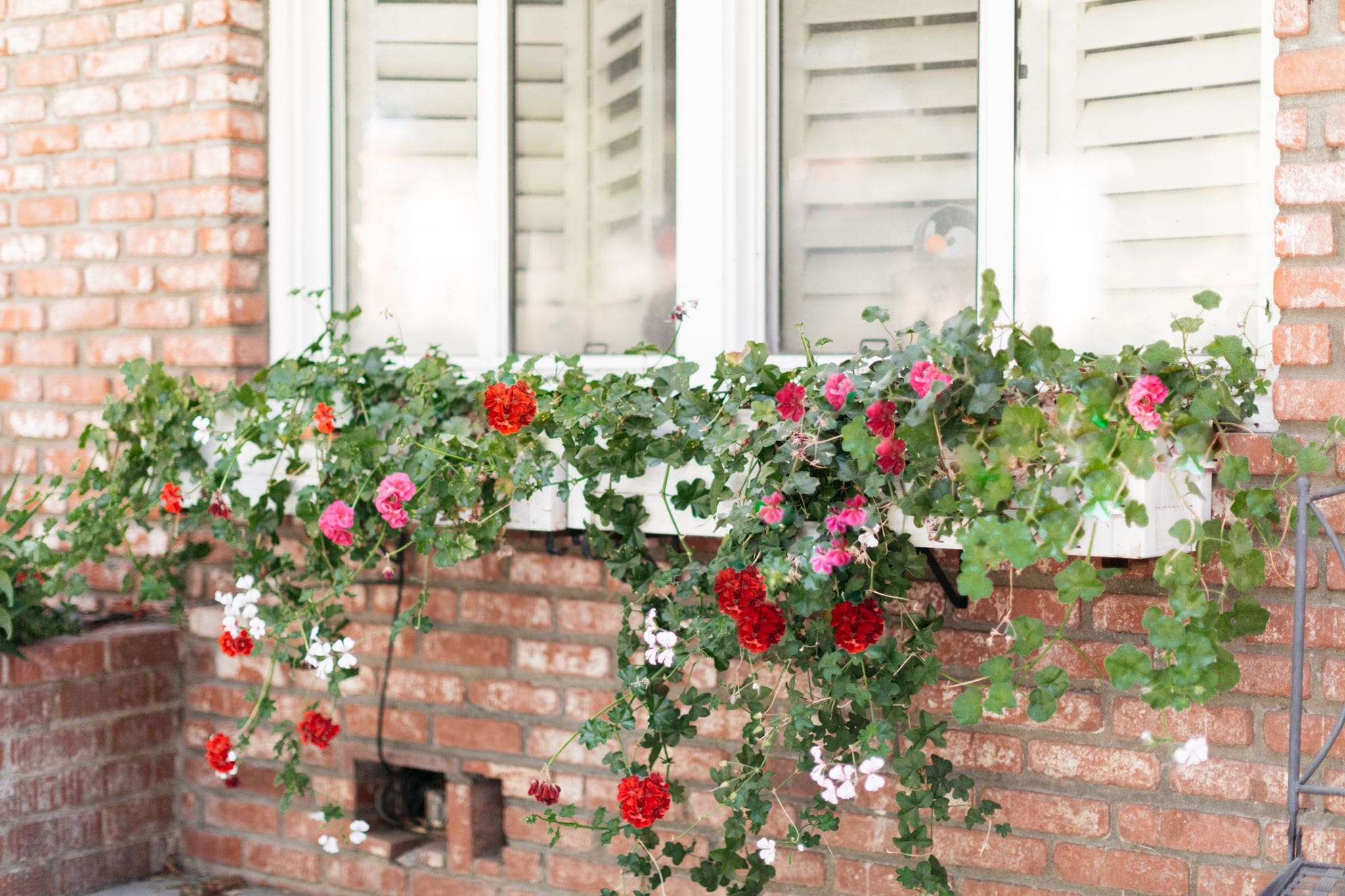 You can add magic to your porch by keeping flower boxes on the front railings and below the windows. These boxes are very cheap to buy. You can also easily DIY them. Trust us; compliments from friends will come in abundance.
30. Wooden Panels
Sometimes, no matter how hard you try to spruce things up, there is not much that can be done if what you are working with is already in bad condition. For example, if you have a beautiful yard, but your fence looks shabby, then it takes away from the beauty of the garden.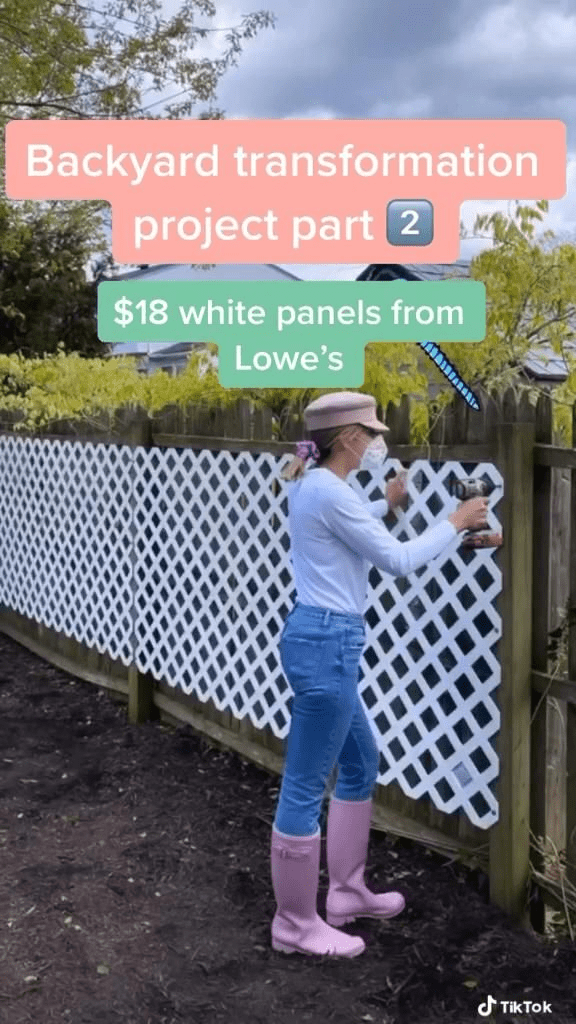 If you are not able to completely redo the fence, then perhaps try this nifty trick. You can purchase some wood panels and attach them to the existing fence. This is a quick and easy way to hide the ugly fence without having to replace it completely.
31. Pass Through Bar
Outdoor parties are entertaining and give you the liberty to show off some hidden talents. You can create a full-on pass-through bar table next to your window. This budget-friendly idea puts a stop to your frequent trips to the kitchen.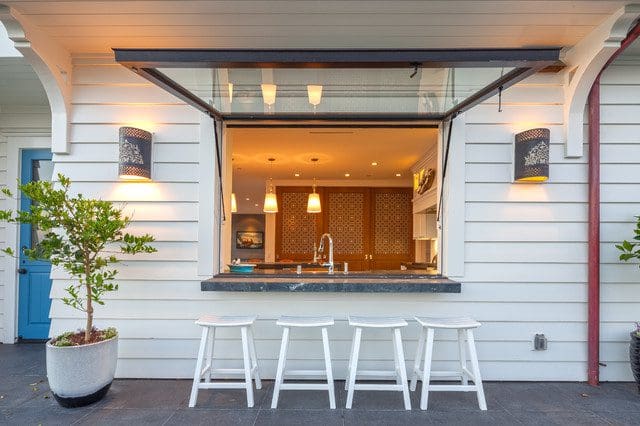 Install a bracket-supported shelf on the exterior wall of your home. If you want to level up, cut a hole in your shelf for an integrated ice bucket. You may also cut a hole anyway and create an integrated flowerpot. The design possibilities are endless!
32. Old Dresser is the New Bar
Before you think to throw away your old dressing or vanity table, please don't! There is so much you can do with it. Your discarded dresser can be upcycled and transformed into a brand new bar for your backyard oasis.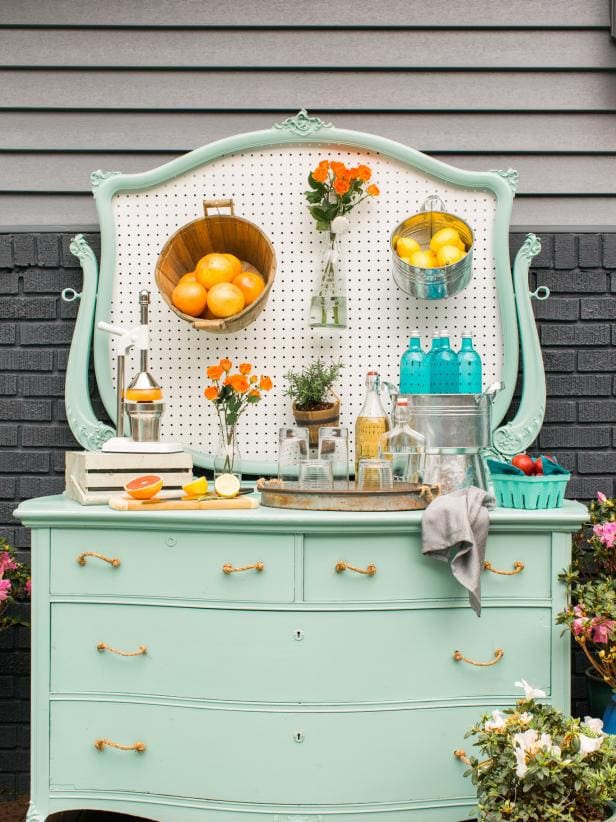 Upcycle your old dresser into a full-service bar by replacing the old mirror with a pegboard and a fresh coat of weather-proof paint. You may also add a collection of baskets and trays and, of course, use the drawers for your outdoor serveware.
33. Install Console Tables
You can grab everyone's attention with a wonderful display of trendy console tables in your outdoor spaces. They are heavy, broad, and can store many of your regularly used things. These open-air tables look totally stylish and are multipurpose – a definite win-win!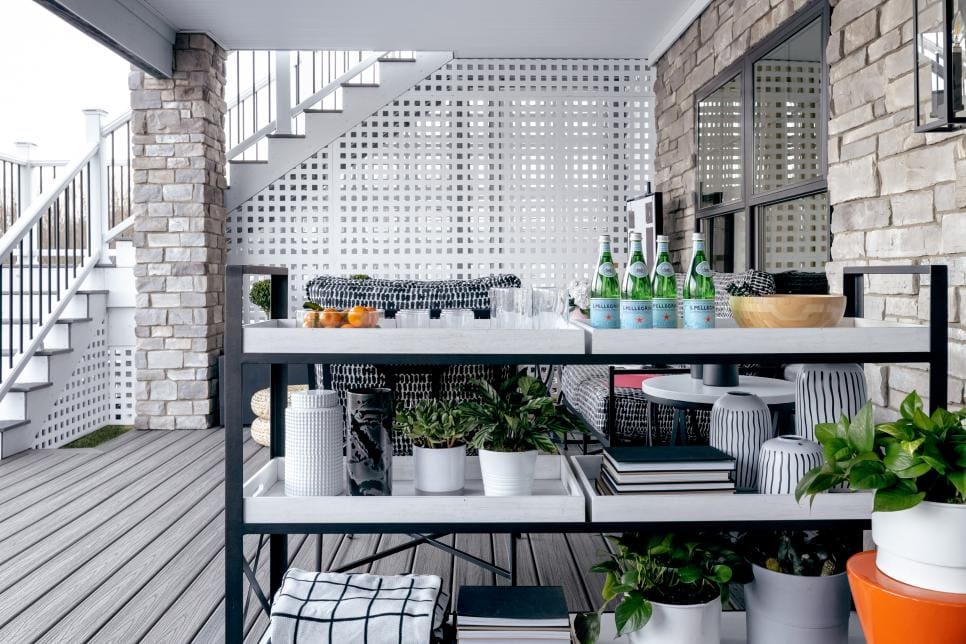 These tables have a series of removable tray shelves. This allows you to easily transport food and drink from the kitchen to the patio. You can do the same with a stationary table you already have by adding removable trays.
34. Use Floor Poufs
Comfort is the primary consideration when designing your outdoor seating. You want to free yourself from people and tasks that are with you the entire day. You certainly wish to sit in the open area of your home to relax and unwind.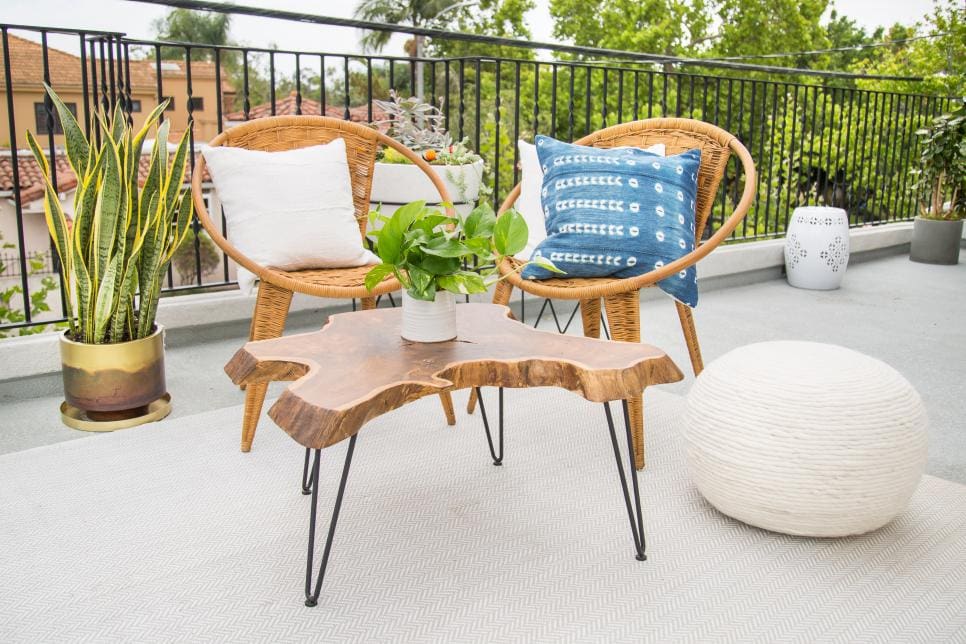 For comfy outdoor seating, you can always use trendy floor poufs. They are very comfortable to lean against while reading or dozing and are a low-budget way to add beautiful seating without spending on larger pieces of furniture, such as a chair or sofa.
35. Grab the Trendy Tablecloths
Constantly buying new things to decor your home is not a great idea. More often than not, you can just renovate what you have. For example, you can redesign the old set instead of buying expensive furniture for your outdoor spaces.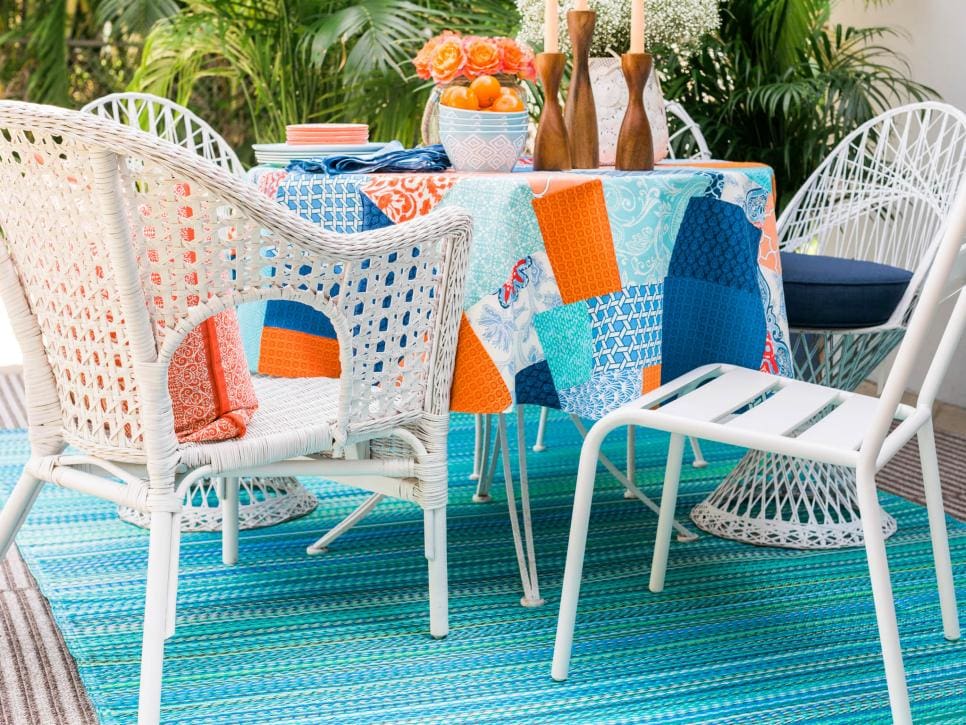 You can beautify an old discarded center table with minimal elbow grease. Trust us! Cover the table with an attractive and vibrant tablecloth, and voila! You may also wrap your chair cushions with the same color fabric for better effect.
36. Use Decomposed Granite
You can always experiment with your porch and design the wall, furniture, and even floor in a unique way. It is undoubtedly a vent for your artistic skills and a treat to your eyes. Your styling will set goals for others!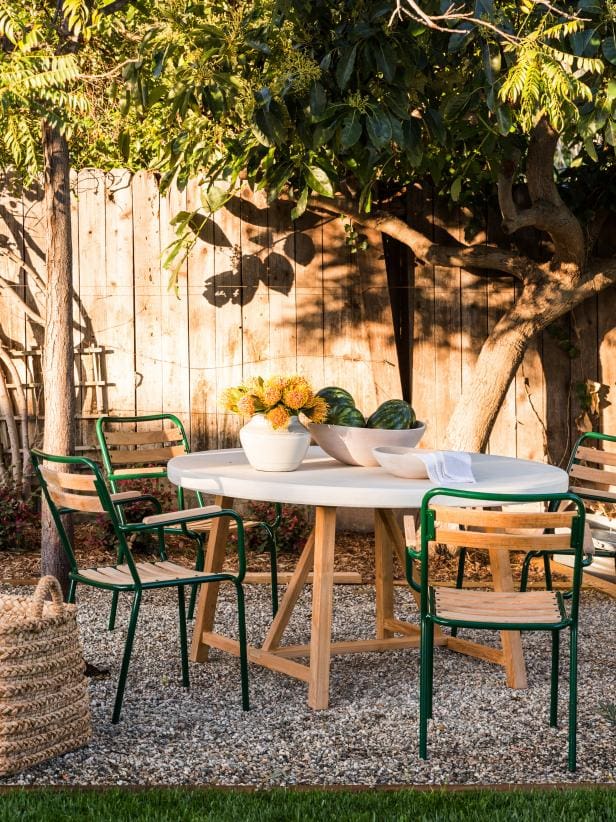 Using decomposed granite for your patio and walkways is a great idea as it looks fabulous, and the price is also significantly less than tiles. This stone gravel creates a specific, textural floor for the alfresco eating area in this stylish home.
37. Boost the boxwood
Beautiful gardening techniques enhance the look of your patio. You may use the shrubs like boxwood as they are dense, evergreen, and usually planted in elegant and formal landscapes. A series of boxwood plants is a perfect entrance to your home.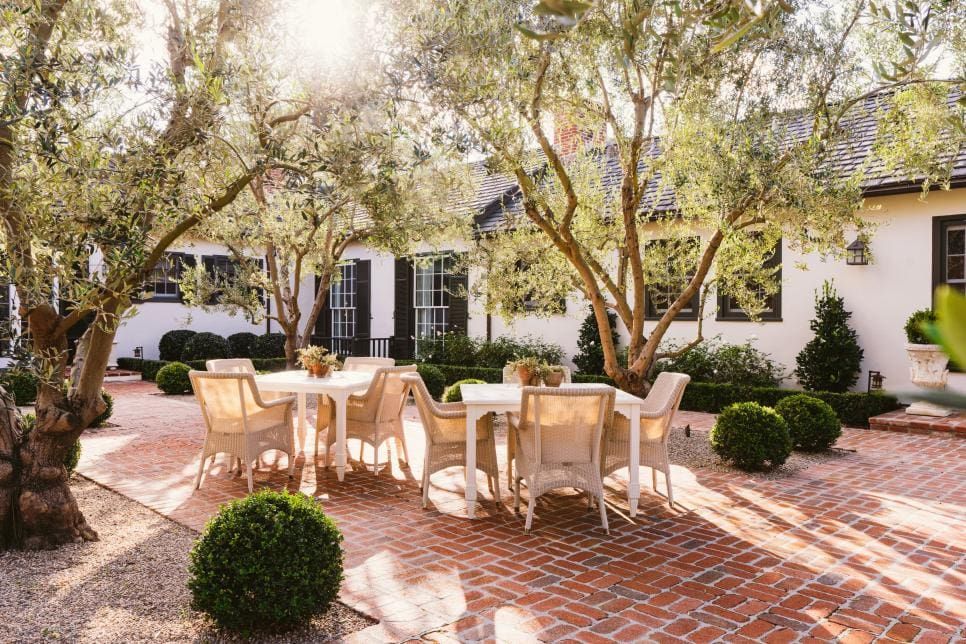 These are ideal courtyard shrubs as they have handsome evergreen foliage that livens up outdoor spaces the whole year. Boxwood requires minimal maintenance. Planting it in your home allows you to make a formal hedge and attracts everyone's attention.
38. Create Your Own Space
Who says you have to be a perfectionist all the time? At your home, especially in the inner yard, you have the absolute freedom to release yourself from all the social constraints and create your own cozy and relaxed space.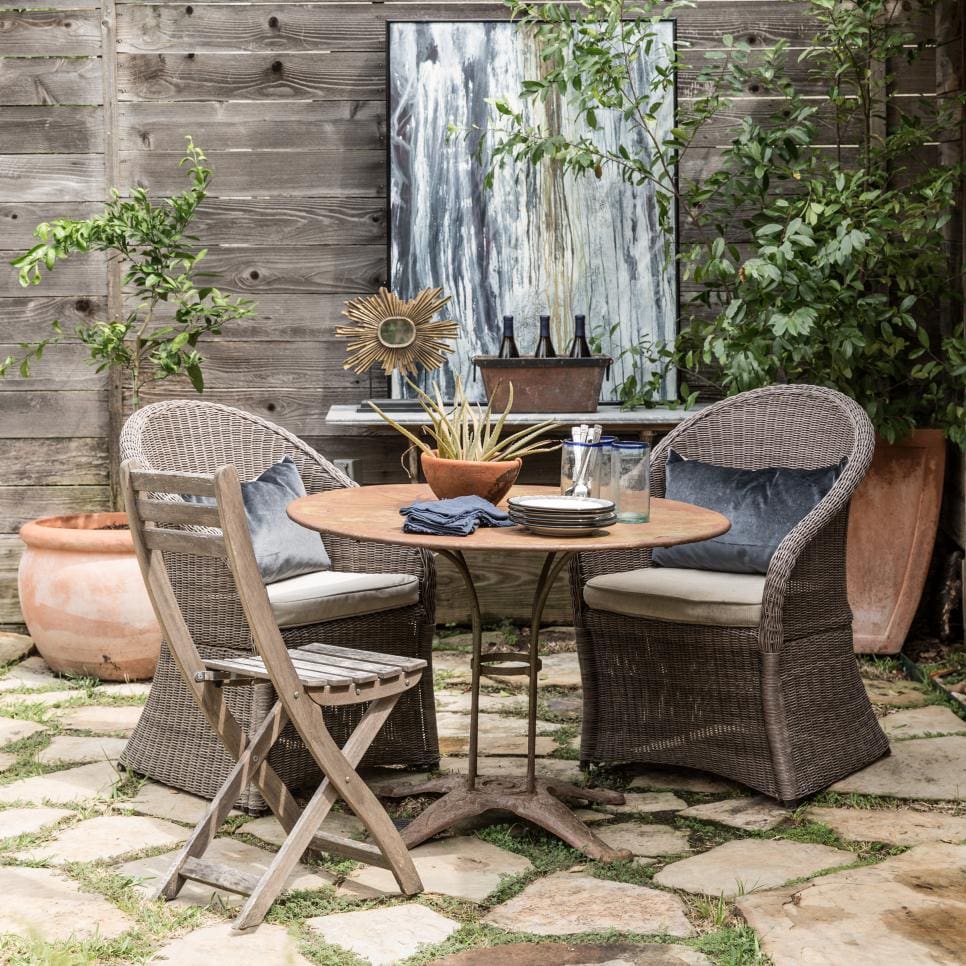 Avoid flamboyance, and save your money by making unique designed dining set by using additional furniture. Get some ideas from this patio that oozes classic charm with its mismatched dining chairs hosted around a center table. It's truly incredible!
39. DIY Lanterns
Night-time outdoor parties with family and friends are everyone's favorite. The bonfire conversation with the close ones at your place creates long-lasting memories. We have found a few brilliant ideas to enhance the aura of your night-time open space get-togethers.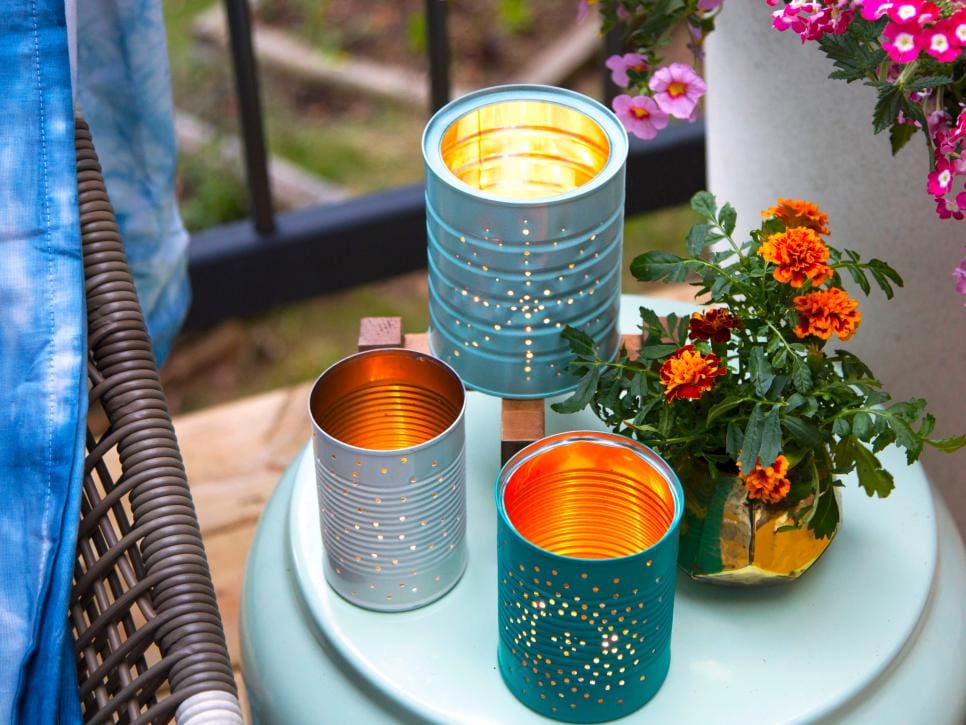 Light up your party nights with little DIY lanterns. These cute outdoor luminaries are made up of upcycled tin cans and primary tin paint. Make a cluster of three to four on one table and bask in the magic it creates.
40. Lattice Grill Screen
A wooden screen is a piece of free-standing furniture that is used for privacy and decorative purposes. It requires no construction, so you can install a small lattice grill screen anytime and make your patio look more practical and divided.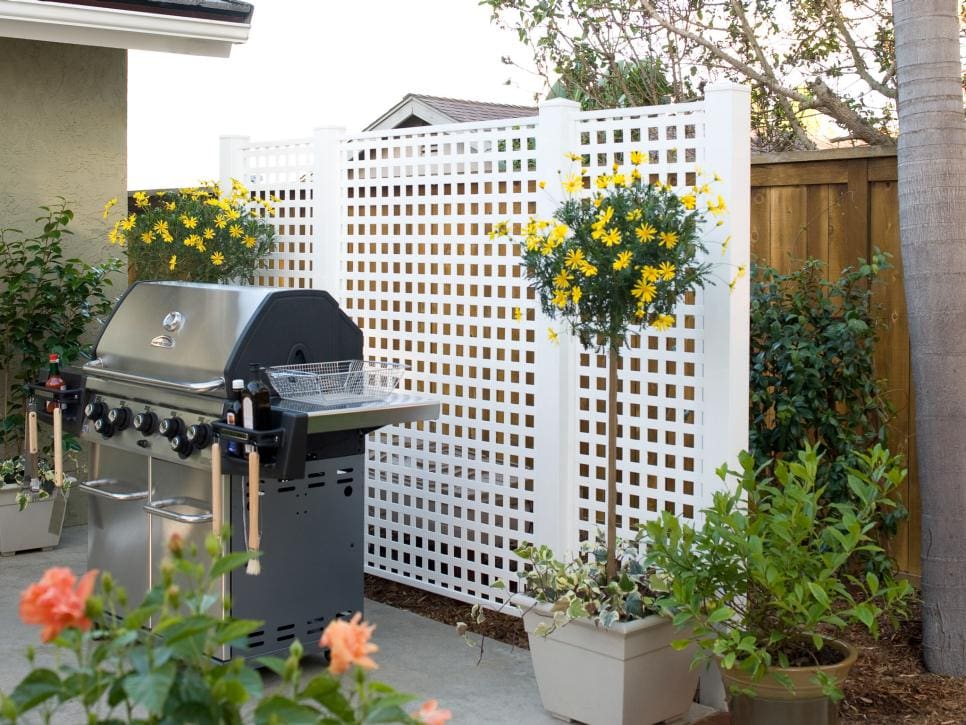 The screen adds coziness to your backyard patio. It also serves as an outdoor wall and allows you to redefine your patio space, say, between a kids' area and an adult area. It is even beneficial to hide storage and garbage bins.
41. Floor Pillows
The outdoor area is the place where you can be as innovative as you want when it comes to comfort. Right from compact sitting to king-size majestic experience, the options are truly endless. Even better, these ideas don't have to cost you an arm and a leg.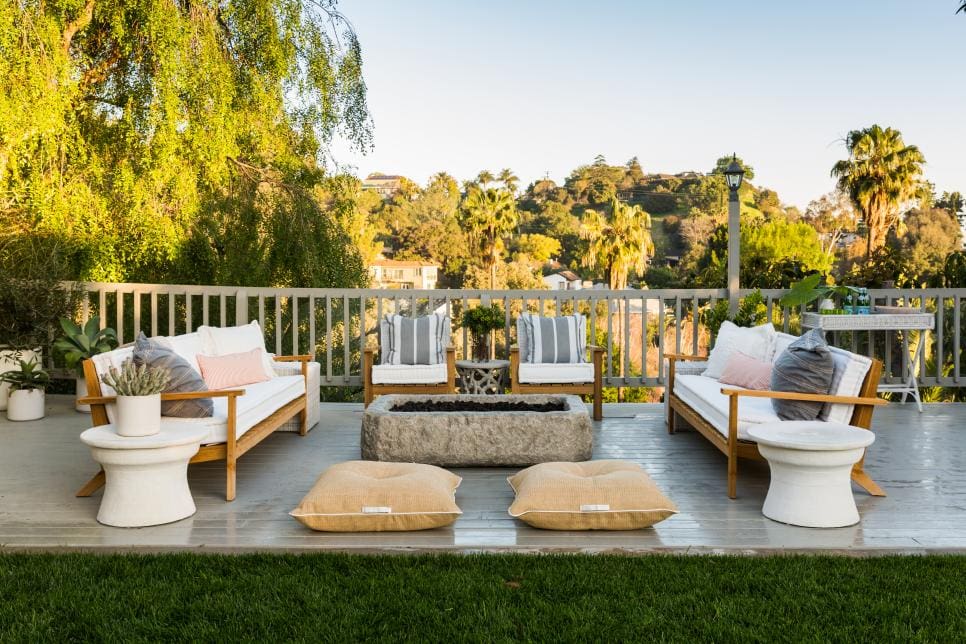 Make comfortable seating arrangements for outdoor parties with floor pillows. Besides costing a fraction of the amount of the big sofas, they are the perfect place for kids to sit and eat. They also create the ideal setting for cozy fireside conversation.
42. Outdoor TV Area
You can turn your patio into a cozy TV area with this easy installation. First, you need to consider things like location, cable setup (wireless or wired), and enclosure. You don't want to set it up in a place where the sun's glare is harshest as you're trying to enjoy a game or movie.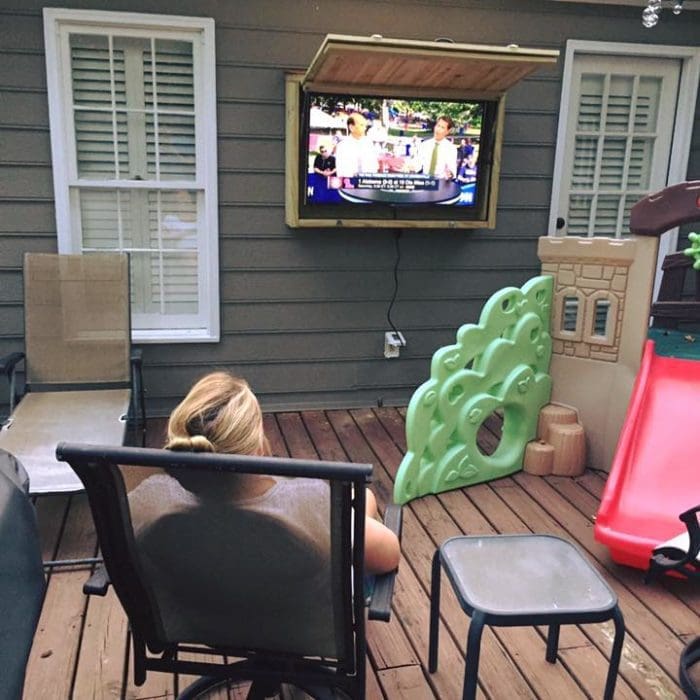 Additionally, having an enclosure helps to protect the device from the weather and also reduces the chances of theft or vandalism. Once you have sorted all these things out, you can get a few pieces of comfortable furniture to set up in the area and enjoy yourself.