40 Tips To Make The Most Of A Small Kitchen Space
By Navkiran K May 30, 2023
---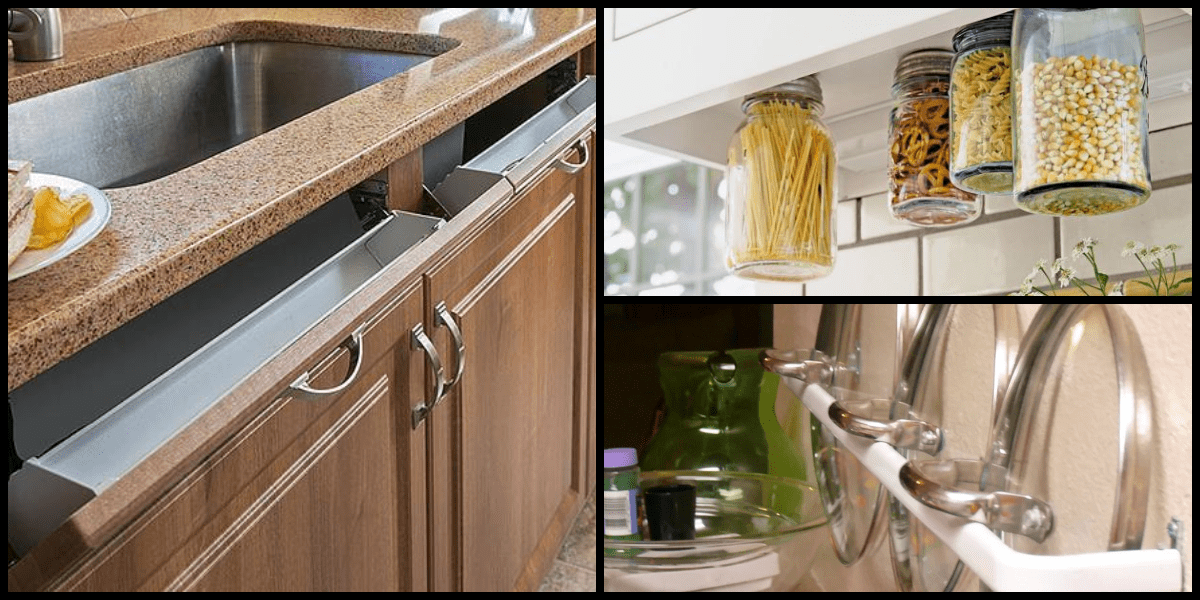 This article was originally published on
mydiwise
Does the clutter in your small kitchen make you feel overwhelmed? Are you constantly searching for that one pot or pan hiding somewhere at the back of the cabinet? If so, you're not alone. There are so many things, from utensils to condiments, to keep in the kitchen, making it hard to find a place for everything. It can be a challenge to organize a small kitchen, but it's not impossible. With a little bit of creativity and some helpful hacks, you can create storage and organization solutions that work for your specific space. Keep reading for some small kitchen hacks to inspire you and make organizing your kitchen seem less daunting. These hacks will make your meal prepping and cooking a lot more enjoyable.
1. Narrow canned food organizer
Looking for a nifty way to organize your canned food? Check out this canned food organizer! It's perfect for narrow spaces in your kitchen, and it's super easy to make. You'll need plywood, stain/paint, dowels, a drill, screws, and a hammer to do this project.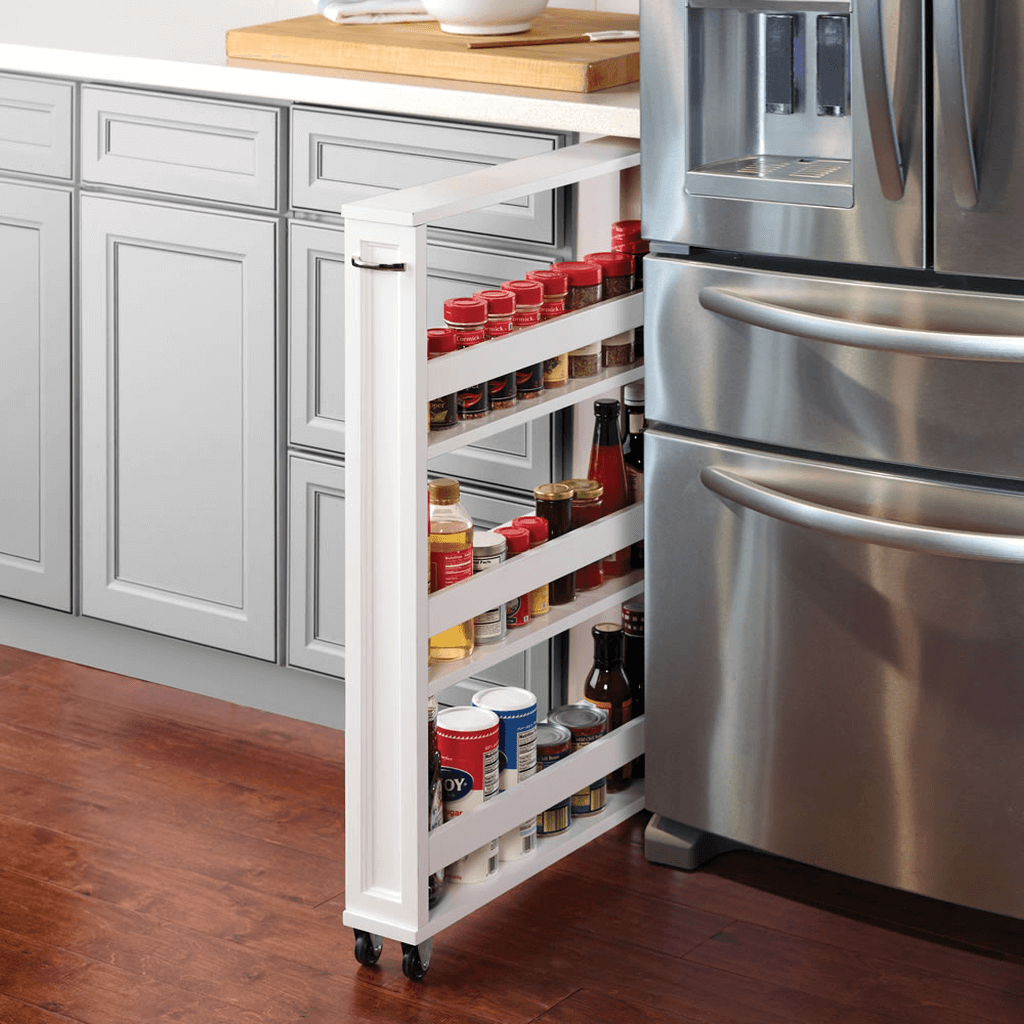 Start by cutting the plywood as per the space dimension. Then, cut the dowels to size and attach them to the plywood using glue or screws. If you're using screws, make sure to countersink them so they're flush with the surface of the wood. Once everything is attached, give everything a good sanding.
2. Don't forget about the corners
If you're looking to maximize storage space in your kitchen, adding drawers in the corners of your countertops is a great way to do it. Not only will you be able to store more items, but you'll also be able to access them more easily.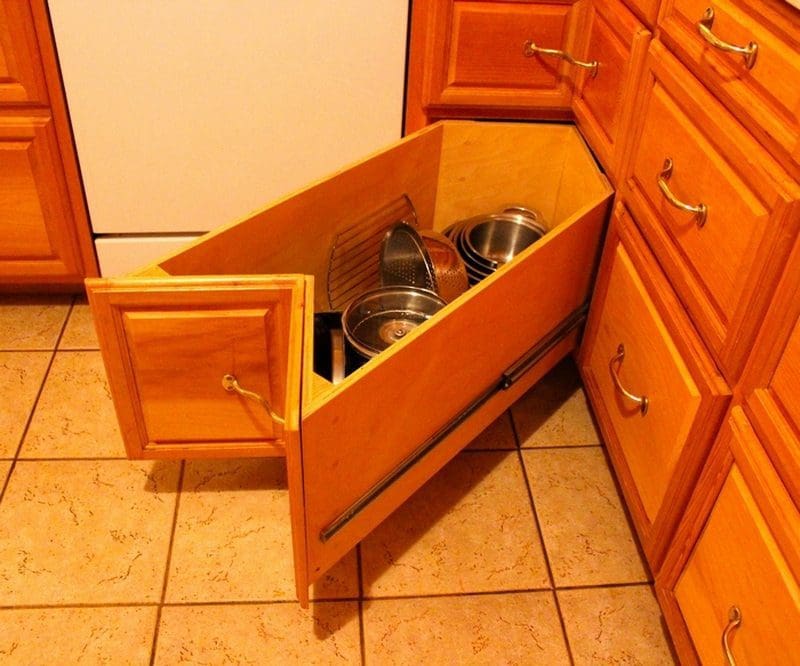 Measure the space carefully before you purchase or build the drawers. You want them to fit snugly in the corners. Choose a style of drawer that matches the rest of your kitchen. For example, if you have a modern kitchen, opt for sleek, rectangular drawers.
3. Paper towel holder over cabinet door
If you're looking to free up some counter space, you might want to consider mounting your paper towel holder on the cabinet door. This can be a great way to save space, particularly in small kitchens. If you plan to do this, we have a few tips for you…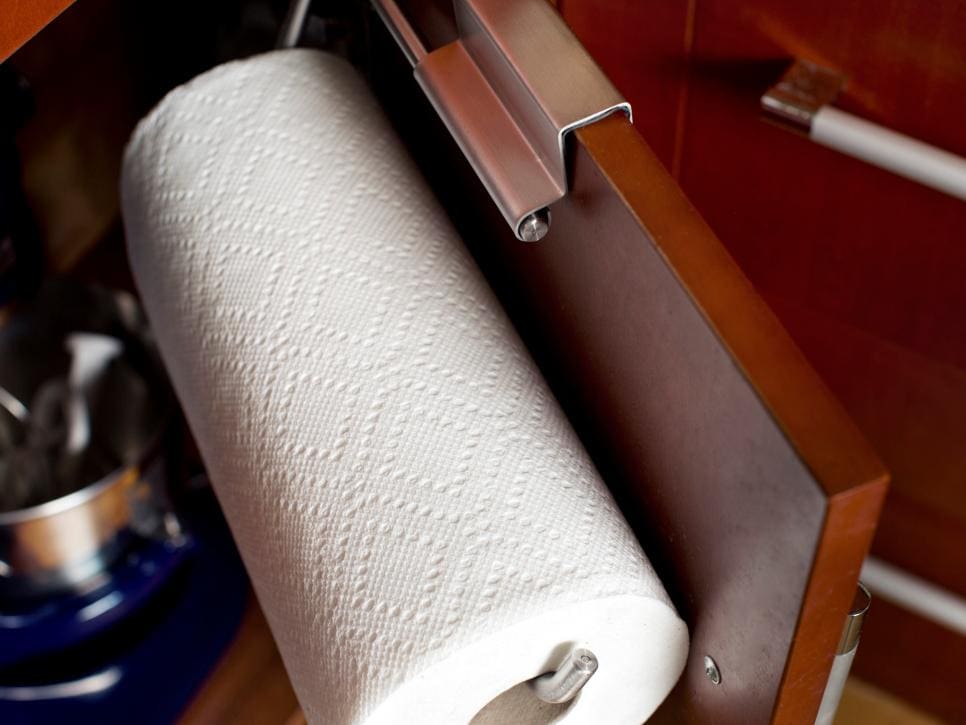 First, make sure that the door is sturdy enough to support the weight of the holder and the paper towels. Second, install the holder at a comfortable height to easily reach it when you need to grab a sheet or two. Lastly, use cabinet-friendly screws or adhesive strips to avoid damaging your cabinets.
4. Under cabinet storage
Some cabinets may leave an awkward space between them and the countertops. This space may not be of much use, but you can change that with a little DIY. Grab your drill and mason jars with some handy screws to transform this space.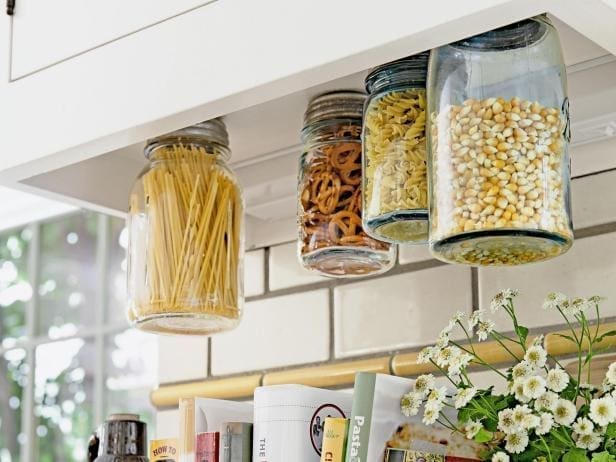 Make holes through the lids and screw them over the bottom of the cabinet. Ensure the lids are secure and will hold the weight of the jars. Fill in the jars and twist them to secure on the lids. Keep these jars away from direct heat and light for the longevity of the supplies.
5. Nifty wire closet racks
Kitchen canned food is usually organized into a haphazard system that involves shoving everything into a cabinet and hoping for the best. Keep canned food organized and secured in place with wire closet racks. They're affordable, easy to install, and fit in any kitchen.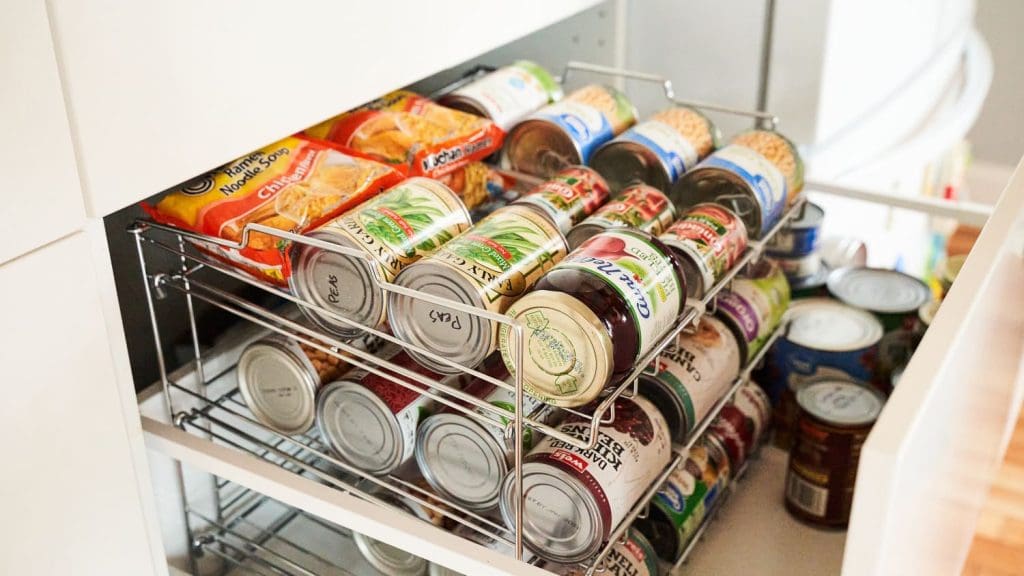 Moreover, they can help you create a more organized and efficient system for storing your canned goods. They also look good, as they don't affect the aesthetics. Make sure you measure your cabinets to determine how many racks you'll need.
6. Convenience of pantry shelves
When it comes to maximizing your storage, one of the best ways to do it with with slide-out shelves. They're perfect for deep cabinets and pantries, and they make accessing your food much more manageable. And keeping things organized makes it easier and quicker to find what you need.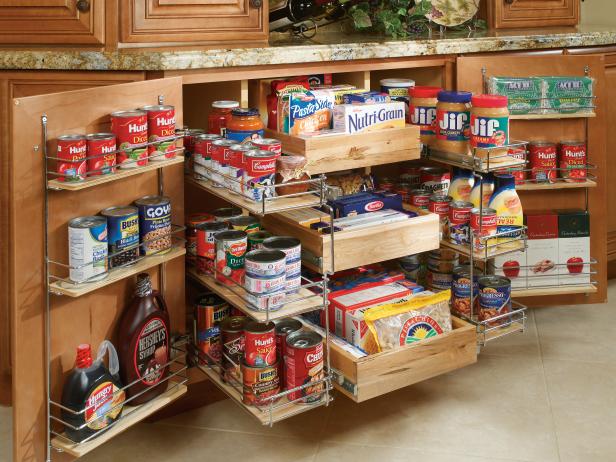 When installing these sliding shelves, make sure they are leveled. This will help prevent items from tipping over or sliding off when trying to retrieve them. Use dividers to keep things organized, and allows you to see where everything is. No more turning pantries inside out.
7. Under sink pocket organizer
Many of us feel like we are working with limited space when it comes to storage. But with just a little creativity, you can create some extra space. One easy way to do this is to maximize the usable area under your sink.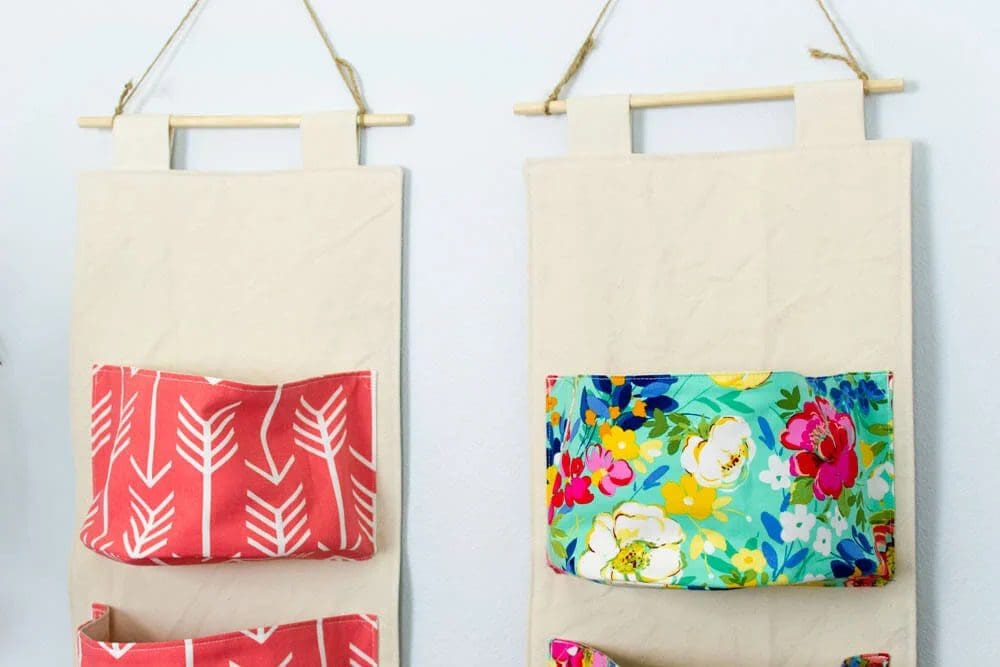 A straightforward way to do this is to install a pocket organizer. You can make one yourself or find one at any home improvement store. Just measure the space under your sink and find an organizer that will fit snugly in that area.
8. Burner covers for more space
Counter space is always at a premium in the kitchen, but you can double your counter space in seconds with these ingenious burner covers! Pop them on top of your burners when you're not using them, and presto – more room to work.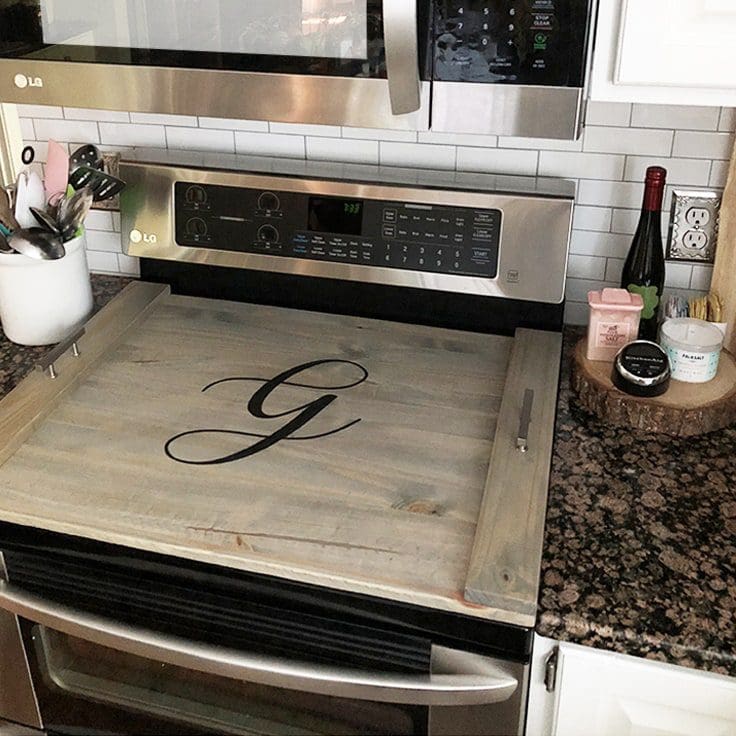 They help keep your stovetop clean by catching any spills or splatters. They're a quick and easy way to get more out of your kitchen without spending a dime. Be sure to build them the right size so they cover the burners completely to have a leveled space.
9. Handy kitchen sink tip outs
It's always great to find ways to use all the space in your kitchen, and these sink tip-outs are a perfect way to do just that! Not only do they help you to organize your sink better, but they also make it easier to clean.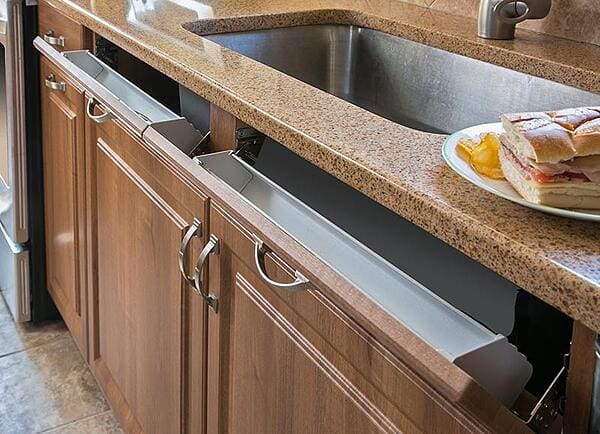 To install your sink tip-outs, you'll need some basic supplies, including a front tip-out trays kit, a drill, screws, and hinges. You can also add a basket or caddy if you like. Mark the holes side of the wood for the screws and hinges, then attach them to the inside of your sink.
10. Towel bars for lids
Storage of large cooking pots and their lids is always a hassle. Stacking them over one another is just a disaster as they may fall off when you open the shelf. In addition, storing them separately wastes a lot of space in the cupboards.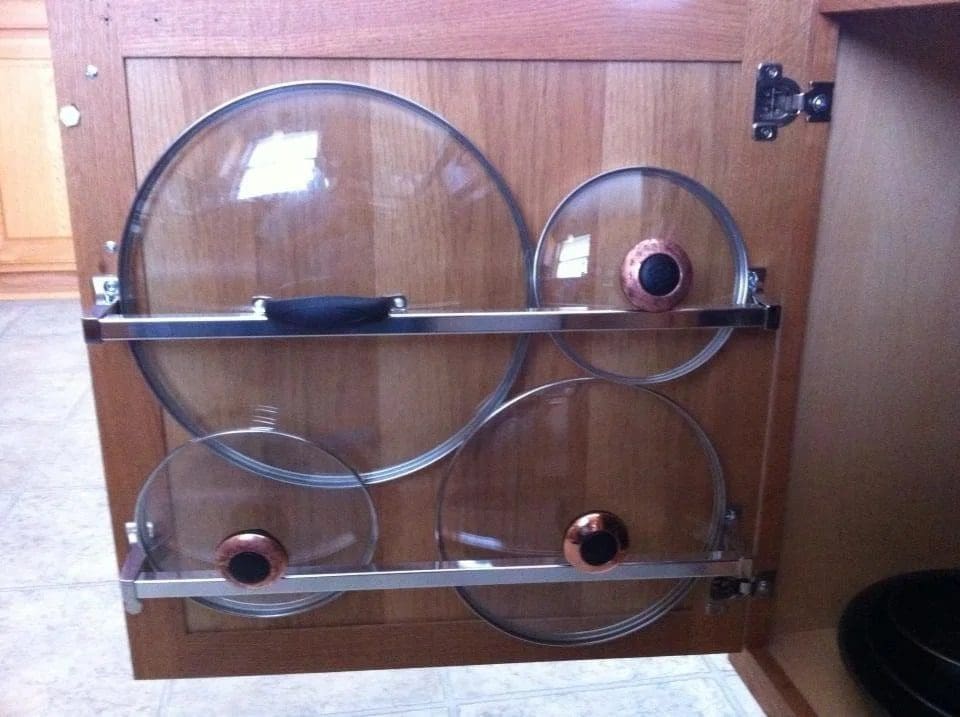 You could use towel bars to store pot lids inside the pantry door. This will give you safe storage space for lids and not store them over the pots, taking too much space. Plus, it'll free up cabinet space for other things.
11. Use the side space of the cabinet
You can optimize your kitchen storage even if it's small. One simple way to do this is by utilizing the space on the side of your cabinet. You can use this space to store utensils, which will free up some valuable drawer space.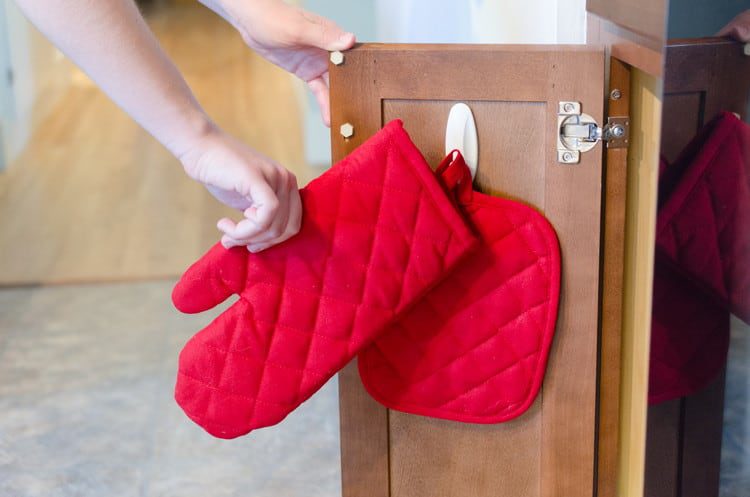 If you're unsure what to do with this space, feel free to get crafty. You can install a magnetic strip, hooks, or caddy to hold utensils. Another option is to hang a basket or hooks near the cabinet door. This will allow you to store utensils in a reachable spot.
12. Egg cartons for small items
When you store small items in a drawer or a cupboard, the chances are that they will move around a lot. As a result, you won't be able to find anything and may end up feeling frustrated. Hence, it's better to keep these small items organized.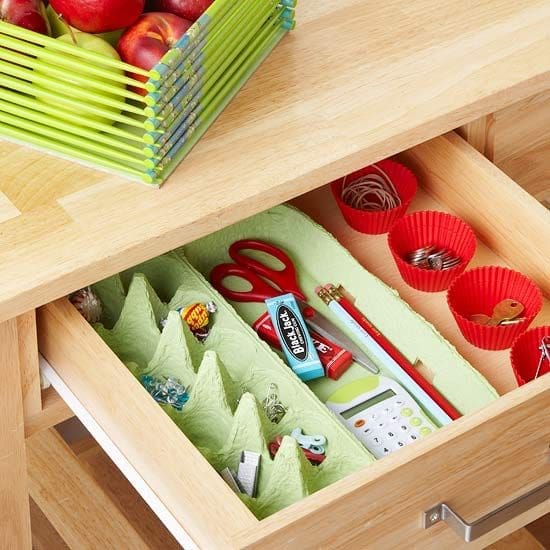 Organize small items in your drawer with just an egg carton! Just place the egg carton in the drawer and fill it with your small items. You'll never lose bag clips, measuring spoons, scissors, and Ziplocs with this storage system.
13. Storage railing on backsplash
You can use baskets to store various kitchen items, like pots and pans, utensils, or even spices. You can also use this space for aeasthetic accents, like small succulents. This will help keep your kitchen organized and clutter-free. Plus, it will add a little bit of extra storage space.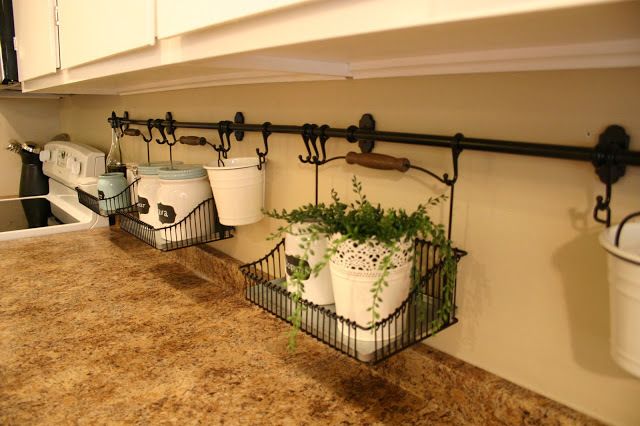 You may find railing systems that come with baskets specifically designed for this purpose. Or you can buy baskets separately and attach them to the railing system yourself. Either way, this is a great way to simultaneously utilize unused space in your kitchen and get organized.
14. Sliding inserts for drawers
Sometimes large drawers aren't used at their full capacity, which may waste a lot of potential storage space. Another downside of large drawers may be the clutter that comes with too much stuff stored in one place, making it inaccessible and difficult to find anything.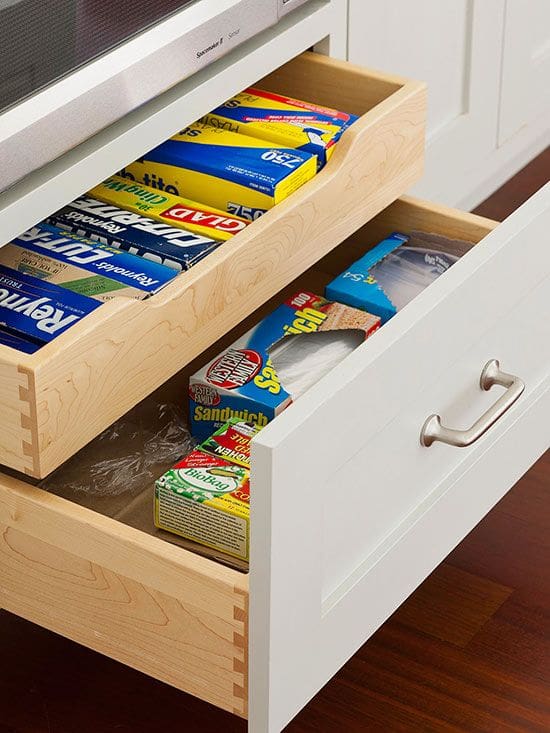 A great way to divide the space in a deep drawer is with a sliding insert. This will give you more flexibility in organizing your things, and it can also help keep things tidy. You may use transparent or wooden dividers as per the aesthetics.
15. Pegboard organizer for walls
There's nothing like a well-organized kitchen to make cooking a breeze. And one of the easiest and most versatile ways to organize your kitchen is with a pegboard wall organizer. Not only does it look great, but it also allows you to customize your storage according to your specific needs.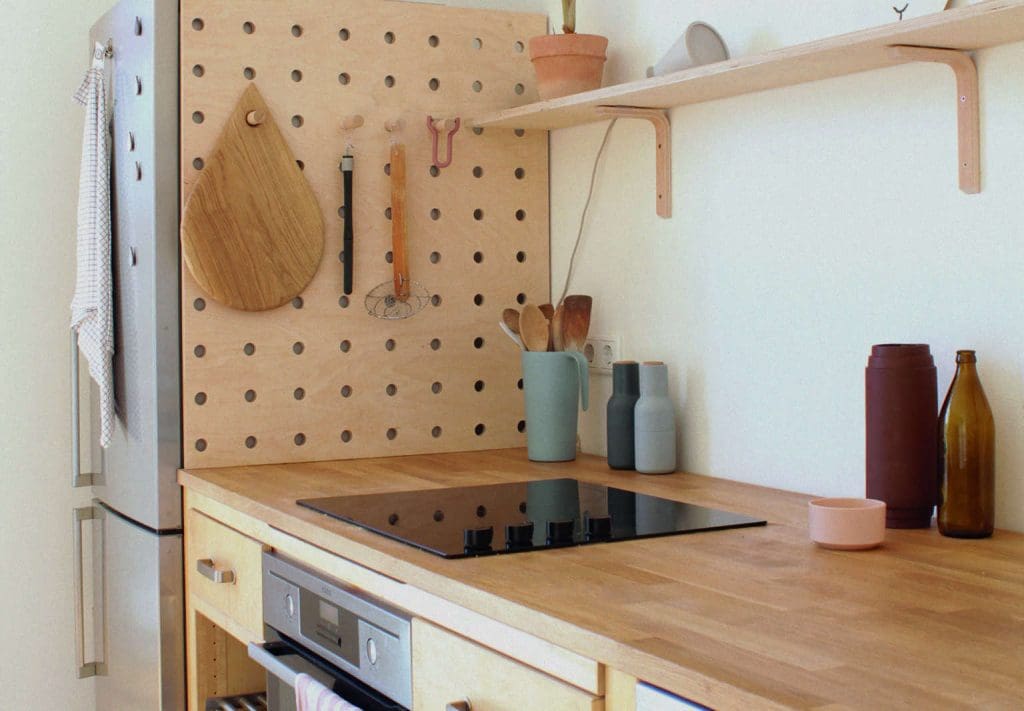 You'll need a piece of pegboard, measuring tape, level, marker, drill with a 1/2-inch bit, hammer, nails or screws, and hangers. Measure the space where you want to install the pegboard and mark the dimensions on the board to install it correctly. Add hooks to store items such as pots and lids.
16. Build shelves on a wall
Don't worry if your kitchen does not have a designated pantry space. You can easily build some shelves and create a makeshift pantry. This will give you some extra storage for your food and allow you to keep your kitchen organized.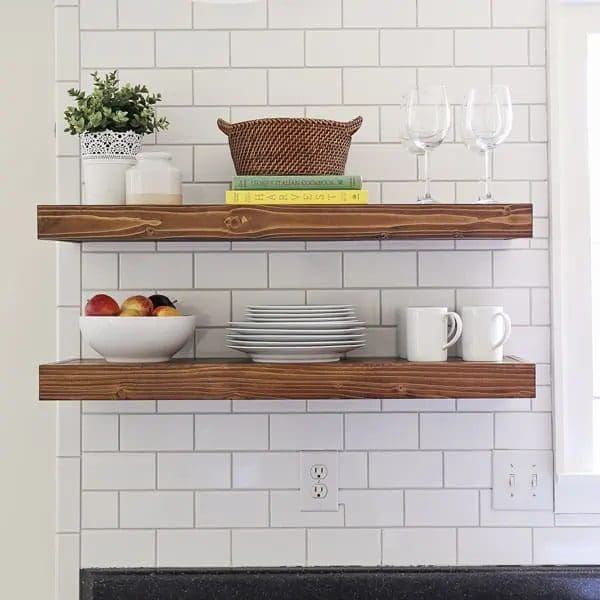 All you need are a few materials and tools. You'll want to measure the available space and then plan accordingly. Shelves can be rectangular, square, or L-shaped. Cut pieces of wood carefully to the desired dimensions using a saw. Install them using screws and glue.
17. Clever storage trays
When it comes to maximizing the space under your kitchen sink, you can take a few different approaches. One option is to build storage trays that fit snugly into the existing cabinet space. This will allow you to better utilize the vertical space and keep things organized.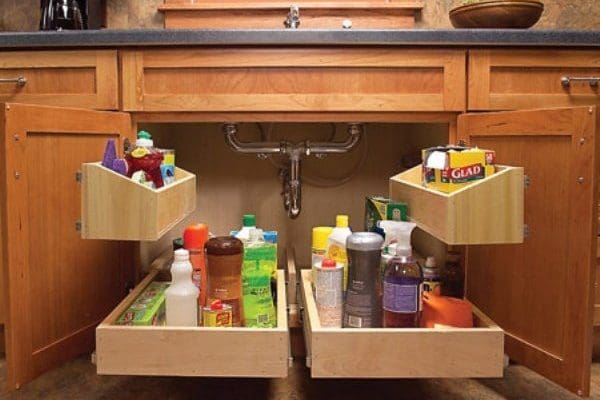 Another option is to install hooks or a rail system under the kitchen sink cabinets. You may do this alongside the shelves if you have a lot of space to begin with. Whatever route you decide to take, using this often forgotten area can be extremely helpful in keeping your kitchen organized.
18. Cutting board storage
Keeping the cutting boards on the counters will take up a lot of space and may not leave you enough to prepare and cook food. Moreover, if you have different boards for different food items, you'll need a better storage solution for it all.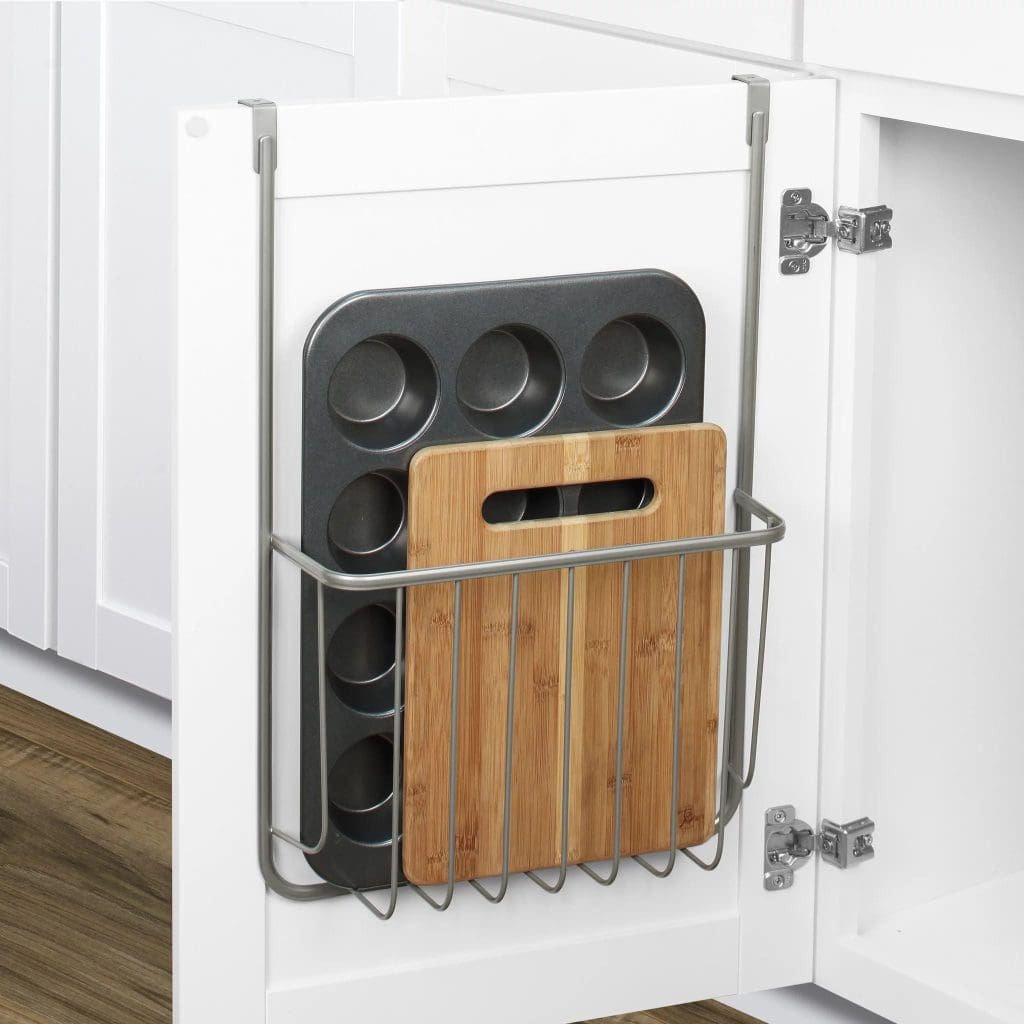 Mount a magazine holder on the inside of your cabinet door to store your cutting boards. It'll free up space in your cabinets while keeping your cutting boards easily within reach. You can store this under the sink or kitchen island storage space.
19. Spice rack on the fridge
You can use the side of your fridge as a spice rack! Just make sure to keep the spices in a cool, dry place. Besides, a refrigerator for storage is a good option because it's always within easy reach and you can't misplace anything.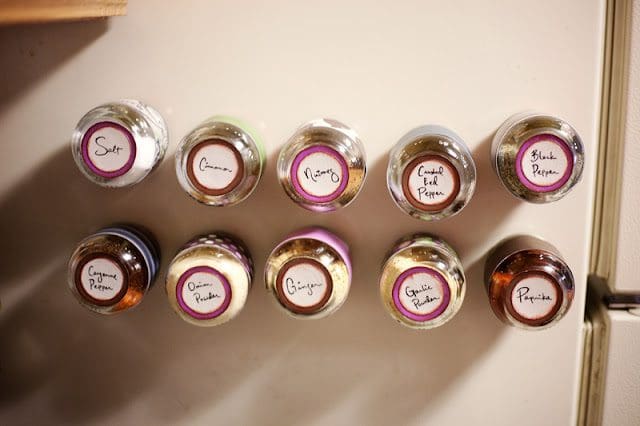 Make sure to label the spices clearly, especially if you have more than one person using them. We've all had that one time that we grabbed the wrong spice while distracted. Also, try not to store them too close to the oven or stovetop — the heat can cause them to lose their flavor.
20. Tension rod for cleaning supplies
This is a great way to save space and organize your cleaning supplies! Just make sure the tension rod is sturdy enough to hold the weight of the supplies. Use a tension rod that is long enough to span the width of your sink.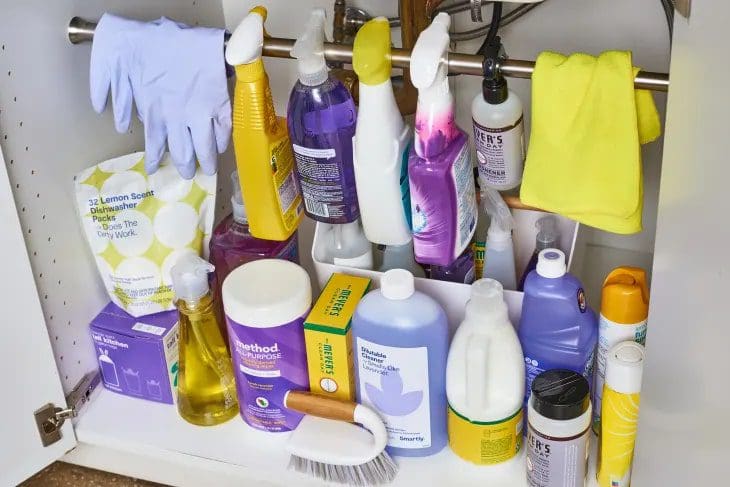 You can also use some twist ties to secure the supplies in place. Another option is to put a rubber band around the bottles of cleaning supplies to keep them from falling off the rod! Enjoy your neater kitchen sink.
21. Wooden shelf over the existing one
Nothing beats a simple and practical storage solution, and that's exactly what adding a wooden shelf on top of your cabinets can do! You can maximize your storage space in an organzied and efficient way. You can keep everyday items within easy reach by storing them on the shelf.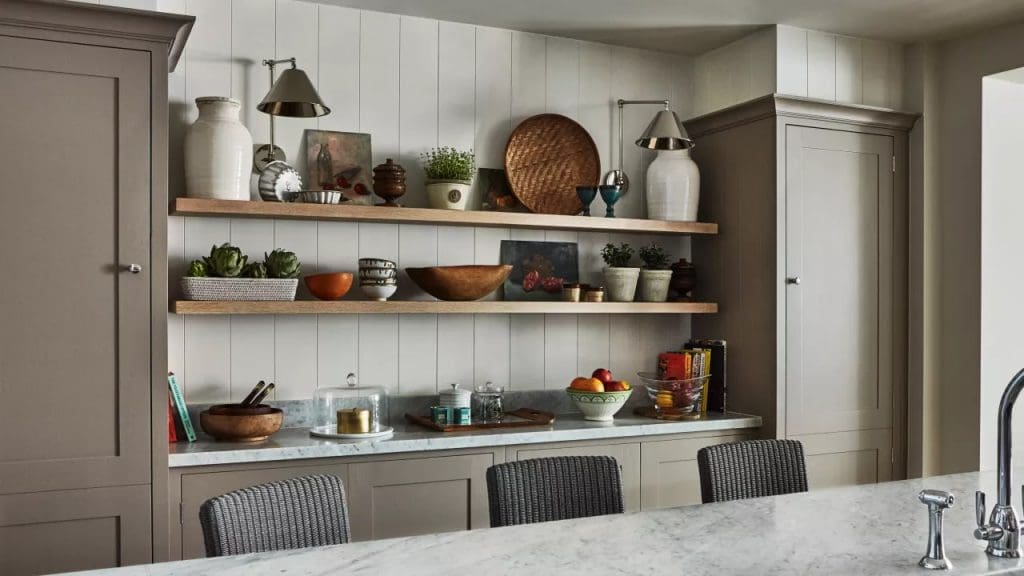 This might include spices, cooking oils, or recipes you use often. Use clear containers to store items on the shelf so they're easy to find. This way, you won't have to dig through boxes or file through stacks of paperwork every time you need something.
22. Hanging pots solution
Are you tired of your pots and pans taking up space on your countertop or in your cupboards? If so, maybe a hanging them over a pot rack pendant light in your kitchen is what you need. You'll save space and keep your pots and pans within reach.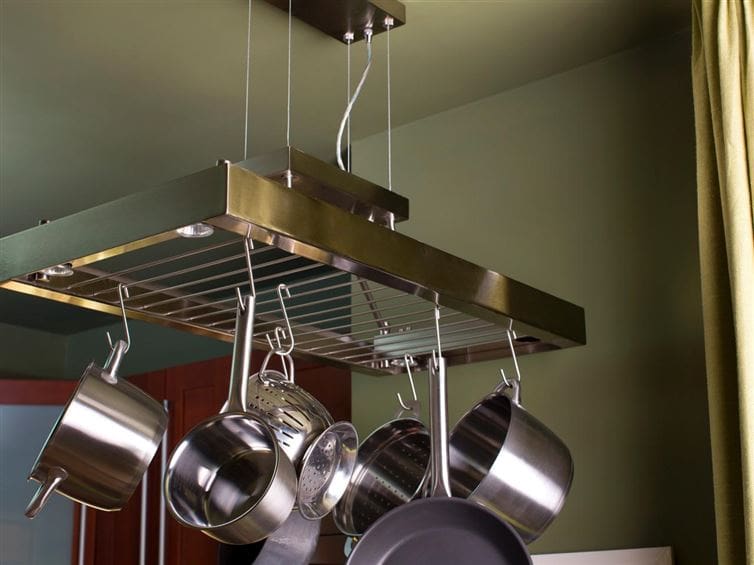 There are a variety of pot racks available on the market, so you should be able to find one that fits your needs and budget. For example, there are pot racks that hang from the ceiling, while others sit on the countertop or inside a cabinet.
23. Install cabinet dividers
Depending on the style and size of your cabinet, there are a few different ways you can convert it to store items that stack on their sides. One option is to remove the shelves and divider panels and install supports that allow items to be stacked horizontally.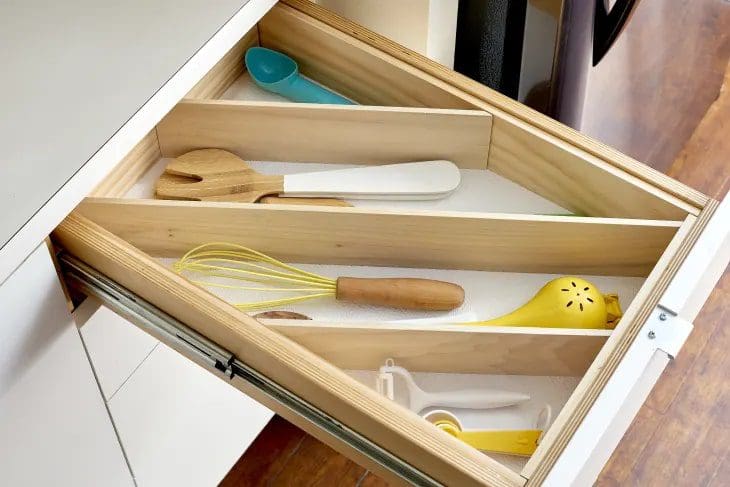 This type of conversion is perfect for storing things like commercial kitchenware, dishes, or even cookbooks. And because the supports can be customized to fit your specific needs, you can make use of every last inch of space in the cabinet. Plus, it's a relatively easy project that anyone can do in just a few hours.
24. Magnetic strip for knives
A magnetic knife strip is a great way to free up some space in your kitchen. It's also a convenient option to keep your knives organized and within reach. Consider where you'll mount the strip. A common mistake is to put the magnetic strip too high, which makes it difficult to reach knives.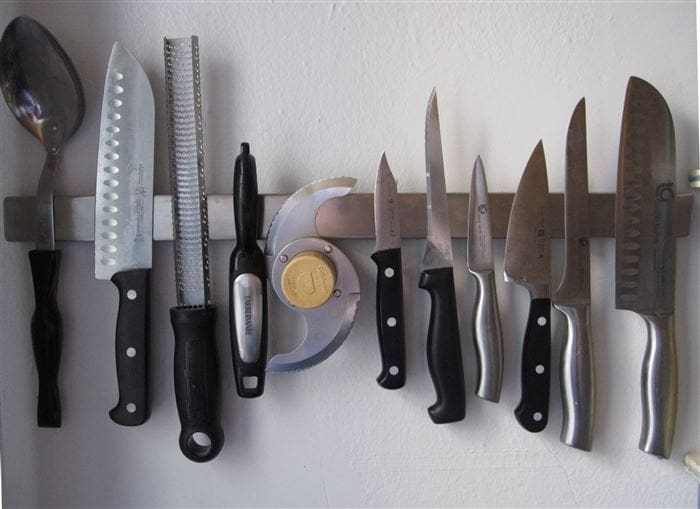 Think about how you use your knives and where would be the most convenient place to grab them. A good rule of thumb is that a magnetic knife strip should be able to hold at least 1 pound of weight per inch of width.
25. Tension rods for shelves
If you're short on storage space in your kitchen, use tension rods as pantry dividers! Simply place the rods across your shelves and instantly create more compartments for storing plates, trays, bowls, jars, and other food items. This is an easy space-saving solution that will help keep your kitchen organized and tidy.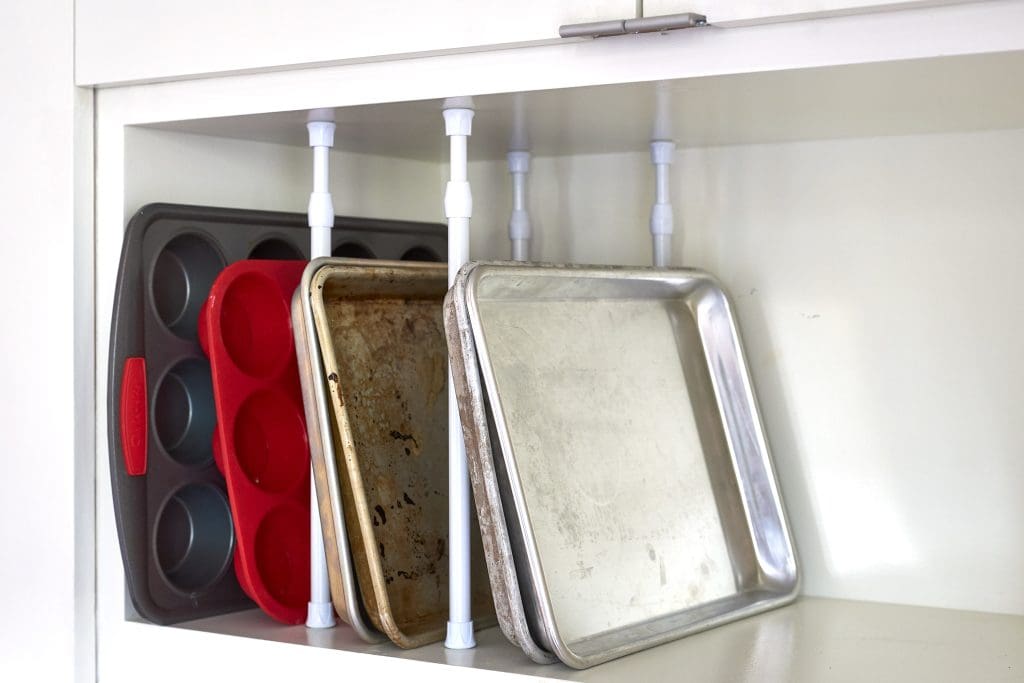 Moreover, the tension rods are easy to install and maintain. You won't have to spend a lot of time cleaning them after a few weeks of use. Another fantastic upside is that the rods allow you to customize the space for the items so that there's minimal clutter.
26. Basket under the sink
With just two Command Hooks and a hanging basket, you can use space under your kitchen sink. This is the perfect place to store cleaning supplies, extra sponges, paper towels, and more. A small basket can resolve sink clutter issues.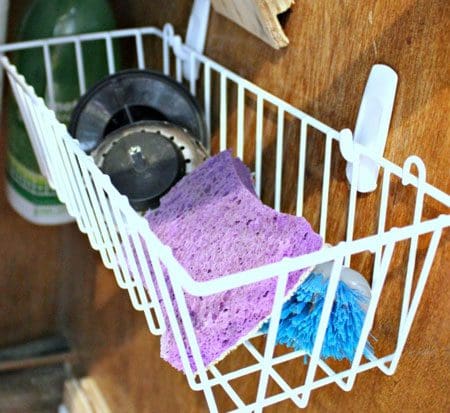 You may also use this space to keep a small trash can or recycling bin. By using the space under your sink, you can declutter your countertops and keep your kitchen more organized. Plus, it's just plain cute to have a designated spot for these items that often create clutter.
27. Spice corner in cabinets
Have you ever noticed how cluttered your spices can get? They start to take up valuable real estate on your countertops and in your cabinets. But what if we told you that there was a way to store your spices that would declutter your kitchen and make cooking easier?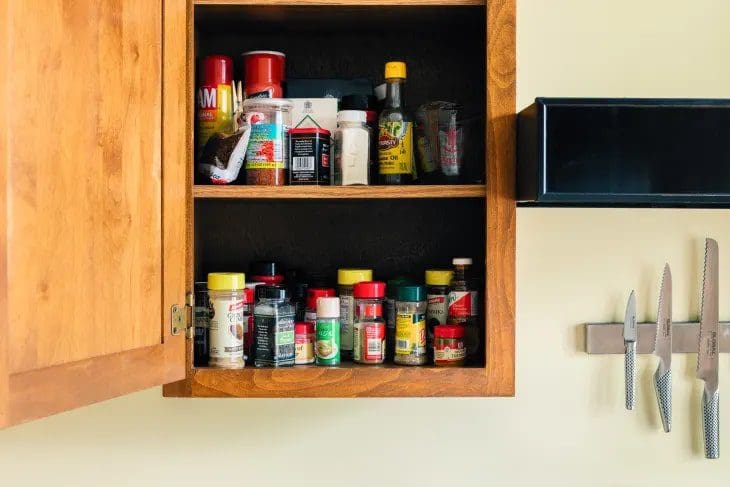 It turns out that the inside of your cabinet doors is the perfect place to store spices. Because they're often out of sight, this can help keep them organized and tidy. Also, it's super easy to access everything you need when all of your spices are in one place.
28. Roll-out pantry
A DIY roll-out pantry saves space in your kitchen, and it also makes it easy to grab what you need when you're cooking. Begin with measuring the space next to your fridge and plan your layout accordingly. Shelves or cabinets for extra storage are never a bad idea.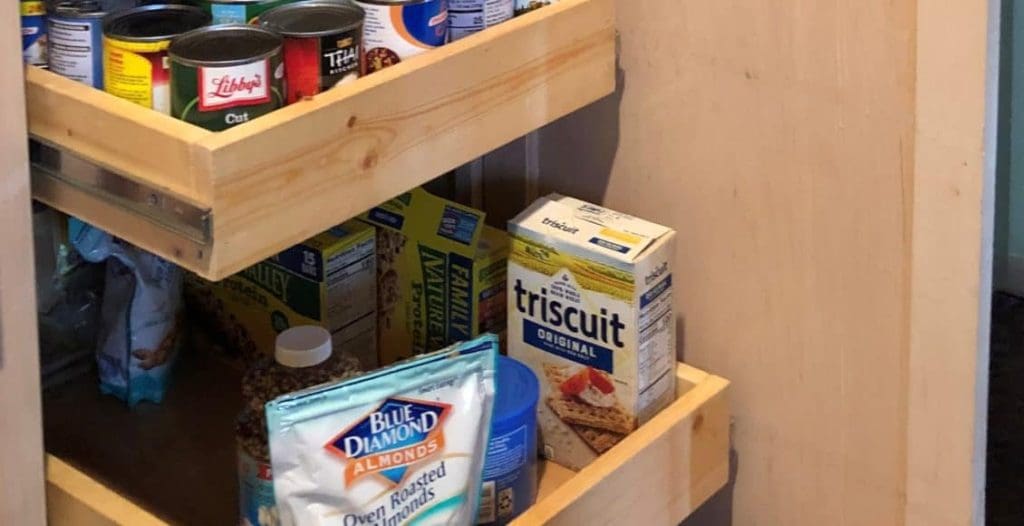 Choose materials that are easy to clean and resistant to moisture. Plywood or MDF boards are a good option, as they can be easily painted or stained to match any décor. For the shelves, you can use either wood or metal brackets. Make sure the brackets are sturdy enough to hold the weight of your food.
29. Pot lids over a towel rack
This is a great way to organize pot lids to always find the right size lid quickly and easily. It frees up cabinet space by storing the lids on the wall! All you need is a towel rack and some hooks.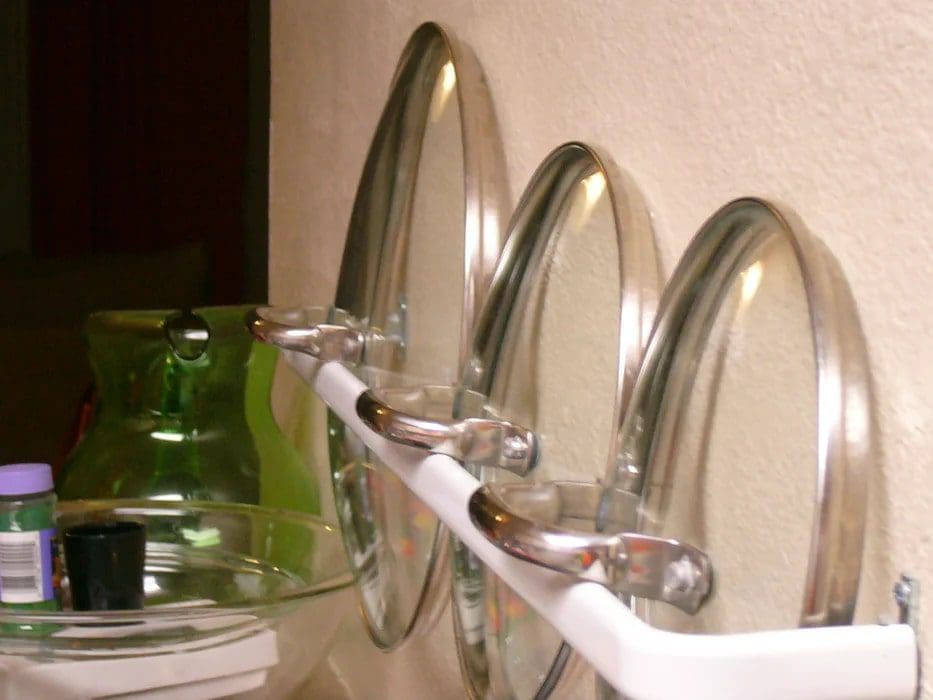 Simply hang the towel rack on the wall where you want it. You may use hooks to hang the pot lids on the rack or just slide the lids, and their handles will stop them from moving. You can even color-code them by size or type of lid for easy identification.
30. Install the magazine holder inside the cabinet
For those looking for an easy way to keep thier kitchen organized, this is definitely worth a try. By attaching a magazine holder to the inside of your cabinet door, you can easily store your cooking utensils, spices, cookbooks, tissue boxes, or any other small objects.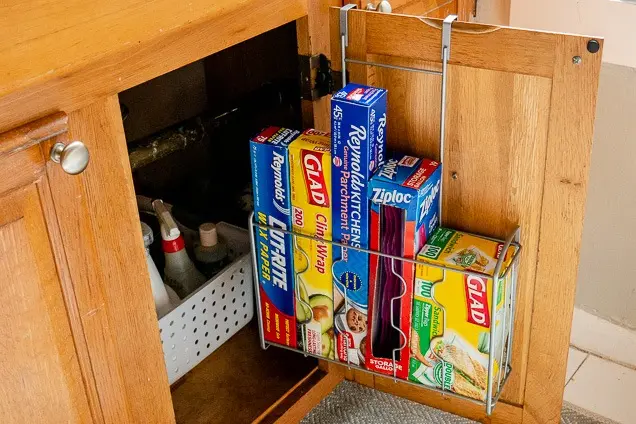 You may also use the file holder to store kitchen wrap and aluminum rolls in a vertical position. The length of the magazine holder will keep the rolls in place and also give you easy access to grab any one of them quickly.
31. Store cups vertically
Storing cups vertically is one way to clear clutter. This cup holder can be used to keep your mugs organized and tidy. To use a cup holder for vertical storage, simply place the cups in the holder with the bottom of the cup facing up.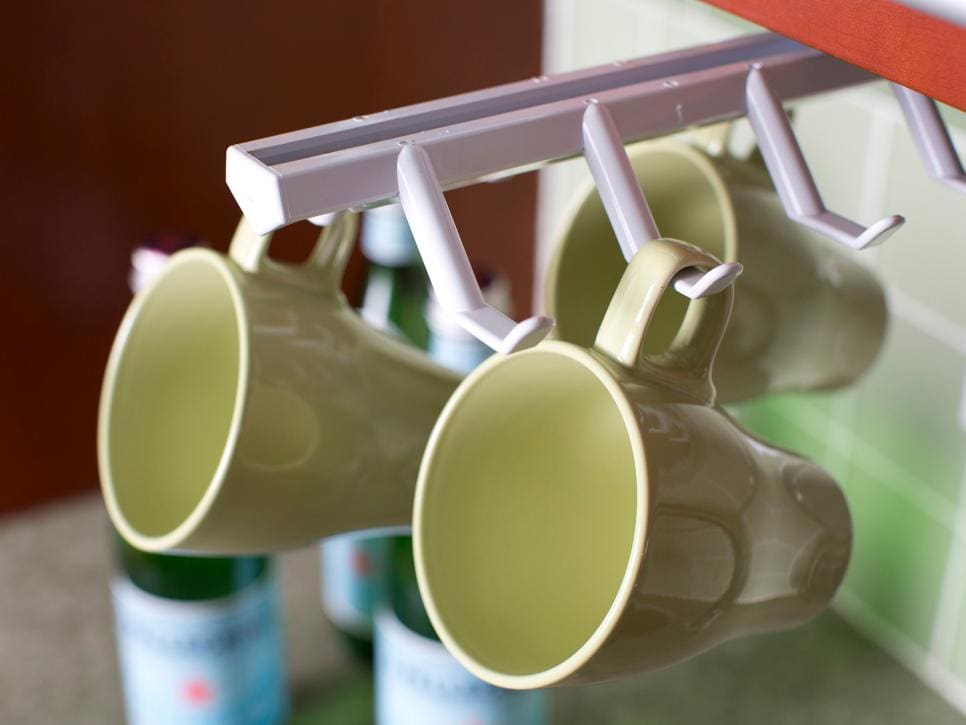 This will allow the cups to stack neatly on top of each other, saving you valuable space. Moreover, the cups won't topple over with this storage method. You can even hang them together if you have multiple cup holders to create a taller storage system.
32. Cabinet door storage
Not only can you store spices and kitchen utensils on the inside of your cabinet doors, but you can also use this space to organize your pantry. You can add a DIY shelf for spices, to keep the countertop clear.
Just make sure you label the containers so you know what's what. You can use chalkboard paint to label as it's easy to change the labels whenever needed. Make an inventory to pin on the fridge to know what's available. This will keep your kitchen counters clutter-free and organized.
33. Instant freezer shelves
Making use of all the space in your fridge is a must when trying to keep your food organized. By using magazine holders as freezer shelves, you can create more storage for all of your frozen goods. This easy hack will help you manage your freezer like a pro.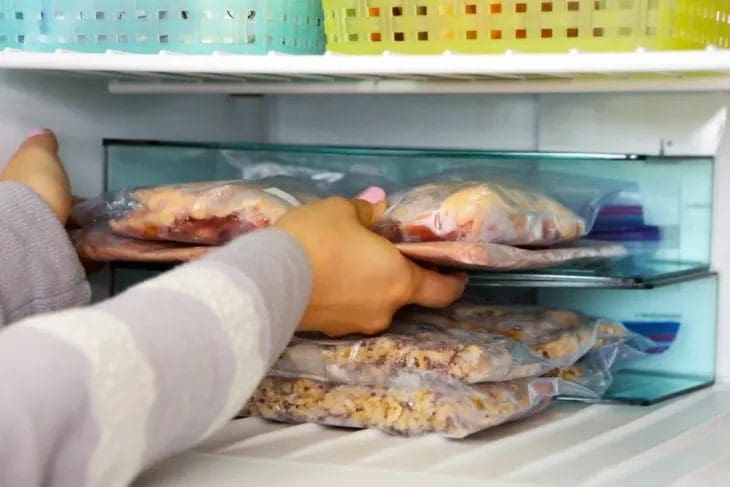 Moreover, it'll prevent the frozen food items from sticking with each other and give you visibility of all the things inside the freezer. As a result, you'll throw away less food, using all the available supplies before ordering more for your pantry.
34. DIY vertical organizer
If you need inspiration for your vertical kitchen organization, look no further than this DIY project! Create space with just some steel rods and wooden baskets. Simply put the rods up on the wall and then place the baskets on top of them.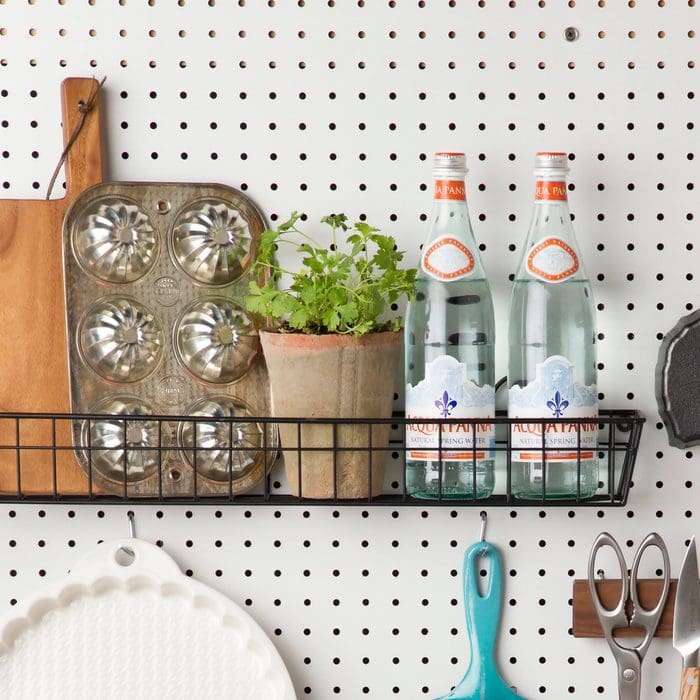 Voilà! You've got yourself a clever way to store all those spatulas, whisks, spoons, and any other cooking paraphernalia you need. This customizable DIY will add extra storage space to your small kitchen without taking up valuable counter or floor space.
35. Steel racks under the shelves
Add extra storage space to your shelves with a set of steel racks. They're sturdy and can hold a lot of weight, making them perfect for storing heavy items. Plus, they're easy to install and don't take up a lot of space.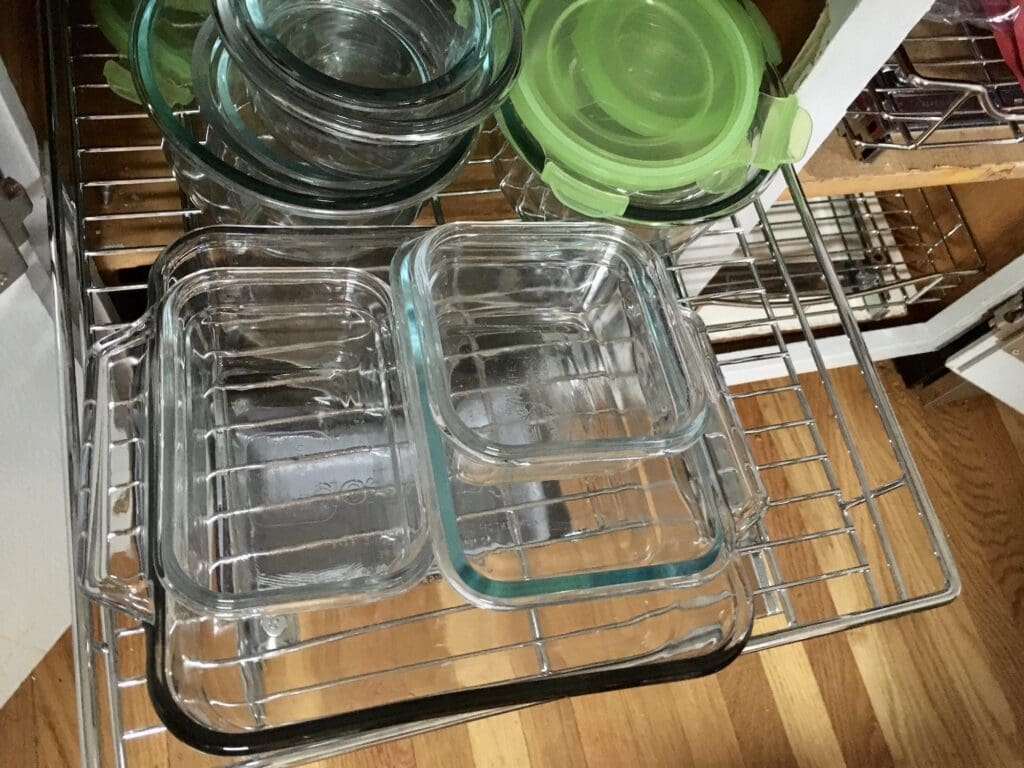 Be sure to measure the space before you buy to know you're getting the right size. And remember to factor in the weight of the items stored on the rack, as this affects how sturdy the shelves need to be.
36. Magnetic racks
This is a great way to organize your spices and keep them within easy reach. By storing them on the side of the refrigerator, you'll be able to see what you have and easily grab what you need while cooking. Another option is to attach the spice racks to the inside of a cabinet door.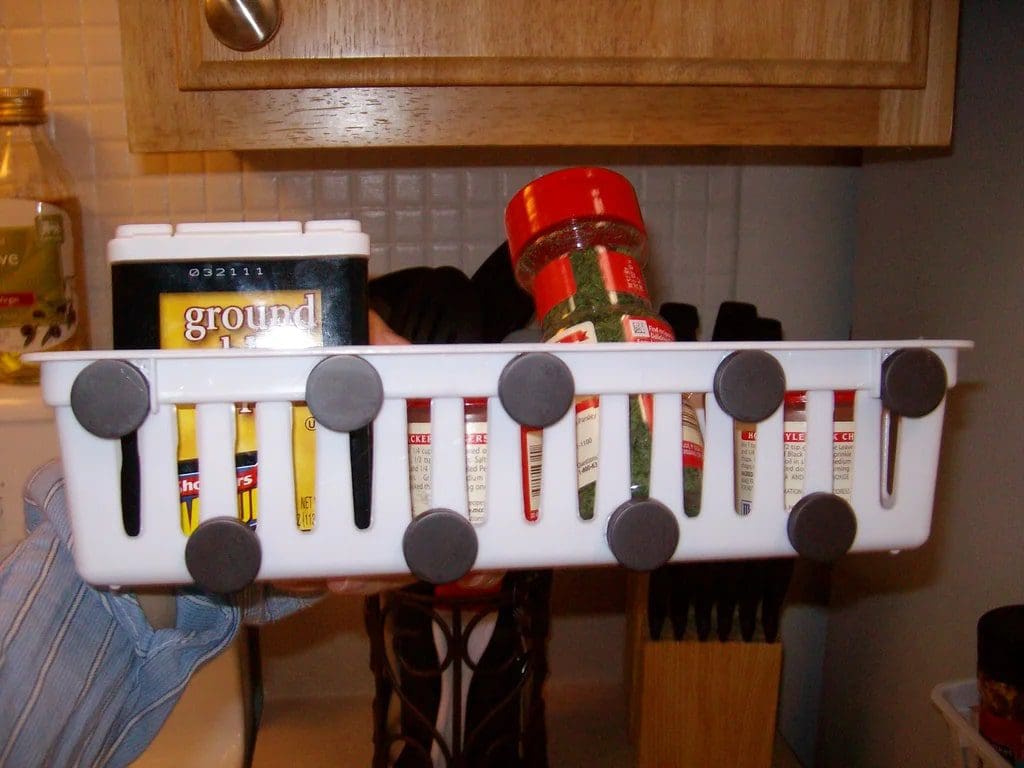 This will also keep them within easy reach, and since the door is closed most of the time, your spices will stay fresh for longer. If you're transferring the spices to new jars, ensure your label the spices well and add the used by and expiration date to avoid any confusion.
37. Pulldown rack for knives
You may use this space-saving method for storing your knives and keeping them in a safe space. Especially if you have kids at home, you don't need to worry about them grabbing knives from counters with this method. And, use a rack made from durable metal that features a protective coating that prevents rusting.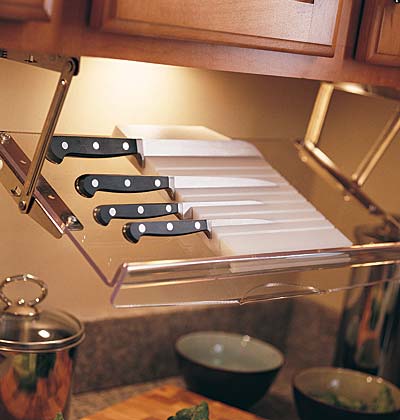 You may also add non-slip rubber feet to keep it in place while you're pulling it down. This easy-to-grab storage rack will be convenient when you need the knives. The rack also ensures all the knives are visible to store different sizes in order and make it easier to pick the one you need.
38. Spray bottle organization
Organizing your spray bottles under the sink with a tension rod is a great way to save space and keep them organized. Plus, it's super easy to do! Measure the width of your sink cabinet. Next, cut a tension rod to fit that width.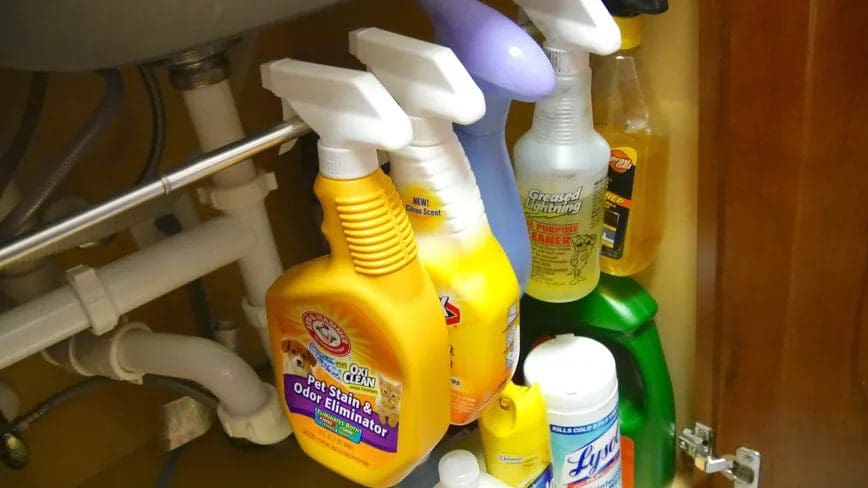 Now, insert the tension rod into the cabinet and make sure it's nice and snug. Finally, hang your spray bottles directly from the rod, or you may use S-hooks to keep them secure. You've now got an organized and space-saving way to store your spray bottles.
39. Labeled mason spice jars
There are a couple of different ways that you can organize your spices in mason jars. You can group them according to what cuisine they're used in most frequently. For example, have a group for all your Italian spices and another for all your Mexican spices.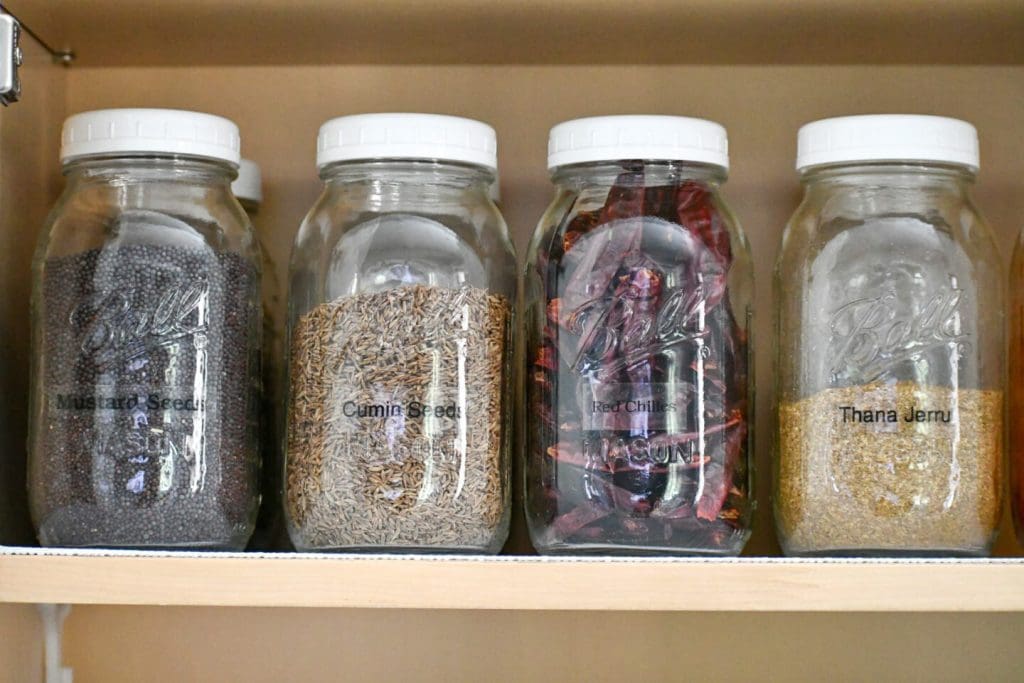 Yet another way to do it is to put all the spice jars on a lazy susan so you can spin them around and easily see all the options. Whichever method you pick, make sure to label the jars to know what's inside.
40. Use bakeware organizer horizontally
This is a great way to manage your pans and keep them organized. By storing them horizontally in a vertical bakeware organizer, you can easily see all of your options and choose the right one in a hurry for whatever you're cooking.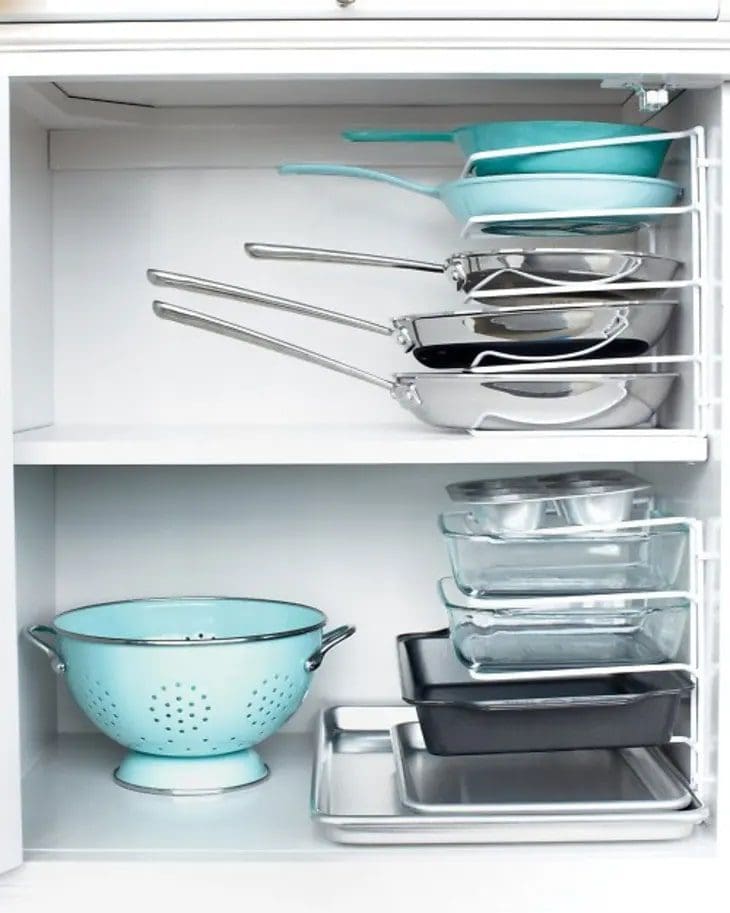 Plus, it's much easier to grab the pan you need when it's right in front of you than being buried in a messy pile. Give this horizontal pan storage hack a try when you want to upgrade your kitchen storage.