IKEA: The Swedish Answer To Challenging Space-Saving Dilemmas
By Larissa C June 18, 2023
---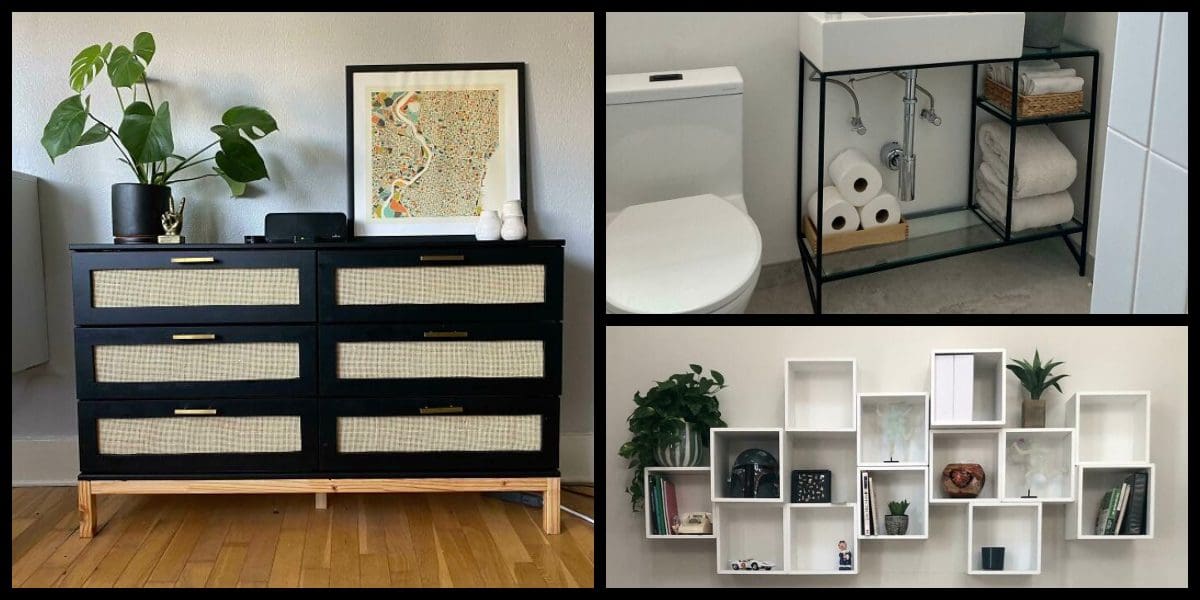 This article was originally published on

mydiwise

Shopping at IKEA is like a dream come true for many of us due to their affordable items and cheap restaurant with the best Swedish meatballs in town. This store has everything that a homeowner wants and needs — and sometimes they have things that we don't need, but are too cool for us to leave behind. The best thing about IKEA is that they have lots of random things that crafters upcycle and use for different purposes than intended. A desk doesn't have to be a desk. A lamp doesn't have to be a lamp. If you're visiting IKEA soon, you'll love this article. We have compiled practical hacks that you will want to try to refurbish your furniture.
A desk that hides at night.
For the past couple of years, thousands of people have been working from the comfort of their homes. If you're one of these people, you know how important having an office desk is. However, these desks can take quite a bit of space and mess up the design of your home.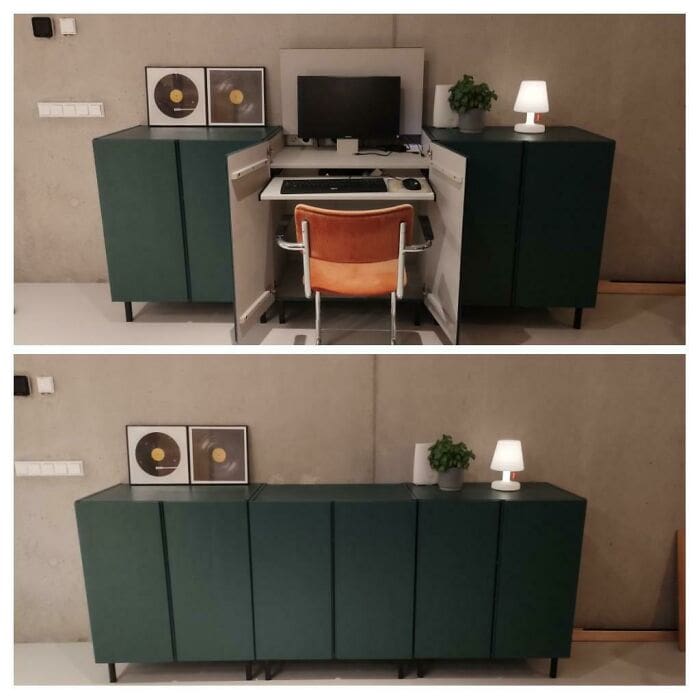 If you want to hide your office as soon as you log out of your computer, this makeover is a great idea. When you're not using your computer, you can simply close the doors of this cabinet and hide your PC setup.
A greenhouse inside the house.
If you love plants and live in an apartment, one of the issues you have to deal with is the lack of space for all of your plants. Let's be honest — we always want to get another plant, but there's never space enough in the apartment for them along the window sill.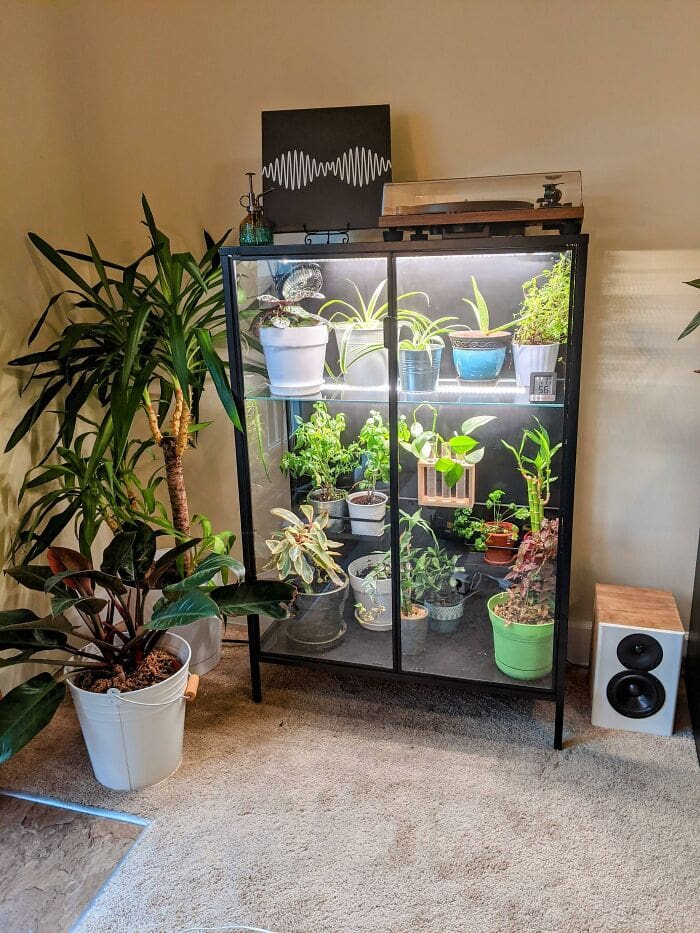 This guy had a brilliant idea. He bought a signature glass-door cabinet from IKEA and turned it into a greenhouse. All he had to do was install UV lights inside the cabinet so his plants would thrive, and that was it.
A vertical garden.
Here goes another tip for those who want to grow plants but don't have enough space in their apartment (or maybe even in their house). Instead of using floor space, you can always try your hand at having a vertical garden.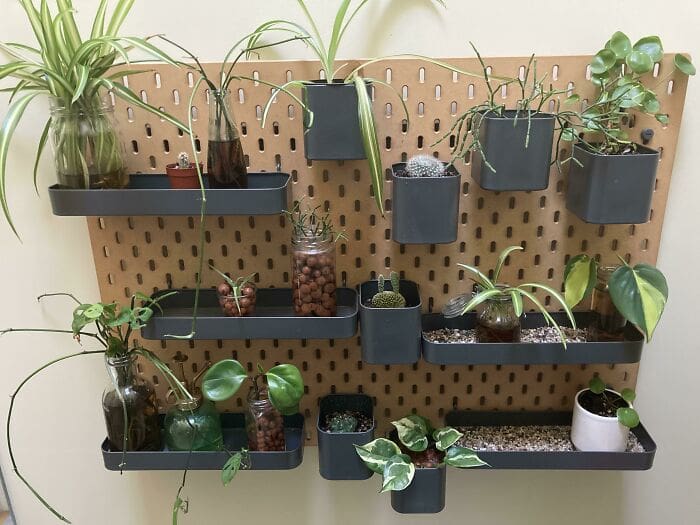 Usually, people buy IKEA's Skådis pegboard to decorate their office or other rooms in the house. But this person had the brilliant idea of turning their pegboard into a vertical garden. Just note that this garden only works with smaller plants.
A creative bed for the pets. 
As you can see, there are plenty of tips on turning IKEA furniture into useful things for your pets and plants. We already mentioned how pets simply refuse to sleep on the beds that you buy specifically for them.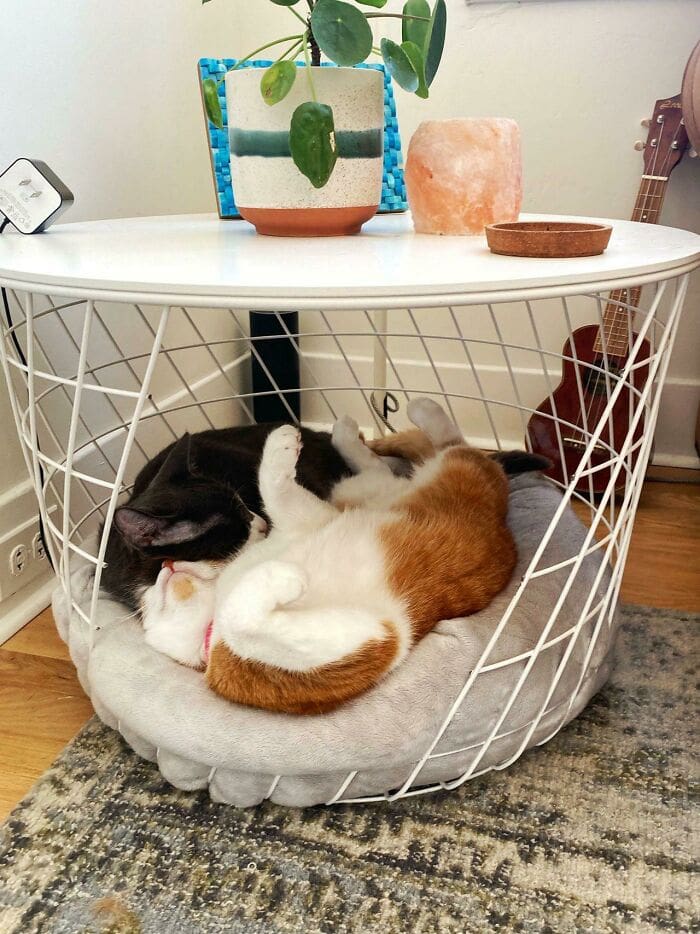 If you turn something random into a bed, your pets will undoubtedly love it. This creator cut an entrance to the table so that their cats could slither in. They added a fluffy round mattress inside this side table. The result was a comfortable and creative bed for her pets.
Turning a table into something extraordinary.
You probably don't think much of it when you look at a side table. It's just a table whose purpose is to support things. However, this guy saw a LACK side table from IKEA and realized it had a lot of potentials.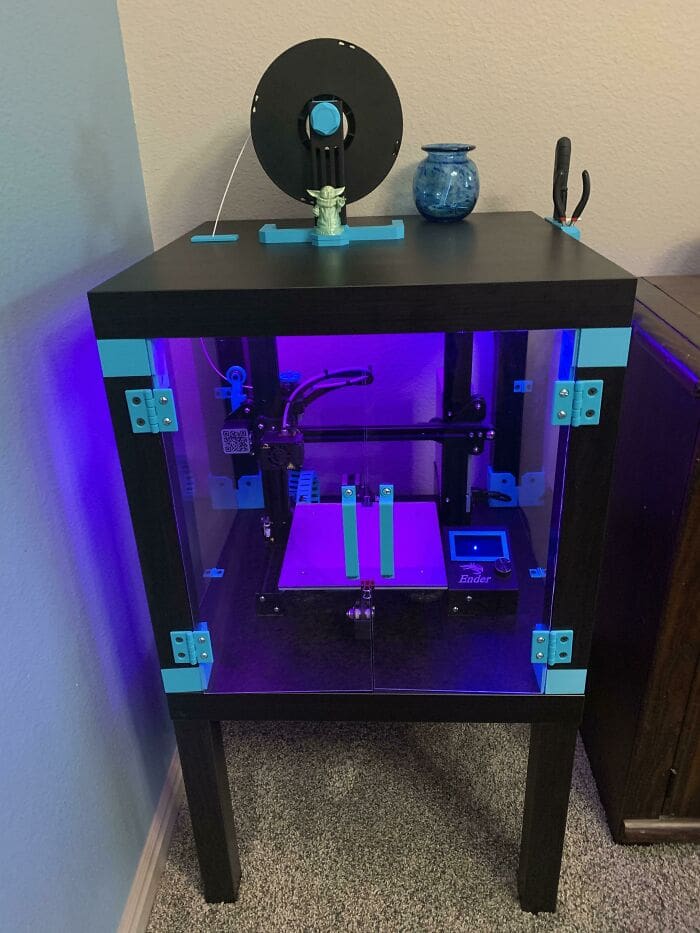 The man bought two of their black LACK tables and piled one on top of the other. Then, he used some hinges and handles to add front, side, and back panels to create an enclosure for his 3D printer. Pretty clever, right?
An inexpensive hack.
Here is another IKEA hack that is quite useful for those with a home office. If there's not enough space on your office desk to fit all the gear you use, you can try this practical and inexpensive hack to free some space.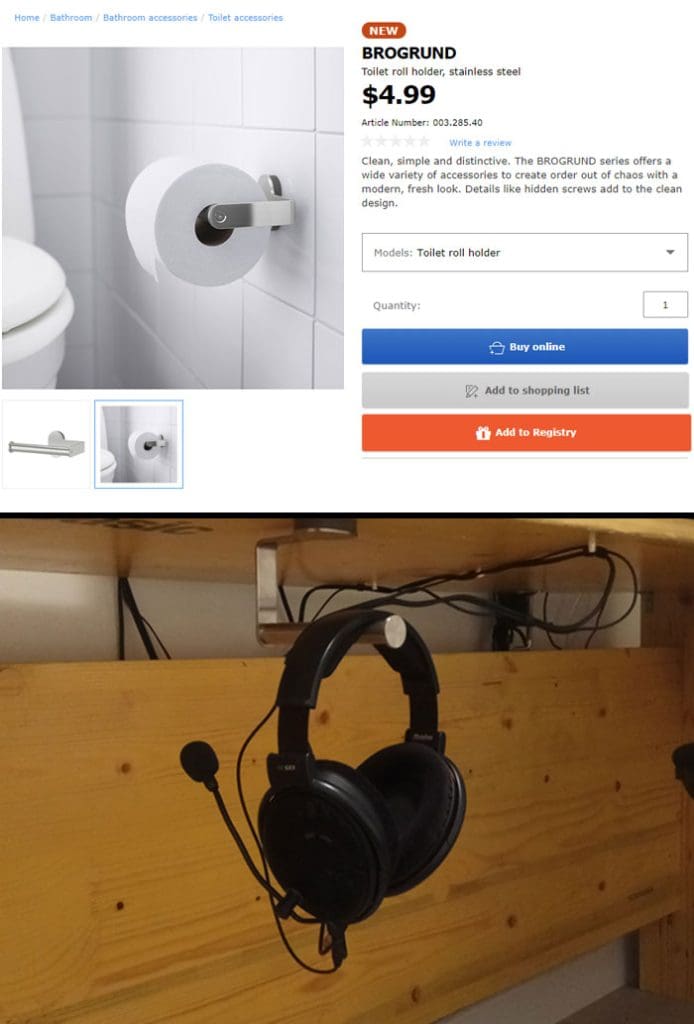 Buy a toilet roll holder and attach it to the table as if you were affixing it to the bathroom wall. You can use the piece as a headset holder, so you don't have to keep your headset on the desk.
This is how you hide plant vases.
Some people are parents of children. Others decide to become pet parents. And some decide to become foster parents of plants. If you love plants, you probably try to find new ways of adding more plants to your home without allowing their presence to become overbearing.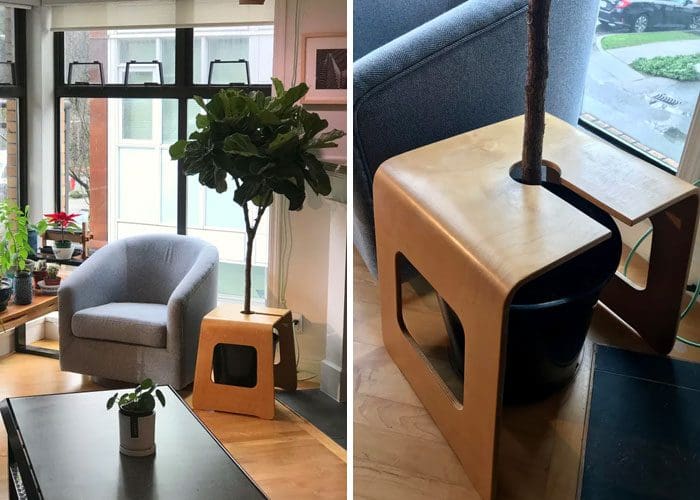 You will undoubtedly appreciate this hack if you're looking for ideas on hiding plant vases. Buy an end table at IKEA and carve this keyhole-shaped hole. You can hide the vase under the table and move the plant whenever you feel like it.
Every cat is going to love this.
Having a cat at home is quite a blessing. Some days, they'll put as much distance between you as possible. But then there are those days when they won't leave your side. But cats are constant when it comes to sleeping.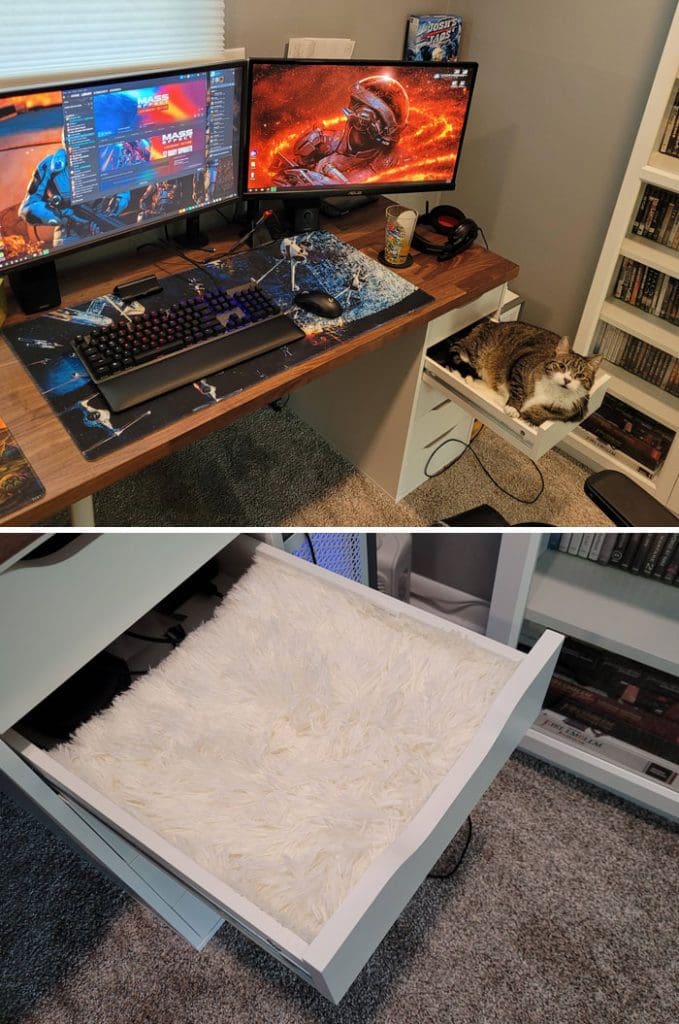 No matter how much money you spend on buying a nice and comfy bed, your cat will probably prefer to sleep inside a cardboard box or any other random place in your house. This cat, for instance, wanted to sleep on the desk. To get him off the top of the desk, the owner bought this fluffy carpet at IKEA and used it to turn the drawer into a bed for the cat.
Give some privacy to your pet.
Some pets don't like to go about their business around humans. When they need to go to the bathroom, they try to find a hidden location to have some privacy. If you want to build a place where your pet can have that privacy, check out this idea: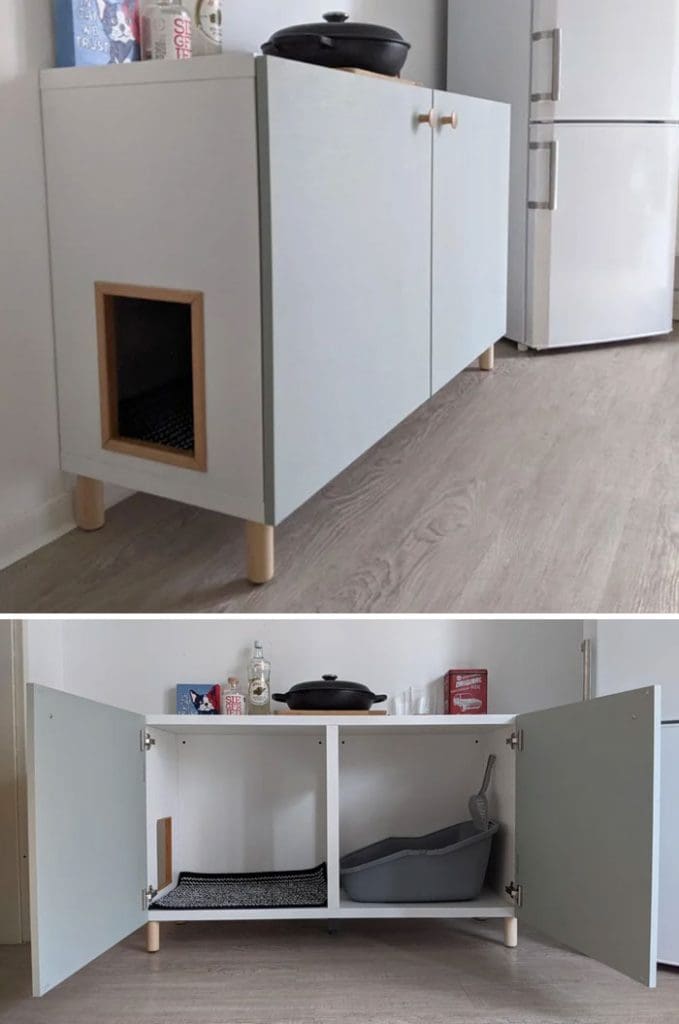 This woman turned her BESTÅ cabinet from IKEA into a bathroom for her cat. She opened a hole on the side of the cabinet and removed the shelves from inside. Then, she put the litterbox inside the cabinet, and the bathroom was ready.
A hack for all the book lovers.
If you are a literature lover, you certainly dream of having one of those floor-to-ceiling bookshelves so that you can put all your favorite books there. But do you know what makes those bookshelves even more remarkable? Having a rolling ladder!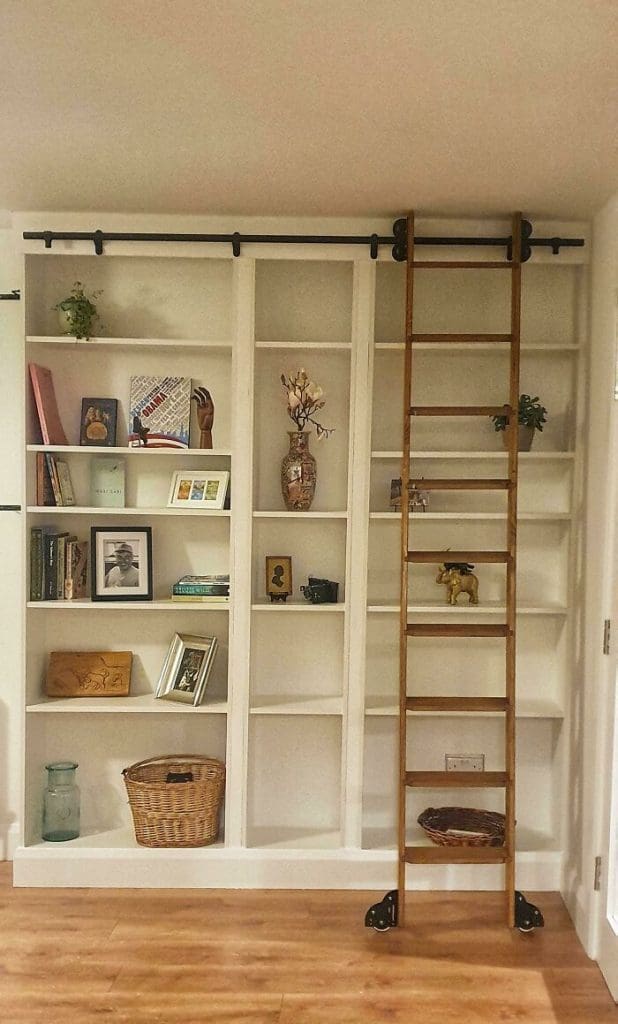 We are sure that having a billy hack like this one with a rolling library ladder will make you feel like you're in a movie. Luckily for you, IKEA sells both the billy hack assemble and the ladder, so you can easily build one of these at home!
Turning everything upside down.
Usually, we see wall brackets being used as support for bookshelves. But what if you turn them upside down so you can use them as bookends and for support at the same time? As unusual as that might sound, this is a great hack: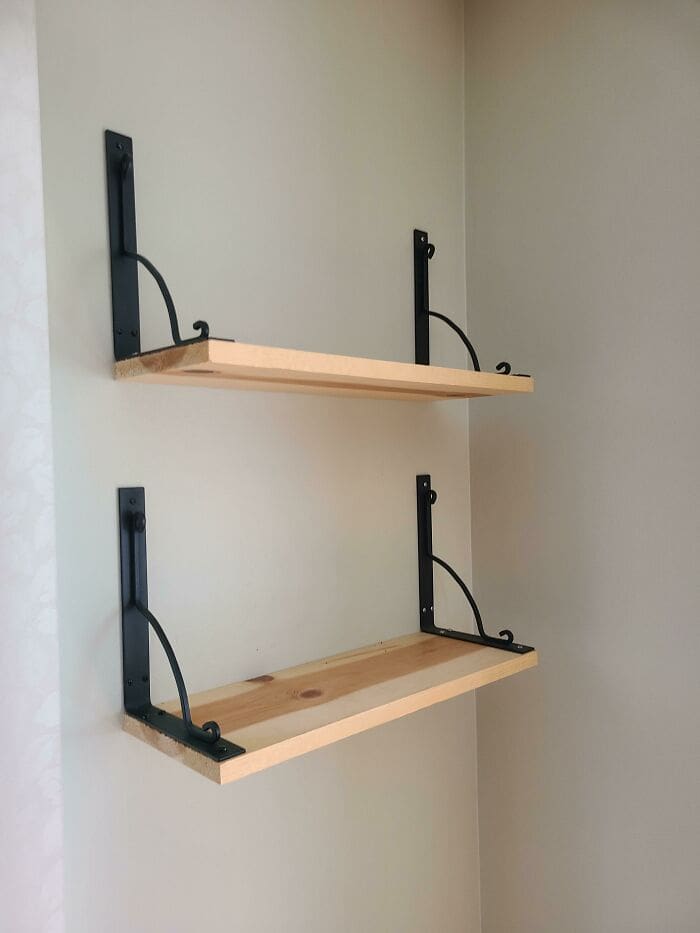 All you have to do is choose wall brackets that have a unique style so they can add more beauty to your bookshelf. They'll still work as a support system for the shelves, but they will also work as bookends to keep your books straight!
A hack for the artists in the house.
If you have a passion for the arts and you're a talented artist yourself, you can always decorate your IKEA furniture by yourself. However, you don't actually have to know how to paint to make DIY decorations like this: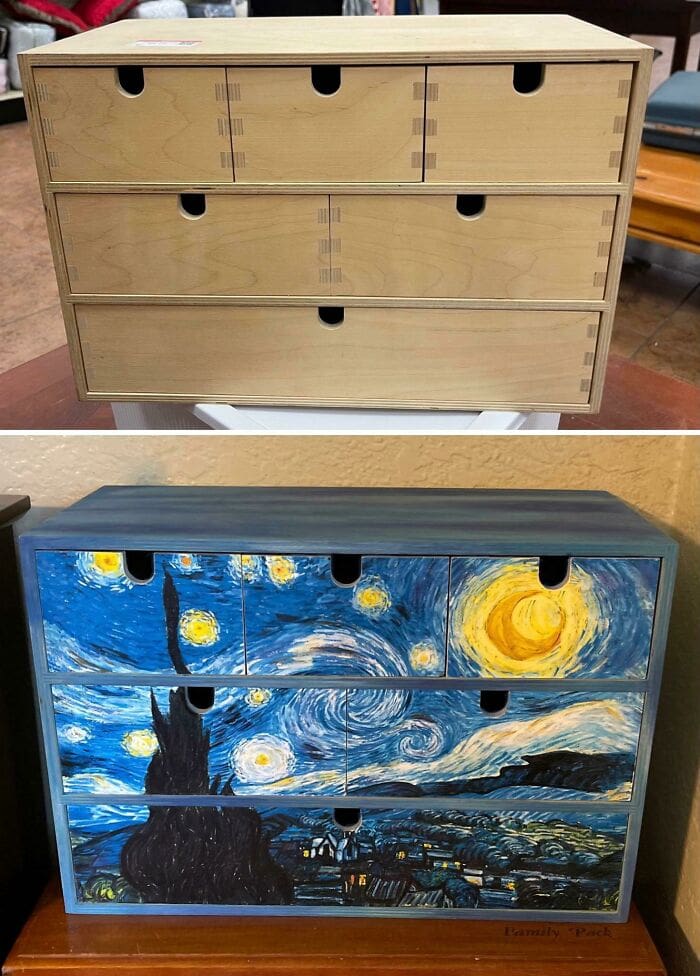 It looks like this person painted Van Gogh's famous 'Starry Night' onto the drawers. But actually, what this person did was contact a designer to create customized prints that would fit each drawer and then decoupaged the images to make this beautiful "puzzle."
Tips for a costume party.
If you are attending a costume party and still have no idea what you should wear, we might have found the perfect costume. You love IKEA, and you love dressing up. You should combine these two passions into one funky outfit: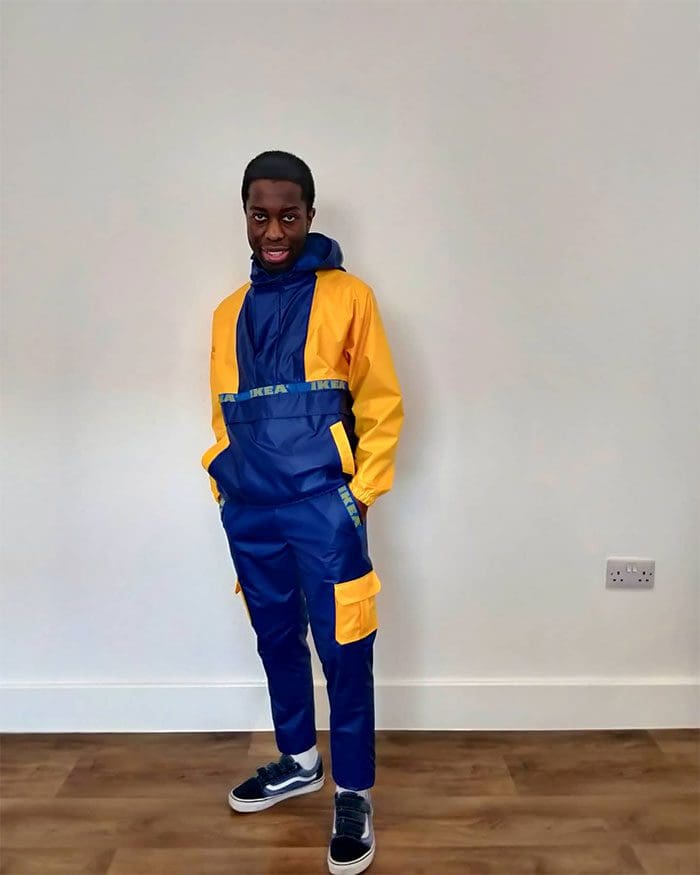 This outfit should be called 'The IKEA Man.' The best part of choosing an IKEA outfit is that this Swedish company is so beloved that many options exist. Just search for IKEA outfits on a search engine, and you'll see what we're talking about.
A built-in bookshelf.
BILLY bookcases are one of IKEA's most purchased creations. Every booklover has or wants one of these. They can even be used for other purposes! However, some people might think they're too bland and want to improve their living room look.
In case you want to have a beautiful built-in bookcase like this one, it's pretty easy. You just have to buy three BILLY bookcases and have a carpenter make this plywood front. It doesn't cost a lot, and it's certainly way easier to get this faux built-in bookcase than to hire contractors to build one from scratch.
The perfect space for crafting.
You'll probably agree with us when we say that it feels like the whole world is in a rush. It's like even time is moving faster these days. And this fast pace can be pretty stressful. People are constantly looking for activities that will help them let go of this stress.
Crafting is one of those activities. If you're looking for a way to relax and enjoy some quiet time, crafting is a great option. Before you get into this hobby, you'll need a crafting space. This woman turned the closet in her guest room into a crafting nook using IKEA furniture.
Eco-friendly bags.
On top of selling high-quality furniture, IKEA also sells eco-friendly bags. You might have seen a picture or two of people using IKEA's signature blue and yellow bags differently. But this guy might have had one of the best ideas: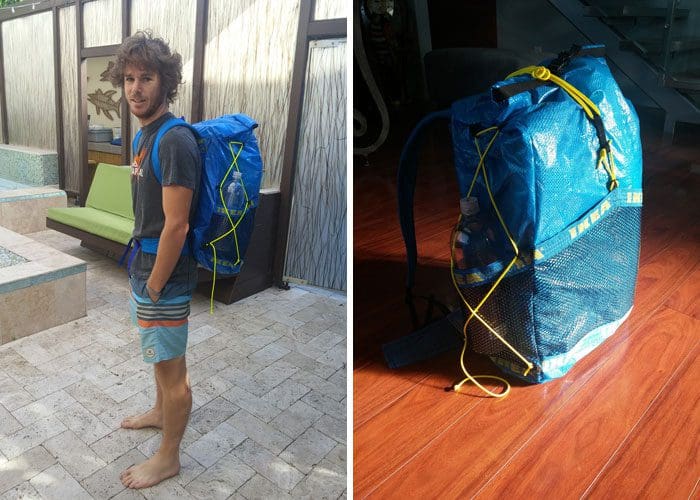 If you're into traveling, you should try this for your next adventure. Visit IKEA and buy one of their Frakta storage bags. Then, you just have to put your sewing skills to use so that you can add the shoulder straps.
Three birds, one stone.
Pet owners rarely agree on one thing: should pets be allowed on the owner's bed or not? For some people, pets need to have boundaries and learn that their parent's bed is off-limits from a young age. Others think there's no problem letting their dog sleep with them on the bed.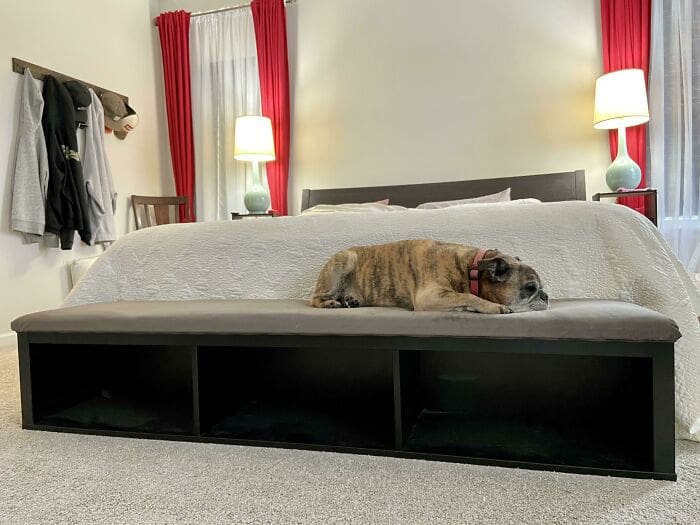 This person's dogs couldn't get on the bed without help, and they didn't like using the pet steps. So, the owner bought a Hemnes bookcase from IKEA and placed it on the floor horizontally. Then, they added some fabric to the top. They turned the bookcase into a multi-use item: it works as pet steps, a bed for the dogs, and an end-of-bed bench for the humans!
An apartment toolshed.
One of the main problems of living in apartments is the lack of space. It seems like flats are getting smaller every year, and it's tough to find a large apartment where you won't have to spend half of your salary on the rent alone.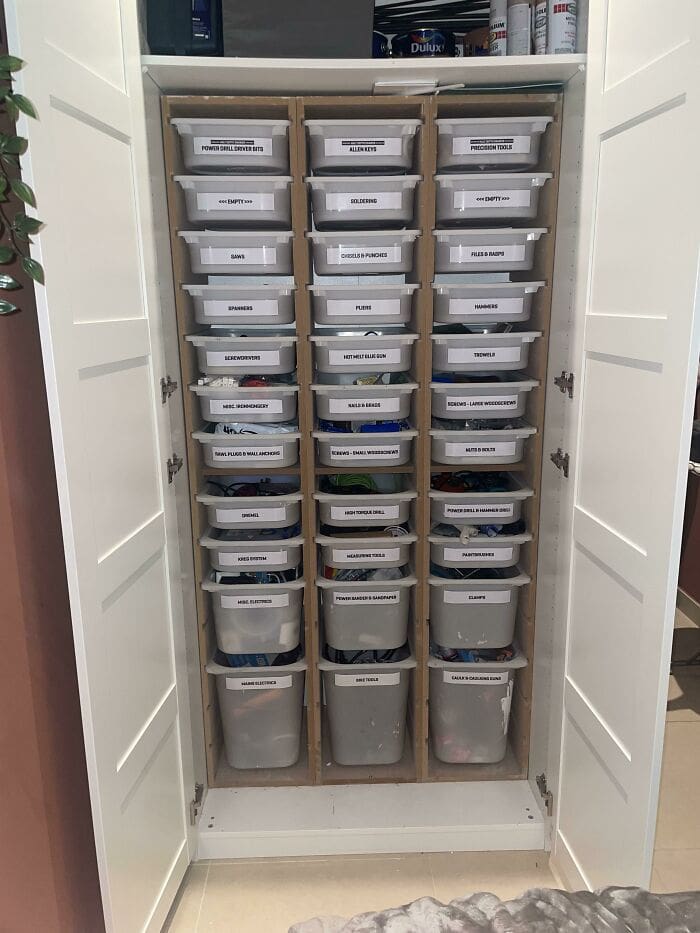 If you've always wanted a toolshed but live in an apartment, you can follow this person's idea. They bought multiple Trofast storage units and created this DIY shed inside the closet! Creating one of these will give you the perfect place to store and organize your tools.
The stylish mirror you need.
Most people don't give a lot of thought to their mirrors. They just want the cheapest mirror that they can put on the wall, and that's it. But if you are into interior design, you know just how much style the right mirror will add to your home.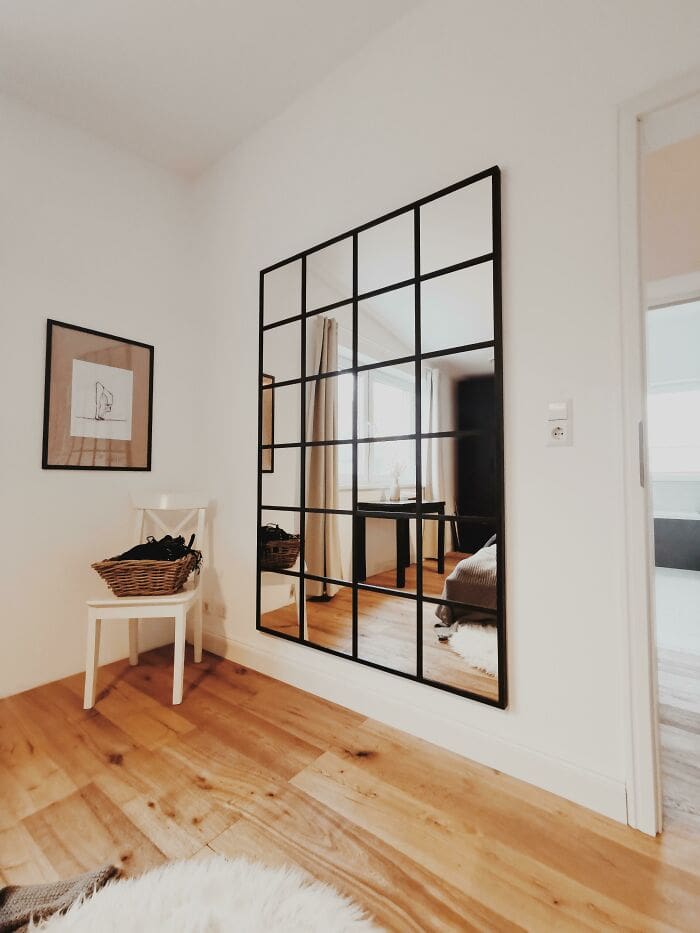 In case you're looking for ideas for your next stylish mirror, here's a perfect one. This person bought 24 mirror tiles at IKEA and some wood to create this piece. It might take some of your time to design your own version of this mirror, but it's totally worth it.
Wallpaper fixes everything.
If you don't have the time or the money to purchase 24 mirrors, then you can just recreate one boring mirror into something special. Often, the mirrors at IKEA have solid-colored frames. So, why not elevate the mirror with some wallpaper?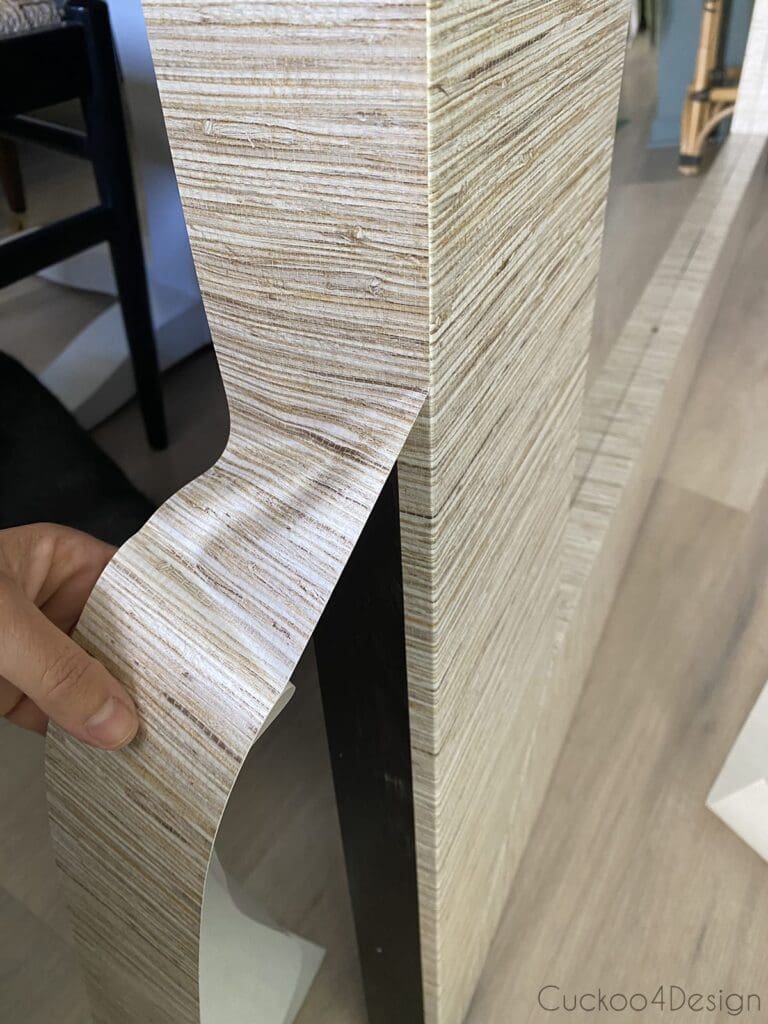 There are endless options when it comes to wallpaper, and you can take the time to figure out the right color and pattern for your home. Covering the mirror frame with the wallpaper will truly elevate the mirror and make it look one-of-a-kind.
Maybe they will like this bed.
For some pet parents, there are no limits when it comes to buying the best products for their pets. They won't shy away from buying expensive food or even costly clothes for their pets. However, buying a bed for your pet can be tricky, especially if you have a cat.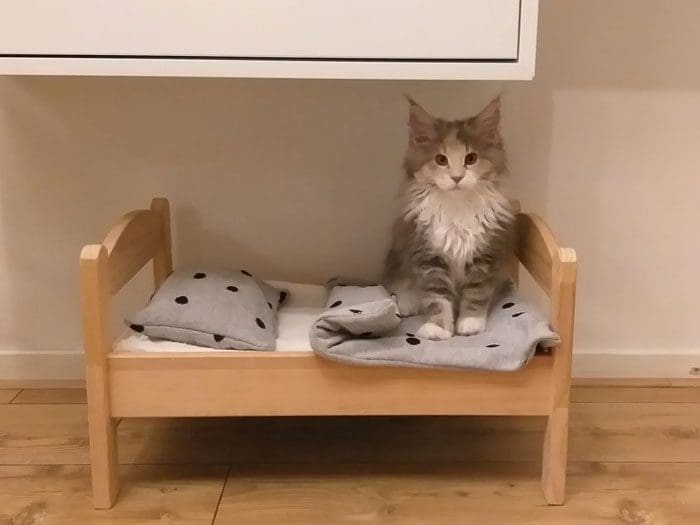 Chances are that your cat will prefer to sleep inside the cardboard box that the bed came in. If you want to avoid spending a lot of money on something that your cat won't use, you can try this IKEA hack. This person bought a Duktig doll bed and turned it into an adorable cat bed. And it seems like his cat loves it!
Working with a great view.
Living in the city is not always pleasant. You don't always get to enjoy nature when there are so many buildings in the large metro areas. Still, something is comforting about getting to work in front of your highrise window and basking in the city's lights.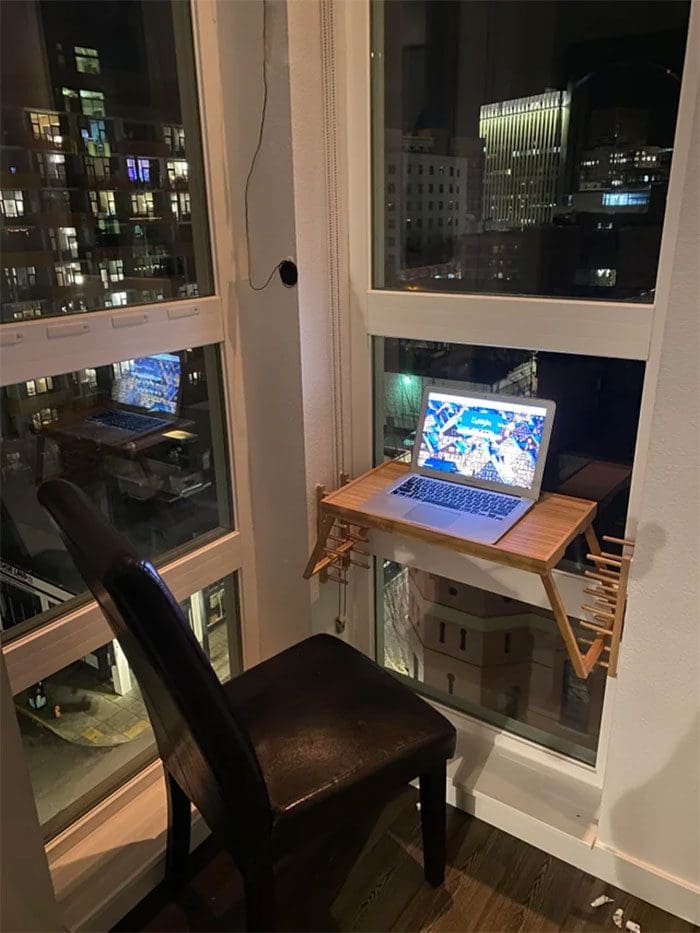 This person made their own adjustable desk using three items from IKEA: a bed tray, plate holders, and 3M hanging strips. All you have to do is place the hanging strips on the wall and stick the plate holder against it. Then you fit the base of the bed tray in the plate holders and adjust the height to your liking.
A solution for your plants.
As we said before, plant lovers who live in apartments usually face a dilemma regarding their beloved plants. Should they refrain from getting new plants, or should they stuff their apartment with so many vases and jars that there won't be any space left for anything else?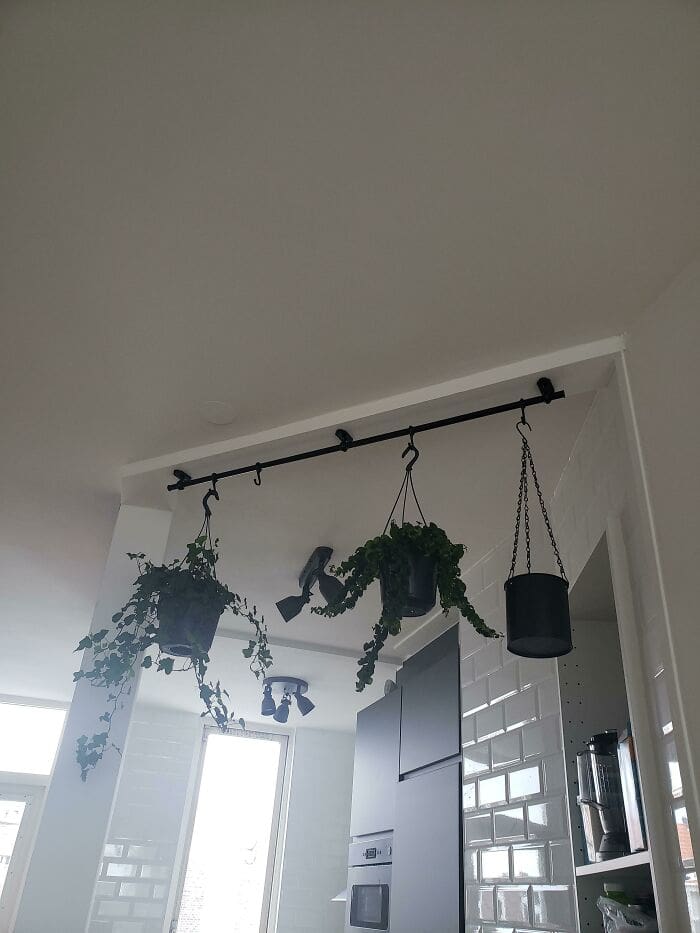 Well, if you want to go about growing your plants without having to make such a difficult choice, you'll certainly like this IKEA hack. Buy a Fintorp rail from the Swedish store and attach it to the ceiling. You can hang two or more plants from the top and save some floor space!
You can opt for a cozy office…
It doesn't matter if you work for a company or are still studying and not working at the moment — having a space to research and/or work from home is one of the best things ever. The one thing about a home office is that not all houses/apartments have the space.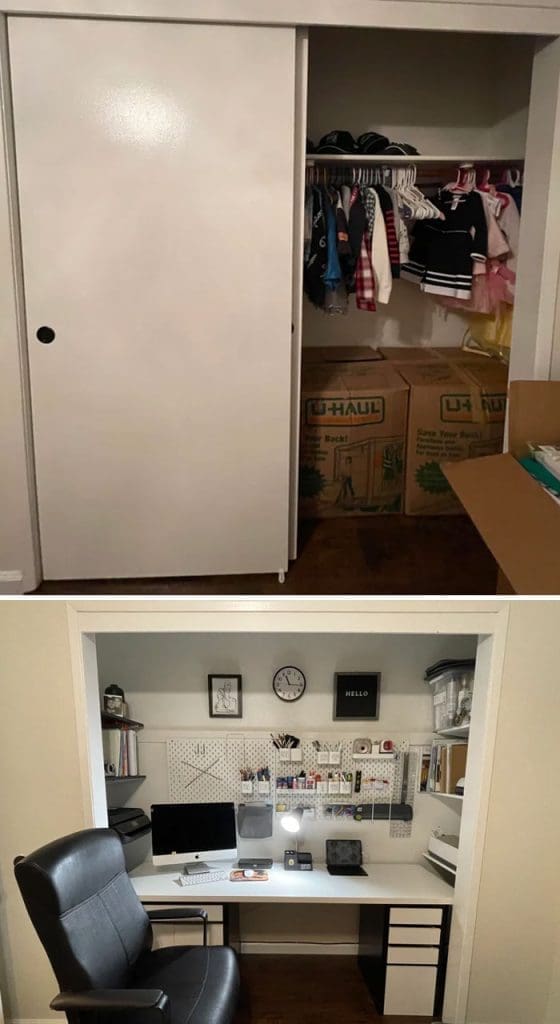 If you don't have a study room and you don't want to turn the entire guest room into an office, you can try this IKEA hack. This person bought this nice desk and shelves from IKEA and used them to turn the guest room closet into a cozy office.
…Or you can go all out and have a spacious office!
Now, this is the hack for you if you have that guest room that rarely gets used and you don't mind getting rid of it to have a large office. Instead of turning the closet into an office, you can turn the whole room into an office space for you and your significant other.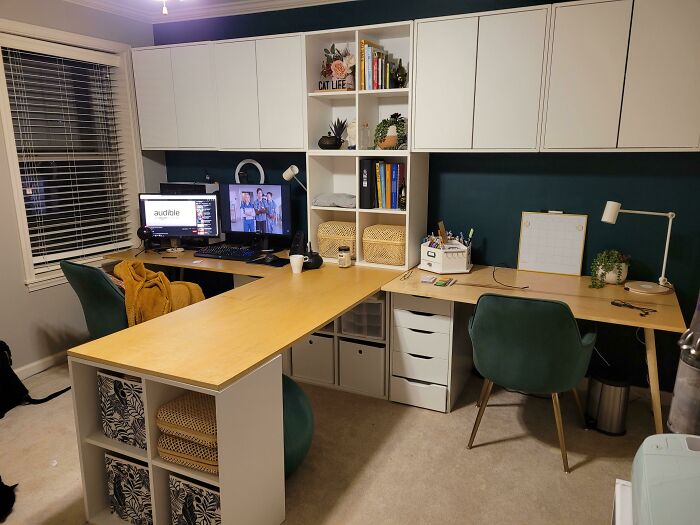 This couple bought kitchen cabinets from IKEA and had them installed in the guest room. They also bought two smaller tables and a couple of bookcases from the Swedish store and put their effort into building this shared office space!
The bookcase of our dreams!
Few things in life are more satisfying than decorating our home the way we want. When we live with our parents or in the college dorms, we don't always get to have that experience. But when we have our place, we want nothing but to do things our way.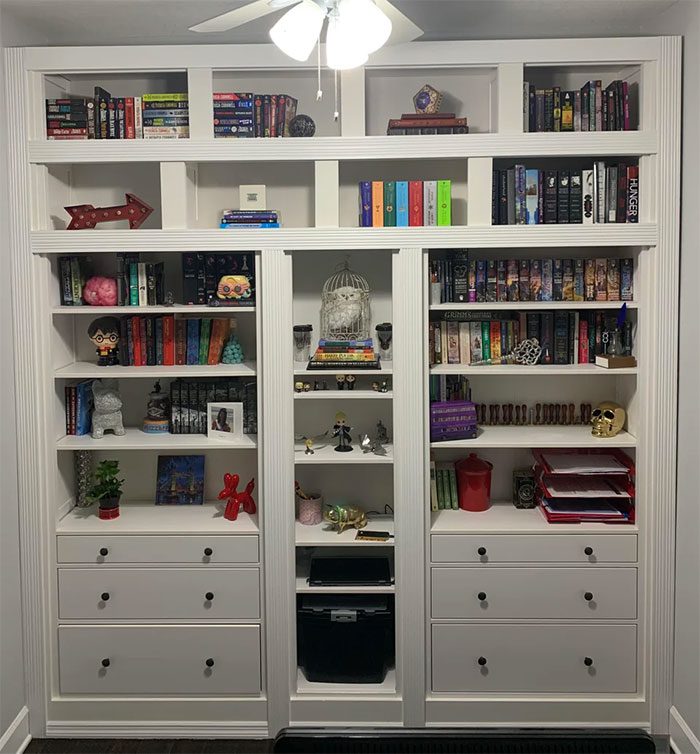 This woman had always dreamed of having a large bookcase where she could display not only her books but also her collectibles. For that, she bought two BILLY bookcases and two HEMNES bookcases. The result was this handmade beautiful bookcase!
We're not jealous of this bookcase at all!
IKEA has created hundreds of furniture pieces that became extremely popular, selling millions of units. One of these huge successes is their Havsta series. Their Havsta cabinets are not too large and not too small, making them the perfect storage unit for most homes.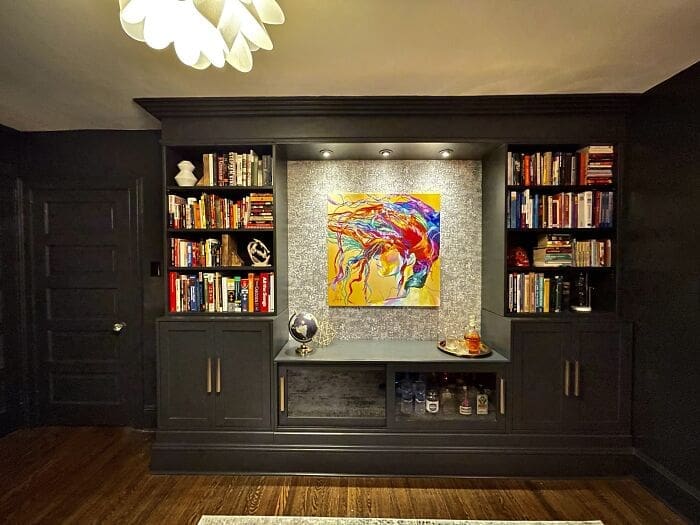 But this person had other plants for their Havsta cabinets. Instead of using them as storage units, this person installed them on the wall. This way, it looks like they have a built-in bookcase — and they didn't even have to spend that much to get this done!
This is the best idea to change your room's style.
You bedroom should be compared to a sanctuary — for it is the place where we feel at peace in our homes. Coming home after an exhausting day and having a beautiful bedroom will certainly improve your mood. Especially if your room looks like this: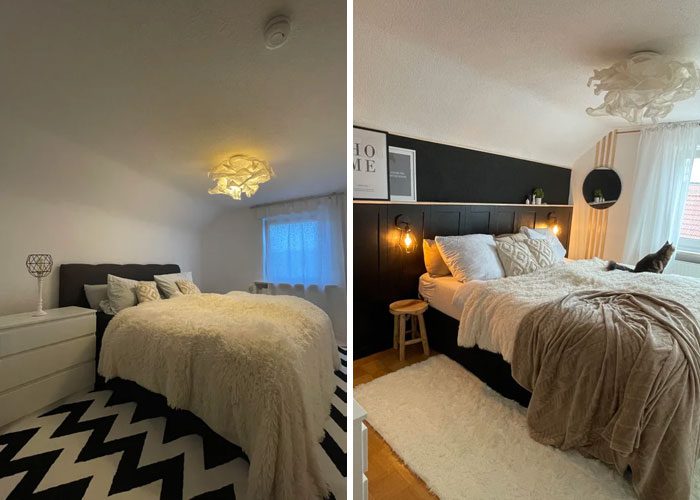 When this couple bought this apartment, they noticed how the master bedroom was too simple, so they hired professionals to remodel the floor and the walls. But they also tried their hand at decorating the room. The couple bought cabinet doors from IKEA (you can buy the doors without the cabinets) and turned them into this beautiful wall panel.
Decorating the laundry room in the best way possible.
In most houses and apartments that have a laundry room, this space is usually the tiniest in the entire place. As such, homeowners are always trying to figure out the best ways to make the most of their small laundry room.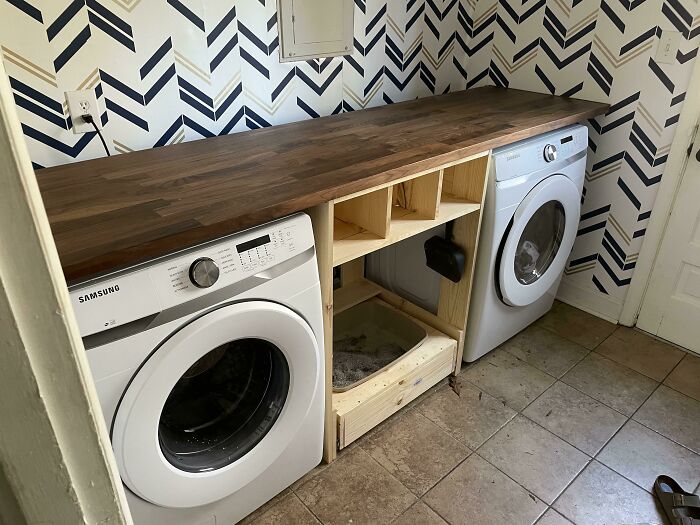 This person bought a cabinet from IKEA and a wooden plank. The cabinet fits perfectly between the laundry machine and the dryer. It has enough space for them to store items like laundry detergent and dryer sheets plus it is also the place where they put cat litter.
A hack for new homeowners.
If you've just bought your first house or just signed the lease on a new apartment, you probably don't have a lot of furniture to decorate the place. It's okay to take your time when it comes to buying furniture!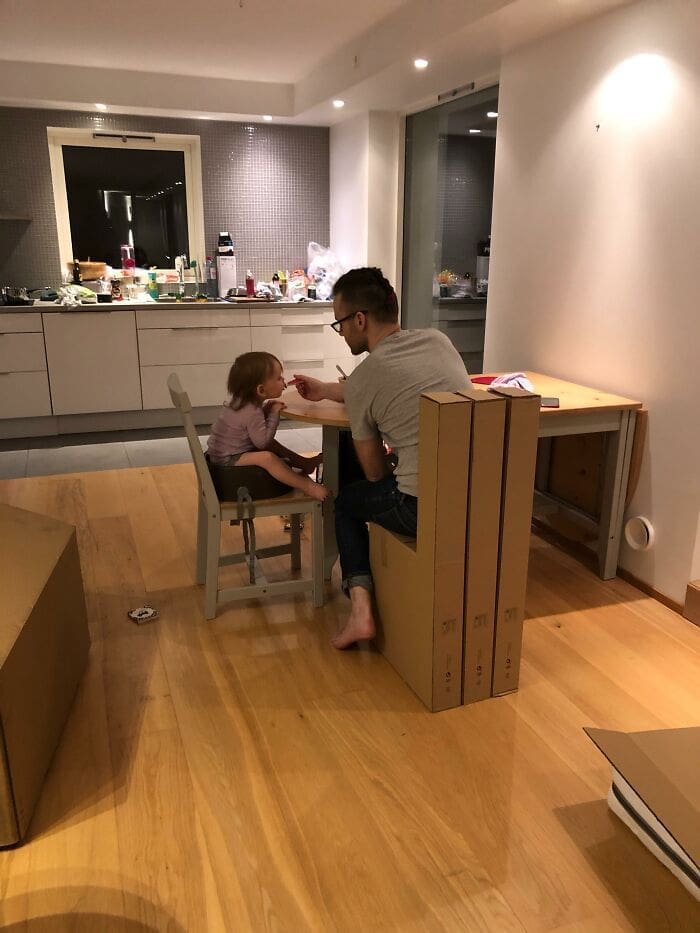 In this case, you can always rely on empty cardboard boxes. You can turn these boxes into temporary furniture for your new home if you're clever enough. This guy cut three IKEA boxes into the shape of a chair and made a temporary chair for the dinner table until he could get a real one!
Your kids are going to love this.
IKEA's Kura beds are iconic, and every child loves them. These beds give children the opportunity to have a space to play with and store their toys, and it also has a top bunk where they can sleep. But this dad took his daughter's Kura bed to the next level.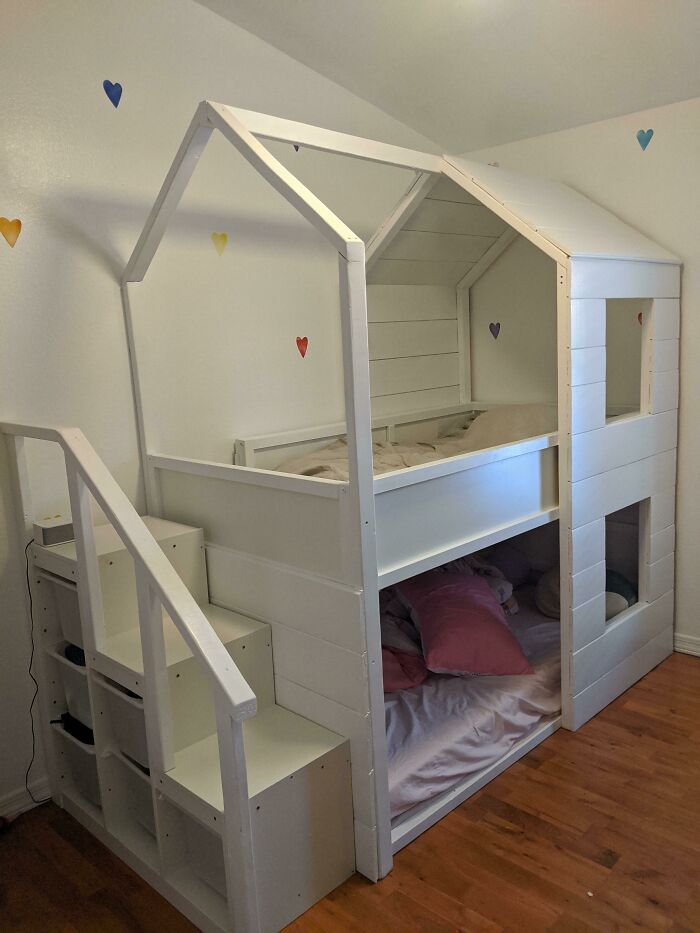 His child always wanted to play house, so he built her one. The father made the "ceiling" and the wall panel with the windows and attached them to the bed's structure. Now his daughter has a two-story house and she can even have her best friend over for a sleepover!
Remodeling the kitchen.
One of the best parts of beign the owner of your house or apartment is that you get to remodel your home as you please. Sure, not having to pay rent is also pretty good — but nothing compares to knowing that you can change your home as you please because it's yours.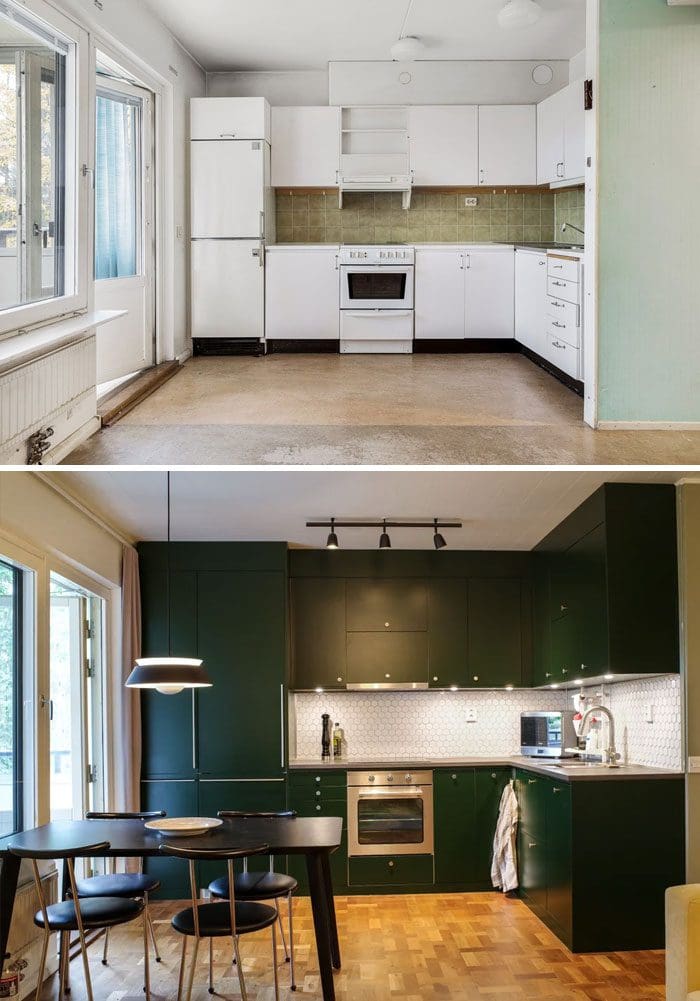 This person wanted to renovate their kitchen cabinets but didn't want to spend a lot of money and time buying new cabinets. They bought cabinet doors from IKEA (we already mentioned that you could buy those separately) and replaced the original doors with these beautiful green cabinet doors.
A hack for the Virgos.
If you don't understand a lot about astrology, here's a piece of information: Virgos are known for being organized and for appreciating symmetric things. The person who took this next photo must be a Virgo, for they wanted all cabinets to have the same height.
The wooden plank is attached to the wall, so we can already exclude the excuse that he wanted all three cabinets to have the same height so they could support the wood plank. In reality, this person added legs to the middle cabinet just so the three cabinets would be symmetric!
Another greenhouse.
Remember that earlier in this article, we showed you an IKEA cabinet that got turned into an indoor greenhouse? This next slide is another version of the indoor greenhouse, and it's ideal for everyone who lives in an apartment.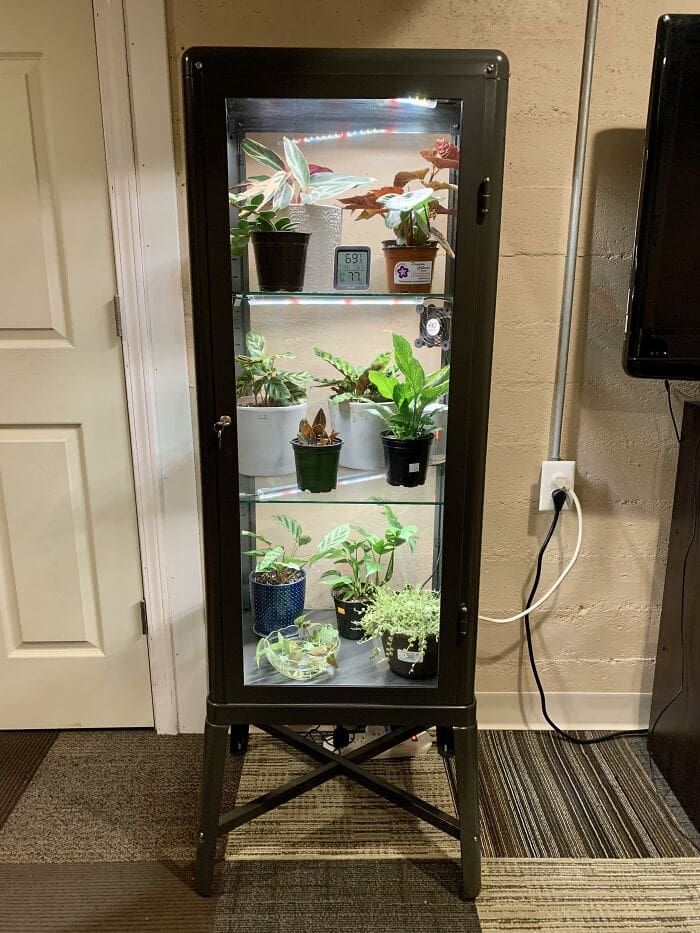 In order to make one of these for your house, you'll need a Fabrikor cabinet from IKEA. You'll also need to install UV lighting inside the cabinet to feed your plants, but don't worry. You can simply buy a LED strip and attach it with tape.
This is a lovely idea.
Sometimes, it's kind of hard to find the ideal piece of furniture that we want in our homes. While one could always hire an interior designer to help create customized furnishings, it's much easier and cheaper to look for furniture elsewhere.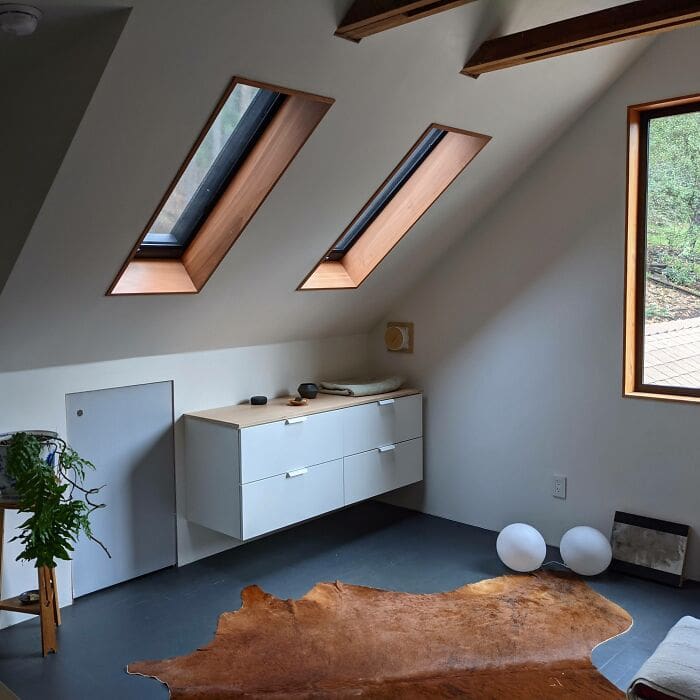 This guy wanted a dresser for his bedroom but didn't like anything he saw at IKEA. He continued roaming the store and found the perfect dresser in the bathroom section. You're seeing two Godmorgon sink cabinets that he turned into a dresser by simply attaching them to the wall and placing a piece of plywood on top!
It looks really cool!
If you're thinking of changing the decoration of your living room, but you're not sure how to go about that, here's an idea. Buy four Besta storage cabinets from IKEA and turn them into a floating entertainment wall as this guy did: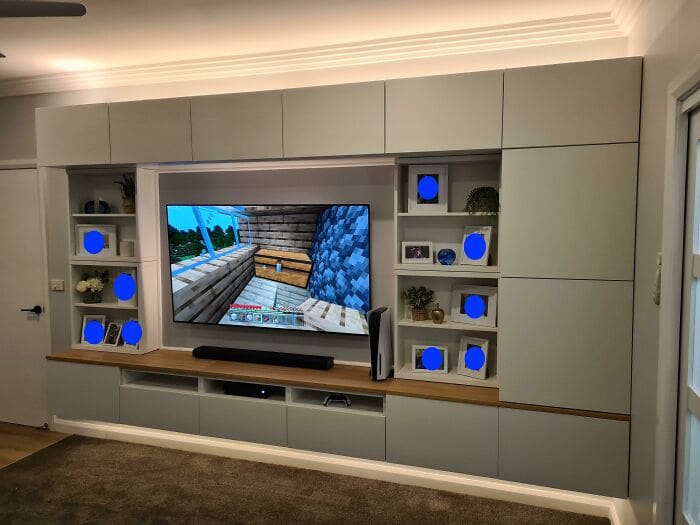 He didn't even have to attach the cabinets to the wall. As you can see, the TV rack supports the bottom cabinet, and the top cabinet is supported by the bottom one. This is a cool, easy, and inexpensive idea.
Put your creativity to work.
One of the best parts about shopping at IKEA is that you can create your own combination of cabinets if you want, and you can buy rustic furniture that you can decorate yourself. This person purchased a Tarva dresser and did just that.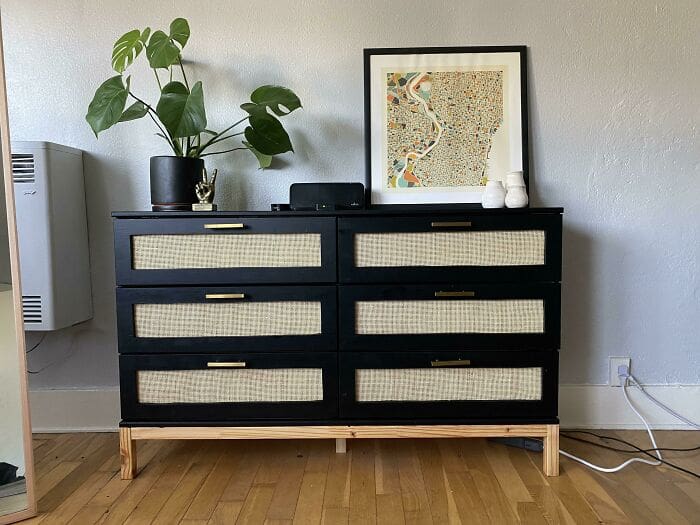 Tarva dressers are sold "raw," if you don't know this. They're not painted or decorated in any way. This person bought one of those and changed the front of the drawers. It's a pretty simple thing to do, but it changed the entire look of his dresser!
A combination of cabinets.
As we just said, shopping at IKEA gives you the possibility of combining different cabinets to create the best decoration possible for your home. And that's exactly what this person did when they wanted to create a cozy home office space for themselves: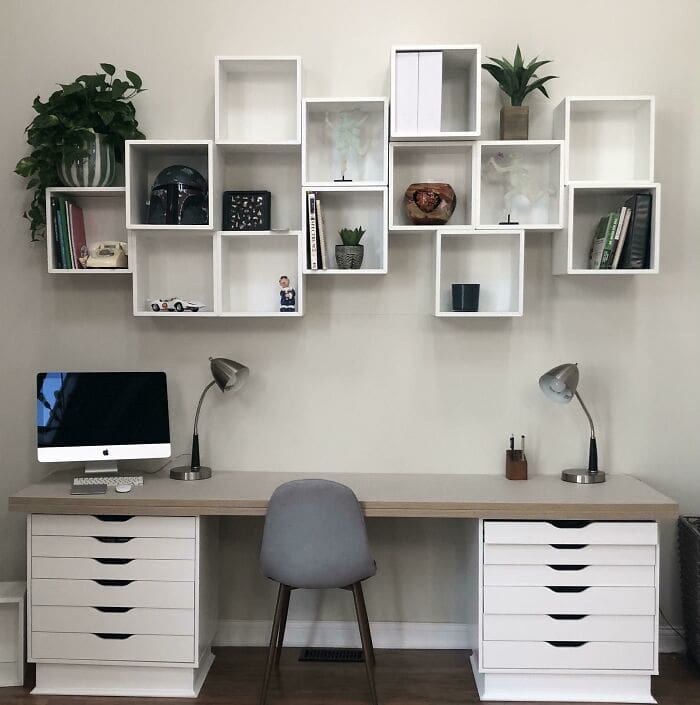 In order to come up with this beautiful space, this person combined three series of IKEA products. The cabinets belong to their Alex series. The plywood top is an Ekbacken countertop, and the wall-mounted cabinet is part of their Eket series.
Adding a rustic vibe.
Regardless of your preferences when it comes to decorating a home, you'll undoubtedly find everything you want and need at IKEA. But sometimes, only some components of their products might catch your eye. Luckily, you can always buy things separately.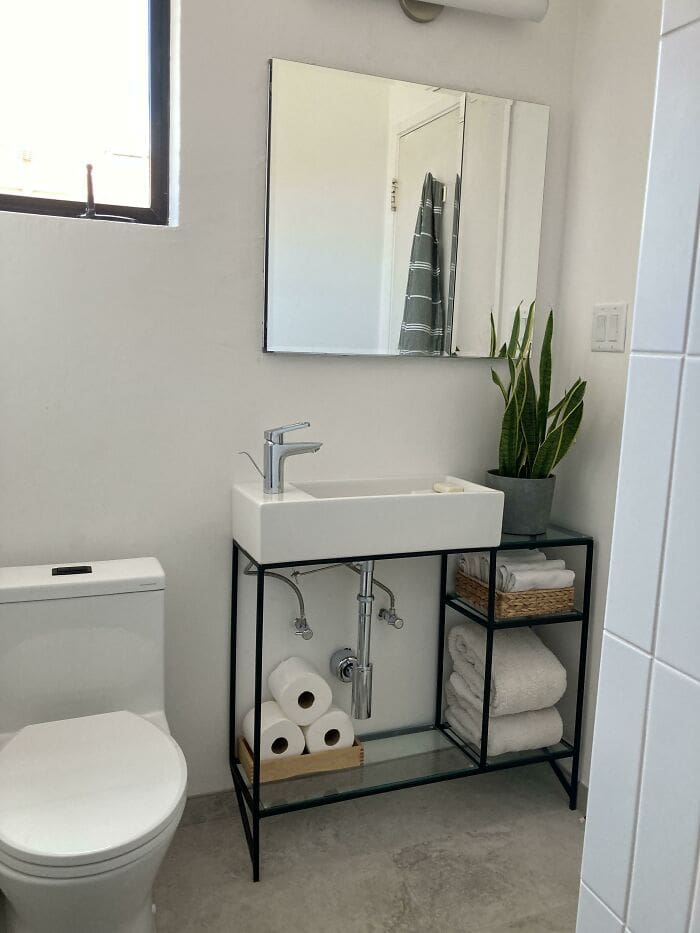 For instance, remember all those cabinet doors that we showed you earlier? As we mentioned then, the person bought the cabinet doors but not the cabinets. And this person purchased a Lillangen sink from IKEA but not the sink cabinet that can come with it. Instead, they used this metal-and-glass custom base.
A fun vibe.
If you have kids or simply want to add a fun vibe to your home, you'll like this next hack. If you want to have an organizer at home, you can stop by IKEA and get one of their many options of cube storage units.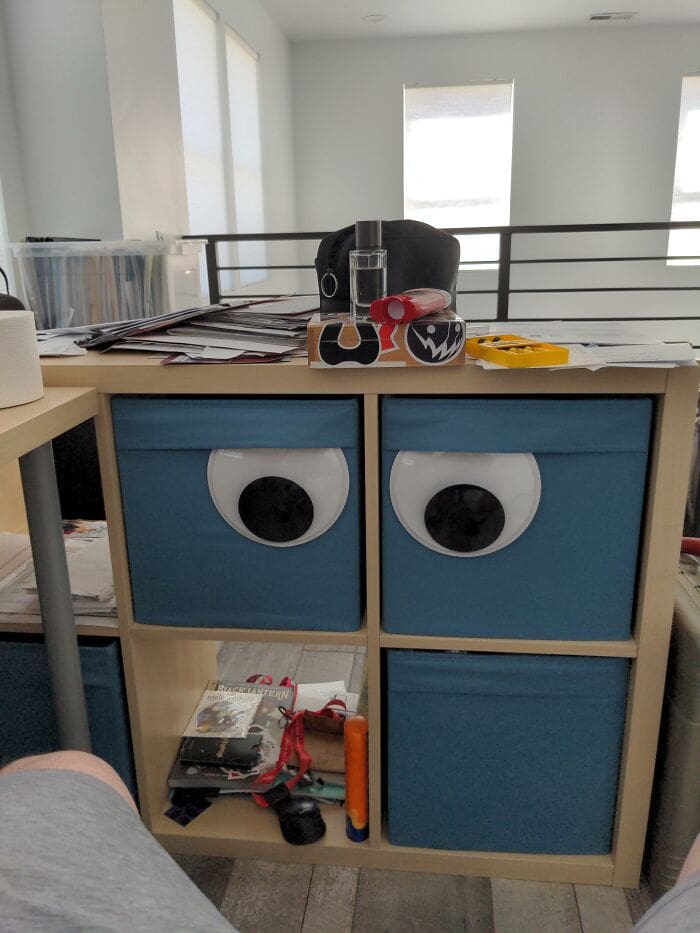 The next thing you have to buy is the storage box from IKEA's DRÖNA line, which are quite inexpensive. These boxes will fit perfectly in the storage cube. Now, to make the entire storage unit fun, you just have to buy a pair of these giant googly eyes!
The ideal phone holder.
Most people can't use the bathroom if they don't bring their phone along — even if they might not admit it. It's almost as if we need some kind of entertainment or else we can do the stuff we're supposed to do!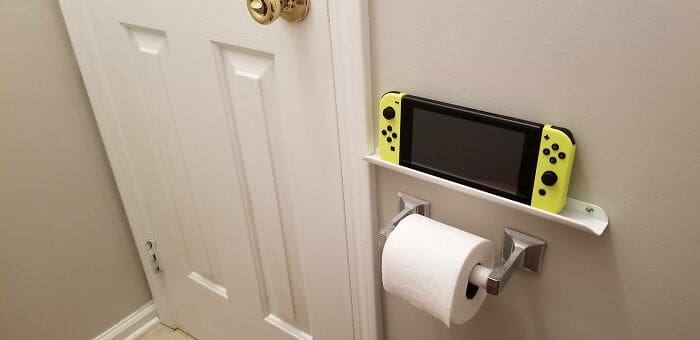 You will certainly like this next hack if you're anything like that. This person bought a Billsbro handle from IKEA, and, instead of using it as a handle, they turned it upside down and turned the handle into a phone holder.
The small details make the difference.
IKEA has created hundreds of products that are an essential part of every adult's life. Their iconic Billy bookcase and their Frakta bags are present in most people's homes. And the same thing applies to their Kallax shelf.
This series has different products, and one of them is the Kallax TV stand. This piece of furniture is popular because it is highly customizable. You can add drawers or place storage boxes in the empty spaces — you can even add a faux wooden back to make it prettier as this guy did!
Make it your own.
As we just mentioned, products from IKEA's Kallax line are incredibly customizable, which means that you can basically do anything you want with it. This person, for instance, turned a basic Kallax shelving unit into a beautiful piece of furniture.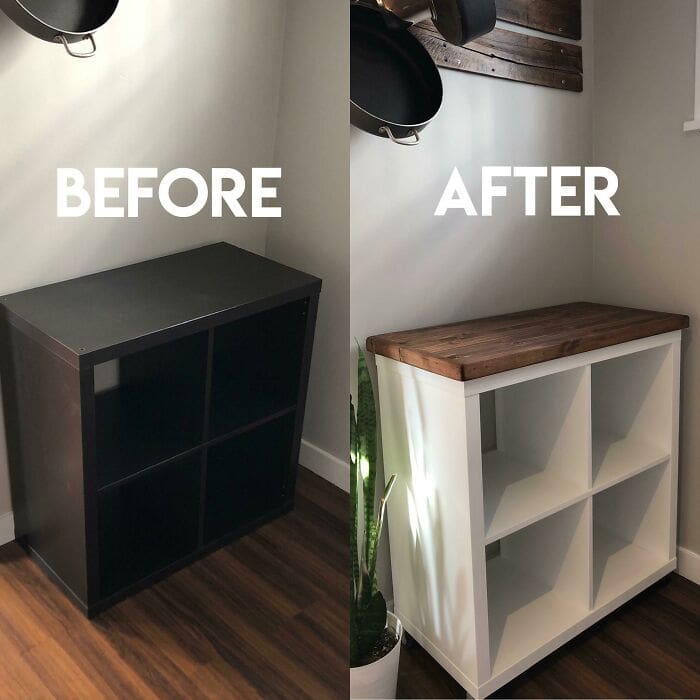 IKEA was out of the white shelving unit, so this guy had to settle for the black-brown one. However, he still wanted the white one — so he spent $25 to get a bucket of glossy white paint and a plywood top. As you can see, it doesn't cost much to create your own IKEA furniture!
A small space-friendly office.
If you don't have a room in your house that you can turn into an office and you don't have a lot of free space available, here is an idea. You can build a cozy home office under your bed. Yes, you read that right.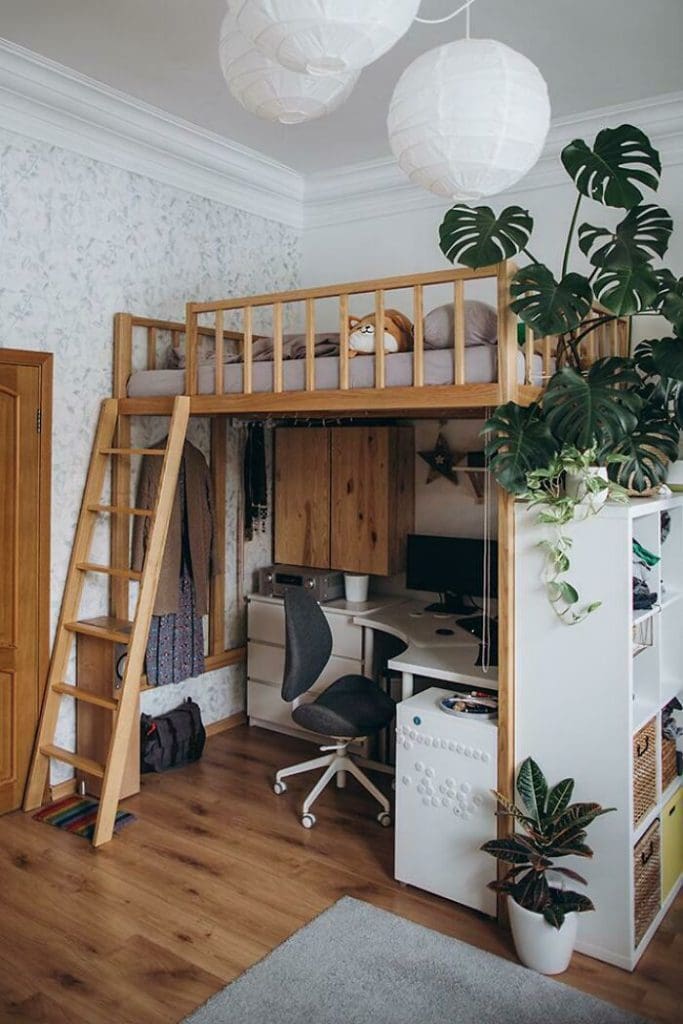 You just have to buy a STORA bed from IKEA and build your office directly underneath it. This way, you can save some space in your room. Plus, you'll still get to have some privacy in your office, especially if you put a Kallax shelving unit next to the bed, as you can see.
How to create a cute lamp.
When we buy things at IKEA and then try to set them up at home, the results might not necessarily be what we expected. In this case, this woman bought a cheap lamp at IKEA and noticed how it was too bright for her desk.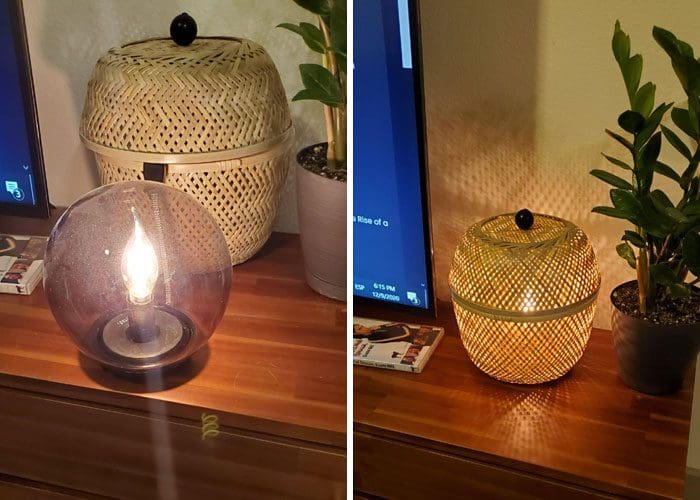 Instead of getting rid of it, she had this brilliant idea: she put the lamp inside a cheap basket she had also bought at IKEA. She cut a hole in the back of the basket so that the cord could escape the basket and reach the wall.
Preparing your home for a party.
Whether you're having a party at your home or just want to make it look cool, a great idea is to buy a PS lamp at IKEA and turn it into a disco ball. If you're not sure how to do that, we can help you.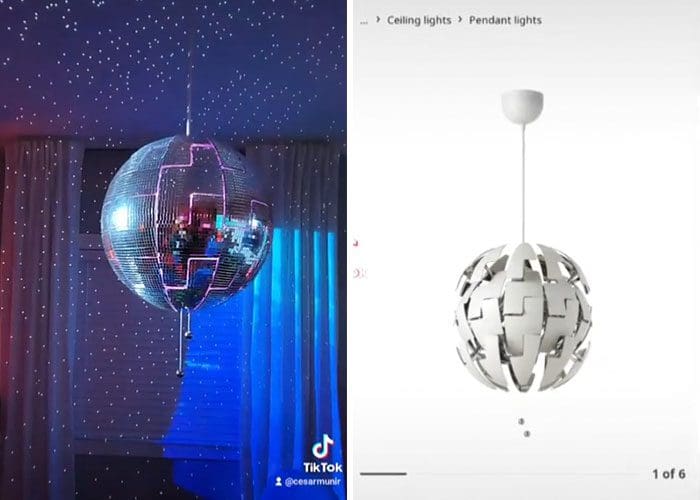 To make this lamp, you have to buy mirror. The next step is quite lengthy — gluing all of the mirror pieces on the shade. It can take a few hours to do that, but once you're done, you will have an amazing disco ball.
Toy storage has never been easier
Though our subheading reads 'toys,' the truth is that you can use this unit to store whatever it is you like. This unit is especially beneficial if you live in a small apartment but have so many small things that you can't seem to find a home for.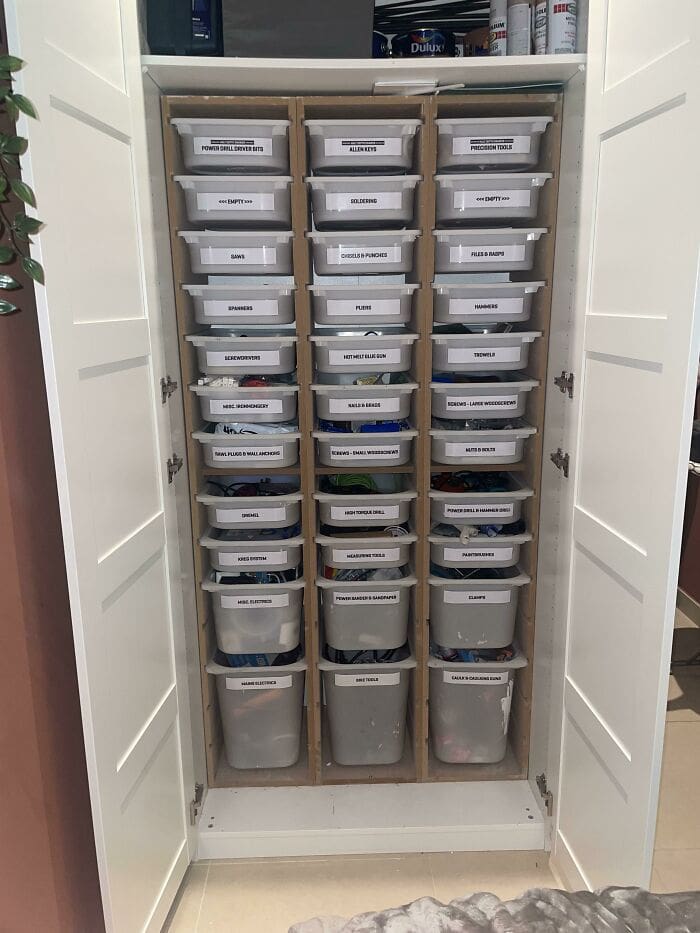 First, you need to get yourself a single PAX wardrobe that you can fix somewhere in the house. Next are the Trofast units. As you probably know, these are usually quite light, hence can be used conveniently around children. With these, they can easily access their toys when needed.