Kids Will Be Excited To Go Back To School With 40 Dollar Store Organization Hacks
By Navkiran K July 31, 2023
---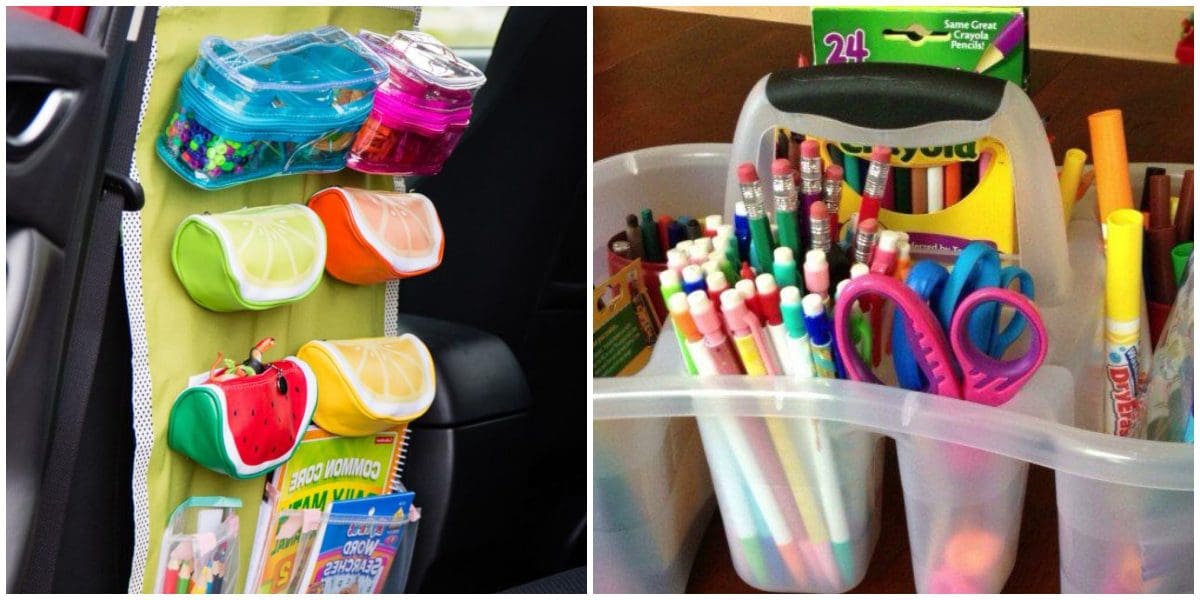 This article was originally published on
morehackz
Is your child's room cluttered and unorganized? Are you constantly thinking about better ways you can organize their things? Well, you stumbled in the right place. You'll be startled at how much you can do with just a little bit of creativity and some basic supplies from the dollar store. Dollar stores are a parent's best friend when it comes to getting organized for school. Everything you need, from organizers and storage bins to hooks and shelves, is available for a fraction of the price. And, it'll help you get your kid's room whipped into shape quickly. It's time to get creative with your dollar store supplies, so you'll be able to make a more organized and functional space for your child. So, let's get started and have a clutter-free space in no time. Take these 40 unique dollar store ideas and use them to spruce up their room!
Art Supplies Station With a Tool Belt and a Bucket
Make a tool organizer out of a five-gallon bucket to turn it into a "creation station" that can be moved around easily. This is the perfect project for any child who loves putting things together or needs a hands-on approach to learning.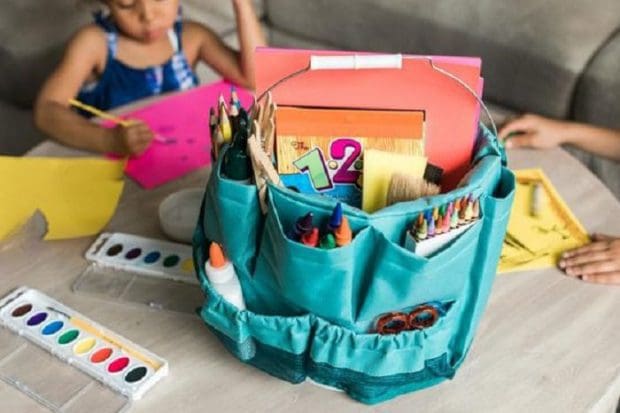 Place an organizer around the bucket to give all of those paints, crayons, and glue sticks a place of their own. It also makes clean-up easier because no loose items can get lost or mixed up in something else by accident.
Make Supply Trays With Glue and Construction Paper
Are you tired of hunting for tiny essentials like push pins and binder clips? Make your life easier with this clever craft. All you need is some construction paper and glue to make these fun fruits for your desk, shelf, or drawers.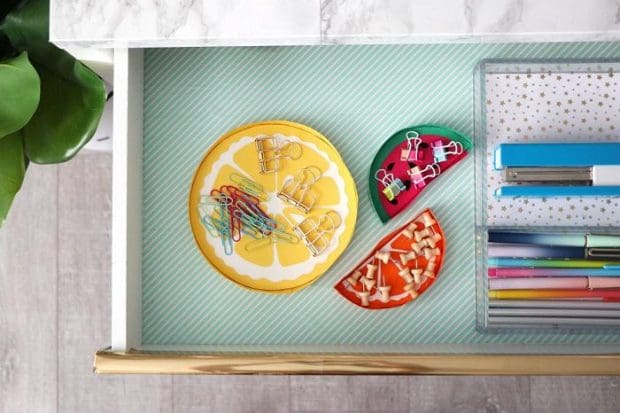 It's easy to keep track of your tiny supplies when you have a fun, colorful tray in place. You can even use different colors of construction paper to denote what each tray is designated for. Plus, it makes storing all those small items fun and easy to find.
Create An Adorable File Caddy With Dish Drain
What do you get when you combine dish drainers with documents and paper? Adorable file caddies, of course. This is a perfect idea for storing all of your important documents, school supplies, pens and pencils, and other desk essentials that can get messy.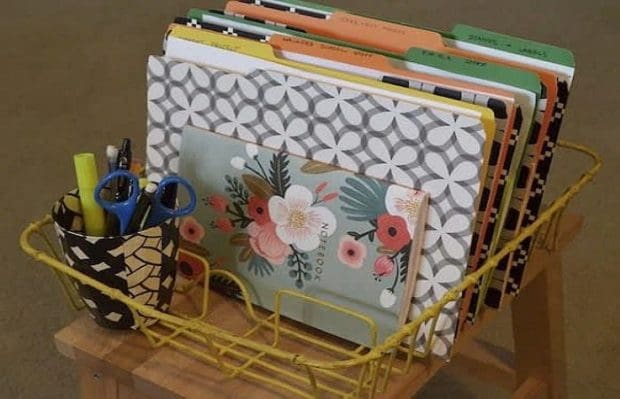 The dish drain is a clever way to organize your documents, and it's chic enough for any desk. You can use pretty folders and color-coordinated notebooks to make it stylish. Plus, remember to fill the utensil cup with different pens and pencils.
DIY Desk Organizer With PVC Pipe
PVC pipe is an awesome crafting material that can be used for a variety of projects. The best part is it's versatile, easy to use, and highly affordable. With this sleek DIY desk organizer, you can arrange your desk without sacrificing style.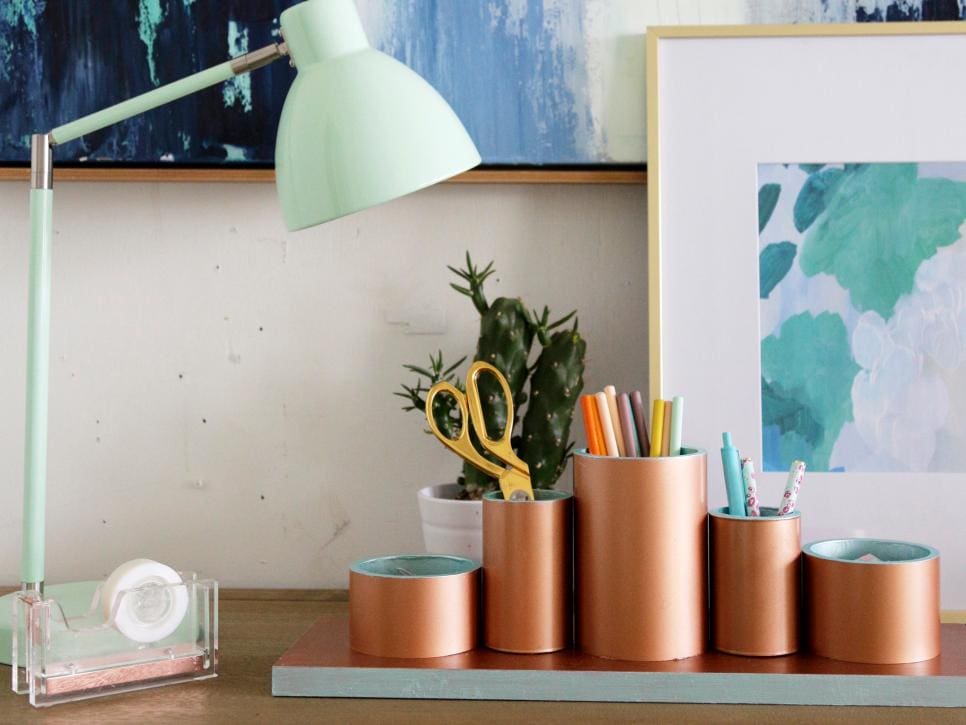 You will love how it looks in any room, and it's compact enough for small spaces. You have the option of spray painting it in complementing colors, making it stylish and fun while keeping supplies neatly stored. The best part? You can make them in any shape or size.
Information Station With Book Organizers and Shelves
This simple DIY project may be exactly what you need to help your family keep track of assignments and other vital papers. Update an old shelf and a few cardboard magazine folders with a fresh coat of paint and labels.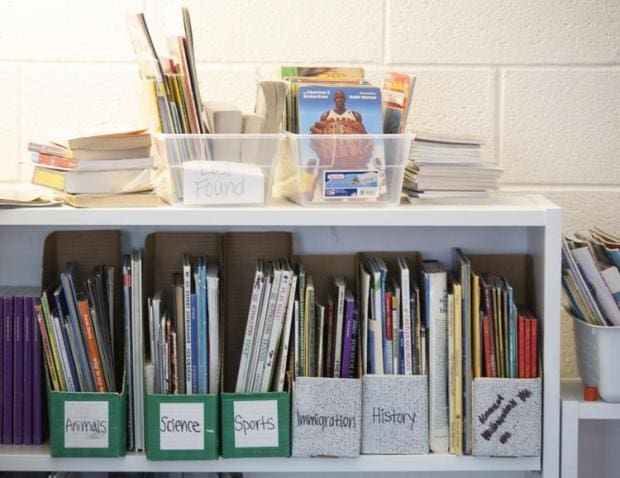 Secure the shelf on top by laying the magazine holders on their backs, equally spaced, and then attaching it with screws or a strong adhesive. To keep things really organized, try color-coding the file holders for each member of the family.
Over-The-Door Shoe Organizer
With an over-the-door shoe organizer, you can keep your kid's room clean and organized. It's a cost-effective way to manage all that school supply clutter. From pencil pouches to glue sticks, the plethora of pockets serves as a clutter-catchall for everything.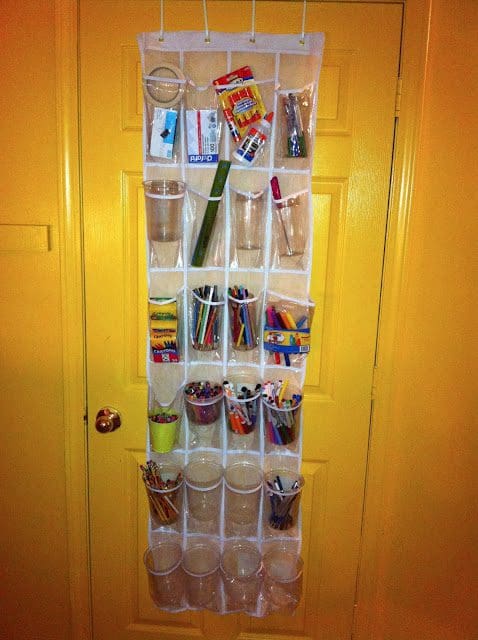 The plastic pieces are designed with a translucent slot, making it easy for children to see where everything goes. In addition, this can also help them learn how important organization is in daily life and help expand their organizational skills.
Make An Ice Pack With Sponge And Snack Bag
Keeping lunch cool is not always easy. One way to do it is to wet a sponge and freeze it, then place the frozen sponges inside a snack bag wrapped in colorful duct tape for insulation. Cool lunches are easy with this hack.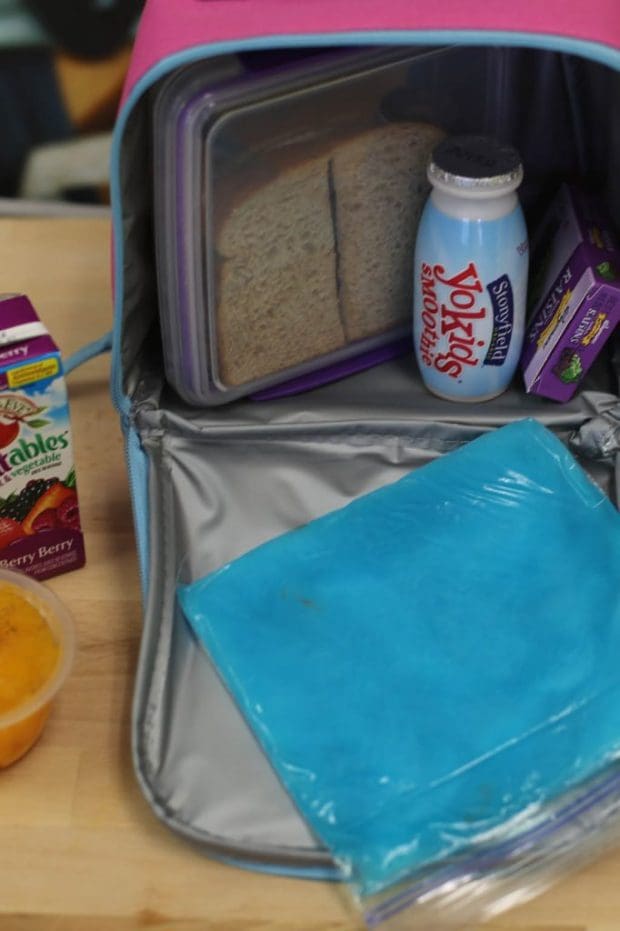 As the sponge melts, it traps all of that moisture. You don't have to fret about any leftovers getting on your kid's lunch because they're trapped in there. There is no need for a different bag. Just pack some dry snacks, and you'll be set.
Make a Homework Tracking System By Labeling Clipboards
It can be an organizational nightmare if you're juggling academics from multiple subjects. Avoid this dilemma by saving papers that are located in your backpack and placing them on display so they're easy for parents and kids to find when needed.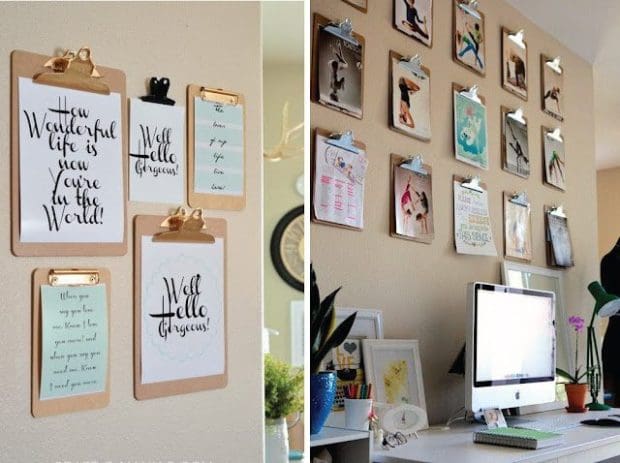 Clipboards that hang over a desk are an easy method to keep track of current activities and assist children in staying up to date with their work. Make a homework tracking system by tagging clipboards that say "to-do," "in-progress," and "finished."
Use a Plastic Shower Caddy to Organize School Supplies
These clever little carts are gems for space-saving and organization. They're perfect for any teacher looking to keep their supplies well organized, making them a great space-saving gadget that keeps every little knick-knack managed and accessible when you need them.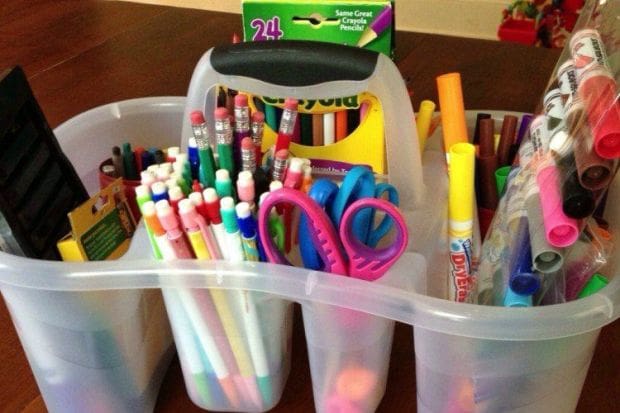 The lightweight design of these caddies makes moving easy for small hands, and because they're made from plastic, you can keep them clean by spraying disinfectant periodically. Keeping everything protected is also essential to have a smooth school year.
Create a Funky Cardboard Box For Storage
Cardboard boxes are a great way to store and organize books, papers, and supplies. Go one step further by adding a little personal flair with some funky fabric. You'll not find yourself drowning in paperwork at the beginning of every new semester.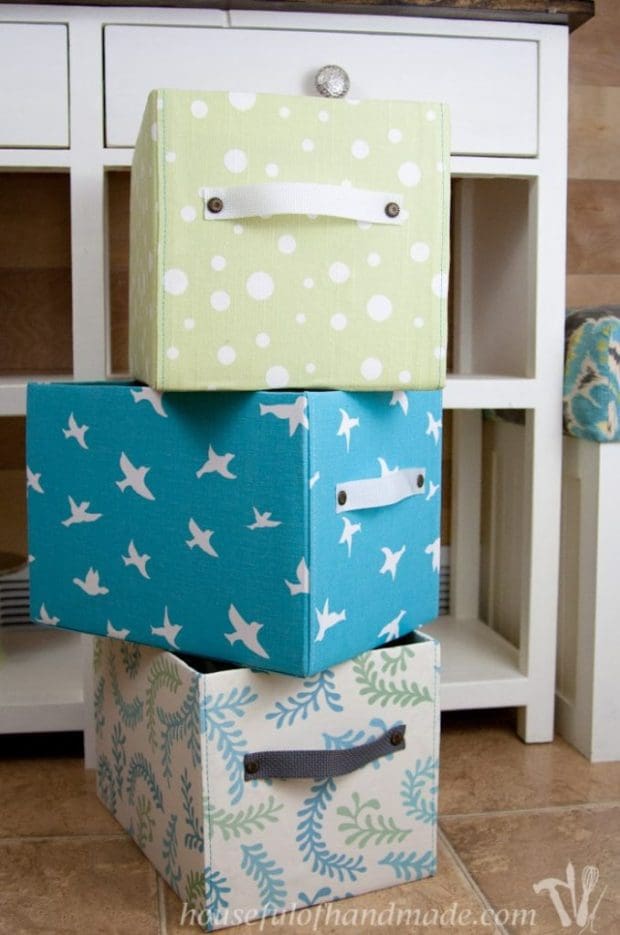 The project offers a fun and creative way to store school documents. All you require is some fabric, glue, and an old cardboard box. Also, it provides an easy alternative to plastic storage containers and doesn't cost much money.
Build a Multi-Purpose Bulletin Board
Another simple solution to minimize clutter, maximize efficiency, and save space on your desk is to double up on usefulness. This DIY mirror with a cork backing for a reversible bulletin board is an excellent alternative for any tiny, multi-purpose workstation.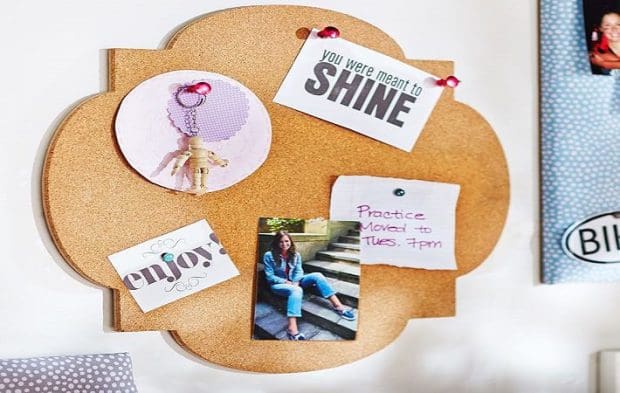 This bulletin board is the ideal desk companion for kids who are heading to school and need to get organized. Plus, those who want to use it as a planning tool for class in the mornings and save after-school notes and reminders are in luck with this perfect item.
Construct Stylish Supply Caddies
You'll undoubtedly want to include this easy solution in your school supplies checklist. Hang up your hook and ladder with this hack. Just cut a dowel rod to whatever length you need, then attach it to the crooks of two adhesive hooks.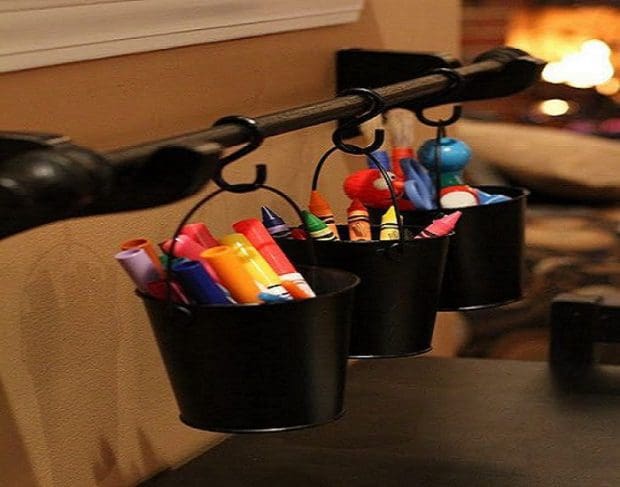 Hang S hooks and little buckets from the dowel, then fill the baskets with essentials like headphones and charging cables for older children and flashcards, pencils, and crayons for younger ones. The kids will have everything they need in their buckets.
Cute DIY Wall Calendar
The beginning of the school year is mainly filled with important dates and events that can get lost in a hustle, but not this one. Beyond that, keeping track of assignments and due dates can be easy as pie with this ingenious hack.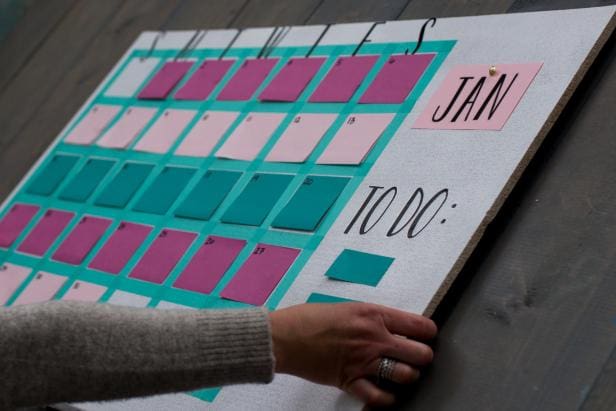 This DIY wall calendar is the perfect way to assist kids with their upcoming projects while filling up on their creative content. You can create an interchangeable schedule using post-it notes and washi tape that can be altered as needed.
Purchase a Dangling Closet Organizer
Sunday evening is the best time to arrange your outfits for next week. With a straightforward approach, getting dressed in the morning will be a piece of cake. Grab one dollar store hanging closet organizer, and you're good to go.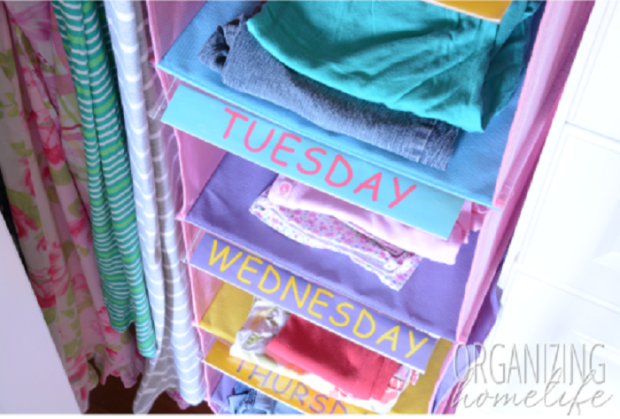 With only a few pieces of cardstock or computer paper, you can write an entire wardrobe plan for the week. Attach cardstocks to the back of each cube with the tape or glue and take off the hassle of getting dressed each morning.
Place a Cooling Rack to the Back of a Door
Clutter can be a huge distraction, so use adhesive hooks to hang your cooling rack on the back of the door for an inexpensive yet space-saving notice center. With this trick, you'll be able to make the most of little space.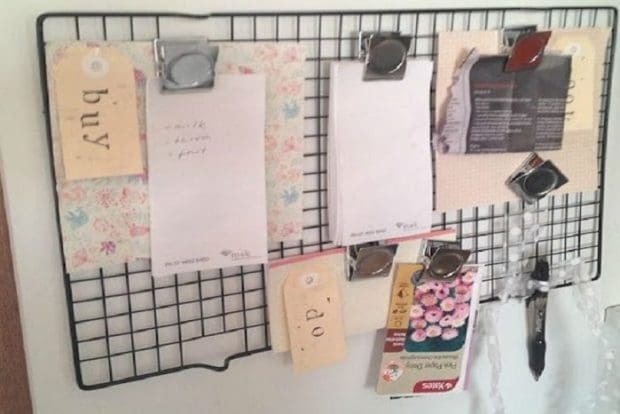 You can clip up reminders and little notes to keep them off your work surface, or you could attach a file holder for paper clutter. This way, you'll never lose any vital piece of work again because everything is right where they need to be.
Make Letter Trays Out of Cereal Boxes
No rule says that cereal boxes have to be thrown away or composted. In fact, you can turn old cereal cartons into various organizational tools. Keep your most important documents handy with this redesigned cereal box organizer.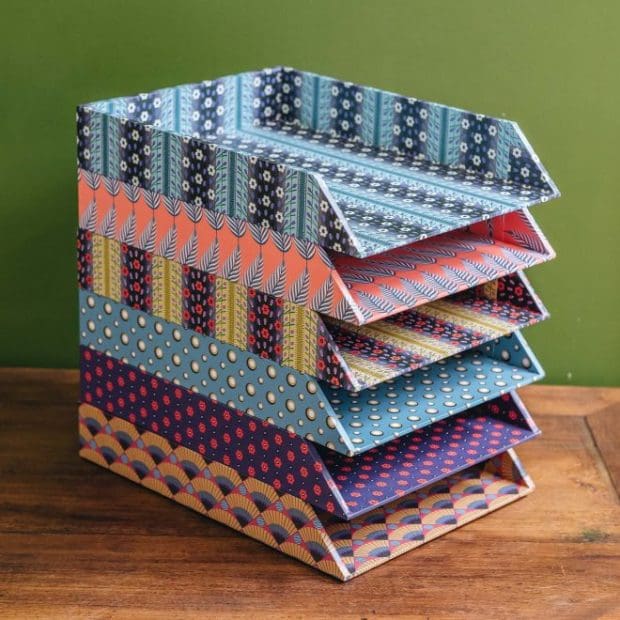 Remove the top flaps from this well-designed yet still-appealing container and wrap them in some playful patterned paper or duct tape for an eye-catching stackable storage option. They're ideal for a variety of uses, not just as letter trays.
DIY Smart Pencil Purse With Freezer Bag
Duct tape and snips are the answer to all of your organizational needs. We're turning an old freezer bag into a chic pencil pouch this time. The colorful duct-tape design is not only fashionable but also provides protection for your school supplies.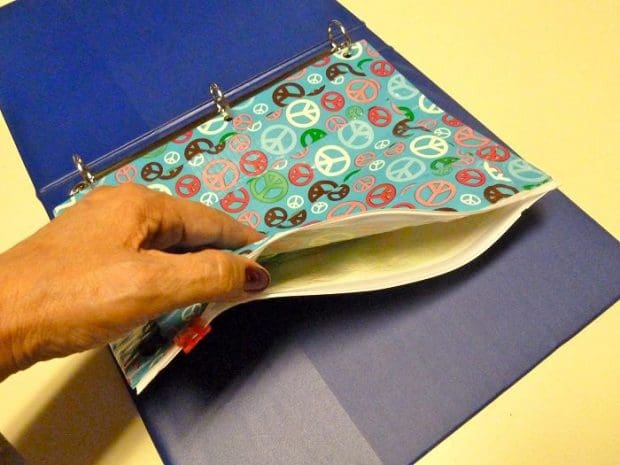 Once you've applied the colorful duct tape, punch holes along the bottom of your bag so you can use it in a three-ring binder. You will never lose your pens or pencils again with this clever trick. It's perfect for those times when you need supplies on hand.
Install Wall Hooks to Hang Backpacks
If you're not careful, backpacks command a ton of floor space. The conclusion to this problem is easy with this nifty hack. Don't just throw them on the ground. Instead, make designated space for them by installing storage hooks.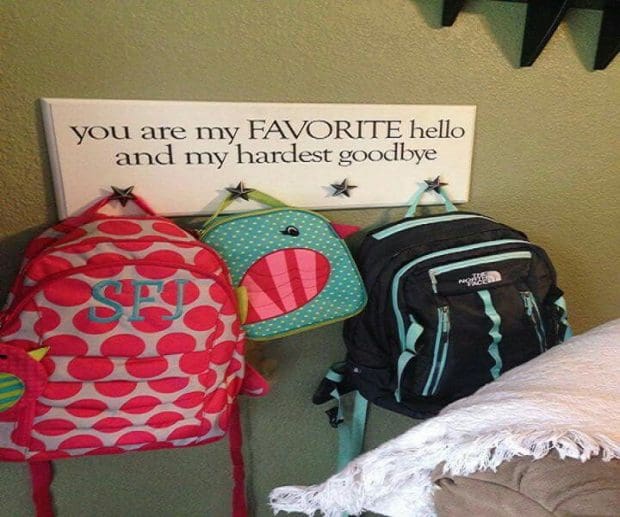 These cleverly designed hooks eliminate backpack "roadblocks" and provide an additional visual reminder for students, which can help keep track of their essential assignments at the end of each day. So, get some hooks installed in your child's room today.
Use Travel Soap Boxes As Tiny Organizers
If you're constantly on the go, then these tiny colorful soapboxes are perfect for organizing. They can be decorated with stickers for an extra fun touch. Plus, they're ideal for small items like crayons, snacks, and knick-knacks for the kids.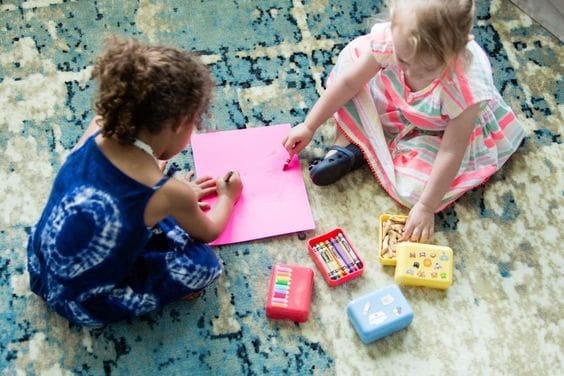 Just stuff them with all of those little pieces that always seem to find their way into kid's bags. They're also a great idea if you want something extra special when it comes to time traveling with kids. You can even give each child their own color-coordinated set.
Use Tiered Cake Stand For Creating Supply Station
A tiered cake stand is a perfect tool for storing all of those school supplies. Fill each tier with plastic cups from the dollar store, then use them to organize. You'll be able to put everything from pencils to paper clips to crayons.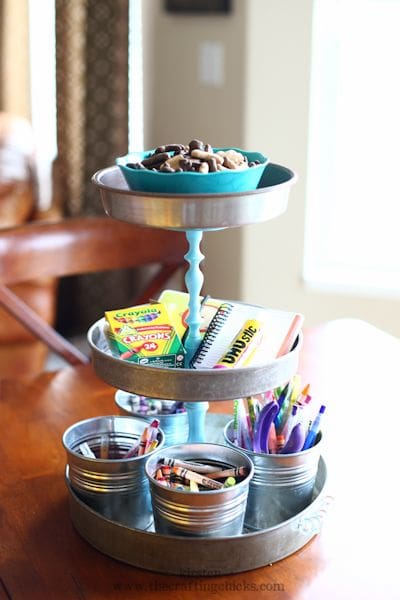 To make sure it stays upright, use glue dots or poster tack on the bottom of the cups for extra stability. If your child likes to color in their spare time, they definitely won't be missing any supplies with this handy invention.
Create And Display Fun Versions of Task List
Chore charts are a great way to keep the kids focused and motivated. Instead of printing out an entire chore list, frame these fun versions and put them where the kids can easily spot them so they won't be distracted from their tasks.
All you need are some free chore cards that can be found online or made in Canva. Next, print them and place them inside black dollar store picture frames. You could even paint the frame with a fun color for an added touch.
Repurpose Your Rotating Spice Rack
There has never been a better time to get your household in order with this awesome repurposed rotating spice rack. It'll keep everyone in the family happy and well organized, so go ahead and make the one for yourself.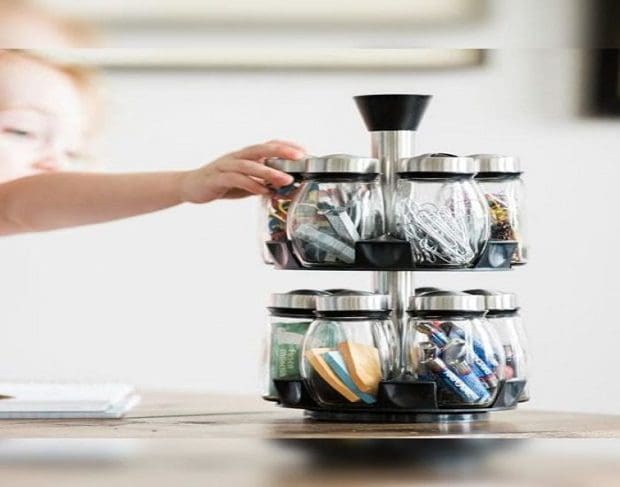 There is no more need to search through filled junk drawers and wonder what's hiding in those compartments because now, all the small items like paperclips, batteries, and rubber bands are right at your fingertips with this ingenious hack.
Keep Your Supplies Organized In Style With This Hack
Keep your desk looking neat and tidy with this super cute set. These recycled containers make this hack eco-friendly, while the spray paint adds a creative touch. You'll never have to worry about running out of space on your desk again.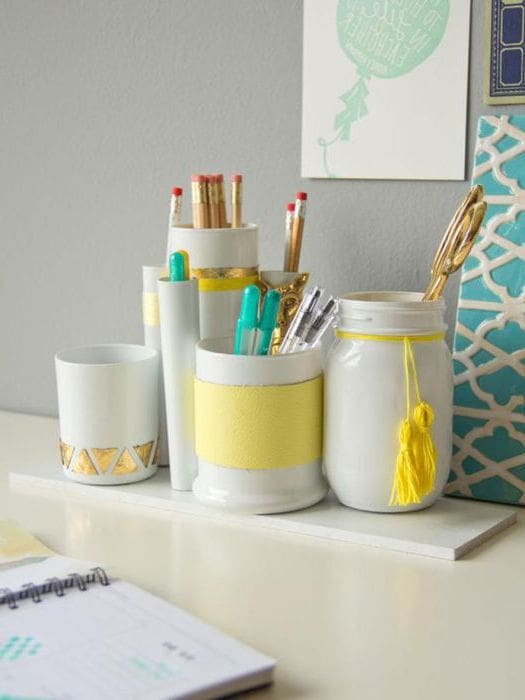 Also, it's perfect for anyone who needs their supplies in style without breaking the bank. The possibilities for this DIY are endless, and it can be tailored to suit any students' needs. The different cup sizes are ideal for all the school supplies you need to organize.
Make Your Own Cord Caddy With Binder Clips
Have you ever wasted time looking for all your charging cords? It's a pain, we know. But not anymore! Simply stick binder clips to the side of your workstation and pass the chargers through, voila! The problem is solved.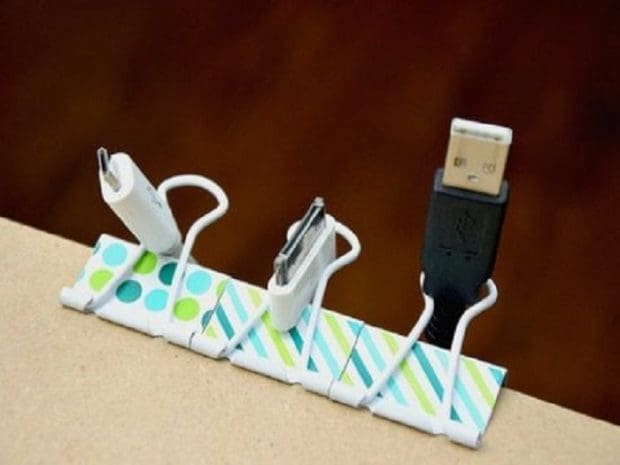 If you want a little something extra, use decorative tape and wrap it around the binder clips for an added touch of class. Just make sure you do it correctly so there are no marks left behind and all the cords are in one place.
Fanny Pack Storage Hack
Kids can now have tons of storage for their stuff without taking up too much room with the fanny pack hack. It's perfect if you want to keep things clean and organized but don't have enough surface area on your desk or countertop.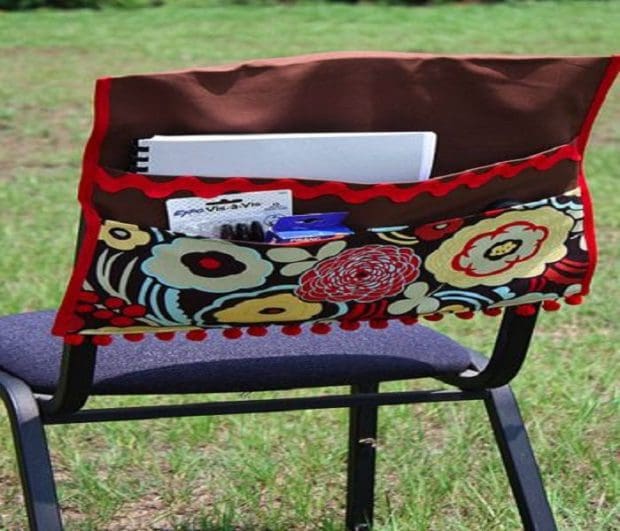 A funky, inexpensive satchel is all you need to keep your desk organized. With this nifty little bag, you can store all sorts of things right under your desk. Pens, note pads, and other supplies are kept handy while hidden away.
Make a Mobile Workstation With Rolling Cart
For those with limited space, a storage area and mobile workstation can come in useful. Kids will love the three-tiered rolling cart from the household section of a dollar store. You can use it for school supplies, homework completion, and more.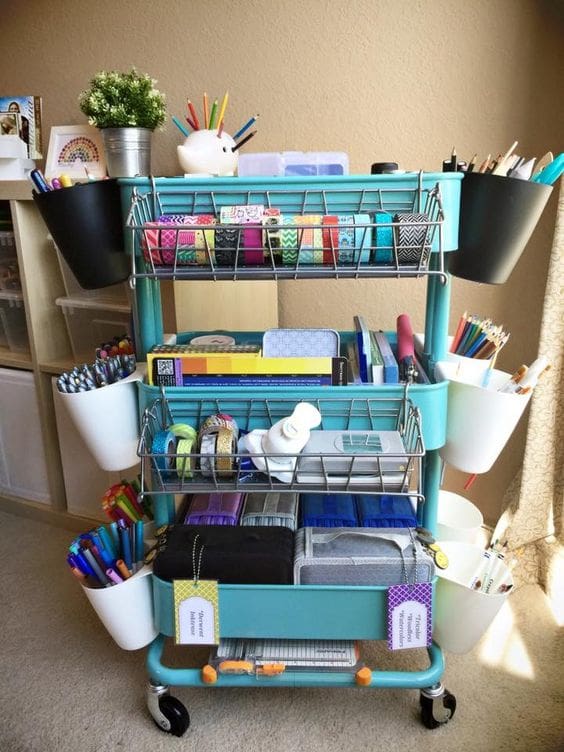 You can never go wrong with a sleek, modern metallic cart for your room. With the ability to hold add ons like magnetic containers and device-friendly charging ports, this is one asset that will pay off tremendously if organized the right way.
Purchase Lazy Susan For Easy Storage
A Lazy Susan is the ultimate tool for organization. It's a discreet tray that holds all your crayons and makes them easily accessible for school activities like crafts, plus it doesn't take up any extra space on your desk.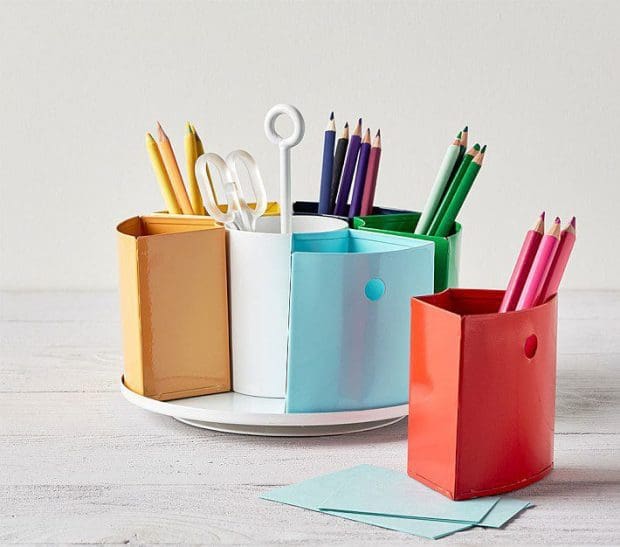 Keep a container in the middle to store thin utensils like pens and pencils, while you should position bigger things like sharpeners and glue bottles around the outside. With a simple twist, students will have everything they need.
Easy DIY Tablet Stand
Make a simple DIY tablet stand out of recycled household items. Begin by covering two cardboard paper towel rolls and a rectangular piece of cardboard with decorative tape. Put a plastic bag with rice inside the rolls to keep them from rolling off.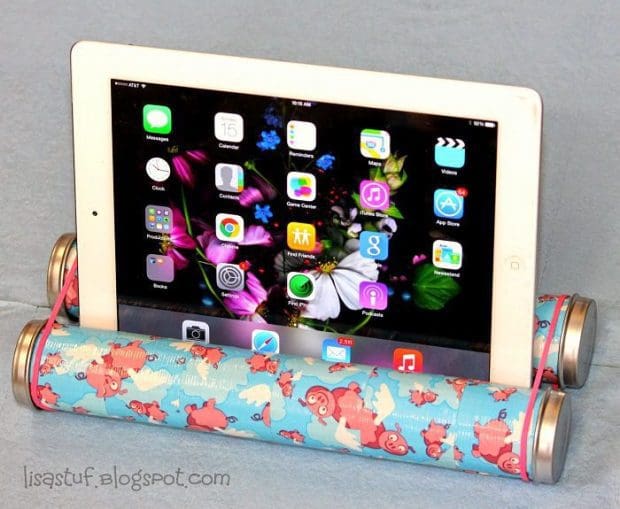 Place four baby-food jar lids on the ends. Apply glue on the top of the cardboard and attach covers to the cardboard to make a stand. Enfold rubber bands around them, so it stays together while the glue dries. Then, insert spacers so the tablet will stay up.
Adorable Backseat Organizer
If you're looking for a process to keep your kids content during long carpool rides, try this backseat organizer. This is a great idea for quick and versatile storage with plenty of room to stash school supplies, snack bars, tissue packets, and more.
You only need a roll of fabric and dollar store pencil pouches to make this adorable automobile-friendly storage box. This cute DIY project works best if you use brightly colored materials like pouches, so their minds don't wander too much.
Use Photo Box, Utensil Organizer To Make Drawer
This DIY drawer organizer will help you stay organized and make it super convenient for finding things, whether it is a workstation or a vanity. With a little bit of creativity and time set aside for crafting, you can make yourself one too.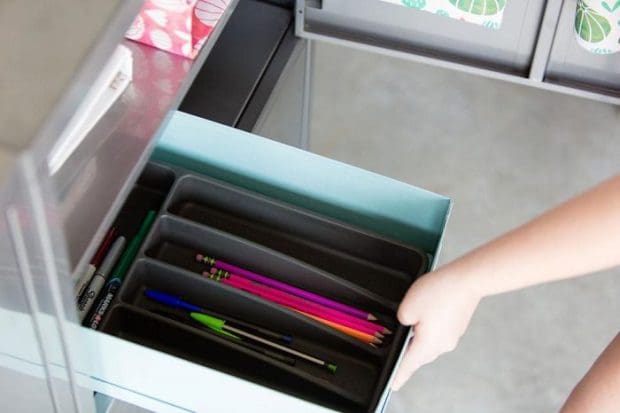 Start by using an old photo box to hold all your school supplies. This will make it easy to clean out when needed. Next, find a utensil organizer that perfectly fits the box; you can easily find these items at a local dollar store.
DIY Personalized Dry-Erase Board
Keep your child's reminders on display with a trendy customized message center. This DIY display is the perfect spot to write down a quick note of encouragement, keep track of all those start-of-year occasions, or post reminders and due dates.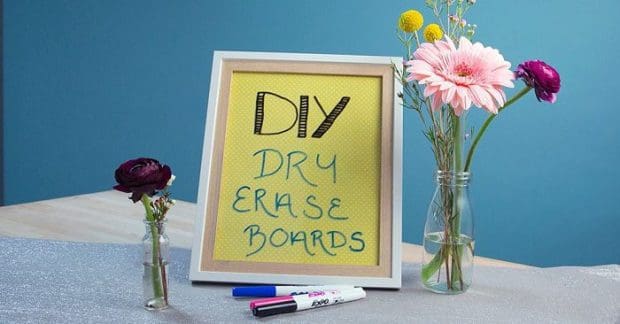 The kids will love this fun project that they can do with their parents. It's made from just a few supplies found in most craft sections of the dollar store, so it doesn't take long, and it's really easy to put together.
Build Your Own Tech Shelf With Adhesive Hooks
You won't believe how easy this instant tech shelf is to install. Simply grab two adhesive hooks with a width approximately 2 inches shorter than the device you want to store on them. After that, mount the hooks above your desk.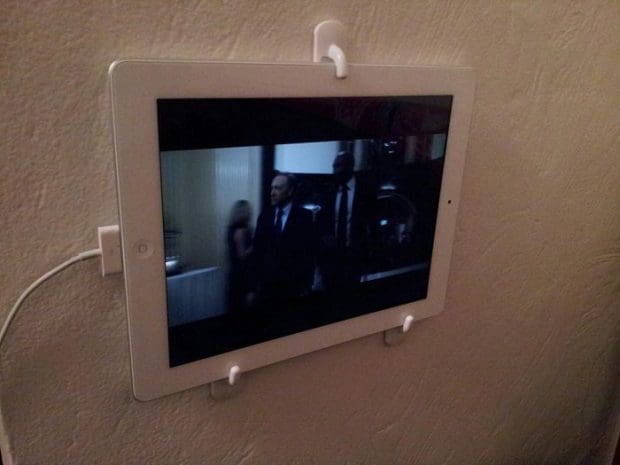 The seated eye-level position of the shelf allows kids to free up their desk space. Plus, they can use it as a stand to watch instructional videos without requiring additional space or obstructing their workspace with electronics, also making the chances less likely to damage them.
Create Vertical Car Storage Using Carabiners
The best way to maximize your car's vertical space and keep clutter at bay is by utilizing climbing carabiners as bag hooks. They're great for holding handbags, backpacks, gym bags, and even groceries while driving. They'll do the job.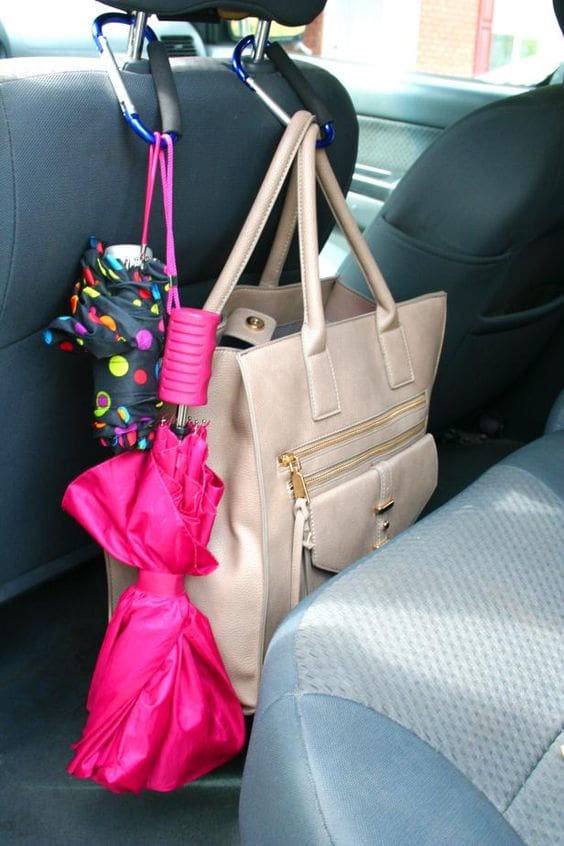 They're perfect for any vehicle that has limited storage space. Using fasteners like these help your stuff not topple over while driving and gives you a good grip on each item. It also keeps things organized and neat inside your vehicle.
Reusable Snack Wraps With Affordable Fabric
We all know the sentiment of guilt when you use too many plastic baggies. But it doesn't have to be a problem anymore. These homemade reusable sandwich wraps are easy to make with just beeswax pellets, patterned cotton fabric, and parchment paper.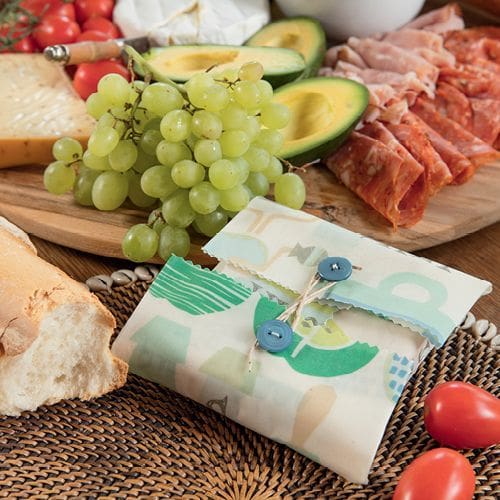 Additionally, you'll require a pinking shear and an iron. It's also really cheap to make. All you need is fabric from your local dollar store. Melt the pellets with a hot, dry iron. Once dry, fold it around the snacks and tie it with cotton string.
Stylish Organizers Using Cereal Boxes
With all those school supplies you need to store, you can get environmentally friendly by repurposing empty cereal boxes and adding a touch of style to the process. Not only is this eco-friendly, but it's also quick and straightforward by using suitable materials.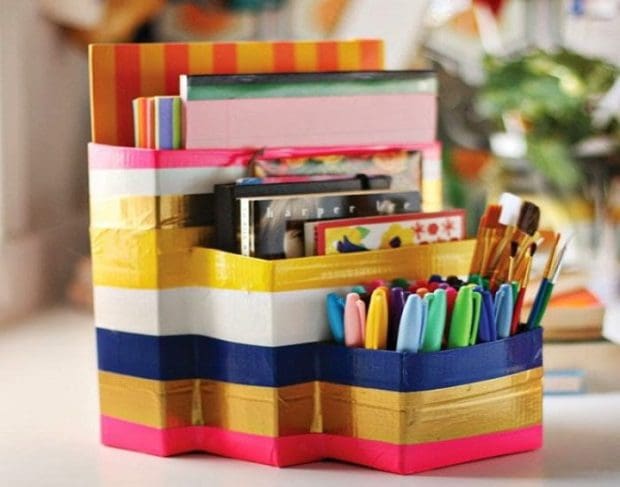 This stylish arranger is easy on the eyes, wallet-friendly, and most importantly, it can transform any cluttered surface into an organized work area. They're made from cardboard, paint, and hot glue, which are items that are already in most homes.
Magnetic Paper Bins
How often do you find yourself juggling homework assignments, important documents, and announcements? It can be challenging to keep track of all the necessary paperwork for your child or students. But not anymore with these DIY magnetic paper bins.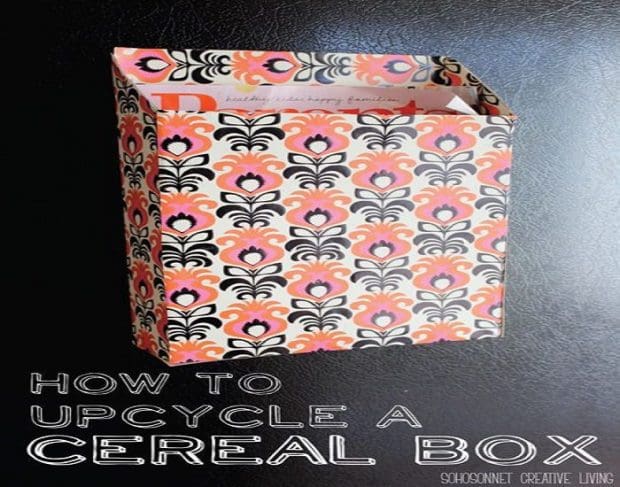 All it takes is some scrapbook paper and magnets from the dollar store along with an old cereal box, and voila! You have achieved magnetic organization with very little effort. It will allow you to keep everything within sight and reach as well.
Ice Pop Crayon Organizer
What can slow down a young scholar more than not being able to find their writing or drawing tools when they need them? Keep them organized with these handy trays that can also double as an ice pop mold.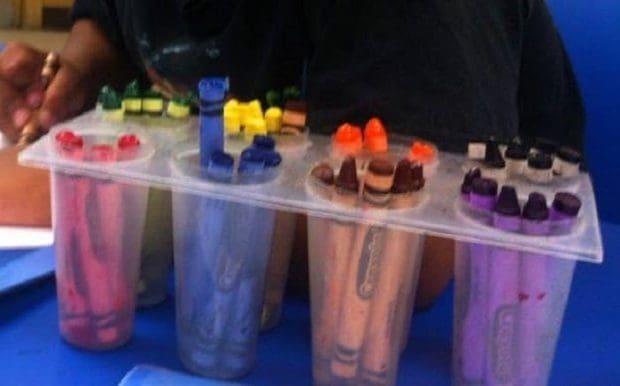 This idea is excellent if there's more than one student in each household with multiple boxes of crayons, colored pencils, and more. Not only does this hack provide a versatile storage solution, but it also eliminates the need to search around.
Create a Lunch Station
Are you constantly dealing with picky eaters and stressful mornings? You don't have to panic about that anymore with this helpful idea. Just pass on the job of packing lunch duties to your kids themselves, so they become more involved in their own food choices.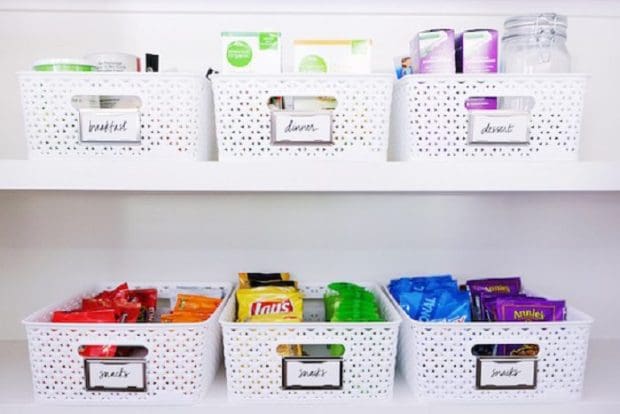 You can make a mix-and-match lunch station with dollar store baskets. It's easy, and your kids will have fun doing it themselves, or you can do it with much more ease and time than you would if you're organizing everything from scratch.
Make a Calm Down Jar
Going to school every day can be an exciting time for children, but it can sometimes trigger their anxiety. If you feel like your kids are getting out of control in class and need some help, consider using our calm down jar DIY project.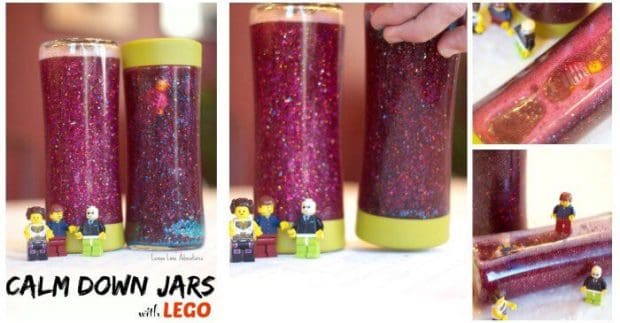 This fun DIY project uses Lego figures. However, there are plenty of other small toys from the dollar store you can use as well. You'll also need a glass jar, glue, food coloring, and glitter for this creative endeavor.
Fancy Book Covers
The most creative and impressive way to make the reading experience more fun is by using fabric covers. You can get them from the dollar store at a cheap cost. They're colorful, creative, and more stylish than those boring old paper grocery bags.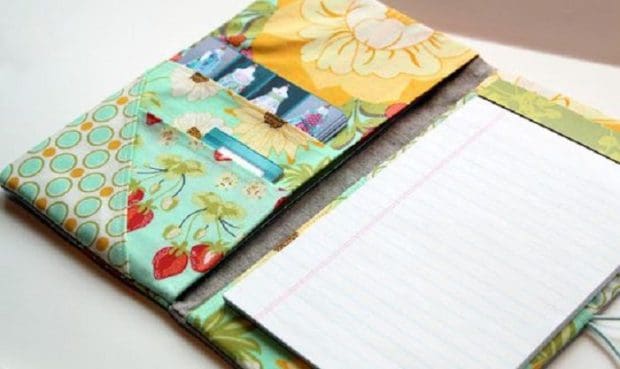 It's a great place to find fabric for making book covers and personalizing them with markers. Not only will you be able to protect those textbooks from getting damaged, but your child won't mix up their notebooks with other classmates either.