Brides On A Budget: 40 Dollar Store Wedding Hacks
By Harpreet K July 31, 2023
---
Planning a wedding on a budget does not signify that you have to sacrifice your tone or vibe. Many great affordable items available at Dollar Tree can help you create a unique and beautiful celebration. Shopping at a dollar store for less expensive items may help you bring down the overall cost of the wedding. As a result, you'll save up and be able to use that for something more substantial. You will be surprised when you find affordable wedding supplies. Dollar Tree even has a website for online purchases to make your experience easier. You can find items like decorations, centerpieces, and favors. This blog post will show you some examples of brides who got their dream wedding on a budget. If you are on a strict budget or just desire to save finances, keep reading for Dollar Tree wedding hacks for inspiration!
1. Faux plant decoration
If you're looking to add a touch of greenery to your wedding on a budget, Dollar Tree has some great faux succulent plants that will do the trick. They come in various hues and types so that you can discover the ideal style for your big day.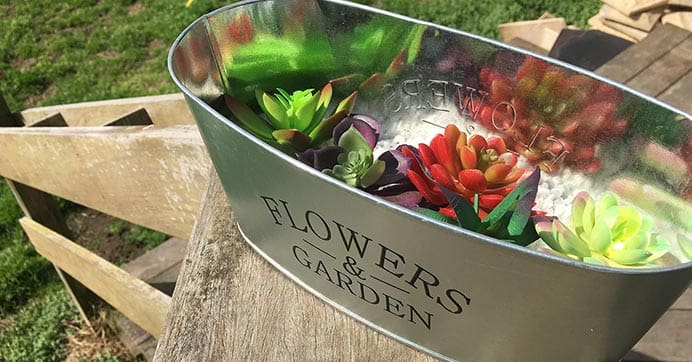 Plus, they're very affordable and priced at a dollar, which means you can save your money for other things. Check out these plants today and get ready to wow your guests! These may pass as real succulents and add a charm to the decor from afar.
2. White stoneware for dinner
Finding suitable stoneware that's affordable is hard. If you don't know, Dollar Tree sells them for a dollar per piece. You may pick these up from the store or order them online for your wedding. The white stoneware will look classy without breaking the bank.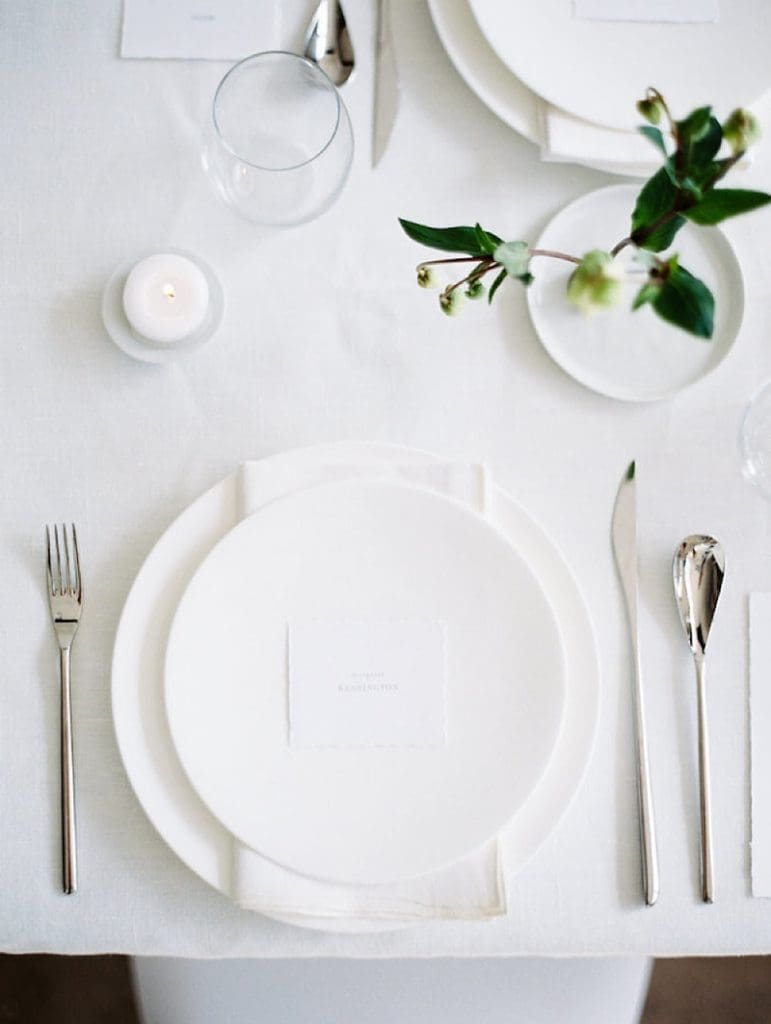 You may stock up on so many pieces at such a deal from the store. Ensure the stoneware is free from chips and cracks before the big day! Also, when choosing white, ensure that it's free from color stains from other ceramics or packaging, or it'll look bad.
3. Classy white balloon decoration
You can find tons of white latex balloons at Dollar Tree that will add some elegance to your big day without costing a fortune. They're easy to set up and take down, so you won't have to worry about them causing any last-minute chaos.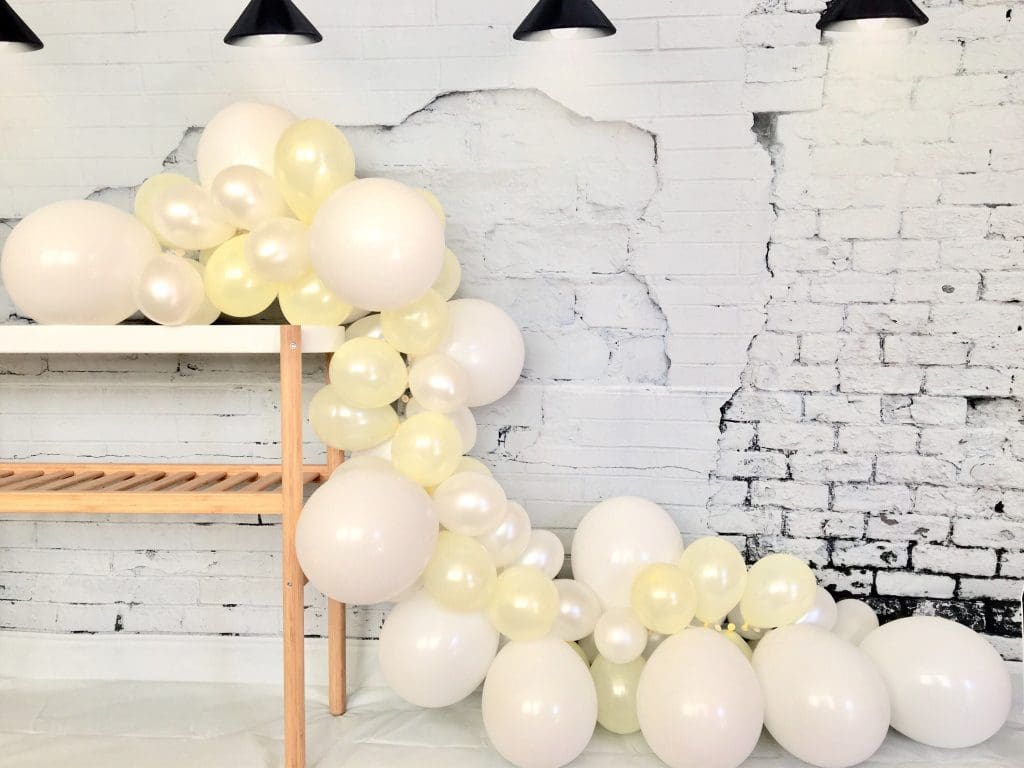 White latex balloons make beautiful decorations and add a romantic touch to the space. Use them to add a romantic atmosphere or fun and festivity to your celebration. Best of all, when the party's over, you can pop the balloons and dispose of them.
4. DIY spring flower decorations
If you're looking for an option to add some affordable elegance to your wedding, look no further than these tissue paper flowers. You can use these simple-to-make decorations to dress up everything from the ceremony arbor to the reception hall.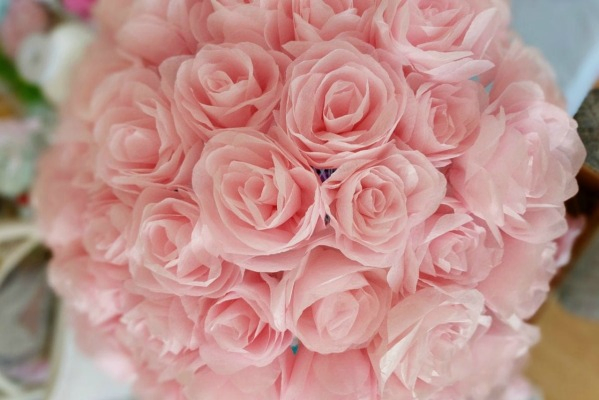 They come in various colors and styles to match any theme or decor. Just check out a tutorial online and chose the style that suits you. Best of all, they only need primary materials that you can get close by. So if you're on a tight budget but still want your wedding to look fabulous, go ahead and make some tissue paper flowers! 
5. Plastic bucket to store champagne
While a silver plastic ice bucket from Dollar Tree might not be the first thing that comes to mind when you think of champagne storage, it makes a lot of sense! The bucket is very lightweight and easy to carry around the venue.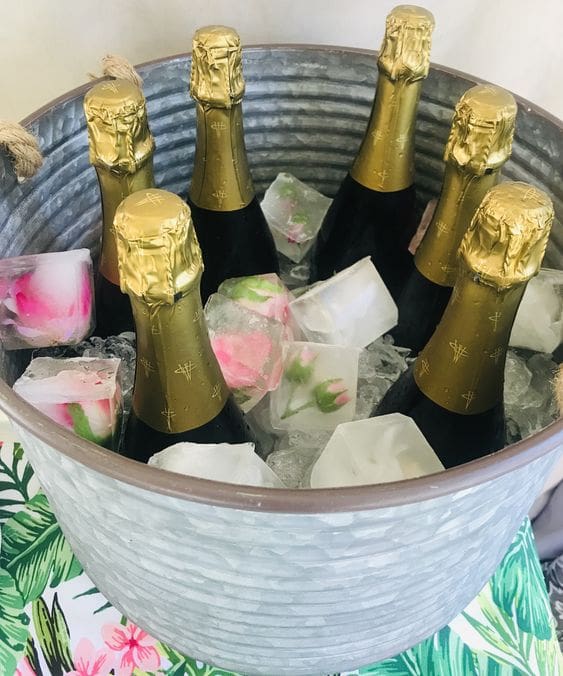 The silver color will help keep your champagne cool for hours. And the price is right – you can't make a mistake with a $1 ice bucket! You may buy multiples at such a low price to store several bottles of champagne for celebrating later. 
6. Wedding plaques
Dollar Tree has some fantastic marriage plaques that can serve as wedding and bachelorette party decorations and souvenirs. These cost just a dollar, and you can place them at multiple locations at the wedding venue or a photo booth!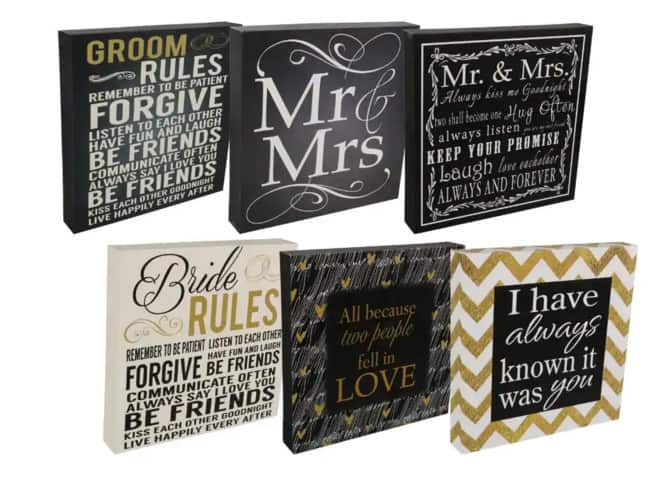 The wedding plaques come with fun messages and quirky slogans from both the bride and groom's sides, adding a fun element to the space. With these, you won't be required to order custom plaques that may cost an arm and a leg.
7. DIY tealight holders
This is a terrific idea to save finances on your marriage decorations! Dollar tree candles and glasses make beautiful tea light holders, and you can use them in many different ways to create a unique and elegant look. You may also paint them as per the theme.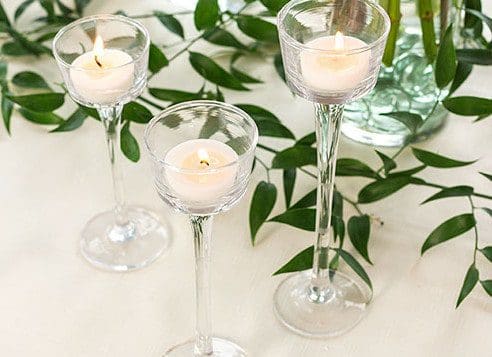 Try clustering them together in large groups or spacing them out around the room for a more scattered effect. You can also use different heights and forms of glasses to create exciting patterns. Be sure to choose candles in coordinating colors to bring your theme together. 
8. Flip-flops for tired guests
Your guests will probably feel tired and need to relax their feet during different days' activities. You may use cheap but comfy dollar store flip-flops as wedding guest giveaways! They will save you money, but they'll also keep your guests' feet comfortable all day long.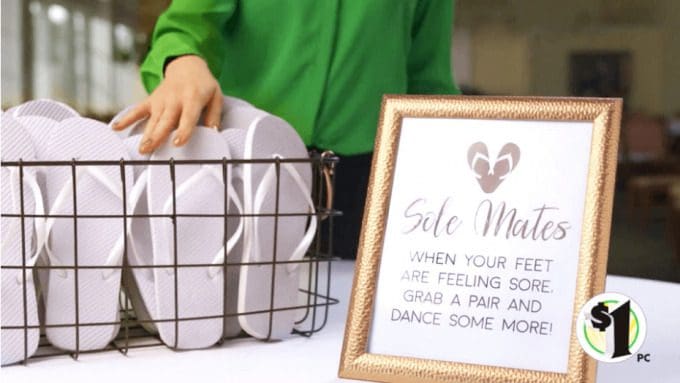 Just be sure to have a few pairs in a basket if someone forgets to bring their shoes. They're comfy and come in various colors, so your guests can select their preferred look. Plus, they're comfortable to put on and take off, perfect for a busy wedding day.
9. Fun photo booth props
Add some fun to your wedding photos using dollar store photo-booth props. You can turn even the most mundane props into something special with a bit of creativity. For example, instead of using boring old straws as implements for your photo booth props, try decorating them with ribbons or embellishments.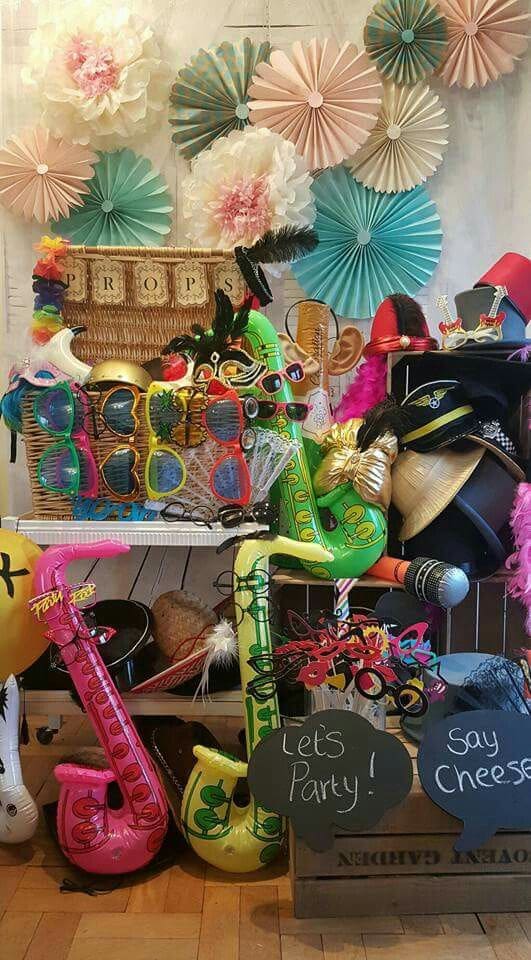 Moreover, add feather boas, small toys, and other props relevant to your theme for your guests to use. If you're feeling ambitious, you may even make your prop accessories out of craft supplies. The opportunities are limitless! So get imaginative and have fun!
10. Glass centerpieces
Glass cylinder vases are a great way to add a touch of elegance to your wedding reception without spending a lot of money. Simply fill the vase with water and add fresh flowers or foliage. You can also add candles or other decorative elements to create a more dramatic look.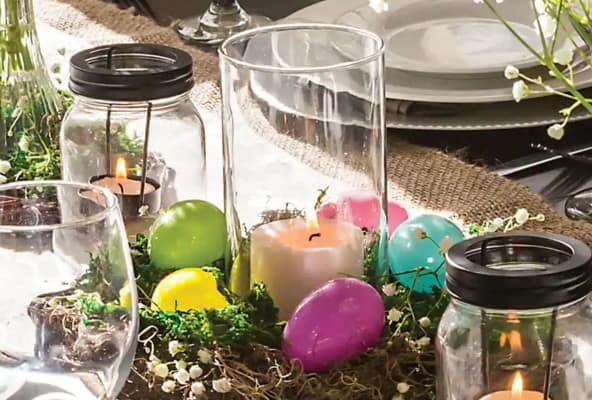 And since the glass is transparent, it will let through plenty of natural light, making your centerpieces glow. If you add candles inside these vases, you can decorate the outside with flowers and ribbons for a classy look. Remember to pick unscented candles for the wedding venue.
11. Mason jar thank you gifts
Use mason jars to thank your guests for coming. Here's how it works: fill each jar with a different item—ranging from candies and cookies to small souvenirs or trinkets. Then, attach a tag that says, "Thank you for celebrating our special day!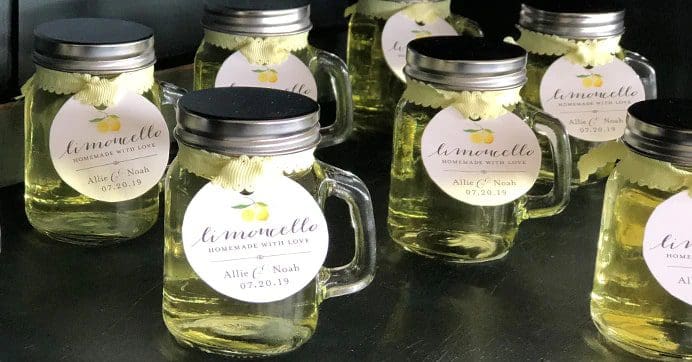 You may also add messages such as love from the bride and groom. It's a fun, easy, and affordable way to show your appreciation. Plus, it gives your family and friends a little something to take back with them as a souvenir. 
12. Clear cake server
Transparent plastic cake servers are a great budget wedding option! They're affordable and durable, so you can be sure they'll last through your big day. Plus, they're transparent, so they'll let your cake's beauty shine through. It'll be easier to pick the right portion size as well.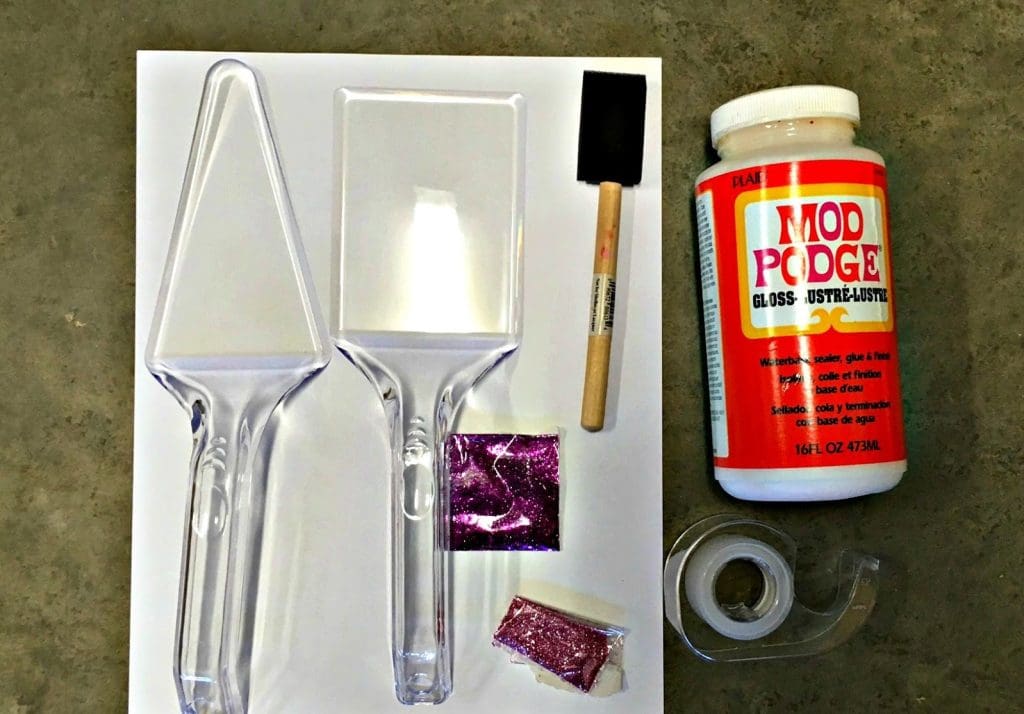 These servers will do the job perfectly, whether you're serving up a towering three-layer cake or a humble sheet cake. These just cost a dollar and come in a two-piece set. You may get a few to make the cake serving job easier. This bride decided to use Modge Podge to glue some sparkles to the end of the handles. Great idea!
13. DIY guest welcome bags
If you're looking for some affordable supplies for your DIY wedding welcome bags, then head on to your nearest Dollar Tree! You may choose helpful items that you can pick up to make sure your guests have everything they need when they arrive.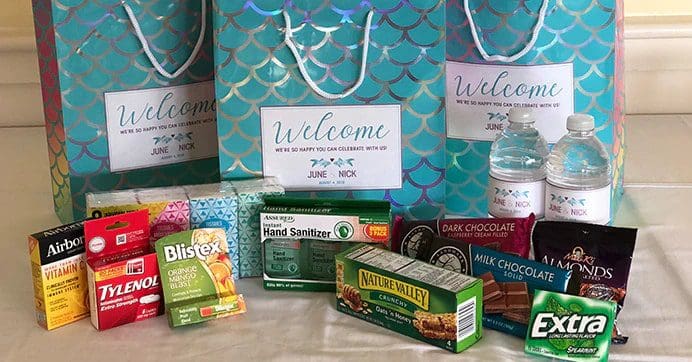 Add toiletries such as mini shampoo, conditioner, and soap. Don't forget to add a small First Aid Kit with bandaids, antiseptic cream, and medicines. Besides that, add some snacks such as granola bars, nuts, fruit chews, and juices. If it's a destination wedding, add local maps and sunscreen.
14. Crystal vases lookalike
Are you searching for an inexpensive and stylish way to decorate your marriage venue? Why not consider using dollar store plastic vases? These vases are perfect for budget-conscious brides who want to create a beautiful and sophisticated look without breaking the bank.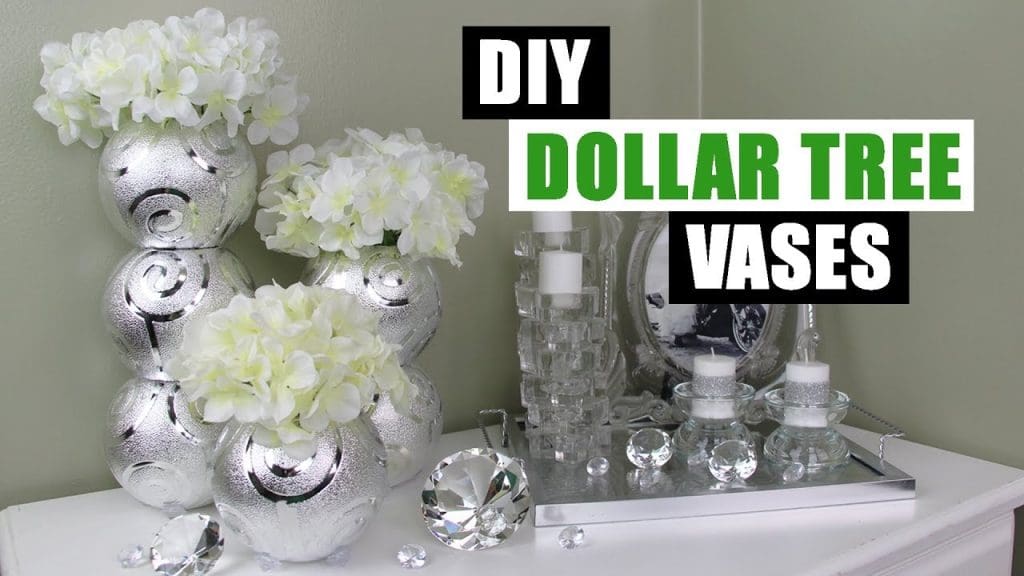 Plus, they're super easy to find and come in various styles, so you can find one that matches your wedding theme. Fill them with fresh flowers for the final look. This is probably the most straightforward and practical way to use dollar store plastic vases as wedding decorations. 
15. DIY photo backdrops
It's no secret that weddings get too expensive. By the time you add in the cost of the venue, catering, decorations, and other essentials, you can easily find yourself spending hundreds of thousands of dollars. Consider creating a DIY photo-booth background.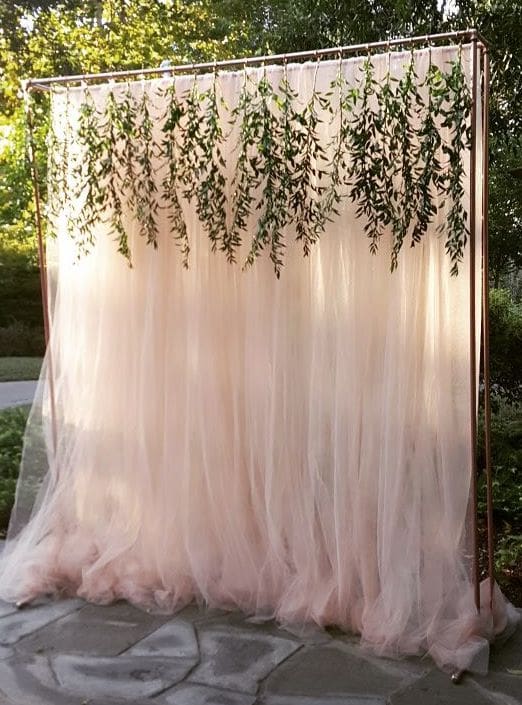 When selecting a background for your DIY photo booth, there are a few things to keep in mind. First, consider the overall theme or aesthetic of your wedding. Are you going for something rustic and timeless? Girly and glamorous? Fun and funky? You may use garlands and flowers or wallpapers. In this example, the bride used sheer curtains, fairy lights and plastic greenery to pull of the final look.
16. Silver-toned picture frames
This is an excellent idea for your wedding decor! Silver-toned picture frames make beautiful and affordable wedding table decorations. You can use them to frame photos of the happy couple or as part of a centerpiece arrangement with some candles and flowers.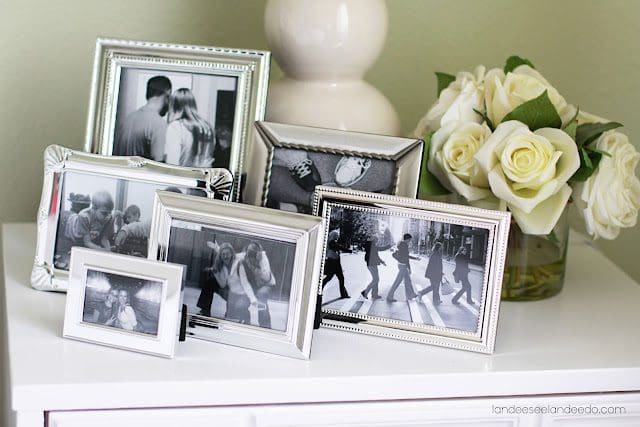 They're also perfect for marking the number of each table. By using silver-toned picture frames, you'll be able to add a touch of elegance to your wedding without spending a lot of money. Also, these are sturdy and can be reused later.
17. Stemless wine glasses
Get yourself some nice stemless wine glasses to throw a classy bachelorette party. They're stemless, which gives them an elegant look. These are cheap, and you can easily have enough for all of your guests and keep a few more.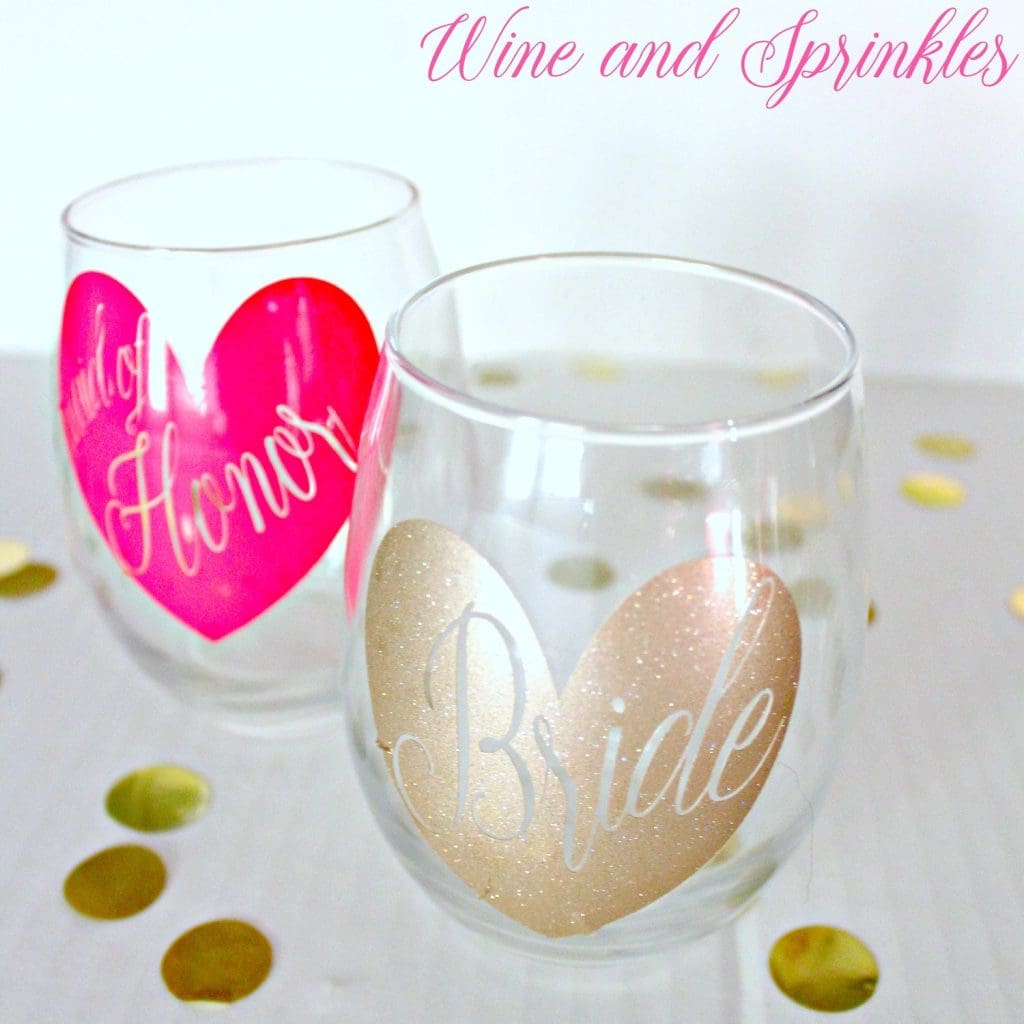 Plus, at just $1 per glass, they're an affordable way to add some sophistication to your celebration. You may also decorate these with ribbons and wedding quotes stickers to add more fun. Your guests may take them home as souvenirs when the party is over.
18. DIY Bridesmaid Corsages
Making corsages using fresh flowers may get expensive if you have many bridesmaids. Check out online tutorials for making DIY bridesmaid corsages from supplies from Dollar Tree! With a few simple steps, you can create beautiful corsages that will look like they cost a lot more than they did.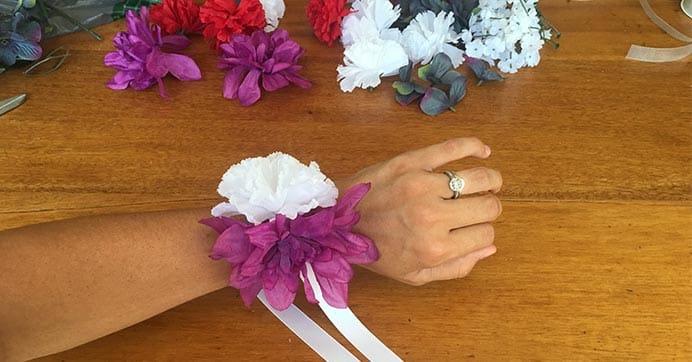 Best of all, you'll be able to save money on your wedding flowers while still having gorgeous corsages. You may customize them in any color and size you like. In addition, your bridesmaids will be able to keep these forever.
19. Square glass holders for white candles
If you're looking for a way to add some simple, elegant wedding decor on a budget, look no further than Dollar Tree's versatile square glass candle holders. They are great for centerpieces and accent pieces, but they also give you the freedom for creativity.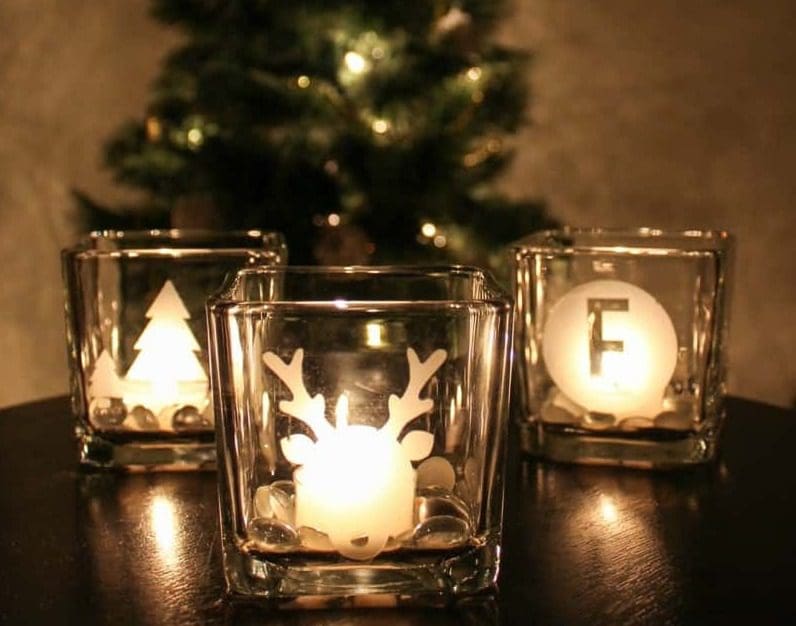 You can use them to create all sorts of beautiful decor elements like votive candles, floral arrangements, and even place cards. Fill your glass holders with water, floating candles, and fresh flowers or rose petals for a simple yet stunning centerpiece.
20. Bubbles for guests
What a fun (and budget-friendly) idea! I love the idea of using dollar tree bubble bottles for a wedding ceremony or send-off. Not only are they entertaining and whimsical, but they're also a great way to create a celebratory atmosphere.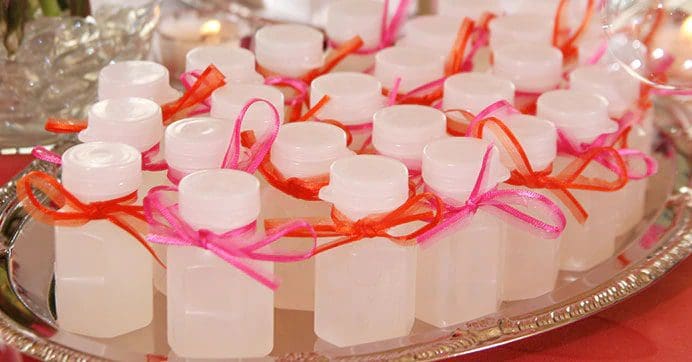 Plus, they're super easy to use. Just blow and watch them float away into the sky. It's a beautiful sight that will leave your friends with memories of your amazing night. You may hand over these to guests and kids to have fun. 
21. Mini frames for table and seating numbers
You can use mini frames for table numbers for your wedding. They're a great option because they're affordable and easy to work with. Simply print out your table numbers on a sheet of paper, and then trim them to fit inside the frames.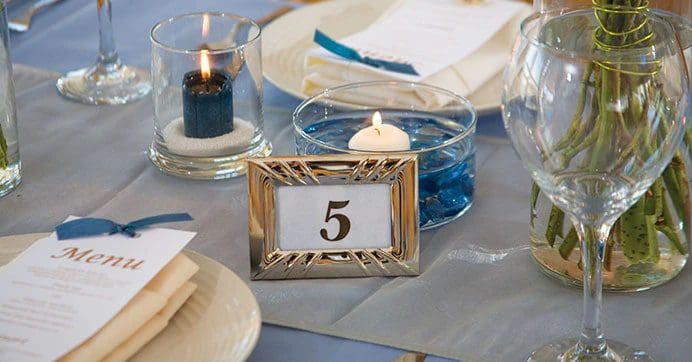 You may mount them directly to the frames or use removable adhesive stickers to attach them. Then, just place them at each of your guests' seats. They'll be able to see their assigned table number easily! This will make the arrangements so much more convenient.
22. Classic white wedding bouquet
Budget-friendly weddings are becoming more and more popular, thanks to sites like Pinterest. The key to nailing this look is to focus on texture and element rather than color. Here's how to create a classic white bouquet using supplies from the dollar store.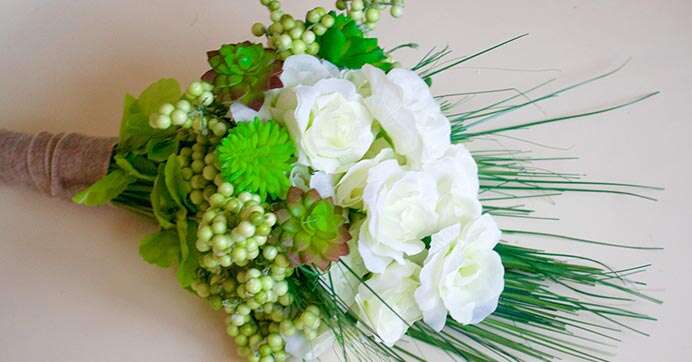 Supplies needed will be a roll of tape, one bunch of faux baby's breath, two bunches of miniature carnations, a hot glue gun & glue sticks, and floral wire. Start by wrapping the tape around the bottom of all the stems to be bundled together. Assemble the flowers to create a bouquet.
23. Plastic champagne flutes
On a budget, but do you still want to treat your guests to the finer things in life? Dollar Tree has got you covered with their plastic champagne flutes! Just because they're made of plastic doesn't mean they can't hold up bubbly champagne.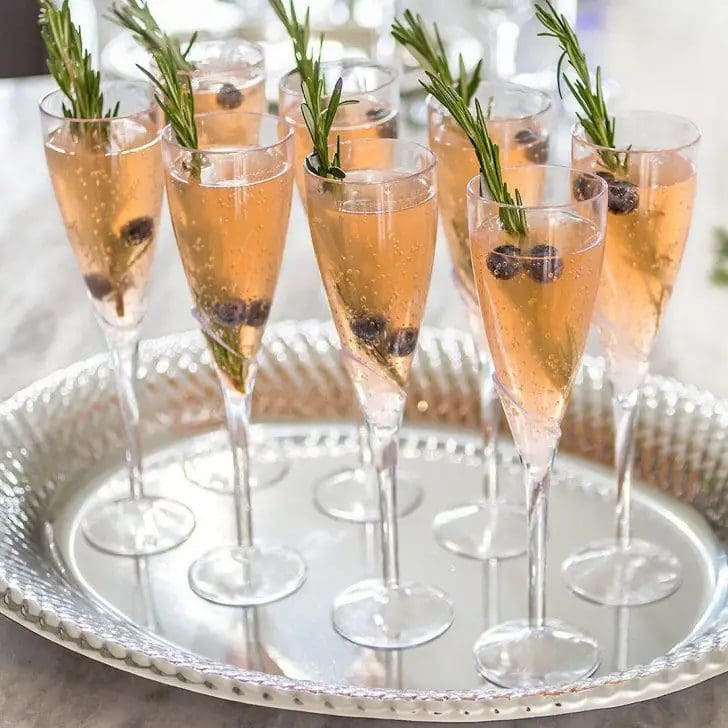 So go ahead and use them to serve champagne at your wedding – your guests will be thrilled to see different wine and champagne glasses. Plus, you'll be able to save money in the process while reducing hassle. These come in a pack of two for a dollar to buy more in quantity.
24. Chair decoration with ribbons
Dollar Tree stores make great tulle ribbons! You may use them to create wedding decorations, like bows for chairs and tables. It's very affordable and easy to work with, so it's an excellent option for DIY decorating. Plus, the results look pretty amazing. Just take a look at the photo below to see what you can achieve.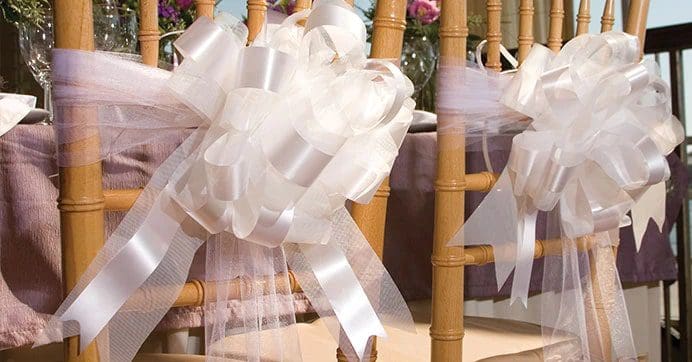 So if you're looking for a cheap and easy way to decorate for your wedding, definitely consider using tulle ribbon from Dollar Tree. It'll help you save tons of money and have beautiful adornments that your guests will love. They'll appreciate your extra efforts.
25. Succulent centerpieces
Are you looking for an affordable and unique way to add green to your wedding decor? Why not try using dollar store succulents supplies and glass jars to create beautiful centerpieces? Start by gathering small glass jars or containers, faux moss, rocks, and candles from the dollar store.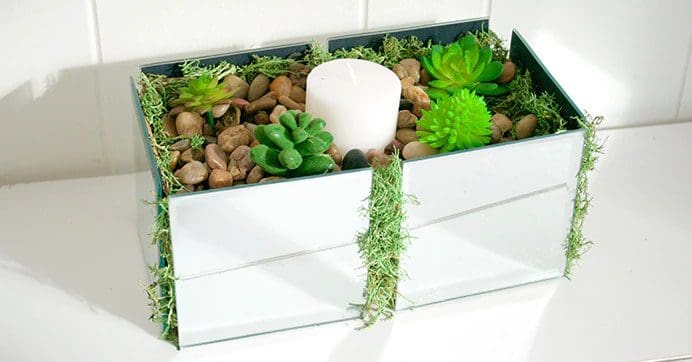 To create the succulent centerpieces, start by adding a layer of moss to the bottom of each jar. Then, add a few small succulents, making sure to press them into the moss to stay in place. You can keep things simple or get creative and decorate them with ribbon, burlap, and lace.
26. Extra wine glasses
If you're looking for a budget-friendly way to serve wine at your wedding, Dollar Tree wine glasses are a great option. They're inexpensive and can be easily decorated to match your wedding theme, be it a summer or spring wedding.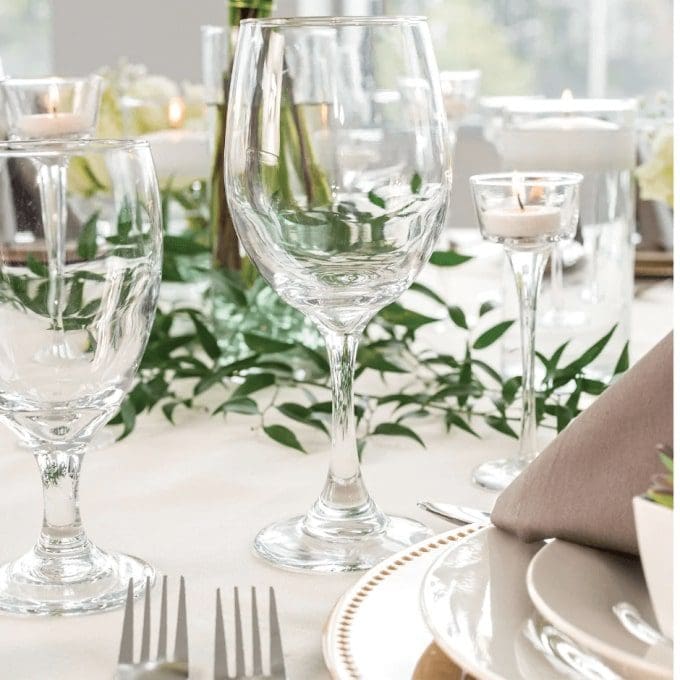 You can use ribbons, beads, or even stickers to decorate the glasses. Just make sure that whatever you use is safe to come into contact with food and drink. Once you've trimmed the glasses, fill them with your favorite wines and enjoy!
27. Faux white rose petals
Dollar Tree faux white rose petals are a great way to add a touch of elegance to your wedding entrance. Rose petals are also considered a symbol of love and appreciation, making them the perfect choice for your big day. Plus, they're relatively inexpensive compared to other wedding decorations.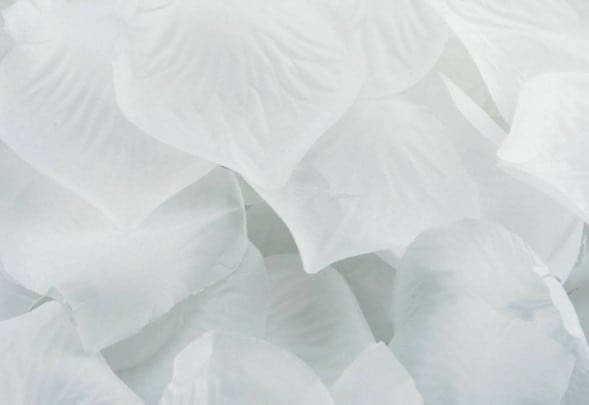 Choose a large bag of faux white rose petals. You could line the aisle with them or create a path leading from the door to the altar. Begin placing the petals accordingly. Make sure to distribute evenly. Also, give these to the flower girl for the bride's entry.
28. Favor boxes
The Bride and Groom Favor Boxes from Dollar Tree are the perfect way to thank your wedding guests! They're the ideal size for small gifts or treats, and they come in a variety of colors; therefore, you may choose the perfect one for your event.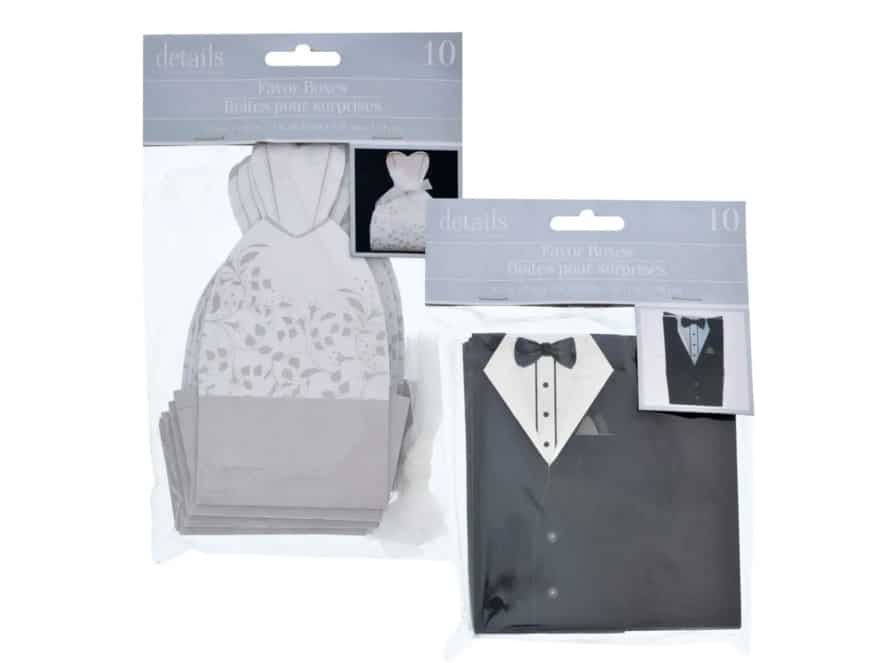 Plus, they're affordable so that you can buy enough for all of your guests! They come in a pack of ten for a dollar. So you can purchase fancy candy and cookies to add to these boxes while saving on the packaging.
29. Picture frame reception seating chart
If you're looking for a cheap and easy way to create a seating chart for your wedding reception, Dollar Tree is the place to go! DIY picture frame seating charts are the perfect solution if you're on a budget.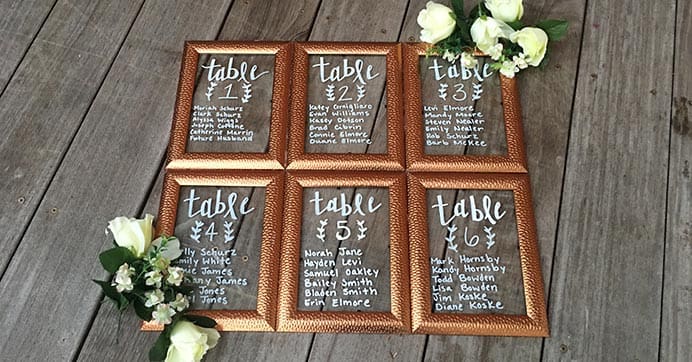 Simply find a frame that fits your reception space, add some decorative touches, and voila! Either write the names on a piece of paper and glue it to the back of the frame, or you can use a permanent marker to write directly. You've got a unique and stylish seating chart that will impress your guests.
30. Thank you candles
If you're looking for a cost-effective and creative way to thank your wedding guests, why not try making your candles using dollar store supplies? Dollar tree candles make great DIY gifts that guests will surely appreciate. They have various unscented and scented ones to choose from.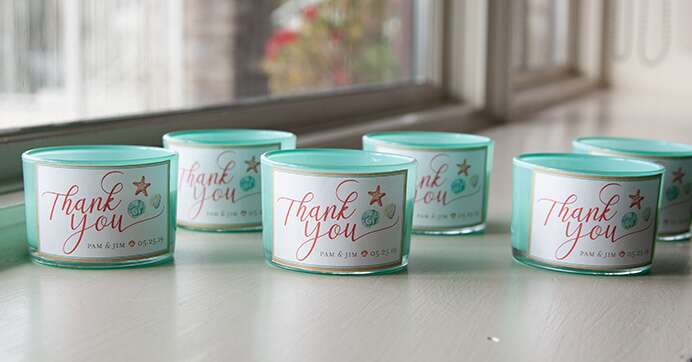 Start by picking out some candles in the colors and scents of your choice. You'll need one candle per guest. Stick custom stickers on the candles that say Thank You and your names. This will add a personal touch, and your guests will appreciate it.
31. Tiny pail gifts
Are you looking for an easy and yet affordable way to thank your wedding guests for their attendance? Check out these tin pails from Dollar Tree! They are cheap and can be easily personalized with ribbons, flowers, paint, or stickers.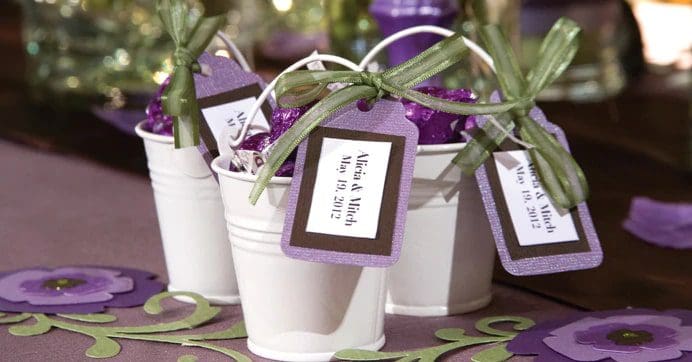 Plus, they're the perfect size for holding small favors or candies. Follow these steps to create your thank you party favors! You may also use these to hold party decorations or bundles of balloons in place, so they do not disappear at the last minute.
32. Luxurious glass candle holders
Using glass candle holders from the dollar store for your wedding decor is a great way to add a touch of luxury to a budget. By placing simple votive candles in the holders, you can create a stunning table centerpiece or accent piece that will wow your guests.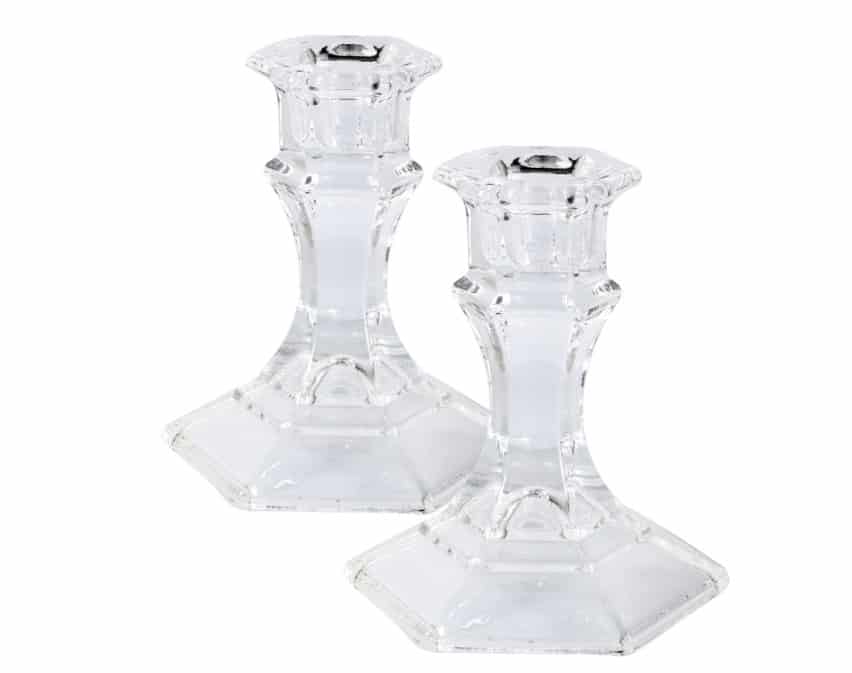 Plus, because they're affordable, you can buy a few sets to use throughout your venue to add some sparkle. So go ahead and raid the dollar store for all the glass candle holders you need to make your wedding visions come true!
33. Crystal bowls for a fancy look
There's no shame in opting for a budget-friendly option for your wedding! After all, the most important thing is that you and your spouse are happily married at the end of the day. Who says you can't have a beautiful and memorable wedding on a tight budget?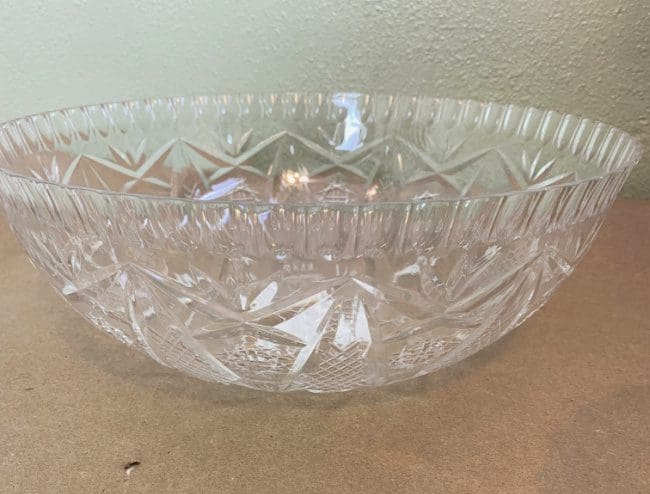 One great way to stretch your budget is by shopping at dollar stores for some of your decors. For example, fake crystal serving bowls from Dollar Tree would be perfect for holding fruit or other snacks during cocktail hour. It's simple and elegant, and best of all, it won't cost you a fortune. Keep an eye out for any damage or flaws before you purchase.
34. Fancy gold rim stoneware plates
Not only do Dollar Tree gold rim charger plates make your wedding look elegant and stylish, but they also save you money. You can purchase a set of charger for cheap, which is a fraction of purchasing similar plates from other retailers.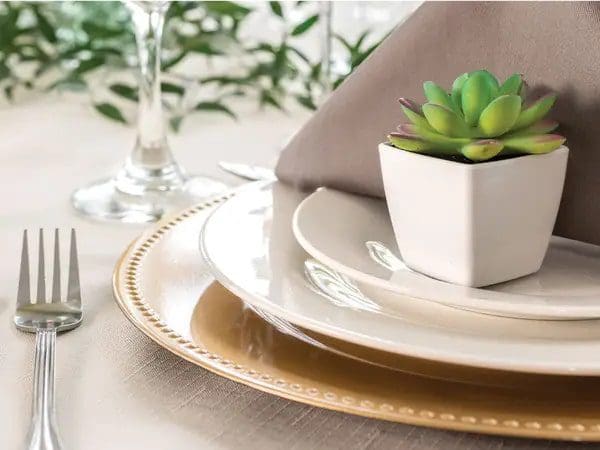 The quality is just as good, making them perfect for use at your wedding reception or any other special event. So why not take advantage of this fantastic deal and stock up on gold-rimmed stoneware plates for your big day?
35. DIY flower arrangements
You can use dollar faux flowers and colorful vases to create budget-friendly wedding table decorations. Choose tall, slender vases in clear or frosted glass for a formal wedding. Fill them with one type of flower or a mix of different blooms. Go with shorter, wider vases for a more casual affair and fill them with brightly colored flowers.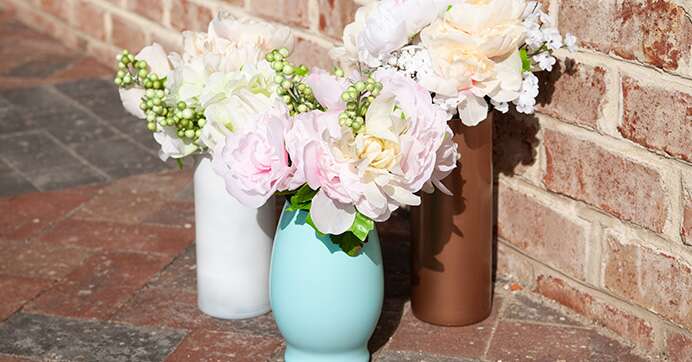 You can also use branches trimmed from your backyard trees or add fresh herbs like rosemary, lavender, or thyme for a natural look. The best part about using faux flowers is that you can reuse them for other occasions down the road.
36. Imitation silver platters
Desperate times call for desperate measures, and if you're on a tight budget for your wedding, then using dollar store silver-toned imitation platters is a good measure. There's no shame in saving where you can. Besides, these platters can look pretty nice if you style them well.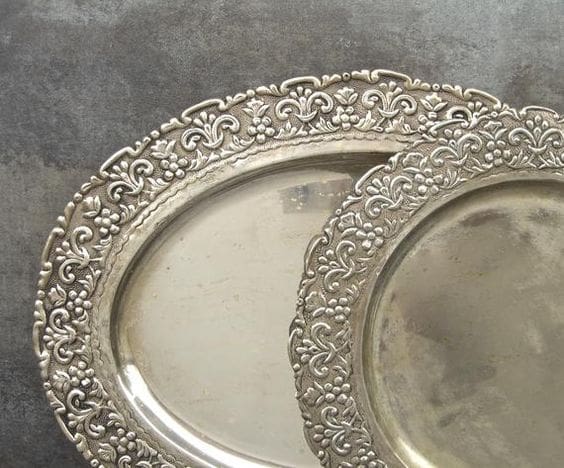 Make sure to clean them deeply before use. Besides, don't be afraid to get creative with your decoration. Maybe use some fake flowers, cut-up fruits, or other artificial decorations to spruce them up. Lastly, be diligent about polishing the silver so it doesn't look cheap and tacky.
37. Bride and groom wine glasses
If you're on a budget, dollar store wine glasses are an excellent option for bride and groom wedding glasses. You may find them in packs of four or more, so you'll have plenty to spare if there is any break. They're not the fanciest option, but they'll get the job done.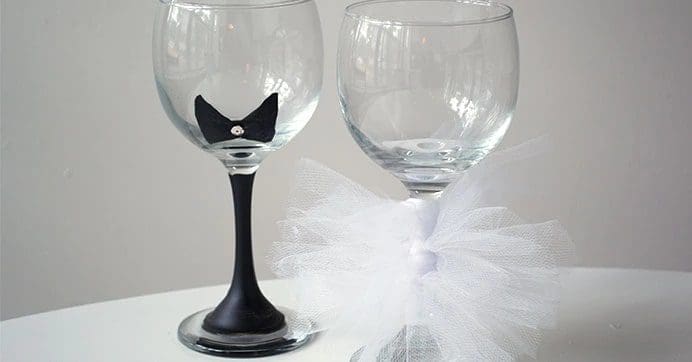 You can always dress them up with some ribbon or fabric to make them look nicer. You may also use white tulle for the bride's glass. Overall, dollar-store wine glasses are a great way to save money on your wedding without sacrificing quality or style.
38. DIY fancy centerpieces
DIY wedding centerpieces can be so much fun – and they don't have to be expensive, either! Just head to your local dollar store and stock up on some of their great supplies. You may buy faux flowers and other decorative items.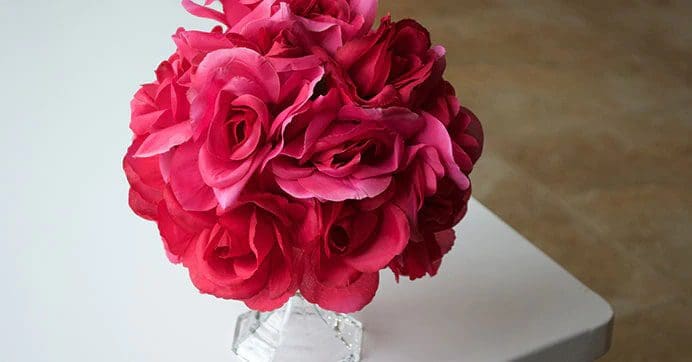 Fill glass vases with flowers or branches. Besides, use dollar tree candlesticks and tea lights to create elegant centerpieces. You may also create a simple floral arrangement using flowers, votive candles, ribbons, and a mirror as the base.
39. Pint Jar Tea Light Holder
You can use tea light holders for your wedding decorations. Just be sure to use battery-operated tea lights for your big day decor! Using real ones may cause a fire hazard. They may not be safe for use around flammable materials.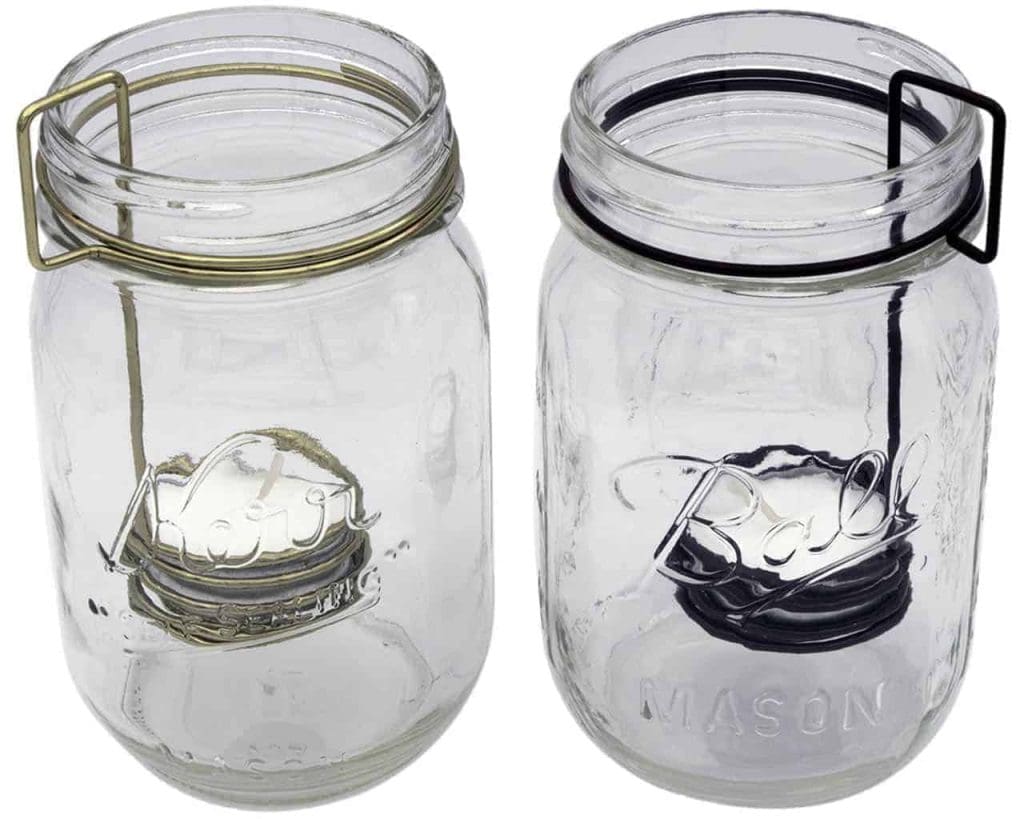 These holders would look great with some simple flowers or greenery placed around them. You could also use them as a centerpiece or as part of your ceremony backdrop. They're a great way to add a touch of glamor to a budget wedding.
40. Plastic serveware
If you're looking for a budget-friendly option for your wedding reception plates and bowls, I'd recommend checking out the selection at Dollar Tree. They have a variety of plastic plates and bowls in different colors and styles, all priced at just a few dollars.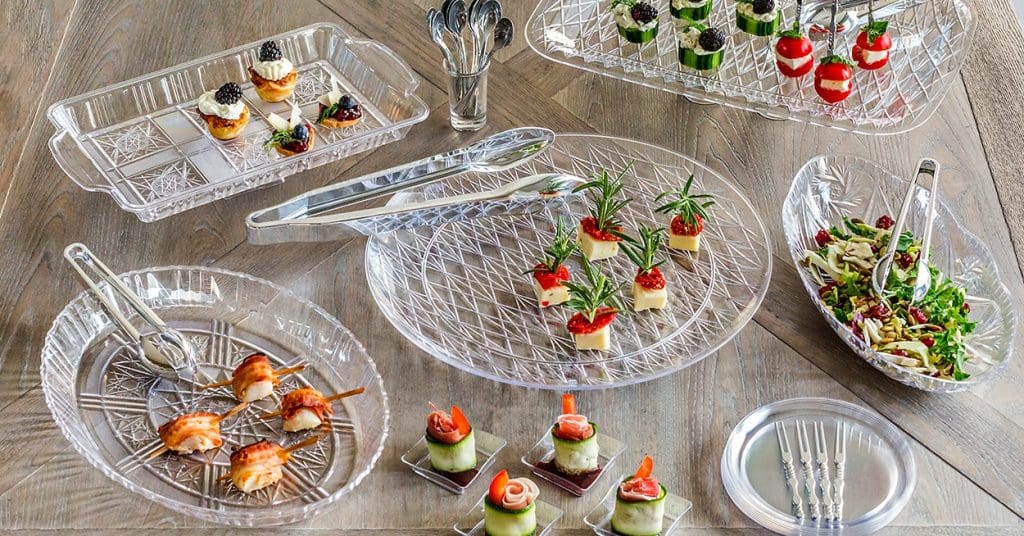 The plastic is cut edge, so it's less likely to snag delicate fabrics or clothing. They're sturdy and easy to clean, and they look like crystals. You can afford to buy plenty of plates and bowls for your big day.