At Home And On The Go: 40 Inventive Hiding Spots To Keep Valuables Safe
By Aakash M July 31, 2023
---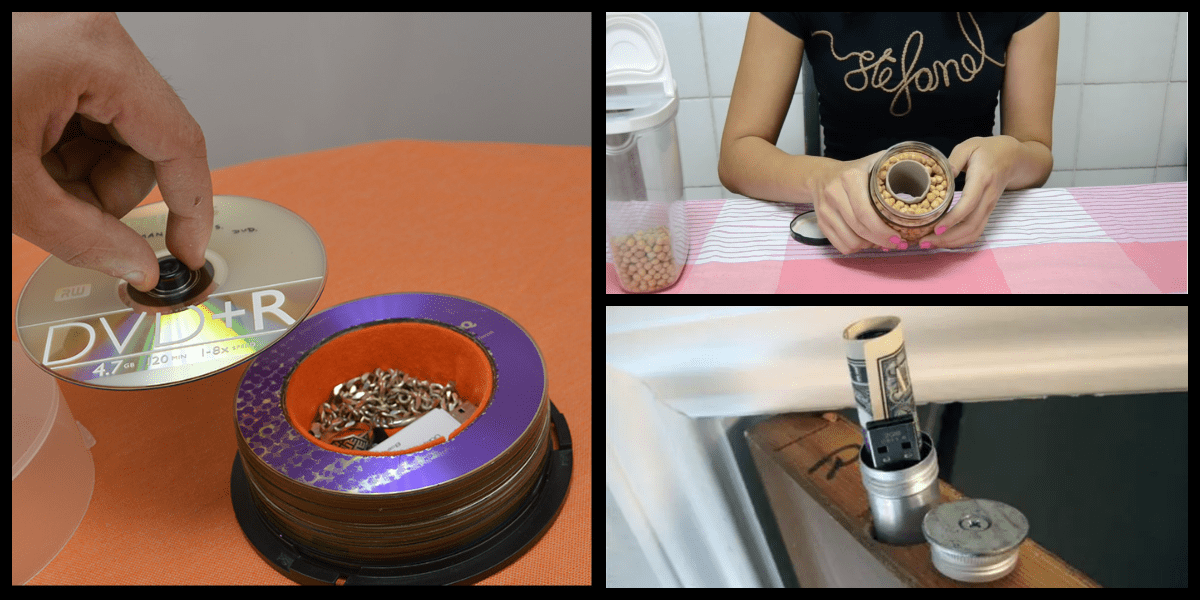 This article was originally published on
mydiwise
Everyone has at least a few valuable items that they don't want to lose. Be it money, jewelry, antiques, documents; there's always something. To keep people from stealing these items, it's best to store them away in a hidden compartment, not just the first drawer you find in your home. Safes are the standard place to store valuables, but they can be expensive. If you don't want to spend a lot on a fancy safe, you can get creative with where you keep your treasures. Everyday household items and out-of-the-way corners make for perfect hiding spots. If you're not sure where to start, we've got you covered. We put together a list of 40 hiding spots that will keep your prized possessions safe no matter where you are.
Diapers to the rescue
A diaper is one of the best places to hide something valuable because come on, who'd think of picking up a diaper? It's gross! So, when you're out at the beach or even out with your family for lunch or dinner, you can place your valuable belongings in a diaper.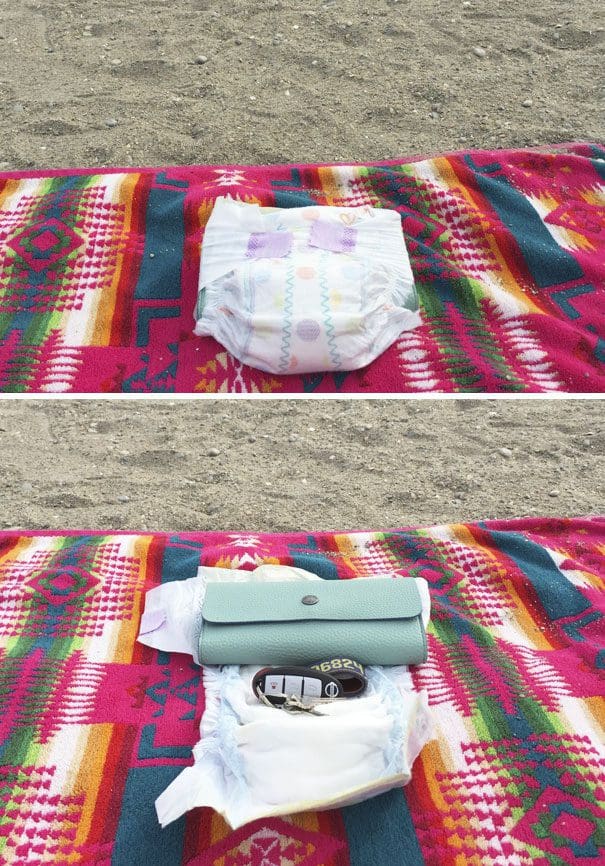 It's weird, but trust us, it's safe. We don't think anybody would think that there's a wallet or cash beneath or inside a baby's diaper. Instead, they'd only believe that there's a dirty diaper on the ground. They'd walk far away from it.
In a tile
We know everybody loves a secret drawer like the ones in the movies, but how about an inbuilt tile box that you need to slide or push to open? Now, installing a functioning tile box in your kitchen or bathroom can be tricky. You might need professional help, but it's worth it.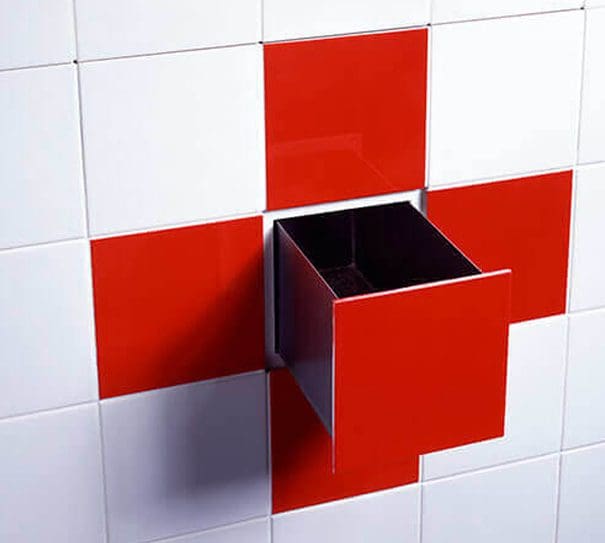 The chances of somebody suspecting that a tile on the wall has something valuable inside it is really low. But, it might be difficult for you, too, if all your tiles look the same. Considering that, you should come up with something that would help you identify it, like a pattern.
From the movies
Here is another movie-inspired hiding place. We bet you might have seen those hidden bookshelves in movies that lead to other rooms — places you wouldn't want people to know about, and you can have some personal space. And of course, you can store your valuable belongings there.
You should ensure that you pick one that matches your house so that it doesn't seem as if there is something behind it. Bookcases like those in the picture are easy to access; you only need to slide them. Just make sure that they're installed properly because you don't want everyone to easily access them.
In the photos
If you want to hide some notes, money, or even keys, a picture frame hiding spot is pretty obvious, but it is still worth trying. Done right, you can hide your belongings in an easy-to-access place that isn't too obvious.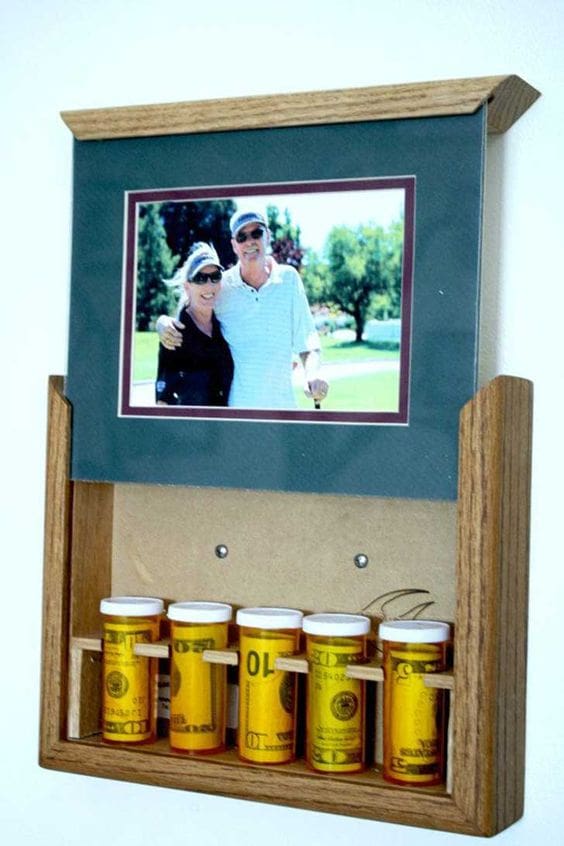 Here's what to do. Make a frame with some depth that you can place the items in. You can even use wood glue for this; no screws or nails are required. Then, just place the frame on your shelf like it's been there all along.
Unnoticeable
If you're struggling with storage problems, then you can utilize your staircase as a drawer. Obviously, you shouldn't make it look obvious. Thus, you can use a carpet or matting to cover things up. Not only is it easy but it's pretty cheap, convenient, and efficient.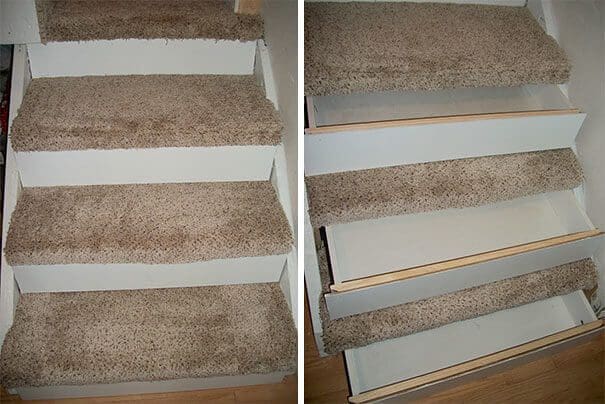 These staircase drawers can store anything, from books to shoes and even other valuables. Thanks to these, you don't need to worry about stuffing too many things in your usual go-to hiding spot. It frees up space in your cabinets and shoe rack!
Sweets in veggies
As much as parents love pampering their kids, sometimes it can be too much. With sweets, for example, there is only so much they are allowed to eat in one sitting. Keep the temptation away by hiding candies and chocolates in an empty bag of veggies.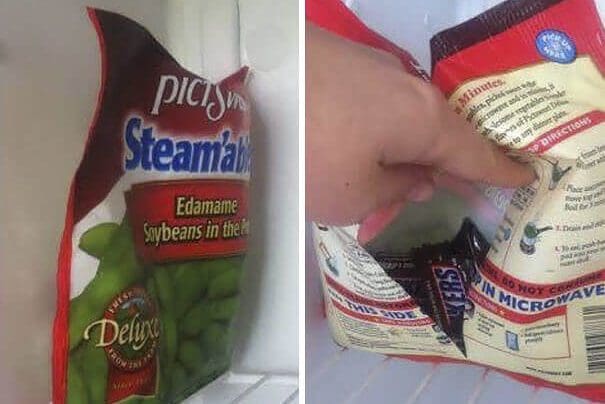 That's smart, right? You see, children usually keep their distance from these things, so the chances of them touching a bag of carrots to search for candy is really very low. It's tough to stop them from hogging the candies, but hiding them can give you a sense of order.
A secret compartment
In the time of mobile phones, landline sockets are usually nothing more than a decorative piece. So, why not use the useless plug to hide your valuables. Just because they're outdated doesn't mean that they can't still have a purpose.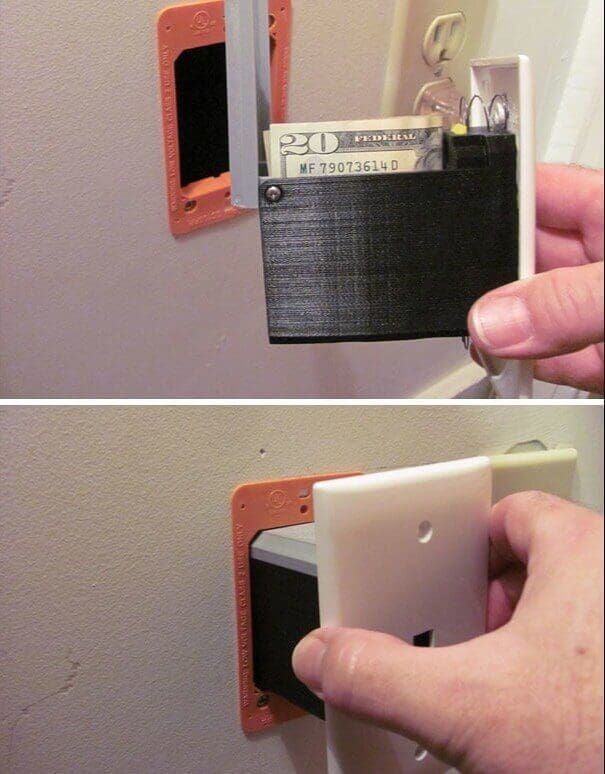 But, before you place anything of value in it, you should ensure that the place is clean and free of active wires so that your belongings won't be damaged. Now, you can store anything in it, and nobody will ever know!
The super secret drawer
We usually think of window sills as a seat for plants or people, but what about a pull-out drawer? Didn't think of that one, did you? Since this isn't a common place for a drawer, any potential thieves won't think to search there.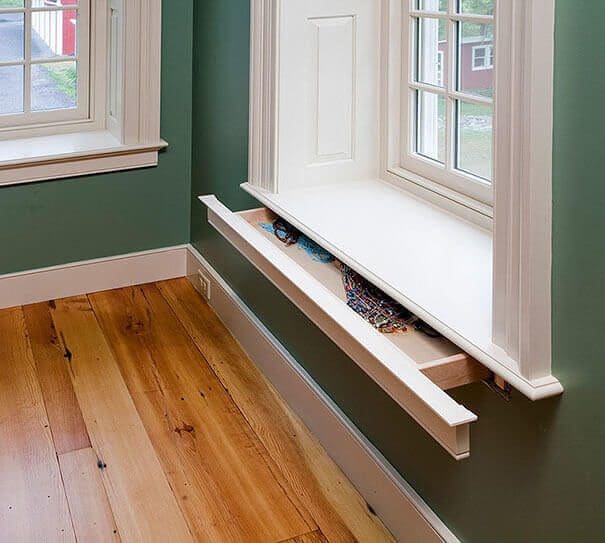 Windows usually have a sill at the bottom, so it won't look odd if there is a frame around the window. To make the most use of this space, it works best with deeper window sills, as you can see in the picture. After all, the drawer is only as deep as the wall is thick.
Murphy door
If safety is your priority, then a murphy door could be the best option for you and your belongings. You can keep a room's worth of storage behind it, if you so choose. Their sturdy design makes them perfect for safe, easy-to-reach storage.

It's easy for you to access what you need, and nobody would even know anything! It sounds great, doesn't it? Well, you only need these doors to make that possible. And, of course, a small room behind them where you can keep your valuables.
Multipurpose bookshelf
A bookshelf is something most of us have and need in our houses. If you have one anyway, why not give it another purpose and use it to hide your valuables? Even though the bookshelf itself can't be hidden, the drawers won't be detectable.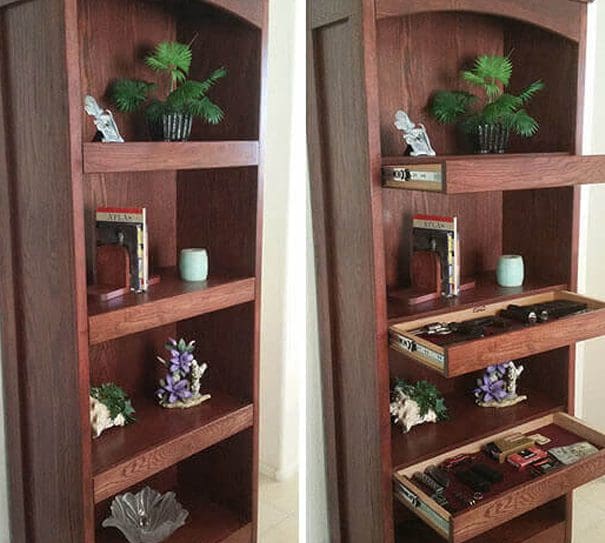 Also, don't just go for purchasing any bookshelf. You should look for something with a sturdy design that doesn't also fall apart while you're loading it up with your valuables. Lastly, measure your storage space carefully since these don't come in standard sizes.
Birdhouse
A birdhouse with a box hidden in it is an excellent option if you're looking to hide your belongings in an accessible place outdoors. The birdhouse will conveniently feed visiting birds in your garden while keeping your spare keys safe.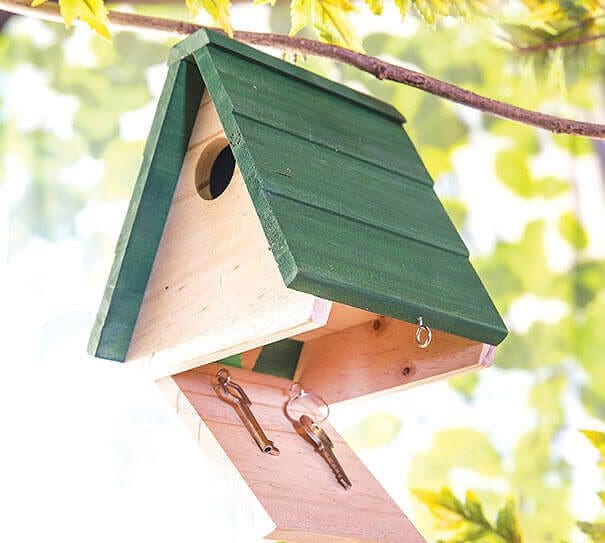 You can build your own birdhouse; they are notoriously inexpensive and easy to make.. Furthermore, the best part is that birdhouses are portable! If you choose to use a birdhouse for secret storage, make sure it works. A fake-looking birdhouse would be suspicious and draw attention.
In the kitchen
Jars like this one in the image are excellent for hiding money, and they're especially useful if you can't afford to purchase a fancy safe. Of course, this works for more than just cash. Jewelry and other small items will fit just as well.
Some of you might be thinking that such an item isn't as safe as a deposit box, and we'll admit that you're right. But we aren't worried about a thief stealing these jars because that's not what they're looking for. Nobody will suspect anything if you choose the spots wisely.
Dig a hole
Behold, the simplest way to keep your cash or other essential documents safe is in a hole in the door. For this one, you'd only need a power drill, and you only need to ensure that the gap is deep and wide enough to fit a cylindrical container in it.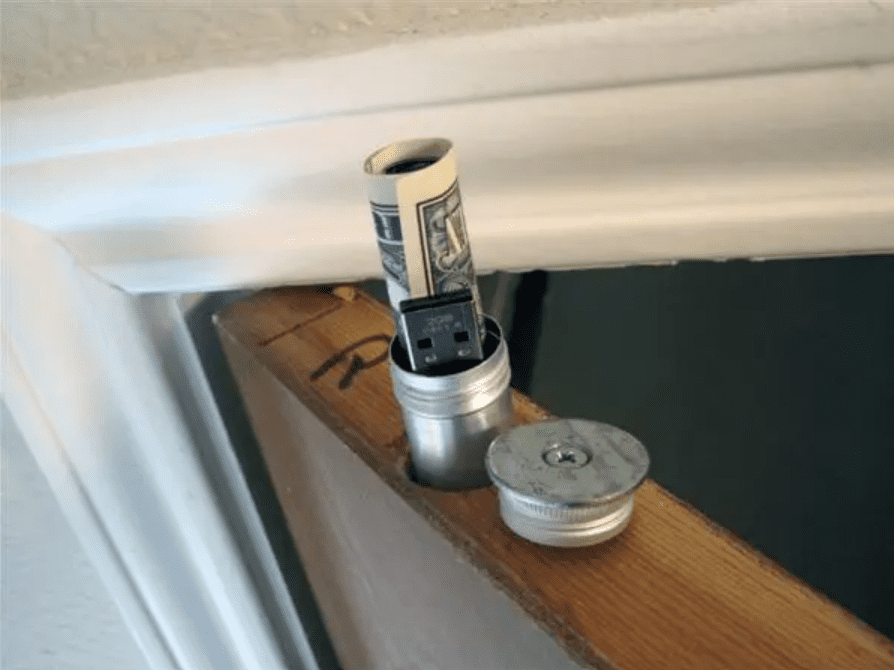 Also, once you're done with the hole, it would be best if you use a steel plate on top of it to add an extra layer of protection to the stash. Also, using a thin container would be preferable since they'd slide in or out the hole with ease.
Another one from the movies
If you wanna create secret access to the basement, here's a DIY for you. You can build a door that opens straight into the basement! There, you can keep all your essential and expensive belongings. You only need some simple materials to do that.
There are various types of secret doors, and you can choose the one that suits you best. This DIY door is easy, inexpensive, and it will keep all your belongings safe and discreet. Just make sure to cover things up with a matting that doesn't make it look obvious.
Nobody will suspect a thing!
Can you imagine your furniture having a secret hidden space? Well, we've seen many of those till now, but we're talking about your chairs and jute furniture items this time. Isn't that really smart? We don't think anybody would search in those places.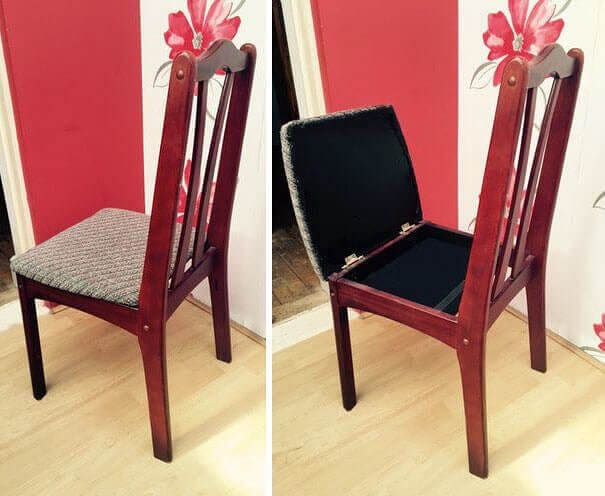 You only need to place some cushions over the top or around the hollow space in the chair. That's because if somebody lifts the chair up, there won't be any noise, given that you've hidden things properly. This one really depends on how creative you get!
In a log
You can keep it simple and use a secret storage box to hide your valuables. If you prefer to DIY, you can make your own out of a simple wooden log. But if you don't feel confident in your skills but still like the look, you can buy a pre-made one.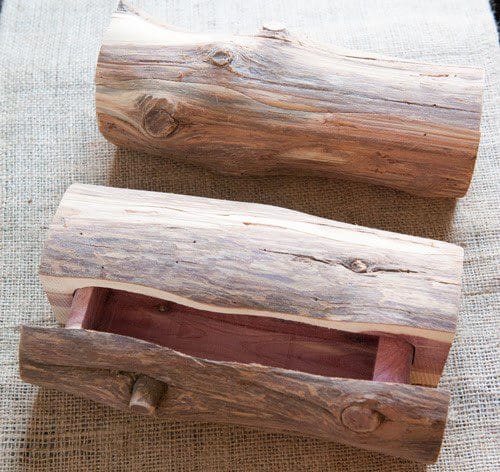 This hiding spot is perfect near fireplaces and fire pits. After all, a small long won't look out of place near a place where you light fires. Just make sure not to toss your valuables in the flames next time you have a campfire.
Recycling and reusing
Do you know how to recycle your old keyboard and use it to hide your things effortlessly? You only need to create a fake compartment inside it. That's pretty much it. Since the keyboard is made of plastic, you can easily cut it and glue it back together.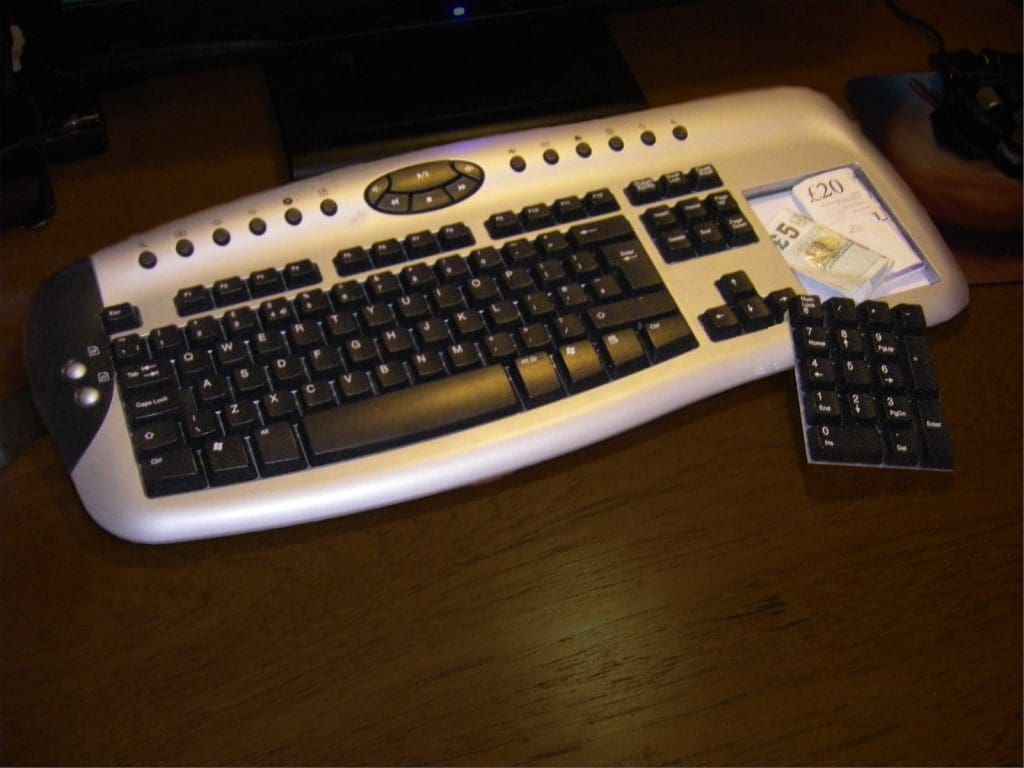 It will also help you quickly hide things if a guest is visiting you or if you have nosy roommates. There isn't a particular way to cut the keyboard. Just make sure that, later on, you can piece it back together.
Best out of waste
Do you know that your old CD stack can be put to good use? Yes! If you are looking for a safe place to hide your valuable belongings, CDs are a great DIY spot. Also, it can work pretty well as a not-so-secret jewelry storing space, if you like the aesthetic.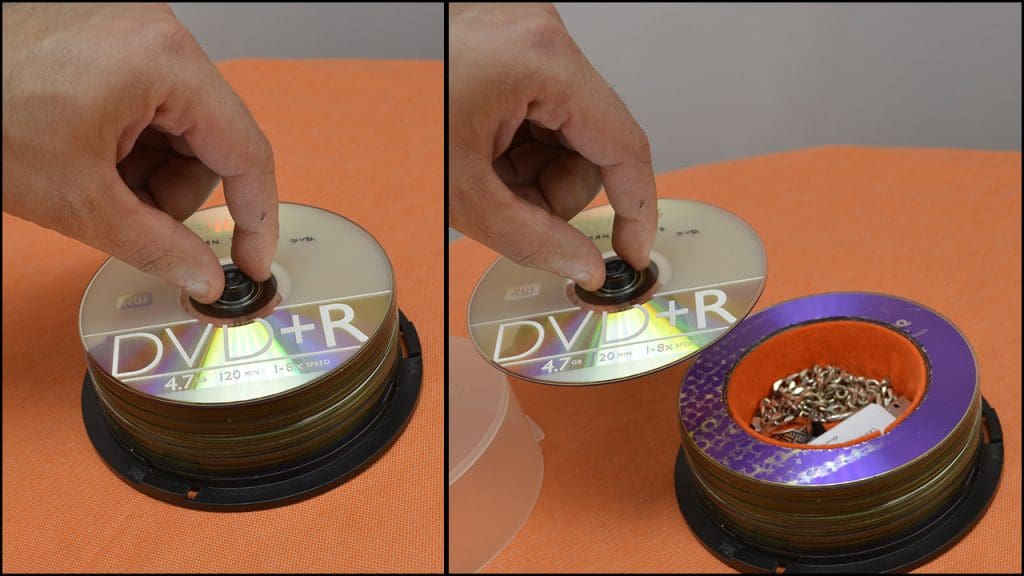 There are several reasons why this is a great hiding spot. First of all, it's not expensive. You can get old CDs for cheap, or even free. Next, it's relatively small and lightweight, so it's easy to store it in your desk, on a shelf, or anywhere you want to keep it.
Candles
Candles are another portable, lightweight item that you can use as secret storage. Just core out the bottom half of the candle and put whatever you want inside. Make sure that the wick is at the top end, not where you core it out.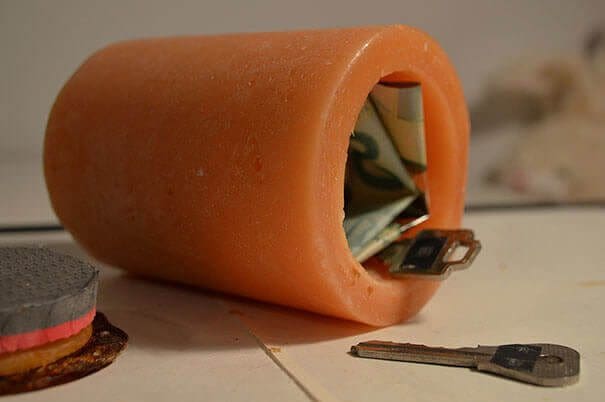 You can use any candle you want, though some are easier to core out than others. If you have a lot of candles, don't forget which one you use for this secret storage. And if you intend to light it, don't let it burn all the way down.
Secret fragrance
This product, by far, is the safest place where you can keep money or other valuables, as far as hiding things in plain sight is concerned. Nobody would ever suspect that you'd be holding your valuables in a deodorant, out of all things.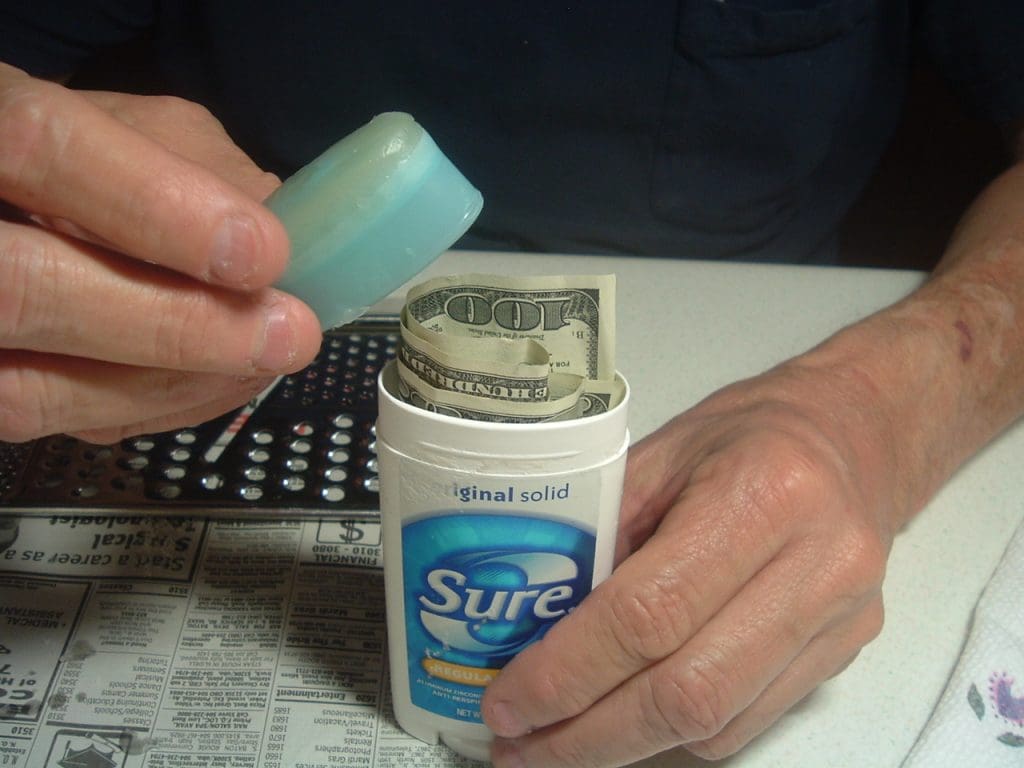 This hiding spot is perfect for dorm rooms and shared living spaces. Deodorant is one thing everyone has, but no one wants to share, so you can leave your valuables in it without worrying about someone stealing it. You can even keep it out in the open without arousing suspicion.
Hair brush trick
Most cylindrical hairbrushes have a secret space in them. Don't believe us? If you have a hairbrush like the one in the picture, check its top and unscrew it. You'll find a hollow space for storing your things. Like the deodorant, no one would question a hairbrush sitting on the desk in your room.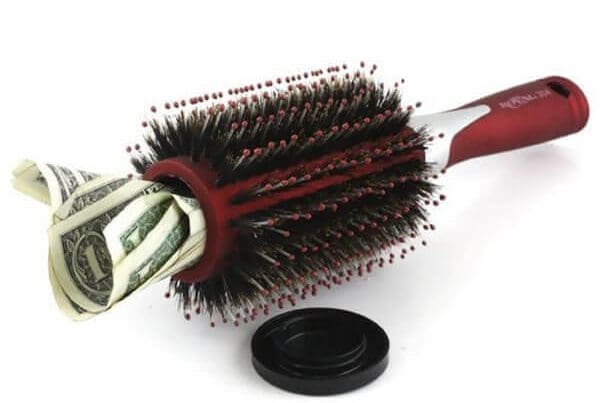 If you like the idea but don't have a hairbrush with a compartment already in your home, it's an inexpensive item you can purchase at the store. There's no harm in having a spare hairbrush, so it's a win-win with this DIY.
An extra compartment
Having some cash in your car is always helpful, especially during emergencies. But, keeping money out in the open is equally. However, you can install secret compartments near the armrest or the dashboard to keep it hidden. Here, take a look at this image.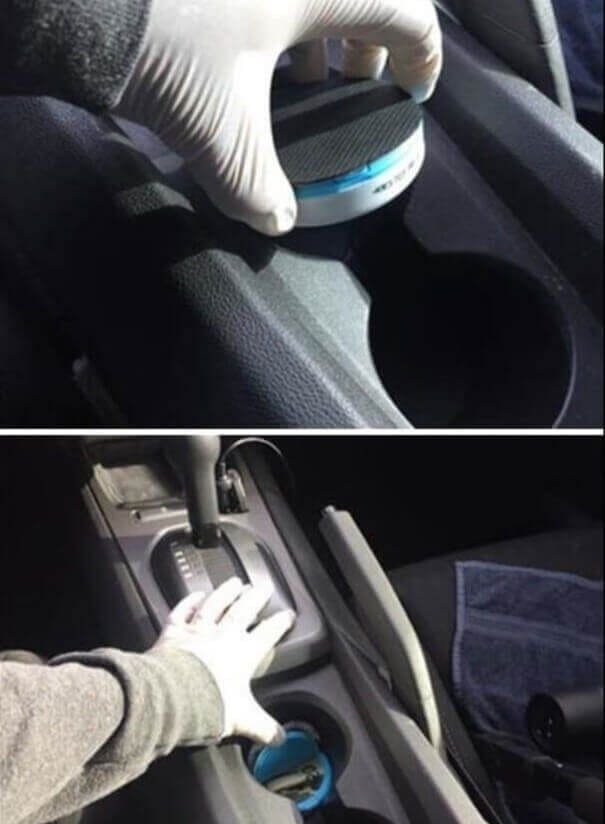 This DIY cup holder storage compartment is simple to make and can be done for any size. Use a small container like a mint box, then cover it with the material that lines the bottom of your cup holder, and you're good to go!
The brain of the computer
We all have those things in our homes that we find very difficult to get rid of. For example, desktop computers. Instead of struggling to find a way to get rid of it, turn your old CPU into a clever hiding spot for important documents.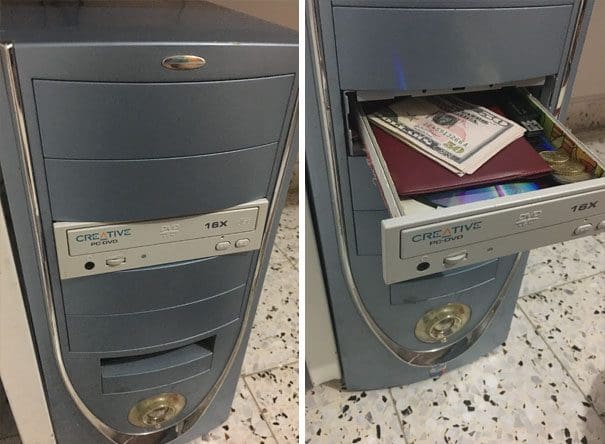 Opening the CPU of your desktop is easy. But, you should do so in a safe place under supervision because taking apart the CPU could also result in accidental damage of still-functioning parts. There are many tools that you can use for it. But, a magnetic screwdriver is the best.
Secret bottle
This DIY hidden compartment is both simple and tricky. You'll need some basic crafting skills to create this secret bottle storage, but it's well worth it as any potential will surely overlook a bottle of soda as worth anything more than a few dollars.
With some soda visible on the bottom and top, no one will suspect that there is anything other than carbonated drink in the bottle. You can use this in your own fridge or at a public venue. If you take this to a public space, make sure that no one tries to clean up your "garbage."
In the old batteries
Let's take a look at another clever idea. Believe it or not, old batteries are a great place to store your valuable belongings. Who would ever think you would be hiding something in an old battery? It is ideal for storing small notes, keys, jewelry, and cash.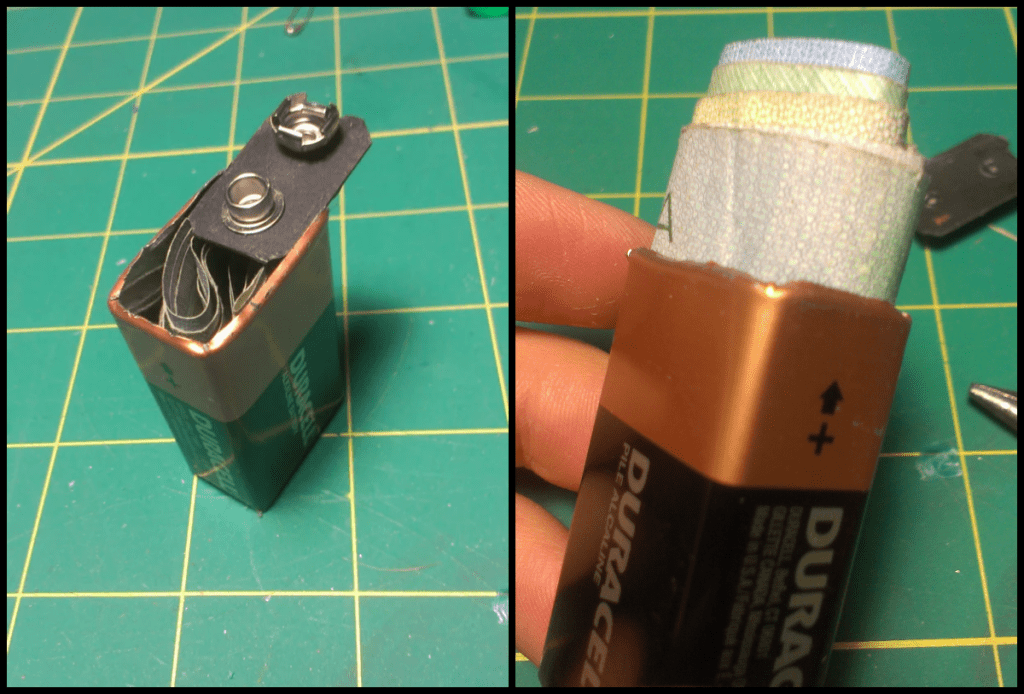 Items like keys and notes are suggested because they aren't so heavy, and they wouldn't strain the battery's structure so much. After storing, you can put it in the drawer or even in the open. Nobody would give it a second thought.
Sliding fireplace
Did you know that a fireplace can work just as well as a murphy door or bookshelf for hiding your valuables? While many of the hiding places on this list can be done DIY style, we recommend getting a professional to install this one.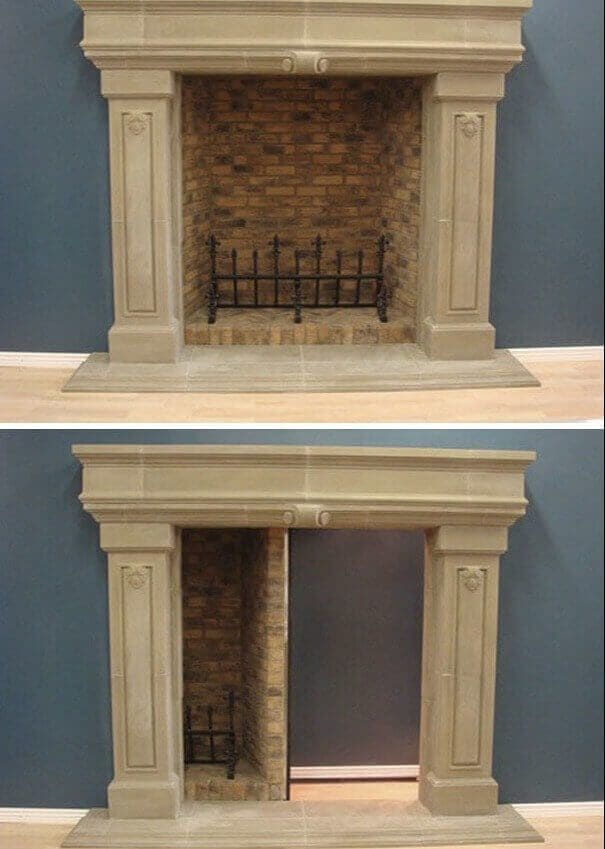 We love storage ideas that are multipurpose. Who doesn't love curling up in front of the fireplace on a cold winter night? And while you're enjoying the heat, you can feel extra cozy in your assurance that your valuables are safely hidden away.
Watch your feet
This time, we have quite the brilliant secret spot for you. A removable panel underneath your kitchen or bathroom furniture is a highly unpredictable spot for storing your valuables. You probably have the perfect gap in your kitchen that you never even noticed before.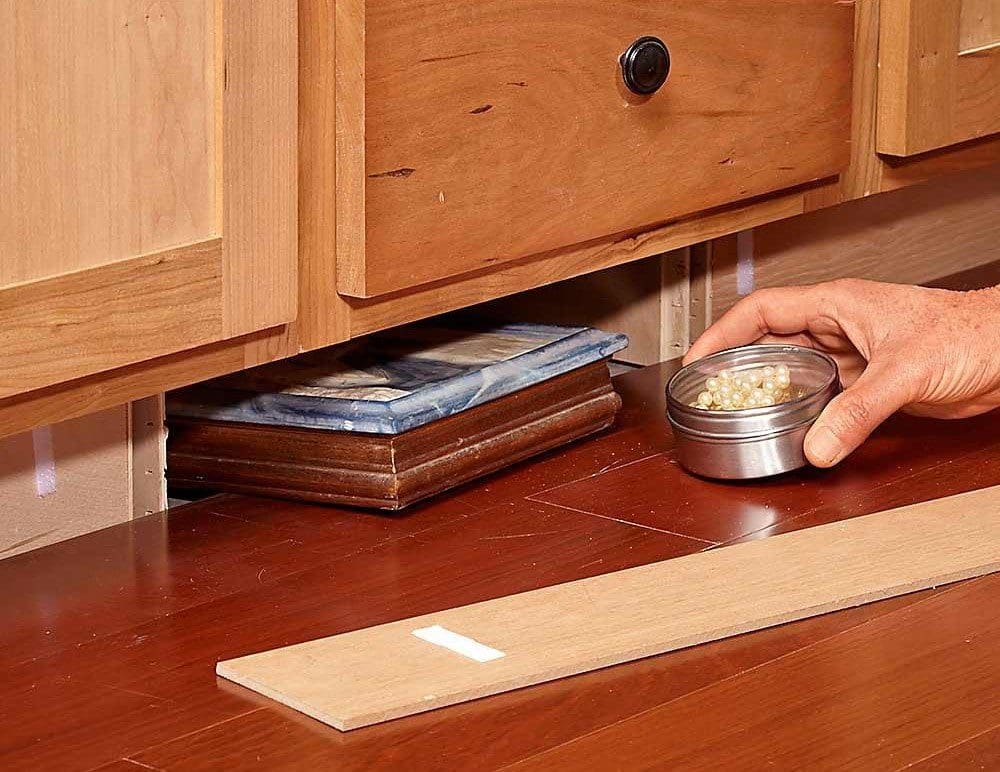 Storage spaces like this aren't new, but that doesn't mean that they're apparent. Most people don't even think about storing things on the floor; typically, we'd think that spaces like those only store dust bunnies. As shown in the image, you can make this yourself with a plank of wood and some velcro.
With the fishes
Fish tanks are really common in homes and offices, making them the perfect place to hide things. After all, who would suspect that your colorful beta fish are guarding your rainy day cash? And no, we're not talking about hiding it in a chest at the bottom of the tank.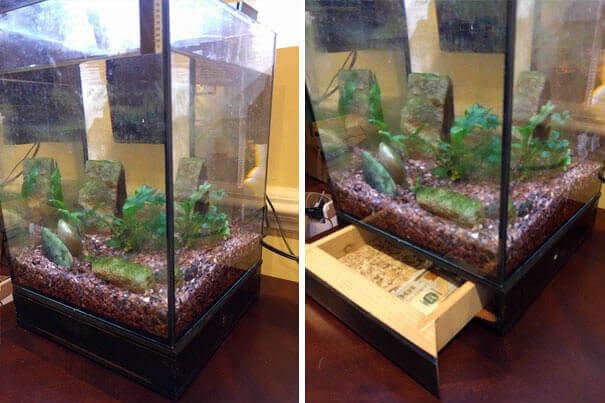 To ensure that the aquarium looks as normal and unsuspecting as possible, it would be best to refrain from using fancy materials for the secret spot. Using regular garage materials like plywood, wrapping sheets, or polypropylene bags would do just fine.
Uses of trash
This one may sound gross at first, but hear us out. Obviously, no one would think anything valuable would be "stored" anywhere near the trash can. Garbage cans are specifically meant for items that no one wants, so why would anything nice be kept there?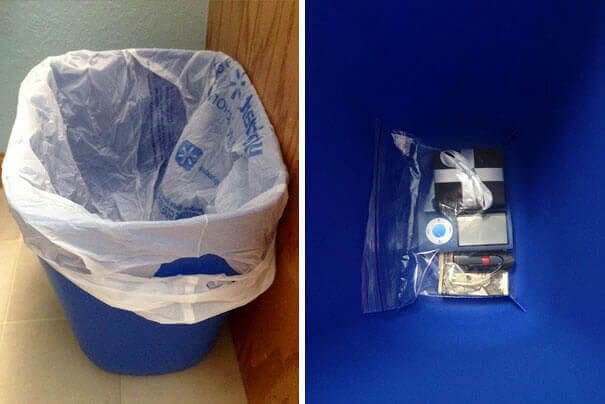 There's a risk with this one, but it's not people finding your stuff. No, the risk is that you might accidentally throw out your valuables when you take out the trash. If you use this hiding spot, be careful and plan accordingly. Maybe only use this for an emergency.
Curtains
As we've seen, common household items are ideal for hiding your possessions. Although not every home has curtains, they would be overlooked by any potential thieves. Of course, we don't mean putting it behind the curtain like a game of hide-and-seek.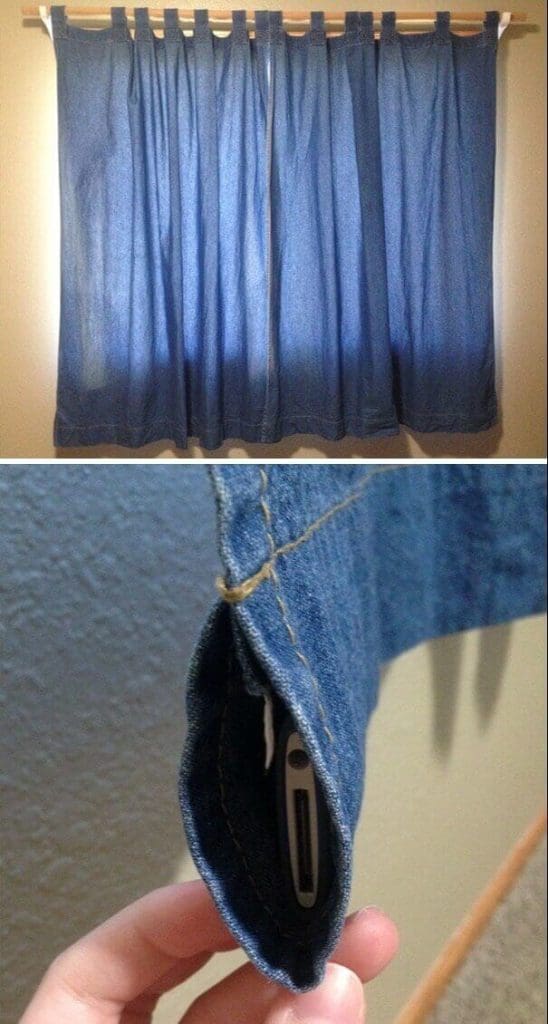 No matter which way you approach it, there's no way anybody's finding out about your belongings if they're stored in curtain pockets. You don't need to be a seamstress to make your own hidden pocket. However, we recommend taking the curtain off the rod before you start.
A secret compartment you never knew about
Did you know that you can hide spare keys in an outdoor thermometer? Okay, we gave away this next hack, but we certainly didn't see this one coming. This hack actually works better with a cheaper thermometer because those are the ones with a plastic base.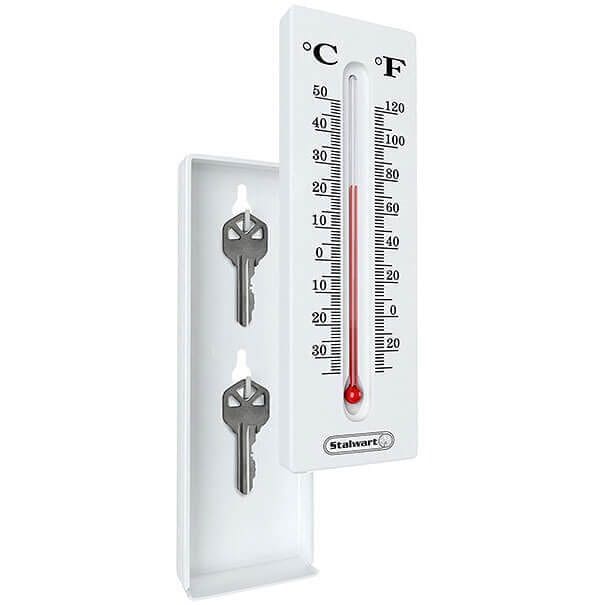 You can use this method for hiding ID cards, keys, or cash. Because it is small in size, it makes it easy for people to overlook. And even if it is spotted, no one would assume that it's for anything other than telling what the temperature is.
DIY secret spot
Do you know what the best part about this secret spot is? You can use this for any piece of furniture in your home! You can choose to hire a professional for it, and if not, you can always DIY it. It only takes some plywood to make a partition.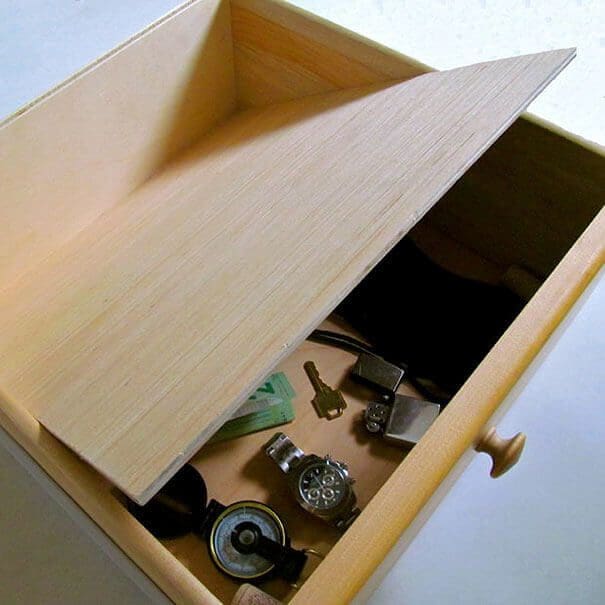 The aim is to make it look like the bottom of the drawer, so pick a piece of wood that matches well with the furniture. Set corks in the four corners to create an empty space, then place the plywood on top. It's as simple as that!
In the pills
As odd as it sounds, pill bottles are useful containers to help you stay organized. Better yet, they can be used to safely store your spare key in your yard. If you don't have a pill bottle like the one in the picture, a small ibuprofen or acetaminophen container will work just as well.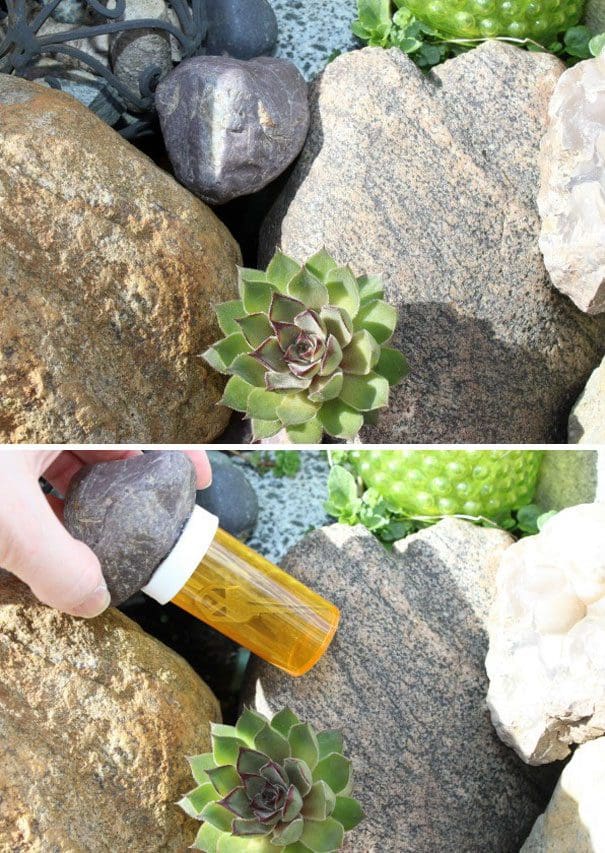 This DIY takes less than five minutes to make. All you need to do is glue a rock to the top of the bottle. That's it! When the glue is set, drop a key in the container and tuck it away in a stack of rocks, making sure it fits well and is hidden from sight.
Mayo jar
Foods like mayonnaise that come in jars are the ideal storage space for hiding your emergency cash. Since the jars are wide, it's easy to access the contents. Of course, this works with any food; we just happened to use a mayonnaise jar in the example.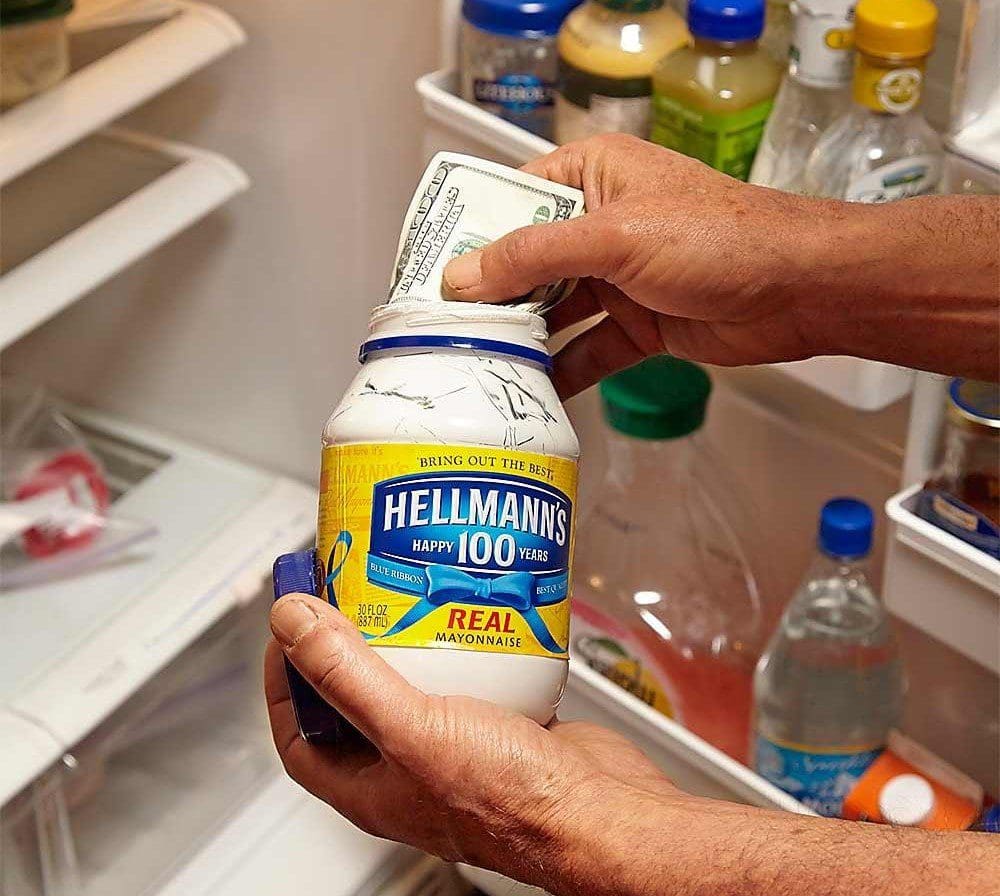 You can either leave some mayo spread inside to make it look like it still has food in it, or you can paint the jar in the color of mayonnaise. Don't leave it clean and clear, or your secret hiding spot will be discovered rather easily.
What a lovely plant!
Do you know what could possibly be the best and the most unnoticeable hiding spot? The answer to that would be a vase or a flower pot. Hiding things in those is fantastic because nobody's going to notice anything odd about having a flowerpot in the house.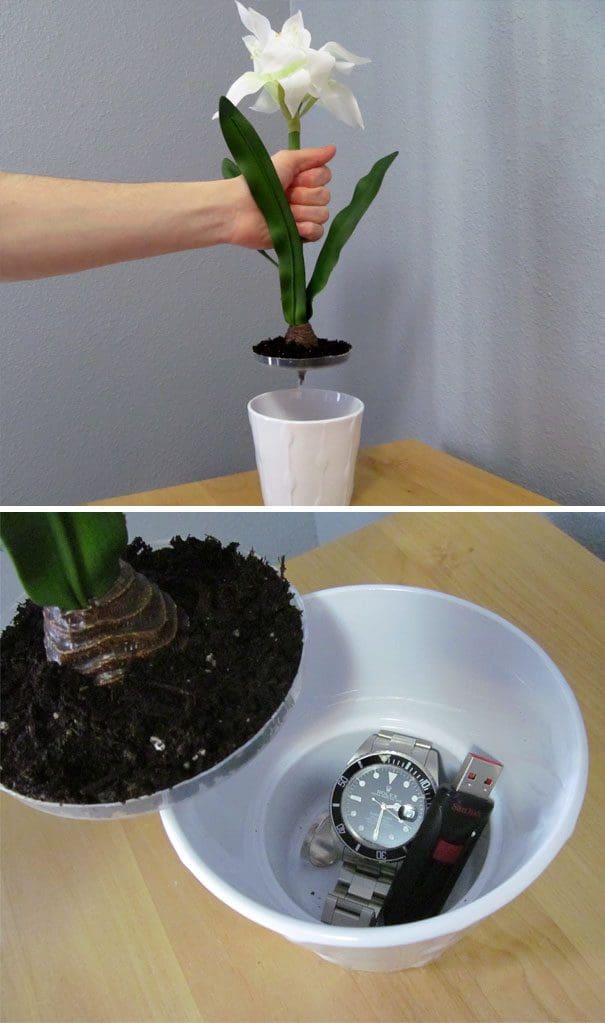 Don't use real plants for this hiding spot. Fake flowers will do just fine. First, it's harmful to the plants if you need to pull on the stems every time you access your stuff. And, watering your plants means you risk watering your secret stash.
Thank you, insects
We've seen hiding spots in bird nests and in piles of rocks, but what about hornets nests? Not real ones, of course. Make a fake nest out of foam sealant and attach it to a corner outside your house. Now you have a well-hidden place to keep your spare keys.
The major downside with this storage space is that you need a ladder to access it. So, if one of your neighbors catches you climbing a ladder to put it up, then your secret is out. On the other hand, if someone tries to find your hidden key, climbing a ladder is not very inconspicuous.
Coffee table
Building a secret spot in a coffee table is easy. Accessing it is easy, too. However, you need to ensure that it's appropriately constructed if you want to keep it a secret. If you do that, guests or anybody won't be able to predict that your table has a hidden compartment.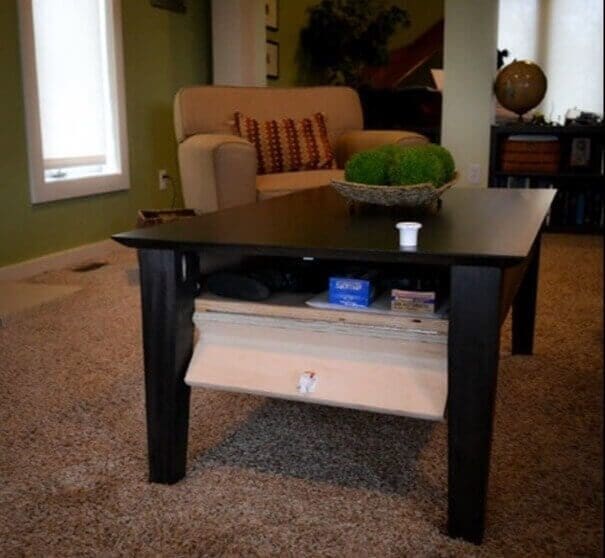 The ideal way to build something of that sort would be by using a wooden board. Cut it out horizontally and place four electrical tape pieces on the board. Next, place the board under the table, and hide it behind it. There you go!
Stuff toy secret spot
Teddy bears and stuffed toys are a fantastic place for you to hide your valuables, especially money! It may seem cruel, but if you empty the stuffy out of one of these toys, you'll find the perfect place to keep cash and other small stuff.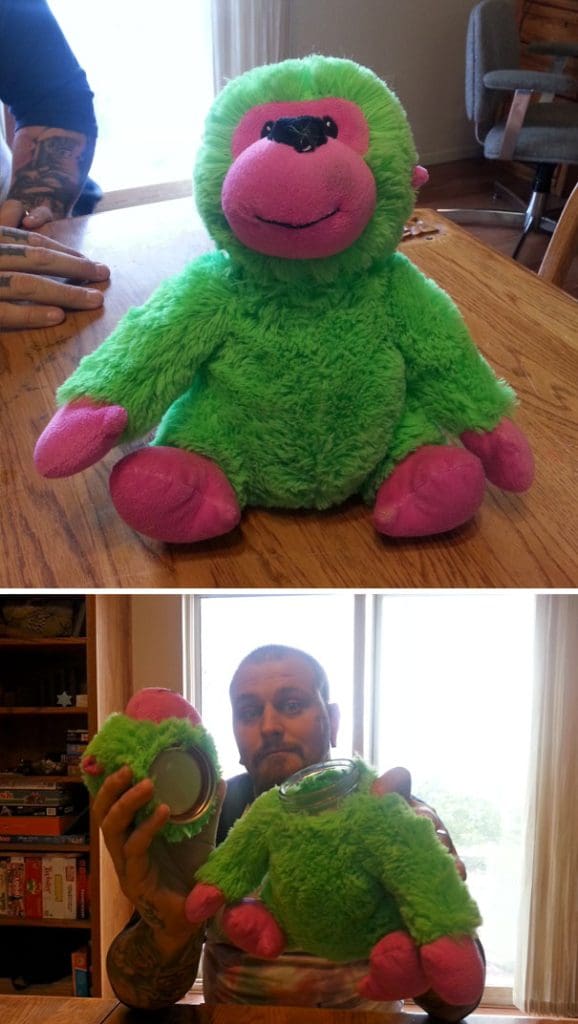 If you have kids, don't let them see you making this secret storage. For one, they might get some ideas about destroying their own toys. Use a jar to keep your items organized. Attach the toy's head to the lid of the jar to keep it all together.
In the globe
We have seen so many secret spots, but we still have a very unpredictable one for you. We're talking about hiding stuff inside a globe! You can use it to store things, and all you need to do is some cutting to make the ideal hiding spot.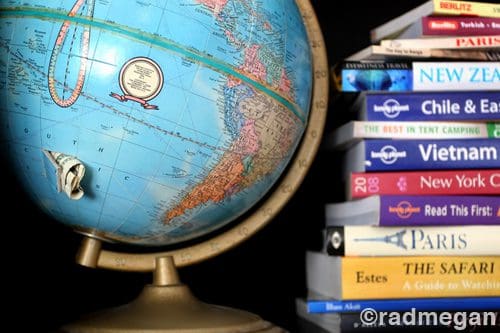 As you can see in this image, the globe is being used to store money. It's a beautiful place to hide stuff because, of course, nobody would even think of hiding something over there. If you have one of these collecting dust in your house, put it to good use.
Bravo!
For the last one, we have a fake water pipe tip for you. Hiding things in there is a really smart way to keep your precious things safe. The only person you need to worry about is your plumber, but with a fake water pipe, they won't even need to look at it anyway.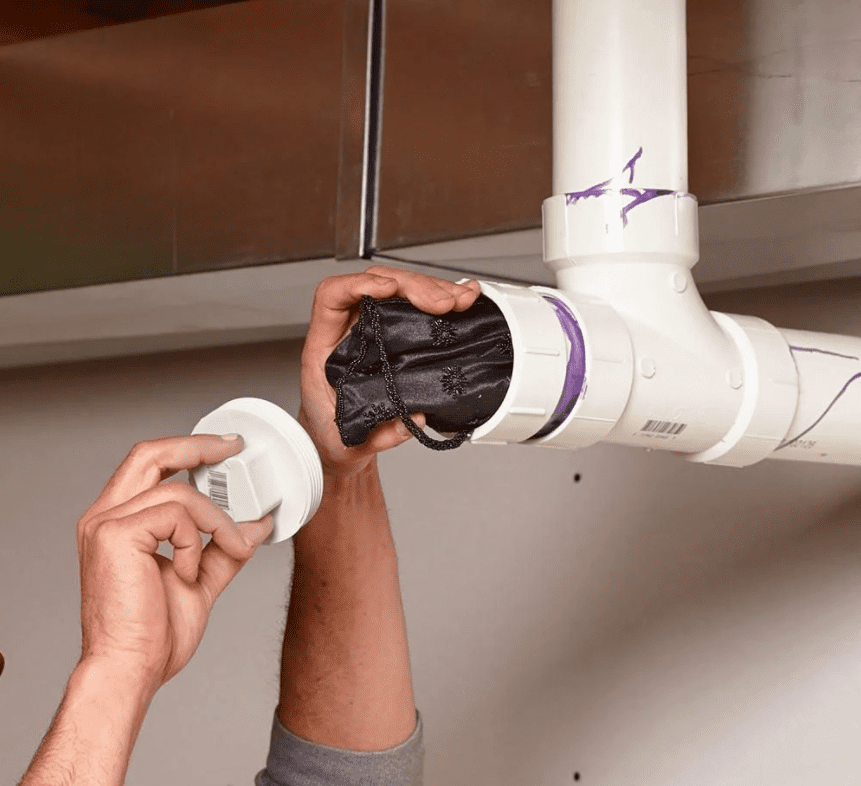 But, before putting anything in it, you should always ensure that the hollow pipe isn't leaking water. If you want to increase the safety, wrap it in plastic. You can "install" this fake pipe anywhere in your house, but under a sink or basement storage would be ideal.