40+ Alternate Uses For Everyday Objects
By Joyce S August 1, 2023
---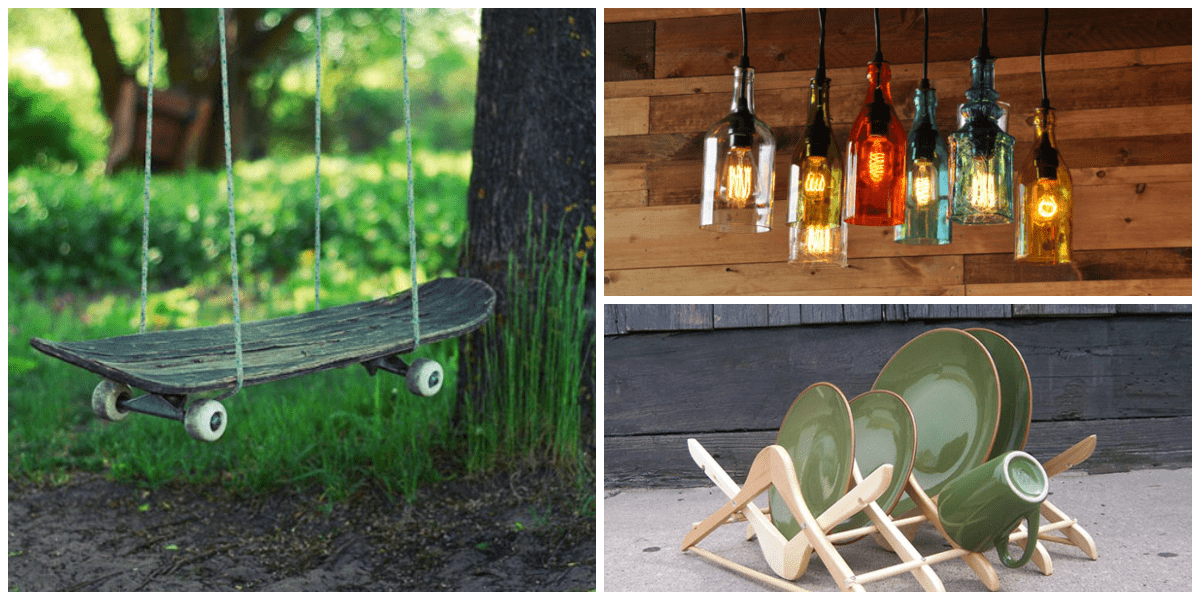 This article was originally published on
morehackz
When we are faced with a problem or hardship, we often get the advice to "see things from a different perspective." The power to adapt is a remarkable trait that can help us overcome obstacles, but it can also be used in less serious circumstances, too.
For example, most of us look at an object and associate it with its common use. But with some ingenuity, anything can be used elsewhere. After all, many of the things we use were created by accident, or designed to serve another purpose.
The power to reimagine things and how to use them is a skill that many people have honed and applied to their everyday lives. Whether you need some ideas for upcycling, want to make life simpler, or just want to see some creativity at work, read on to discover some funny and clever uses for everyday objects.
Brand New Birdhouse
We start off this article with what seems to be the cutest innovation. For the tea lovers out there, if you have a teapot that's broken, but you refuse to throw out, you should consider turning it into a birdhouse.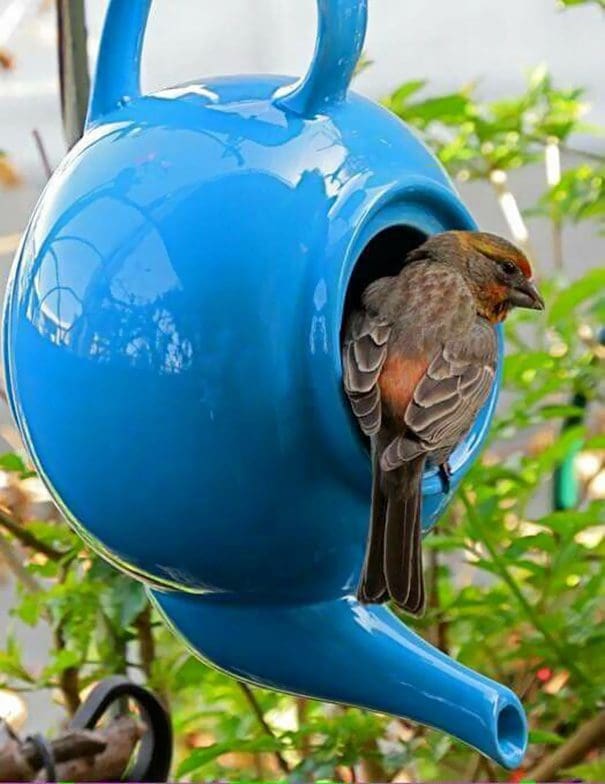 The teapot is the perfect spot for little birds to get some rest or dry their feathers off if it's raining. They can even make nests to shelter their babies. Besides, it looks charming and idyllic as a garden decoration piece.
Floss Before You Eat
A piece of dental floss can be a huge help in the kitchen when it comes to cutting or slicing food. Yes, you read that right; dental floss, preferably the flavorless type to avoid tainting the taste of that chocolate, can be a kitchen tool.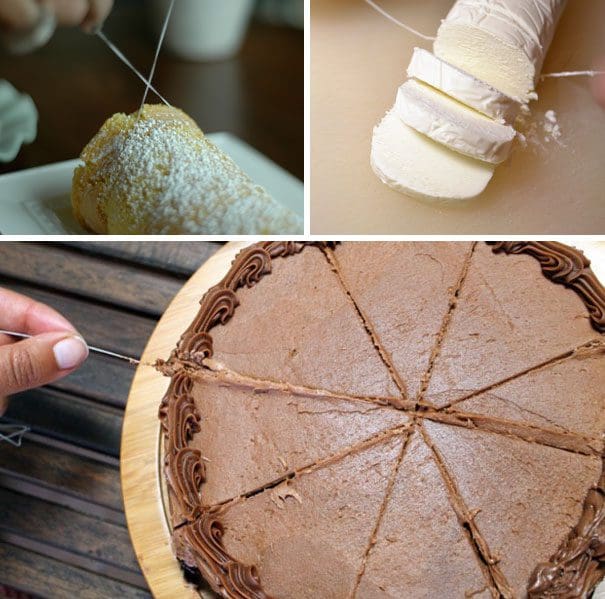 This hack also shows that using your imagination can make a task more accessible to others. Cutting foods with floss is a kid-friendly activity. By not using dangerous tools, you can let the kids help out more in the kitchen.
Use Soda Can Tab To Hang Frames
You will never look at a soda can the same way after this tip. Once you've finished your drink, pop off the tab and attach it to a photo frame or painting. You don't even need fancy equipment; a screw and a drill work perfectly.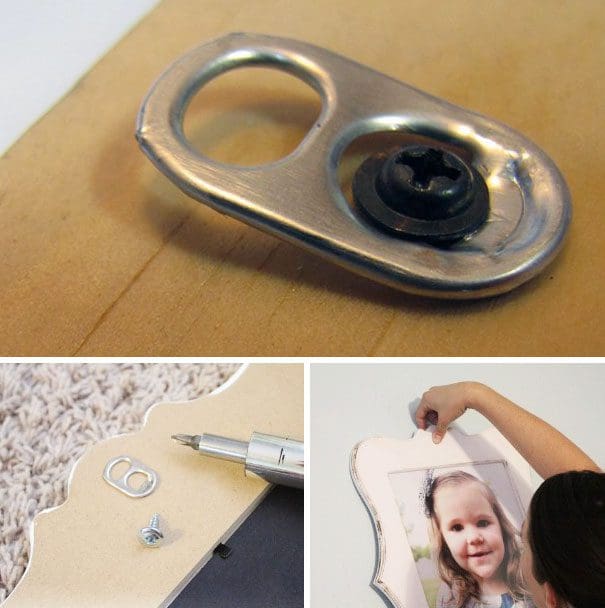 Reusing soda can tabs is not new in the DIY world. From belts to handbags, from school projects to key chains, the soda can tab has been reimagined many times. And now, you can add hanging picture frames to that list.
Shoe Shine
We all have that pair of sneakers we go everywhere with. Some of them last for years, and while we love how they feel, they don't look as shiny as they once were. A household cleaner comes to our aid as a fast way to clean our shoes.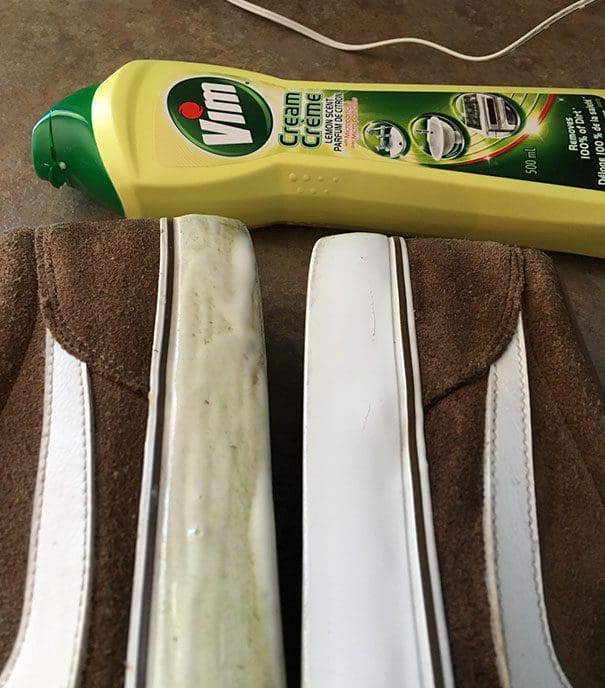 Used to polish counters, sinks, and stoves, the common household cleaner won't just find a home under the kitchen sink. Now, it'll travel all the way to your bedroom; along with a brush and some water, your shoes will look brand new!
Bed Bumpers
Nap time can be concerning when it comes to babies' safety. That is when the pool noodle sitting in the back of their garage can come in handy. Parents can't get enough of these strategies to keep their babies safe.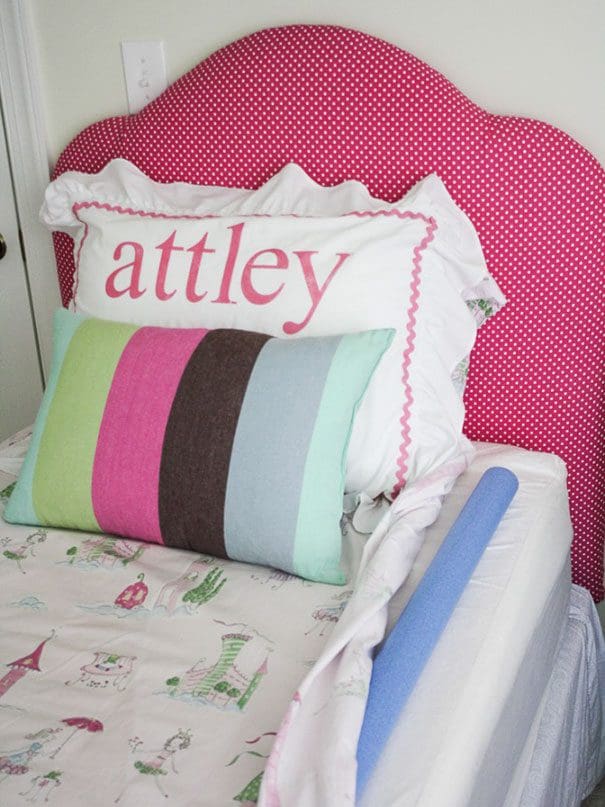 Placing a pool noodle under the fitted sheet on all sides of the bed will keep fussy babies and toddlers away from the edge of the bed. Never doubt the resourcefulness of babies — or pool noodles for that matter.
Lego To The Rescue
The popular blocks have been a sensation for many generations. Kids love building (and breaking) simple formations, while adults can appreciate jaw-dropping, intricate building sets. Though, as The Lego Movie taught us, you should never take the latter "use" too seriously.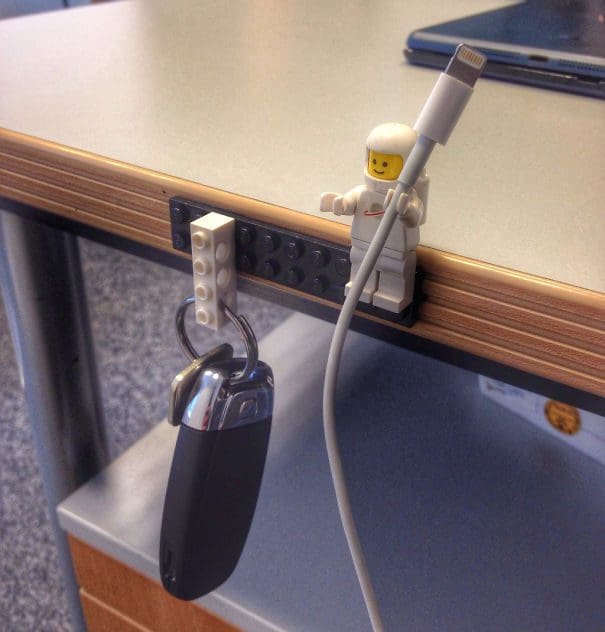 Those little colorful bricks can find use outside of the playroom. Forgetting the keys shouldn't be a problem anymore if you turn your Lego into a key holder. This creative key holder is easy to set up. It certainly puts the "fun" in functional.
Plastic Bottles to Seal Plastic Bags
With upcycling, creativity is key. Finding alternate uses for ordinary objects doesn't just benefit us; it helps the environment. For example, reusing plastic bottles can save your food and reduce your waste at the same time. Here's just one way to use an empty plastic bottle…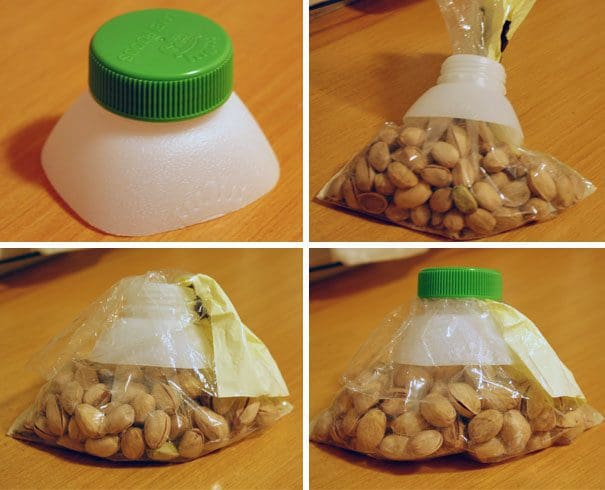 It may seem silly, but you can't say it's not practical. Just cut off the top of an empty bottle — any size works — and clean it thoroughly. For bonus points, reuse those plastic bags for a truly zero-waste food-saving hack.
Creative Bookshelf
Home organization can be difficult. Everyone has some knick-knacks, but organizing them in an accessible and aesthetic is challenging, especially if you can't find the right piece of furniture to display things. When we are able to see things from different perspectives, finding a shelf isn't so hard anymore.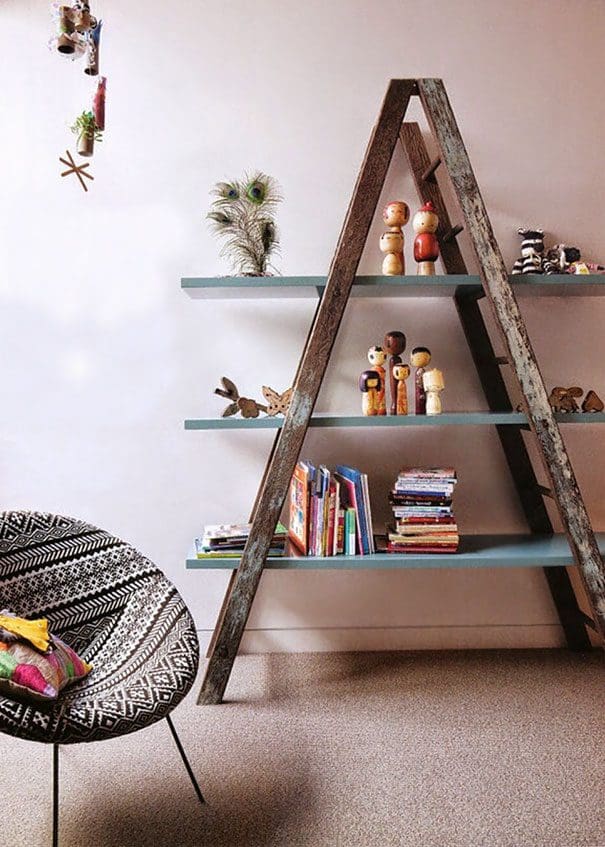 An old ladder destined for the trash bin will help you keep your books organized and looking good in your living room or home office. It's a cheaper and easier way to get everything set up just the way you like it.
Finger Saver
A firm hand is necessary to hammer nails, both the hand holding the hammer and the one gripping the nail. But not everyone has this skill. Don't be afraid to hang pictures on the wall ever again and, please, do not underestimate the power of this next often-forgotten object.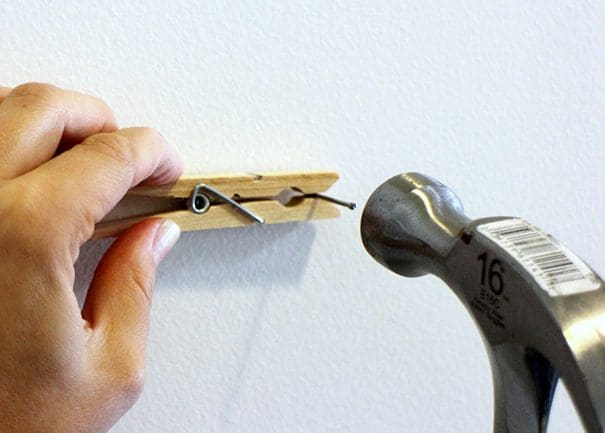 A clothespin can be a lifesaver when doing some housework or DIY projects. All you need to do is to clamp the nail with the clothespin, grab a hammer, and get to work. The hammer will do its job effortlessly and safely.
Compact Clothesline
This one is dedicated to those who live in small homes or apartments. Remember when we talked about shifting your perspective? This is why. Instead of lamenting a lack of space, use the backyard or balcony space to its fullest potential.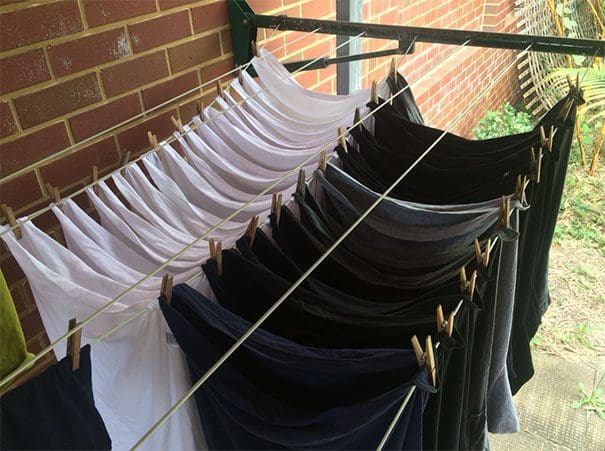 Some people will always find something to complain about, but having enough room to hang dry clothes isn't one of them anymore. This trick shows us that, doing things the "normal" way might not be the most efficient way to do things.
Recycling Wooden Hangers
It brings a sense of satisfaction when we're able to transform objects into something new. This can appeal to both environmentalists and house decor aficionados. Regardless of the reason why you're tossing aside your clothes hangers, they shouldn't go into the garbage bin.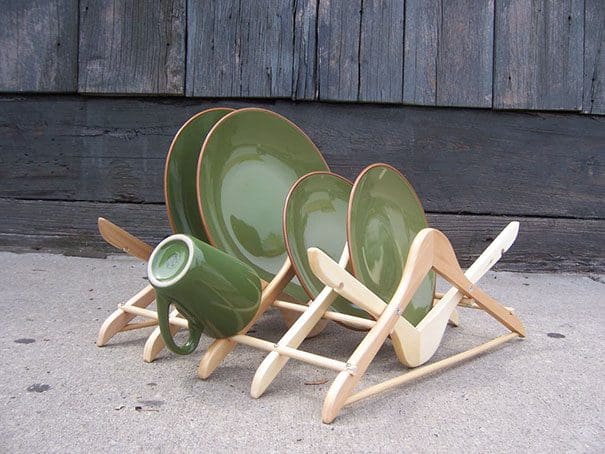 Bring a boho chic vibe to your kitchen by recycling out-of-use wooden clothes hangers. A dish rack is an essential element for any kitchen. As this person showed us, repurposed wooden clothes hangers can be turned into a brilliant kitchen utensil.
Wrap the Wrapping Paper
Toilet paper rolls seem to be one of the first things people look to when trying to upcycle housewares. School projects, housekeeping, home office organization, and more; there are infinite ways to give toilet paper rolls a new purpose. Keeping your wrapping papers tidy is one of them.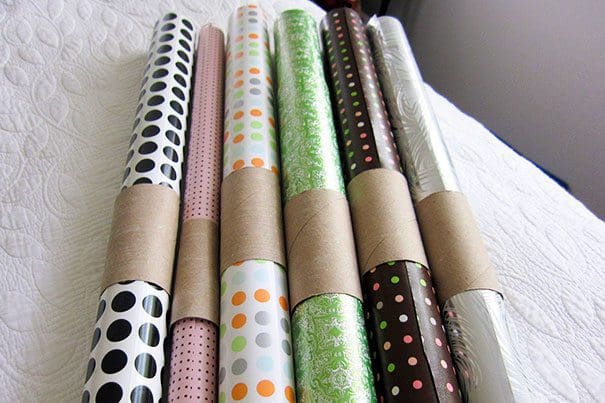 Forget tape that rips and ruins the paper; toilet paper rolls will hold the wrapping paper perfectly in place. The rolls won't unravel, and you can easily get enough tubes to use on all the different decorative papers you might have.
Snack Time
There are lots of adventurous people who go road-tripping by themselves. Stopping for food is a necessity, but sitting in the driver's seat can be dull and depressing. Instantly transform your car into a picnic spot by using the hood or trunk.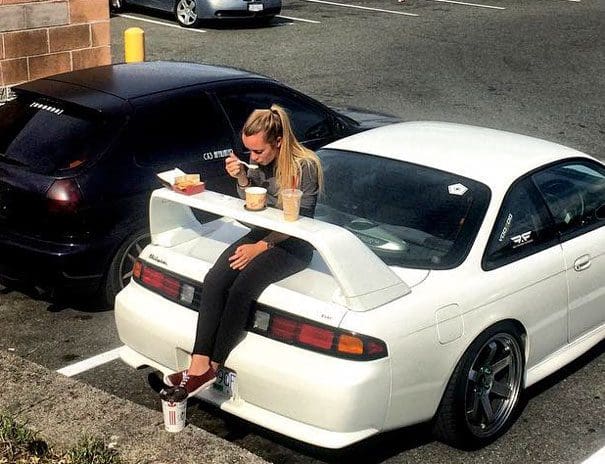 If your car has a spoiler on the back, that's even better. You have a table and chair right there. You don't need to eat inside the car and mistakenly spill juice or bread crumbs all over the driver's seat anymore.
Recipe For Long-Lasting Make up
It is frustrating when our makeup is fabulous, but we need to wash our hair before heading out again. Dreading the thought of redoing her makeup, one woman got creative and found a way to keep her eyes looking fabulous while she cleaned her hair.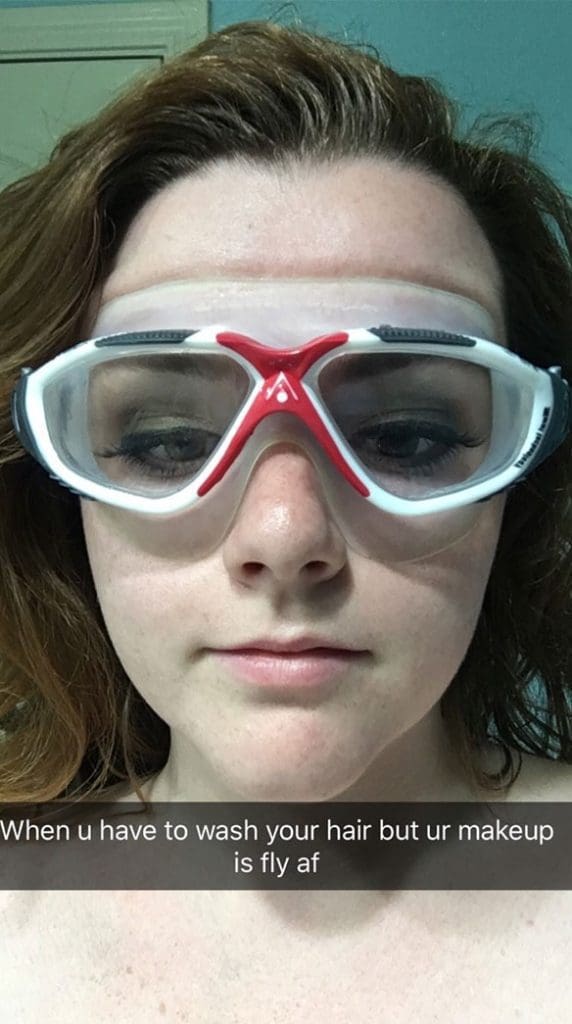 Your eyelashes and eyeshadow will be intact if you put your goggles on before you step into the shower. If you don't have goggles lying around, it's not a bad idea to invest in a pair since they're so versatile. For example, you can also use them when cutting onions!
CD Coaster Set
These adorable recycled CD coasters are a must-have. If you are from the golden age of music, chances are you still have some CDs around your home. If you're dreading throwing them out, give them a makeover using some self-adhesive colorful plastic sheeting.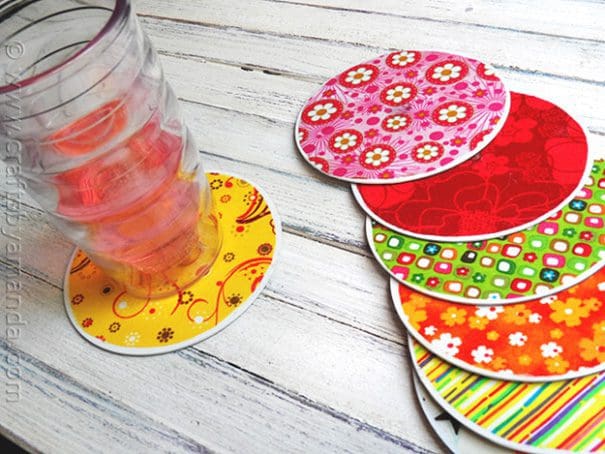 The coasters made of CDs bring a fresh look to your table, and the fun side of it all is that you can decorate them at will. If you don't want to cover up the art, use clear tape and give it a water-tight seal.
Bagel Saver
A bagel with avocado and eggs, or salmon and cream cheese is the perfect food. It's easy to prepare, filling, and inexpensive. But how do you store or transport that perfectly stacked bagel? Why, with a custom bagel holder of course!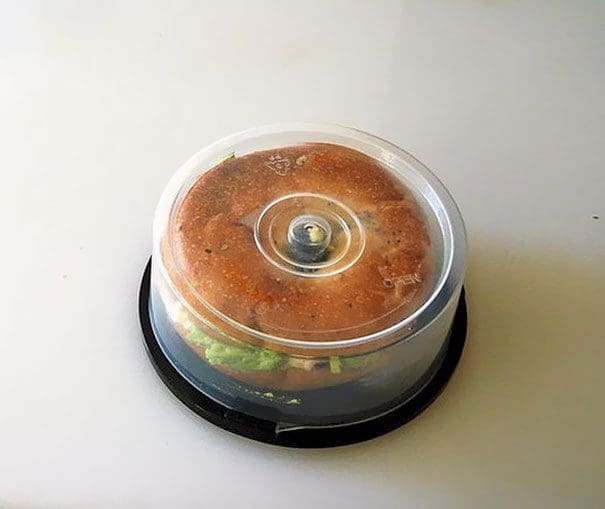 Once you've used your old CDs to make coasters, you can turn the CD holder into a container. Believe it or not, it's the perfect size to fit one yummy bagel. It might seem silly to pack your lunch this way, but it's worth it to have that perfect bagel come lunchtime.
Extra Long Match
Sometimes, after a hard day at work, all we want to do is to light up that scented candle and take a warm and relaxing bath. But the mood can easily be ruined if we burn our fingertips while trying to get the candle lit.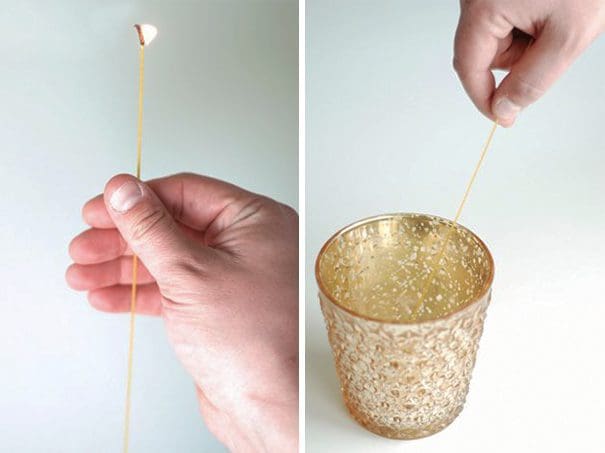 Using a little piece of raw spaghetti will save your fingers, especially if you're trying to use up that last bit of your favorite candle. It is the kind of problem-solver that, once we learn how to use it, we keep wondering how we hadn't thought of it before.
Condiments Container For Perfect Pancakes
Our daily routines, no matter how many times we've gone through them, can still be hectic. A little innovation can add some much-needed control over the chaos. Messy foods like pancakes are now possible and easy to handle, even if you're in a rush.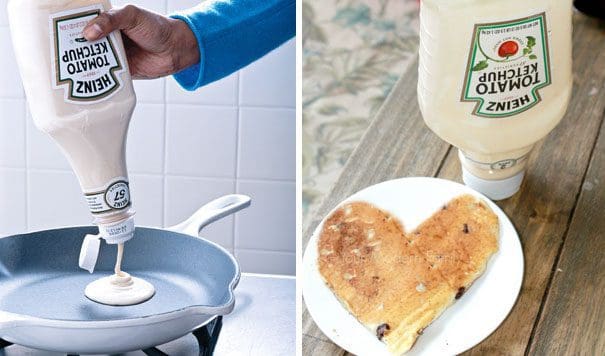 This idea is so effective because it makes sure the pancake batter doesn't spill around and, as a bonus, it'll be easier to make all sorts of fun shapes. This is a functional, quick and fun way to have breakfast.
Preserve Your Cellphone Charger
Tech seems to break so easily today, so we're always on the lookout for ways to preserve our phones and accessories. Protecting our phone charger is not only logical, but it's safer. Exposed wires are just a disaster waiting to happen.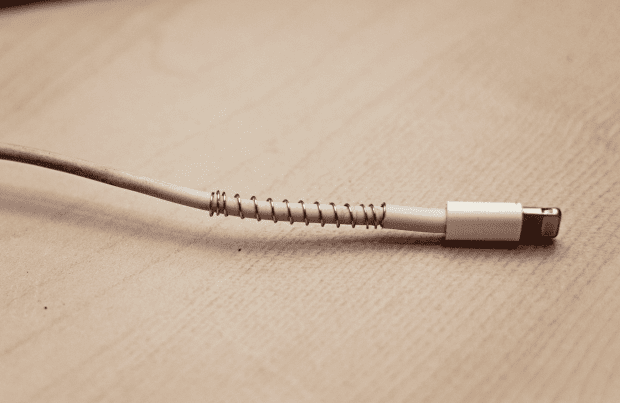 Since the cable gets bent a lot, the trick to preserving it relies on flexibility. The brilliant idea of using a spring from a pen is a key element to maintaining your charger as good as new. Make sure to be patient when dealing with the spring.
Candles In Bottle Caps
This hack is not only handy, but it's also a great business opportunity. It can be a shame when the wick finally burns out, and our favorite scented candle is nothing but a pile of wax. But that wax isn't useless if you have an open mind.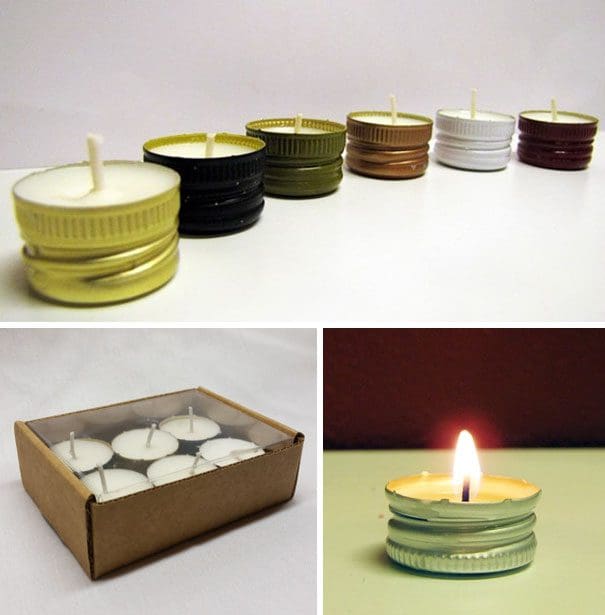 Stick a wick in an old bottle cap and fill in the cap with the melted wax and voila! Instant tea lights. Scented candles in tin bottle caps are a charming decor idea and an easy addition to sustainable initiatives.
Every Last Spoonful of Nutella
Nutella is a must-have breakfast or brunch item for lots of people, and it goes well with various types of food. If you are an avid Nutella fan, you've probably struggled with getting that last spoonful out of the container.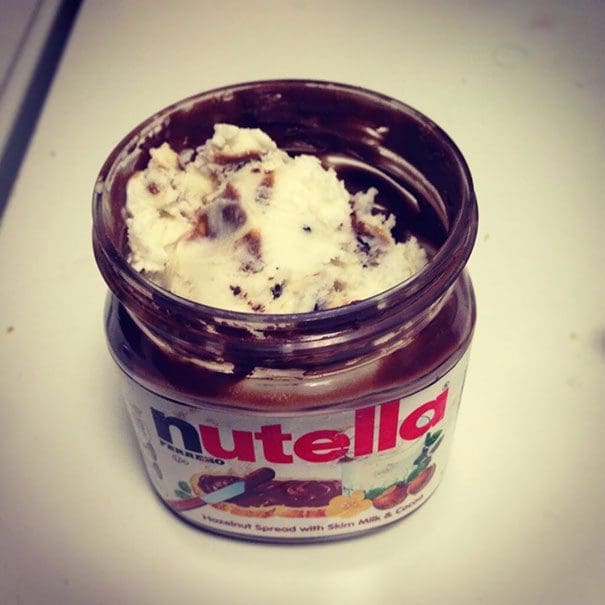 If you're going to the store to pick up a new jar of Nutella before the previous one is all gone, make sure to get some ice cream. Add a scoop of ice cream to create the best dessert and get every drop of the delicious spread,
Putting The "Straw" In Strawberry
Taking off strawberry stems the old-fashioned way — by cutting off the top — requires some finesse if you don't want to nick your fingers. Say goodbye to knives, because the good old plastic straw will be your best choice for removing stems from strawberries.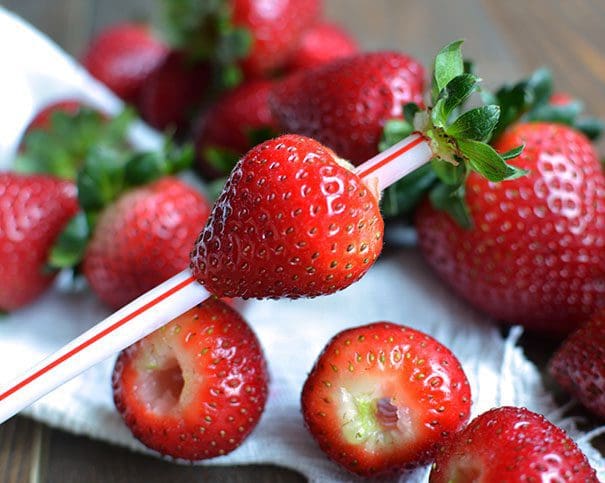 A metal straw is another great option, too. If you want to add strawberries to your morning smoothie or prepare a fruit platter, you can save your fingers with this simple trick. Just like the floss, this is another kitchen hack that kids can get involved in.
Don't Give Up On Lost Earrings
For a successful quest for small objects, you need three ingredients: a vacuum cleaner, a stocking, and endless determination. It feels like small items grow a pair of legs if they're ever dropped on the floor. They're somehow never in the same place where they fell.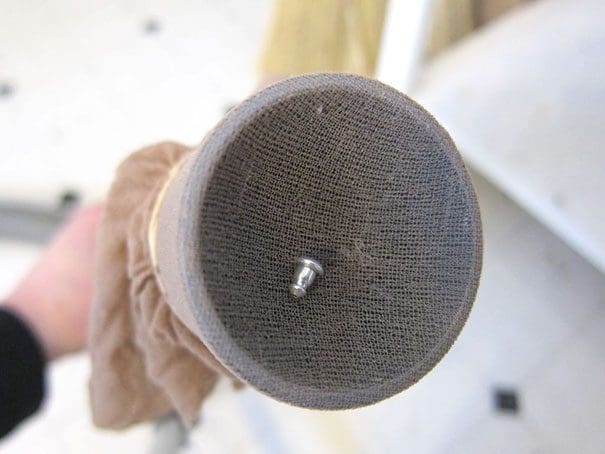 This trick works for all sorts of lost items. Earring backs, coins, pendants, rings, needles, and more, won't be lost on your floor or the bottom of your drawers anymore. If you don't have a pair of stockings, they're inexpensive, so this hack is easy for everyone to try.
DIY Lamp
If you're going on a spontaneous camping trip, it can be stressful to make sure you have all of the necessities. One often-forgotten piece of "equipment" is decent lighting. If you're ever in a pinch, you can make a DIY one in only a minute.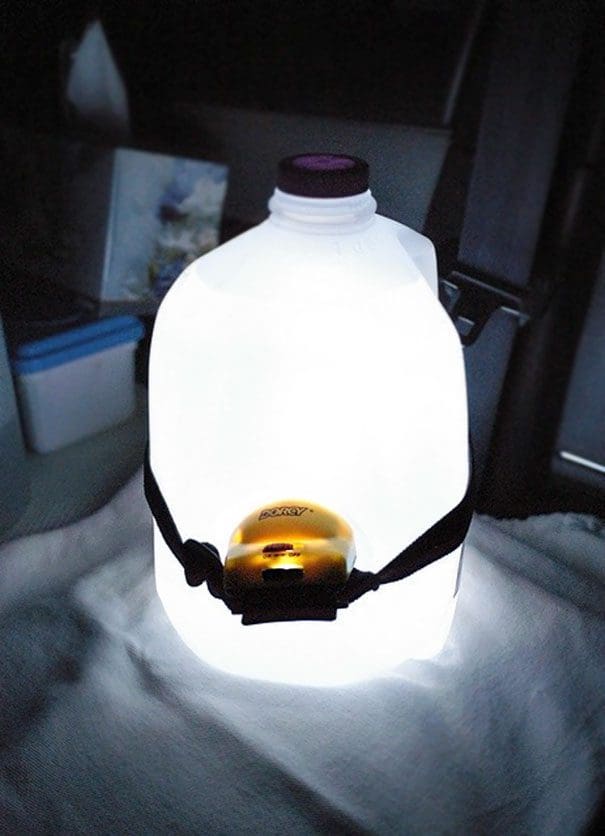 Aim a headlamp or flashlight directly into an empty milk jug and securely attach it to make a lightweight portable lamp. This is also a great way to set up a lamp and keep your hands free during a power out.
Suede Saver
Don't give up on your dirty suede bag or jacket just yet. Next time you go to the store, head to the stationary aisle, and you can find a tool your closet can benefit a lot from. Better yet, you might already have this item at home.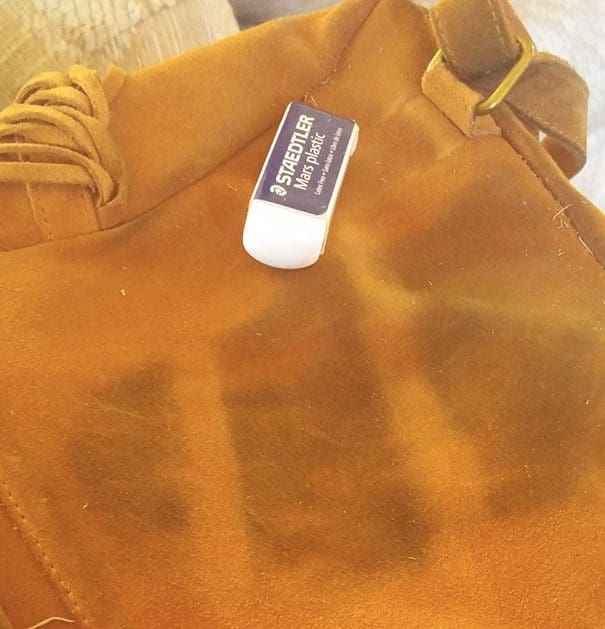 Instead of punishing your suede piece with a stain or trying to clean it with soap, you should try using an eraser. A regular school eraser is a splendid tool to assist you when cleaning time knocks on your door.
Food Strainer Decor
Oftentimes we don't know what to do with the house space. It can be tricky to fill in empty wall space, especially if we don't have enough photos to hang up. Lighting up the walls in a fashionable manner might be the answer to this decoration hurdle.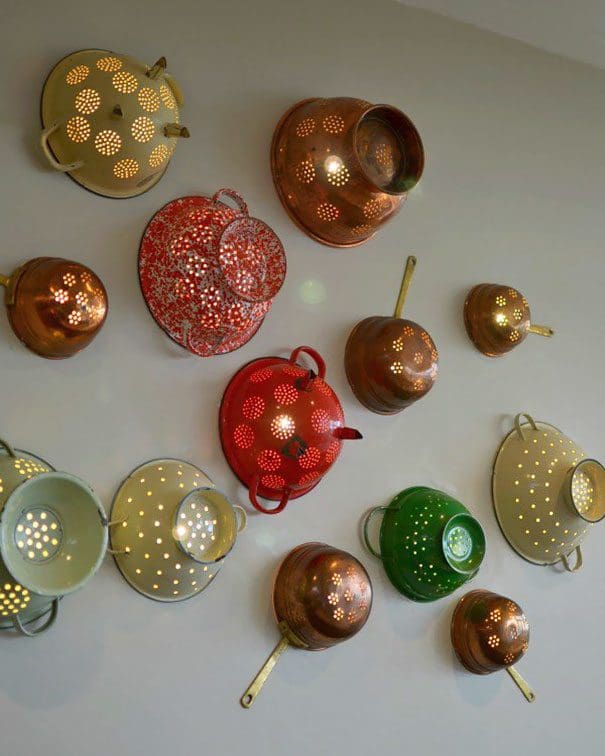 This hack combines a colorful and joyful design with a calming aesthetic. Adorning food strainers and covering light bulbs with them might become the next cozy backyard sensation. The rustic design is suitable for cabins or even apartments, and will fit in near the kitchen perfectly.
Glass Bottle Lampshades
Speaking of home decor and alternate lighting designs, ordinary light bulbs never looked so good. Imagine brightening up your home with subtle and charming colors by sheltering light bulbs in colored glass bottles. The message in these bottles is pretty clear.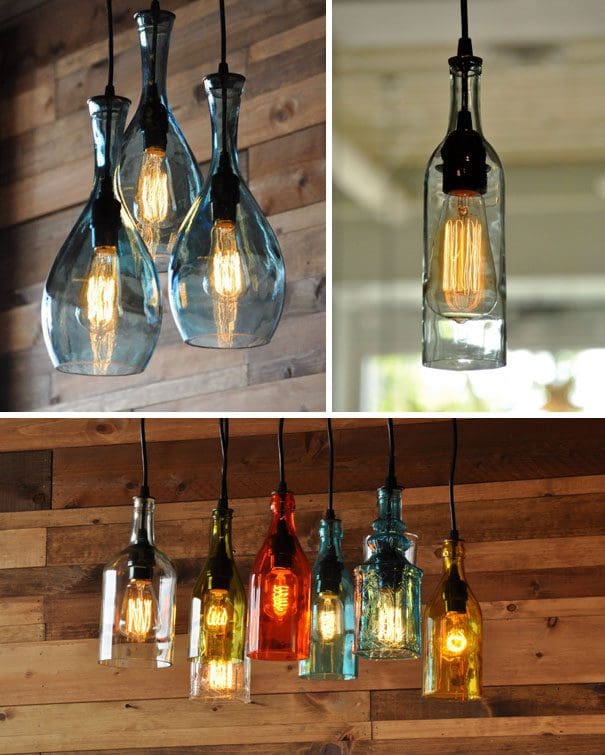 This hack requires more work and you should be extra careful when preparing the bottles to accommodate the light bulbs. That is because the glass bottles should be cut in order to fit the bulbs in. But, if you have the tools and know-how, the results are worth it.
The Clothespin Strikes Again
It seems that there are certain household items that are full of potential. We didn't realize that clothespins could be used for more than just hanging up clothes. We already saw how they can save our fingers, and now we know they can save our dental hygiene, too.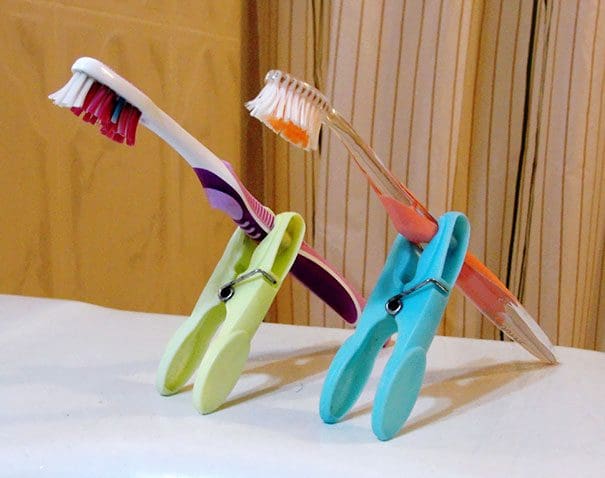 If you don't have a cup to keep your toothbrush in, just grab a clothespin. In fact, it might be wise to pack at least one next time you go on a trip. You never know if your accommodations have a place to safely store your toothbrush.
Keeping Personal Belongings Safe At The Beach
Going to the beach by yourself can be annoying sometimes. It's stressful to leave our personal objects lying on the sand alone, but you can't just leave without your phone or at least house keys. This clever hack can help put an end to this summer dilemma in a few minutes.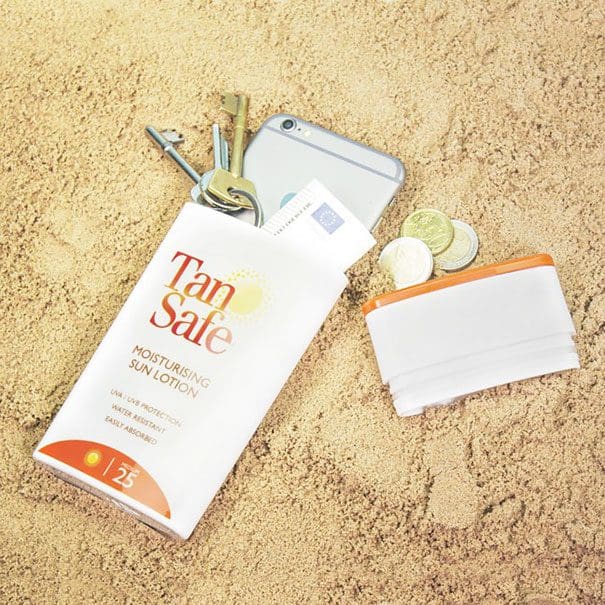 Run to your bathroom and grab an empty sunscreen bottle. With a little DIY craftiness, you can turn it into a discreet phone/key/money holder for the beach. Or, if you don't feel like your skills are up to the challenge, you can find a pre-made one online.
Popsicle Drip Catcher
Summertime wouldn't be complete without having popsicles at least once. But they can be annoying since they melt so quickly and leave you with sticky fingers. Here is a hack for all the popsicle fans or frustrated parents out there.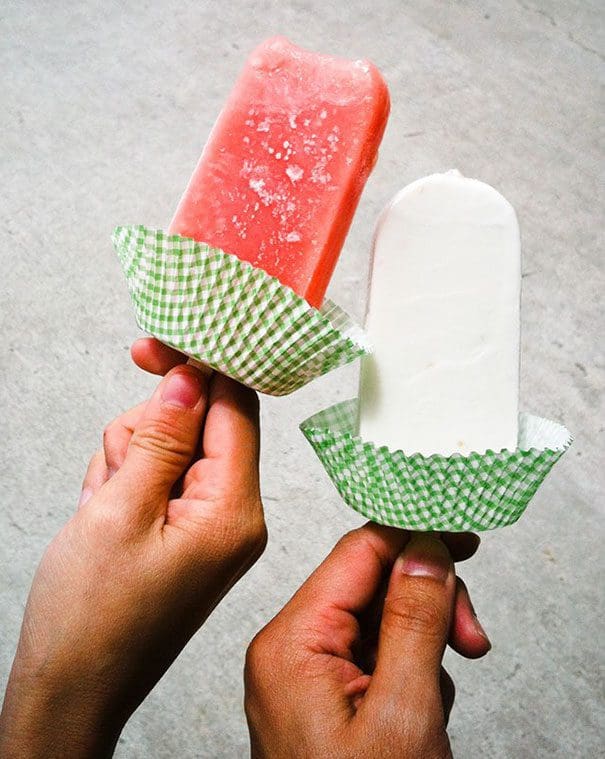 This simple and fun trick is effective, inexpensive, and adds a little fun to a delightful summer treat. Cupcake liners are the perfect size and shape to catch the drips from melting popsicles. You can easily find them in a variety of designs for some extra fun.
Vegetable Peeler For Prettier Salads
Speaking of food, who doesn't love to eat something that's aesthetically pleasing? We don't just mean fancy, Instagram-worthy plates; even simple things like how you cut your food can make a difference. Salads in particular can be elevated to the next level when the ingredients are cut right.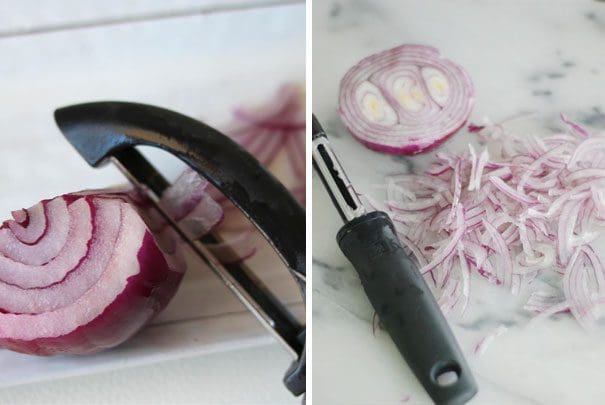 The vegetable peeler slices onion, potatoes, cucumbers, and every other vegetable thinner, faster, and safer than a knife. Better yet, it'll get you smoother and more uniform slices of whatever food you're cutting up. Give this trick a chance and find infinite possibilities.
No More Wrinkled Collars
Ironing a shirt may not be the simplest of tasks, especially if you're in a hurry. Looking in the mirror only to spot some creases is a pain. To save time, try this hack; you don't even need to take off your shirt to fix it up!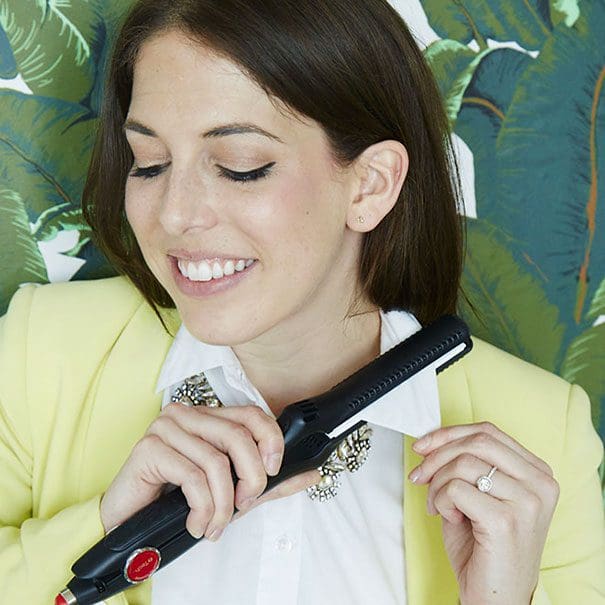 Get ready in no time with this neat trick. A hair straightener is a practical apparatus when we need to fix our unfolded shirt collar promptly. This versatile trick comes in handy when you're traveling or late for a meeting.
Vintage Candle Holders
It feels like a shame to throw away vintage items, but finding a reason to keep unused objects is even harder. Get those old and forgotten metal funnels out of the drawer and put them to use. Instead of crowding your cupboard, they can light up your home.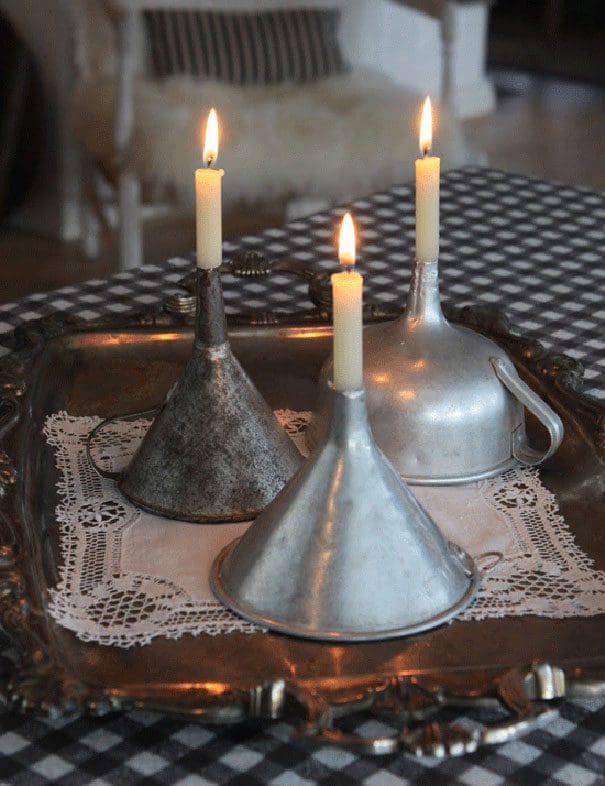 Funnels are the perfect size and shape to hold candles. The "top" is always even, so you shouldn't need to worry about wobbly candle holders. And, of course, the "bottom" of the funnel can easily fit a candle. Use funnels as candle holders to bring to life a comfy and soulful vibe.
Marshmallows and Ice Cream: What a Match
Ice cream cones are great, but pulling out the stack only to find broken bottoms can be a drag. Now, you can forget about the melted mess and enjoy your ice cream cone undisturbedly. This trick is sure to give you a sugar rush…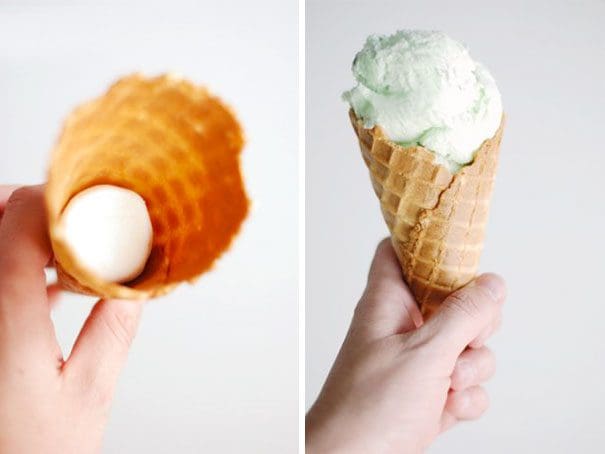 Marshmallows at the end of the cone will hold the melted ice cream and prevent it from dripping all over you. It's an efficient and tasty solution. As a bonus, you have an extra juicy marshmallow to look forward to once the ice cream is all gone.
Brown Sugar Softener
As you can see, marshmallows and versatility are practically synonyms. Not only will they save your clothes from getting bathed in ice cream, but they can save your sugar, too. Sugar has a tendency to harden if kept in humid conditions.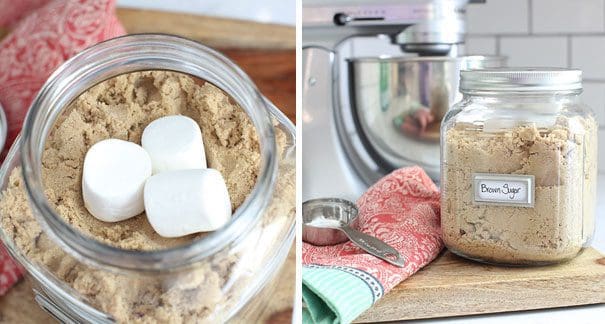 The reason why this trick works is simple, but it's probably not common knowledge. The spongy candy is made of water, sugar, and gelatin, thus its components help moisturize the sugar — provided both ingredients are kept in an airtight container.
Toilet Paper Rolls…Again
Sustainability is finally gaining some traction worldwide, and that means people are looking for more ways to upcycle common household trash. Scientists and startup inventions are a huge help, but simple DIY solutions are just as important. So, once again, we turn to our friend, the toilet paper roll.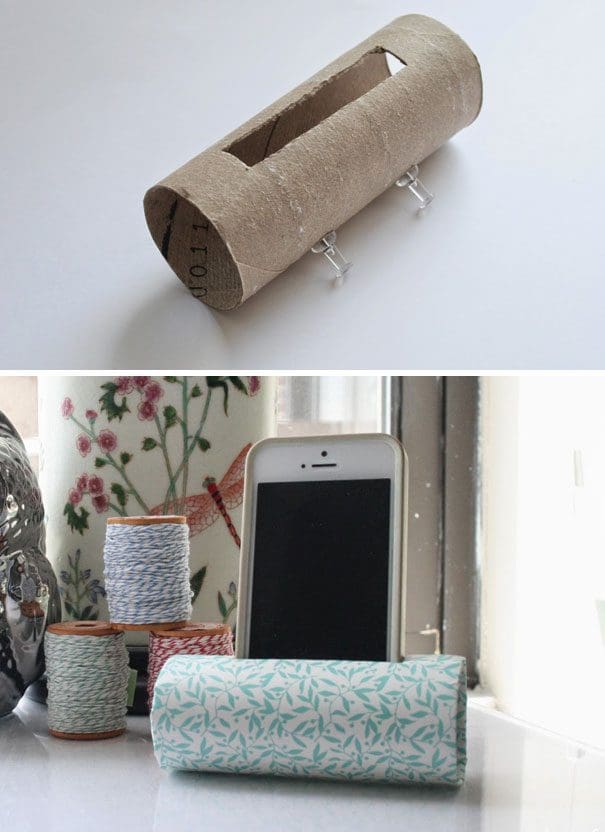 Toilet paper rolls don't have to go straight to the trash bin. They can be reused in different ways, other than holding wrapping paper. Using it as a smartphone holder and speaker are peachy and cheap ways to give the toilet paper roll a new purpose.
Hairspray To Thread A Needle
The internet is filled with tutorials on how to thread needles. Some of them work better than others, but this trick is just fabulous. It doesn't matter how thin and narrow the needle is; this hack will allow you to conquer the task with ease.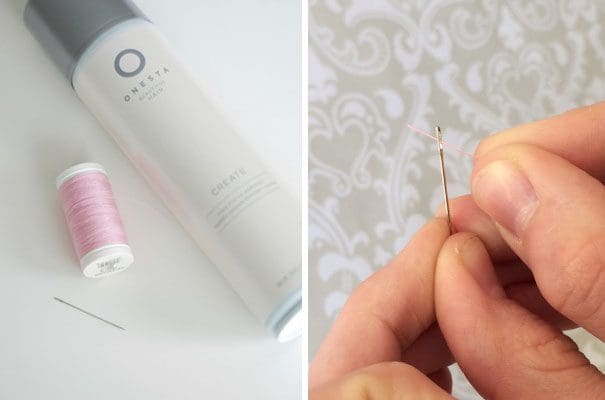 If you have hairspray at home, you know how well it works at holding those fly-aways in place. Thread also has the same problem, albeit on a smaller scale. Keep those "fly-aways" — aka fraying threads — secure with a spritz of hairspray.
Email Or Snail Mail?
The digital age is moving so fast, it seems hard to keep up. Technology seems to become outdated in the blink of an eye, and we're left with items that seem to just gather dust. That being said, it seems like paper mail won't be going anywhere just yet.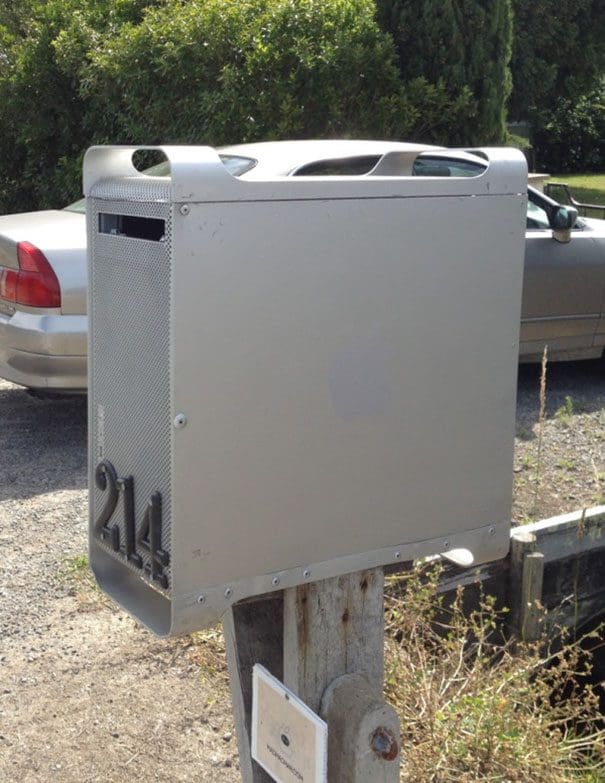 For a touch of irony, you can merge modern and old methods of communication into one. A broken CPU turned into a mailbox combines "snail mail" and a symbol of email flawlessly, and gives your yard a quirky and whimsical touch.
Doritos Barbecue Party
Running out of fuel to light up your campfire, barbecue, or fireplace is a thing of the past. If you have a bag of Doritos, you have an easy fire starter. Though it may be tempting to eat all the chips before the party starts, you should save a bag just in case…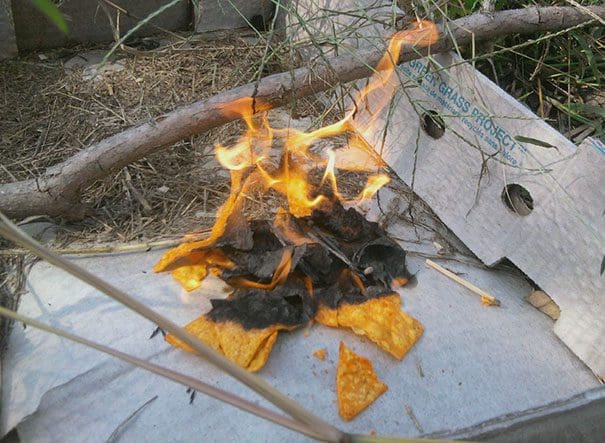 Doritos — like many other chips — are surprisingly flammable. They catch fire fast, and the flames last long enough to help you with your barbecue grill. What makes Doritos so useful is that they burn slowly, so your fire has plenty of time to really get going.
Easy Taco Tuesdays
If all the talk about Doritos made you hungry, here's another hack related to Mexican-inspired foods. Call your friends for a taco night and amaze them with this filling technique. A kitchen fork can serve as a holder for the tacos, allowing you to fill them with ease.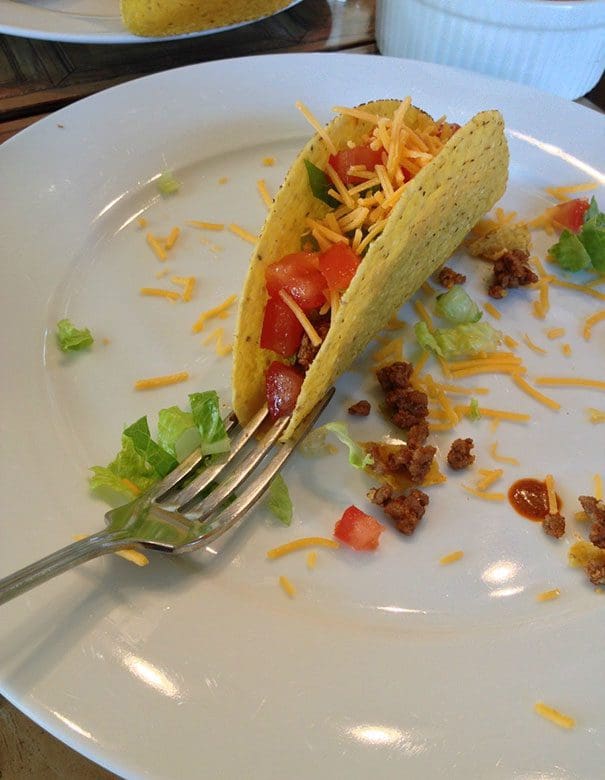 The fork holds one side of the taco chip and keeps it upright to be filled. There's no need to worry about your tacos falling over and spilling out as you put the meal together. This hack will make taco nights even more fun.
Upcycle Old Tools
Even durable tools have a limited lifespan. Over time, even metal can wear down, making those tools harder, or even dangerous, to use. But, as with everything, that doesn't mean those worn-out pieces of equipment are useless and trash-worthy just yet.
Wrenches, when used properly, provide stability and secure things in place. Even old wrenches can still do that, albeit in a different way. With some metalworking, you can turn old wrenches into coat hangers. Now, instead of keeping bolts in place, your jacket and bag will be safely held on the wall.
Skateboard Swing
This tip goes out to the adventurous souls out there. If you have a favorite sport, you might know how hard it can be to get rid of old equipment. But keeping your sentimental pieces tucked in the corner of your garage seems like a waste.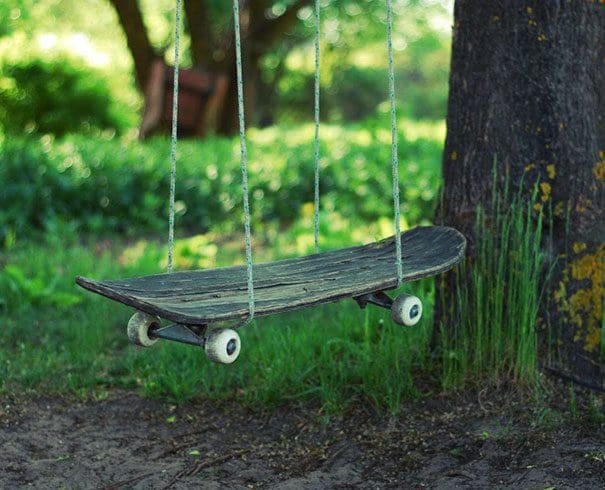 Old skateboards, for instance, can still have some use outdoors. For this hack, you don't need fancy tools; just an old skateboard, some rope, and a safe tree will do the trick. Make sure your skateboard is still in good condition, so you don't get injured.
Perfect Sandwich Toast
Sandwiches seem like the perfect food, and toasting your bread can be the exact thing to make the perfect meal. But it can be tricky getting the toast just right, and having it too crispy can make it hard to hold the condiments in place.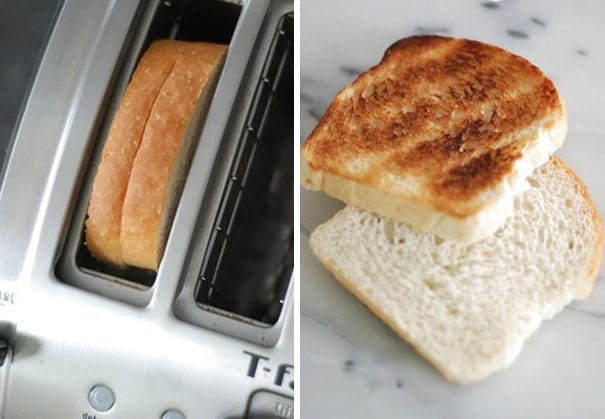 First, check the width of both your toaster slots and make sure they can safely hold two slices of bread. By doing this, you get to toast the outside of the bread, leaving the inside fluffy and soft. Making the perfect sandwich has never been easier.
Hair Straightener Storage
These kitchen tools are good for more than keeping your hands safe while cooking. Since they're designed to be resistant to heat, oven mitts are the perfect storage solution for hair straighteners. And, as with many other hacks on this list, it's cheap and easy to use.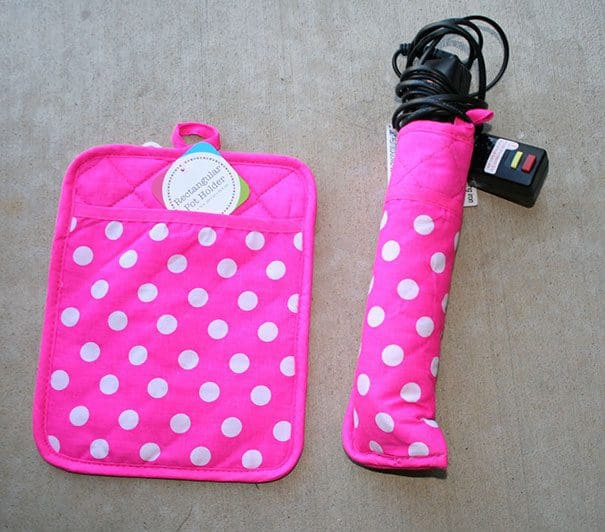 This will not only protect your hands, but it'll keep your countertops safe as well. Not every hair straightener comes with protective cases that prevent accidents. Hence, investing in an extra pair of oven mitts or potholders can be a creative solution.
Untie Plastic Bags Effortlessly
Though we try to reduce our plastic bag use, we sometimes find them in our homes. When that happens, we want to use them as much as possible. One way to make sure you get the most use out of your plastic bags is to untyie them without ripping them open.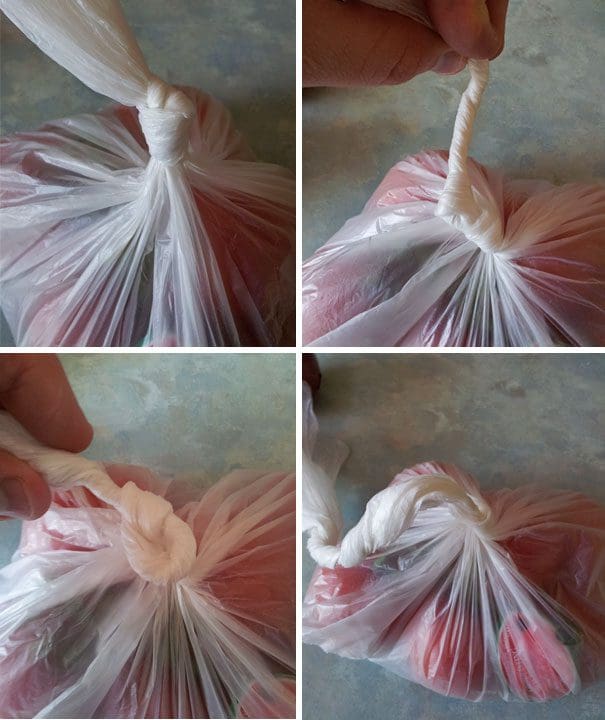 If you twist the plastic bag to untie tight knots, you will see how simpler life can be. No more tearing plastic bags apart when lacking the patience to untie them. This ordinary maneuver is the way to do it. You can thank us later.
Fancy Mosaic Tables
We bet that just by looking at the picture on the right, you wouldn't be able to tell that this tabletop was made out of CDs, but that's exactly what happened. Thanks to flash drives and other convenient storage devices, CDs have now become objects we rarely use at home and in the office.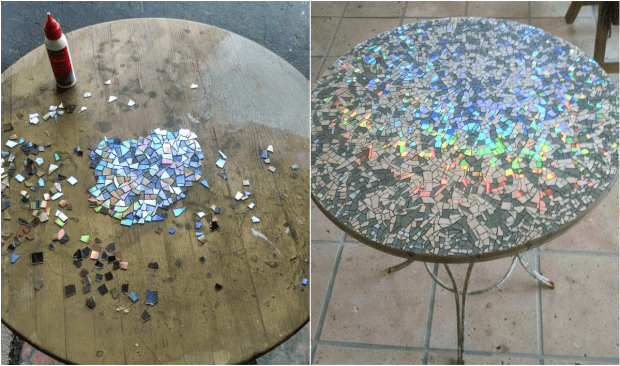 To make a mosaic table like this one, you'll need glue (preferably super glue), scissors, and old CDs. Start by separating the disc's two layers before cutting the shiny side into tiny pieces. When sticking them, it's best to begin from the center and work outwards to ensure the arrangement is perfect without gaps.
DIY Potting Bench
If you have an incurable love for plants and DIY, we have found the perfect project for you to get started on. As plant lovers know, you can never have enough potted plants around the house, so if you find yourself running out of space, you can create this simple yet functional bench.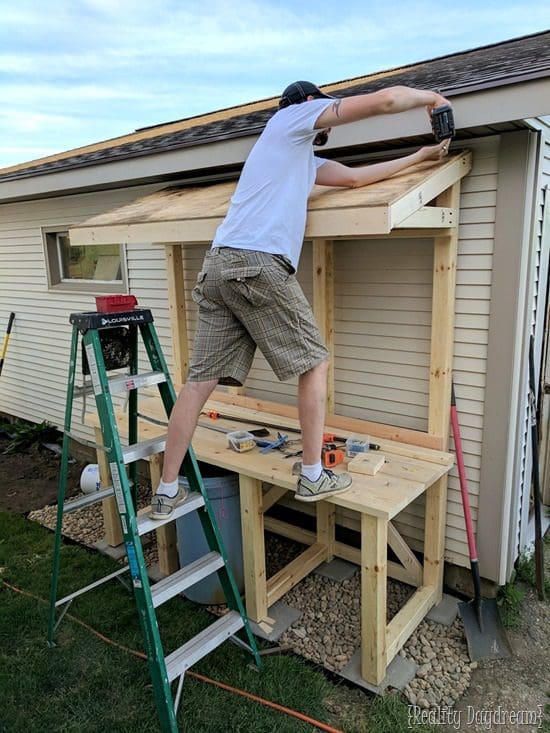 Start by finding an appropriate place in your yard, clear and level it, then dig holes for the legs. You can fill the bottom with tiny rocks if you'd like. After you've installed the legs, add the bench, and you're done. Depending on preference, you can add a roof and paint it however you like!