Sparking Joy: Effortless And Affordable Hacks For A Picture-Perfect Pantry
By Navkiran K August 3, 2023
---
This article was originally published on
mydiwise
What's the primary activity you do when you walk into your home? If you're like most of us, you head straight to the kitchen. And if the kitchen is a mess, it can certainly put a damper on your day. It's crammed with plastic containers without lids, half-used containers of spices that are spilling over, and who knows what else! With so much to manage, pantry organization can be absolute misery. But it doesn't have to be! Just a little bit of effort will help you have an organized and functional pantry that makes cooking and baking a breeze. We have the ideal solutions for anyone who struggles with keeping their pantry organized. These 45 pantry organization DIY ideas are simple and easy to follow, so you can achieve the perfect level of organization in your pantry in no time at all! 
1. Hang the snacks
Storing your snacks in the pantry looks more organized with these hanging clips. You will not have to worry about the snacks getting stale and wasted because they're always held up high, away from any potential mess or wandering ants.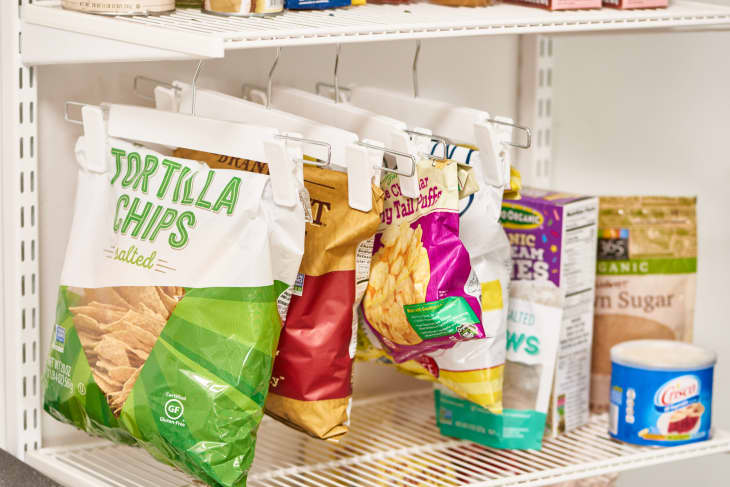 Hanging clips will be the perfect solution for kids and multiple members households. With these clips, you can keep your favorite snacks fresh and take up less storage space. Moreover, you'll be avoiding the hassle of chips and pretzels getting stuck in between shelves.
2. Custom pantry
When it comes to your pantry, the greater access an item has, the better. If you're on a budget and can't afford that custom shelving system just yet, then follow this pro tip for getting organized without breaking the bank.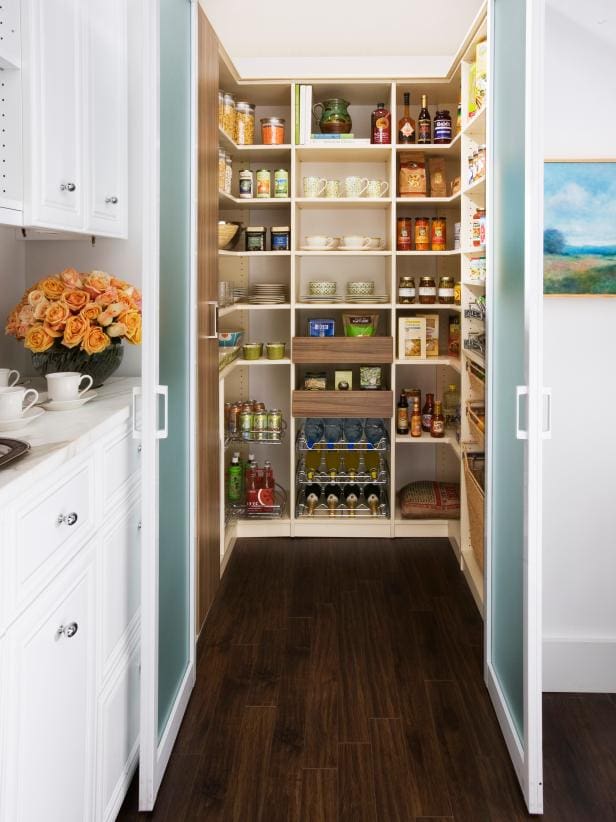 Place shorter jars/bags in front of shelves with taller ones behind them. Besides, keep unused items up top, so everyday usage items are easily reachable throughout every section in this order. Save the middle and uppermost surface for items not used very often.
3. Easy access measuring cups
You can improve the effectiveness of your storage containers by adding measuring cups. A 1/3-cup scoop takes care of any guesswork out when it comes time for portion control and will make mornings much easier with this trick from blogger Jen Morris.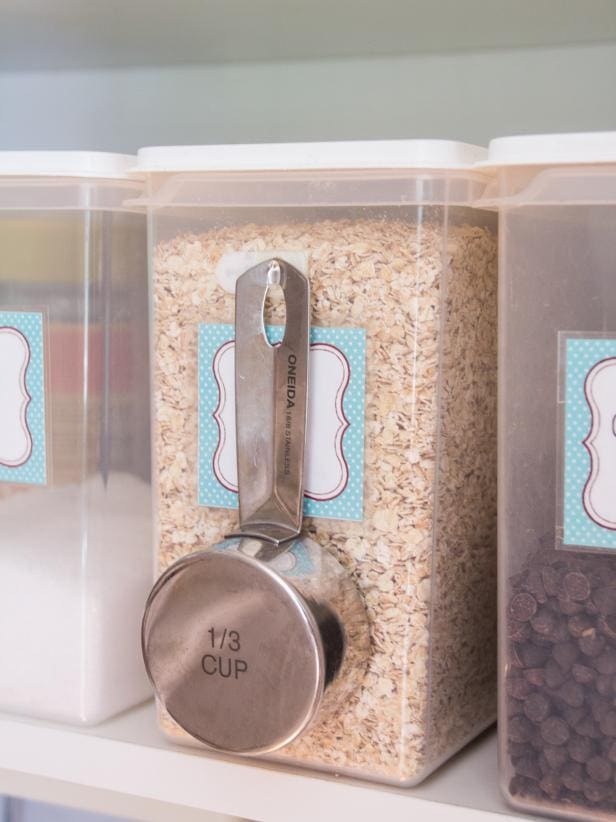 She uses this for pasta, flour, coffee beans, and dog food. This is one convenient way to ensure enough food storage containers on hand. With measuring cups, the guessing game will be over, and you will be able to save time.
4. Switch to simple packaging
The best way to keep your groceries and food fresh? OXO containers! With these, you'll be able to use the full height of any shelf, and they're dishwasher safe. We also love how these handy little guys can be marked with labels that let you know what's inside.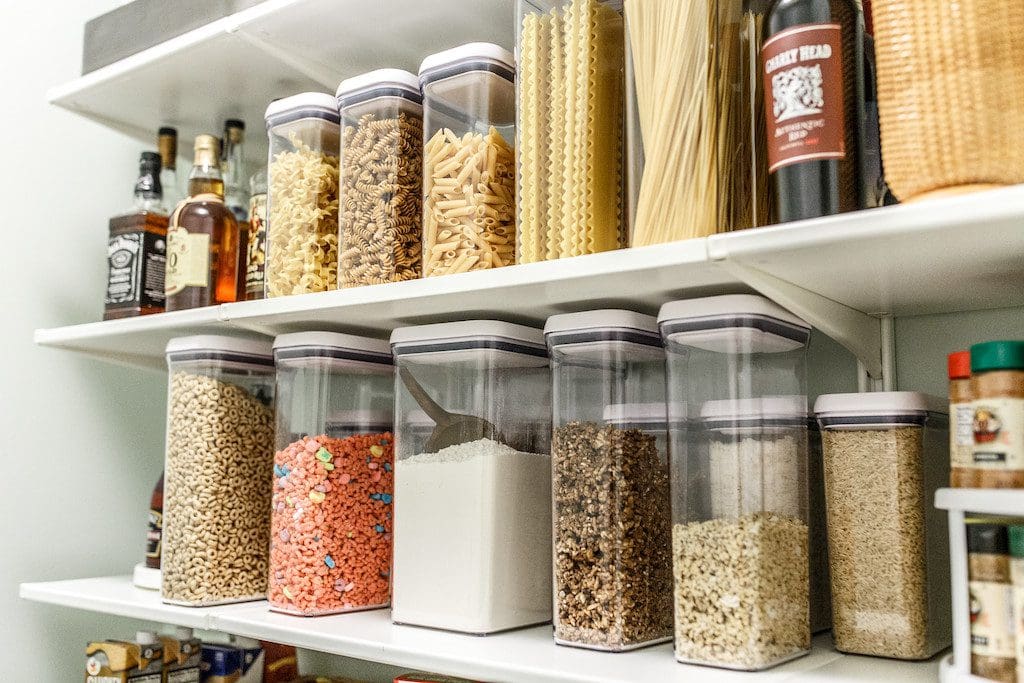 Transferring your snacks, grains, and pasta in these will keep them fresh. Buying food in bulk is less expensive, and these containers will make sure you get your money's worth. You can mark the expiry dates at the bottom of the containers.
5. Labels to keep it organized
When life gets hectic, the last thing you want to accomplish is spend time making your pantry look pretty. But it is one place in our homes where we should put extra effort into keeping things organized and tidy before storing them away for good.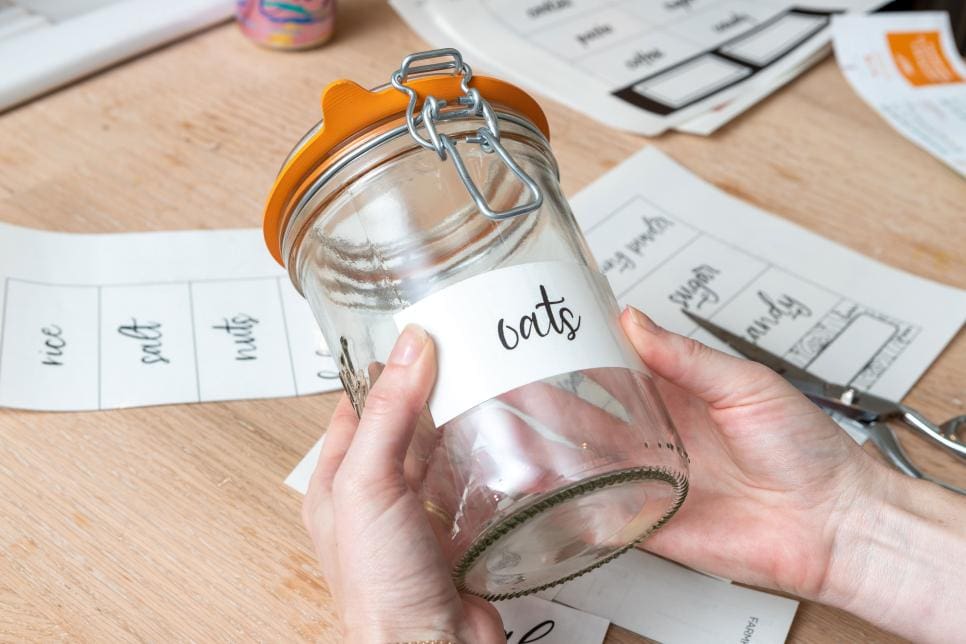 Having a functional pantry should be your goal. The ideal way to keep your pantry organized is by placing dry goods into jars and adding customized tags. This will allow you the flexibility of seeing what needs replacing at any given time and making it easier for other people who might be using this space too!
6. Cool cookie jars
These cool cookie jars are a must-have for any home with baked goods! They'll bring back the nostalgia of childhood and make storing your snacks more appetizing than ever before. Glass is a healthier option instead of storing food in pesky plastic containers.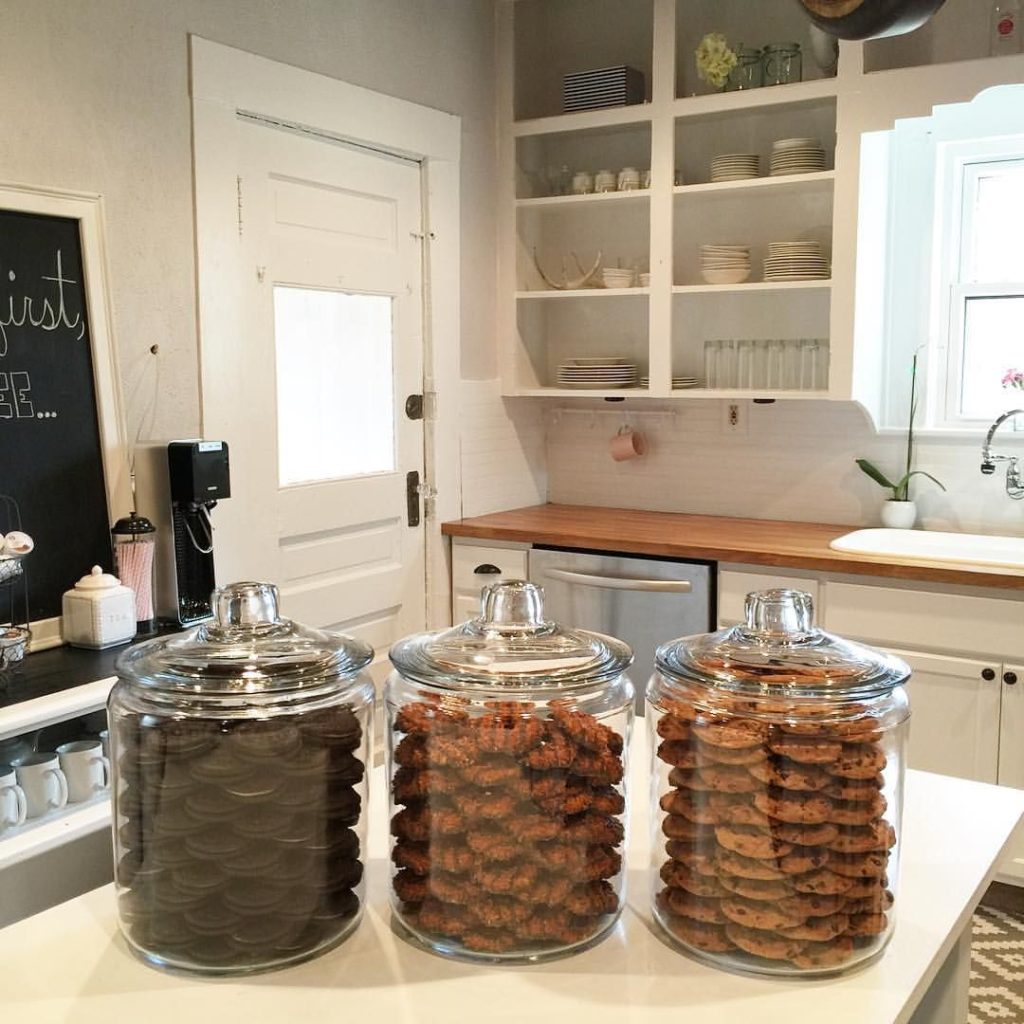 They'll keep baked goods fresh longer. Moreover, they look amazing on the countertops. You can even display them on the shelves for all to see, giving guests a view of what's inside and offering them their favorite ones. We love this!
7. Closet food storage
There are few situations more annoying than trying to find something in your pantry only for it not to be where you think it should be. Proper organization is the key to any well-stocked pantry. The best way is with shelving units.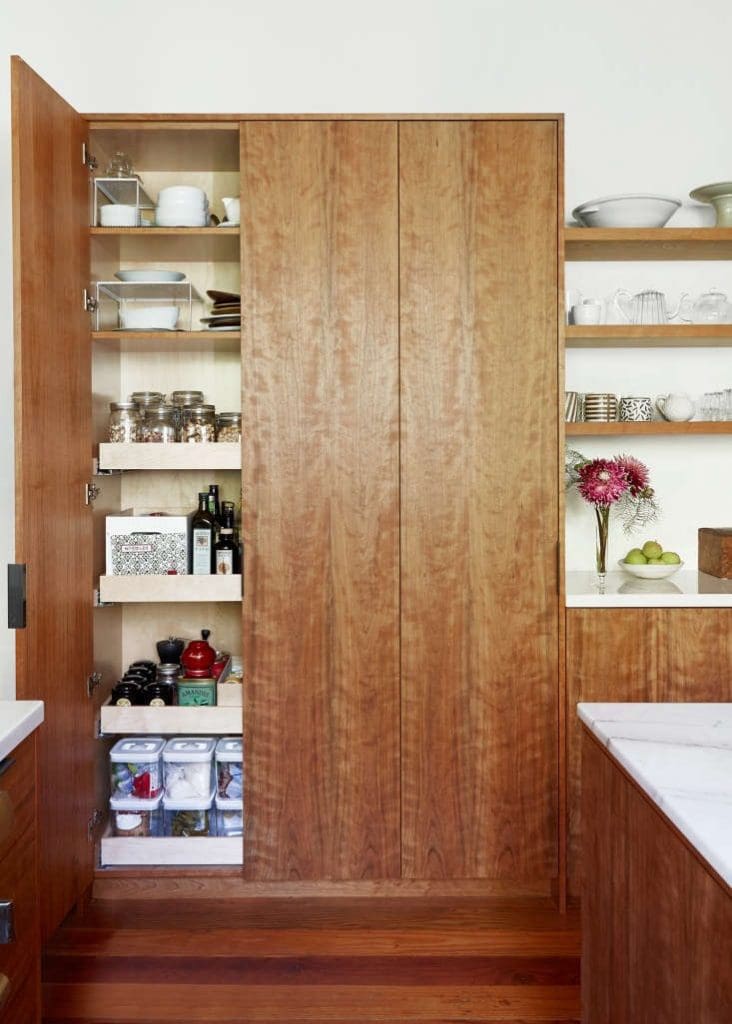 They come pre-built and can be installed right in the closet – all that needs doing now are minor changes. Installing a shelving unit in your kitchen will be a great way for keeping your food items near the kitchen area – like this one seen here!
8. Snack carts for kids
The best thing about a wooden snack station is that it makes snacks accessible for kids of all ages. The retro kid snack station has a vintage design. Such a storage piece allows you to store your child's food at their height to get them to be independent with easy access.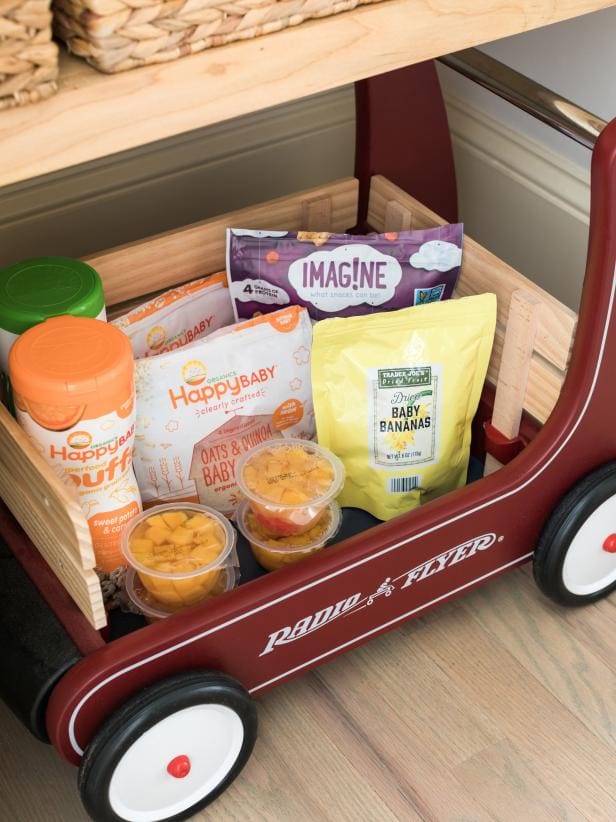 This wooden cart is aesthetically pleasing without having too many plastic parts on display. Also, there are removable side panels on both sides, so they don't have any trouble reaching into the container without having items spilling out onto themselves or others around them.
9. Compact wall storage
There's a clever way to use your DIY skills for this innovative but straightforward storage solution! The wall space near the door is perfect. All you need are curtain hooks, wood strips, paint, or wood stain, depending on what type of look you want there.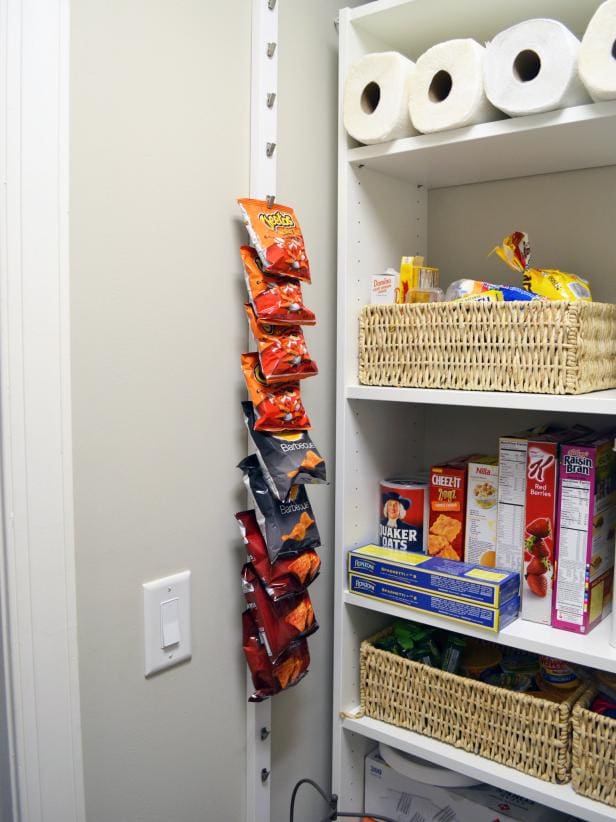 Then simply glue them onto either side so that they can hang down freely without getting caught up on anything underneath. Make sure you don't place the hooks too close together because this could weigh the wood down. Awesome!
10. Snack bins for the win
You do not have to throw away aluminum beverage tubs after you're done with the drinks. These metal beverage tubs can be used as a storage option. You could even try placing them on the wall with the help of screws.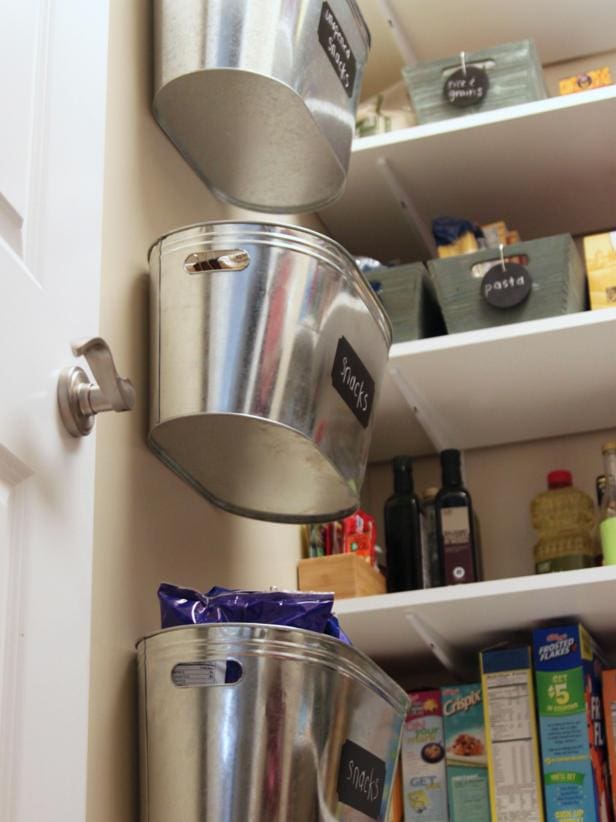 Just drill holes in the tub and use screws to attach them to the walls. This hack may not be renter-friendly; therefore, ask first or do it only if you own the place. Once done, you'll have this space to keep snacks accessible.
11. Practical storage upgrades
The practical way to organize your kitchen is with a complete pantry system. Use cabinets that have extension drawers so you can find everything from dish towels, root veggies, or canned goods without having too much visibility on the inside of it all!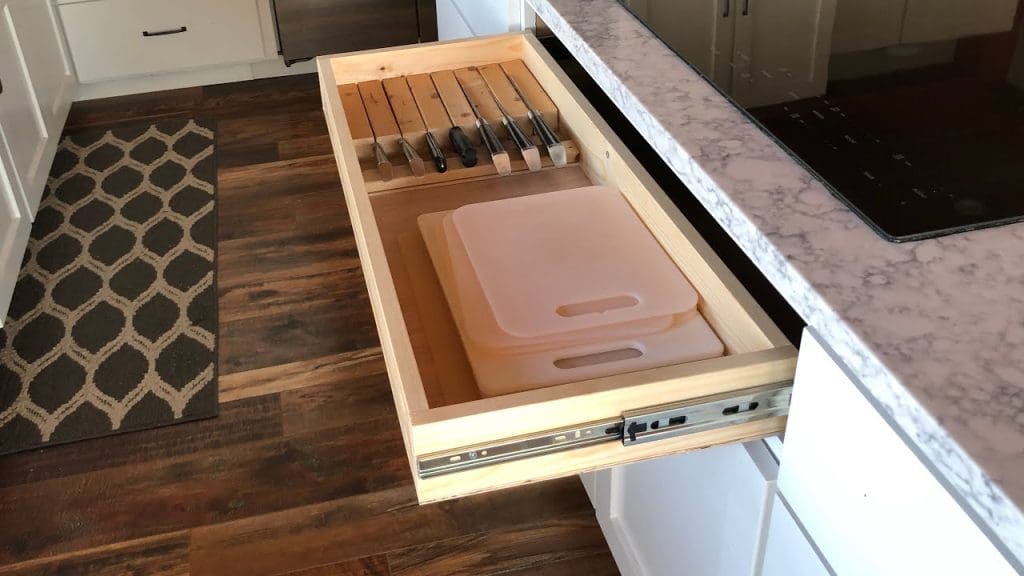 Plus, these practical upgrades come equipped with mullion doors that allow for hidden storage when needed. These still maintain an open design to avoid blocking any view of the stored items when trying to find something—a perfect tip.
12. Earthy wicker aesthetic
These simple wicker baskets are a great way to store items in your pantry. The attractive design will make it easy for you to find what's needed without going through all packaged foods sitting on top of each other.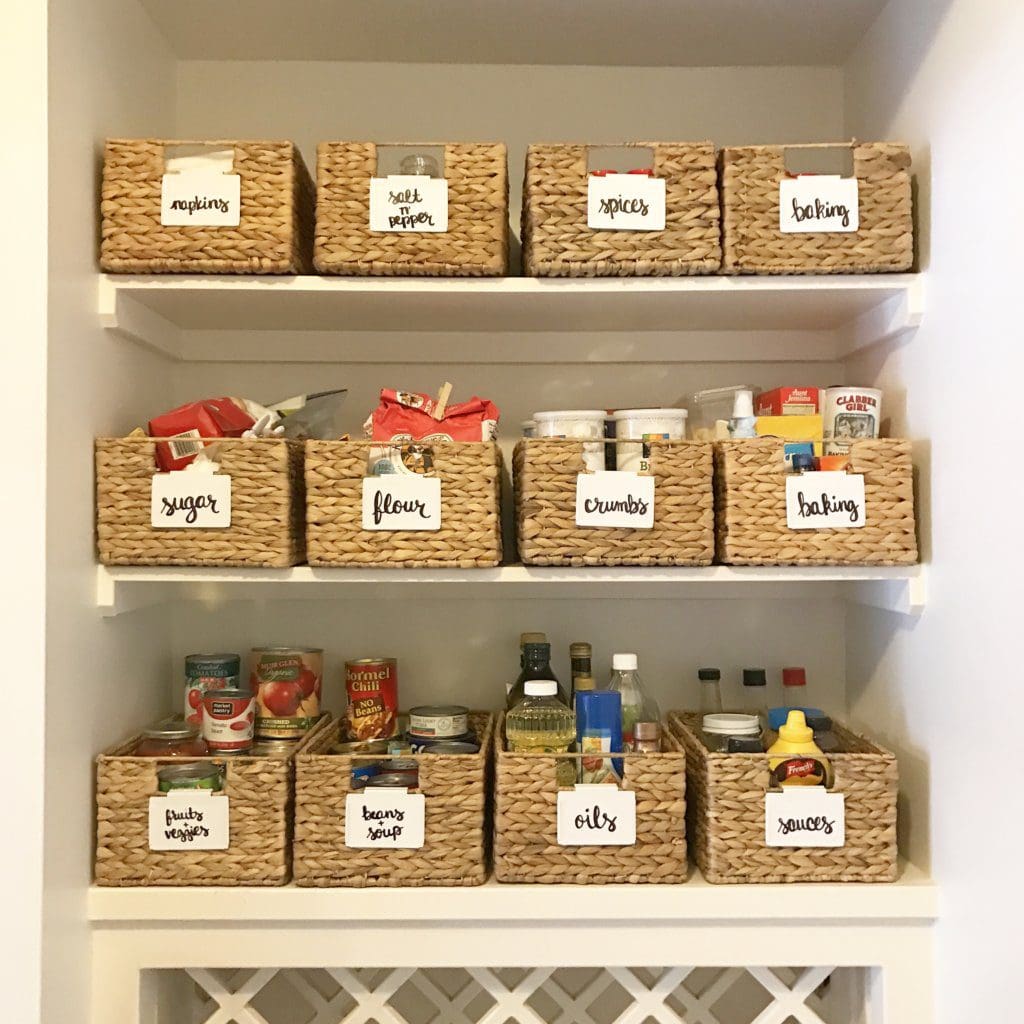 You may also label the baskets. This pantry storage hack is a must-try for anyone who likes their kitchen looking tidy and organized. The baskets are perfect if your cupboard space isn't endless and you're trying to maximize on what you do have.
13. Mesh baskets for fruits
What's better than one basket? Two, actually! With breathable baskets, your kitchen will feel more open and welcoming while still protecting what you may not want to see but need easy access to. These mesh baskets are the ideal choice.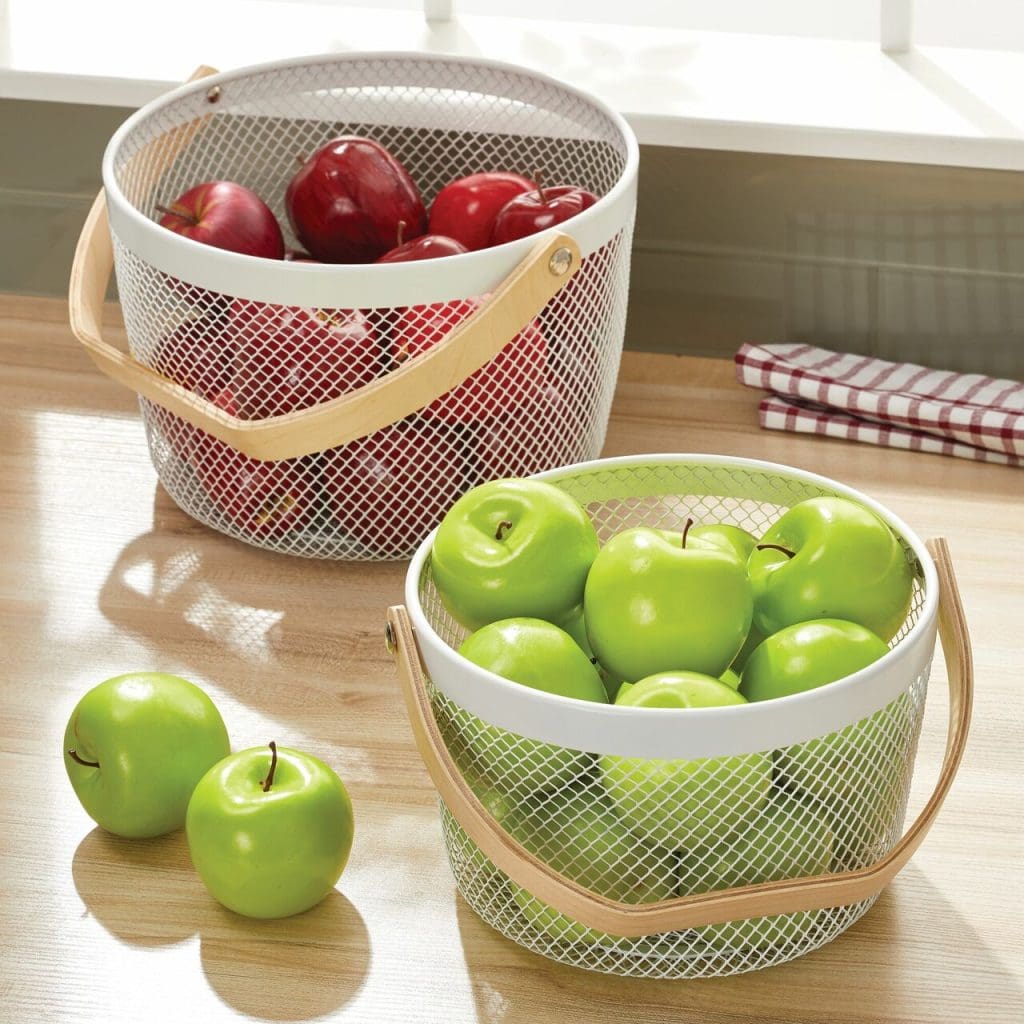 With these baskets, even the clutter will look organized. You may store organic produce, kitchen supplies, and packaged food in these baskets. Another advantage of using mesh is that the fruits will stay fresh. We love the look of separating the fruits based on colors.
14. Small but efficient storage
With a small pantry, you don't have to worry about overcrowded space. These storage options are perfect for any room in your house because they're both stylish and functional. Wooden crates with lids can help you store all your spices in style while preserving their freshness!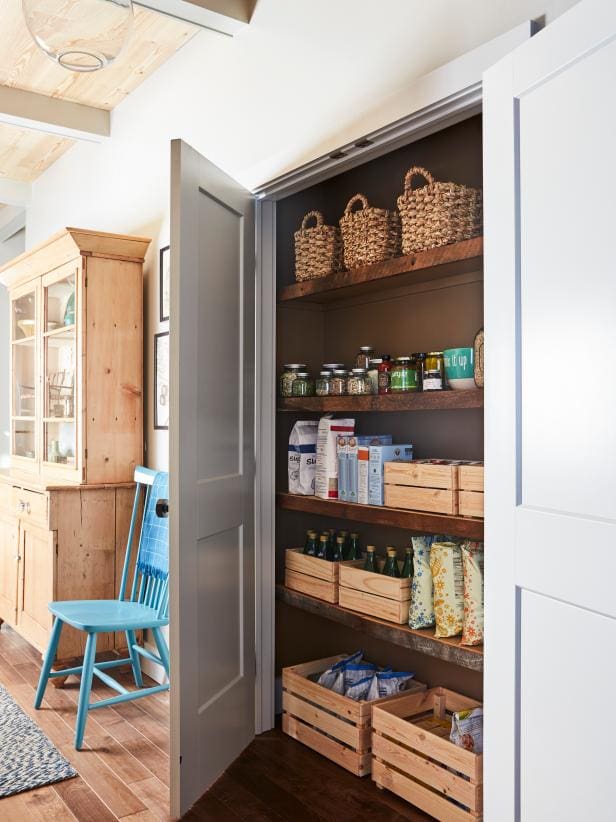 They're also easy to grab when cooking up new recipes on those busy weekdays. Moreover, they add functionality with their sleek design features that can easily blend into any kitchen décor without taking up too much valuable real estate in the process!
15. DIY matching baskets
What's the best way to make your dollar store storage bins look more expensive? Spray paint them! It takes less than 5 minutes and once they are dry, simply label each container with its contents. Using different colors to suit your style makes this idea special.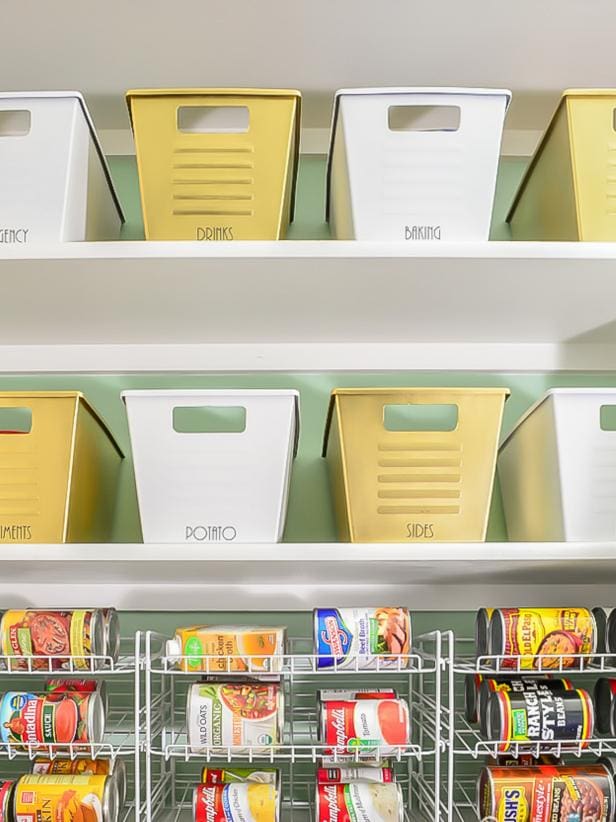 This will add beauty to your kitchen without the overwhelming design element. You'll have an organized pantry in no time while making you feel luxurious at home, despite these coming from the dollar store! This proves you don't need to burn your pockets for such upgrades.
16. Clear acrylic storage
These see-through acrylic bins are the perfect solution for those who love to store their food in pristine condition. With a transparent exterior and built-in handle, these containers allow you easy access when needed without any mess or cluttering up your space.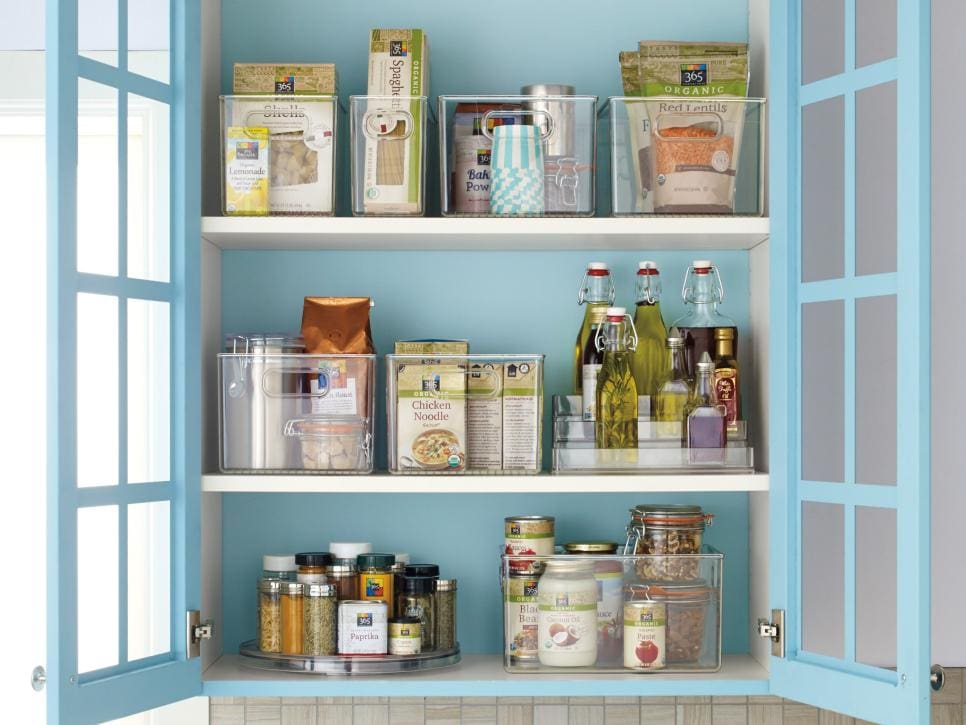 You do not need labels to store your food in these as the containers are clear, and it is easy to identify food. Moreover, you can see if you are low on any food items while making a grocery list.
17. No more guessing
Wire mesh baskets make it possible to see what you have, eliminating the frustration of searching for things. You won't have to worry about missing pantry items because everything is visible. This helps when cooking and making a new grocery list in a hurry.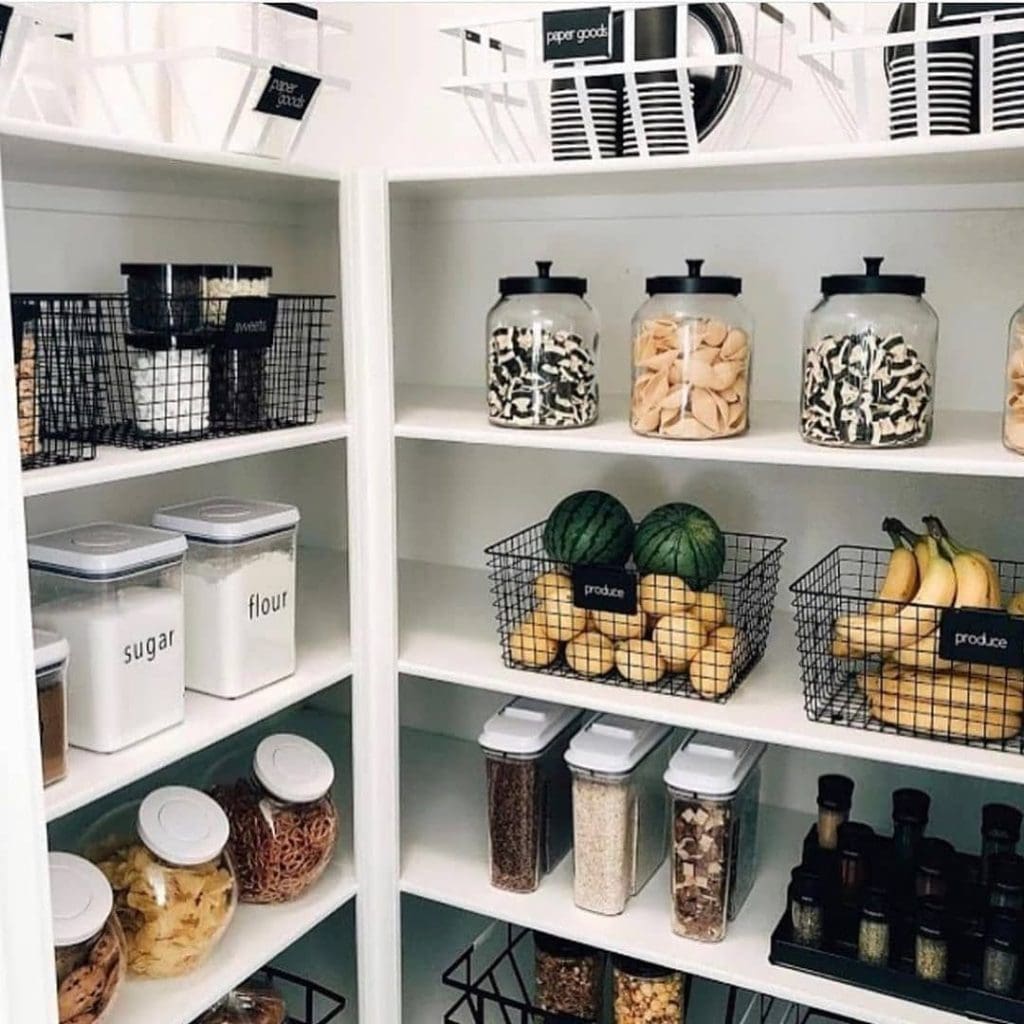 Moreover, these mesh baskets hold smaller objects like extracting bottles and baking supplies without falling through wire shelves or slipping past cabinets doors. These sturdy baskets hold up well in high-traffic areas when you hunt for a specific item.
18. Tier display
The best way to keep your canned goods organized and easy enough for even the busiest household is with a three-tiered display. These tiered shelves are adjustable, so each person in charge can customize their own storage space that's perfect just as they like it.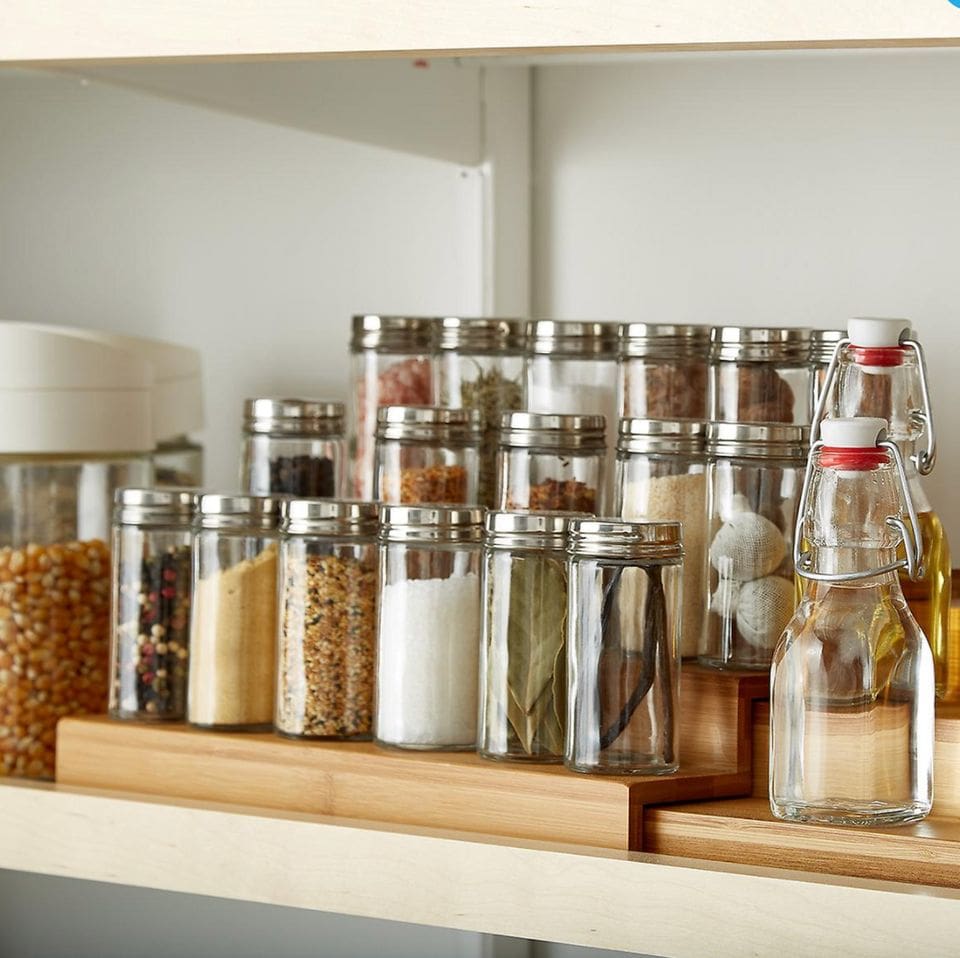 Rubberized tops on each tier also help prevent items from slipping around during hectic moments. This is helpful when you are cooking dinner and need everything in sight but off the countertop. You can grab anything quickly from these shelves.
19. Wonders of adjustable shelf
The key to maximizing your pantry space is ensuring each shelf has its unique height. If all of them are at the same level, you'll end up with wasted real estate from items that sit too short or tall on those shelves.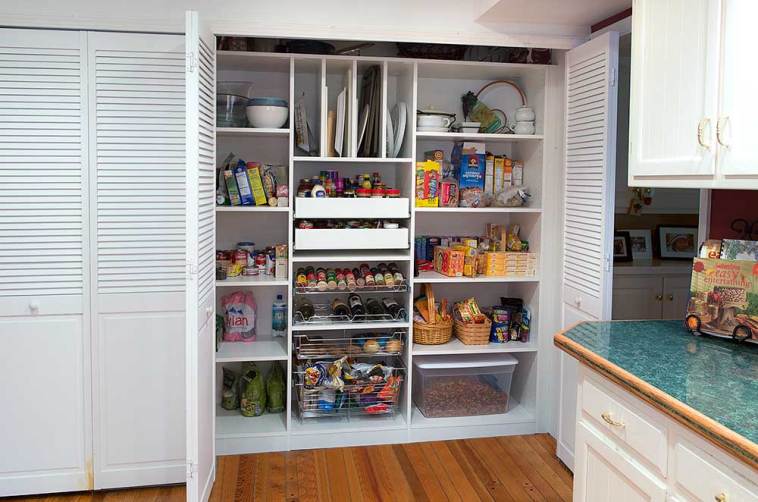 For instance, canned goods and spices should go higher since they're longer-lasting. Smaller stuff should be in the visible corners to spot them easily. Consider adding easily removable baskets to maximize space for storage for miscellaneous items.
20. Convenient label stickers
The first step is simply knowing where everything goes when it comes to organization. That's why we recommend putting labels on your pantry shelves – designated spots for all of those items you buy most often so there can be no question as to what gets put where.
Ikea recommends using their pantry shelf label strips in order to keep track easily with an ink pen or pencil. Just make sure there is not too much clutter in these areas because then they'll start looking like a hoarder's paradise instead.
21. Chalkboard labels
When it's about organizing your pantry, use labels and categories so that things can easily find their place. Chalkboard labels are a fun way to organize your pantry. They come in various dimensions and styles, so you can find one that suits whatever look you want.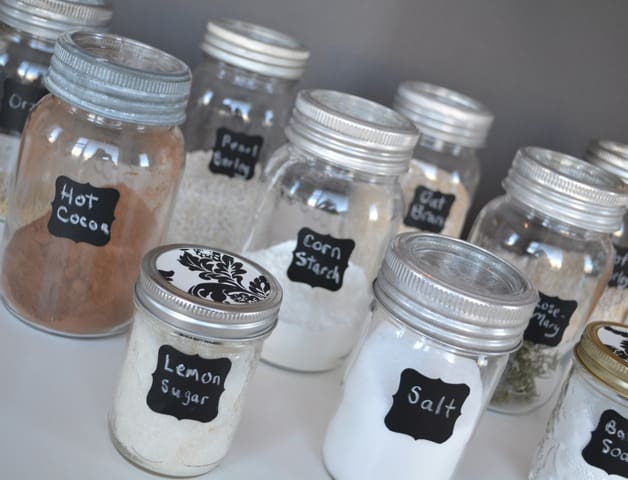 These labels add visual appeal with their elegant design and wipe clean feature. Moreover, they allow creativity by writing messages on them when stocking up or before making grocery lists. You may also use different color chalks to make it more fun.
22. Pantry in laundry
A drab laundry room can be transformed into a much-needed pantry by building shelves to contain all of your necessities. It might be an old space that has been forgotten about, but now it can be customized for storage with these built-ins.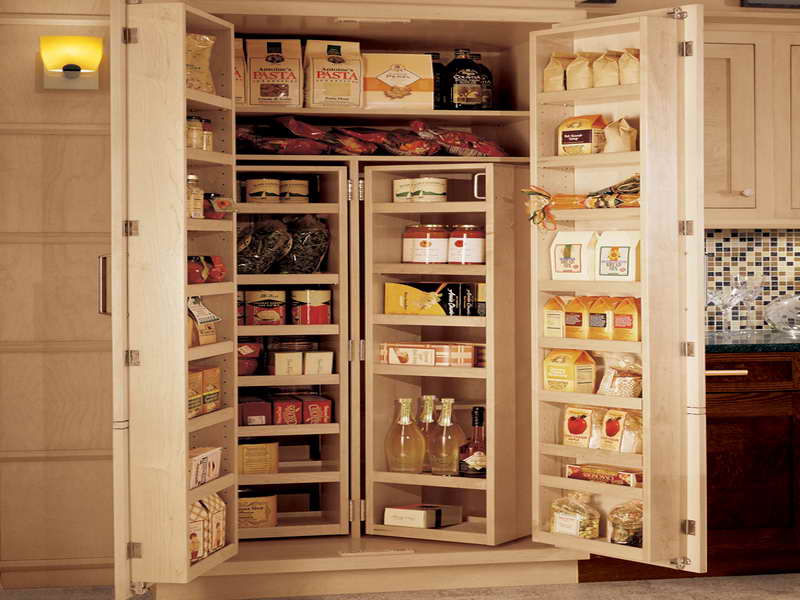 Painting them gray or any other calming color provides an elegant touch and makes it seem like they have always been there for all your storage solutions. You may display your cookbooks and food supplies to add some elegance to the shelf.
23. Wire over wicker
Wire baskets are a more durable alternative to wicker ones. The see-through design also means that you can find what's inside without having any trouble! These baskets are an excellent choice for storing large items. They can take on more weight than their wicker counterparts.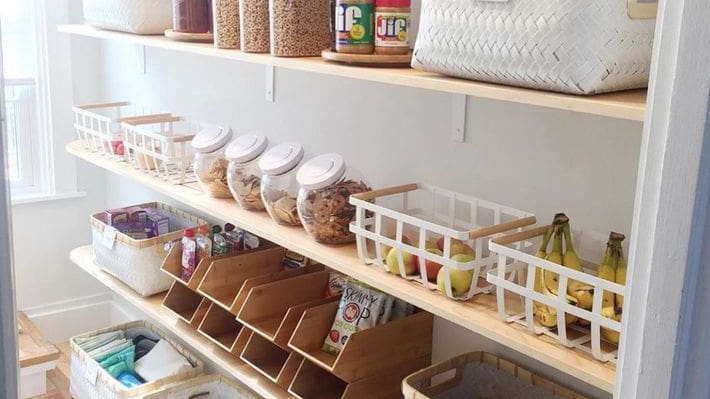 Moreover, cleaning them will be much easier than wicker. You can just wipe them with a clean towel before stocking your pasta, flour, or spices. Also, they are renter-friendly without making any changes to the walls for other storage upgrades.
24. Accessible wooden boxes
Are you looking for aesthetic storage solutions that do not compromise with function? These wooden boxes are perfect for storing all your spices and other storage needs. They come with press-on labels, so you can quickly identify what's inside even if it is up high where no one will see.
You may either add individual food packets or transfer food into these containers. For storage of frequently used items, ensure to keep them at eye level. Store the things you don't regularly consume on the back or top-shelf.
25. Heavy-duty shelves
With heavy-duty gliding shelves, you no longer need to get up and grab a stool for you to reach the back of the shelf to find food items. You won't need to shuffle through multiple items and make a mess just to find that one can of corn.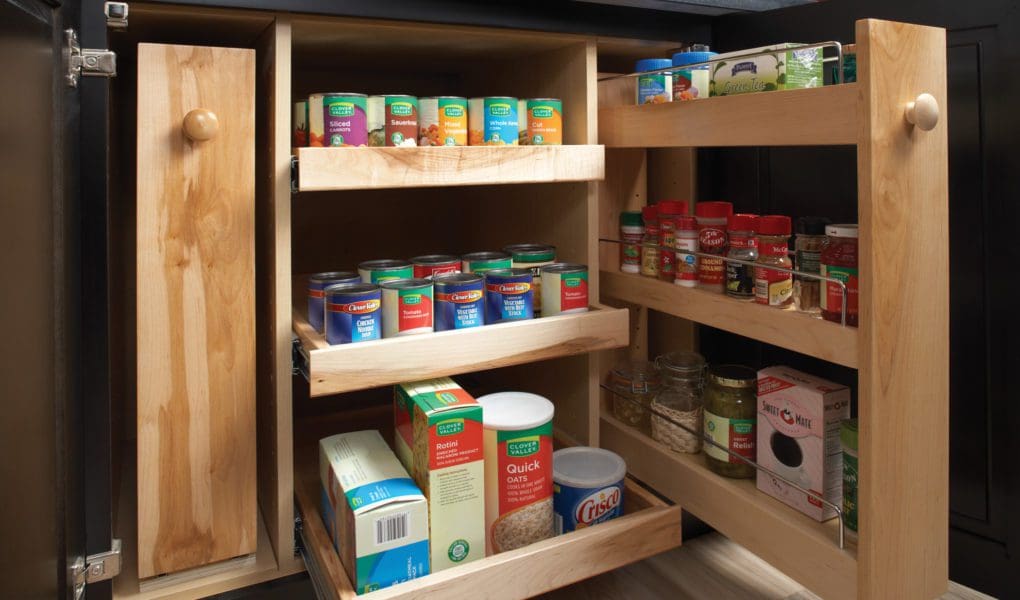 These sliding pantry doors are lacquer finished, which means they'll hold up nicely against any spills or accidents that happen on them! These heavy-duty shelves will save you time and energy as your pantry becomes more organized with its practical design.
26. Maximize corner storage
Sometimes, you require a little help with your storage needs. If that's the case for you, we have the perfect solution! With this lazy Susan turntable solution, you can maximize the corner space in the kitchen, which is often ignored.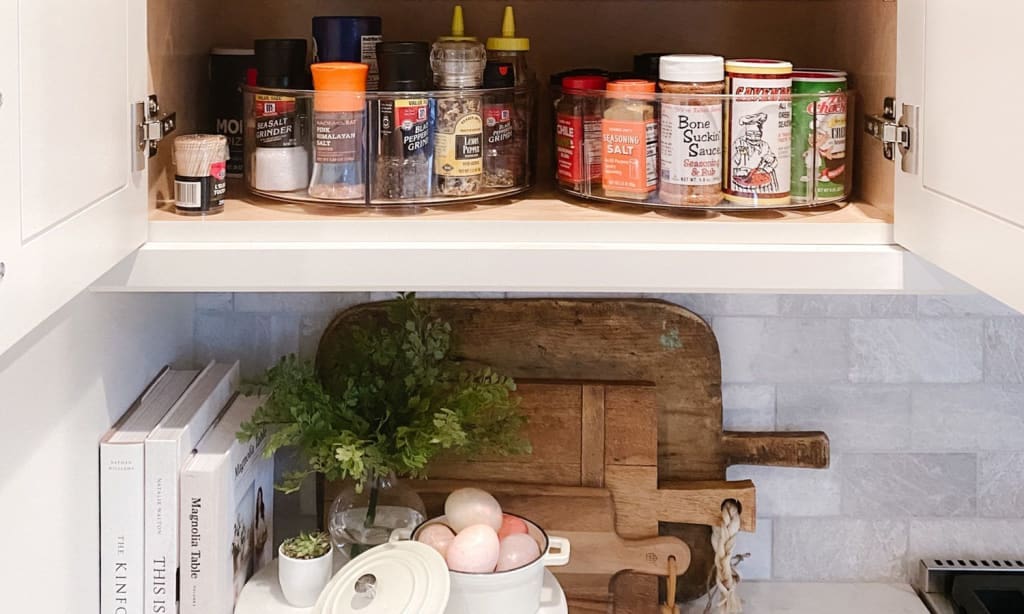 These circular discs mounted on existing shelves turn every inch of space into a usable space in your pantry or closet. With its circular turning motion, you'll have access to all the times you need in the back and front with a simple turn.
27. Durable stainless steel Susans
These turntables are perfect for storing your often used pantry items like vitamins and baking essentials. They can be put on countertops. The durable stainless steel Susans will hold up to the demands of all the family members looking for spices and sauces.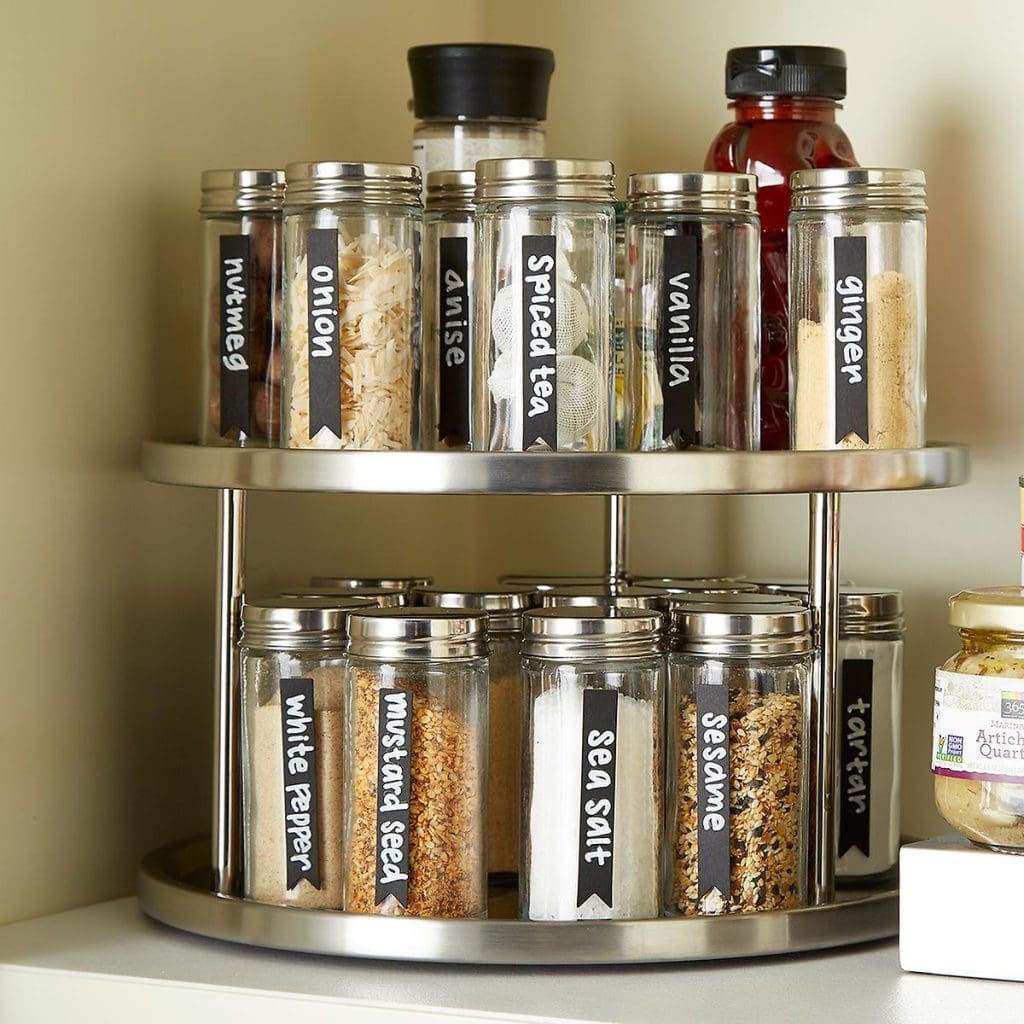 Also, they're perfect for stacking with other storage solutions to keep things organized or simply making space on a limited shelf. You may place them on a countertop or on a shelf at eye level to easily find everything.
28. Shoe holders for extra storage
The shoe organizer is not just for shoes! Now you can have organizational bliss in your kitchen, too. This handy holder goes on any pantry door and will help keep all sorts of things at an arm's reach – from envelopes to boxes or bags full of your favorite snacks.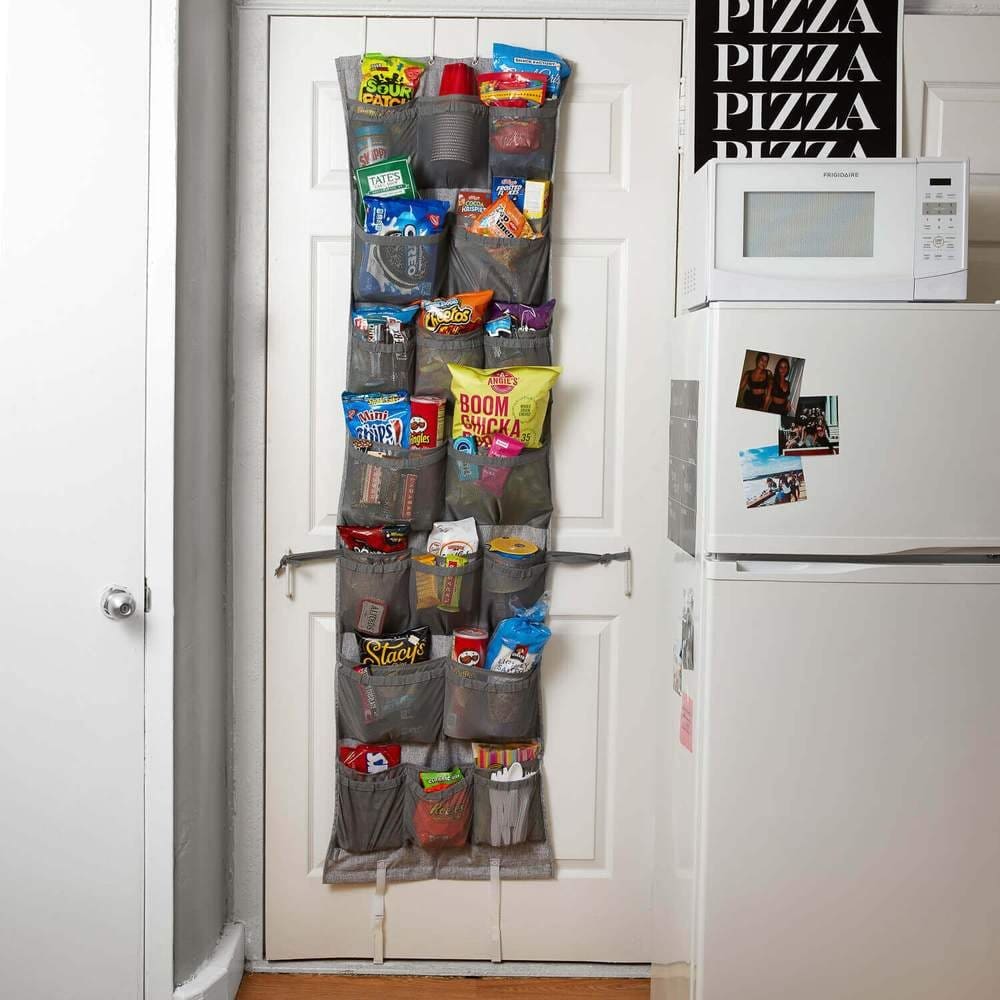 It'll be so easy when everything has its own space in your kitchen. This hack works well for small kitchens that need nifty hacks to maximize corners. Moreover, these organizers are easy to clean by wiping with a damp cloth.
29. The Fridge Monkey for bottles
Look no further than the Fridge Monkey when you need a way to store your canned goods. It has grooves to help hold cans and bottles in place to stack up properly. This will keep them from rolling off into other items.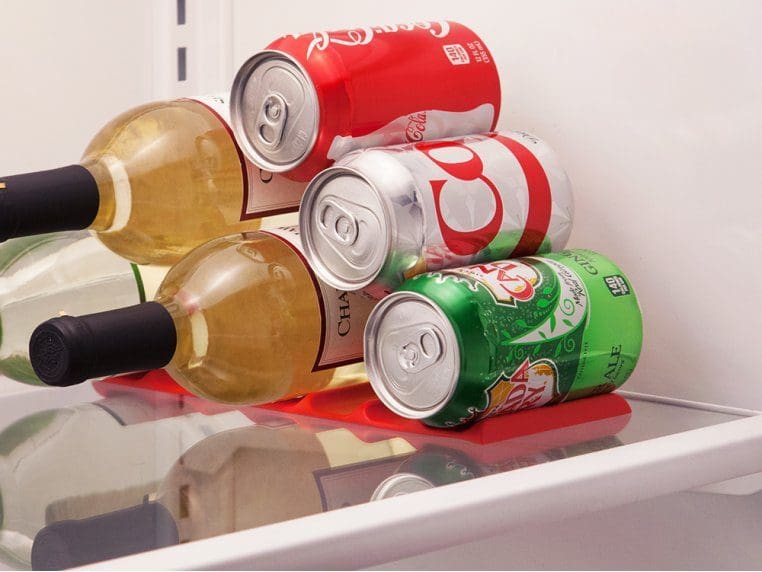 It will save you time by not rearranging these bottles in the cabinet. Who knew a simple rubber mat is an answer to rolling cans and bottles that won't stay in place otherwise. You can stack as many as you need now.
30. Organize reusable bags
What is the best way to save space in your kitchen when you have too many shopping bags? The key here is file folders. They provide easy access while saving shelf space because they hang on removable wall hooks right inside the pantries.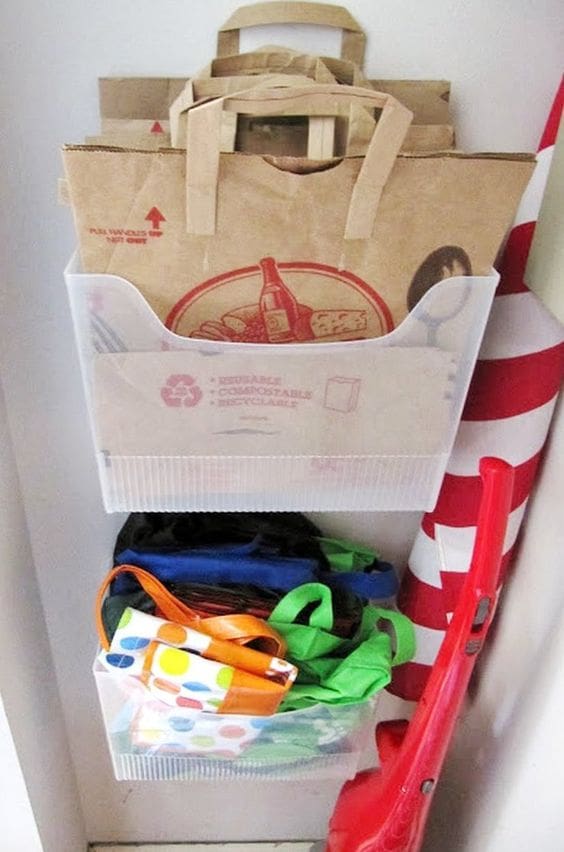 This serves as a perfect spot to keep shopping bags handy without cluttering. Organize and reuse bags by hanging file folders on removable wall hooks in your pantry to save space. The handy organizers are ideal for storing aluminum foil or cling film boxes.
31. Multipurpose pegboard
The pantry can be a perfect place to store all of your favorite accessories. From towels and hats, life vests, or even just the kitchen appliances you need on hand at any given time. You can get this covered in one space.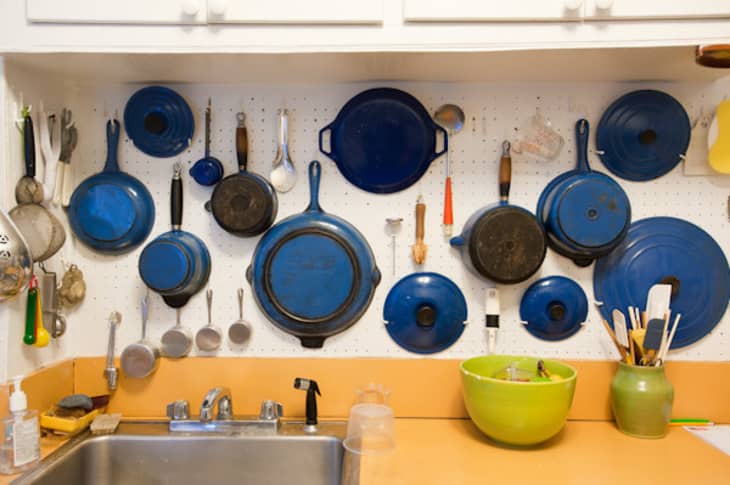 The giant pegboard here allows for endless customization based on what items each person wants to be kept close by them during their homestay. You could even make one yourself with plywood plus dowels that match any style in the house.
32. Custom vertical shelves
Vertical shelves are the perfect solution for storing baking sheets. They allow you easy access and visibility of all your cooking equipment while also keeping it organized so that nothing is lost in between drawers or cabinets.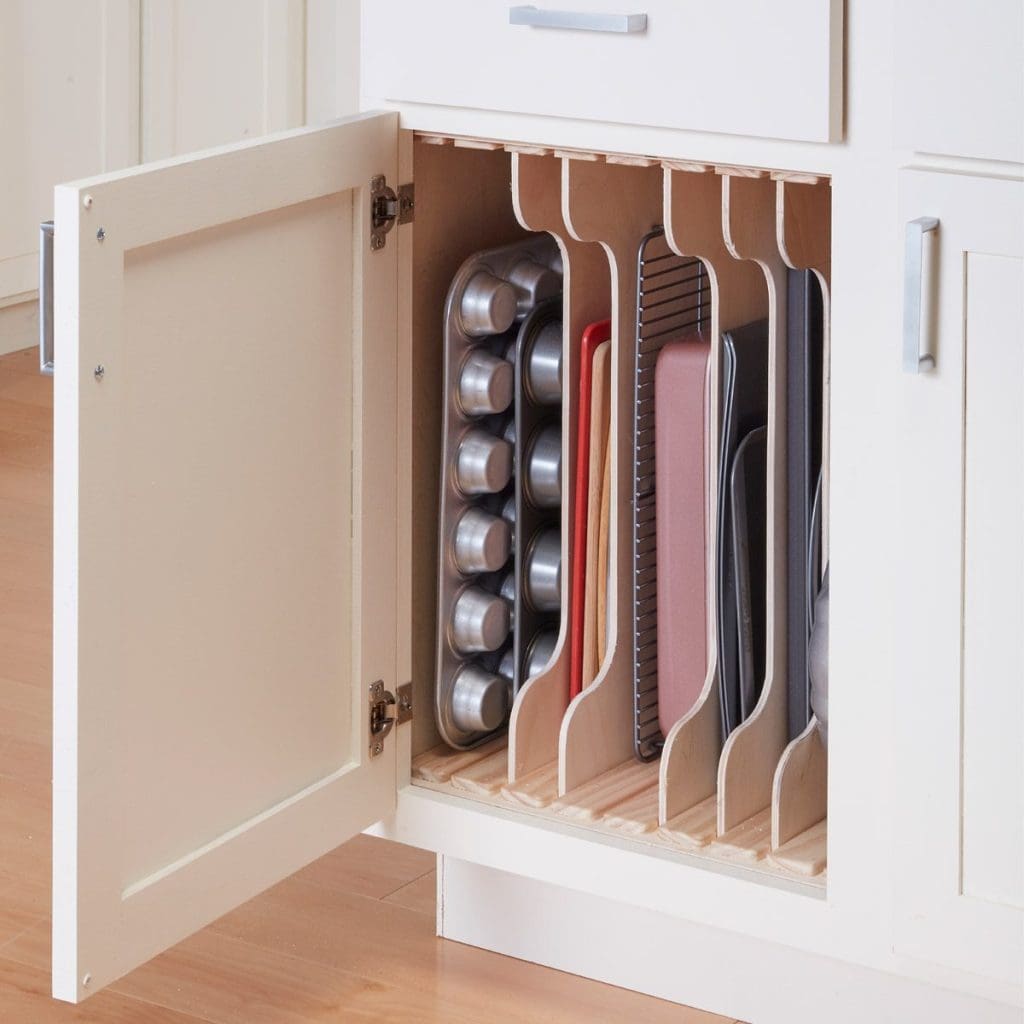 Mounted on a wall or near a countertop, these units hold large items like baking trays with ease while keeping them visible, so they're always within reach. You no longer have to worry about storing large baking supplies in crowded spaces.
33. Clever spice storage
What's your favorite way to organize spices? Do you buy them in bulk and then hang up the jars or store them independently, away from any other items, for easy access. If so, we've got a great solution that will keep things fresh.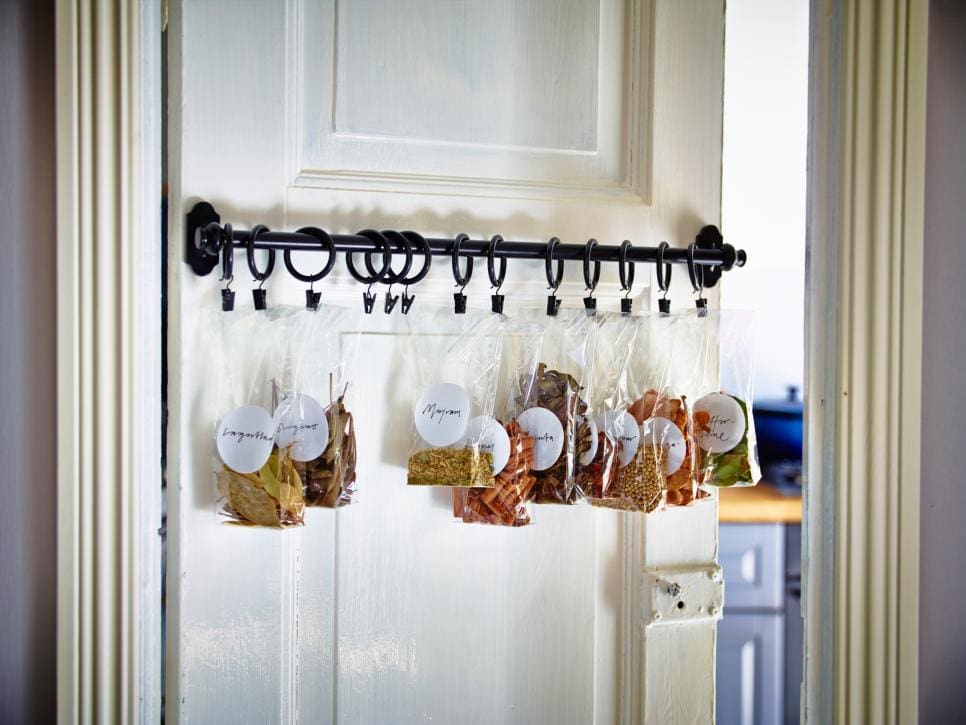 It will also give off some friendly storage vibes for pleasing aesthetics. All it takes is an old window treatment rod (or two) along with curtain clips. These can be found at most furniture stores these days-and voila: instant DIY spice rack.
34. Chic industrial shelf
Instead of using small shelves, consider investing in industrial shelves. These metal shelves will give your pantry a rough and ready industrial look. They're great for housing all the ingredients you need to make delicious meals, whether they are stored in a pantry or kitchen.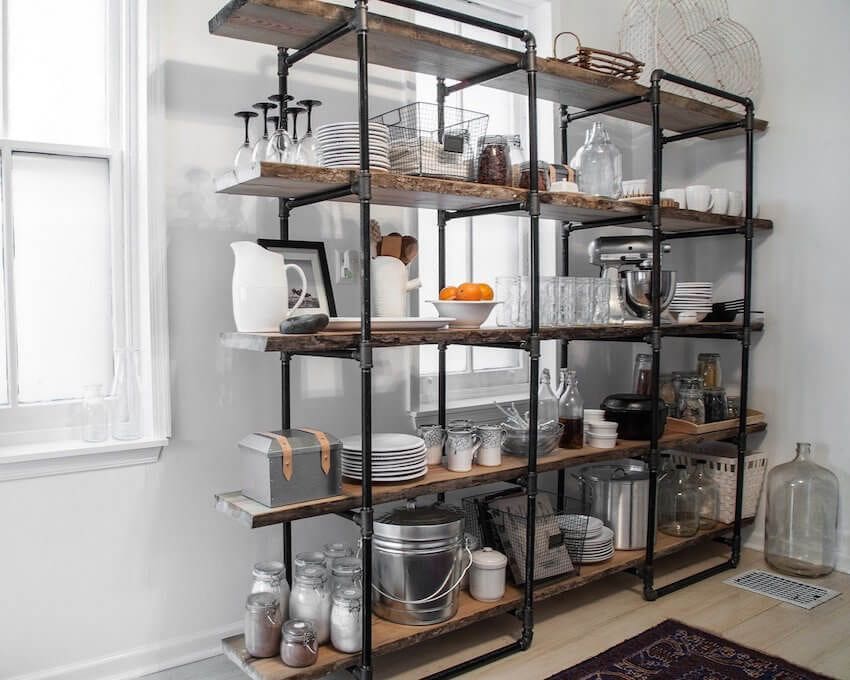 Each shelf can take up to 250 pounds, so these adjustable steel frames won't be bent by whatever weight is put onto them. This makes it easy enough if you want to add some bulk spice jars, flour bags, and rice containers without worrying about breaking anything.
35. Hidden wall storage
With the pantry space above your head, use wall sides to store spices. Blogger Ashley came up with this clever idea of converting storage baskets into mounted spice racks to declutter and organize what was taking over her kitchen cabinets.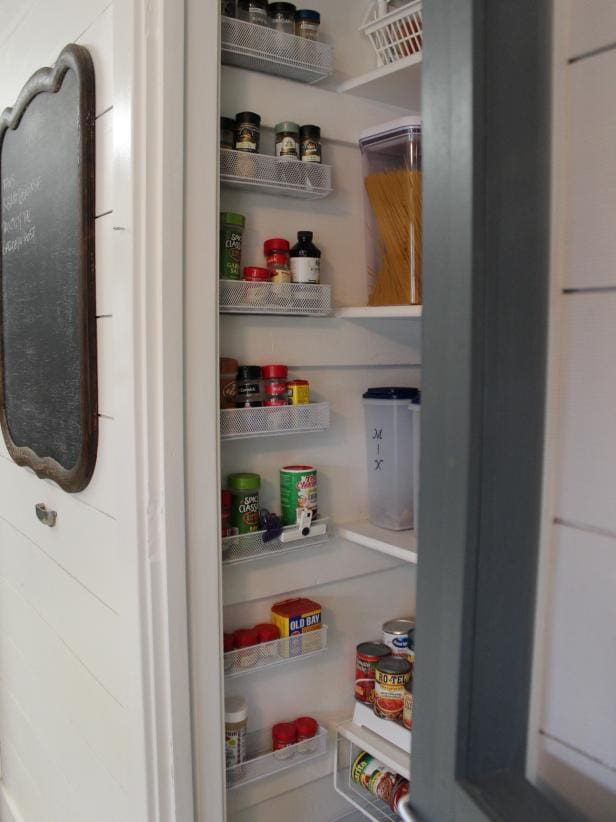 Wall storage proves to be a great way to keep your spices organized and out of sight. Add simple wire baskets in the back wall or pantry and transform them into storage space for easy access. You may use different sizes of baskets for various items.
36. Plastic wine storage
Not everyone has dedicated spaces to store their wine bottles. Finding a safe place to store wine bottles is vital to ensure their good taste and minimize accidental spills. You may opt for freestanding wine storage that can be set anywhere.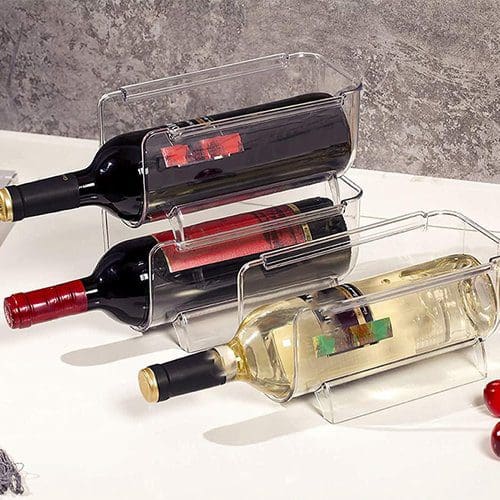 Order a few plastic ready-made wine holders to store wine bottles. You may keep them in your pantry or in a cupboard that is large enough to accommodate them. This holder has custom space for the bottles; therefore, no more rolling around and falling.
37. Double the space
With some help from your friends at the home improvement store, you can easily double the space in your pantry to store all those yummy foods. Just install an over-the-door shelving system and have more room for storage. Instant success!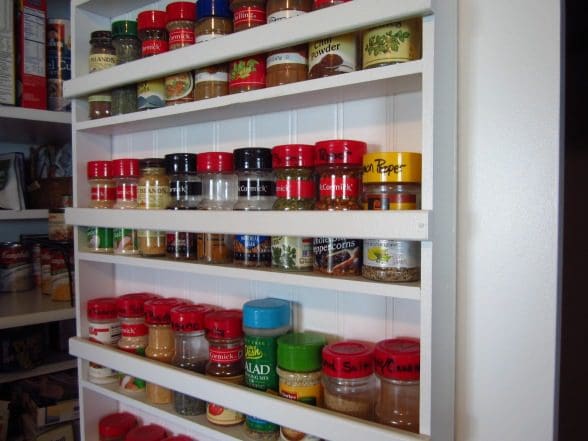 You can use this extra room for storing anything that you buy in bulk. As a result, you will have to go on fewer trips to the grocery store with this one-time investment. Even your tiny pantry will be fully stocked.
38. No more hard to reach
If you are a short person, you'll know the struggles of not reaching the top shelves. When it comes to the pantry, you don't want this as an excuse for wasting storage space. Get a non-slip step stool and make every inch of space accessible with ease!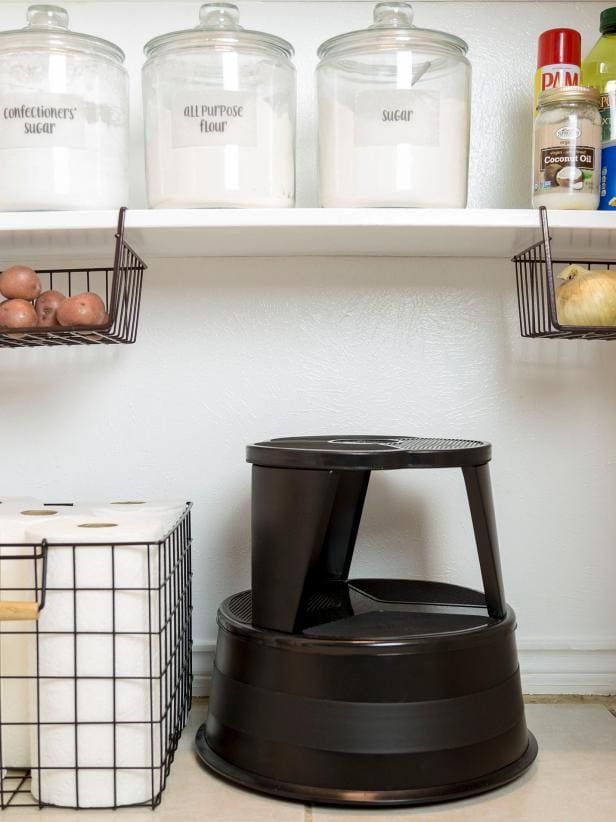 With a bit of effort, you can easily access all the supplies on your upper pantry shelves. You won't rely on other people to get the stuff down for you. This step stool can store grocery items and appliances on higher shelves.
39. Rolling storage cart supremacy
Steel manufactured storage carts have been around for years in commercial spaces. But it's time to give your home the industrial edge. Recently, the industrial decor has been popular for many homes due to its practicality. We also love the edgy vibe it gives.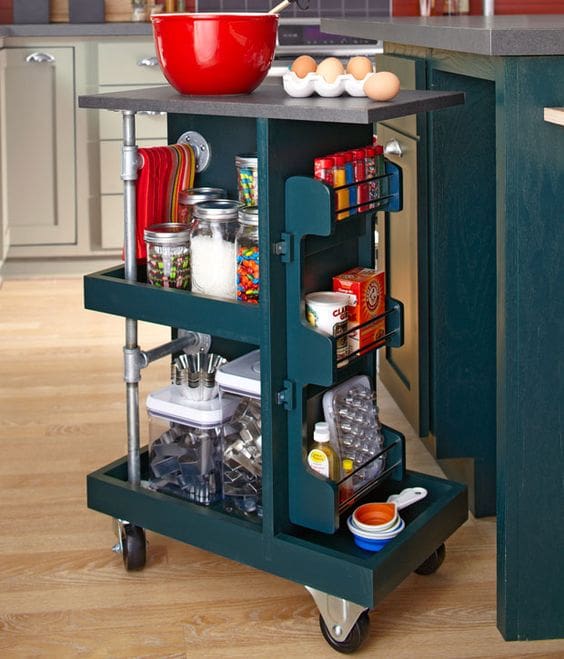 Rolling kitchen carts are perfect if you need extra space in a small area. It can hold oversized items like stand mixers or cases of water without taking up the precious countertop. Moreover, it will give you an impression of being a pro too.
40. Multipurpose storage shelves
These shelves will keep your kitchen organized with its many uses. They can be used to store dishes, spices, cutlery, or even grocery bags. The shelf provides extra space in the pantry while still providing an upper level to pull down paper towels when needed.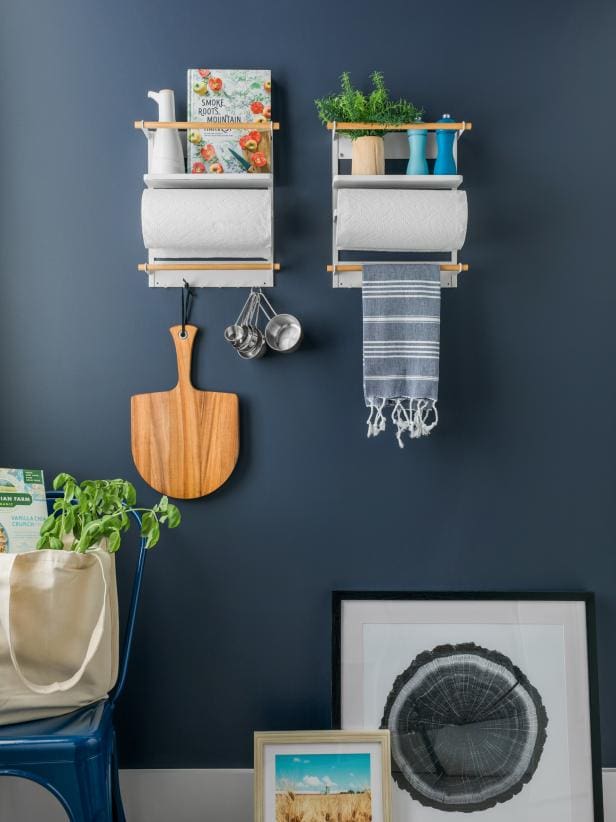 These are multipurpose and perfect because there are several different ways that you could use them. Also, they add a unique design element and symmetry to the pantry if you add two parallel to each other and use them to store paper towels, measuring cups, and tiny plants.
41. Creative container storage
The best way to keep your food storage in order is with a little trick that we like by stacking the bins and vertically organizing lids. It only takes five to ten minutes to save yourself from the horrors of wasted space or not finding suitable containers when needed.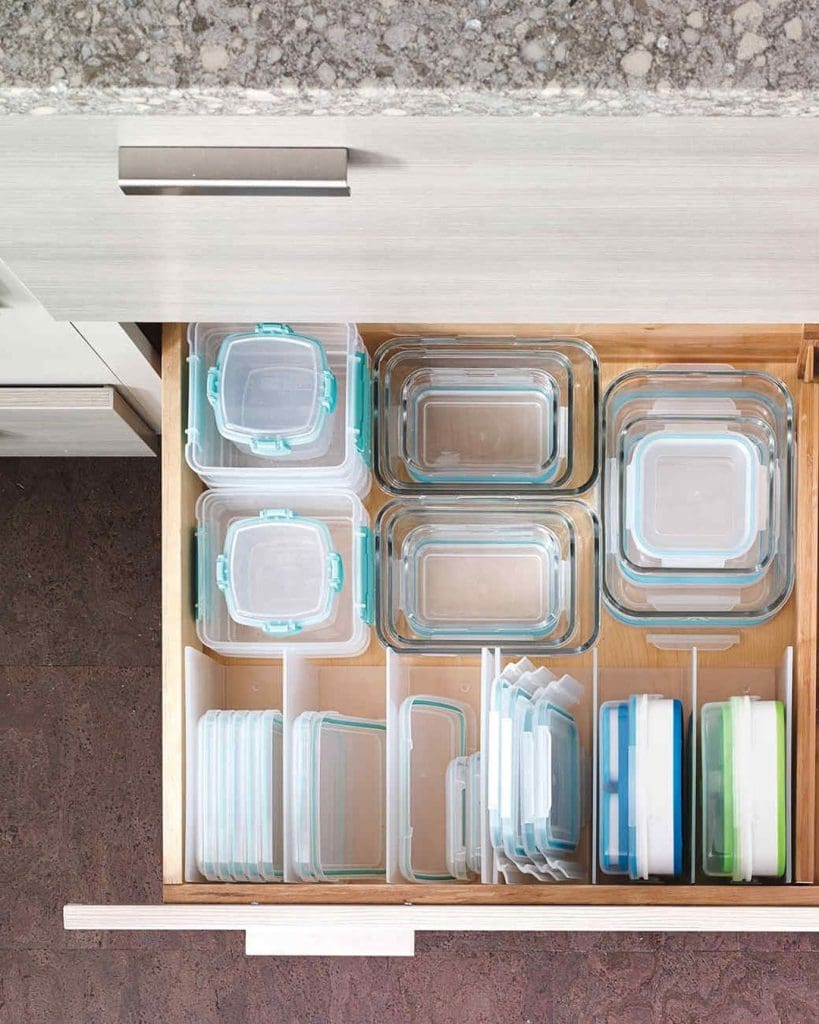 Stack two or three layers of empty containers on top of each other in the order they fit inside each other. This will save space on the shelf. Then organize lids vertically by placing them on the bamboo plate rack or a plastic divider.
42. Dedicated can rack
When it comes to storing your canned goods, a unique rack will make the most of every inch. If you invest in one today and keep them on their side, they will be easy to pick out when they're needed most.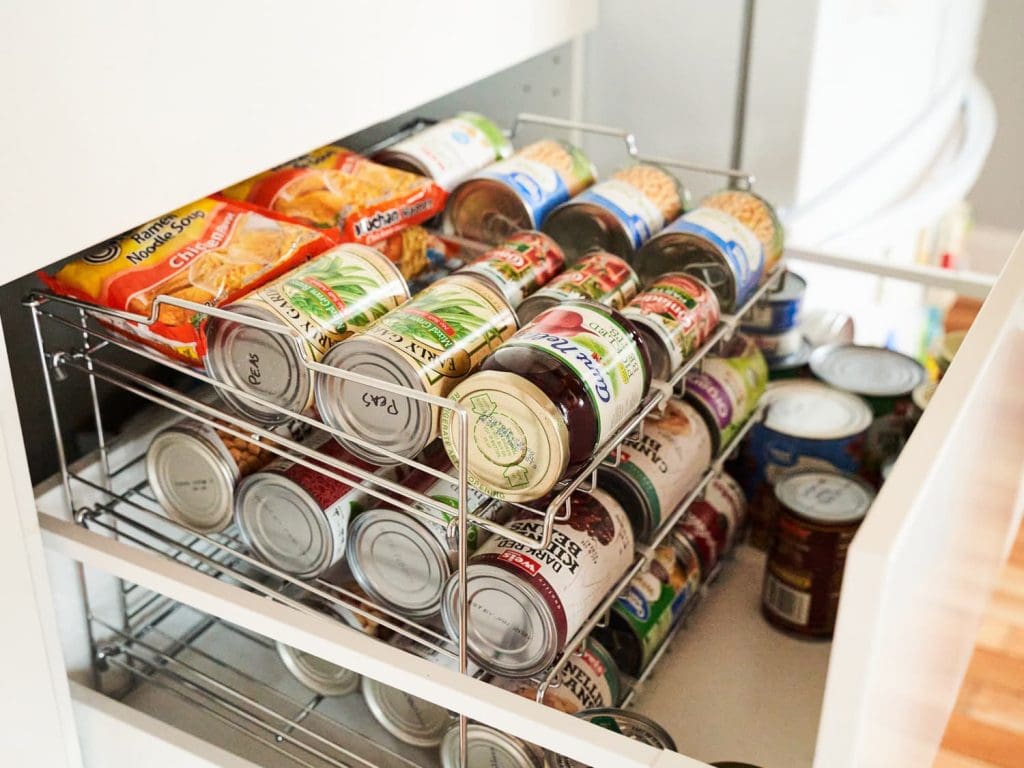 You may arrange the cans as per their usage date. Not only does this keep all sorts of confusion at bay, but it also makes the use of supplies in the order you bought them. You can choose from several styles of can racks to fit your needs.
43. Lazy Susan's helps
This stylish storage unit is the perfect place to store kids' snacks. All they have to do is spin it and choose what they want from their grab-n-go. This will give them enough options to choose from to not feel bored.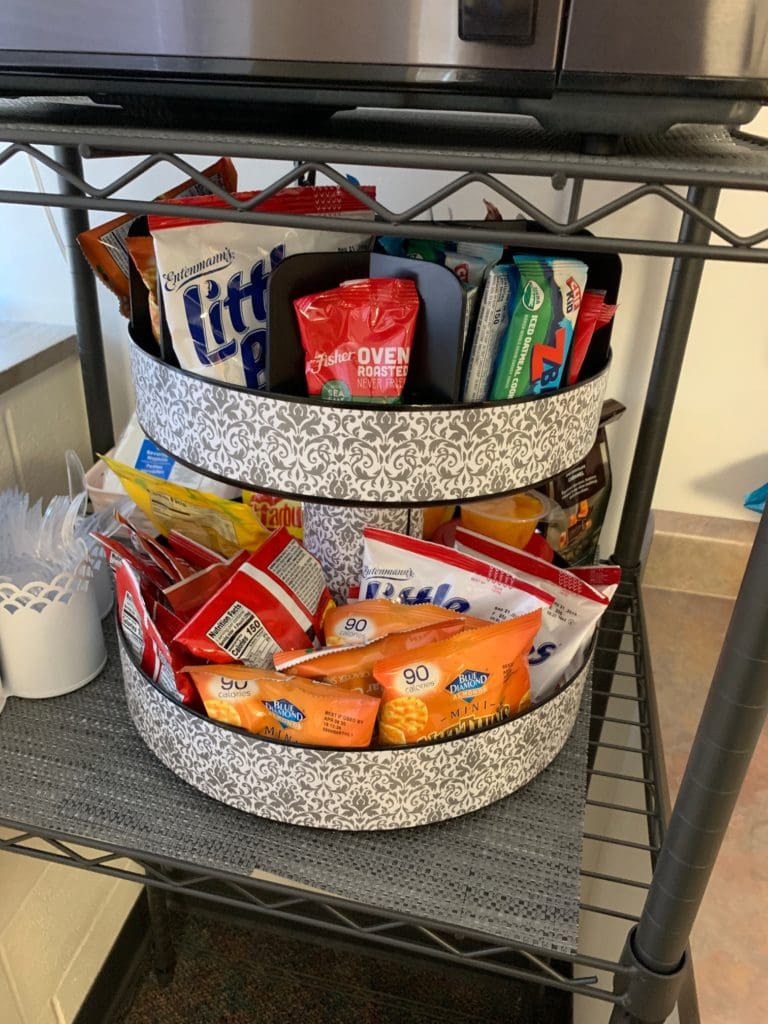 With no rummaging or frustration required for accessing items into this lazy Susan-style container, kids will no longer throw a tantrum when hungry. Even adults can enjoy snacks from the lazy Susan when they crave one. Just make sure to restock it later.
44. Sort the menu junk
With takeout menus and recipes constantly fighting for space on your kitchen counter, it's a good idea to keep them organized in a single place. One option is to use an expandable folder or plastic sheet protector and tap both onto the inside cabinets.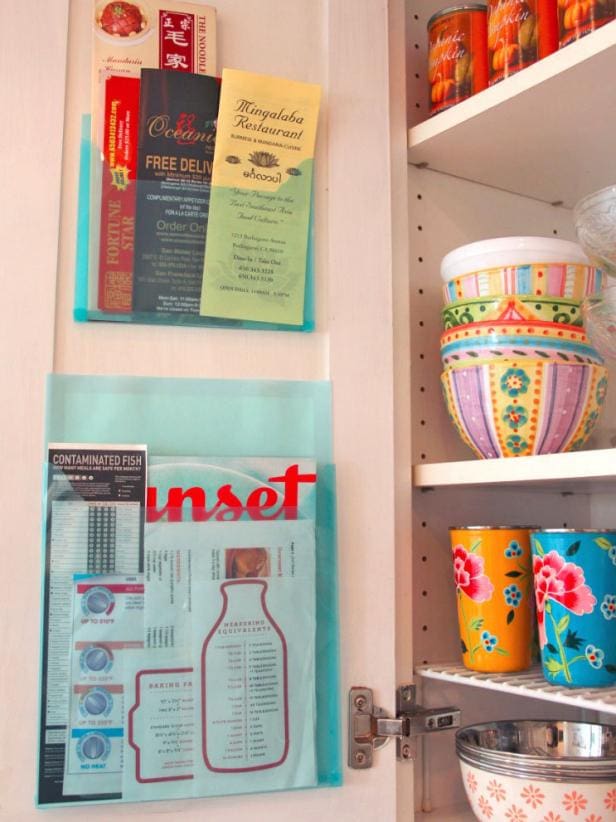 This way, you can easily find what dish needs cooking or ordering next. You can also stick them to the back of the pantry door or wall. This will prevent you from misplacing them around the house.
45. File veggie organizers
Learn how to save money and create a more accessible produce storage system with these affordable mesh file folders from the dollar store! This is for those tired of looking for a way to store their vegetables and fruits while maximizing space.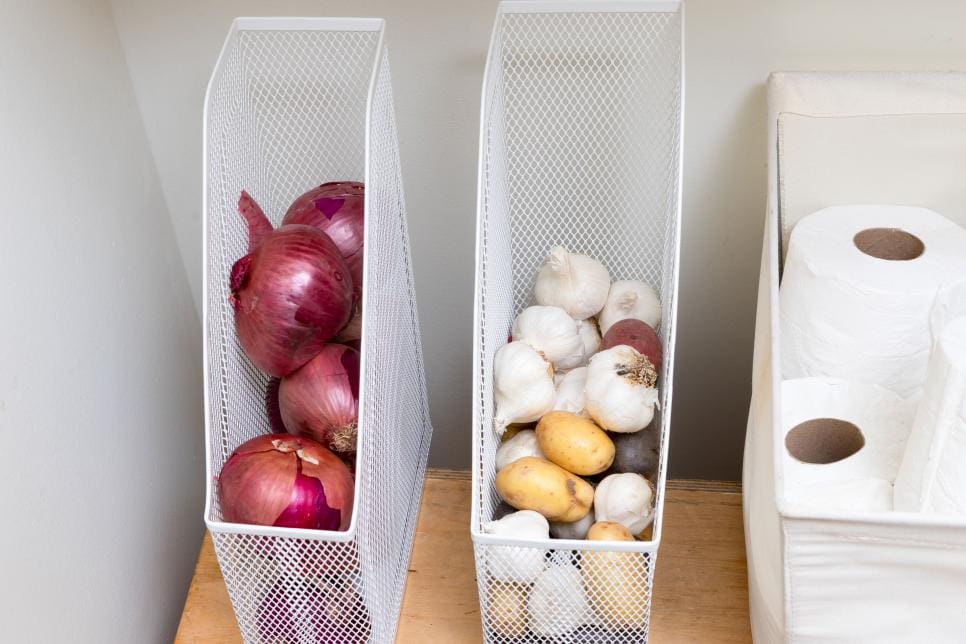 These mesh dollar store file organizers will be perfect for you! They're made from breathable material and can hold up several pounds at once. You may get different size ones to store various items. As the mesh has holes, the produce will remain fresh.