Plan The Perfect Kitchen With These 45 Design Tips
By Harpreet K August 27, 2023
---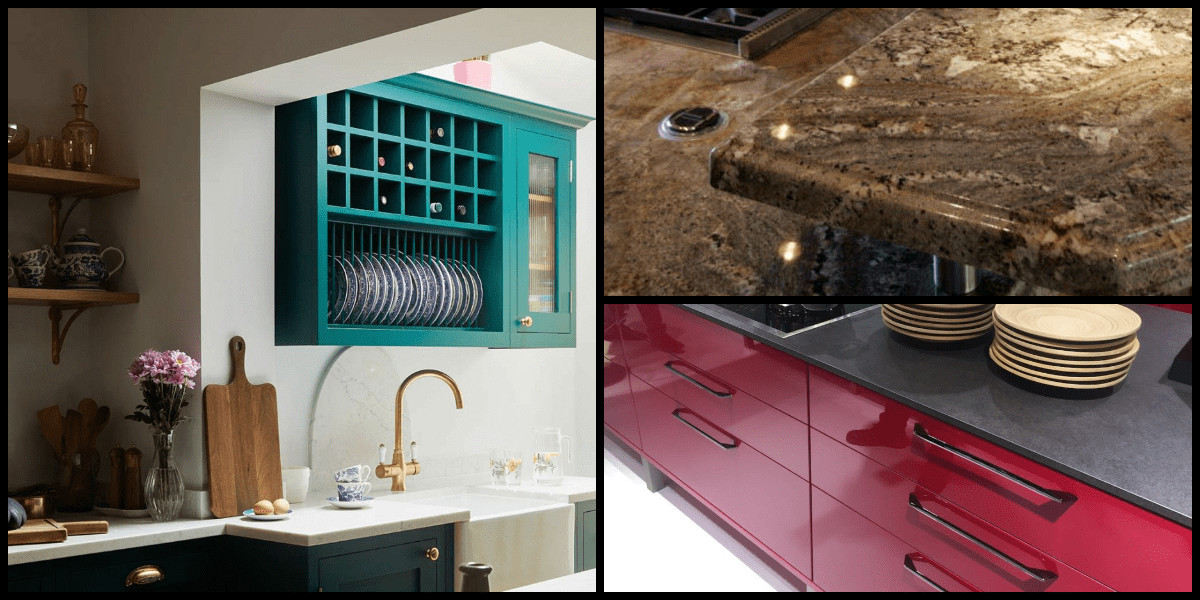 This article was originally published on
mydiwise
There are many misconceptions when it comes to kitchen design. A lot goes into planning everything so that it serves its purpose as a comfortable and accessible cooking space. People often make mistakes that can are easy to avoid with a little planning and forethought. These mistakes may range from storage solutions to appliance installation. And it's not just the final product that isn't efficient, but the design process might have some snags, too. If you're designing your kitchen, you will want to know how to do it right to avoid renovations down the line. We'll discuss some of the most common kitchen design mistakes so that you can avoid them in your own home. By understanding what not to do, you'll be able to create a beautiful yet functional kitchen you can be proud of. So, let's get started!
1. Blocked access to the kitchen
For an ideal kitchen, pay attention to the overall floor plan. Some kitchens are thoroughfares that lead into other rooms in a home. Therefore, access needs to be a higher priority than most other considerations to prevent significant changes in the future.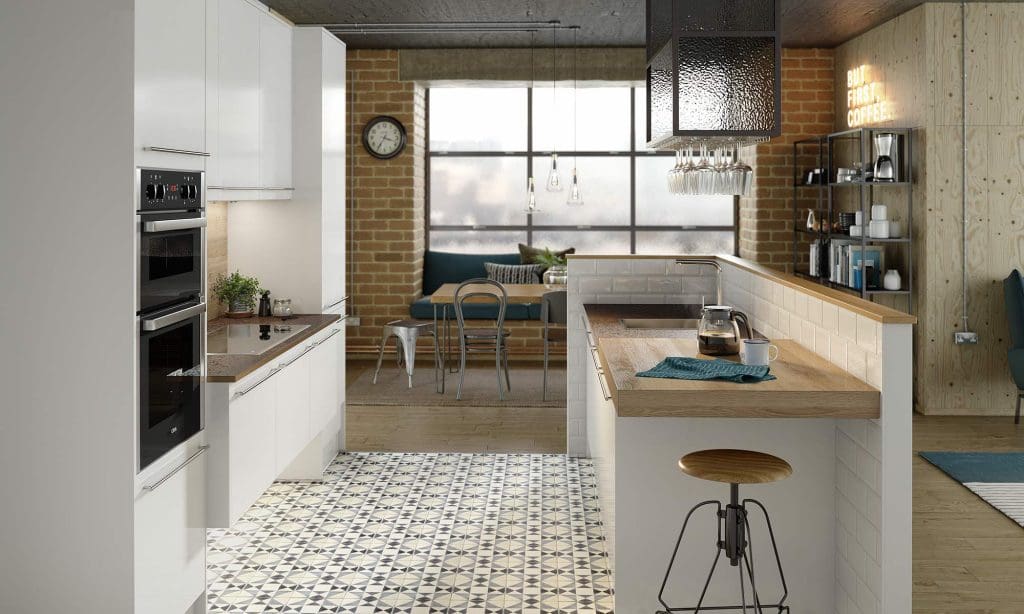 People will often use these spaces for everything from cooking to dining, all while being within walking distance of other rooms. Also, ensure that the tight spots aren't too constricting with limited mobility options available — try streamlined units and doors that slide into pockets in the wall, rather than ones that swing outwards.
2. Crowded countertop
It may be tempting to add every single luxurious appliance to your kitchen. However, when designing your dream kitchen, you may need to hold back and think about practicality — your appliances should not have doors that may bang with each other.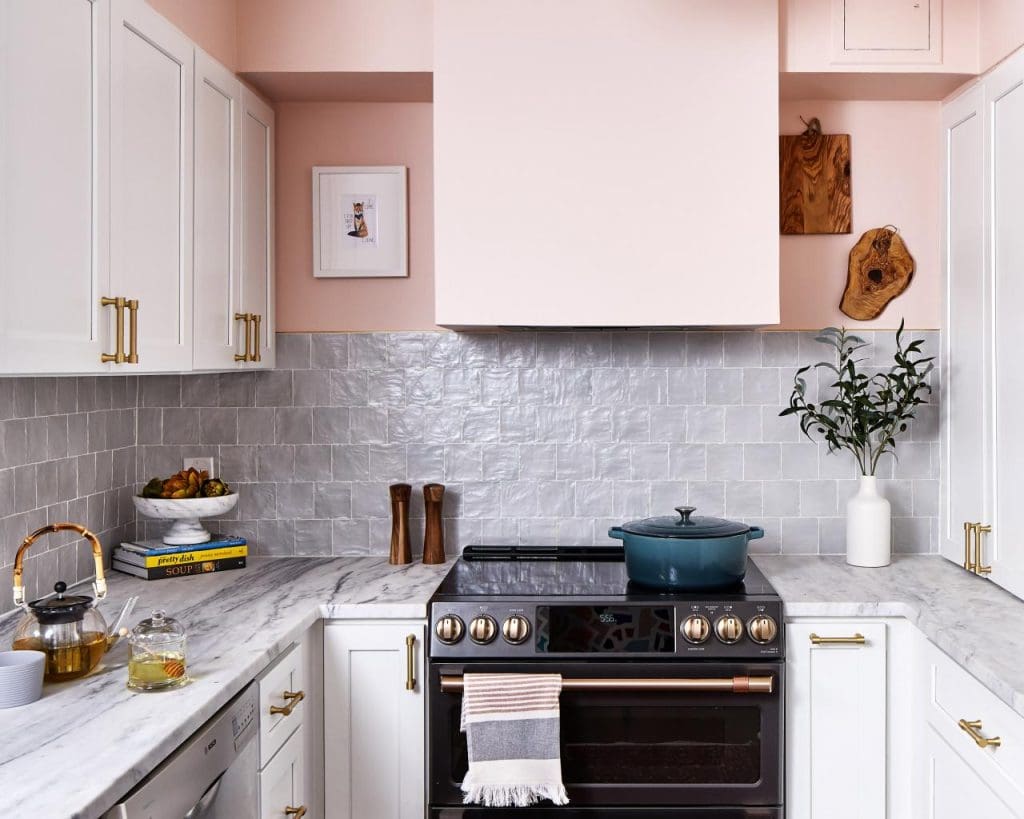 Before you splurge on an island unit or a high-tech fridge, make sure that you still have space left over for people to move around between all of your appliances. Allow four feet of doorways to open up into the passageway for access.
3. Mind the angles
Think about the room as a whole if you're planning on designing an open-plan kitchen. Take into account the color schemes cabinetry; in particular, how it will look from every angle. Make sure it is aesthetically appealing both from the stovetop and the nearby living room sofa. Will there be any undersides of equipment visible?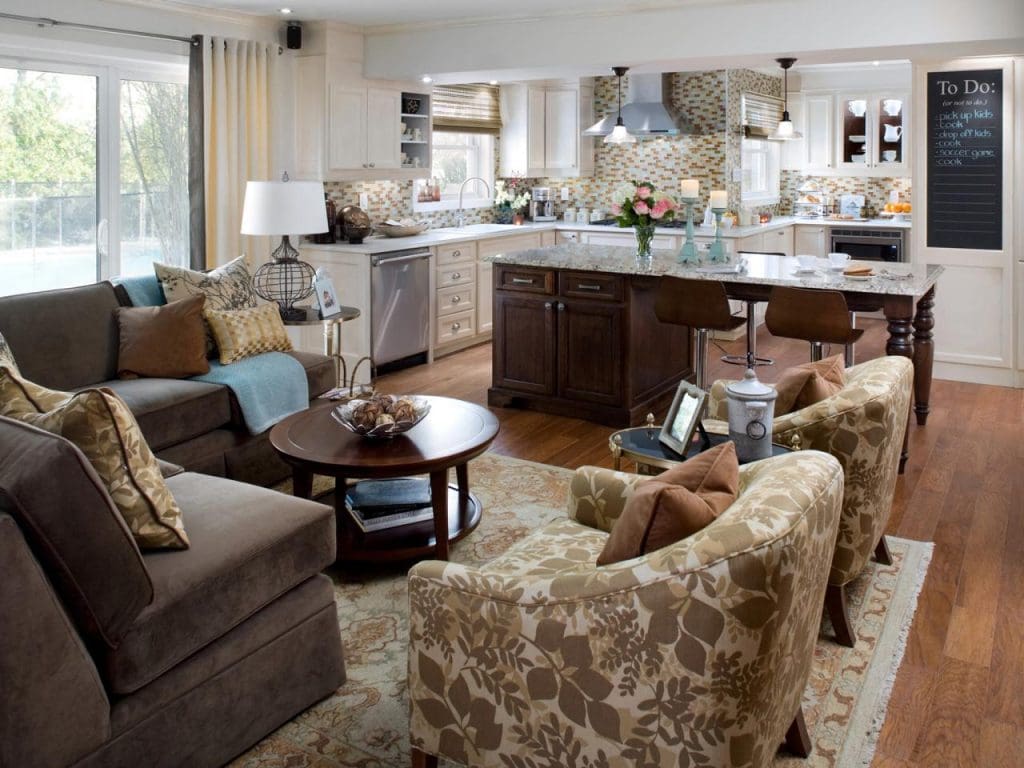 Also, decide if you want appliances with quieter designs that won't distract from conversations between friends and family sitting nearby. Check if there's cabinetry going against one feature wall, which could clash or appear too forcefully placed next to some other items.
4. Going over budget
The kitchen serves so much for the home, so it only makes sense that you invest some time and money to ensure this essential room reflects your personal style. You can cut your kitchen costs significantly by following simple tips.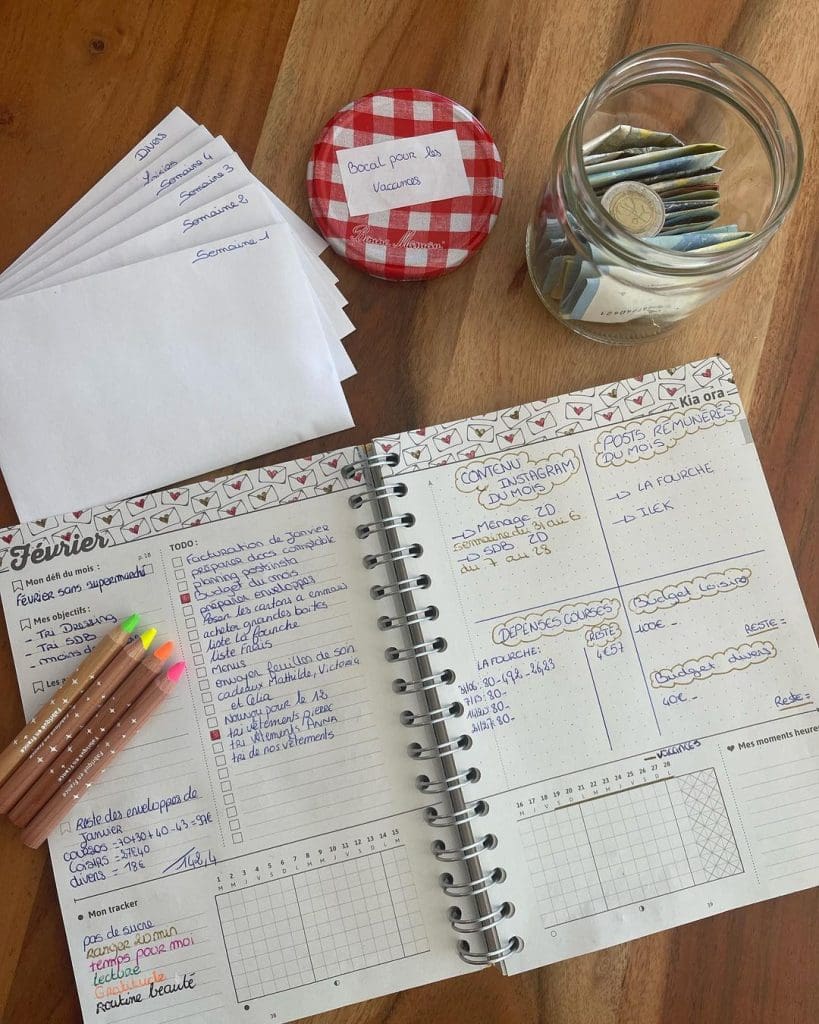 The initial step is to set aside a reasonable amount of money for the renovation — don't spend more than that. Keeping 10% of the value for home renovations seems like an appropriate amount. Also, you should check what percentage works best based on how much money you have available and discuss your plans with a professional.
5. Accessibility issues
If you're looking to bring your dream kitchen into reality, then it might just turn out to be a nightmare if the items needed are not easily accessible. There is nothing more frustrating than having pots and plates but being unable to find them when needed.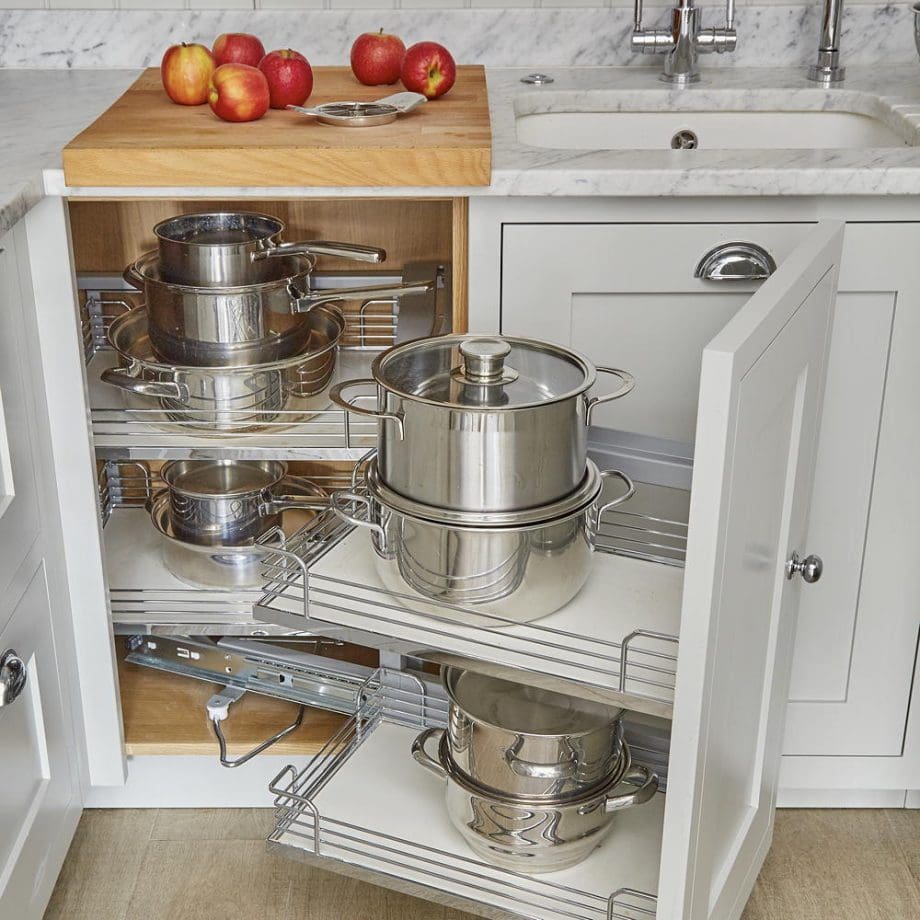 But here's one smart move — install an innovative lid rack inside cupboards near appliances such as cooktops or microwaves. You'll always have everything at hand. With this accessibility, you will feel less frustrated when cooking meals or rushing to work in the morning.
6. No place for a pantry
The pantries of yesteryear were not so different from the ones we have today. They served as a way to keep food preserved and safe for long periods of time. Besides that, they provided an extra storage space instead of getting your head stuck in shelves all day.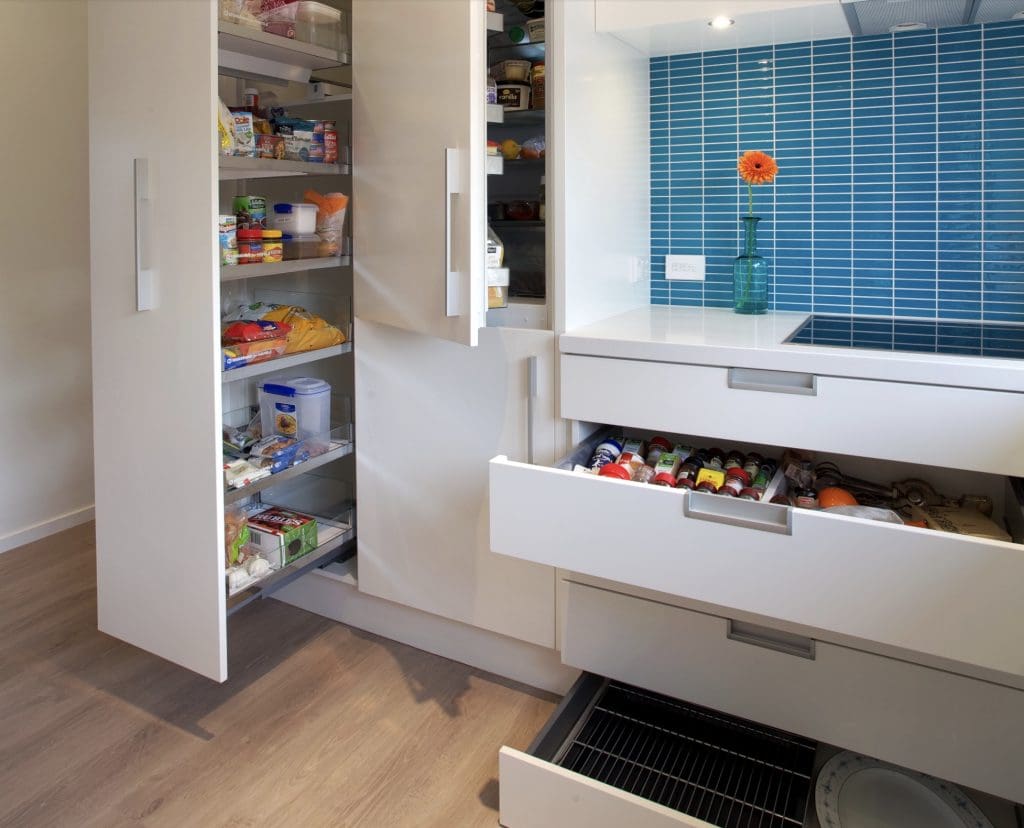 You may choose from pull-out pantries if you do not have space for walk-in cupboards. Alternatively, convert a closet into a pantry if needed. Having additional pantry space will give you room to work on your meals without struggling to keep everything on the counter at all times.
7. Keeping it too simple
While the kitchen is primarily a space for practicality, that doesn't mean it can't have style. With white units and walls as your backdrop, your appliances might feel just a little bit too clinical-looking without some extra jazzy touches like splashbacks or handle designs.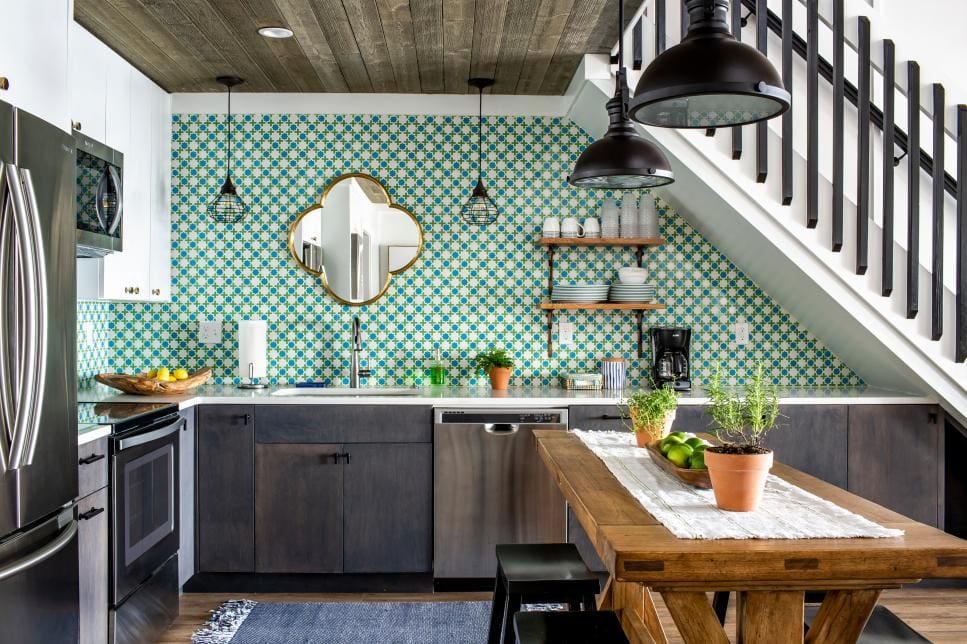 Adding such design elements will not only make your appliances and countertops stand out against any wall but also gives off an air of leisurely elegance when cooking at home! After all, kitchen design is about balance with functional and aesthetically pleasing patterns.
8. Not measuring appliances
When designing a kitchen, the worktops and cabinetry are key elements that need attention. But don't forget about your appliances! You need to measure them precisely as an extra inch could make all the difference in your new kitchen design.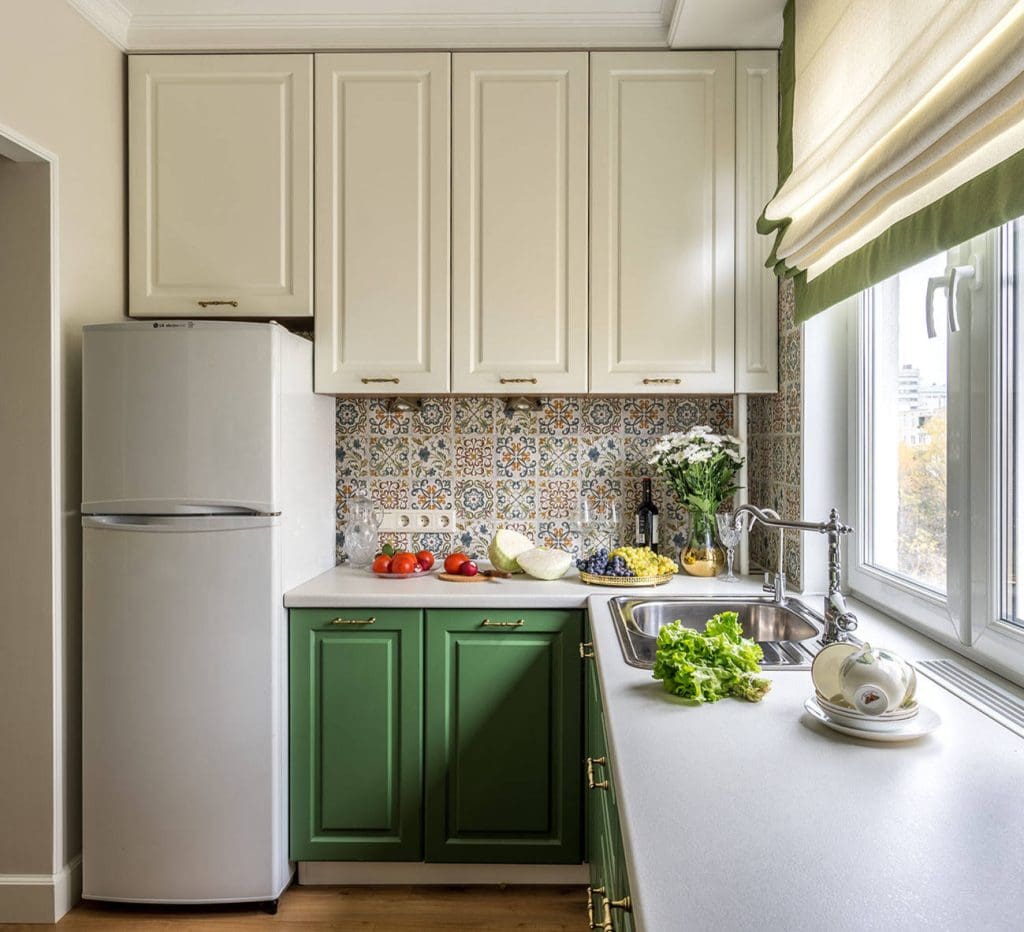 Your new appliances may need some extra space if you've chosen not only high-end furniture but also state-of-the-art cooking equipment such as refrigerators or ovens with protruding features. This could disrupt workflow when trying to open doors or may even bump against other appliances.
9. Adding unplanned extras later
For your kitchen's design, you should consider getting an all-inclusive quote from the company. This way, they can complete their work at a single time and ensure that any extra additions, such as tiling or shelving, will be included in this price.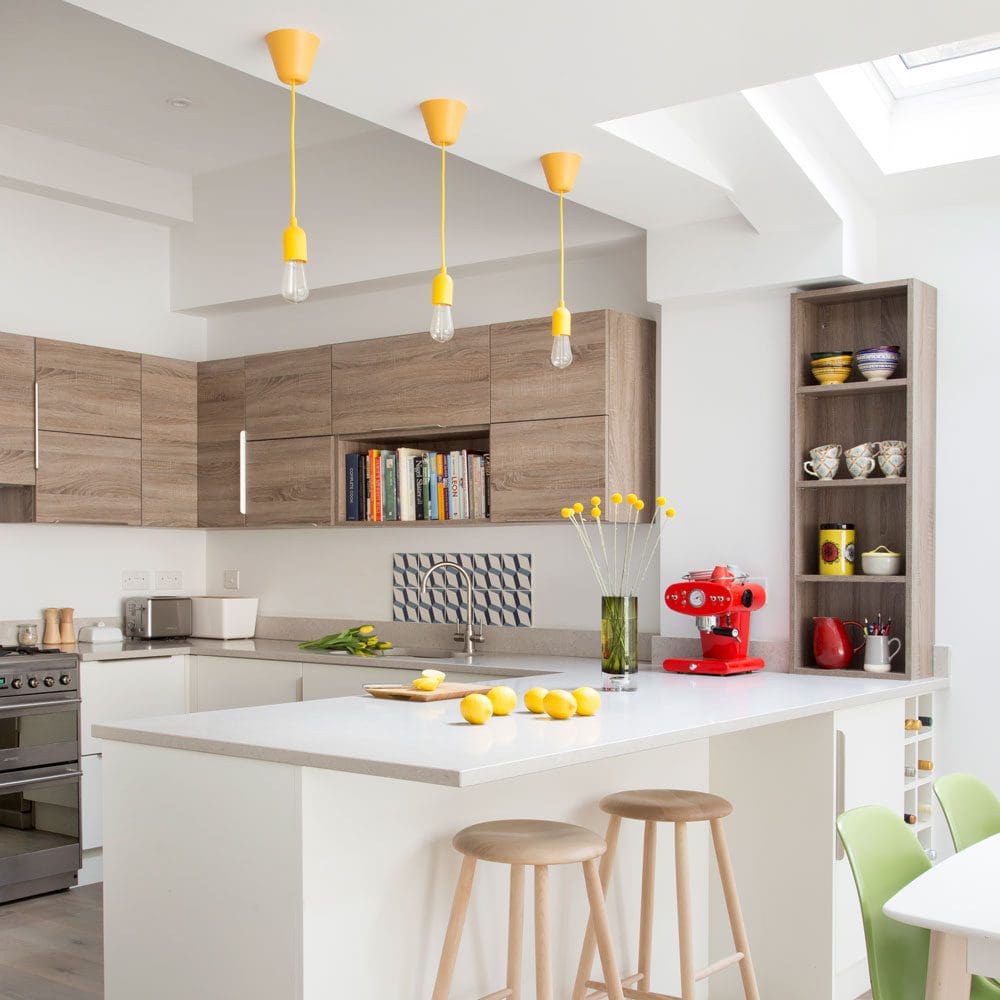 They will not be able to charge you individually or raise costs later on. This will help you stay under budget. Also, be decisive when deciding on features — adding extra items later may end up costing more than originally expected.
10. Furniture that doesn't go well
In order to ensure that your new kitchen is a comfortable place for everyone who visits, you need the right furniture. There should be ample gaps between furniture, and it should not feel overwhelming with clashing designs. Moreover, take care of the edge spaces.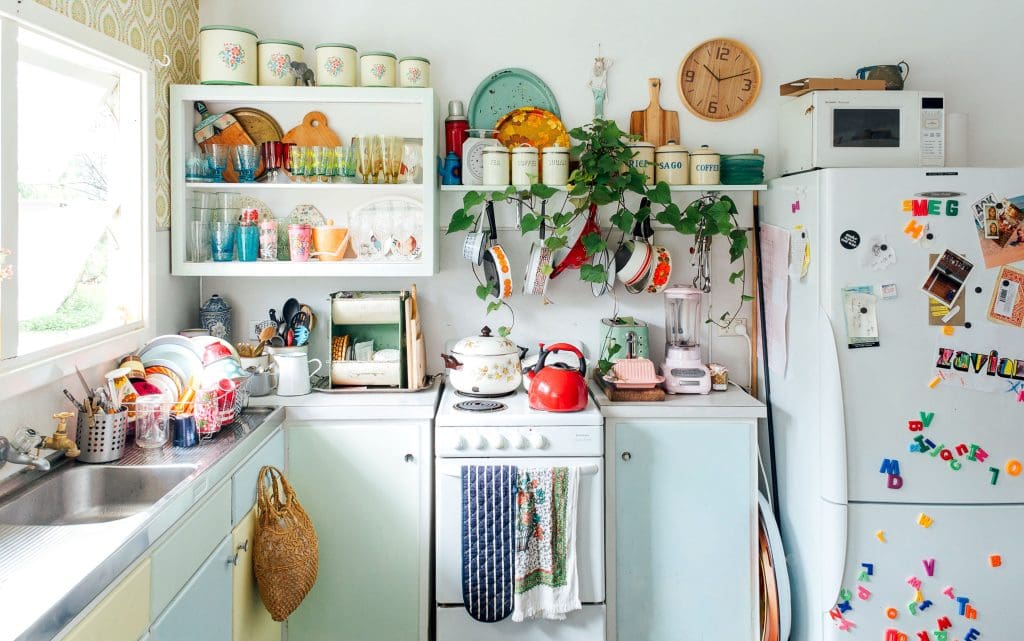 If the distance between edges is not at least 12 inches, then people may run into each other while moving. Make sure all furniture pieces fit together while leaving this space open. You may want to choose a narrow bottom for furniture to maximize the floor space.
11. Skipping on the cooker hood
With open-plan living spaces, ventilation is especially crucial as cooking smells can linger and percolate through soft furnishings. It's also important to avoid excess moisture that may lead to mold or dampness in your home environment. Plan on including a cooker hood with extractor fan into the design of this type of room.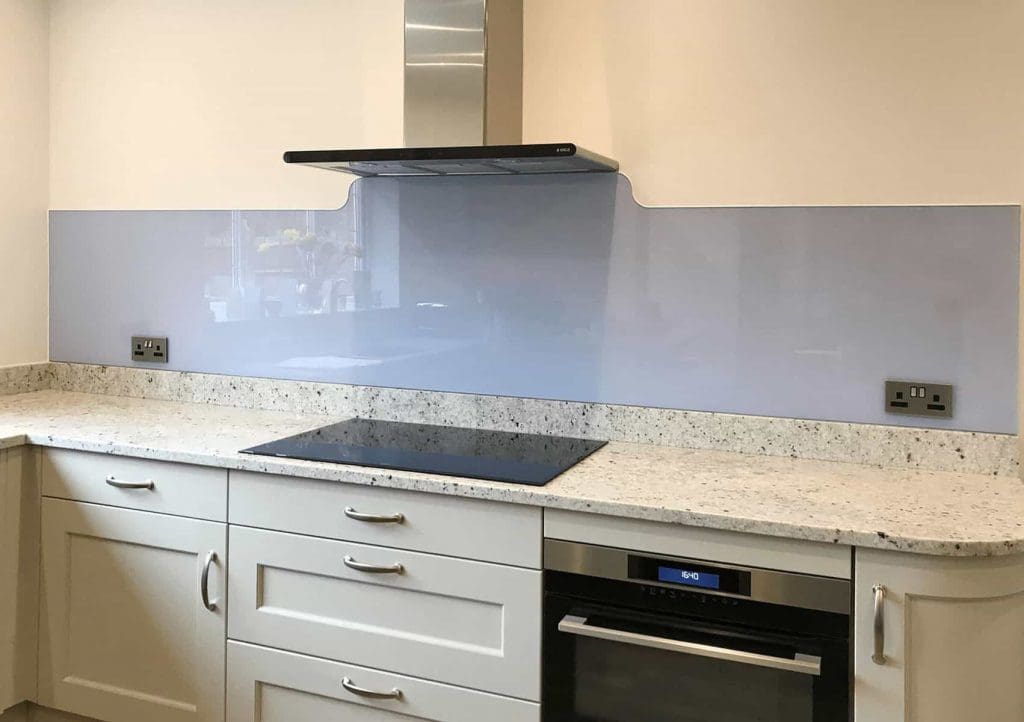 A ventilated system will move airborne particles outside while filtering the returning air through carbon filters before re-entering the space. If you want more efficient ways than these old ones, consider something like a modern ductless system which has been proven highly effective for removing unwanted odor.
12. Clashing design element
What's your favorite kitchen style? Do you want to find the right one for an aging home with rustic beams or a modern and minimalist layout in harmony with its architectural features? It's essential that you consider the property's age when designing it.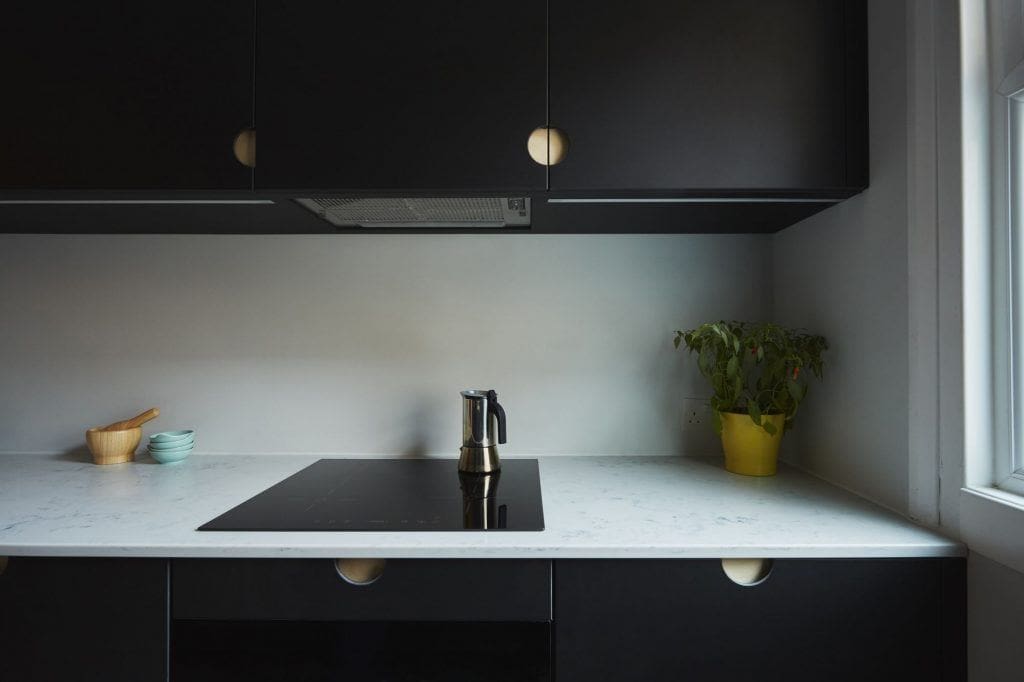 So try not only matching but also contrasting styles, depending on how old everything feels. For instance, a shaker design would be perfect if the building is old and rustic. Modern and minimal designs will go well against contemporary spaces.
13. Impractical finishes in design
Surfaces and their finishes may look tempting when you see them in a showroom or a magazine; you may want to create the same for your own kitchen. Despite the appeal, it may not be a practical choice for your home.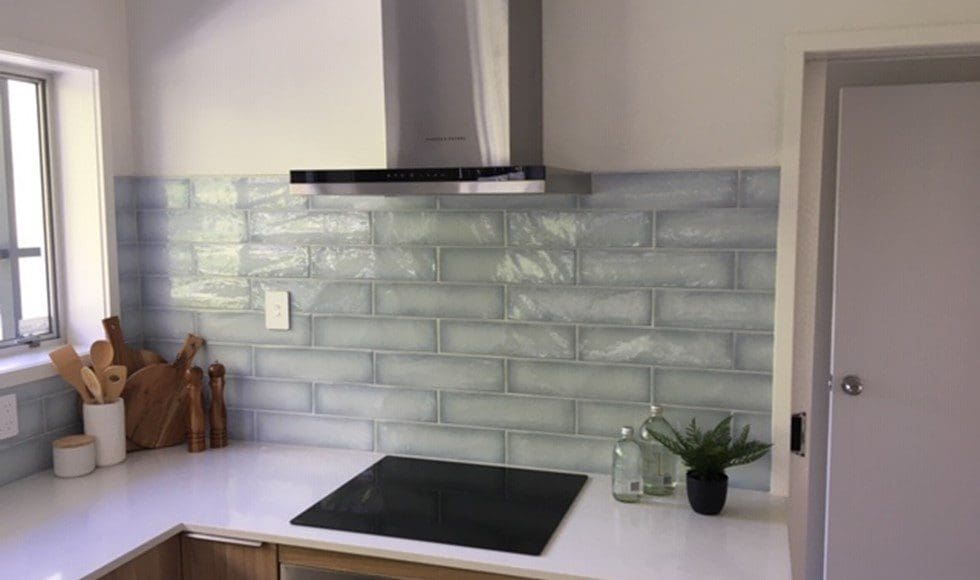 Using intricate kitchen tiles or three-dimensional wall surfaces may not work when it comes to cleaning. The food splatters, grease, and dust will collect on these surfaces. This combination will need hours of scrubbing to clean. Instead, opt for an easy-to-clean surface.
14. Space-hogging kitchen island
Everyone dreams of having a kitchen with a kitchen island. However, this does not work in a limited space. In fact, sometimes, it may seem pokey and constricting. You may have to reevaluate your needs over wants here before making a mistake.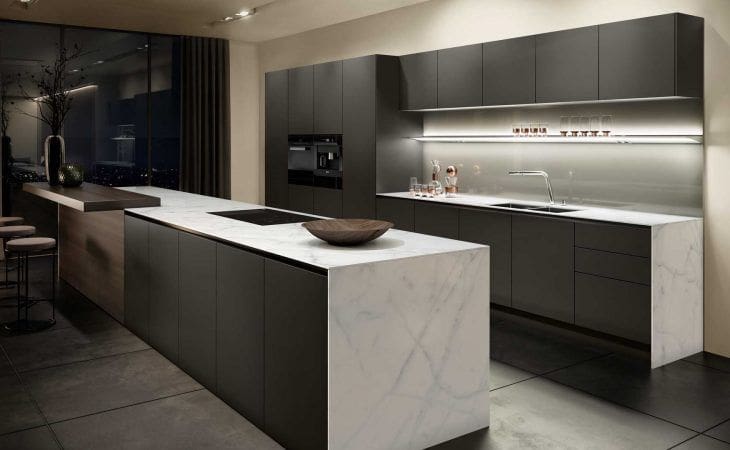 You might be better off without one or opt for a compact design with plenty of fitted storage instead. This will provide ample workspace without feeling suffocated or out of place. The fitted storage will come in handy for your pantry needs as well.
15. Not making temporary arrangements
The best way to get through a kitchen remodel is with some good old-fashioned comfort food. You can avoid spending more money by cooking your own meals, rather than eating takeout. If your home doesn't have the luxury of space while remodeling, you'll need quick solutions.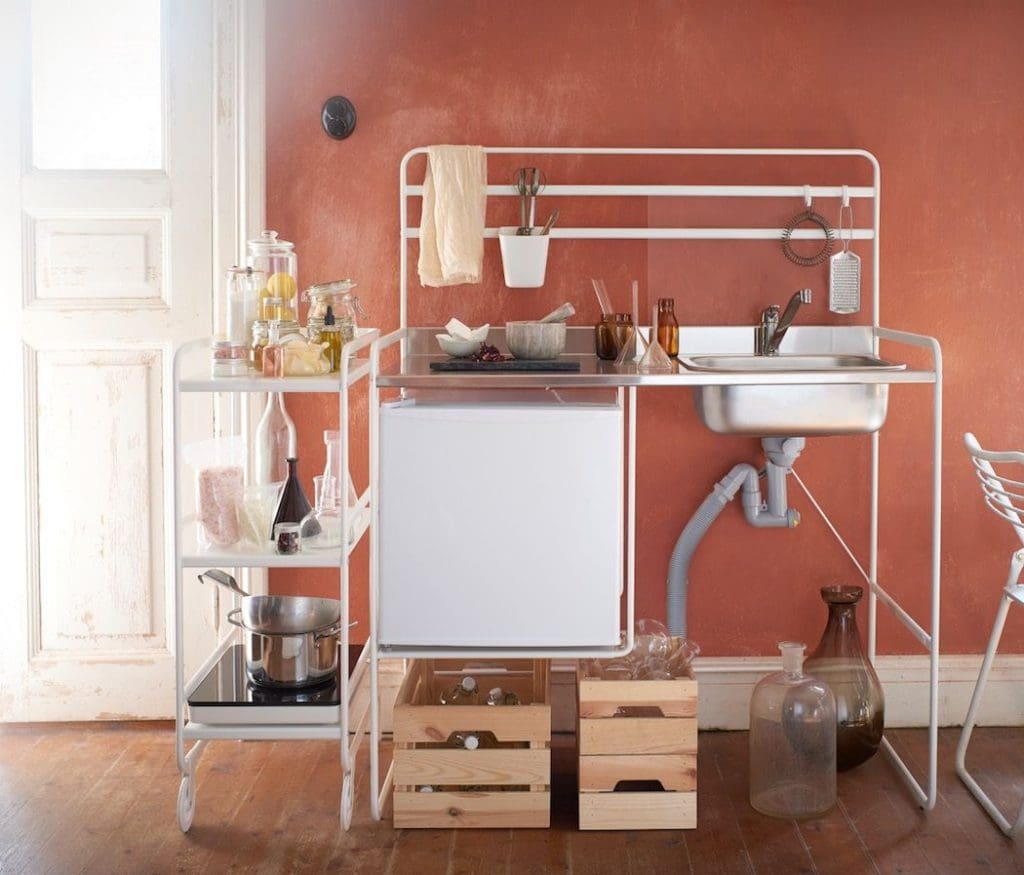 One solution could include camping stoves that can be used for cooking. Portable cooking gear is perfect for easy setup and dismantling. You may also ask the builder for temporary plumbing that will allow you access to a dishwasher and/or sink.
16. Picking impractical knobs and handles
With all the latest trends in kitchens, you might think that old handles are pointless. But they're essential for opening doors with wet hands or pulling down lids on crowded cupboards! You may not know that simple pull handles are better in comparison to stylish kitchen fixtures.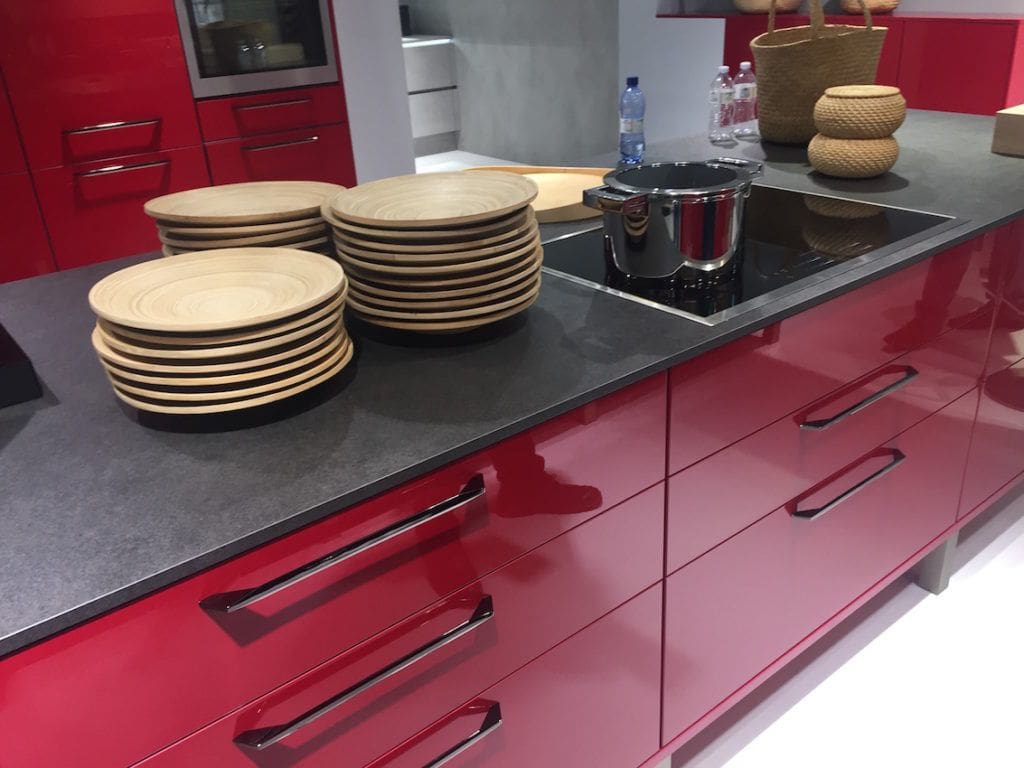 They prove to be handy when you need to open something quickly. Reserve sleek knobs for regular cupboards and install ergonomic handles in frequently used kitchen spaces, which will allow your fingers plenty of room, making them easier to open without too much force.
17. Forcing a narrow dining area
When designing a kitchen, don't try to fit in everything that you want. It will only make things complicated and take up more space than necessary, which is never fun! You do not want to block open spaces by adding large tables and chairs.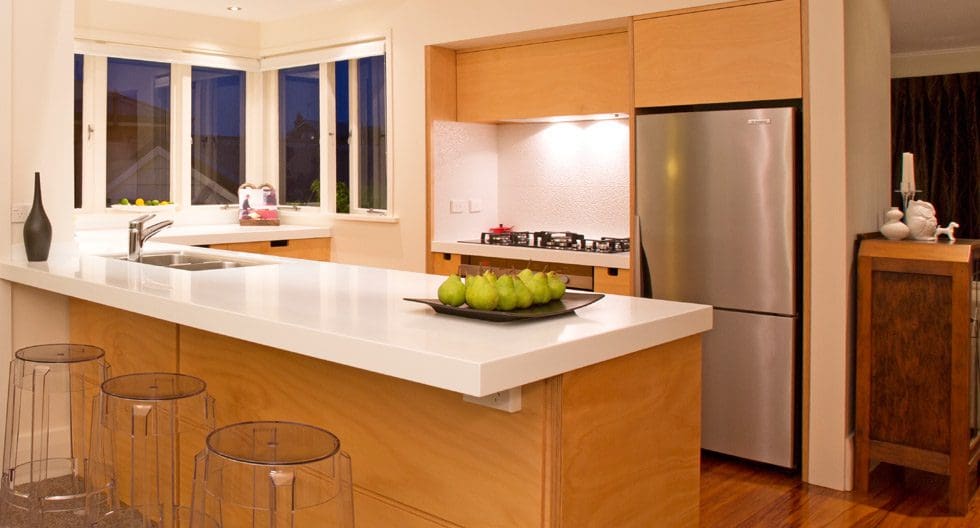 If you're trying to fit a full-sized dining space in your kitchen, don't force it. It'll just take up all of the walkways and be annoying when people are eating dinner. Instead, opt for snug stools that can fit underneath countertops or drop-leaf tables that have a foldable sideboard.
18. Not picking the required window treatments
We spend so much time in the kitchen, so it's essential to keep it bright and lively, and not let gloominess overtake the space. Natural daylighting will help you feel inspired in your cooking while also getting the most out of every meal!
Consider all weather conditions, access to sunlight, and where the side of the building is facing before adding windows. The right window dressings will help you make full use of them. Adjustable roller blinds are perfect for glare protection and Venetian shades block direct sunlight.
19. Ignoring the triangle arrangement
The kitchen will be a chaotic place if you don't plan your workflow well. You can end up with an impractical layout that makes cooking near impossible and leaves the whole house smelling bad, too! What is the key to making things work in this situation?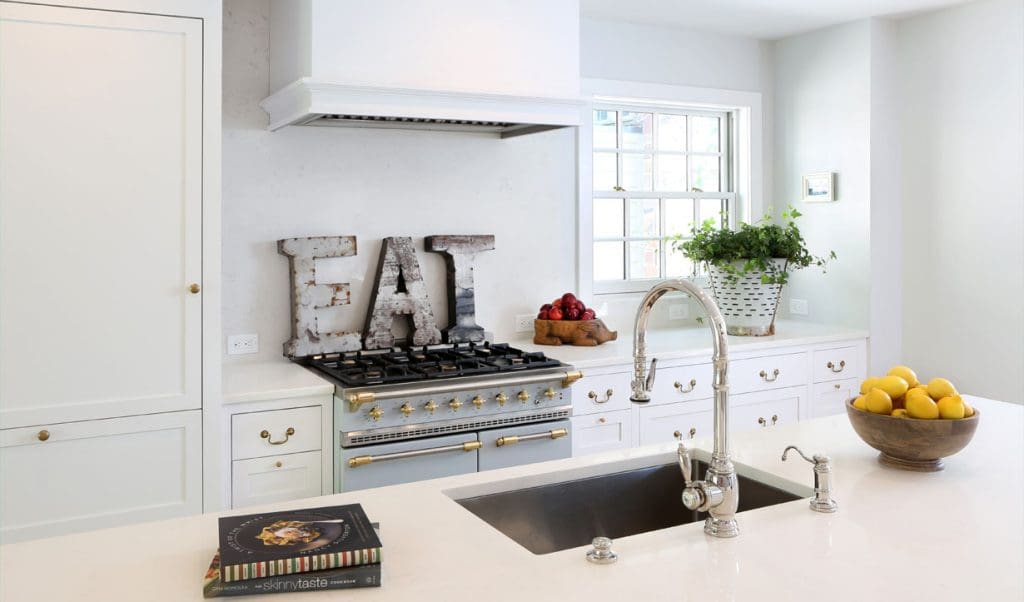 Keep the sink, cooker, and fridge close by — ideally no more than three feet apart from one another at all times during use. A triangle arrangement often does wonders for keeping things organized without becoming overwhelming. This setup works for any kitchen size.
20. Not double-checking design
Kitchens are easily overlooked if you're designing a whole house, but they are one of the most important rooms once everything is finished. A poorly designed or executed kitchen can make it difficult to cook efficiently, and can spoil the mood when you finally sit down to enjoy your food.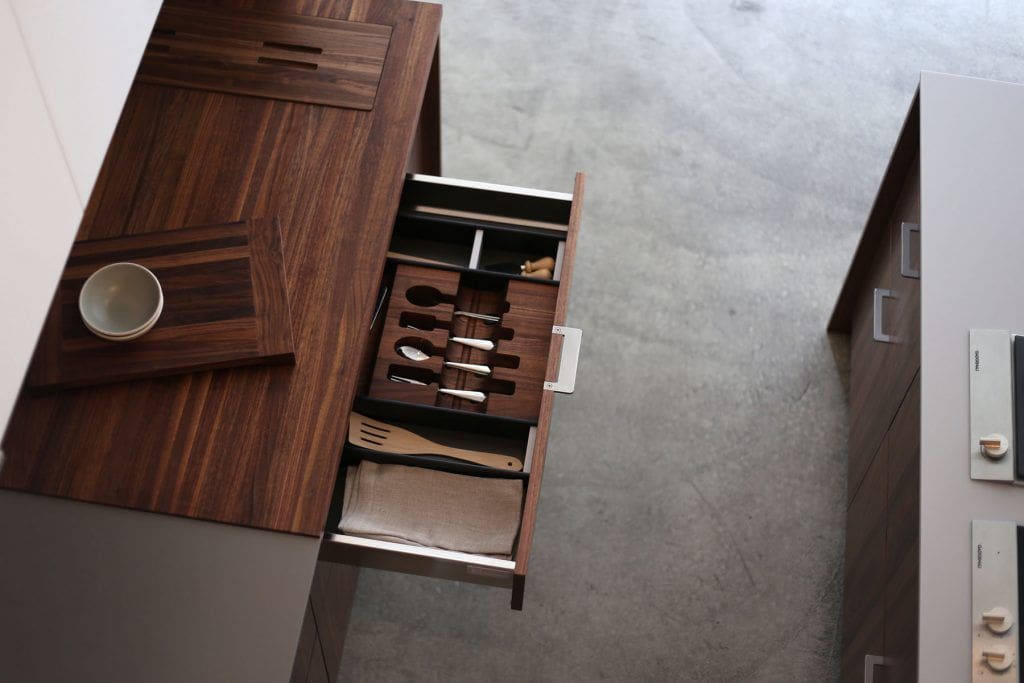 But what if you had an open-plan space where every area joined together? The open plan would allow for greater use by providing more area for frequently used spaces. That way, you won't have only one small part devoted exclusively to food preparation.
21. Compromised lighting with last-minute thoughts
The kitchen requires more attention while designing. Not only does it have to be well-planned and stylish, but also practical with all those cooking shenanigans and entertaining. Moreover, it is essential that the design balances ambiance while efficiently lighting up different areas so you can easily find what's needed.
You may need a spotlight when preparing meals or softer mood lightings where dining takes place. Accent lighting will be great for showing off new units perfectly without sacrificing any other tasks or creating shadows on upper cabinets. Make use of natural lighting, too, with well-placed windows.
22. Not knowing your storage needs
When it comes to your new kitchen, don't underestimate how much space to set aside for storage. Make a list of everything that you plan to keep in the kitchen. This will be helpful in figuring out where each item should go before starting construction.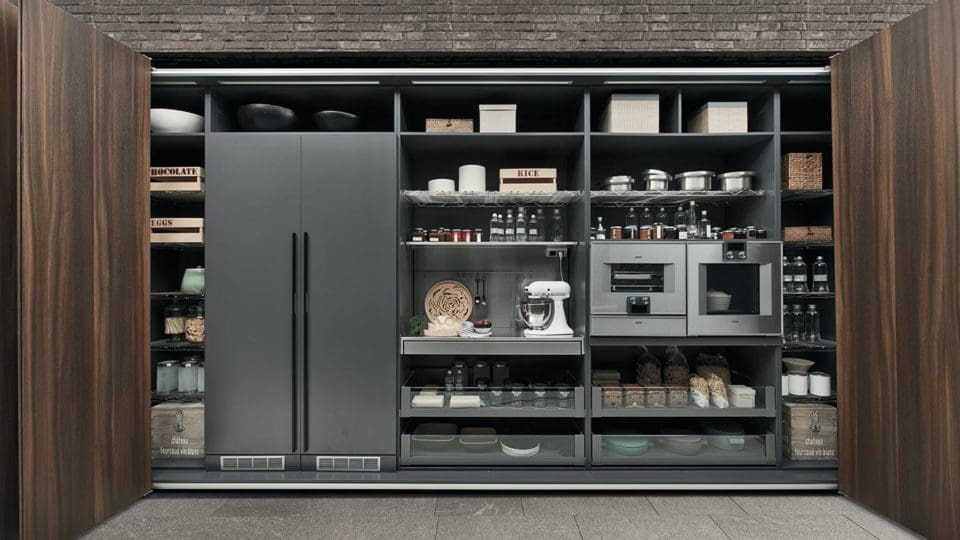 If there's not enough room for all these items on your countertop, then consider using a pegboard. They're perfect when designing tight spaces because, instead of taking up too much space, these organizers can be mounted onto a small surface area on the wall.
23. Lack of attention to detail
Kitchen design is all about having the use of every square inch, so it's important to think about what goes inside your units. Drawer dividers and pull-out larders will help you store things easily, while a drying rack over the sink lets dishes dry without getting messy in between uses!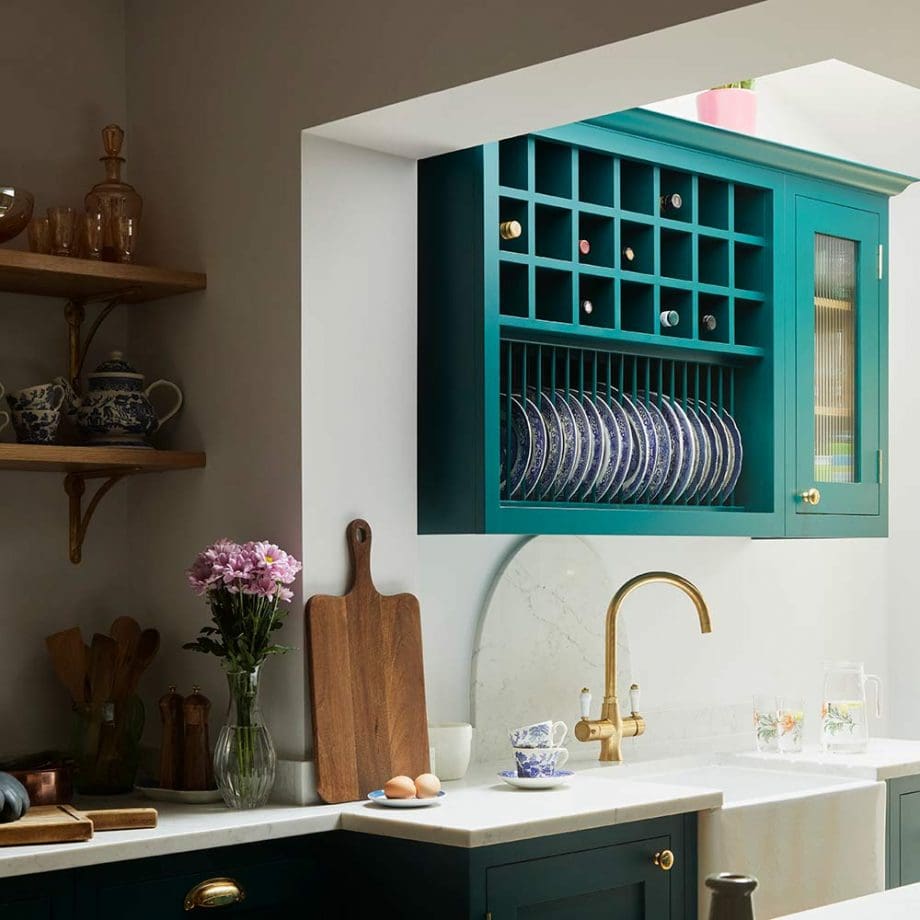 If there are multiple chefs in the house, consider adding hanging cupboards that can hold pots and pans. A designated area for a chopping board and moving appliances to the wall may be a great idea if you're low on space.
24. Not using storage space to full potential
In the kitchen, it's important to maximize your storage options. If you have an open plan with plenty of natural light coming through from windows and tall ceilings, then consider using units that are adjustable or fitted into those heights.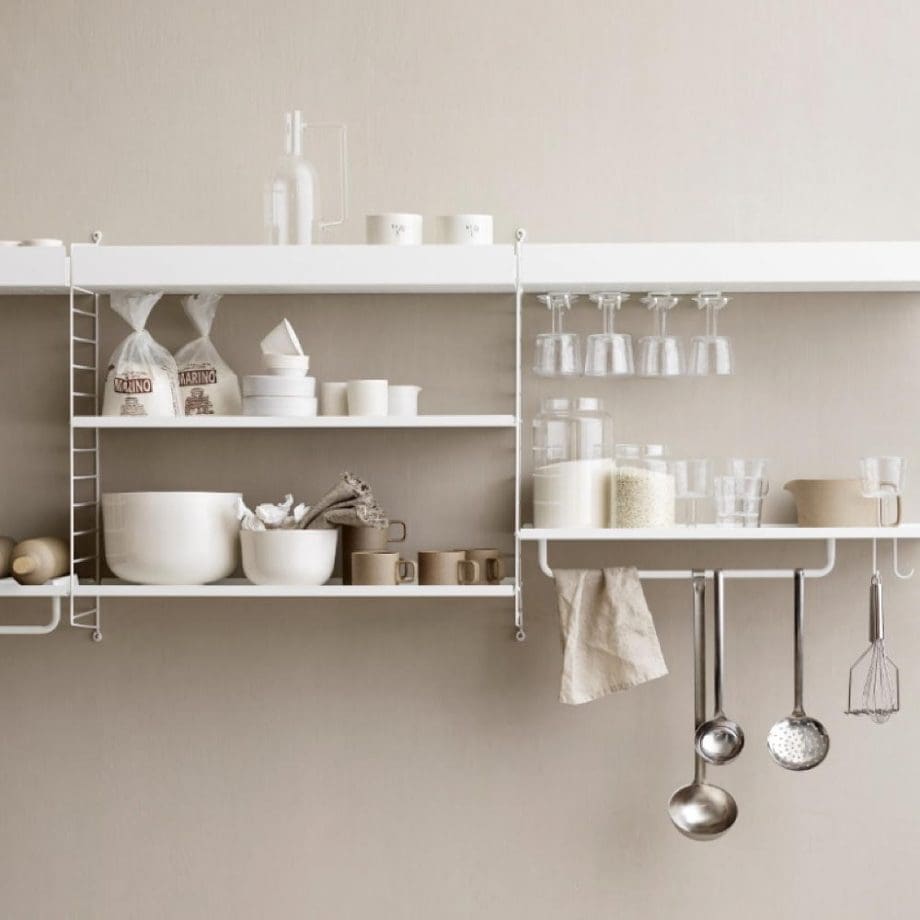 Using the high wall for storage will remove clutter on lower levels. For smaller homes, try finding hidden compartments under furniture like cabinets or shelving units. In this space, you can keep extra groceries, plates, and appliances. No one will know this nifty storage space even exists.
25. Wrong design choices for your lifestyle
When you browse the shelves at your favorite design store, it's hard not to get sucked into every designer's dream — owning a beautiful kitchen. But as tempting and beautiful as these designs may seem, they might not be the right fit for your needs.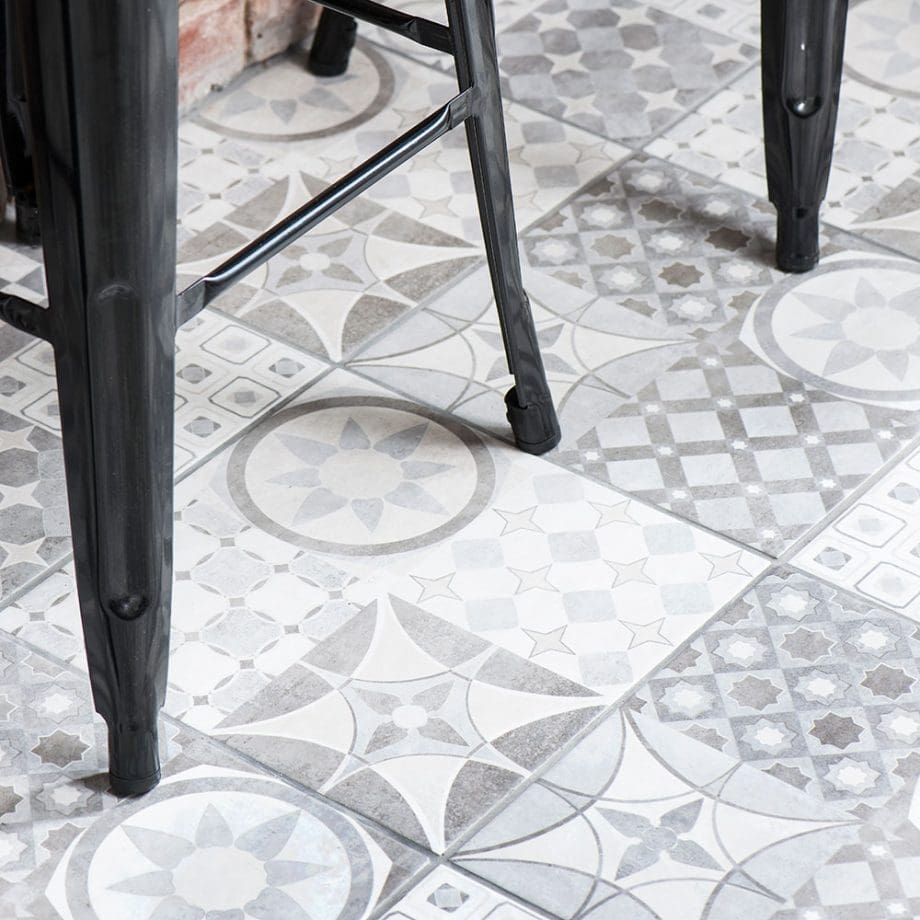 Floors and worktops are the most important surfaces in the kitchen, so you should consider going with more durable materials like quartz. If you have young children at home, skip sharp-edged islands for a safe space to enjoy baking together!
26. Too much open shelving
When used correctly, open shelving can add a flair of personal taste to any room. However, you shouldn't rely solely on it — not everything should be left out in the open. It may make your kitchen feel cluttered and messy — plus you'll forget about those beautiful dishes! Eventually, they will collect dust over time.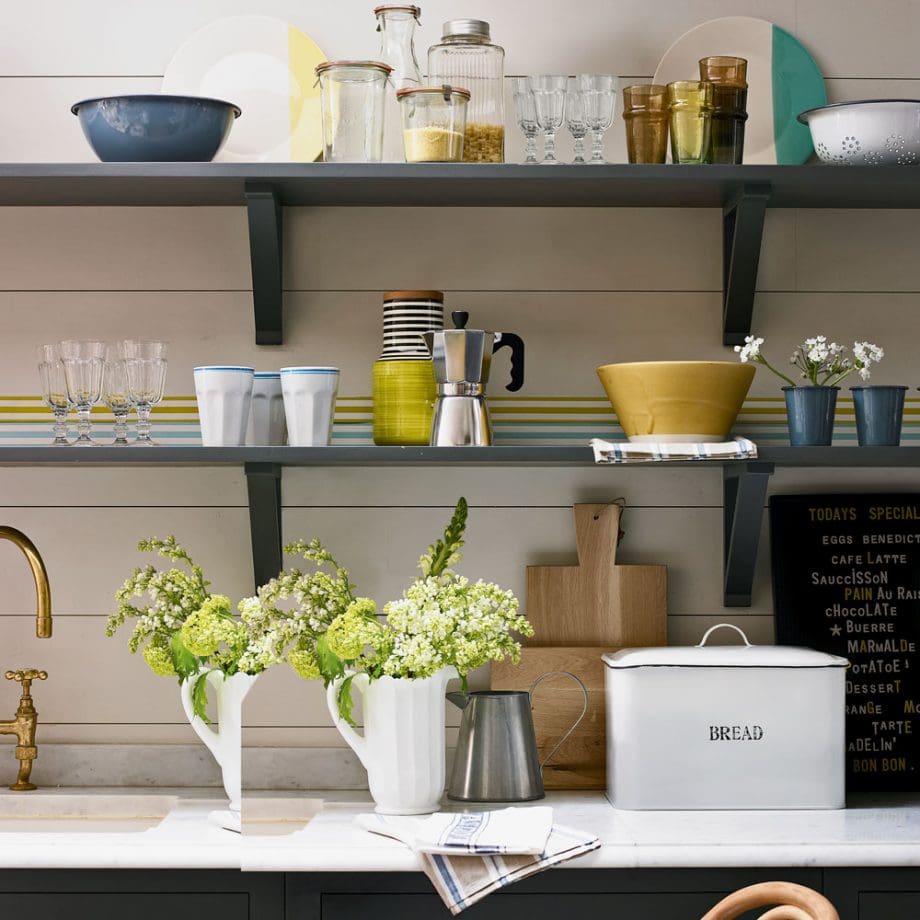 The solution to this problem is intuitive and straightforward. Just include both open shelving for displaying your most prized possessions and closed cubbies where you can store the majority of the dishes. This way, everything has its place without becoming too cluttered!
27. Overspending with no purpose
If you're considering renovating your kitchen, take a moment to consider whether it's necessary to do it from scratch. For example, if all of your appliances are in good condition and can be reused rather than replaced, don't buy new ones. This eco-friendly solution is good for your pocket, too.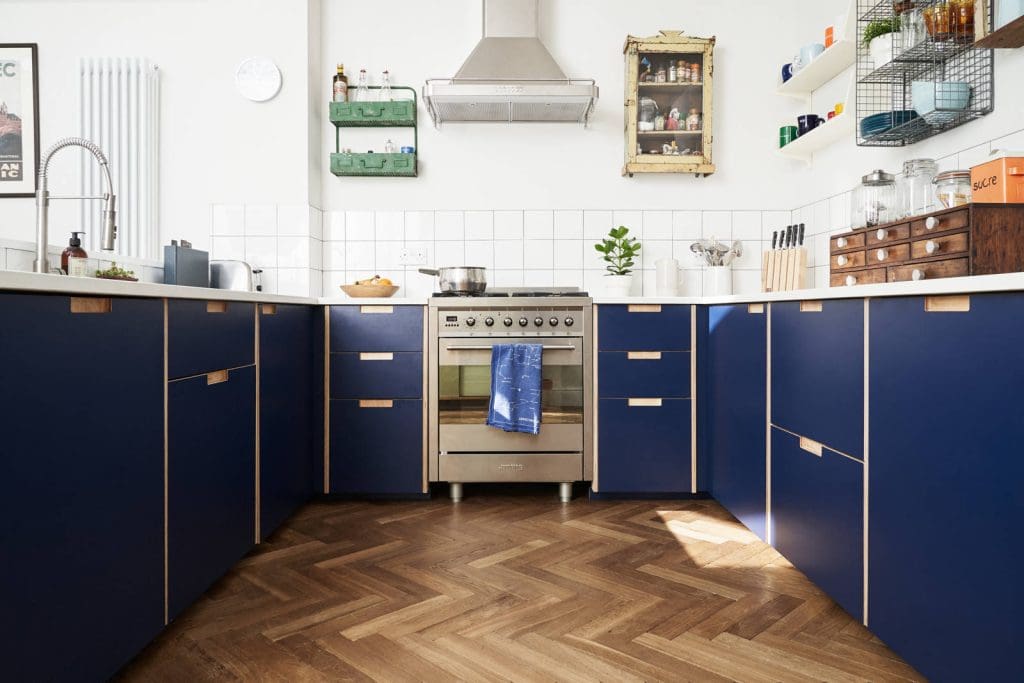 You could also customize IKEA units by adding unique features such as cupboards with custom designs and knobs, giving yourself an even more designer look while doing so. There are several options for you to get creative with your units without needing to redo the entire thing from scratch.
28. Buying without getting a trial
Requesting samples is important even if you're ordering in-store, but it's especially crucial if ordering online. Samples allow customers to see the products in person and compare them with their surroundings on different days and lightings. This gives an idea for picking the right one.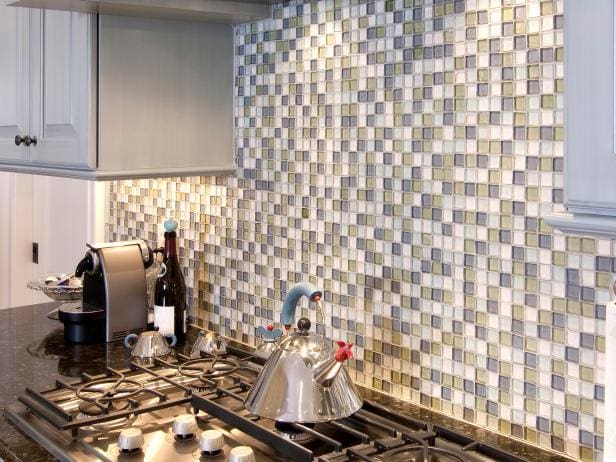 Observing things in person can help in case you need to make alterations. After ordering in bulk, returns and exchanges may become costly and too much of a hassle, and you may avoid doing it. Therefore, it is better to conduct thorough research for the material you pick.
29. Compromising heating and ventilation
Heating can be a tricky detail to tackle in your kitchen design, but it's easy when you know what options are available. Radiators still have their place and work well for many people who want an old-fashioned look. However, they do take up more space.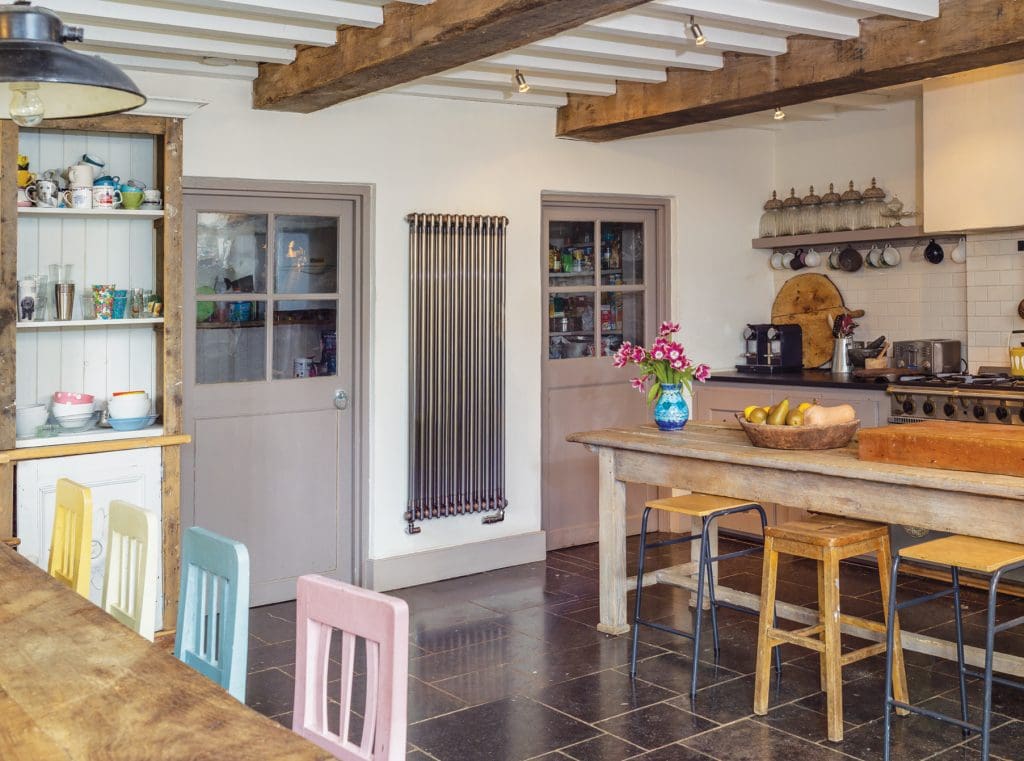 You may opt for a sleek, modern, streamlined radiator that takes up less than half as much room. Other alternatives include an underfloor heating system that is installed to deliver heat from the floor or using a venting hidden underneath units.
30. Limited power points
You'll need sockets for everything from everyday kitchen appliances to gadgets. Kettles, blenders, toaster ovens, and more all need to be plugged in somewhere. Since you'll spend so much time in the kitchen, you'll use them for non-kitchen-based items like phone chargers.
It is better to install as many power points as possible in the kitchen. This will prevent you from the annoying hassle of getting extension cords or unplugging appliances again and again. Moreover, managing appliances will be easier with designated power outlets.
31. Inefficient plumbing plan
The best way to design your kitchen is by starting with what's possible and working from there. If you want an aesthetically pleasing and functional space, it might not be practical for everything to be included due to plumbing limitations.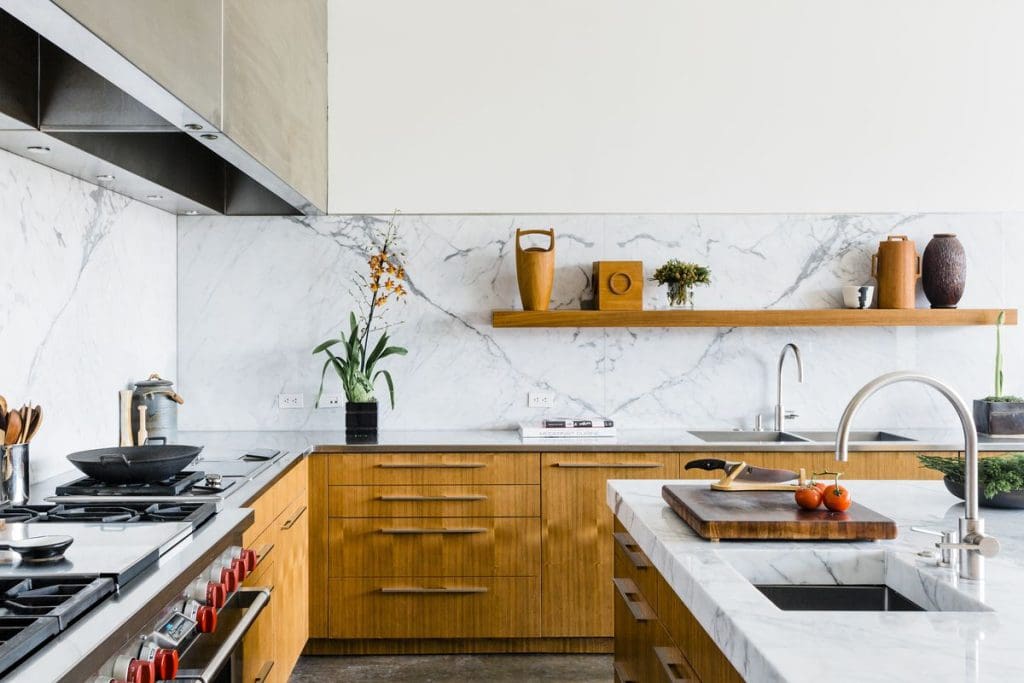 Plumbing can be tricky and expensive, so make sure you know what will work before moving anything or rethinking a new design in the kitchen. It is best to consult a plumber for design approval to work around old plumbing and sinks.
32. Not consulting experts
Designing a kitchen can be a headache for many people, but it doesn't have to be. By hiring an expert at the start of your project and following their advice, you can avoid costly mistakes that will cause more headaches in the long run.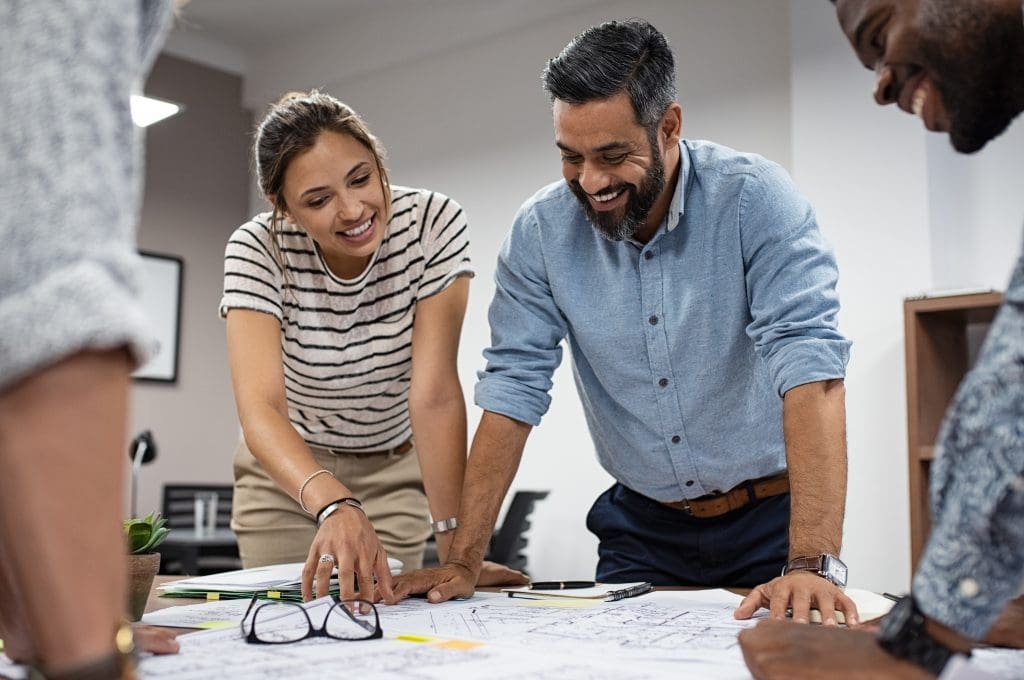 When designing the kitchen of your dreams, it pays to hire an expert. They know more about the industry and will help you stay within budget and avoid ruining the project altogether. Besides that, you can discuss your tricky requirements and come to a solution.
33. Cheap quality paint
Bold color combinations in the kitchen can really make a statement. But before you start painting, it's essential to consider what will happen with your new bold colors once you start cooking. As yourself: are these products resistant against grease stains or other wear-and-tear elements?
You need to pick special paints that come with treatment to withstand oil splatters, food stains, soap, and steam. Pick paint brands that specifically have a range for kitchen paints. Washable paints will save you from further renovations and repainting.
34. Not paying attention to corner cupboards
Lack of proper planning may result in your kitchen becoming cluttered with unused corner cupboards that serve no purpose. There is no shortage of storage solutions that can help you make the most out of any space, right down to the inaccessible nooks hiding in the corners. One solution is tiered pull-out units.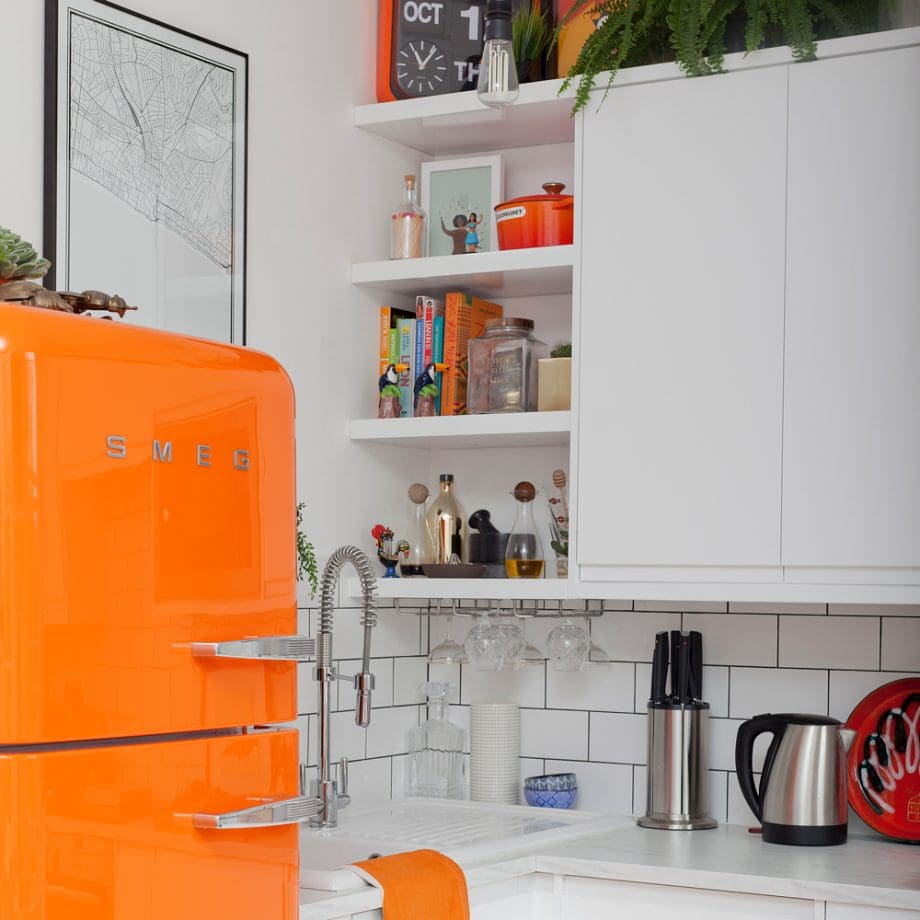 This ensures pans or plates stay within reach at all times! You could also use specially designed drawers if you want something more stylish — just remember they should fit into those tight spaces easily without taking up valuable cupboard real estate.
35. No door clearances
When designing a kitchen, it's easy to get caught up in the aesthetics and forget about what you already have. Especially if your space is small like many urban apartments or condos can be! In these cases, door clearances become even more important.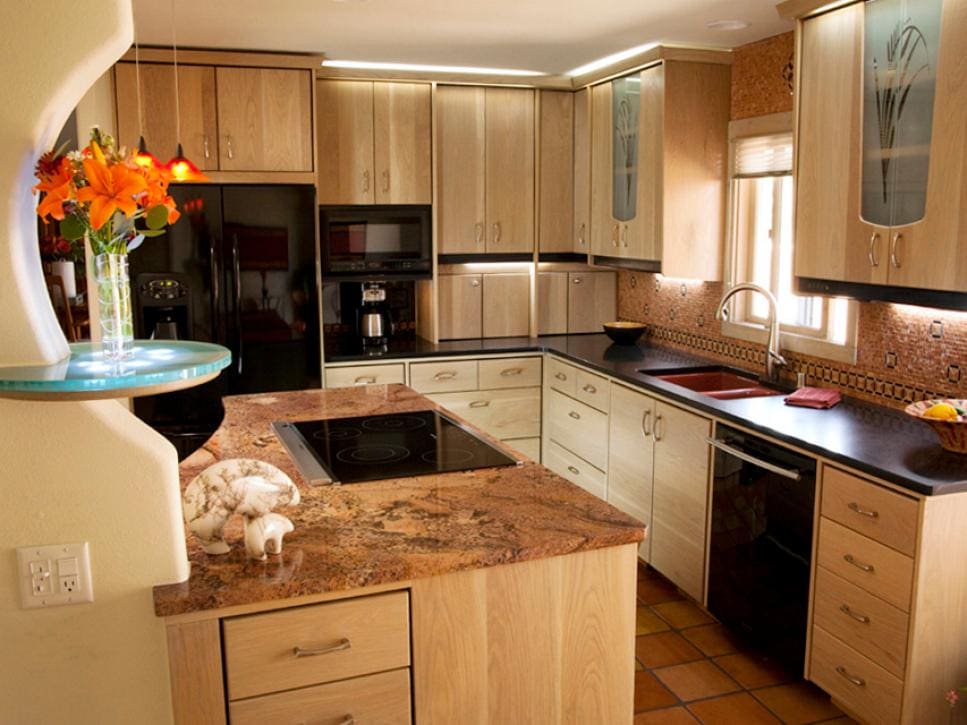 It will dictate how much countertop width each unit has available for installation. Don't let your new space turn into a showpiece with its appearance and modern aesthetics when there are existing elements like door clearances and access limitations to consider.
36. Not setting space for disposal
Think about where you will be able to store your waste disposal. Built-in garbage bins that slide under the cabinet are an excellent way to keep your kitchen tidy and smell-free. If you don't have a lot of kitchen space, it will save you the added bulk that comes with a pedal bin or other large container.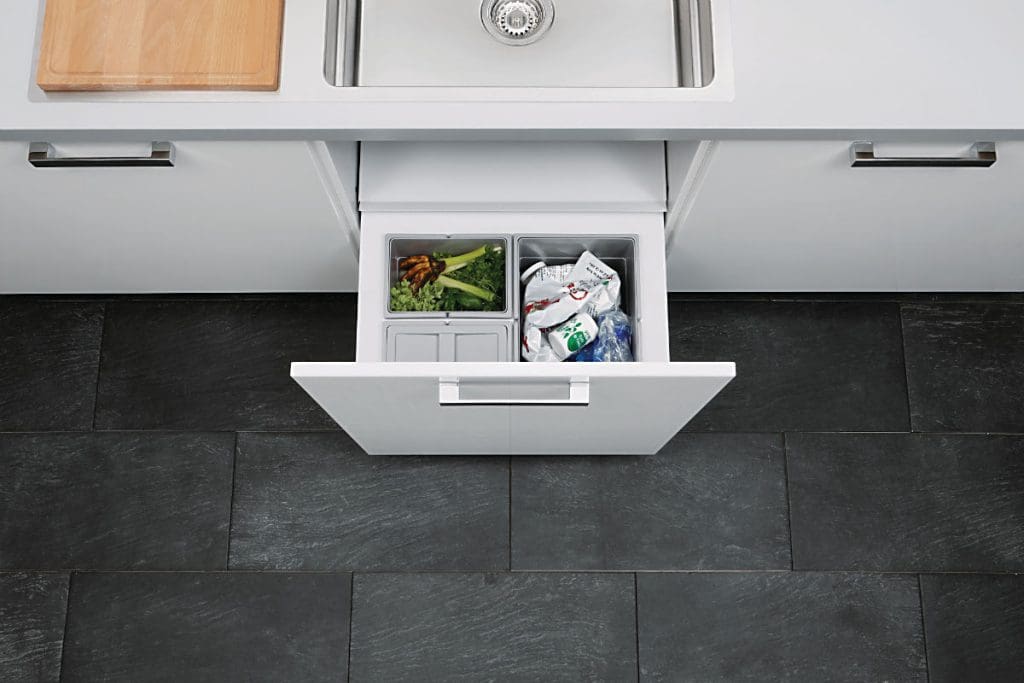 Install a segmented model so each section fits neatly onto its own pile without spilling over into other areas too much. This will also be easy enough when it comes time to separate recycling in order to avoid any confusion on where things go.
37. Neglecting important wall space
When planning your kitchen, don't forget about the secret weapon: wall space. While it's tempting to have all of your energy on planning what you'll put on countertops, don't forget that there are plenty more ways for designers and homeowners to use kitchen walls.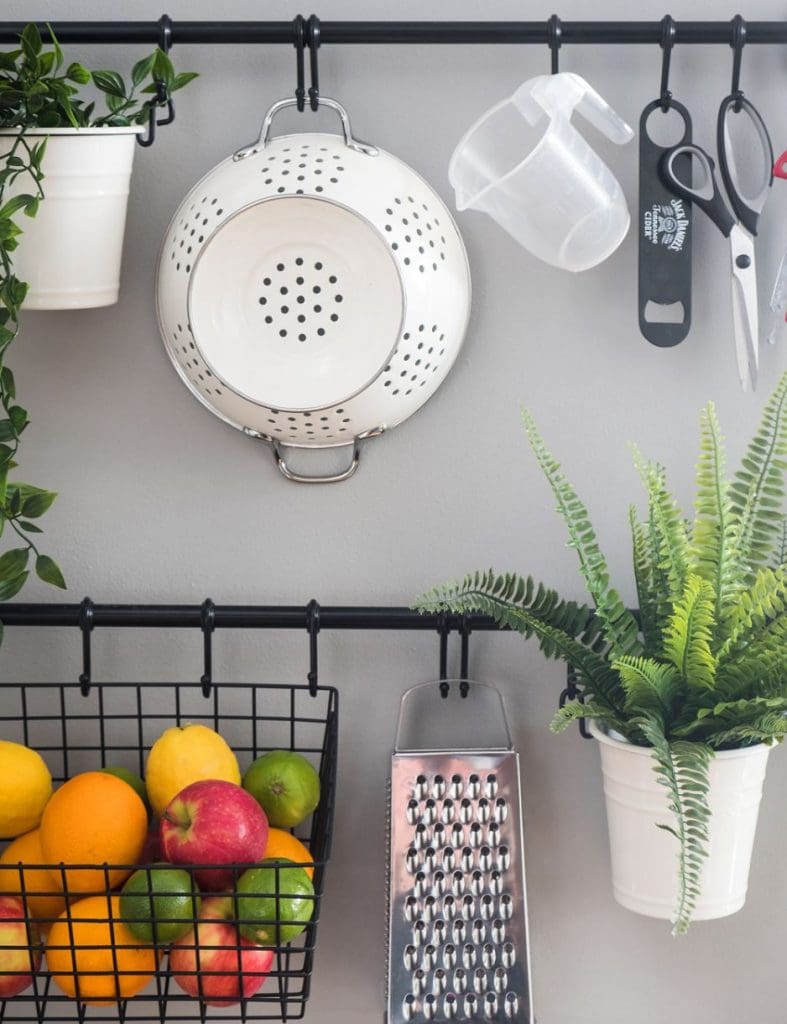 These can be used as an extension for work surfaces too! You may hang cutlery, pans & colanders from nearby rails if space allows. Moreover, elevate precious glassware by building up high units with storage underneath. Incorporate wall-mounted cabinets for an enhanced architectural feature.
38. Too much cluttering on visible surfaces
Your work surfaces are the heart and soul of any kitchen, so be sure to invest in quality products that will serve their purpose. Clutter over your workspace can affect your mood and make everything time-consuming. This can be solved with some clever upgrades.
Consider adding storage space on the wall to keep your cutlery, chopping boards, and cooking utensils. Hanging rails make great places from which to hang plates along with open shelves above counters. Everything stored here will still be accessible at all times, reducing your countertop clutter.
39. Skipping integration
When choosing the number and location of work surfaces, it's important to consider how many appliances are likely to be present. If you plan for too little space in your new décor, then there will never be enough room left over for food preparation!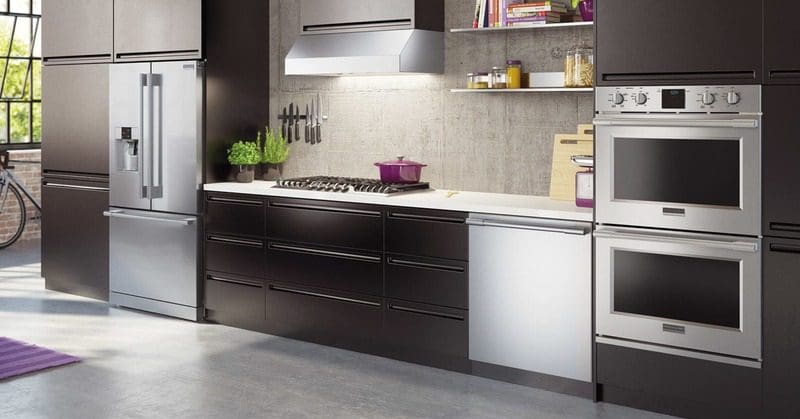 Consider integrating some gadgets into your cabinet layout before finalizing the design. This could include replacing old kettle with hot water taps or fitting out entire sections for storage by removing cabinets entirely. You may also want to move appliances to the wall.
40. Making mistakes with the flooring
Kitchen floors are busy areas that see use from everyone in the house. For a safe, comfortable, and long-lasting kitchen, go with tough floors with an anti-slip finish. Cheap materials won't last long and you'll end up spending more money in the long run with additional remodeling projects. Waterproof resilient modern vinyl is a great choice.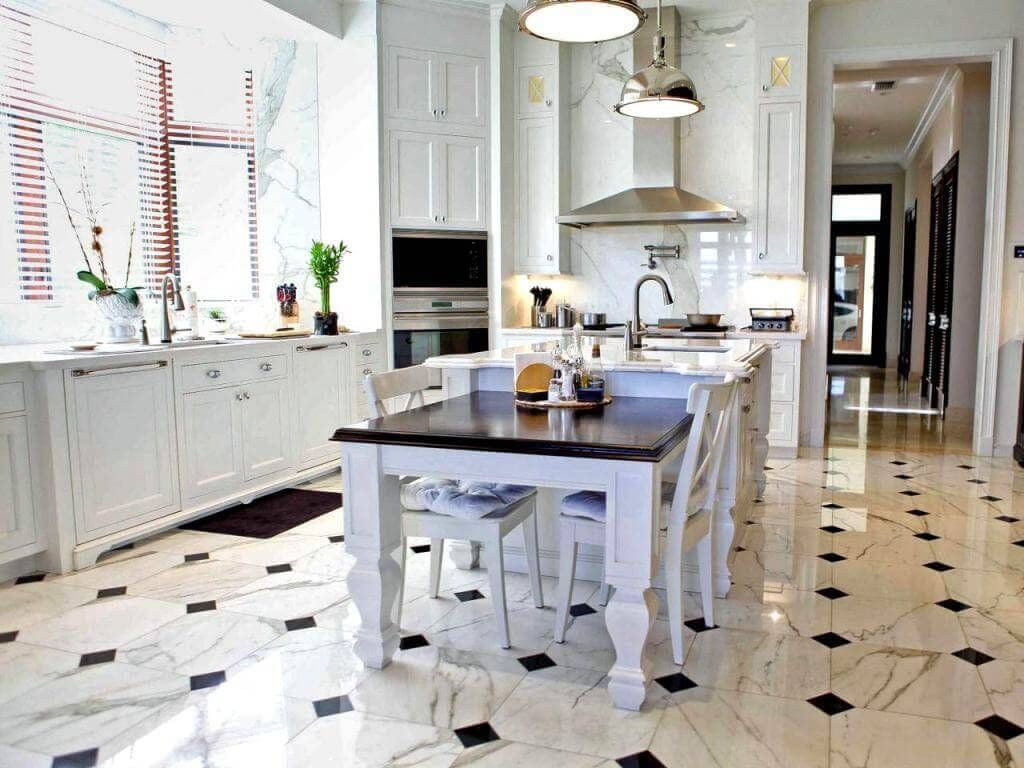 It can stand up well in all kinds of environments, such as kitchens where food preparation takes place daily. Waterproof resistance also makes them perfect for constant cleaning that kitchen surfaces need. Also, it looks stylish while being durable enough to handle frequent use.
41. Not altering worktop height
You've probably had this happen before. You're prepping food on your worktops, and it feels like a never-ending task because of how high or low they are, right? Well, good news! There's an easy fix for that — just adjust the height so you can be comfortable while cooking.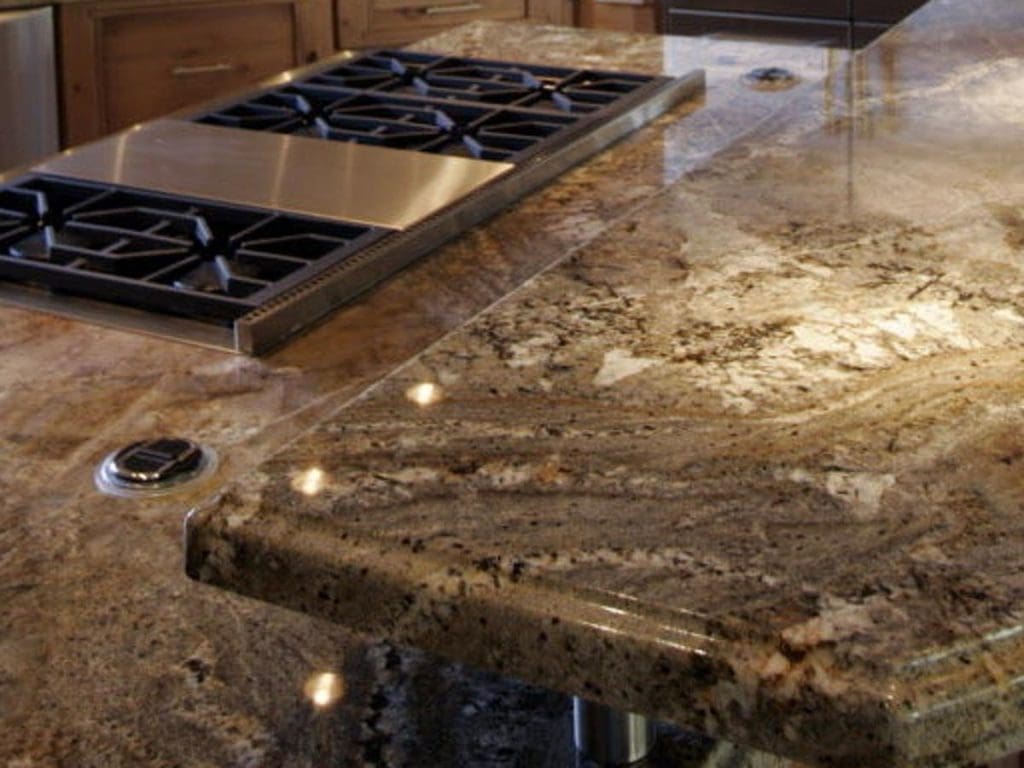 The standard level is 90 cm, but if your needs are different, then go within the range of 87-100cm. If there's too much height difference between family members who cook, opt for dual height worktops. This will make everyone's lives easier.
42. Not considering a splashback
When it comes to the kitchen, you want something that will not only protect your walls but also reflect light and add beauty. A quality splashback does this for any scheme with its diverse color options like marble or quartz-like stone.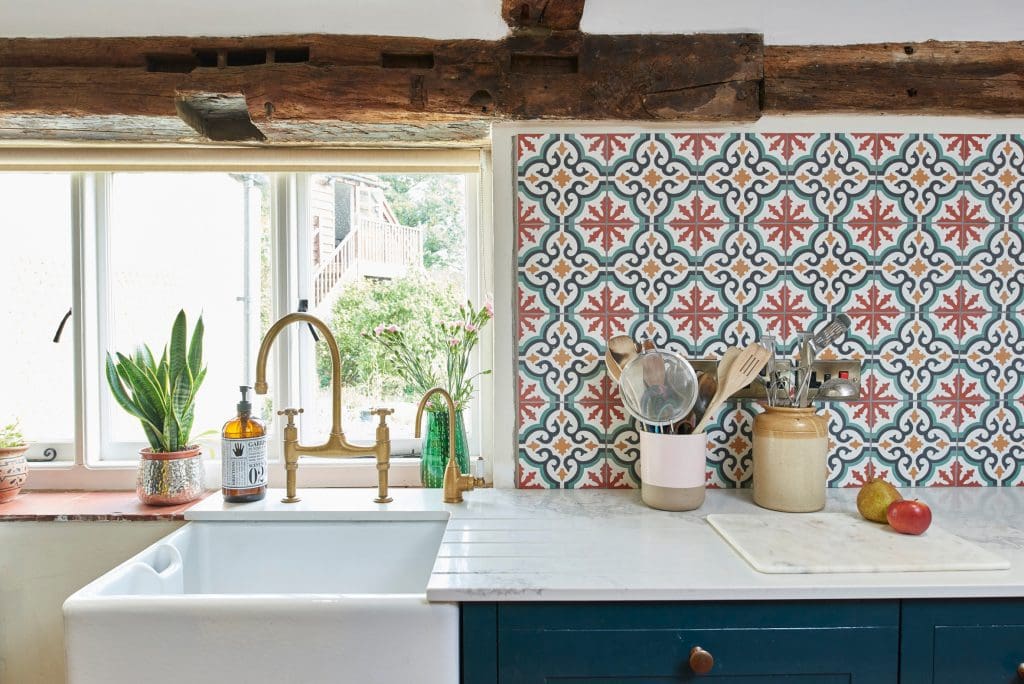 A marble-effect design is a perfect addition to any kitchen. It offers a luxurious touch without taking away from its minimalist style and creates an elegant look that will make your cooking space feel like you're in a luxe restaurant.
43. Lack of proper communication with builders
As a homeowner, you're in charge of making sure everything goes according to plan. This means being on top of the details and communicating with your builder and construction crew every single day. Keeping good communication will make execution smoother.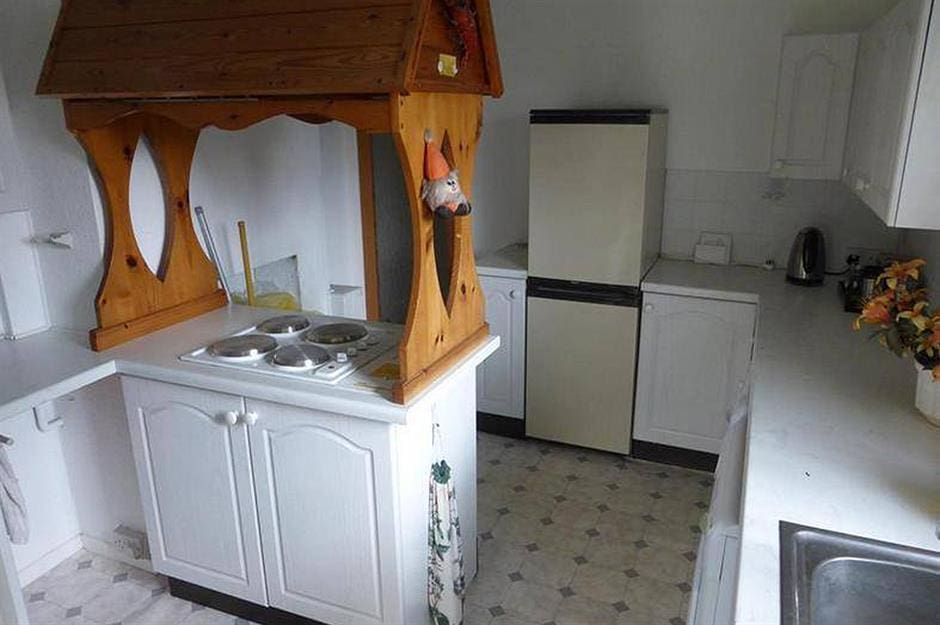 A good way for success during construction is by agreeing upon a detailed schedule beforehand. As a result, there will be no big surprises when it comes time to see the expected product. This will also help keep costs reasonable by preventing additional touch-ups.
44. Following trends blindly
Staying on top of the latest modern trends is important, but most people only renovate their kitchen about once every ten years. You need a design that will stand up through time and remain relevant even as tastes change over this long stretch between updates.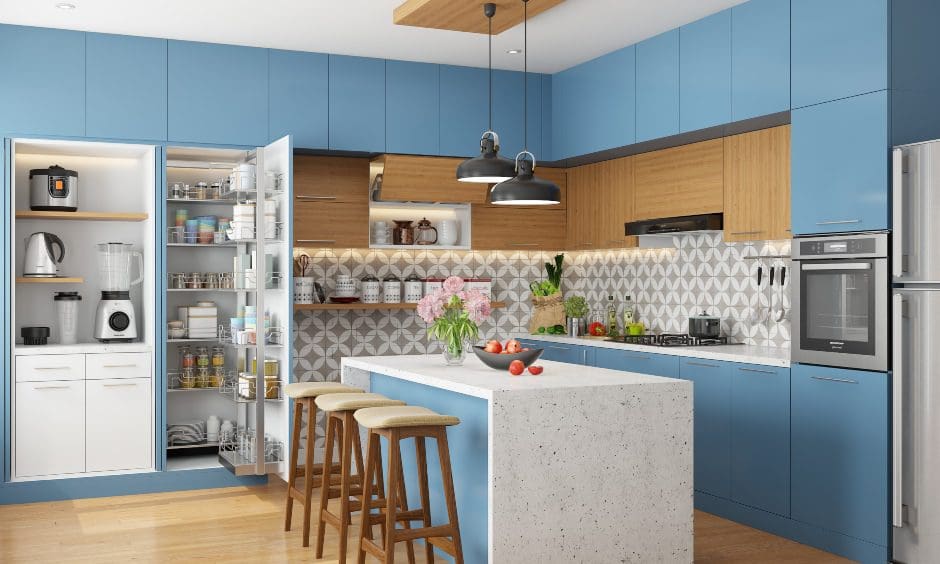 The last thing you will want is an outdated piece of furniture in your dream space, even if it comes with some convenient features. To avoid this, add modern accessories, so it's easy to change things up when your style evolves over time without having to redo all the work.
45. Neglecting the boiler
The boiler is something that you cannot ignore but also want it to be out of sight. If your home doesn't have a dedicated space for it, you will need to put it somewhere in the kitchen. The best option is to hide it inside a cupboard that also provides access for repair and maintenance.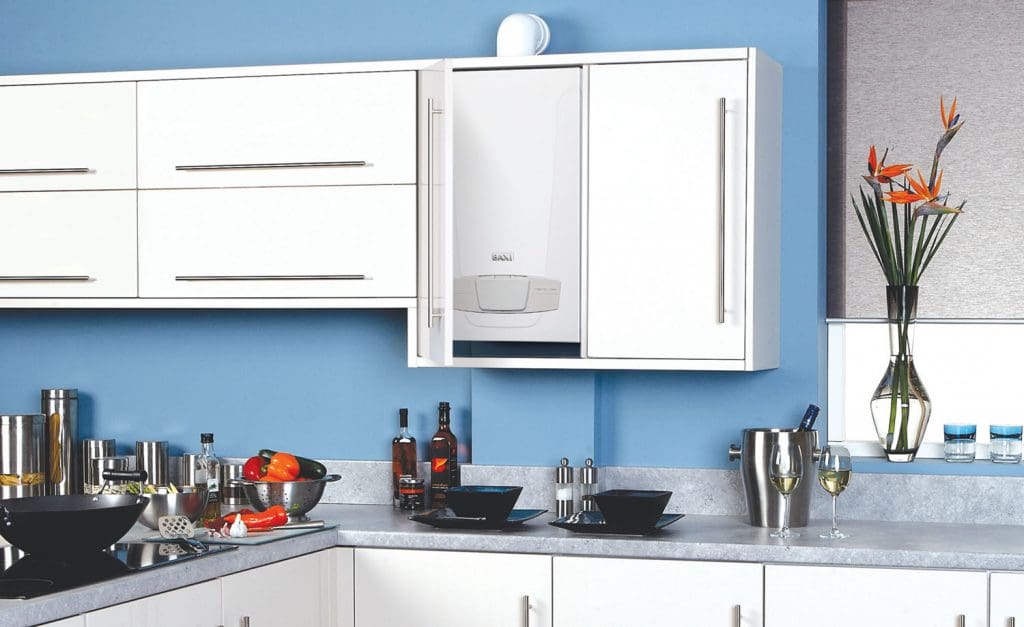 A cupboard installed on exterior walls will provide enough storage for the boiler without taking up precious countertop surface area. This location will also be the shorter length for the vent, keeping your kitchen clean and free from bulky and unsightly things.