Caravan Life, Perfected: 25+ Hacks To Make The Most Of Limited Space
By Ridwan s August 27, 2023
---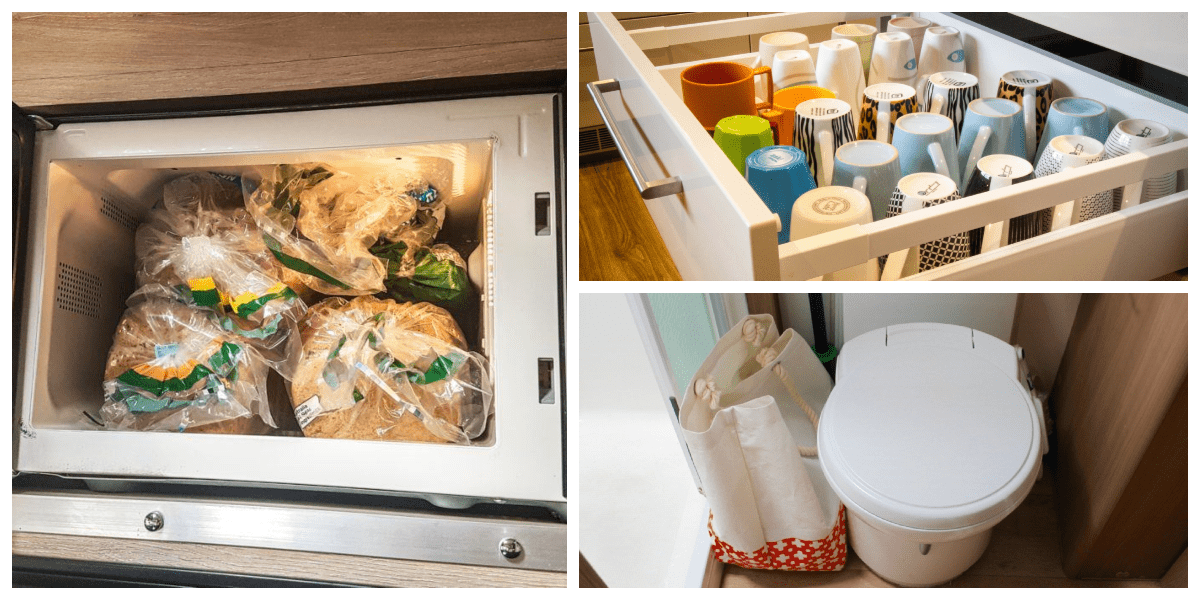 This article was originally published on
morehackz
For those who have relaxed in a caravan before, you'd agree that it's a pleasurable and memorable experience. Rarely will you find someone that says otherwise. Even if you do, the common complaint is the lack of space. Without proper space optimization in a caravan, engaging in leisure activity could become stressful and ruin your entire holiday plan. Thus, maximizing the room is a critical part of the plan if you want to have the best experience on your next road trip. This could be tricky, especially for those unfamiliar with caravan life. However, you do not have to worry; we have highlighted reliable and easy ways to optimize every bit of space in this article. Learn the best space-saving solutions that help improve the caravan holiday experience. Enjoy reading!
Sticky hooks
The sticky hook is widely considered a one-solution-fits-all kind of hack. Think of anything you want to hang up; a sticky hook can hold it. A favorite advantage of these things is that they can be used anywhere, even in tight corners.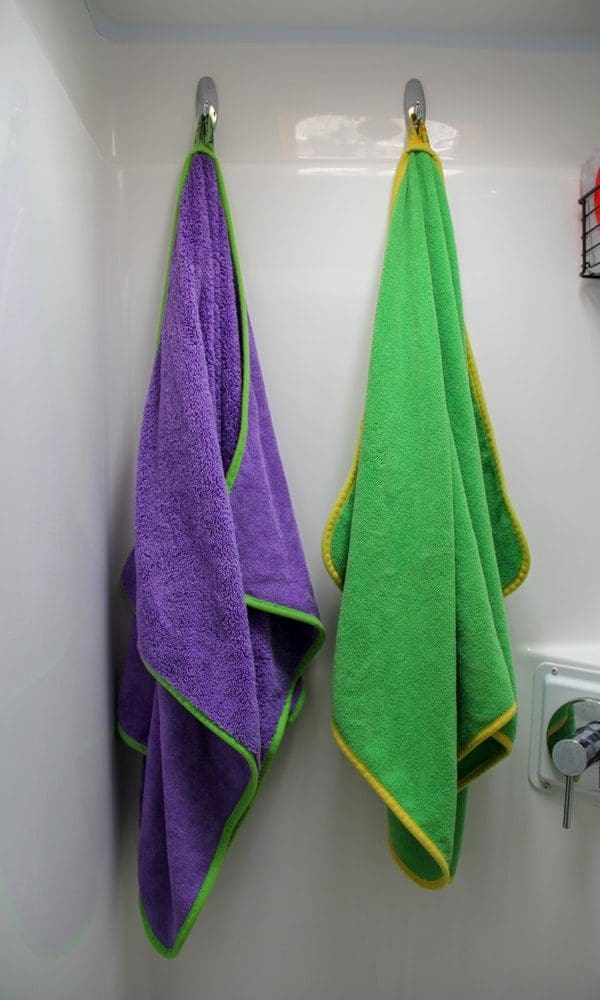 When getting your hooks, make sure it has a strong adhesive. You should also pay attention to the capacity as it is equally important. This helps ensure that you do not apply too much stress to the hook's adhesive strength.
Damp clothes for kids
We don't mean damp in the literal context. You don't have to soak a cloth in water to dampen it. The antibacterial damp cloth is pre-made with preservatives in it to prevent microbial growth. This cloth is for cleaning instead of washing up with water and soap.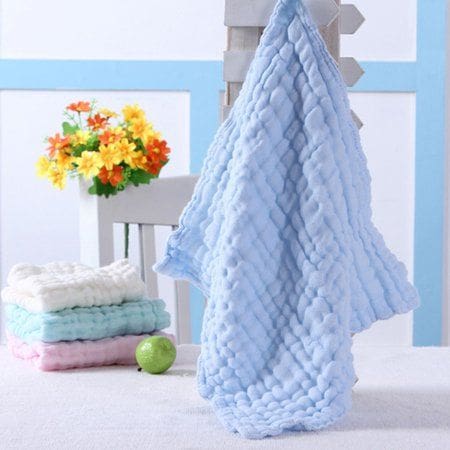 This antibacterial washcloth is reusable, which makes them a good substitute for baby wipes. You can leave it on the toilet roll holder. Make sure you get an antibacterial washcloth with different colors for each kid to ensure easy identification.
Hang kids' towels in the shower
Towels are essential, but where to air-dry them after a shower during the holiday is where it sometimes gets tricky. These waterproof silicone hooks are the best way to hold items weighing up to 2kg, which is why it is best suited for kiddie towels.
These hooks are movable, so you can always change their positions. The weight capacity might not be able to hold adult towels, especially when they are wet. You can dry adult towels on the bunk ladder or in other suitable places.
Make-up/ Toiletry Bag
These bags help you store all your toiletries in one place. Aside from being a space-saving solution, it also allows you to access all you need at once. There is no need for a prolonged search; it is all in the bag.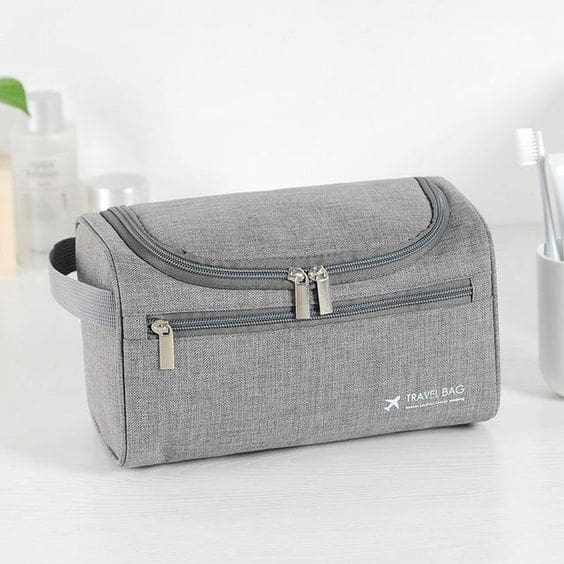 There are different types of make-up/toiletry bags you can choose from depending on your preference. While some come with partitions that help you separate items, others are collapsible. You can even get some with hangers or hooks. We have all also seen those fancy little buckets.
Roll your linen
Rather than an item, this is a technique to save space in your caravan cupboard. Roll up your linen and towels; don't leave them in a pile. This method will not only give you more space in your caravan cupboard but will also beautify it.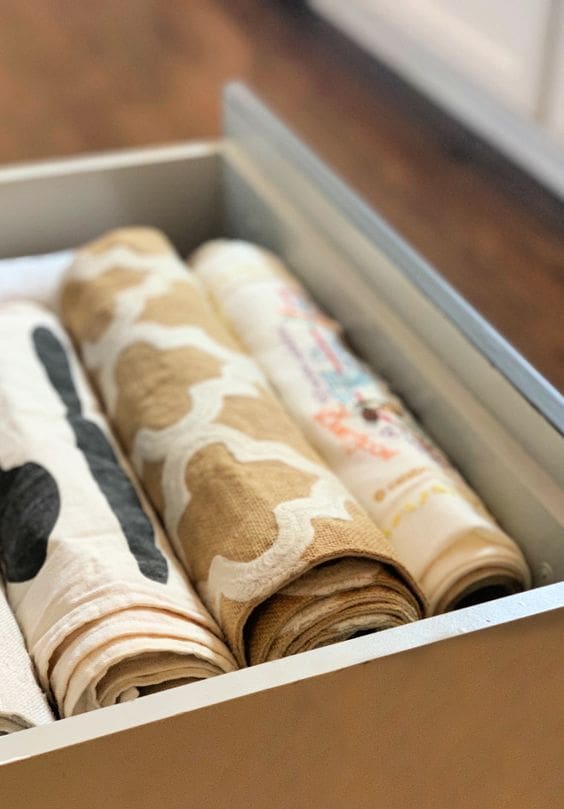 It is actually an age-old method that even military personnel adopted to create more space. Rolling up your linen/towels serves other purposes aside from giving you extra space; it makes selection easy compared to when you have to pull a towel from a stack.
Storage cubes
Under the bed is another good place to keep your clothes; all you need are storage cubes. These boxes are made from fabric and are lightweight, so they are easy to carry around. They help arrange the storage area under the bed.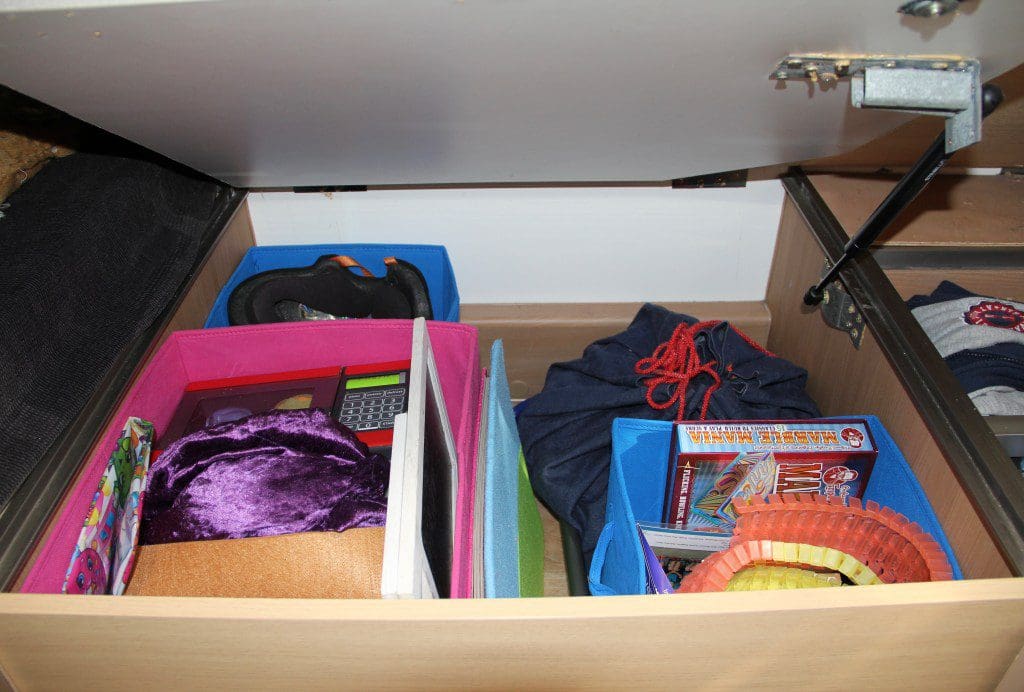 These storage cubes also come in different colors. Along with helping keep things organized, they can help brighten up your caravan space. The storage cubes might also ensure your kids get to use their items more often because it is now within their reach.
12 Volt Fans
Fans are essential on trips, but their weight might be discouraged for caravan use. Hence the need for more portable and flexible options. The 12-volt fan ticks all the boxes. It is a perfect substitute for table or standing fans.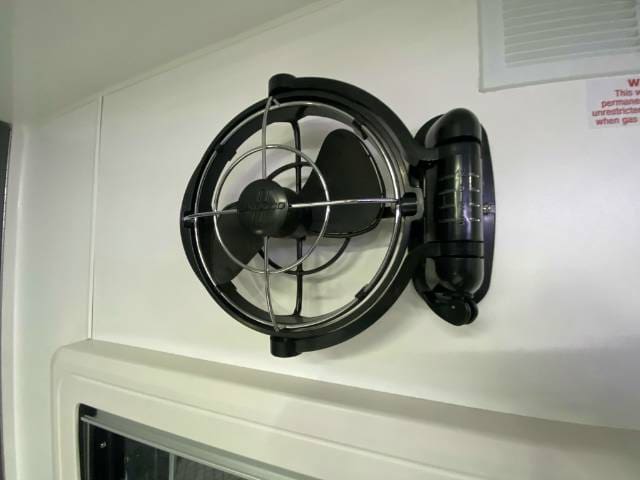 You can screw 12-volt fans to the wall. Get one for each person's corner. In this way, you won't have to worry about your fan occupying much space or having to move it out of the way every morning to create a passageway while walking around.
Reusable Cleaning Cloths
Whether at home or on holiday, staying in a clean environment is essential. We don't want dust and dirt everywhere, and this might require getting a lot of bottled chemicals and disposables cleaning towels that will take up space in your caravan.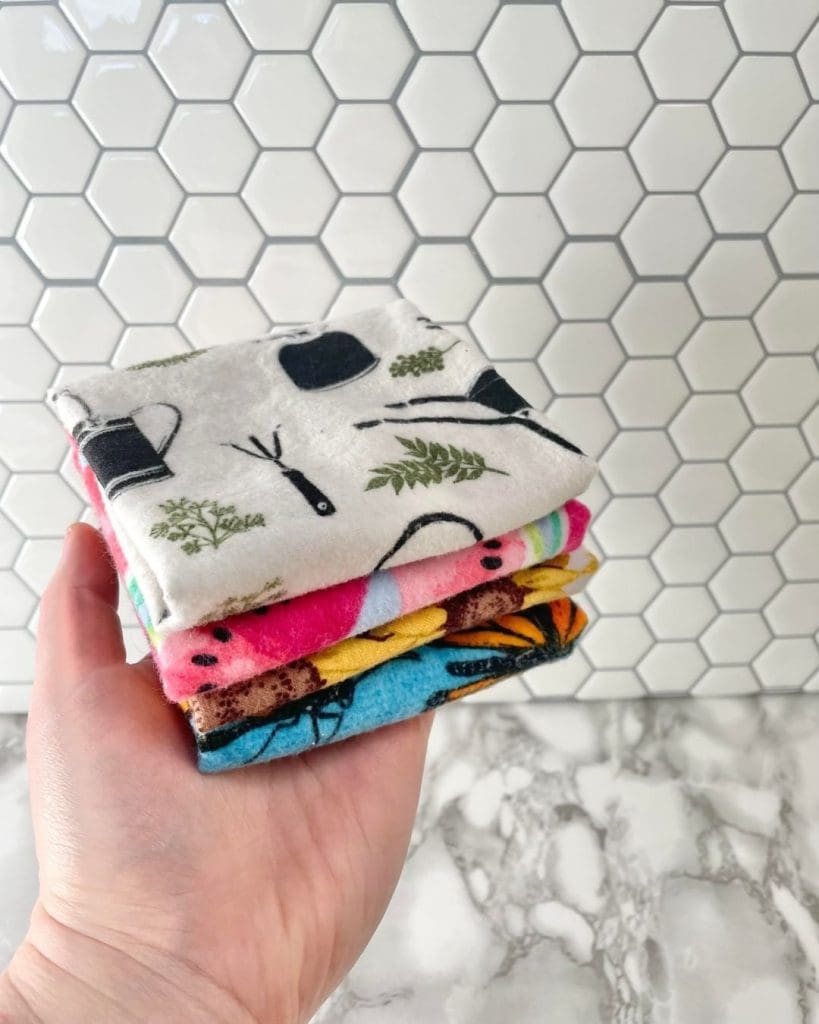 To save space, you will need to ditch bottled cleaning supplies and paper towels. Reusable cleaning towels are the best option for saving space in your caravan. We recommend that you get microfiber cloths, or some other durable material, though.
Griller storage
Your griller is already taking a lot of space in the caravan, but you need it for the holidays. So, you definitely can't throw it out. To convert your griller into a storage space, store your baking trays and dishes in them.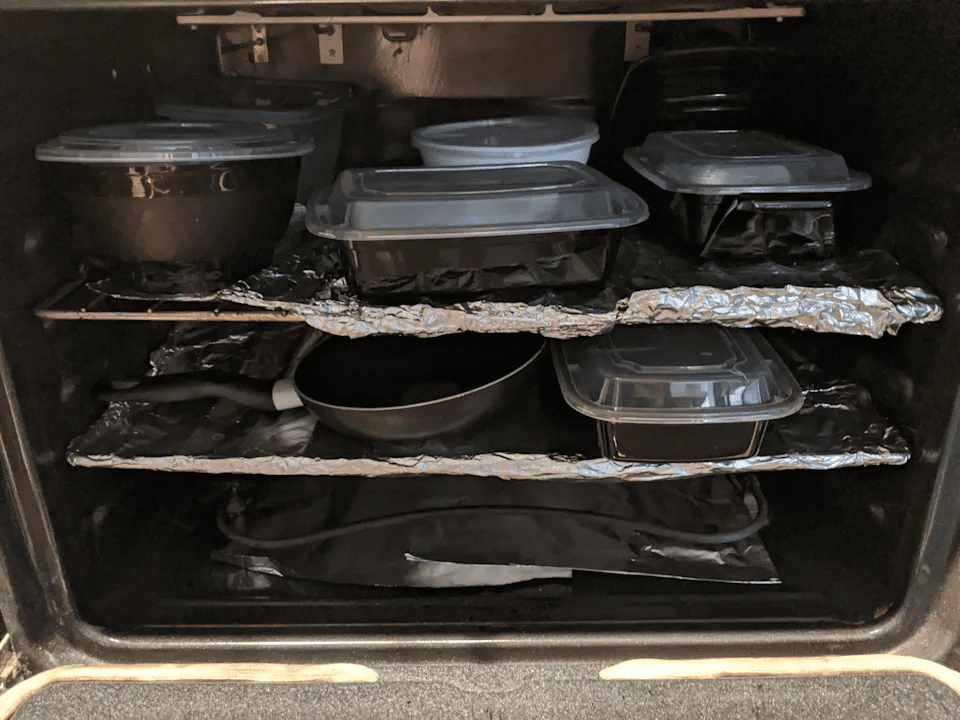 Your griller has space inside it, so when you are not grilling, it is a great place to store some of your cooking utensils. This way, you get to use your griller for two purposes – all for the price of one.
Magnetic Whiteboard
The magnetic board comes in handy to help keep you up to date with all reminders, notes, and shopping lists while on the road. All you need for this board is a marker, duster, and pins to attach notes to the board.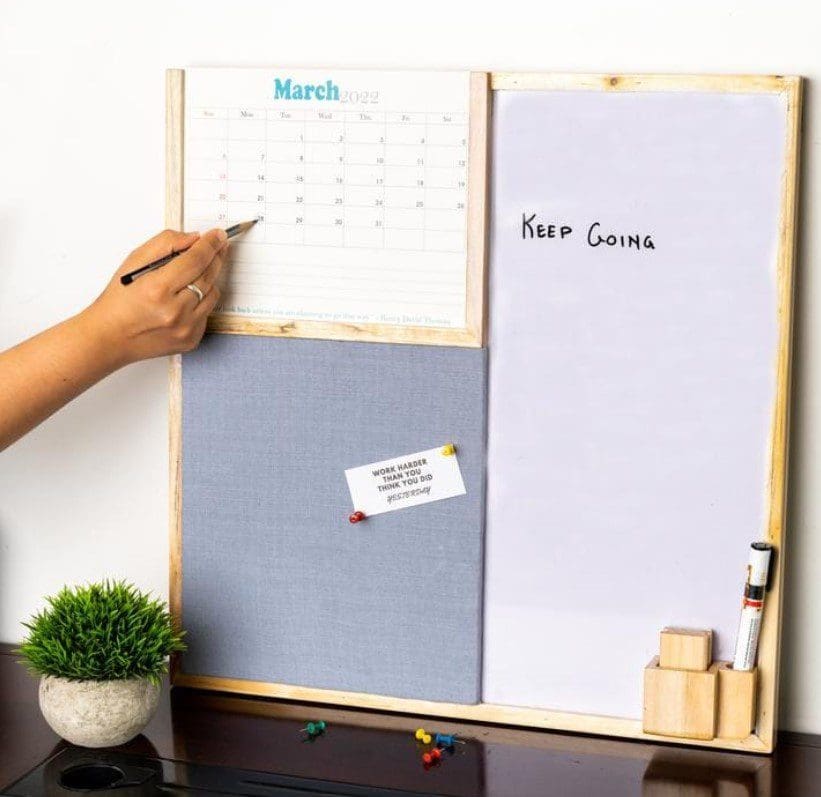 This board can be attached to an empty wall space and is movable. In other words, you can always change its position. The good thing is you can choose any size you want, depending on where you fix the board.
Collapsible bins
Even when we are trying to conserve space, we can't neglect the importance of a trash can. Yet, it is necessary to look for one that will serve its function while it takes up very little space in the caravan.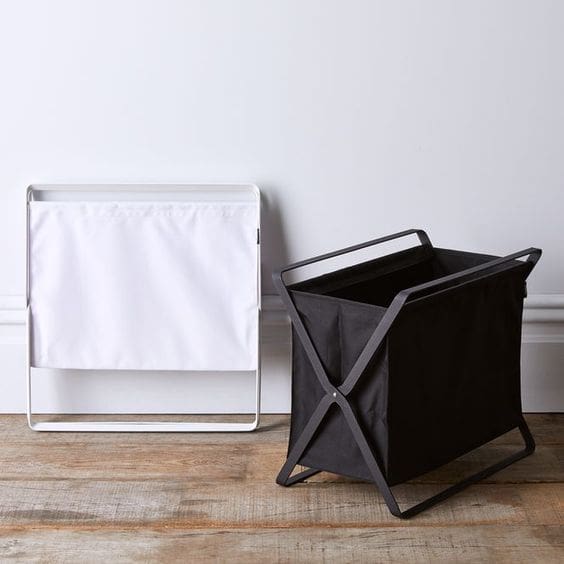 This collapsible bin is an effective solution to both store the dirt and also increase storage space. It is a must-have hack item in every caravan. When it is no longer in use, you collapse it to reduce the space it occupies.
Potato Box
The potato box is bulky and might not appear like a storage hack when you look at its name, but it doesn't have to be for potatoes alone. You can also use them to store fresh vegetables and fruits to ensure they stay fresh.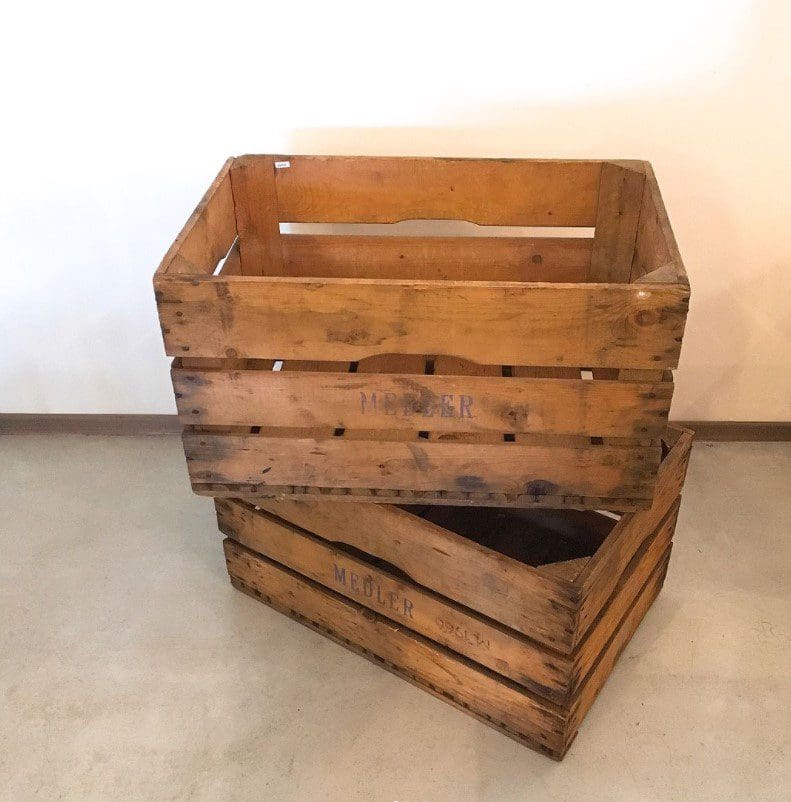 We still need to increase the space in your caravan, which is why we thought it is wise that you only get a potato box if you have extra space at the bottom of your kitchen cupboard or in a large drawer to store it.
The Cups Drawer
Let's keep all cups away in a special drawer. The cup drawer is a place to store all your drinking wares when they are not in use and after washing. This way, the caravan's kitchen space will be kept neat.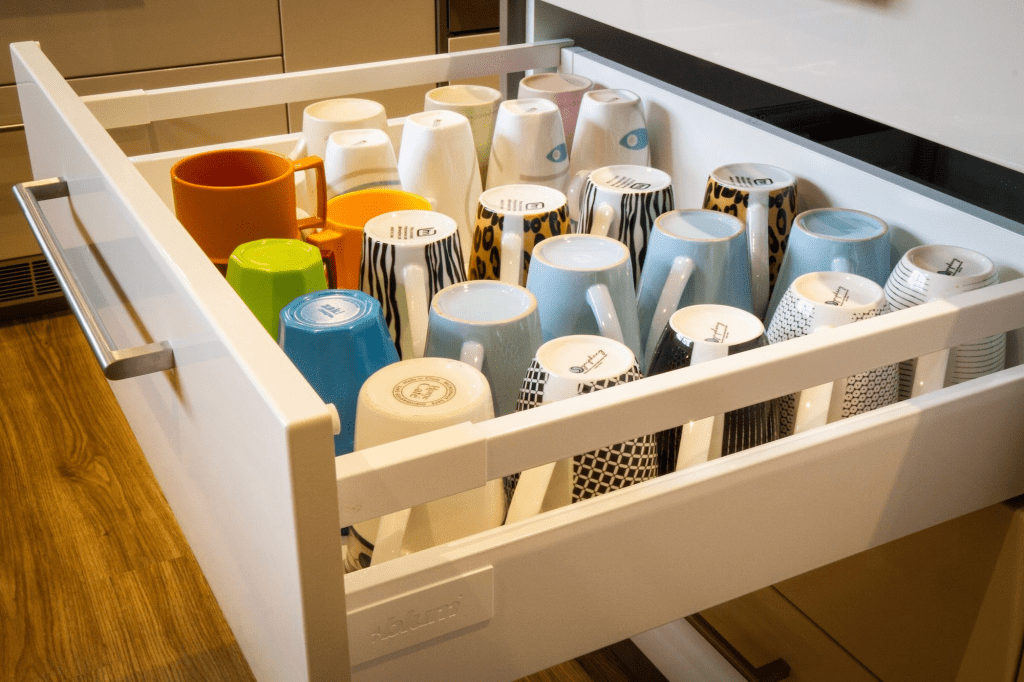 You don't need to get a new drawer for your cups if your caravan kitchen already comes with them. All you need to do is make use of one of them. However, you have to make sure the drawer you choose is in reach of the kids.
Rectangular pantry containers
These containers offer the best storage solutions for kitchen ingredients and snacks. They do not only come in rectangles, but in every shape and size you could imagine. You can decide on which shapes and sizes that best suit your space.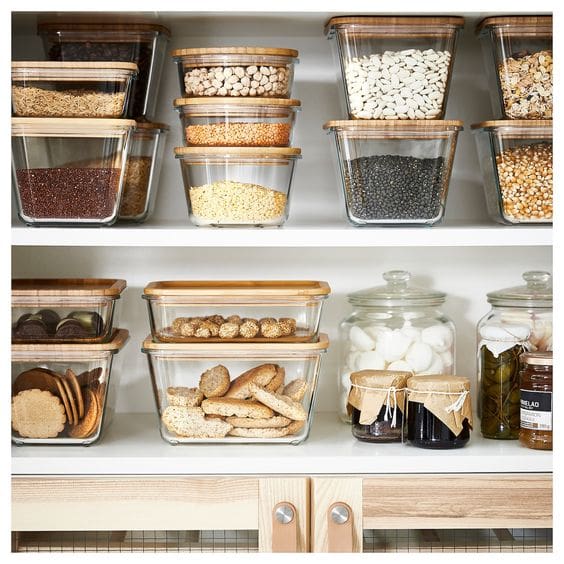 Although the pantry containers help increase space, storing them can take up too much room if not well thought out. Therefore, you should own just the quantity your cupboard can take – the overhead space is the best place if you have one.
Fry Pan Toaster
Just as the name implies, this pan can be used for making toast and also frying foods. It saves you the stress of carrying both frying pan and toaster separately on your trip, yet ensures you enjoy the function of both.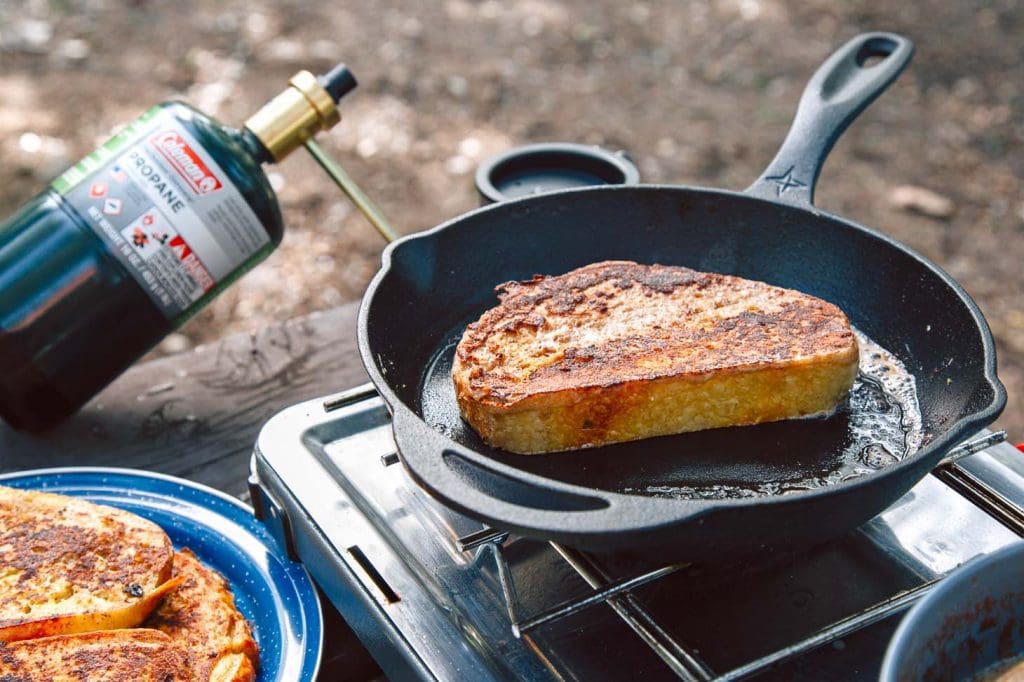 The fry pan toaster is a lightweight kitchen utensil, which makes it easy to transport. You can use it to make toast on the stovetop or prepare some barbeque when camping off-grid. There is a lot of brands you can buy from in the market.
Fabric Laundry Bag
In a caravan, a plastic laundry basket might take up too much space, and it can even become an obstacle. Also, you might need to always bring out your plastic laundry basket before you shower. Hence the need for a better option.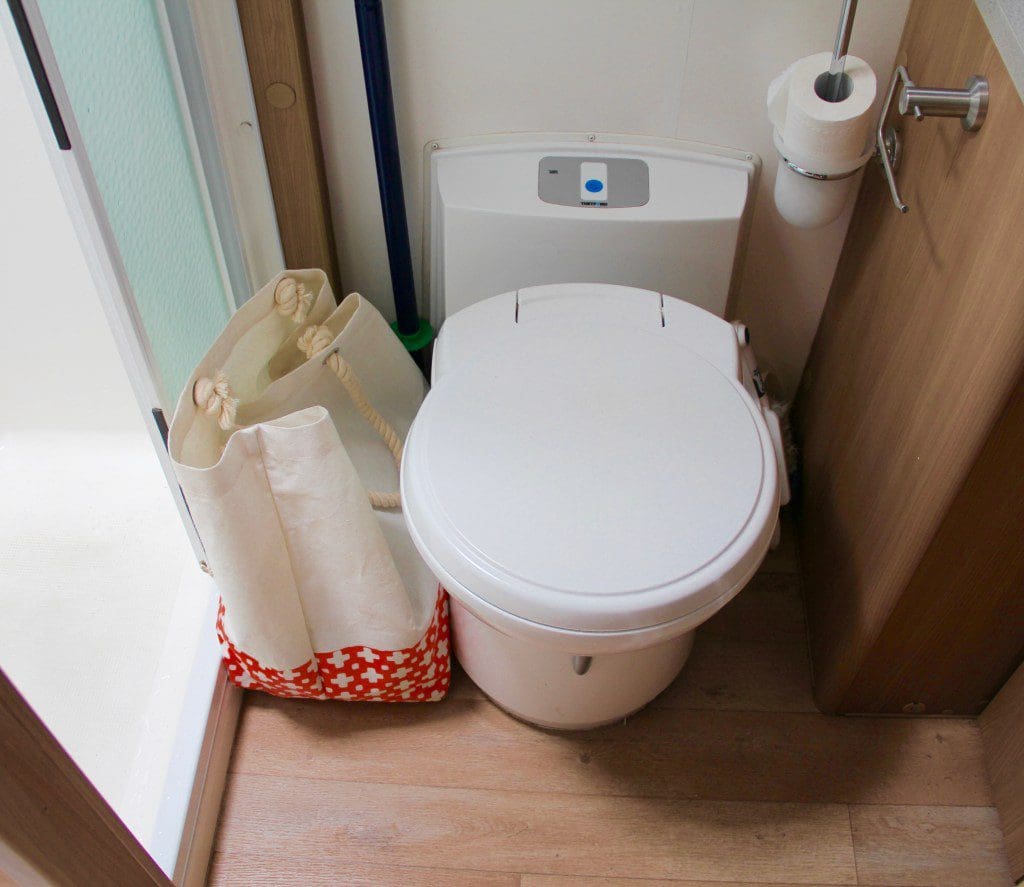 The large fabric laundry bag is a practical solution to this problem. You can fit it behind the toilet seat when you want to take a shower without it getting dampened. This fabric laundry bag is foldable, which makes it a better option because it saves space.
Small Hangers
You can use small hangers to hang small bits of cloth such as socks and underwear. These portable hangers give your clothesline more hanging space without using any up of the area inside. You can also choose between plastic and stainless steel hangers.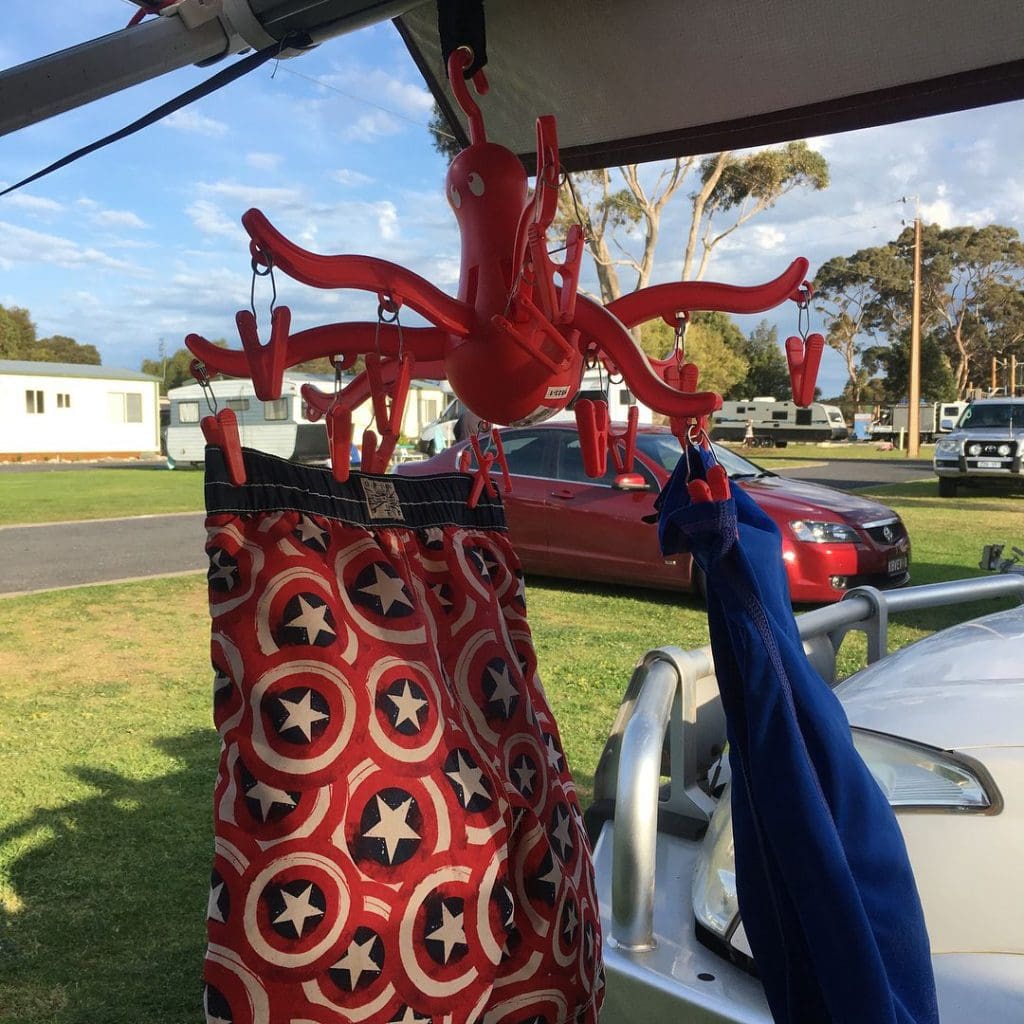 It is also advisable to use small hangers to keep the sun rays away. Just hang it in the direction of the sun. For this purpose, you should get a stainless steel hanger. The plastic one might get destroyed by the rays in the long run.
BBQARM
Collapsible tables for BBQ take up too much space in the tunnel boot. We don't want that as it is necessary to save space. Hence, we encourage you to replace it with a better alternative that performs its function but is pretty small.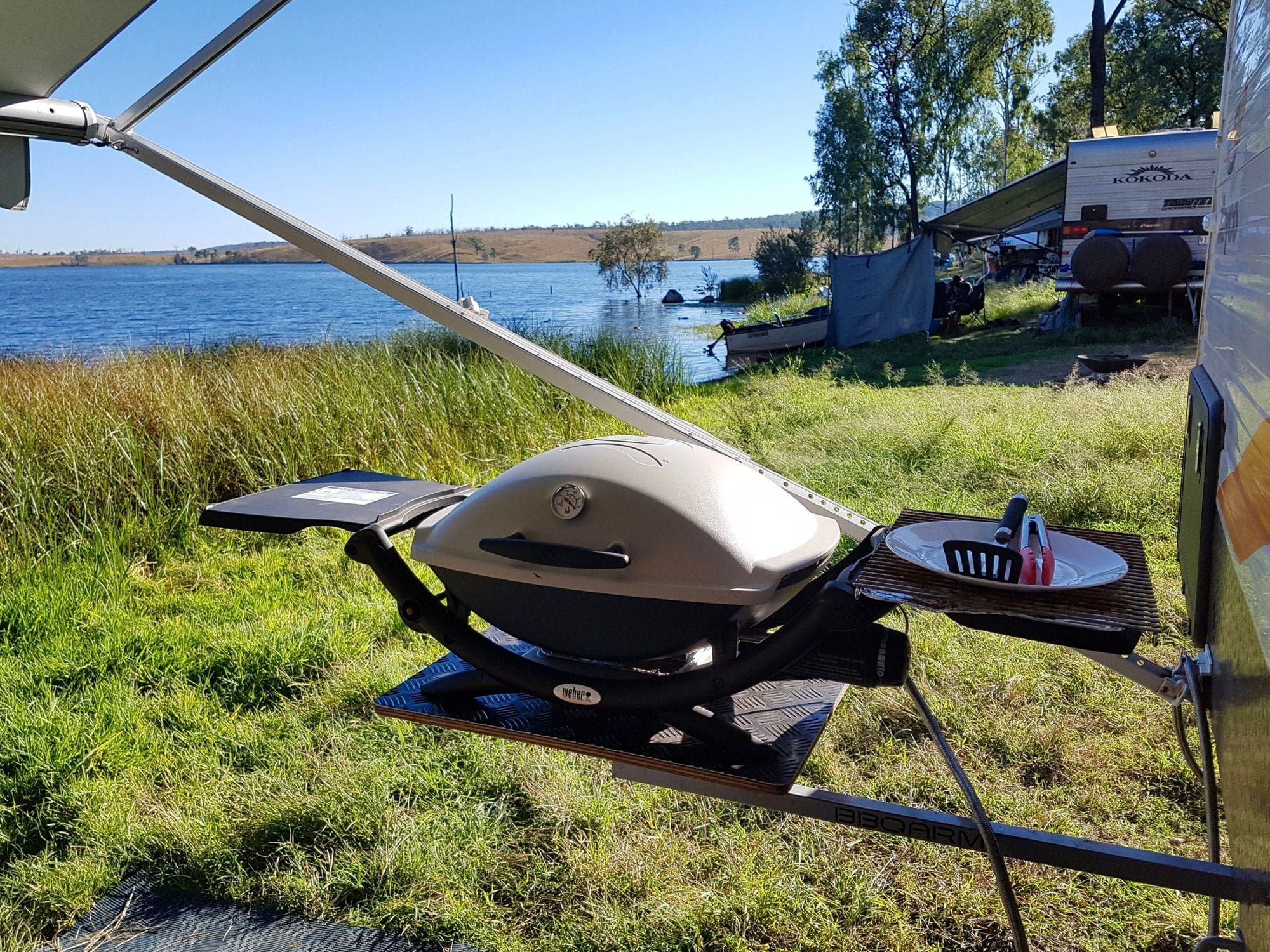 The BBQARM is a permanent option and neat setup – always ready to travel. It has a table, which you can store in the tunnel boot. And not to worry, it doesn't take as much storage space as the collapsible BBQ table.
Outdoor cupboard
If you are willing to do anything for extra space in the caravan, you should consider creating an outdoor cupboard, which is our next hack. Be creative with it – make it as small as you like or as large as your space can accommodate.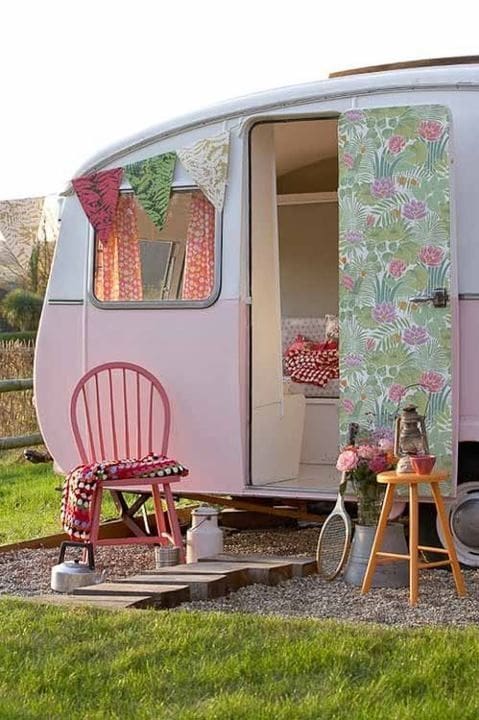 You can use this outdoor cupboard to store things you don't need inside, such as pegs, picnic rugs, spray rope, bug spray and springs. It can also have a power outlet. The items you leave in your outdoor cupboard is not limited. You can always add to the list.
Dust proofing
This hack is an important one. It makes sure dust has no access to your caravan in the off-season. You don't want to return to find it all dusty. All that dirt can create more work for you- extra cleaning before being able to set off on the road.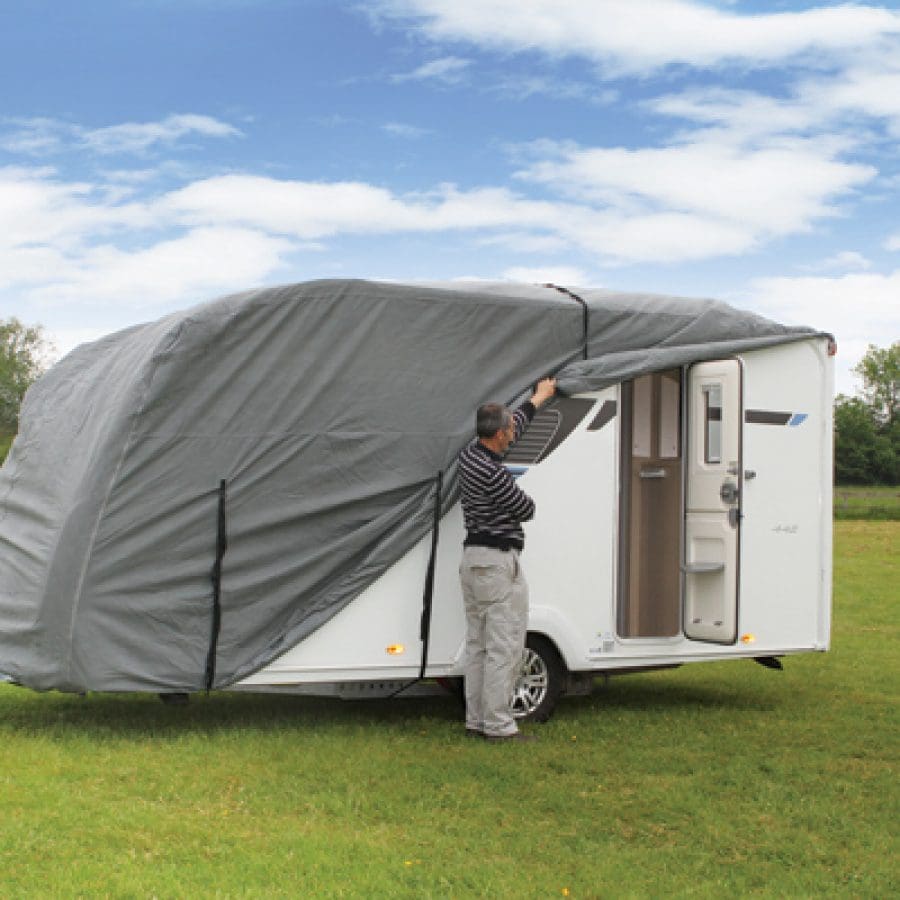 Underneath and outside the van are spots through which dust can get in. Find ways to seal every nook and cranny to ensure the dust stays outside. You can use fancy tape to secure these entries – we don't want the caravan looking tacky.
Single Grey Water outlet
Use a single hose instead of different individual outlets. If you are feeling up to some plumbing exercise, you can do this yourself. You will need some materials for the work. If not, you can get a plumber to help you fix it.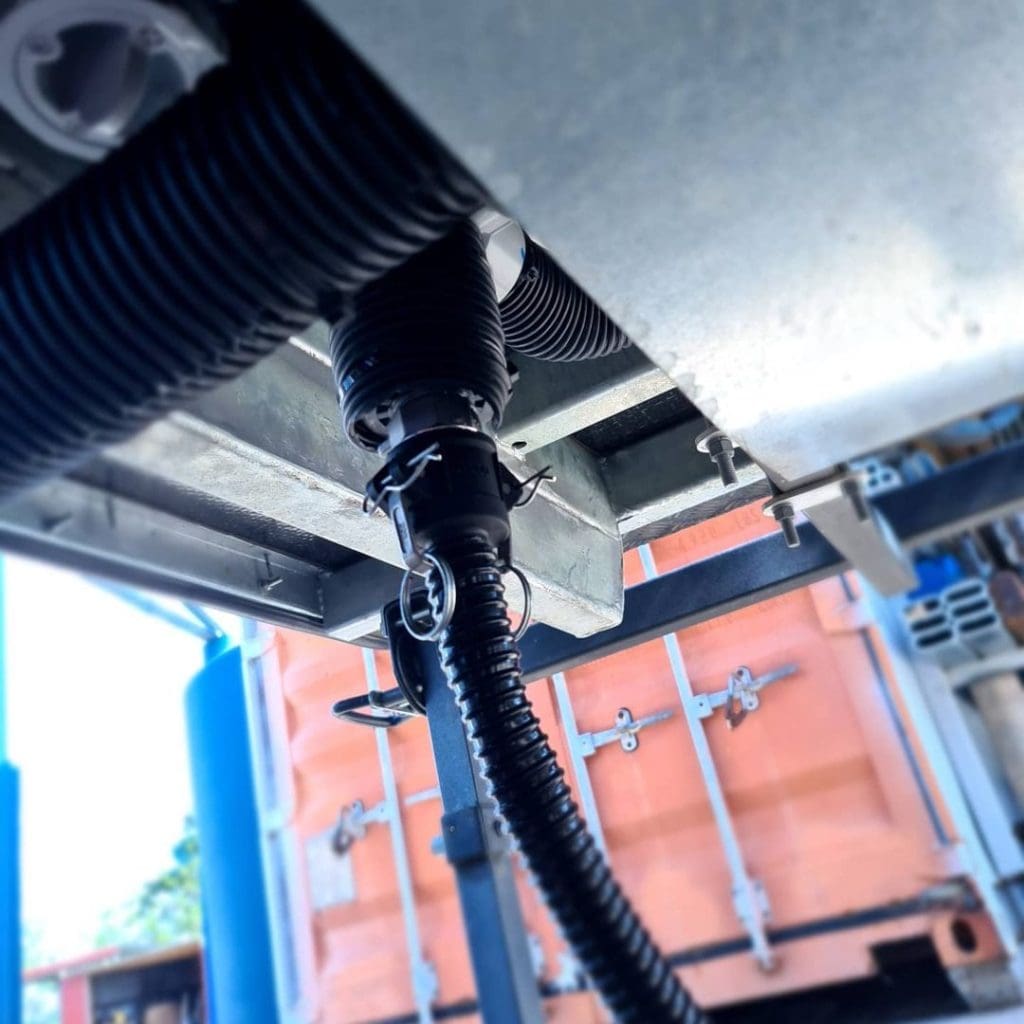 The permanent greywater outlet for the hoses makes everything easy. You only need to connect one hose when you pull up. Whether you are fixing the hose yourself or a plumber will be doing it for you, remember to get a paint job to color it your choice.
Air Conditioning for Caravans
Yes, we need to save space in the caravan, but no one wants to suffer in the heat. That will be uncomfortable, and that's against the purpose of a holiday – vacations are for fun activities, and heat isn't fun.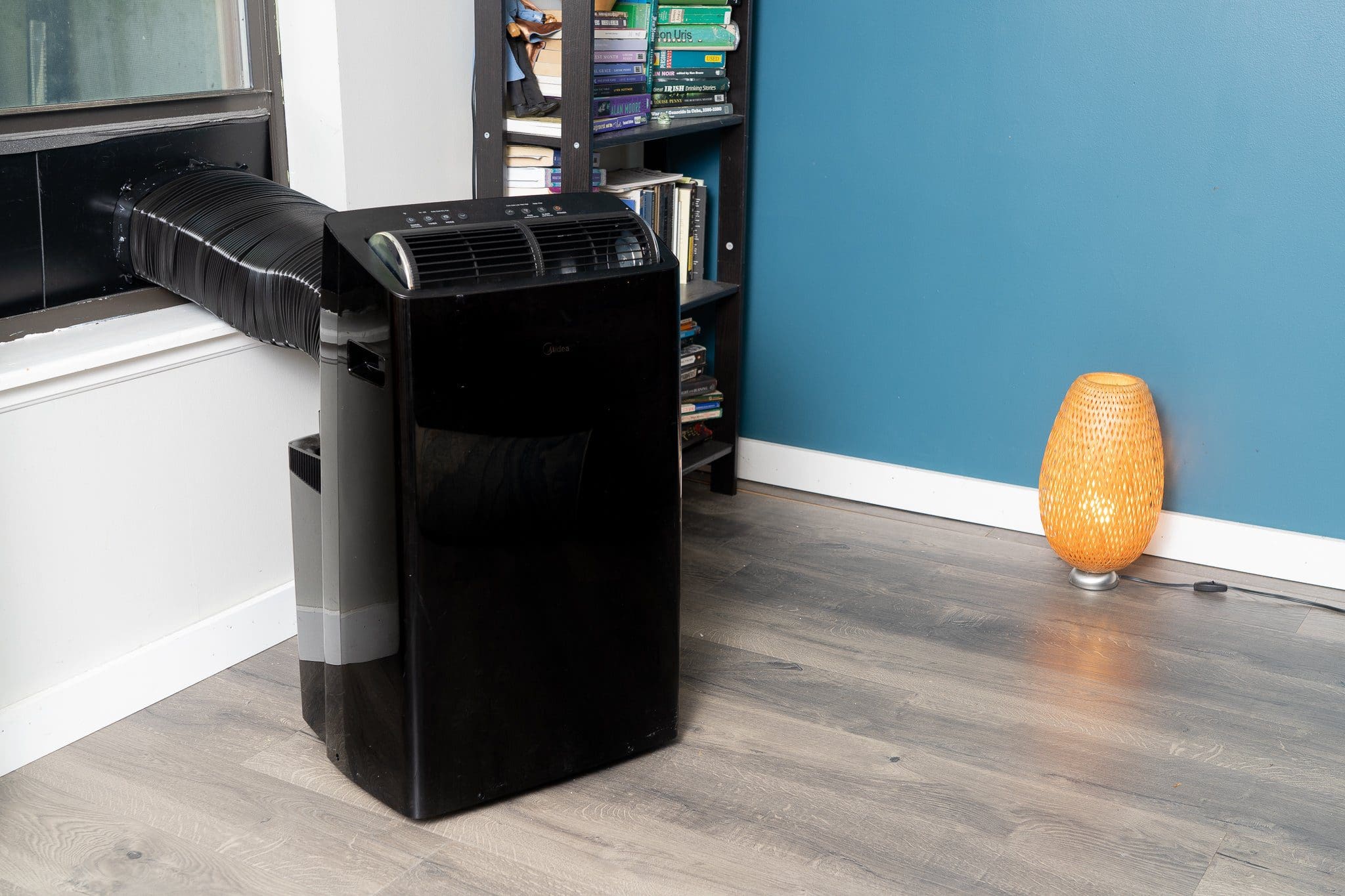 Thankfully, some new-age caravans come with a built-in air conditioner. However, if your model was designed without one, you can get one. It is important to read up on the best ways to do this or contract a professional to do the job.
Keep Essentials Handy
Get adhesive to keep items that are constantly in use close by and easy to grab. Advisably, you should find good spots to attach this adhesive. The space near the caravan door is usually a perfect spot for an all-purpose magnet.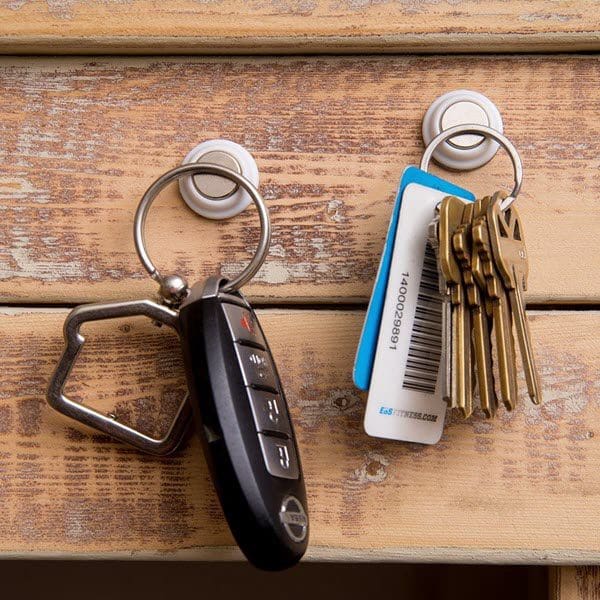 You can keep different items on your adhesive depending on the weight capacity of the sticky hook or magnet you purchase. Some everyday items include chargers, jackets, hats, dog leads, and keys. While it is a place to keep anything, you should still ensure it is tidy.
Get a Sink Cover
You are advised to cover the space over the sink. In this case, you can get a sink cover. One important thing to note when getting one is the size; ensure you get one that fits perfectly. If you feel up to it, you can make your own.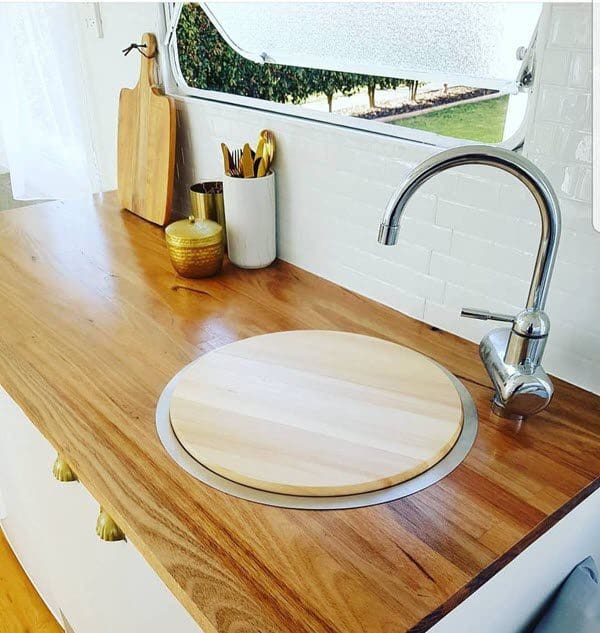 Once the sink is covered, we can place things on the sink whenever the sink is not in use. Another hack about a sink cover is that you can use them as a chopping board for cutting your vegetables – just make sure it is clean.
Nesting and Stacking Containers
Nesting and stacking is a hack that will create a lot of space in your kitchen in a very surprising way. Stack up all your pots, bowls and containers according to their sizes, from the biggest to the smallest to ensure you create more room.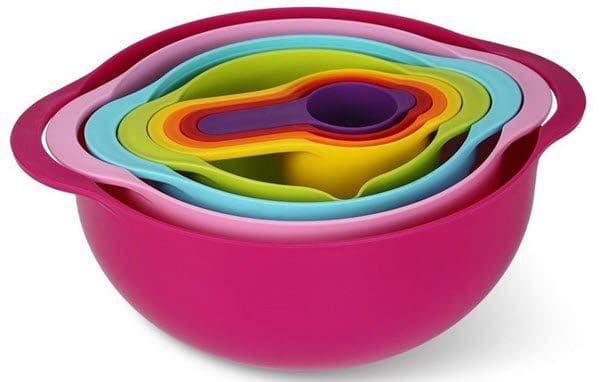 This method will help you store all your containers using the space needed for just the largest container size. If you haven't gotten your pans and bowls for your caravan kitchen yet, you can consider getting a set with sizes that fit into each other perfectly.
Magazine Racks
Magazine holders do not have to hold just magazines. In other words, you can get some metal magazine holders for strategic places to store essential items at these places. Think of spaces that can make use of extra storage and get one for those spots.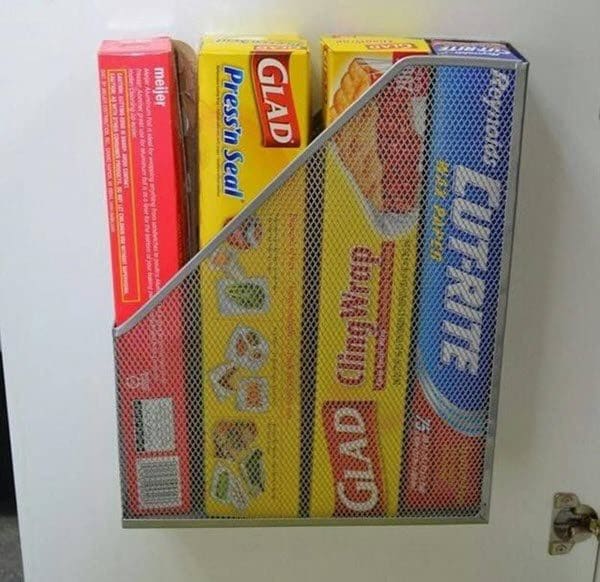 The kids' room could use a magazine holder. Put one near their bunk to store their books and snacks for easy access. Another place that might need a magazine holder is the kitchen, to store items such as Glad-wrap rolls, bottles, and trash bags.
Think vertical in the pantry
The vertical space has a lot of potential, but people don't always take advantage of it. Look up and get creative about how you store your items. You can convert these vertical spaces into needed storage, especially in the pantry area.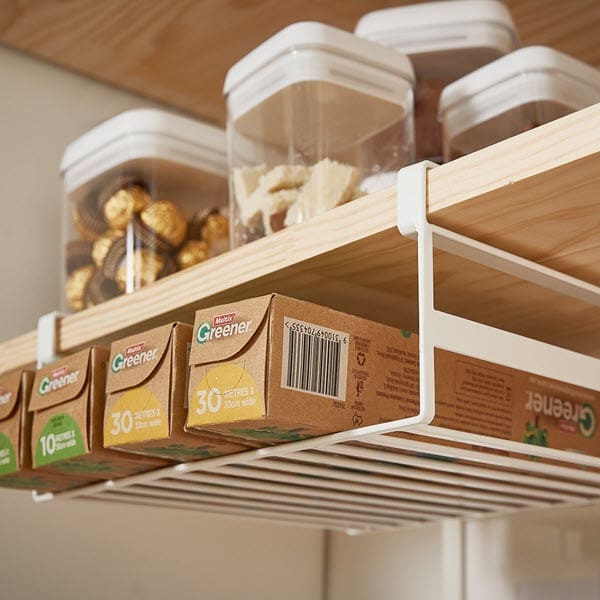 Get items that can increase your storage space, such as smaller internal shelves or pull out drawers to insert in your larger and taller cupboards. Make sure you don't overload your shelves – you still need to walk in the pantry.
Like for Like
It is a lot easier when you store similar goods together. Think of things that can stay in the same container easily and make sense to be put together. A fabric container will perfectly suit this purpose. Ensure you get one that you can easily fold up when not in use.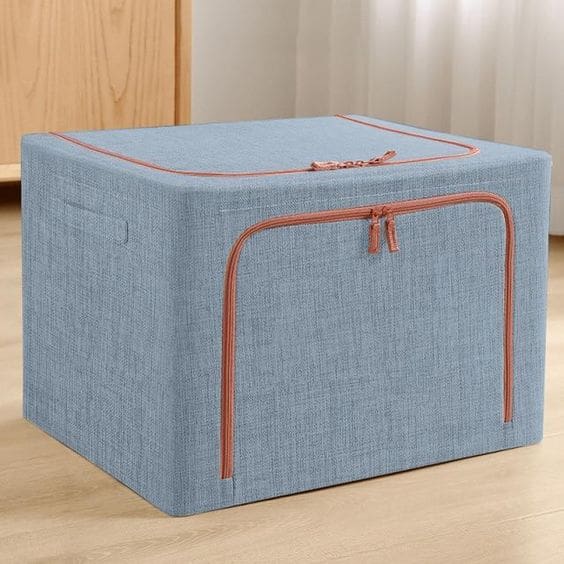 Store all spices in a fabric container with a handle so you can hang the container somewhere close and have easy access to it anytime. Using a fabric container with a hanger will also allow you to use the free airspace around – keep it out of the cupboard.
Hang your toothbrushes with sticky hooks
Get waterproof sticky hooks to keep your toothbrush on the wall. The toothbrush hook is a simple way to keep the brushes easily accessed but won't get lost. Not too high and not too low is your sweet spot to hang them.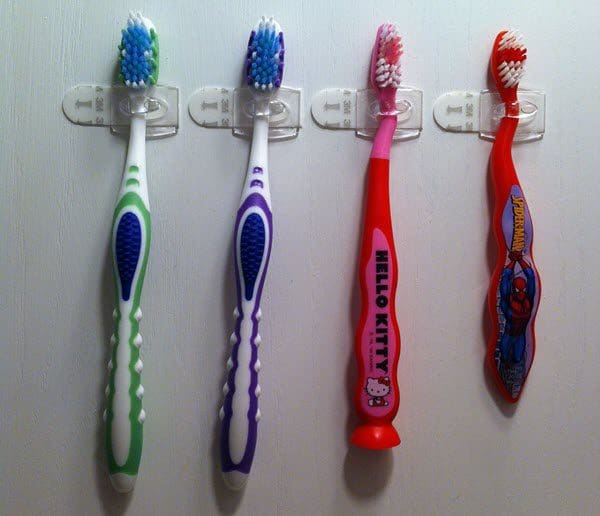 Make sure to get individual hooks for each person on the caravan. Attach these hooks to a place in the shower where you are sure water from your showering won't get splashed on the brushes – it is essential to stay hygienic.
Shoe Organizers
Keeping the shoes at the entrance, on the floor near the front door, is a tripping hazard, not to mention they take up so much space. It also makes the entrance look unkempt– we need to find a better way to store shoes.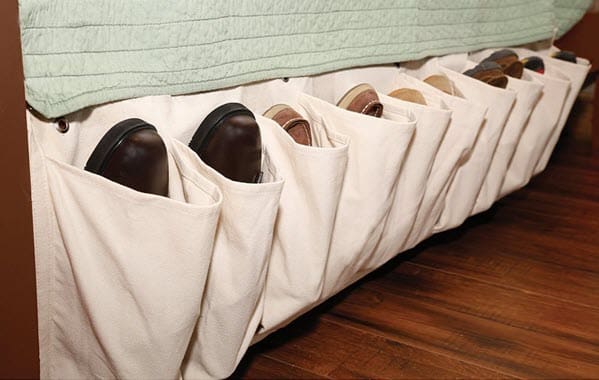 A shoe organizer is the best solution to these problems. It keeps all your shoes in one place. Find an accessible place to attach your organizer – near the bed or even at the caravan front door is a good spot.
Shower caddies
Shower caddies are an essential purchase. Get as many as you need for your shower. They make the bathroom look more beautiful, and they are always travel-ready. These are great options for permanently storing your bathroom items.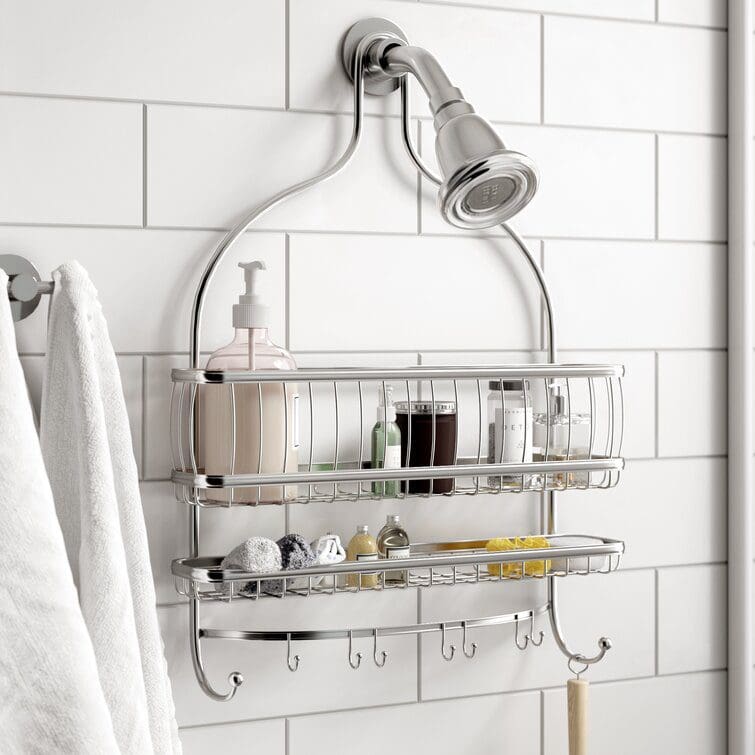 There are different types of shower caddies you can choose from. Try to choose one that fits your style and can conveniently hold everything you want to keep in it. Remember to get one that fits your bathroom's structure – hooks if you have a door, or one similar to what is pictured here if that works.
Shower Door Magnet
If you have ever experienced the constant opening of the shower door, you will agree this is an annoying problem that needs a permanent solution. This is especially true when the caravan gets parked at an angle. Thankfully, magnetic strips can easily fix this issue.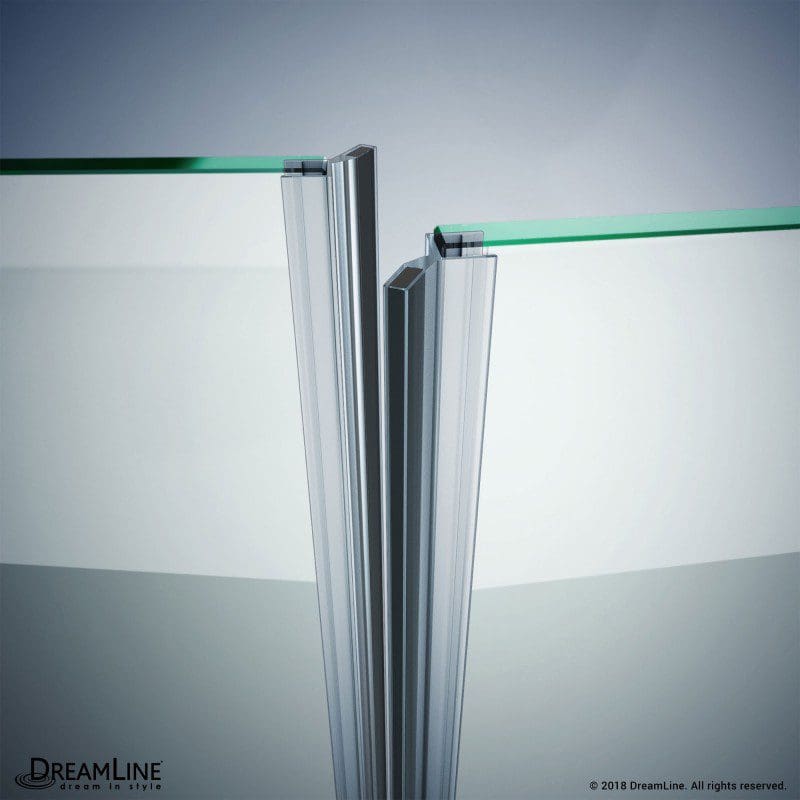 Just in case you also forget to clip the door back for travel, magnetic strips with strong adhesive backing is also a way to stop the shower door from constantly opening and closing on its own. Simply attach the strips to each side of the door.
Screw-in Hooks for Adult Towels
Let's remove the towel rails in the hallways and see how much space this will create. It is essential to get something strong enough to hold adult towels while saving space. Also, they should be easily accessible and allowed to air-dry.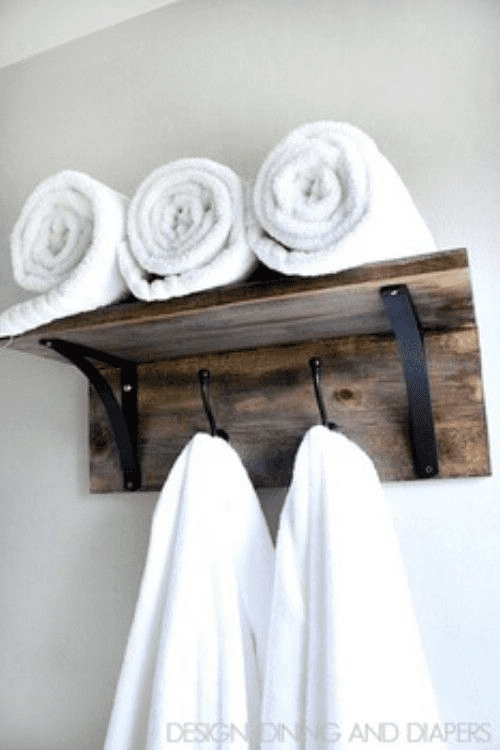 Sticky hooks would have been a solution to this, but they are not strong enough. Screw-in metal hooks will help hold the towels and make them easy to reach. Put the hooks in corners to keep the towels out of the way.
Toilet Brush Holder
Get a holder to keep your toilet brush out of the way but easy to use when the time comes. You can attach it to the wall behind your toilet, or the side of the sink cabinet. This toilet brush holder can serve two purposes.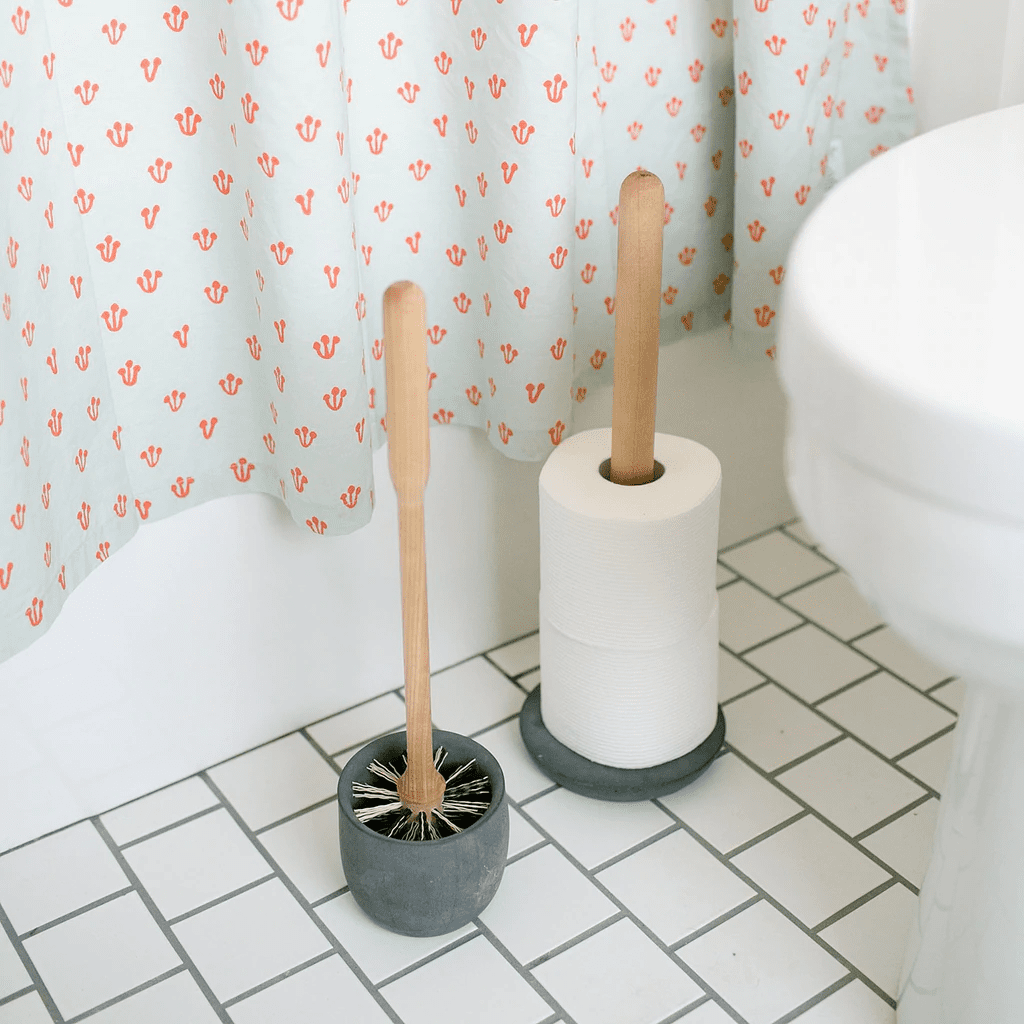 The handle of the toilet brush holder can also hold your rolls conveniently and keep them in place. Unlike the holder, securing the toilet rolls on the handle ensures they don't unravel – a hack you could try at home as well.
Jewelry Hanger
You need a jewelry hanger, trust us. We all are guilty of leaving our jewelry all around the house (and losing it) just because it is "convenient." With a jewelry hanger, you will be able to see all your pieces at a glance.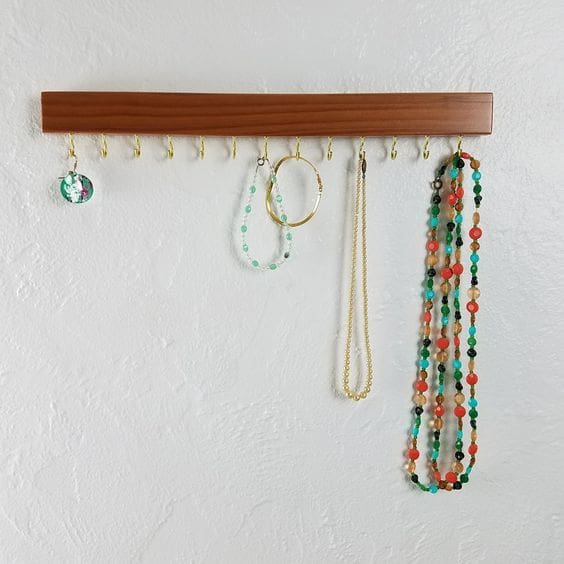 The jewelry hanger is not ideal for when your caravan is moving. Otherwise, you will be looking for your earrings on the floor. So, only put up your jewellery hanger when you are parked for a while to keep them in place.
Add a Clothing Nook
You should not leave any wasted space in the caravan. Check under the bottom bunk to see if it can take an extra shelf or even shelves. To create some extra space, you need to always think outside the box.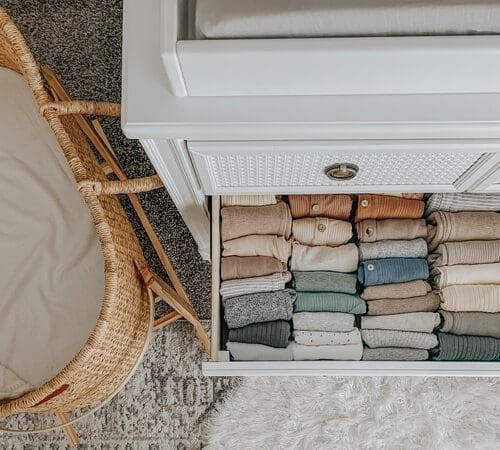 An extra clothing nook will allow you to store more clothes. That space above your clothing drawer that is empty is large enough to accommodate another shelf, but you will need to find a drawer that will fit in there perfectly.
Change the Hanging Rail
We think changing out the hanging bar – those hanging slots in them – with hanging rails is a perfect idea for creating more hanging space. Let's replace those bars with extendable hanging rails so we can store our stuff against a wall instead of the floor.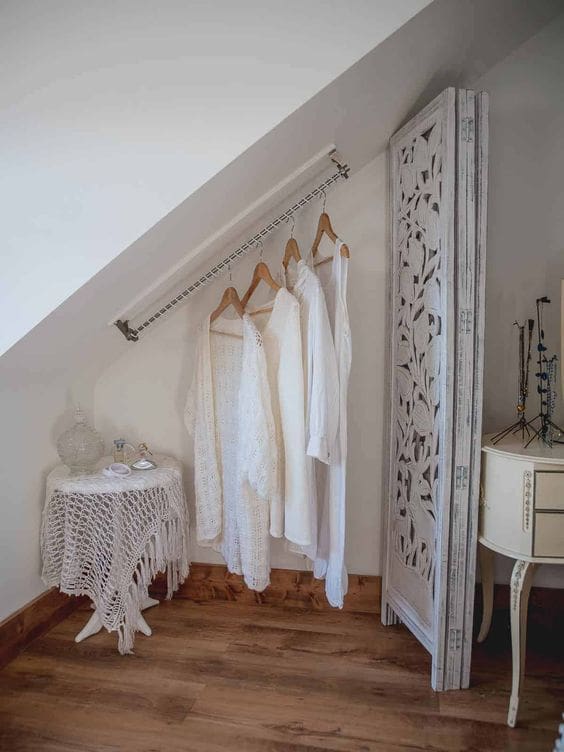 The hanger rails give you space to hang twice the number of hangers that the hanging bar can accommodate. When shopping for rails, get the extendable ones; this way, you don't have to worry about them fitting – you will be able to make them fit anywhere.
Smart TV
You might not be so lucky with good TV reception on your trip. Do you then ditch TV? You won't have to if you have a smart TV. You can choose from the many options available on the market today.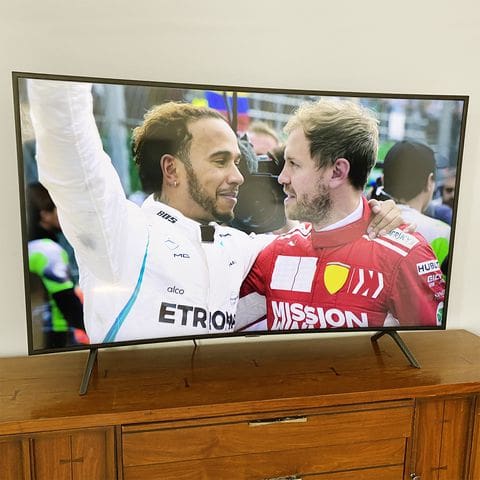 With the smart TV, you can connect to your Wi-Fi and enjoy Netflix (when you are in the Wi-Fi range, that is). You can even decide to project a movie night on your caravan. After all, you are all out for fun – you might need a bowl of popcorn for this.
Inverter Power Board
The added power source is exciting news; it offers more options to keep your phone and laptops charged. So, connect a protected power board to your inverter and attach it to a permanent place where it will be easy to use.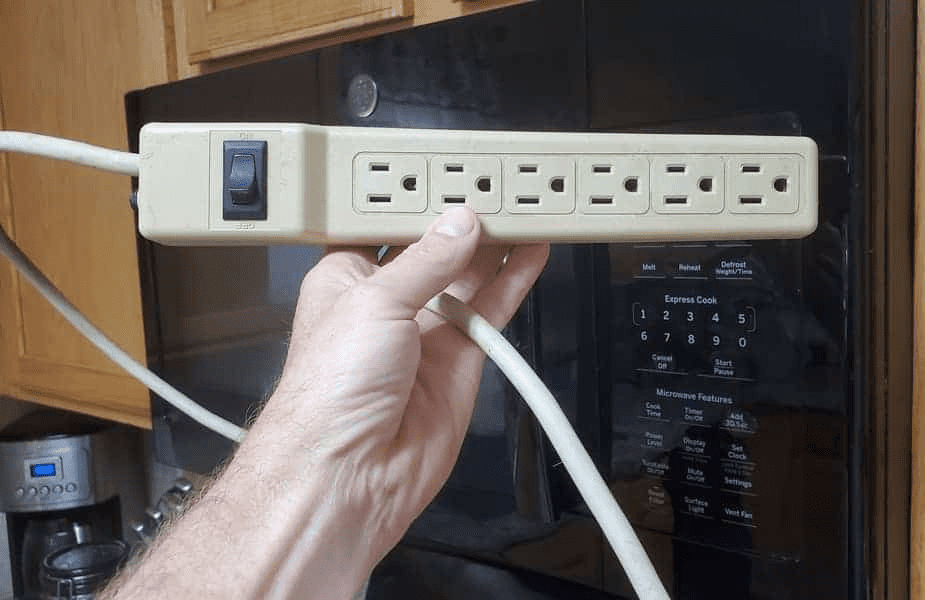 A surge-protected power board is a good option when considering connecting a power board to your inverter. Surge protection ensures that your devices remain protected from damage. These are easy to install as well, and you can get as many outlets as needed.
Microwave Storage
One of the best caravan hacks is that you ensure you utilize every nook and cranny. Always think of how you can convert every space to a useful storage area. Your microwave is not left out. Use it as a storage box.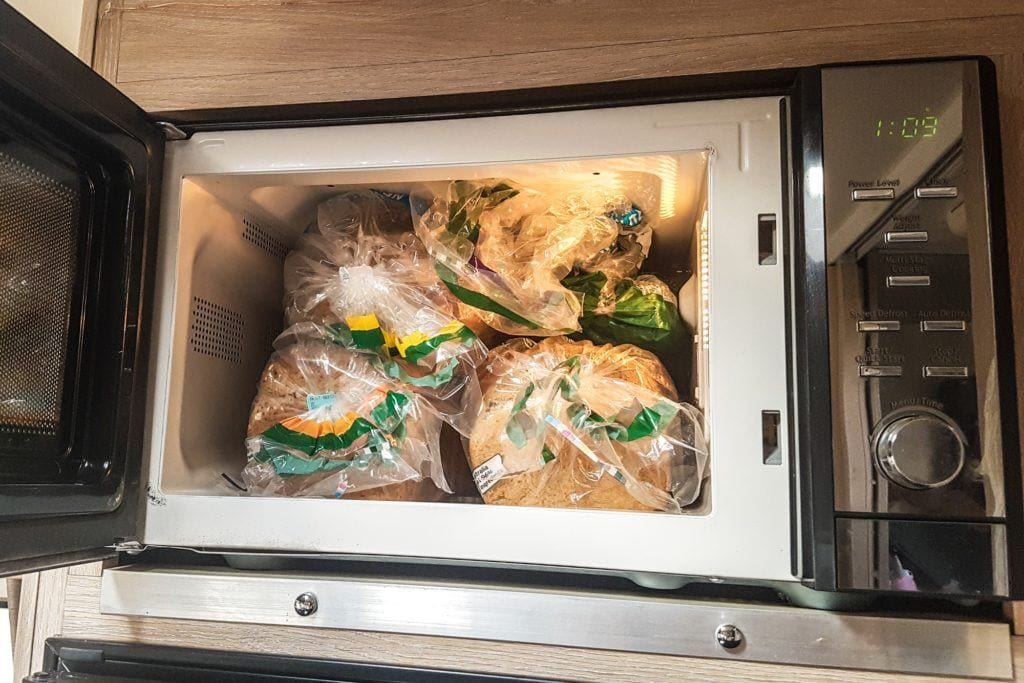 The microwave is a piece of essential kitchen equipment we can't throw out even when you want to maximize space in the caravan. But, now that you know you can use the space inside and on top of the microwave for storage, you shouldn't worry.
Boxes and container
Get small boxes and containers to hold smaller items and ensure that they are not turned upside down inside the cupboard when the caravan is in motion. Put all spices and condiments together in one smaller container and do the same for other small items in your storage.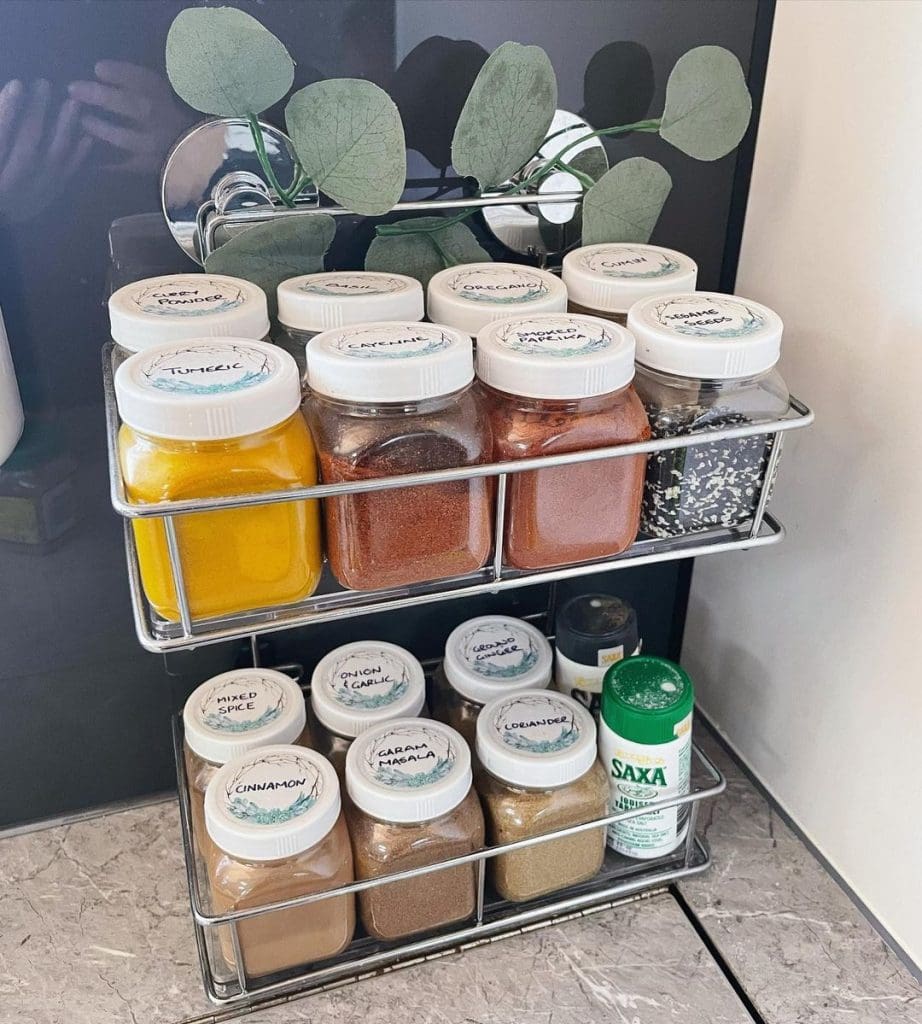 This method will help keep the smaller items in place and also tidy up your cabinet. They put them in close range for grabbing. There are different types of smaller boxes and containers you can choose from to make your caravan cute.
Empty tissue box
Don't throw out your empty tissue box just yet; they can serve other purposes. You can use these old boxes to hold anything you want. The bread bags and packaging will eventually get thrashed, but you can use them as trash bags before that too.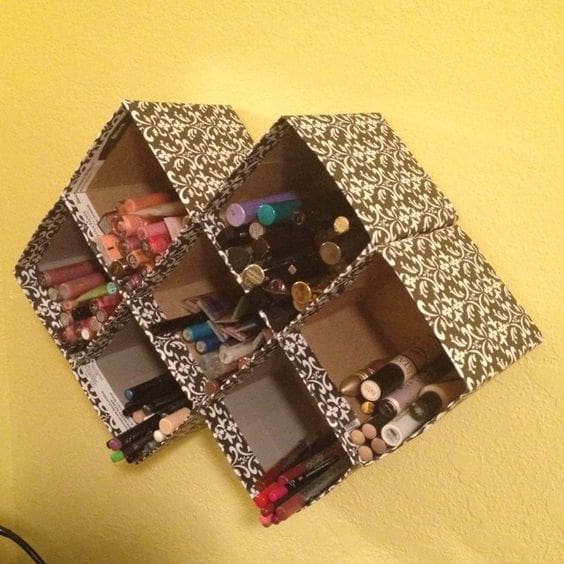 Reusing these items will save space in the long run. If your tissue boxes are sturdy, mount them on the wall as makeshift cabinets. Since they don't have to be permanent, you don't need to worry if you don't love the first placement you chose.
Dish drying mat
Use a dish drying mat instead of the bulky drying rack. The drying mat is foldable, lightweight, and easy to store. It helps save more space. Just fold it up and put it in a drawer when not in use.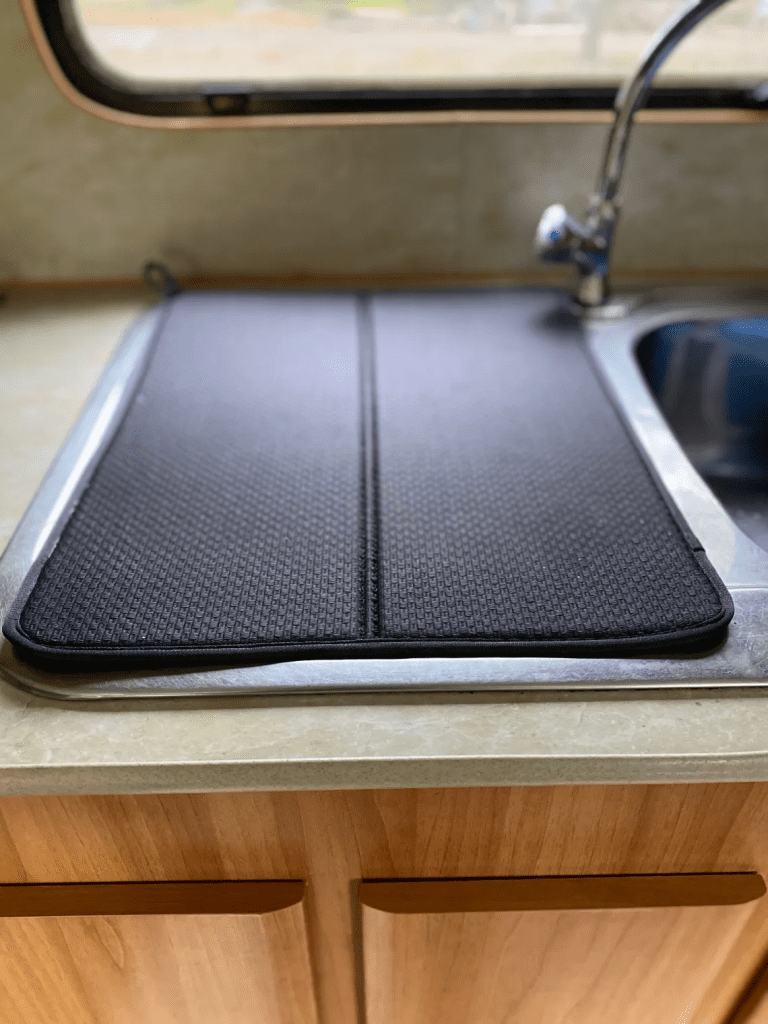 After using the drying mat, you can hang it on a door handle to air dry. The drying mat comes with a handle with which you can hang it. It also comes in different sizes so that you can choose any that best suits your kitchen space.
Floor mats
If you forget everything else, make sure you remember the floor mats. You need about two (or more). Put one at the bottom of the steps into the caravan, and another inside. They come in different sizes to fit your doorway.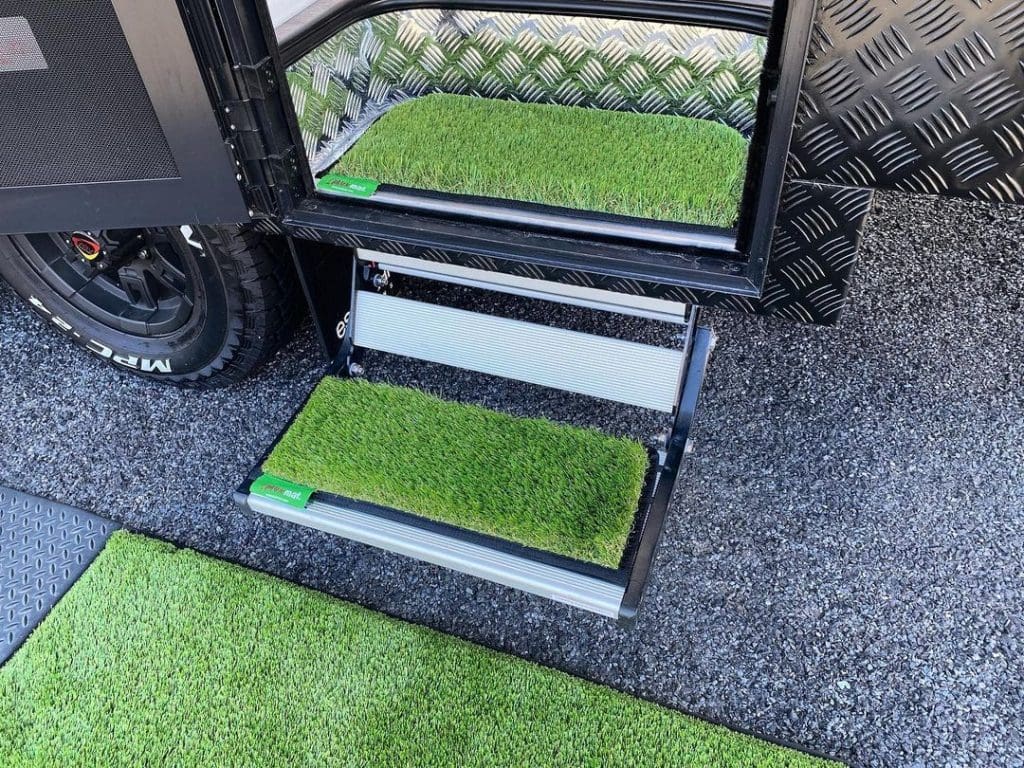 These floor mats will help you stop so much sand, dust, and dirt from getting into the caravan, and creating a mess you will need to clean. Getting the floor mat is good, but it is not enough. You will need to educate the kids to use them properly.
Cabinet door storage
Back to storage, we have yet another helpful tip to ensure your trip goes smoothly. Kitchen towels fall in the category of essentials regardless of whether you are going on a journey or just doing grocery shopping for your house.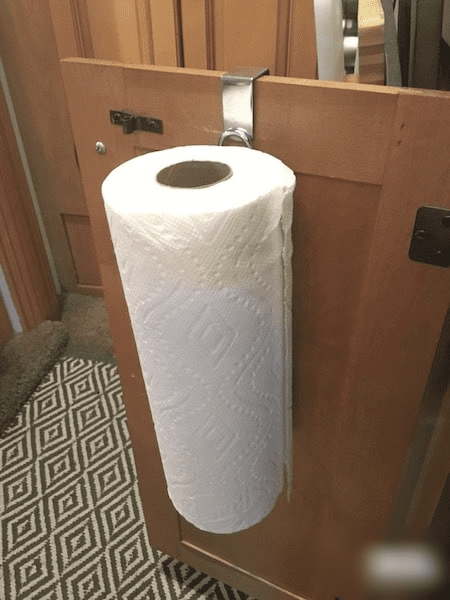 As such, it's essential to find a place to store them. One of the niftiest places you can keep these items is on your kitchen cabinet. All you have to do is get an organizer and mount it on the door. Just ensure it fits well and doesn't move around too much.
Pool noodles for your pipes
Water is essential for everyday living, and as such, it's quite important to make sure you have enough of it, especially when you are traveling. That said, ensuring you don't run out of clean water during the colder seasons can be a bit tricky.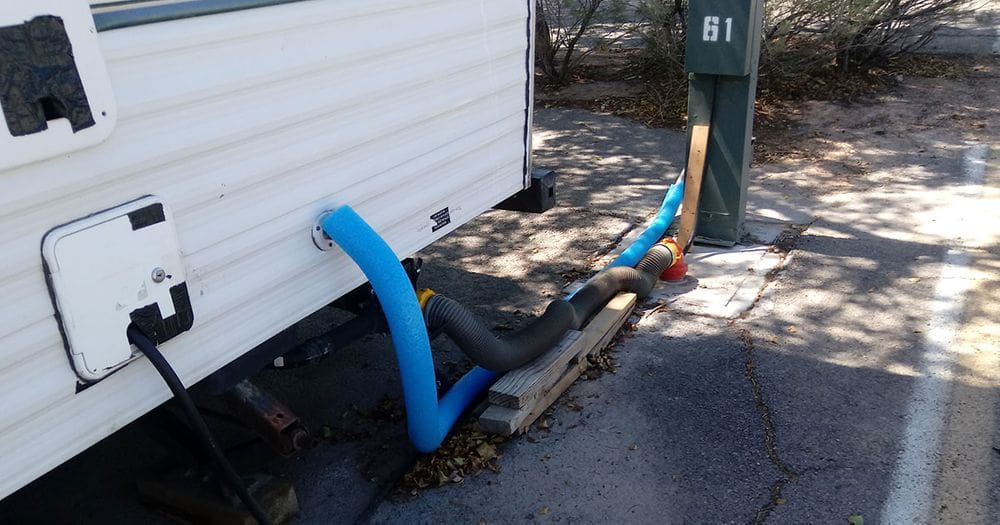 Enter pool noodles. These versatile rubber tools can be used to insulate your water pipes when the weather is not all that friendly. And since they are cylindrical and extremely flexible, all you have to do is cut open one side and slide the pipe in.