AI Puts Our Favorite Characters Into Dark And Delightful Alternate Universes
By Saptargha D August 29, 2023
---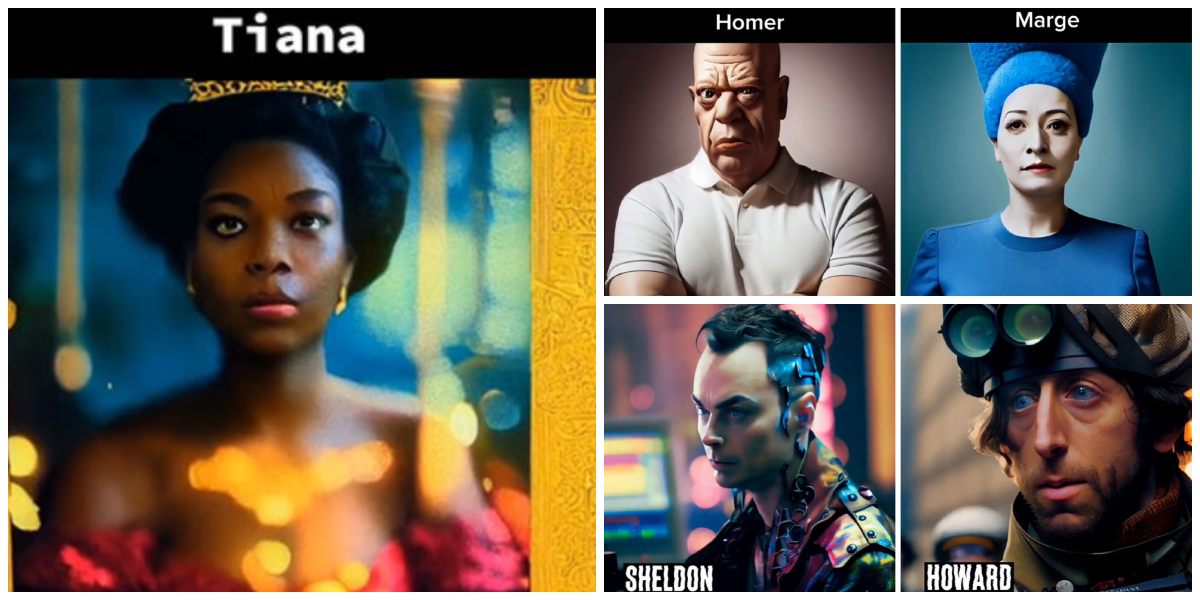 Did you ever wonder what the protagonist from your favorite sitcom would look like if they were an elf? Or have you ever imagined your favorite fairytale characters in a modern-day setting? Well, now you can visualize them through the power of AI. Unless you live under a rock, you must be aware of the global phenomenon called "AI art," which is taking the world by storm. From celebrities to influencers, AI-generated art has grabbed everyone's attention!
Milan Jaram, a well-known digital artist, has gone viral because of his AI-generated works that reimagine famous characters in different worlds and settings. With the help of this advanced technology, he has successfully reinterpreted characters we all know and love—be it the iconic Darth Vader from the Star Wars universe or everyone's favorite Office schmuck, Michael Scott. So, here are some of his creations that have got everyone buzzing!
All images in this article are courtesy of darkside.ai on TikTok.
AI Transports Rose, Dorothy, Sophia, and Blanche to the Mortal Kombat Universe
The advancement of technology has made so many unimaginable things possible. How else can one explain the AI-generated crossover between Golden Girls and Mortal Kombat, reimagining the four iconic women from the sitcom as fighters in a martial arts-themed fantasy world?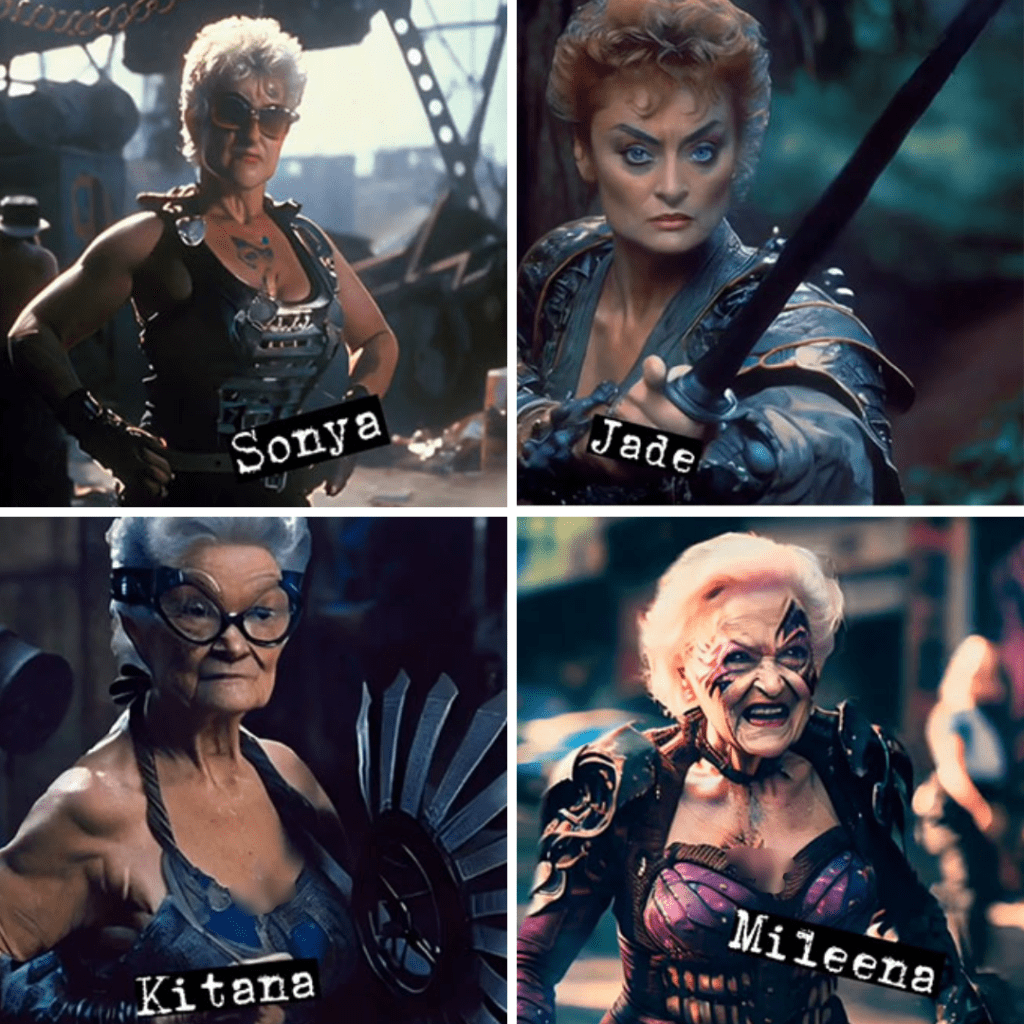 Thanks to Milan Jaram's unique idea, these new versions of Sonya, Jade, Kitana, and Mileena were born! Dressed in fighting armor and sporting sinister bruises, these four ladies look more than ready to thwart any enemy that may come their way.
The Cyberpunk Versions of Heroes and Villains from Superman
Here come the famous heroes and villains from Superman, reimagined as characters straight out of a cyberpunk setting. From Clark Kent/Superman to Bizarro, the popular characters have been armed with new and modern gadgets to aid them in their adventures.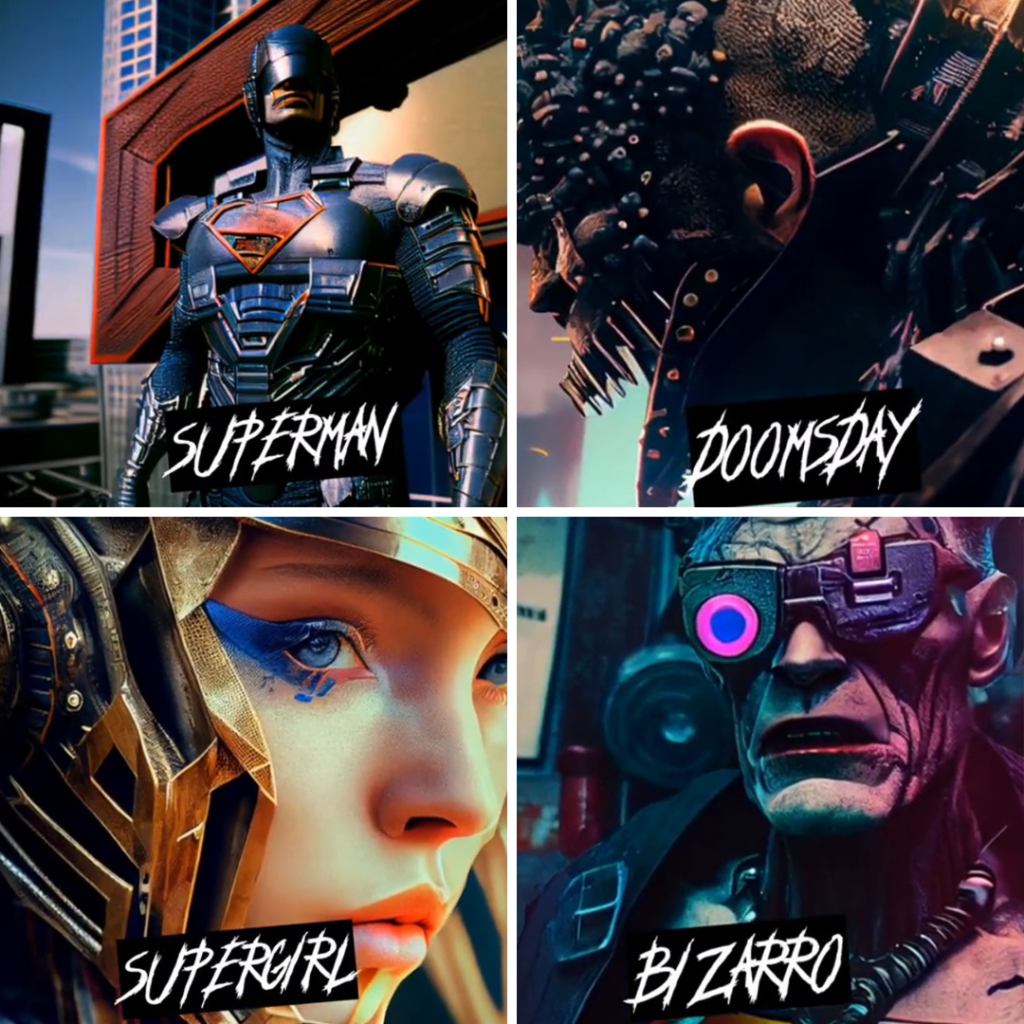 Superman looks almost identical to Robocop in his steel outfit and futuristic mask. And the beloved Supergirl exhibits blue makeup and golden headgear, rendering her a formidable appearance. Doomsday's spiky teeth and scary face mask look extremely chilling, while Bizarro looks every bit of the terrifying anti-hero in his avant-garde glasses and ultra-modern outfit.
Batman and Joker Face Off in a Steampunk World
There are hardly any fictional clashes as great or talked about as the famous Batman-Joker rivalry from DC comics. But what if Batman and his arch-nemesis, the Joker, were to fight it out in an alternate steampunk version of Gotham?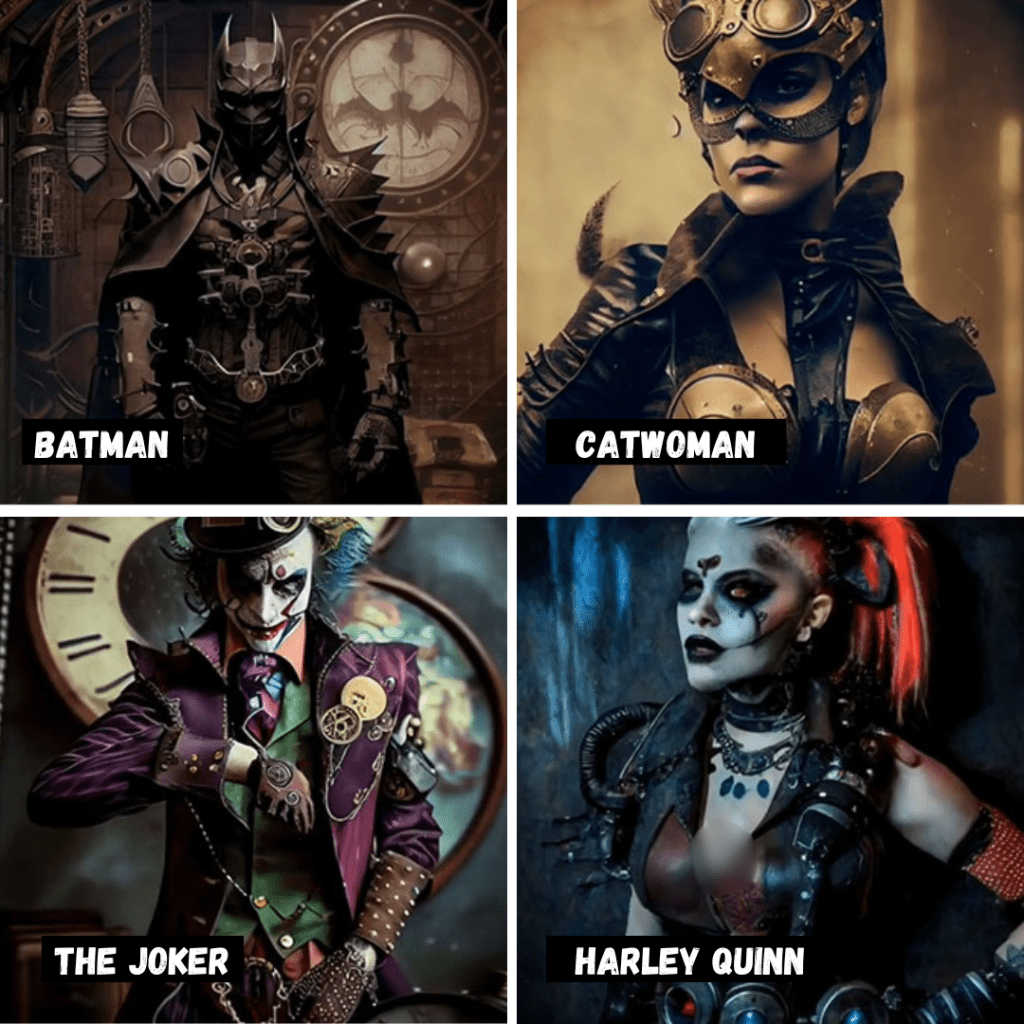 The artist's reimagination of these famous characters places them in a futuristic and outlandish setting, leaving comic book fans wanting more! If Margot Robbie decided to return as Harley Quinn with a new look in an alternate steampunk universe, this would be the appropriate outfit.
The One Where Ross Gets Possessed
Even though it has been almost two decades since the last episode of Friends aired, millions of people across the globe continue to rewatch the classic sitcom daily. But the AI-generated reimagining of the six friends as characters from a horror film has sparked everyone's interest.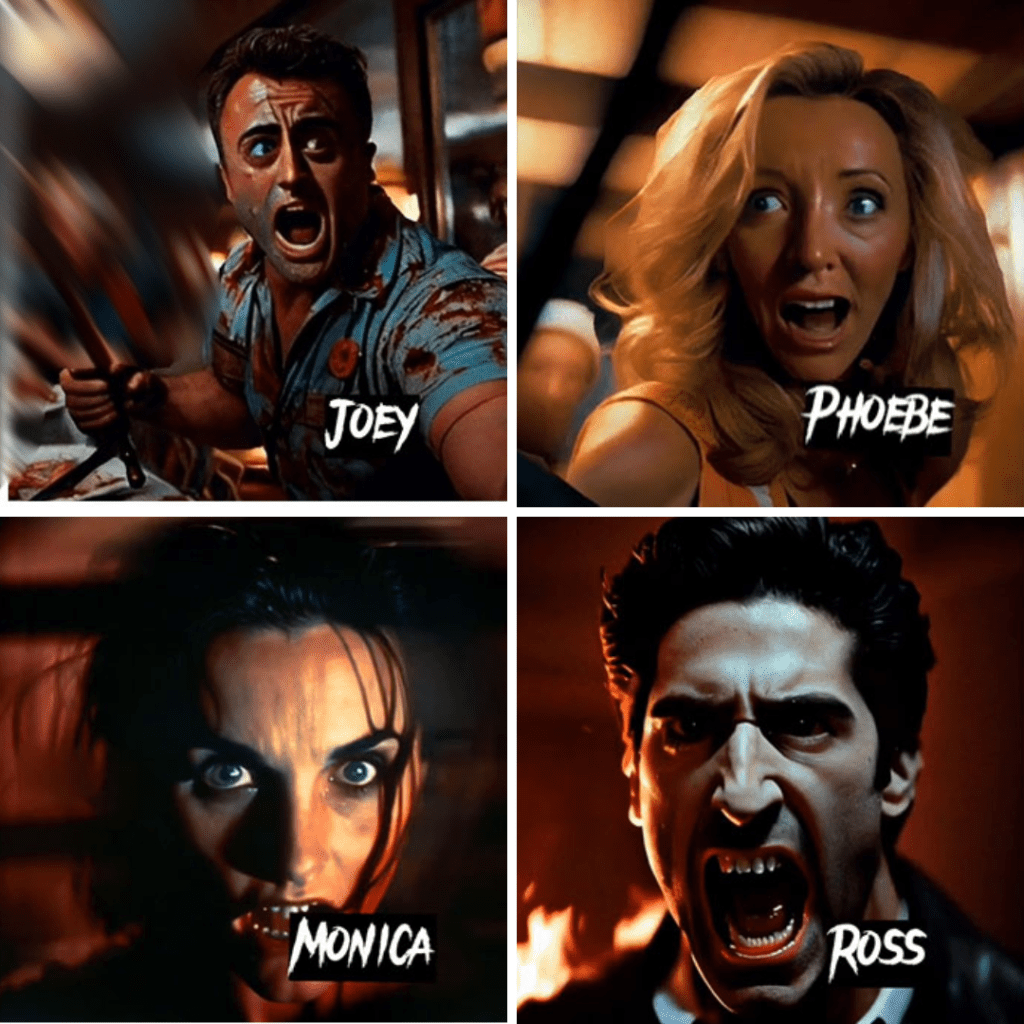 The always prim and proper Monica looks bloodied, while the fun-loving Joey appears battered and battle-ready. Conversely, the free-spirited Phoebe sports a horrifying expression on her face, and the otherwise "goofy" Ross seems to be on a murderous rampage. What a perfect way to flip the script.
If Game of Thrones Was a Sitcom from the '80s
Game of Thrones has offered a lot of soul-crushing moments, especially in the ending. But this AI art reimagining George R.R. Martin's characters as people out of an '80s sitcom will give you some reprieve. In this image, the otherwise somber Jon Snow can be seen cracking a big smile.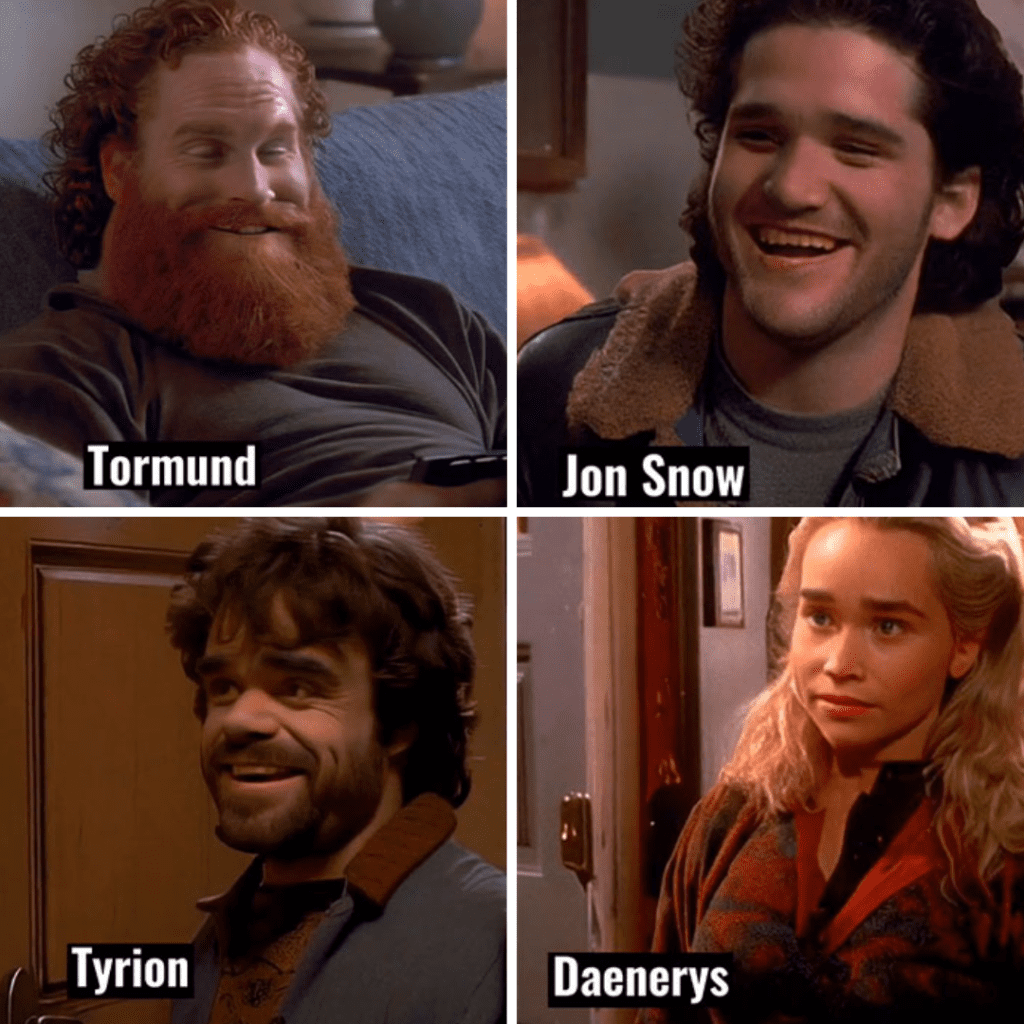 On the other hand, the legendary Tyrion Lannister looks engaged in a harmless and fun banter. And everyone's favorite Queen, Dany, sports her famous golden locks and is dressed in regular outfits, in stark contrast to her powerful apparel from the show. We hope these characters meet a better fate in this universe!
Snow White and the Seven Dwarfs Get Transported to a Sci-Fi World
With the help of AI, Milan Jaram has brought two of our childhood favorites, the story of Snow White and science fiction films, together in a delightful way! In fact, the adorable dwarfs we all know of have never looked cooler!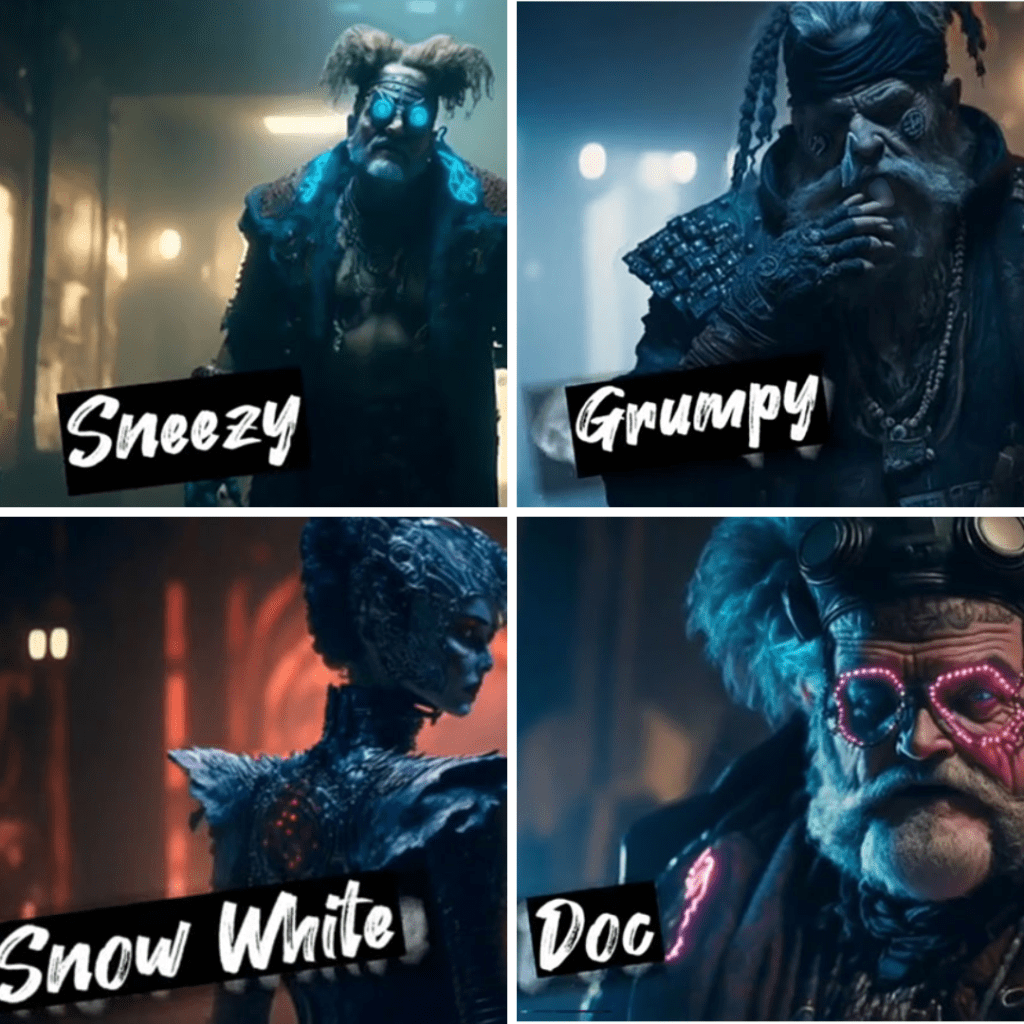 Everyone's favorite Disney princess, Snow White, resembles a hard-core sci-fi heroine here, who doesn't need any Prince Charming to save the day. Moreover, she has an extremely cool-looking and resourceful bunch of dwarfs, Doc, Grumpy, and Sneezy, to help her bring her evil stepmother down!
Calvin and Hobbes Turn into Monsters
Calvin and Hobbes has its own set of die-hard fans who have always wanted a movie or show adaptation of the comic strip. Although a film or show isn't in the cards right now, AI can help sate that curiosity. With Milan at the helm, AI turned the eponymous duo into horror movie villains.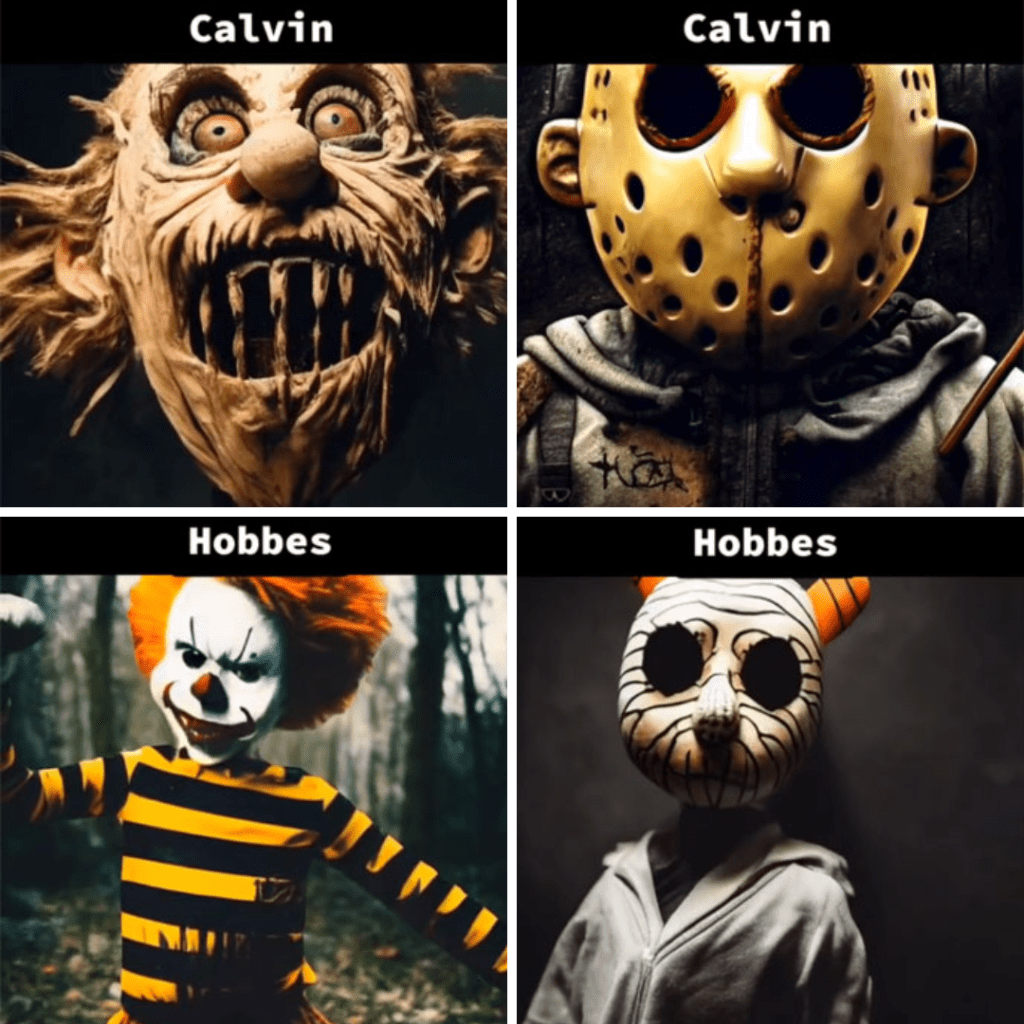 Calvin and Hobbes look eerily similar to Jason Voorhees, Michael Myers, Pennywise, and Billy Lenz in these AI-generated images. Their dark and sunken eyes, threatening masks, and menacing expressions have left a scary impression in the minds of even the bravest people.
When Tim Burton helms the Next Feature Film about a Disney Princess
Tim Burton has given us many iconic films, from the Corpse Bride to Alice in Wonderland. His characters are known to be whimsical and over-the-top, with overdramatized features. So, Jaram tried turning some popular Disney princesses into characters who seem to have walked straight out of a Burton film.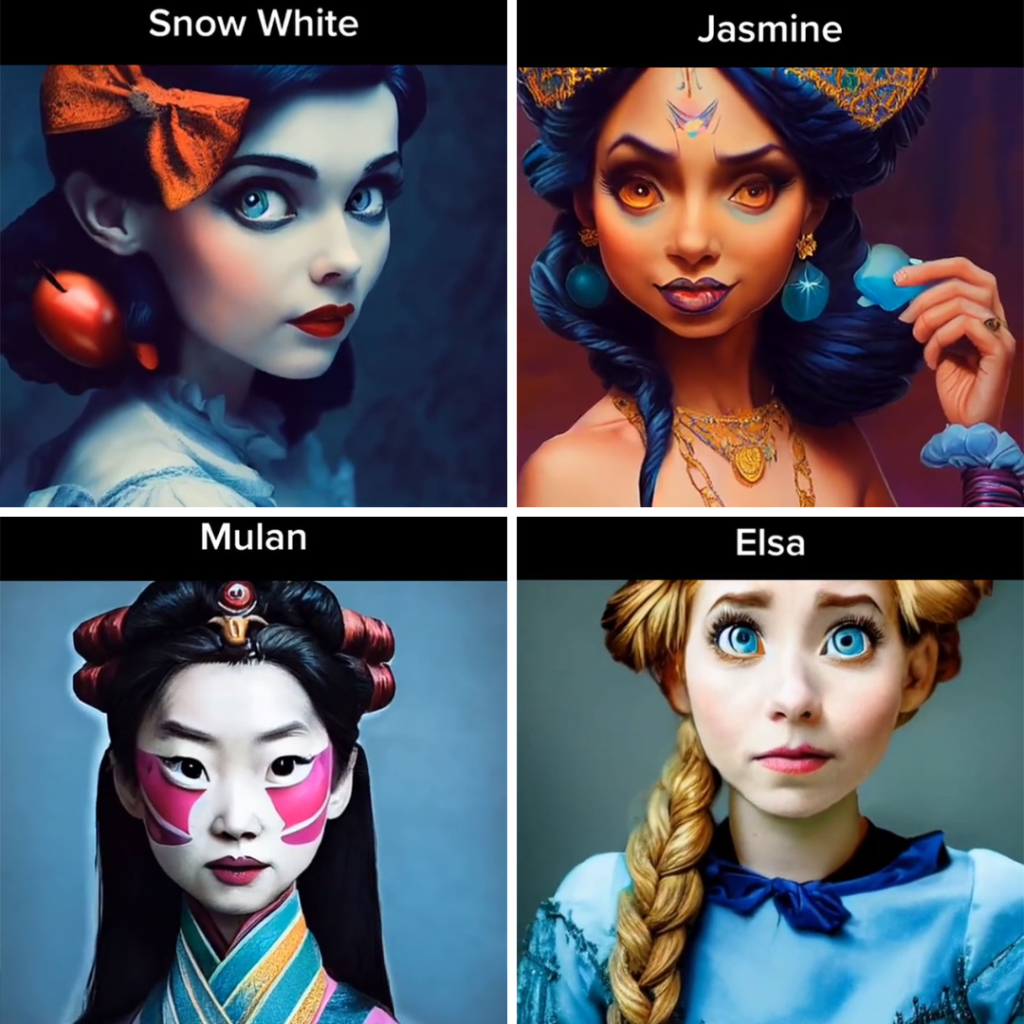 These adorable-looking Disney princesses, who occupy a big part of our childhood memories, have been rendered with exaggerated features like big eyes, ashen faces, striking hair, and downright creepy expressions. Well, these images are signs that Tim Burton needs to give his audience brand-new adaptations of Disney films.
The Ethereal Sailor Moon Characters as Real-Life Humans
Sailor Moon, the Japanese superheroine, and her lovely compatriots occupy a special place in our hearts. So now, with the help of AI, these globally-loved animated characters have been morphed into real-life humans. Real Sailor Moon, the titular protagonist, looks as stunning as her animated version in those iconic golden locks and blue eyes.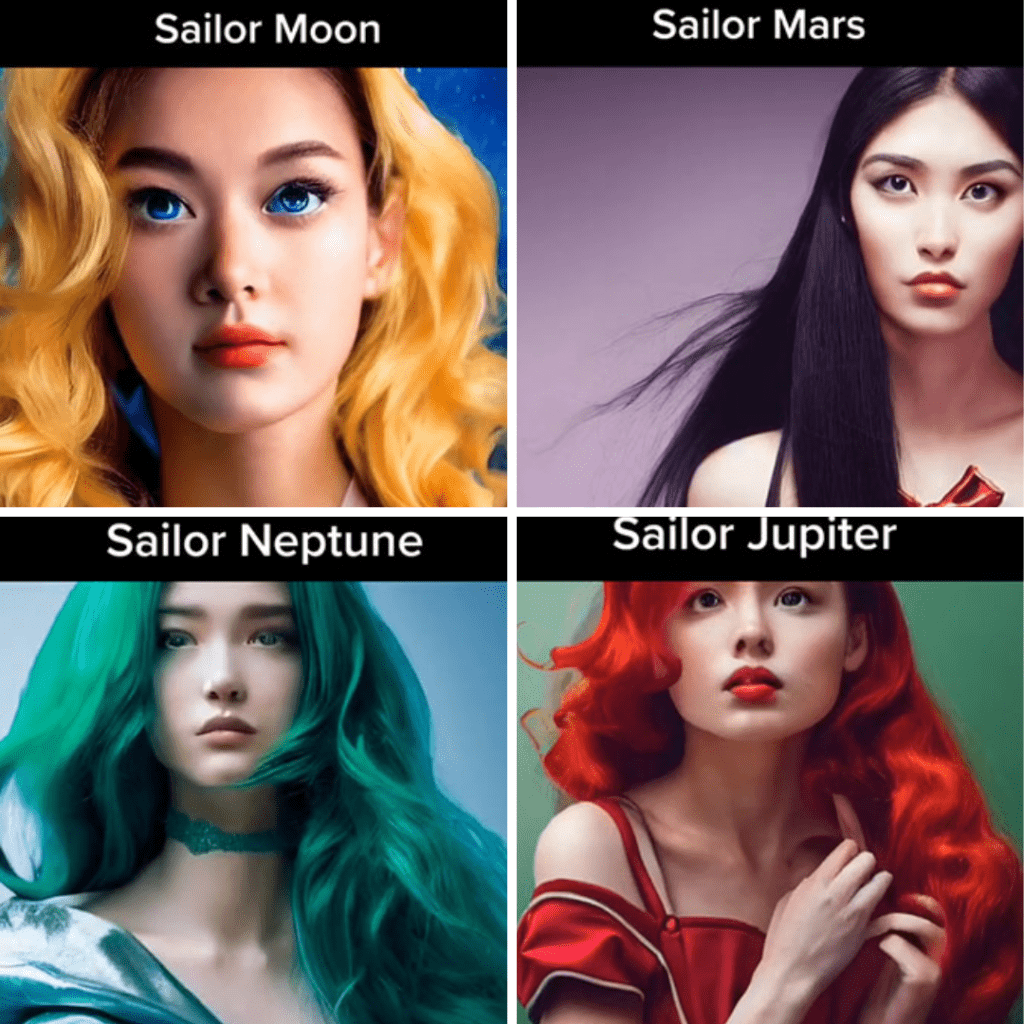 Likewise, the evil fighter Sailor Mars retains her shiny black hair and beautiful eyes from the animated series. However, the alternate version of Sailor Neptune looks more elegant and sophisticated with her long green mane and lustrous eyes. Lastly, the caring Sailor Jupiter looks almost angelic in her flowing red hair and striking crimson outfit.
The Wizard of Oz Goes Cyberpunk
It is impossible not to feel a sudden nostalgia when you think about The Wizard of Oz. But now, everyone on the internet raves about this new AI art from Milan Jaram that re-envisions characters from the 1939 film as individuals in an alternate dimension.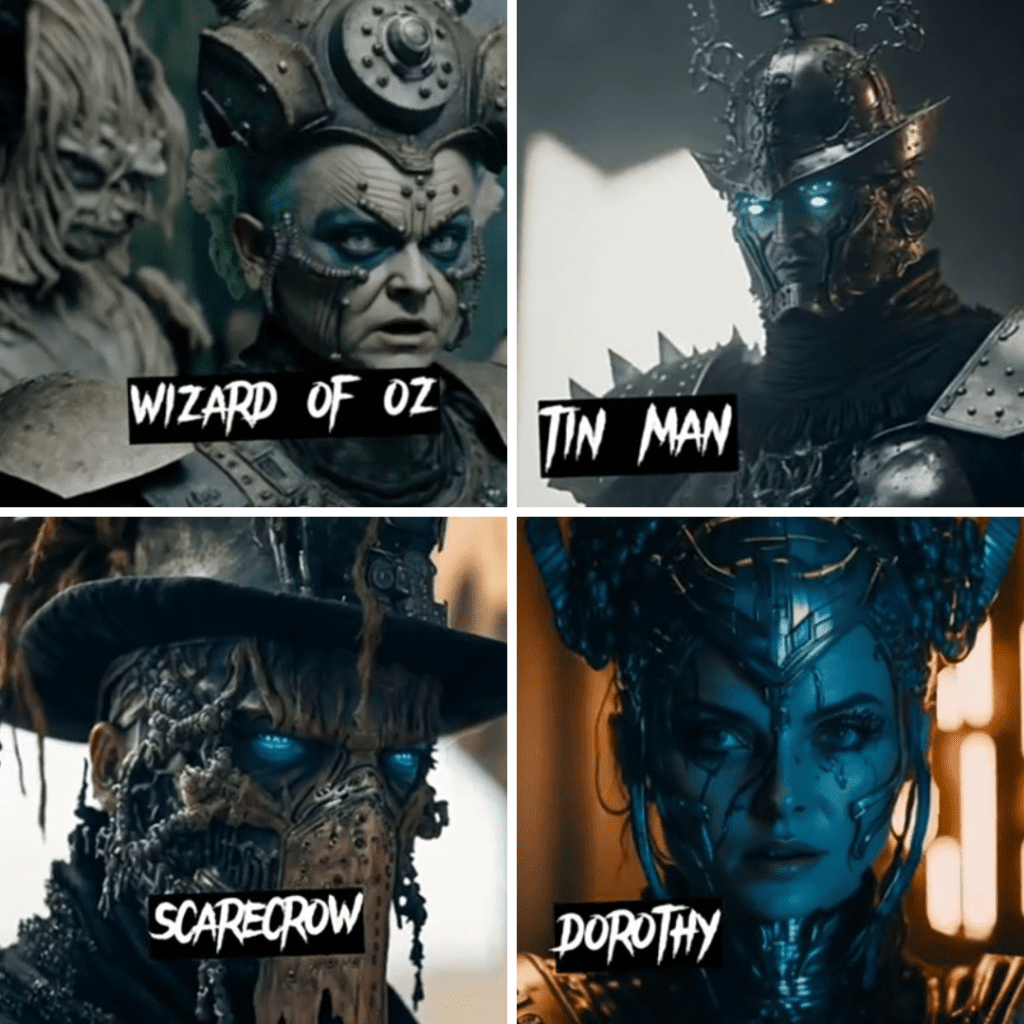 The innocent Dorothy Gale looks daunting in the steel headgear. The cyberpunk versions of Tin Man and Scarecrow don't look like their endearing characters from the movie; instead, they seem ready to launch a battle. Meanwhile, the titular "Wizard of Oz" is a spine-chilling presence in futuristic headgear and eerie makeup.
Looney Tunes Characters in a Tim Burton Film
For years, classic Tim Burton works like Beetlejuice, Corpse Bride, and Frankenweenie have occupied a special place in the hearts of his fans. So, with this AI-generated art, Milan Jaram paid homage to the Oscar-nominated director, reimagining the Looney Tunes characters straight out of his film set.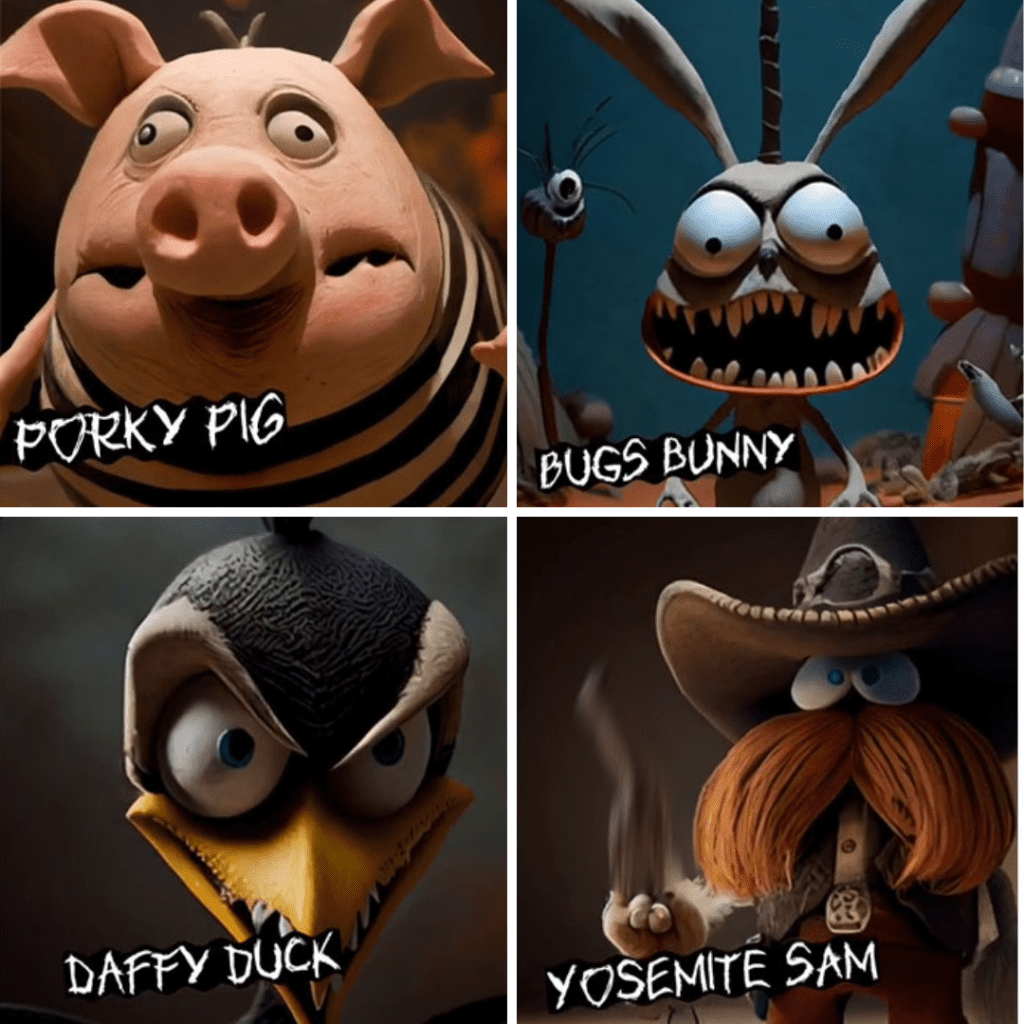 If you're a fan of Tim Burton, you can't miss out on the eerie similarities between these AI-generated images and Burton's famous characters like Jack Skellington and Emily the Corpse Bride. From the big protruding eyes to the weird noses, these transformations have accurately captured the essence of the director's classic works.
The Legend of Zelda as a Dark Fantasy Film from the '80s
The action-adventure game The Legend of Zelda has garnered a huge fan following since its original release in 1986. So, Jaram used his artistic skills and AI to create this image and appease people who not only love this game, but also are huge fans of classic fantasy films from the '80s!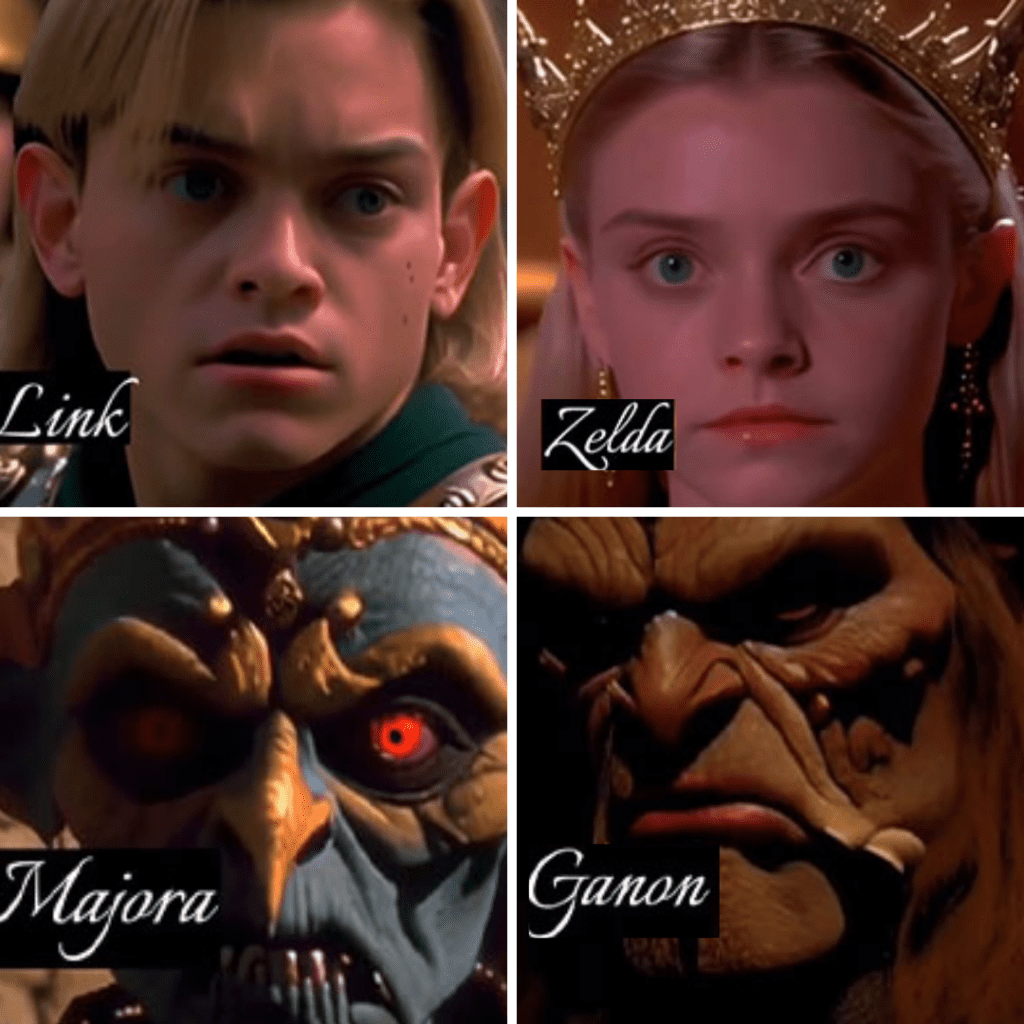 Zelda and Link's AI-generated versions closely resemble young protagonists from '80s films like the Labyrinth, Return to Oz, Time Bandits, etc. Meanwhile, Ganon and Majora, the primary antagonists from the series, appear as scary as they look in the original video game series!
Shrek Becomes the Leader and Frontman of a Metal Band
This AI transformation is a tribute to the Shrek franchise. Despite being placed in an alternate metal verse, Shrek's unique ogre-like features perfectly fit the setting. In fact, Shrek and his favorite compatriot, Donkey, seem to make metalheads go absolutely bonkers with their latest album!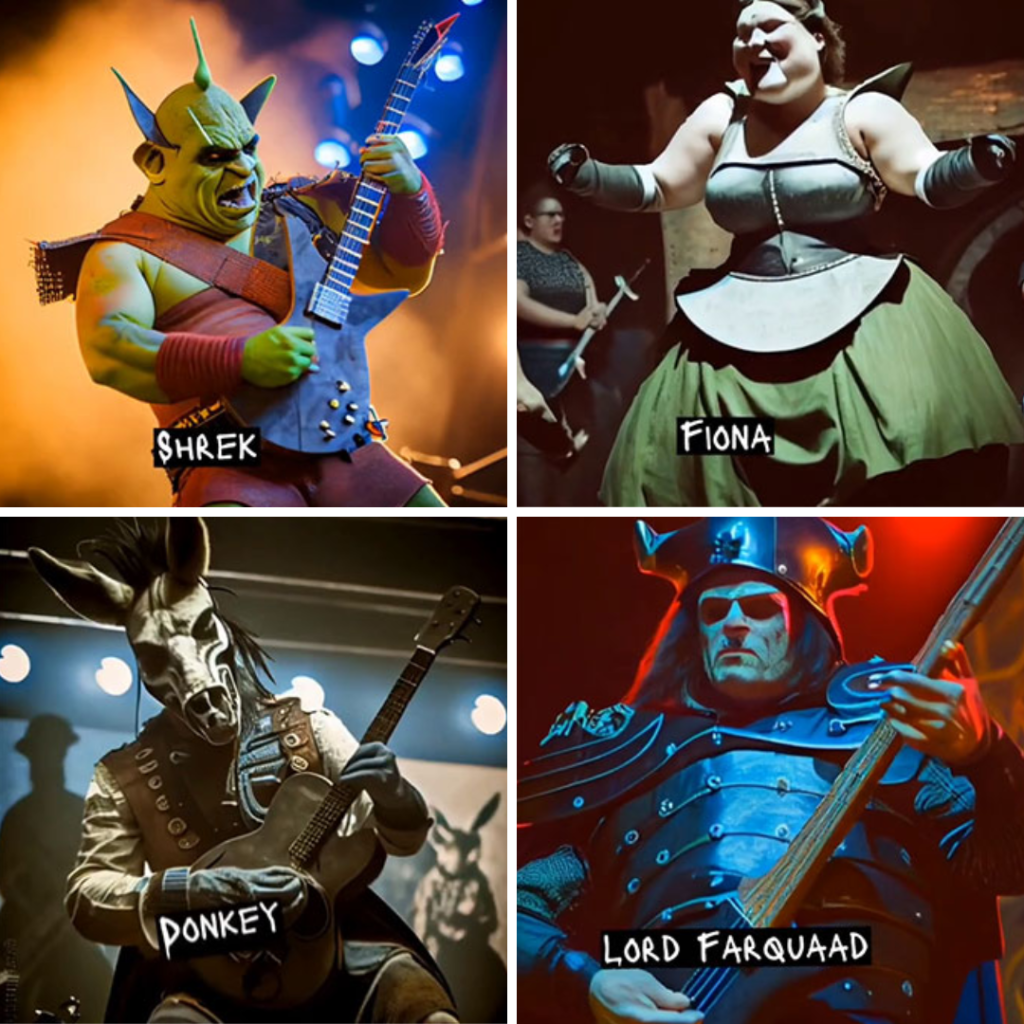 Fiona is anything but a ladylike and docile princess in this new AI-powered Shrek art. She looks like any other metalhead cheering for her favorite band in a seedy bar. And the way Lord Farquaad is curated, he bears a striking resemblance to real-life heavy metal guitarist Tony Iommi of Black Sabbath fame.
Star Wars Turned into Muppets
In yet another AI-powered rendition, the artist created a wholesome-looking crossover between Star Wars and the Muppets universe. As the images hit fans with new waves of nostalgia, they wonder what the menacing Darth Vader would sound like if he talked like a muppet or if the iconic James Earl Jones voiced a Muppets character.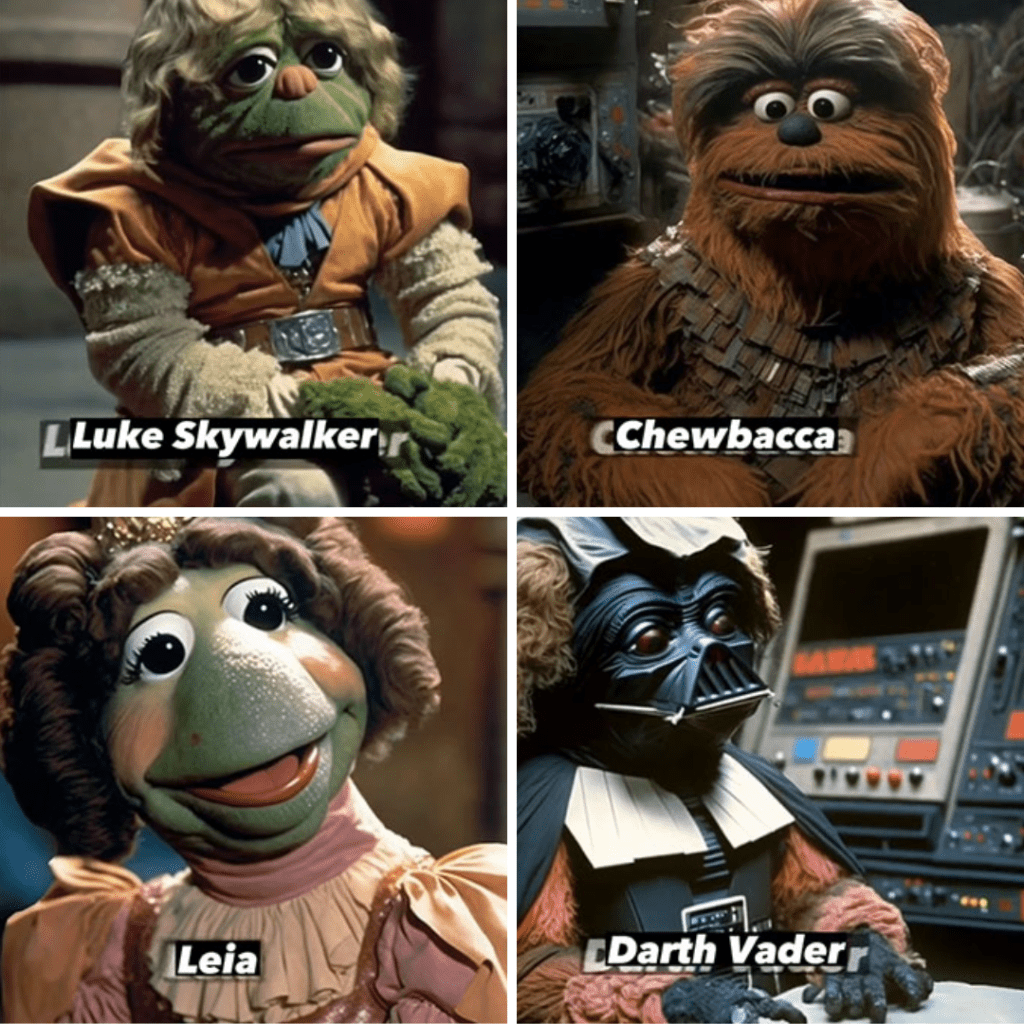 It has been four years since we last saw the adventures of the Skywalker siblings and Chewbacca on screen. But seeing the response these AI photos generated, fans will turn out in droves to watch a Star Wars × Muppets film if it ever becomes a reality.
The Characters from The Flintstones as Real-Life Humans
The misadventures of Fred Flintstone and Co. have delighted us for decades. Recently, Jaram used AI to transform this '60s sitcom's popular characters into real-life humans, and fans love the results. Thanks to AI, Fred, Barney, Wilma, and Betty look like commoners you might run into on the street!
Fred Flintstone looks like a dashing middle-aged man, while Wilma, his red-haired wife, appears as beautiful as her animated character. On the other side, Barney Rubble seems to have a funny joke or two up his sleeves. However, his wife, Betty, looks gorgeous in her iconic black hairdo and wistful gaze.
The "Super Mario" Characters Get Drunk in a Dive Bar
Everyone must have played one of the games from the Mario universe at one point in their lives. So, these AI-generated images have tried to celebrate those childhood memories by transforming our all-time favorite characters from Super Mario into drunk patrons at a dive bar.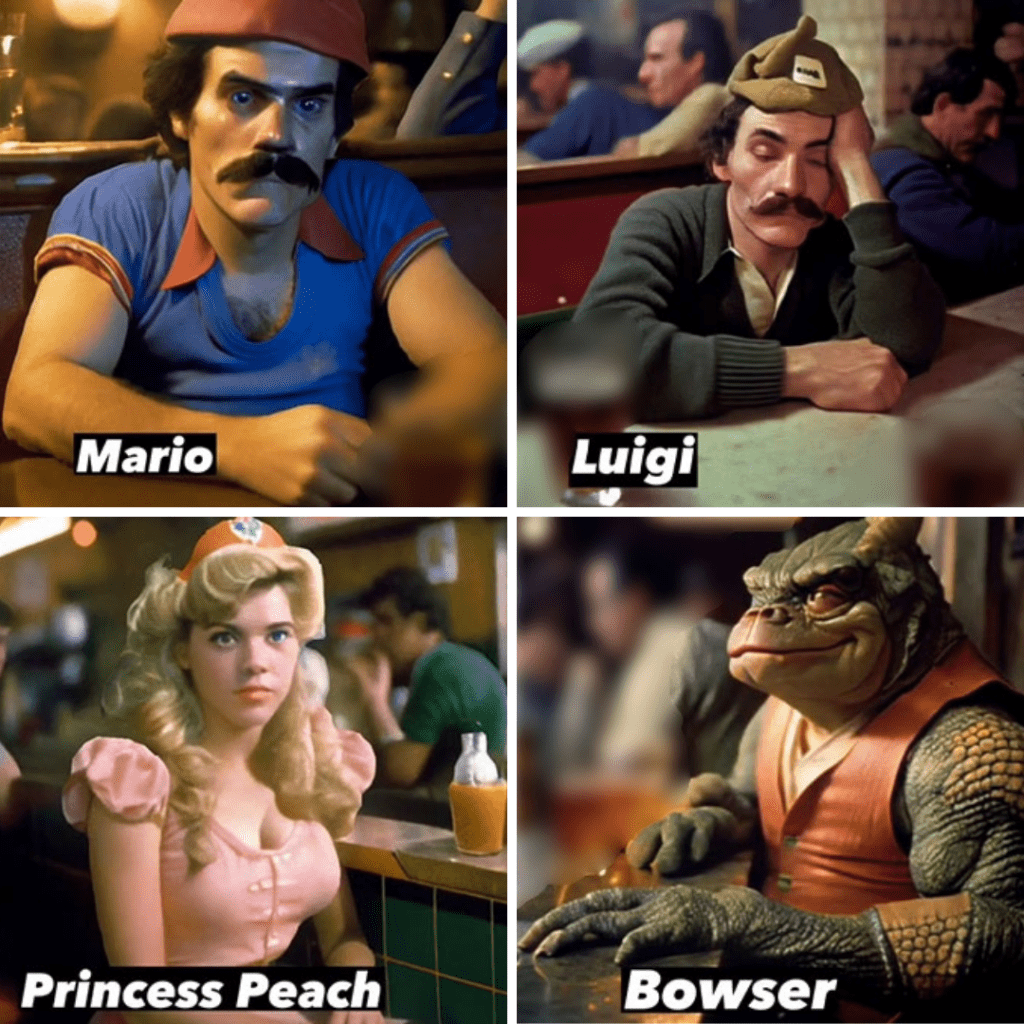 Mario and Luigi look famished and worn out after a day of wild adventures, whereas Princess Peach still looks pretty in this alternate setting. However, the technology has managed to render Bowser, Mario's arch-nemesis and the game's primary antagonist, into a fun-looking character with a know-it-all expression.
Everyone's Favorite Nerds Go Cyberpunk
The Big Bang Theory may have ended in 2019, but the artist's latest creation revolving around the characters from the famous TV series has got everyone wanting a brand-new show starring fan-favorite Sheldon (Jim Parsons) and his friends in a cyberpunk setting.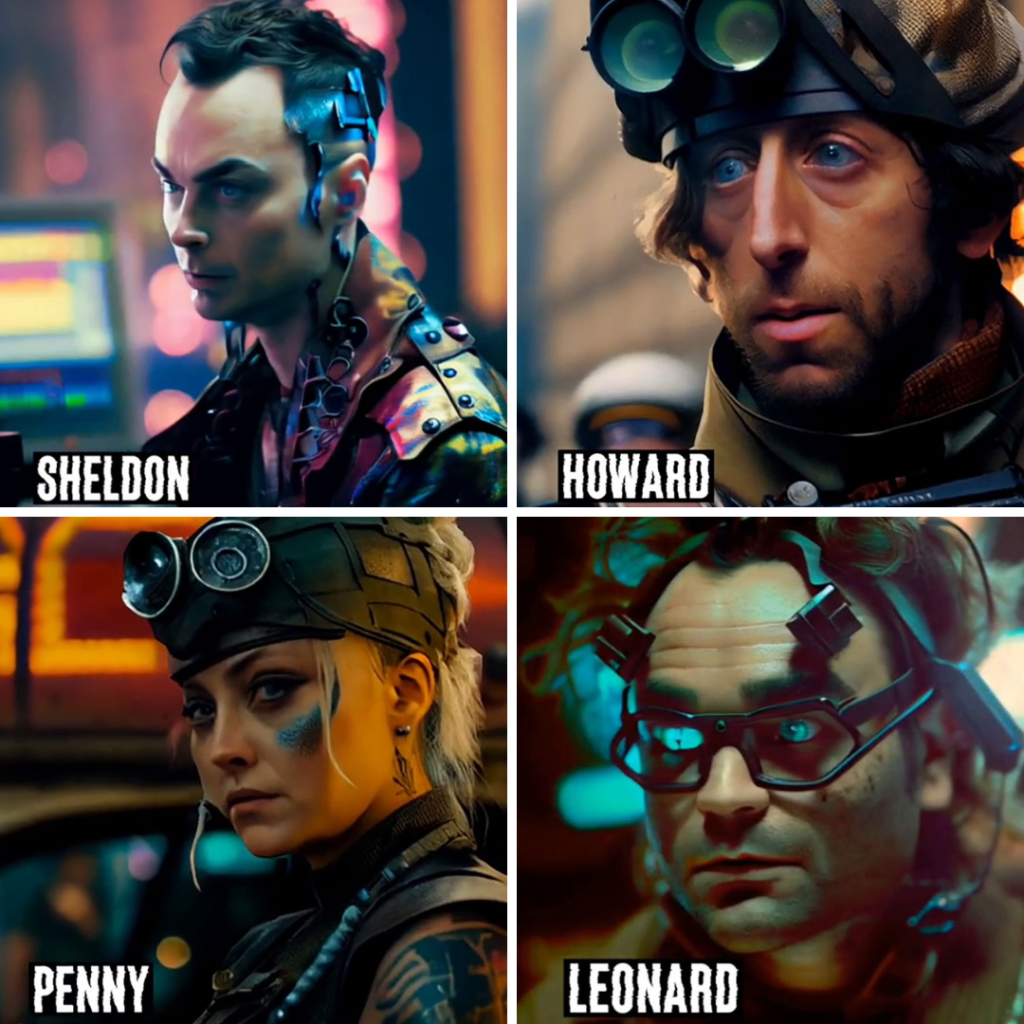 The AI-generated versions of the famous five—Sheldon, Leonard, Penny, Raj, and Howard—transport them into a dystopian universe and transform their nerdy characteristics into hip and punk-like features. And this makes them look like they are entirely ready to take on the world!
The Men from King of the Hill as Real-Life Humans
King of the Hill amassed a global fanbase during its 13-year-long runtime, owing to its realistic humor and relatable yet funny characters. But with the help of AI, these notable animated characters have now become real-life humans, resulting in die-hard fans lobbying for a live-action remake.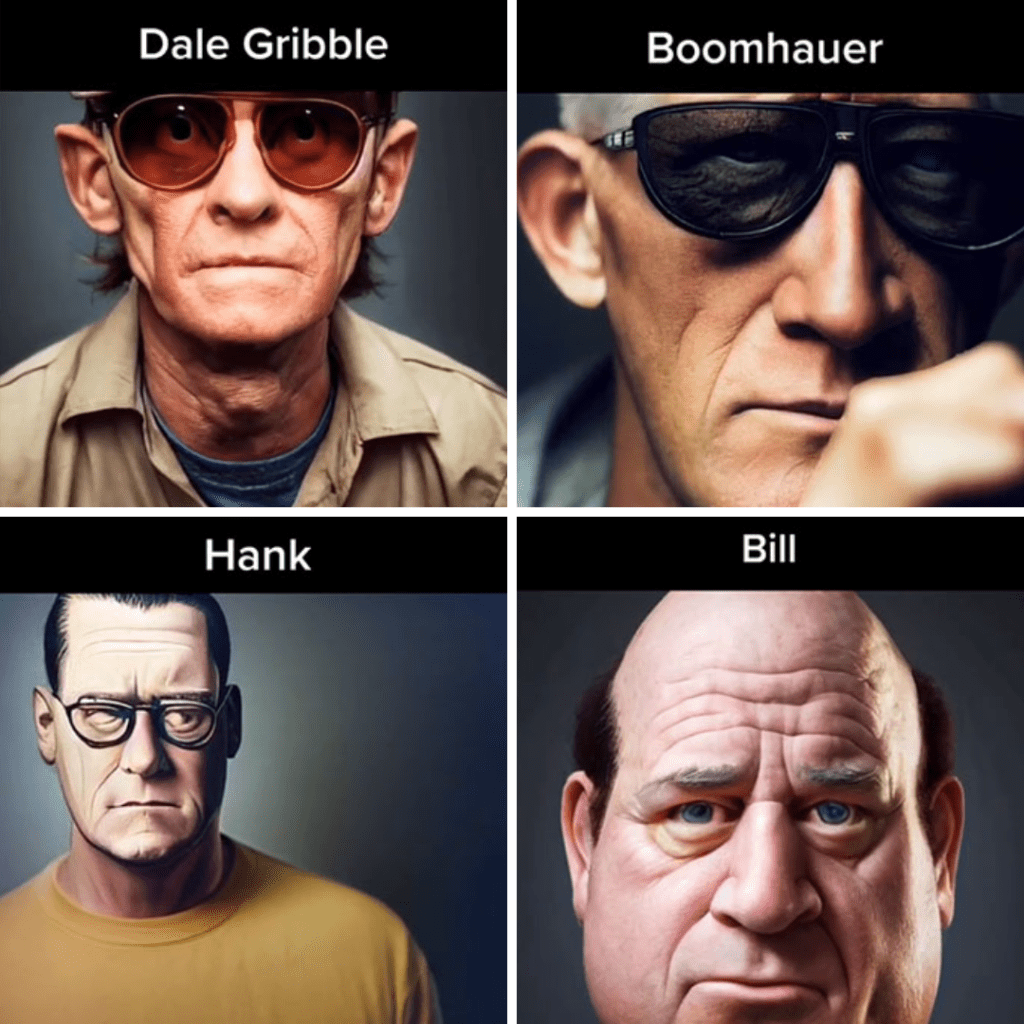 Hank's real-life counterpart boldly sports his famous glasses. Boomhauer, in blonde hair and dark sunglasses, seems extremely suave. But among all, Dale Gribble looks the most similar to the animated version in black sunglasses and a brown shirt. Lastly, the real-life Bill Dauterive also inherits his character's unique features but with a human-like touch.
Cinderella and Co at the Burning Man Festival
The famous Burning Man festival is a nine-day event, including music, art, and culture, garnering thousands of fans yearly. In his latest AI-generated work, artist Milan Jaram imagines Disney princesses as attendees to this iconic festival. For instance, Princess Ariel from the Little Mermaid glows brightly in a golden ensemble embellished with beautiful jewels.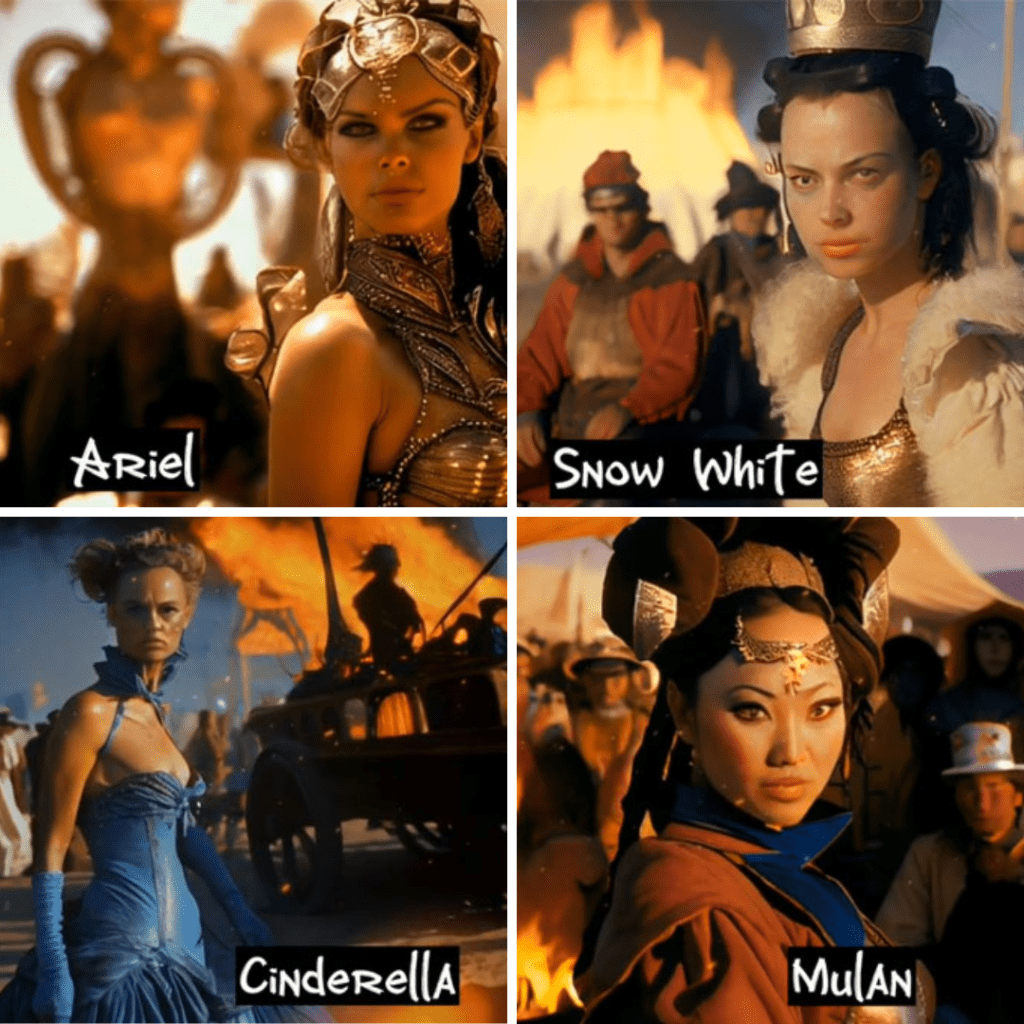 Snow White looks stunning in the golden white outfit and a simple yet elegant crown sitting atop her head. Cinderella looks gorgeous as she dons a graceful blue costume in the AI image with fire raging in the background. Finally, Princess Mulan appears as a striking beauty amid the crowd with pretty headgear.
The Bundy Family from Married… with Children in a Tim Burton Movie
Married… with Children offered us a slew of bold characters. But now, using AI, those iconic characters have been revamped into personas from a Tim Burton-directed film with an added whimsical effect. Al Bundy looks very similar to the show counterpart as he inherits the blue eyes and dimples of the misanthropic character.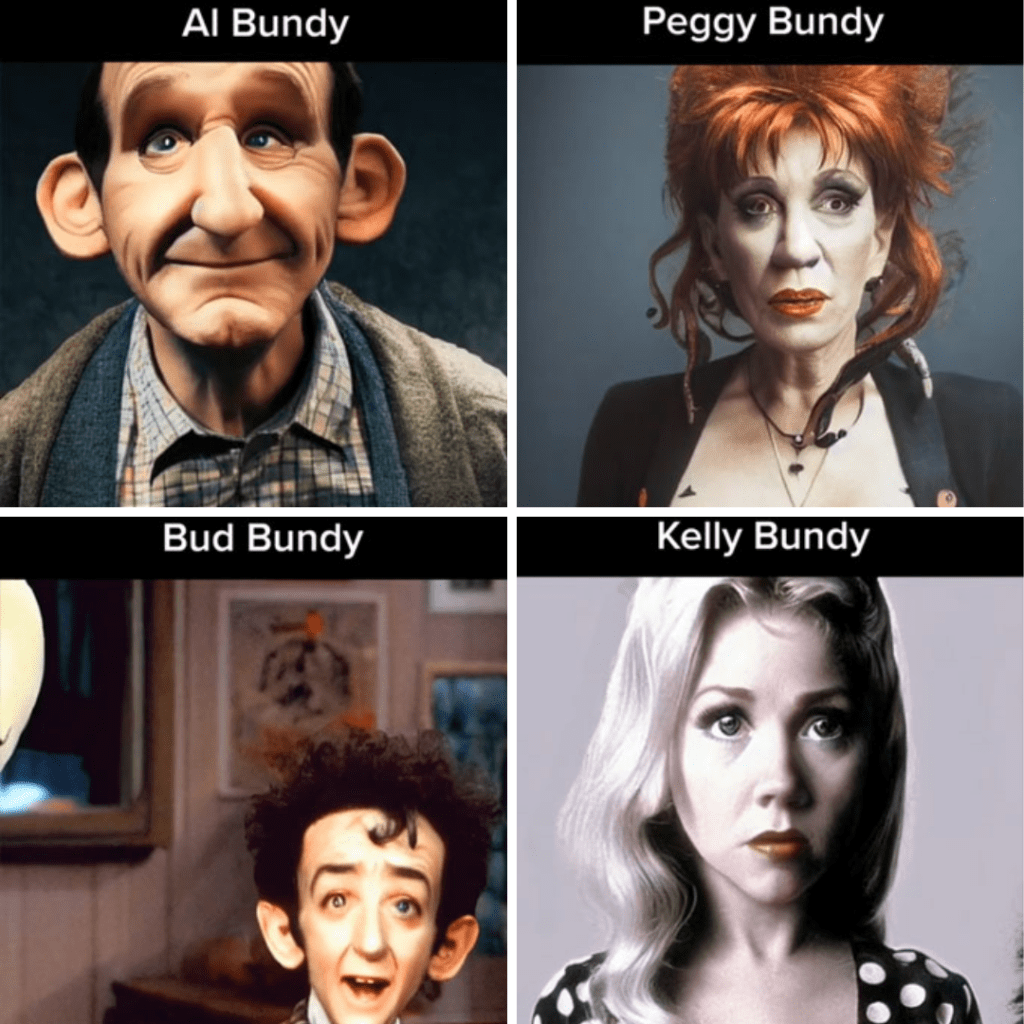 Peggy Bundy not only sports her famous red hair but also resembles a typical Tim Burton-designed character with pale skin and eccentric eyes. AI-generated Bud Bundy has shaggy hair and a mischievous appearance, while Kelly Bundy looks like a spitting copy of the original character with blonde hair and red lips.
Morphing The Simpsons Family into Real People Through AI
Have you ever wondered what the famous characters from The Simpsons would look like in a real-life setting? Then, Jaram's usage of AI to transform the cartoonish characteristics of Homer, Marge, Bart, and Lisa into more human-like features will blow you away.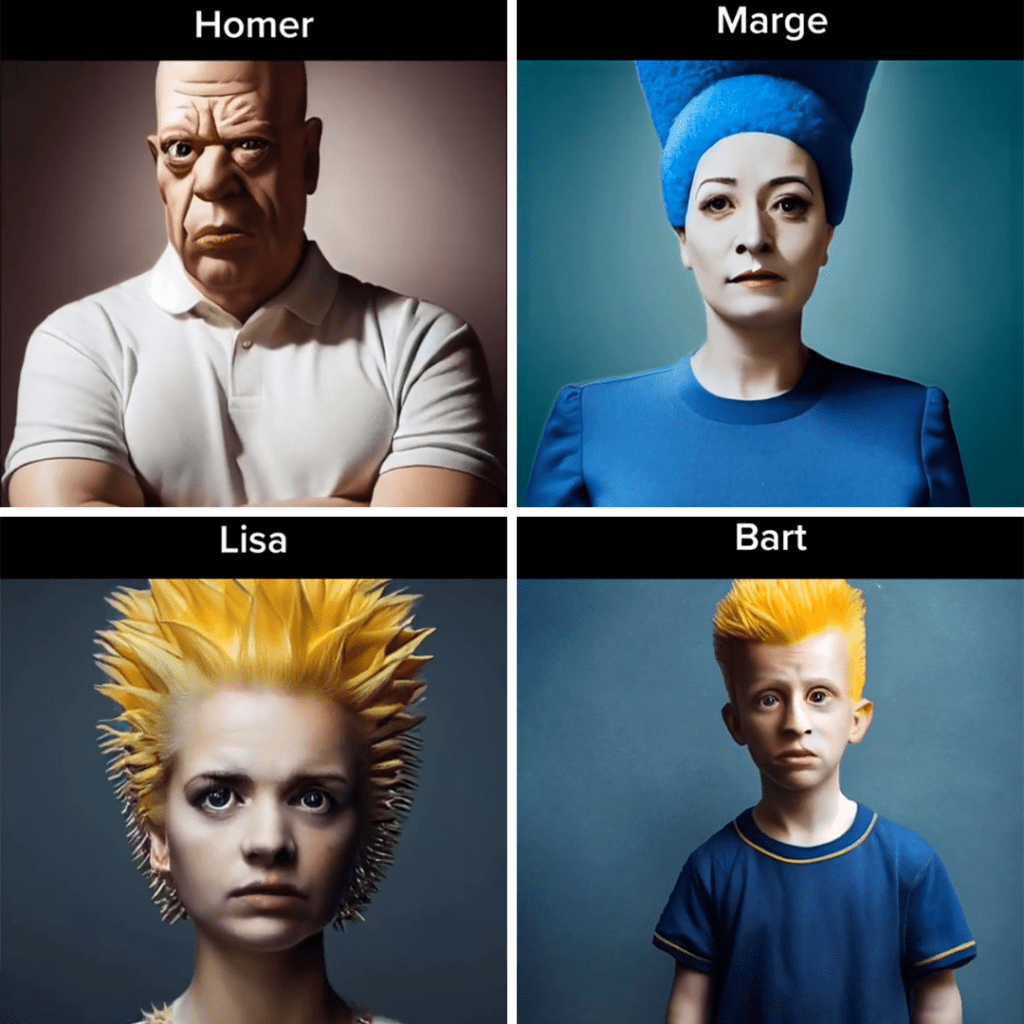 The mischievous Bart dons a troubled expression, while the intelligent and worldly Lisa has been transformed into a modern-day punk. The loving and kind Marge has been rendered a strict and authoritative appearance by AI, while her husband and otherwise goofy Homer Simpson look the scariest and meanest of them all!
The Justice League Take on New Villains in a Steampunk Universe
From Wonder Woman and Flash to Batman and Green Lantern, the members of the Justice League look more daunting than ever in these AI-generated images. Check out Flash's red suit; it looks more dazzling than the one in the comic books and has been fitted with cool gadgets to help him fight the baddies.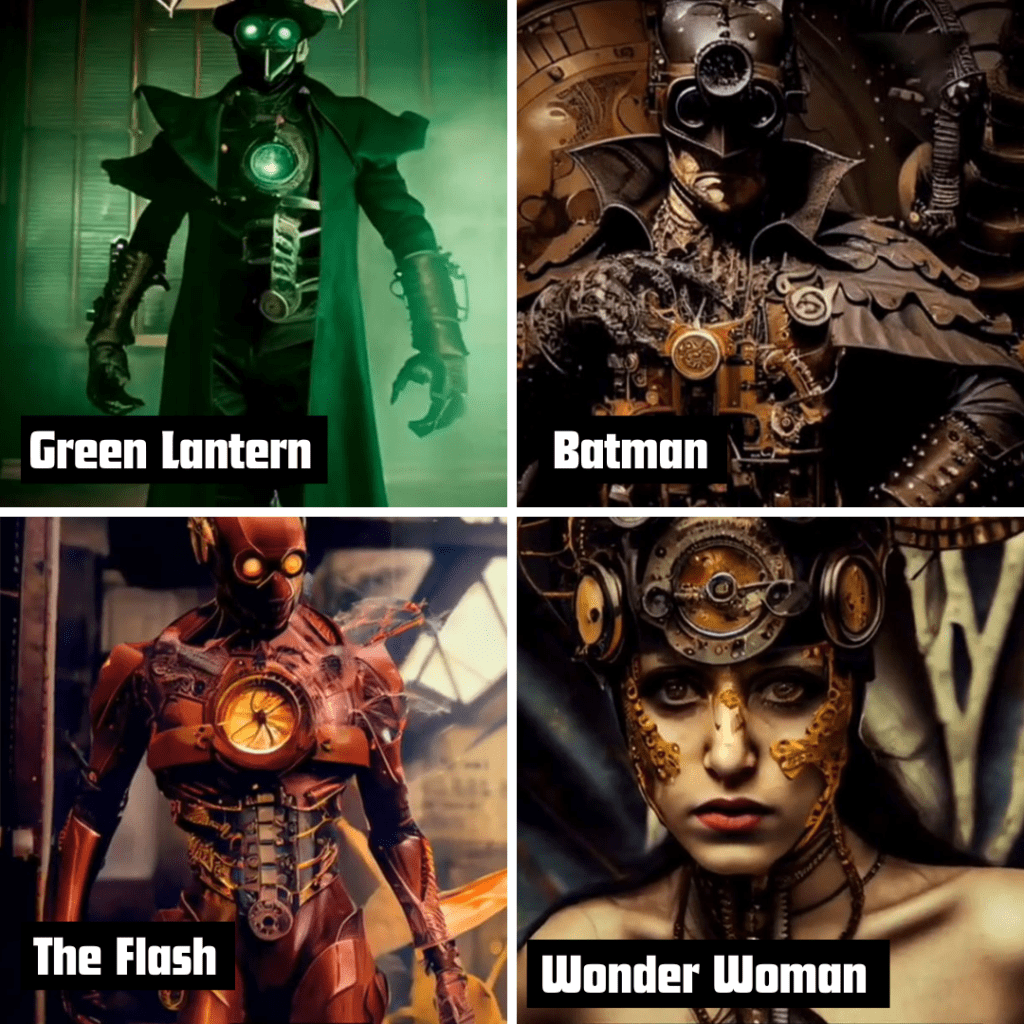 Also, Bruce Wayne's bat suit is equipped with mechanical gadgets, and his mask is transformed into a formidable-looking helmet for effective combat. Look at the steampunk version of the Green Lantern; it exudes so much flair. Lastly, our favorite Wonder Woman looks all ready to bash villains in this new universe effortlessly.
AI Transports Your Favorite Office Goofs to the Mad Max Universe
The show that most people have unabashedly loved is The Office. It may have ended, but the fans continue to reminisce about the iconic characters and have been clamoring for a "reboot" forever. So, here are the AI-generated images of Michael Scott, Dwight Schrute, Jim Halpert, and Kevin Malone placed in the Mad Max universe.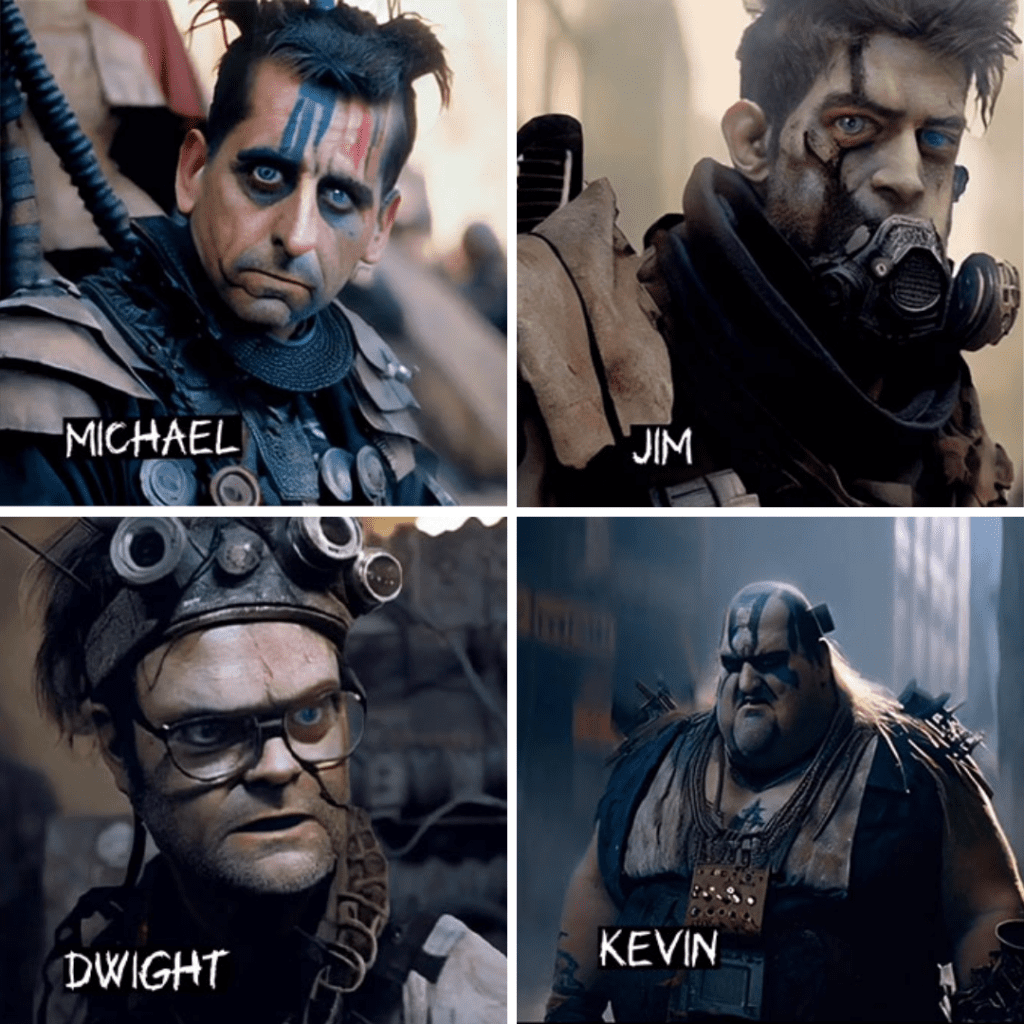 Who would have thought that adorable goofs like Michael Scott and Kevin Malone from The Office would look this terrifying in a post-apocalyptic world? Likewise, the Jim-Dwight rivalry may appear relatively harmless in an episode of the show, but you can expect them to wreak havoc in this brand-new setting.
A Star Wars Film Directed by Tim Burton
In a new set of images, AI transports our favorite Star Wars characters into a film by Tim Burton. So, if you love the Star Wars universe and enjoy Burton's gothic-style films, these pictures are sure to leave you wanting more.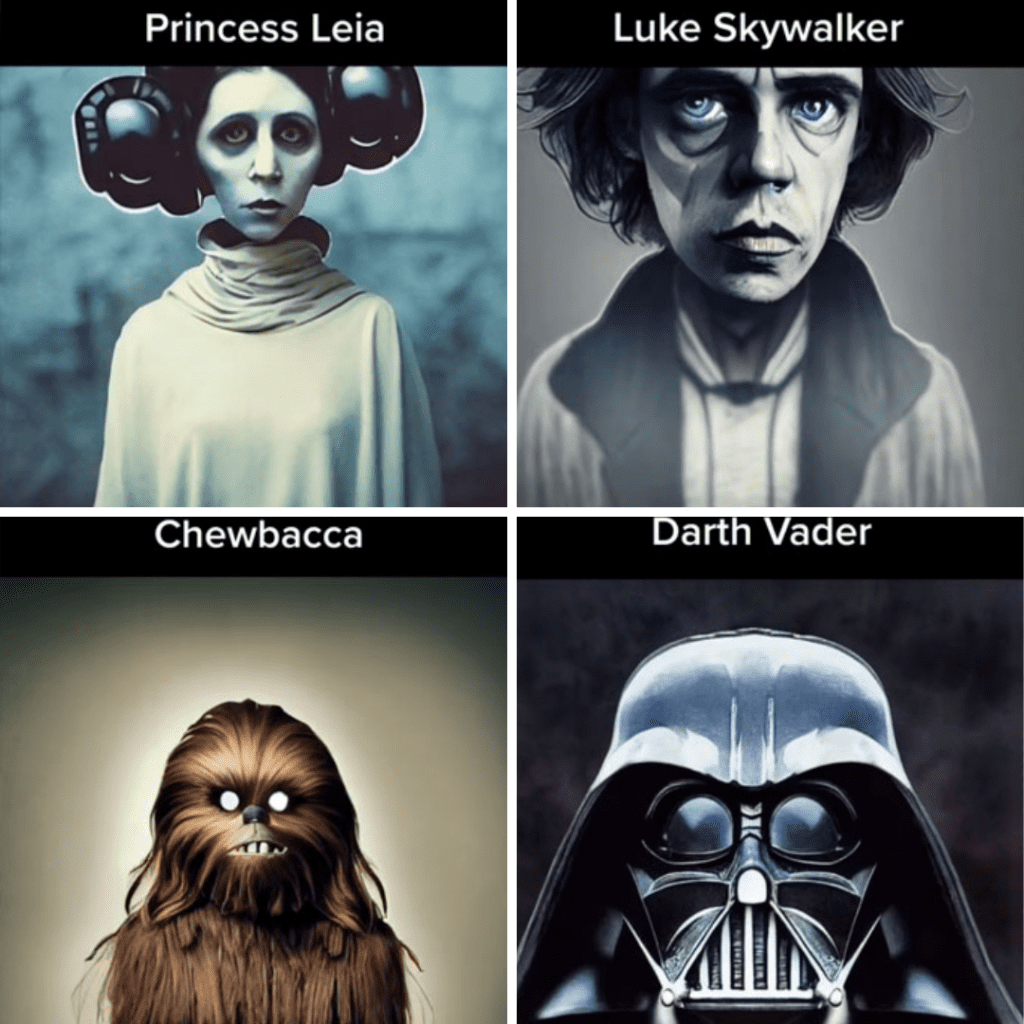 AI makes our favorite protagonists, Princess Leia, and Luke Skywalker, look like eccentric characters with baggy eyes, sunken cheeks, pale skin, and pained expressions. Chewbacca, on the other hand, looks like a cryptid. However, Darth Vader manages to look as threatening as he does in the Star Wars movies.
The Famous South Park Foursome Reimagined as Kids Straight Out of an '80s Film
With the help of AI and his creative skills, Milan Jaram reimagines the South Park foursome—Cartman, Kyle, Stan, and Kenny—as characters from an '80s movie. These AI-generated characters bear an uncanny resemblance to the boys from Rob Reiner's 1986 classic, Stand by Me.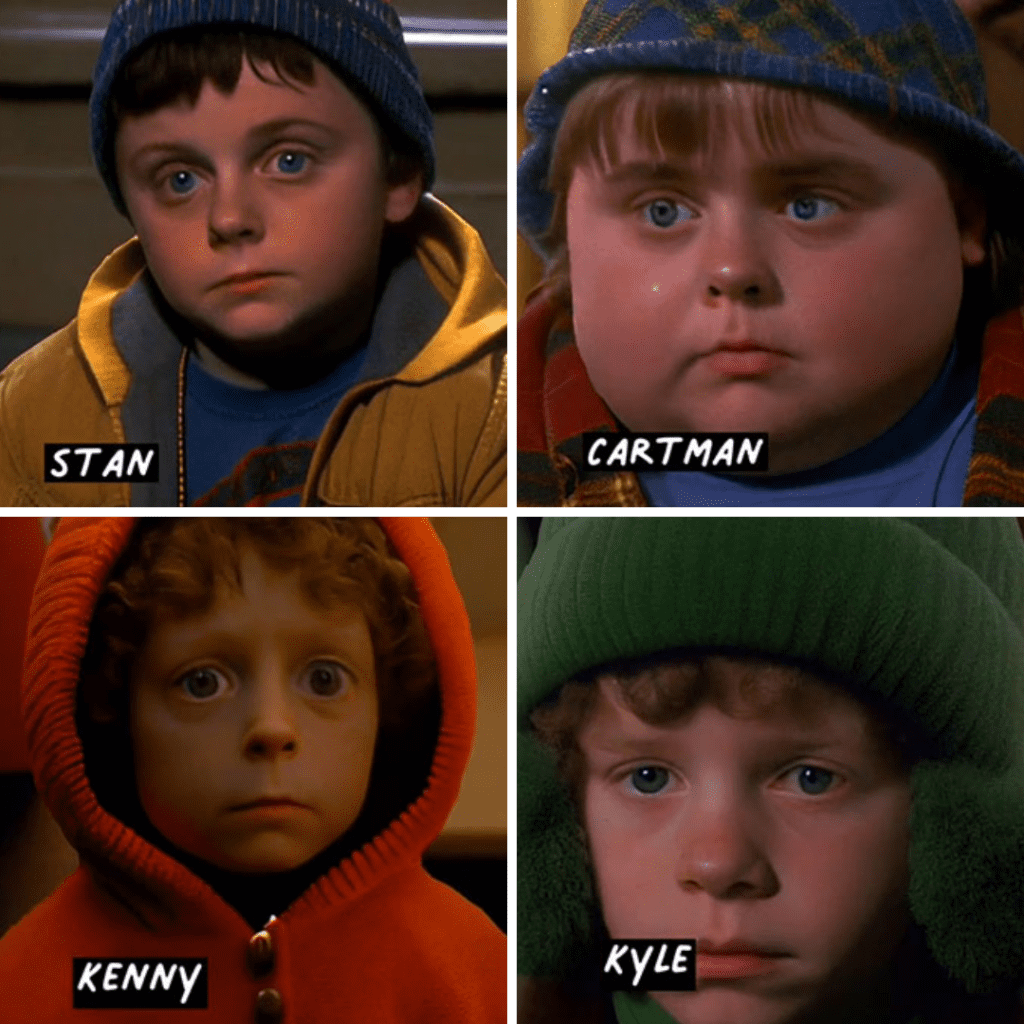 This AI transformation serves as a reminder of the classic coming-of-age films from the '80s that had teenage protagonists going on life-altering journeys and heavily centered around the "gift of friendship." South Park fans love these AI versions of their favorite characters as they take them on a trip down memory lane.
Winnie the Pooh Goes on a Killing Spree
If you think the lovable characters from the Winnie-the-Pooh series can never look threatening and downright murderous, you guessed it wrong. Jaram's AI art featuring our memorable childhood favorites Winnie, Piglet, Tigger, and Eeyore is bound to send a chill down your spine.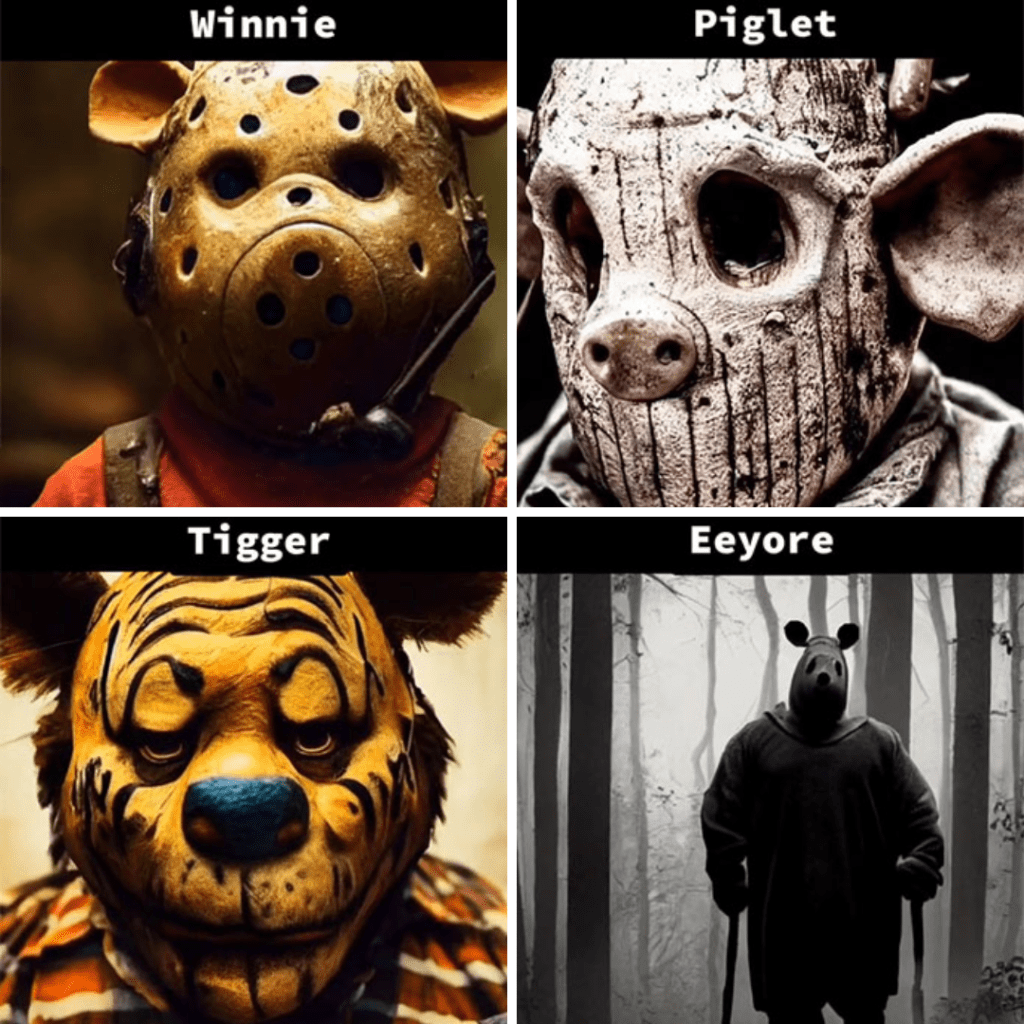 Winnie looks ready to take over the reins of Dr. Hannibal Lecter, the well-known cannibalistic supervillain. Piglet seems it could give the likes of Michael Myers, Pinhead, and Pennywise a run for their money. Meanwhile, Tigger and Eeyore are bound to keep you awake at night with their eerie and bloodthirsty features.
What If Tarot Cards Featured Disney Princesses?
The art of tarot card reading has become increasingly popular over the past few years. So here, the artist tried making these cards even more unique with our all-time favorite Disney princesses. Jasmine, Pocahontas, Tilan, and Muana look extremely beguiling and regal in these AI-generated tarot cards.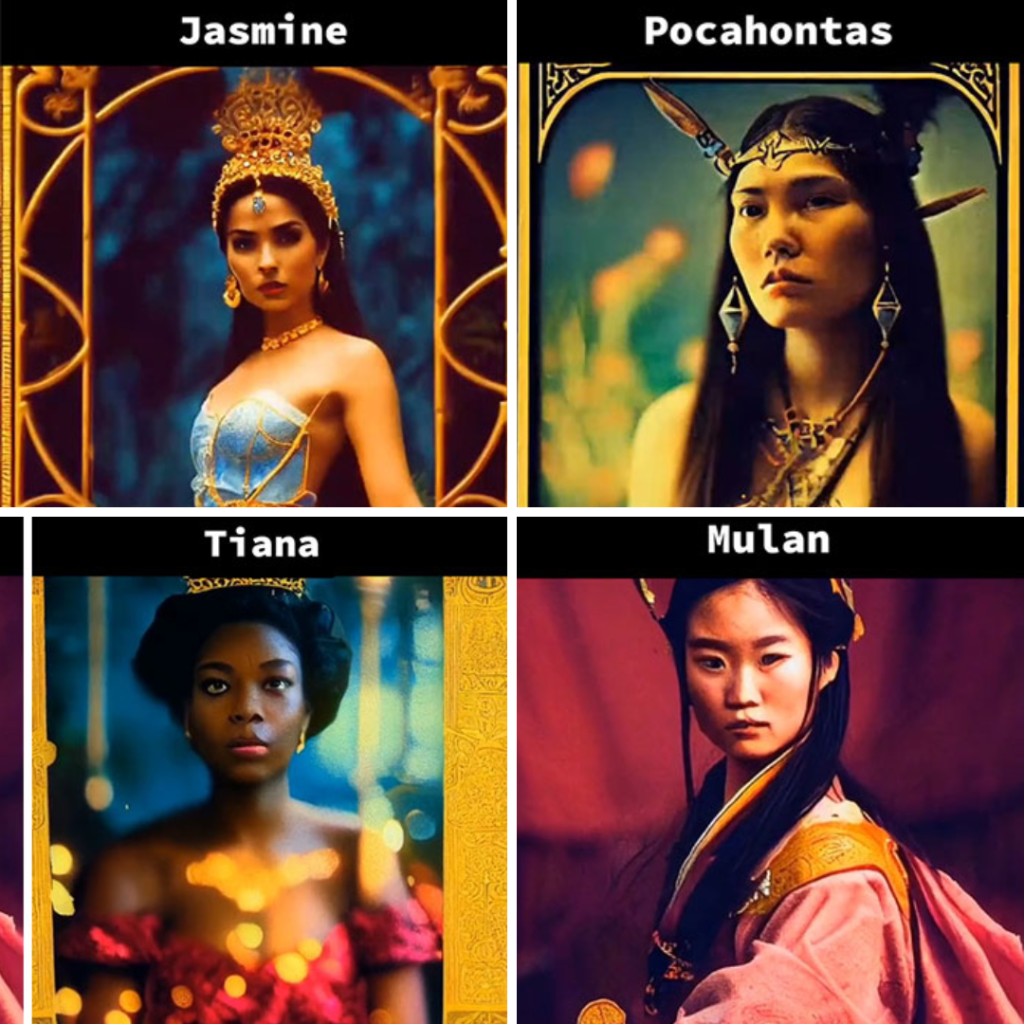 Princess Jasmine is draped in a shiny blue outfit with beautiful golden headgear, while Mulan looks more exquisite than ever in her pink kimono. Pocahontas' tarot card features the Native American warrior in traditional accessories against a golden backdrop. Meanwhile, the last card portrays Princess Tiana in a dark pink ensemble, exuding majestic vibes.
Spider-Man Characters Have Never Looked This Gritty and Dark Before
Growing up, we devoured stories about the Spider-Man-Venom rivalry like crazy. All of us have watched and loved the Venom plot in Spider-Man 3 and Carnage's appearance in the 2021 Venom film. But AI has now made the Spider-Man universe ten times darker.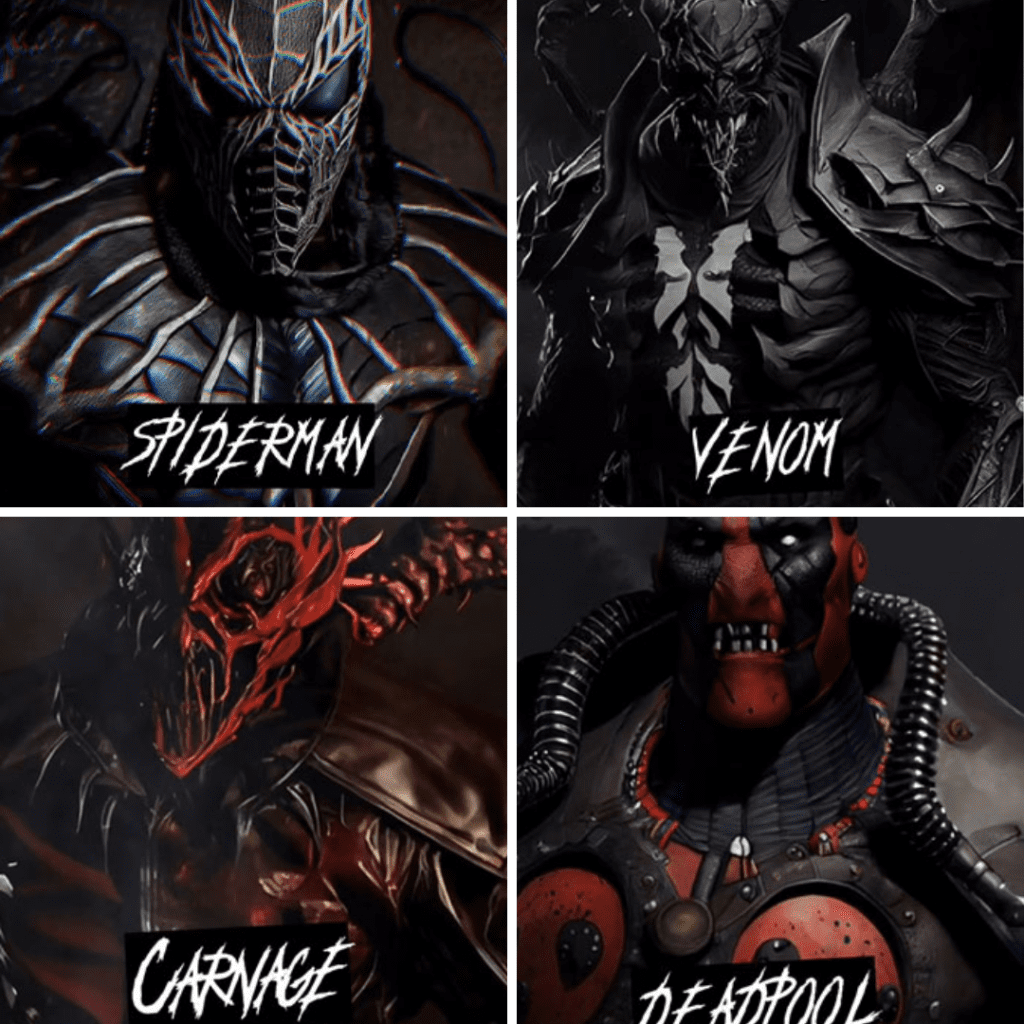 A more fearsome black suit replaced the iconic red suit worn by the "friendly neighborhood" Spider-Man. Venom looks extremely sinister, and his suit is bound to send chills down your spine. Carnage seems overwhelmingly powerful in his creepy red-black mask, while the humorous and sarcastic "Deadpool" comes across as a menacing entity.
When The Lord of the Rings Went To Japan
It is well known that J.R.R. Tolkien's The Lord of the Rings series paved the way for countless fantasy adventure stories. So, with these AI-generated images, the fans of classic Japanese manga can't help but marvel at how amazing the reimagined versions of Aragorn, Gimli, Gandalf, and Legolas look!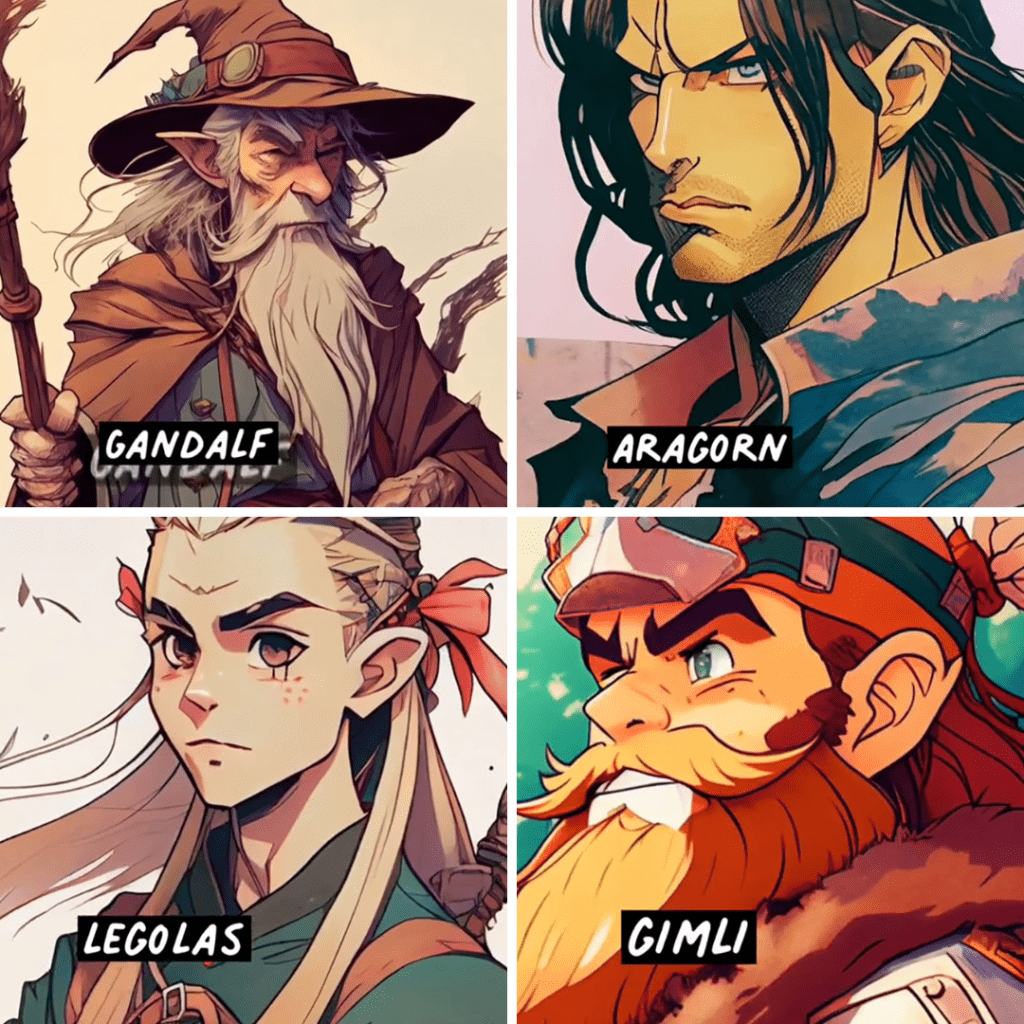 These AI versions of LoTR characters do justice to the fictional world of Middle-earth from Tolkien's books, lending it a dreamlike appearance. The popularity of these images may even lead to a streaming platform green-lighting a new anime series based on Aragorn and friends' famous adventures—fingers crossed!
The Jokesters from Parks and Rec Get Transported to the Mad Max Universe
Very few shows have made us laugh out loud as many times as Parks and Recreation. Characters like Ron Swanson, Leslie Knope, Andy Dwyer, and April Ludgate have become household names, and their famous dialogues have paved the way for iconic memes.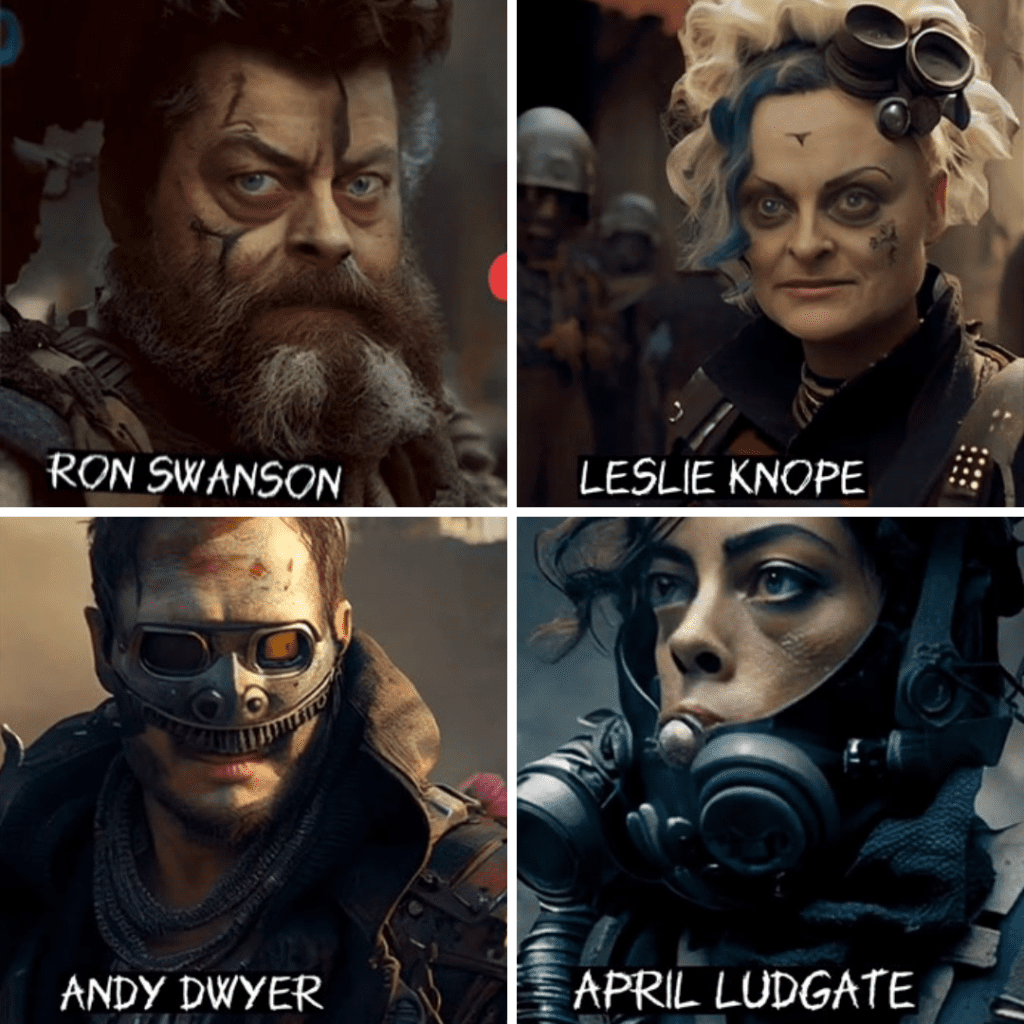 So now, AI is used to establish a crossover between the fictional town of Pawnee from the show and the post-apocalyptic world in Mad Max. The charming goofballs of the sitcom look war-worn and fearsome as they are embellished with scars, masks, and battle outfits in this dreary new universe.
When the Story of Aladdin Took Place in Transylvania
All of us have great memories from the times when we watched Aladdin on repeat or hummed along the beats of "Friend Like Me" as kids. So, Jaram made an attempt to transport the iconic characters from the film into "a whole new world" using AI.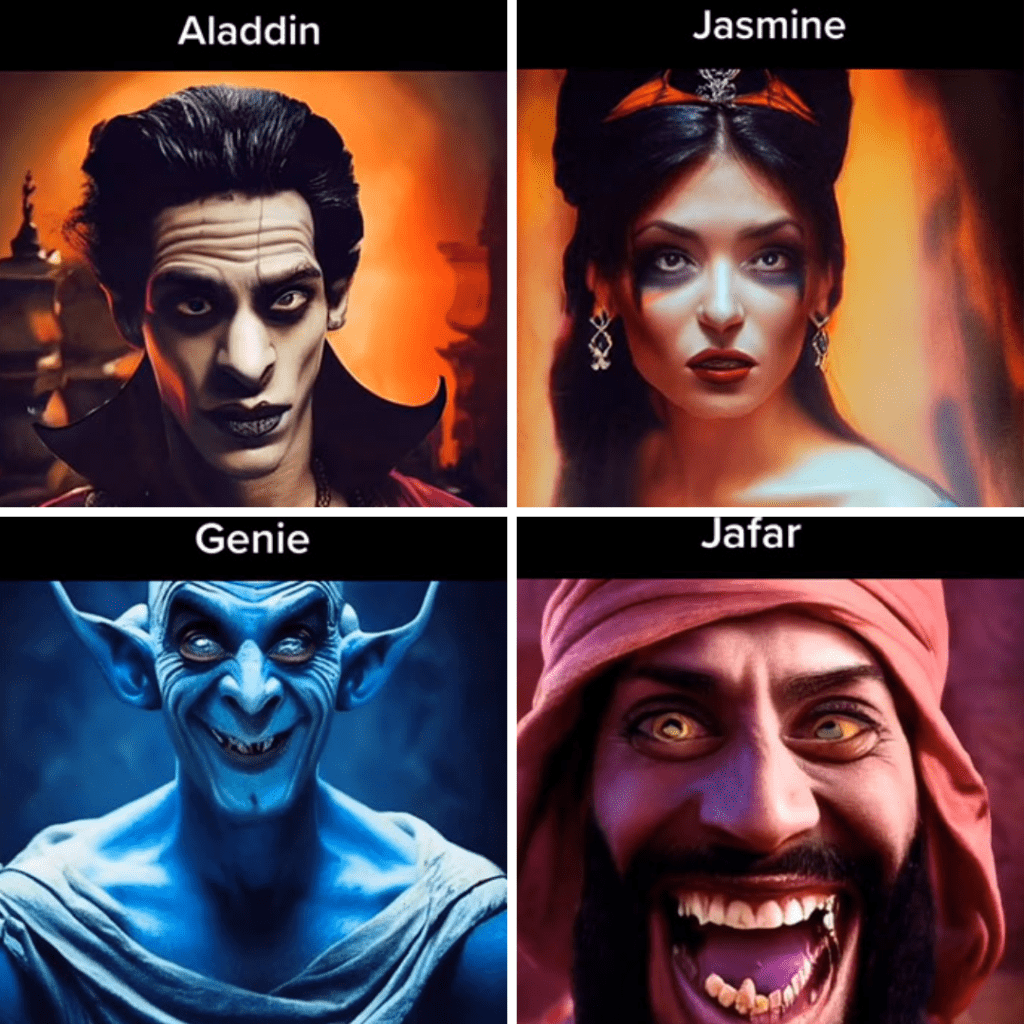 Jafar looks highly threatening, making even grown-ups pee their pants. On the other side, our fan-favorite Genie seems he was left to rot inside an oil lamp for years in the spooky land of Transylvania. Finally, our main protagonists, Aladdin and Jasmine, appear fatigued yet formidable as they prepare to take on the villainous Jafar.
What If Tim Burton's Beetlejuice Was Adapted into an Anime?
This AI-generated art got Beetlejuice fans hoping for an anime series based on the film. Just look at the first anime version of Beetlejuice; the eccentric "bio-exorcist" rocks spiky red hair and hollow black eyes. Meanwhile, in the other photo, he appears more flamboyant in electric striking blue hair, a golden-green striped jacket, and big orange eyes.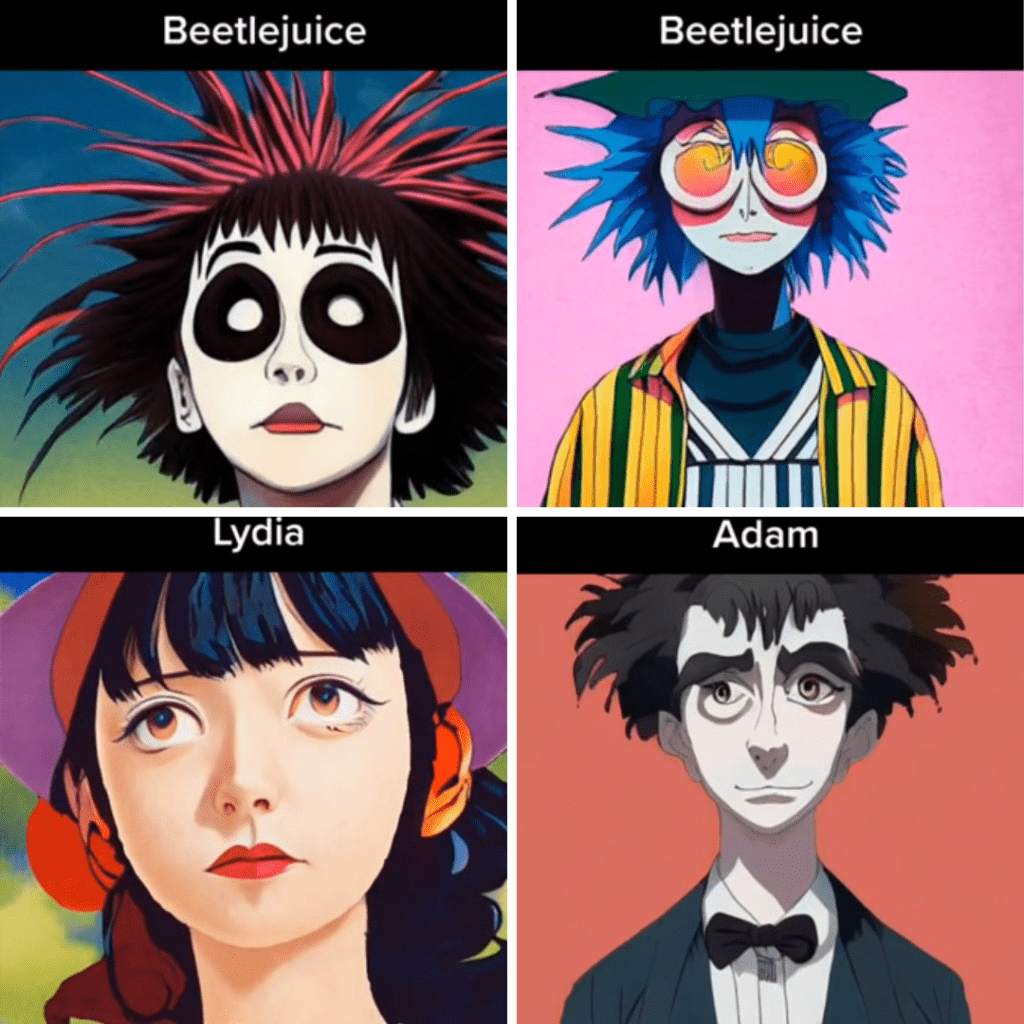 AI rendered the gothic Lydia Deetz a fair complexion with big eyes, and a lovely red hat, making her look as beautiful as the original movie character. However, Adam Maitland has an ashen face, frizzy black hair, and sunken features as he appears gloomy in a black and white outfit.
The Office Becomes a Disney Cartoon
We have all lost count of the times we rewatched the funny clips from The Office. So, to freshen up our memories, Milan Jaram created these AI-transformed images based on the sitcom's popular characters. The artist tactfully achieved a wholesome The Office x Disney crossover, wherein all our favorite characters look extra lovable.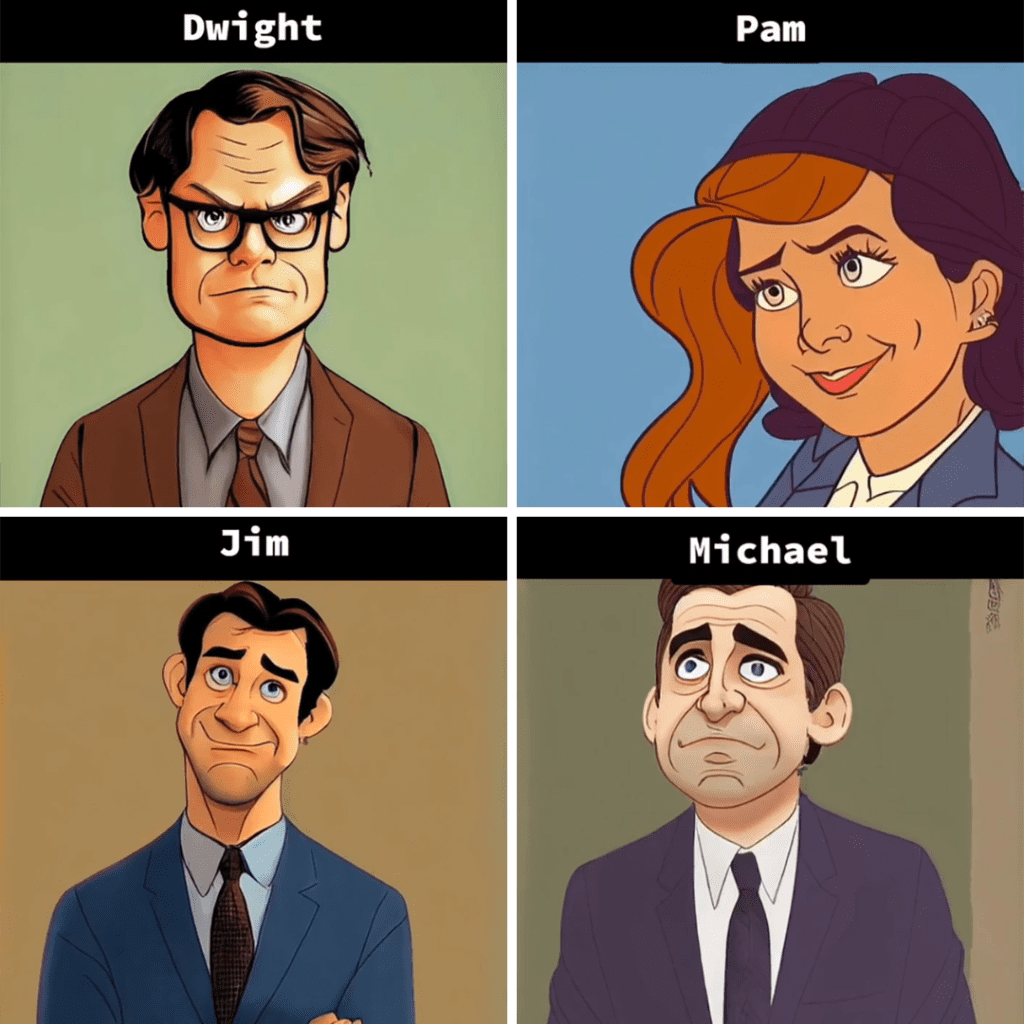 Office beauty Pam bears a striking resemblance to the Disney princesses we know and love. Her co-workers, Jim and Dwight, look like they are up to new mischief again. However, Michael Scott, the somewhat annoying yet lovable boss from the show, looks like he is also carrying out his antics in this alternate Disney universe.
The Characters from DC Comics Go on a Wild Adventure in an Alternate Cyberpunk Dimension
If you have ever thought about what iconic heroes and villains from DC Comics would look like if they were suited up in ultra-modern, cool outfits, these AI-generated images will blow you away. Jaram's art places Batman, Catwoman, Joker, and Harley Quinn in a cyberpunk dimension, equipped with cool gadgets and chic outfits.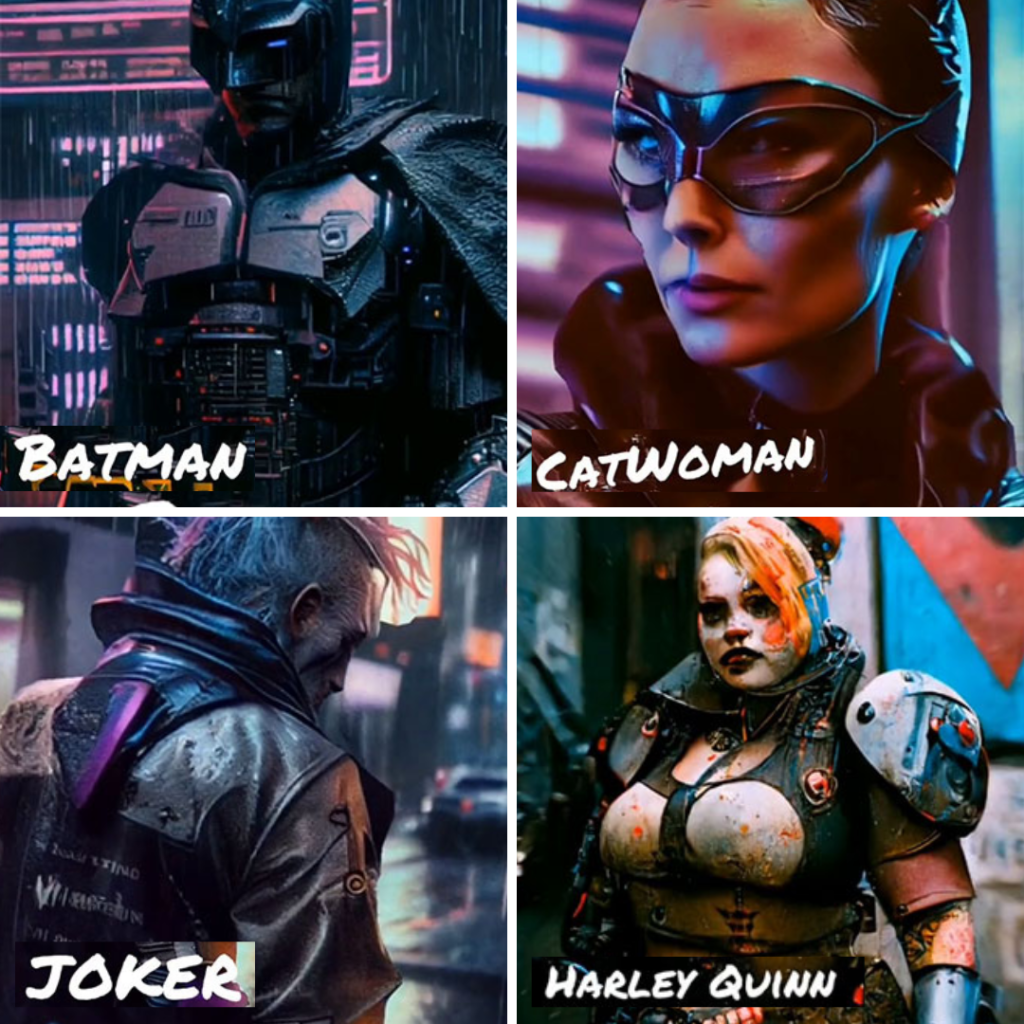 Joker, the extremely popular supervillain, dons a sleek jacket and sports suave-looking white hair, while his arch-nemesis, Batman, puts on a powerful suit fitted with the latest gadgets. Catwoman wears a simple yet shiny mask, looking incredibly cool, whereas the dangerous Harley Quinn seems ready to combat in her punk-like clothes and orange hair.
An Animated Lion King Film, Helmed by Tim Burton
The Lion King may have been released in 1994, but this iconic film about a young "cub," Simba, who grows up to defeat his evil uncle, Scar, occupies a special place in everyone's heart. The emotional scenes between a young Simba and his father, Mufasa, can still make a grown man cry.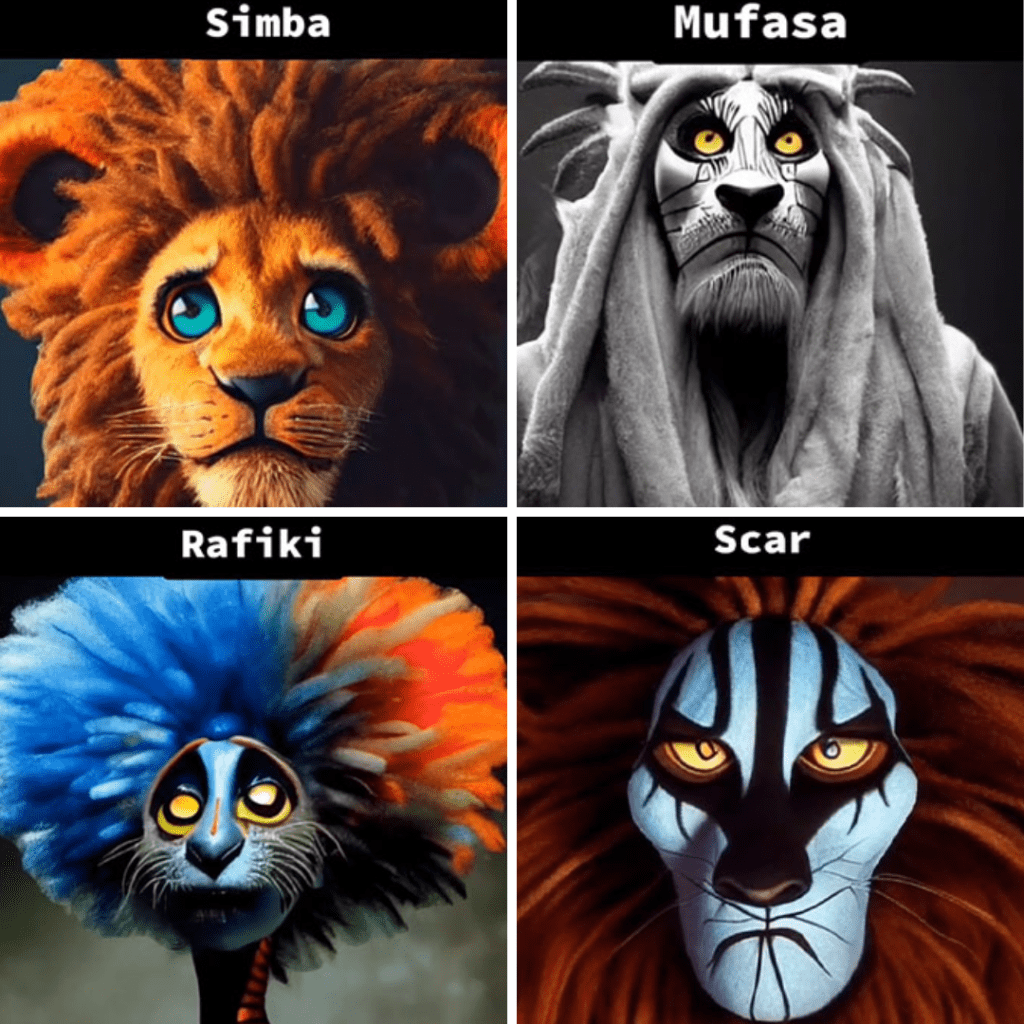 This AI-generated image depicting the characters from The Lion King in Tim Burton's iconic style got fans interested in a new animated remake of the celebrated film! However, these transformed characters look more shrouded in darkness than ever, with hollow eyes, pale faces, and somber facial expressions.
The Ninja Turtles Go Ghost Hunting
This new bunch of AI-generated images is a treat to the eyes of people who equally loved Teenage Mutant Ninja Turtles and Ghostbusters. The popular anthropomorphic turtles Leonardo, Michelangelo, Donatella, and Raphael have been equipped with funky devices as they look ready to take on some menacing ghosts in this alternate universe.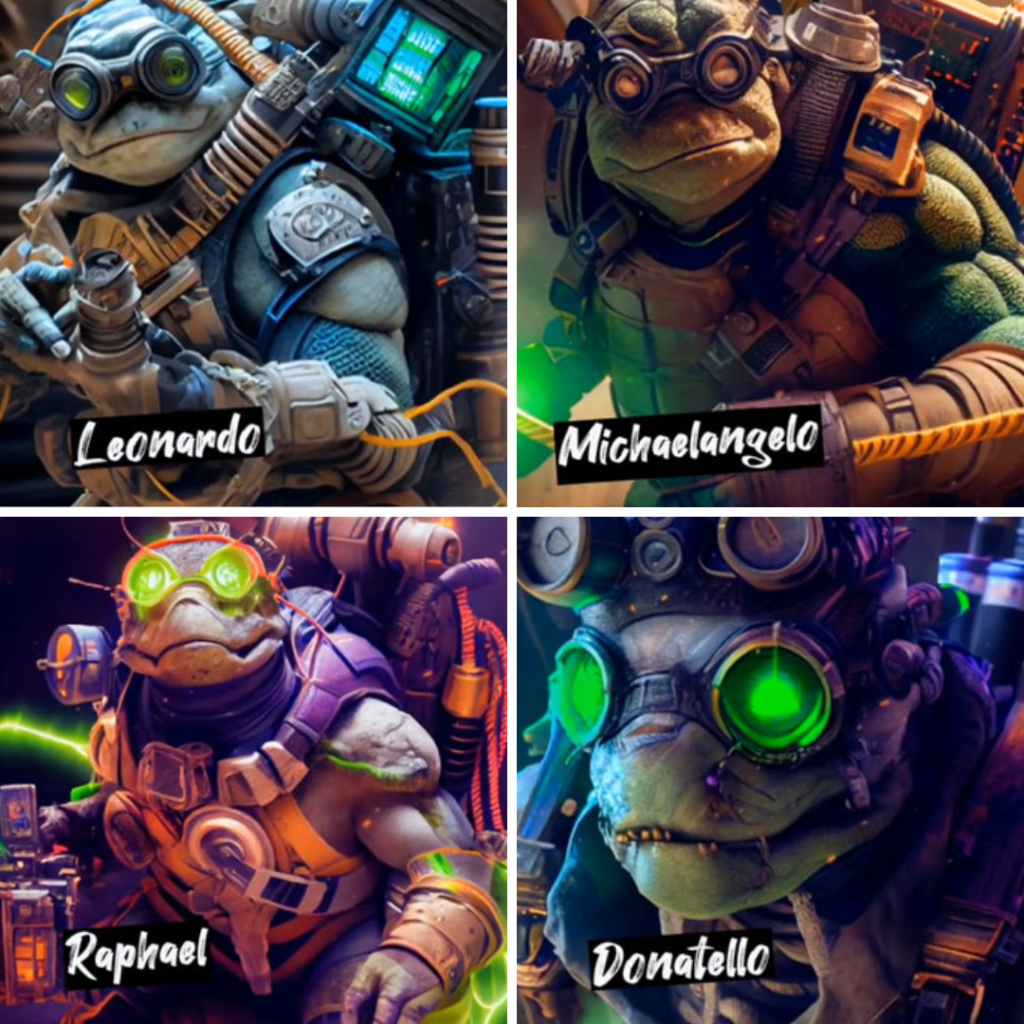 The images show the turtles wearing backpacks fitted with hoses, similar to the ones worn by the protagonists in the 1984 Ghostbusters film. AI has also added hip and flashy glasses to make the ghost-busting foursome look more iconic and cooler.
Disney Princesses Leave their Castles Behind to Live in a Trailer Park
Have you ever imagined your favorite Disney princesses like Snow White and Jasmine out of their dreamlike gowns and beautiful jewelry, living in a dilapidated house? The artist has used the power of AI to create images that reimagine these stunning princesses in gloomy settings.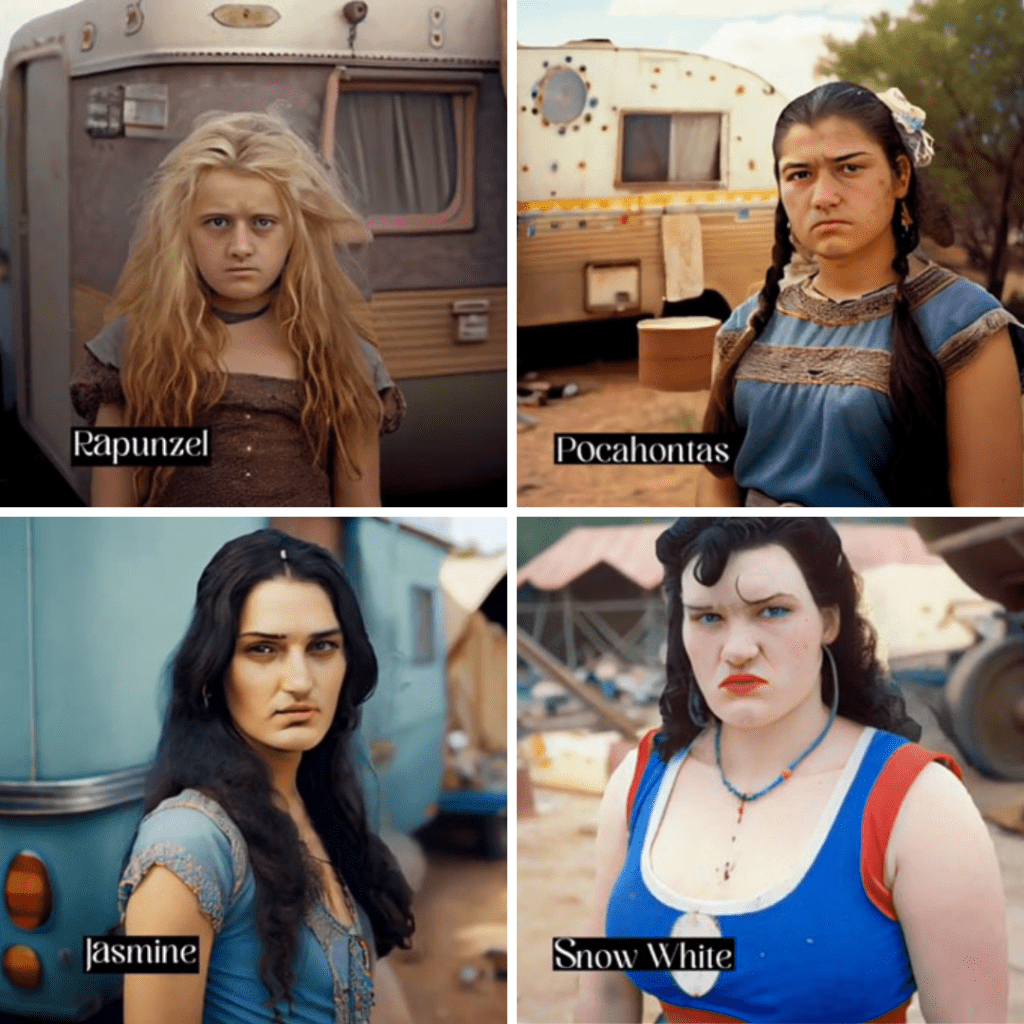 The trailer park version of Rapunzel seems sullen with frazzled and faded golden hair. Pocahontas and Snow White appear to have had a hard day at work as they look positively dejected. Meanwhile, Jasmine seems to have left her royal lifestyle in Agrabah behind to live a modest life in the middle of nowhere.
Dragon Ball Z Characters as Real-Life Humans
Almost every fan of Dragon Ball Z wished to meet the show's characters at least once in their lifetime. So, Jaram made it possible by transforming these animated heroes into real-life humans with AI. Look at the human version of Goku! He retains the spiky hair from the anime, ready to fight in Super Saiyan mode.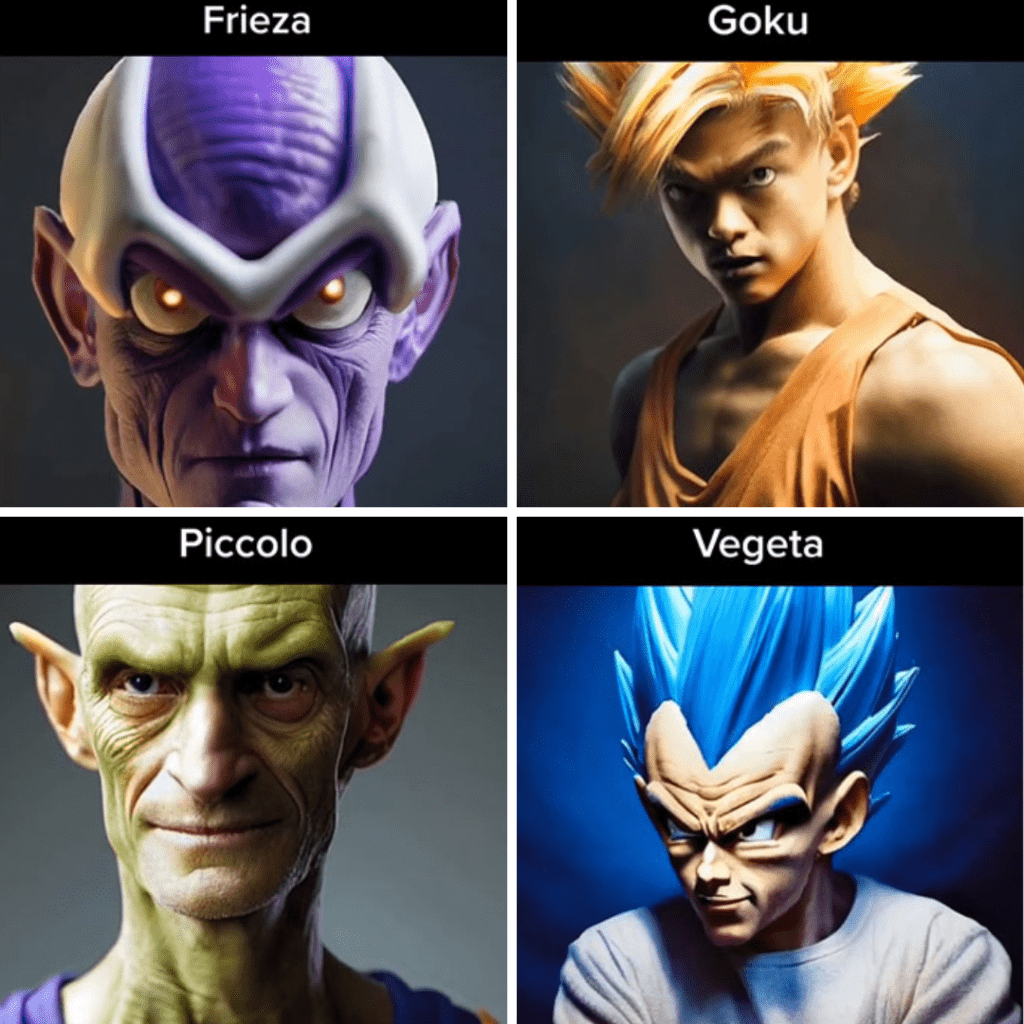 Real-life Vegeta also has spiky blue hair, black eyes, and ice-blue eyebrows like the anime version. However, the AI-generated Piccolo looks the most similar to his original character with green-color skin and sharp ears. Lastly, Frieza's human version has the same purple head and eccentric eyes as his animated counterpart.
Looney Tunes' Goofballs as Real-Life Humans
We all have fond memories of the Looney Tunes show and its endearing characters. But now, fans are losing their minds as this AI-generated image displays these popular characters as real-life human beings. For instance, even as a human, Porky Pig maintains his pig-like appearance with big ears, huge nostrils, and protruding jaw.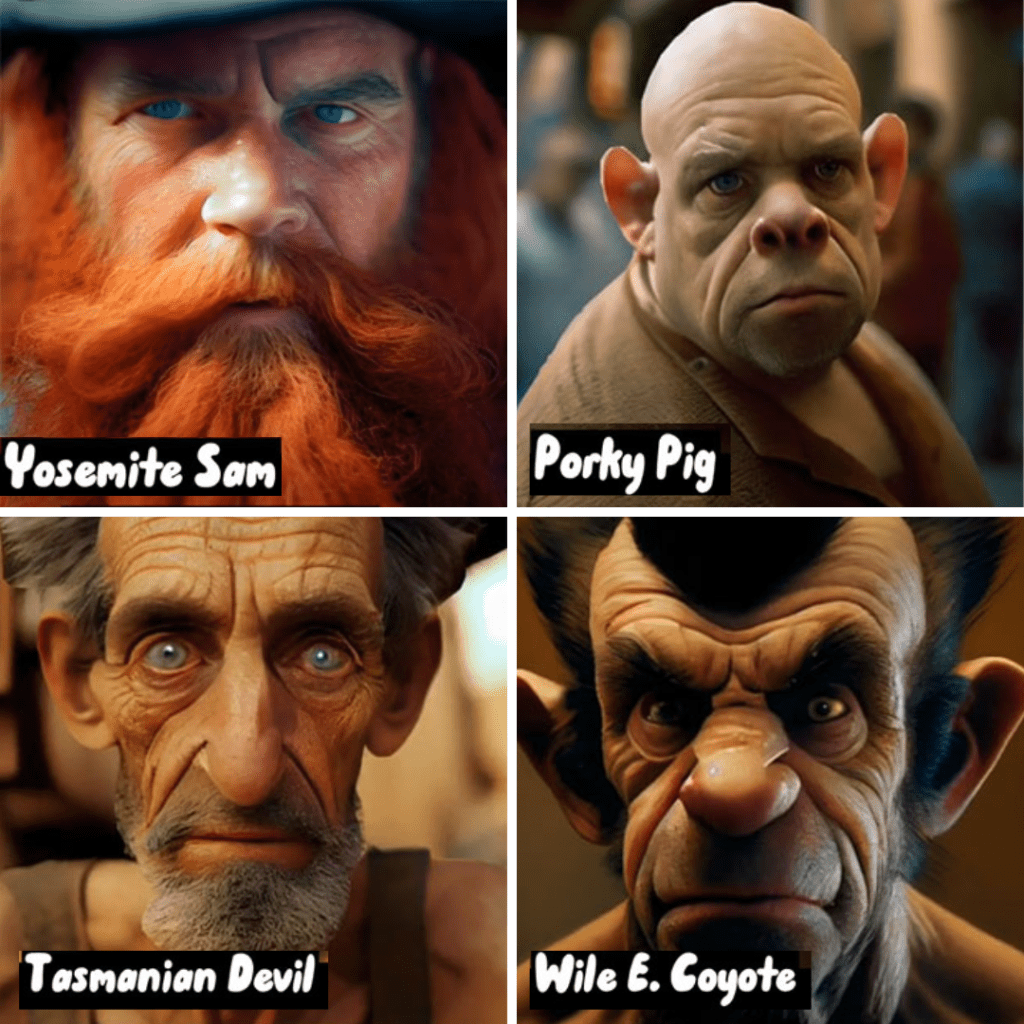 Similarly, Tasmanian Devil looks formidable as a human with furrowed eyes and a scary-looking frown, while the AI version of Yosemite Sam seems more somber than his animated counterpart. However, the human version of Wile E. Coyote looks more earnest due to his saggy blue eyes, wrinkled face, and gray hair.
The Formidable Avengers in an Alternate Cyberpunk Universe
If you're a fan of the Avengers, you must be well-versed in all theories and plots about alternate dimensions. Recently, AI has made it possible to reimagine a whole new universe wherein the powerful Marvel superheroes are transported to a cyberpunk dimension. Thor looks more deity-like and high-octane than ever before in this dazzling headgear.
Hulk has been fitted up with new gadgets, making him appear physically unbeatable, while Spider-Man's latest cyberpunk suit has resulted in his die-hard fans going berserk. However, Thanos, one of the most dangerous supervillains our heroes had to fight, looks more menacing as he is adorned with daunting new gadgets for amped-up power.
Jerry and His Friends from Seinfeld Star in an '80s Horror Film
For nine years, hordes of Seinfeld fans enjoyed the antics of Jerry Seinfeld and his friends. So, Milan Jaram has now transported these four lovable wisecracking characters into the set of an '80s horror film using AI. Jerry Seinfeld appears scruffy in this setup as he wields an ax and sports a scary expression.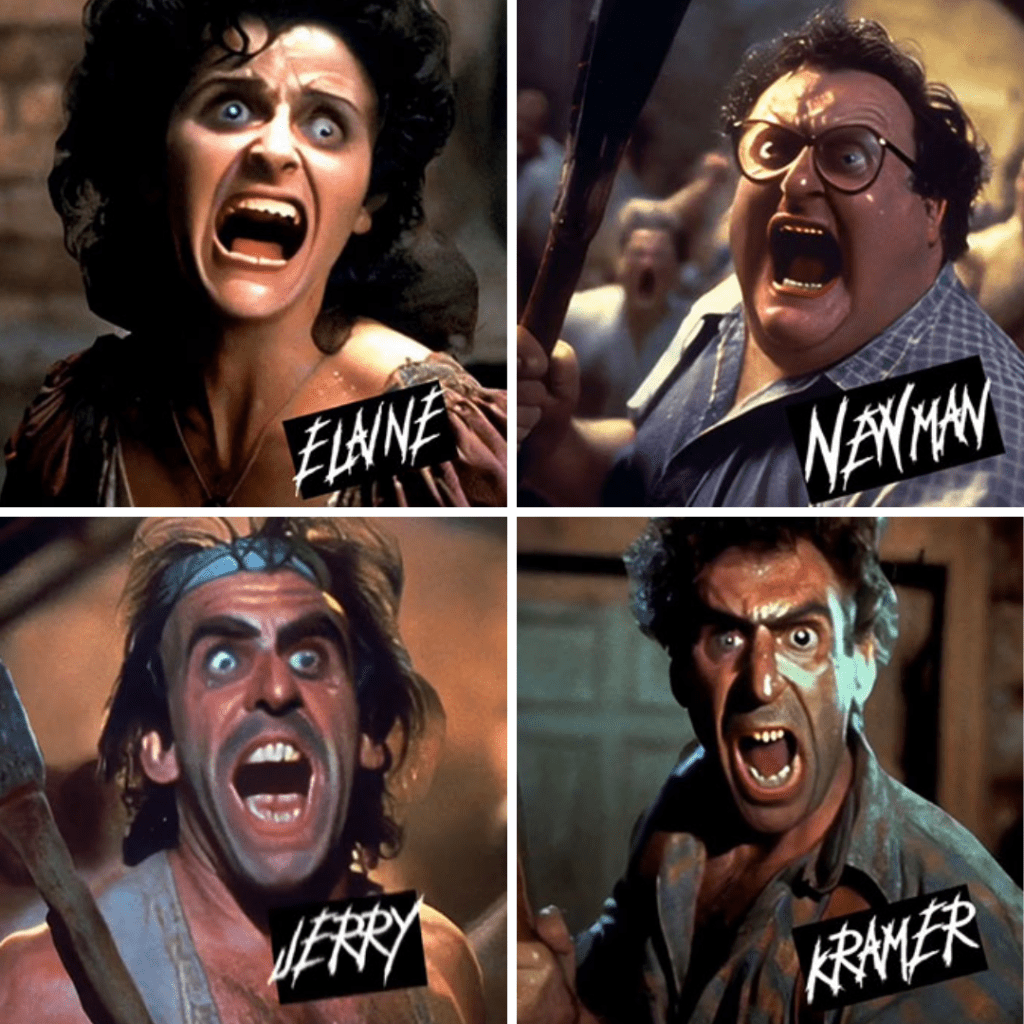 The horror version of Elaine Benes looks sassy with jutting eyes, frazzled hair, and a horrified expression. In contrast, the fan-favorite goof, Kramer, seems disheveled but all ready to face off against a horrifying monster. However, the cunning Newman appears antagonistic in Jaram's art, too, with an army of disgruntled rebels in the background.
What If Betty White of Golden Girls Fame Was a Rapper?
Everyone has fond memories of The Golden Girls, a sitcom that revolved around four older single women living together under one roof in Miami. With the help of advanced technology, the artist has now transformed these four classic protagonists of the show into modern-day rappers.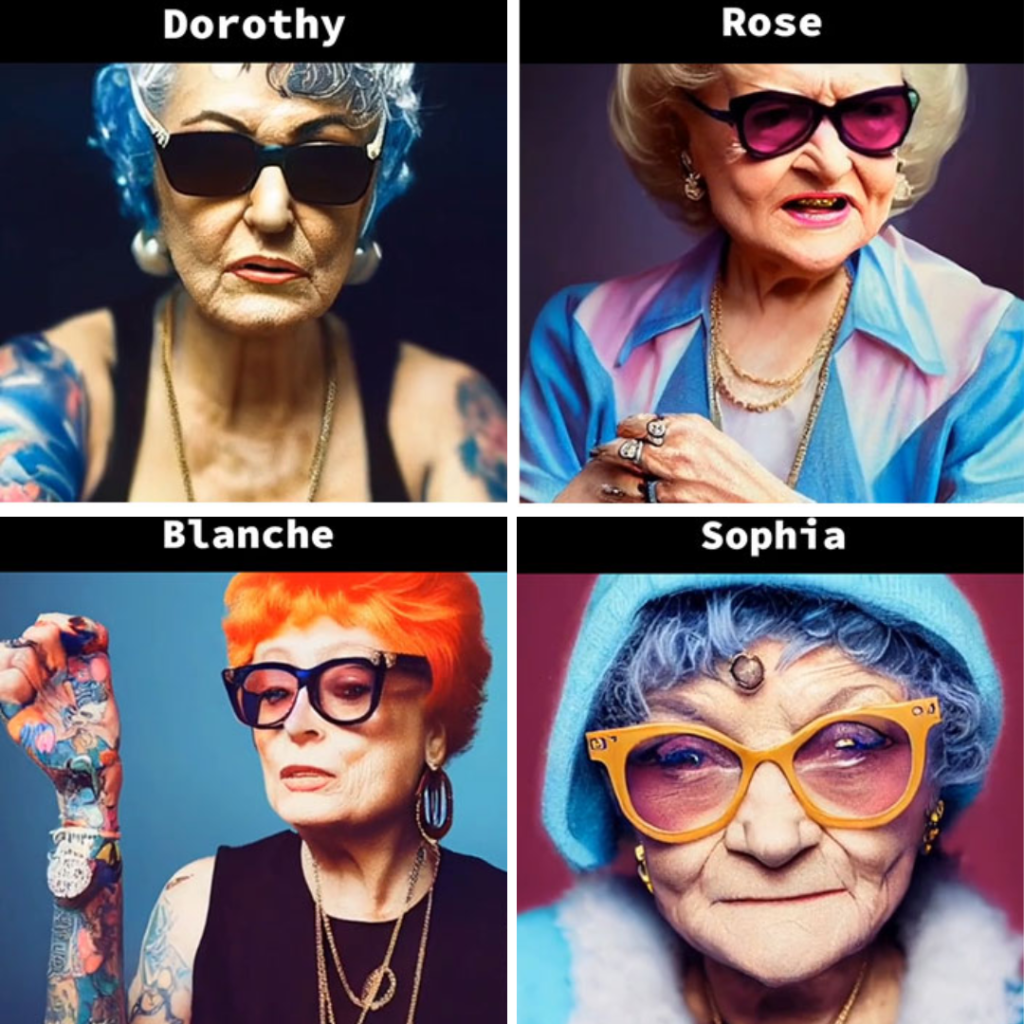 In this AI-generated art, Rose, Dorothy, Sophia, and Blanche look like they could give tough competition to current-day rappers like Cardi B or Nicki Minaj. Honestly, after seeing these transformations, we would love it if the late Betty White had decided to pursue a career in rapping.
Comic Book Characters in the Warhammer Universe
AI can make the impossible possible, as seen in the image below, which transports comic book superheroes and supervillains into the Warhammer universe. In this alternate setting, Marvel supervillain Thanos looks even more potent as he possesses larger-than-life headgear and other battle equipment.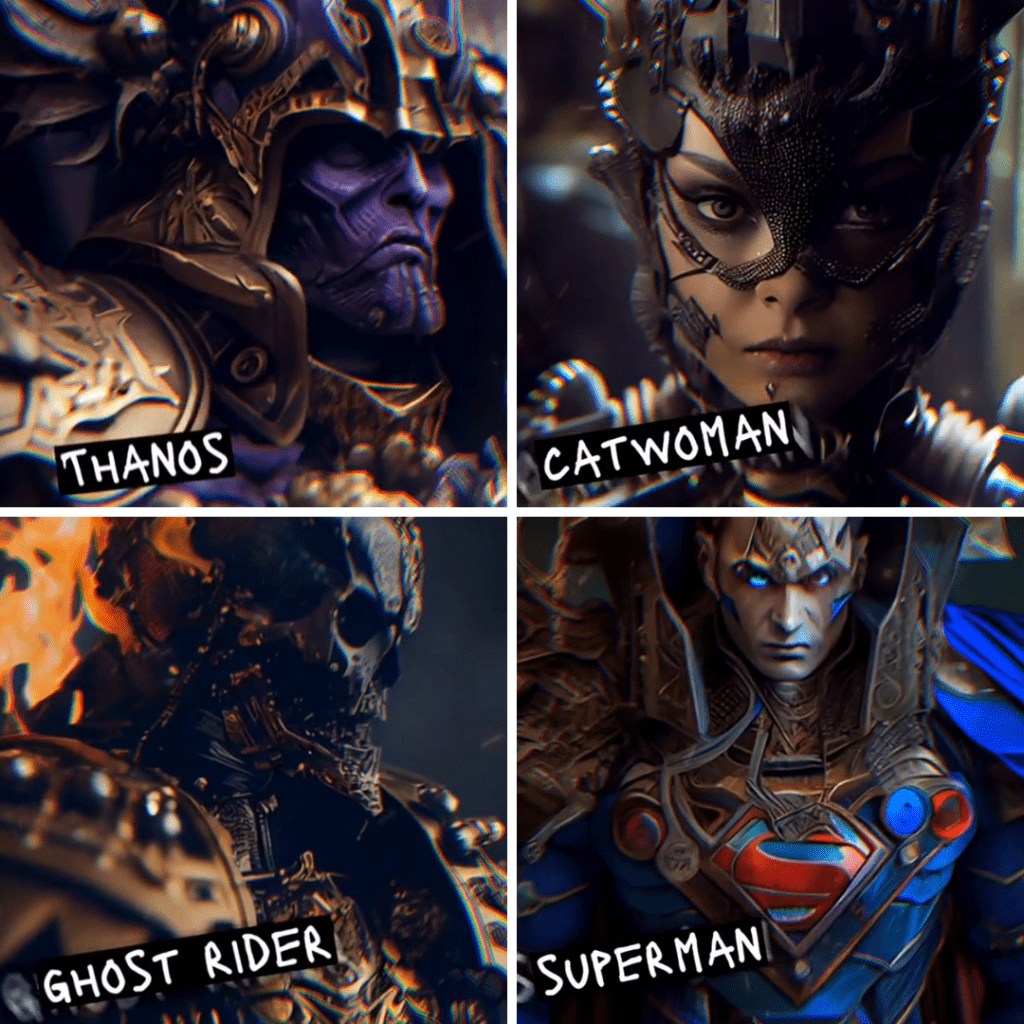 Superman looks colossal as his famous blue-red outfit has metallic add-ons, and he sports electric blue eyes. The blazing Ghost Rider has also received a new spiky uniform to carry out his missions more effectively. Meanwhile, AI rendered Catwoman a shiny black mask and metallic headgear, giving her an elegant yet formidable appearance.
AI Transforms Peter Griffin and Co. from Family Guy into Real-Life People
Since the show's first episode aired in 1999, the antics of the now-famed Family Guy characters have entertained fans greatly. Thus, Jaram used AI to reimagine these fan-favorite characters as real humans. In this AI-generated image, the Griffin family resembles the happy and well-meaning people we see in our day-to-day lives.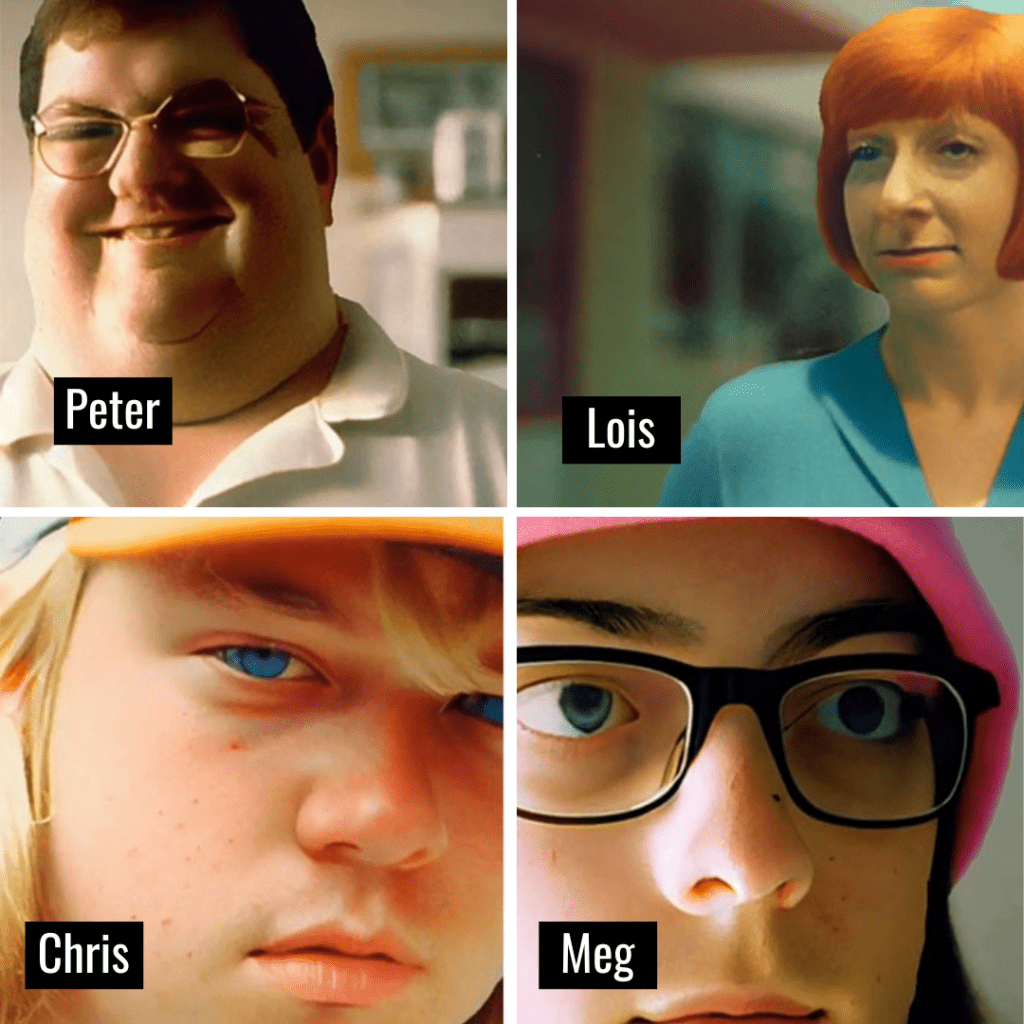 Like his animated counterpart, the real-life Peter Griffin has a large cleft chin and is dressed in his famous white shirt. The human version of Lois flaunts glorious orange locks, dressed in the quintessential green shirt as her original character. Meanwhile, the Griffin kids, Chris and Meg, look identical to common school-going teenagers.
Star Wars in a Steampunk World
Since the first Star Wars film was released, the franchise not only amassed a huge global fanbase but also churned out other related shows over the past four decades. Milan Jaram, who loves to draw inspiration from things he's grown up watching, used AI to transport our favorite Star Wars characters into an alternate steampunk dimension.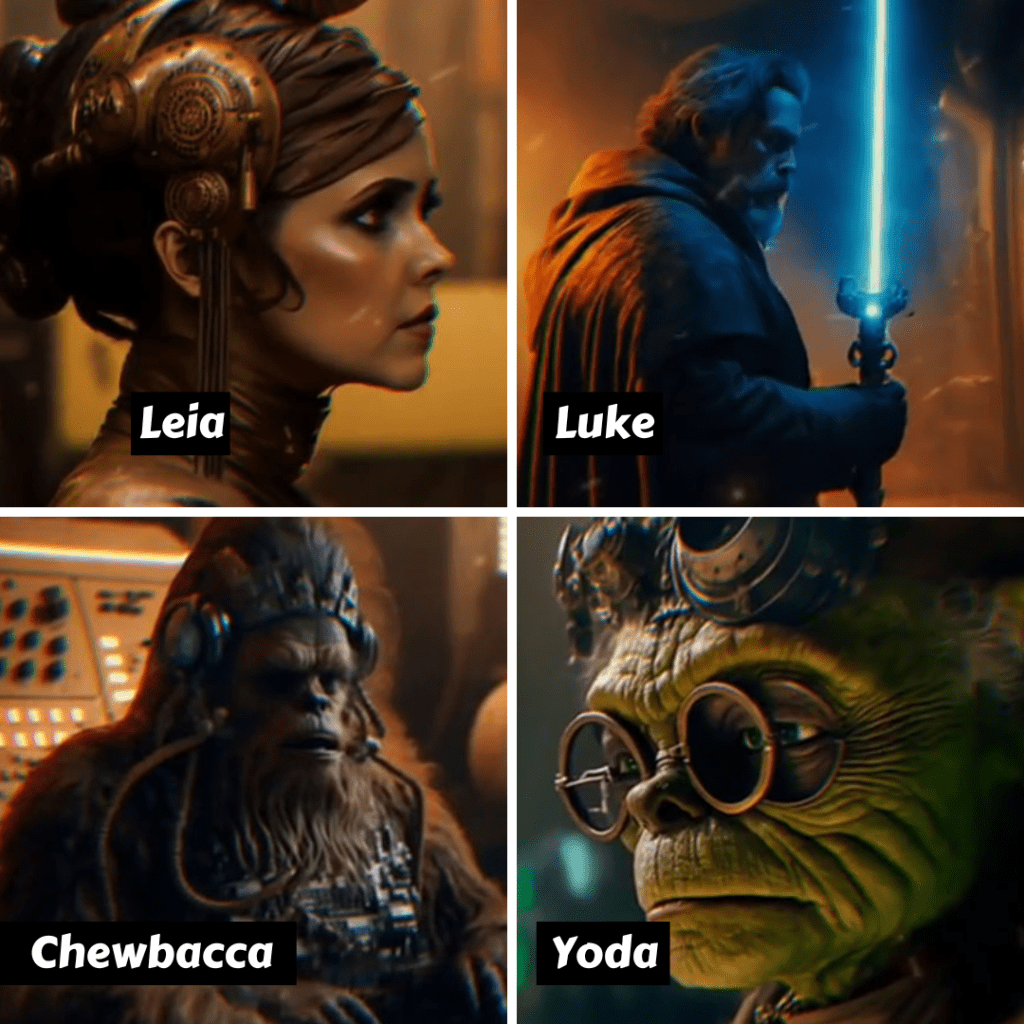 Princess Leia looks as ethereal and stunning as in the original Star Wars trilogy. Her brother, Luke Skywalker, has a wise appearance, accompanied by his trusty-old lightsaber. Chewbacca is equipped with advanced tools to help his friends out of danger. Lastly, the legendary Jedi Master, Yoda, looks sagacious but punk-like in his glasses and headgear.