Divide And Conquer: 40+ Creative Room Divider Ideas For An Open-Concept Layout
By Joyce S September 2, 2023
---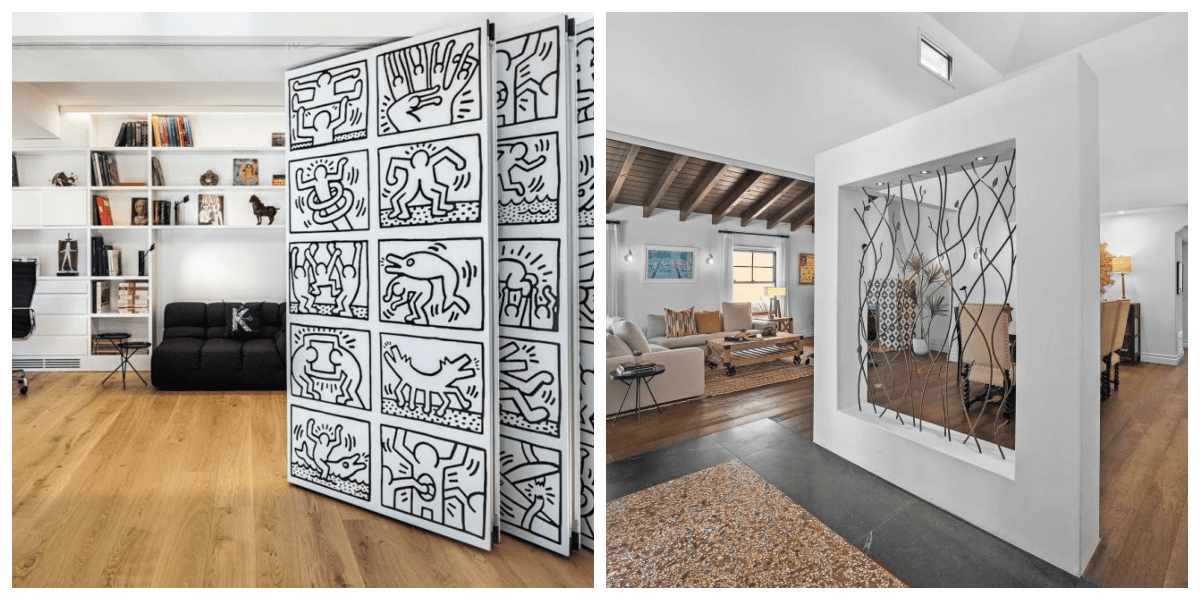 This article was originally published on
mydiwise
As open floor plans started to gain popularity, the idea of turning them into multi-functional rooms also emerged. And with so many of us doing almost everything at home, the idea of assigning spaces to different activities — or just carving out some privacy — has never been more vital.
A divider could be the perfect addition to your room, whether you're trying to section off an area for solitude or separate it into zones for work and play. It creates the impression of extra space and allows you to carve out a bedroom in a studio apartment, a pleasant reading nook in the living room, or a home office in the bedroom.
Repurposed folding doors and windows, rope, macrame, and succulents are just a few examples of personality-filled materials you can use in your room divider. Wanna know more? Read on!
Maximizing The Room's Style
A colorful four-panel divider has been used to draw attention to the blue walls in this lively studio apartment. The sofa and sleeping space are separated by a folding screen, which coordinates with a couple of eccentric throw pillows that serve as decorative accents.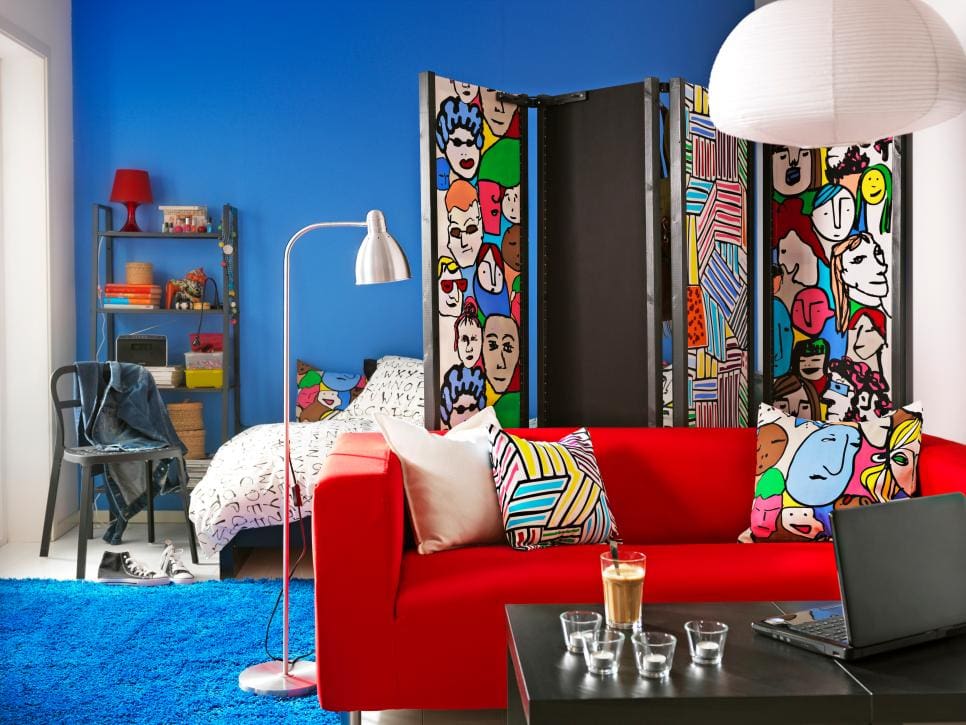 We know the idea of choosing dividers with bold graphics may sound scary. Nevertheless, when combined with matching colors and similar accent pieces, they can truly brighten up your space, be it a simple bedroom or a fabulous home office.
Industrial Aesthetic
Despite the wonderfully open and spacious atmosphere these high concrete ceilings provide, their industrial design makes it difficult to demarcate any distinct spaces. But the good news is that this issue can quickly be resolved by adjusting the room's layout.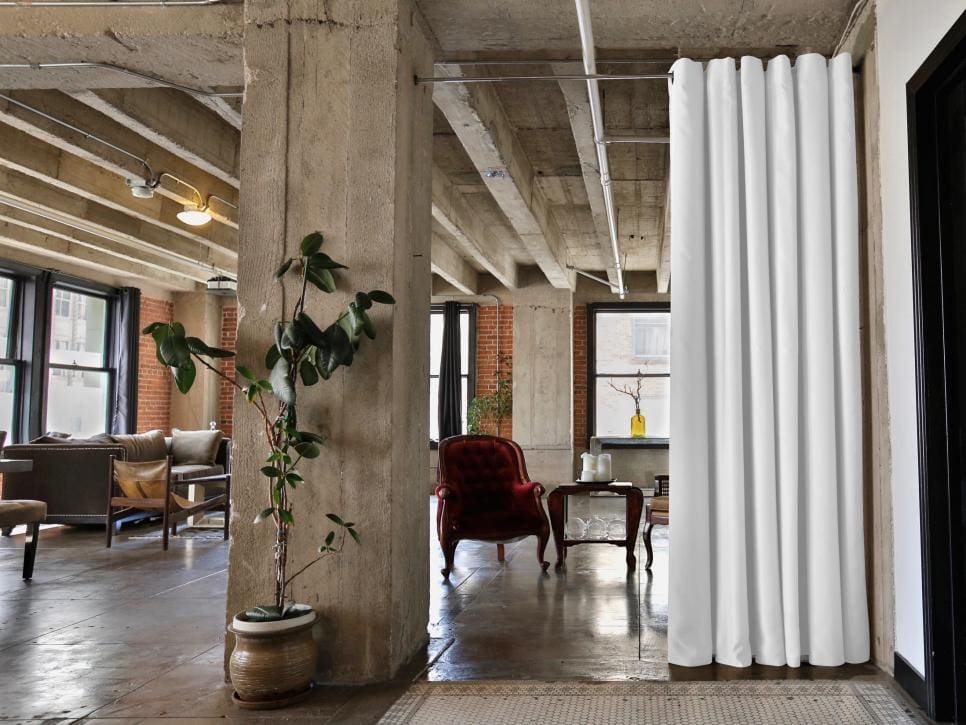 Setting up a tension rod and a long drape as a fashionable and effective room divider won't take too long. This flexible approach of dividing up space requires little effort to set up and take down, making it useful in various settings.
Bookshelves Bring Elegance
Establishing clear boundaries in a studio apartment might be challenging due to its open layout. In such cases, a bookshelf or another large piece of furniture might serve as a valuable partition to separate spaces. And extra room for stuff is always welcome.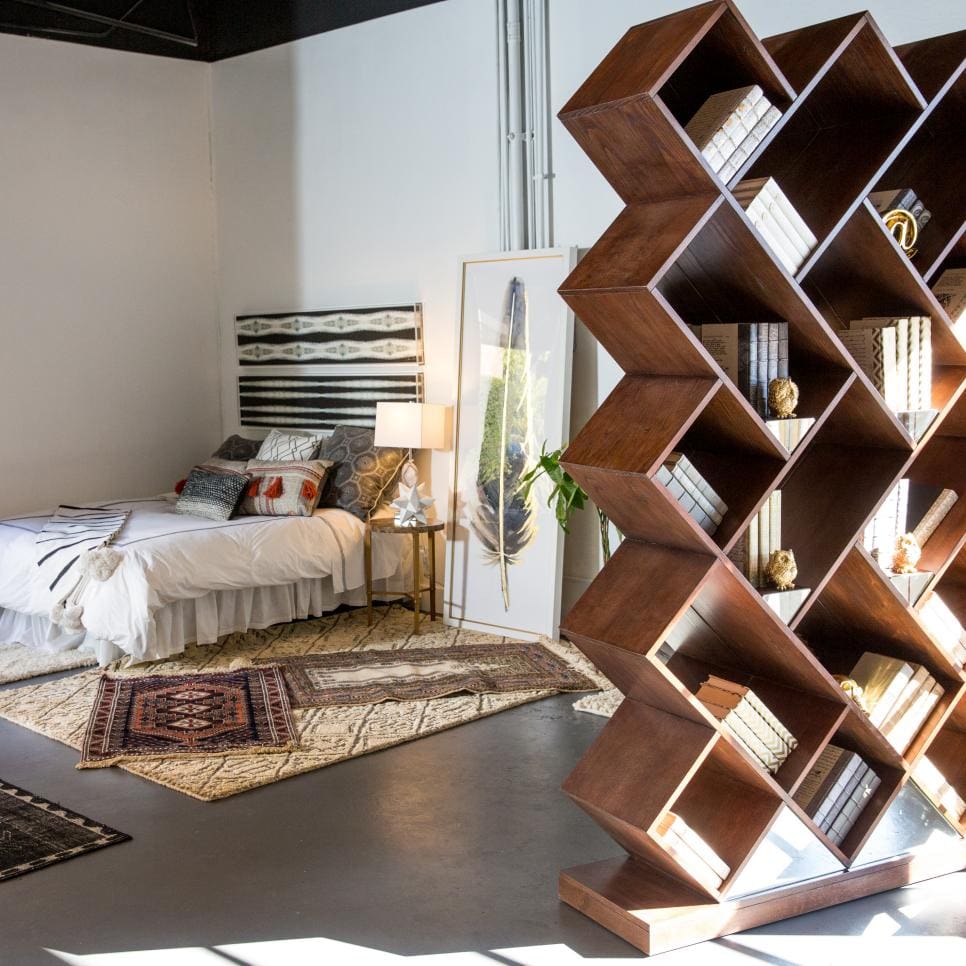 Finding the right bookcase is crucial. Take your time finding the perfect fit in terms of size and style. As you enter a bedroom like this, the vibe of the area is transformed from a formal living space into a calm retreat thanks to the stunning layout.
Take This Divider Everywhere
This adorable divider can be used to hide certain places or any unsightly feature of the house, such as the water heater in the laundry room. It also adds a calming spirit to the space it is placed. Masking undesirable structures in the home can be accomplished quite fast with this nifty divider.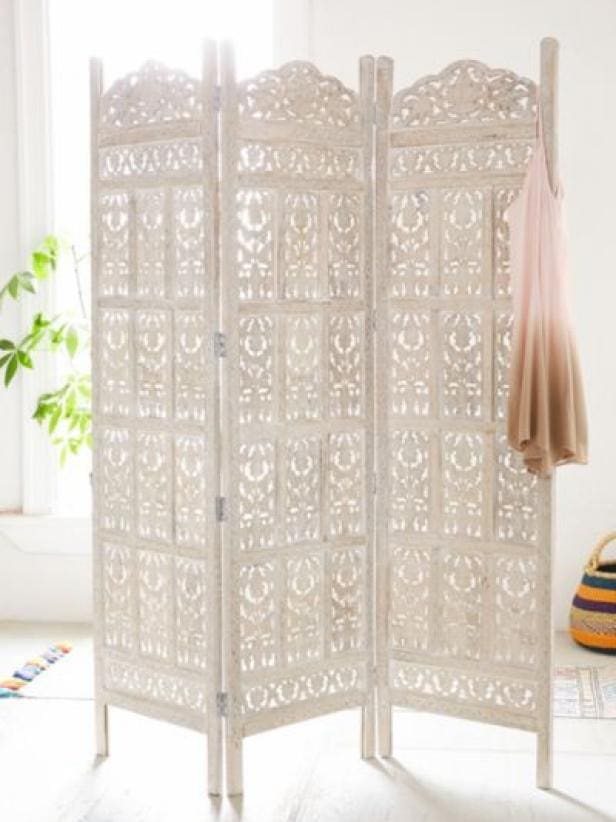 With the help of lightweight screens like this one, you can achieve a unique aesthetic look effortlessly. This specific model features a discreet white finish and finely carved detailing, making it a fantastic way to add a subdued decorative touch to any room in the house.
Classic Entrance Divider
Create a makeshift doorway by placing a floor-to-ceiling folding screen or a cute and practical bookcase in front of your front door if your living room serves as the sole point of entry. Making a foyer in this little studio was a breeze thanks to Erica Islas's ingenious divider/bookcase.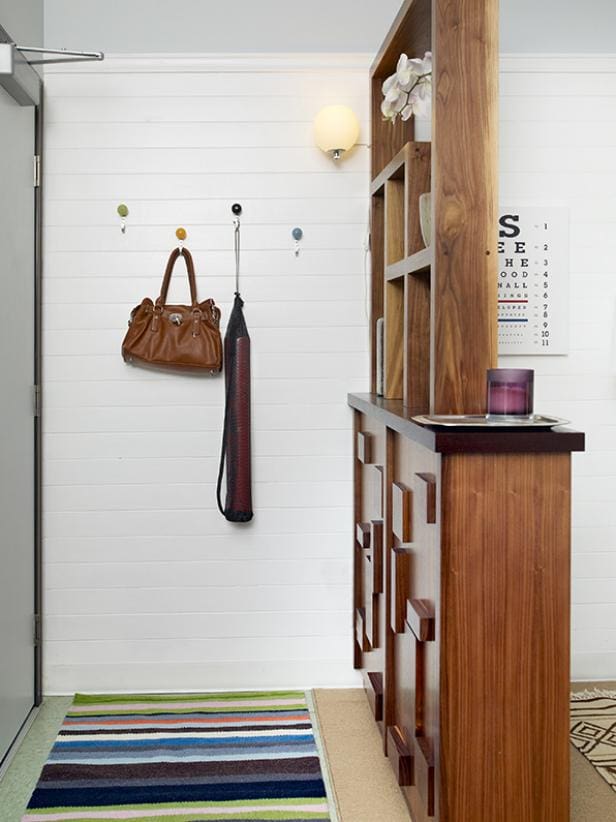 The open shelving prevents the space from seeming too confined, while the floor-to-ceiling design effectively defines the limits of the room. This is ideal for a small entryway and can be used to house a neat collection of accent pieces neatly placed on the shelves.
Curtains: A Classic Touch
You can draw such curtains to create a private room in no time! Curtains can be hung from a rod using rings or hooks attached to the ceiling. Consider using velvet for added drama or gauzy material for a more subtle effect. You can just as easily open them for a more open feel.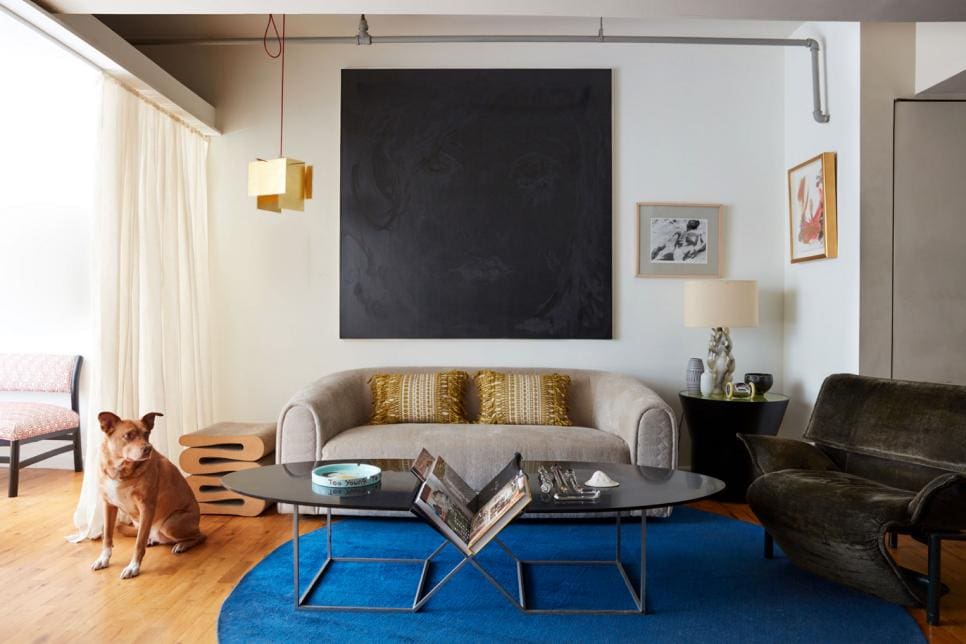 It's ideal for separating a bedroom area in a tiny home or a mother-in-law suite. Using a fun and straightforward approach, you can make something adorable out of old curtains or fabric scraps. This colorfully patterned screen can separate rooms and provide a splash of color and style anywhere in the house.
Neutral Divider For Small Areas
Everything, especially your appliances, can feel more exposed in a compact home. If you have a state-of-the-art washing machine, you don't want to display it proudly in your living room. Luckily, screening off bulkier amenities can be done with a simple, neutral barrier that won't cost much.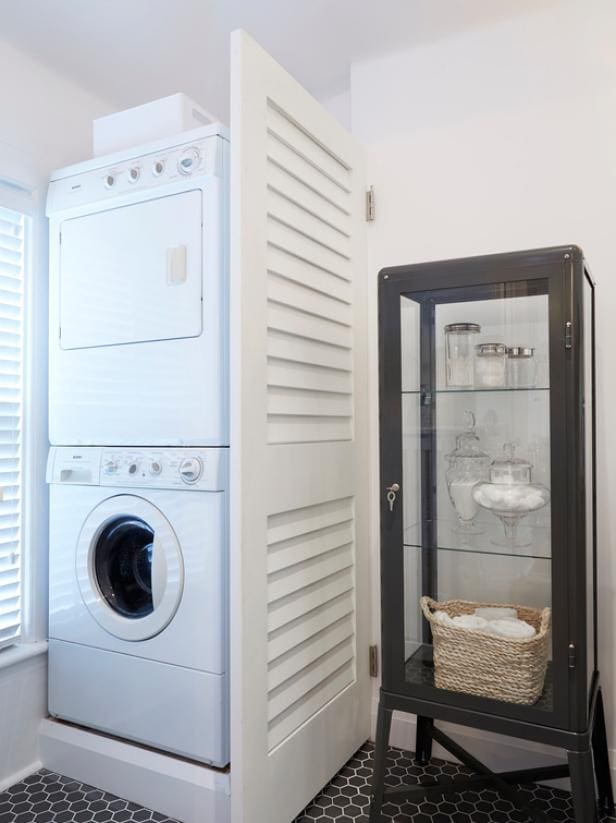 This is an absolutely brilliant take on the age-old screen. The idea is to set up floor-to-ceiling shutters to partition off the laundry appliances from the rest of the space in a small area rather than a conventional folding screen. This method provides additional personal space and keeps the room feeling bright and open.
Shelves To Isolate A Home Office
A common feature of modern studio apartments is the open layout. Although this arrangement is ideal if you want to avoid a claustrophobic vibe, it might be challenging to distinguish distinct areas of your home when it is laid out in this fashion.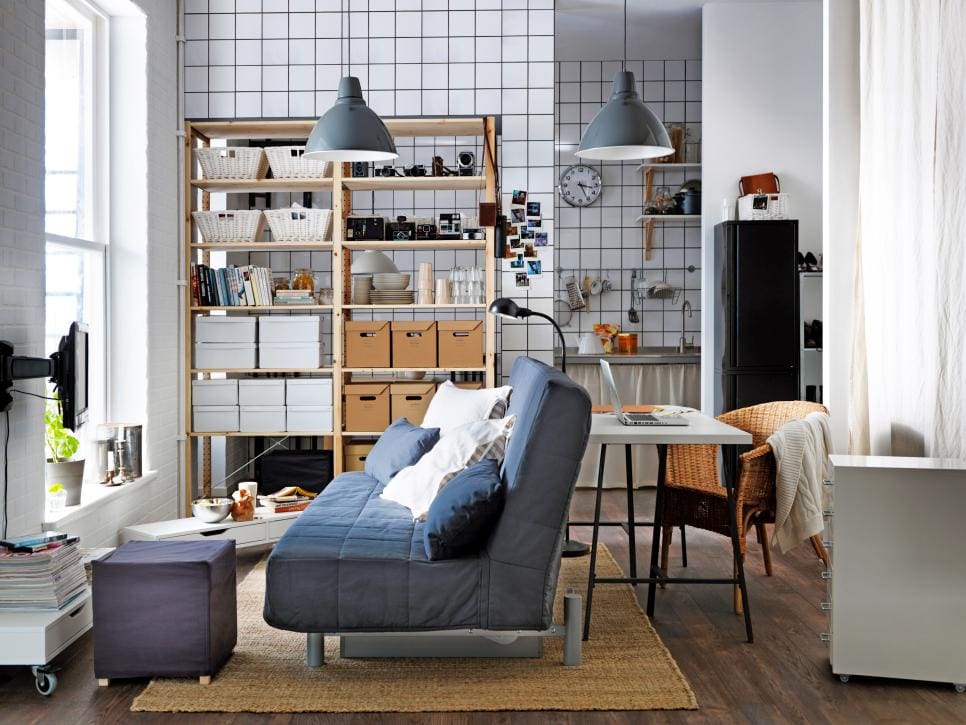 There are a number of ways to divide a room, and a large piece of furniture like this IKEA bookcase is one of them. This room's tall, unadorned storage unit effectively hides a compact work area without overwhelming the space.
Rustic Shutters To Separate Furniture
It's frustrating when you know something's amiss in the room but can't pinpoint the problem. You've probably never considered using a separator to demarcate spaces in a room or among pieces of furniture. But a partition between pieces of furniture is recommended if you need separate areas.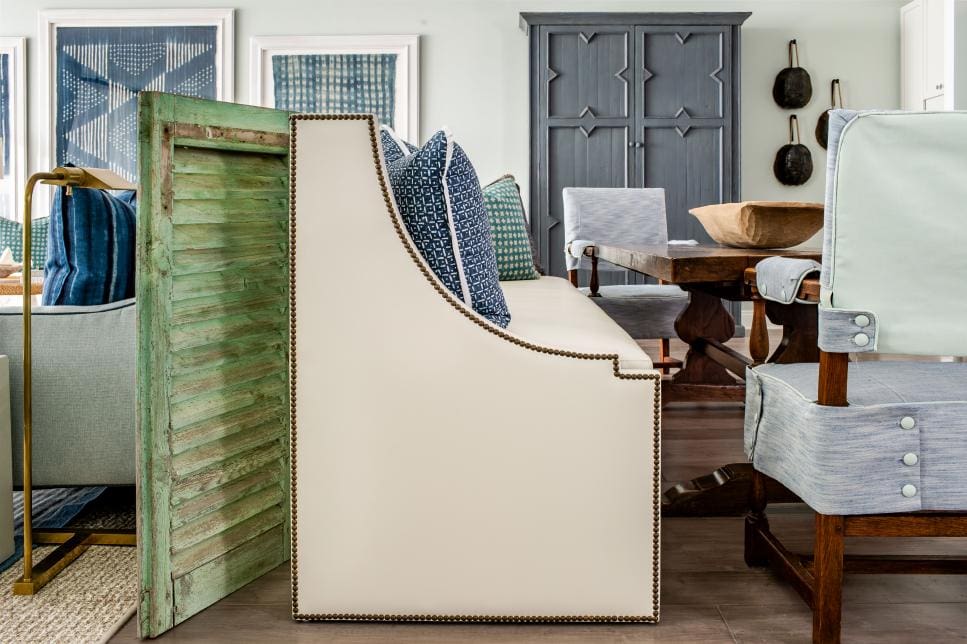 An open floor layout can make furniture arrangement a challenge. That problem was handled here by installing rustic green shutters in the wall between two seating areas. Thanks to the understated design, these two living areas are clearly separated without appearing cluttered or artificial.
You Can Never Go Wrong With Monochromatic Minimalism
Partitions are a great way to divide a room and provide functionality. Dividers like the one below are an easy and attractive way to improve the layout of any space, whether it's a shared bedroom, an open living area, a studio apartment, or a hostel.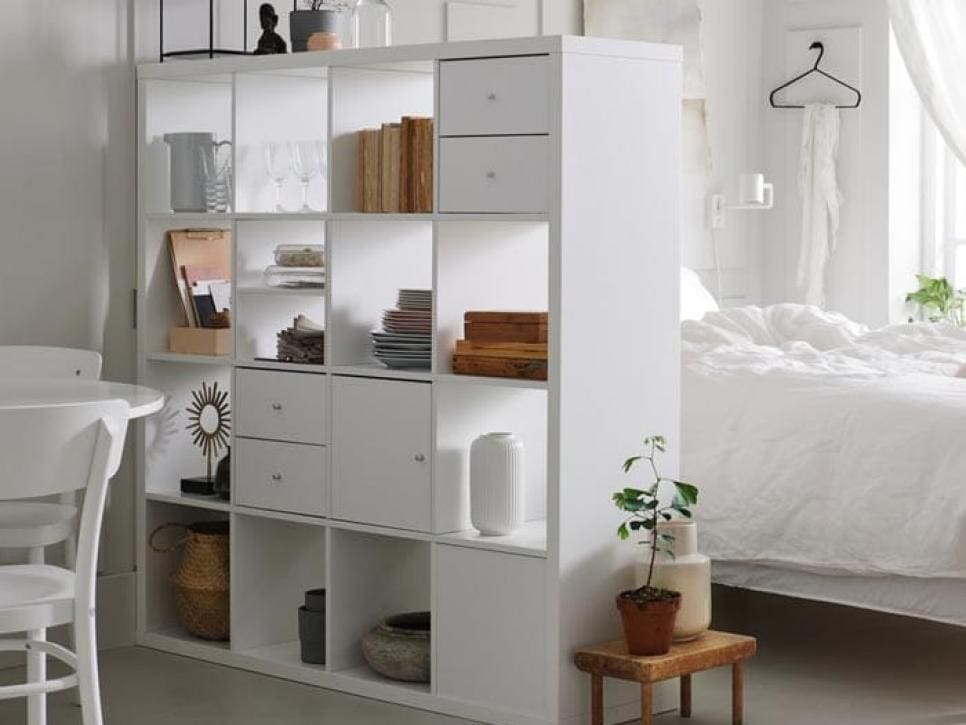 Modern and stylish, this white shelving unit provides instant separation and much-needed storage in a cramped dorm room. Also, large cubes, found in most furniture stores, are perfect for dividing up a room without the need to up permanent walls.
Fireplace For A Smooth Transition
Adding aesthetics and practicality to an open-plan house can be accomplished by installing a partial divider. That said, it is unnecessary for your divider to cut the room in half, so don't do that. This Venetian gray fireplace is concealed within a wall between the two spaces.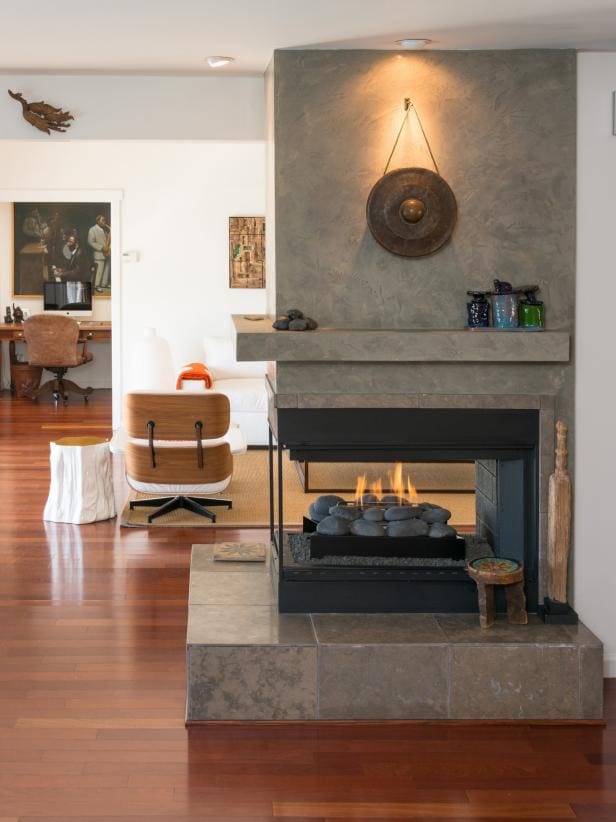 This way, it creates a seamless transition between both the living area and dining room. The partial wall, which was built so that it could be viewed from either side, provides a beautiful centerpiece to both sides without making the area feel claustrophobic.
Floating Shelves
Shelving with a top and bottom opening allows for visual separation, natural light penetration, and maximum adaptability. If the shelf is large enough, you can even use it to mount a swiveling base for your TV set or display a few sculptures and paintings.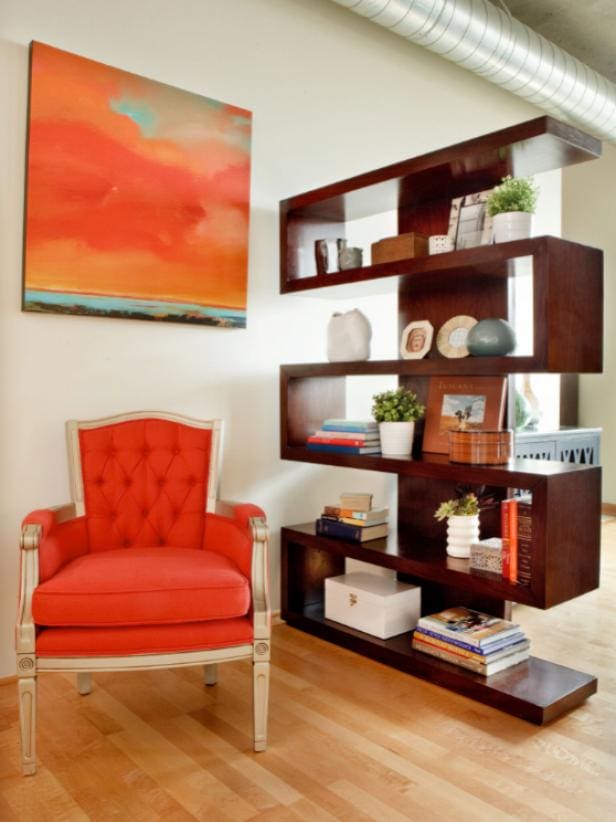 This freestanding bookcase serves as a divider between the foyer and the main living space, separating the kitchen and dining area from the rest of the house. Additionally, it serves as a great spot to show off your favorite photos, books, and houseplants.
A Vintage Screen
Consider getting in a mirrored vintage divider to take the vibe of your room to a whole new level. In our next example, the sharp corners of this contemporary bedroom are softened by the traditional swirls that adorn this antique screen.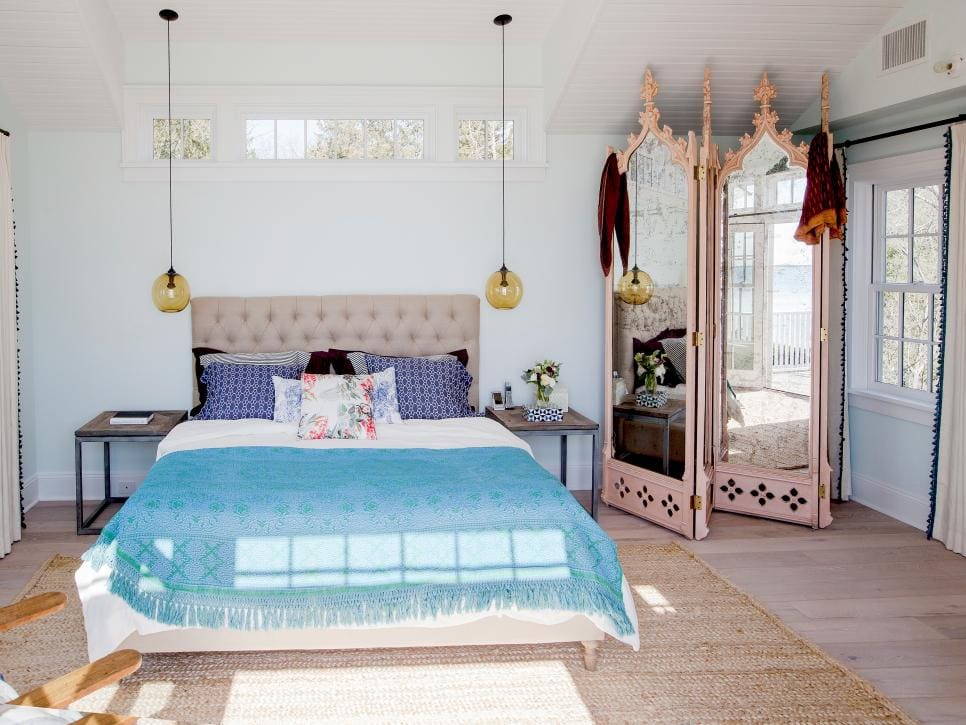 Its subdued pink hues calm the environment and keep the pastel style prevalent throughout the space. Additionally, the mirrored panels on the room divider reflect the light coming in from the nearby windows, creating the illusion that the room is much larger than it actually is.
Zoning Out
Let's stop for a moment and think how great it would be if a large living room could be divided into more than just two spaces. That's possible to achieve not only with practical moves but also with stylishly designed divider pieces.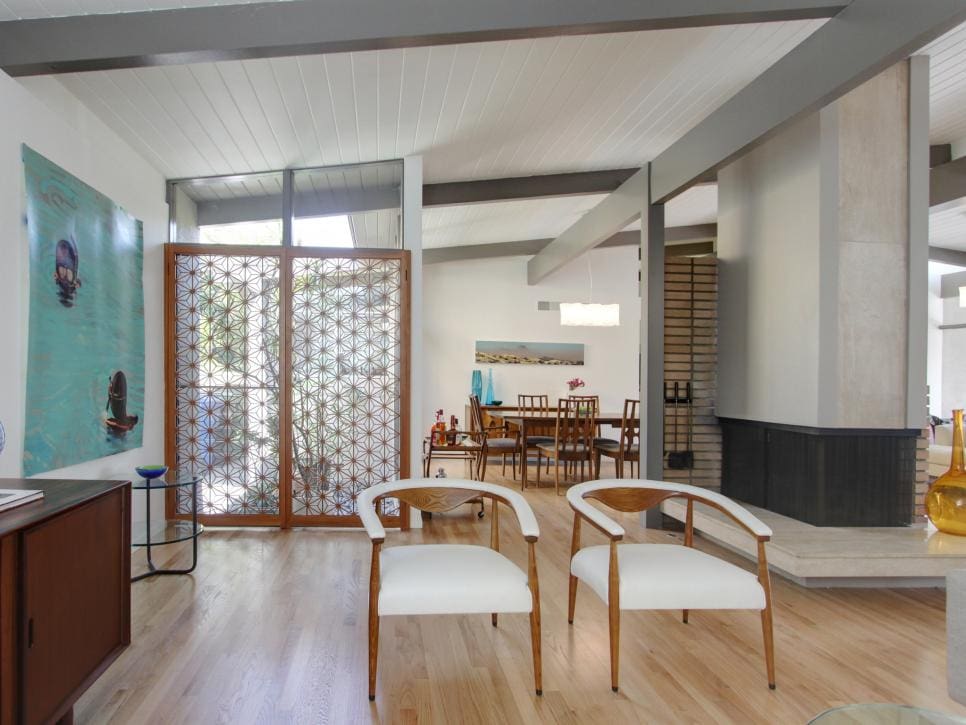 Put up more than one divider like the ones that separate this room. The starburst-patterned screen creates a private space while offering a lovely view of the garden beyond, and the fireplace adds a focal point and sense of order to the room.
The Perfect Choice For A Shared Bedroom
A movable, multipurpose wall is an excellent addition to large rooms that serve multiple functions. If your kids share a room, they can all easily have their own space. This unique dividing wall is useful when there is not much room and sharing is required.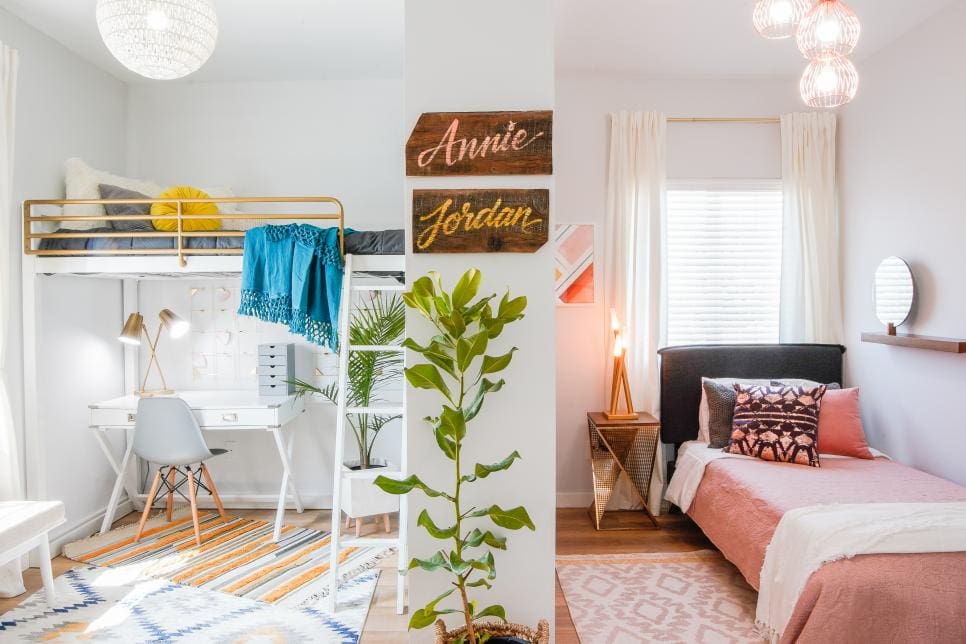 Rather than working as a door, this partition runs perpendicular to the children's areas and is colored to complement the room's blush and gold scheme. Each side of the partition has its own set of drawers and shelves to make the most out of the available space and keep things from getting messy.
Fun Cartoon Inspo
This modern, spacious, and well-lit Bulgarian home showcases Keith Haring's artwork on a built-in divider in its working area. The piece is an excellent complement to the house's contemporary design and breaks down the 'serious' feel the room would otherwise have.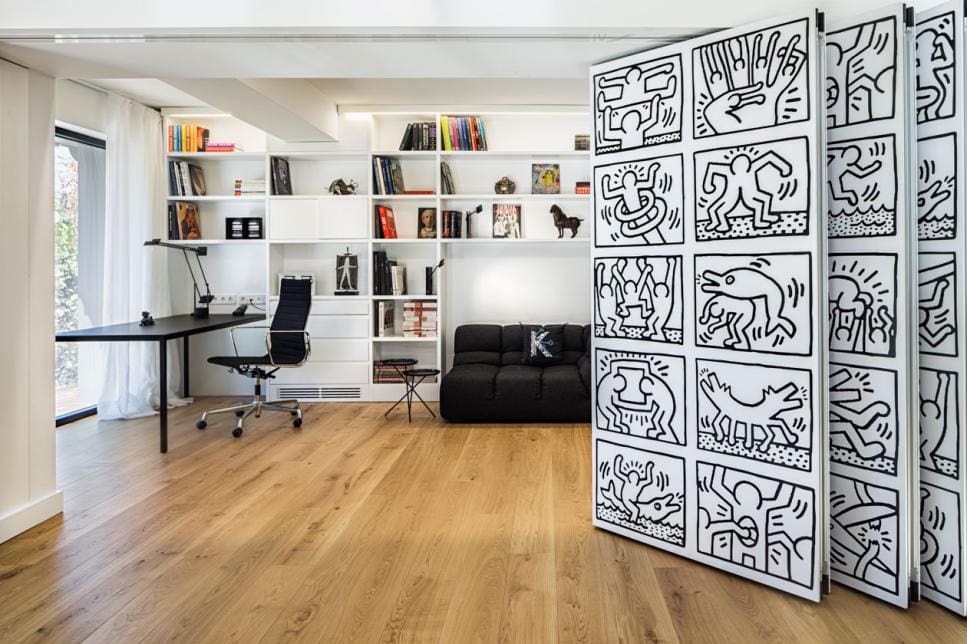 The screen covers a space that's too big for a regular door. So it was a sleek alternative for closing the office when visitors dropped by. The fanciful graphics provide a sense of vibrancy and vitality despite the relatively bland black-and-white color choice.
Cantilevered Shelf
You can use this kind of divider as a headboard or to section off your bedroom from the sitting area or the bathroom. Alternatively, you can attach a cantilevered shelf to the wall opposite the headboard to turn the opposite wall into a vanity for applying cosmetics in bed.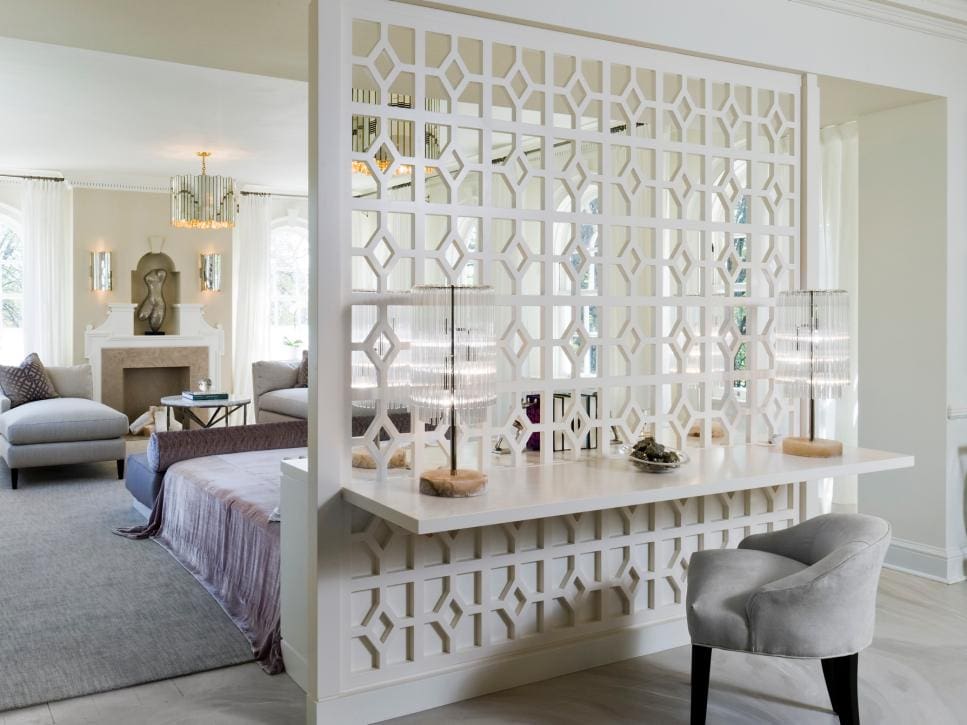 Now, if a nook in your home is missing that special something, you can add some flair by installing a set of small floating shelves like this one and displaying your prized potted plants, candle collections, and other decorative items.
Upcycle A Glass Window
Repurposed glass windows make for a lovely and unique room divider. You can easily make your own using a couple of steps. However, we understand that it might be taxing for some people to do it on their own, so don't hesitate to look for a professional when in doubt.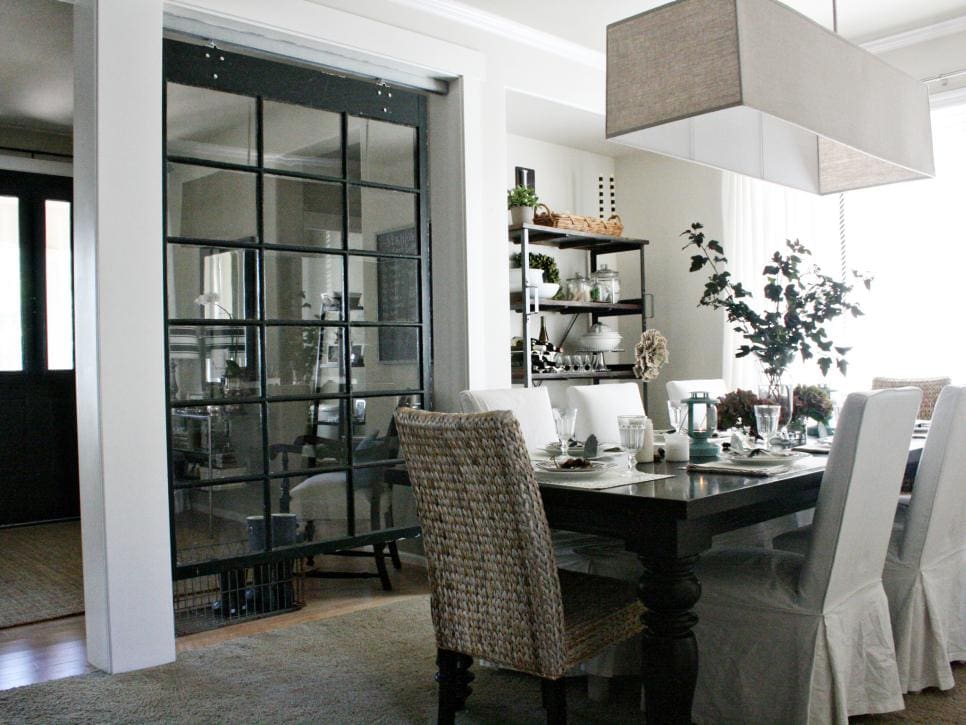 The window will divide the room while allowing natural light to enter. If you need to section off a room but still let in lots of natural light, and privacy isn't a concern, a glass-paneled screen is a fantastic option.
Go For Barn Doors In Small Rooms
Get with the times and install sliding barn doors to close off that open space in your home. This do-it-yourself technique uses cedar fence slats to reduce the exorbitant cost of sliding doors. Curtains can feel cheap and flimsy, but fashionable barn doors can be yours for less than $200.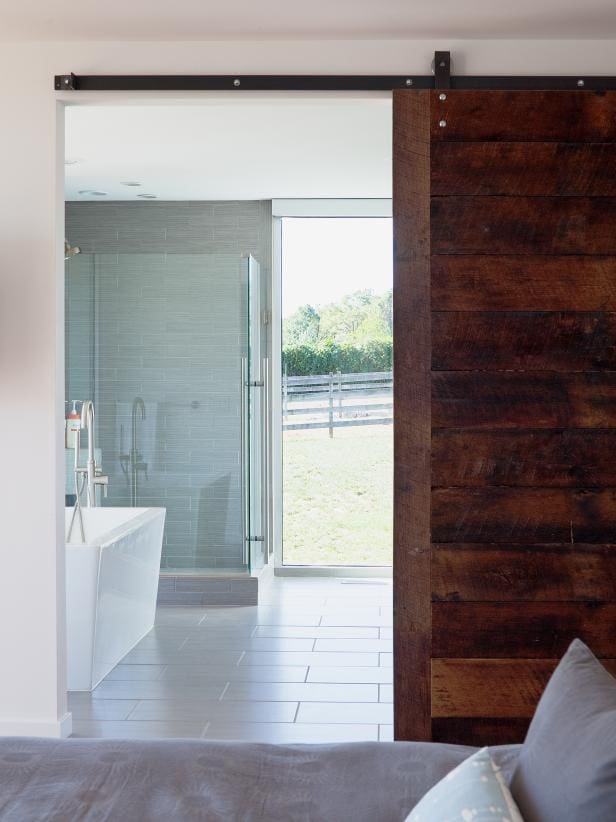 Alternatively, you can make your own by consulting online tutorials. A sliding door can be made with a simple frame, some nails or glue, some wheels at the bottom, and hinged loops at the top, and then hung from some plumbing tubing fastened to the wall.
Shapes and Textures
We really like how this wooden screen makes the room seem taller than it is. The shapes also reflect those of neighboring artwork, creating the illusion that the sculpture is an extension of the painting. Here's another DIY for all rural farmhouse decor lovers out there.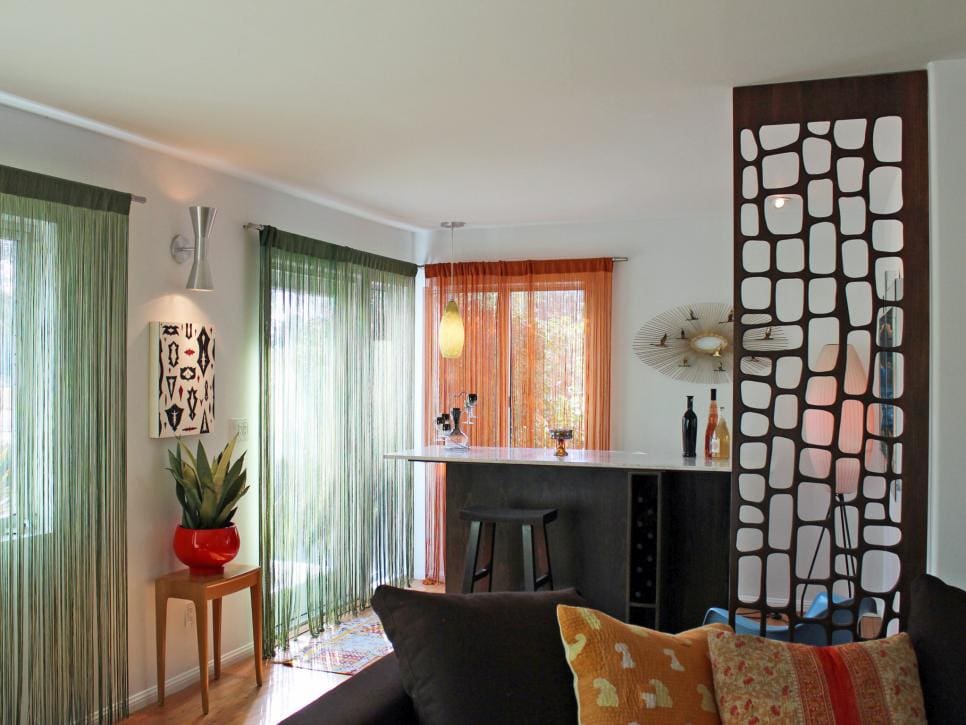 The combination of weathered pallet wood and its stunning design creates a one-of-a-kind room divider. Another awesome idea that can be borrowed from outdoor spaces is to use an inside trellis as a boundary between the sunroom and the sitting area.
A Sleek Sculptural Element
Beautifully patterned metal and glass blocks form a divider that effectively divides the room without closing it in. Light passes through the perforations in the textured glass without overwhelming the room's otherwise minimalist design. The piece was chosen for a simple and brilliant purpose;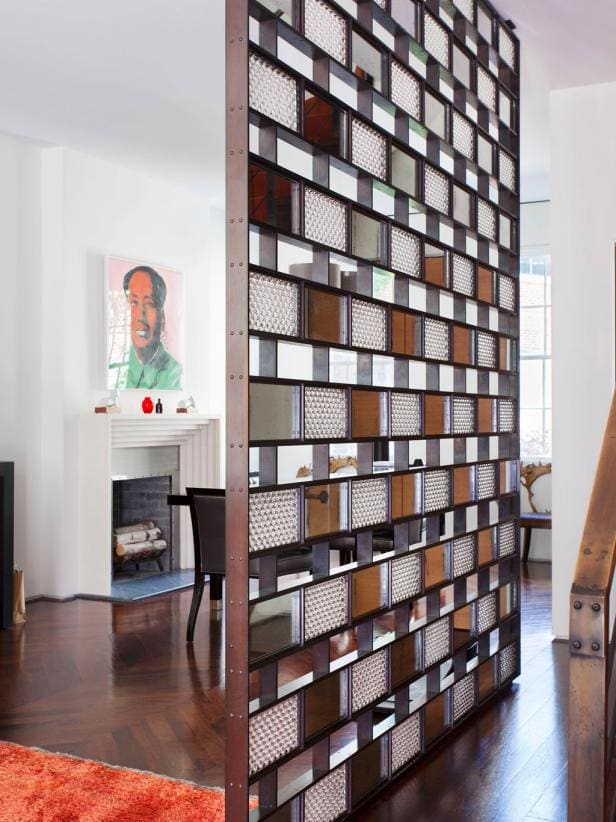 To enhance the room's preexisting decor rather than compete with it. As a final piece of advice, keep in mind that an open folding screen offers the same amount of space as an upholstered or solid version but doesn't block out any light.
Outdoor Dividers
A divider is helpful in many different settings, not just in offices and living rooms. They are also excellent for creating smooth transitions and delineating personal space in your outdoor living areas. For example, this eye-catching herringbone screen creates a cozy seating area on a charming porch.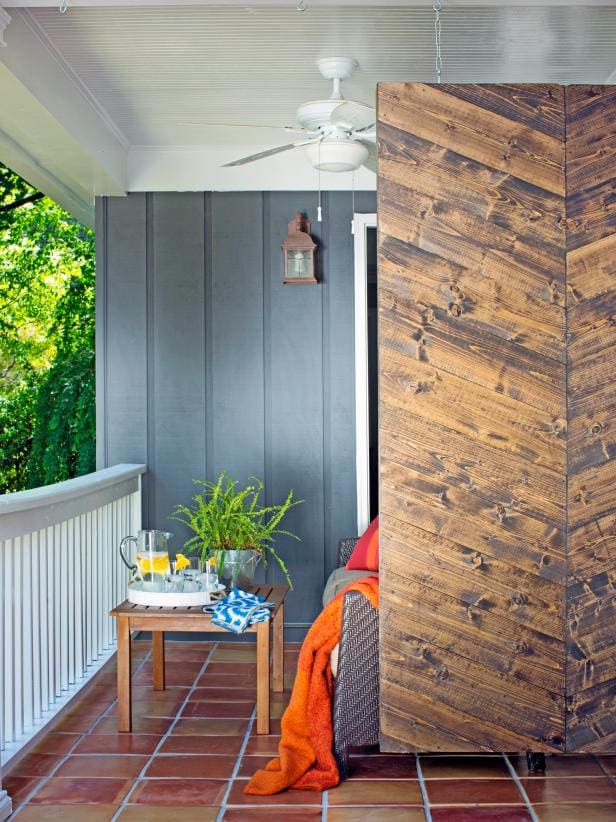 Fortunately, there are countless options for these in furniture stores and thrift shops, but for those who are suckers for a good DIY, making your own divider is as easy as going to a hardware store, picking up the materials, and following the directions in a how-to guide.
Don't Spoil The View
It's easy to forget the foyer when decorating or furnishing a house, but it's time to stop overlooking this crucial piece of your home. The owner of this beautiful space revealed that if it weren't for the divider, her home would lack privacy and look a lot simpler.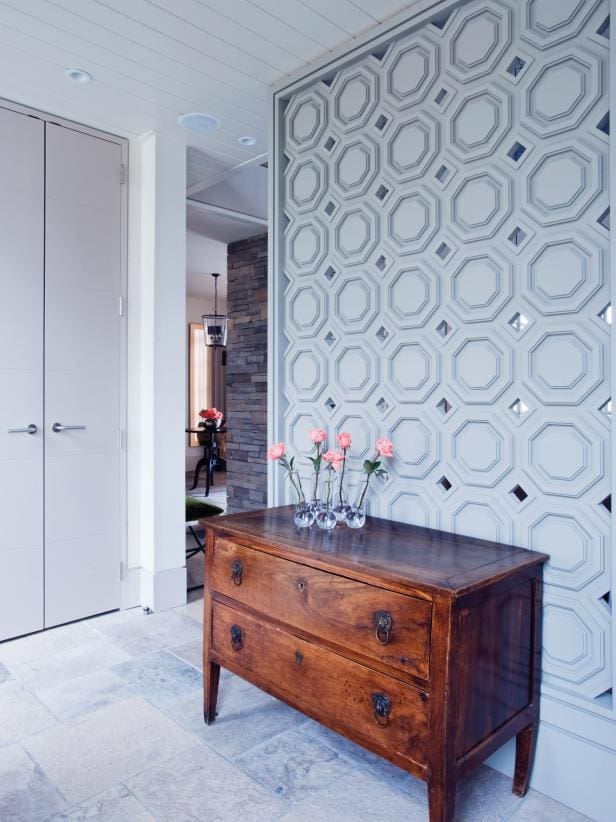 The living room would be immediately accessible from the front entrance, and the lake view would greet you as soon as you stepped inside. Thus, she got a diamond "peek-a-boo" wall so that her guests could have a glimpse of the sparkling lake without it being completely spoiled for them.
Golden Screens
Screens can be used to lend the right finishing touch to a dull area. Additionally, towering dividers can add height to a space that could use more of it. This one has a distinctly 1970s vibe, but the graphic squares give it a contemporary feel.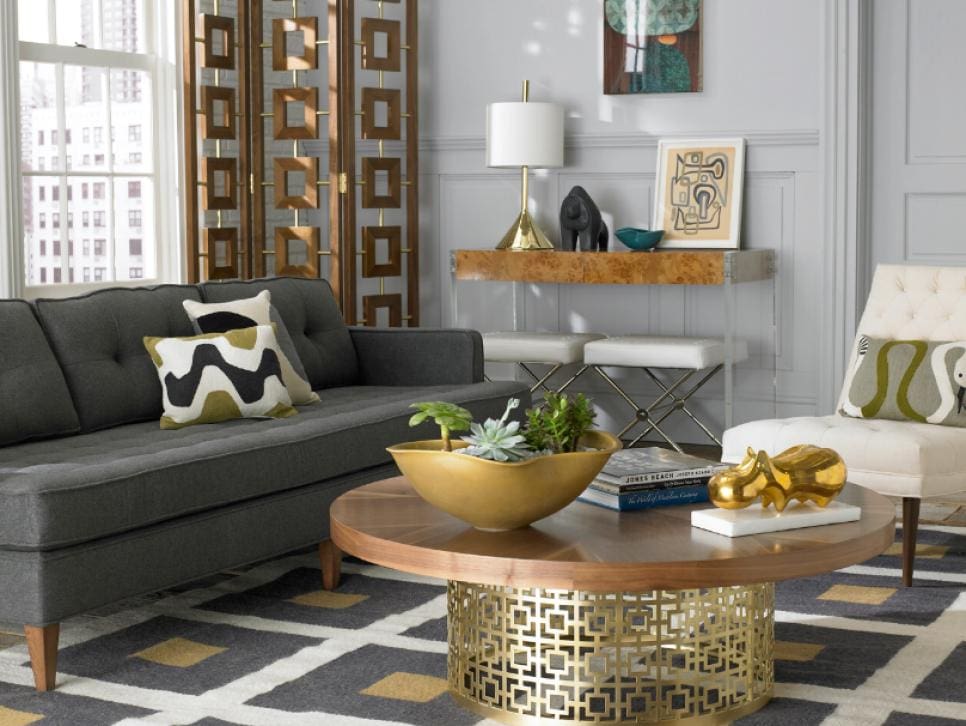 This fretwork screen isn't too challenging to make yourself and offers a geometric rectangular pattern that is timeless and popular. Your room will also have an instant glamorous vibe if you use the dazzling gold paint that was used here.
Make It The Focal Point
It's not easy to zero in on the exact position or piece of furniture that will serve as the main attraction in a living space. In our next one, it was decided that a contemporary interpretation of a shoji screen would be the best way to achieve the desired results.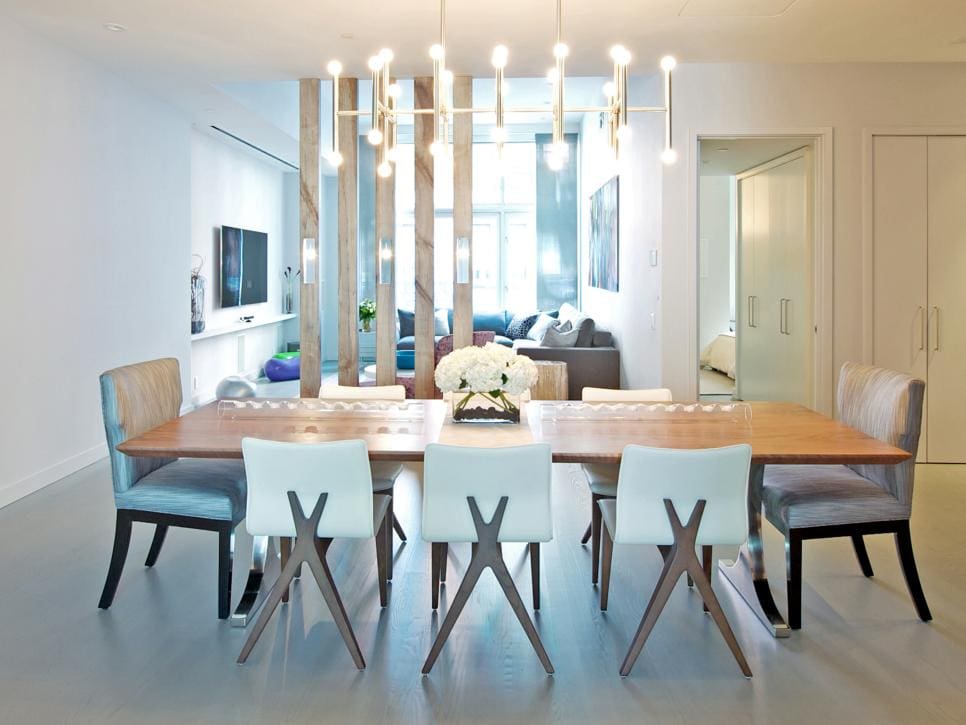 The aim was to hide an unsightly kitchen vent and produce a focal point just over the banquette. Betty Wasserman, the designer, selected phrases from an Arabic prayer the homeowner had heard when they were young and painted them using silver paint on the Plexiglas so that the piece would have a more personal feel.
Jute Ropes
An all-natural fiber room divider looks like the most obvious choice for a home office. A divider set up near the doorway did wonders to break up this space. This screen can be made with minimal effort, and thick jute rope can be found in hardware and craft/hobby stores for a low price.
You can get a 1/16-inch jute rope to save even more money! Weave the rope in and out of the floor and ceiling wooden plates. While it won't be able to block out the sun entirely, this project does a great job of delineating and sectioning off areas.
A Design Piece
Look for a divider that fits in with your home's style but also adds an elegant touch to it. This architectural element has two advantages: it divides the living room, dining room, and foyer without making any of those areas feel closed off or claustrophobic.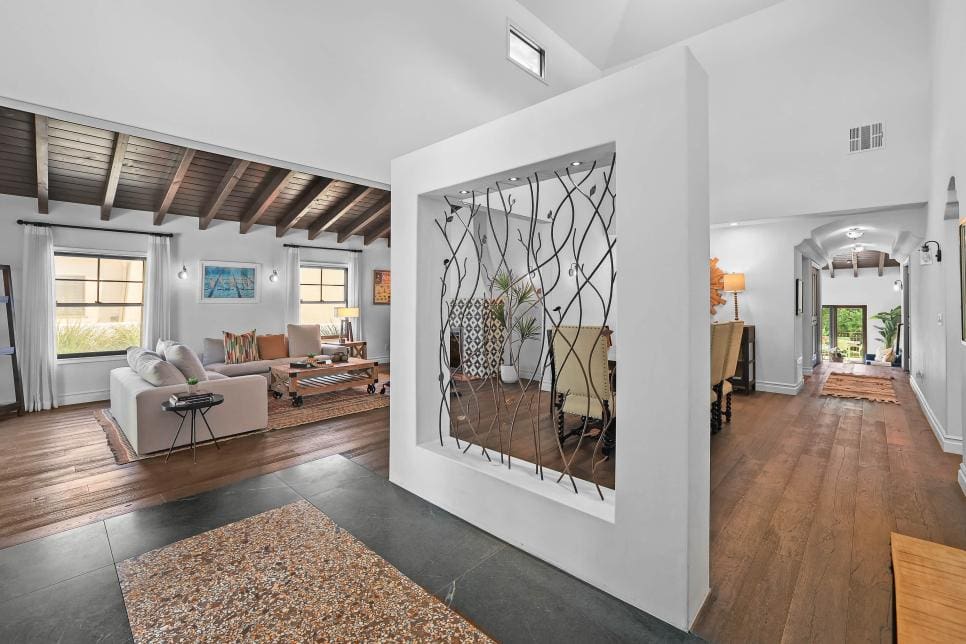 In each setting, the iron vines provide an elegant focal point that is set off by the stark geometry of the frame. By using materials in the same color as those in neighboring rooms, the décor, inspired by the Mediterranean style, feels cohesive.
Slatted Screen
Why not build a slatted divider out of the wood planks stacked in your garage? All you need is a straight line of boards with a few inches of space between them. The use of straight, high-quality lumber ensures durability, but even minor defects can add to the character of a wooden divider.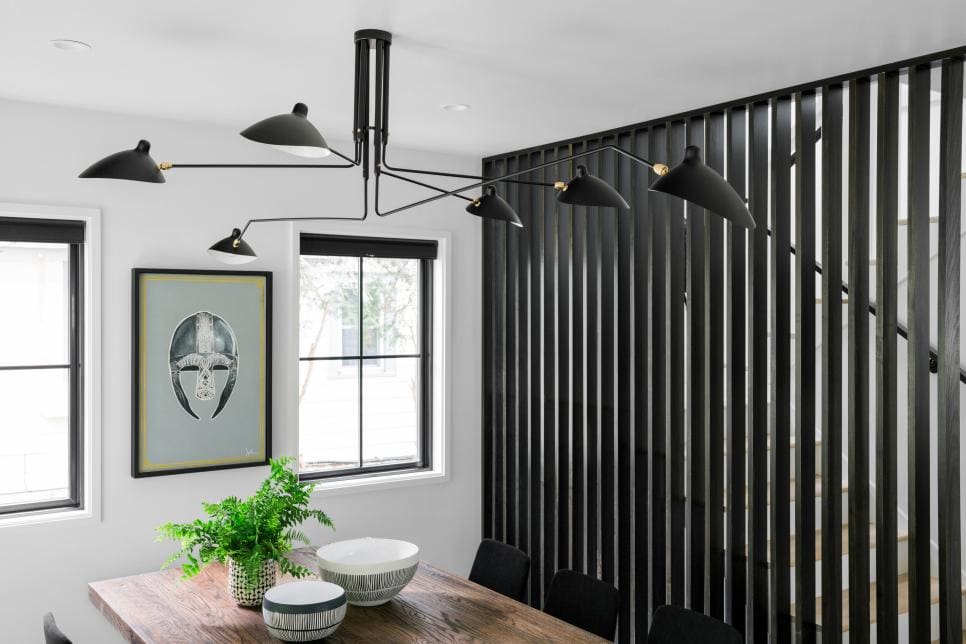 If your wood is bowed or warped, you can hide the spaces between by making them larger. Create distinct zones in your open-concept living room with this slatted partition. It's beautiful how the light from the dining room's big windows can filter into the living room without ruining the hominess of any space.
Chain Links
Modern aluminum link chain curtains typically have a metallic silver hue and frequently have automatic opening and shutting features. This aluminum link chain curtain is a great option for window screens, entryway screens, and room dividers because it is light in weight.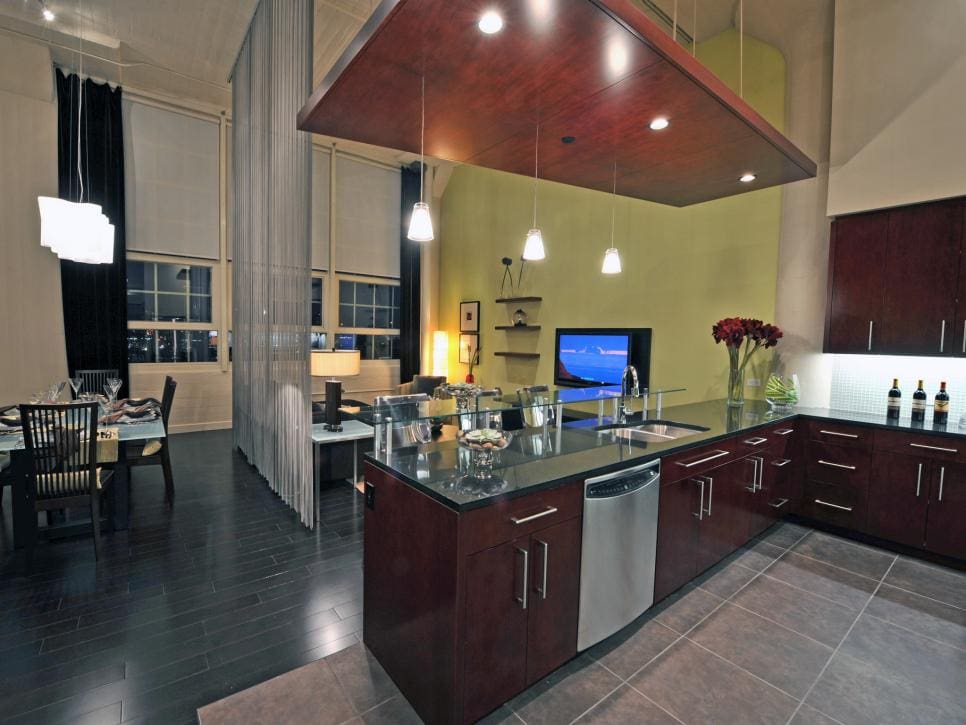 In addition to keeping flies and other flying insects outside, thanks to its design, it also allows for the free passage of fresh air and light. A flexible chain link curtain can easily be set aside when not in use.
Create an Ambiance With Soft Lights
Who doesn't love a space where people can move freely, air circulates easily, and natural light reaches every corner? While incredibly modern and appealing, open floor plans can be difficult to manage in practice. You require room dividers and partitions for several obvious reasons.
To name a few, space management, privacy, directing foot traffic, stowing items, etc. These spalted maple cutouts separate the dining and living room, creating architectural interest and a sense of space. To set the appropriate mood for a meal, they are equipped with incandescent lamps that can be dimmed.
A Steel Rod Screen
A metal room divider screen is an excellent option for a divider. Screens made of metal are long-lasting and have been used for years to divide shared bedrooms and dorm rooms. Displays can serve multiple functions. If you have a studio apartment, get a room divider that will enhance the aesthetics of your home.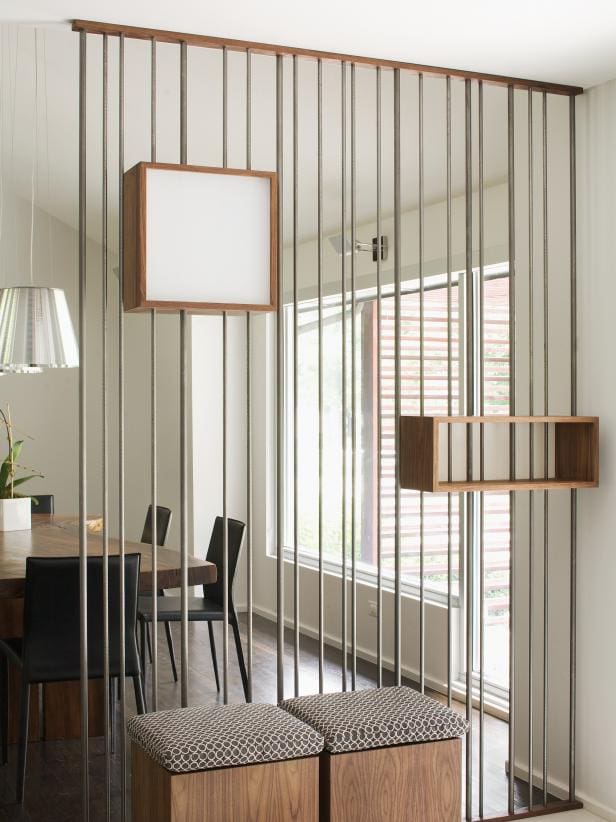 A room divider can help you block off your area so that you are not staring at your kitchen from your bed. This sleek metal rod divider has a modern design, and its openwork, minimalist frame complements the aesthetic of the house.
Chalkboard Divider
You can divide a room beautifully with a message board. It enhances the space's practicality, texture, and individuality. This tiny apartment's master suite has an extra divider wall that was put up so the kids could have their own space.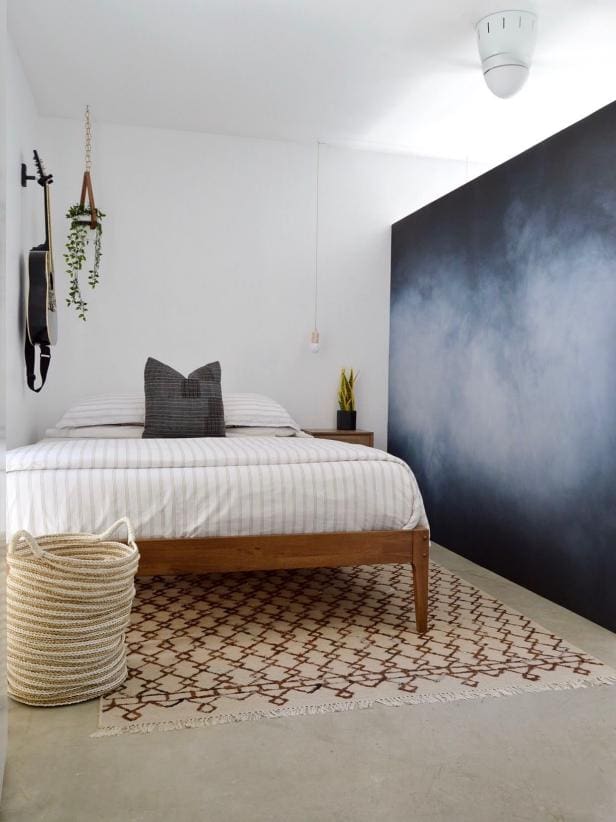 The walls were painted with chalkboard paint in an effort to inject some personality into the design. The room's occupants were free to express their individuality through the use of the dark accent hue, which complements the room's neutral furnishings.
A Partial Glass and Bricks Wall
Residential areas can benefit from glass walls because of the natural light they allow and the spacious feel they provide. This is especially true for smaller homes. Glass dividers are a popular option for offices, meeting rooms, and other corporate settings.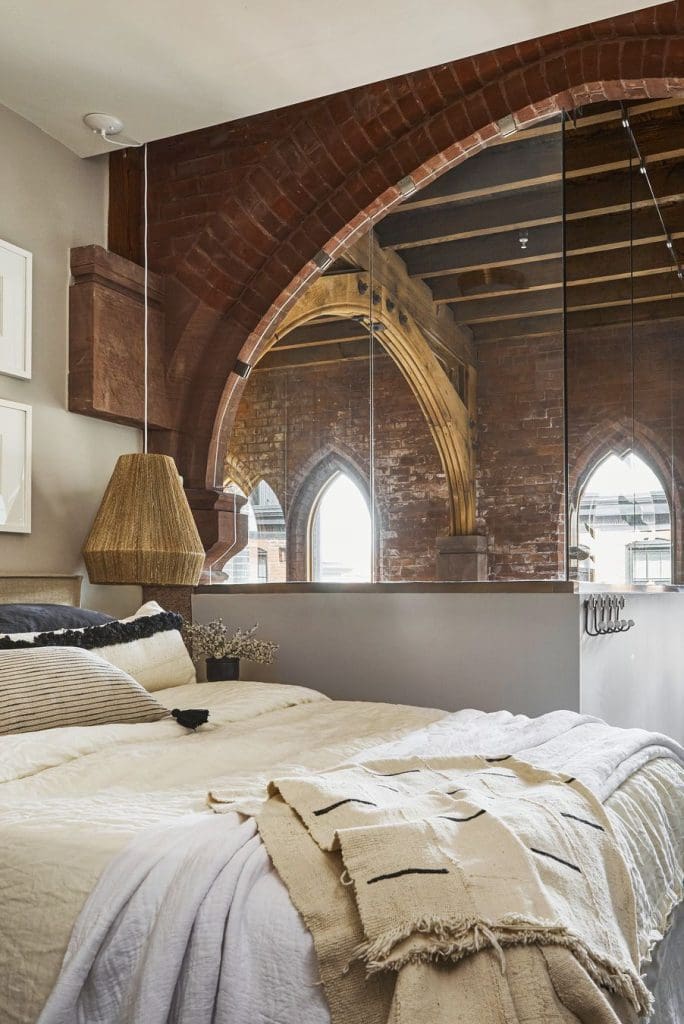 Natural light is a common benefit of such dividers. You may also choose a half-glass, half-wall design to have the best of both worlds. The lower half of the wall in this apartment forms a cozy alcove in the master bedroom, while the transparent upper half lets natural light flood the room.
Storage Cabinets
Even if this room divider idea isn't groundbreaking, you should know about it because it instantly upgrades any space with a touch of class and practicality. This house consists of one bedroom, one bathroom, and one combined living/dining room/kitchen area.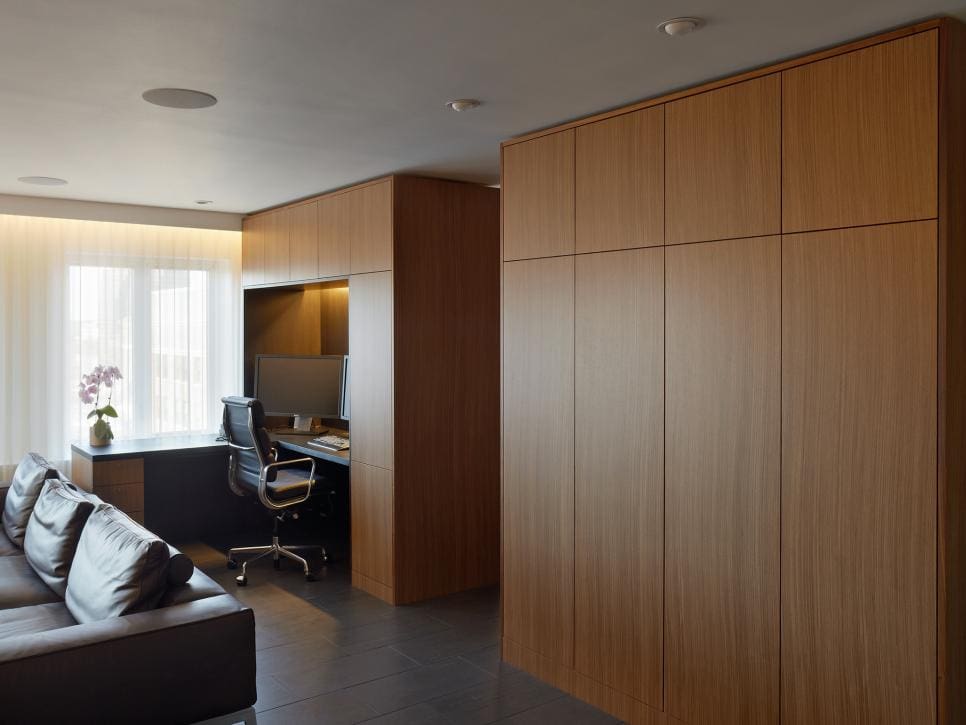 Walnut cabinets with shelves, rods, and drawers serve as a divider between the living room and bedroom. A desk is also set up in a space-saving cutaway. This kind of design makes the room look wider and provides vast storage space for anything from office supplies to bedclothes, if necessary.
Tapestry As Room Divider
Living in a dorm is a lot of fun, but there are times when you need some quiet time to yourself. Room dividers are a simple way to carve out personal space inside a larger communal area. Instead of using heavy drapes to separate the area, try suspending a tapestry from the ceiling.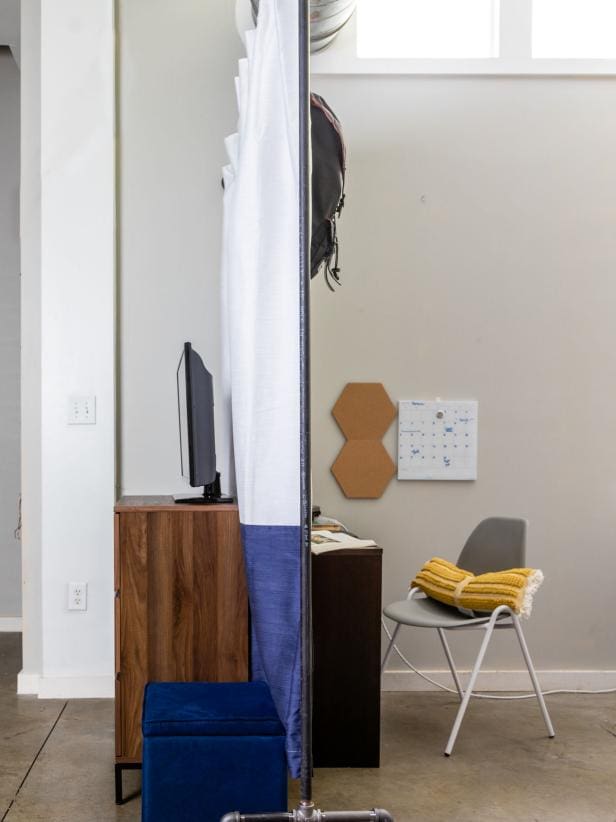 Tapestries are fantastic wall decor options since they are often printed with mural-like scenes. Because they can have both a fun design and a high level of seclusion, they are a great option for college dorm rooms. Their adaptability and universality make them ideal for simple rooms.
DIY Macrame Folding Screen
If you're looking to separate a large space but don't want to commit to permanent walls, a macrame room divider is the way to go. The correct rope, a few easy knots, and the kind of patience these massive undertakings often need are all that is required.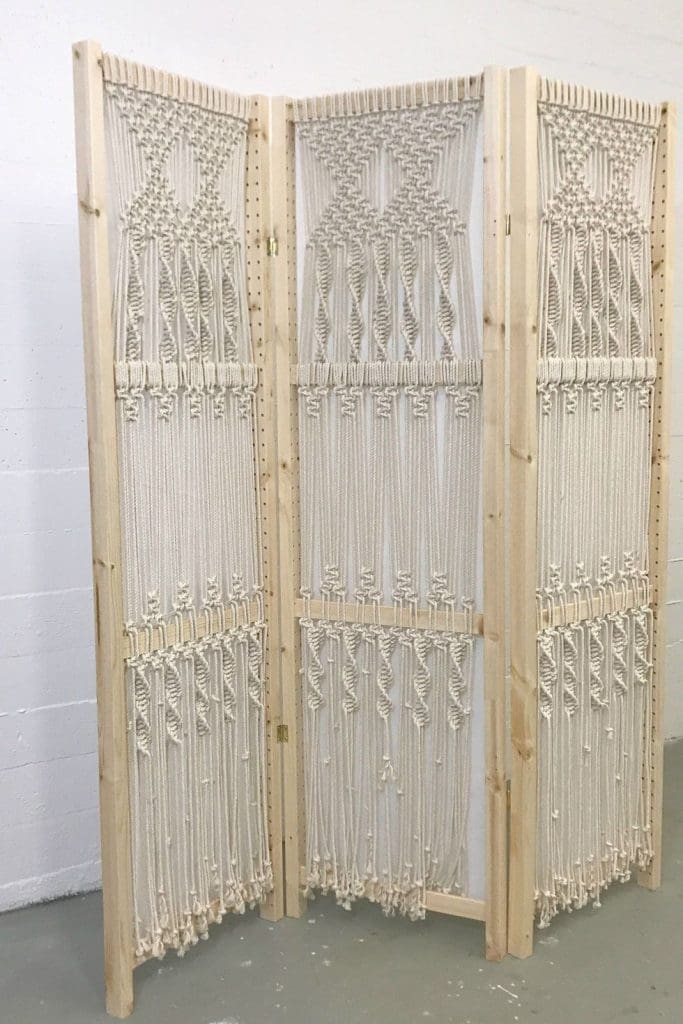 The payoff is always a guarantee. A DIY project for a macrame room divider creates a laid-back, bohemian vibe while giving your space some structure. In addition to letting in lots of natural light, it also provides a new location to grow vegetation.
Trellis Screens
Though trellises are often used outdoors, they also work great as illuminated room dividers inside. Using one in your home is an innovative way to liven up your space, as it involves reinventing the usefulness and beauty of a simple and affordable object.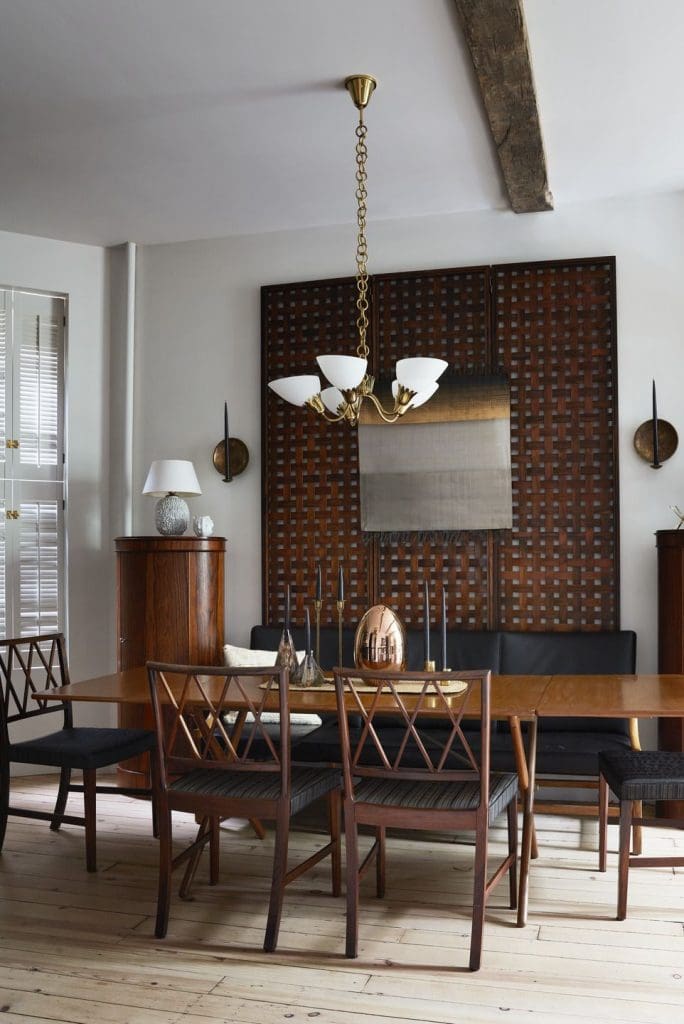 Garden trellises can be constructed from various materials like wood, metal, or even PVC and were initially meant to hold up climbing plants. If you have ever worked with these materials, you know it's easy to find lightweight options, which makes this a fun DIY project for those willing to do it themselves.
Hanging Plants
Bring some plants inside if you need some privacy but are stuck in a studio or other open-concept flat. To avoid creating the appearance of a smaller space, using plants as room dividers is the healthiest and most aesthetically pleasing choice.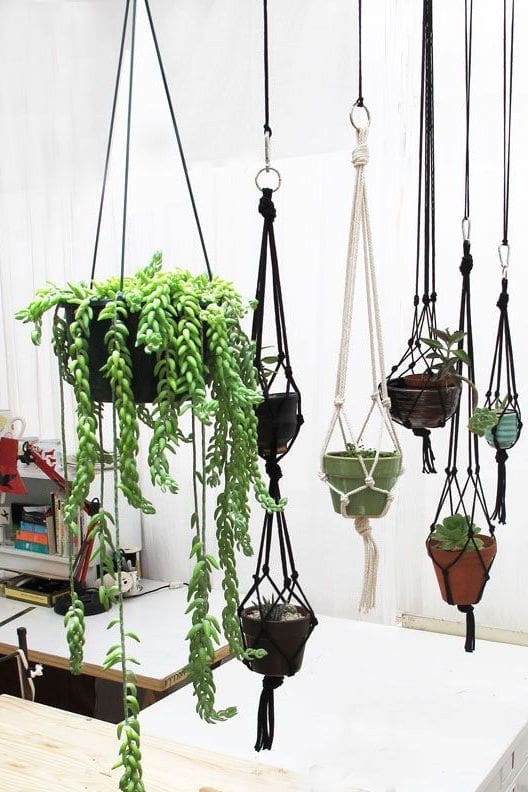 Plants improve the ambiance of a room and even alter its overall aesthetic. They also give you an excellent opportunity to let your thoughts wander and discover something new. There's nothing wrong with fake plants, but we recommend giving real ones a shot since nurturing them can be pretty satisfying.
Floating Art
Whether you're blessed with a spacious home or you just want some privacy in your studio, a room divider is a smart and attractive design option. Popular uses for partition walls include delineating dining areas, making private bedrooms, and sectioning off workspaces in the home.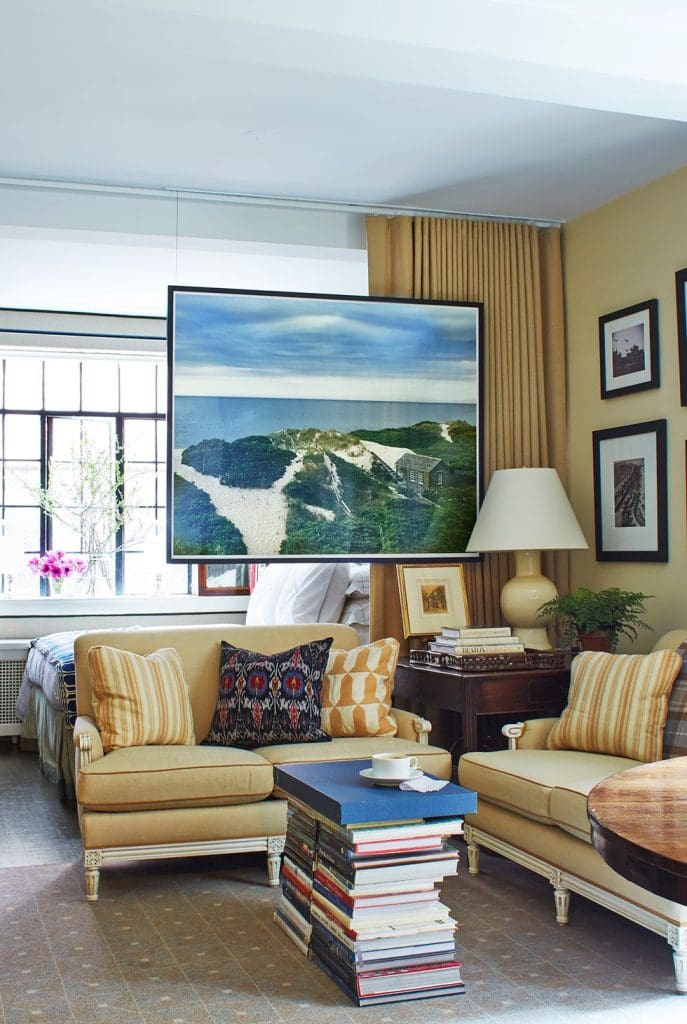 You can demarcate spaces that you wish to keep separate and make a striking design statement by hanging artwork on a divider. Floating artwork can be a terrific way to separate a large open space while maintaining a classy minimalist aesthetic.
DIY Rattan Divider
This simple DIY rattan room divider is not only cheap and easy to make but can also be quickly located in thrift stores. We like that it can be used as a display case for various items and as a room divider as well. Cane or rattan works with any style.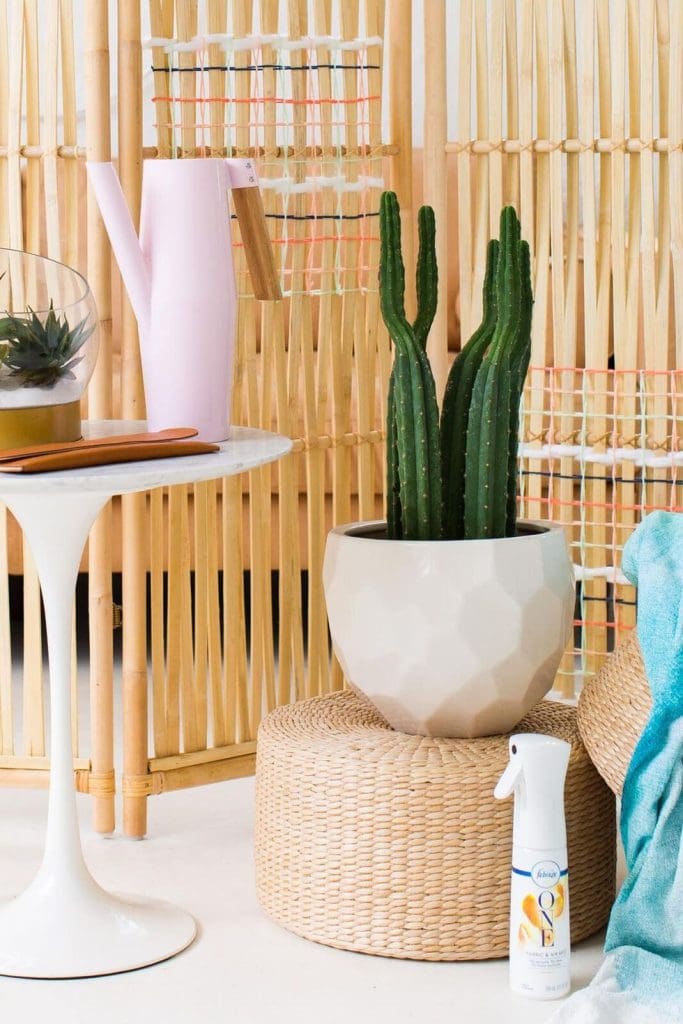 But a modern Scandinavian interior is our favorite match for a rattan divider. A quick addition of this can warm up your space and contrast your contemporary furnishings. Another perk is that it's made out of natural materials, so it can rapidly change the vibe of a room for the better.
Superb and Colorful License Plates
Anyone with an interest in automobiles will adore this chic and entertaining upcycling project. Whether you're going for a modern take on retro or a more traditional look, these plates are sure to please. Displaying a collection of license plates can be a fun project.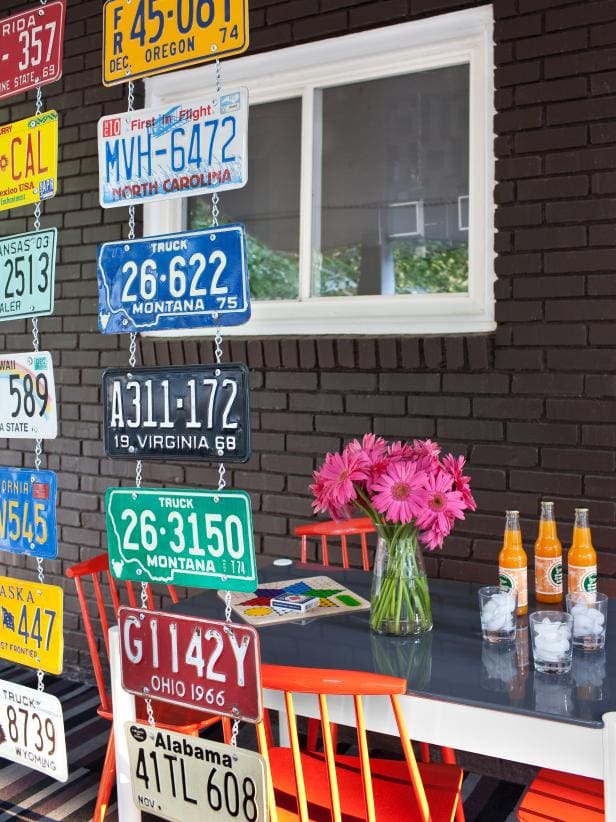 Trust us; they are so much better than a wall! Create a unique room divider with the plates you find lying around. This hanging screen is perfect for creating a private dining area outside or separating a work area from the rest of the house.
Folding Screen
A fantastic addition to any area is a multipurpose room divider that is padded and upholstered on one side for comfort and aesthetics. This folding room divider, however, can be easily converted into a chalkboard upon which you can write notes and display amusing photographs by simply flipping it over.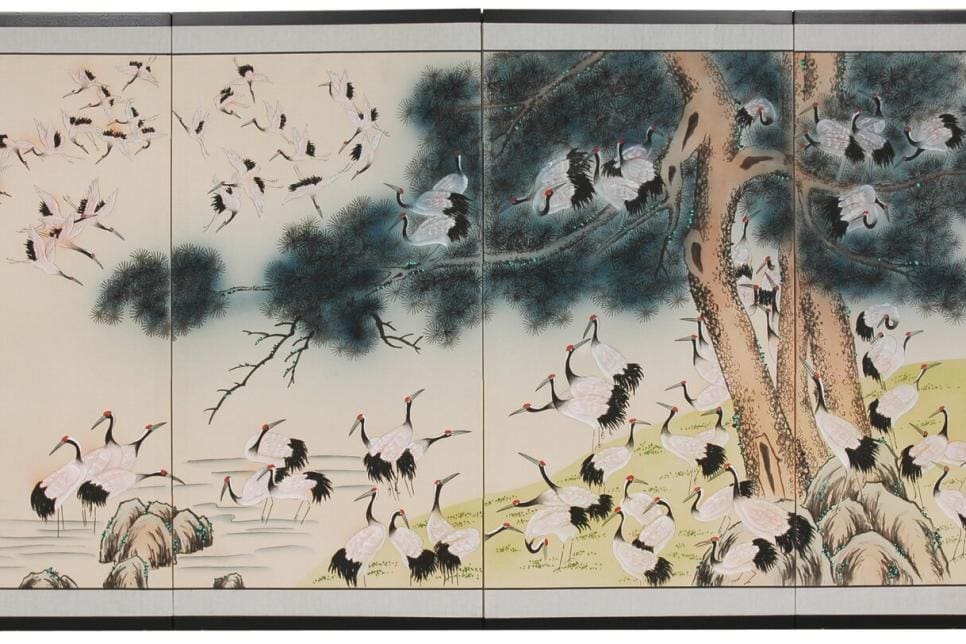 Using pastel paint and patterned stencils, you can give a folding screen from a thrift store a whole new look that allows you to have fun with color and shape. You can use it to demarcate a dressing area or a spot for crafting.
Wide Barn Doors
Sliding barn doors are an unconventional divider for indoor spaces. They are a versatile way to save space because they can be mounted on the wall or ceiling. Additionally, they're ideal for any interior space that needs a permanent door that separates rooms but still allows for passage.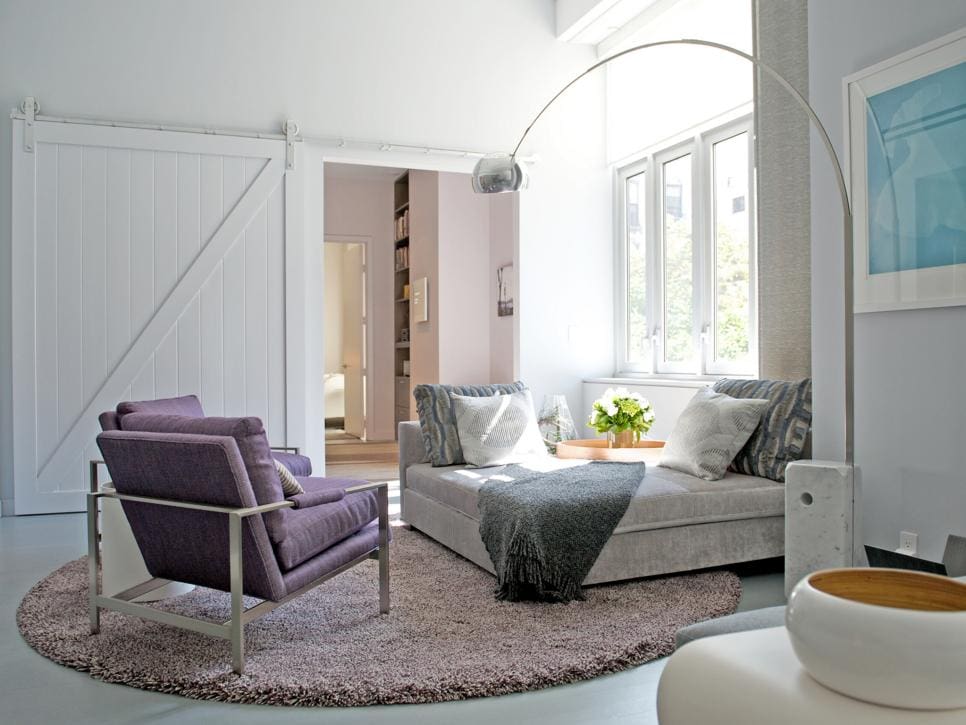 Installing sliding barn doors over open storage rooms is an ingenious way to conceal any messes from view while also making the most of an otherwise open floor plan home. If well-painted and decorated, a barn door can be suitable for any kind of home decor.
A Patterned Divider
If you're a fan of maximalism, you can't go wrong with a geometric room divider made from folding doors and coated in peel-and-stick wallpaper in a hexagonal design or vibrant florals. It is possible to get stunning wallpapers that completely transform the look of a conventional folding screen.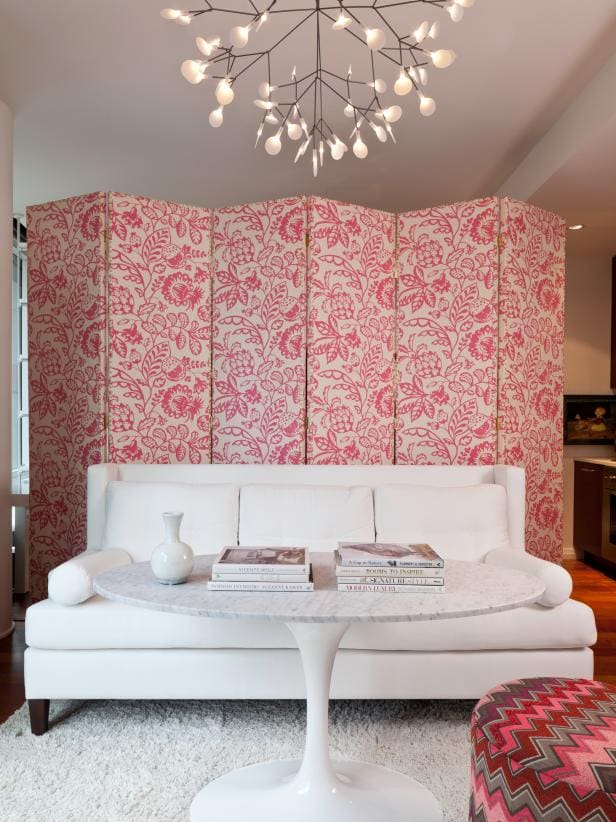 Consider looking for used folding doors from a local thrift shop or an architectural salvage yard for even more cost-effectiveness. You can coordinate the patterns with what you already have or make a standalone decorative element to put wherever you like.
Natural Branches and Twinkle Lights
You can bring some of the magic of outside neighborhoods where twinkling lights adorn the trees inside your home. This sparkling divider can be used between busy and otherwise unused portions of your home over the holidays or special dinner parties.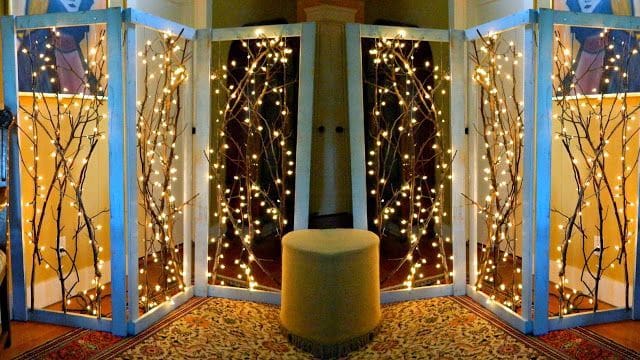 Having this piece as a backdrop for a Christmas gathering would be a dream-like experience. The combination of twinkling lights and natural branches creates an enchanted atmosphere that will impress your guests and liven even the dullest of spaces. It's even more fantastic if it's mobile.