Ikea Hacks That Compel Us To Remodel Our Homes Right Now
By Doreen R September 9, 2023
---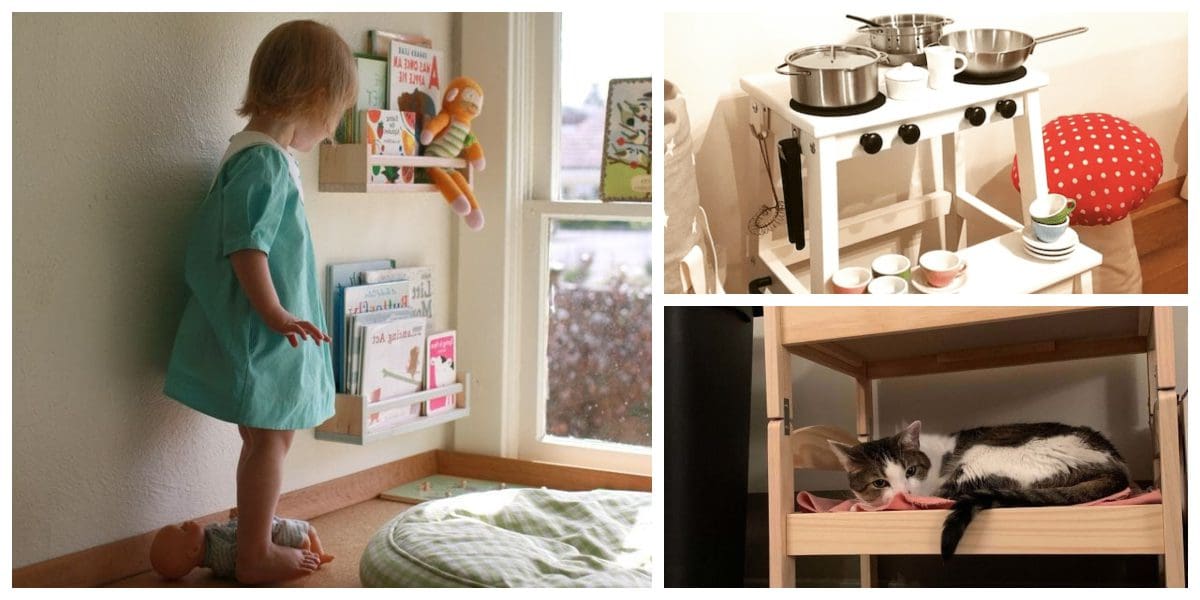 This article was originally published on
mydiwise
IKEA has some good quality furniture that suits every need under the sun. Many people don't know this, but IKEA began back in 1943 by a 17-year-old named Ingvar Kamprand. IKEA wasn't an overnight success, but it became a success nonetheless. In 2008, it became the globe's largest furniture retailer, not a big surprise. There's always something for everyone at IKEA, regardless of taste or budget. We can all find something there, whether intended or not. Let's get this straight, the majority of the world's population have at least visited IKEA once in their lifetime. If one is a student just starting or a newly married couple setting up their first home, this store comes to the rescue for many wants and needs when it comes to home design. Okay, so it's settled, IKEA is a great place to get some home inspiration, but it's also one of the greatest places to let our imaginations run wild. Sure, the annual catalog has a place of honor in many bathrooms worldwide. Still, it's also great to take the suggestions in the catalog and consider other uses for, let us say, nightstands, storage containers, or even table cloths. Yes, this is where we'll check out some unique ways to use IKEA items in a different than intended manner. Get ready to be amazed at what we found, and let's see if we can conjure up different uses for those practical items.
1. Everyone Wants an Inviting Window Seat
It truly takes a special vision to take white bookshelves and turn them into a cozy seating area. This hack is not only simple, but it's also affordable. This person utilized the shelves for storage by using the open boxes, allowing buyers to keep their items hidden and stored neatly.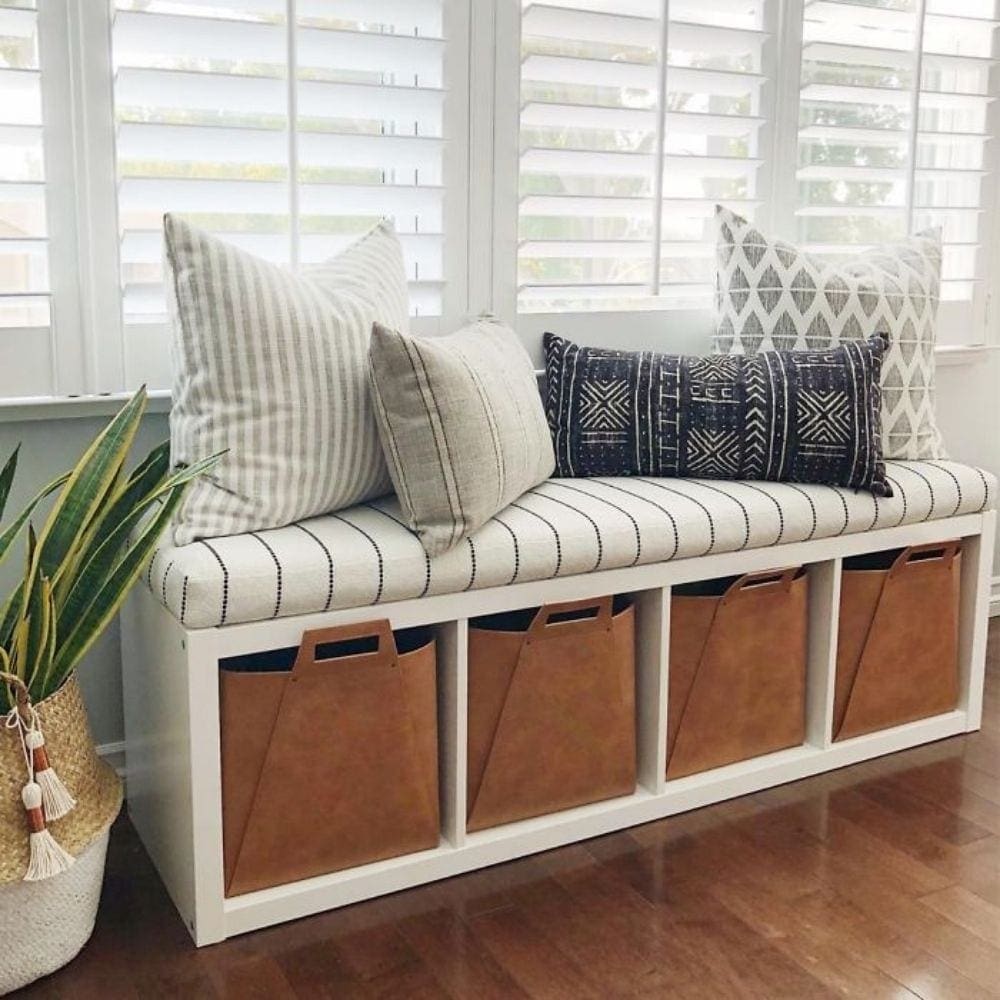 Adding the pillows and seating cushion makes it hard to see that the shelving unit was meant for anything else. Adding the pillows and seating cushion makes it hard to see that the shelving unit was meant for anything else. The cushions are also an easy task for the DIYer.
2. Boring Bookshelves Get a Facelift
This hack is a bit more complex, but the results are definitely worthy of a mention. This 4 opening IKEA Kallax was repainted, and legs were added to turn this into a statement piece. This DIYer made this makeshift console to be even more unique by adding storage boxes that it was painted to match the shelving unit.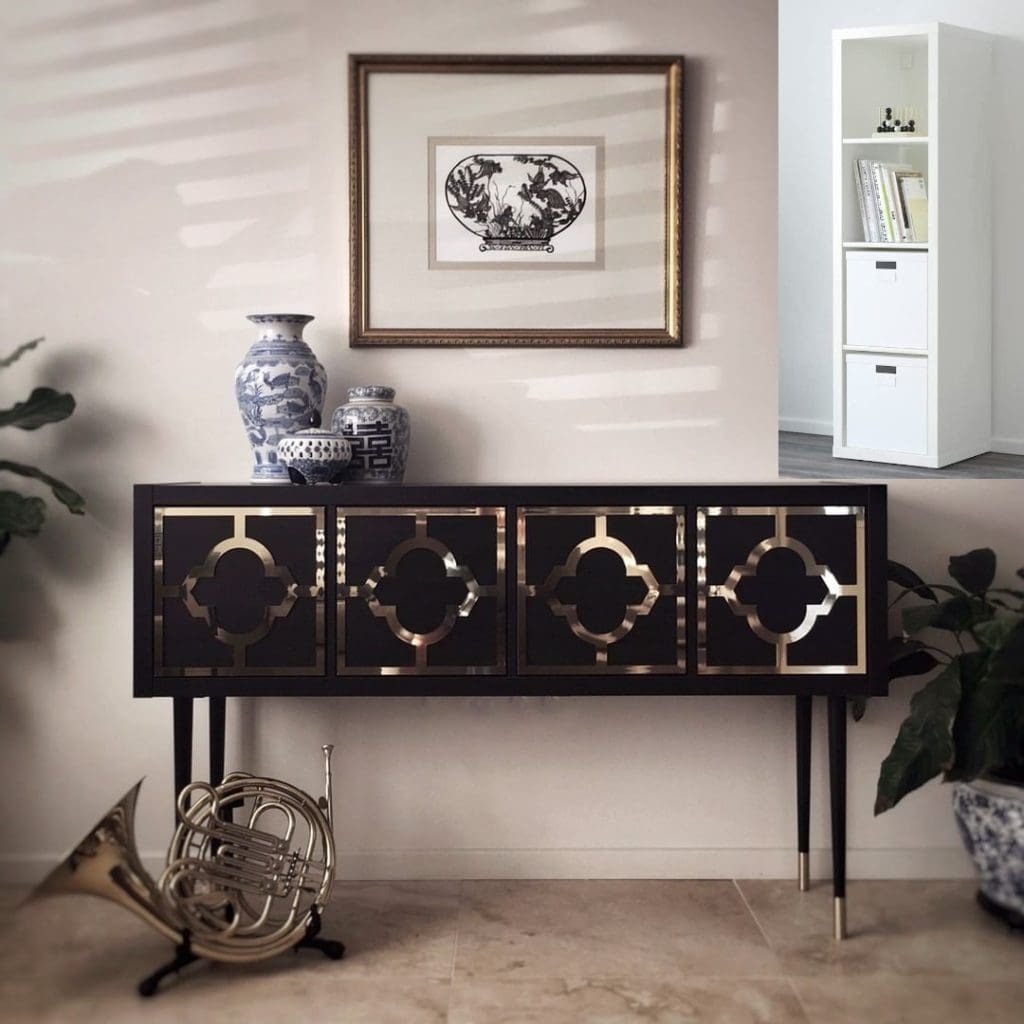 This ingenious design was given even more innate style by adding silver-accented decals, giving it a luxurious vibe. Our staff loved this hack and wholeheartedly agreed that it looks like a pricey item from an upscale store. Nothing more to add, other than well done!
3. Ivar Cupboard Gets Groovy
For those doubting this hack, just go ahead and Google the term Ivar Cupboard. Now it's understandable why we're so on board with this retro masterpiece. This design had most of us saying, 'wow.' The imaginative doors with rattan inserts are what amazed us, and rightly so.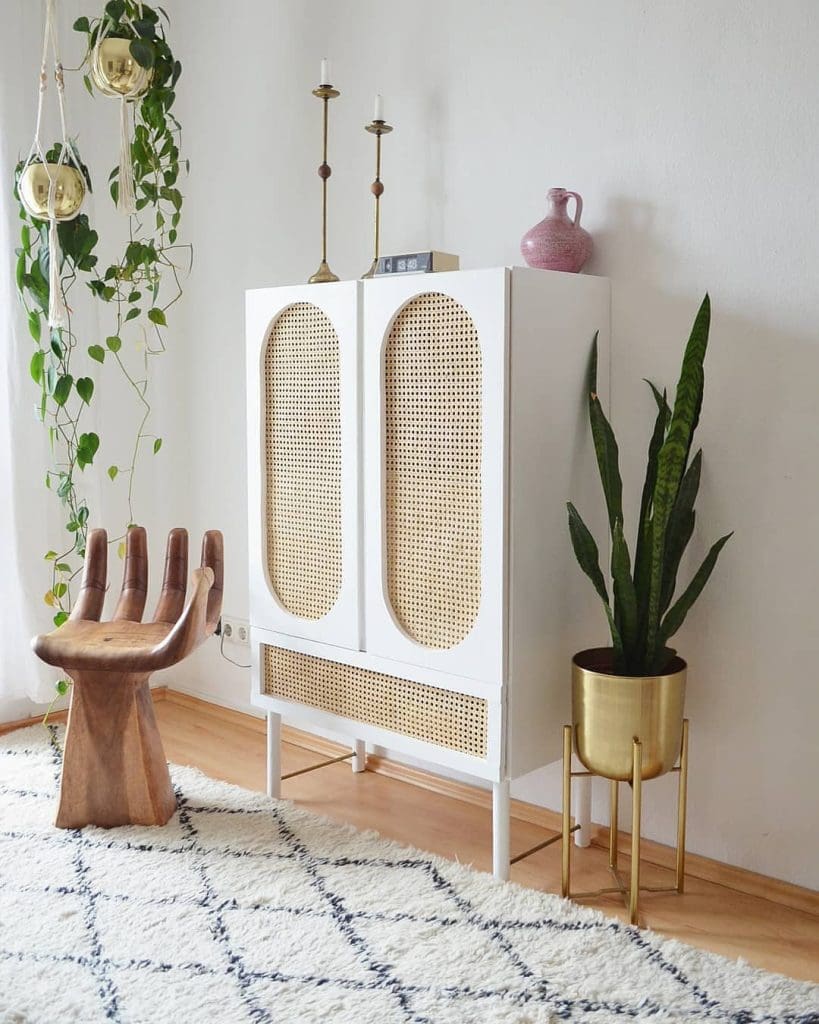 The owner of this piece wanted a hippy vibe reminiscent of the groovy 70s, and they accomplished it successfully. The unit fits in well with the rest of the room's décor. We also appreciate that this room wasn't overdone, and they used just the right accents to give off that perfect retro feel.
4. Plastic Affordable Table Repurposed into Majestic Marble
A budget for many of us plays a factor, especially when it comes to furnishing our home. Sure, marble or granite is expensive and not in the cards for many of us. Um, think again. This simple plastic round dining table retails for under $200.00 at IKEA, but it doesn't make much of a wow statement.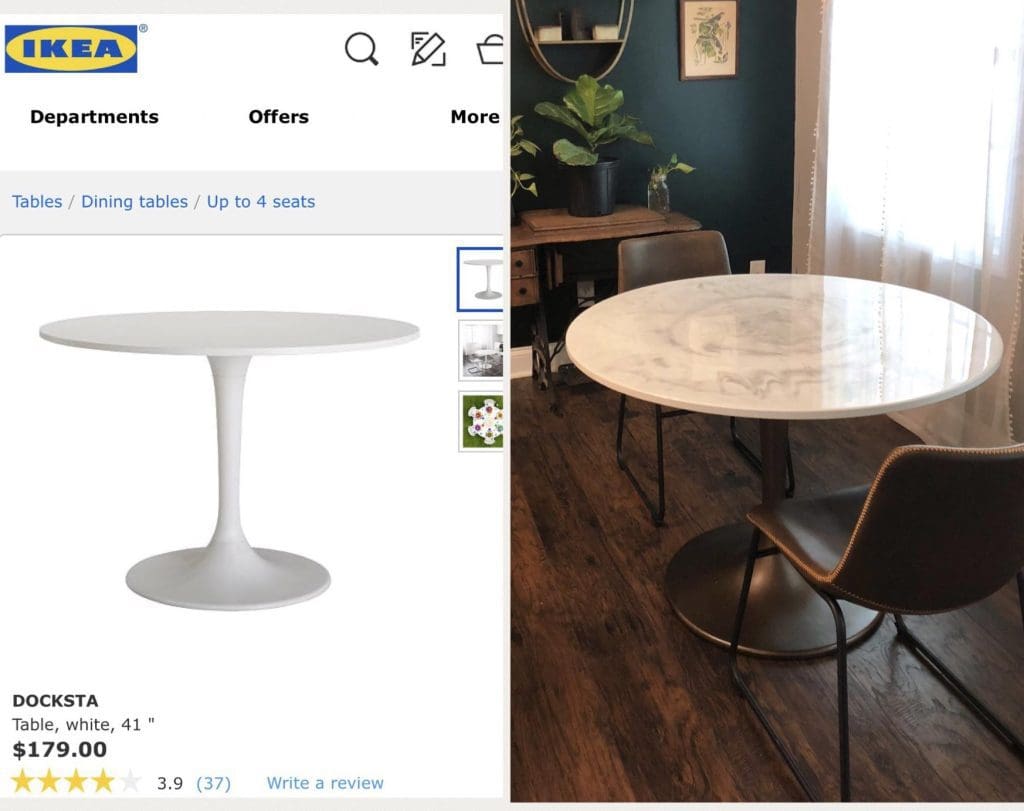 But with a little creativity and tenacity, anything is possible. This table was simply painted with faux marble paint and glazed with epoxy. The results speak for themselves. A bonus is that, yeah, it's not real marble, but real marble is heavy and bulky, while this is easy to move and maintain.
5. A One of a Kind Dresser
We're slowly but surely realizing that when visiting IKEA, we need to keep an open mind. That's obviously what the creator of this whimsical dresser must have done. How else can one explain how a boring, 2-door cabinet can become a fun and colorful dresser?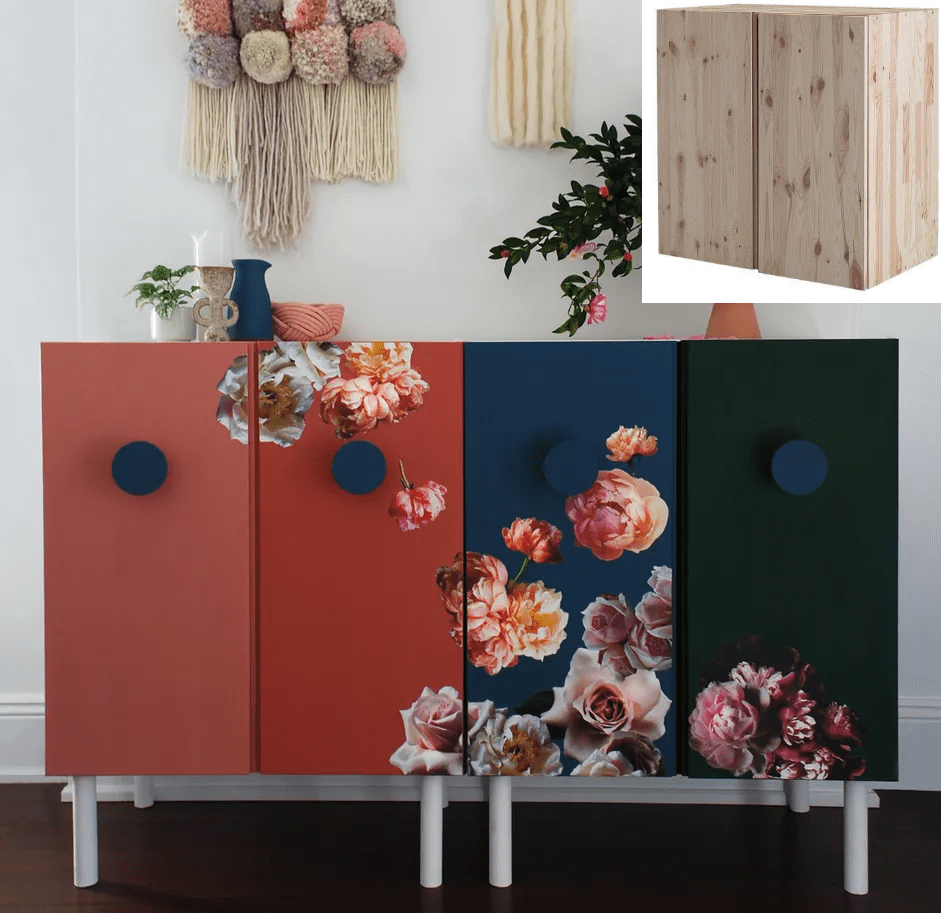 We love using color and floral stickers, not to mention the cute knobs that make this item a young girl's dream dresser. We love that this isn't your run-of-the-mill boring piece of furniture intended to store clothing, but rather a fun and unique item that puts a smile on your face.
6. Letting Your Imagination Run Wild
We can't help but love this fairytale-inspired bed. While this isn't necessarily an easy hack, it definitely ticks the box when it comes to originality. We can't help but imagine a child reading their favorite book at night while tucked away in this bed that seems to jump right out Hansel and Gretel.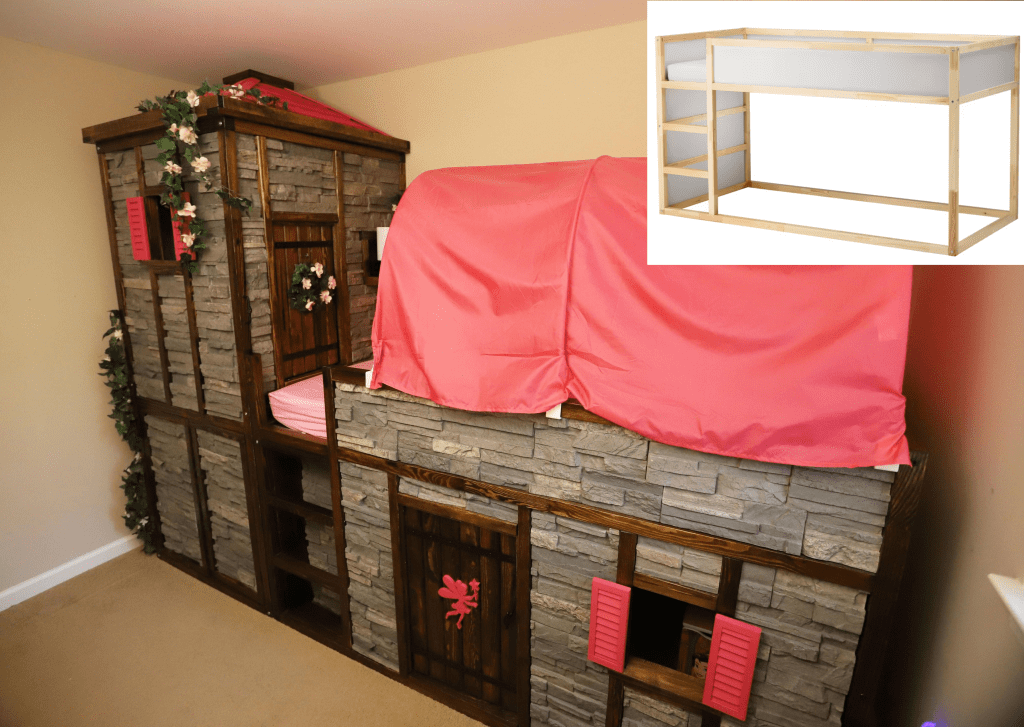 This creative person made this stone and wooden cottage slash bed with the creative use of thick cardboard and strategic painting of the wooden slats. The attention to detail is apparent, and we can almost envision two young children coming upon this 'cottage' in the woods, looking for their way home.
7. Desk or Bar? You Decide.
We're trying to imagine what goes through someone's brain when they look at the Vittsjo laptop desk and see a bar instead. Whatever went through this individual's mind, we're beyond thrilled that the vision was taken from the idea to pure execution.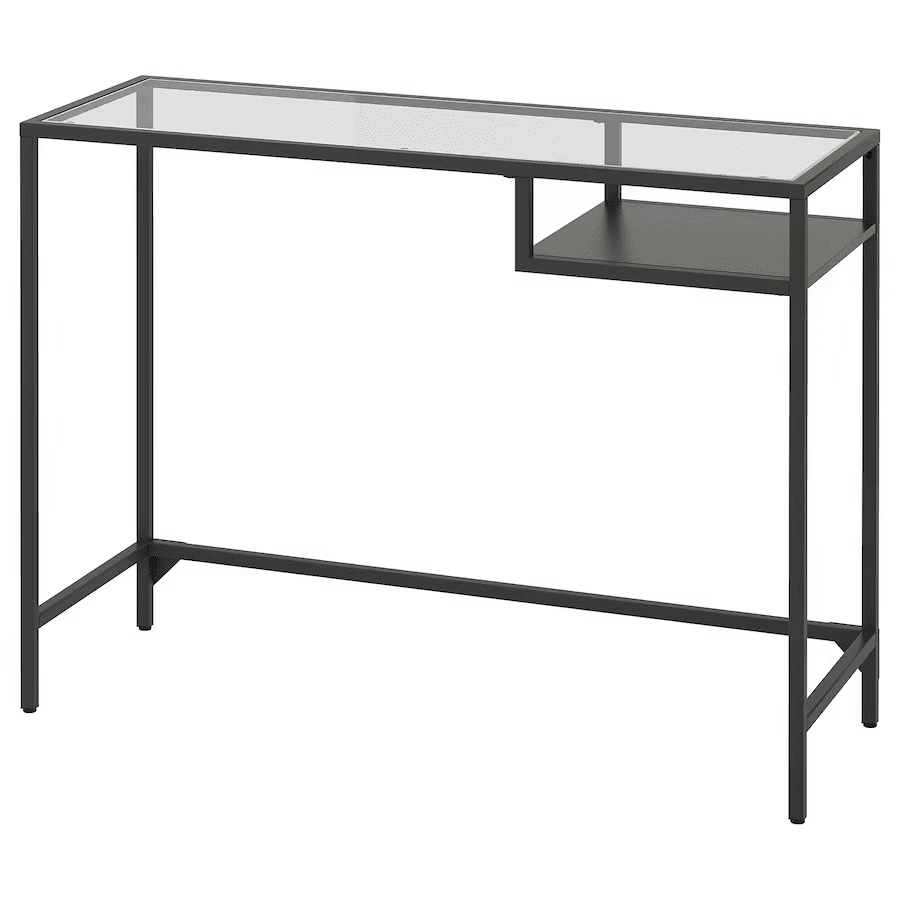 This creative hack was achieved simply by adding the wooden plank to the top of the glass. The wood adds warmth to the bar as well as much-needed stability due to the weight of the items. Glasses are kept in the open drawer area, while additional bottles are kept below. The shelf below was also built by adding a second wooden plank.
8. Fur Baby Hacks
This is a hack for the animal lovers amongst us. This fun and comfy-looking cat bed was thought up by a creative DIYer who took a look at a basic doll bed and saw something else. This was envisioned by the owner while strolling through the kids' section at IKEA.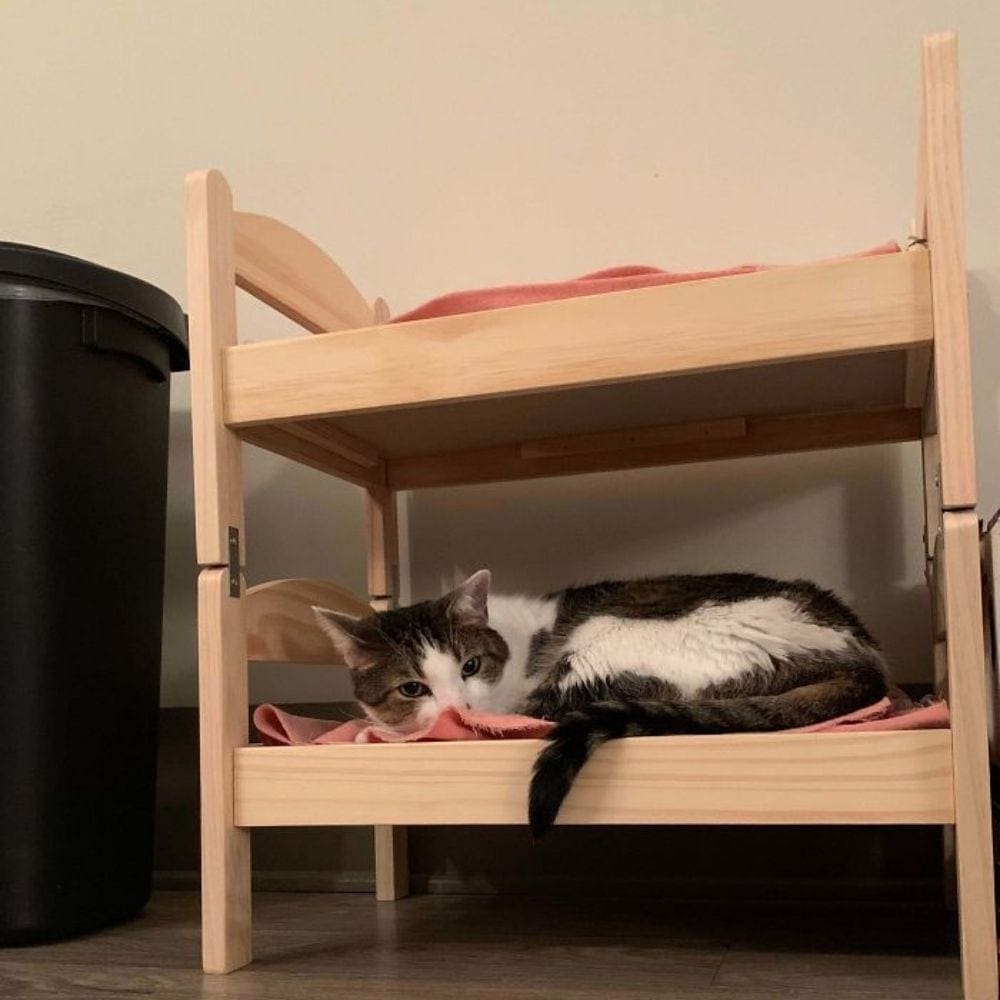 It takes a lot of vision to see potential in certain items intended for a totally different purpose. This cat lover was clever to see that by simply securing 2 of the beds on top of each other along with some padding and soft material, it would be the perfect bunk bed for Mitzy and Fluffy.
9. Hemnes Dresser Gets a Facelift
The Hemnes line at IKEA is popular and has been around for ages, but that doesn't mean it can't use a facelift. The owner of this all-wood dresser got bored with the white color and decided to give the quality dresser a second life. Kudos for not getting rid of the item and for seeing the possibilities.
This was a relatively simple hack. The repainting involved sanding and prepping the wood for the new paint. We love the addition of the new hardware that gives this useful item a new updated look. The leather pulls are unique and give a warm feel to this dresser. Our staff gave this hack two thumbs up.
10. Boring Lack Table Be Gone
The square Lack Table at IKEA has been around forever. It comes in basic black or white. It's practical, sure, but also boring and basic. We definitely got a kick out of this hack and made sure to add it here to show how a simple idea can change a staid and lackluster table.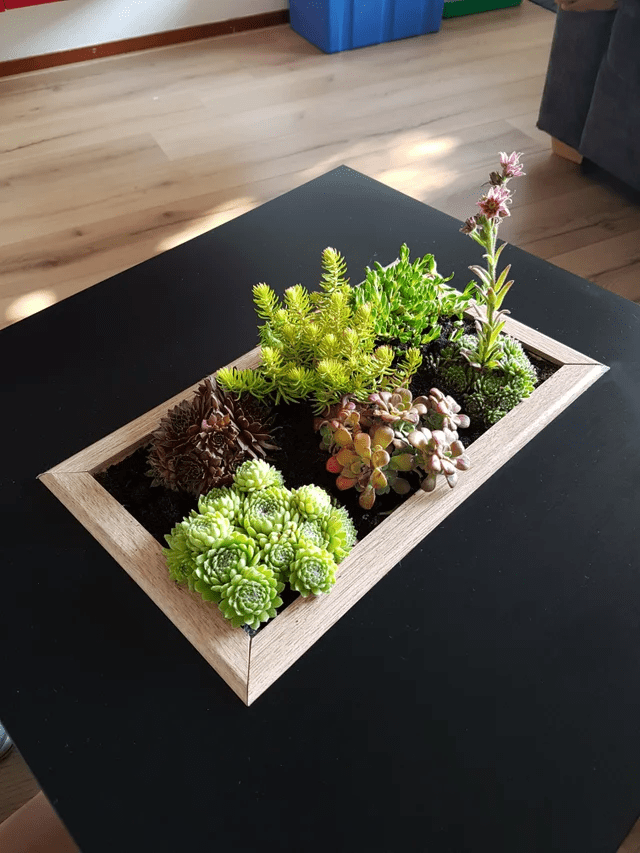 The owner of this black table simply carved out the middle and lined it with a planter full of indoor-friendly plants. This once boring table now sits proudly in this home and enjoys oohs and aahs from all those that see it for the first time.
11. For More Than Just Shoes
This shoe storage hack is probably one of the more popular hacks. When visiting IKEA, this staple is always visible. It's another from the Hemnes line and is originally intended for shoe storage. It is usually found in black or white and is made from wood.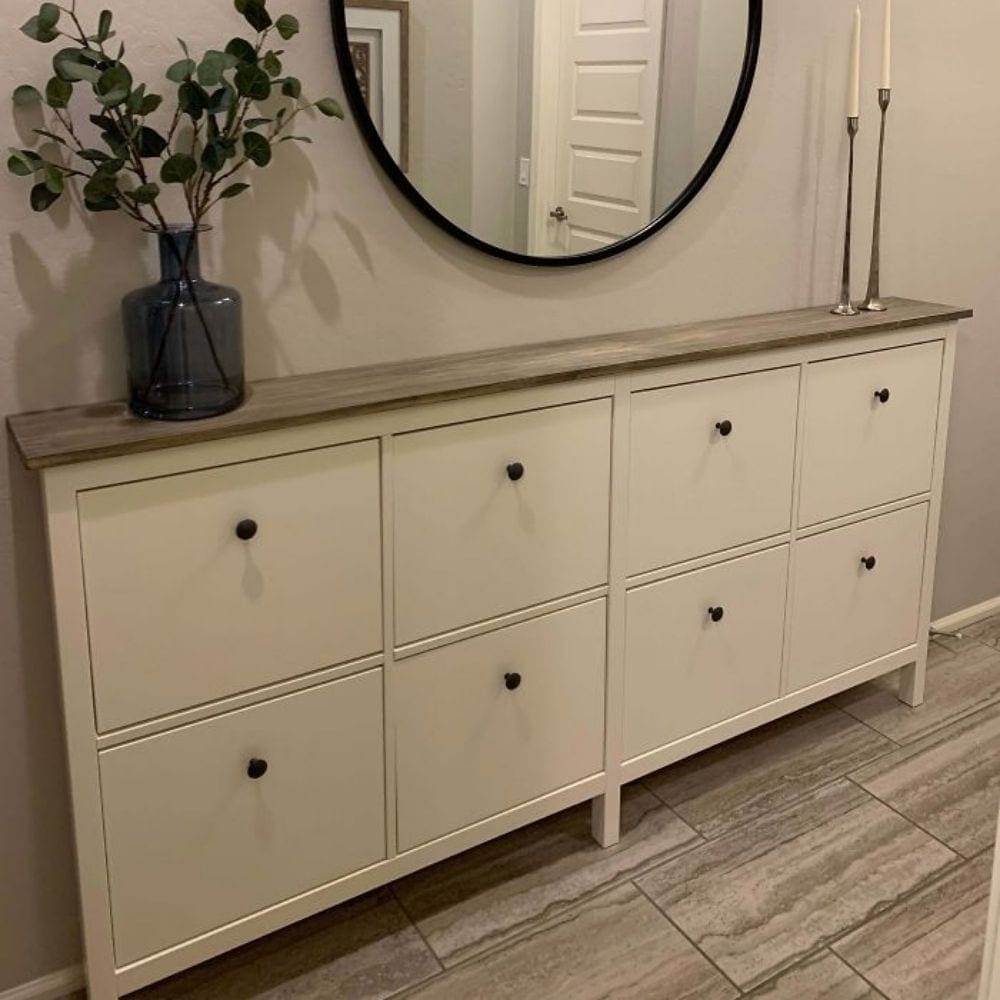 This storage unit has been repurposed into an entryway console and is a simple hack. By adding a wooden shelf and attaching it to the wall, this one boring utilitarian item is now a welcoming addition to your home's entry. We suggest sanding and painting to a natural shade for even more warmth.
12. We're Digging This Bar
This user took IKEA hacking to another level by combining two items. The Ivar cabinet and the Applaro wooden wall panel were put together to create this retro-inspired bar, and we love it. We're getting Mad Men office vibes from this bar unit and are itching to get one for ourselves.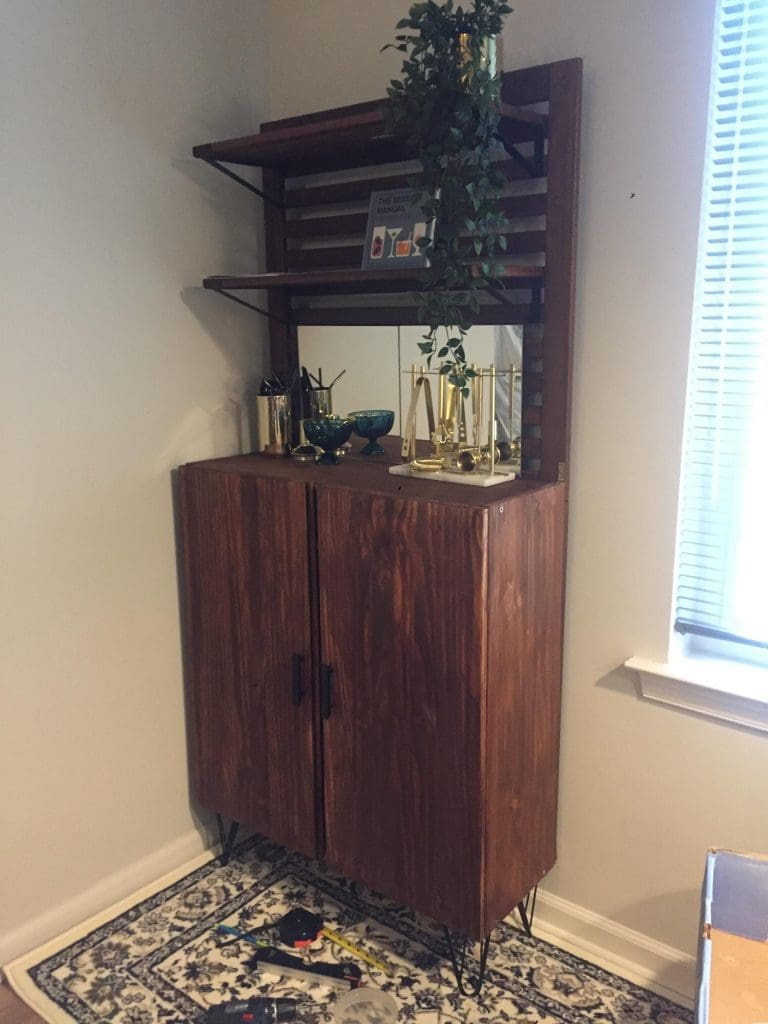 The dark wood and addition of shelves for glassware make this unit a real statement piece. We can totally imagine preparing martinis or scotch on the rocks using this bar. By adding a mirror to the unit, it's impossible to relate this item to any item available at IKEA, which to us is the point.
13. Purrfect Cat Space
This hack is both clever and practical. The owner of this furry feline felt the cat's accompaniments were taking over the apartment, and a decision was made to organize, save space, and create a warm and comfy spot for Daisy out of the tried and true Kallax unit.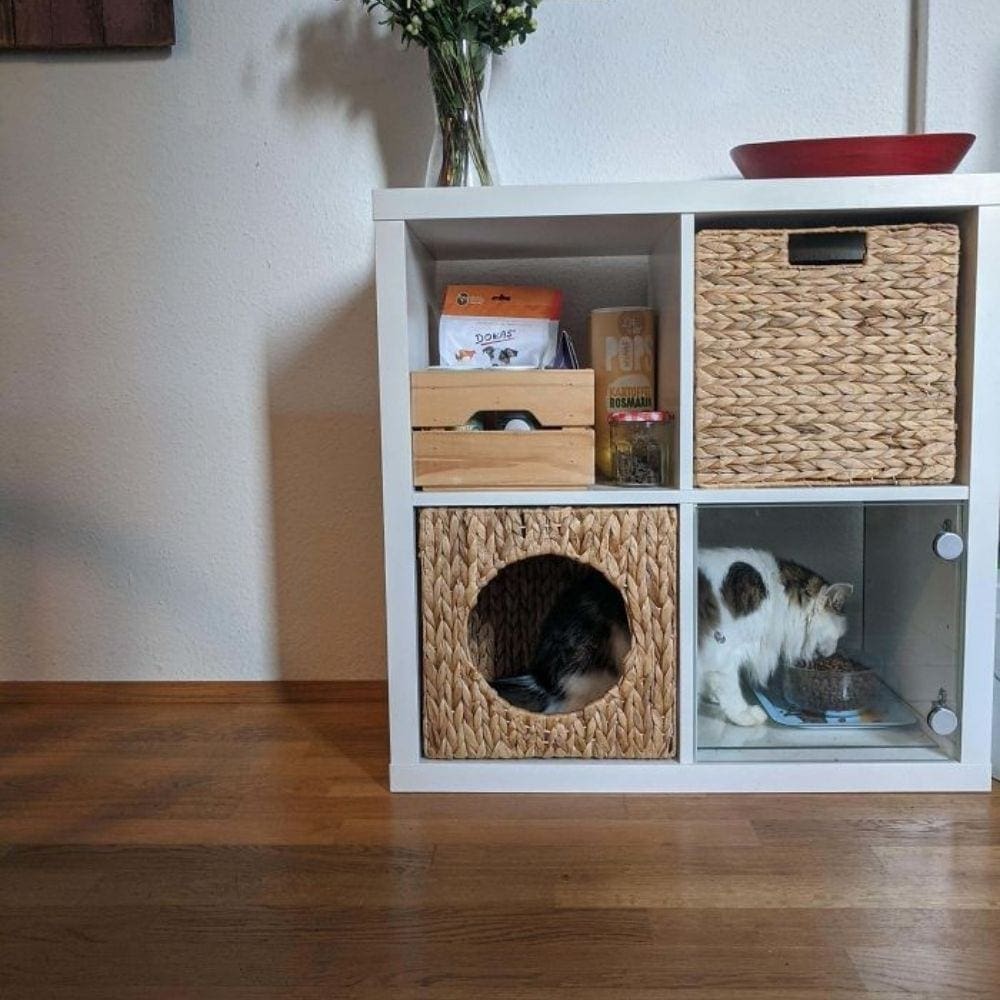 Two straw baskets were used to store cat toys and food in two of the 4 openings. The other 2 openings are strictly for Daisy to eat and sleep whenever the mood struck her. This worked out great, keeping all of Daisy's must-haves in one convenient place.
14. Entertainment Center on a Budget
When shopping for specific furniture items, thinking outside the box can save big bucks. We all know that TV units or entertainment centers can be costly and not always give us exactly what we're looking for when it comes to space and storage.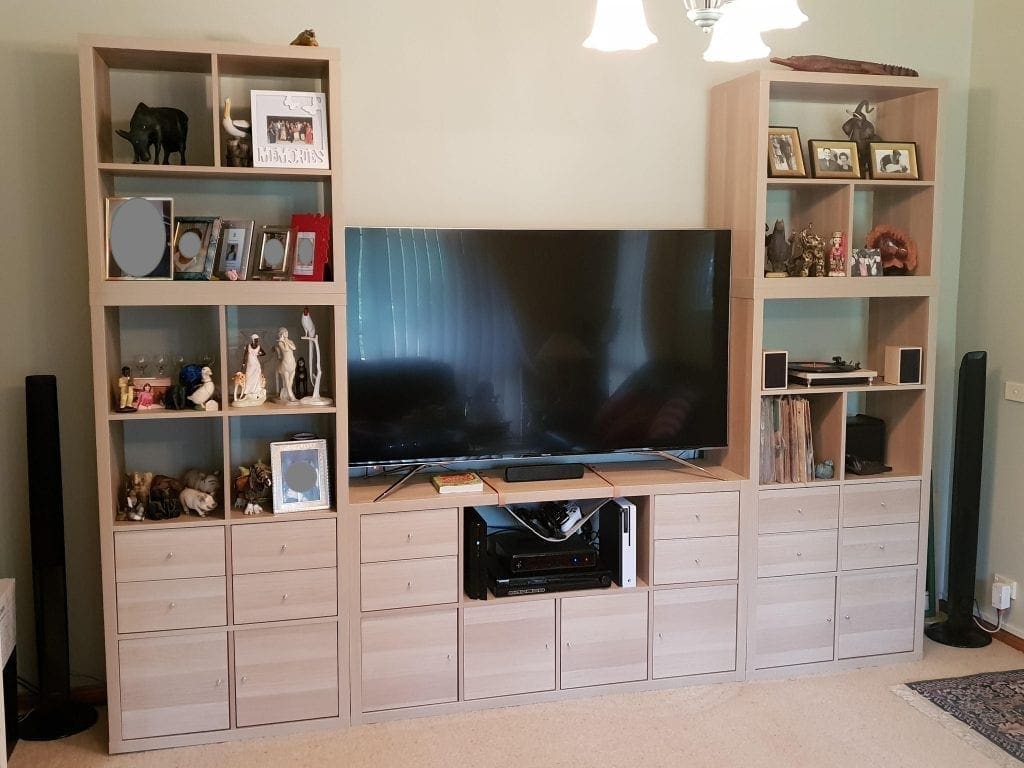 This is where IKEA's Kallax comes into the picture. The Kallax line has a variety of options, sizes, colors, and finishes. Many people don't know that IKEA was getting ready to retire the Kallax line in 2014, but it was kept in production due to customer demand. Good thing because this functional unit is comprised solely of Kallax units.
15. A Book Lover's Dream
When we think of home libraries, we imagine big mansions or estates, where cost isn't a factor. But for the average Joe, money is almost always a consideration. They created this impressive home library with affordable IKEA bookshelves, and the results are impressive.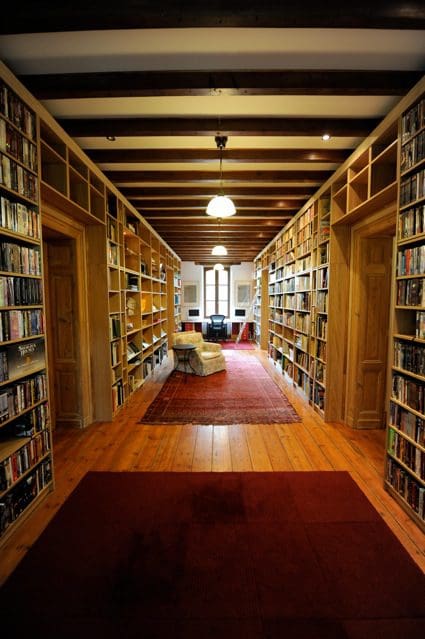 The creator of this library mounted multiple wood shelves on top of the other while also attaching them to the wall to ensure stability. The result is a rich and warm library to house this book lover's favorite literature at a fraction of the cost of hiring a carpenter to create.
16. True Audiophiles Love Their Vinyl Records
For those who think vinyl records are a thing of the past, there are just as many who believe quite the opposite. Many music lovers refuse to go digital and swear by old-school records as the only way to listen to quality music. Even our staff is divided on the topic.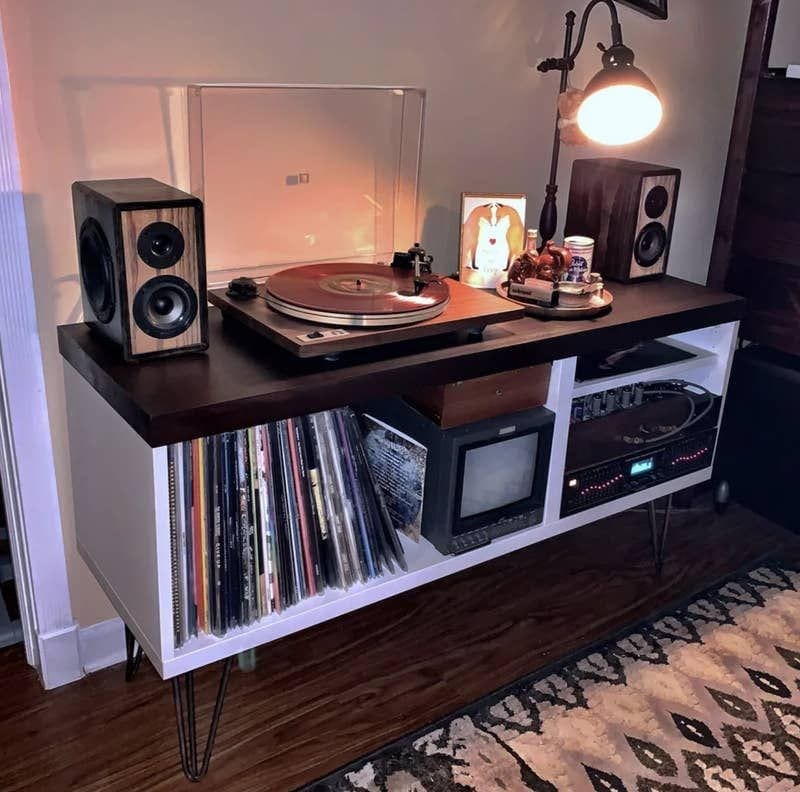 Regardless of how we like our music, we can all agree that a dedicated music station is a must. This person attached metal legs to the bookshelf and a wood top panel to give it a retro vibe, perfect for chilling to some tunes on this trusty record player.
17. Never Lose Your Keys Again
Few things are more frustrating than rushing in the morning to get ready to leave for the day, only to find our keys are missing. We've all been there, so this hack is for nearly all of us. It's convenient, inexpensive, and so simple, it should be a staple in all homes.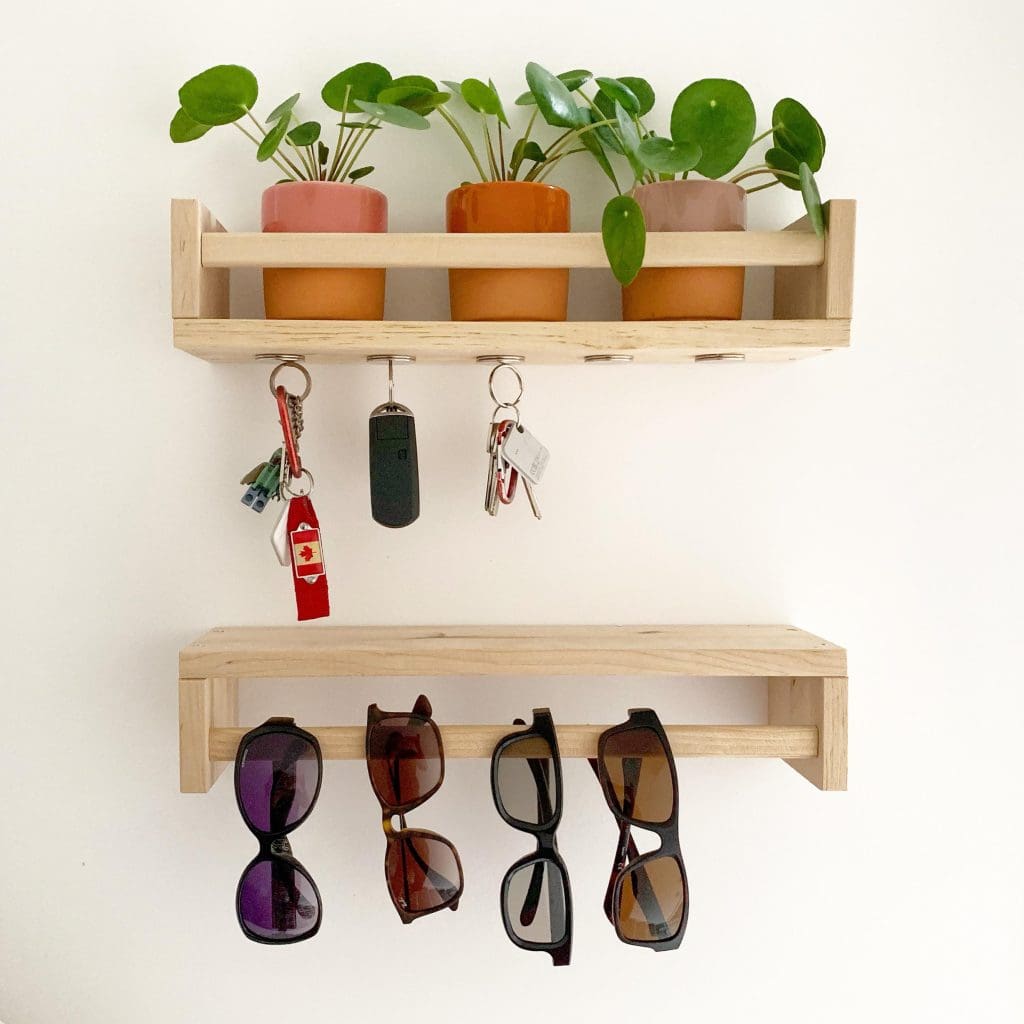 The IKEA Bekvam all wood spice rack is not only for the kitchen but also for displaying knickknacks or plants around the house. By simply adding magnets to the bottom of the shelf, we'll never lose our keys again. Although we will be required to place the keys under the rack, that's a given *eye roll emoji inserted here.*
18. The Timeless Kallax
Remember we mentioned earlier that IKEA considered discontinuing the Kallax? Thankfully, they listened to their customers and decided to breathe new life into these uber useful shelves. Kallax now comes in various colors and textures, but for us, glossy white is timeless and fits into most home decor.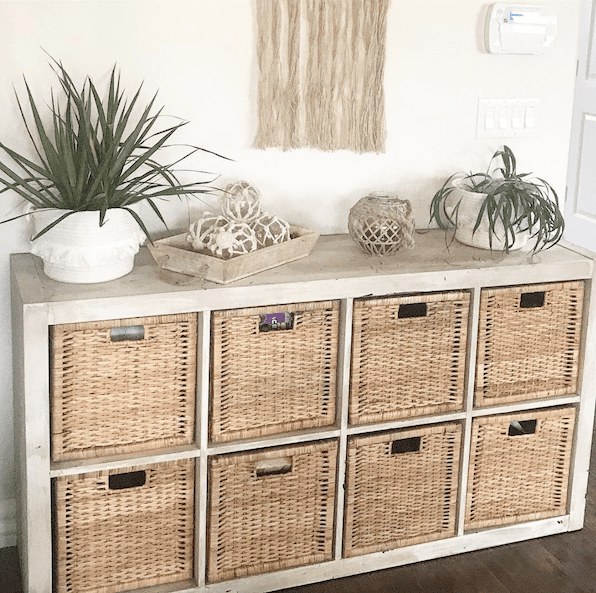 Depending on one's taste, be it modern, minimalistic, rustic, these shelves can fit into nearly any décor. This unit takes on a warm and rustic vibe by adding woven straw storage baskets. The unit looks tidy while also offering lots of places to hide wires, blankets, books, or whatever. This hack is definitely a winner.
19. Expensive-Looking Console
IKEA's Besta line is one of their more affordable lines and usually looks to be on the low-end side. However, using some imagination and sheer determination, one can transform a usually cheap item into a pricey-looking high-end masterpiece. The item seen here had people asking where it was purchased or made.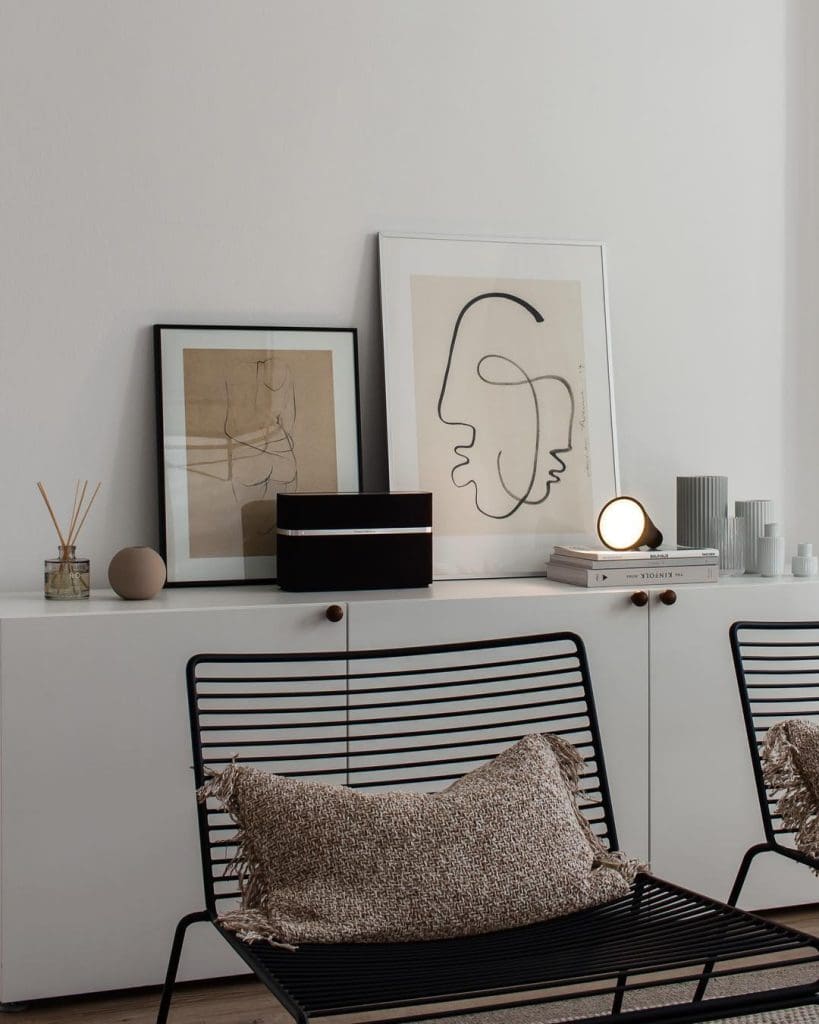 By adding funky doorknobs or handles and displaying cool items above it significantly upgrades the otherwise low-cost item. We're not dissing IKEA, but we are all about taking run-of-the-mill IKEA products and bringing them to the next level. For us, it's all about turning mass-produced IKEA finds into one-of-a-kind pieces, which is why we're here today.
20. Cushions Made From Placements
Looking at a placemat made from natural materials, one would not imagine seeing it in cushion form. It takes only one person to think this up to get the internet talking. IKEA has various placemats, including the Samtliga and Sluten, which are perfect for this hack.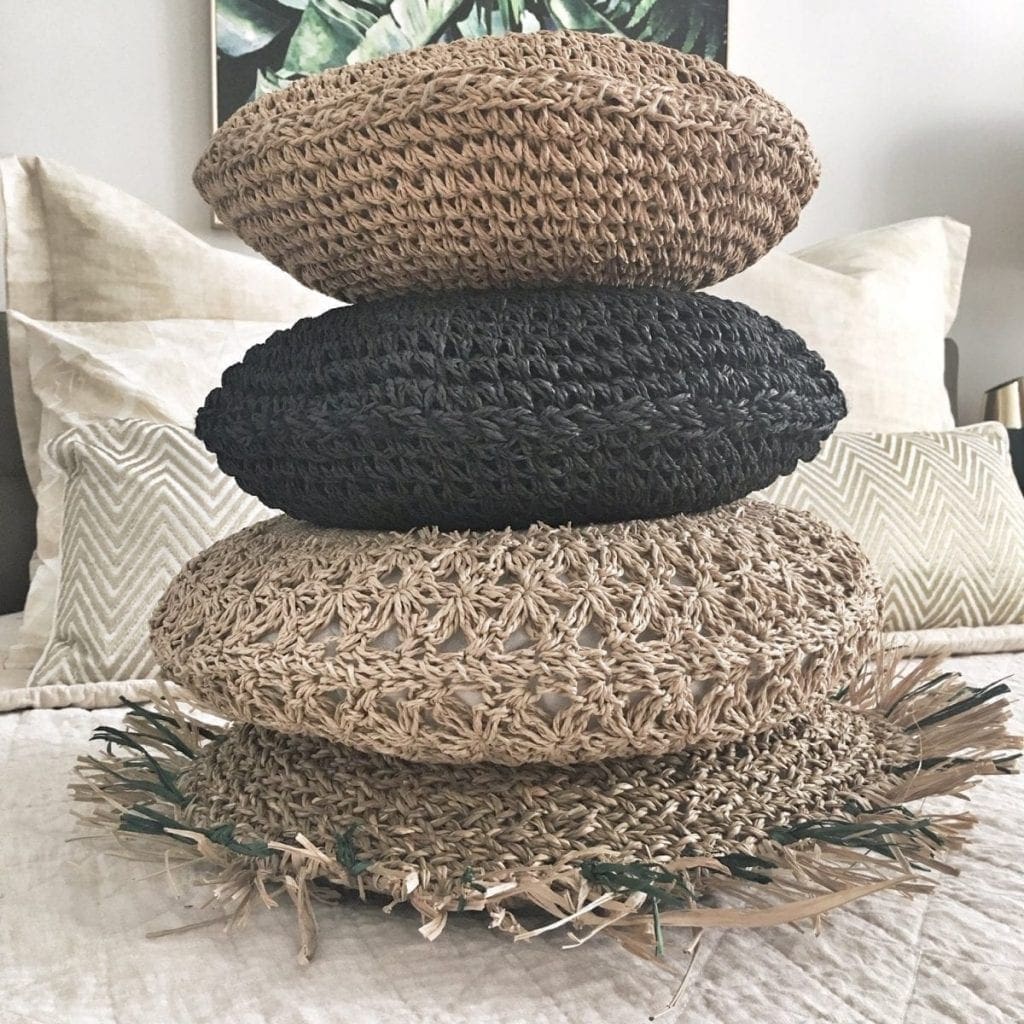 By conjoining two placements together and stuffing them with filling, one can achieve these great cushions with a cool boho or beachy vibe. It'll also have your guests complimenting your taste and aesthetic, and that's always a good thing, right?
21. Kallax Strikes Again
The Kallax shelving and storage units are popular for a reason. They're modular and can be built up as time goes by. However, getting them to look like anything but Kallax is the goal. The owner of this unit used creativity and forethought to achieve this unique result.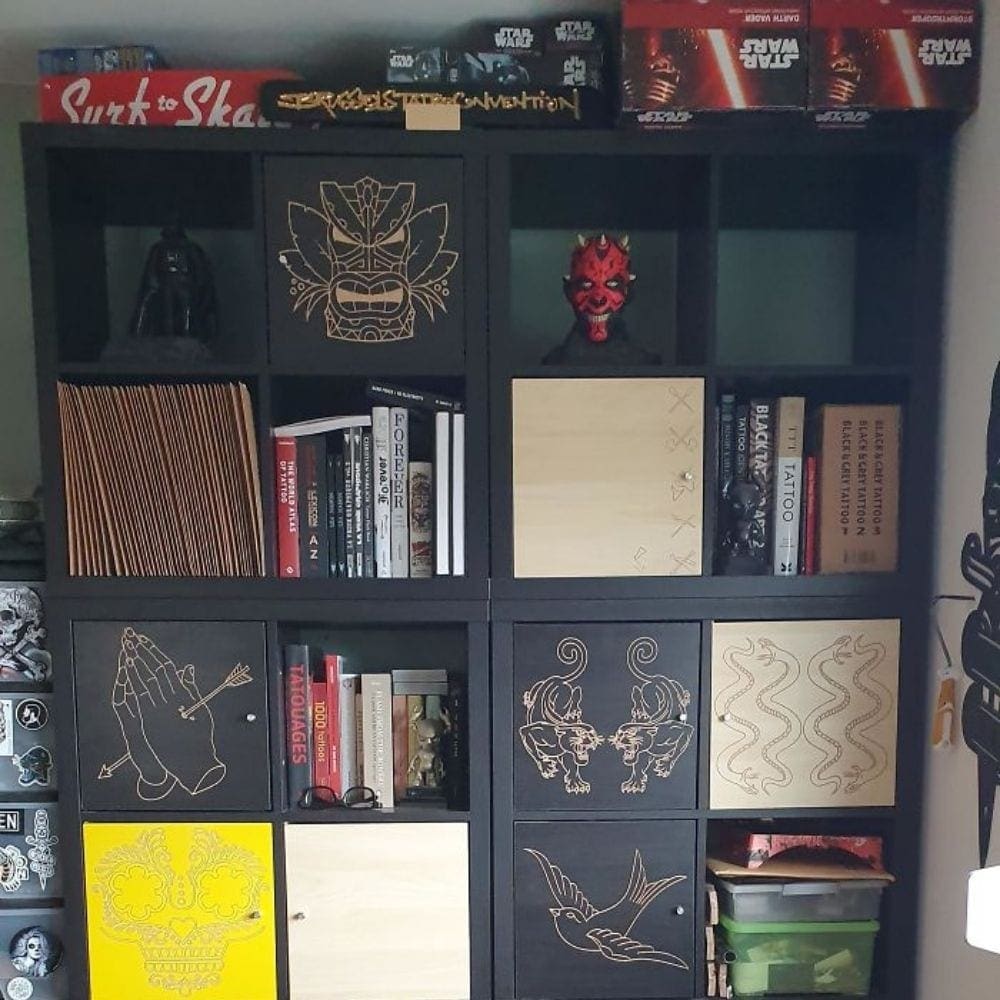 This buyer added handpainted wooden doors to this unit to give it a personal touch. The owner of this particular unit is a Star Wars fan and wanted to make sure all the collectibles were on view for one and all. Maybe a couple of more doors to cover the less than appealing storage boxes should've been considered. Overall, a decent hack.
22. A Simple Hack
The Malm line at Ikea is well respected, albeit a bit staid and ordinary. While it's functional and dependable, it's also a bit boring, but it's straightforward and affordable to take this otherwise bland dresser to the next level.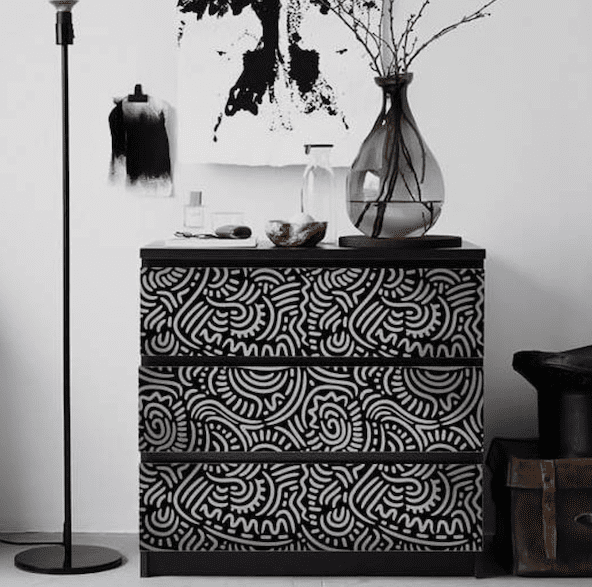 By adding creative and colorful decals, this dresser was given a new life and can be transformed repeatedly, depending on mood or home décor. The idea is simple and can be ordered online in any color or style one can dream up. This dresser got a fun and funky facelift, and we're giving it a thumbs up.
23. A Fun Treehouse Bed
This fun bed is reminiscent of a fort or treehouse that has been seen in many backyards across the globe. What a great idea to bring the fun indoors. Go ahead and Google the IKEA Kura bed and see what vision it took to achieve this unusual treasure that is bound to please kids of all ages.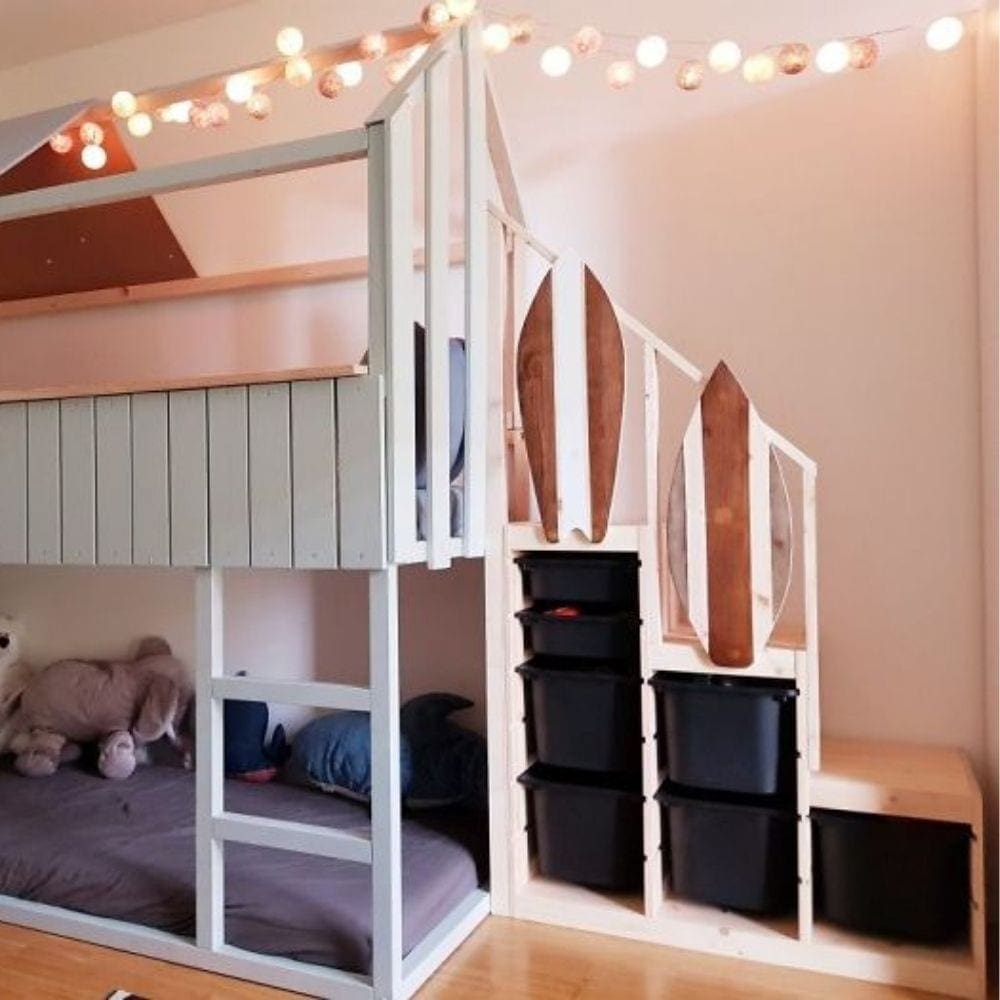 The artist who created this bed also added the Trofast steps from IKEA as well, for additional storage. They added wooden slats to attain the outdoor feeling of a treehouse. We can just imagine the hours of playtime in this cool room.
24) Mad Men Vibes, Again
This sideboard console is giving us major 60s vibes, and we're feeling the loss of Mad Men more than ever right about now. The IKEA Stockholm sideboard is attractive enough on its own, with its wood veneer polished look. However, this simple hack upgrades this piece in a way that we couldn't envision until now.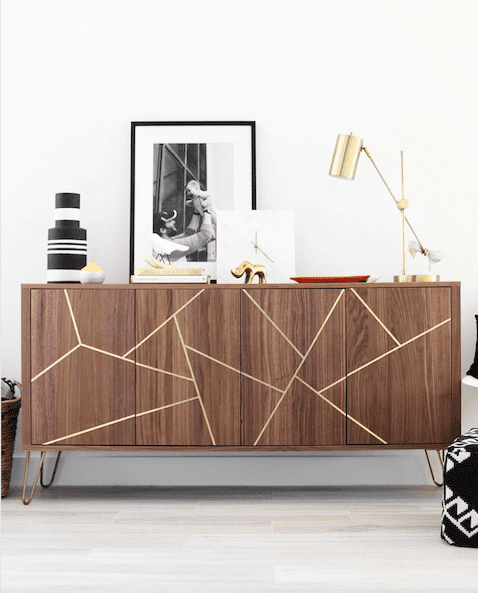 By adding simple gold legs and cool, gold decal strips in a creative manner, this person took this otherwise proper piece and breathed new life into it. By adding the right accents in the room, this piece can transport us back in time to the 60s, and that's always a cool trip.
25. The Laundry Room Gets an Upgrade
Many of us don't put much thought into designing a laundry room. Let's face it, no one sees it. We don't enjoy being in there more than we have to. Imagine, if you will, an organized and pleasant space for one of life's more boring chores. Now we're getting it, right?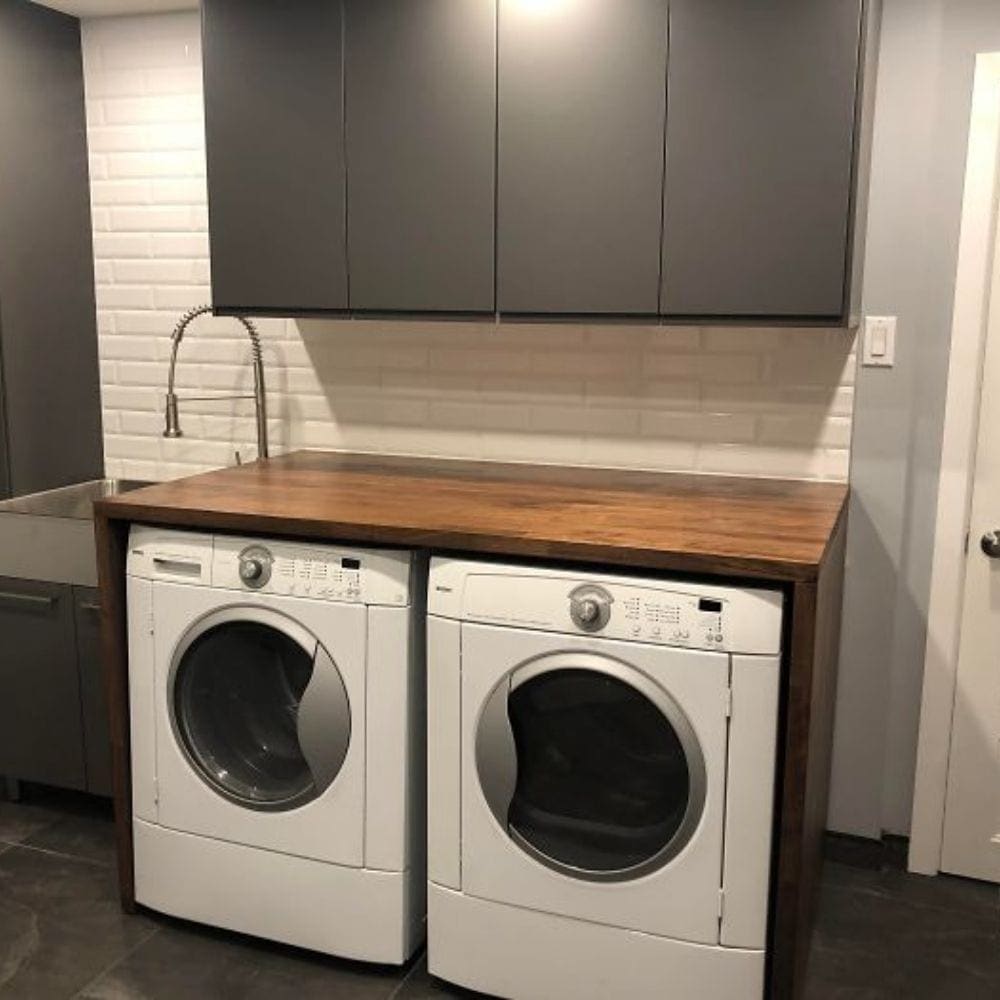 We couldn't help but smile when looking at this organized room that was simple to achieve. By adding IKEA's Voxtrop kitchen cupboards above the Karlby countertop covering the washer and a dryer, we're not looking to escape this room so quickly. The countertop is a great space for folding clothes, and the cabinets are ideal storage for cleaning items.
26. From Trolly to Garden
The Raskog Trolley isn't just for the kitchen; it has multiple uses, as seen here. It's great for organizing a kid's room or even a great spot for plants to display around the house. The wheels make it even easier to make sure our plants can be moved to sunnier or shadier places throughout the house.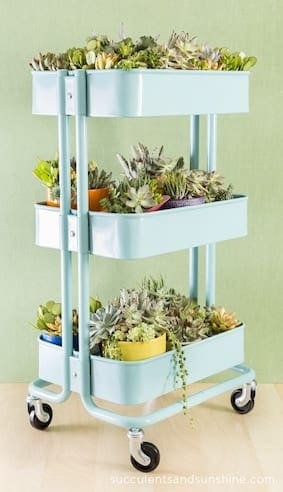 The trolly has been around for years at IKEA, and the fact that it comes in various colors makes it even easier to imagine other uses for it. Consider using it for storing drinks at parties or in the family room for remotes, game consoles, and more. The possibilities are endless.
27. Nala Needs Her Own Space
Cats love to play and get into trouble. Some cats have a habit of running away, which can be a worry for many pet owners, which is why we love this hack that ensures our cats can play outside while not being able to escape too far.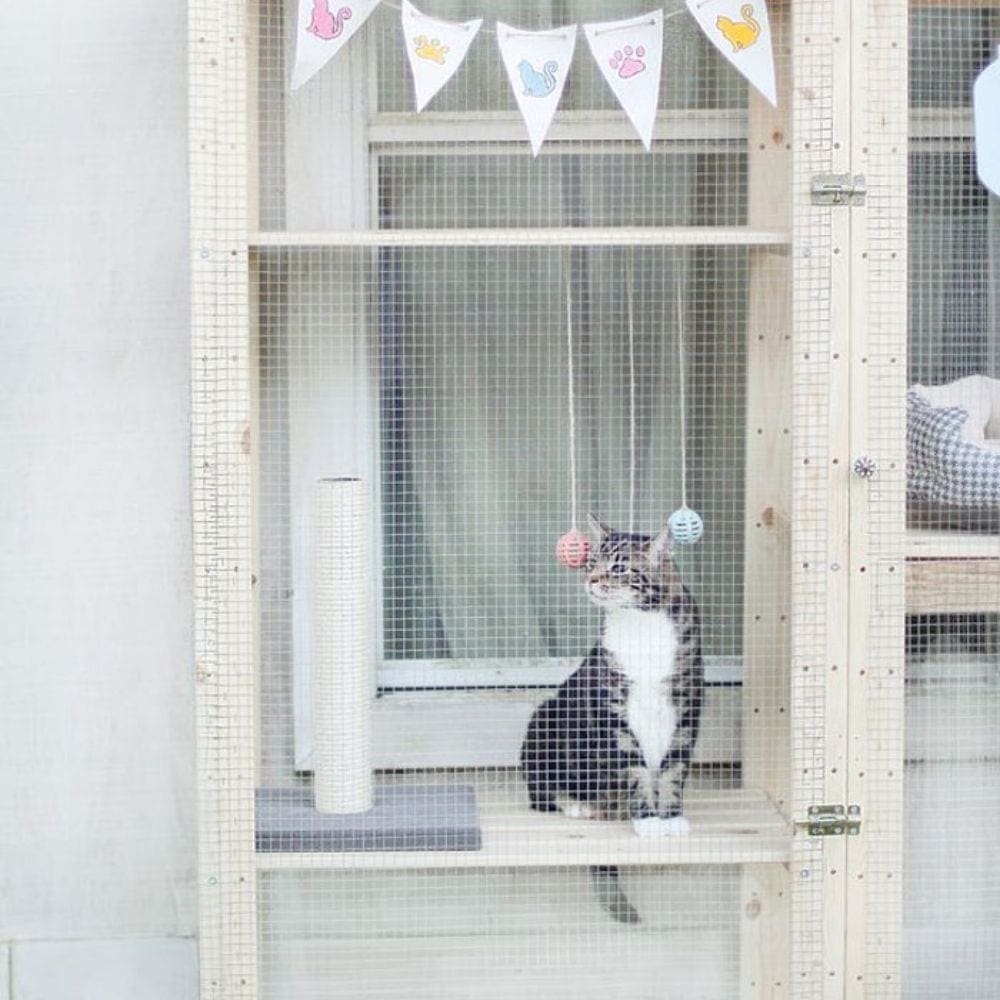 This person created this unique and useful play area for Nala by joining two Hejne shelving units secured with mesh made of wire to keep the cat safely inside. While Nala can still get some fresh air and sun, she's not able to run off and chase any birds or mice.
28. Kallax Kitchen Island? Yes!
Okay, this piece is full of great hacks using the Kallax, but we were left speechless when we got a glimpse of this kitchen island. Kitchen islands are great to have but usually come at a high price. Thankfully, IKEA hacks are full of visionary ideas and fixes for even the smallest of budgets.
This imaginative person put the four-opening unit on wheels for convenience, and that's great. Doors were added to a couple of the openings, making for great storage. The thick butcher's block added on top is probably our favorite part of this island, giving the kitchen a warm and inviting feel to the space. Unanimous thumbs up on this one.
29. Working From Home Isn't a Fad
Many thought social distancing would be a short phase, but sadly, that's not the case. As the globe adjusts to the current situation, many of us are finding ourselves working from home more than ever before. It's also shown that this is a productive solution to commuting and sitting in traffic.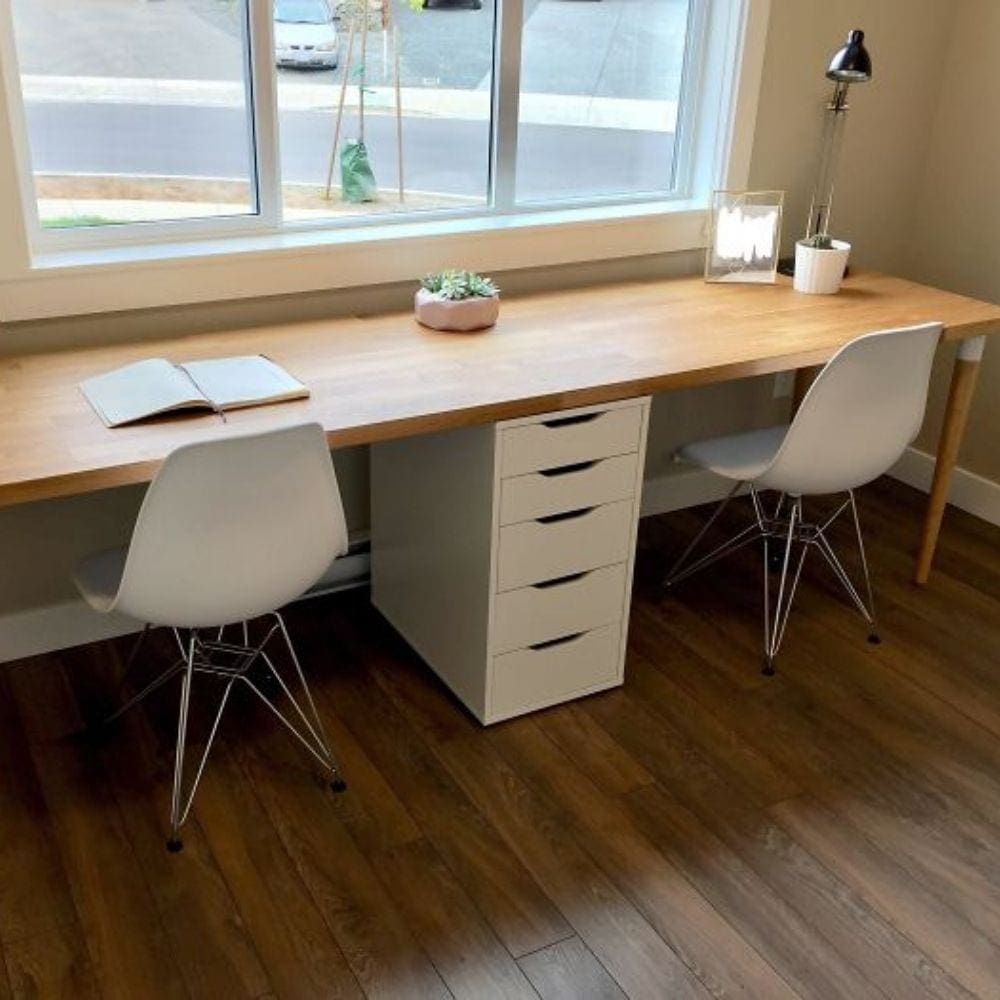 Creating the ideal workstation at home isn't so easy. Thankfully IKEA has a plethora of solutions at affordable prices if we just use our imagination. This great two-person workstation was achieved using the Karlby countertop to create a large desk-like workspace. Drawers were added in place of legs, resulting in much-needed storage.
30. Shoe Displays
While we'd all love a walk-in closet resembling those seen in any of the Real Housewives franchises, reality doesn't afford many of us that luxury. This is where IKEA hacks come in handy, as seen here. These floating shelves are easy to install, affordable, and perfect for storing our footwear.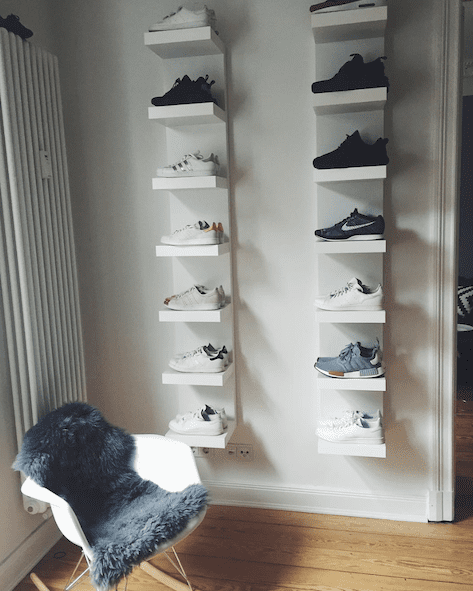 What a great alternative to stacking our shoes at the bottom of our closet or in boxes, where we forget what we've got. This hack is great for showing off our collection of sneakers, stilettos, or even pricey handbags to look at and admire.
31. Yet Another Hack for the Bekvam Spice Rack
Just when we thought that we couldn't utilize the wooden spice rack in any other way, we were proven wrong once again. We're happy to admit we were wrong after seeing how these racks spruce up this bathroom. The wooden shelves are a perfect addition to nearly any bathroom.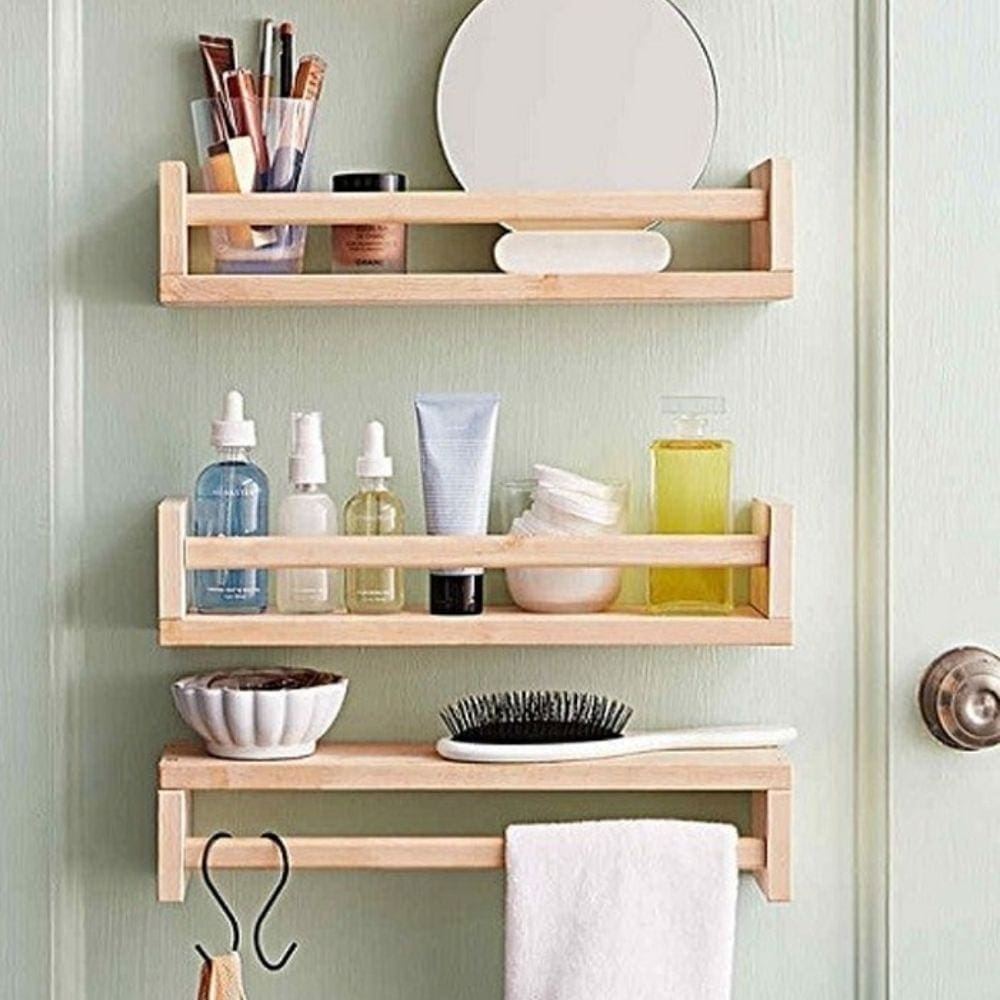 We loved how the shelf was hung upside down to create a towel rack. This is a great solution when budget and space are both issues to be considered. This is a great solution for storing easy to reach items that we use regularly.
32. Creating a Closet From Nothing
This hack is beyond simple yet so genius. We love how it transformed this space from absolutely nothing into a makeshift open space closet that includes storage both above and below the hanging rods. This hack was created using the Besta TV cabinets.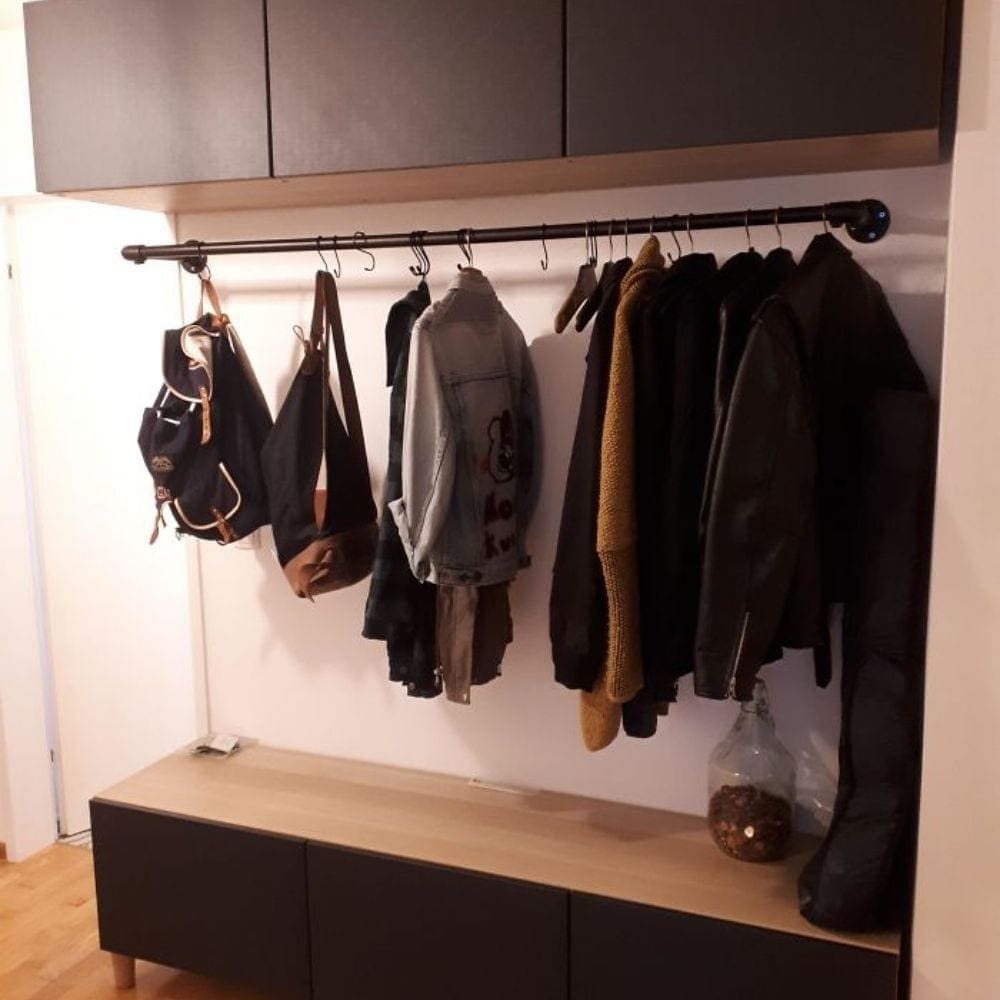 By hanging one unit above and securing it to the wall, it created a feeling that the space was intentional and well thought out. The storage unit below is great for shoes and other items that should be easily accessible. In addition to the hangers, hooks were added as a solution for bags, scarves, and other items. Kudos on this great hack.
33. PS, This Hack is a Winner
The IKEA PS, for those who don't know, is a dull two-door cabinet with legs. It comes in standard white, and to say it's ordinary would be an understatement. This hack definitely stopped us in our tracks and garnered many 'wows' from our staff.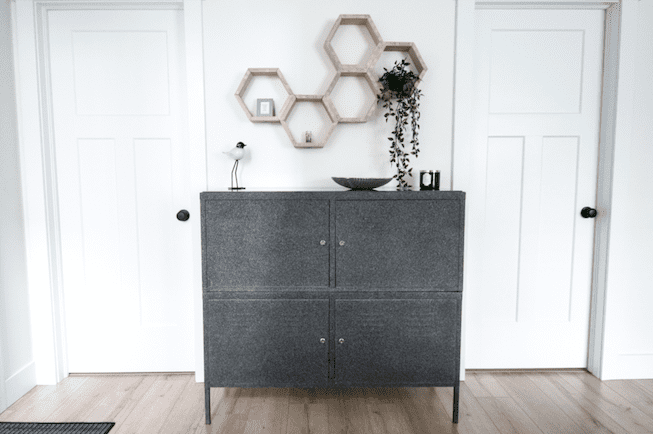 This person achieved this combination by stacking two PS units on top of each other and painting it. This unit now looks like it was custom designed and ordered by a picky customer. This is the true embodiment of a successful hack, where if we weren't told what it originally was, we'd never have guessed.
34. Adding Seating is a Cinch
With many of us spending more and more time at home, comfort is a must. Work stations at home are becoming the norm, as is family spending more time indoors. With more of us being inside our personal spaces for longer periods of time, we find ourselves looking for more conveniences, such as extra sitting areas.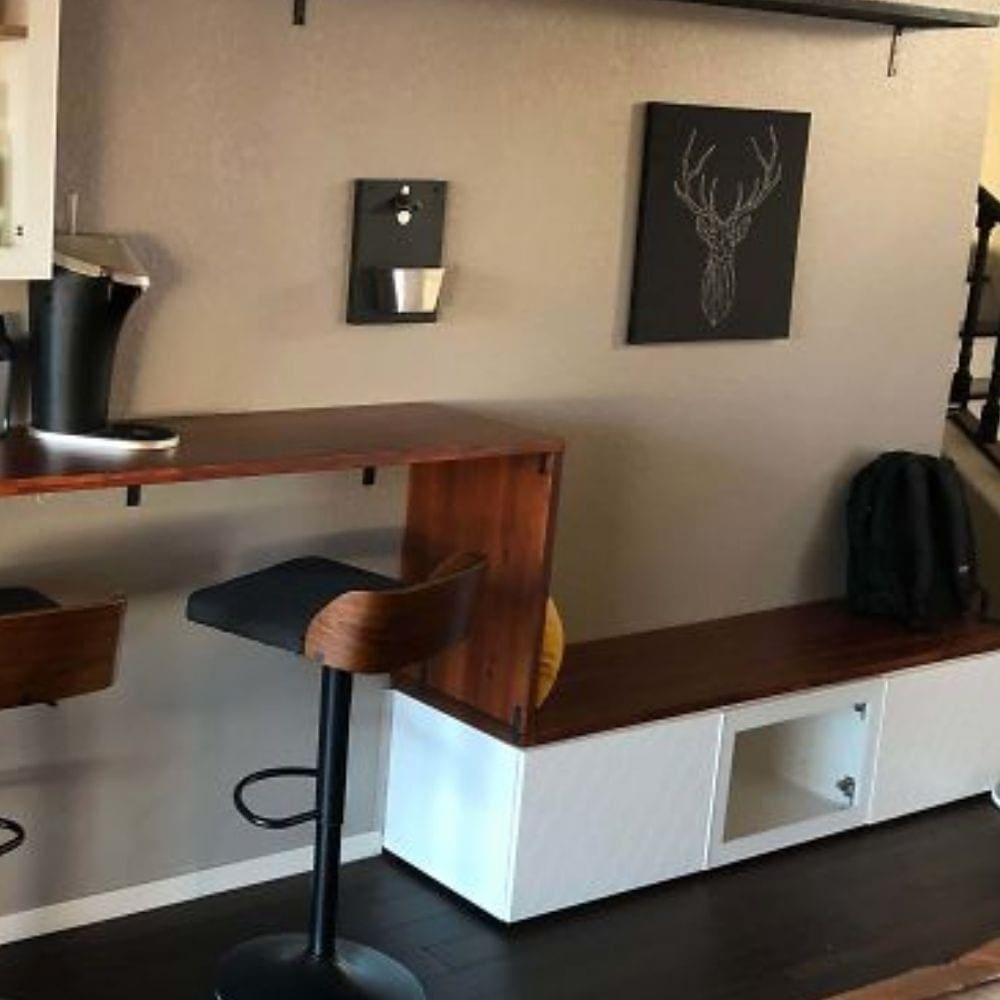 This bench area was achieved using IKEA shelves, which also created the nearby workspace. Using the same material gives the space a seamless continuity, which looks like much thought and expense were put in to attain. This accomplished a variety of solutions, including workspace, seating, and storage, and as Oprah would say, "That's a good thing."
35. Kids' Kitchen Station
The IKEA wood Bekvam step stool has been around forever, and for that, we're grateful. Many of us have this handy stool and use it as intended, but we couldn't help but applaud this person's vision. One creative mind saw this stool and saw a great miniature kitchen for kids to enjoy, and we're all for it.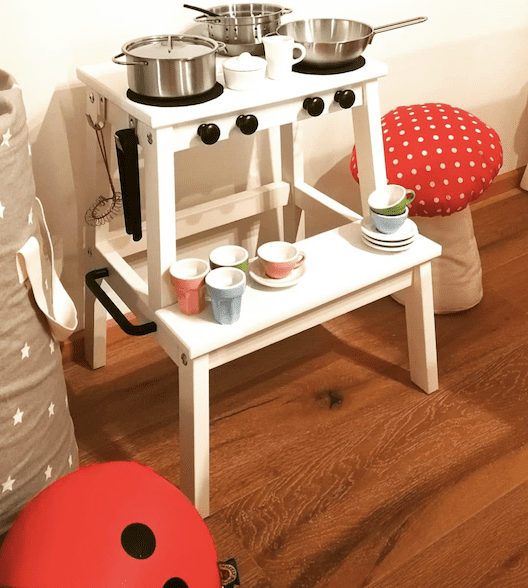 The makeshift stovetop was achieved by gluing plastic placemats that this creative person cut out in circles, and doorknobs were placed to complete the appearance of a stove. Miniature cookware is readily available at IKEA and was added to the kitchen for the next Julia Child out there.
36. Flooring into Pillows? Yup!
This hack is beyond creative, and we couldn't leave this one out of our lineup. While many of us can imagine ways of turning spice racks into bookshelves, it takes a visionary mind to see a floor rug and think of a pillow. This creation is not only ingenious. It's downright cool and eclectic, yet so simple to achieve.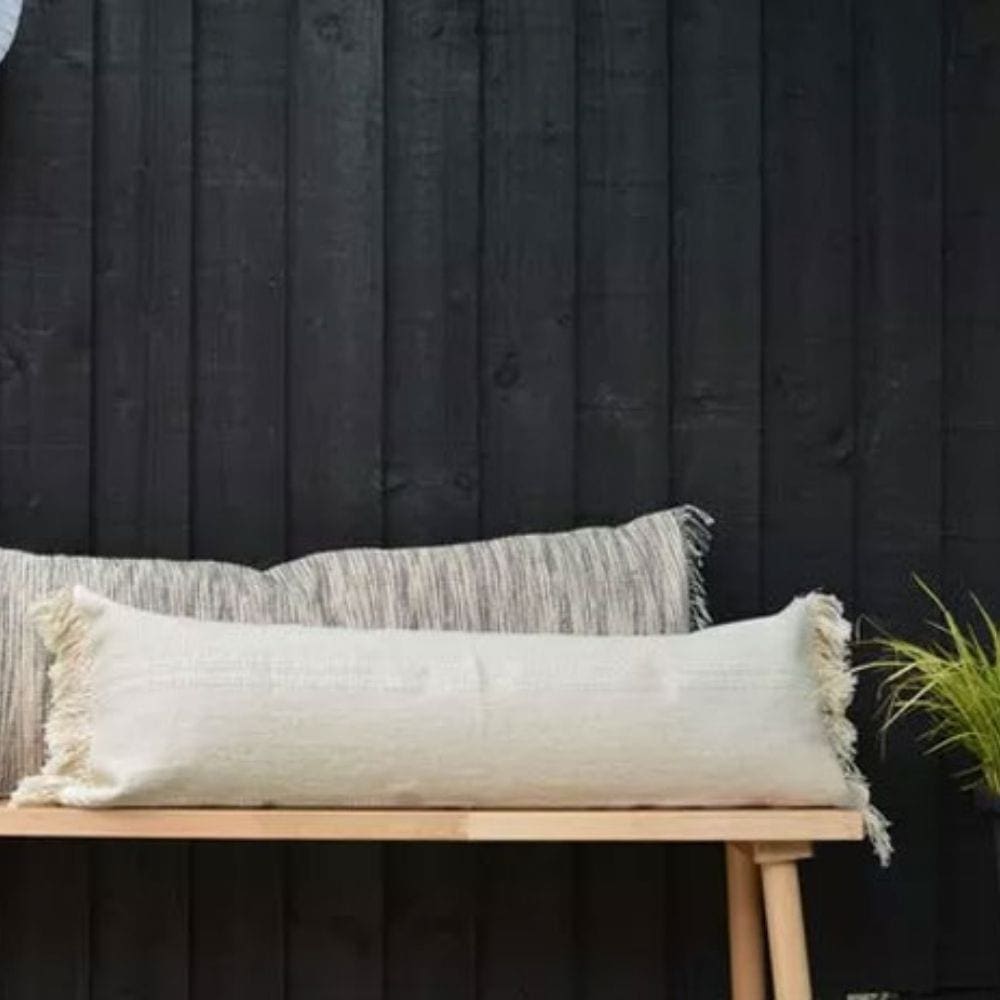 The creative mind behind this pillow took a floor rug, sewed it together around a previously bought cushion, and there it is. These large and comfy body pillows have a beachy vibe that'll compliment any outdoor space and are durable enough to withstand most weather conditions. We like!
37. Consider Adding Wheels
This clever and functional unit is a combination of IKEA items, and we love the final result. Even more than the allotment of storage units, we gave a huge thumbs up to the addition of wheels, making this transportable and easy to move from place to place.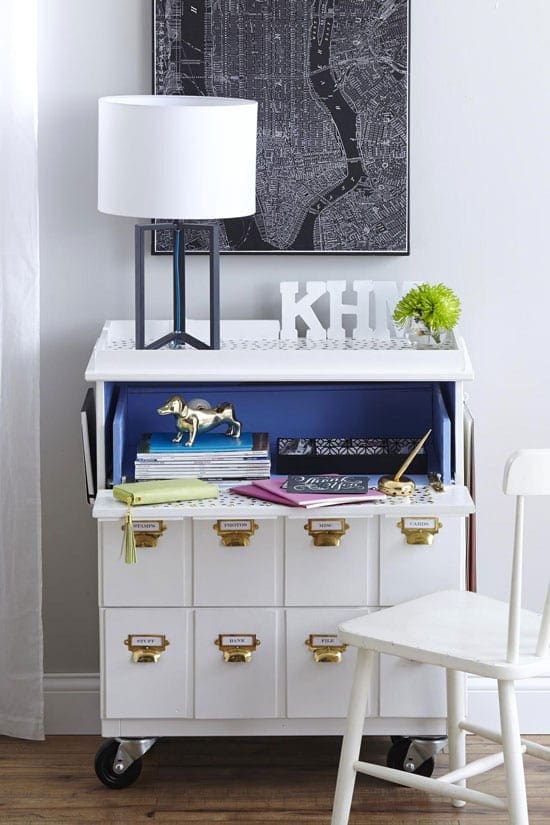 This particular hack was made using IKEA's Malm, Rast, and Kullen all combined to achieve a useful yet lovely desk and workstation. This can also be updated as needed by adding shelving above the desk for even more storage. Did we mention the cool wheels? Yeah, we did, but they deserve another shoutout.
38. How to Best Display Our Goodies
Many of us are fortunate to have traveled or collected various treasures over the years. If we're lucky, we're able to display our goodies for all to view. For those of us that have stored our collectibles in boxes, now is the time to get them out before they're forgotten or discarded.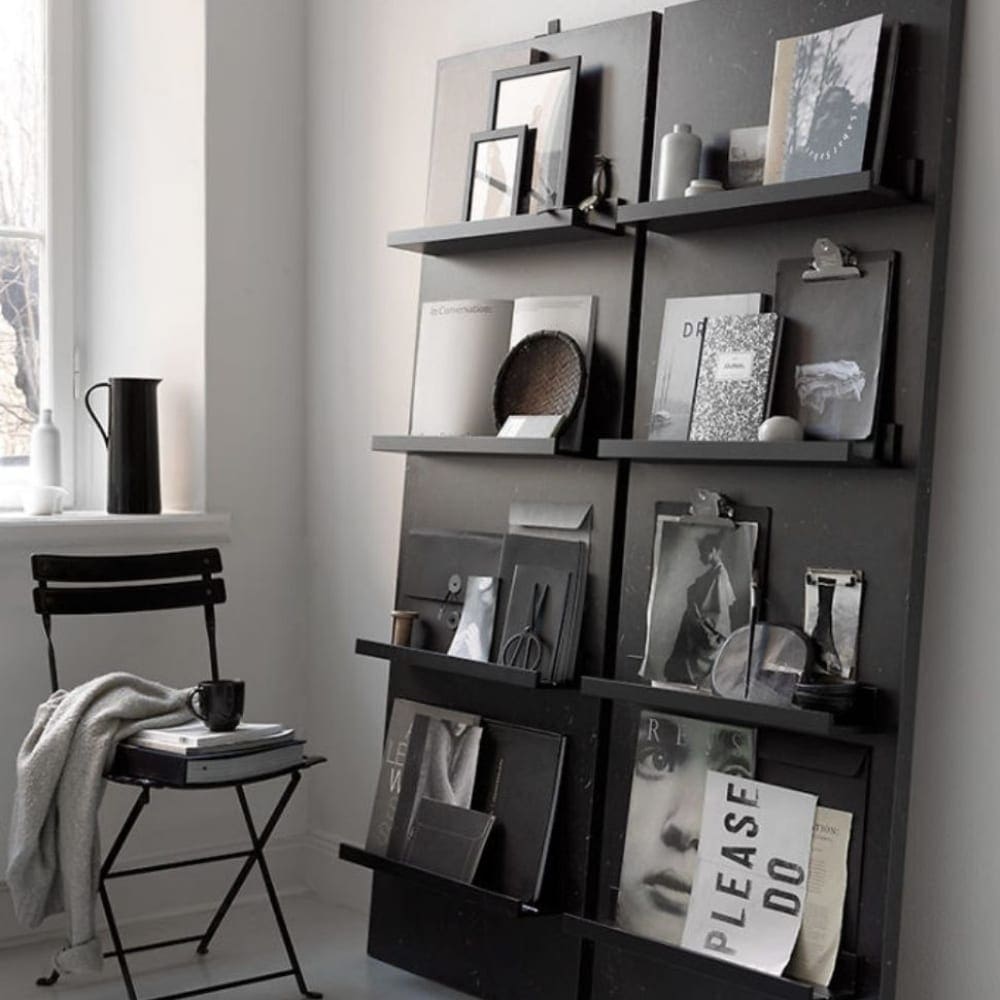 We love this black and white modern display of open shelves that was conceived using the IKEA Magasin Hylla shelves. The shelves come in a variety of styles in either black or white. This particular setup also did away with the need for hanging pictures on the wall and gave a modern twist to a shelving unit. Many modernists on our team appreciated this.
39. Attention Donut Lovers
We've all been to weddings or other events and seen traditional wedding cakes be replaced by fun alternatives, such as cupcakes or donut displays. Usually, these are pricey goodies dreamt up by fashionable confectioners but are easy to do ourselves with just a little forethought.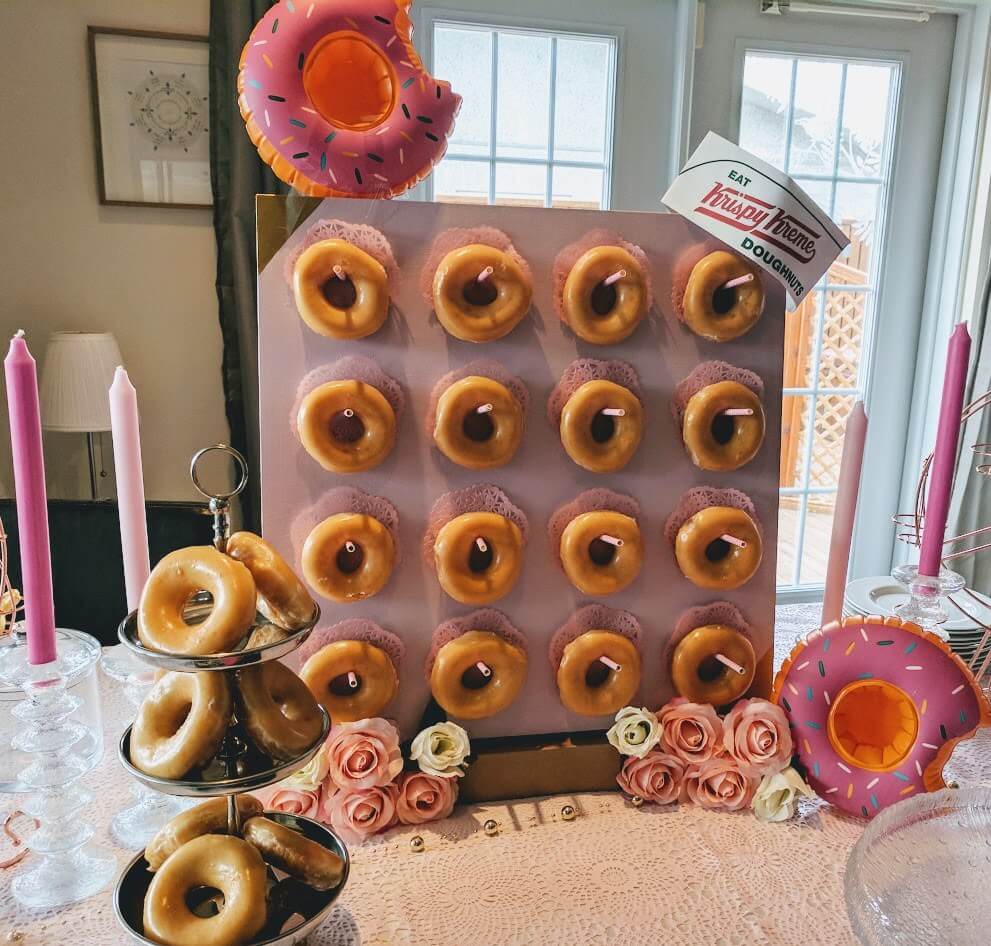 This DIYer did this fun wall of donuts by using the affordable Lack coffee table and was a hit at one bride to be's wedding shower. All that was required here was a little imagination, some paint, wooden pegs, and colorful napkins and doilies, and voila, a sweet treat was eaten by all.
40. Take Lighting a Step Further
The lighting section at IKEA is extensive, and there are multiple offerings on display. We love how a simple lampshade intended for a floor or desk lamp was used to cover a boring hanging bulb from the ceiling. Now, this is what we call creative.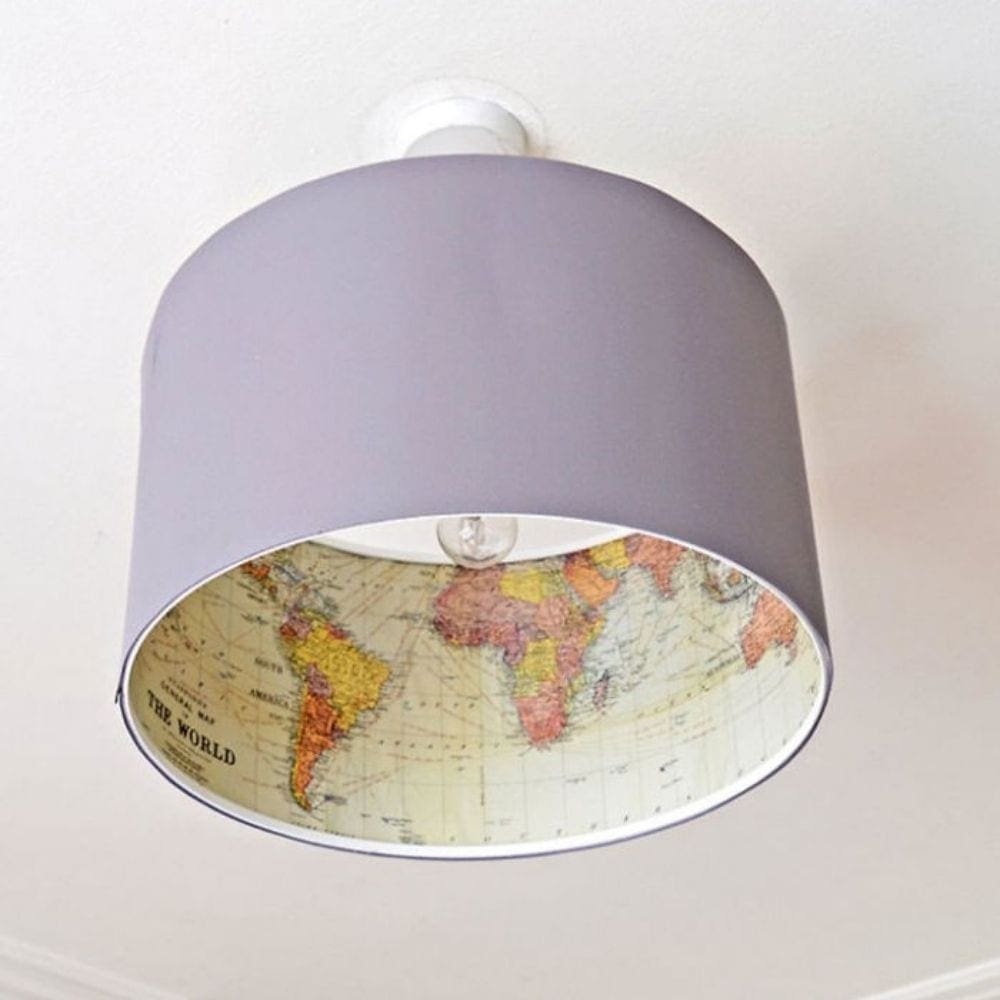 We also gave extra brownie points for originality. The original lampshade was made of gray linen with a white lining inside, but this hacker envisioned something far cooler. By adding a graphic to the inside of the shade completely shifted the lighting from boring to creative, and we're all for anything out of the ordinary.
41. A Work From Home Space
Many of us have found that working from home can be done effectively, but the right space is needed. While most of us didn't luck out in the personal space department, IKEA offers solutions for even the smallest of spaces. This comfy workstation is not only affordable, but it's also functional and user-friendly.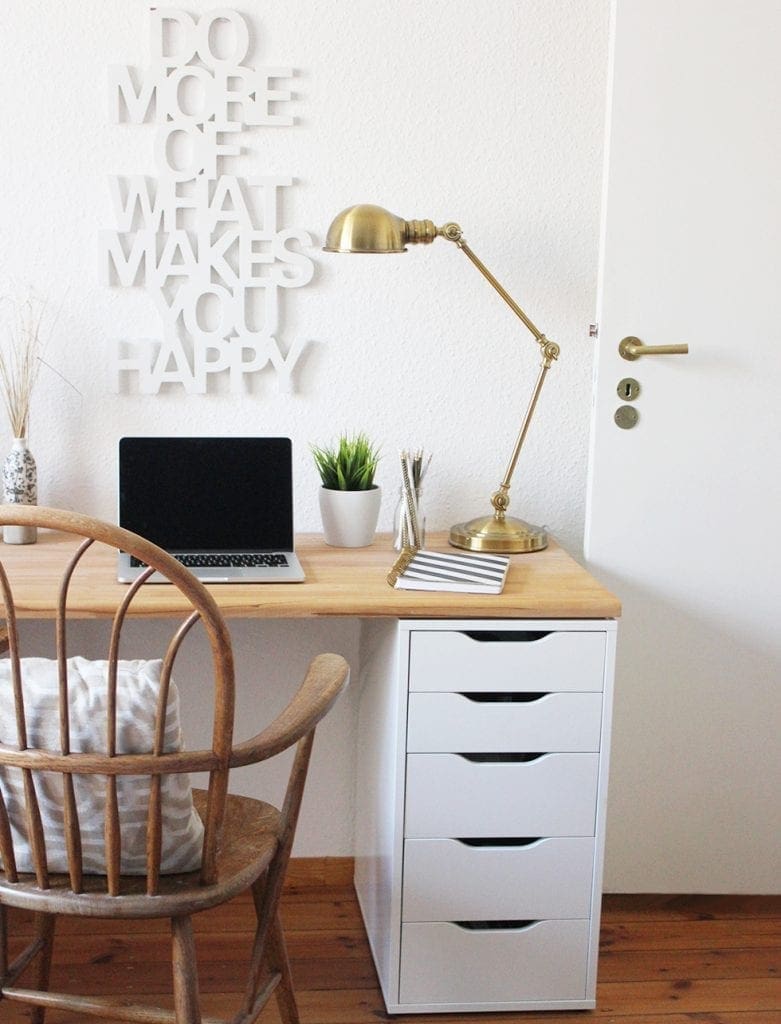 IKEA offers a huge variety of units that can be put together to create workstations in even the tiniest of spaces, which is why we loved this hack. Some genius person made this simple yet attractive setup with the affordable Karlby wood top with legs on one side and a useful drawer unit on the other. This can be altered as time goes by to become bigger or smaller depending on need.
42. Ingenious Space Saving Night Stand
Sometimes budget comes into play, but many times also space constraints force us to find alternatives. While nightstands for most seem like a no-brainer, cost or space may be a factor, which is why we're here today. We'd love to pick the brain of the individual who came up with this very cool hack.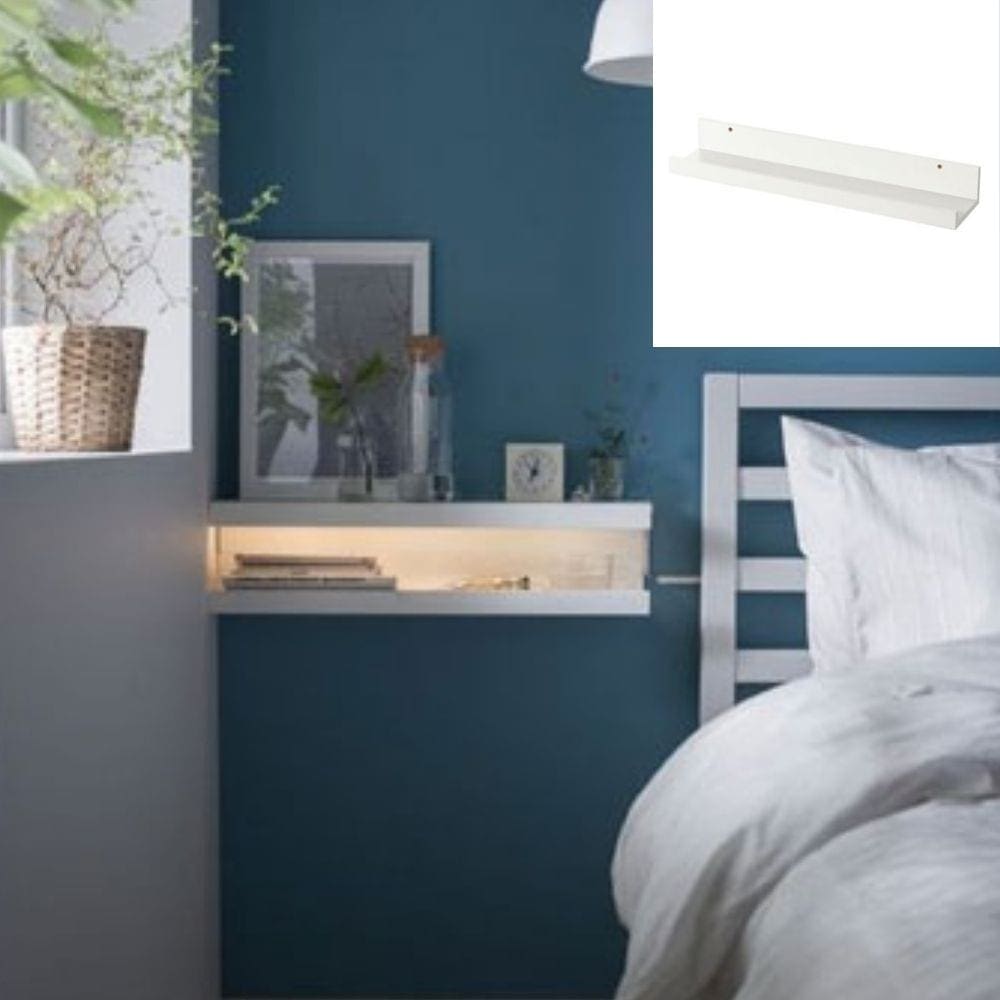 Instead of wasting valuable space in this individual's tiny abode, a makeshift nightstand was created using two IKEA shelves stacked on top of the other. By mounting the shelves in this manner, a sort of open drawer space was achieved for storing personal items, leaving room to charge the phone in addition to displaying some small items. Great hack!
43. Another Use For the Spice Rack
Remember earlier we mentioned how not to lose your keys using the Bekvam spice rack? So here's another use for the wooden shelving unit, displaying books. This hack took the user's size and age into consideration, and it's a hit with our staff.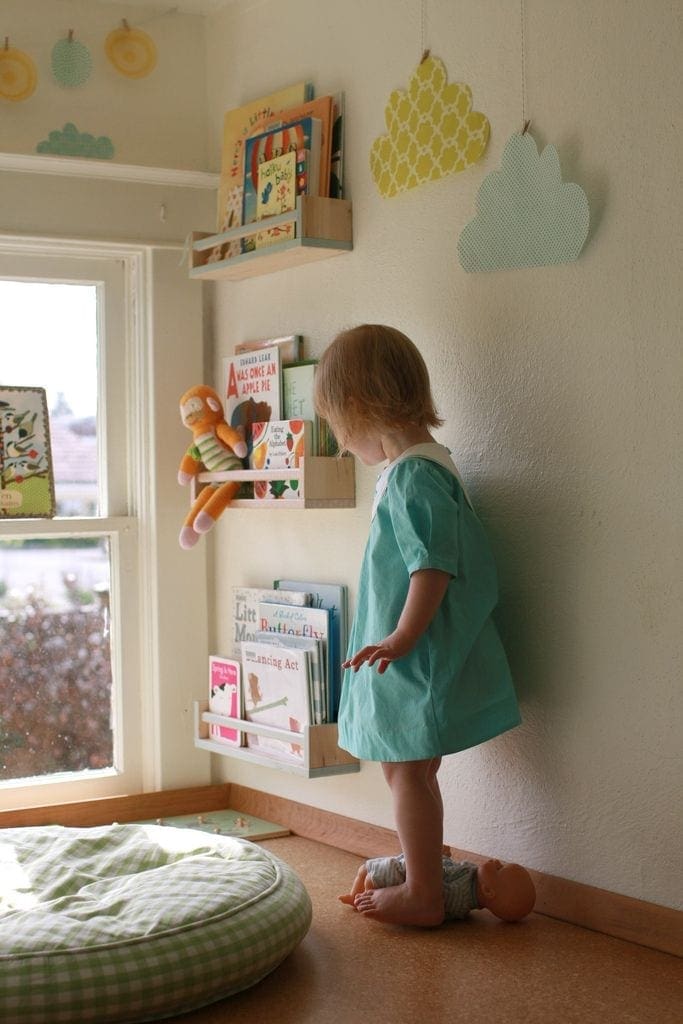 We love how the shelves were attached to the wall within easy reach of the intended user. What a great way to encourage youngsters to read and organize their own space. Note: It's important to make sure that the shelves are properly hung to avoid possible injury.
44. Terrarium or Lamp?
This lovely terrarium was thought up by a creative yet clever individual that saw more than just a lamp while strolling the aisles at IKEA. This makeshift plant container breathes new life into an otherwise boring setting, and it's so simple to create and maintain.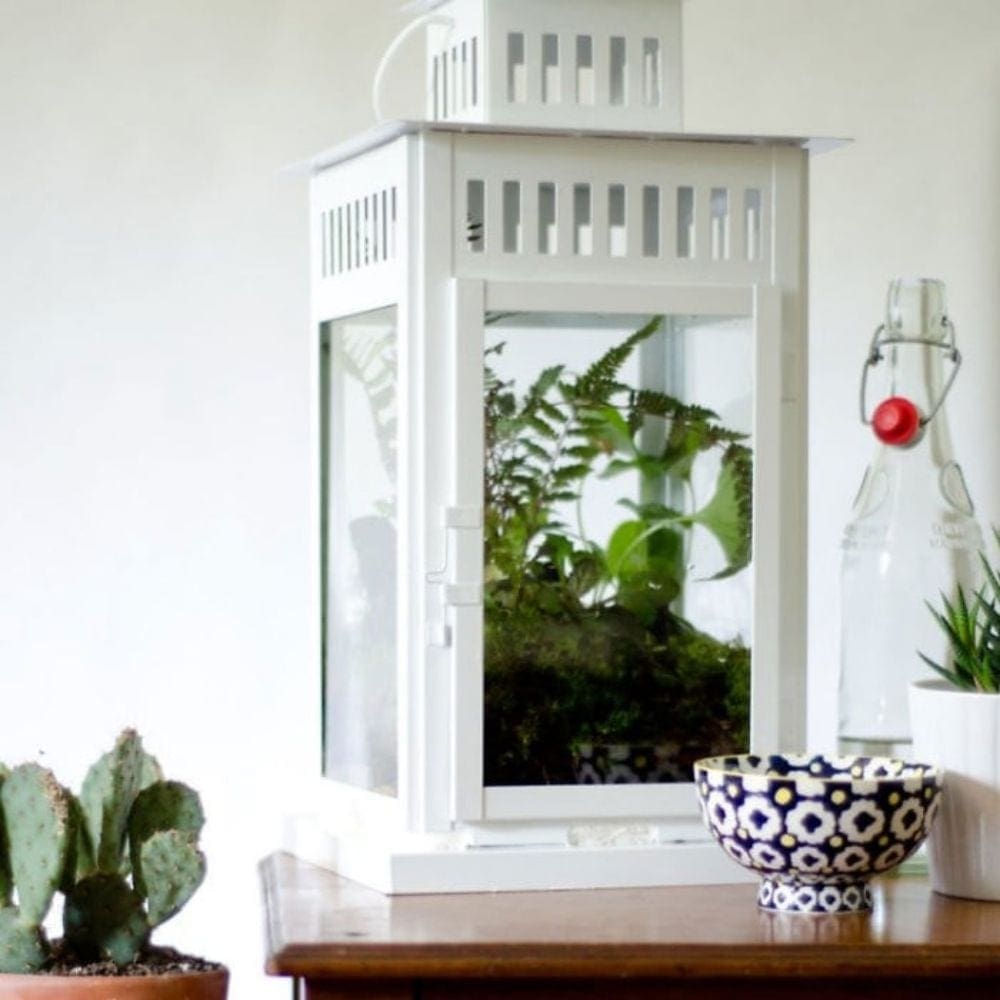 It's amazing how a simple hack can transform the entire feeling of a room, which is exactly what has been accomplished here. The lamp was painted with crisp white paint, and caring for the plant is simple, as there's a door to open and remove the plant for watering.
45. Displaying Our Joy
Nearly all of us have items, plants, or pictures we'd love to see regularly, but how we display it makes all the difference. Open shelves can be dust traps requiring constant upkeep, but sometimes we want our favorite goodies out on display, and we're willing to add it dusting these to our weekly chores.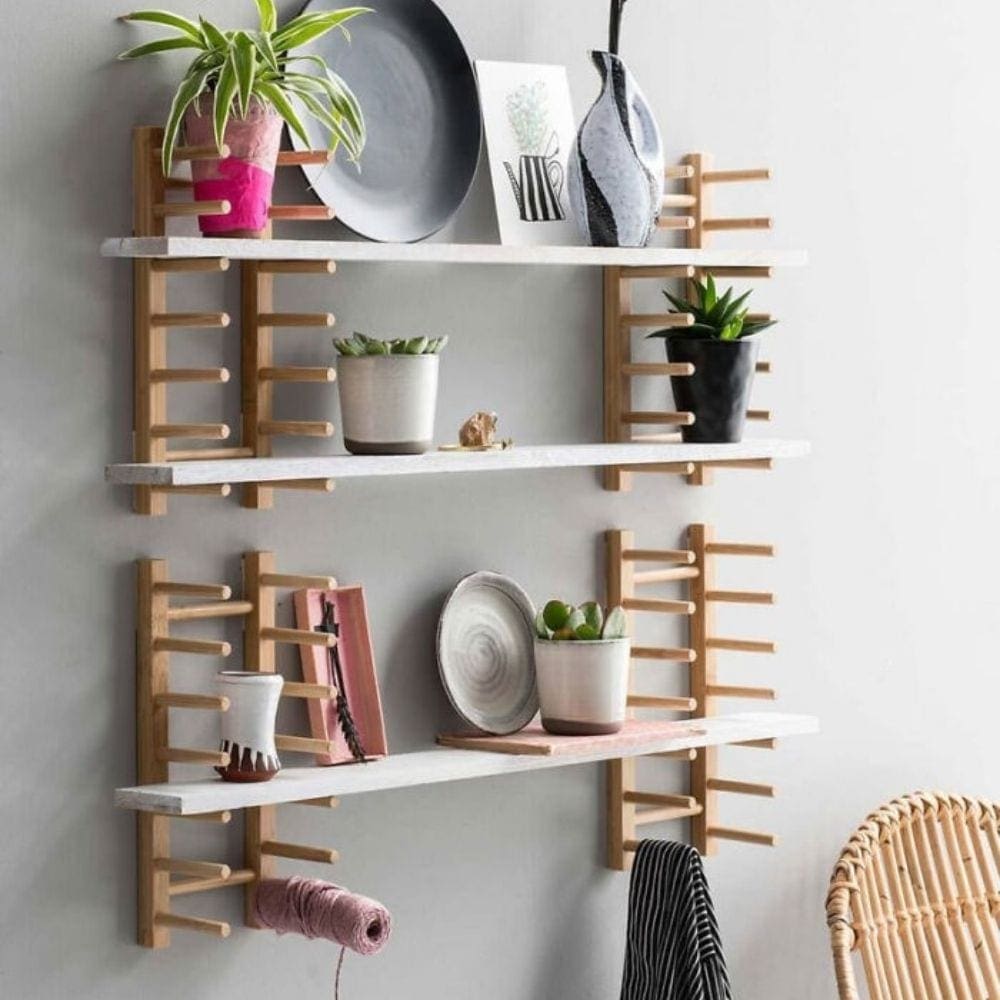 We couldn't help but love this hack, made with the wooden lid dividers originally intended for the kitchen cupboard. We appreciate the genius behind the idea of using the dividers to make adjustable shelves that we can arrange and rearrange depending on our mood.