No-Fuss Nursery: Tips For Organizing Baby's First Bedroom
By Joyce S September 11, 2023
---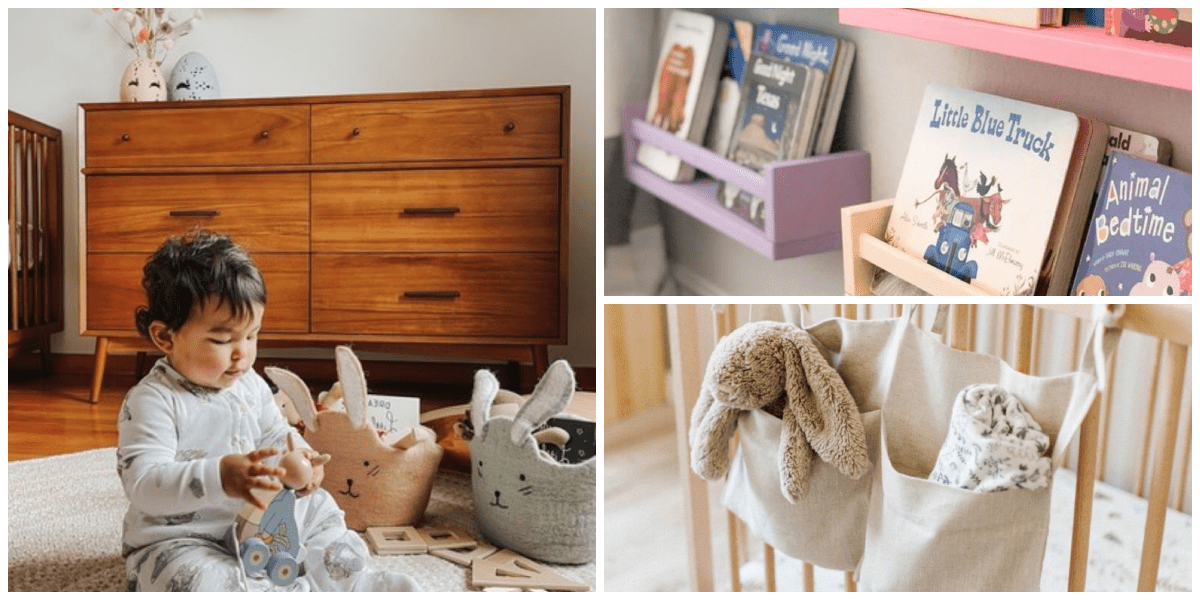 This article was originally published on
morehackz
Expectant parents can have fun creating a baby room as basic or complex as they choose. While making a comfortable and peaceful space for your little one to sleep, play, and develop is the ultimate aim of any baby room design, it's vital to keep in mind that a baby room is just as much for parents as it is for babies.
While a bedroom for a baby can be decorated in any style, keep in mind that it is ultimately just another room in your home and should blend in with the rest of your aesthetics and decor. It should also be a comfortable space for adults to spend time in, with a comfortable chair for nursing, enough storage, and a changing table that lessens the pain of that tiresome chore. A baby room should, above all, make parents and babies happy.
If you're looking for inspiration for your own home, check out some of these designs.
A Smooth Organization
A shelf near the changing table makes it simple to collect supplies without stepping away from a crying baby, and a rocking chair next to the crib makes it faster to put a sleepy baby to bed. An organized nursery isn't just defined by what's in the drawers.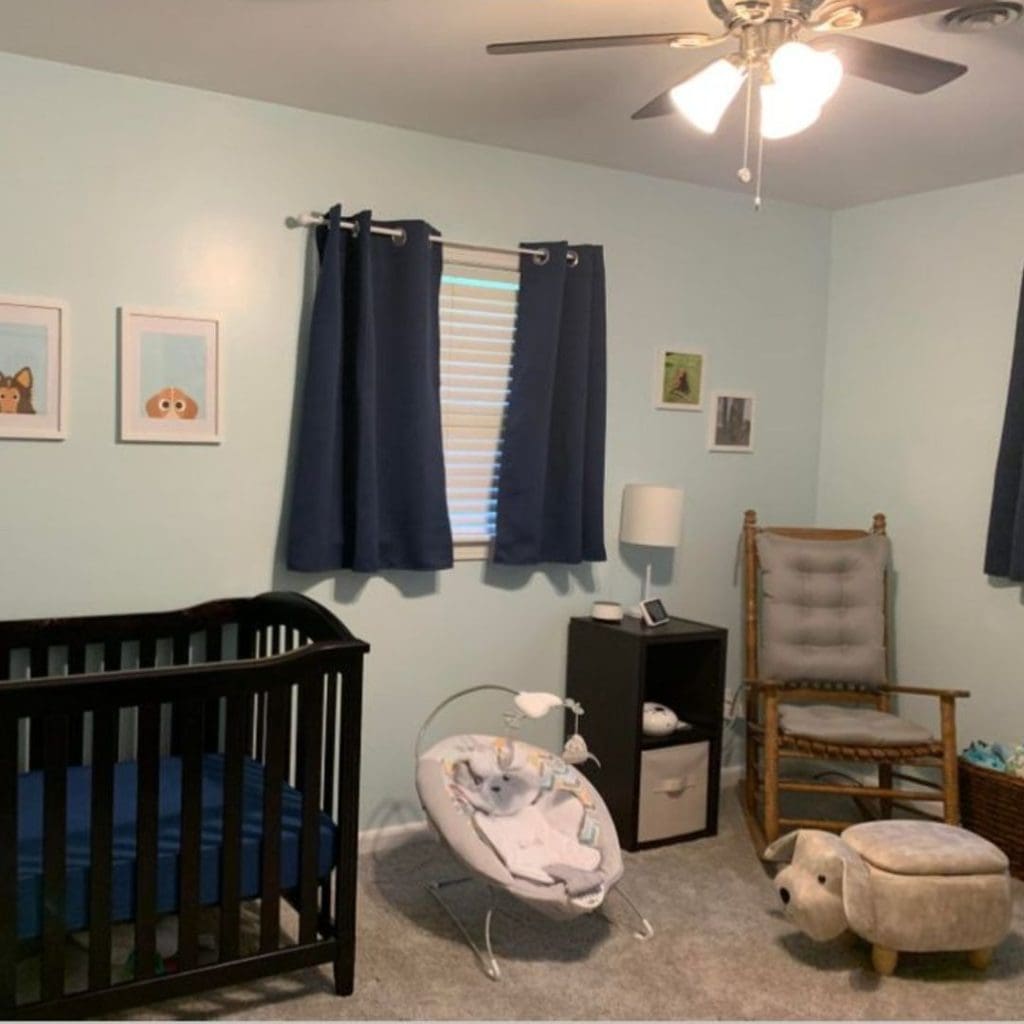 Aim at a practical furniture arrangement, including shelving, seating spots, and storage areas. Prior to bringing a new baby to their new room, it's crucial to take safety precautions; baby-proof outlets and round-off rough edges are two of the most vital adaptations you should make.
Bookcase Not Just For Books
Bookcases make room organization simple; this applies to baby rooms, too. A bookcase to keep clothing, accessories, and equipment organized when your kid is still a newborn makes the room practical and beautiful. Lower shelves can house books and toys as the baby becomes older.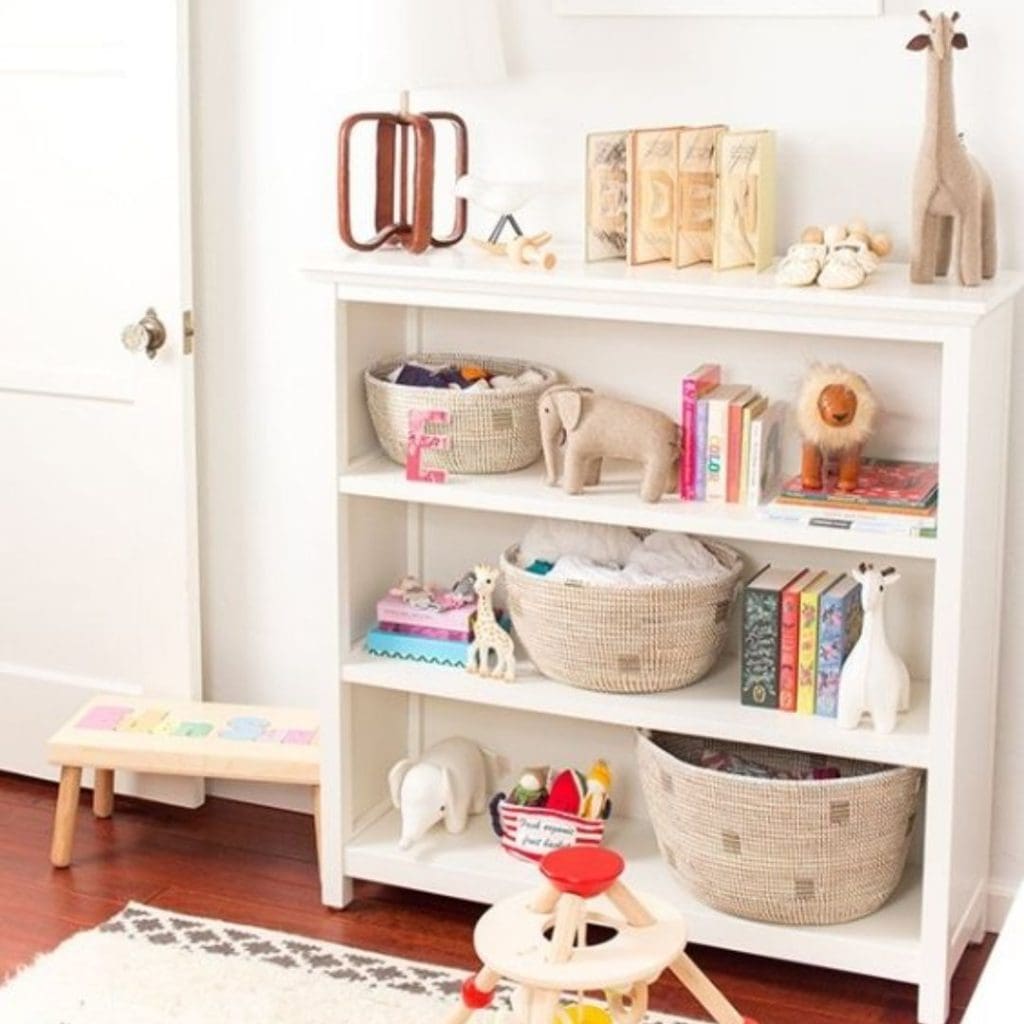 While higher shelves can safely store other goods out of the infant's reach. Decorative boxes and baskets and stylish storage cubes will keep everything tidy and organized. Alternatively, to provide more room for hanging clothing, swap out one of the shelves for a tension rod.
A Floor Lamp
Overhead lighting and table lights each have their drawbacks. Instead of taking up valuable tabletop space, floor lamps may bring calming light to a baby's nursery. Place a floor lamp next to a glider or rocking rocker to offer light as you soothe your baby.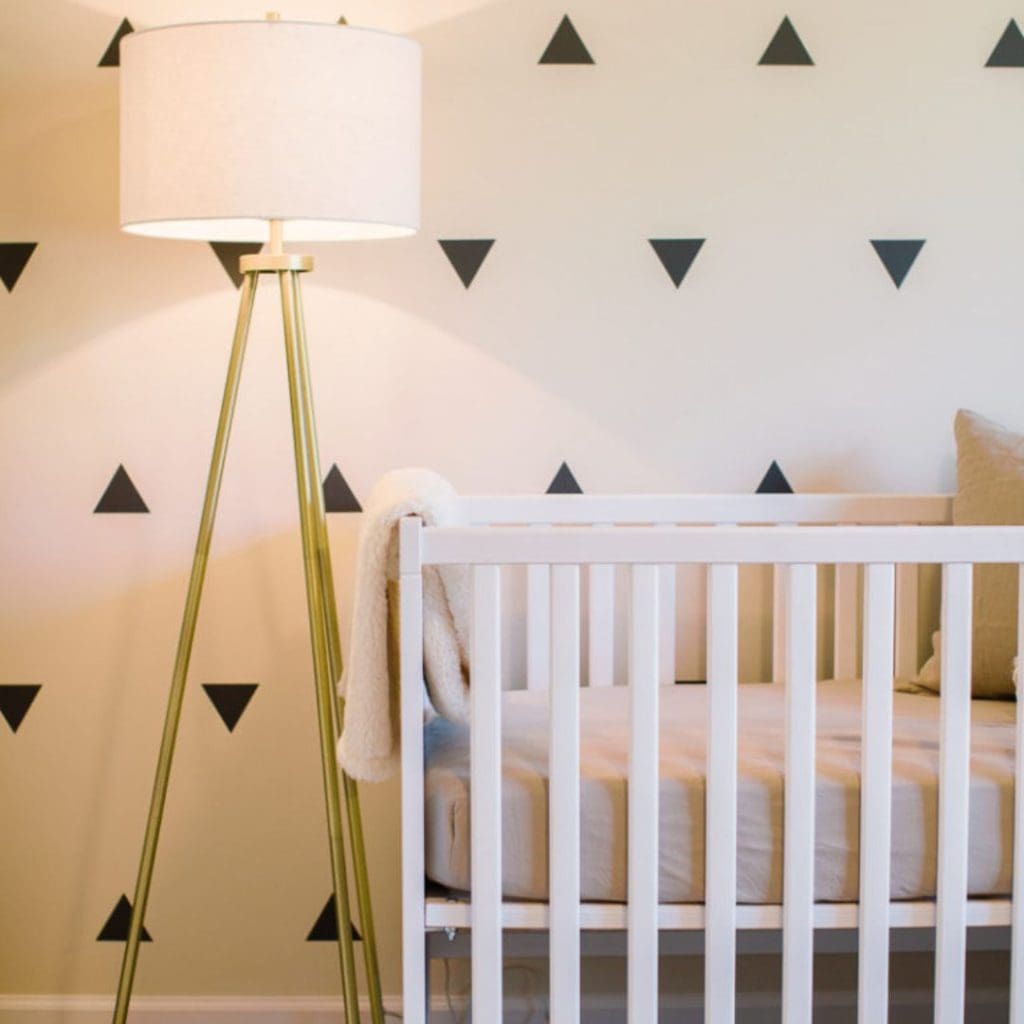 To offer softer lighting for late-night diaper changes, use a floor lamp next to your changing station. Use floor lamps with dimmer switches for even greater adaptability to offer the ideal quantity of light as needed. They also add a stylish touch to the room design.
Under-Crib: Extra Storage Space
The key to a well-organized baby's room is taking advantage of dead air. And one of the least utilized areas is the space under the crib. Don't let the baby's room become a dumping ground; instead, store items you don't frequently use in plastic bins, baskets, or boxes and slide them beneath the crib.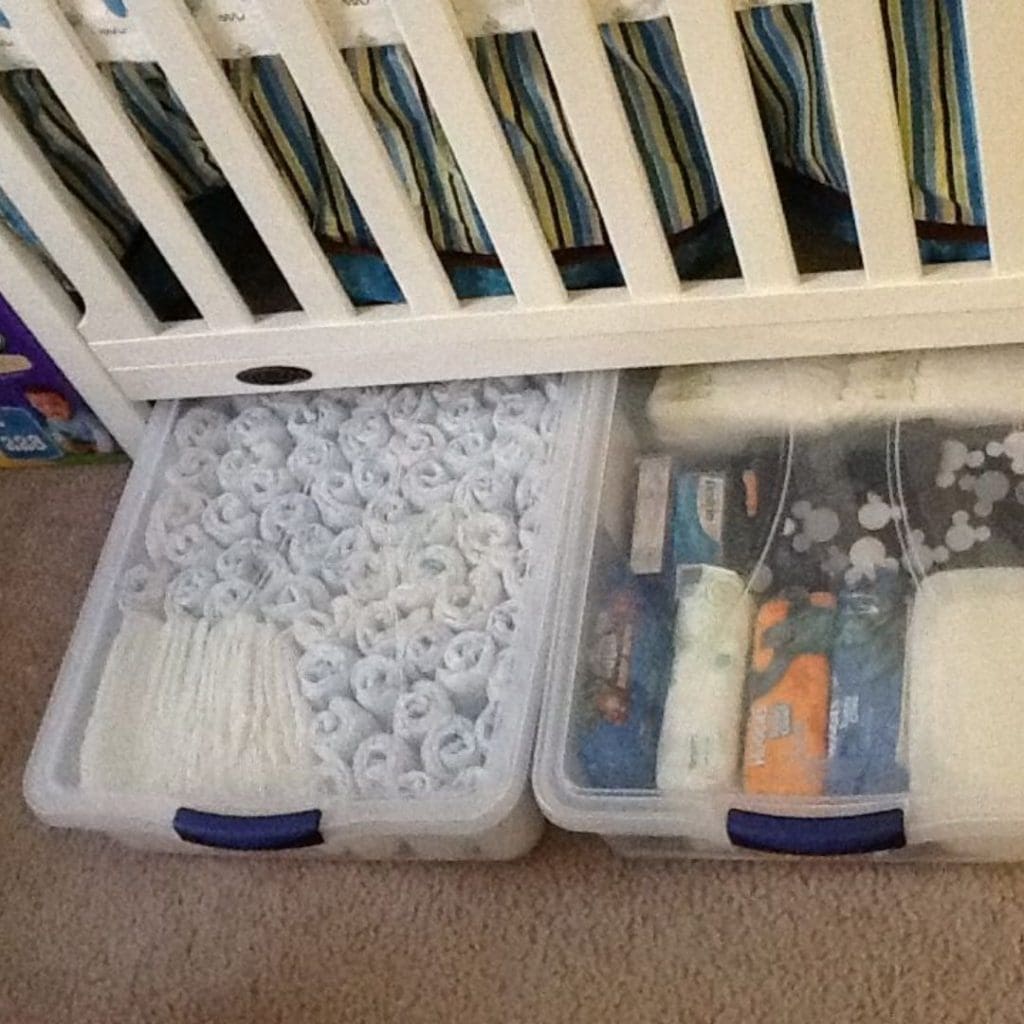 Here's another good solution to keep the room looking tidy and clutter-free: attach a crib skirt down below the mattress line to conceal the storage space created by the baskets, bins, and containers under your baby's cot. No need to worry about balancing aesthetics and organization.
Think Vertically
Thinking vertically is a simple solution to reclaim floorspace in a baby's room and keep it clear and fresh. Shelving can accommodate attractive goods like toys, books, baskets, and boxes while maintaining its stunningly fashionable appearance. Shelves also help to keep everyday-use objects within reach.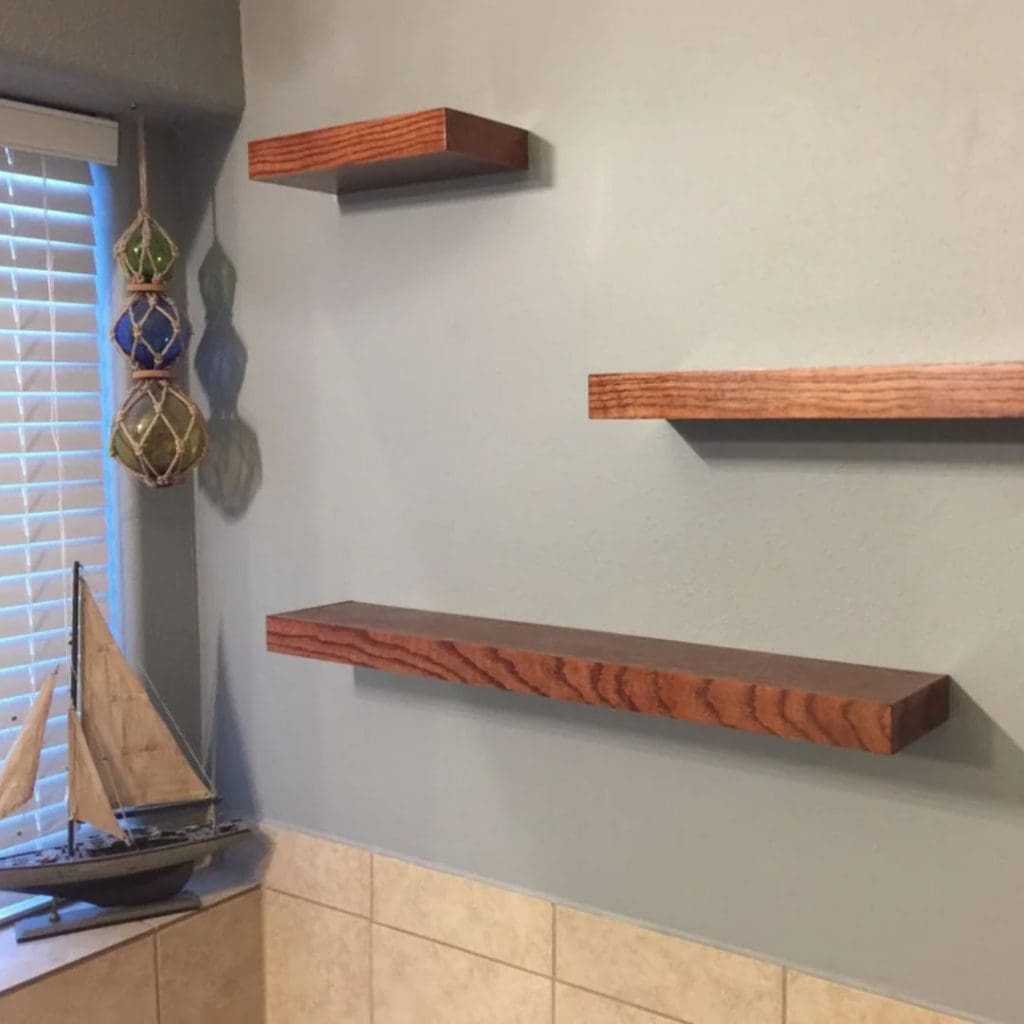 On the other hand, hanging cubby-style cabinets is useful for concealing less visible necessities. Consider installing storage units in a closet that can be taken out and replaced with rails or tension rods for hanging clothes when the child gets bigger.
Versatile Shoe Organizers
This is one of our favorite hacks. Although they are known as shoe organizers, multi-pocket organizers are among the best tricks for organizing your home, and that includes the nursery. The pockets are the ideal size for arranging the baby's things.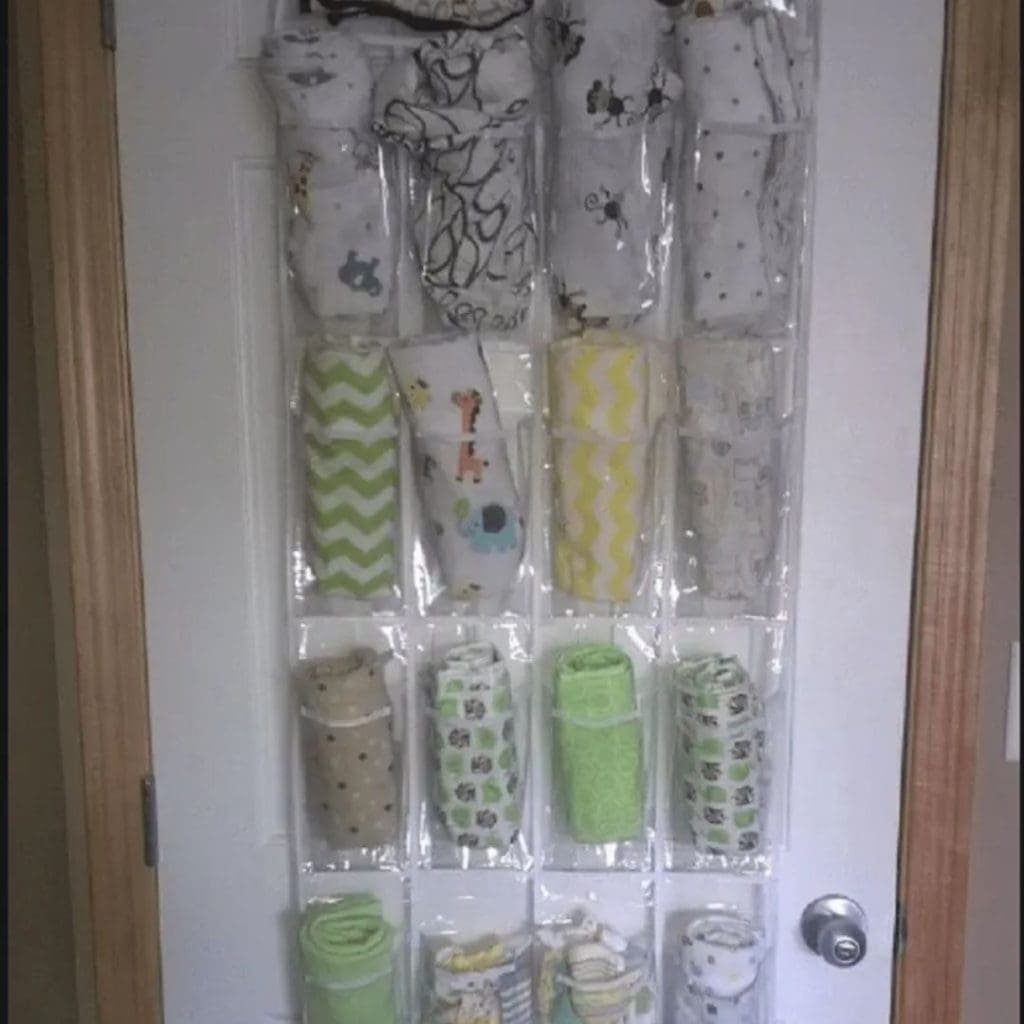 From onesies and bibs to diapers and creams, using a shoe organizer to keep things within reach is a lifesaving hack. For quick access to the things you use most frequently, hang one in the closet, on a wall, or on the back of a door.
Baskets In The Room
In a baby's room, soft, ornamental baskets provide storage alternatives for beautiful blankets, pillows, and plush animals. Soft baskets are not only practical but also safe since the soft edges allow the infant to crawl about freely without any sharp corners in sight.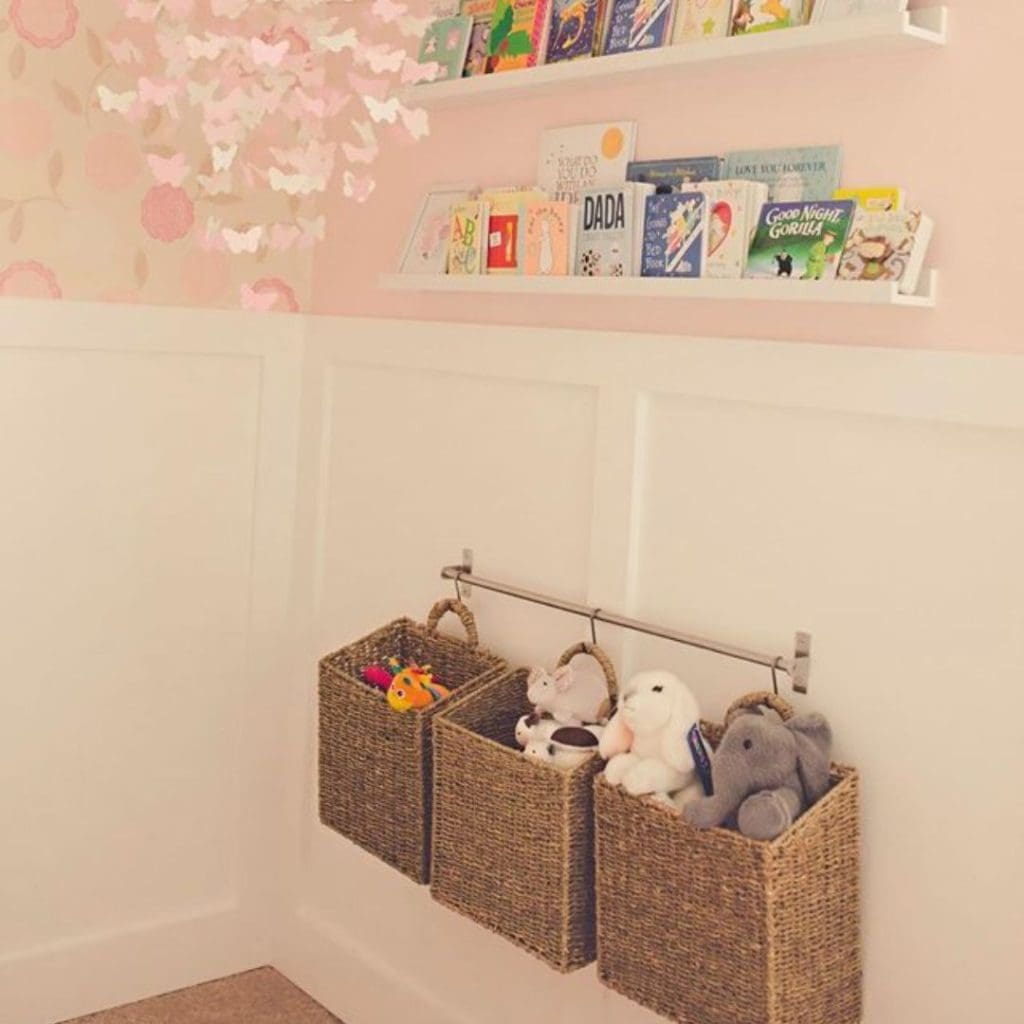 Also, things are easier to grab when required. The baby will surely have fun by making a mess in the room but in a safe way. You can even give it an aesthetic appeal. For example, roll blankets rather than fold them.
Organized Drawers Saves Time, Parents
Because baby clothing is so small, you can store a lot of their wardrobe in just one drawer. However, all of the socks, hats, onesies, and swaddles are prone to slide about and create a cluttered mess inside your drawer. Investing in organizers is the solution to this dilemma.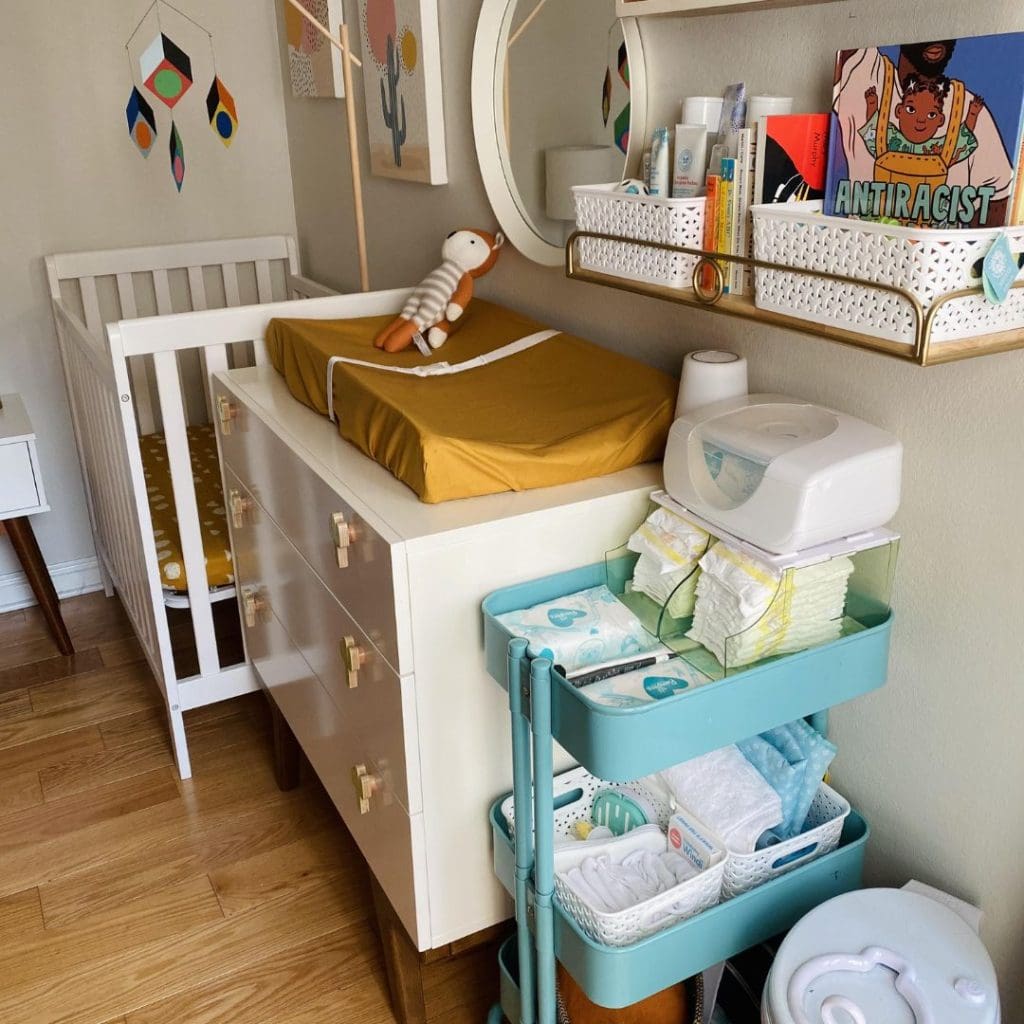 You can find drawer organizers in all shapes, sizes, and colors—allowing you to arrange them in a variety of ways to suit your needs. Or, you can save money and DIY it. You can create your own drawer organizers out of unused shoe boxes, for example.
Label The Essentials
A fantastic place to start organizing is dividing and putting away your baby's clothes. But in order to be truly useful, you must know where everything is. Adding beautiful hang tags to baskets and using stickers to mark bins and boxes is a fantastic option.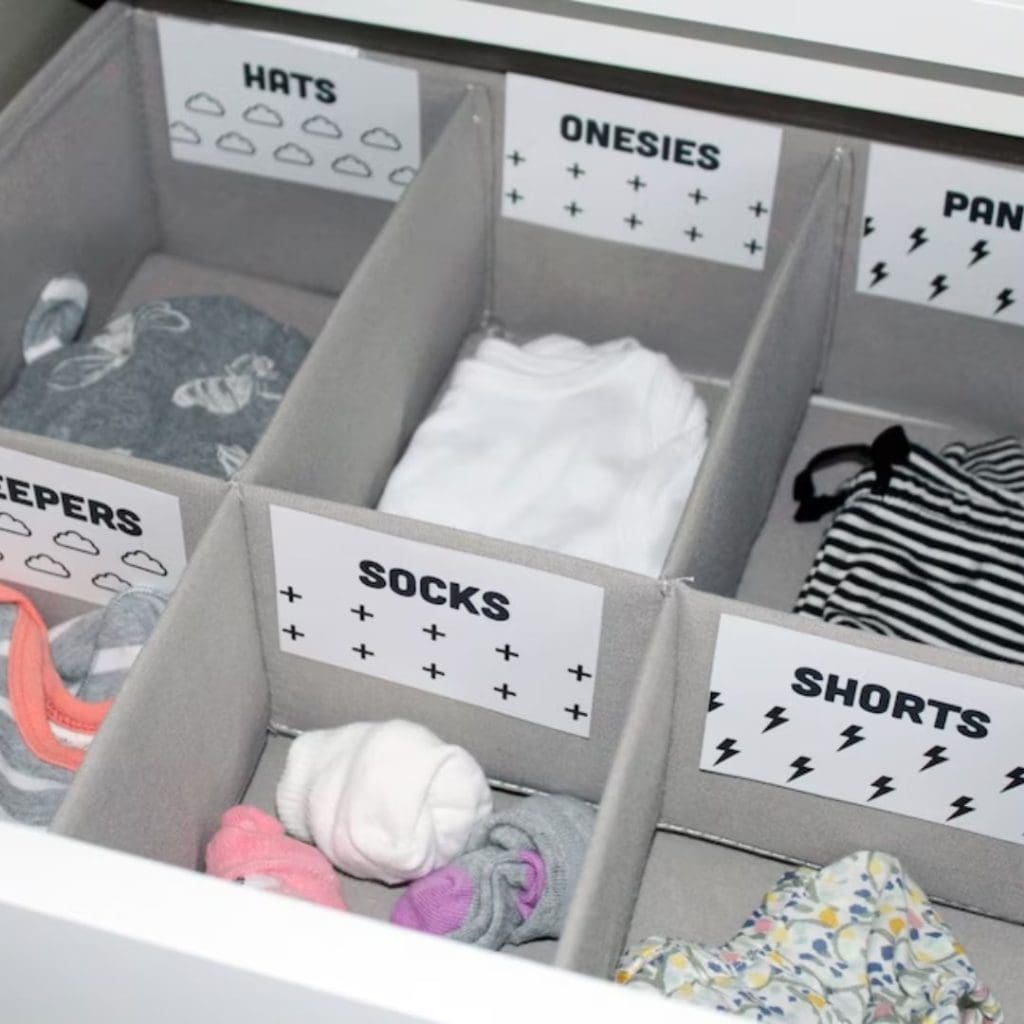 You can also print tiny labels to put on drawers and other small containers. Those tags don't need to be eyesores, either. Match the colors or even fonts to the room's decor and keep both design and functionality in harmony.
Store Some Mesh Laundry Bags
The versatility of mesh laundry bags goes beyond our expectations. Avoid using a huge hamper to collect all of the baby's dirty clothes. Instead, hang a few mesh laundry bags from hooks on the wall or the back of a door.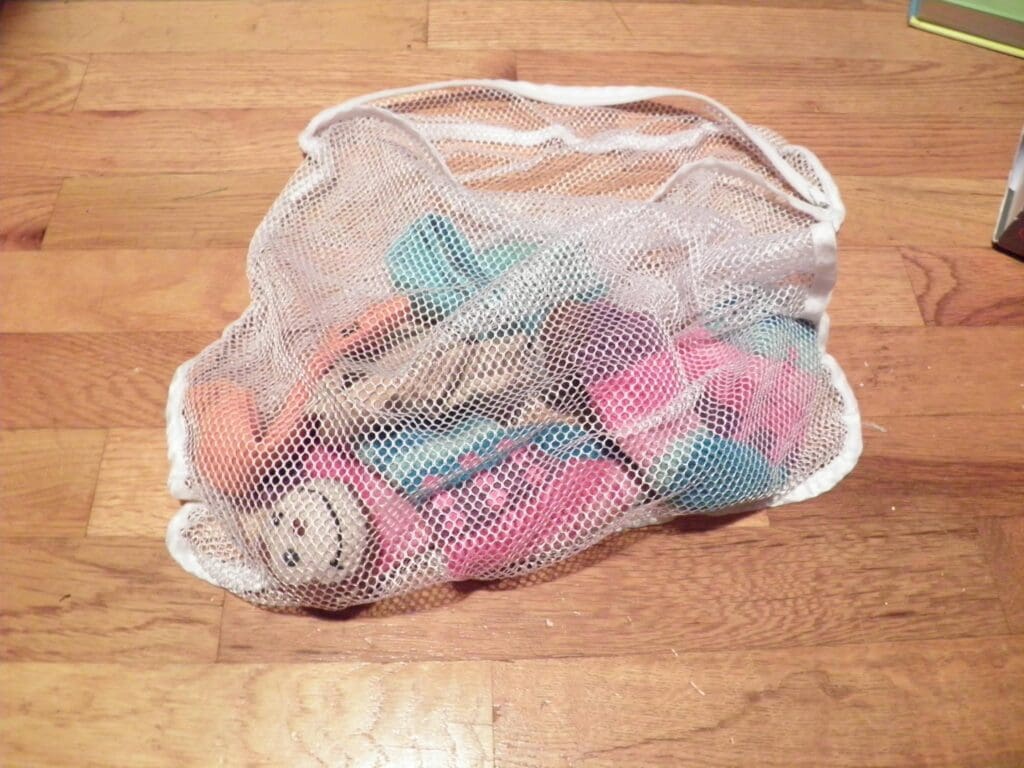 The days of misplaced bibs are over! In addition, items like swaddles that normally contain velcro might snag and pull threads from other clothing and blankets, so they should be washed in bags. The entire mesh bag may be washed and dried with the rest of the clothes.
Diaper Station Cart
Keep a rolling cart stocked with diaper-changing essentials in the room to streamline the diaper-changing process. This includes diapers, wipes, powder, and a changing mat. You can also keep changing stations around the house and roll them around whenever/wherever necessary.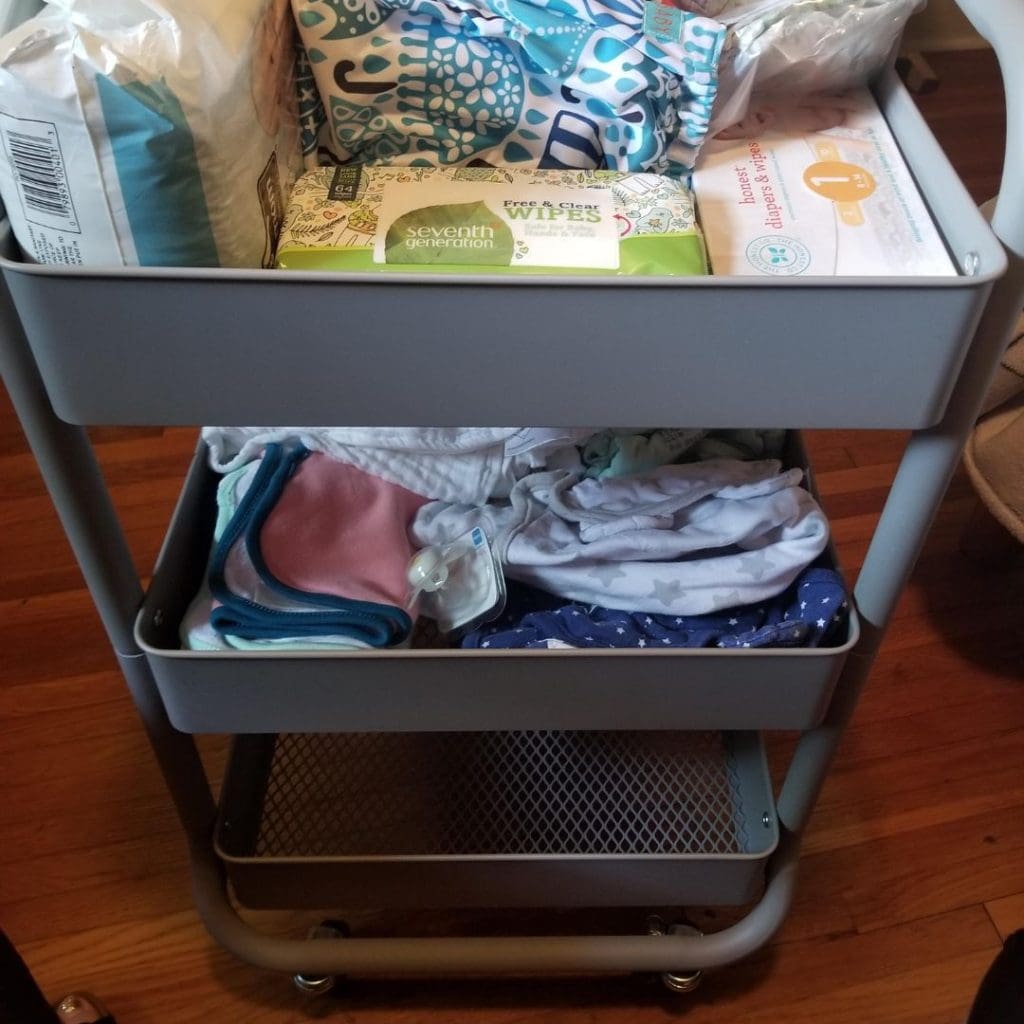 Rolling carts with an industrial appearance are now hot, and you can get them in a broad selection of colors to match any nursery's existing décor. Alternatively, you can decorate it to match the room's theme, or let older siblings decorate the cart with stickers.
The Corners
When arranging furniture or installing shelves, corners are often overlooked. No matter the room size, the unique design of corner shelves can make a big impact. Corner pieces are made to fit snugly into the area they're allotted, minimizing the risk of injury from sharp edges.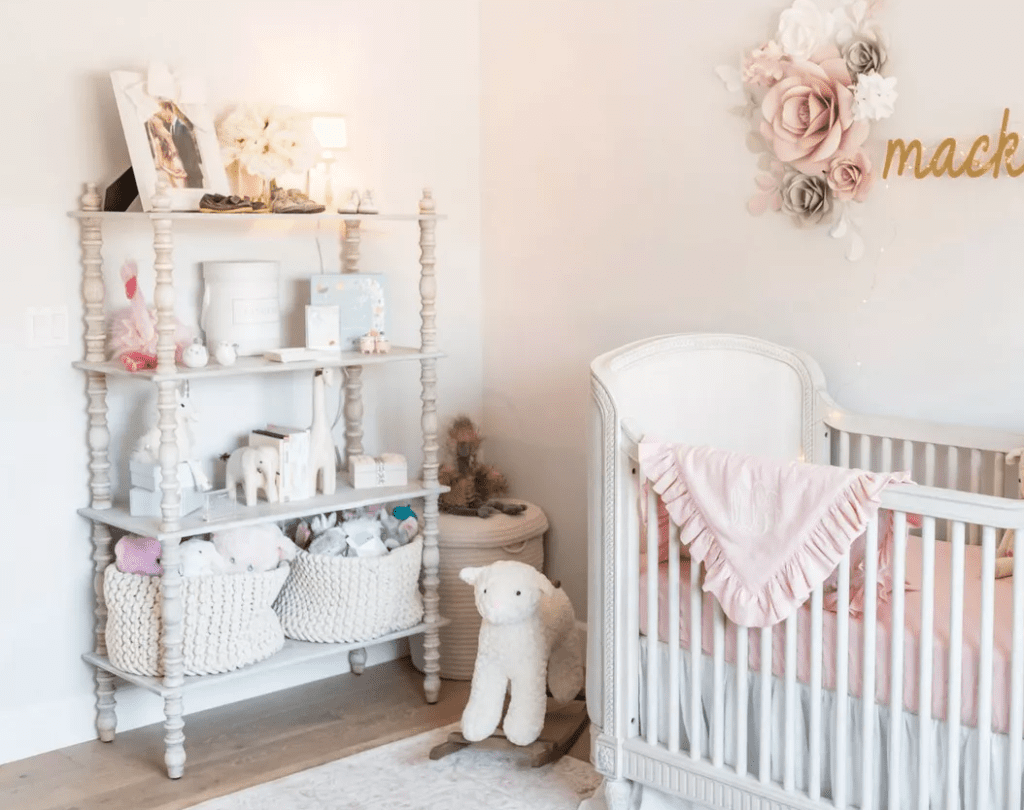 We tend to think the corners are not that important when decorating or furnishing a room. If you're struggling to find storage space, take a pause and think things through. Take a look around your baby's room and make an assessment on how to improve the space by using the corners.
Maximize Door Functionality
This overlooked part of most rooms can be key to staying organized. With so little area to work with, organization and storage space in nurseries and baby's rooms can become a nightmare. The back of a bedroom door provides a tidy, out-of-the-way spot for storing often-used but inconsequential goods. 
Keeping spare supplies of everything from baby lotions and creams to extra pairs of shoes in an over-the-door organizer is a terrific idea. Hanging items such as hooded towels, baby blankets, and coats from hooks above the door makes them easy to grab and go.
Diaper Baskets On The Wall
The back of a door is not the only vertical space you can use to your advantage. Baskets are well-known for their utility in storing items on shelves or keeping things orderly around the room. You can use baskets from any material you wish, such as knitted or wire.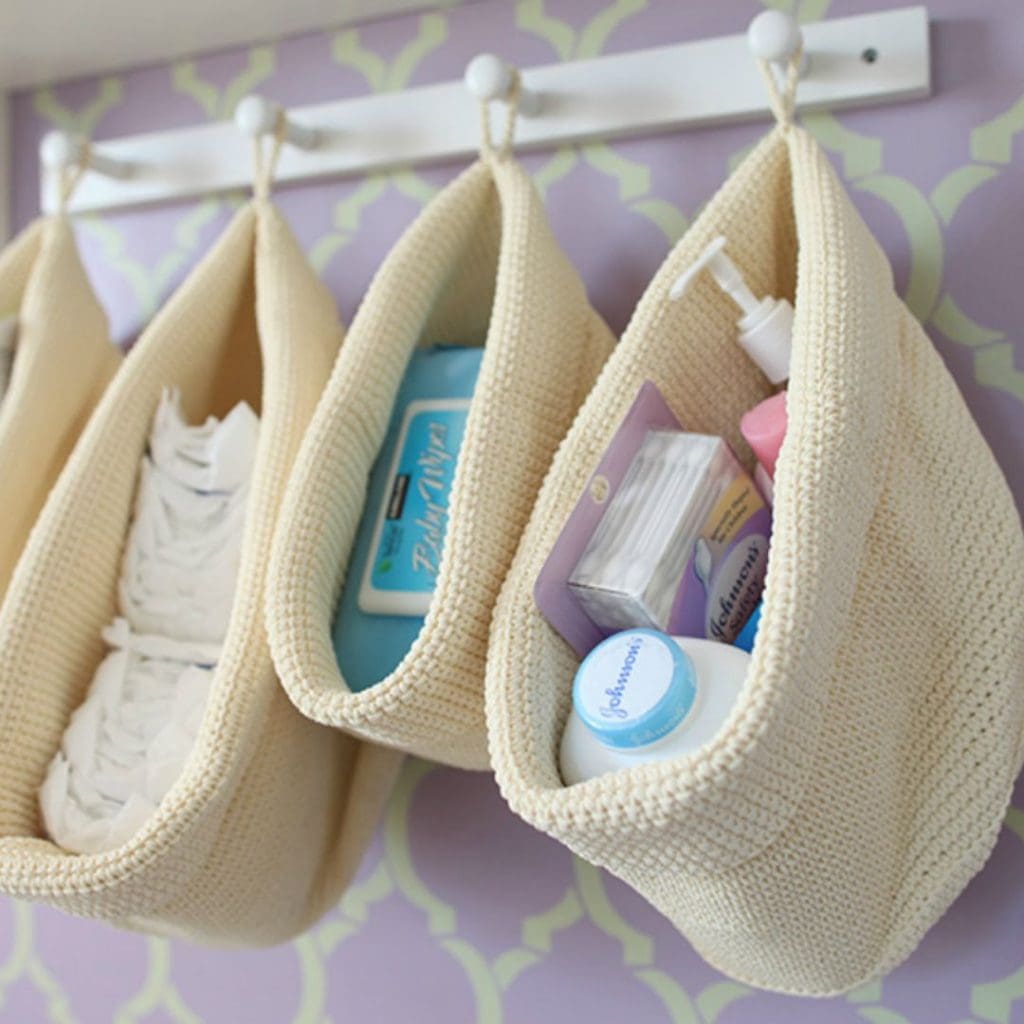 To store diaper-changing necessities, place little baskets on the wall above your changing table. Turn wire baskets on their sides and hang them on the wall to make lovely cubbies for stacking anything from books to blankets. Always consider the best wall space to keep the room functional.
The Room Design and Layout Are Important Too
All of the little touches you put into your baby's nursery will contribute to its unique character. The background of your baby's most precious photographs should not be a boring environment. Some suggestions for décor include larger initials and kid-friendly artwork with natural tones and a collection of unique pieces of furniture.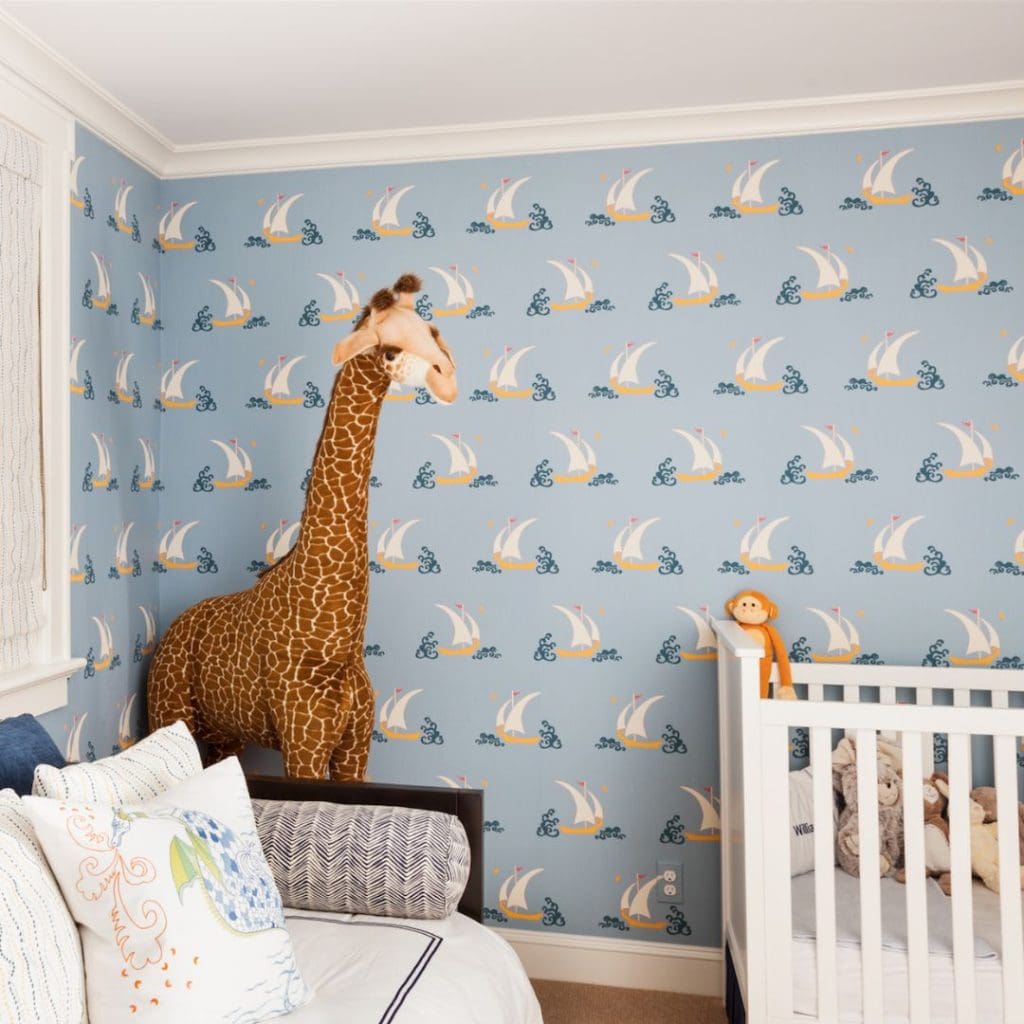 Walls decorated with colorful illustrations of wild animals and lush vegetation, representing a more natural décor approach, also bring a spark of life to the room. The aesthetic of the animals and vase plants can be boosted with the help of natural wood and rattan furnishings.
Cute Book Racks
There are many different designs of racks available, including rustic wood and contemporary wire, so it's easy to choose one that precisely suits the design of your baby's room. Alternatively, baby book racks may be readily converted from wall-mounted magazine racks and file organizers in a nursery.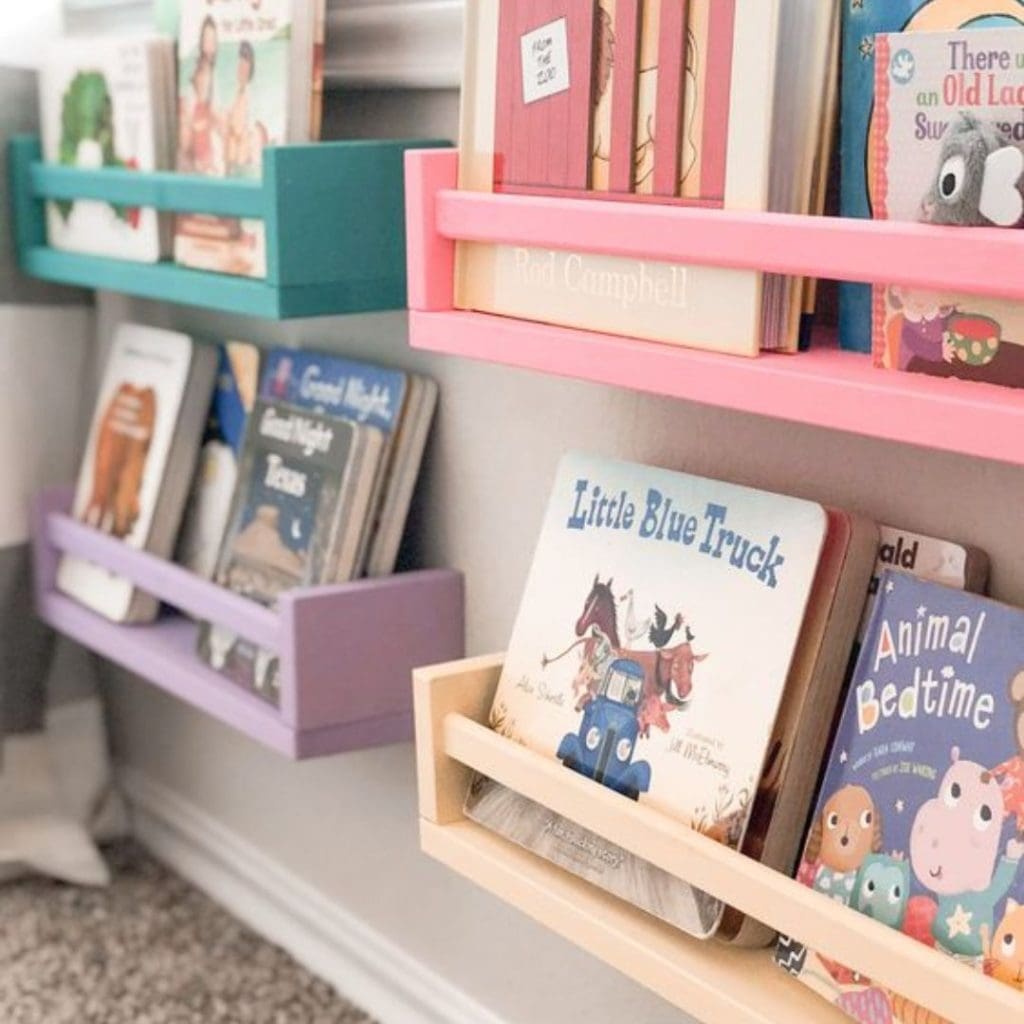 They free up shelf space for other essential goods while being the ideal size and shape for displaying baby books for simple access. Additionally, the racks may be placed on doors or walls near your rocking chair—both areas where a bookshelf would not fit. 
Baby Books As Decor
In their early days, babies won't have direct contact with books, but that doesn't mean you can't use them to decorate and, later on, introduce reading and visual cues to your little ones. We can't get enough of this bookcase since it allows your kid to see their whole library at a glance.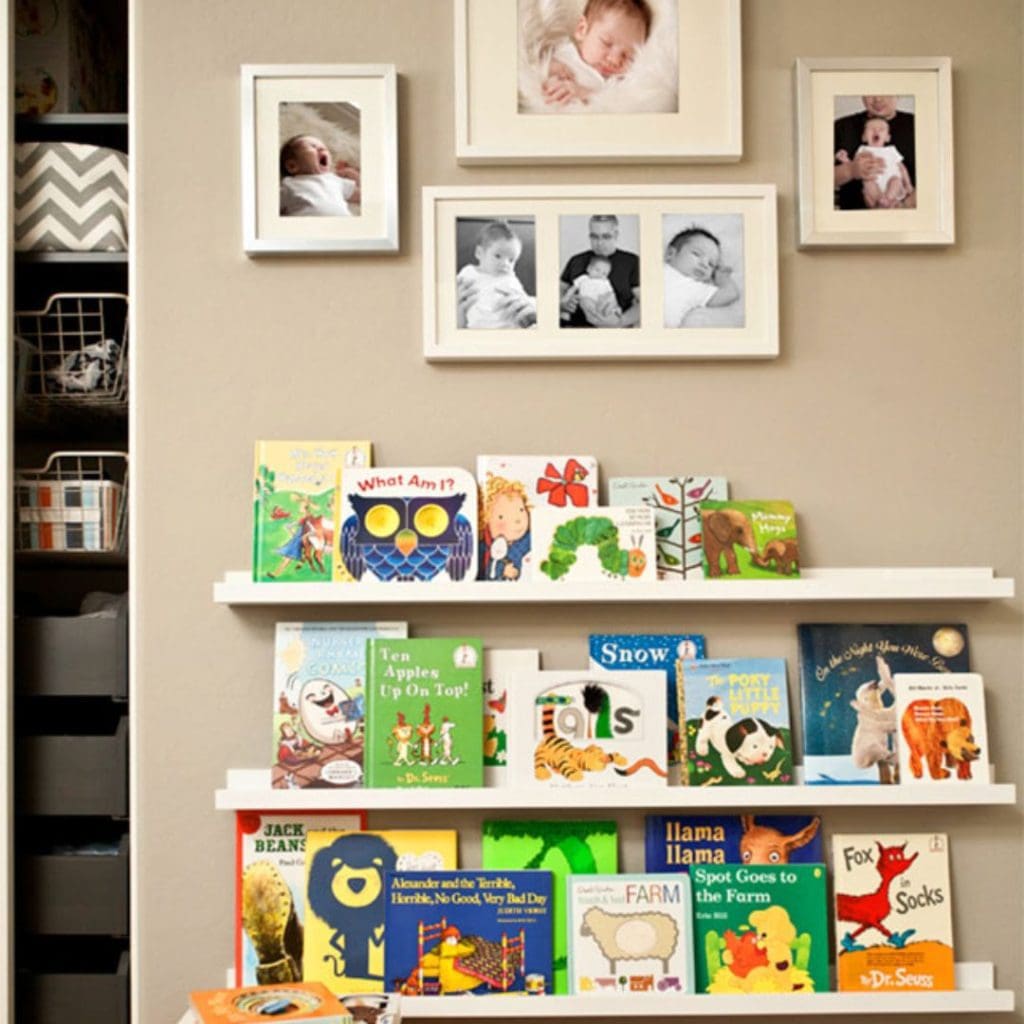 It has a simple, child-friendly Montessori design and is positioned low to the ground to accommodate your baby's reach. Make it into a comfy reading corner by placing a circular rug under it and topping it with a pillow. The area should be attractive to sparkle their interest and curiosity.
Be Wise: Changing Station Strategies
You never want to catch yourself mid-diaper change, only to realize you don't remember where you stowed the wipes. Professional organizers recommend designating a changing area and storing diapers, wipes, and creams in containers with open tops. That way, you can quickly access what you need with only one hand.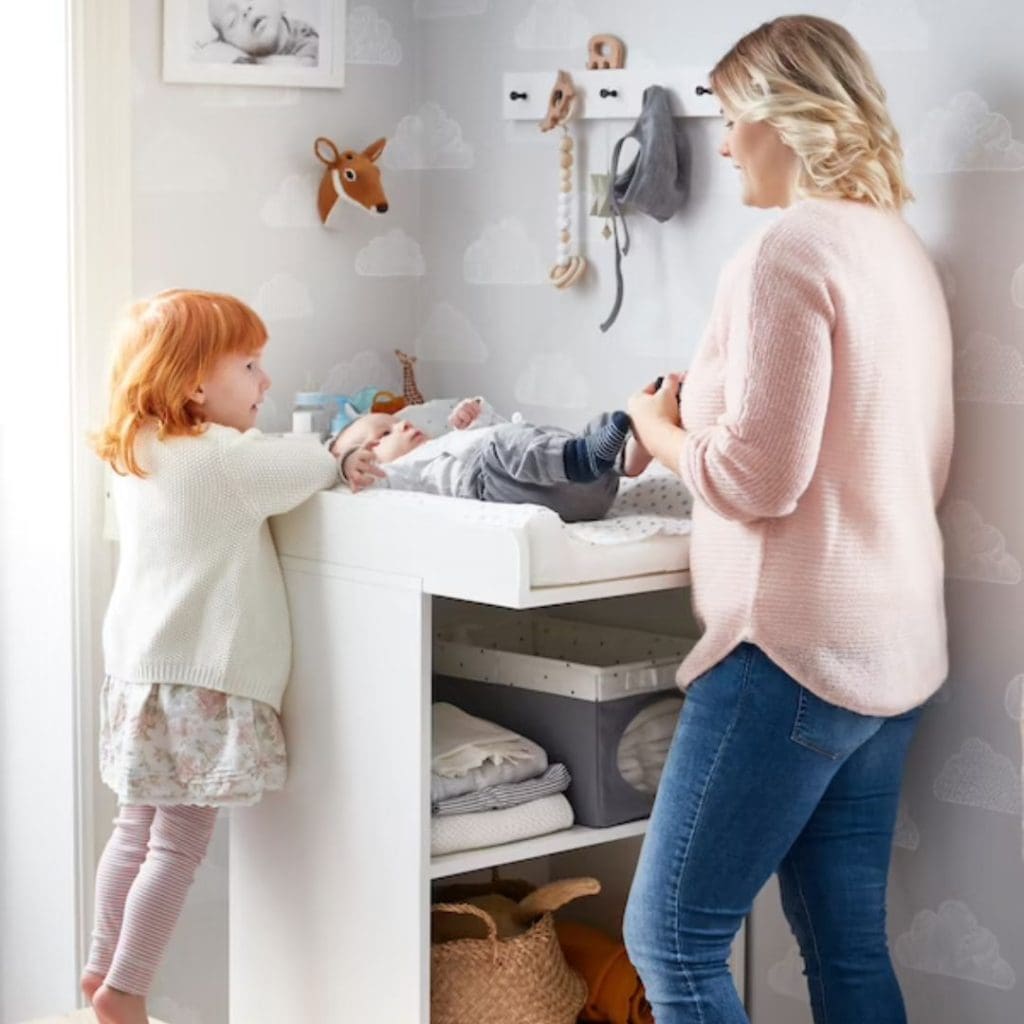 Invest in a lightweight cart to avoid making several trips to the baby's room during the day for diaper changes. Pack it full of diapering essentials and take it everywhere you go. Another solution is to set up changing stations in each room of the house.
Smart Storage Ideas
It's a cliché to say "think outside the box," but sometimes, we must do just that. Babies outgrow clothes so fast; it's hard to keep up. Organizing clothing by size and stacking them neatly in boxes—preferably open for quick access—is one approach to saving storage space.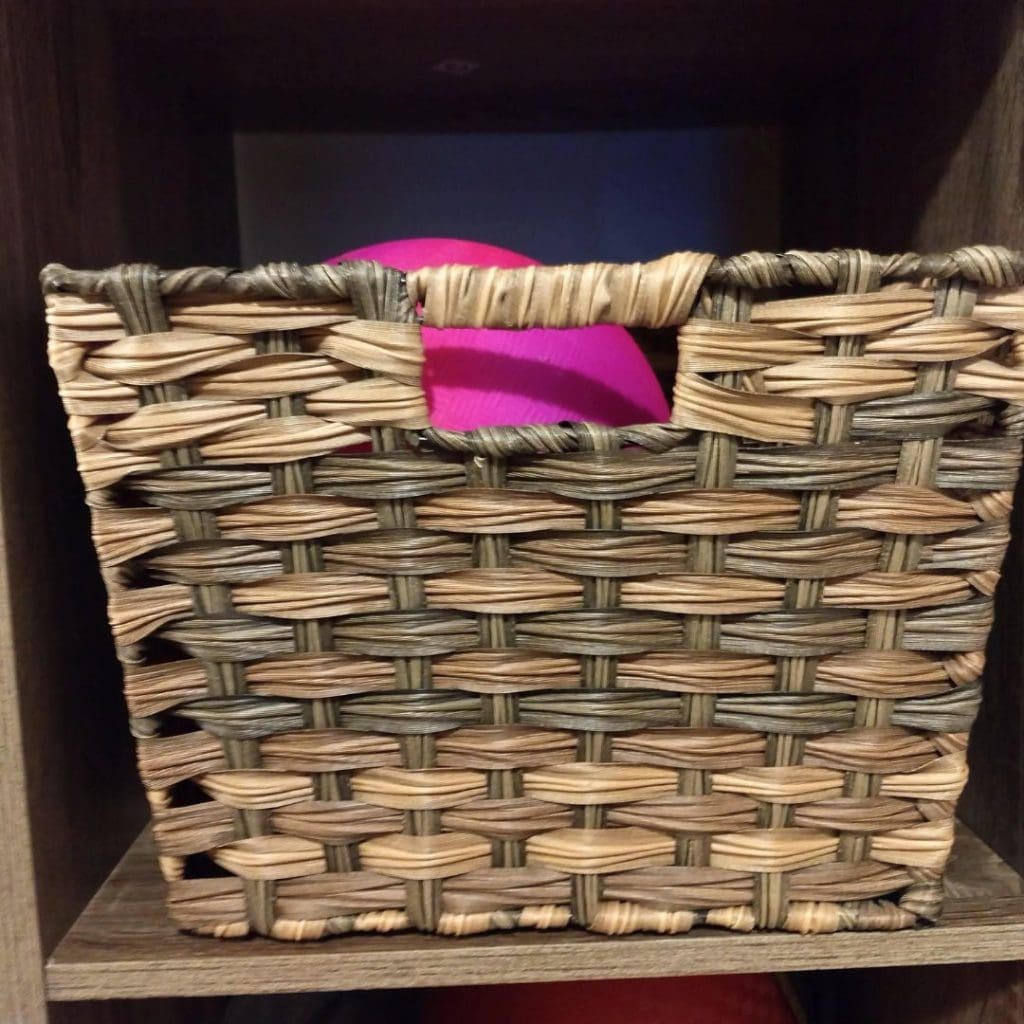 Store the boxes containing clothes for your baby's next size in a different section of the house, then just swap it in and remove the box carrying the previous size. To make this space-saving technique more efficient, the containers should be easy to identify—use labels and colors for this.
Multi-Purpose Items
Dual-purpose products are always a hit with us. You should go for mattresses, coverings, and breathable cotton sheets that are suitable for both cribs and beds. For the first three to four years of your child's life, you can use the same things. The transition from the crib to the full-size bed couldn't be easier.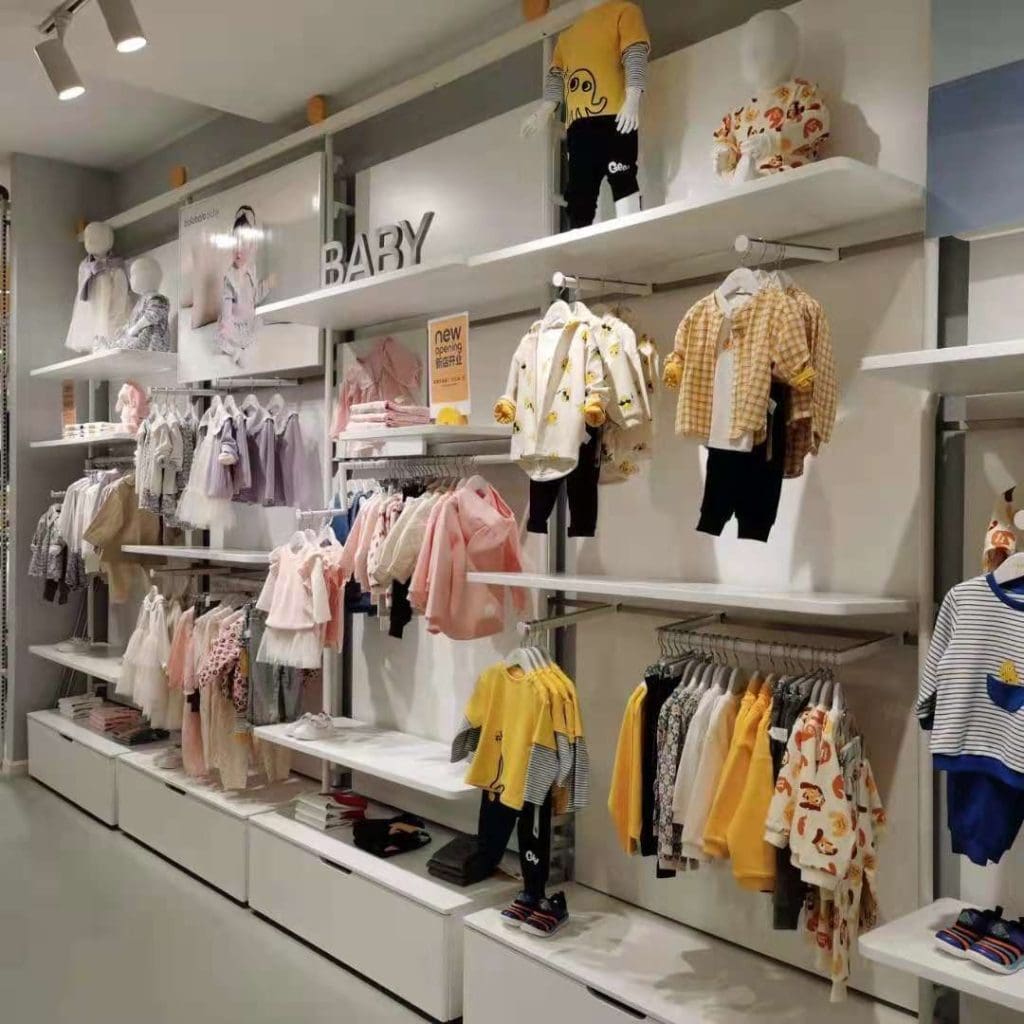 We recommend taking this concept of double purpose into account when selecting furniture for the nursery as a means to further improve nursery organization. Choose a three-foot-tall dresser with a flat top that can serve as a changing table and clothing storage instead of buying two different pieces of furniture.
Pegboards
You'll want your pegboard to be adaptable and functional, so adding small baskets to the pegboard seem like a great option. You can arrange them as you wish, and after some time using them, you'll learn exactly where everything should be stored.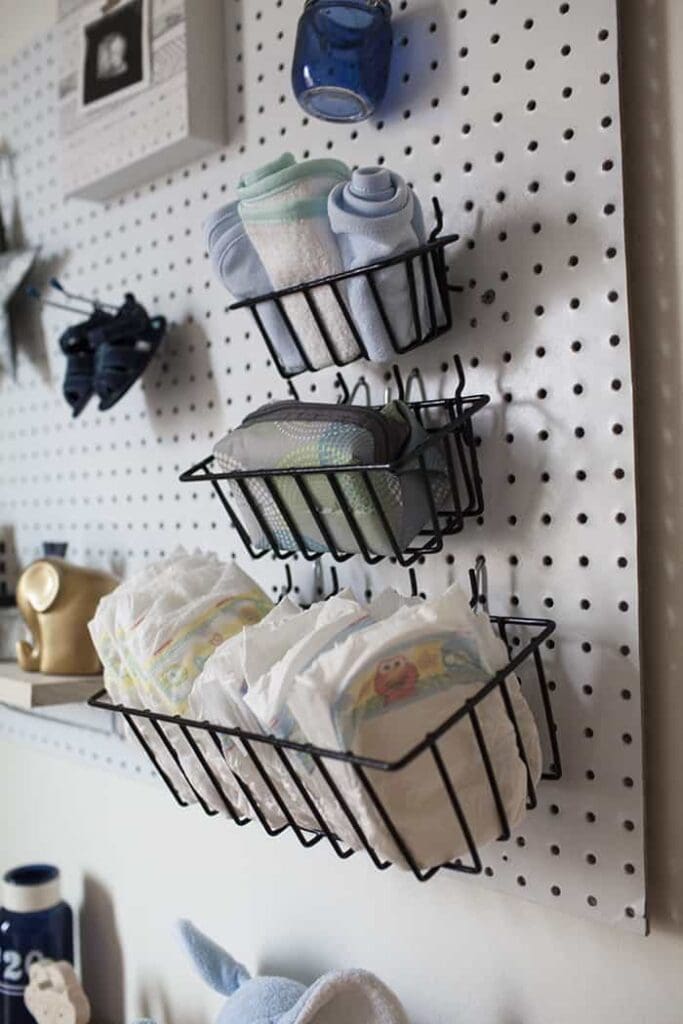 You may purchase pegboard hangers, which are ideal for storing smaller goods in containers. Don't forget that you may attach racks to your pegboard to hold your baby's toiletries, important objects, and display lovely trinkets and baby gifts for both you and your guests to see and appreciate.
Vacuum Bags Are Great
Vacuum bags work perfectly to store winter clothes in the summer, and vice versa, but that's not the only use for this simple tool. Moms and dads will benefit quite a lot from it—and probably your future kids or nephews and nieces, too.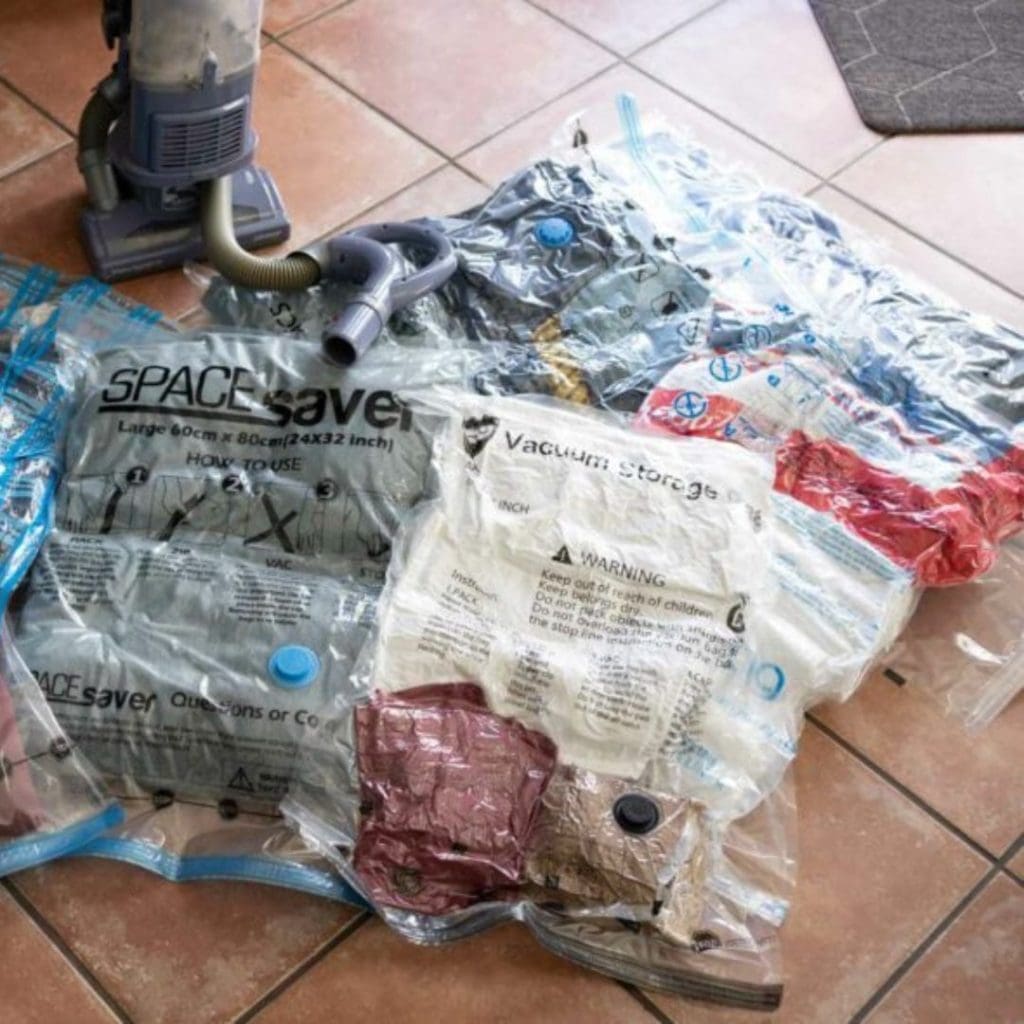 Vacuum bags are great for saving space in a nursery or baby's room. They're great for keeping bedding neat and dry while not in use, as well as for storing seasonal clothing for the following generation. The bags also protect everything from dirt and dampness and provide welcome extra storage space.
Nice Cubbies
Cubbies, or square storage shelves, are ideal for stowing away toys and other items in a child's bedroom. A row of cubbies may be mounted to the wall for lofty, out-of-the-way storage, raised upright for vertical storage in tight quarters, or laid flat on the floor to create a storage bench with seats.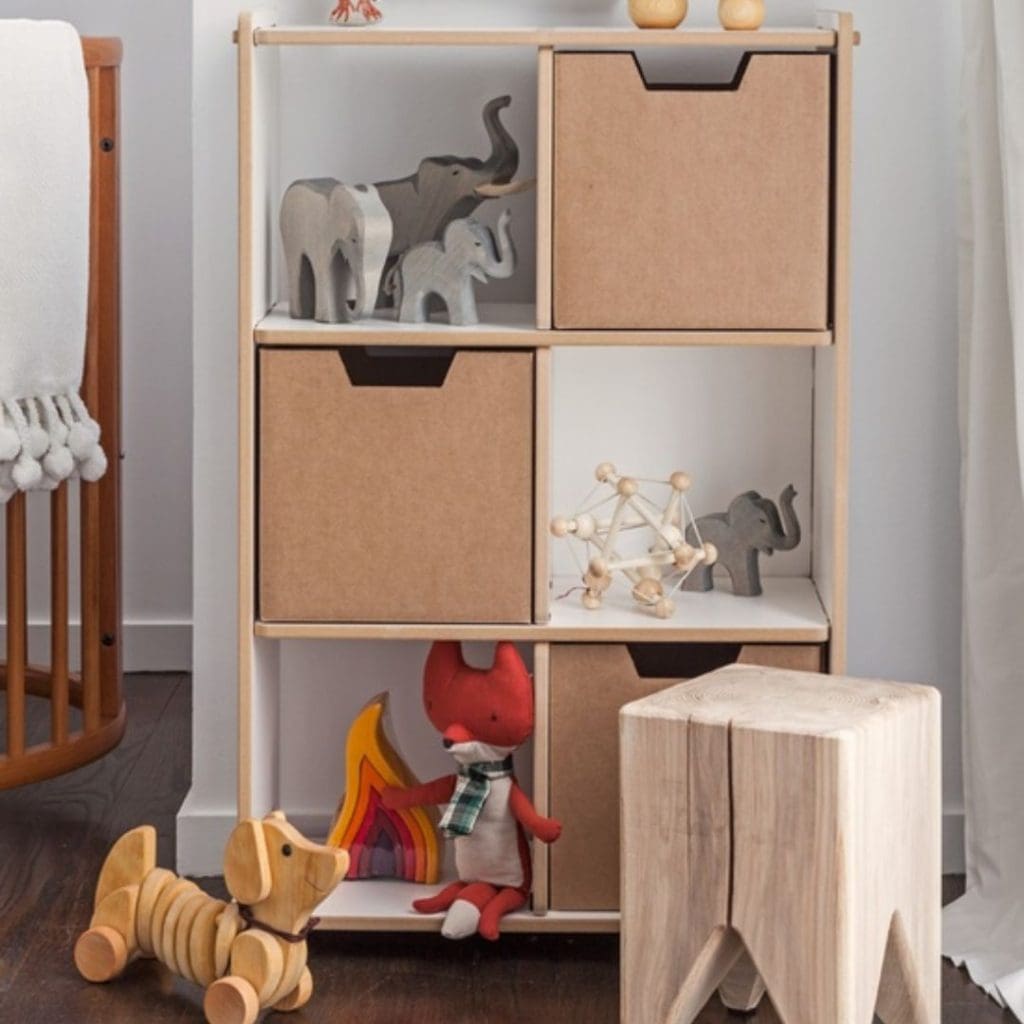 To conceal your belongings, use soft storage cubes. Because of its adaptability, cubbies are also great for a toddler's room, so you won't have to redecorate as much as your child gets older. Just remember to protect the pointy edges to avoid accidents.
The Thing About Furniture
Decoration and furnishing, more often than not, is about reinventing yourself and finding new ways to use the items you already have. When purchasing furniture for the nursery, look for multipurpose items that can store the baby's essentials or grow with the child.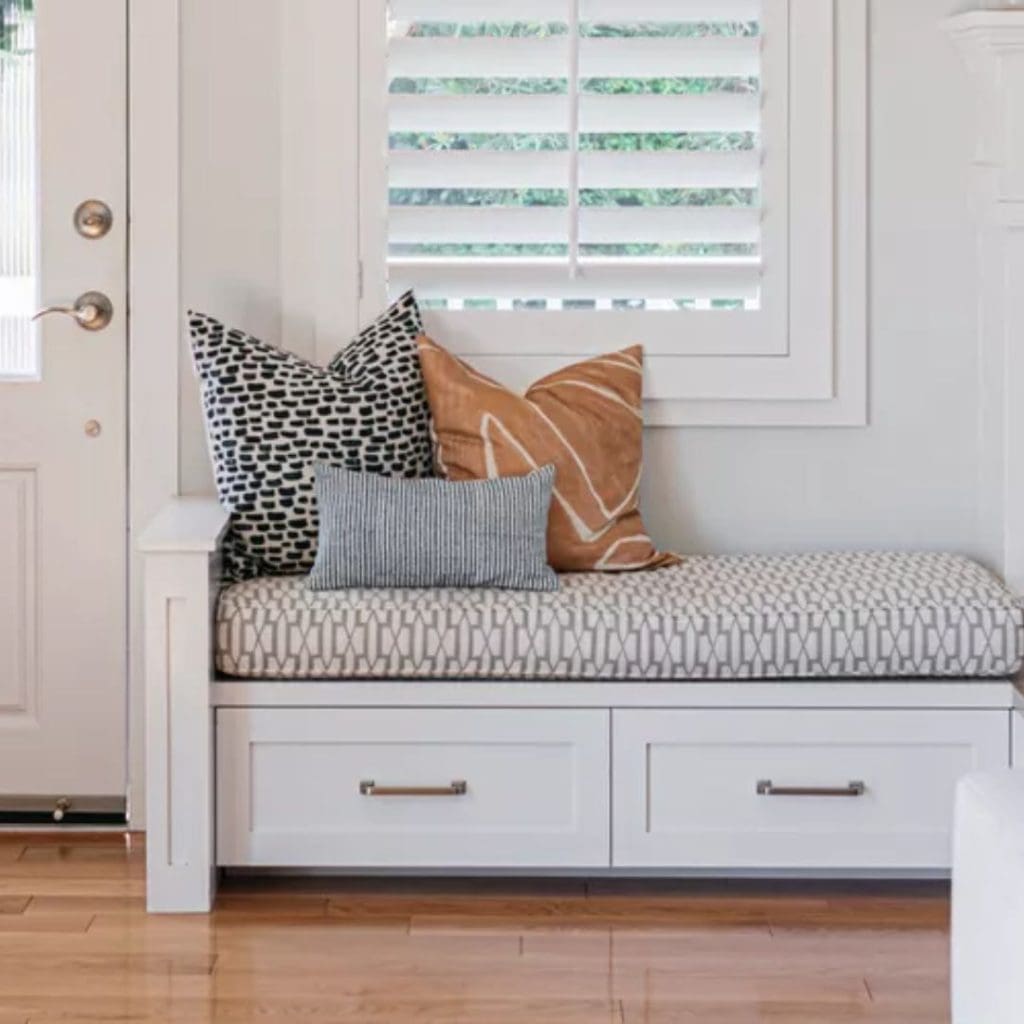 Having a dresser that serves as a changing station or a window seat with built-in storage space is a great way to maximize space in a nursery. Picking a dresser to showcase treasured things like frames and mugs will be a useful piece that can be utilized as the child gets older.
DIY: Drawer Dividers
Get ready for constant clothing rotation. The little ones grow super fast and leave tons of outgrown clothes behind, and we know that picking out new outfits for them is such a joyful moment, but you'll soon have a closet full of adorable and too-small options.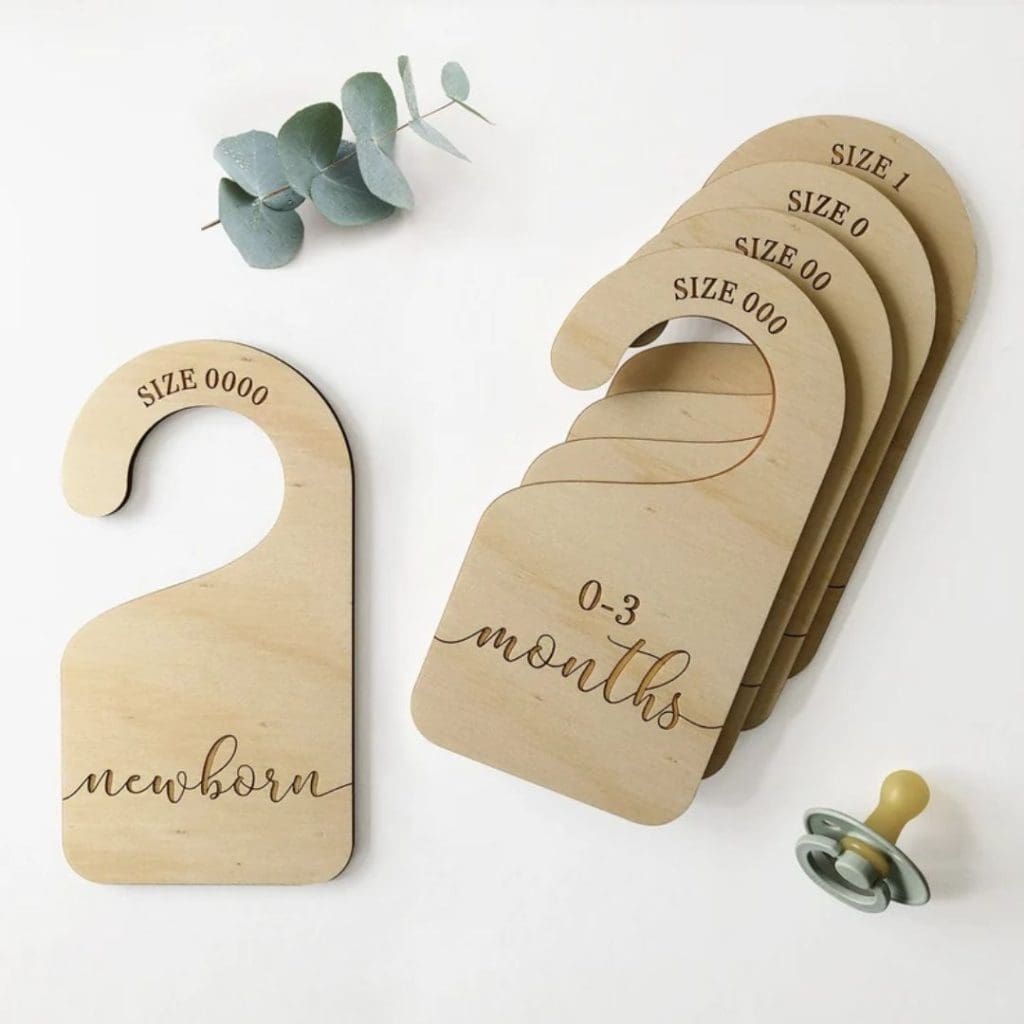 This is where hand-me-downs and presents can help lessen the load—you'll be prepared with clothes of all sizes. Make your own clothing size dividers out of cardboard, or simply decorate store-bought door hangers. It'll help keep your newborn's clothes organized by size from day one.
No Such Thing As "Too Much" Storage Space
Babies can be more comfortably nursed when propped up with the aid of an ottoman or footstool. This position eases leg, back, and shoulder stiffness. The ideal nursery ottoman will put you in the greatest possible ergonomic posture for feeding, and preventing back strain and other injuries.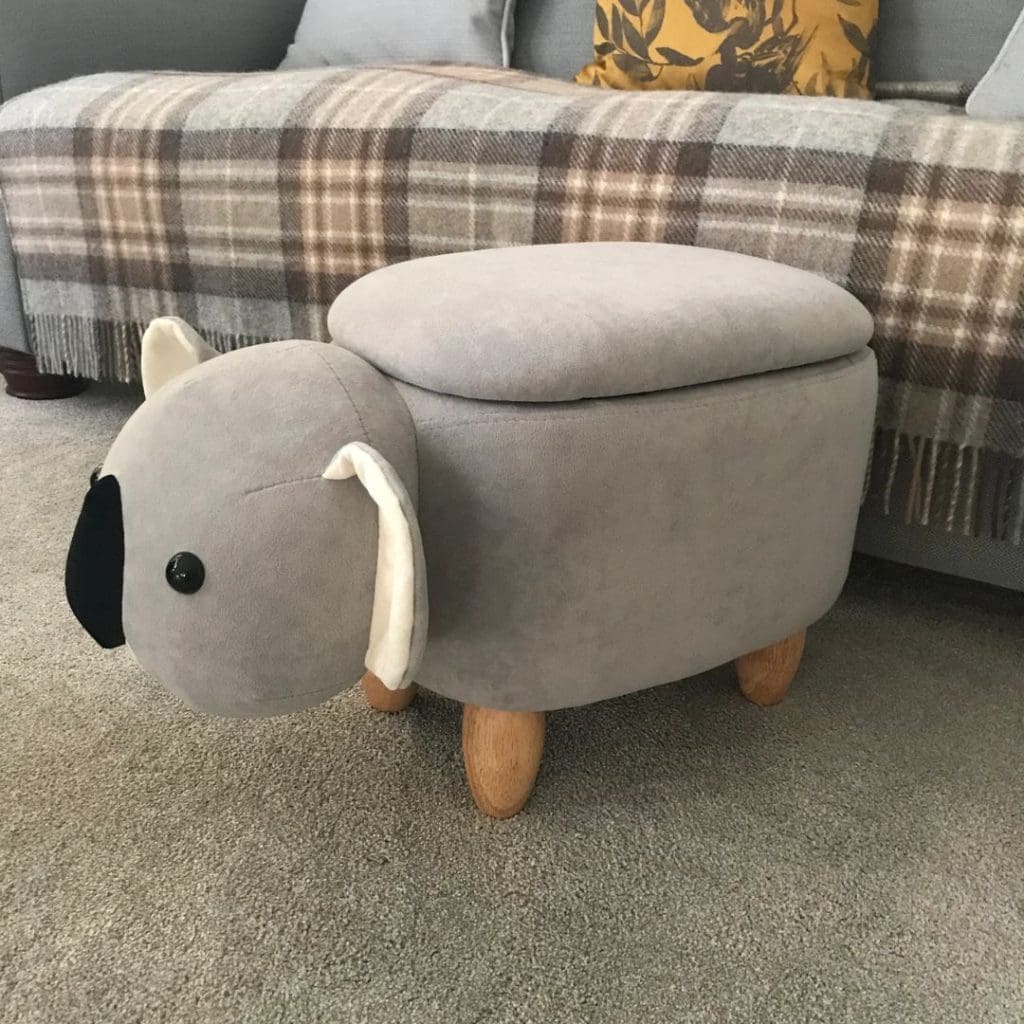 Think carefully about how much comfort you want while buying an ottoman for the baby's room. Besides comfort, if you'd want to add more storage to the nursery, keep an eye out for ottomans that have hidden compartments. They'll make your routine flow better.
No More Pilling Up Onesies
Baby clothing is so little that merely folding them and stacking them in a drawer might result in a giant mess and make it difficult to find the item you need. Instead of piling up your folded clothes, use a sock organizer or ornament box to neatly store your garments in the drawer.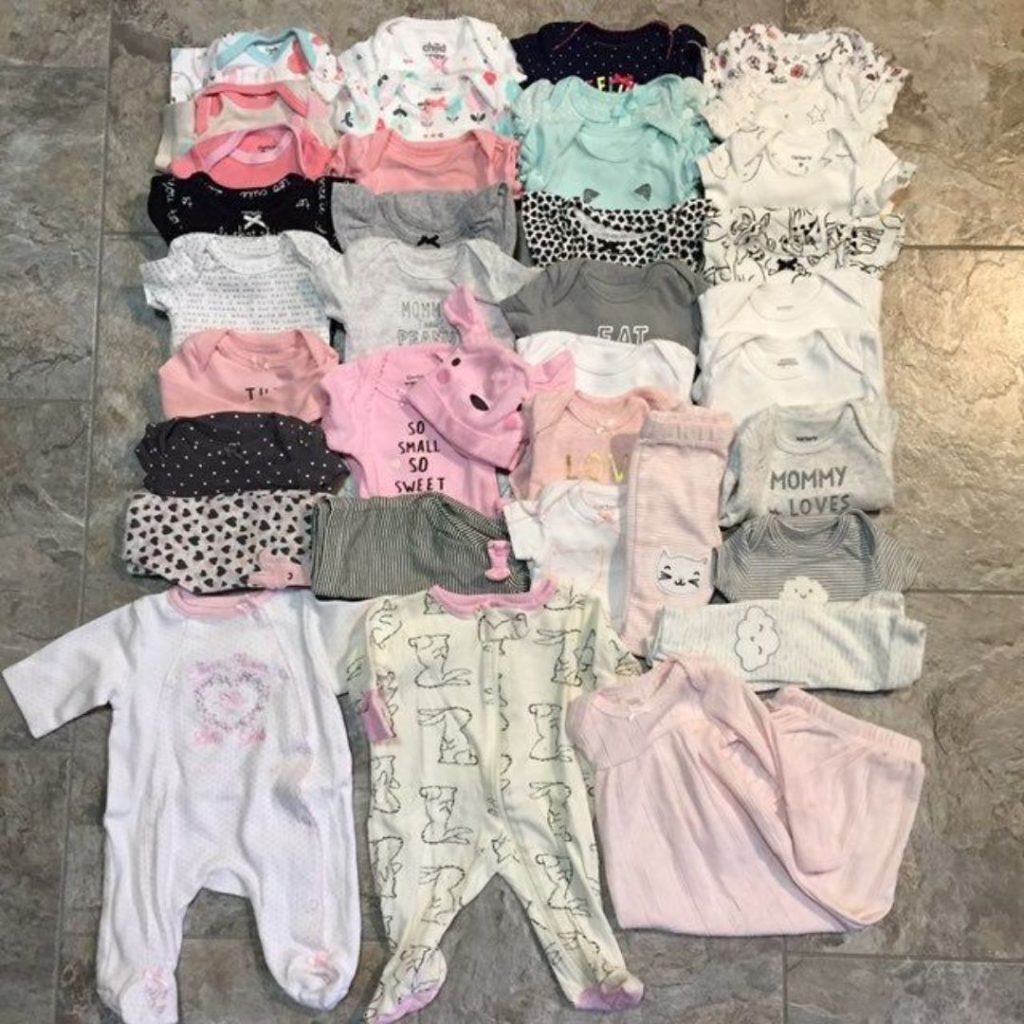 Not only does this space-saving room organizing trick save clutter, but it also makes it simple to find what you need. Or, you can try rolling them instead of the usual fold. It's a classic folding technique when packing for trips.
Versatile Furnishing
To put it simply, babies need a lot of things. From bottles and blankets to binkies and bibs, there's a lot to keep track of, so having a place to keep it all is crucial. Make advantage of pieces of furniture that may function as extra storage wherever possible.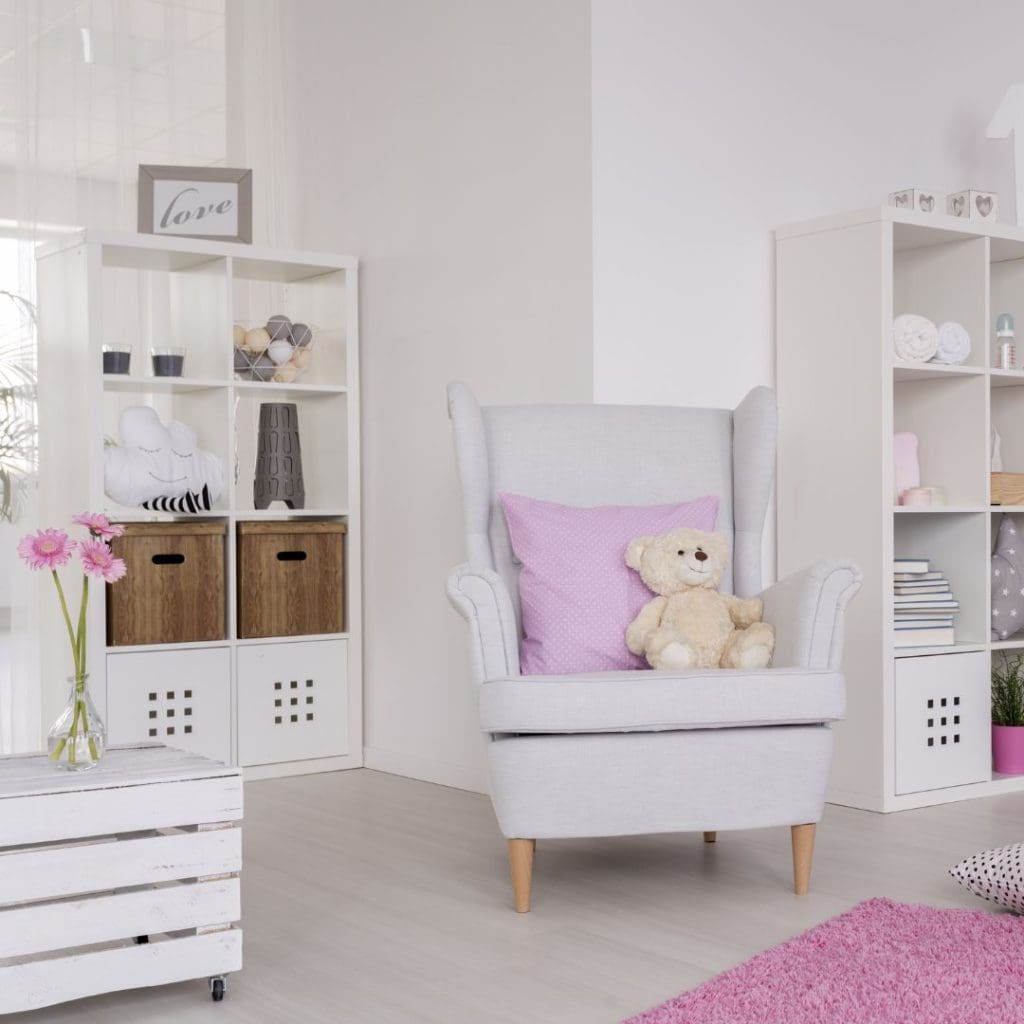 If you don't have a changing table, you may use a nearly waist-high dresser instead and keep diapers and wipes in the top drawer. Alternatively, an ottoman with extra storage space can be used in place of a traditional footstool.
Decor Ladder
You may use a decorative ladder for more than simply an eye-catching accent piece in your house. A ladder is useful in the nursery thanks to its natural wood side rails and contrasting metal rungs, making it suitable for a variety of decor themes.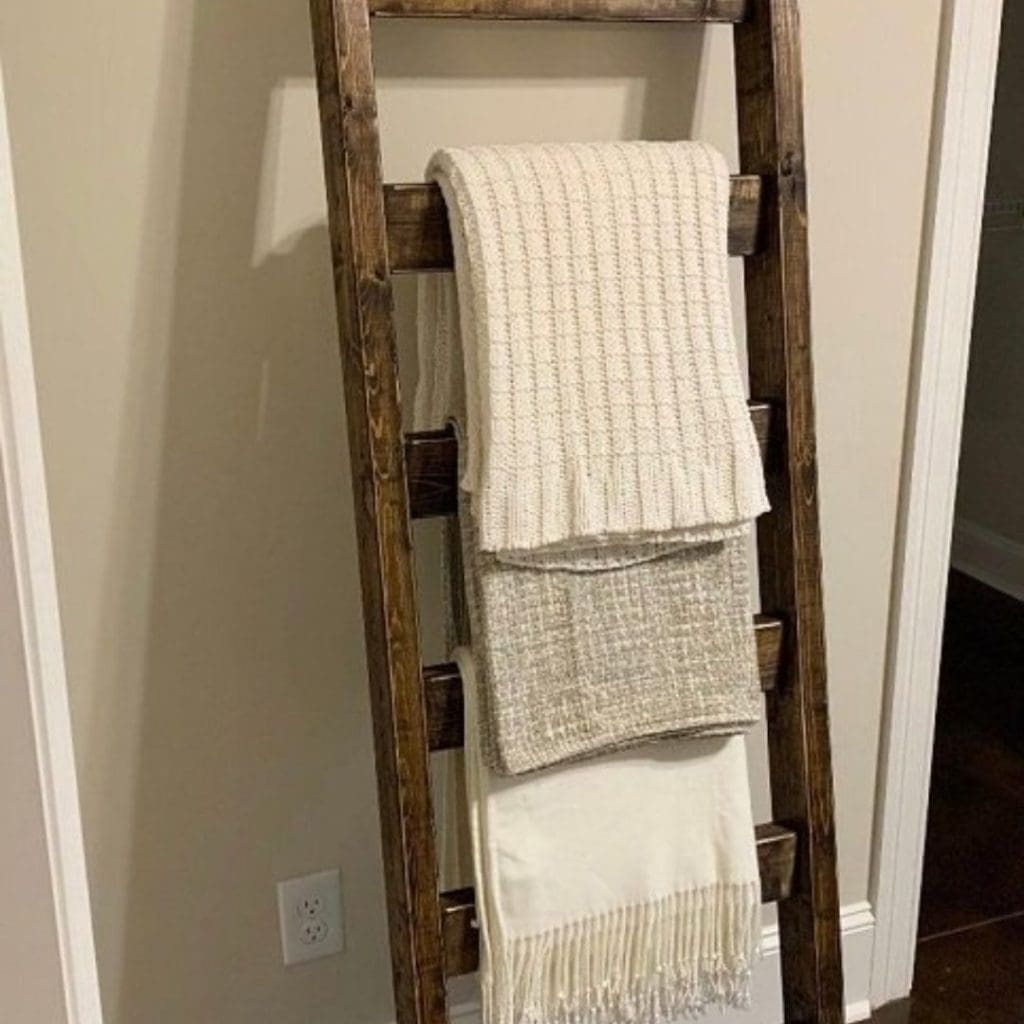 Use a wooden blanket ladder in the baby's room to show off a collection of baby blankets, wraps, and towels. This organizing solution will keep the baby's clothing within easy reach and lend a modern air to the nursery. Remember to move the ladder as soon as the baby begins to crawl.
Hooks
Baby blankets, diaper bags, and laundry baskets may all benefit from being hung from the wall. Use simple hooks that are both affordable and practical throughout the nursery. You can even use these hooks for yourself; drape wraps and towels on there, too.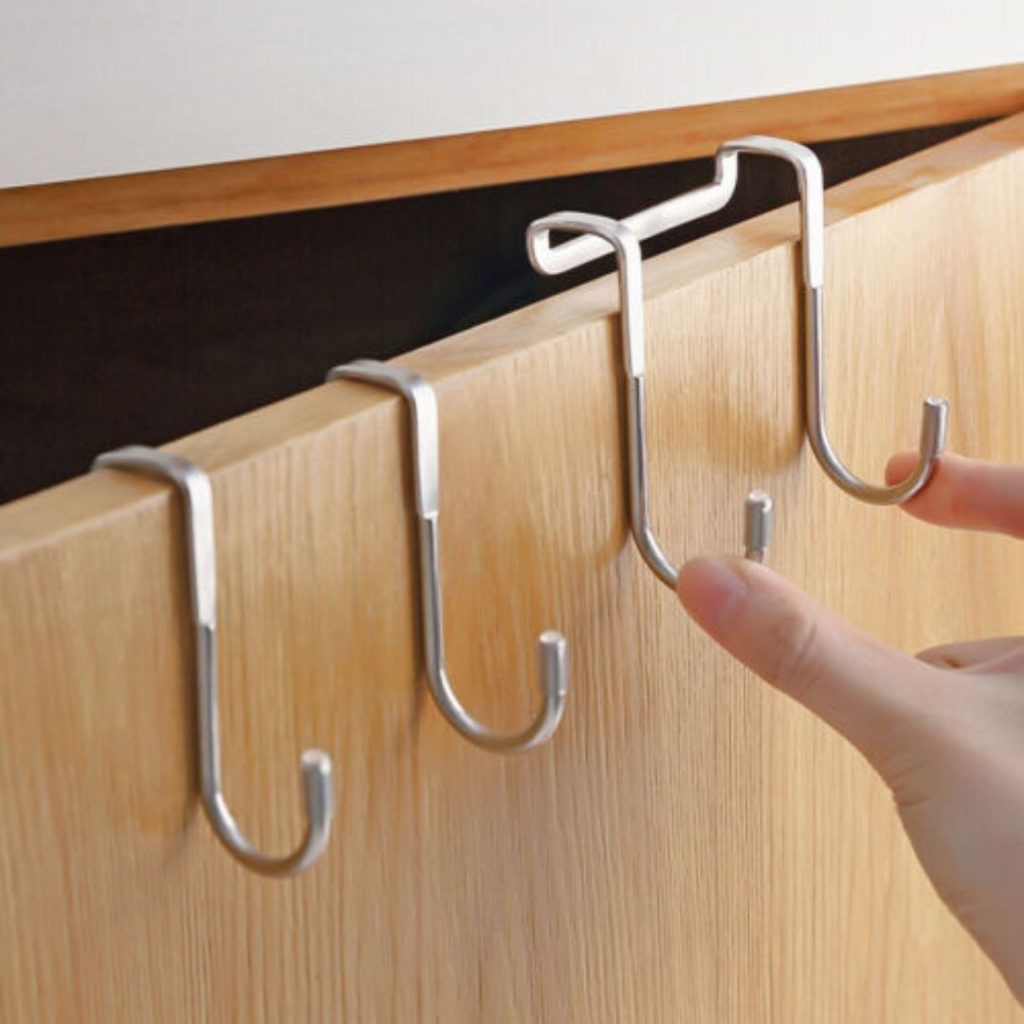 Attaching a few hooks to the side of a changing table is a convenient place to store blankets and swaddles until they are needed. A nice reminder: avoid leaving wet towels hanging since they make the room damp and dust mite tolerant.
Fabric Storage Baskets
Toys, books, and stuffed animals, like your child's clothes, wind up in all corners of the room, making it cluttered and cramped. Storage containers are a fantastic answer to this nursery organizing problem. Use soft, foldable fabric storage boxes for toys and anything else your baby will want to access on their own.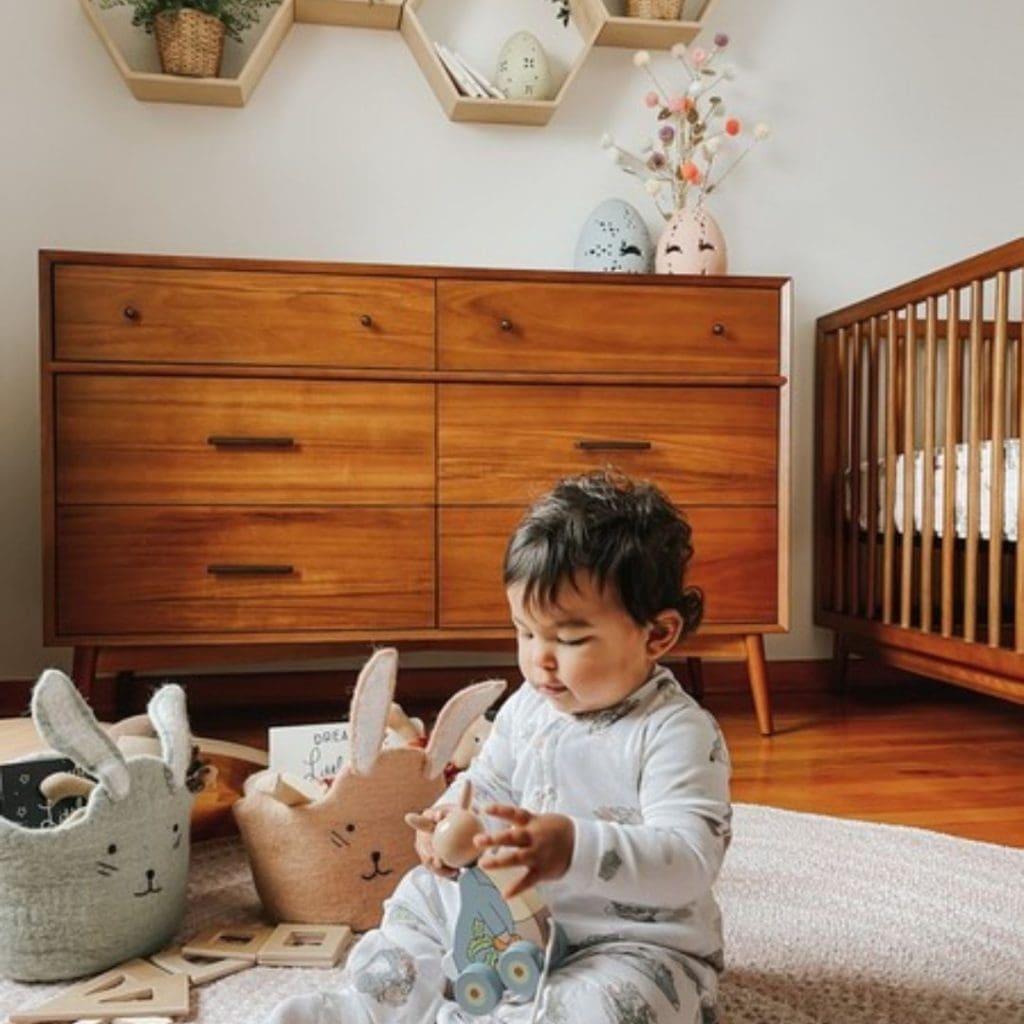 Make a play area in an underused corner of the room and place these soft bins up against the wall. You may use the same technique—soft containers within reach of your infant—to organize goods on the freshly constructed closet shelves as well.
Blanket Keepers
A wine rack may not seem like the most obvious choice for decorating a baby's nursery, but its size and form make it ideal for storing and displaying a large number of baby blankets. A conveniently stored rack of clean blankets is great against the wall next to the crib.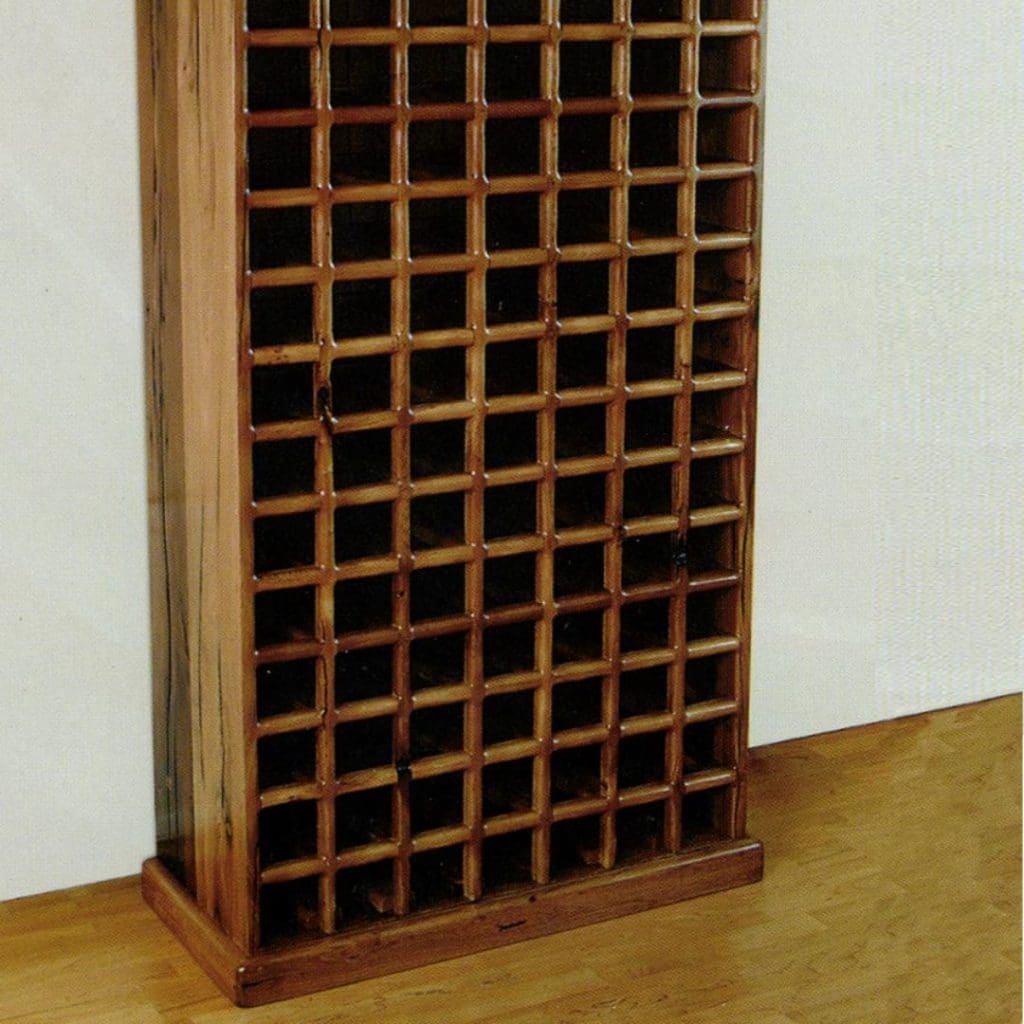 You can also use the top of a wine rack to store blankets in an orderly fashion on a shelf, for example. The usual wooden racks will do the trick and once the baby's room is fully decorated, you won't even remember that you have a wine rack in the room. 
Small Wardrobes
Since most closets come equipped with only one shelf and rod, it's easy to increase storage capacity by installing extra shelves and clothes rods in otherwise unused wall or ceiling space. There's no need to sacrifice storage space for a modest dresser or bookcase.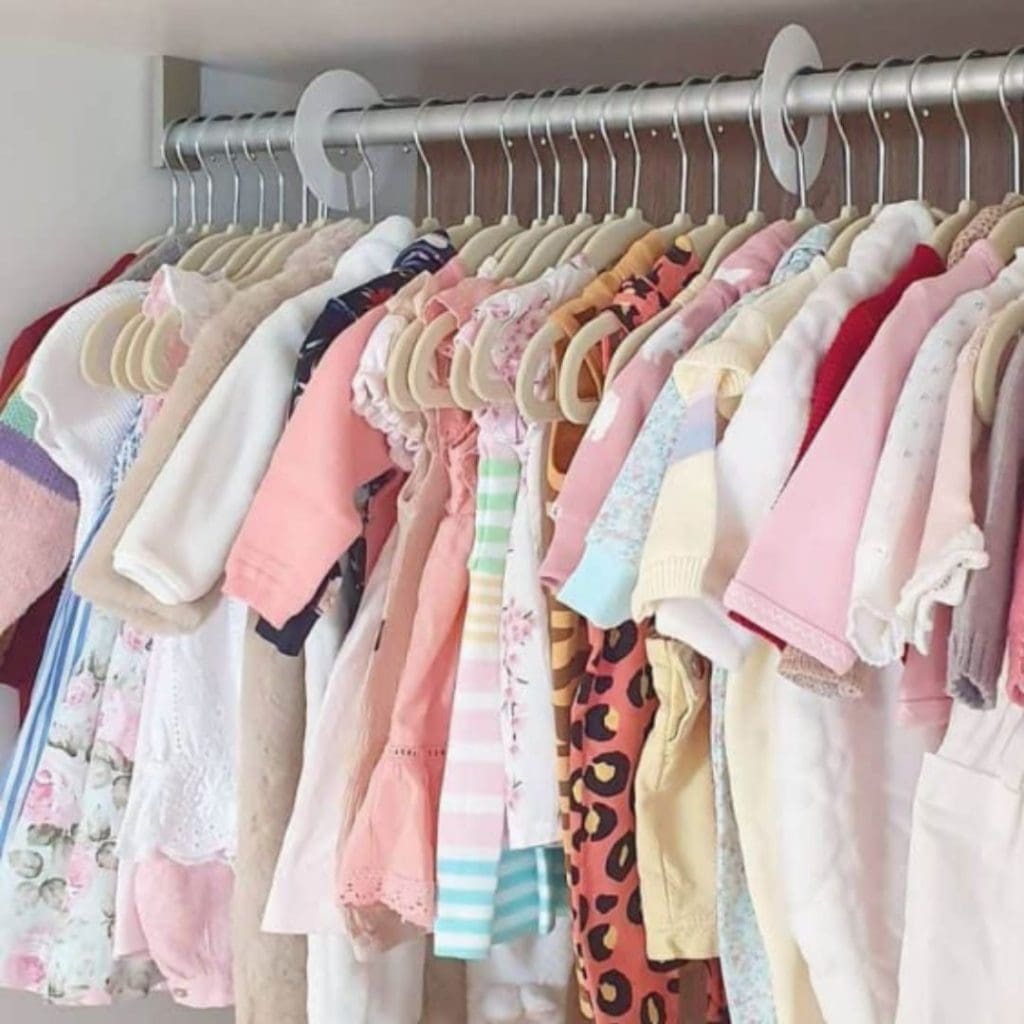 To make better use of your closet's vertical space, hang baskets, buckets, and pockets from the rod. And take advantage of the dead space over the door by installing an over-the-door organizer. Also, a pegboard is an ideal solution for maximizing storage and convenience in a restricted area.
Use Some Glass Jars
It's easy for parents to get carried away when furnishing the baby's room. They want to buy all the adorable things, but sometimes the prettiest trinket container is not the most effective one for the hectic routine that's to come. Smaller goods can be safely and securely stored in large glass jars with lids.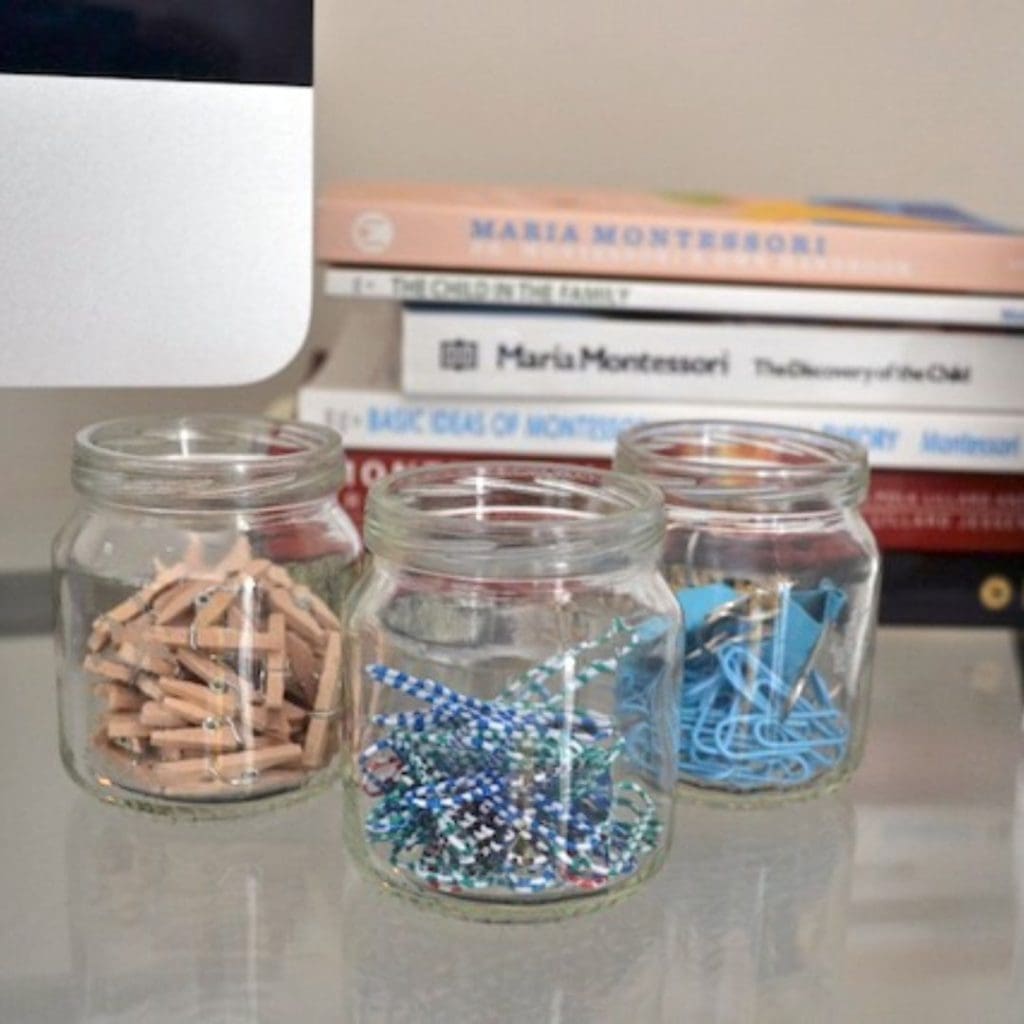 Glass jars may be used to store a variety of items, including pacifiers, hair bows, teething toys, rattles, and even little tubes of lotions and creams. Large glass jars will look beautifully lined up on a shelf, and the transparent glass will make it simple to see what's stored within.
Layers: Protect The Mattress
Time for a superb hack. Layering crib sheets is one of the most practical parenting hacks we've discovered. Lay a waterproof mattress pad first, then a fitted top sheet, while preparing a baby's bed. Add a second waterproof mattress pad and top sheet after that.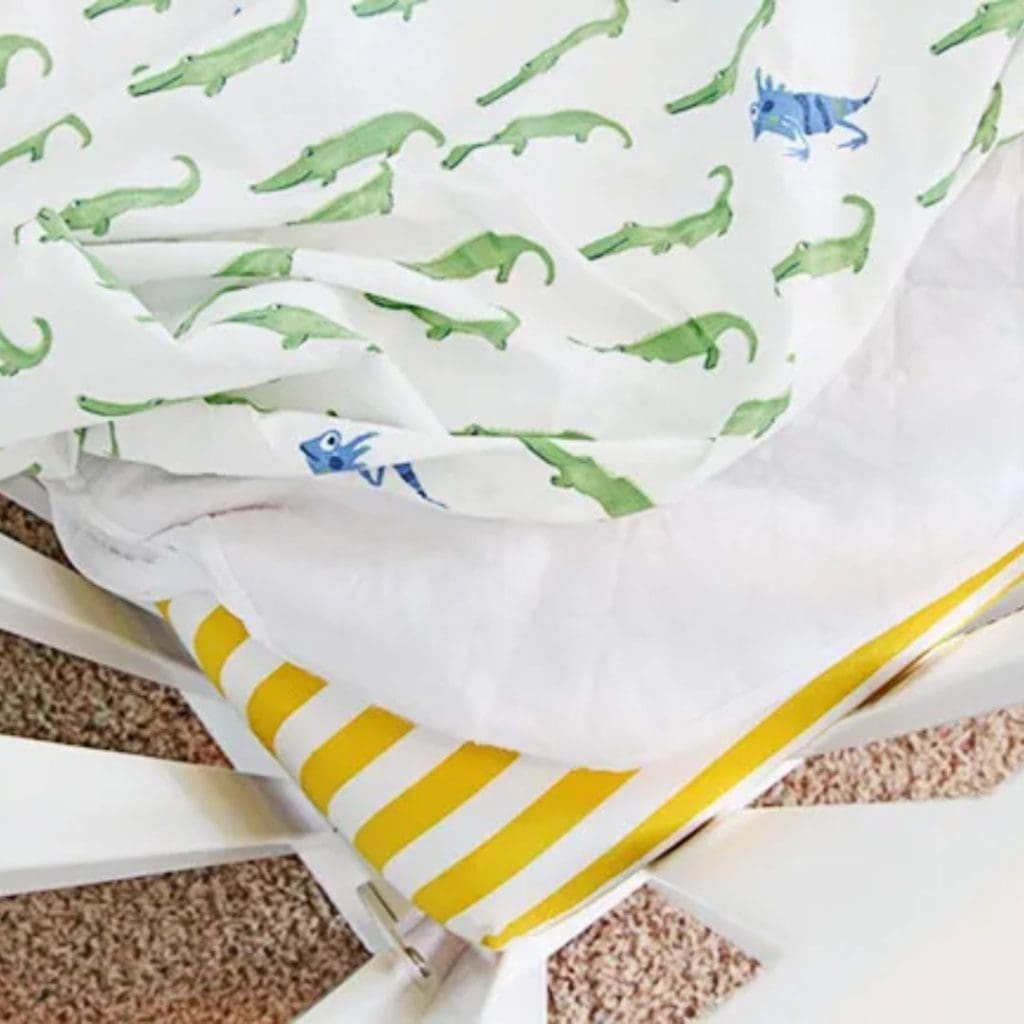 Not only does this address the issue of where to keep clean bedding, but it also makes clean, dry bedding easily accessible below if the baby has an accident or spills anything in the middle of the night. It'll also increase the mattress' life span.
A Clutter-Free Room
Don't be afraid to put less frequently used objects out of the way. Strollers are the perfect example of a large object that's better stored in a garage rather than being brought inside. Store out-of-season clothing or toys that aren't quite age-appropriate on a high closet shelf or in a storage area.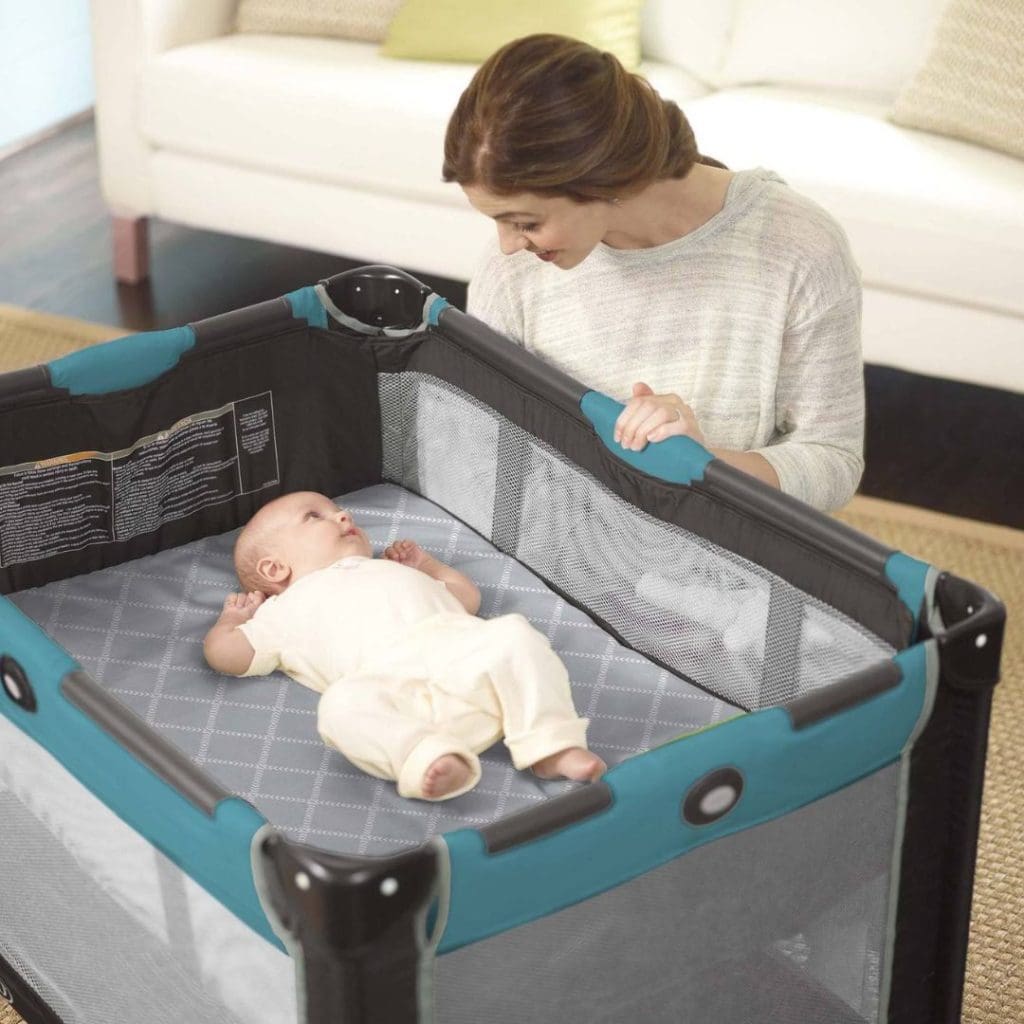 With so many supplies it's important to keep the essentials on hand maintain a clutter-free environment. You shouldn't struggle to sooth a wriggling baby and find any necessities. And keep in mind any 3 a.m. diaper changes—that's not a pleasant time to be fumbling around in the dark.
DIY: Shoe Organizers
You know by now that we are real DIY buffs. This is one of the cutest racks ever. Baby sneakers are too adorable to pass up, even if they aren't necessary for walking just yet. Unfortunately, a shoe collection that isn't well-organized may become quite a mess very fast.
Making a stylish shoe rack for a baby is a simple project. Hang little shoes from a thread rack. Or, construct your own shoe rack out of cut, painted, and hot-glued sections of PVC pipe. Or, build a shoe rack out of rope and clothespins. The possibilities are endless!
Space For Room Adaptation
Choosing furniture that will grow with your child can save you time and money in the long run—they won't be infants forever, unfortunately. Cribs with detachable sides and changing tables that function as a chest of drawers are two good examples.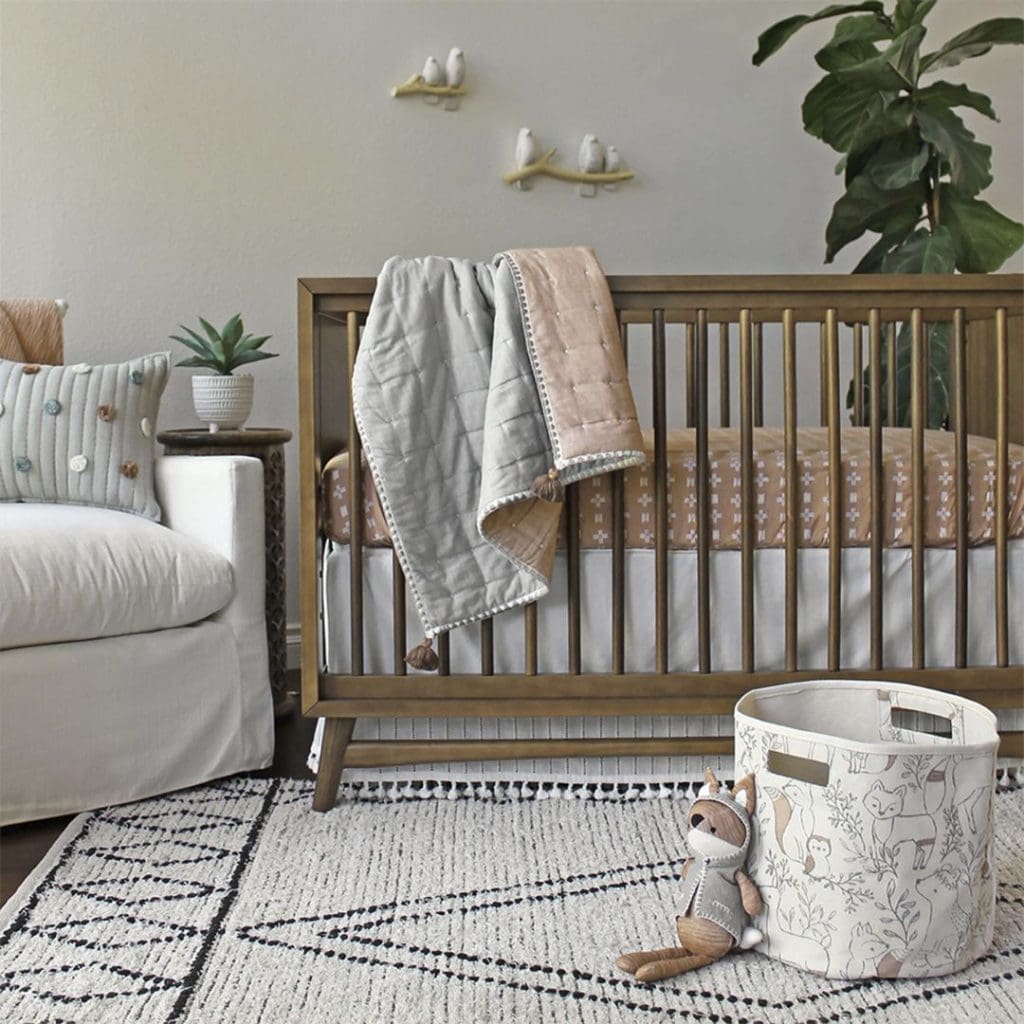 Look for chests with a built-in changing topper, cribs with a connected changing table and storage, and double dressers that can accommodate changing tops. These are all excellent elements to consider while maximizing the baby's room space. The ottoman stools with storage add extra space as well.
Tidy Cribs
A storage crib is an excellent choice if practicality is a priority. These cribs generally include built-in drawers beneath the bed, doubling as a dresser or toy chest. They're an excellent method to make the most of your available space. Extra storage, whether under the cot or connected to the side, optimizes the space.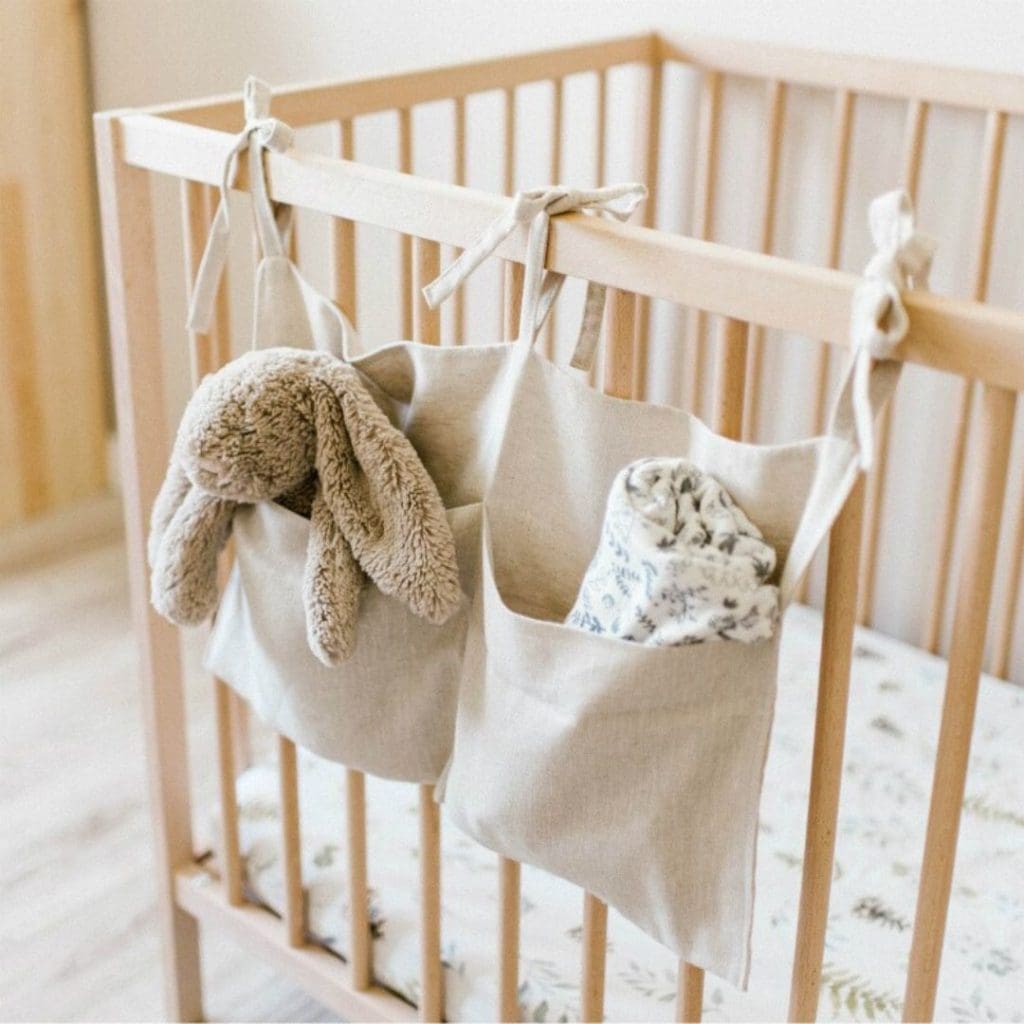 When choosing the best crib organizer, you should also consider the design. Always search for organizers with pouches or divisions that are accessible from every side of the cot. Make sure it has adjustable straps so it can be quickly and easily moved between rooms or used on different pieces of furniture.
A Minimalist Style
There are benefits to sticking with a neutral color scheme. The baby's nursery may be easily updated as the child develops and changes without requiring a complete makeover if kept predominantly white. The space will remain engaging and fun despite its neutral color scheme of whites, greys, and browns, with pale wood accents.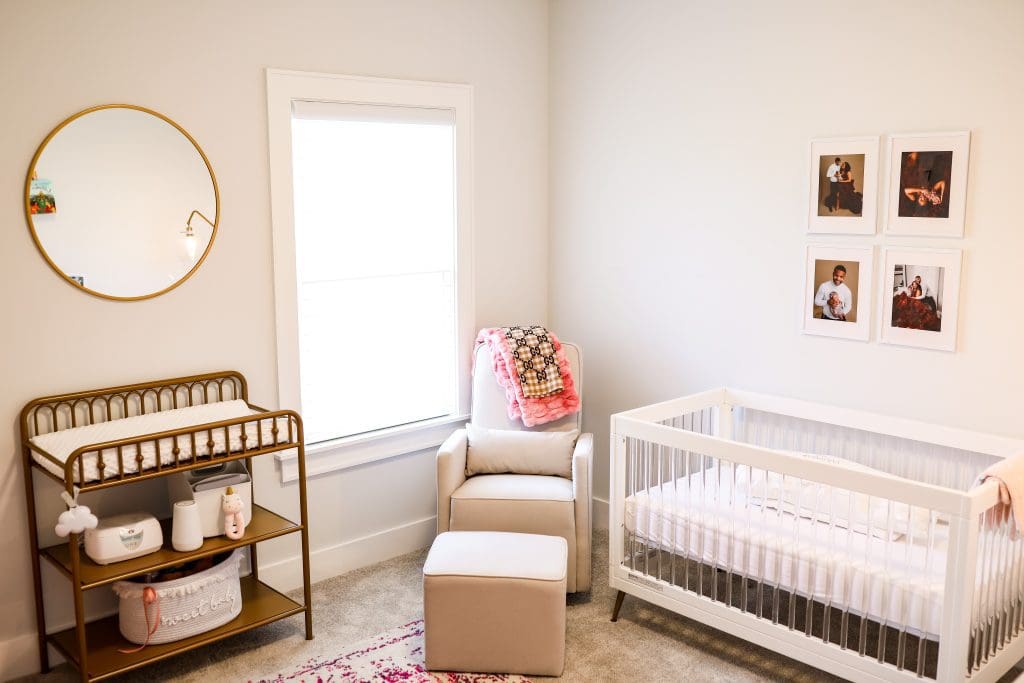 A minimalist room decor gives you endless possibilities to change things every now and then as your little one grows and shows you who they are. Think of how amazing it will be to see your baby's personality getting shaped. It sounds like a wonderful experience.
Keep Up With Your Baby's Growth
Make a gallery wall and let your artistic side show. This wall decoration for a nursery requires some forethought and planning in order to pull off well. The wall gallery in the baby's room should have a modular layout so that new pictures may be added as the child develops.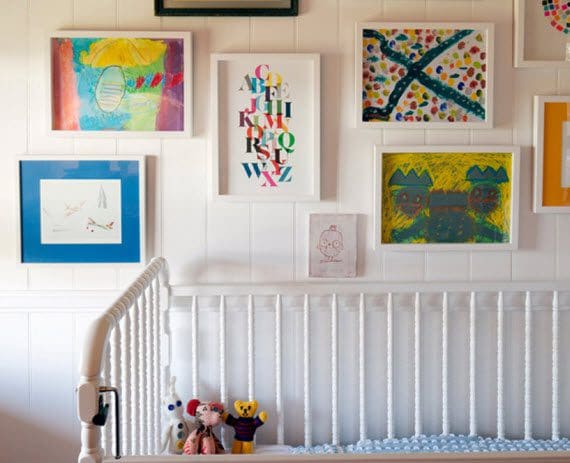 To ensure the space flows together, be true to the room's designated color palette. Use mostly understated hues, with only a few accents that really stand out because of their hue, texture, or form. If you're looking for a dramatic impact, think about using pieces that extend out from the wall at varying heights.
Ceiling Fans
The greatest way to keep your baby cool in the summer is with a high-quality ceiling fan. The kids' room is not the best place for an air conditioner since it dries the room too much. However, the ceiling fan promotes air circulation and safely lowers the temperature without drying out the air.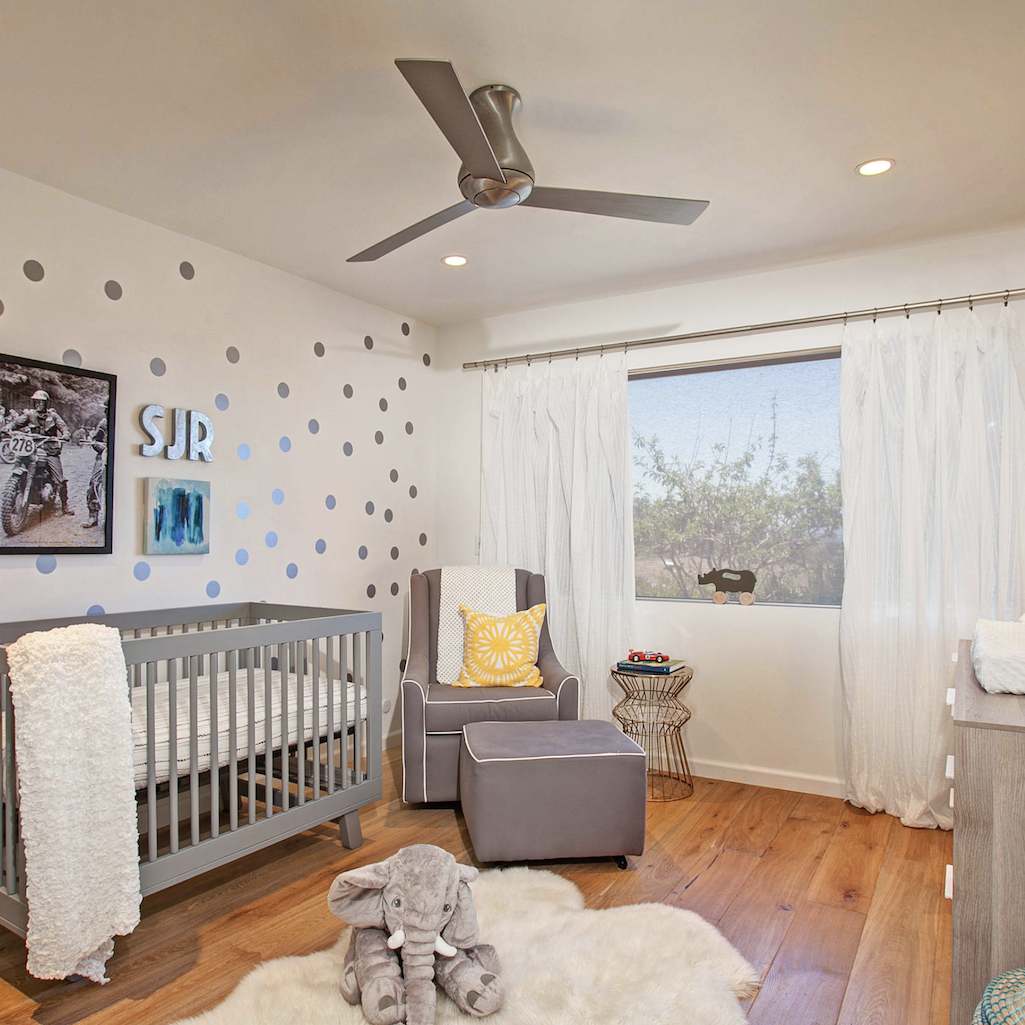 Babies benefit from the fan's pink noise, which allows them to go to sleep more quickly and remain asleep for longer. Children benefit from the calming effects of pink noise, which may be created by the sound of rain or the movement of a ceiling fan.
DIY: Trinkets Organizer
A little DIY project strikes again as a budget-friendly and charming solution to organize the baby's accessories. Babies may collect a wide variety of "extras." Without proper storage, a baby's headbands, hats, bibs, and bows may rapidly become a tangled mess.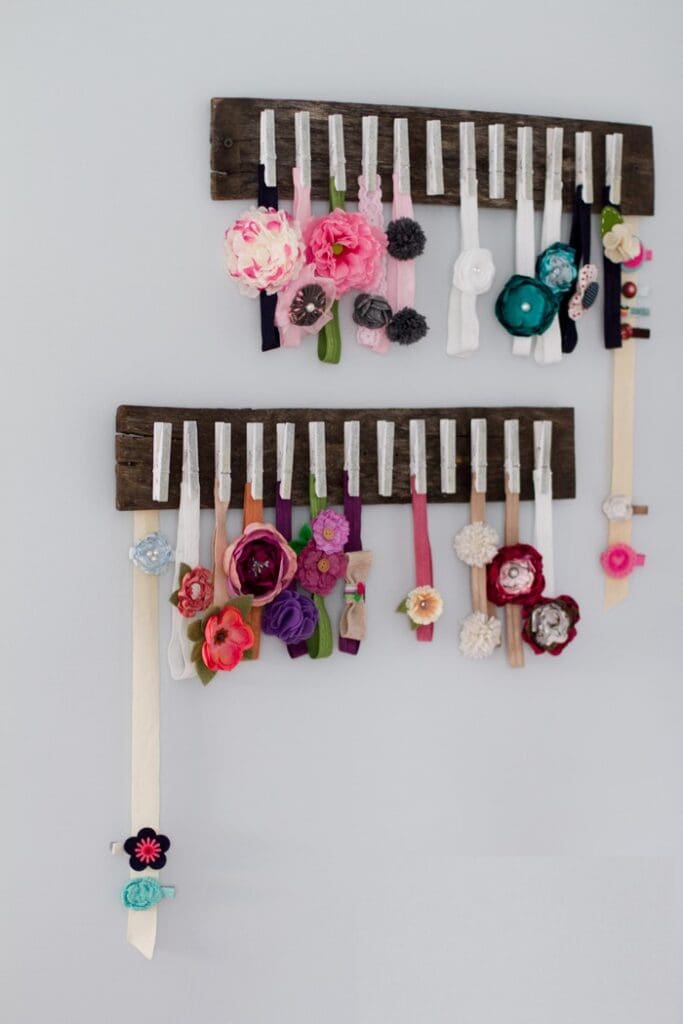 A simple DIY organizing board for your extras can be made in a matter of minutes with very few materials. Clothespins can hold all of these, and all you need to do is hot glue them to a thin board. You may quickly and easily take anything you need from the accessory board.
Keep Toys Close By
Initially, you will be your baby's only source of fun and enjoyment, but this will soon change… In no time at all, they'll be itching to investigate everything harnessing their curiosity. You will want versatile toy storage solutions during this time.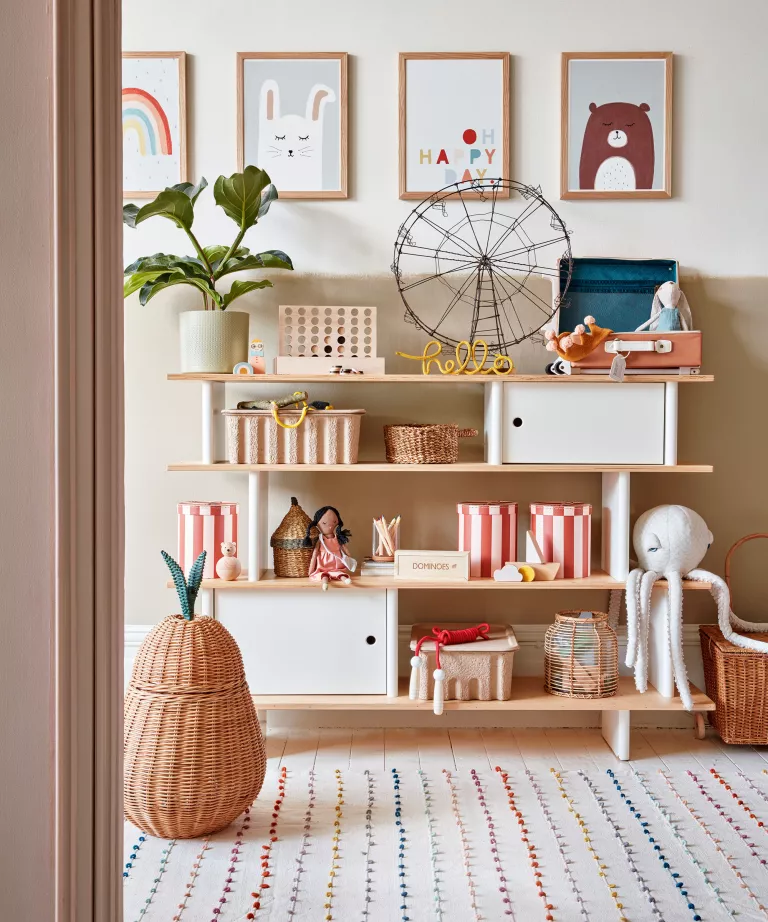 You may relax while promoting independence and imaginative play by putting age-appropriate toys in open soft baskets on the floor. To avoid having everything out at once, rotate the toys while organizing them for the nursery. This facilitates better overall playtime and frees up storage space.
Get Ready In Advance
The second trimester is a great time to begin arranging the nursery. By then, hopefully, the morning sickness and exhaustion are behind you, but you still don't feel too uneasy to walk around and decorate. The more challenging it will be to do tasks the closer your due date approaches.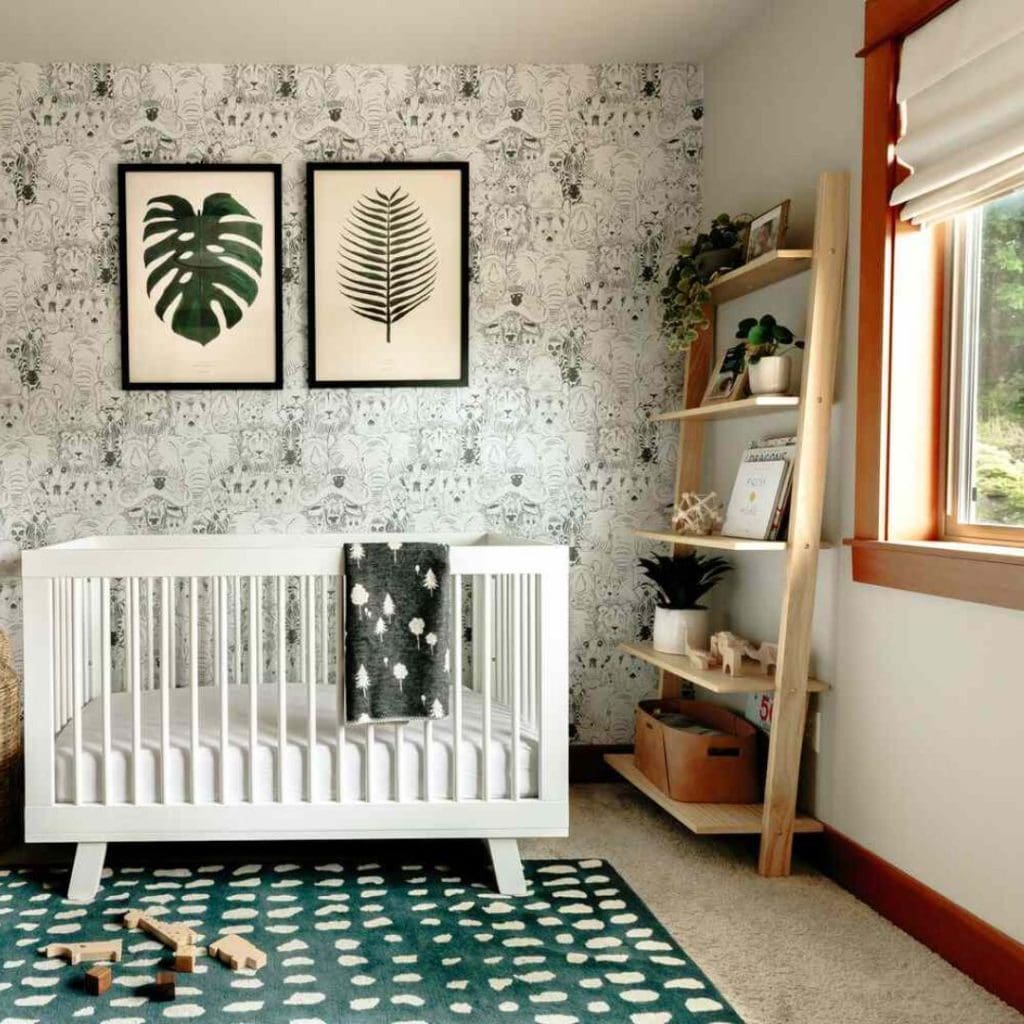 Parents who are adopting their children should have in mind that their expectations must be balanced wisely, so avoid going crazy with the room decor. First, buy the essentials for the child. After you have your bubble of love with you, begin setting up the room's decor the way you dreamed of.